---
24/7 restaurants for late-night gatherings
---
In the mind of eight-year-old me, the world would go quiet after 10pm. That was the hour I drifted off into hazy, outlandish escapades in the land of dreams, so the first time my parents allowed me to stay up later than that to tag along on one of their supper trips was memorable, to say the least.
I remember the thrill from that night: from seeing cars zoom past on usually jam-packed roads, listening to how bubbling chatter in the restaurant interrupted the dead silence of the night, and – the best part – going to bed with an utterly satisfied tummy. That prompted incessant "don't you feel a bit hungry?" hints to my parents in the nights following, and they probably regretted taking me with them the first time.
Whether you feel like nibbling on something before bed, or wake up in the middle of the night to the alarm of a growling stomach, these 10 restaurants that are open 24/7 are the solution to any cravings you have.
---
1. Diandin Leluk Thai Restaurant
---
When I left Bangkok last year, a part of me wanted to stay behind with their incredibly delicious street food. If you're like me and cravings for spicy, sour tom yum kick in after midnight, Diandin Leluk Thai Restaurant is your answer. Besides good ol' Tom Yum Soup ($12/$22/$32), their Tom Yum Fried Rice With Seafood ($6/$12/$22) boasts fragrant, flavourful rice with a manageable level of spiciness. For small bites, try Steamed Thai Otah ($12 for six pieces), which are otah cubes with distinct mackerel chunks topped with coconut milk. End supper on a sweet note with their Red Ruby ($3) or Mango Sticky Rice ($6), and your cravings shouldn't bother you for a while.
Address: 5001 Beach Road, #01-67/68/69, Golden Mile Complex (Main), Singapore 199588
Opening hours: Daily 24 hours
Tel: 6293 5101
Website
Menu
---
2. 126 揾到食
---
Those who want a few light bites predawn can pop by 126 揾到食 for a large range of affordable dim sum. Their fried options fare better than their steamed ones, and we recommend their Fried Carrot Cake ($4) which has more than enough delicious crispy edges to go around because they are cut into small pieces before being fried. 126's Chee Chong Fun ($3.80) is another must-order for a different version from the usual – these are coated in a thick, sweet sauce instead of the more common light soy sauce.  
Address: 126 Sims Avenue, Singapore 387449
Opening hours: Daily 24 hours
Tel: 6746 4757
Website
---
3. Srisun Express
---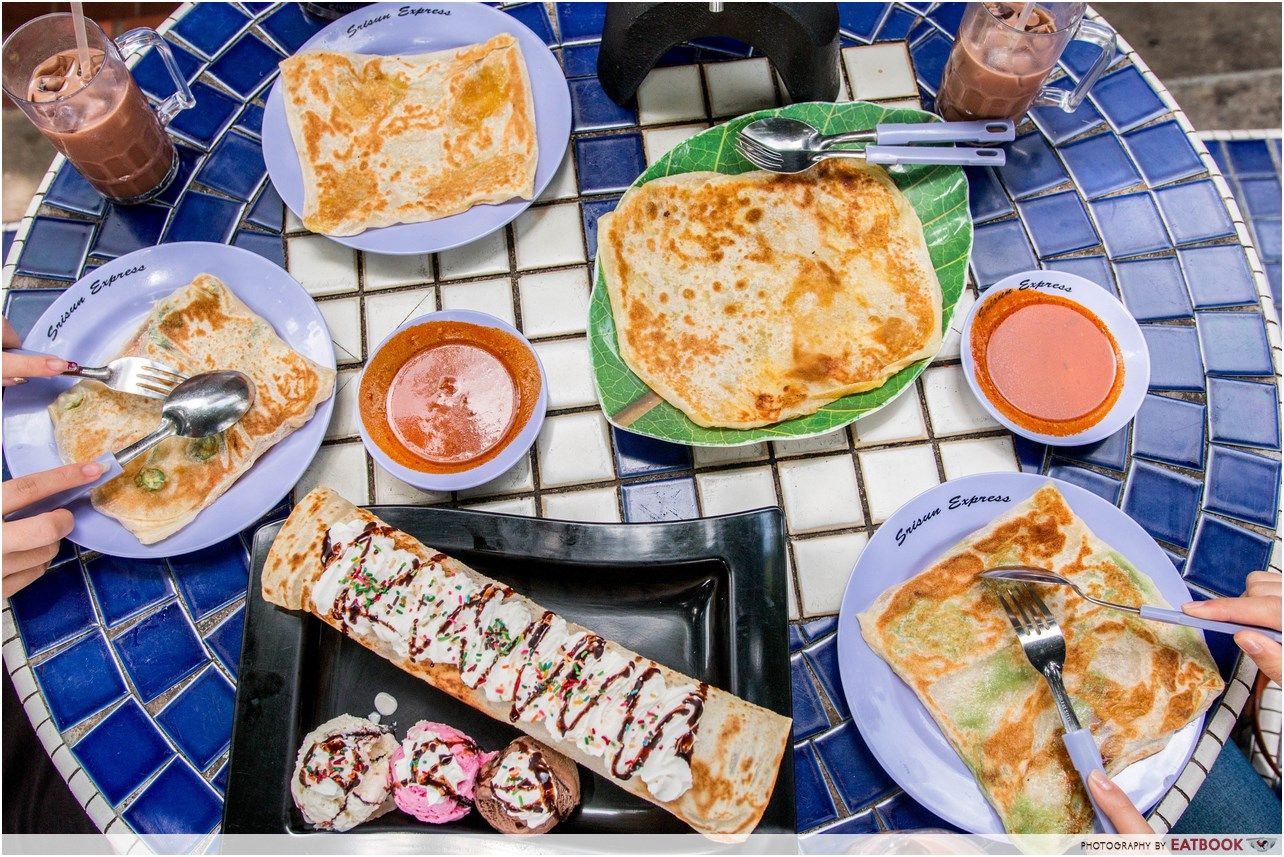 We can't talk about supper haunts without bringing up prata. Srisun Express offers over 50 varieties of prata in addition to a menu of Indian cuisine and massive drink towers, making it perfect for group outings. If you can't decide between sweet or savoury, get Prata Bom with Cheese ($4.50+) for a sweet-salty combination of stretchy cheese and syrupy condensed milk. Fans of all-day breakfasts should get Kaya Prata ($2.50+) – the crispy dough paired with creamy coconut custard reminded us of kaya toast.
Read our full review of Srisun Express.
Address: 56 Serangoon Garden Way, Singapore 555952
Opening hours: Daily 24 hours
Tel: 6282 2325
Website
Full list of outlets

---
4. Yong He Eating House
---
Change up your supper routine with Yong He Eating House's Taiwanese breakfast fare. The less common Saltish Beancurd ($2.50), which pairs the mild sweetness of tau huay with minced meat and sesame oil, is worth a try. Nibble on you tiao ($1.30) between spoonfuls for some crunch. For something more substantial, slurp your way through a comforting bowl of Mee Sua ($4).
Find out where else to get unique tau huay in Singapore.
Address: 458 Geylang Road, Lorong 24A, Singapore 389417
Opening hours: Daily 24 hours
Tel: 6745 5682
---
5. Fei Fei Wanton Mee

---
Something about Fei Fei Wanton Mee's Wanton Noodles ($4/$5) evokes childhood memories. Springy and bouncy egg noodles, a generous amount of lean char siew, and dumplings bursting with meaty flavour make a satisfying meal any time of the day. Fei Fei's wanton mee is on the savoury side with lard-fragranced noodles. Stir in a spoonful of chilli paste for added flavour.
Address: 72 Joo Chiat Place, Singapore 427789
Opening hours: Daily 24 hours
Tel: 6440 5013
---
6. Enak Enak Hong Kong Teahouse
---
Enak Enak may be a little modest calling itself a Hong Kong teahouse – they serve everything from dim sum and Western food to Thai cuisine and hawker dishes, and even steamboat, so this halal-certified restaurant can satisfy practically every imaginable craving. For dim sum picks, Har Kow ($3.90++ for three pieces) and flowy Steamed Golden Sands Bao ($2.90++ for two pieces) are good dishes to start with. According to their menu, service charge here is 3% instead of 10%.
Address: 1202 East Coast Parkway, #01-01, East Coast Seafood Centre, Singapore 449881
Opening hours: Daily 24 hours
Tel: 6876 5911
Website
Full list of outlets
---
7. Super Penyet

---
Super Penyet's Nasi Ayam Penyet ($5) is drool-worthy. The chicken is fried to a golden brown crisp, with flavourful meat that tears apart easily. Super Penyet's aromatic coconut rice is elevated with their sambal which packs a lot of heat. Nasi Goreng Ayam Penyet ($5.50) is a popular choice that uses fried rice instead of nasi lemak rice. Besides mains, the stall also sells house-made kueh such as Ondeh Ondeh ($1.50 for four pieces) and Kueh Lapis ($1).
Address: 105 Yishun Ring Road, #01-170, Chong Pang Food Centre, Singapore 760105
Opening hours: Daily 24 hours
Tel: 9066 1778
Website
Menu
---
8. Al-Jasra Restaurant

---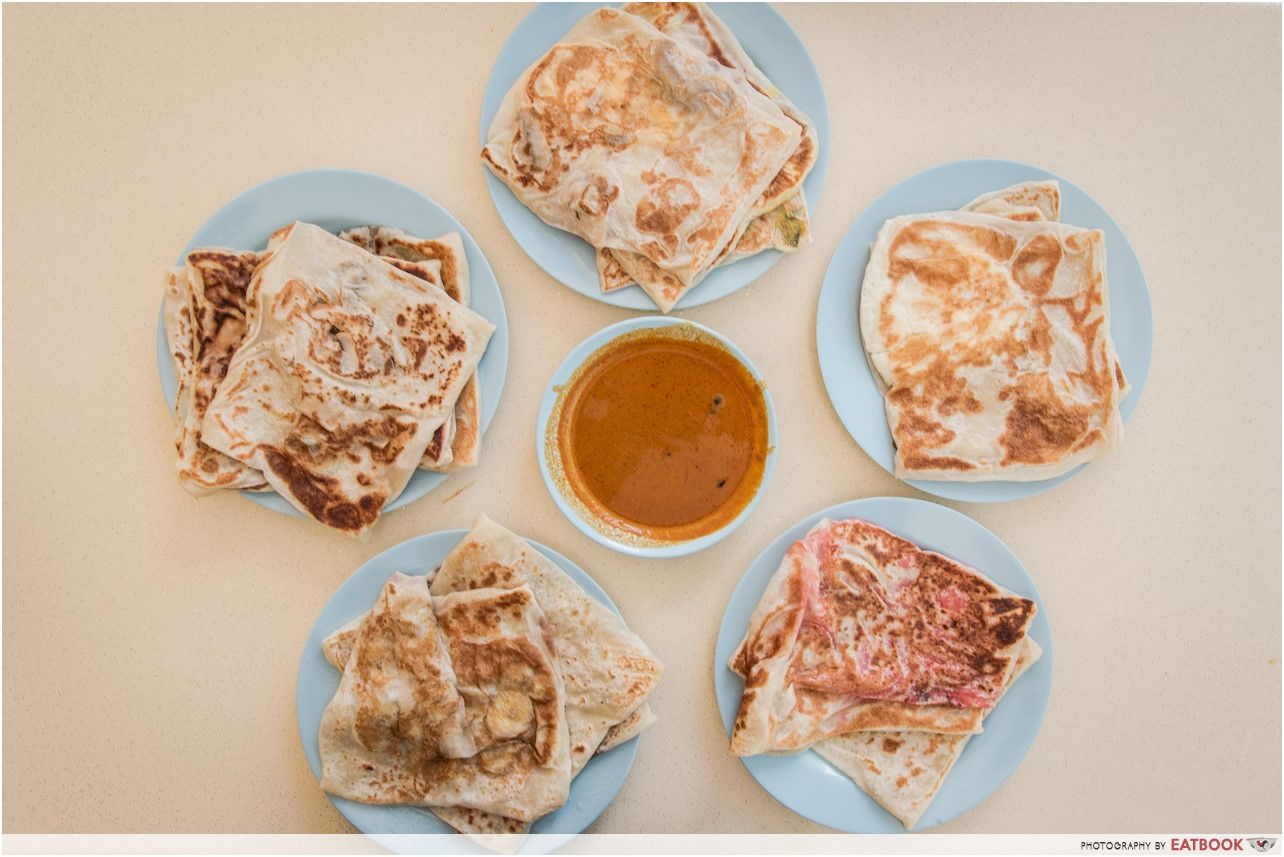 Drifting off to sleep on a full stomach is perhaps one of the most blissful feelings. That's where Al-Jasra's Prata Buffet ($7.90) can help. They have over 15 types of prata on their menu, covering sweet and savoury options. We liked Masala Prata best for its masala curry filling, so intensely flavoured we didn't even need to dunk it in curry. Honey Prata was unexpectedly impressive, tasting like a better version of plain prata dipped in sugar and could almost pass off as a thicker version of dessert crepes you'd find in cafes.
Read our full review of Al-Jasra's prata buffet.
Address: 459 Changi Road, Singapore 419882
Opening hours: Daily 24 hours
Tel: 9880 4089
Website
Menu
---
9. Thohirah Cafeela Restaurant
---
For those who stay in the north or north-east side of Singapore, it's never too late or too early to satisfy prata cravings at Thohirah Cafeela Restaurant. The halal-certified eatery serves Indian, Chinese, and Thai cuisine, but you'll find us here for classic Egg Prata ($2) and spicy Maggi Goreng ($5).
Find out what other good food places there are around Seletar.
Address: 258 Jalan Kayu, Singapore 799487
Opening hours: Daily 24 hours
---
10. Ming Fa Fishball
---
Ironically, the star dish at Ming Fa Fishball is their Mushroom Minced Meat Noodle ($4). The large, chewy meatball is worth a special mention. Their chilli sauce is on the weaker side, however, so request for extra-spicy if that's what you're after. A secret menu item is Mini Wok Laksa ($6), which is Ming Fa's regular Mini Wok ($5.50) with a rich and milky laksa soup base.
Bak chor mee lovers, find out where to get unique bak chor mee in Singapore.
Address: 51 Tampines Ave 4, Stall 73, Our Tampines Hub, Singapore 529684
Opening hours: Daily 24 hours
Tel: 6383 9338
---
Supper sorted with these 24/7 restaurants
---
24-hour restaurants mean there's no excuse not to have good food at any hour of the day. We'd love to know where your favourite supper spots are. Share with us in the comments below!