Get Thai Bak Mee and Thai Beef Soup Noodles from Gin Sen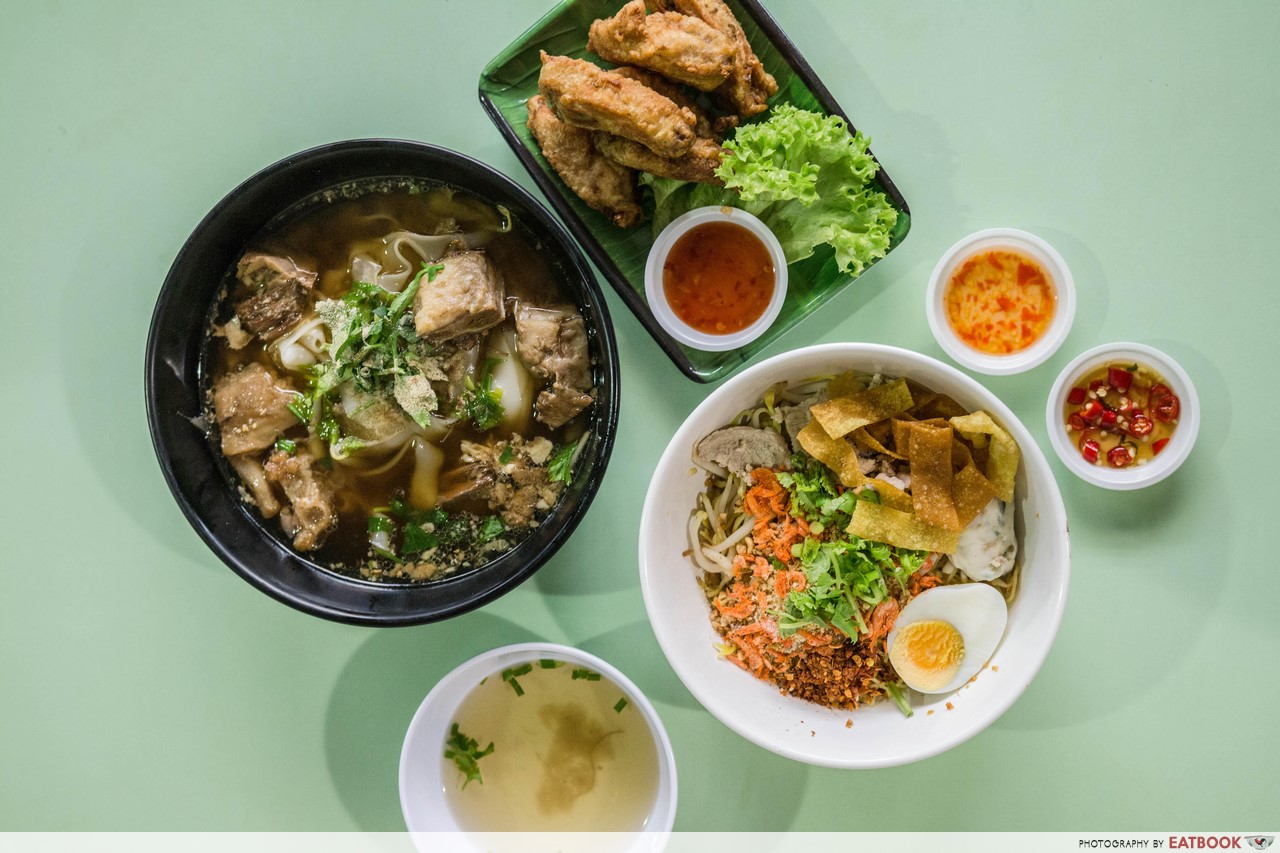 Thai food is undoubtedly one of the few cuisines that come up first whenever any of my groups put dinner to a vote. Someone's usually shouting mookata like a war cry or googling the nearest hole-in-the-wall eatery before dim sum complicates the game. The hunt for Singapore's cheapest and tastiest replicas of Thailand's phad Thai, boat noodles, and mango sticky rice, to mention a few, doesn't ever rest.
Gin Sen opened at Old Airport Road Food Centre just shy of two months ago but props to them because business is brisk even amongst the famous hawker legends that have been there for ages. The two Thai ladies behind the stall were already busy packing takeaway orders when they opened for the day and it's little wonder why they're so popular.
Food at Gin Sen
Thai Bak Mee Dry ($4/$5) was the most uncommon thing on their menu of four mains and three sides. We opted for egg noodles and were served a bowl topped with sliced and minced pork, half an egg, bean sprouts, a chicken ball, and strips of fried wanton skin. Sugar, chilli flakes, ground peanuts, and small dried shrimps garnishing the dish gave it colour, fusing this Thai version of bak chor mee with the classic phad Thai dish.
I gave the thin noodles a thorough toss before pulling up a textured tangle. My first mouthful had a distinct scent of fish sauce which enhanced the plain noodles with a savoury depth without creating any fishy pungence. The noodles, flecked with chilli and coarse peanuts, were slightly spicy with an occasional crunch. Saltiness from the tiny dried shrimps balanced the sweetness of sugar and the egg noodles mellowed them out.
I'm picky about bak chor mee and our serving looked slightly small. But its depth of appetising flavours from almost a dozen ingredients made it filling and more food might have been too much. I have my misgivings about having sugar in my savoury meals but I'll have more hope next time because this was yummy. Generally, the noodles weren't sweet after a good mix and weren't greasy in the least.
Like typical bak chor mee, you can order this with soup or dry and there's also Tom Yum Bak Mee ($4/$5) to consider too.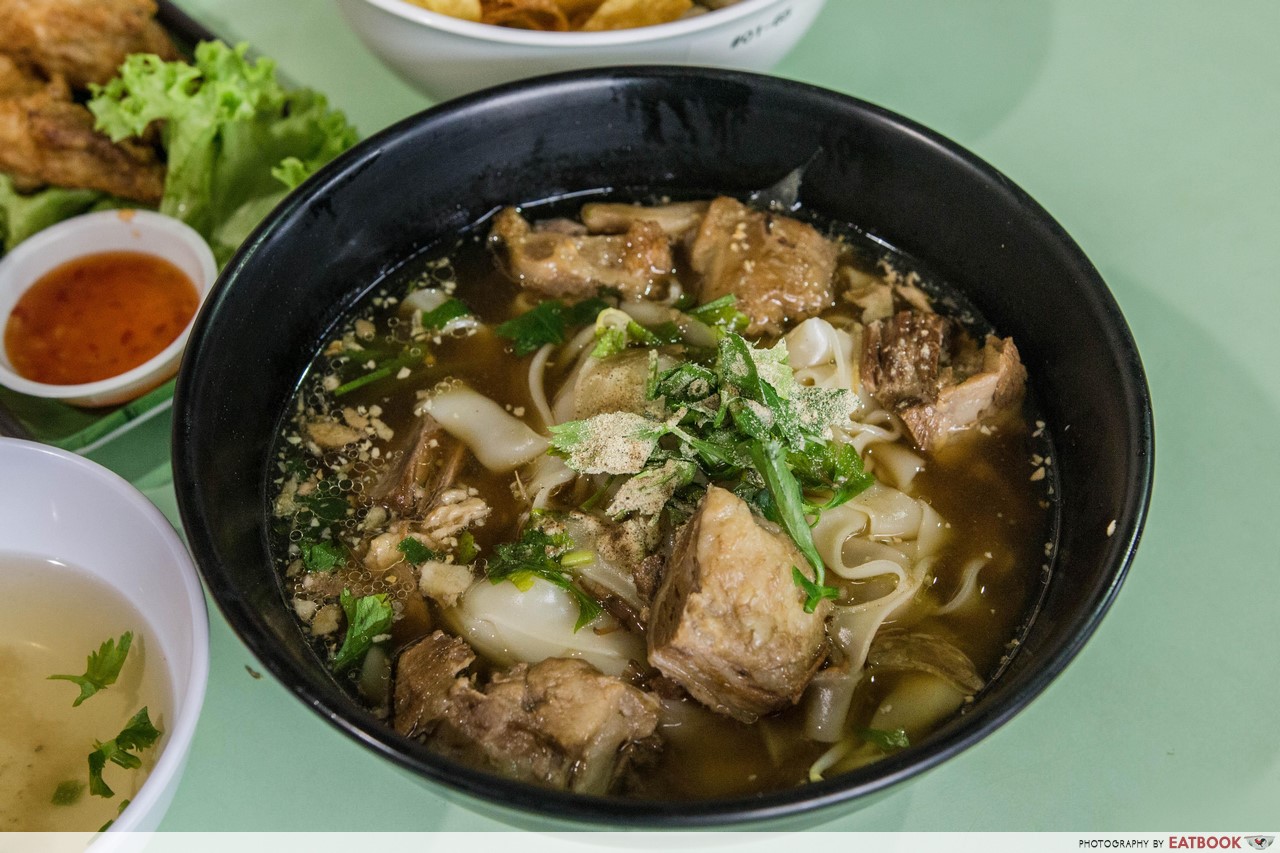 The rainy and cold weather called for the warmth of broth and our small order of Thai Beef Soup Noodle ($5.50/$7) looked filling especially against our Thai Bak Mee. In it were plenty of beef chunks that had been simmered with pandan leaves. I knew then that the good mix of lean cubes, fatty meat, and tendon to pair with my kway teow deserved a huge plus.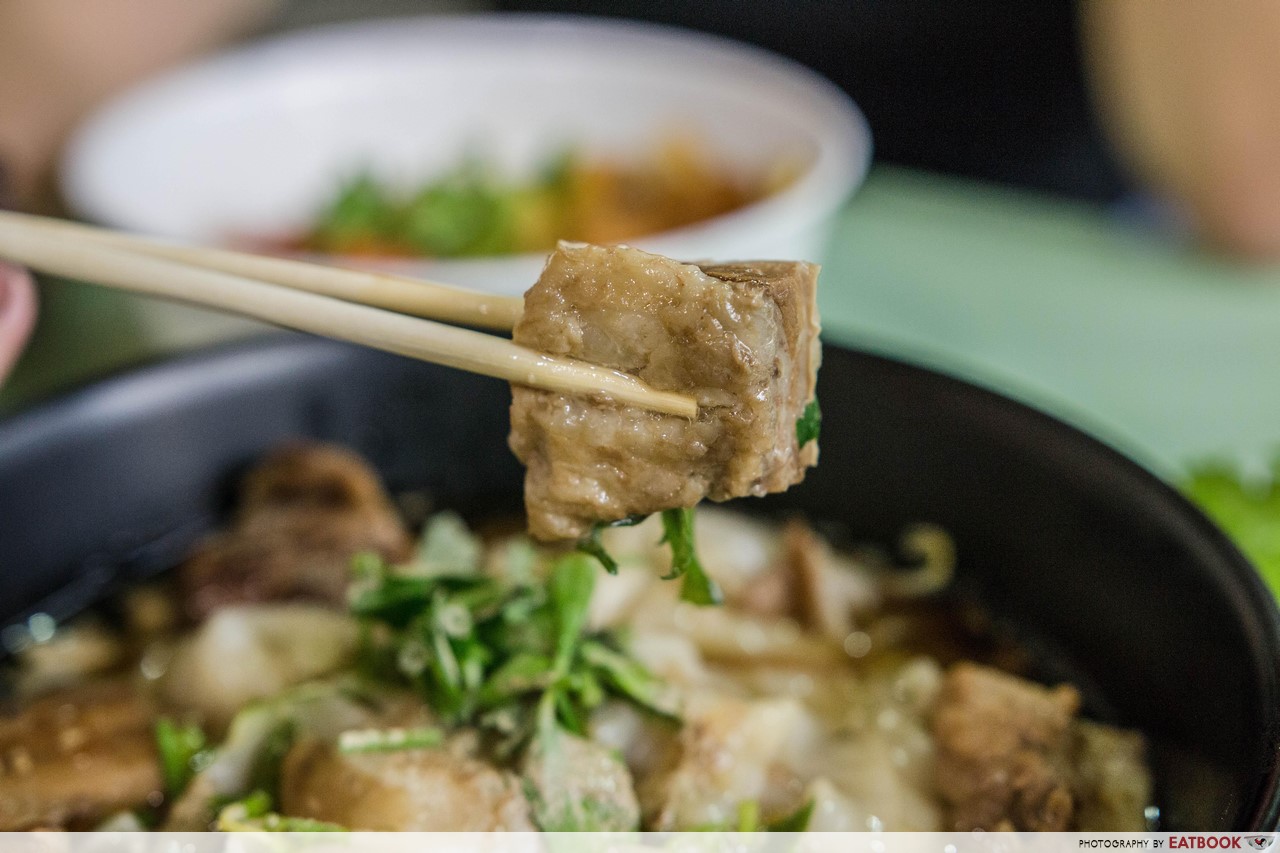 A sip of the peppery and light broth left a lingering savouriness on my tongue but I wished it had a heavier taste of beef. The meat, however, was such a highlight that the soup base made a balanced contrast. My absolute favourite part of mixed beef soup is its pieces of tendon, and these ones were soft like jellies that I hardly had to chew. The fatty chunks of beef outdid them as the layers of meat and fats melted away easily with a savoury fragrance. There were only a couple of lean beef cubes which was just enough to add some meaty chewiness to my lunch.
I know how it feels like to need rice at least in one meal every day, so I'm glad there's Thai Claypot Beef & Beef Tendon Soup ($7/$10) and Thai Claypot Basil Beef Rice ($6.50) to take care of that the next time I'm here.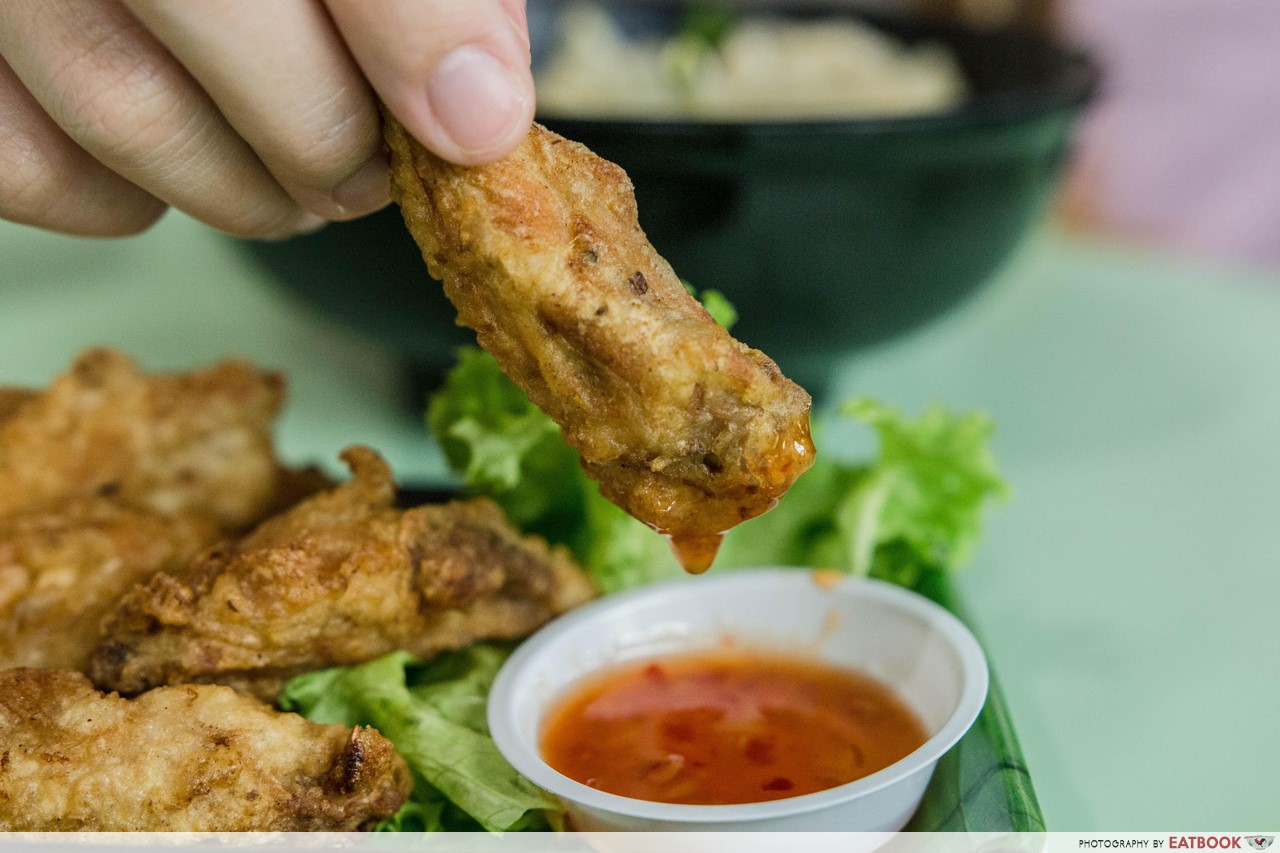 To round off lunch with a snack, we greased our fingers with some fried food. Their Thai Fried Chicken Mid Wings ($3.80 for six pieces) were freshly fried to order and served with sweet Thai chilli.
The wings were small but were just enough for us to not feel stuffed after our main dish. I eagerly pulled off the fried skin with my teeth, only to find that it had a simple peppery seasoning which was underwhelming. The spicy chilli made up for it though and helped lift the greasiness.
There's also Thai Green Mango Salad ($5) for an appetiser and their highly recommended Thai Fish Cakes ($5 for four pieces). The latter is made with batang fish bought daily from the morning market and pounded with a house-made recipe of chilli paste.
Ambience at Gin Sen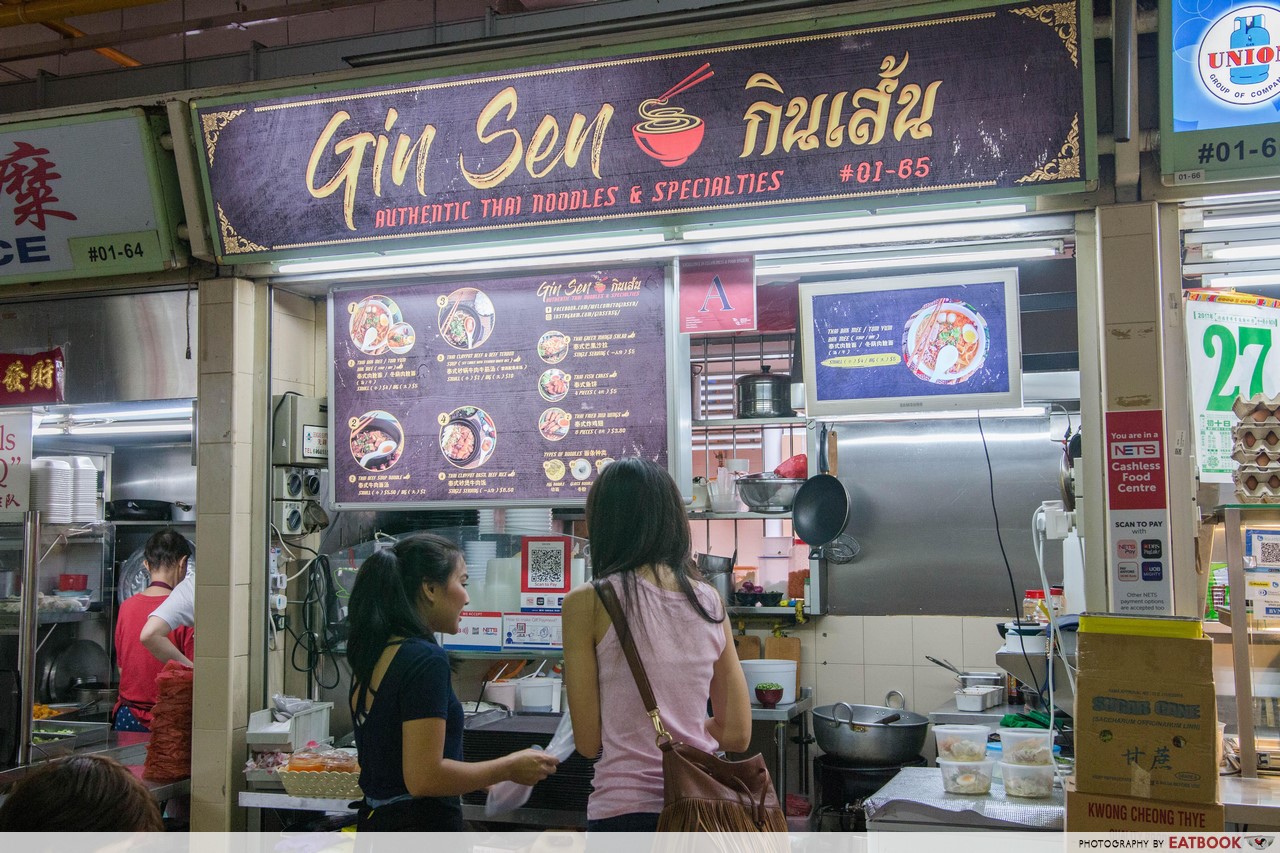 We found Gin Sen amongst the row of brightly lit hawker stalls closest to the toilets. It was still too early for a queue at 11am when they opened but the owners were already packing pre-orders. They looked bright and fresh so I didn't expect that when they first came to Singapore almost four years ago, they were holding office jobs and doing home-catering for friends and family events.
Hawker life is unquestionably tiring but they began this venture with plans to expand to a shopping mall eatery after experiencing the F&B industry first-hand. With a passion for business and cooking, they're an organised duo who seem to have it quite together.
The verdict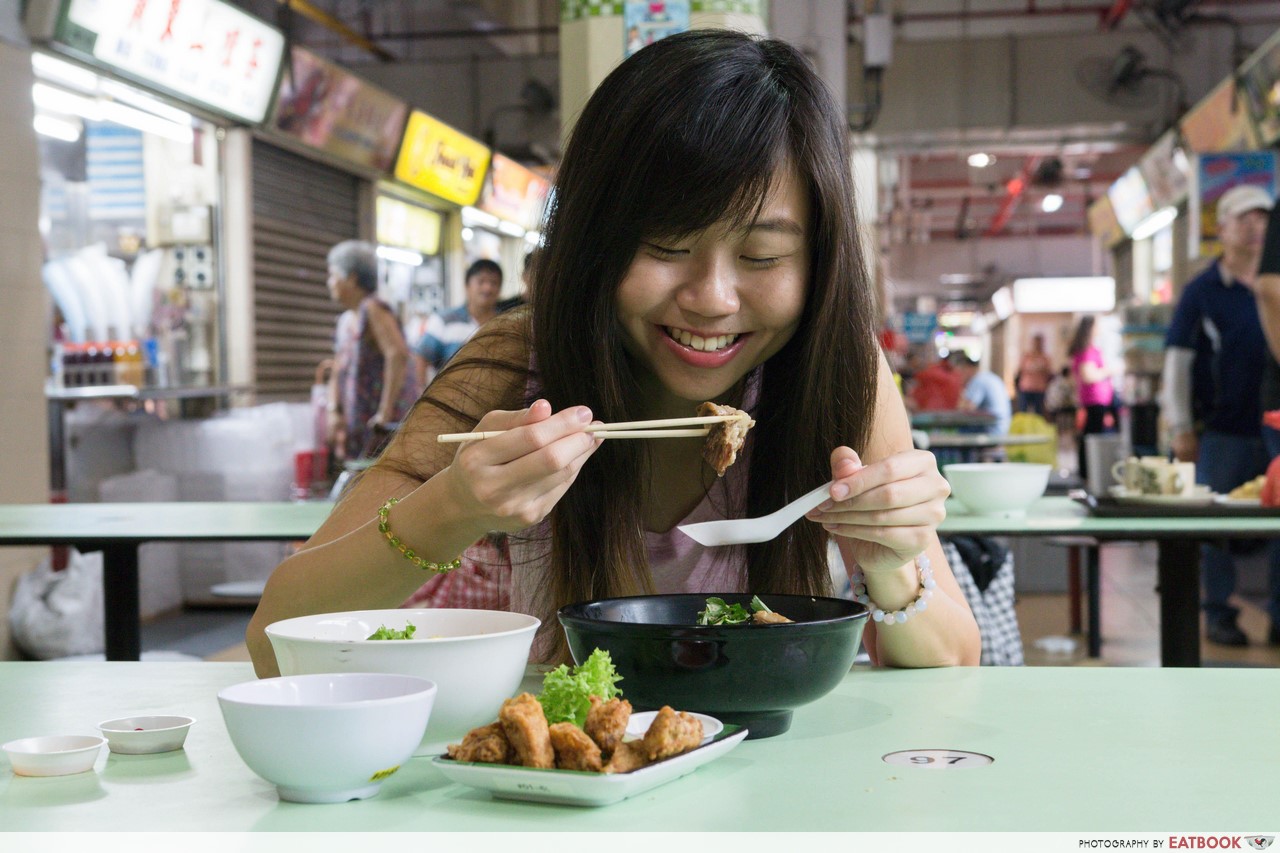 This spot is on my gastronomic list for the next time someone rants about their Thai food cravings. New and trendy hawker stalls have been popping up in the limelight and though there were only a handful where we were, they seemed to add a breath of fresh air to the place. What I especially like about Gin Sen was how they brought something new to the table with their Thai Bak Mee which also strikes me as a vague compromise between the growing food scene and the one we grew up with. 
Address: 51 Old Airport Road, #01-65, Old Airport Road Food Centre, Singapore 390051
Opening hours: Mon-Thur 11am to 3pm, 5:30pm to 9pm, Fri 11am to 3pm, Sat 5:30pm to 9pm, Sun 9:30am to 5pm
Tel: 9750 8854
Website
Menu
This is an independent review by Eatbook.sg
Summary
Pros
- Uncommon Thai dishes
- Quality of ingredients
- Filling portions
- Warm service
- Attention to plating of dishes
Cons
- Located in a slightly stuffy part of the hawker centre
- Seats generally quite dirty
Recommended Dishes: Thai Bak Mee Dry ($4/$5), Thai Beef Soup Noodle ($5.50/$7)
Operating Hours:
Mon-Thur 11am to 3pm, 5:30pm to 9pm, Fri 11am to 3pm, Sat 5:30pm to 9pm, Sun 9:30am to 5pm
Address: 51 Old Airport Road, #01-65, Old Airport Road Food Centre, Singapore 390051