---
Wahhh-ffles
---
They're hot and they're cold! They're crisp and they're soft! Waffles! Waffles! Waffles everywhere!
Waffle places are a common sight nowadays. You can easily grab a waffle at hawker centres, fast food joints and even that ramshackle bakery beside your pasat. But aren't you sick of the run-of-the-mill waffle that flops over as soon as you pick it up? I know I am, so here are 14 batter waffle places to satisfy your gourmand waffle cravings!
---
1. FatCat Ice Cream Bar
---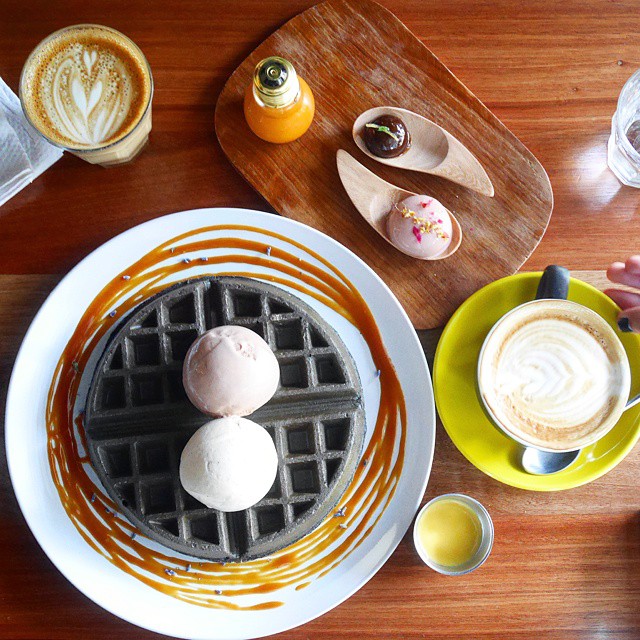 FatCat Ice Cream Bar plays matchmaker with their unconventional ice cream waffle pairings. Who's up for Waffles and Butterbeer Ice Cream ($10.50)? Better yet, top it off with a drizzle of liu sha (salted egg yolk) sauce! Still craving for more? Opt for the Mysterious Flavour ($4.50) and let the fat cat surprise you with something you'd never expect.
Opening Hours: Mon – Thu: 1pm – 10pm, Fri: 1pm – 11pm, Sat: 12pm – 11pm, Sun: 12pm – 10pm, Closed on Tue
Address: Blk 416 Bedok North Avenue 2 #01-25, Singapore 460416
---
2. Sunday Folks

---
Folk Yeah! It's Sunday! This quaint looking cafe handmakes small batches of soft serve ice cream every morning to serve with freshly made waffles. The classic Sunday Folks' plate makes for an instagram worthy shot – 2 square waffles with a swirl of soft serve trickling down. A bite of their crispy waffle paired with a dollop of creamy Earl Grey ice cream ($11.90) will have you begging for more.
Opening Hours: Mon – Fri: 1pm – 10pm, Sat – Sun: 12pm – 10pm
Address: 44 Jalan Merah Saga, #01-52 Chip Bee Gardens, Singapore 278116
---
3. Little Prince Creamery
---
Walking into this place is like walking into a storybook. The Little Prince themed interior paired with the wafting fragrance of fresh waffles won me over in an instant! Their handmade gelato is eggless and contains only 8% of fat, with familiar flavours such as Funky Monkey ($3) and Rum and Raisin ($3). If you're a fan of chocolate, look no further. Their Dutch Dark Chocolate Waffle with Noir Gelato ($6.50) and a rich drizzle of Chocolate Sauce will have you living the Little Prince dream!
Opening Hours: Mon – Thu: 12pm – 9pm, Fri – Sat: 12am – 10.30pm, Sun: 12pm – 9pm, Closed on Tue
Address: 47 Lor 6 Toa Payoh, Singapore 310047
---
4. The Hideout
---
Like the name suggests, The Hideout is hidden at the far corner of Cassia Crescent. They serve warm waffles with a scoop of gelato at only $8.90! The cafe is known for its unique ice cream flavours that often come with a local twist. Their specialties include Dark Chocolate Sorbet, Blueberry Cheesecake and Roasted Almond with Pistachio. Be sure to check out their Mao Shan Wang Durian gelato that tastes surprisingly good with their lip-smacking waffles.
Opening Hours: Daily: 12pm – 10pm, Closed on Tue
Address: 32 Cassia Cres, Singapore 390032
---
5. Hatter Street Bakery
---
Finally, a chance to play Alice at the Mad Hatter's tea party! I was taken away by the quirky decorations and smell of fresh bakes upon entrance. They also serve a variety of ice cream flavours, including the White Chocolate and Pandan flavoured ones. Their famous waffles are crispy on the outside and soft on the inside – mouthgasm indeed! The sauce is always drizzled on like a masterpiece, making for the perfect instagram shot. Look out for their ice cream waffle combinations at only $8.50. A good price for rich creamy goodness!
Opening Hours: Mon – Thu: 12pm – 10pm, Fri – Sat: 12pm – 1am, Sun: 12pm – 11pm
Address: 212 Hougang Street 21, Singapore 530212
---
6. Pick Me Up Cafe
---
Pick Me Up cafe is a crowd favourite, especially on festivities and special occasions. The cafe serves sticky gelato with fluffy waffles ($15.90), the best fire water combination to satisfy your waffle cravings. They recently released a line of special SG50 gelato flavours, including Popping Candy, Bandung Dinosaur and Soya Bean Jelly. If you're up for a savoury waffle dish, go on a gastronomic adventure with their signature Miso Waffles with Smoked Salmon ($16.90)!
Opening Hours: Mon – Fri: 10am – 11pm, Fri – Sat: 9am – 12am
Address: 920 E Coast Parkway, #01-02, Parkland Green, Singapore 449875
---
7. Rabbit Owl Depot
---
Rabbit Owl Depot offers gourmet ice cream and waffles handmade with the freshest ingredients. On Wednesdays, you get to enjoy a free scoop of ice cream with every Snowflakes Waffle ($6.50) purchased! The waffles are sized perfectly as dessert or a tea time snack. Don't forget to try out their Strawberry Cheesecake and Coconut Ice Cream flavours that are sweet and creamy at the same time.
Opening Hours: Mon – Thu: 12pm – 10pm, Fri – Sat: 12pm – 1am, Sun: 12pm – 11pm
Address: 420 North Bridge Rd, Singapore 188727
---
8. Simplicité Cafe
---
Simplicité Cafe serves some not so simplicité waffle ice cream pairings ($8.50). I hope you like flowers, because their blossom waffles come with petals holding strawberries and cream. If you're feeling adventurous, try a scoop of Miso Caramel gelato, an asian twist on the classic salted caramel. Not enough? Go extra gastronomic, with a mystery flavour that goes by the name of "You'll Never Guess It"!
Opening Hours: Tue – Thu: 12pm – 10pm, Fri – Sat: 12pm – 10pm, Sun: 12pm – 10pm, Closed on Mon
Address: 425 East Coast Road, Singapore 429012
---
9. Creamier (Toa Payoh)
---
If there was a competition for the crispiest waffle, I think we have a winner! Creamier serves waffles ($5) with an undeniable crisp and fluffy texture. The experience just isn't complete without a scoop of their freshly churned ice cream ($7.50), produced using only natural quality ingredients such as Tahitian Vanilla Beans and hand-harvested sea salt. You'll never go wrong with their best-selling ice-cream flavours, so check out their Earl Grey Lavender and Thai Milk Tea gelatos!
Opening Hours: Tue – Thu: 12pm – 10pm, Fri – Sat: 12pm – 11pm, Sun: 12pm – 10pm, Closed on Mon
Address: Blk 128, Toa Payoh Lorong 1, #01-835, Singapore 310128
---
10. The Milky Way
---
This quirky cafe will surely satisfy ice cream fans! The Milky Way serves ice cream ($3.80) that's rich and aromatic. Their signature flavours include Smurf (a paddle pop like flavour), Sicilian Pistachio and Triple Chocolate. What really caught my attention was the fact that Smurf did not contain any artificial colouring! The cafe uses blue butterfly pea flowers to create a rich blue hue. Let's not forget the crisp waffles ($5) that are surprisingly buttery inside. Their ice cream waffle pairings ($8)? Simply heaven in my mouth!
Opening Hours: Mon – Thu: 1pm – 10pm, Fri – Sat: 1pm – 1am, Sun: 1pm – 10pm, Closed on Tue except PH
Address: Blk 48 Tanglin Halt Road, Singapore 142048
---
11. The Cold Pantry
---
The Cold Pantry is another place with killer waffle ice cream pairings. You'd be spoilt for choice with their wide selection of bold flavours for both their ice cream and waffles. My personal favourite would be the Cha Yen Ice Cream ($6.50) with a Seasalt Caramel Waffle ($8). Still not enough? Try their Chocolate Rootbeer Waffle with Charcoal Vanilla Ice Cream ($12.50). This place will leave you spoilt for choice!
Opening Hours: Mon – Thu: 12pm – 9pm, Fri – Sun: 12am – 10pm, Closed on Tue
Address: 131 Rangoon Rd, Singapore 218409
---
12. Griddy
---
Griddy is the definition of gastronomic delight, serving both sweet and savoury waffles with toppings that look like they've just been sent from Epic Meal Time. Craving something sweet? Try a Smores Dessert Waffle ($6.90), loaded with soft melted marshmallows, chocolate ice cream and a generous amount of chocolate sauce. Otherwise, the Barbequed Chicken with Turkey Bacon Wafflewich ($8.90) (Yes, that's right, a waffle sandwich) will surely satisfy your burger cravings!
Opening Hours: Mon – Thu: 11am – 10pm, Fri – Sat: 12pm to 10.30pm, Sun: 11am – 10am
Address: #B2-K12, Westgate, 3 Gateway Drive, Singapore 608532
---
13. Hungry Kraken
---
It's a bird! It's a plane! It's a waffle! It's a burger! It's the Waffurger ($5.50) at Hungry Kraken! The Waffurger is sinful mixture of a juicy chicken patty and two fluffy honey butter waffles. Want more? If you're up for something spicy, try the Jibaboom Waffurger ($6) and allow the sambal chilli to explode on your tastebuds.
Opening Hours: Daily: 11am – 7pm, Closed on Sun
Address: 175 Bencoolen Street #01-49 Burlington Square Singapore 189649
---
14. Stateland Cafe
---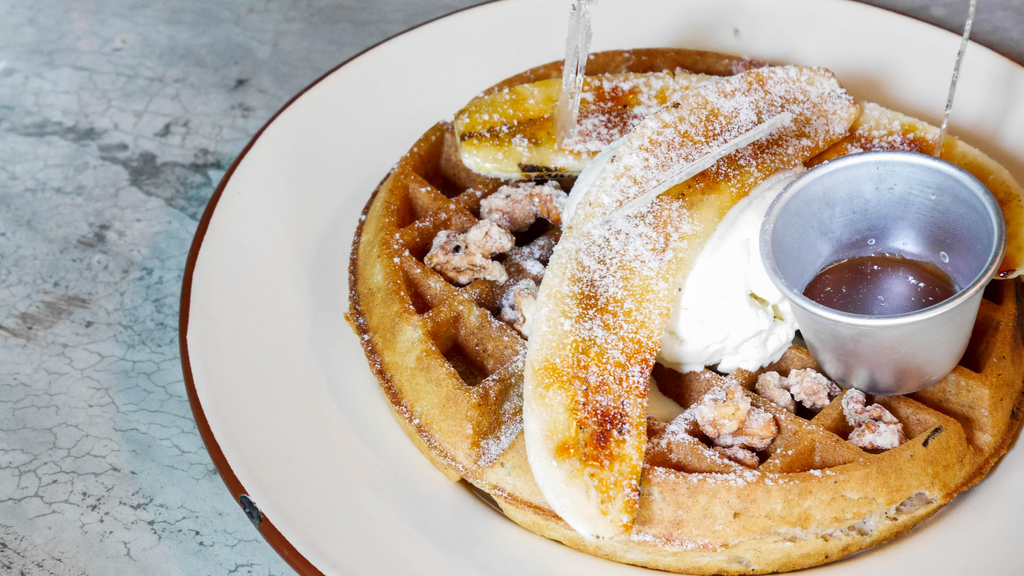 One of the original waffle trendsetters, the menu at Stateland has come a long way from its redvelvet days. Their recently revamped menu now include Lemon Meringue ($14.90) and Creme Brulee ($14.90) which is topped with a caramelized banana. Check out our review here!
Opening Hours: Mon: 12pm – 10pm, Wed – Thu: 12pm – 10pm, Fri – Sat: 12pm – 12am, Sun: 12pm – 10pm
Address: 32 Bali Lane