Alice Boulangerie at Tanjong Pagar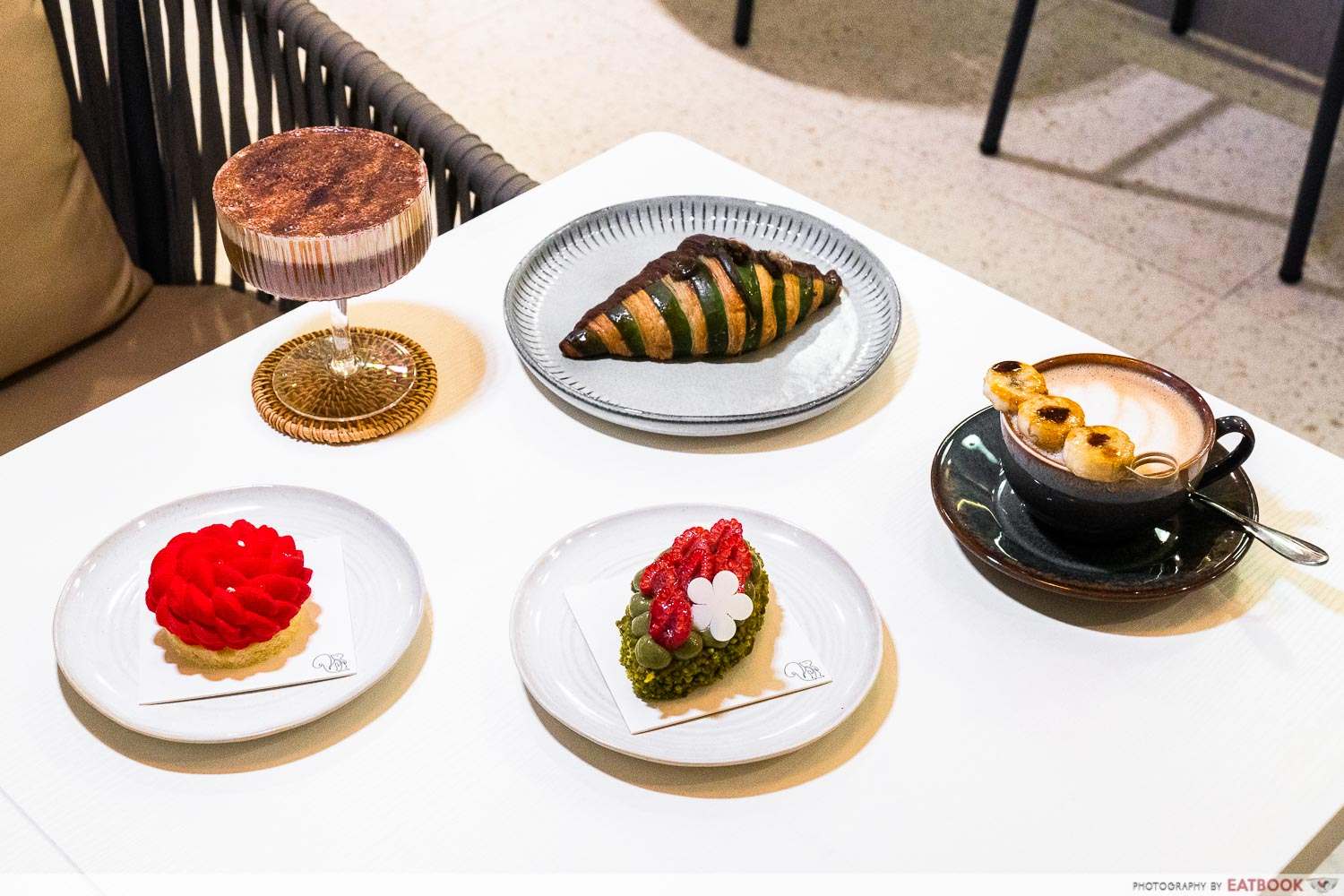 Tanjong Pagar is well-known for its cafes, which include Roji Monster and Bearded Bella. Alice Boulangerie has just opened at Icon Village, right across from Cing Tea, serving IG-worthy pastries and drinks including Bi-Colour Croissants, Pistachio Dacquoise, Kopi-Misu, and more!
Cing Tea: Famous Taiwanese Night Market Bubble Tea Store Opens In Tanjong Pagar
Food at Alice Boulangerie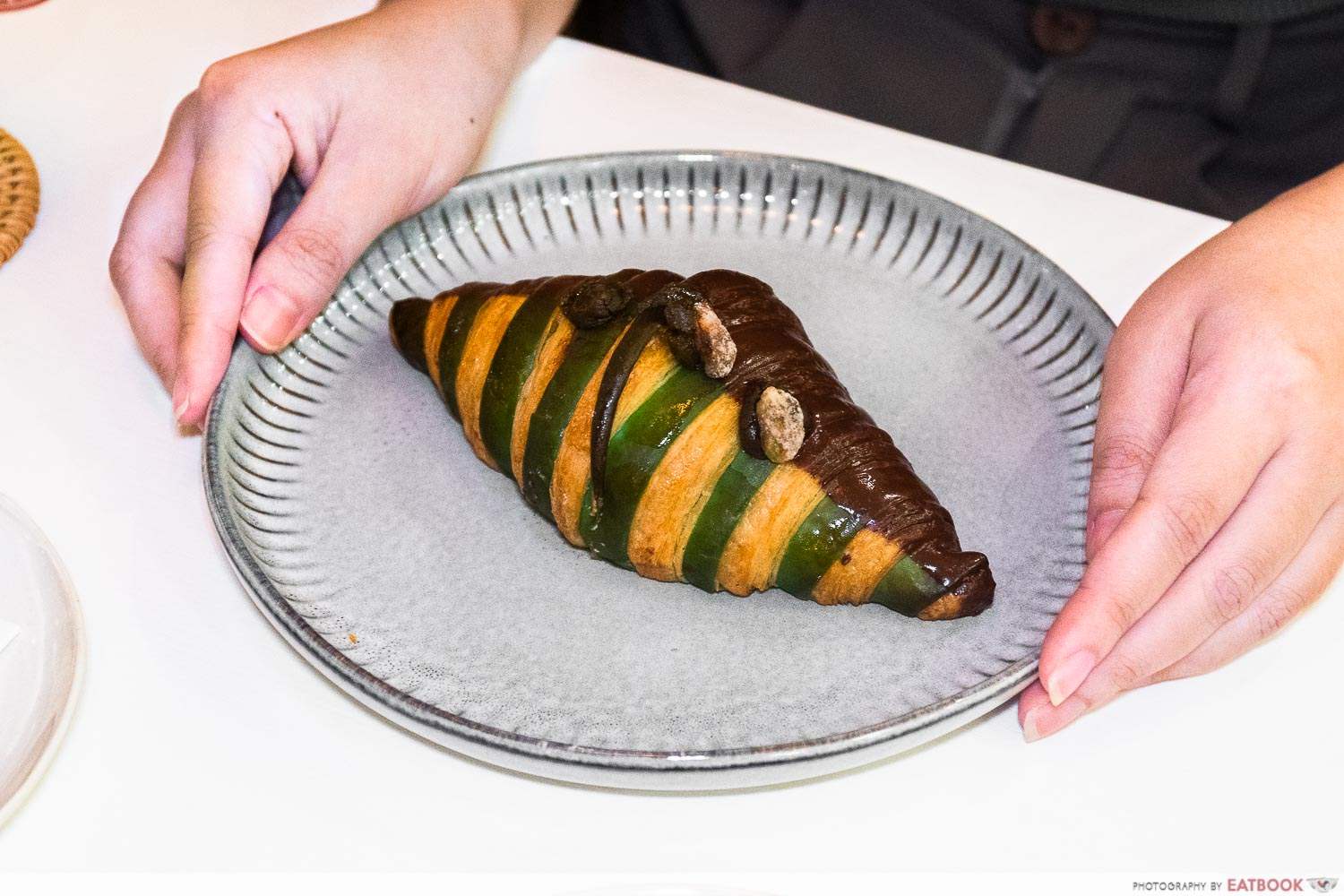 We began with the popular Pistachio Chocolate Croissant ($9.60++), which sports green and golden brown stripes, with one half dipped in chocolate. I had read that the bi-colour croissants are frequently sold out, so I was very excited when I managed to get my hands on one.
When we arrived, we were told that the bi-colour croissants are only available from 11am onwards, so keep that in mind if you're planning to try these.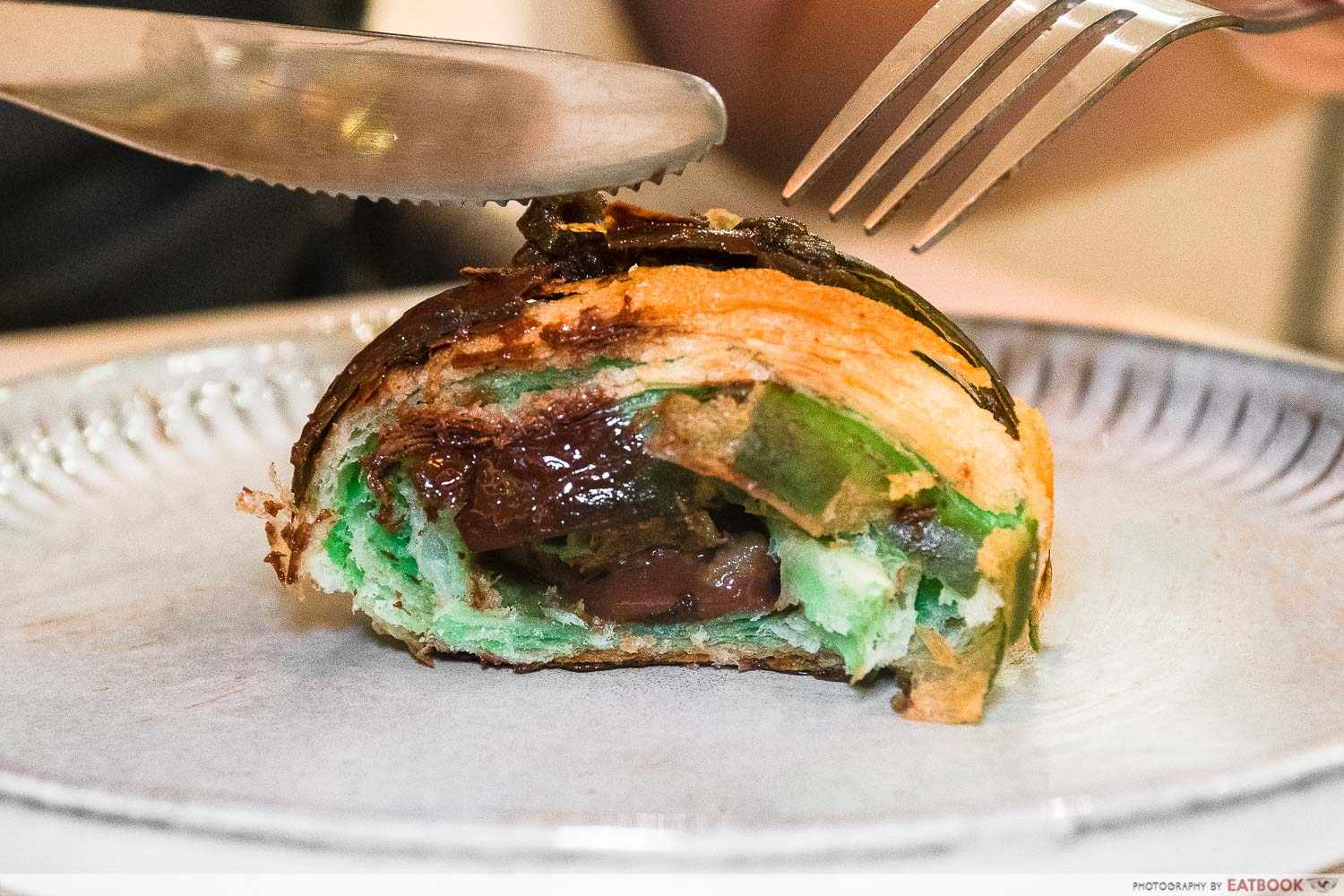 First off, the croissant had a crisp and flaky exterior, with a rich, buttery aroma, though it was a little doughy for my liking. The centre was filled with a chunky pistachio paste, and had pistachio bits for texture. The pistachio paste was slightly sweet, with a strong nuttiness. I felt that the paste could have been evenly distributed within the croissant rather than have it concentrated in the middle. 
The dipped chocolate exterior also lent extra sweetness to the pastry. However, the chocolate melted pretty quickly, so eating it after we were done shooting was a little messy.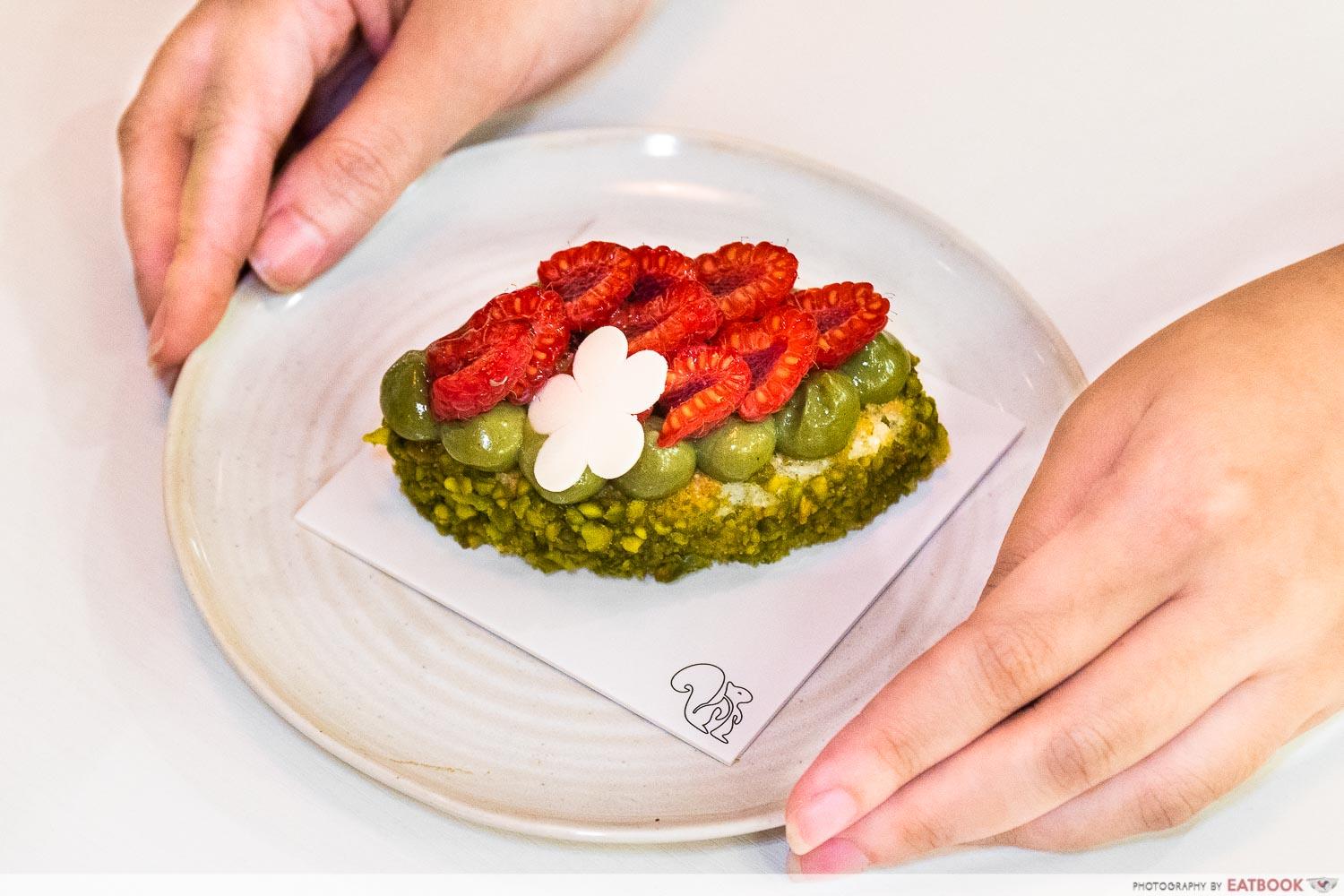 We also got the Pistachio Dacquoise ($9.60++)—a less commonly-seen pastry. For those who are unfamiliar with dacquoise, dacquoise is a meringue made with finely chopped nuts mixed in before baking. It is then piped with pistachio cream and baked in the oven at a low temperature to achieve a crispy and crunchy texture. Unfortunately, in our case, it turned a little soggy during our extended shoot.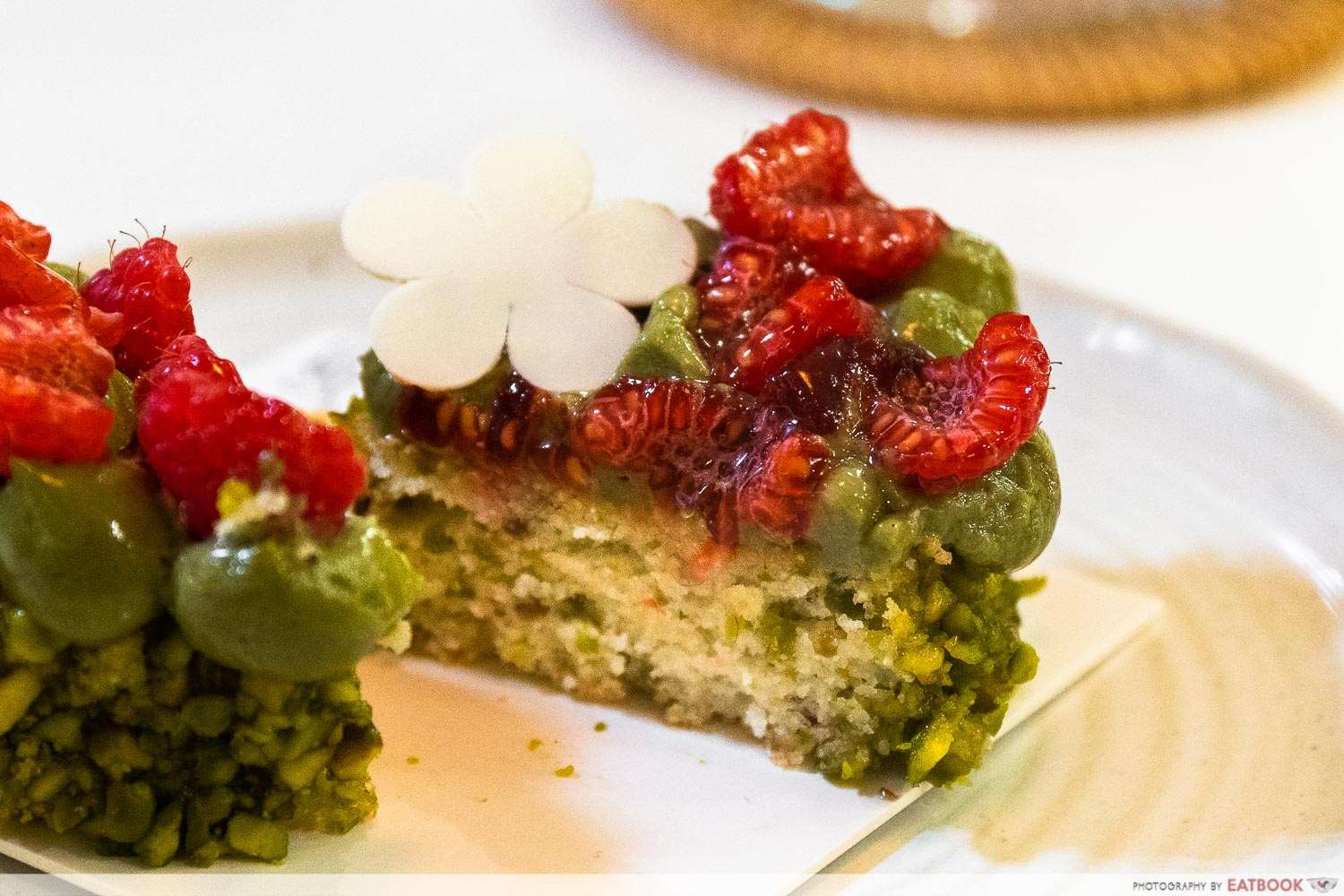 The pastry was covered in crushed pistachio, which gave a bit of a crunch. The dacquoise itself was buttery and had the right level of sweetness. It was also perfumed with a fragrant hint of pistachio, and was balanced out by the tartness of the raspberries, making the flavours well-balanced.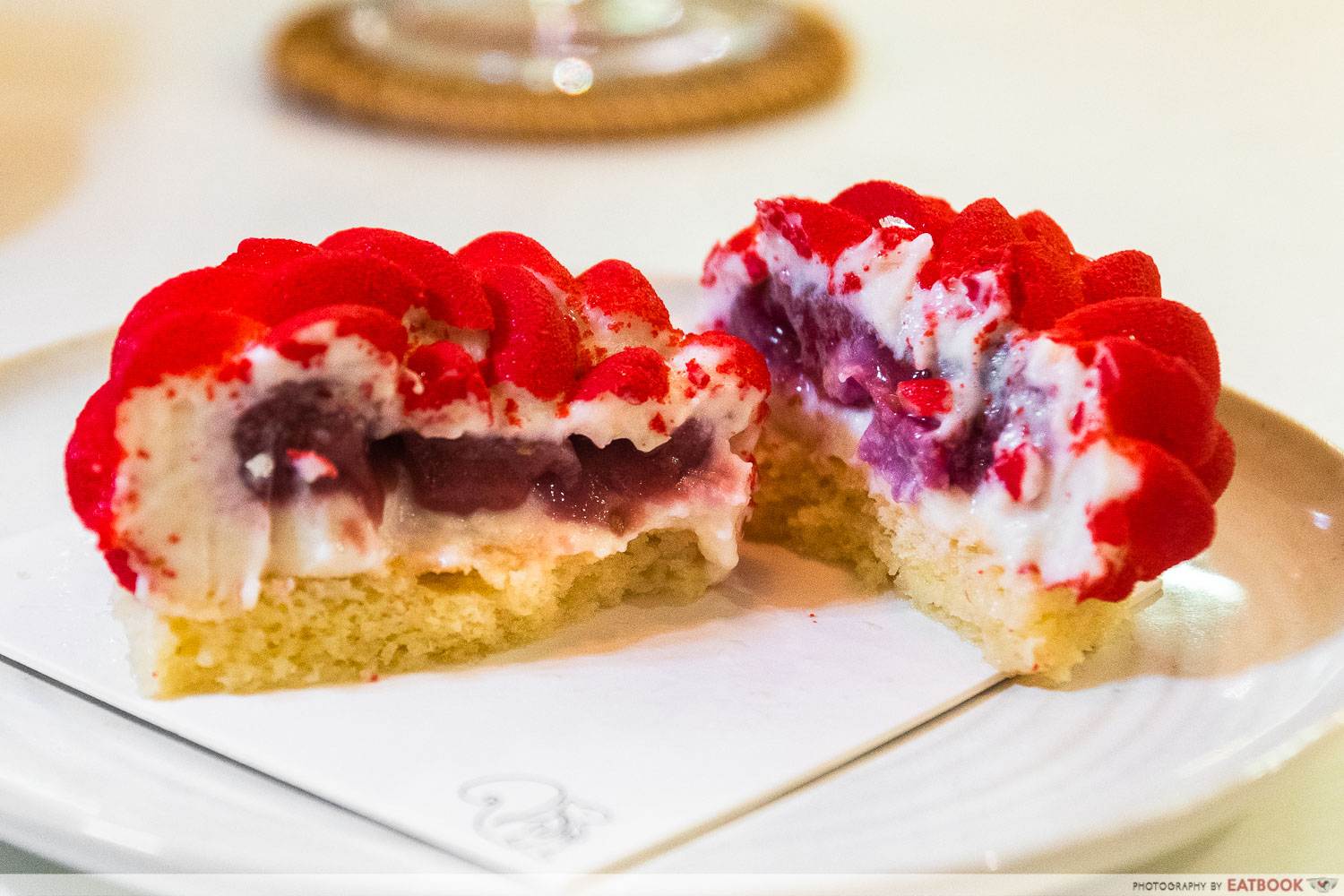 Alice Boulangerie's Ispahan ($9.60++) is, to me, the perfect embodiment of an IG-worthy dessert, with its alluring red top. Ispahan is both a type of rose and one of French pastry chef Pierre Hermé's signature creations, which sees a soft pink macaron sandwiched between a layer of rose buttercream, with raspberries and lychee at the centre. 
Instead of macaron shells, Alice Boulangerie created their own version of Ispahan using a buttery tart topped with vanilla mousse and lychee compote in the centre. It is also dusted with raspberry powder for colour. Something to note is that they infuse alcohol into the mousse, which isn't what the original recipe calls for. I first got a pleasant hint of sweetness from the lychee compote, but that was quickly overshadowed by the alcohol-infused mousse, leaving an odd aftertaste.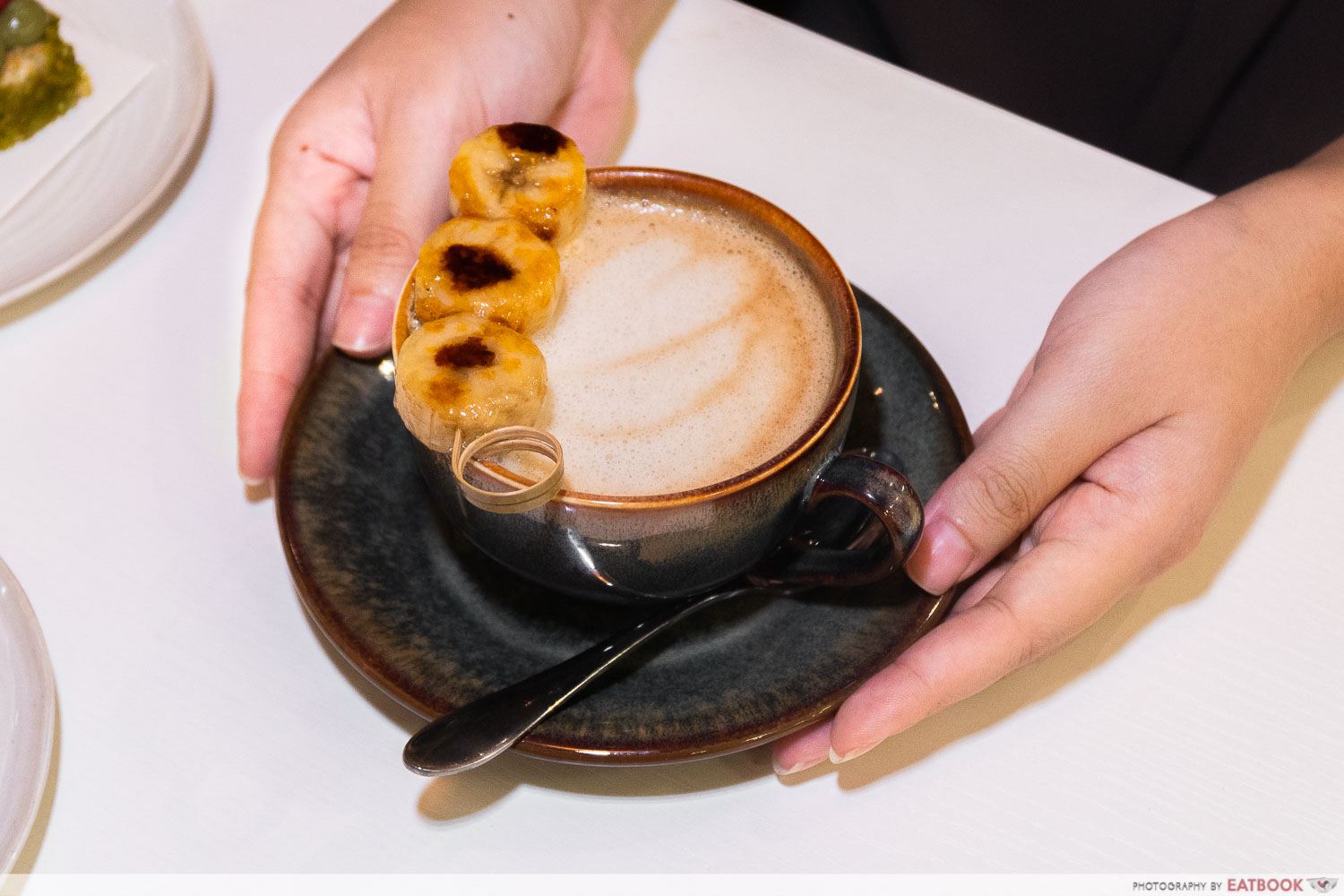 Moving on to drinks, we ordered the Banana Caramel Latte ($7++). This drink was decorated with a caramel-coated banana skewer balanced on the rim of the cup. The latte boasted a smoky aroma, and I was surprised to find banana bits in the drink, which added a creamy texture. The flavours did not complement each other as well as I had hoped, owing to my expectation that the latte would be sweet due to the presence of banana bits in the drink. It was bitter, and the only great thing about this drink was that the skewer was crunchy and sweet due to its caramel coating.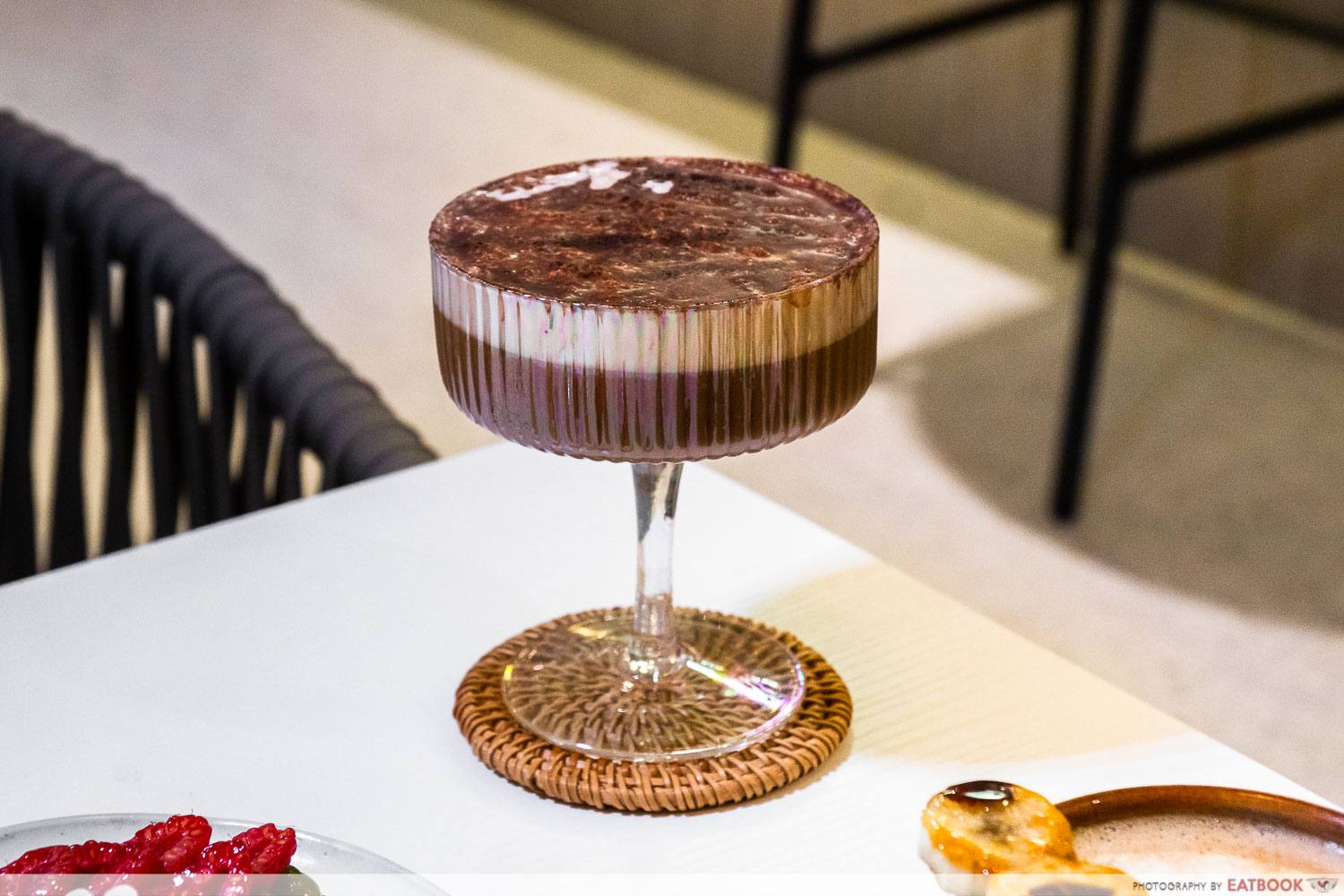 Kopi-Misu ($8++) is a twist on the traditional kopi you'd get at a coffeeshop, resembling a tiramisu with a layer of mascarpone cheese and dusted cocoa powder on top. I felt it tasted more like a dessert than a drink. The mascarpone cheese added a creaminess to the drink, making it a perfect match to the kopi. Unfortunately, I personally thought they added too much sugar in the kopi, which I had expected to be strong and bitter.
Roji Monster Review: Cute Monster Shaved Ice And Ice Cream Waffles In Tanjong Pagar
Ambience at Alice Boulangerie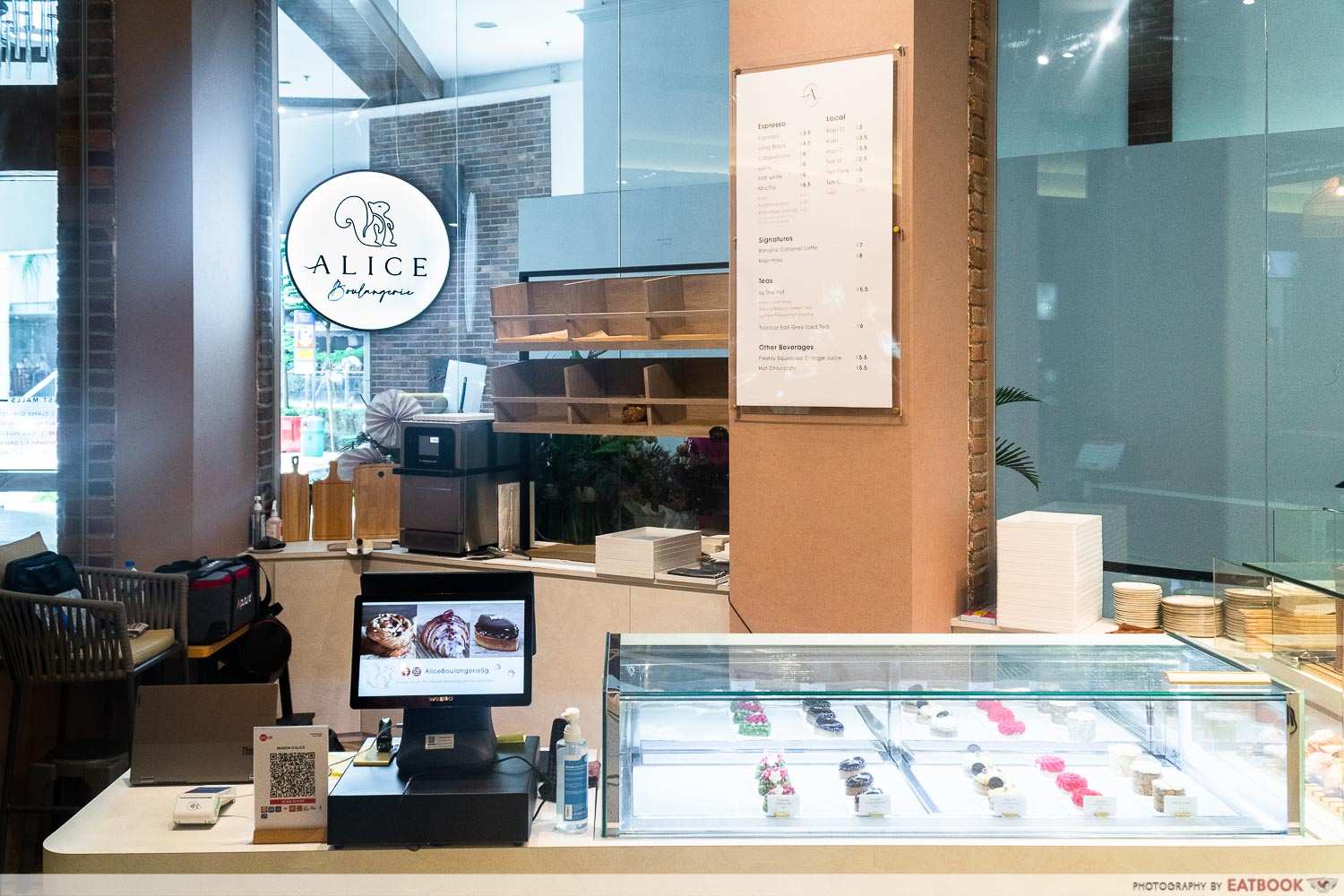 It takes about five to 10 minutes to walk from Tanjong Pagar MRT Station to Alice Boulangerie at Icon Village. The cafe gives off a warm and cosy vibe with its Bali-inspired interior and furniture. It's also quite spacious, with more seats located at the back end of the cafe.
We visited near the lunch hour and there wasn't much of a crowd. Rather, there were more people opting for takeaway rather than dine-in. Nonetheless, as mentioned earlier, some of the pastries get sold out pretty quickly, so if you want to get your hands on them, be sure to come early!
The verdict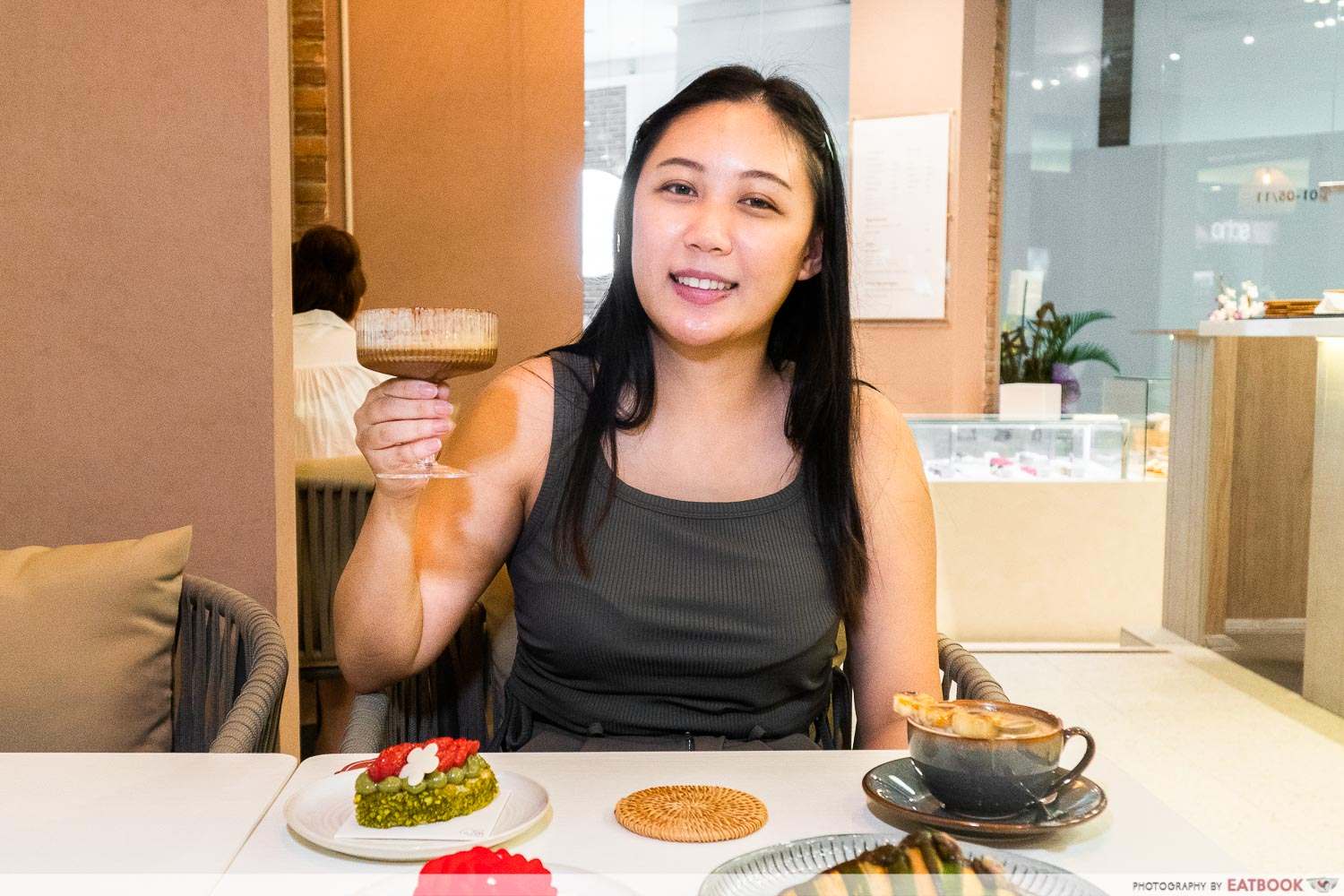 When it comes to visually appealing cafes, Alice Boulangerie definitely fits the bill. Despite a few misses, it turned out to be a pretty good deal for the quality and amount of effort put into each pastry. If you want to try a variety of pastries, head down together with a group of friends so you can try a bit of everything!
For cafes around Tanjong Pagar, check out our Champion Bolo Bun review for curry and butter bolo buns. Alternatively, you can read our Lobsters & Ice Cream V2.0 review for truffle lobster rolls. 
Address: 12 Gopeng Street, #01-05/11 Icon Village, Singapore 078877
Opening hours: Daily 8am to 6pm
Tel: 6994 1196
Website
Alice Boulangerie is not a halal-certified eatery.
Champion Bolo Bun Review: Three Storey-Cafe With Curry And Butter Bolo Buns
Photos taken by Emily Teu
This is an independent review by Eatbook.sg
Alice Boulangerie Review: New Patisserie At Tanjong Pagar Serves Bi-Colour Croissants, Kopi Tiramisu And More
Alice Boulangerie Review: New Patisserie At Tanjong Pagar Serves Bi-Colour Croissants, Kopi Tiramisu And More -

6.5/10
Summary
Pros
– Location isn't too far from the MRT station
– Pistachio flavours stand out 
Cons
– Pricey
– Some of the drinks and desserts are too sweet
Recommended dishes: Pistachio Dacquoise ($9.60), Kopi-Misu ($8)
Opening hours: Daily 8am to 6pm
Address:12 Gopeng Street, #01-05/11 Icon Village, Singapore 078877