Australia Fair 2021 at FairPrice
Whether you're planning an outdoor picnic or a chill Friday night at home, snacks and drinks are an absolute must. Launching today, the Australia Fair 2021 houses some of the most popular food, beverages, and snacks from the land down under. The Australian-made snacks and beverages will be available across all FairPrice outlets, including their supermarkets, FairPrice Finest, FairPrice Xtra, and Warehouse Club, from 23 September to 6 October.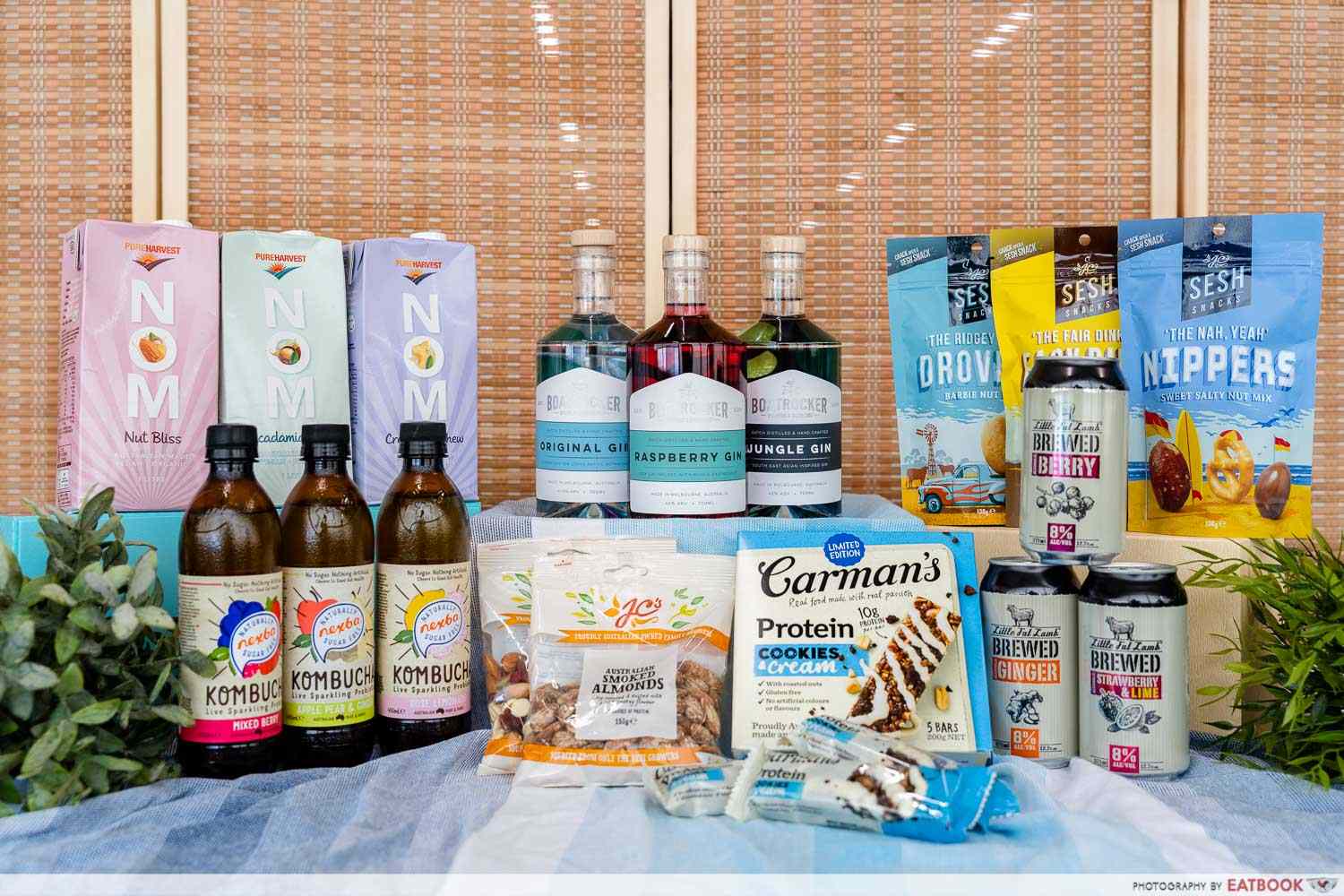 One highlight of the fair is Boatrocker Brewers & Distillers, which boasts one of the largest barrel ageing facilities in Australia. Handcrafted in Boatrocker's small distillery in Melbourne, the boutique brand offers three types of gins ($99 each): Original, Raspberry, and Jungle. Featuring both native Australian, and classic gin ingredients, each bottle is an ode to tradition with a modern twist. Boatrocker Gins are exclusive to FairPrice.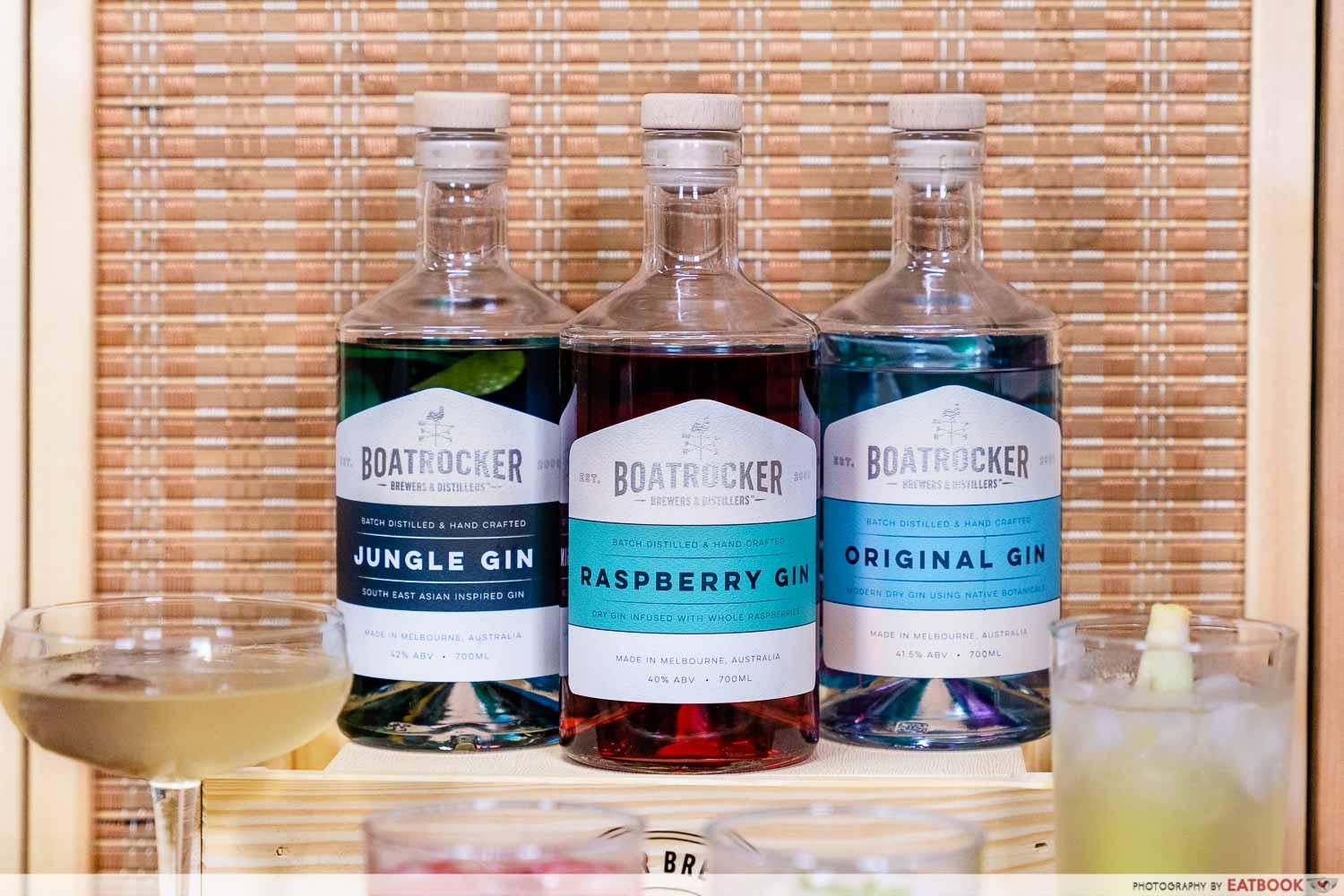 Whip up a classic martini with the Original Gin, which features strong juniper, floral, and citrus notes. There's also the Raspberry Gin for a contemporary spin on the all-time favourite Gin & Tonic. This gorgeously pink number features macerated whole raspberries thrown into the gin, followed by a distillation process that incorporates strawberry gum and earl grey tea for a well-balanced finish.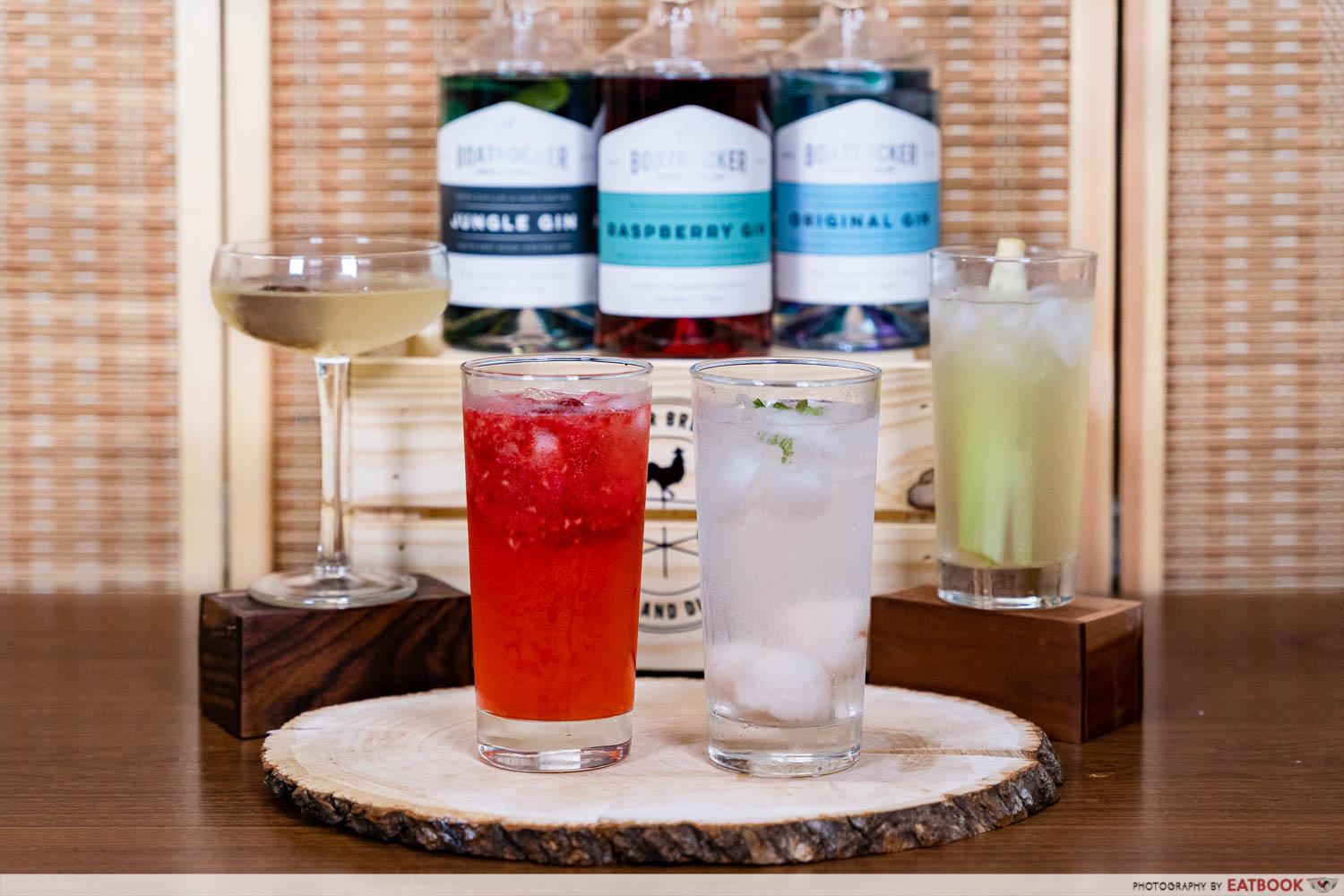 Plan a tropical-themed party at home with the newly launched Jungle Gin, which takes inspiration from flavours of South East Asia. With notes of coriander, lime leaves, ginger, lemongrass, and kumquat, this spicy and aromatic gin is best used in a citrus-forward cocktail.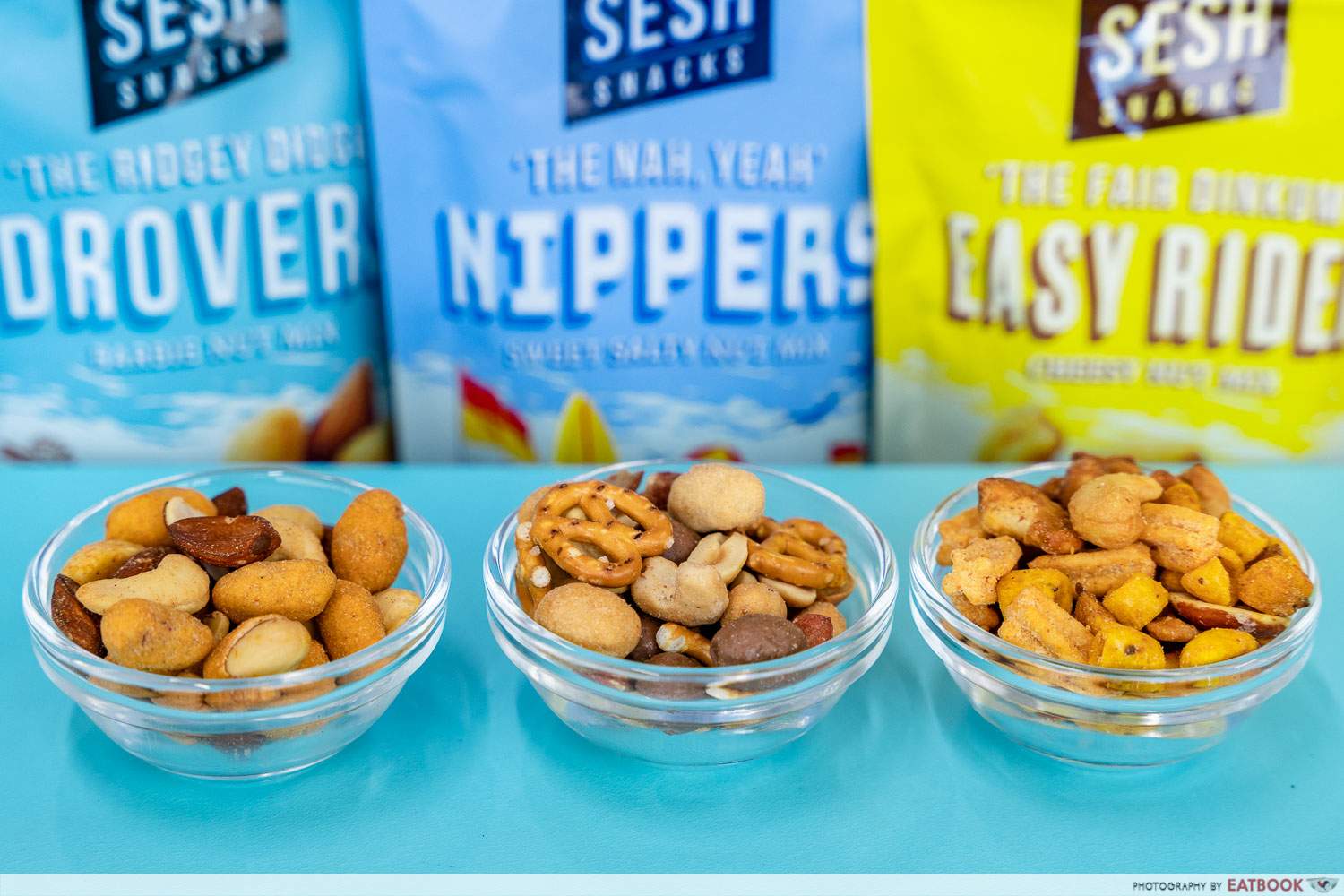 If you have the midnight munchies, JC's Sesh Snacks will tide you over. Launching for the first time in Singapore, each innovative blend is crafted around an iconically Australian vibe and activity. Our favourite of the lot is the Nippers Mix ($6.85): a sweet-salty, addictive combination of sea-salt beer nuts, crunchy mini pretzels, and chocolate-coated peanuts for good measure. 
Another savoury must-try is the Drovers Mix ($6.85), a classic Aussie-style mix of BBQ-coated peanuts, roasted almonds, salted cashews, and giant macadamias. There's also the Easy Rider Mix ($6.85), a cheesy blend of crunchy soya crisps with cheese-coated cashews, smashed together with corn bits and even more cheese.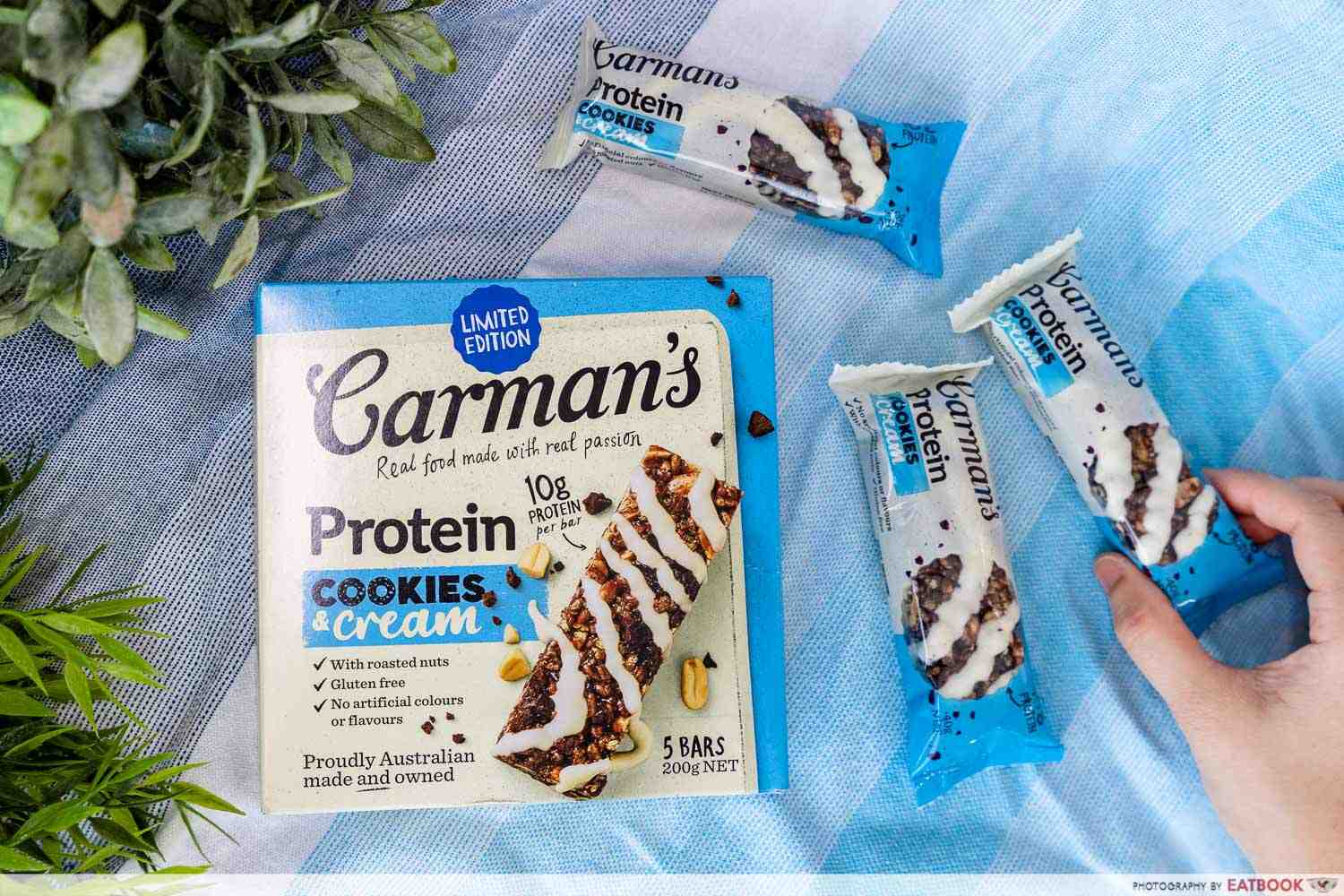 If you're craving something sweet without the guilt, try Carman's Cookies & Cream Protein Bars ($7.50). Each bar contains 10g of protein, making it the perfect pre- or post-workout snack to bring along to the gym.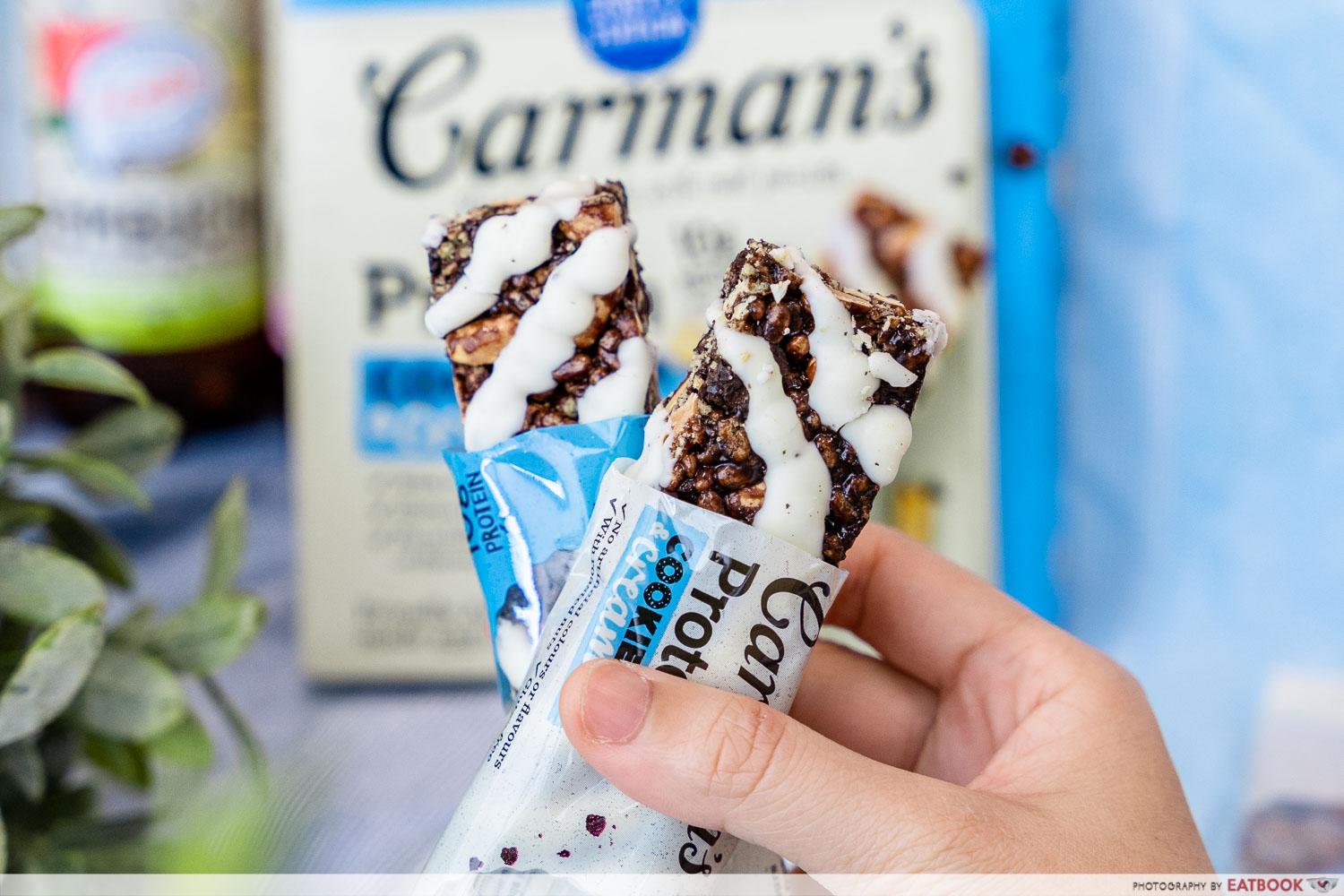 Made with roasted peanuts, soy protein crisps, dark chocolate cookie chunks, and creamy white chocolate, these gluten-free goodies are as delicious as they look! They're also a great source of fibre, so one bar will definitely satiate those mid-morning or late-afternoon hunger pangs. The best-selling Aussie muesli brand is exclusively available at FairPrice.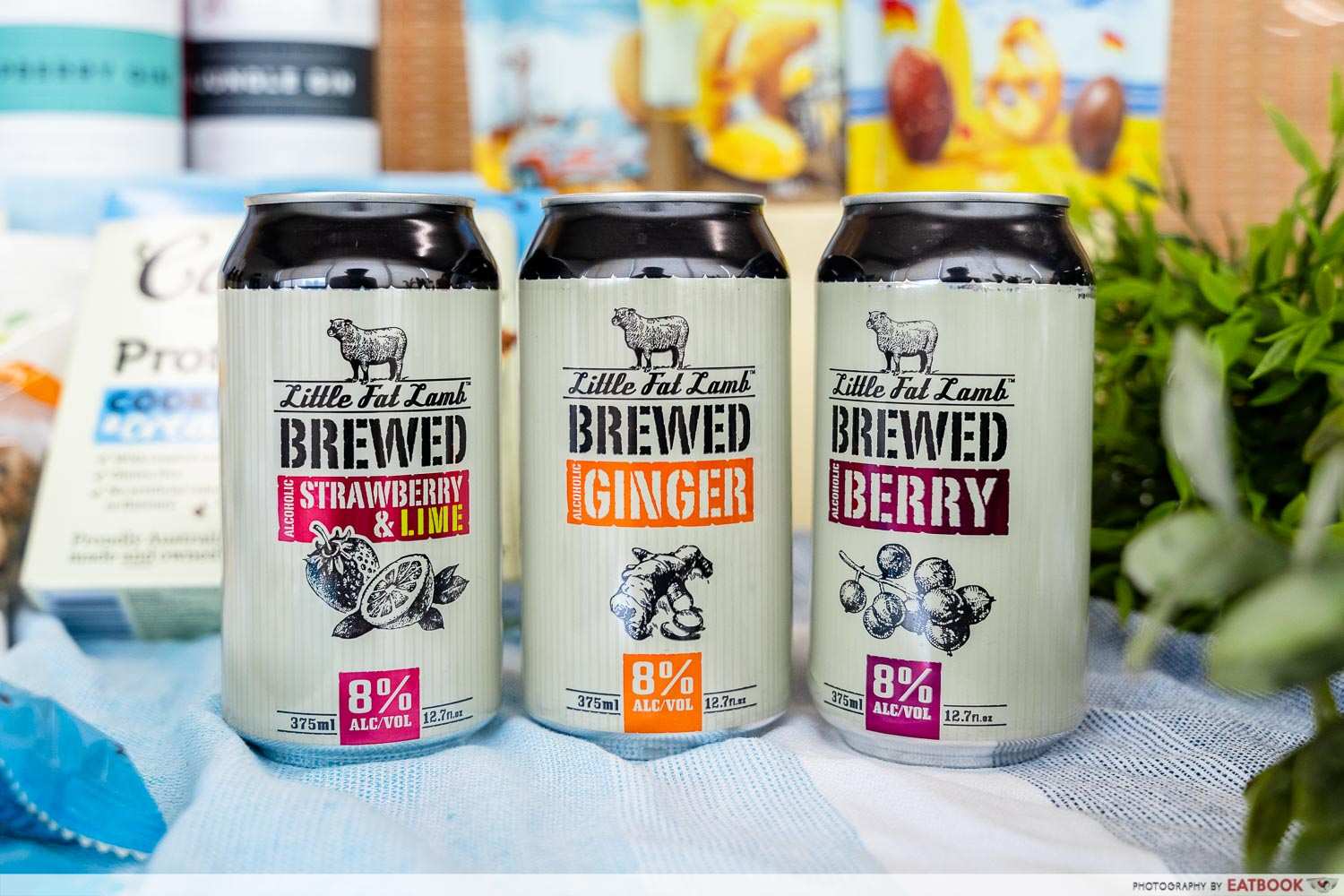 For something fruity and refreshing, try Little Fat Lamb's range of beers and ciders ($6.95). Brewed and bottled in Australia, the alcoholic beverages are infused with locally sourced ingredients. Flavours include Strawberry and Lime, Ginger, and Berry. Best enjoyed chilled on a hot afternoon, these ciders go well with the nut mixes, or any other salty snack of your choice!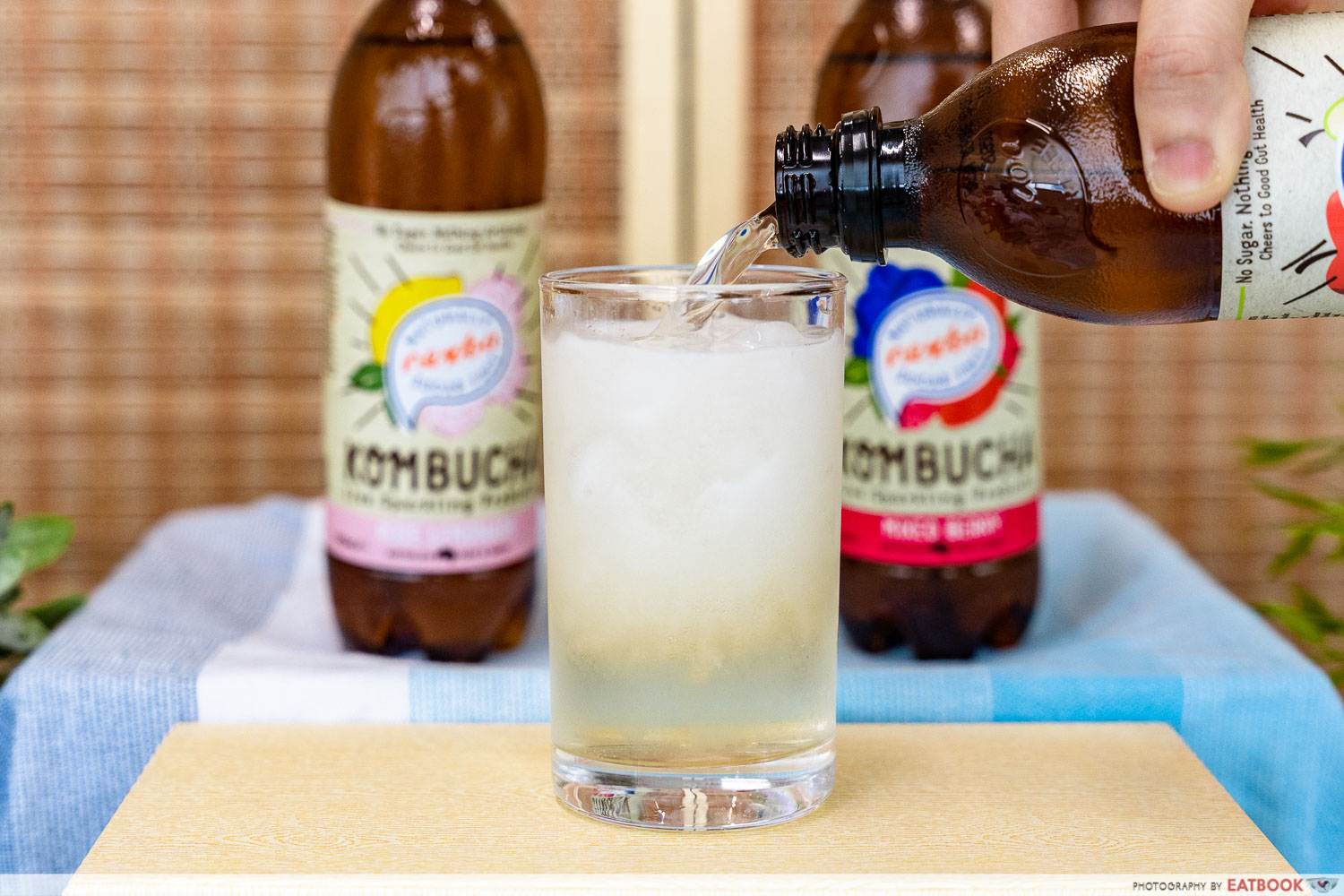 If you prefer to keep things healthy, the naturally sugar-free kombucha by Nexba ($4.35) are worth trying. Made with real oolong tea and millions of probiotics, these fizzy, gut-friendly drinks are proudly Australian-made and owned. They're also gluten-free, vegan, and contain no artificial ingredients or preservatives—perfect for the entire family to enjoy!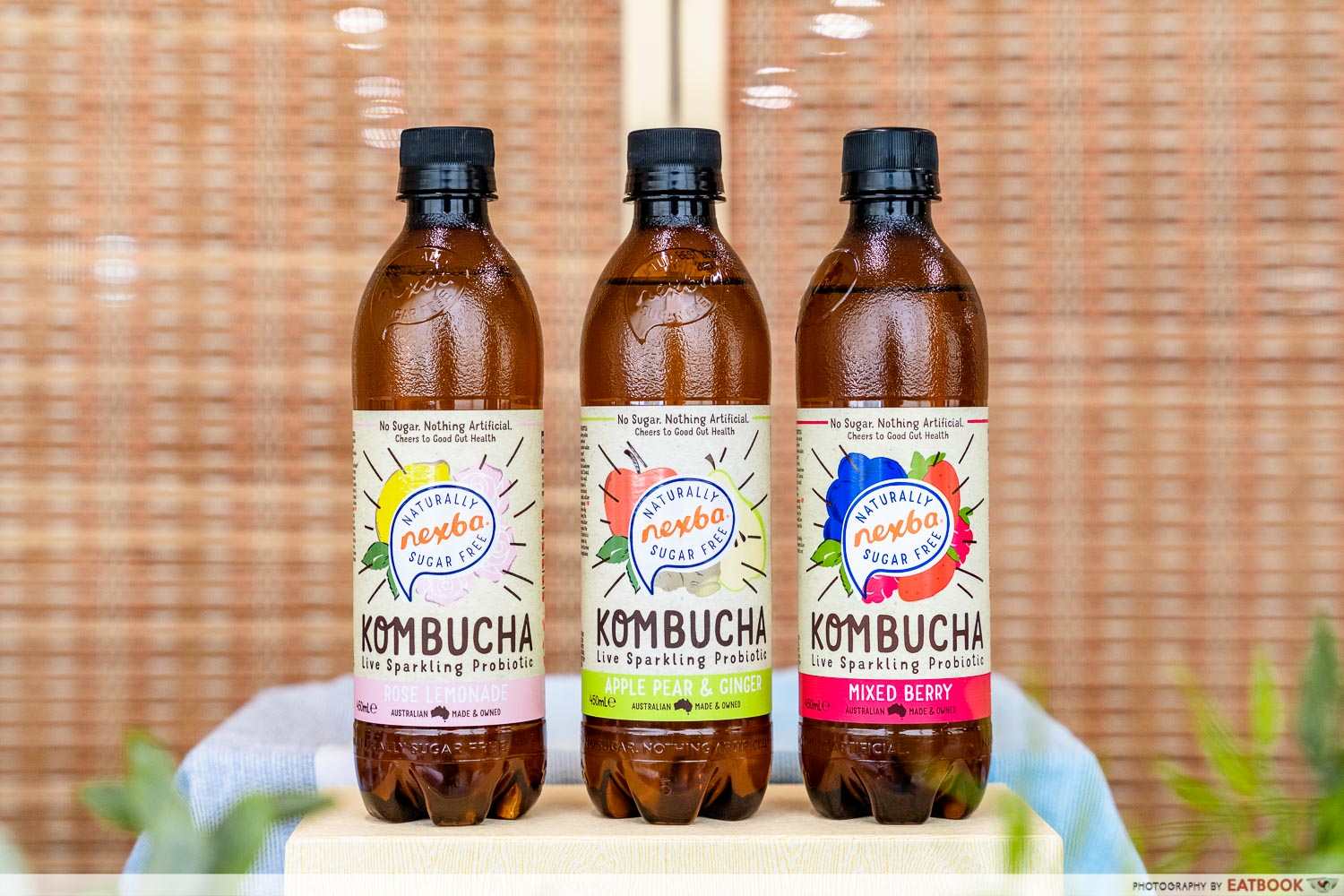 Popular flavours include Apple Pear and Ginger, Mixed Berry, and Rose Lemonade. They're also low in calories, which means you can enjoy them at any time of the day, without feeling guilty. Another fun fact: this is the first kombucha that can be enjoyed at room temperature without changes to its probiotic level!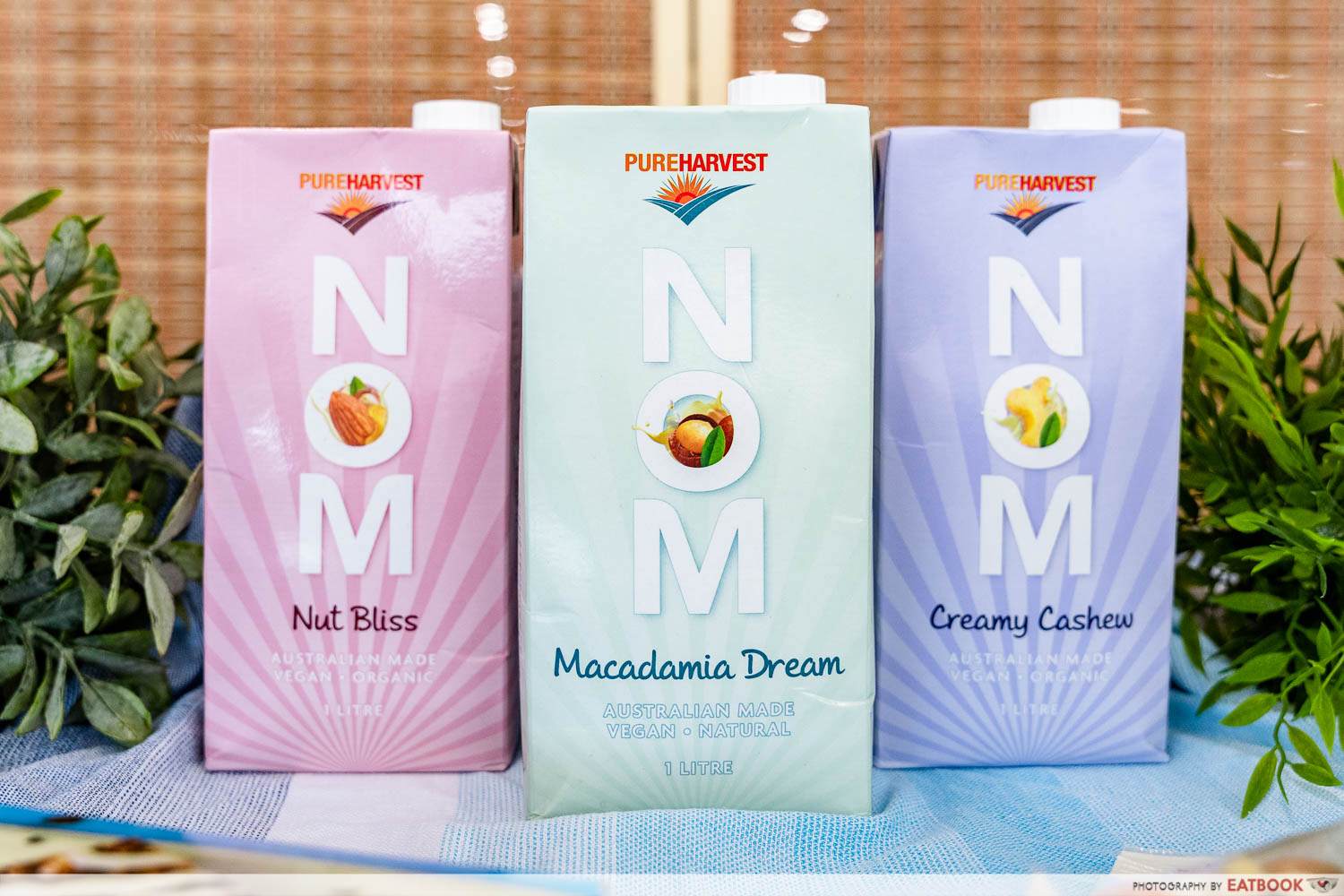 Here's something for those who love non-dairy milk: PureHarvest NOM Milks ($5.75) are entirely vegan, organic, and made in Australia. Available in flavours including Nut Bliss, Macadamia Dream, and Creamy Cashew, each nut-infused oat milk is great for adding to your cup of joe as it froths up well, or for your morning cereal and smoothies. They're equally tasty on their own, too!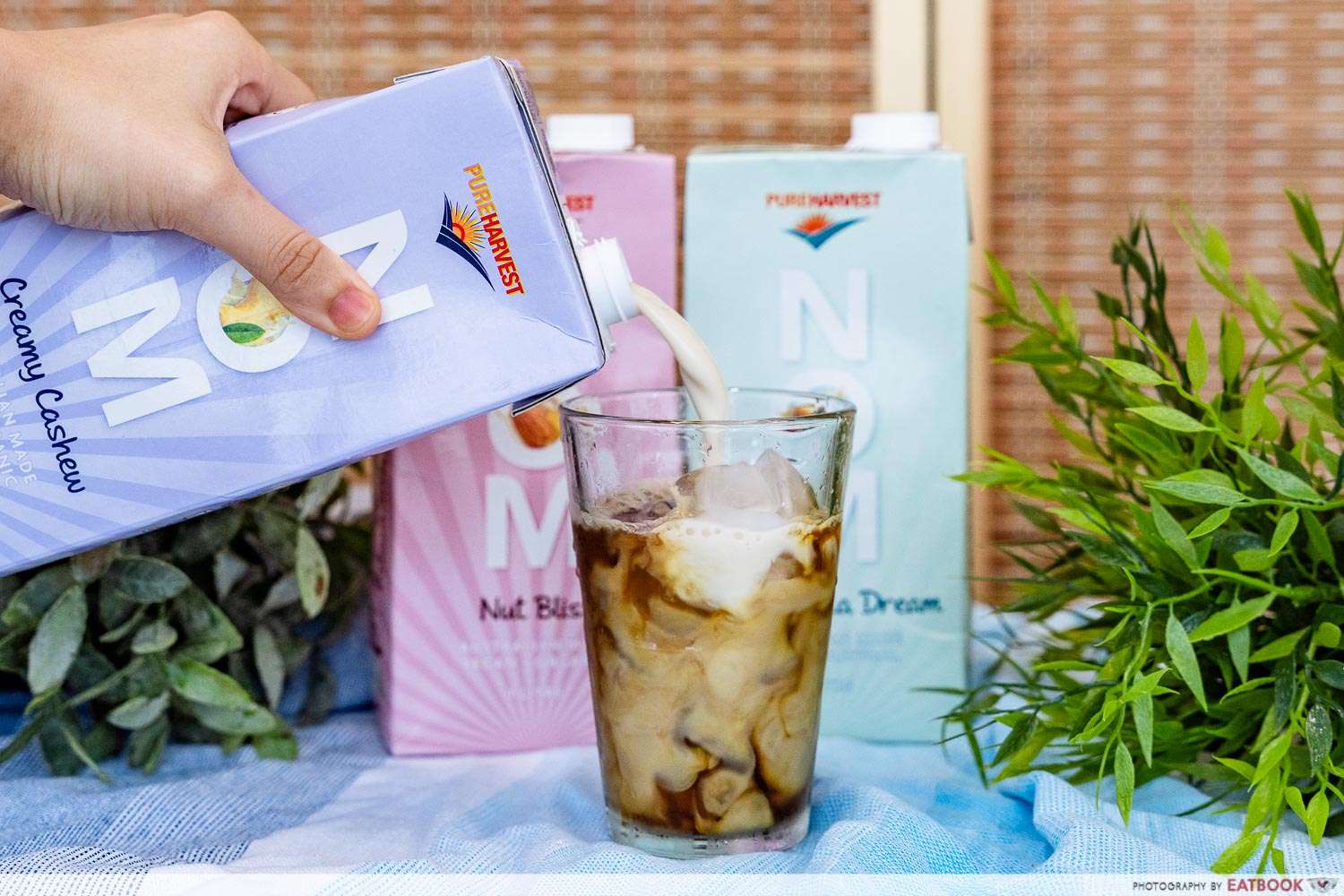 These plant-based milk beverages incorporate whole, roasted organic nuts, as well as organic oats for that creamy, luscious finish. Sunflower oil and a pinch of salt are added as a finishing touch to bring out the sweetness of the nut-infused oat milk.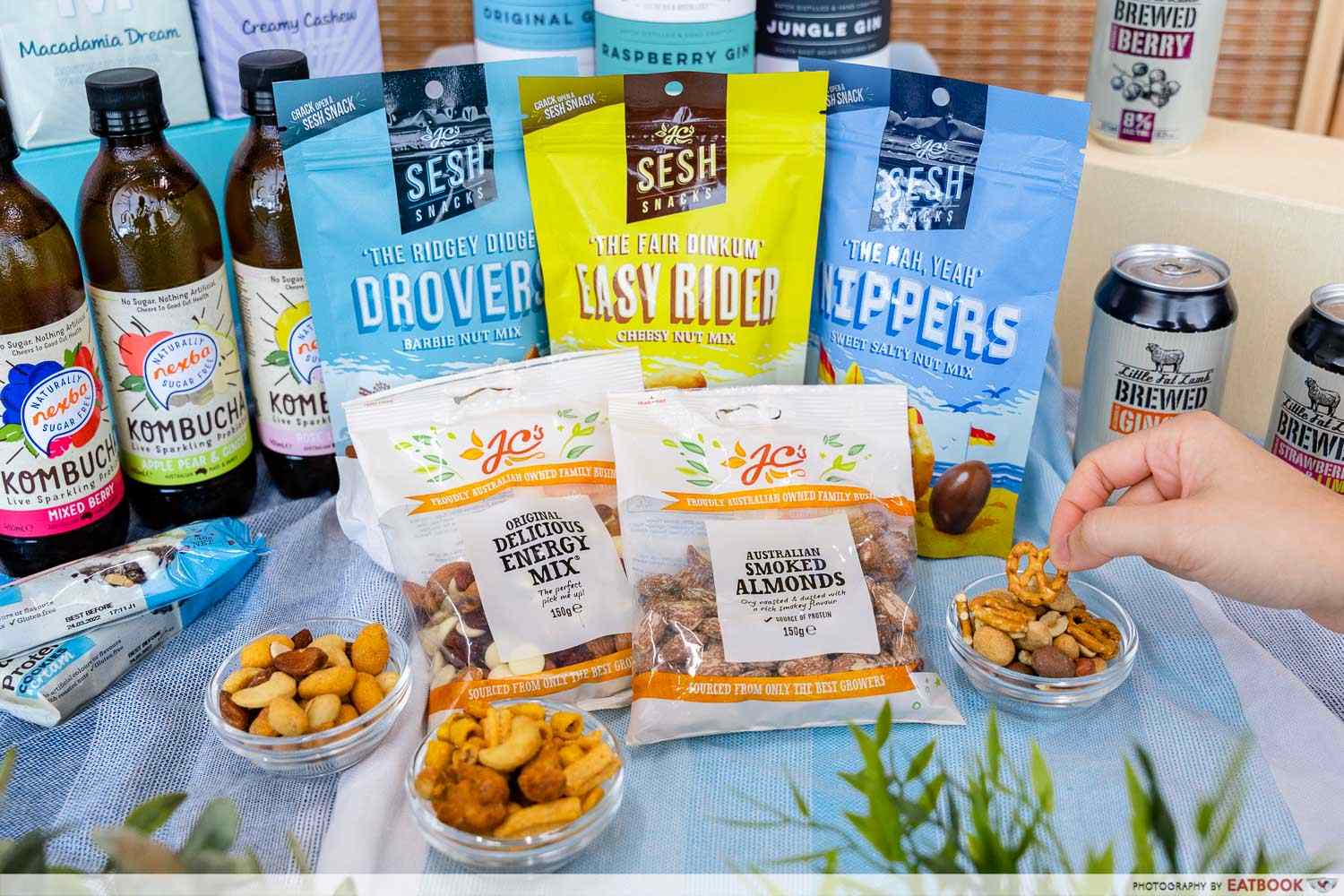 Leisure travel might be taking a backseat for a while, but you can still relive your visit to the land down under with a familiar snack or two. From 23 September to 6 October, treat yourself to these limited-time-only Australian food products, only available at Fairprice. Do note that the products available vary from store to store. 
Photos taken by John Lery Villaneuva.
This post is brought to you by Bemco Australia Ptd Ltd for FairPrice.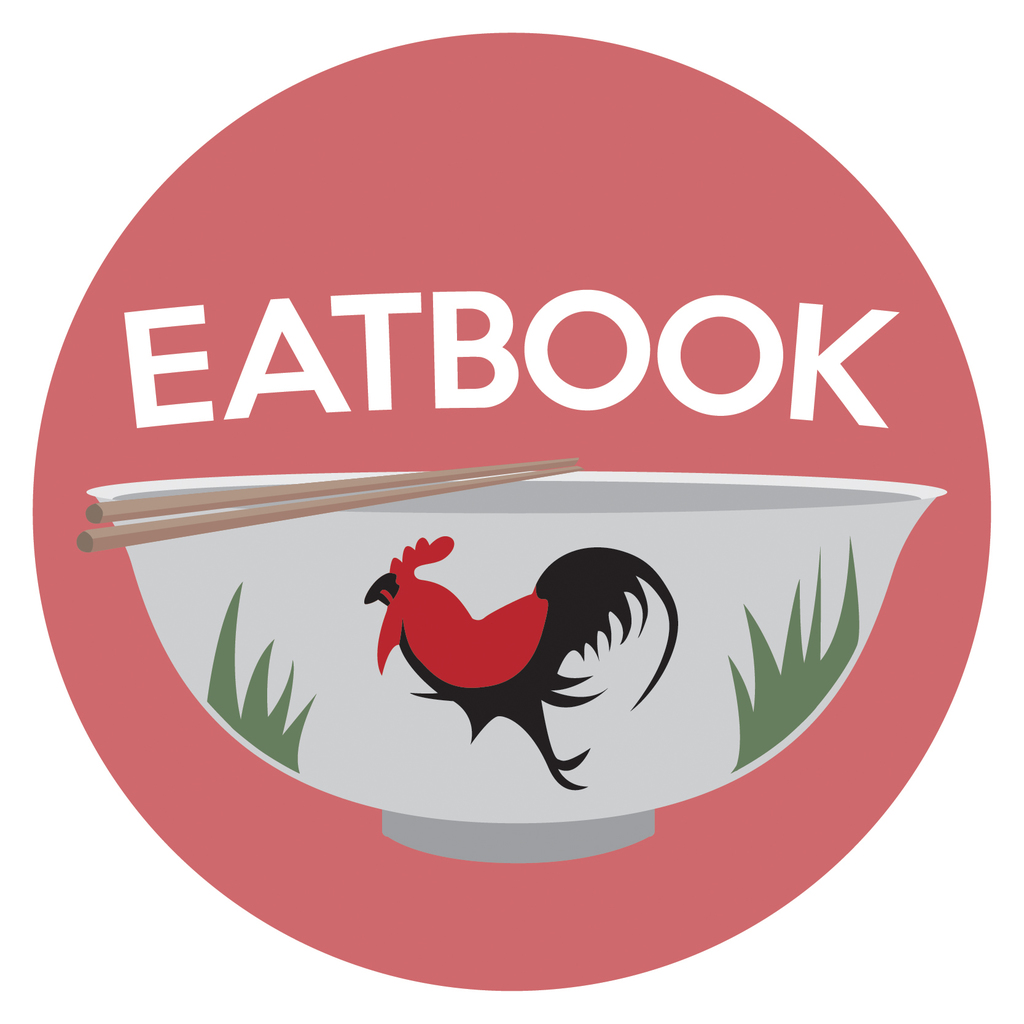 Drop us your email so you won't miss the latest news.