---
Visit these Bangkok Restaurants with UOB YOLO
---
Over the past decade or so, Bangkok has been experiencing rapid gentrification. At almost every corner, you will find a hip restaurant with floor-to-ceiling windows or a hipster cafe boasting pretty blooms as decor. While many historic buildings are being demolished to make way for skyscrapers, there are just as many F&B players choosing to breathe new life into abandoned structures and turning them into snazzy restaurants instead.
Spam your followers with IG stories of these cool Bangkok restaurants in refurbished buildings the next time you're visiting the land of smiles. For those with UOB YOLO, you'll also get to enjoy up to 16% rebate* when you dine at these joints in BKK – or at anywhere else in the world – during the weekends!
---
1. The Never Ending Summer
---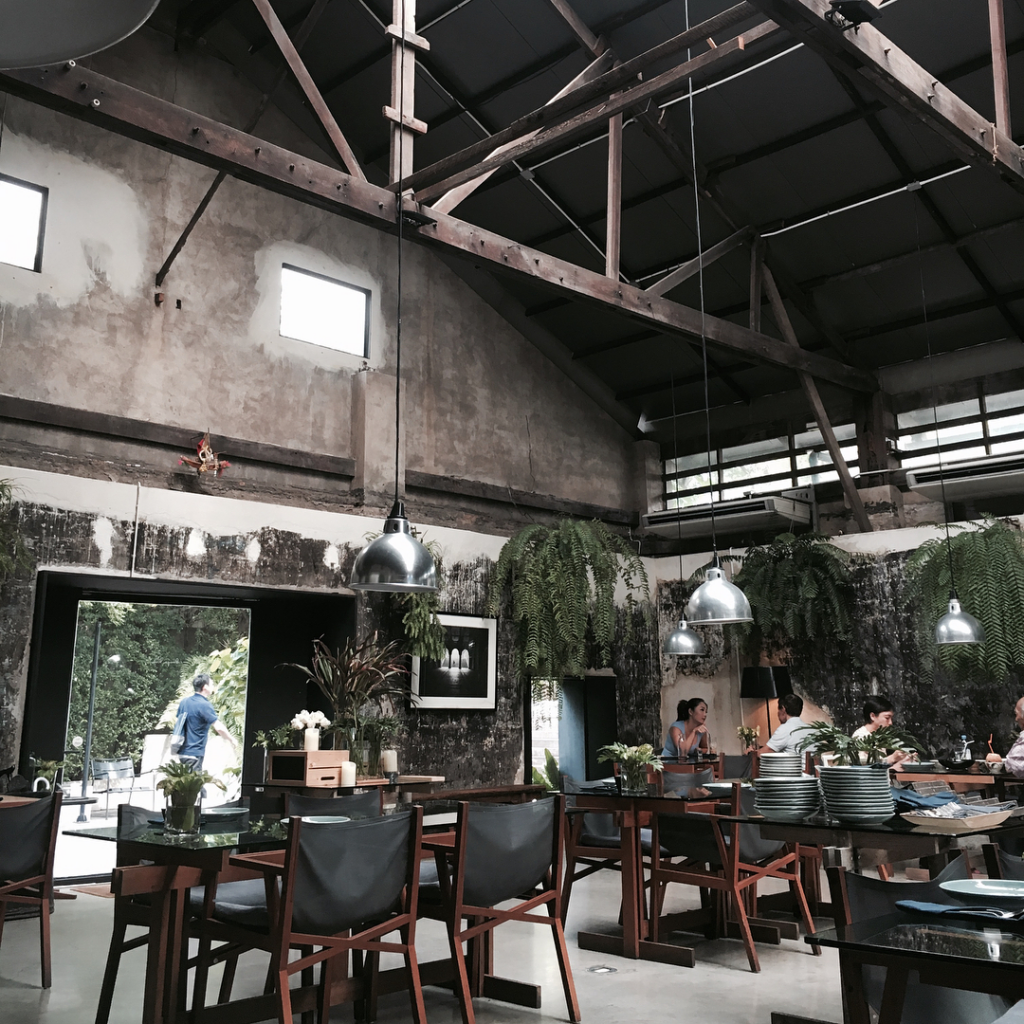 Image credit: @ek_choi_alice
Owned by acclaimed Thai architect Duangrit Bunnag, The Never Ending Summer is an elegant restaurant frequented by fashionable folks. The bones of the space remain the same, and juxtaposed against the once depilated riverside warehouse's original brick walls are industrial-themed fixtures.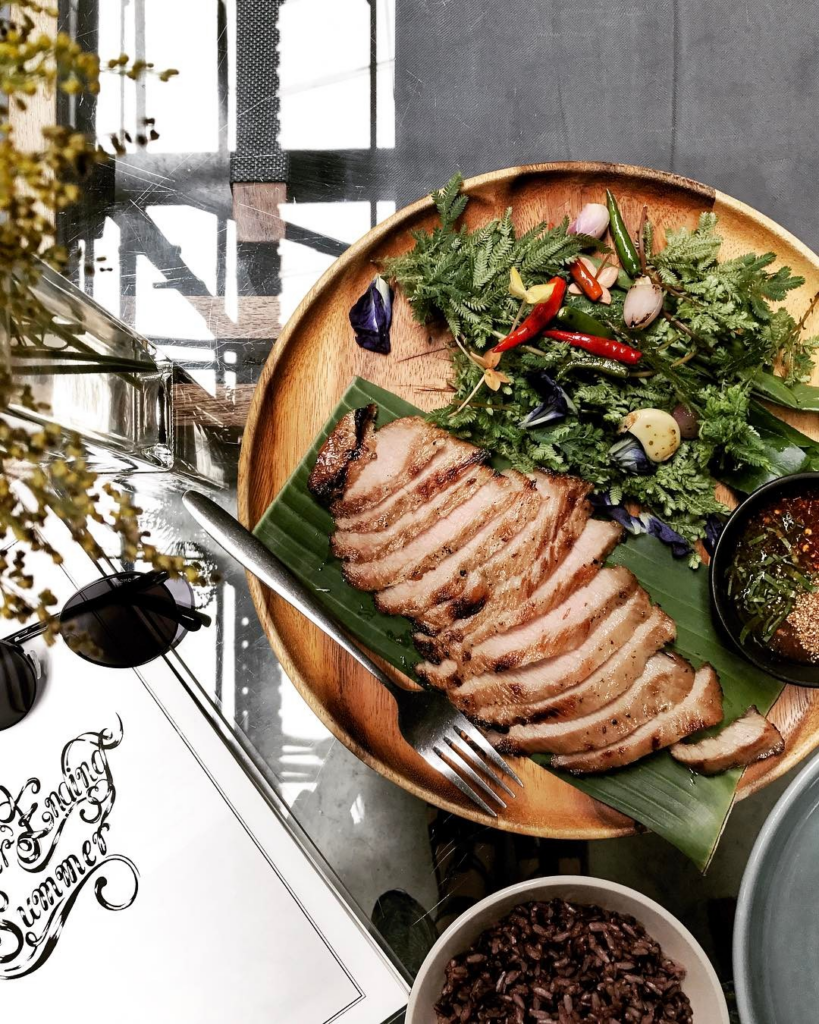 Image credit: @lifestock_yuuki
The food are presented to showcase sophistication. Reinterpreting Thai dishes by giving them a modern twist is head chef Nakul Yeast Kavinrat, who champions seasonal Thai and regional ingredients. A dish that looks too pretty to devour is their Grilled Kurobuta Pork Collar (THB380/~S$15.80).
Address: 41/5 Charoen Nakhon Road, Khlong San, Bangkok 10600
Opening hours: Daily 11am to 11pm
Tel: +66 2 861 0953
Website
Menu
---
2. Vivarium
---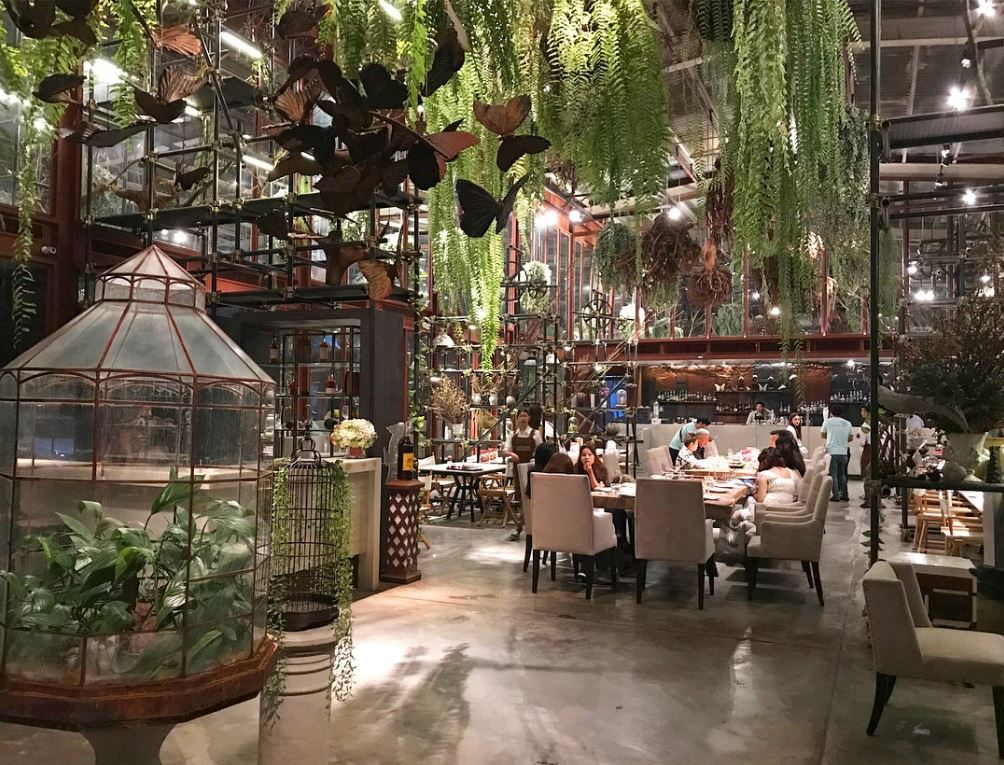 Image credit: @thecharleneyap
Converting a tractor warehouse into a terrarium-like restaurant that's highlighted by plants and ferns hanging down the ceiling, Vivarium is one of Bangkok's most eye-catching restaurants. Effort is given to repurpose the abandoned site as much as possible, with reclaimed iron doors and steel pipes being transformed into shelves.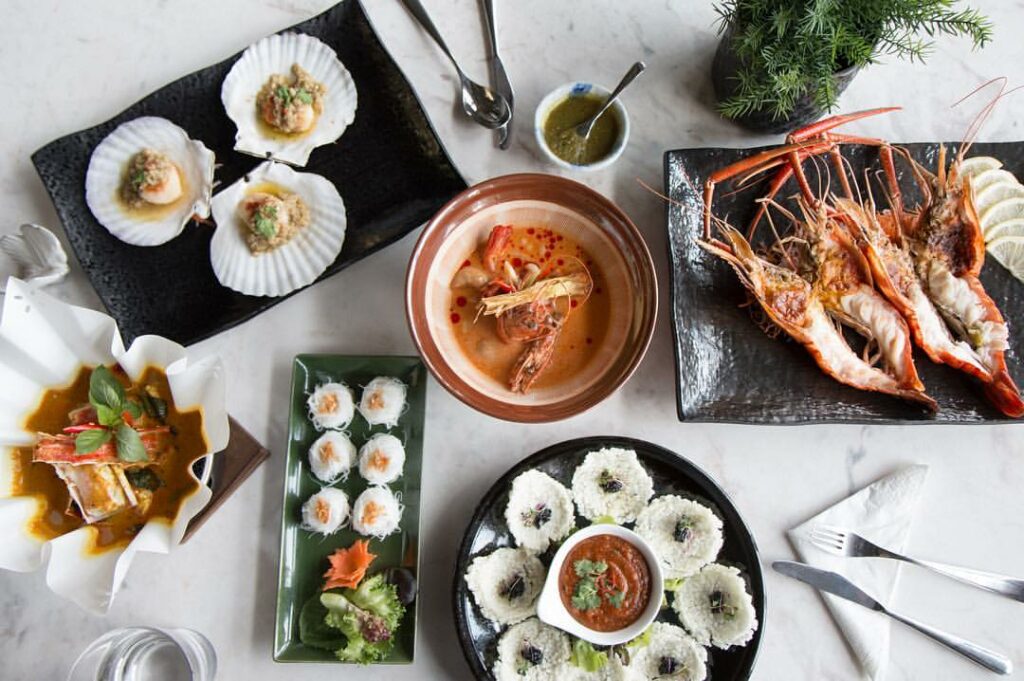 Image credit: Vivarium's' Facebook page
Thai's Iron Chef stars, Chumpol Jangprai and Boontham Parkpho, helm the kitchen. Together, they whip up traditional Thai cuisine that's highlighted by luxurious Japanese ingredients. Some dishes to try here include Pad Krapow (THB550/~S$22.80) made with surf clam and Kobe Beef Green Curry (THB1,500/~S$62.30).
Address: 3675 Rama 4 Road, Bangkok 10110, Thailand
Opening hours: Daily 5pm to 11pm
Tel: +66 2 261 9508
Website
---
3. Farm to Table Hideout
---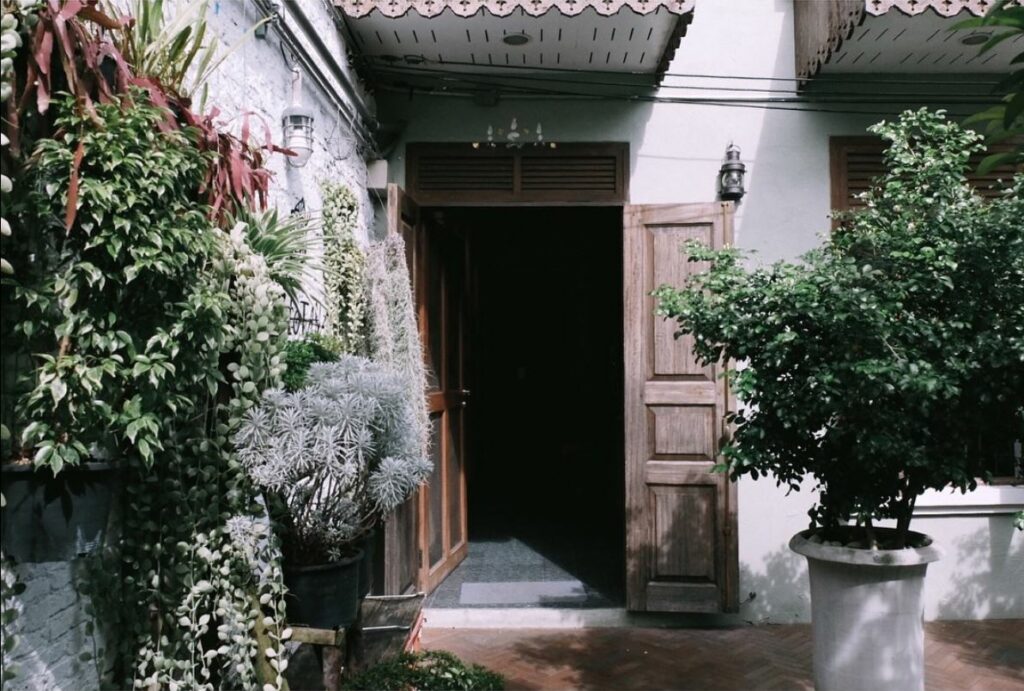 Image credit: @msbonne
Housed in a grand manor that's over 200 years-old, Farm to Table Hideout is a sight to behold. Like its name suggests, the restaurant is rather hidden away, and you can find it within Bangkok's fresh flower market, Pak Klong Talad.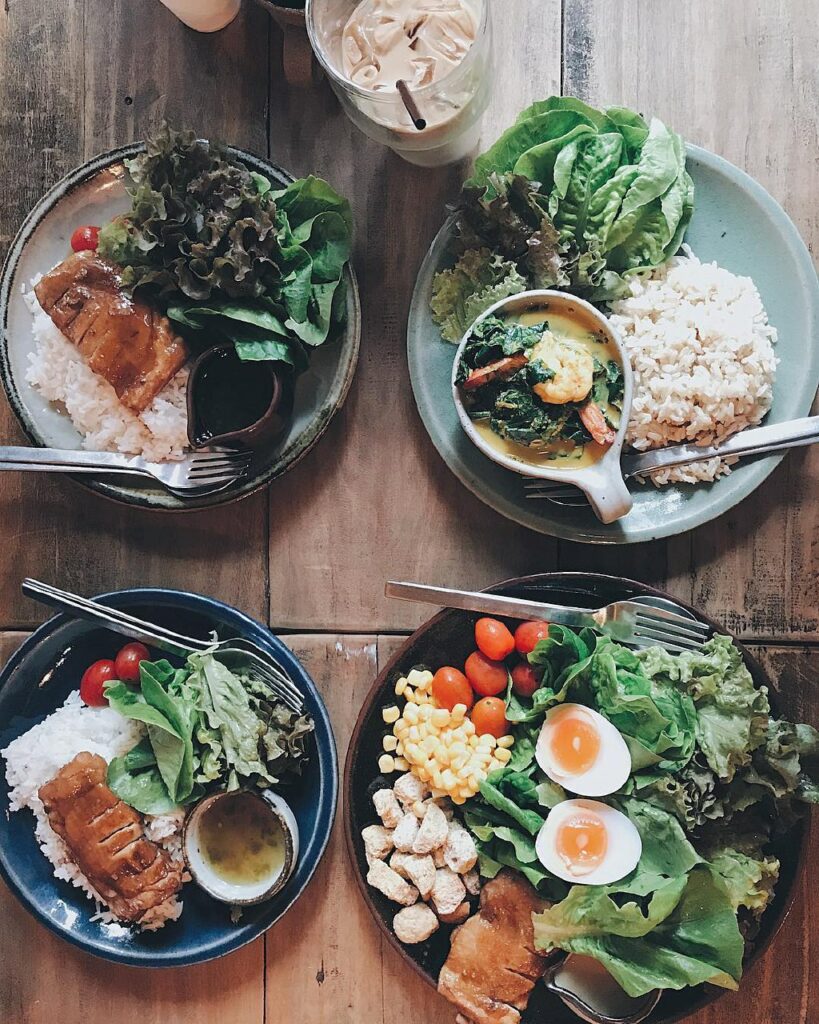 Image credit: @athithanan
Gathering organic produce from Chiang Rai, the European-Asian fusion dishes here are both healthy and delicious. Their one-dish meals are all priced at THB112/~S$4.60 and include items like rice served with fried tofu and cashew nuts – a scrummy, vegan rendition of Thai basil meat rice. Do bring along some Thai baht, as they only accept cash here.
Address: 15 Soi Tha Klang, Khwaeng Wang Burapha Phirom, Khet Phra Nakhon, Bangkok 10200, Thailand
Opening hours: Thur-Mon 10am to 9pm
Tel: +66 2 004 8771
Website
---
4. RongSi
---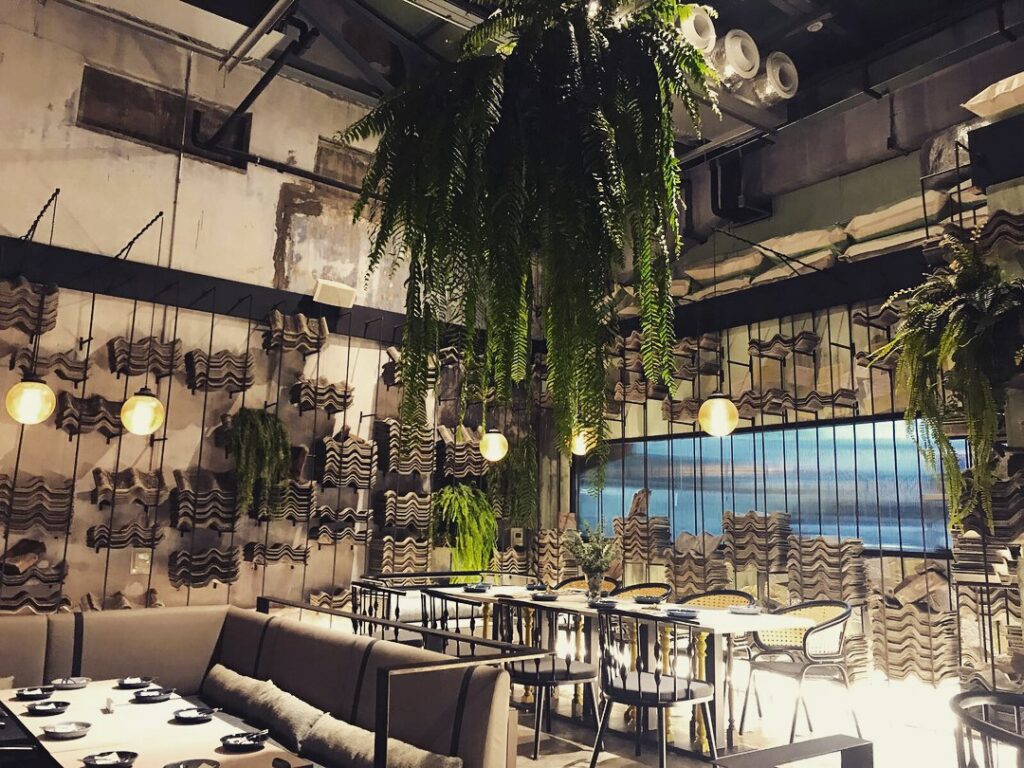 Image credit: @sakon_s
RongSi is located in one of the many old pier warehouses at Lhong 1919, a massive lifestyle hub that spans over 6,800 sq ft with a 100 year-old Chinese shrine dedicated to Mazu, a sea goddess. Around Lhong 1919 you will find ancient Chinese murals and artwork preserved from the yesteryears, so you can admire detailed paintings and carvings from the past on window frames and doors on your way here. RongSi also pays respect to the interior of the old warehouse by retaining some of the old roof tiles.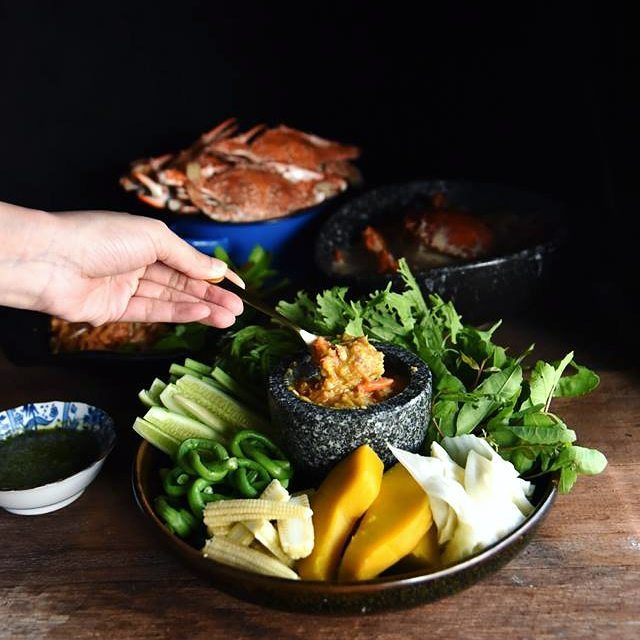 Image credit: @rongsibangkok
Thai-style seafood is the best thing to have when you're here. The crustacean dishes are all masterfully prepared and brimming with freshness. A good dish to order is the umami Chilli Dip with Crab Roe (THB380/~S$15.80). For Christmas this year, they've come up with two seasonal drinks, namely the pomegranate-based Rudolph Fresh Drink (THB149/~S$6.20) and North Pole Milk Choc (THB169/~S$7), which will surely be a hit among the kids, or the kids at heart.
Address: Lhong 1919, Chiangmai Street, Khwaeng Khlong San, Khek Khlong San, Bangkok 10600, Thailand
Opening hours: Daily 11am to 10pm
Tel: +66 2 408 4719
Website
---
5. Dok Kaew House Bar
---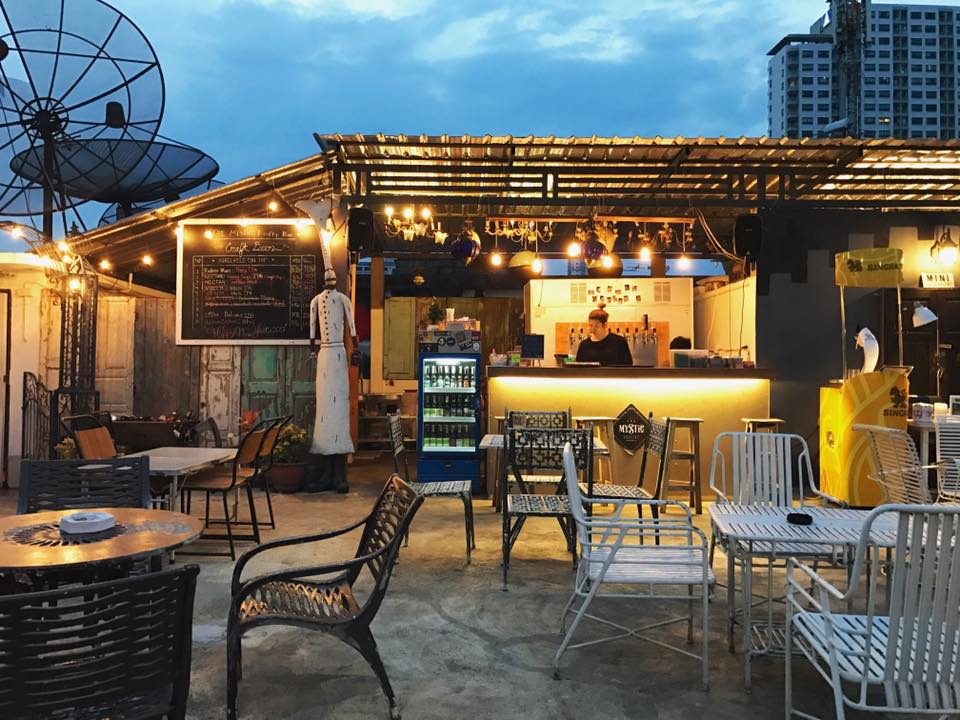 Image credit: Dok Kaew House Bar's Facebook page
This 80 year-old two-storey residential house has been passed down through four generations, before finally being sold to be restored as Dok Kaew House Bar, a laid-back hangout for beer geeks. Meant to feel like you're drinking at a friend's house, the bar is fitted with sofas, coffee tables and handmade decorations. However, I'd rather snag a coveted seat on their rooftop for panoramic views of the surrounding neighbourhood.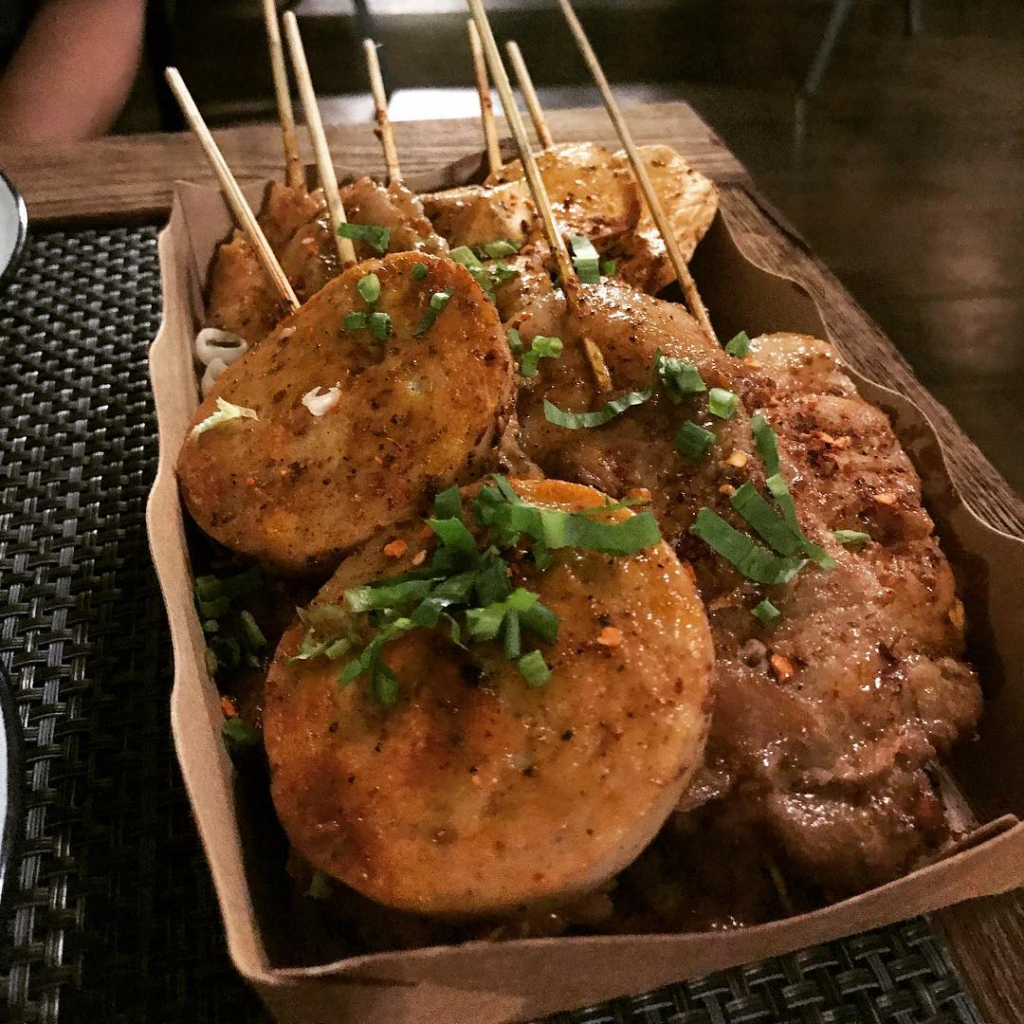 Image credit: @sunny_pp
There are 10 craft beers rotating on tap each day, with labels like And Union Friday IPA (THB200/~S$8.30) and Sandport Wheat Boom (THB180/~S$7.50). To go with your booze is a selection of delicious bar grub such as Barbecue Beef Skewers, which will set you back THB170/~S$7. They only accept cash, so make sure you have enough on hand before popping by!
Address: 71 Soi Sassana (Rama 6, Soi 28), Phaya Thai, Bangkok 10400, Thailand
Opening hours: Daily 5pm to 12am
Tel: +66 96 886 4104
Website
---
6. Namsaah Bottling Trust
---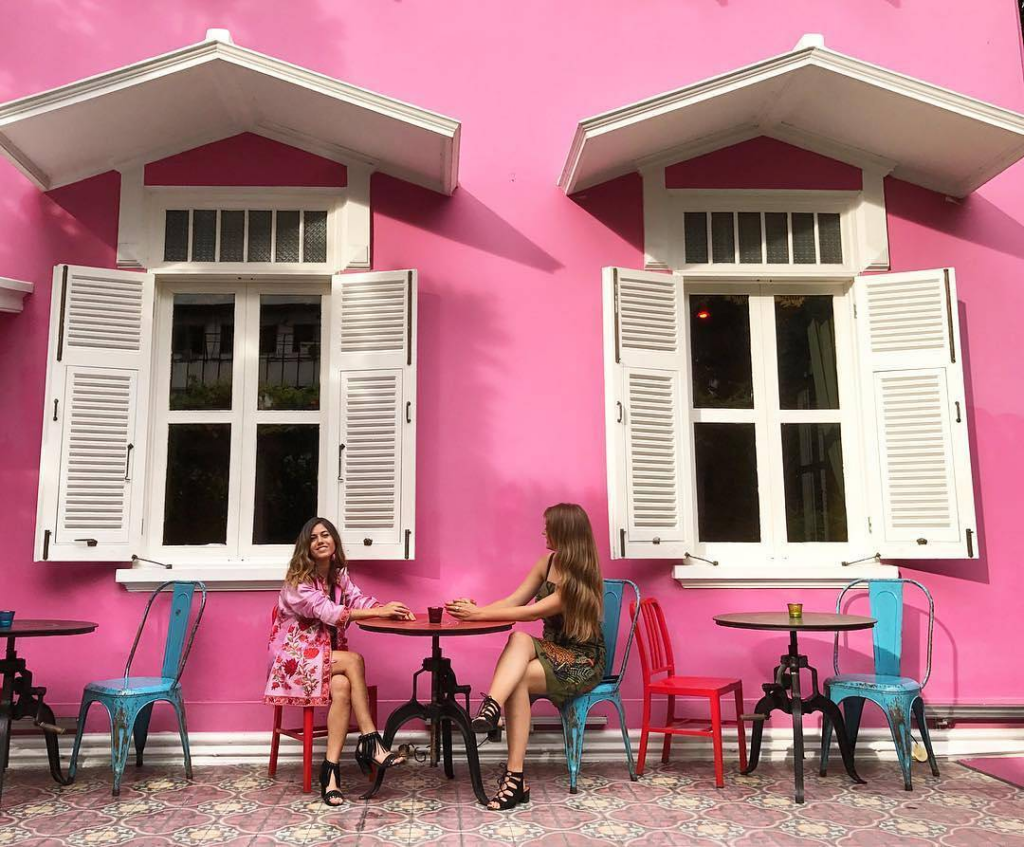 Image credit: @shiranbaum
You won't miss Namsaah Bottling Trust even if you wanted to, thanks to its vibrant pink exterior. Built in the 1910s, this colonial house has withstood the test of time; it was once the home of an aide-de-camp of the royal court, before becoming a bank's headquarters and an office for a soda company, and it has now transformed into cultured restaurant-bar Namsaah Bottling Trust.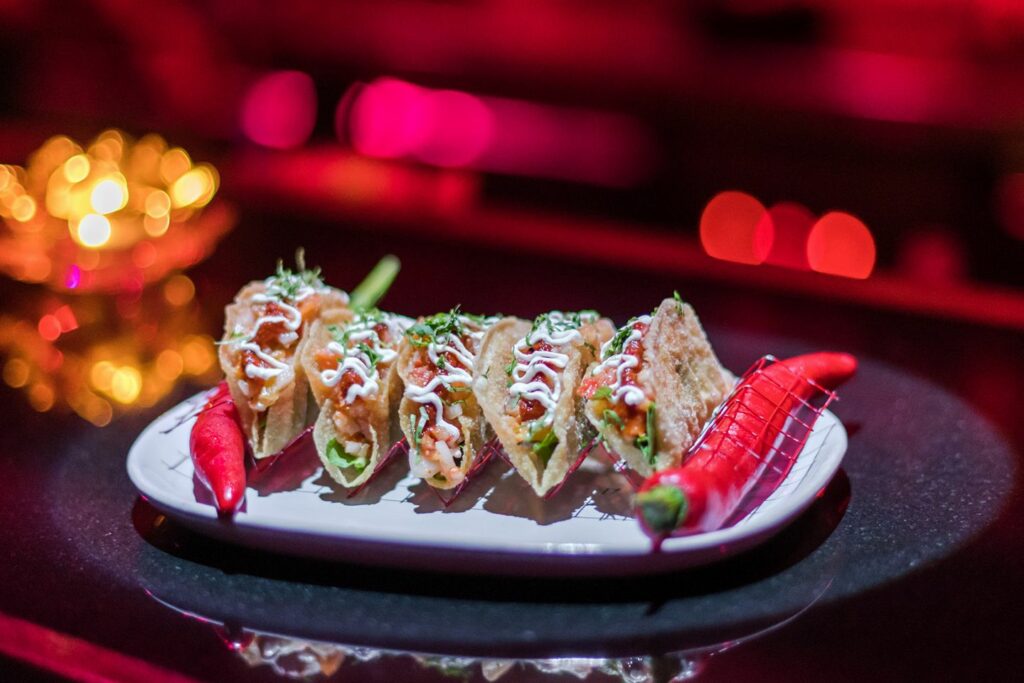 Image credit: Namsaah Bottling Trust's Facebook page
Here, Bangkok's talented chef Ian Kittichai pushes out Asian favourites with a luxurious twist. Slurp up the al dente Namsaah Pad Thai Noodles (THB430/~S$17.82) boasting pieces of creamy foie gras with shrimp. Great to go with your tipple is their Salmon Tartare Wonton (THB260/~S$10.80) tacos with a chilli lime dressing.
Address: 401 Silom, Soi 7, Bang Rak, Bangkok 10500, Thailand
Opening hours: Daily 5pm to 2am
Tel: +66 2 636 6622
Website
---
7. Smalls
---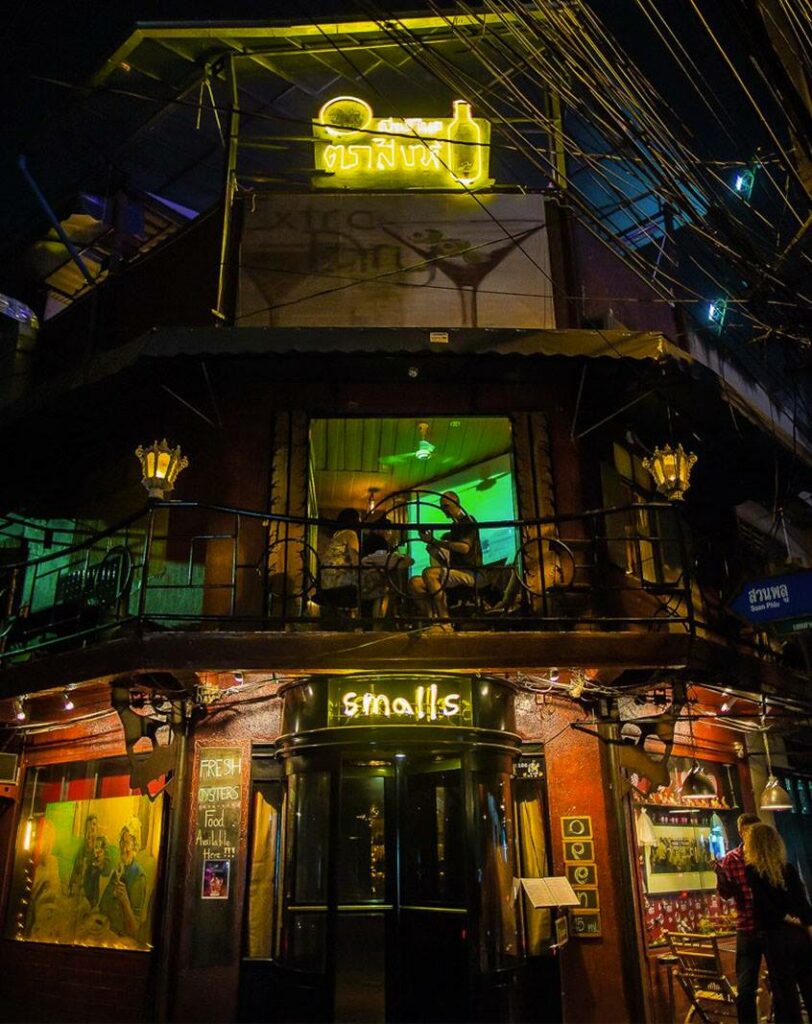 Image credit: Smalls' Facebook page
One of the hottest jazz bars in Bangkok, Smalls occupies all three floors of a rather ramshackle old corner townhouse. Charm bounces off its walls, as owner and renowned Bangkok nightlife figure David Jacobson messily adorns the walls with his prized collection of art – a stark contrast to the Rococo floor tiling.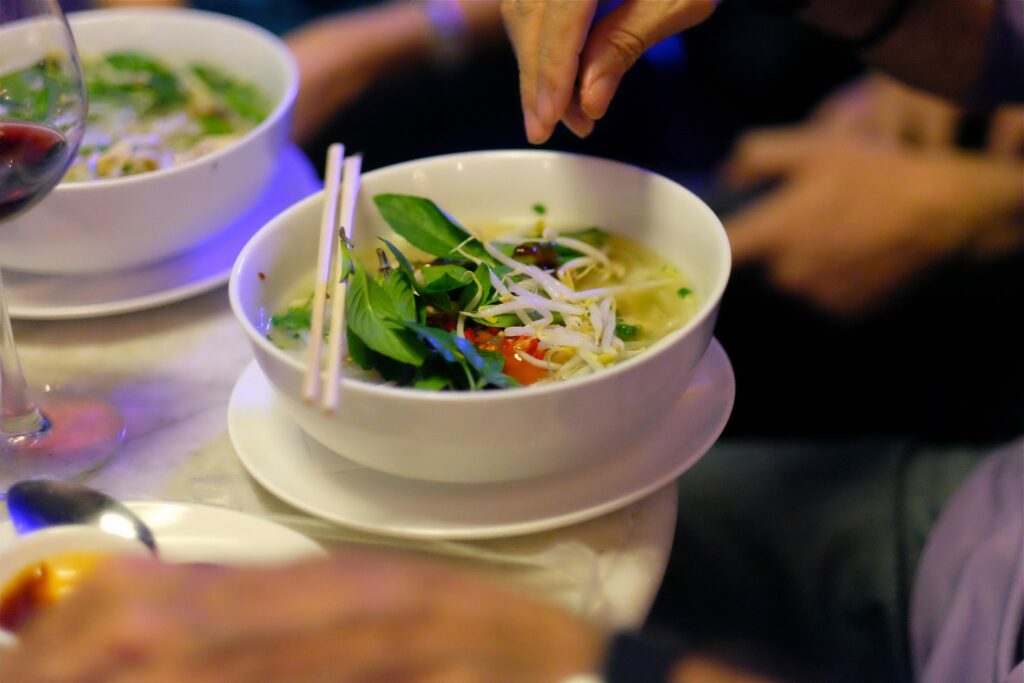 Image credit: Smalls' Facebook page
While they are mainly a spiffy drinking den, they do throw a popular pho party, Phuong's Pho Night, every last Thursday of the month that's not to be missed. Made by a Vietnamese cook named Phuong, the delectable Pho (THB200/~S$8.30), which comes with either chicken or beef, is brewed for over 14 hours and rumoured to be one of the best in Bangkok.
Address: 178/1 Suan Phlu 1 Alley, Thung Maha Mek, Sathon, Bangkok 10120, Thailand
Opening hours: Wed-Mon 7:30pm to 2am
Tel: +66 95 585 1398
Website
---
8. il Fumo
---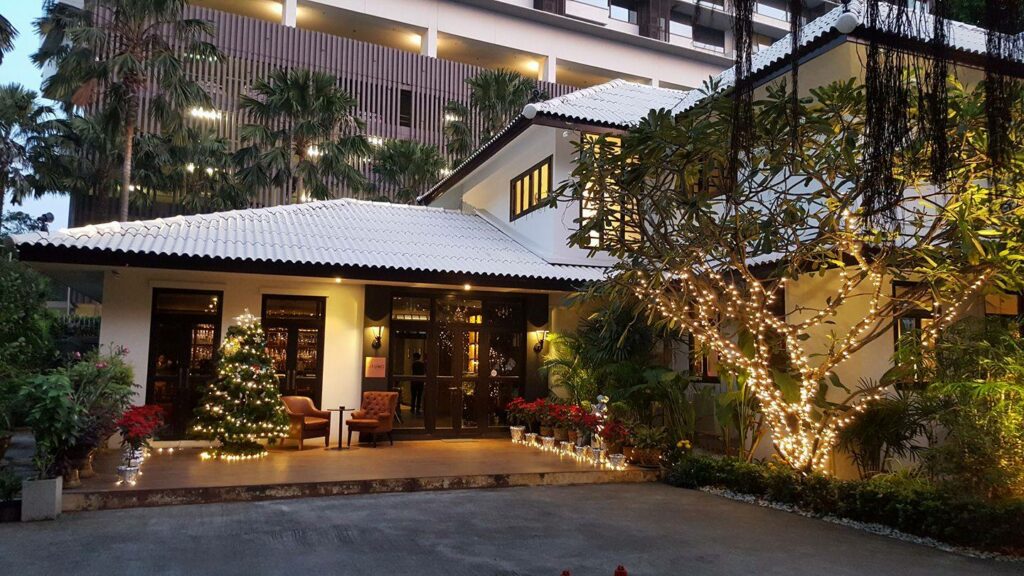 Image credit: il Fumo's Facebook page
Built in the early 20th century for the descendants of King Rama IV, the fourth monarch of Siam who ruled from 1851 to 1868, the swish two-storey villa il Fumo is housed in was once inhabited by royal blood.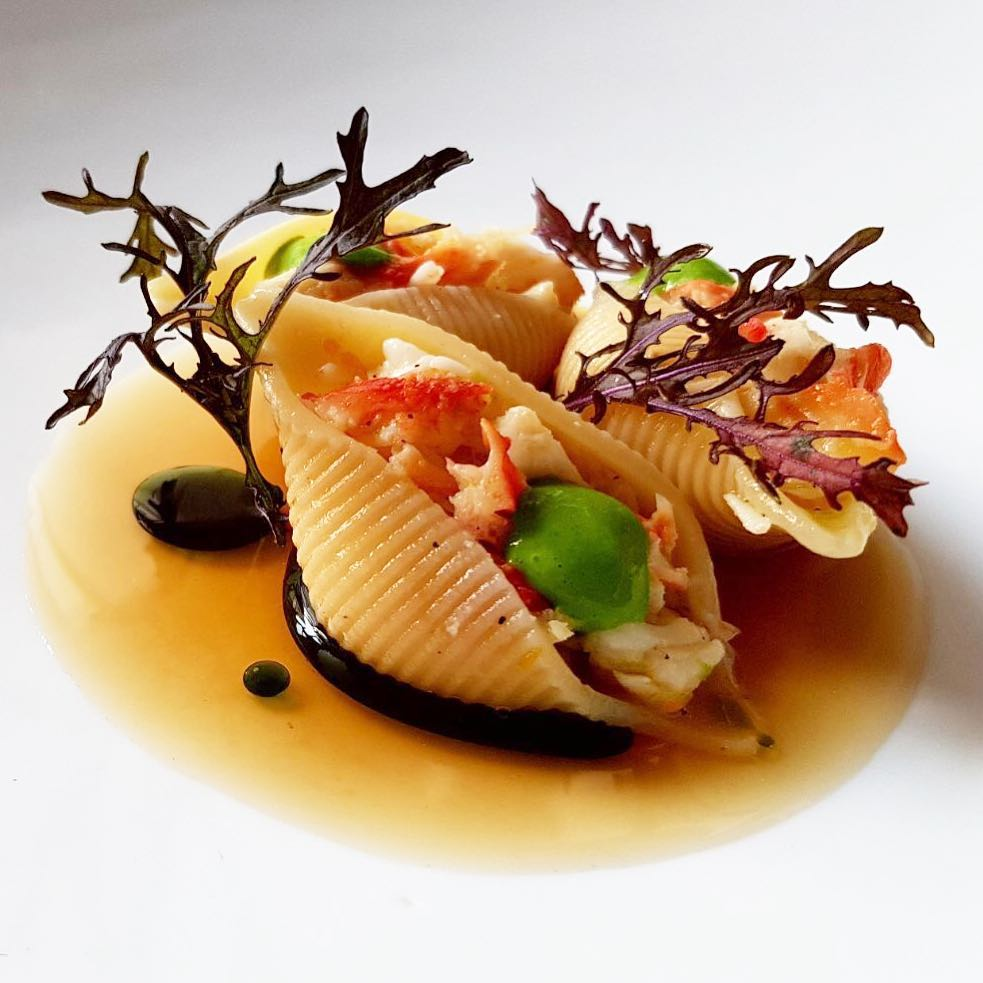 Image credit: @ilfumobkk
Today, the space dishes out exquisite Italian dishes showcasing Portuguese influence that is – pun intended – fit for royalty. Savour exciting creations like this King Crab Stuffed Conchigile With Jamon Iberico Consomme (THB790/~S$32.70) that's only available this festive season.
Address: 1098 Rama IV Road, Thung Maha Mek, Sathon, Bangkok 10120, Thailand
Opening hours: Mon-Sat 6pm to 1am, Sun 6pm to 12am
Tel: +66 2 286 8833
Website
Menu
---
9. The House on Sathorn
---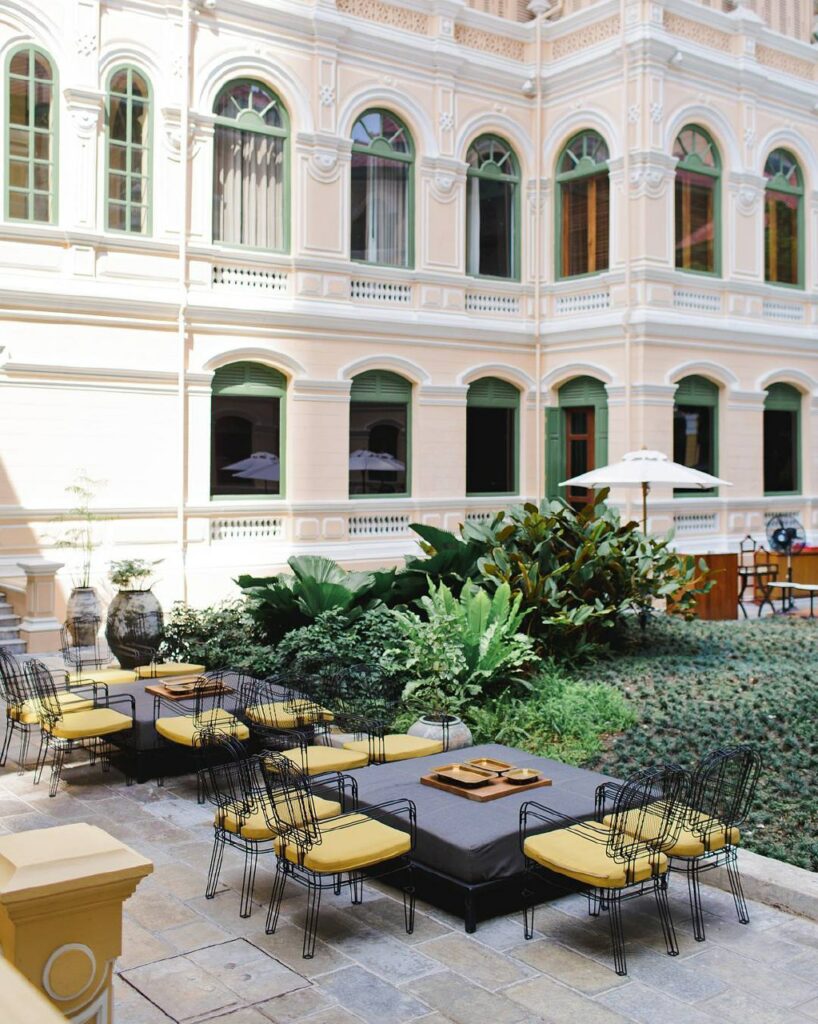 Image credit: @thehouseonsathorn
History reigns at The House on Sathorn. Constructed 128 years ago, this national heritage mansion was first owned by a wealthy Chinese family, before becoming the Asian headquarters for the Soviet Union and Russian Federation during the Cold War, Korean War, and Indochina Wars. One of Bangkok's proudest restoration project, the house was repainted to its original pastel yellow shade. You will also find pigs carved into the wooden furnishings, which is meant to symbolise the aristocrat's zodiac sign.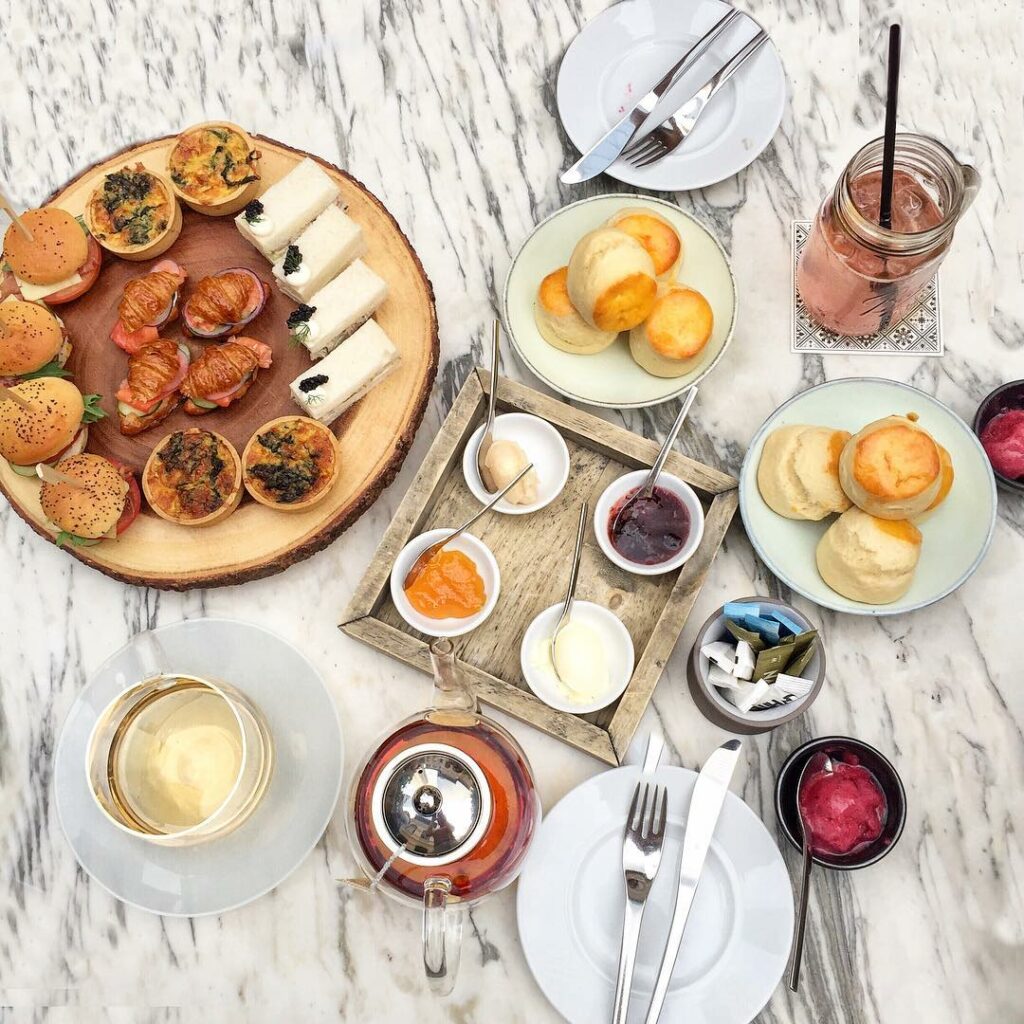 Image credit: @piavazquez
There are three different dining venues found within the premises: The Dining Room, The Courtyard and The Bar. Our favourite spot is definitely al freso garden restaurant, The Courtyard, that's nestled right in the middle of the house. There you can enjoy afternoon tea as well as Thai dishes. Splurge on their Heritage Afternoon Tea Set (THB1,350/~S$56) featuring delights such as Valrhona chocolate cake, scones with clotted cream, Macau egg tarts and TWG tea.
Address: 106 North Sathorn Road, Silom, Bangkok 10500, Thailand
The Courtyard's opening hours: Daily 12pm to 12am
Tel: +66 2 344 4025
Website
Menus
---
10. Blue Elephant Cooking School and Restaurant
---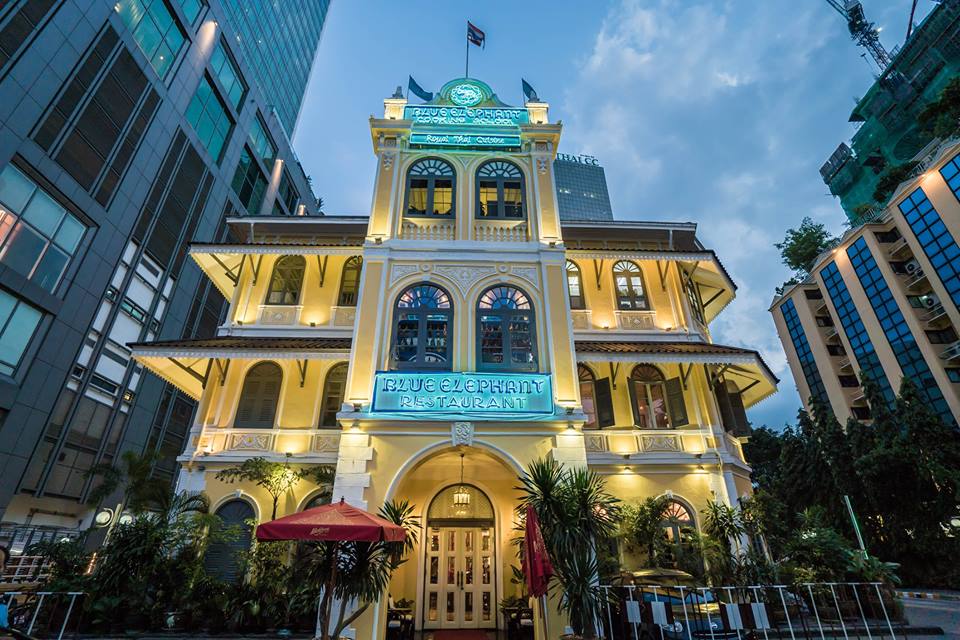 Image credit: Blue Elephant Cooking School and Restaurant's Facebook page
Yes, this is the same Blue Elephant Cooking School and Restaurant behind the delicious Thai curry and tom yam pastes sold at supermarkets. The owners fell in love with the colonial architecture of the old Thai Chine Building and decided to base their Thailand outlet there. Steeped in history, the century-old villa was previously the Thai Chamber of Commerce for 70-odd years, as well as the Japanese Central Command Centre during the World War II.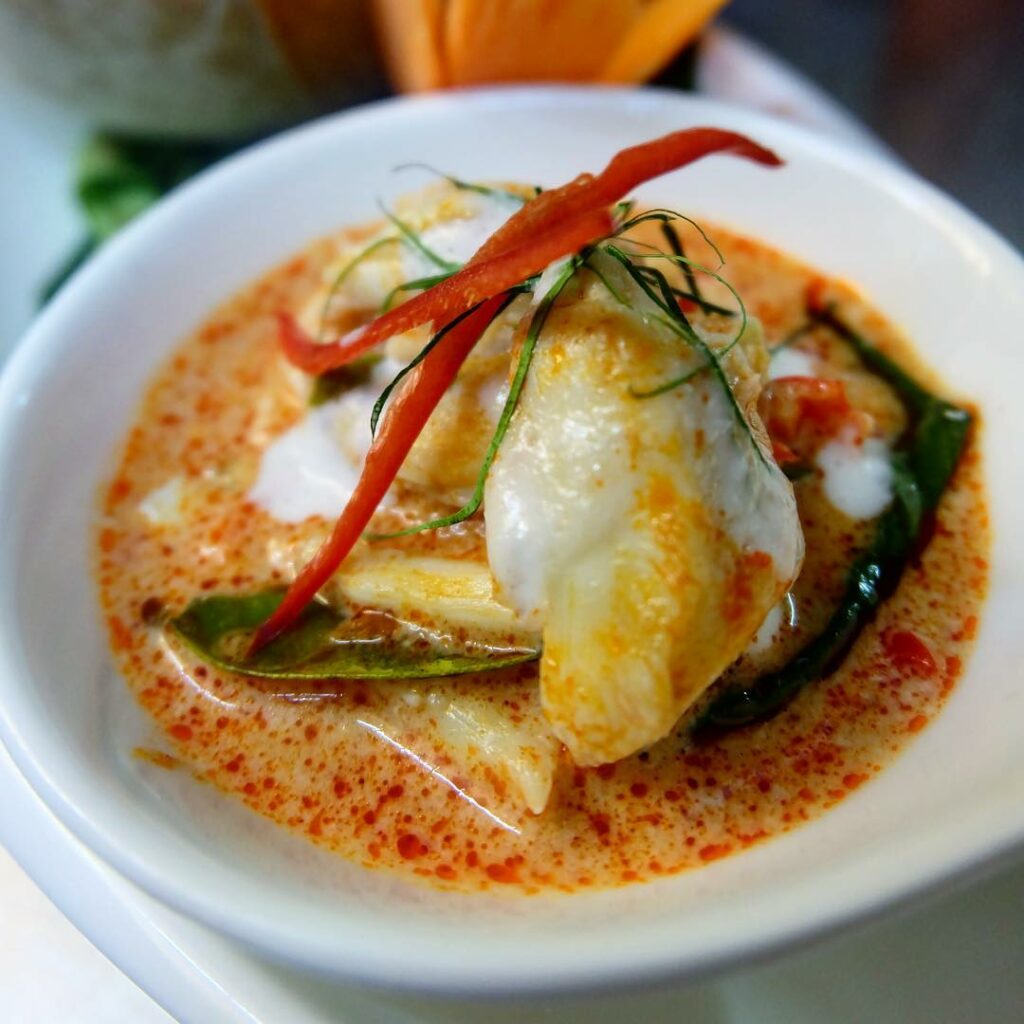 Image credit: @chefnooror
A great deal that lets you have a taste of their bestselling dishes is their Weekend Set Lunch (THB1280/~S$53). The menu comes with zakouski, a starter, soup, main course, side dish and an assortment of house-made desserts. Dishes in the set include their Pat Pong Crab Curry, River Prawn Bisque Tom Yam and Foie Gras Duo Sauces.
Address: 233 South Sathorn Road, Kwaeng Yannawa, Khet Sathorn, Bangkok 10120, Thailand
Opening hours: Daily 11:30am to 2:30pm, 6pm to 10:30pm
Tel: +66 2 673 9353
Website
Menus
---
Travel to these kicky Bangkok restaurants this December!
---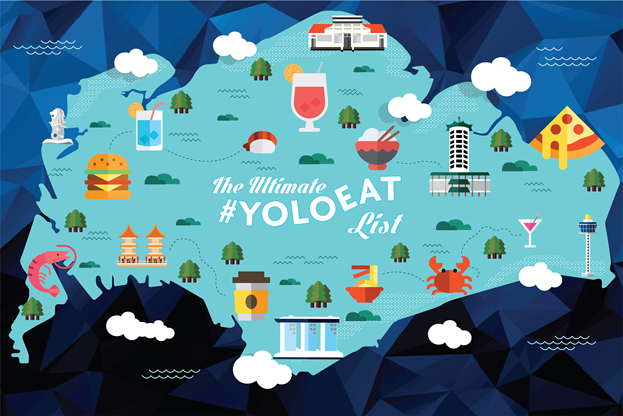 UOB YOLO is giving away Grab promo codes worth $20 each for those who help them build their Ultimate #Yoloeat List! All you've to do is:
Follow

@iwannayolo

on Instagram

Tag a friend and comment on their

giveaway post

with your recommendation.
There are 15 promo codes up for grabs until the contest ends on 24 December 2017!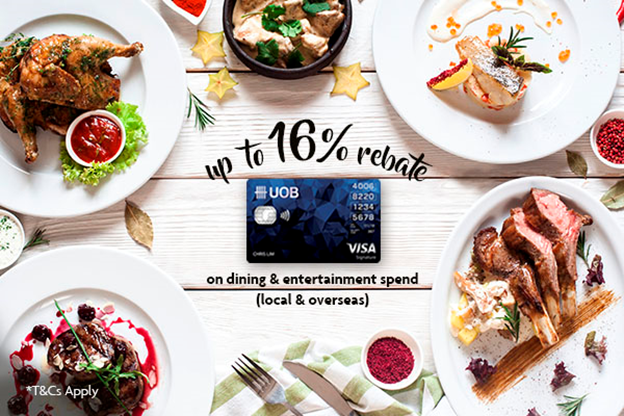 Be sure to pack your UOB YOLO for your upcoming Bangkok trip. In celebration of their win in the Asian Banking & Finance Magazine Retail Banking Awards as the Credit Card Initiative of the Year, UOB YOLO will be doubling up their previous 8% weekend rebate to a 16%* cash rebate on dining and entertainment spendings, both in Singapore and overseas, on weekends!
UOB YOLO cardholders can also skip taking the MRT and indulge in a free Grab ride* to Changi Airport for their weekend getaway.
If you don't already have UOB YOLO, sign up online from now till end-December to receive up to $120 cash credit*!
Click here to find out more about UOB YOLO!
This post is brought to you by UOB YOLO. You can follow their food adventures on Instagram at @iwannayolo.
*Terms and conditions apply, visit uob.com.sg/YOLO for more details. UOB Dining Privileges' general terms and conditions apply to dining deals.
---
Featured image adapted from Instagram user @thehouseonsathorn's post.