Burger Buddies dishes out affordable burgers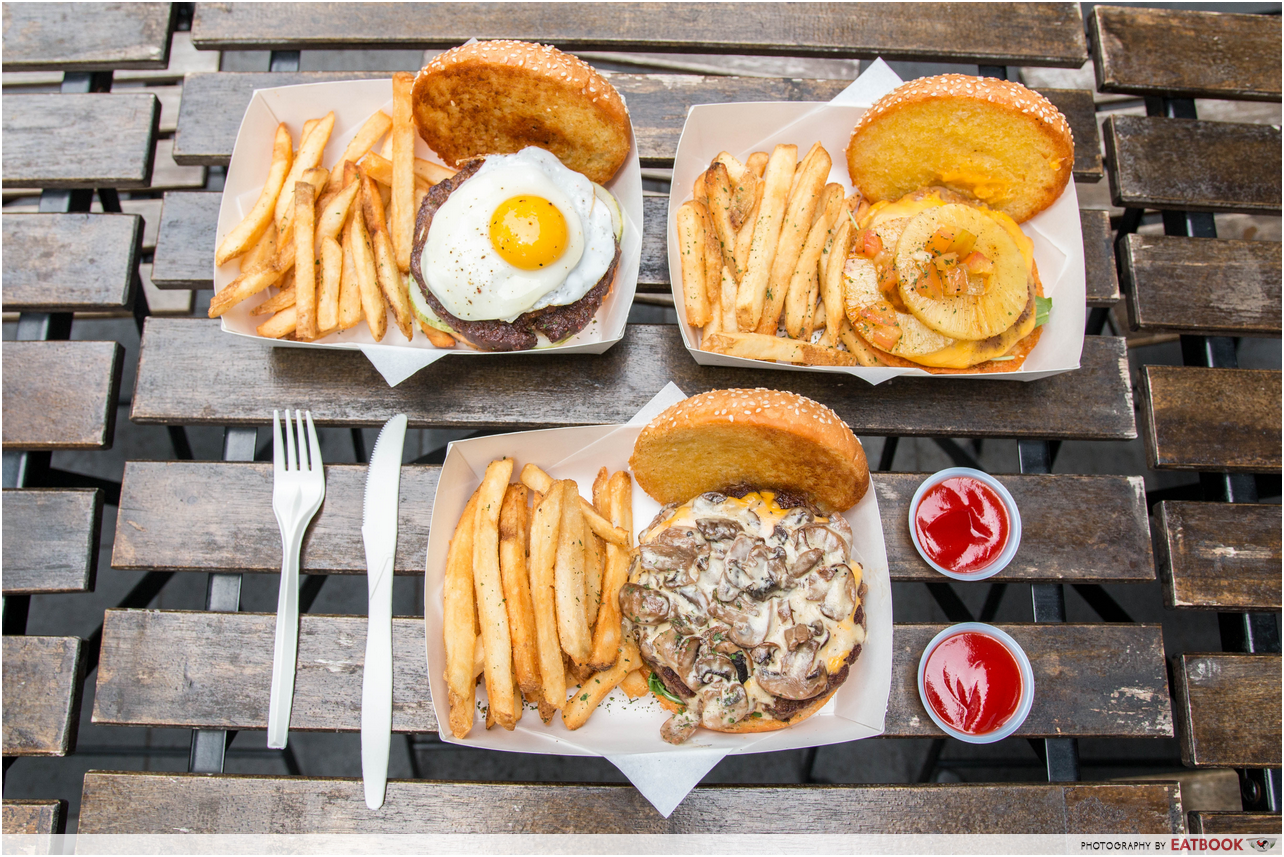 Burgers have always been a go-to comfort food for me. Whether it was getting a cheeseburger meal as a child, or indulging in more atas versions of this dish, burgers never fail to please. Anything with this much bread and tasty meat is totally worth the impending food baby.
Located near the CBD, Burger Buddies dishes out hearty portions of burgers at less than $15. With a few familiar flavour combinations and a couple of more uncommon creations, the burgers here pack a punch without doing too much damage to your wallet.
Food at Burger Buddies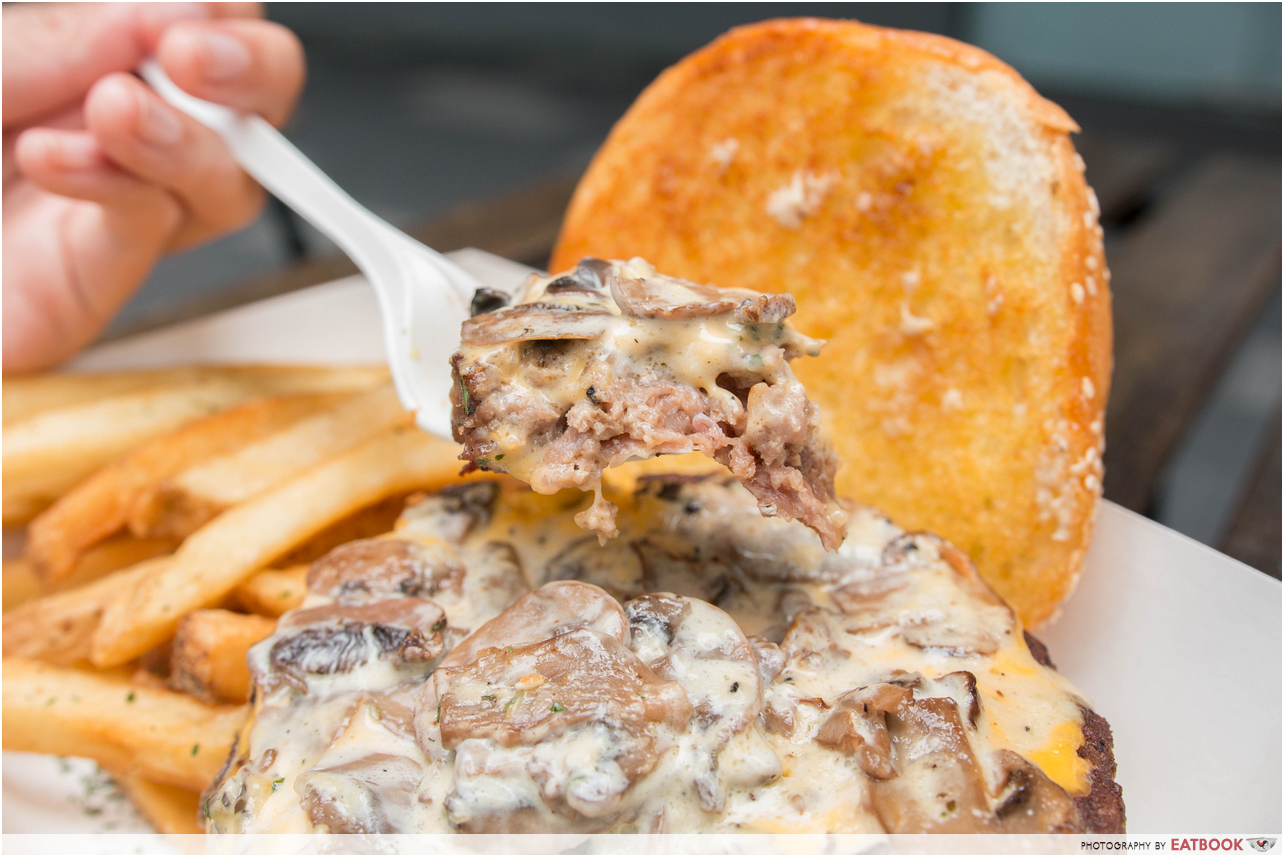 Each of their preservative-free meat patties weighs a substantial 180 grams and is made in-house from freshly ground meat. You'll be able to choose the doneness of your patties when you order. We went for medium rare beef patties. They're served in-between well-buttered buns that have their bottoms grilled till golden brown.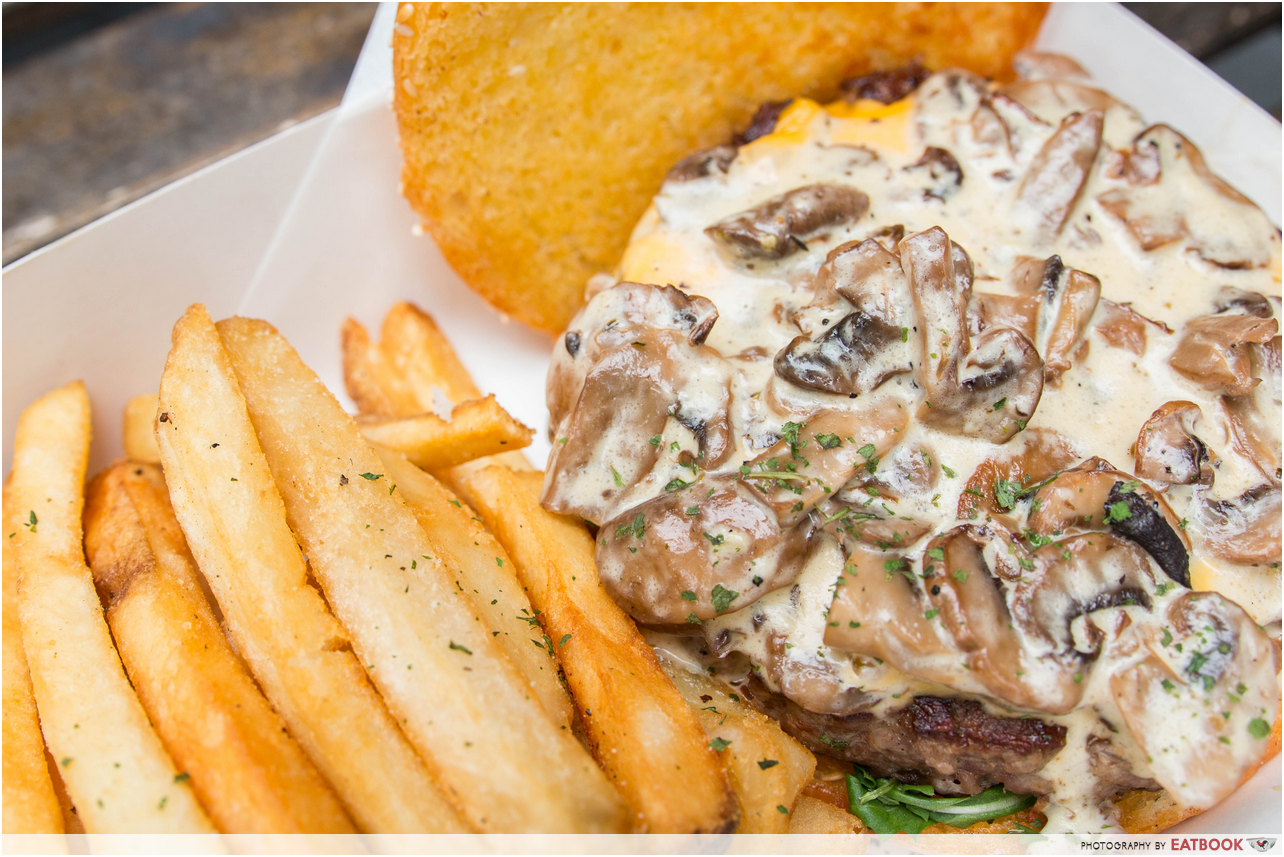 I'm a huge fan of mushrooms, so their Mushroom Beef ($14.90) burger was an instant hit. Here's what you'll get: a tasty serving of mushroom ragout draped over melted cheese and a juicy beef patty, all sandwiched between two toasted sesame buns.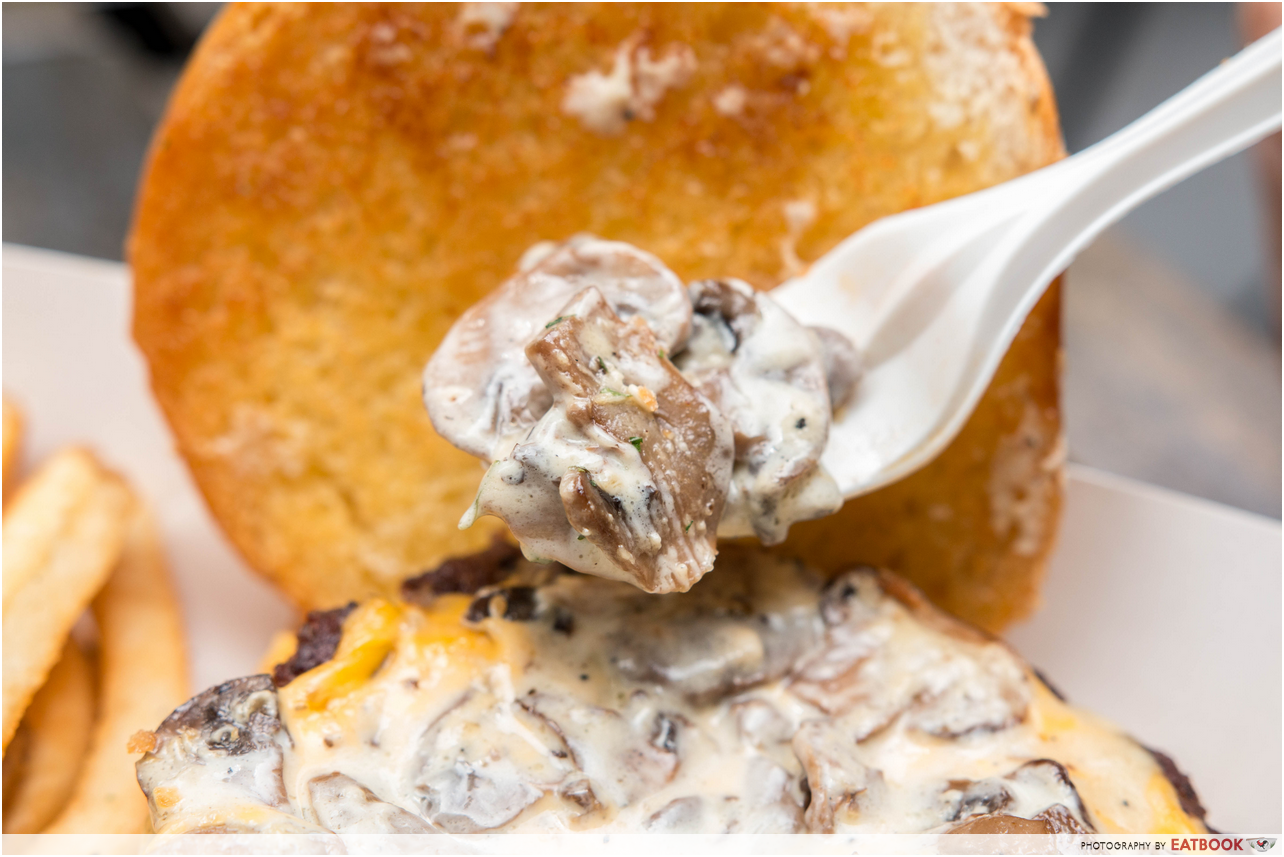 The mushroom ragout was made from sliced cremini mushrooms, which gave it a light, earthy flavour. The beef was juicy and not too tough, while the ragout and melted cheese added just the right amount of richness to the plain patty. The creaminess from the ragout brought all the components together and made each bite super satisfying.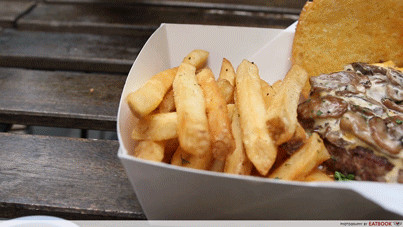 All their burgers and sandwiches are served with your choice of mesclun salad or thick cut fries. When we visited, they were all out of salad, but we were perfectly fine with having a side of fries. Their fries weren't particularly outstanding, but they were delicious nonetheless. Each fry was thick and had slightly crispy edges. Though they were salty enough, they tasted much better with some ketchup and chilli sauce.
For a burger with a Singaporean twist, get their Rendang Beef ($14.90). Since this didn't come with any cheese, we decided to add a sunny side up ($1). The egg white was just firm enough to hold its shape, while the yolk was runny without being undercooked.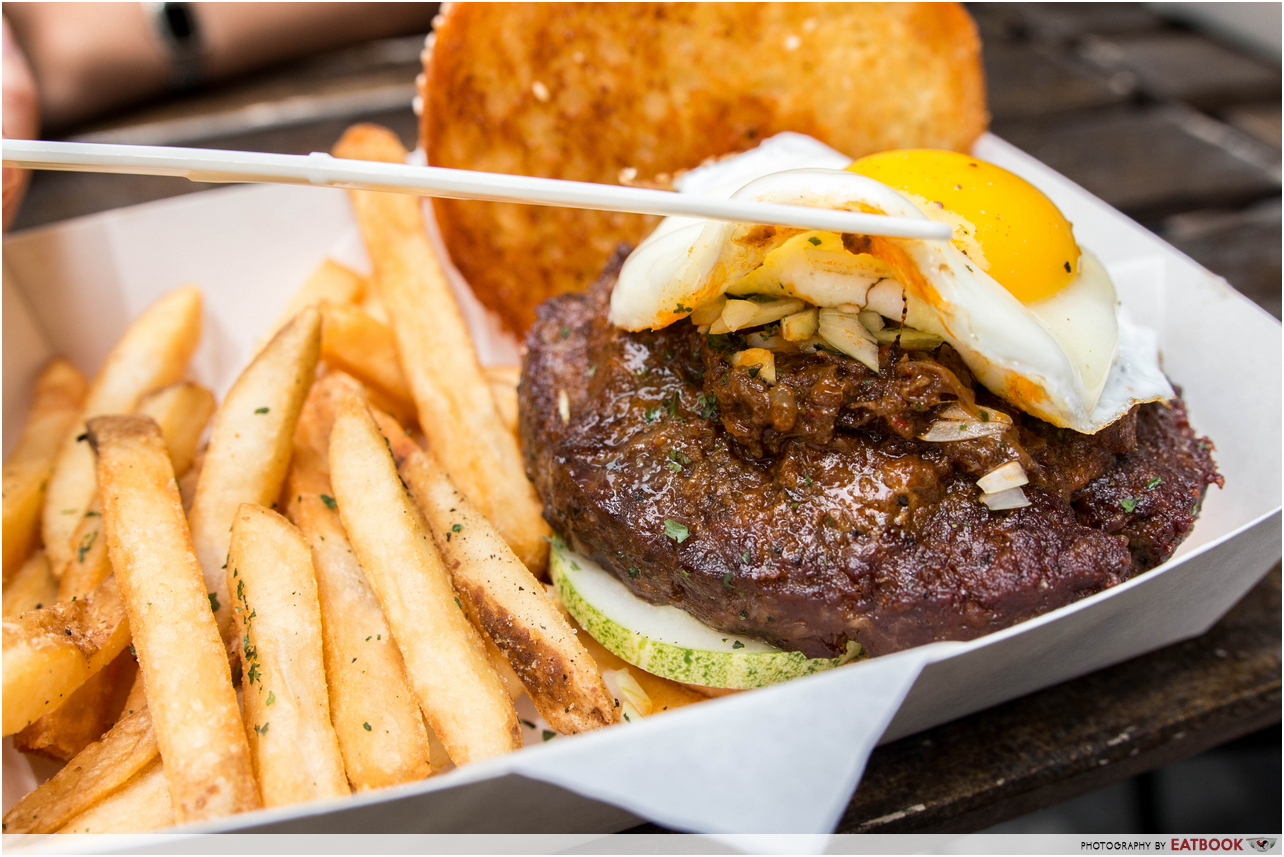 This burger comes with their standard beef patty, mashed rendang beef, diced onions and cucumber slices. I know what you're thinking, beef on beef sounds really intense. However, the differences in texture and flavour of the rendang beef and the patty somehow made it work.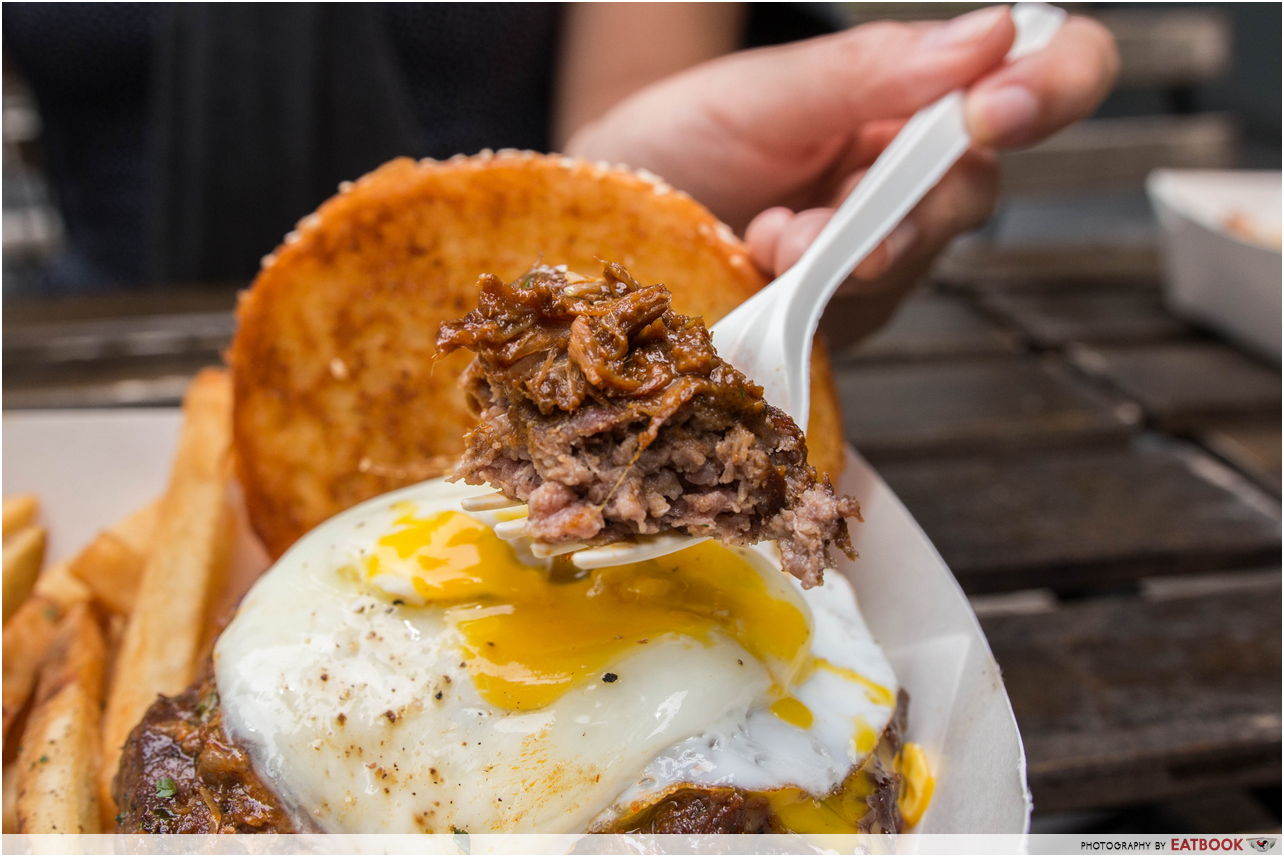 The heavily spiced rendang gave the burger a familiar, almost satay-like taste, while the refreshing taste of cucumber and slightly pungent fresh onions cut through these strong flavours. The aromatic beef rendang also added a slightly spicy kick to the burger. This sure packs a punch, but those with lighter palates may find this a tad overwhelming.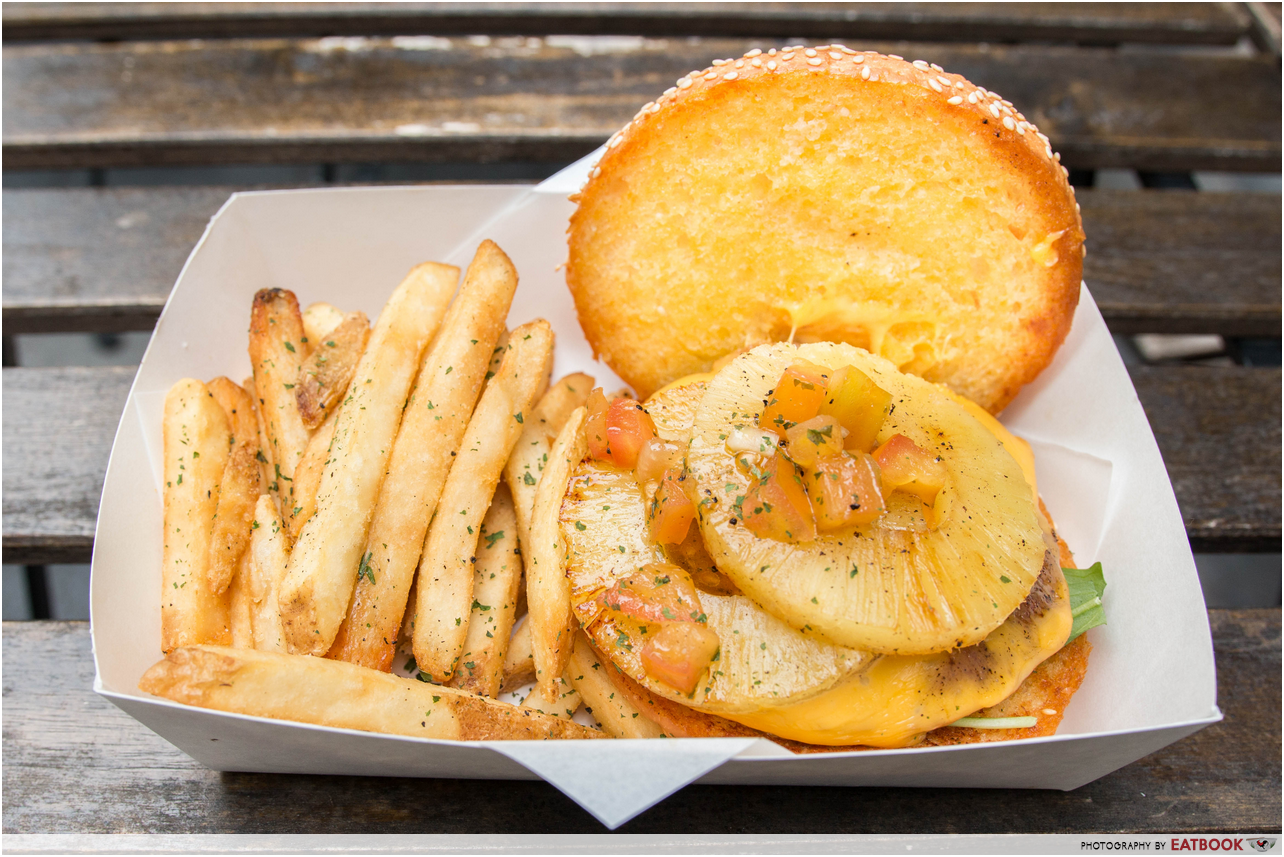 Not everyone enjoys a hearty beef burger, so don't worry about missing out if you prefer chicken. Their Chicken Pineapple ($12.90) may be the cheapest item on the menu, but it was impressive nonetheless. I love how this meal looks like sunshine on a platter, especially with two juicy pineapple rings on top of a chicken patty.
The serving of tomato salsa appeared unassuming, but it was bursting with flavour. Salty and slightly vinegary, this salsa served as a refreshing contrast to the sweetness of the seared pineapple.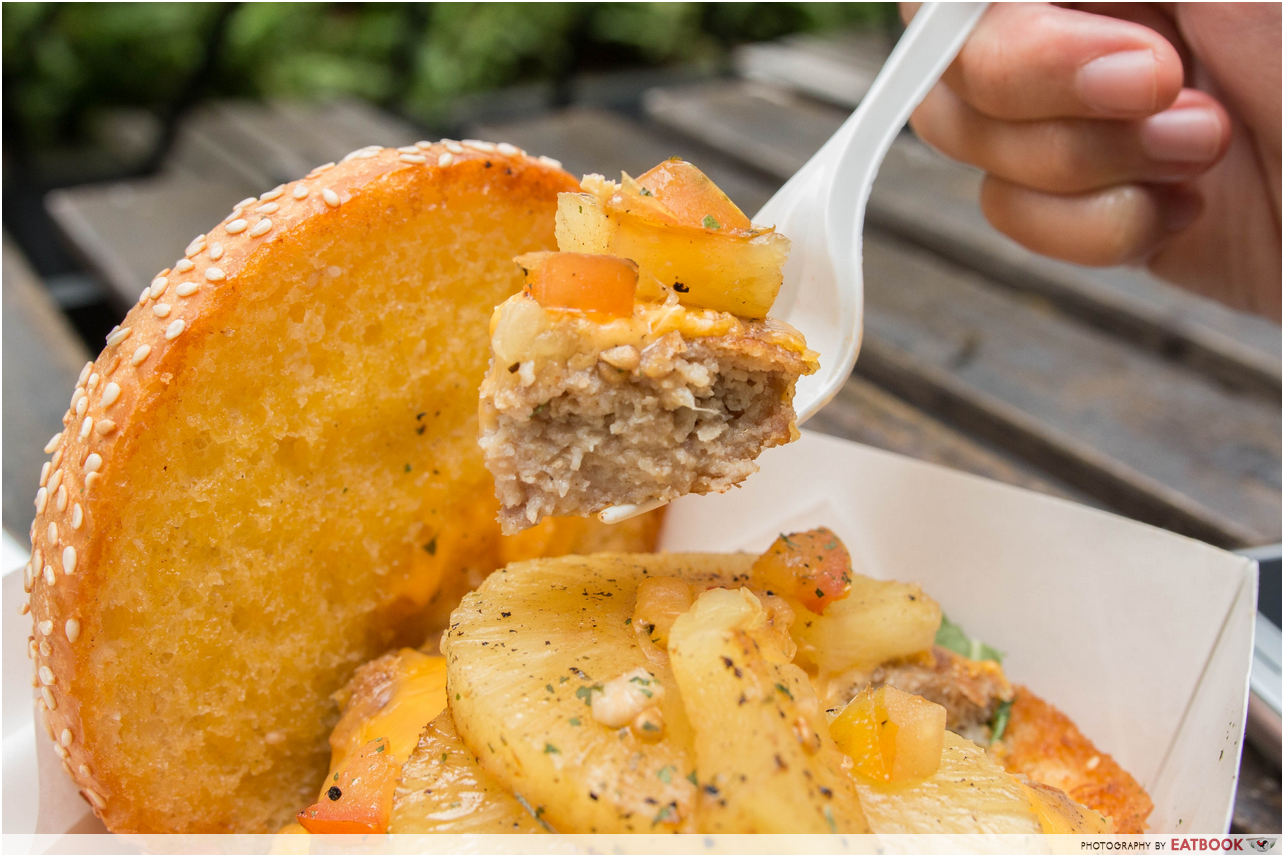 The chicken patty was more tender compared to the beef patties, and was less jelak. It was also complemented by the natural sweetness of the cooked pineapples. My only complaint is that the patty was a little too salty for my taste buds, even with the pineapples and salsa to balance out the flavours.
Ambience at Burger Buddies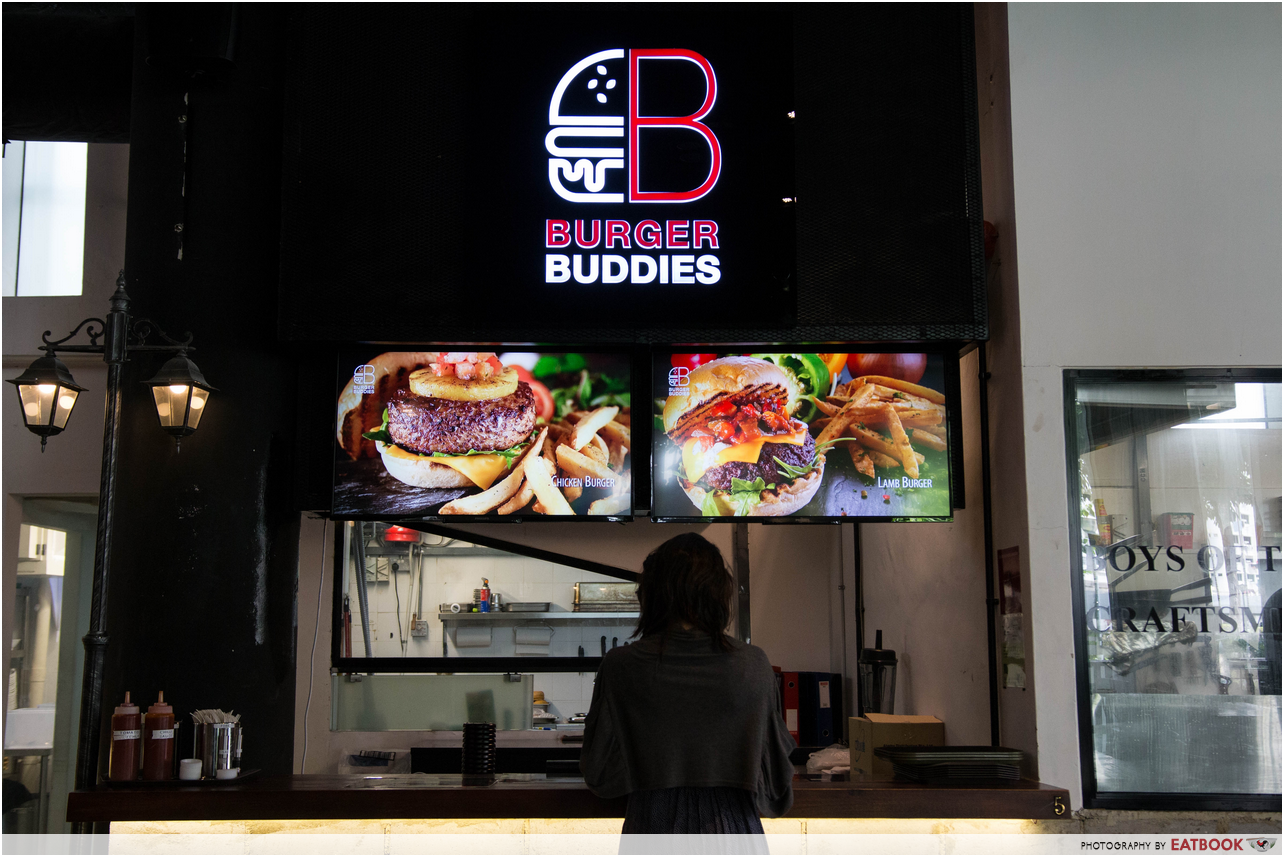 Burger Buddies is located in Essen @ The Pinnacle, a food court that's just a five-minute walk away from Exit G of Outram Park MRT station. It's a self-service system here, so all you need to do is collect your meal when the pager given to you goes off.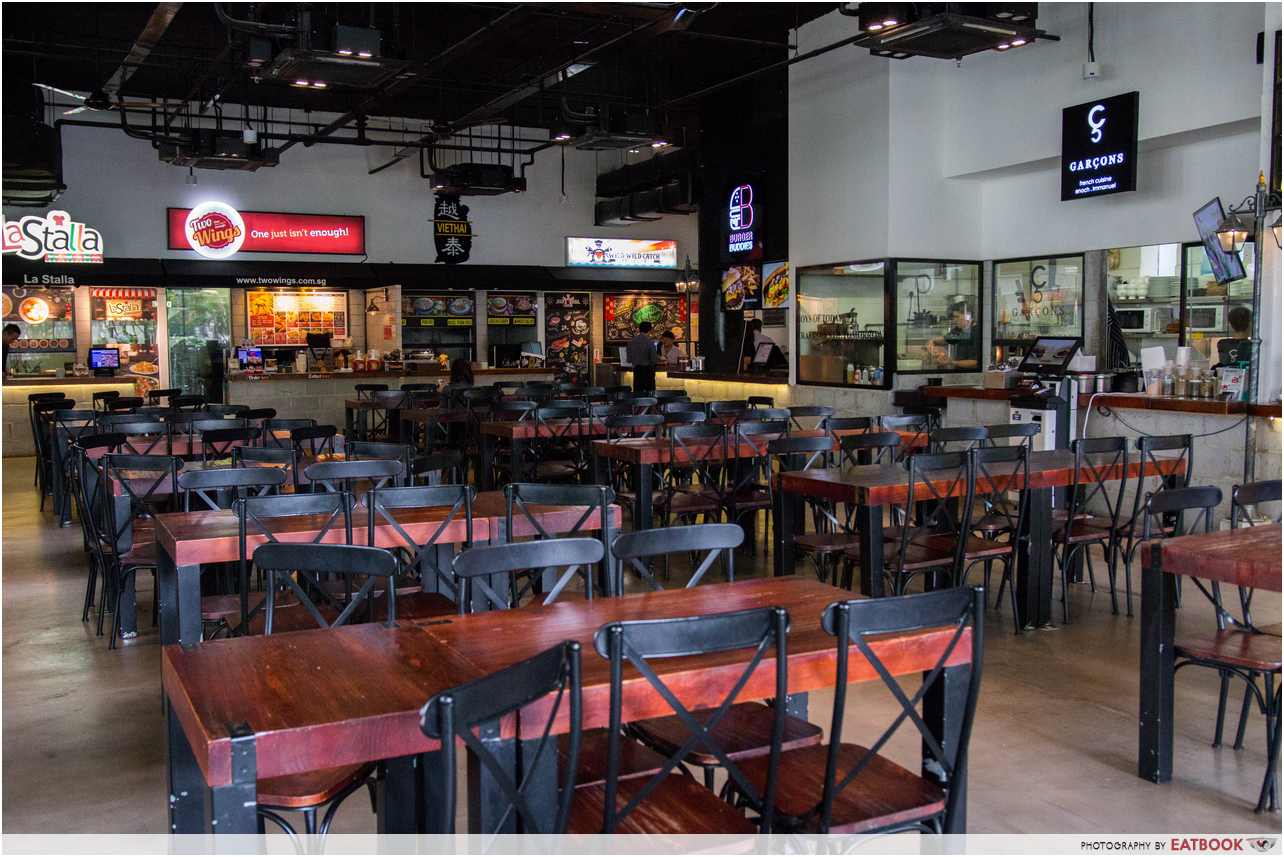 You can choose between sitting at the air-conditioned indoor seating or going al fresco to enjoy your meal. Just be wary of lunch hour as the indoor seats get filled up quite quickly.
The verdict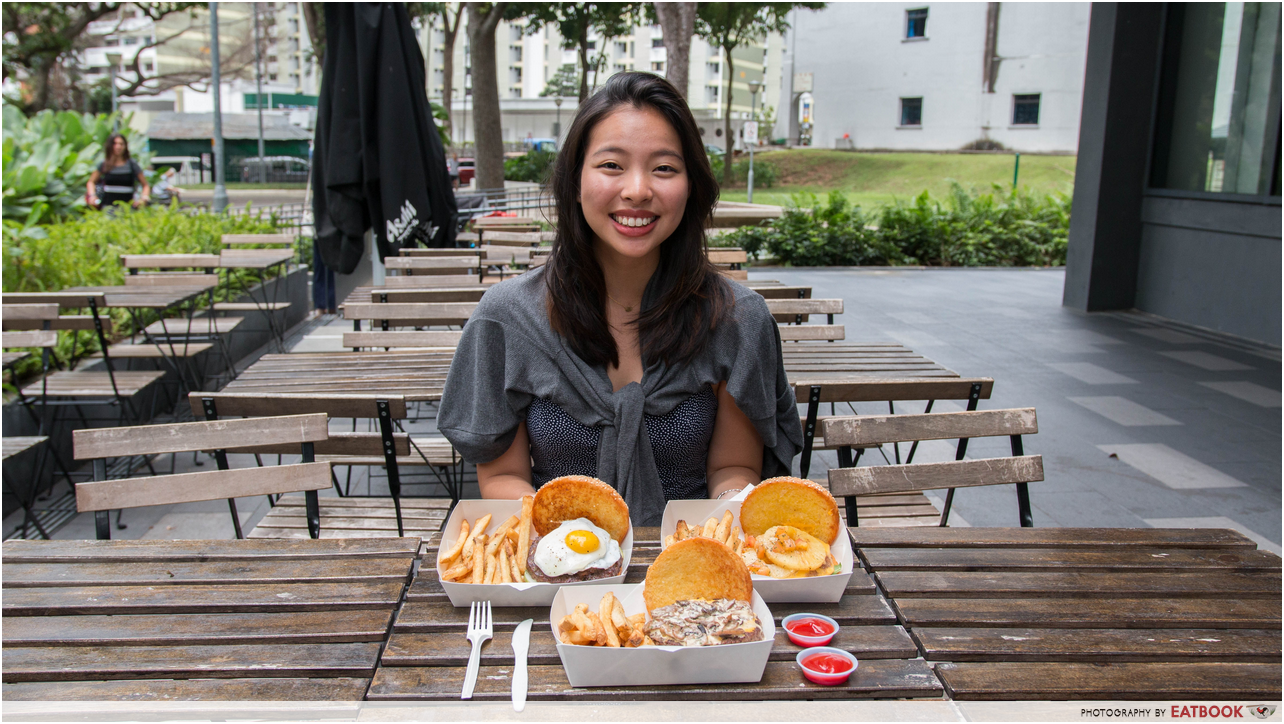 Burger Buddies proves that not all meals near the CBD need to leave a hole in your wallet. With their generous portions and reasonable prices, this is a great place to indulge in a satisfying burger. Just be sure to visit on an empty stomach as their meals are very filling.
Address: 1 Cantonment Road, #01-01, The Pinnacle@Duxton, Singapore 080001
Opening hours: Daily 11am to 9:30pm
Tel: 6727 6066
Website
Burger Buddies uses no pork or lard.

This is an independent review by Eatbook.sg.
Summary
Pros
– Comfortable ambience
– No GST or service charge
– Delicious burgers
Cons
– Flavour combinations may not appeal to everyone
Recommended Dishes: Mushroom Beef ($14.90), Chicken Pineapple ($12.90)
Operating Hours:
Daily 11am to 9:30pm
Address:1 Cantonment Road, #01-01, The Pinnacle @ Duxton, Singapore 080001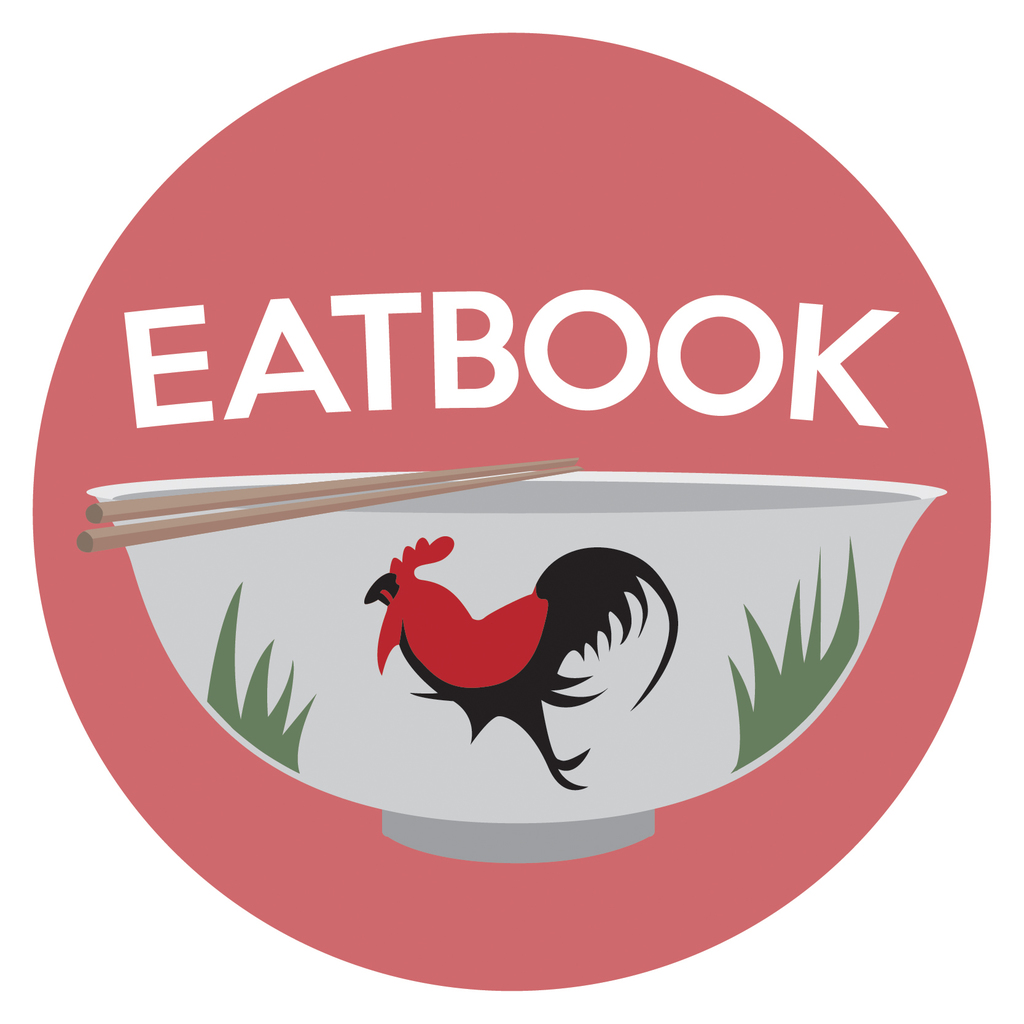 Drop us your email so you won't miss the latest news.