Cakes and gelato made fresh daily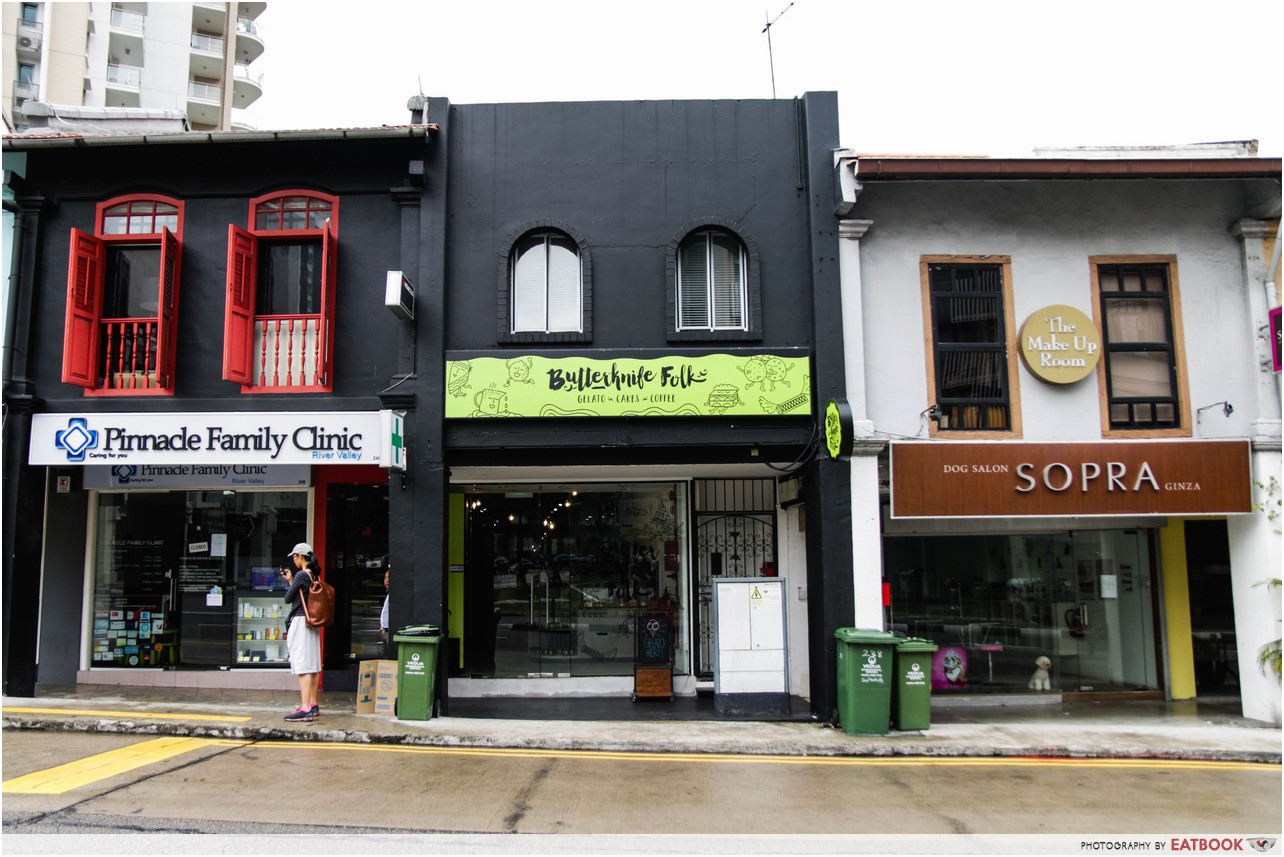 'Don't judge a book by its cover' comes to mind when I was thinking of a way to describe Butterknife Folk. Tucked between a family clinic and dog salon on River Valley Road, this new patisserie looked a little out of place amidst its neighbours. Inside, I was welcomed by a lime green wall tattooed with hand-drawn illustrations of their menu items, and warm smiles greeted me from behind a concrete bar.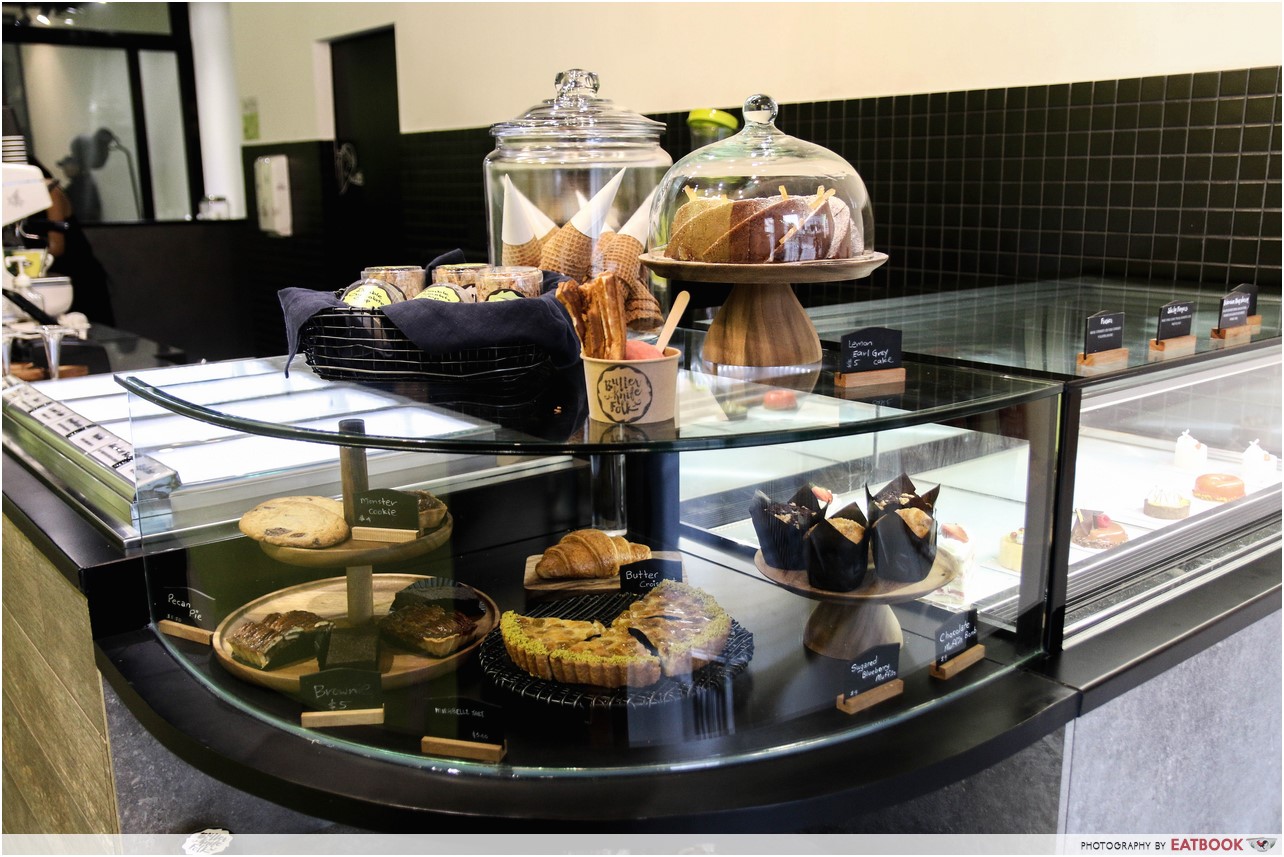 This new kid on the block proudly showcases cakes and gelato that are freshly made every morning. It's a limited selection, but enough for me to spend a good 10 minutes eyeing the glass cabinet before picking out 3 cakes and a gelato that I could hardly wait to try.
Cakes at Butterknife Folk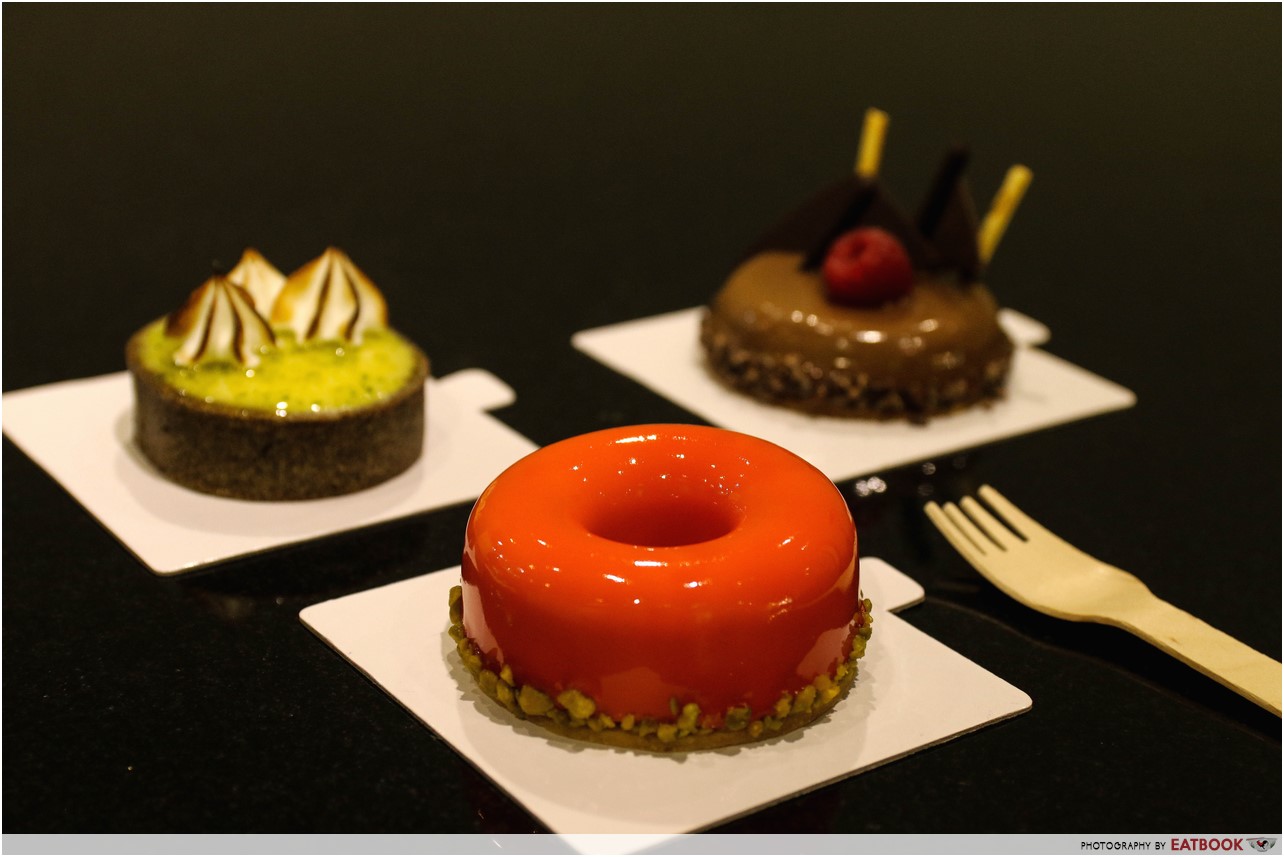 Forget Krispy Kremes, this vibrant "doughnut" Fruit Loop ($8) definitely takes the cake – pun totally intended. As quickly as the first spoonful entered my mouth, soft lemon mousse dissipated into a subtle zing and was quickly replaced by a lingering sweetness of strawberry jelly.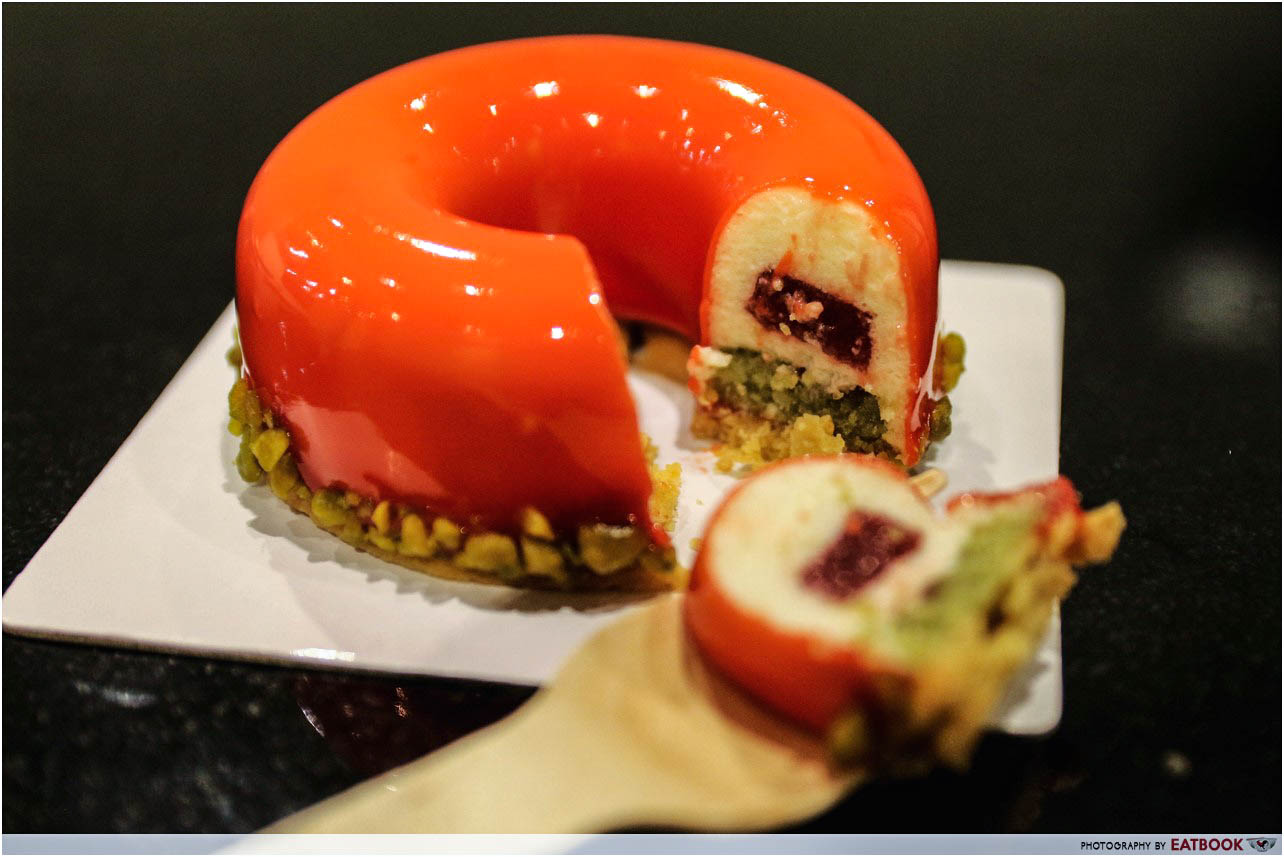 A crumbly and dense pistachio sponge lies beneath, and lends sumptuously to the cake's crumbly, buttery sable base. Once I started on this, I just couldn't put my fork down. The overall taste of this dessert was just as captivating as its beautiful exterior, and I was all too happy to polish this on my own.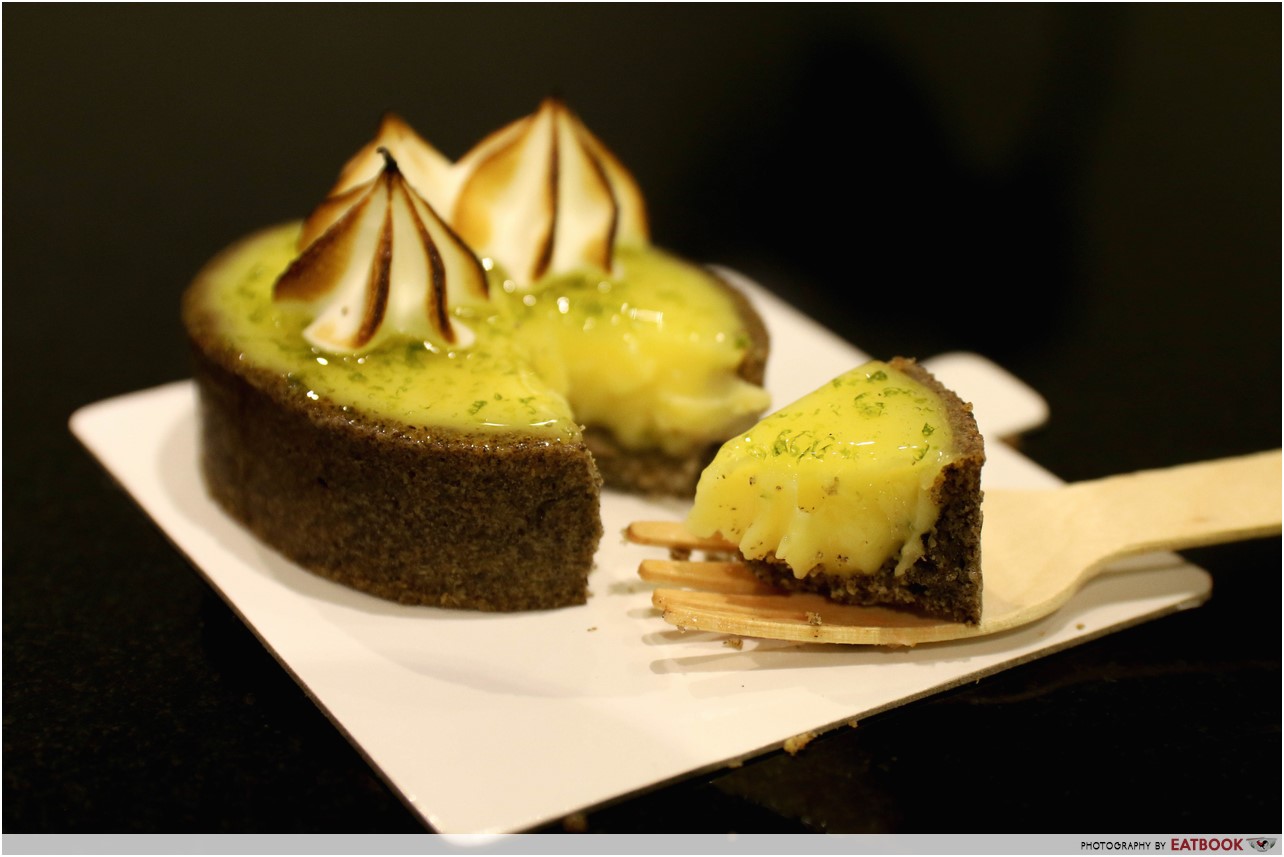 Just like "A Series of Unfortunate Events", you'll either love or hate this lemon tart that shares its name with the author of the famous children's series. I was a little taken aback by the thick crust of Lemony Snicket ($8) initially, but after the first bite, I realised why it was necessary.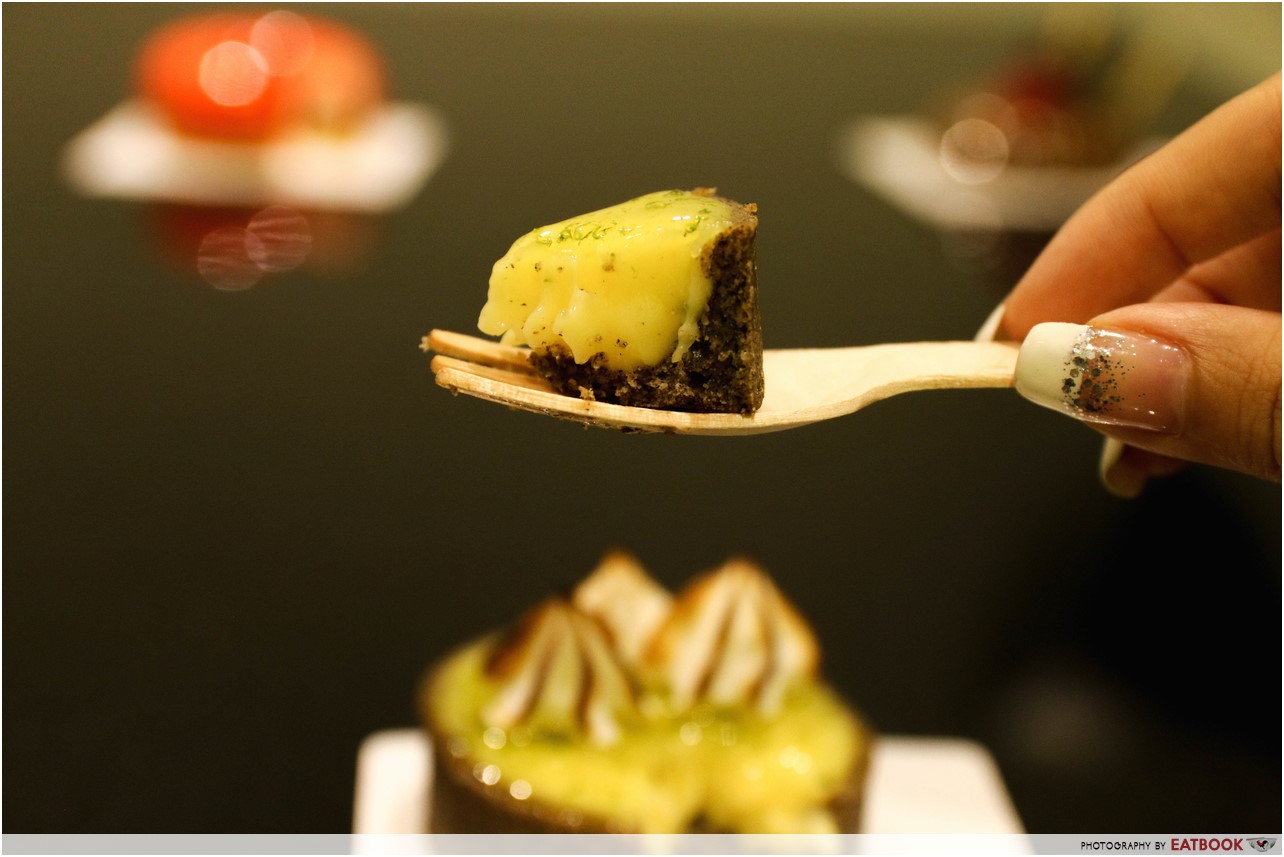 Compared to Fruit Loop, this contains a much more potent punch of citrus. The lemon curd is sprinkled with lime zest that sends waves of sweet and sourness across your palate. Hence, the graininess of the buckwheat tart along with its deep, roasted flavour made it a perfect accompaniment. For those who like their desserts more tart than sweet, this is for you.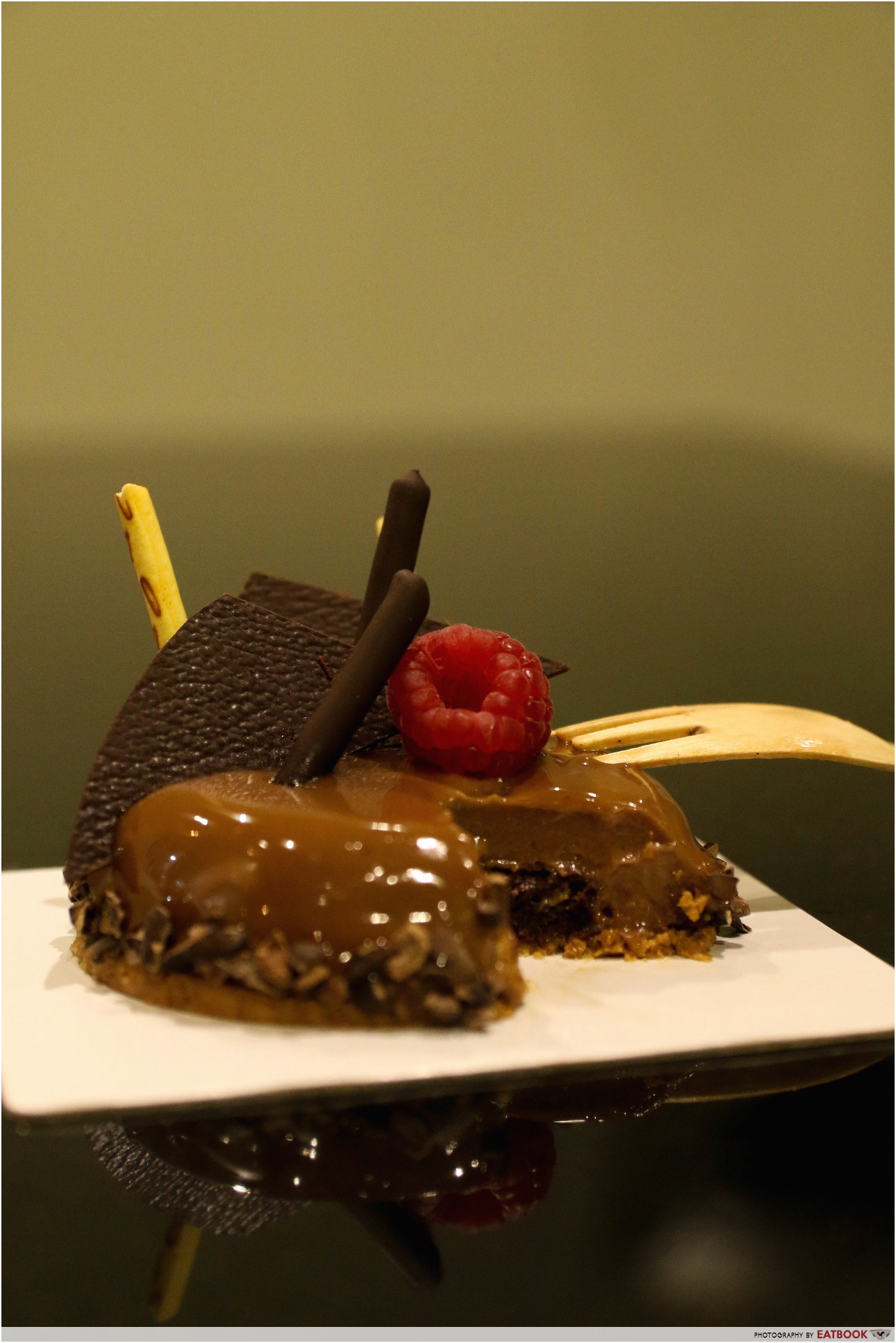 Every scoop of the chocolate raspberry cremeux in Bohemian Rhapsberry ($8) brought out the giggly little girl in me; it reminded me of my childhood fantasy of sneaking a gulp straight from a chocolate fountain (something I have sworn to do someday). However, I was disappointed by the raspberry coulis in the chocolate sponge, as I was hoping it would provide more tartness and relief from the rich cremeux.
With a hazelnut sable that was more tightly packed than crumbly, this is a ganache interpretation of Ferrero Rocher without as much crunch as I'd have liked. Nevertheless, I appreciated the exquisite balance between sweet, salty and nuttiness, which makes it a delectably sinful dessert and a must-have for milk chocolate lovers.
Gelato at Butterknife Folk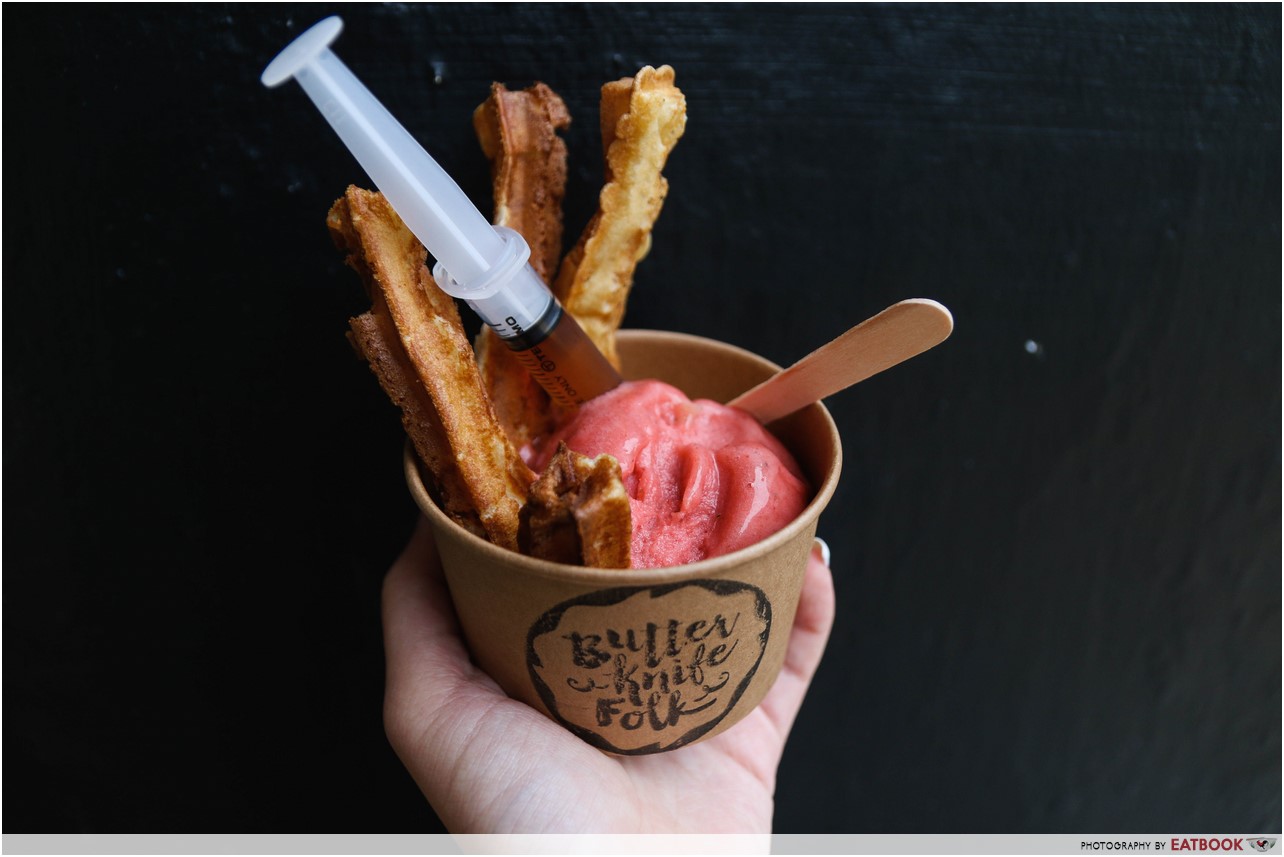 After feasting on cakes, I naturally gravitated towards the more refreshing range of gelato and picked Strawberry Basil ($5 for single scoop). It might sound unsettling to have herbs in your gelato at first, but you'd be surprised. The taste of strawberry was more sweet than tangy, and together with specks of hand-crushed basil, reassured me of the quality of ingredients used in this lush, creamy treat.
I added Waffle Fingers ($4) to my gelato and even though they were too soft for my liking, the hot waffle sticks served as a nice contrast to the cold ice-cream. It also came with a syringe of maple syrup that'll please anyone with a sweet tooth.
The Verdict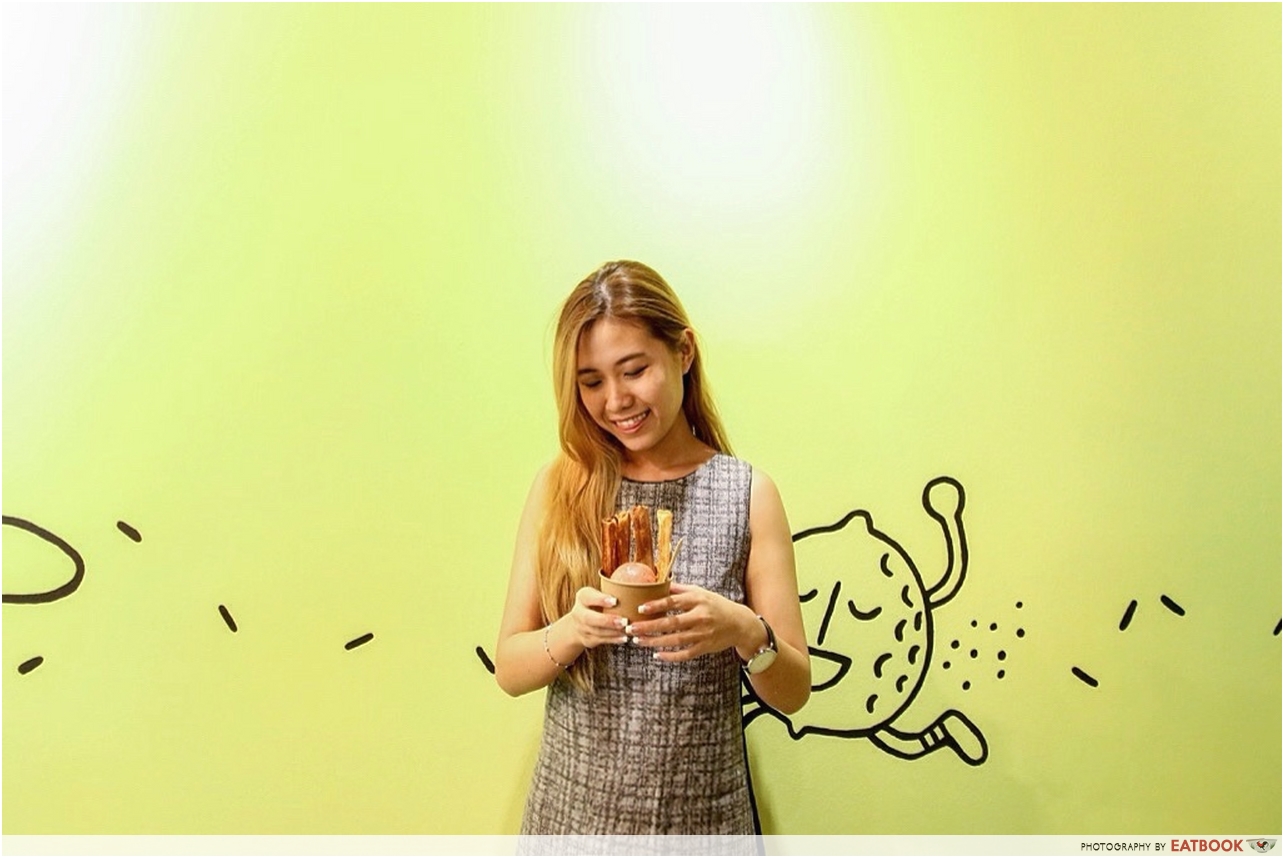 I'm impressed by how well made the bakes at Butterknife Folk are. The impeccable balance of robust flavours – sweet, salty and sour – is not one many can execute, much less excel at. Some may have qualms regarding the small portions, but I daresay the quality of each palm-sized cake makes it worth its value and all too easy for me to finish on my own. Throw in some chill pop tunes in the background and Butterknife Folk makes the perfect hideout to while away a Saturday afternoon.
This is an independent review with all expenses borne by Eatbook.sg.
Summary
Pros
– High quality cakes
– Attentive service
– No GST and service charge
Cons
– Small seating area
– Expensive
– Small portions
Recommended Dish: Fruit Loop ($8)
Operating Hours:
Monday to Friday 10am to 8pm
Saturday 10am to 9pm
Address: 238 River Valley Road, Singapore 238296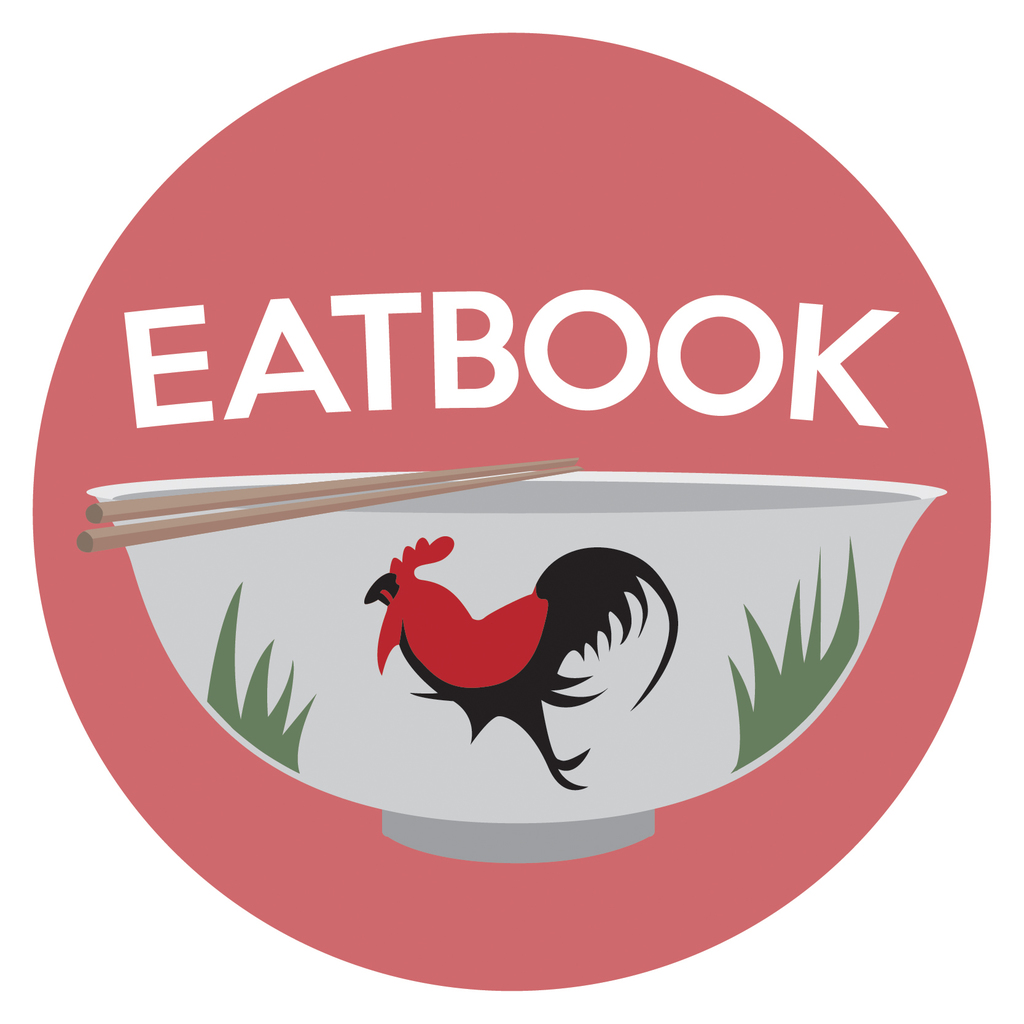 Drop us your email so you won't miss the latest news.