---
Super simple 3-ingredient CNY snack recipes
---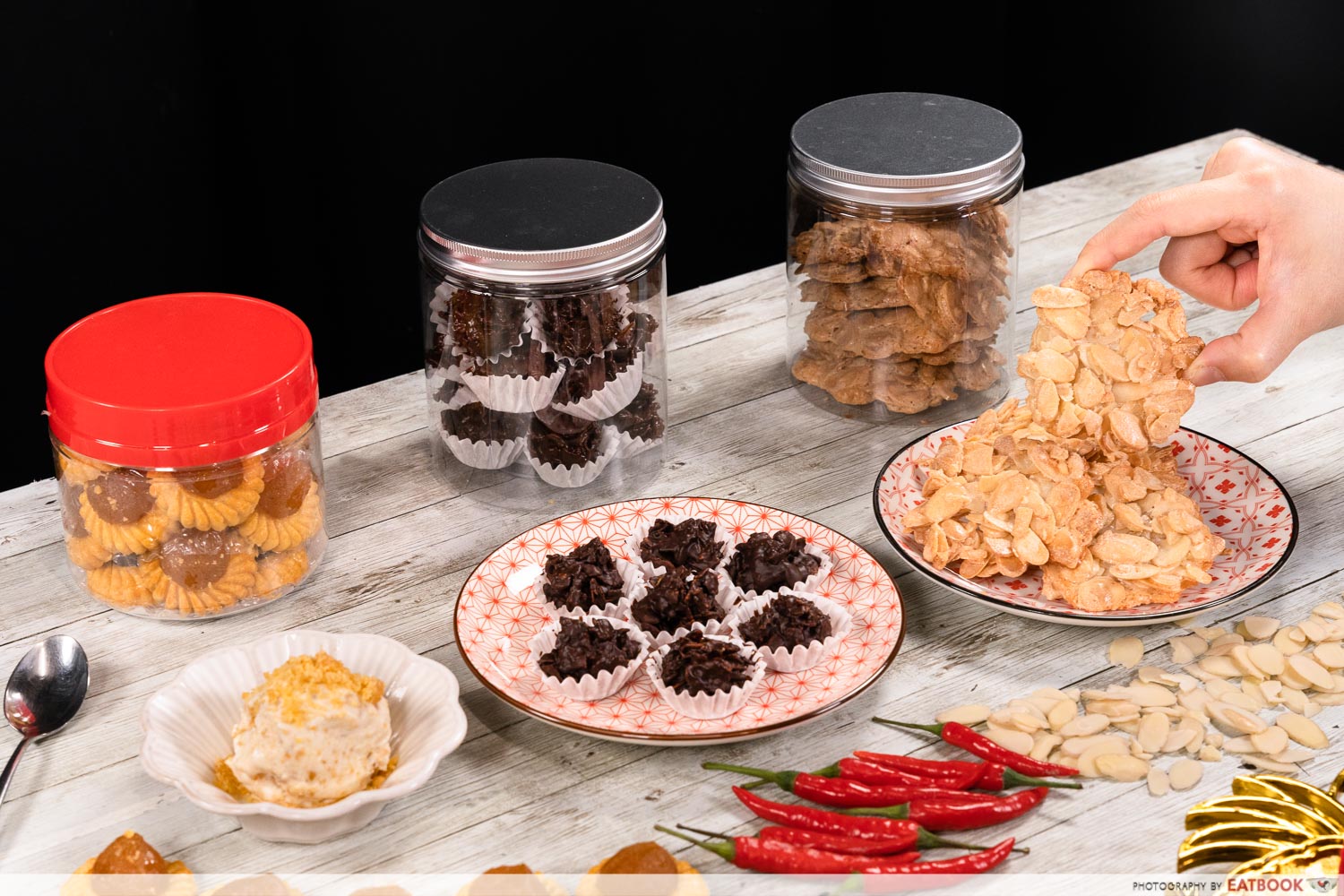 With the extra time at home thanks to the pandemic, you can make Chinese New Year a little different by whisking up your own homemade snacks this year. We have concocted three really simple and straightforward 3-ingredient CNY snack recipes with items and ingredients from Amazon Singapore, that anyone can whip up in a jiffy.
---
1. Pineapple Tart Ice Cream
---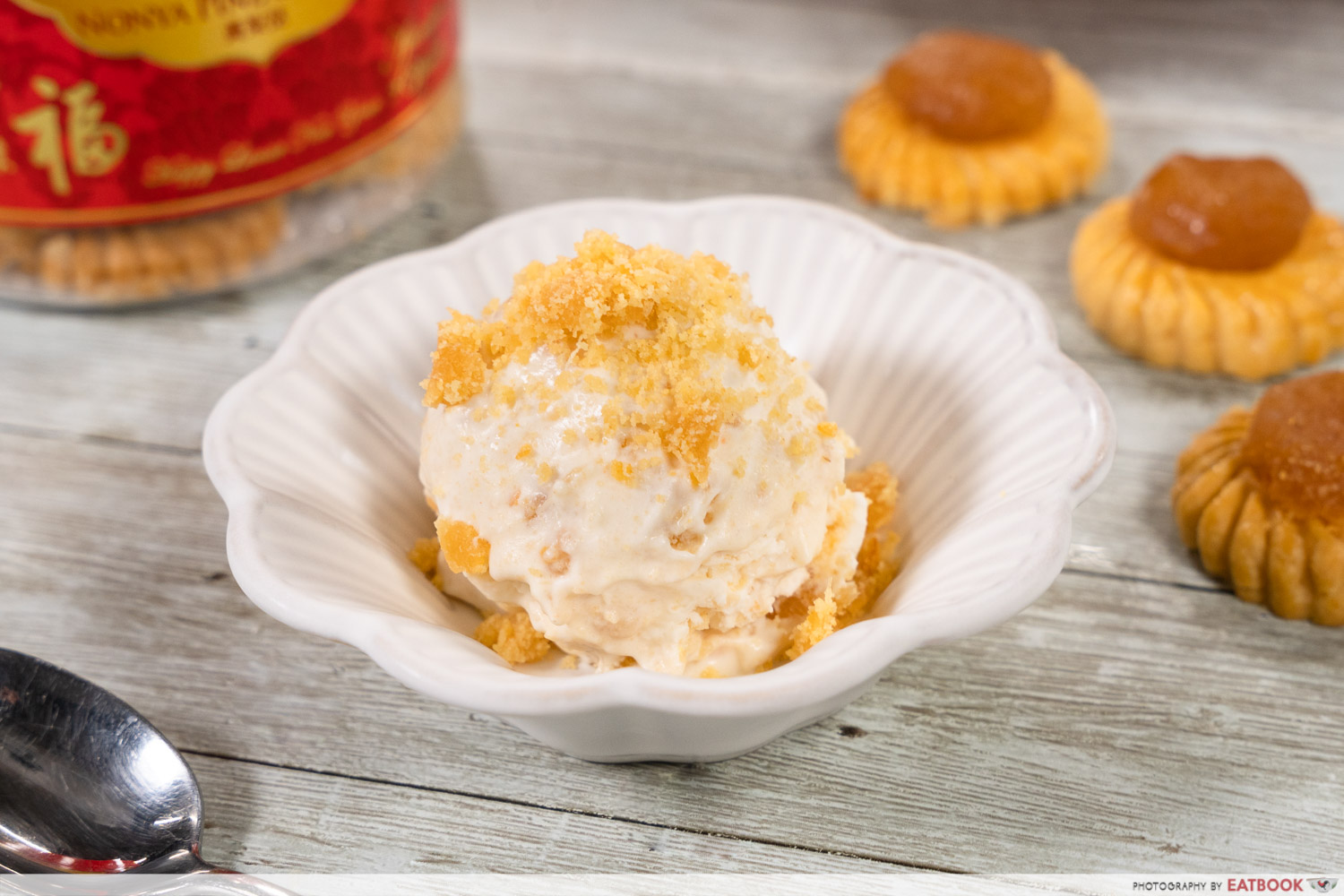 This Pineapple Tart Ice Cream is simply child's play. It's an effortless dessert to prepare and present to guests, and also deliciously sweet, tart, and creamy—a great end to a heavy meal of hotpot at home.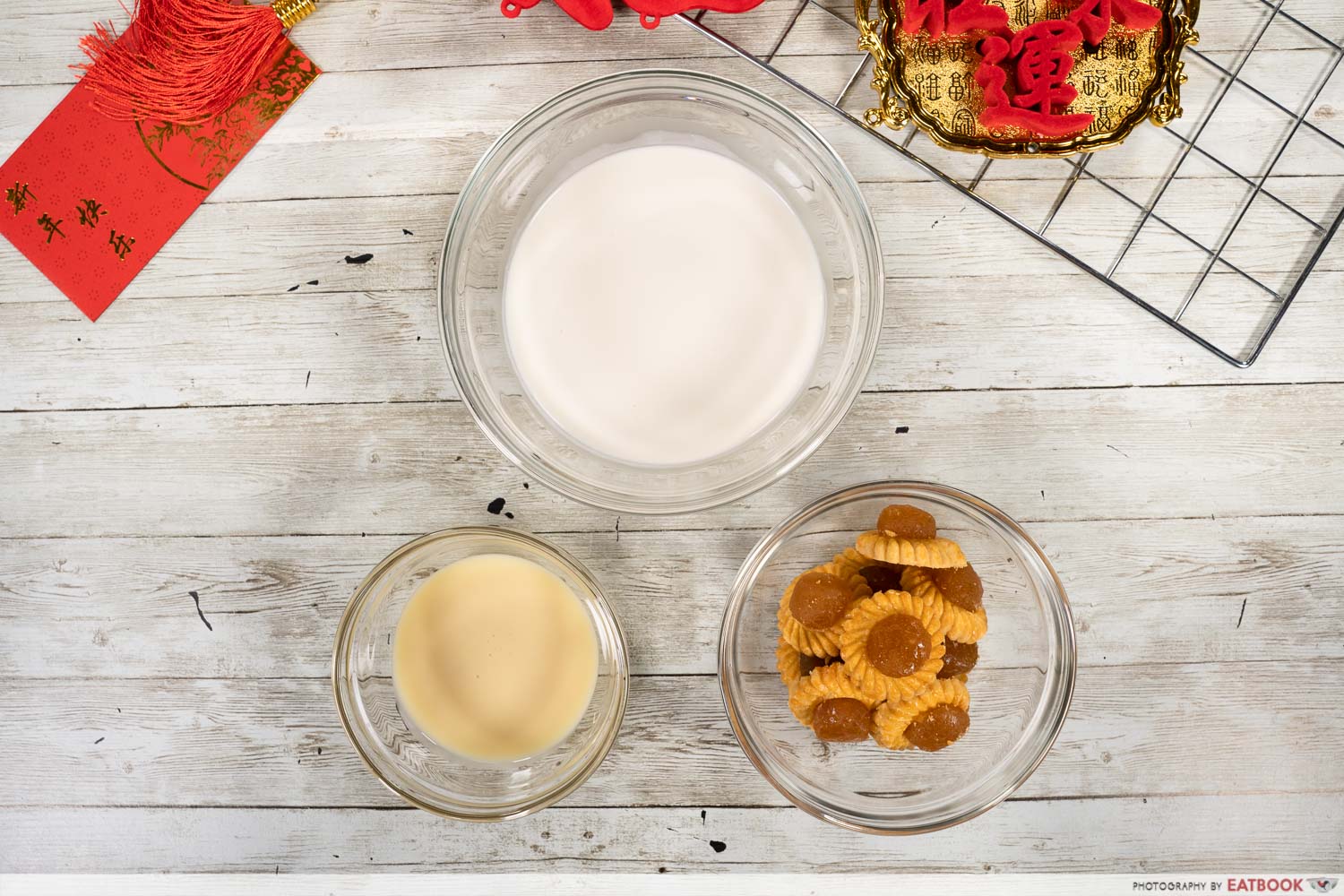 As promised, it only requires three ingredients! Namely heavy whipping cream, condensed milk, and any pineapple tarts you can lay your hands on. Only a short 15-minute time frame is needed to complete this dessert, but do note that it needs to sit in the freezer for at least four hours.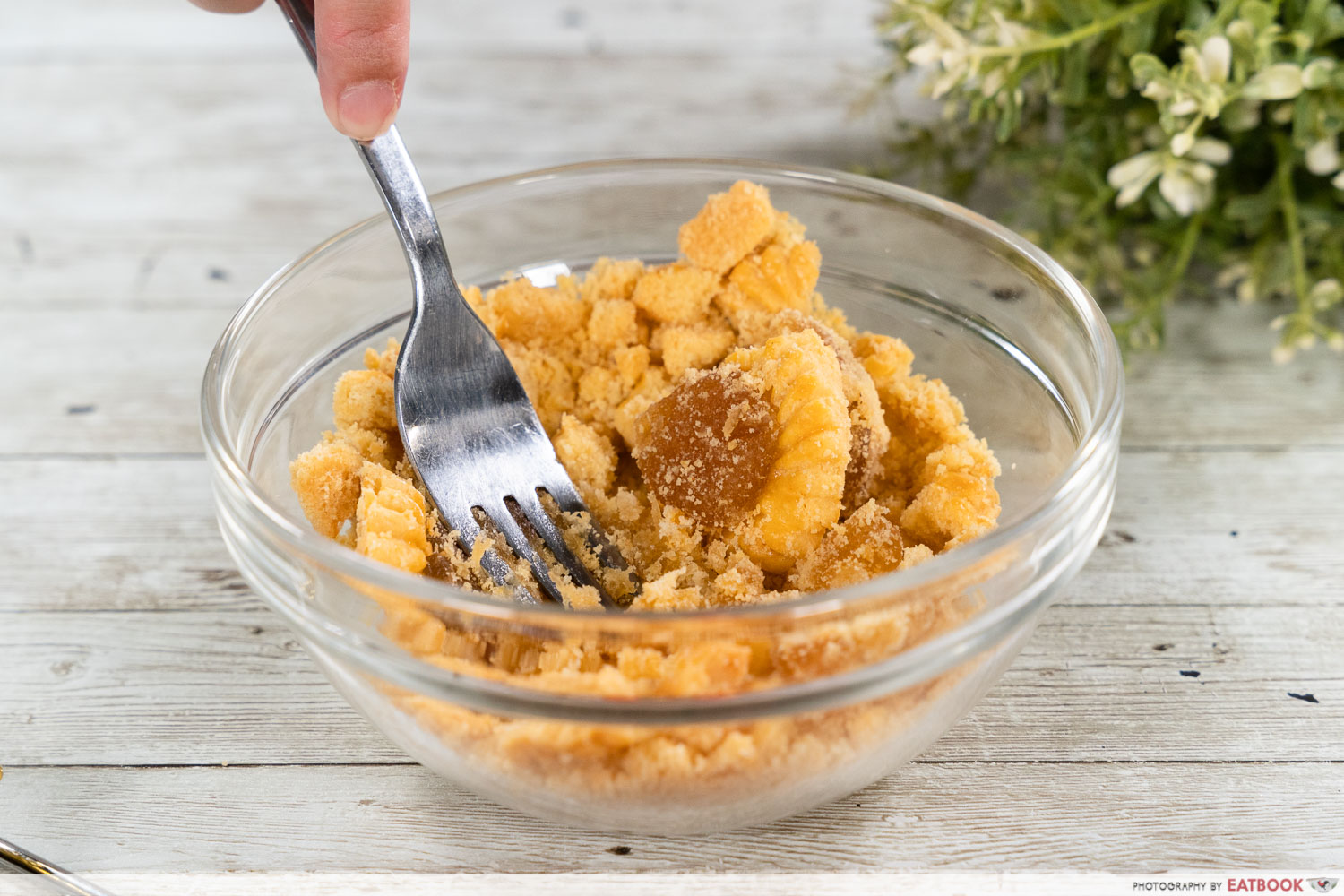 First, get the kiddos on board by asking them to smash pineapple tarts up with their little fists or a fork, as you whisk heavy whipping cream along with condensed milk for the vanilla ice cream base.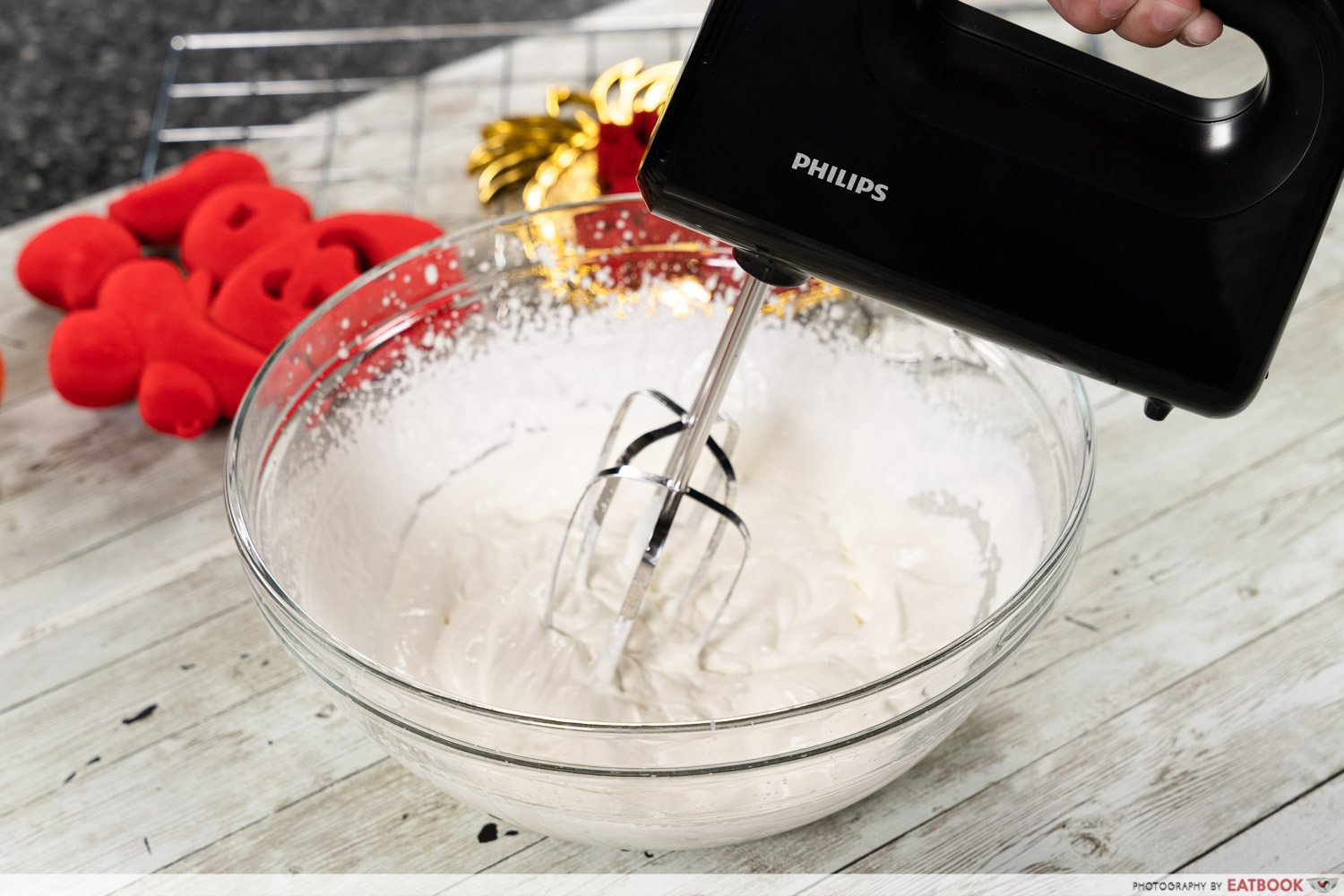 Using an electronic hand mixer, incorporate air into cold heavy cream till it gets fluffy, ensuring a luscious texture for the base of this pineapple tart ice cream. Next, combine it with sweetened condensed milk and make sure everything is well incorporated.
Shop more kitchen appliances here.
The third and final step is just to assemble both components into a freezer-friendly metal tray. Layer the whipped cream and smashed pineapple bits twice, cling wrap the top to prevent ice crystals from forming on the ice cream, and practice self-control by waiting at least four hours for the dessert to be ready. 
Yield: 1 tray
Cooking time: 15 minutes
Ingredients:
10 pineapple tarts
1 ½ cups heavy whipping cream
100g condensed milk
Directions:
Using a fork, smash 10 pineapple tarts into small bits and set aside.

Using a hand mixer, whisk heavy cream for around 8 minutes or till fluffy.

In the same bowl, fold condensed milk into until everything is well combined.

Starting with the whipped cream, layer both the whipped cream and pineapple bits twice in a metal tray.

Cover the tray with cling wrap, and chill in the freezer for at least four hours. Garnish with more pineapple bits and serve.
---
2. Almond Nut Crisps
---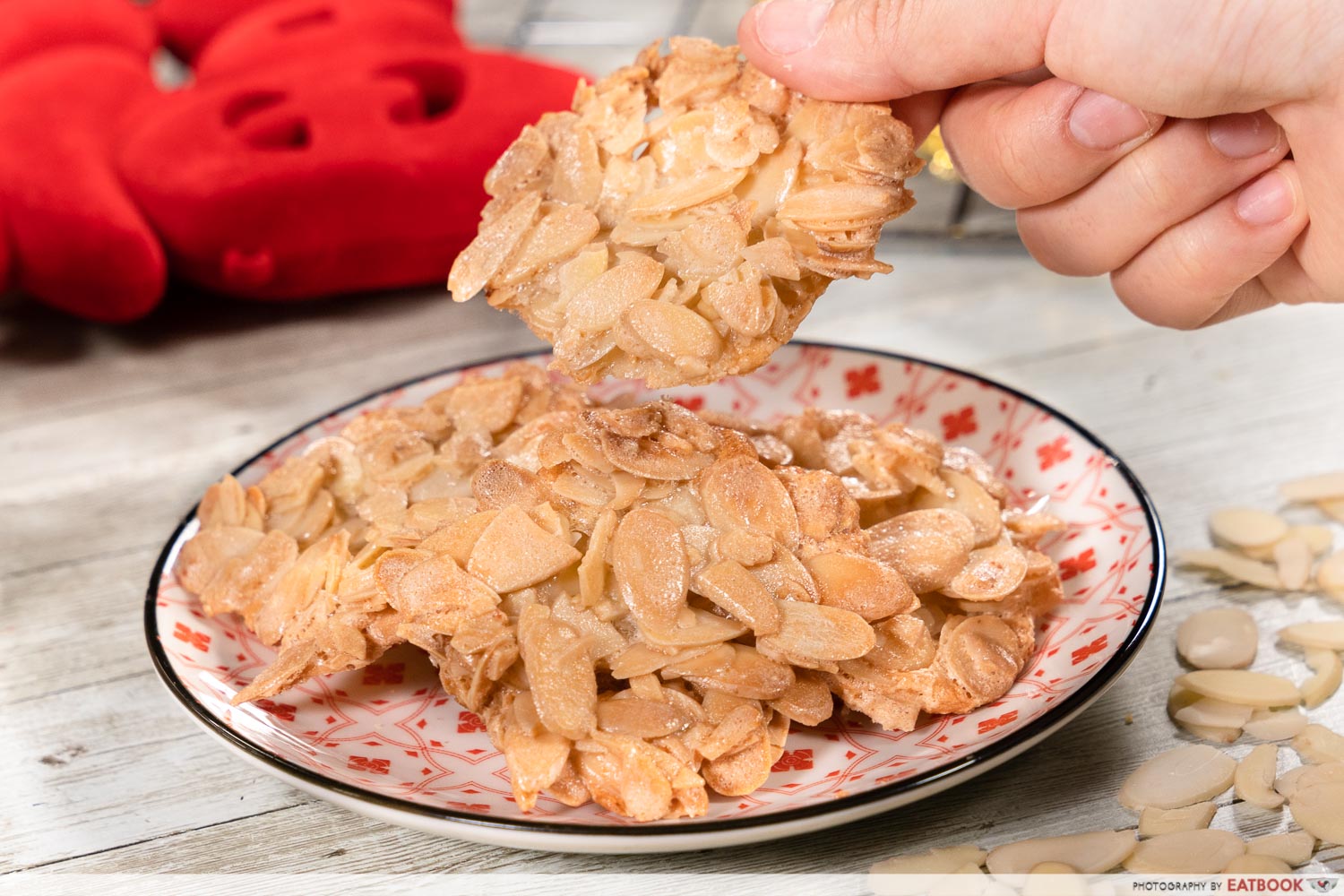 Almond Nut Crisps, AKA almond florentines, are dangerously addictive and don't demand many steps to make. The kitchen will also be thick with the fragrance of toasted almonds, making your home even more inviting as guests arrive to bai nian.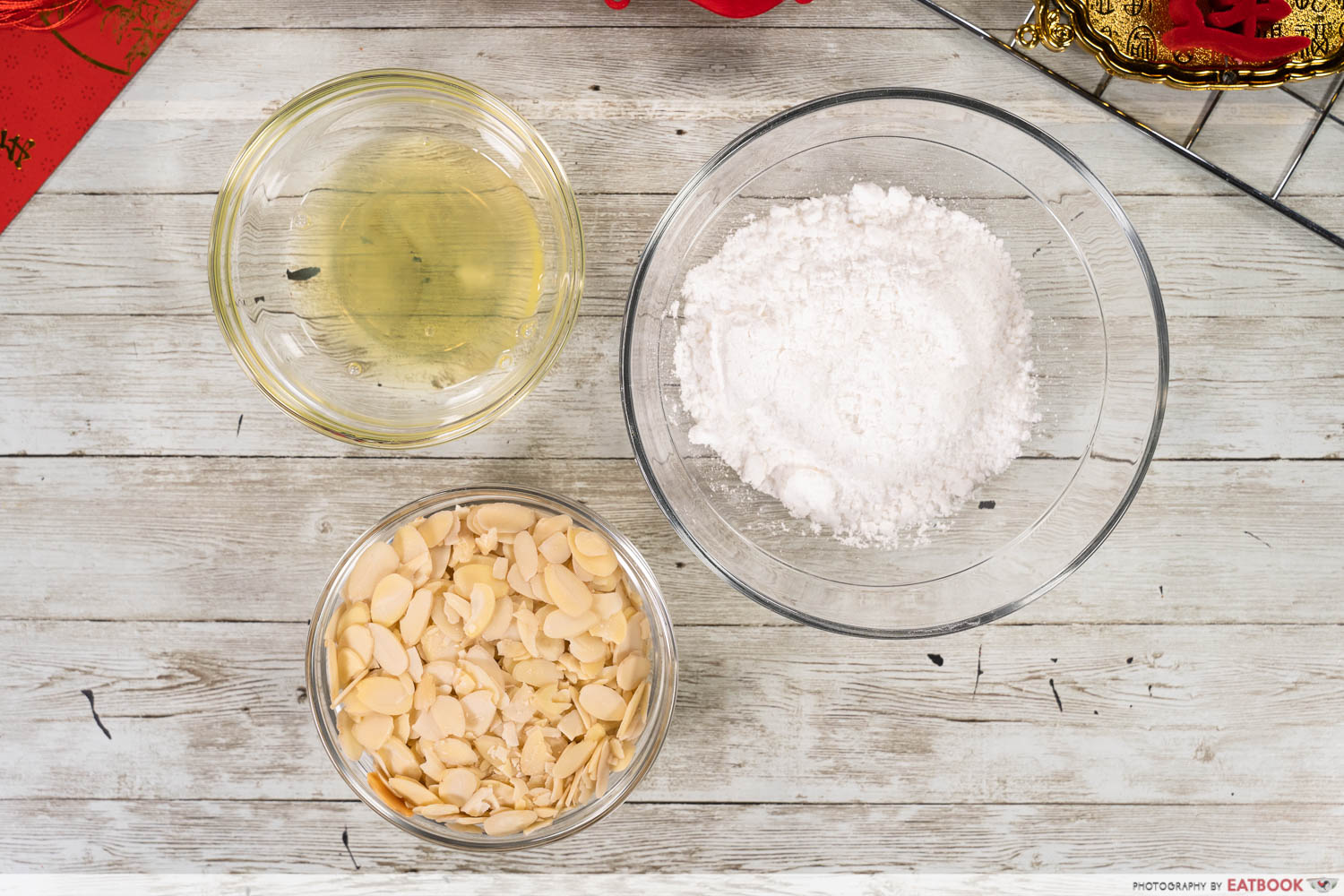 While we are using just almond slices, feel free to incorporate your favourite nuts or seeds such as cashews, pumpkin seeds, and sesame into this recipe. You can even add dried fruits for a pop of sweetness and a sticky texture amidst the satisfying crunch of each crisp.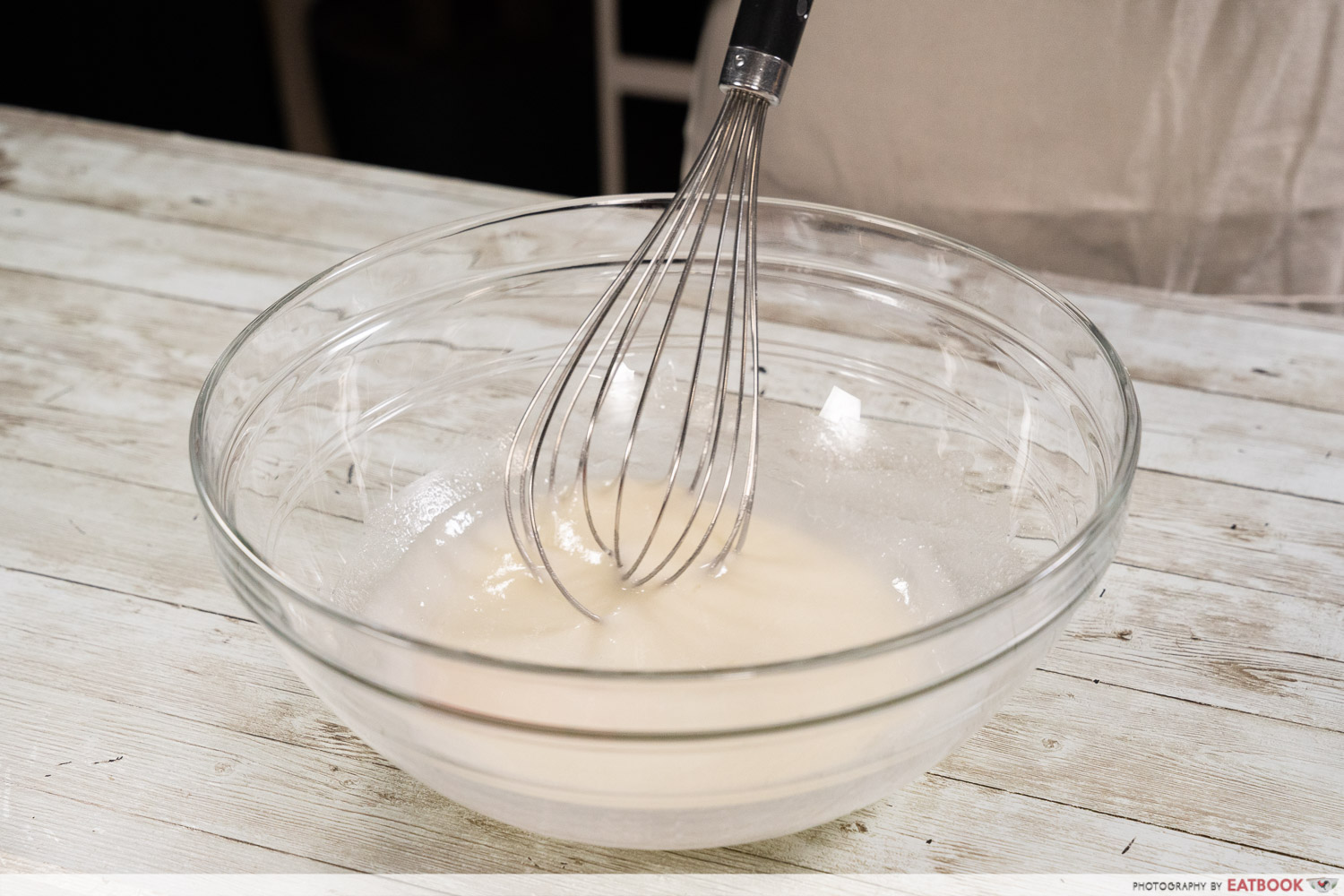 In a big bowl, whisk together the egg white and powdered sugar until it gets slightly foamy. Then add the almond slices into the same bowl and gingerly give it a toss, coating every surface with the egg white mixture. Be careful not to break the almond slices, lest you want a thick and dense nut crisp dotted with broken almond bits.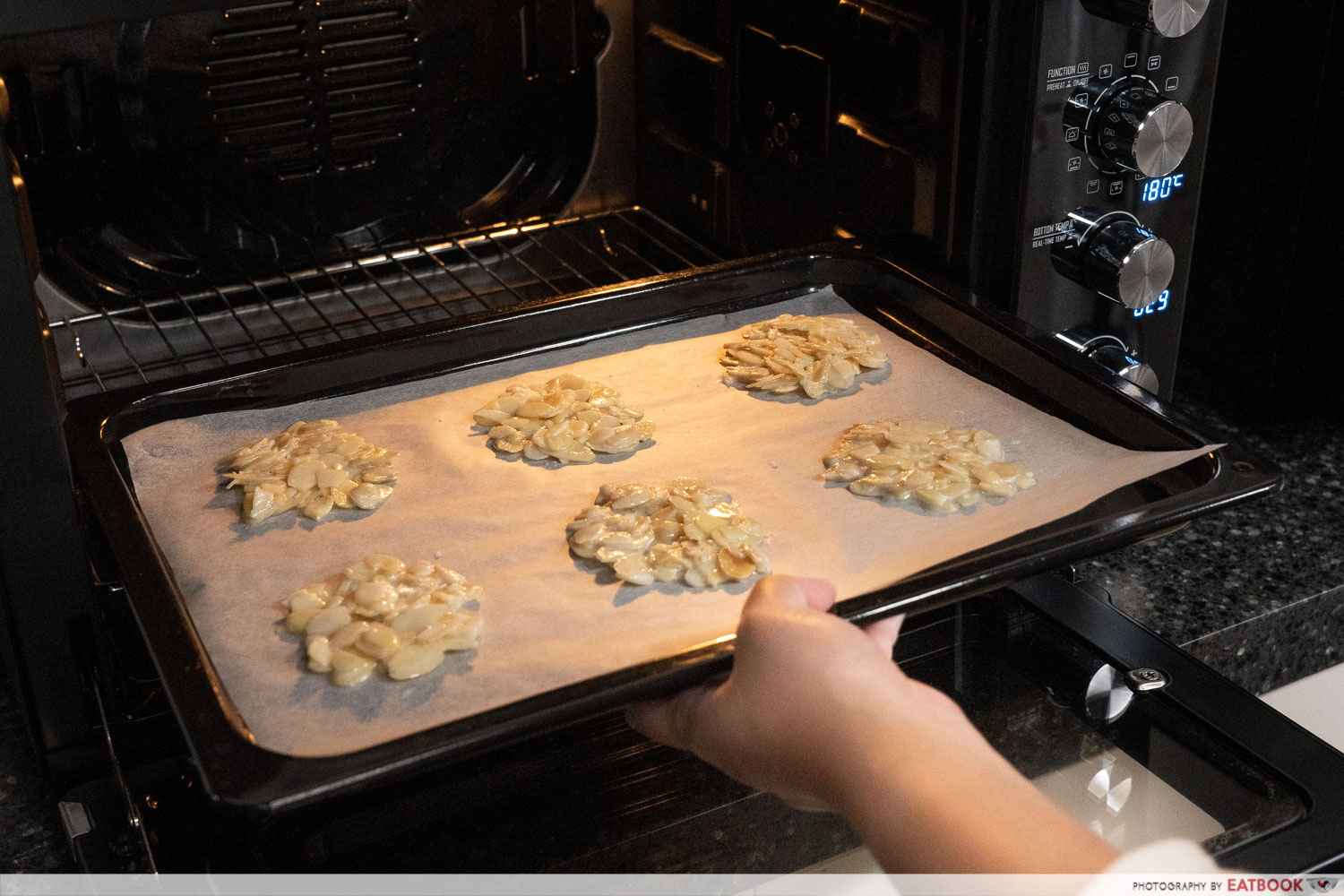 Lay a piece of baking paper onto your tray and spoon the almond slices onto it, spacing them about 2-3cm apart. While the recipe calls for 15 minutes in the oven, do keep a lookout at the 10-minute mark, as the nut crisp takes seconds to go from golden brown to burnt.
Yield: 12 cookies
Cooking time: 20 minutes
Ingredients:
30g egg white (around 1 egg)
40g icing sugar
150g almond, sliced
Directions:
In a big bowl, whisk together egg white and powdered sugar until it gets slightly foamy.

Add almond slices in the same bowl and carefully toss till each piece is well coated with the egg white mixture.

Spoon almond slices onto a baking paper, leaving 2-3cm spacing in between. 

Toast them for 15 minutes in a preheated oven of 180°C. 

Allow nut crisps to cool completely before storing them in an airtight container.
---
3. Spicy Chocolate Cornflake Clusters
---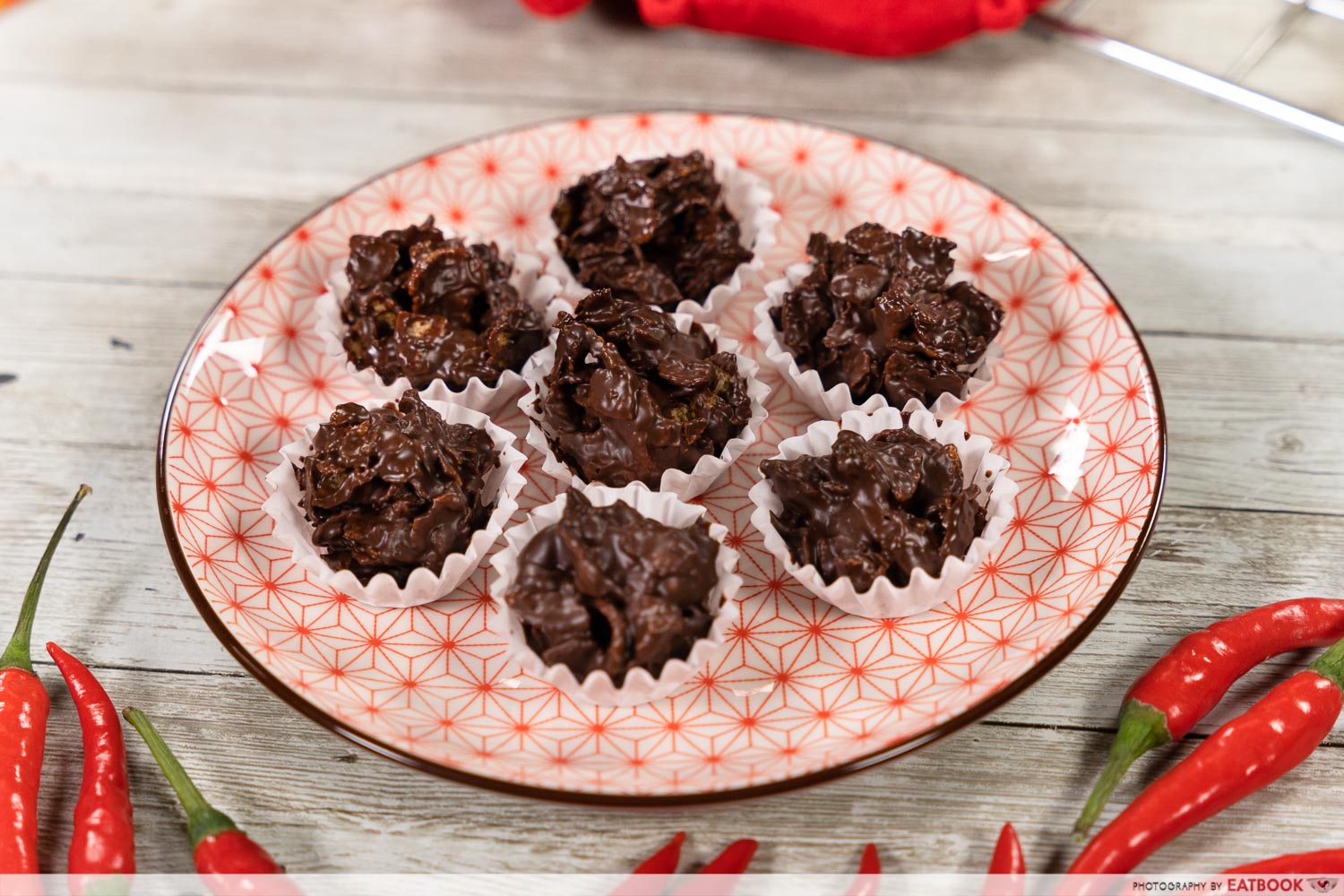 Adding a no-bake item to the list of 3-ingredient CNY snack recipes is a must! This Spicy Chocolate Cornflake Cluster will jazz up any boring rack of CNY store-bought nibbles with an interesting twist to the classic chocolate cornflake cluster.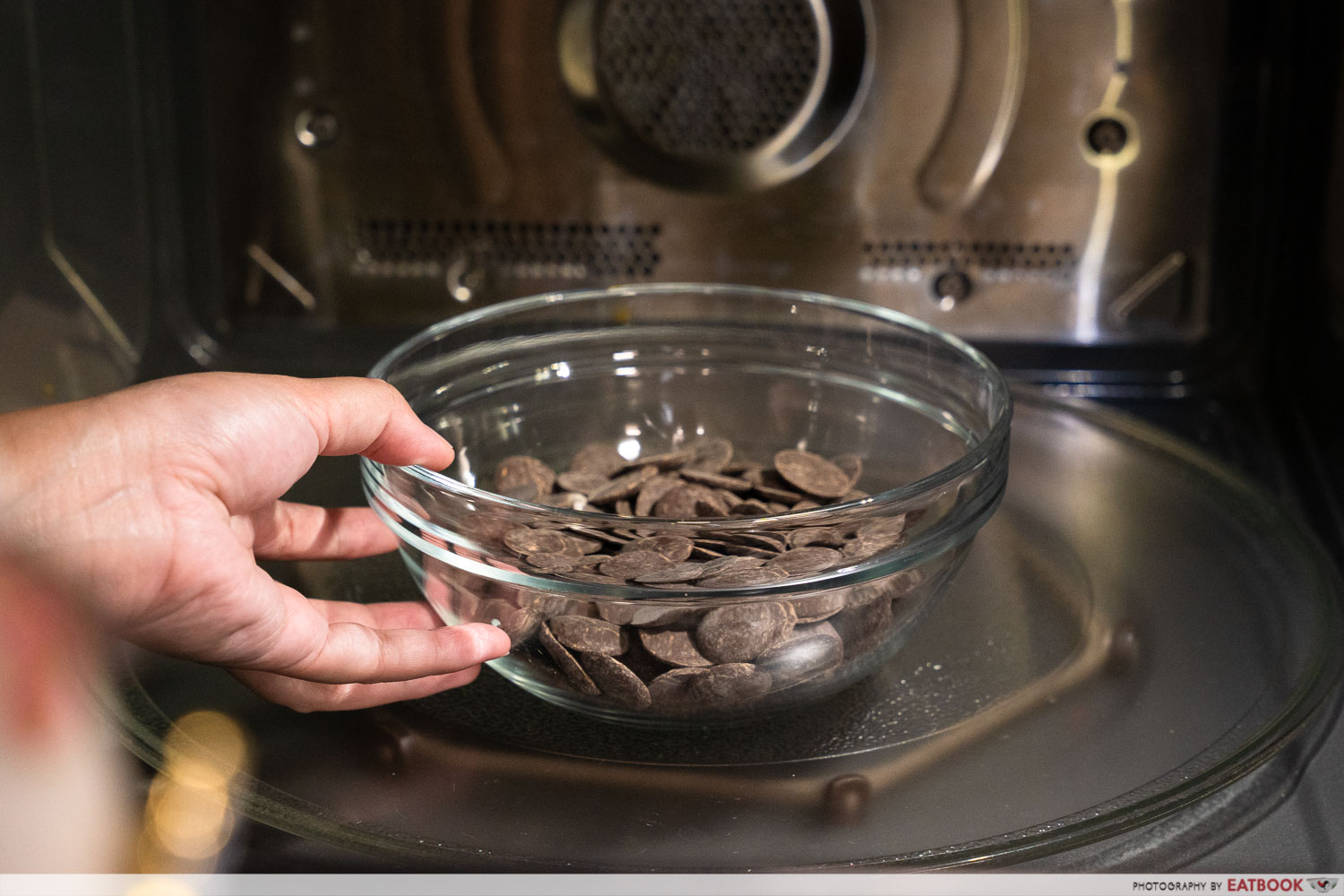 Melt your favourite chocolate in a microwave, or on a double boiler. For this recipe, we used 70% dark couverture chocolate for a more intense flavour.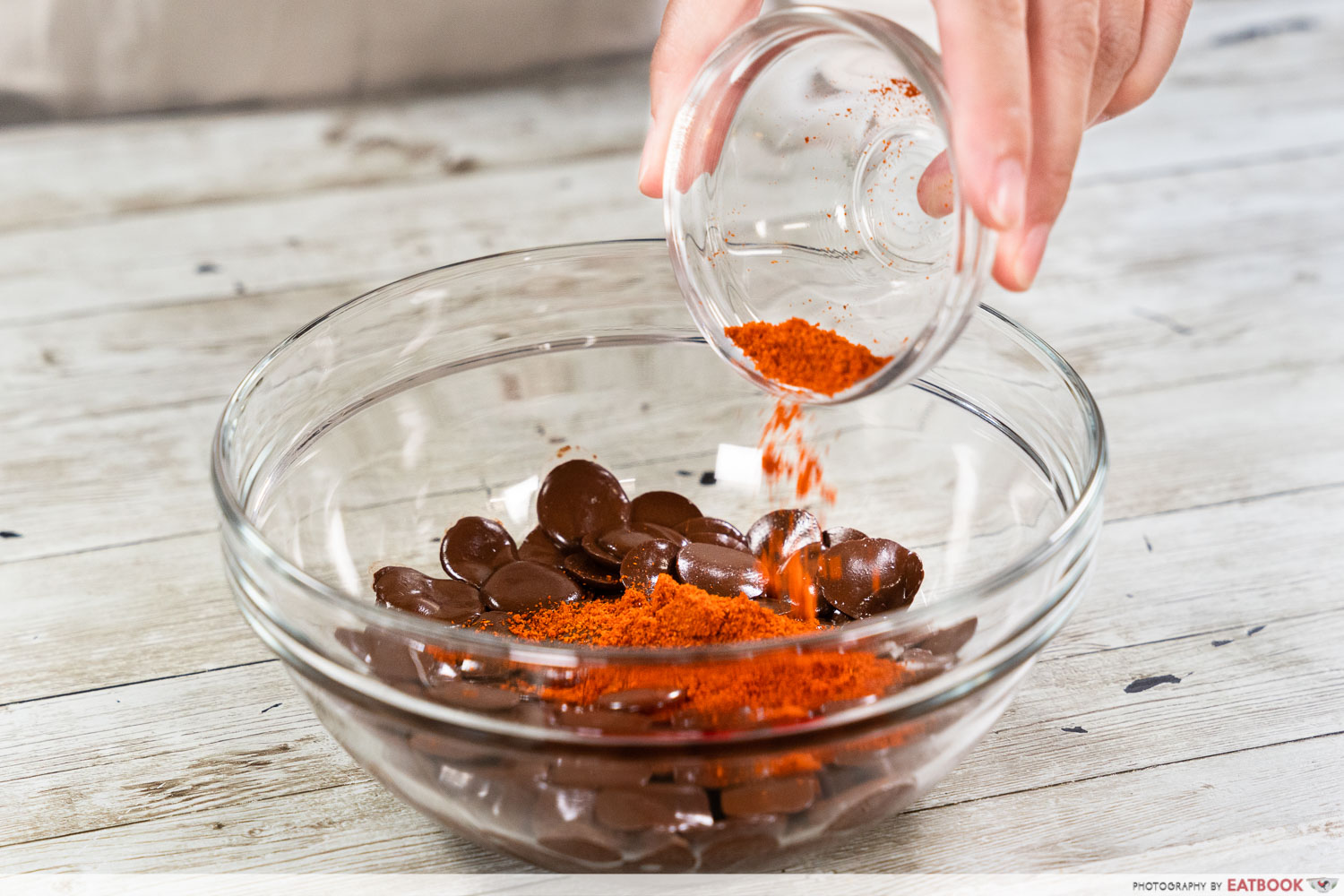 After spicing up the melted chocolate with a teaspoon of ground chilli powder, let it sit and cool for a few minutes. Speed the process up by blowing a fan directly into the bowl while you stir the mixture up.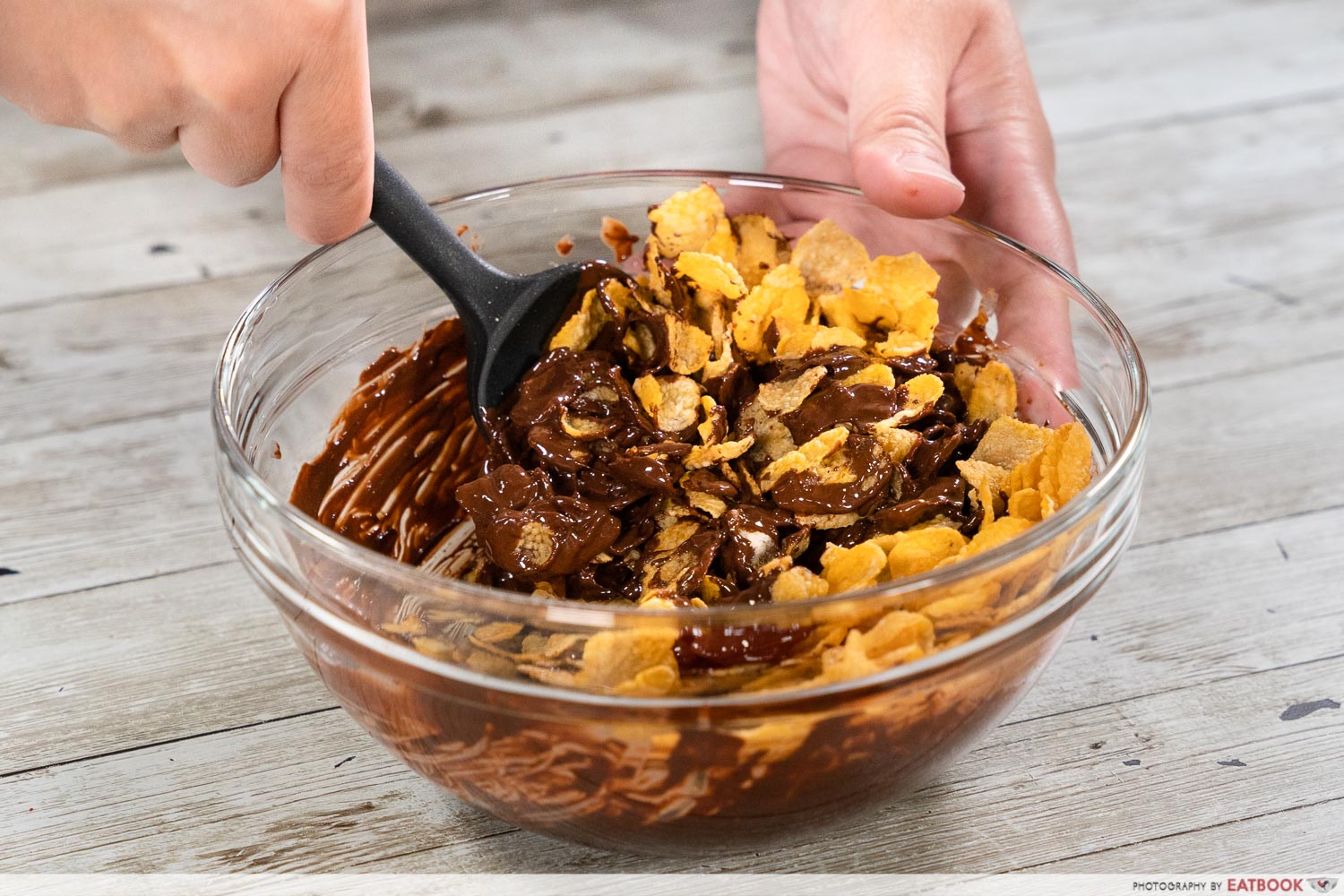 Coating the cornflakes with chocolate cooled to room temperature will allow the crunch to shine though at every bite you take of this Spicy Chocolate Cornflake Cluster. Just like the Almond Crisps, the cornflakes are fragile, so use a light hand when tossing them in the chocolate.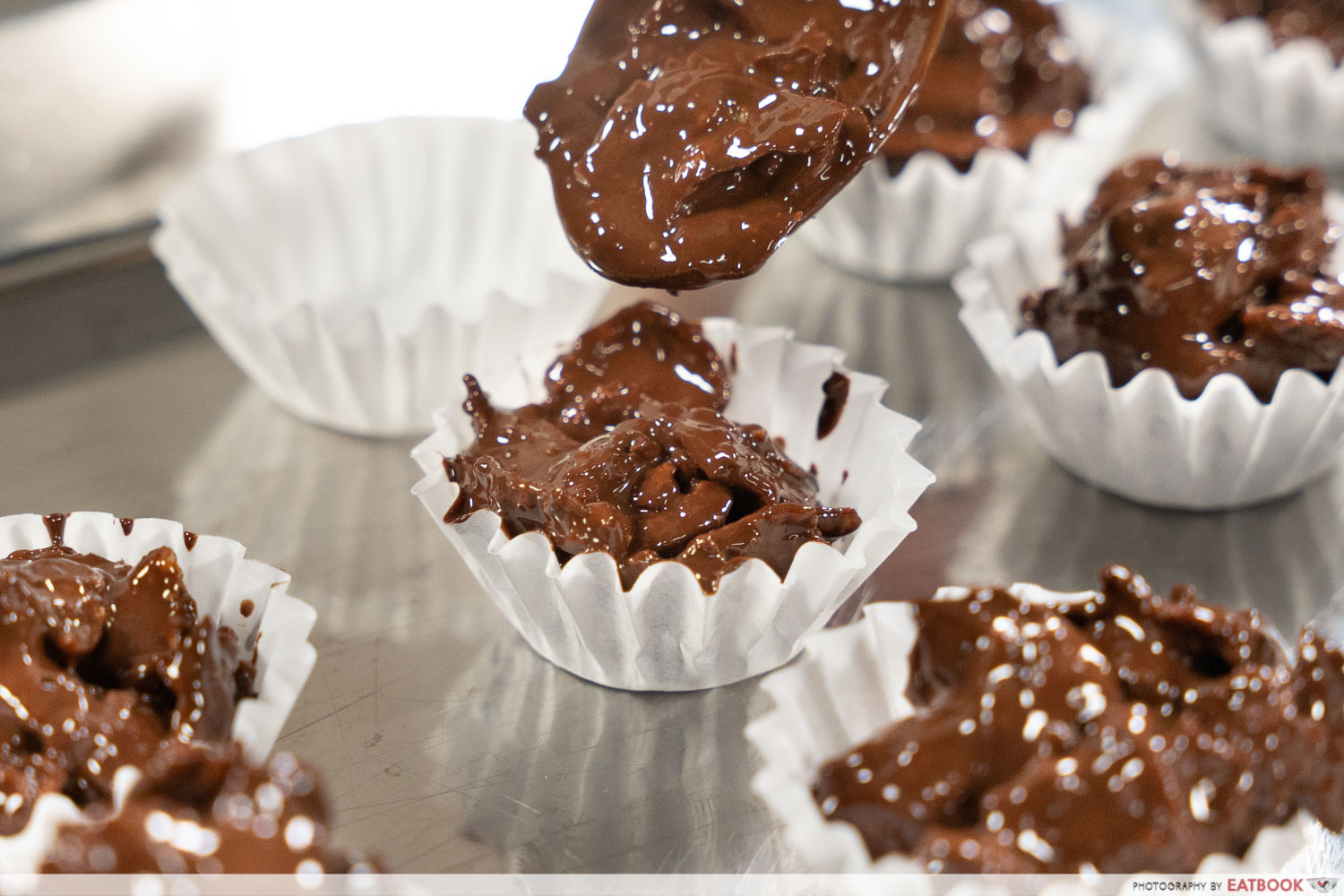 Separate the glossy cornflakes into little paper cups for easier, bite-sized enjoyment later. Chill it in the refrigerator and serve them cold to your guests. Psst, don't tell them that it's gonna be spicy!
Yield: 20 clusters
Cooking time: 10 minutes
Ingredients:
100g dark chocolate
1 tsp chilli powder
30g cornflakes
Directions:
In a big bowl, melt dark chocolate in a microwave for 30 seconds.

Add chilli powder into the melted chocolate and stir till well combined. Set aside to cool to room temperature.

Add cornflakes into cooled chocolate and toss till well coated.

Separate into small paper cups and refrigerate for at least 1 hour. Serve.
---
CNY snack recipes
made easy with Amazon
---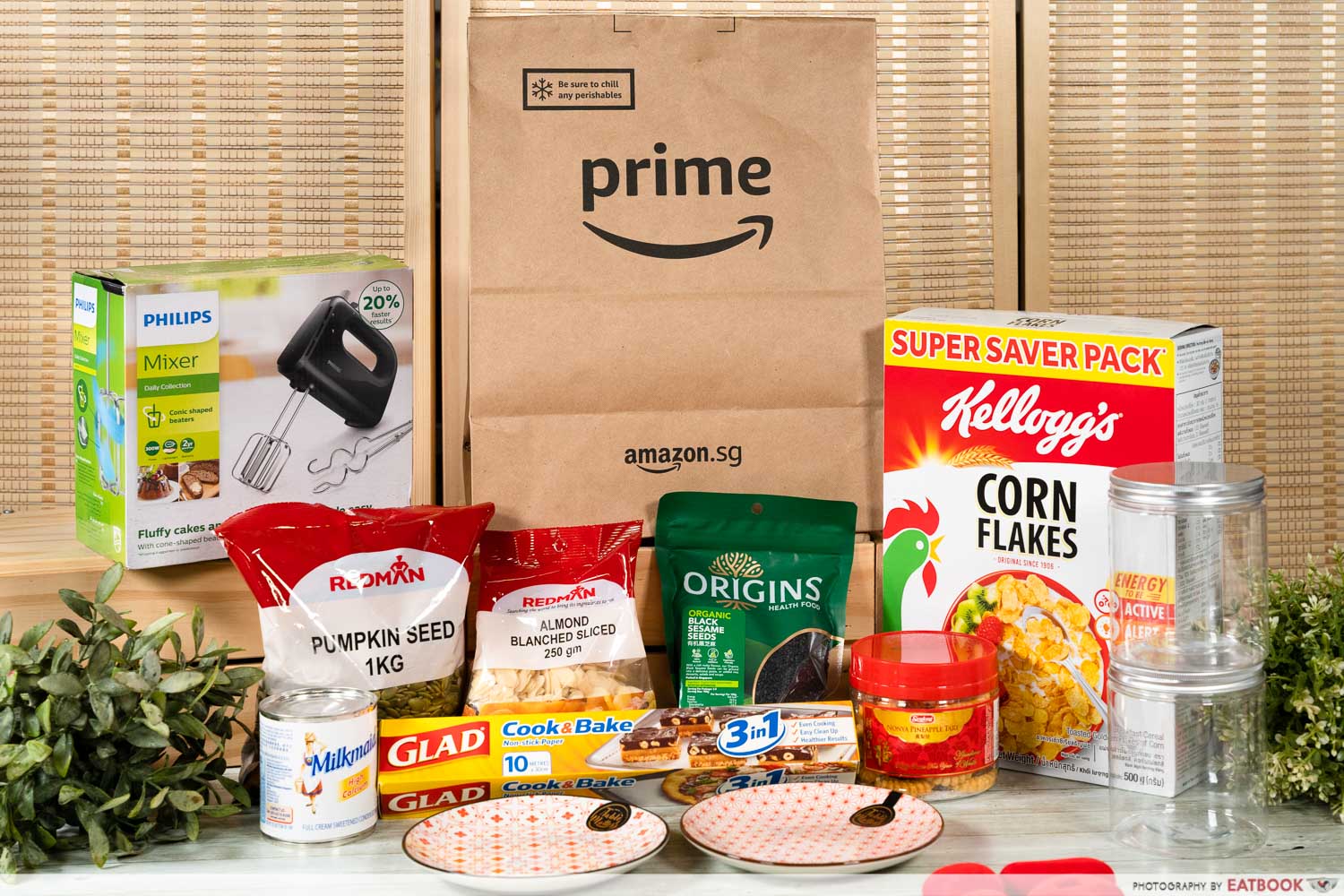 For those who are cooped up at home, try your hand at these 3-ingredient CNY snack recipes without even stepping out of the door. You can even watch our Facebook video here for the detailed steps! Be it last-minute groceries or impulse buys of kitchen appliances after being inspired by these three delicious recipes, you can shop at Amazon Singapore in the comfort of your own home.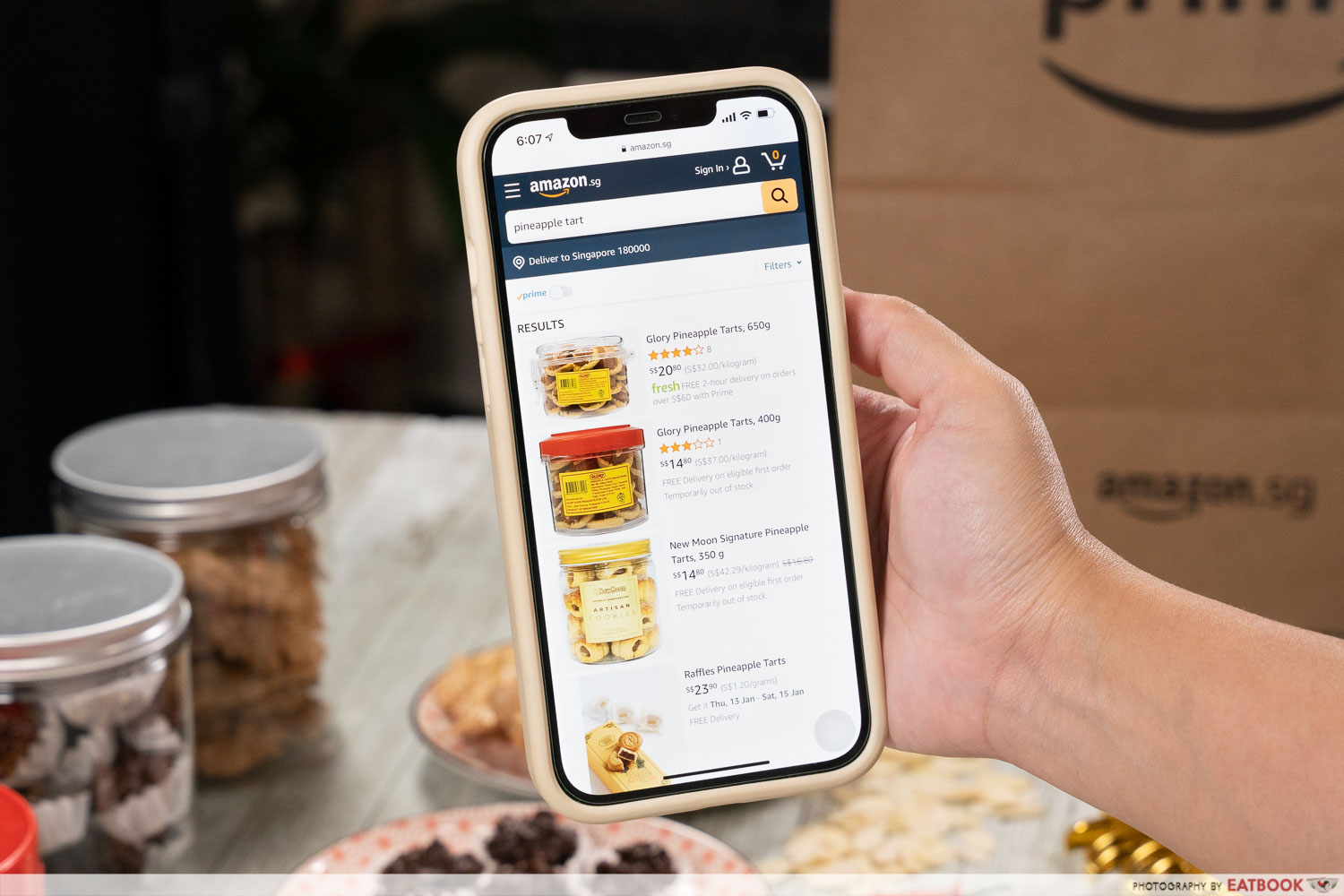 It is a one-stop destination to settle any CNY necessities, including festive decoration, aesthetically pleasing kitchenware, cookie containers, baking essentials, fresh or frozen food, and even electrical appliances. 
Prime members can also receive their items with free and fast two-hour delivery for orders above $60 on Amazon Fresh, and free delivery on eligible items from Amazon.sg! First-time customers also can enjoy $18 off with a minimum spend of $88 on your first order.
From now till 2 Feb 2022, look out for exclusive CNY deals for extra cost savings. Keep your eyes peeled for discounts with up to 25% off CNY essentials, including braised abalone, dried scallops, Tea House drinks and more. Those looking to spring clean with ease can also stay tuned to deals on Dyson and Airbot vacuum cleaners too. Terms & conditions apply for all promotions.
Photos taken by Melvin Mak.
This post is brought to you by Amazon Singapore.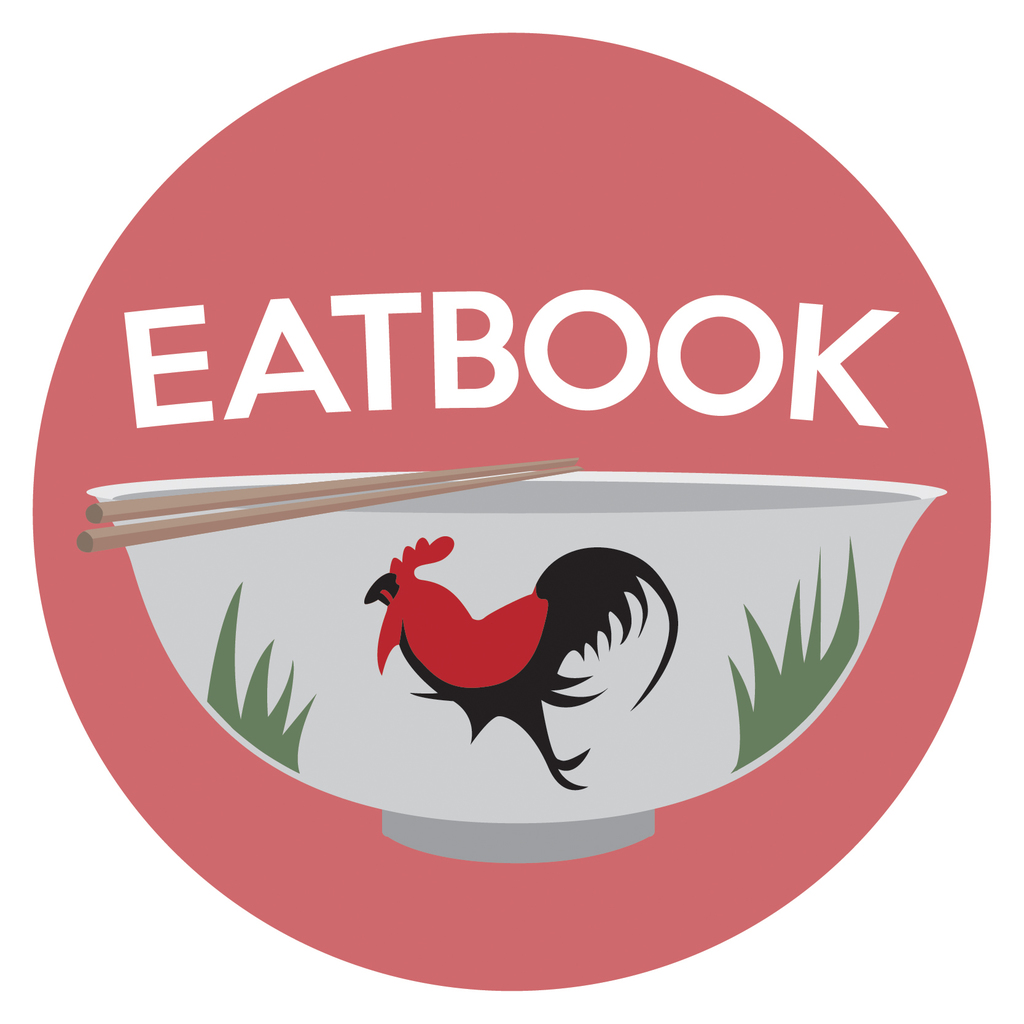 Drop us your email so you won't miss the latest news.