Commons at Jewel Changi Airport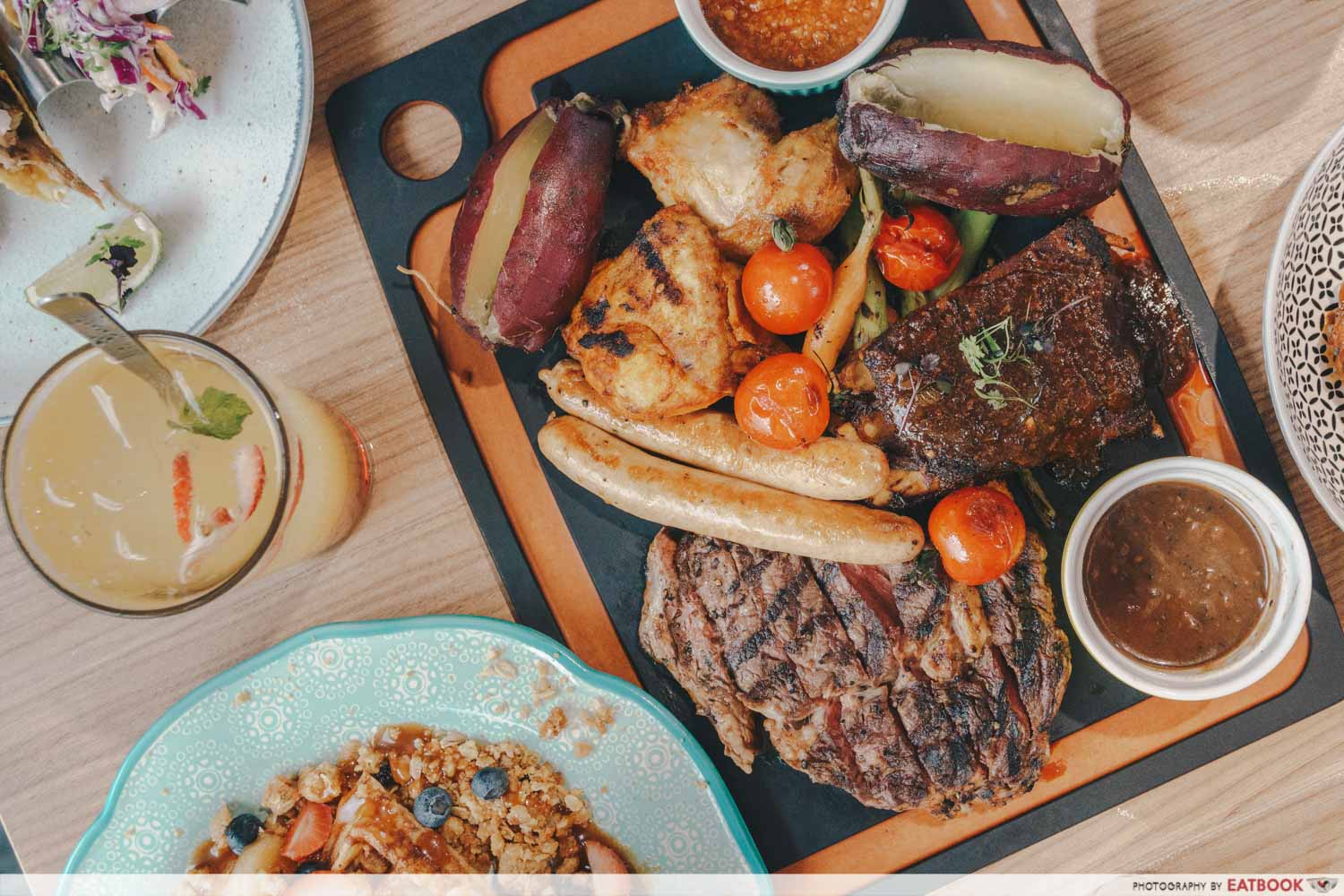 Like most Easties, I enjoy eating at Commons with the squad. Its open concept, coupled with reasonably priced pasta, pizzas, and steaks makes it a good hangout spot with friends. Now, you can find them at what's probably the best mall in the East: Jewel Changi Airport.
This change isn't simply geographical; they've also revamped their menu to feature a slew of Asian fusion dishes such as lamb tacos with wonton shells, grilled chicken with satay sauce, and more. We headed down to try a few items off their new spread.
Food at Commons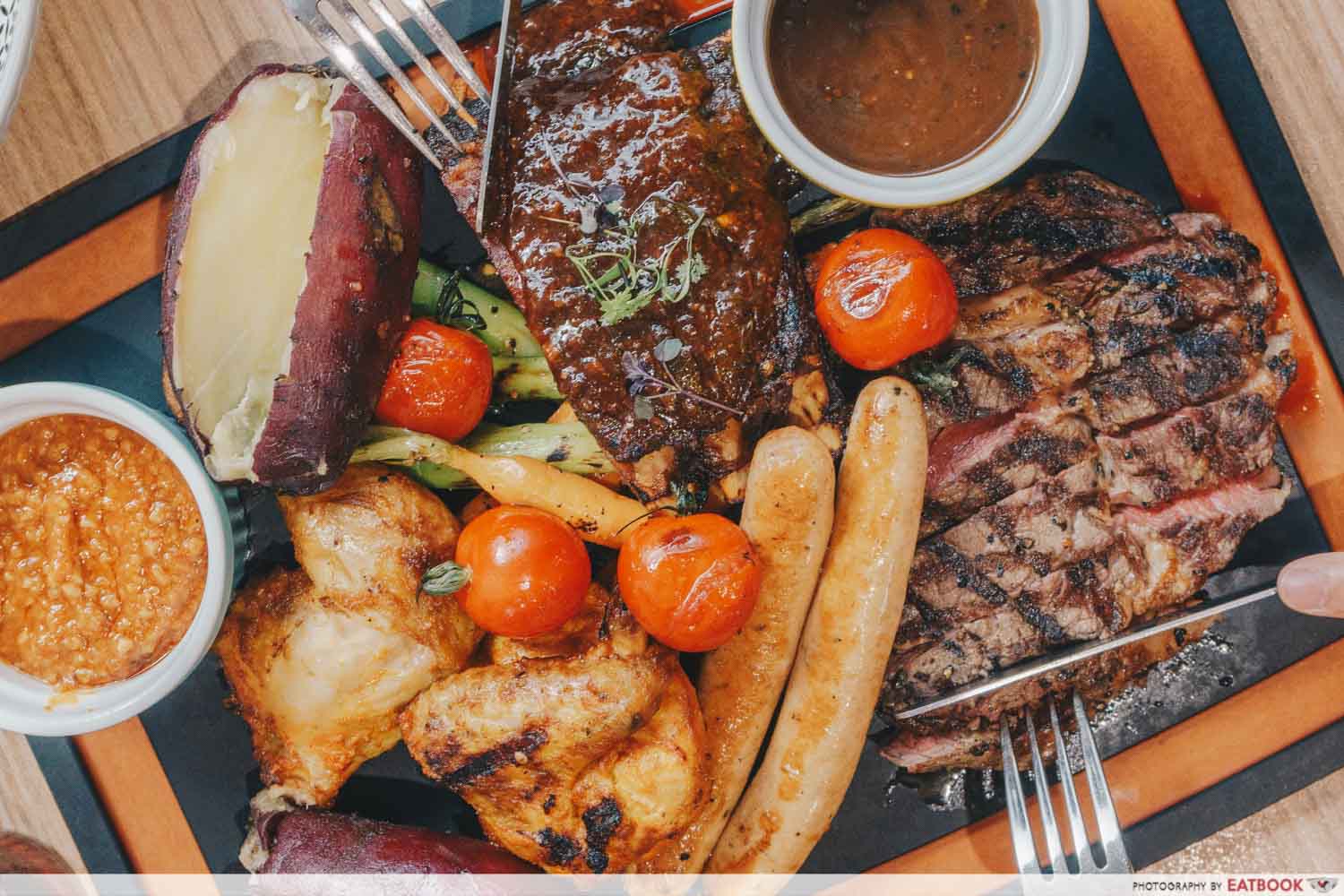 As a hardcore lover of meat, I took a liking to The Meat Feast ($65++)  immediately. The gargantuan platter features sticky lamb ribs, grilled chicken with satay sauce, ribeye, sausages, and more. According to the menu, this mountain feeds up to four people which explains why our group of three had trouble finishing it. Generous portions aside, the divine beef and lamb were what made this dish the MVP of the day. The ribeye sported a nice sear while retaining its juiciness. Its simple marinade of black pepper and salt allowed the beefiness to shine through, with waves of pepperiness bolstering it.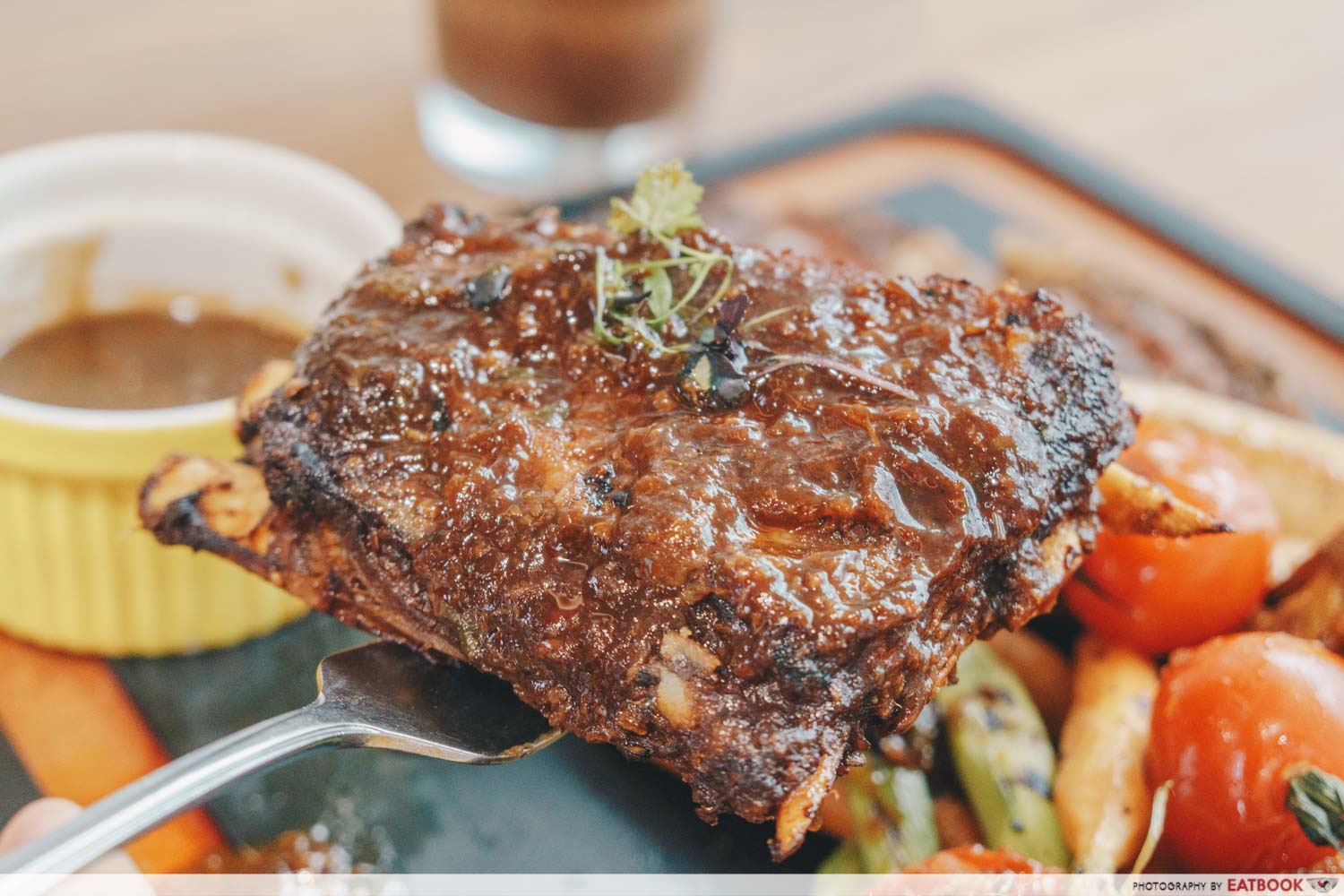 From its heavily glazed exterior, I expected the lamb ribs to be a lil' on the tough side. As such, I was pleasantly surprised to find that they were fall-off-the-bone tender. There wasn't a trace of gaminess to the lamb, only good ol' umami. The sweet sauce did not overpower the meat at all; it complemented the lamb and highlighted its savoury notes.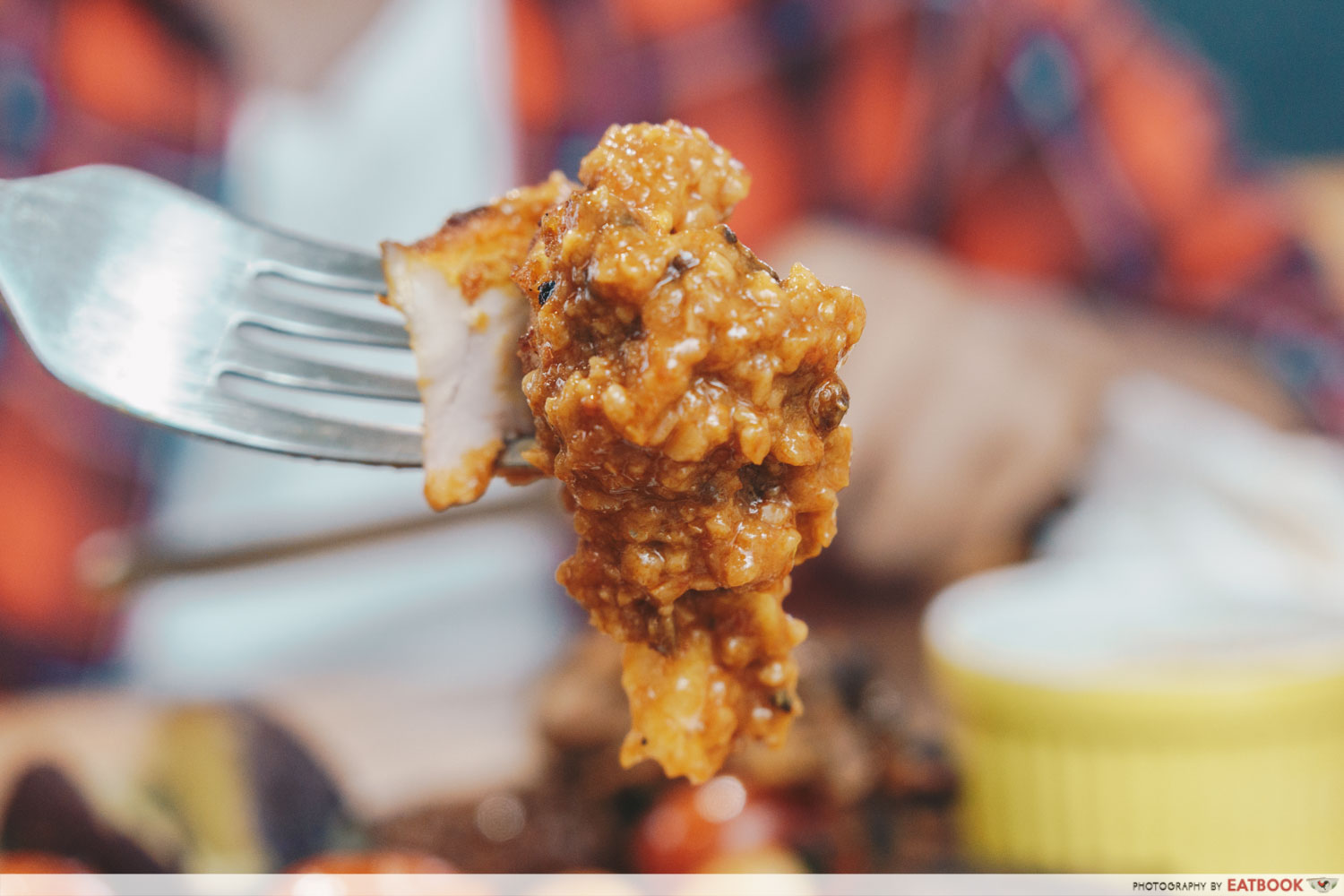 As I moved on to the chicken components, it became clear that these were the weakest links of the platter. Don't get me wrong, they were good, they just weren't great. Case in point, the grilled chicken checked off most of the boxes for an excellent chicken—nice skin, tender, and juicy. However, it missed the mark with its blandness. Thankfully, the satay sauce carried it on its back with a potent blend of sweet and savoury flavours.
Similarly, the chicken sausage tasted generic and lacked the meaty punch that was present in the beef and lamb.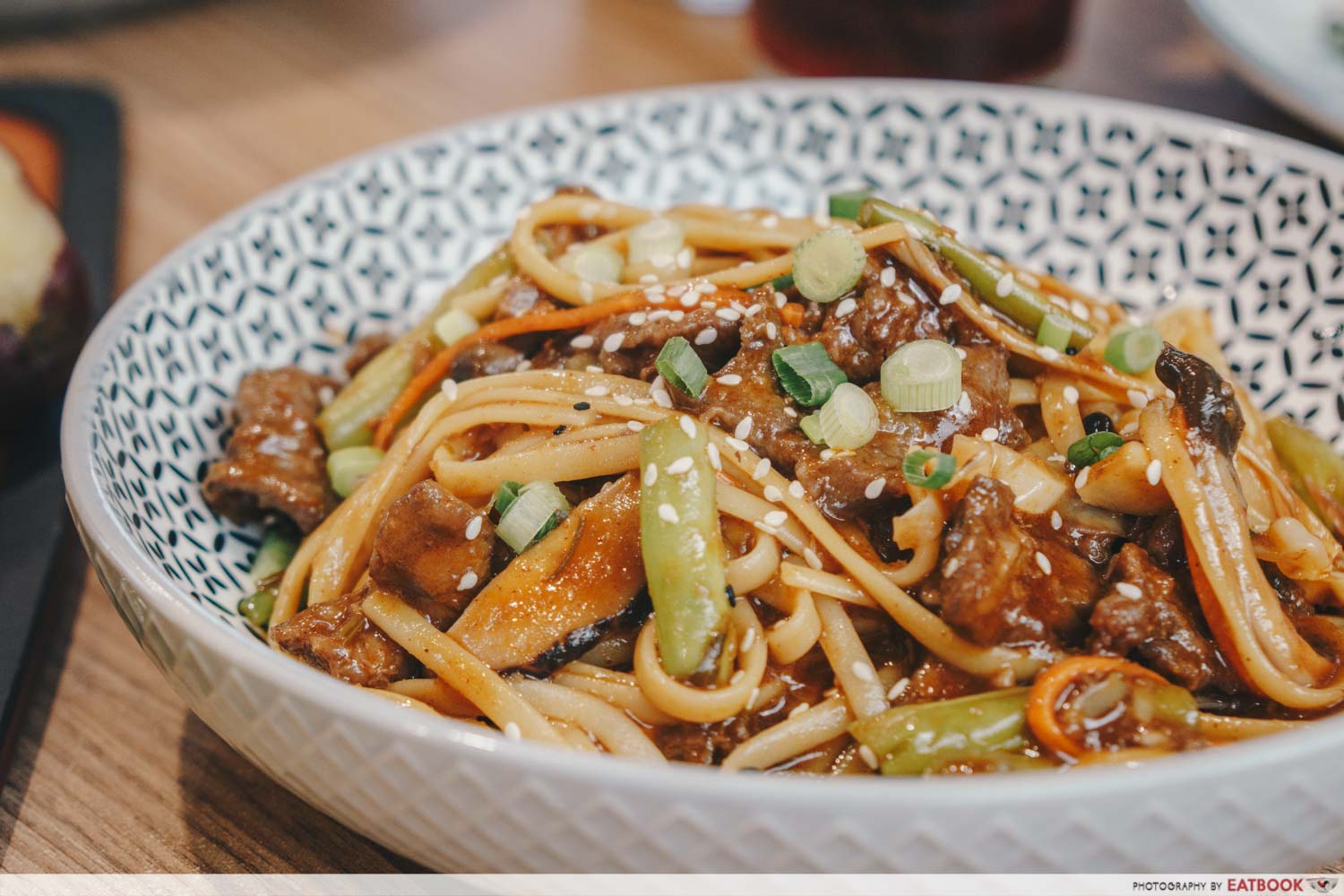 The Thai-Style Beef Linguine ($16++) is a case study on how to pull off a fusion dish. The sticky Thai sauce clung well onto the pasta, coating it evenly with a sweet flavour. The noodles had a faint spiciness, which prevented the dish from tasting too flat.
The stars of this plate were, undeniably, the beef slices which were tender with a capital T. You didn't even need to bite them; just press 'em against your palate and the beef will completely disintegrate.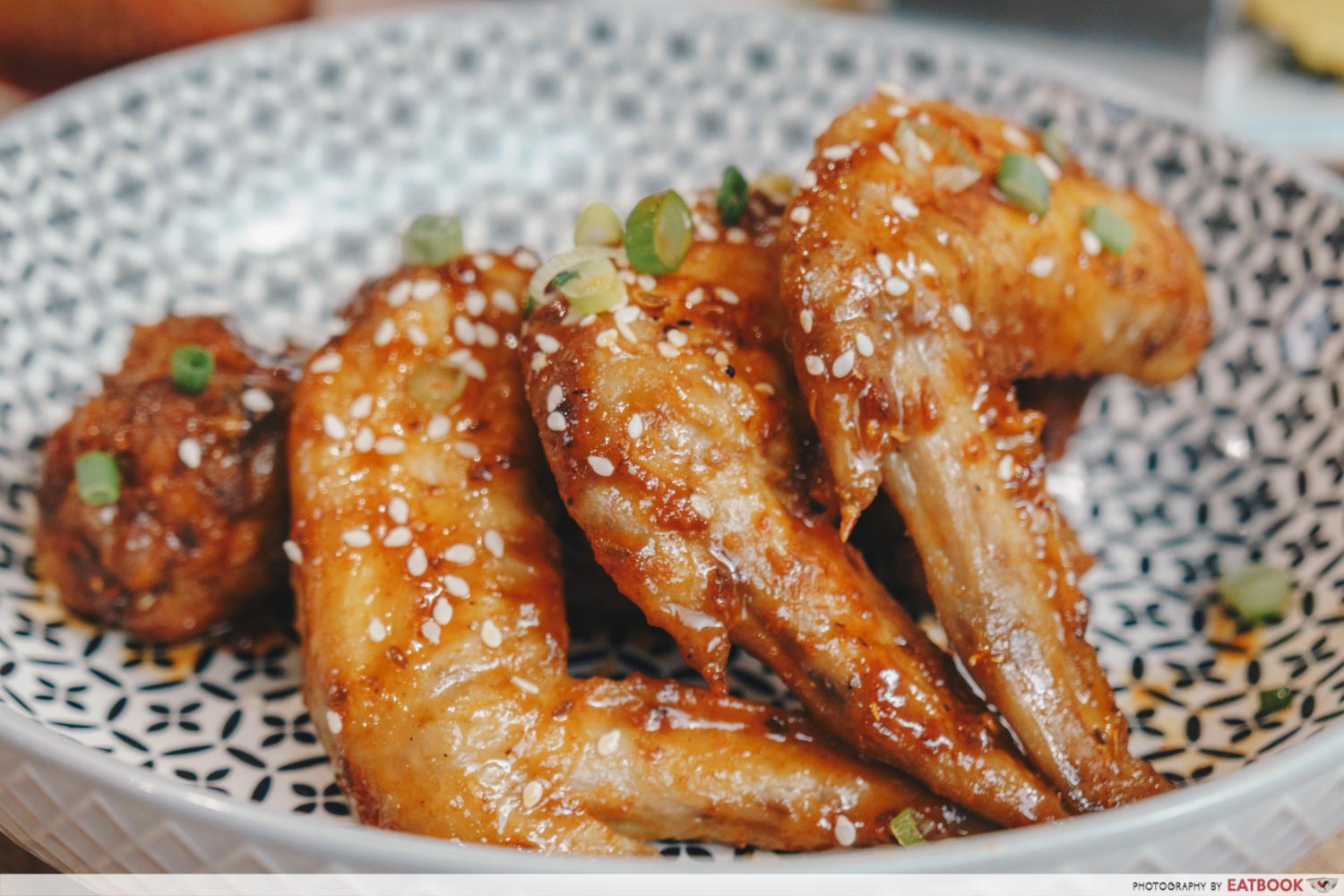 Rounding off the meaty galore were the Sweet & Smoky Chicken Wings ($12++) and Lamb Wanton Tacos ($9++). These prices might trigger an oof for some but they're worth it, considering they're meant to be shared.
Mixed in a honey and Sriracha blend, the wings were true to their name. They had an intense smokiness that was accompanied by floral undertones. I also appreciated how they remained juicy, even though we left them out for a while.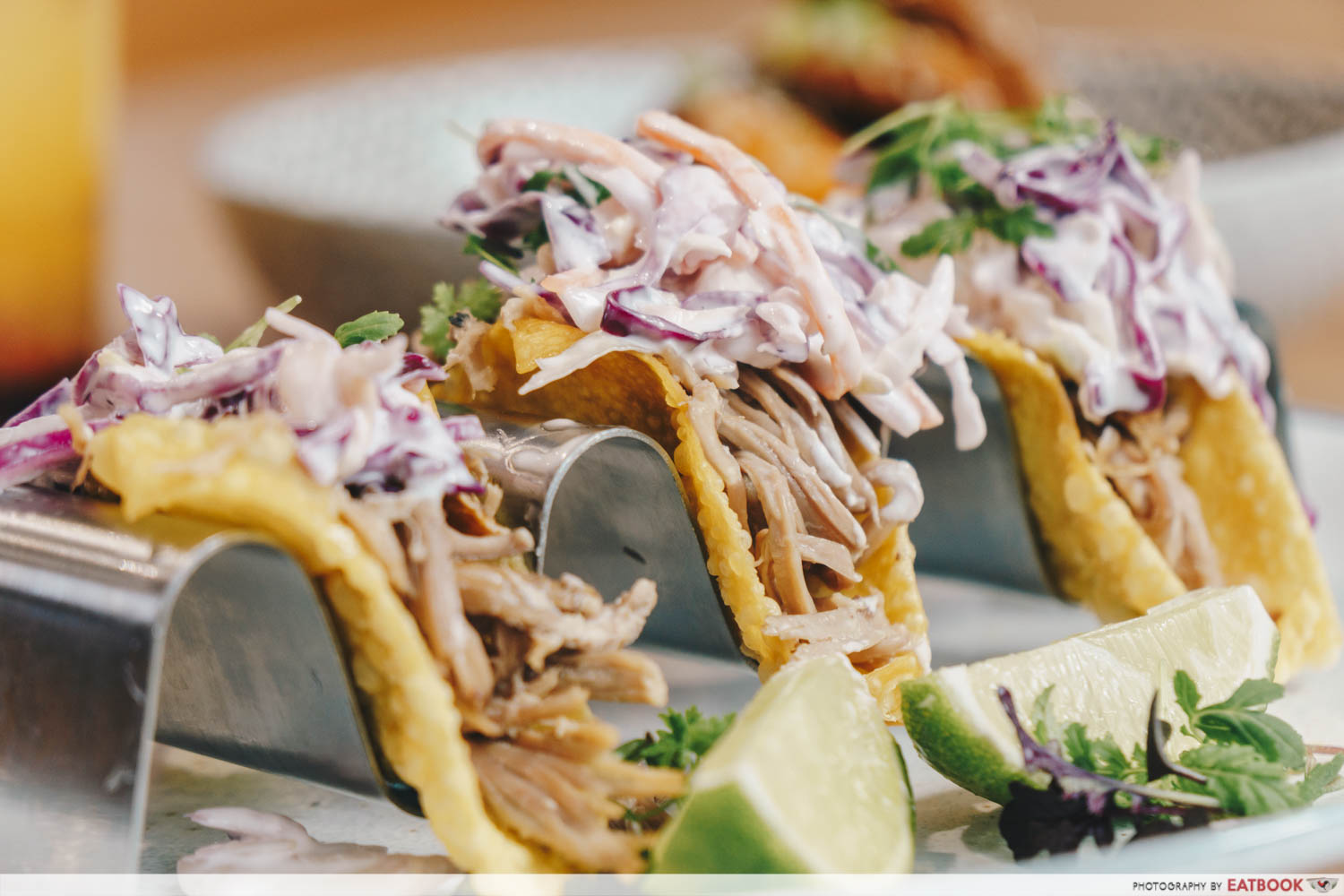 Like the Thai beef linguine, the wonton tacos put an Asian spin on a familiar Western classic. Instead of the usual corn shells, the tacos here are made from wonton skin—resulting in a crisp, bumpy texture with a tinge of saltiness. 
The pulled lamb was moist and came in generous amounts, giving you bang for your buck. That being said, I wish they would have eased up on the coleslaw as the leafy texture was this close to overpowering the taco.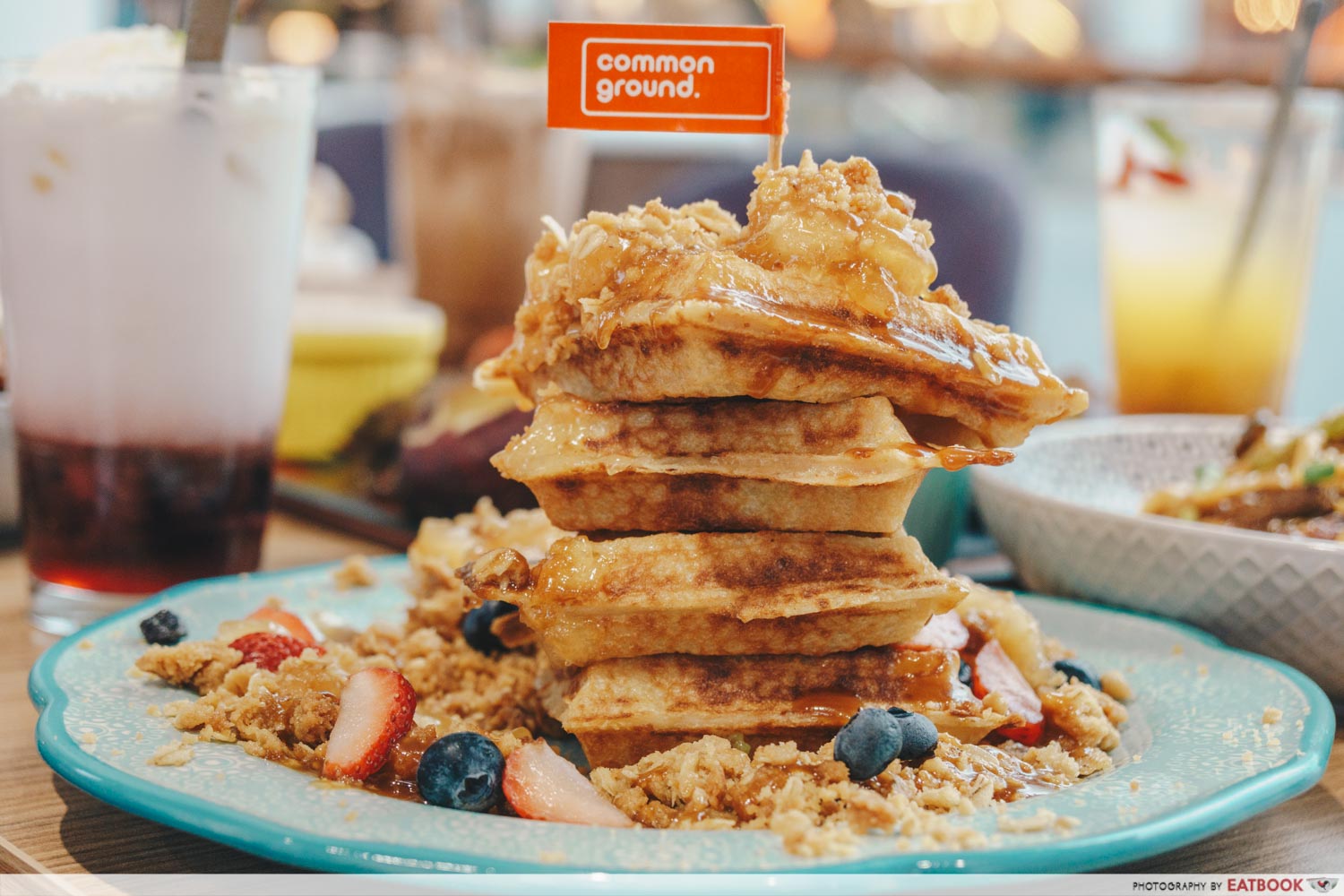 It may cost as much as a main, but I would gladly make a second visit here just for the Salted Caramel Waffle with Apple Berry Crisp ($16++). The dessert comprises four slabs of waffles that are drenched in salted caramel, apple compote, oats, and berries, served with a scoop of Cookies & Cream ice cream.
On paper, it sounds like a recipe for a saccharine overdose. However, the dish surprisingly had a restrained sweetness, allowing the individual components to shine through. The apples were soft without being mushy, providing a great contrast to the crisp waffles. The berries were plump and fresh, adding some dimension to the compote.
It may have been because we left them out for too long, but the interior of the waffle was a tad doughy—so be sure to eat 'em up ASAP.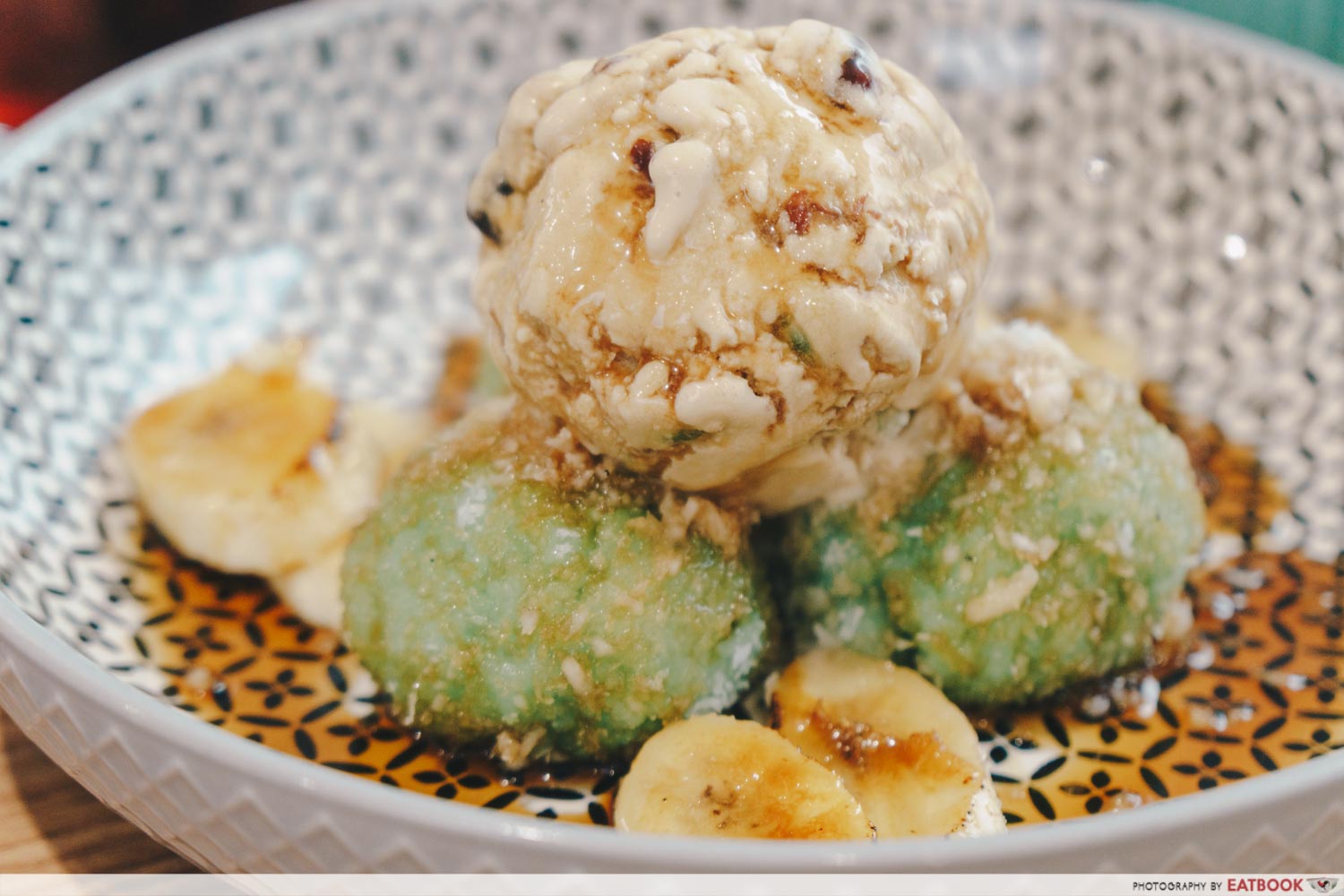 Ironically, the sweetest dish we had that day was the Gula Melaka Banana Lopes ($12++)—a cluster of pandan glutinous rice balls served with caramelised banana slices, gula melaka, and ondeh-ondeh ice cream.
Just those four ingredients were enough to send a sugar rush coursing through our entire body. This is definitely a dish to be shared with friends. Taste-wise, the moist balls were redolent of pandan.
Ambience at Commons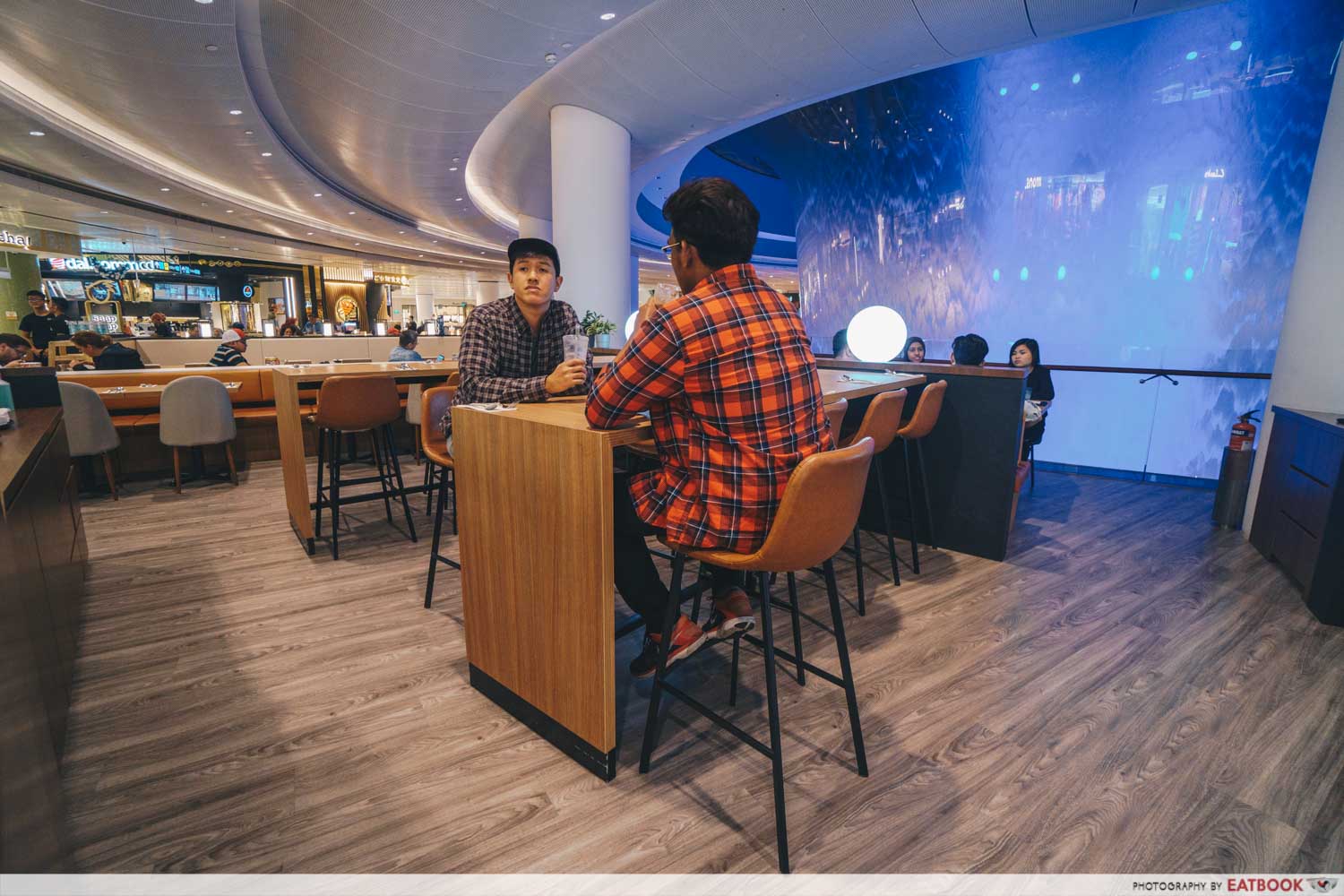 Located at Basement 1 of Jewel, Commons boasts multiple lounge seats with a prime view of the Rain Vortex. We recommend seating closer to the waterfall for a quieter and intimate vibe. The service staff were friendly and efficient, attending to our requests with great speed.
The verdict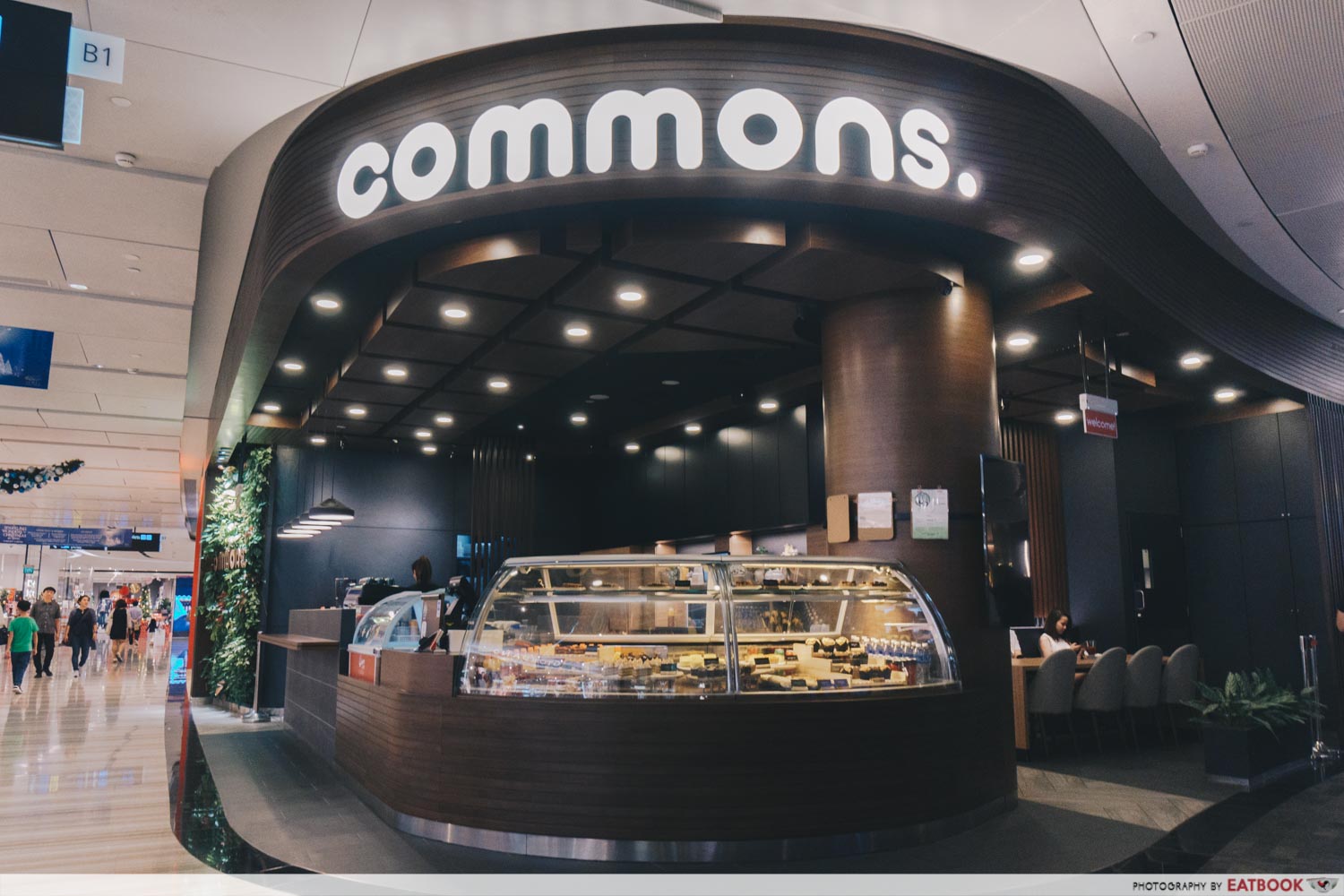 With huge portions against a beautiful ambience, Commons retains bragging rights as a solid hangout spot with friends. Although the dishes can be a tad pricey, the delicious food makes the trip here worth it. You can bet I'm returning soon for their meat platter and waffles.
To lighten the load on your wallet, Commons is offering a promo code to all Eatbook readers. Simply quote "EATBOOK 10" when you're paying your bill to enjoy 10% off your total bill. 
Be sure to use it soon as the deal is valid till 31 Jan 2020.
Address: 78 Airport Boulevard, #B1-289/290, Jewel Changi Airport, Singapore 819666
Opening hours: Daily 10am to 10pm
Tel: 6242 9542
Website
Commons is a halal-certified eatery.
Photos taken by Reynard Lee.
This post is brought to you by Commons.
Summary
Pros
– Huge portions
– Beautiful ambience
Cons
– Pricey
Recommended dishes: The Meat Feast ($65++), Thai-Style Beef Linguine ($16++), Salted Caramel Waffle with Apple Berry Crisp ($16++)
Opening hours: Daily 10am to 10pm
Address: 78 Airport Boulevard, #B1-289/290, Jewel Changi Airport, Singapore 819666