Deli-Indo for kueh lapis and more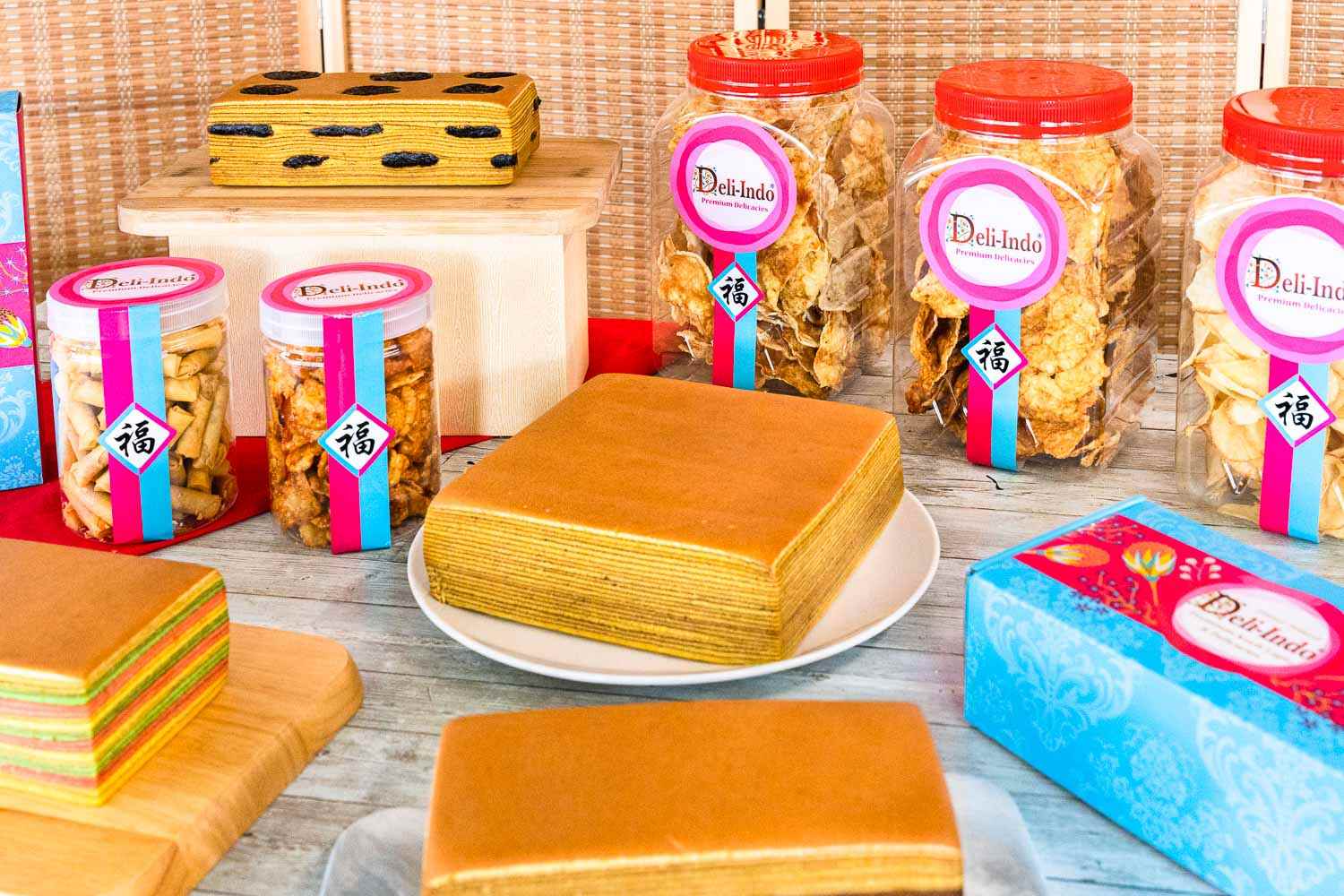 It's the start of January, and that can only mean one thing: Chinese New Year is approaching. To avoid the festive madness, get a headstart and order your goodies early! Online store Deli-Indo specialises in premium yet affordable CNY snacks, including handmade kueh lapis from Indonesia, and addictive shrimp rolls in interesting flavours such as cheese. 
For those who are unfamiliar with the brand, Deli-Indo dates all the way back to 1998. The company was known for bringing in kueh lapis and other snacks from Jakarta all the way to the doorsteps of their Singaporean fans. Today, the online store boasts the same premium kueh lapis, but in a trendy lineup of flavours including durian, mocha, and even a rainbow-hued one.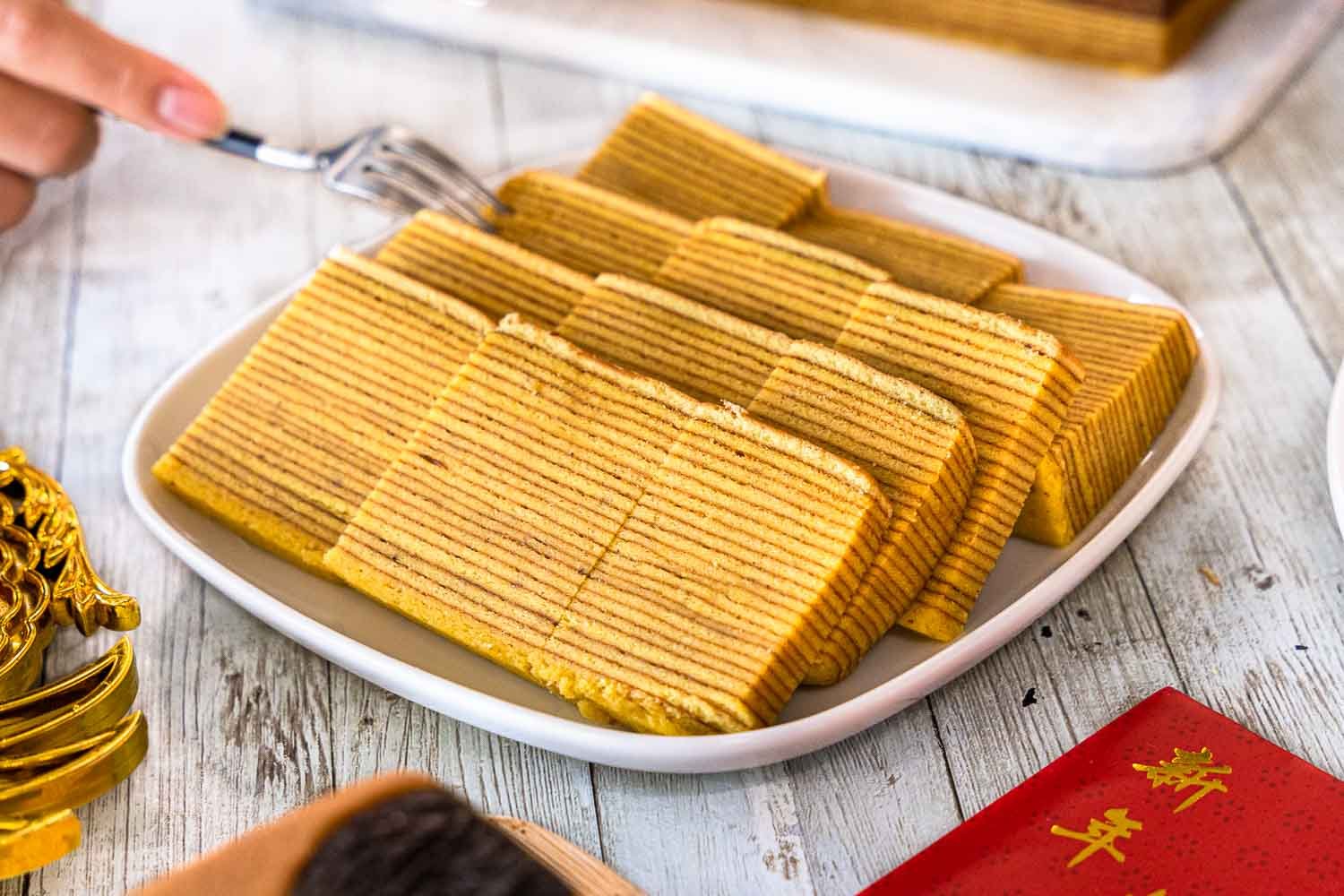 Kueh lapis purists have to try the OG of all flavours: Deli Indo Original Spice Lapis. A CNY staple for serving your guests, this signature lapis comes in a 600g ($26) slab, or a 1.2kg ($50) square. The classic snack features layer upon layer of fragrant butter cake lightly tinged with a secret mix of spices, including cinnamon and cloves.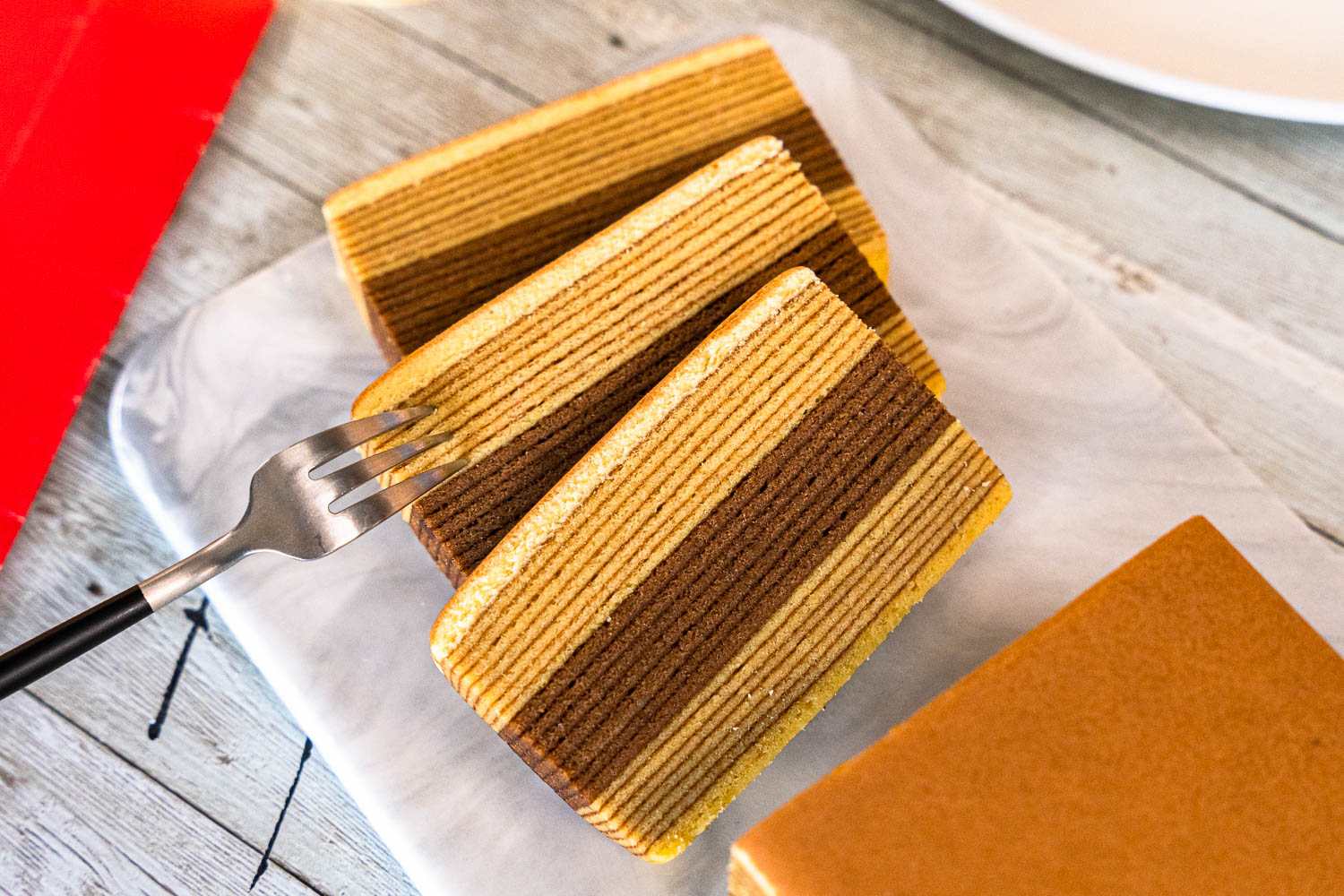 If you're in need of a midday pick-me-up, go for the Deli-Indo Mocha Lapis, also available in 600g ($26) and 1.2kg ($50). This chocolate- and coffee-spiked number, which provides just the right amount of caffeine kick, has a distinct dark brown middle that looks great for the 'gram. Serve it with your favourite cup of joe to kickstart your morning, or have it with hot teh for a teatime treat.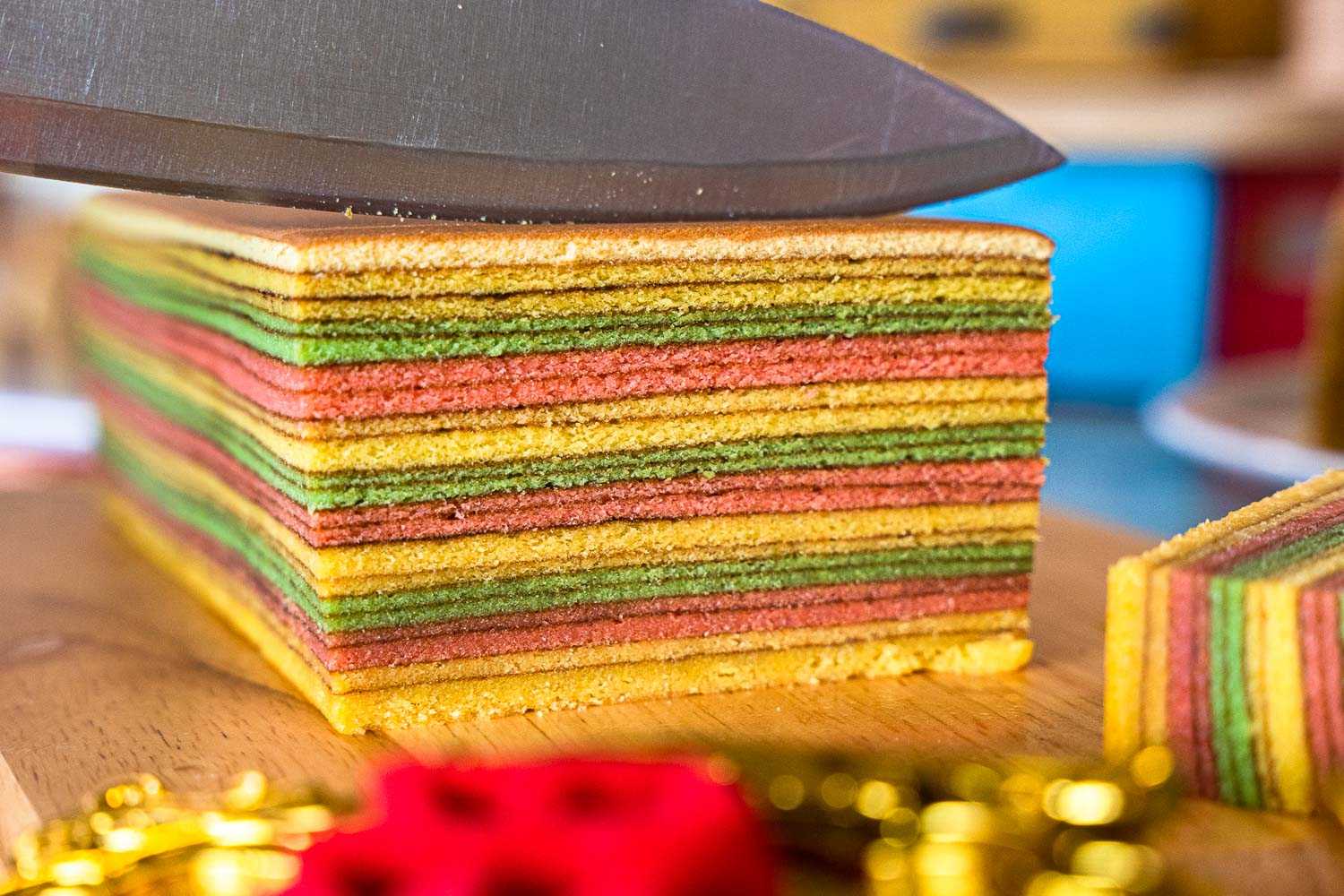 Here's another aesthetically pleasing flavour to impress your guests with: Deli-Indo Rainbow Lapis ($26 for 600g, $50 for 1.2kg). Slice into the cake and be prepared for the oohs and aahs that follow, thanks to the gorgeous interior of the lapis. This colourful snack tends to be a hit with the younger ones, as the taste of the spices is milder than the original flavour.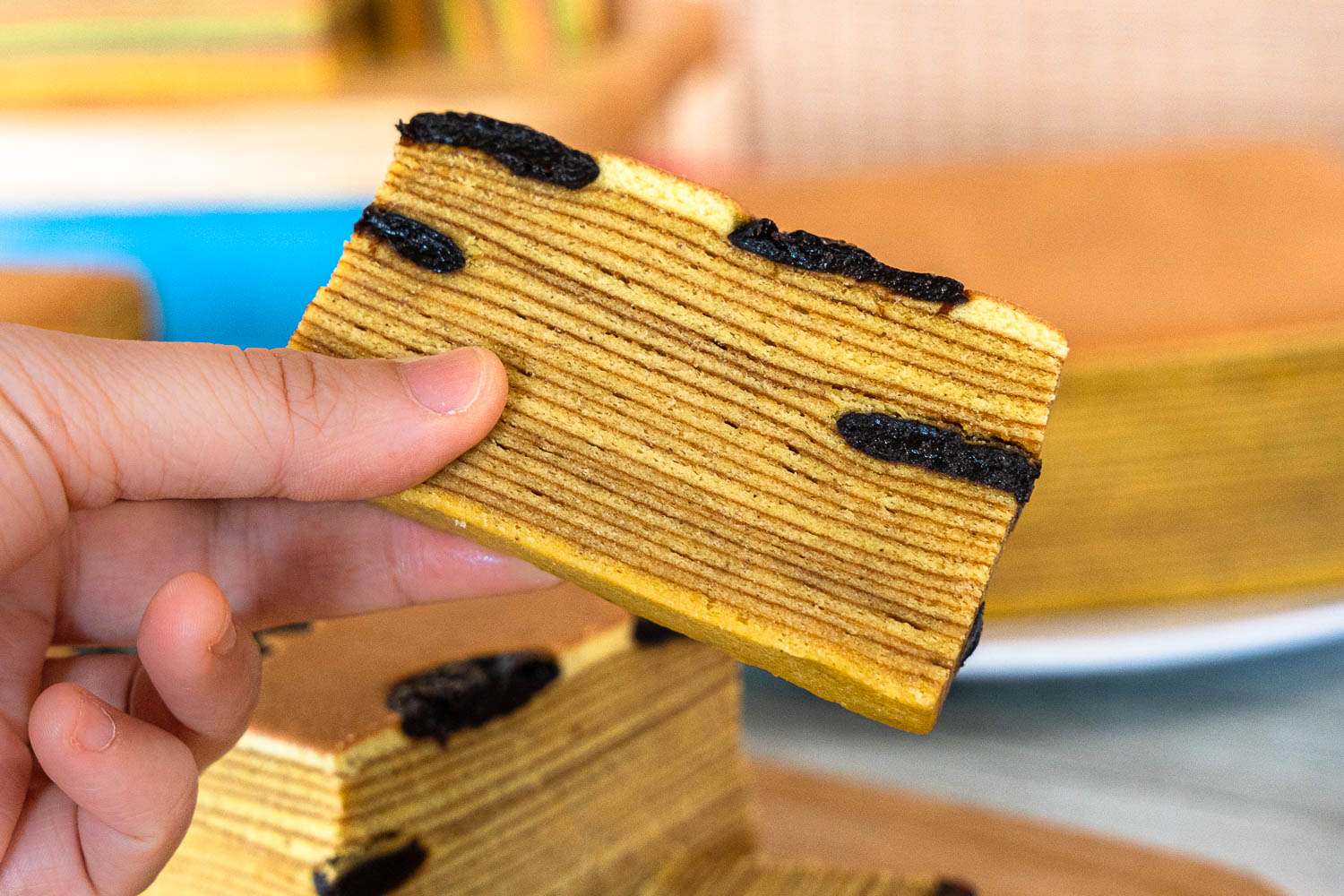 House visits aren't complete without a slice of prune lapis ($29 for 600g, $55 for 1.2kg), and Deli-Indo does a solid rendition of it. This lapis sees prunes added to the top of the cake, along with visible specks of fruit layered between, which add a pleasant sweetness to each bite. Only top-grade, US-imported prunes are used, so you're definitely getting a bang for your buck here—especially with the generous amount used. 
Deli-Indo also offers more unique lapis flavours to surprise your guests with, including a durian lapis ($29 for 600g, $55 for 1.2kg) and pandan lapis ($26 for 600g, $50 for 1.2kg).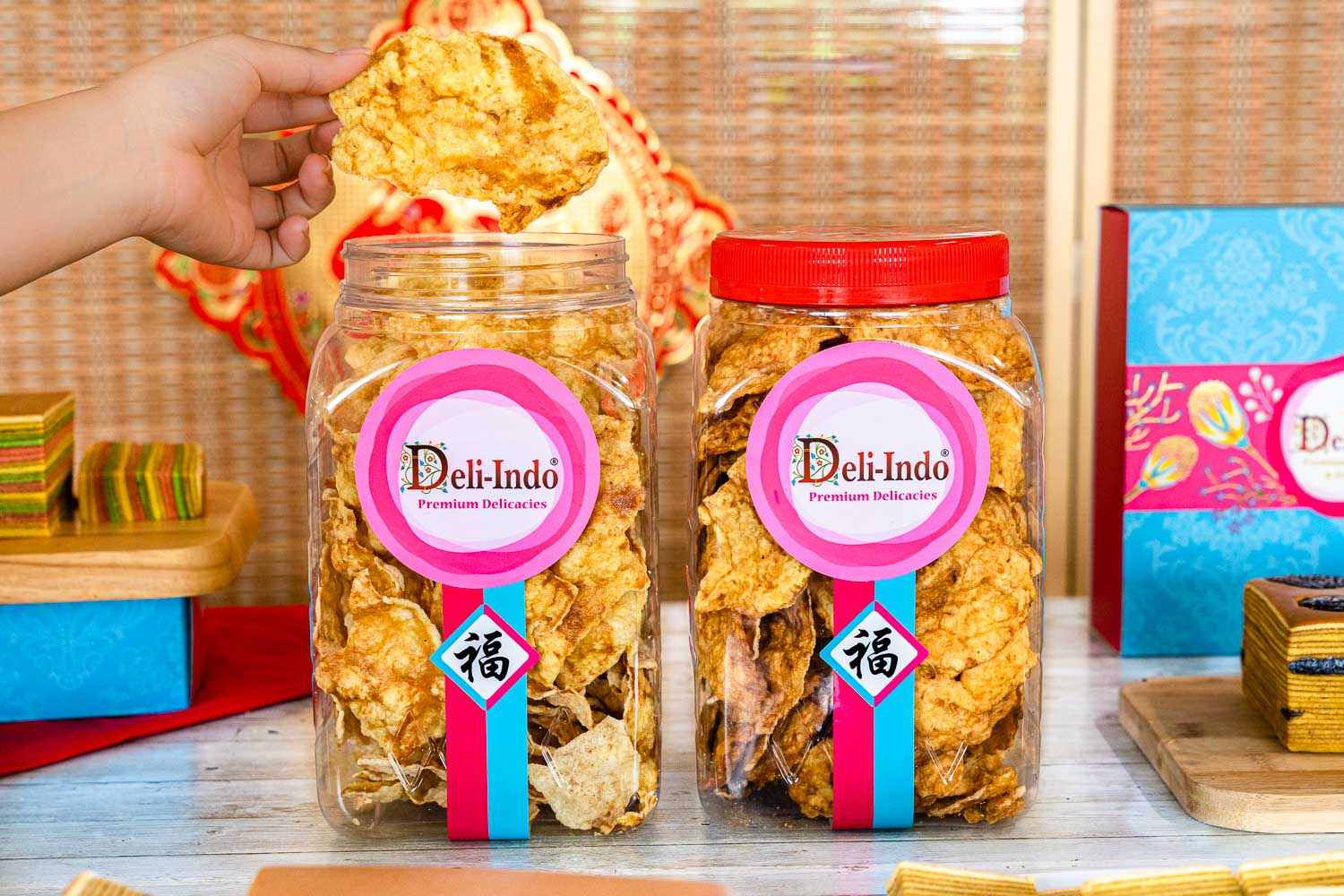 Belinjo AKA emping chips are another must-have at any CNY gathering. Start with the Deli Indo Spicy Belinjo Large Bottle ($19), which are thin and crispy, with the perfect balance of sweet and spicy.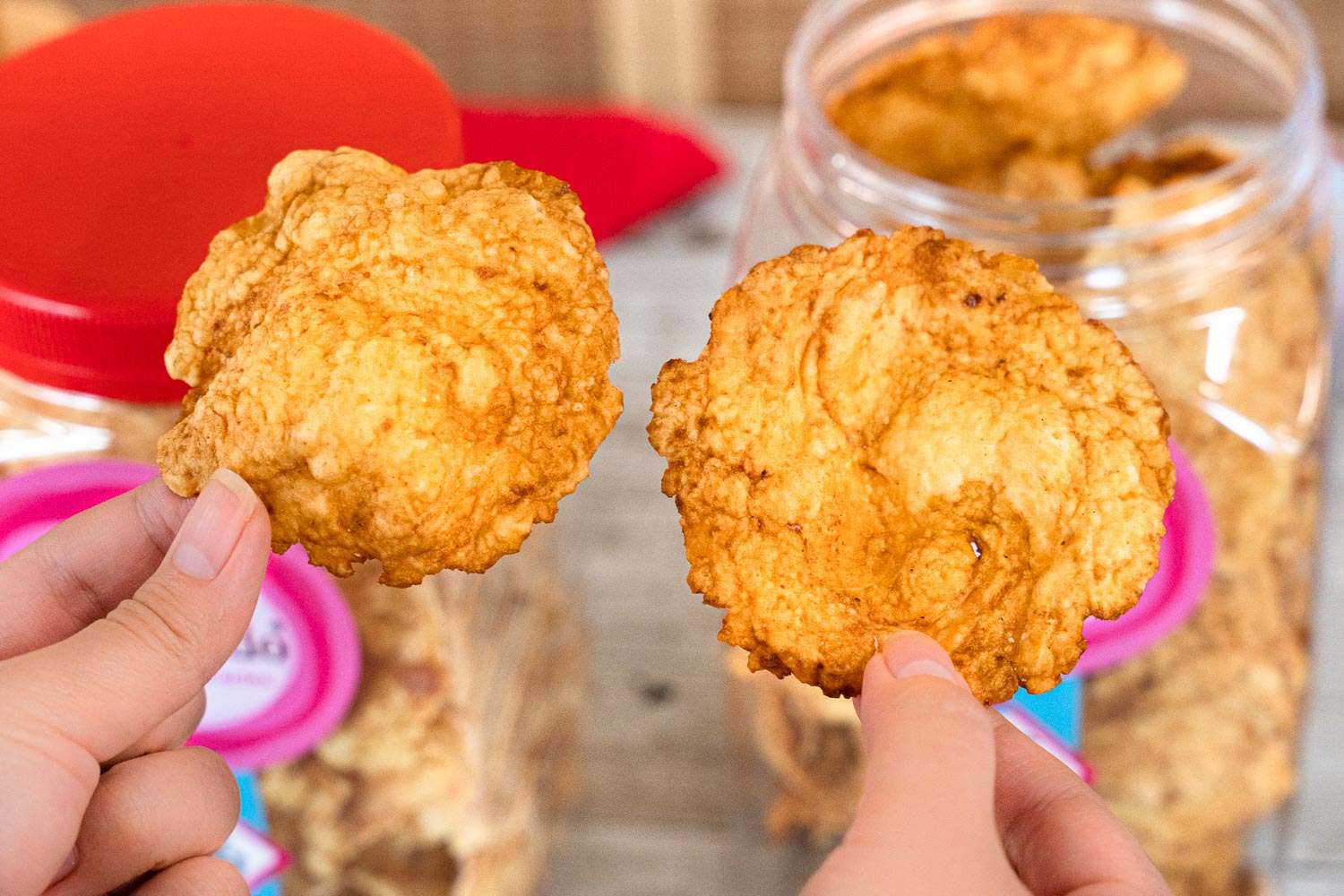 Made with belinjo nuts, sugar, salt, coconut oil, and a special chili blend, this addictive snack has a slight bitterness that goes well with the sweet-spicy coating.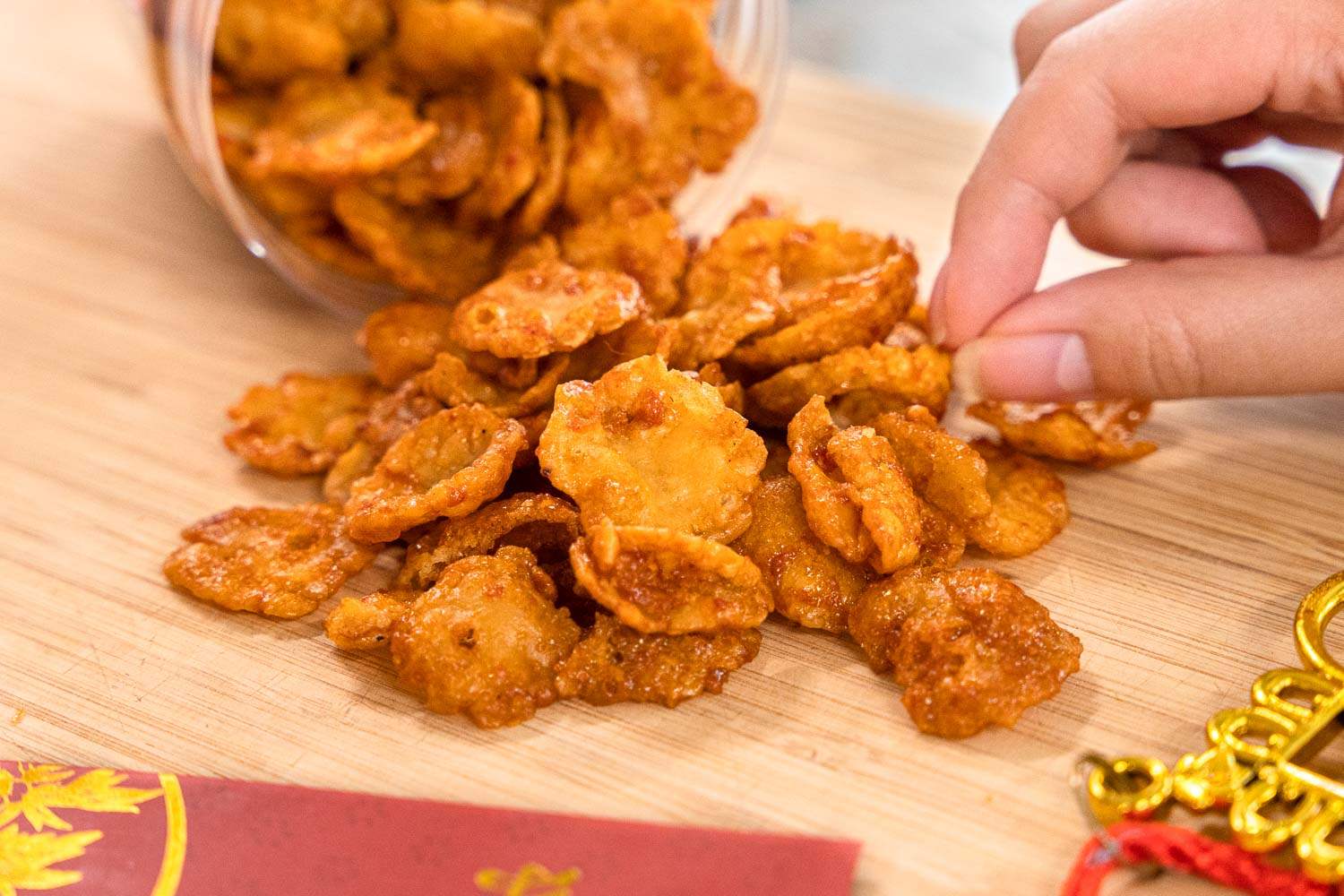 If you prefer something more bite-sized, the Premium Mini Spicy Belinjo ($13.80, 200g) might tickle your fancy. Each piece is deliciously crispy with the same sweet-spicy coating.
There's also the Crispy Belinjo Prawn ($19) option in the same size, which is made with fresh shrimp for the ultimate seafood flavour.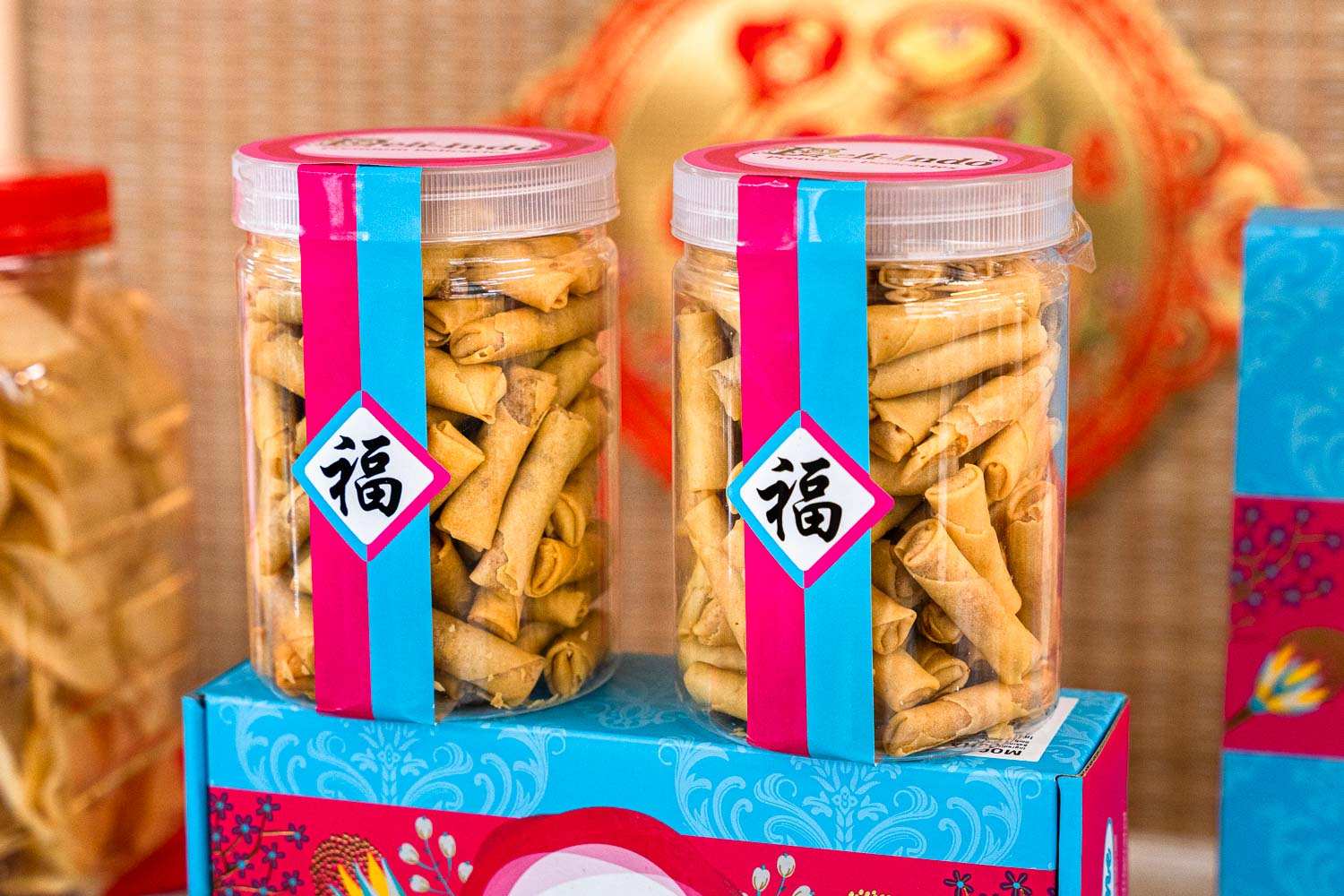 Fans of all things spicy can indulge in the Deli Indo Spicy Shrimp Roll Extra Hot ($13.80 for 280g). These delightful morsels feature ultra-thin skin packed with spicy hae bee hiam, deep-fried to crisp perfection. Fun fact: each piece is rolled by hand instead of a machine for quality control!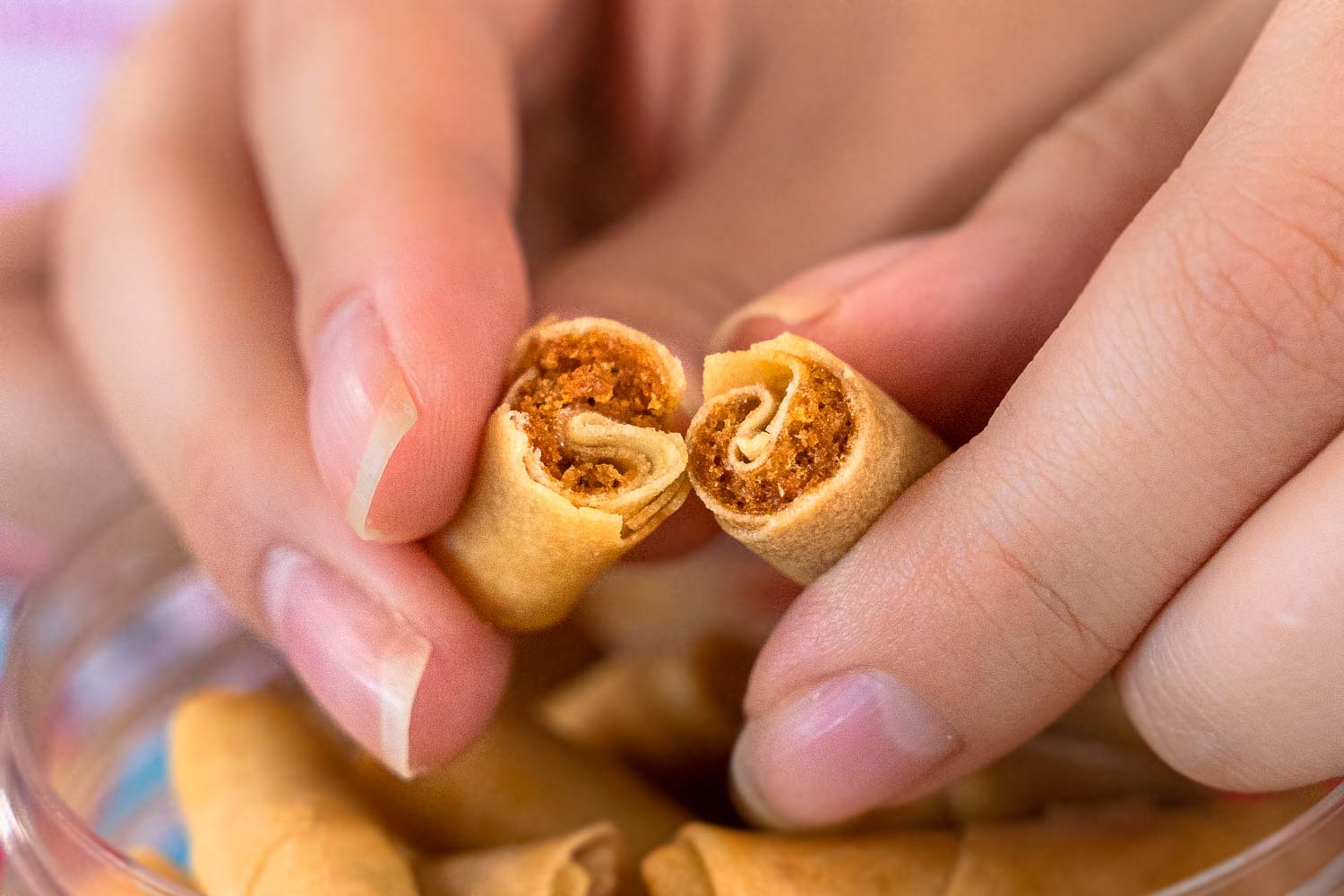 If you're up for something a little different, there's a cheese ($13.80 for 280g) variant that's equally popular. Instead of spicy dried shrimp, each roll is filled with a premium cheese filling—perfect for those who can't take spice. 
Whether you're Team Savoury or Team Sweet when it comes to CNY goodies, you'll appreciate the premium selection of Deli-Indo snacks that won't break the bank.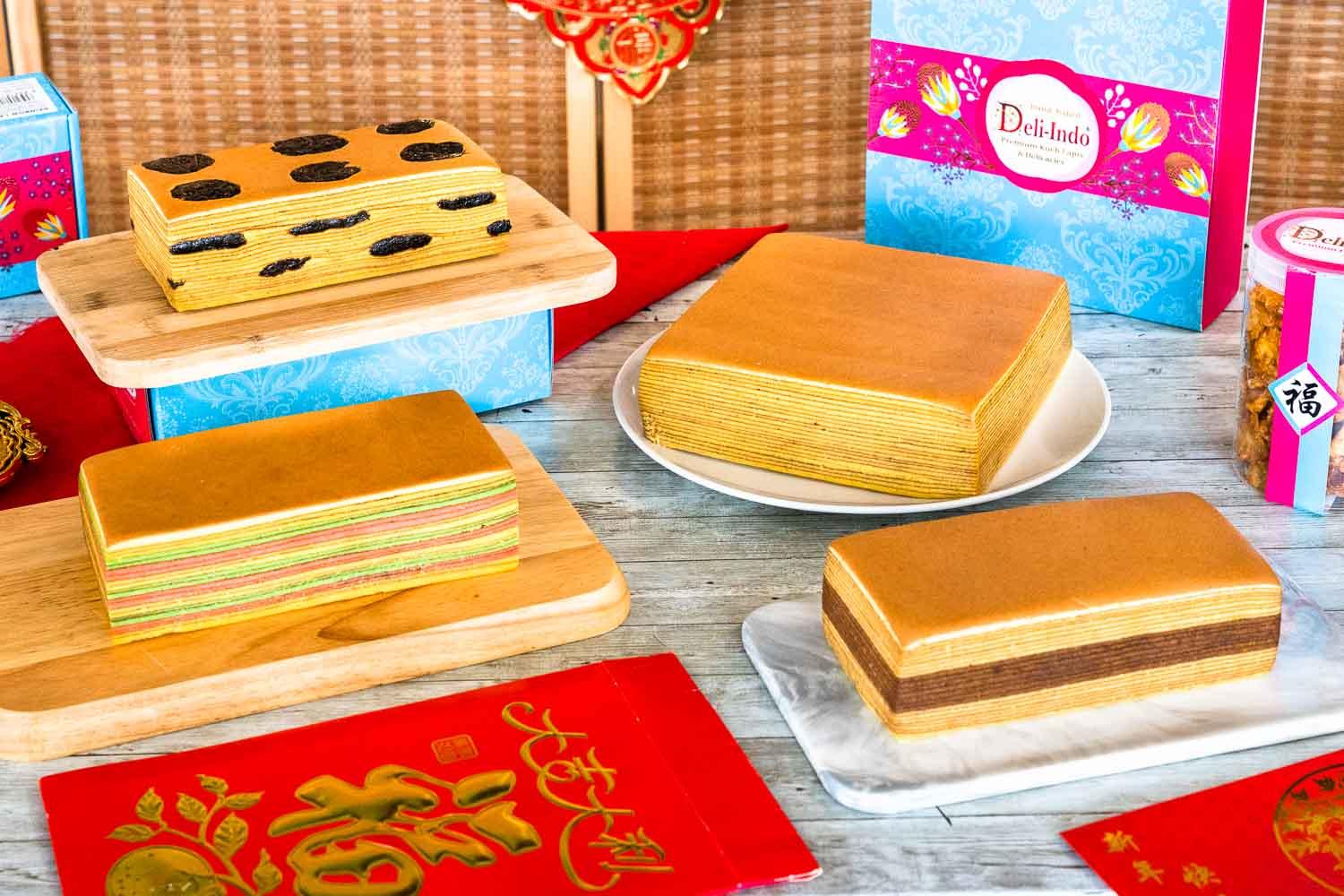 Here's another piece of good news: enjoy 10% off with a minimum spend of $60 when you use the code 'DELIXTSL' before checking out! 
Deli-Indo also has a few add-on bundle deals you can consider. Get a 400g resealable packet of Daribell Chilli Prawn Roll Extra Hot and a 600g slab of Original or Prune Kueh Lapis at only $31 (U.P. $36). Simply quote 'DELICNY2' to enjoy the offer.
Alternatively, swap out the kueh lapis for the bigger 1.2kg version and get the bundle at $52 (U.P. $60) instead when you key in the code 'DELICNY1'. 
These promotions are only available while stocks last on the Deli-Indo website, with a minimum spend of $68, from now till 17 January. 
Photos taken by Melvin Mak.
This post is brought to you by Deli-Indo.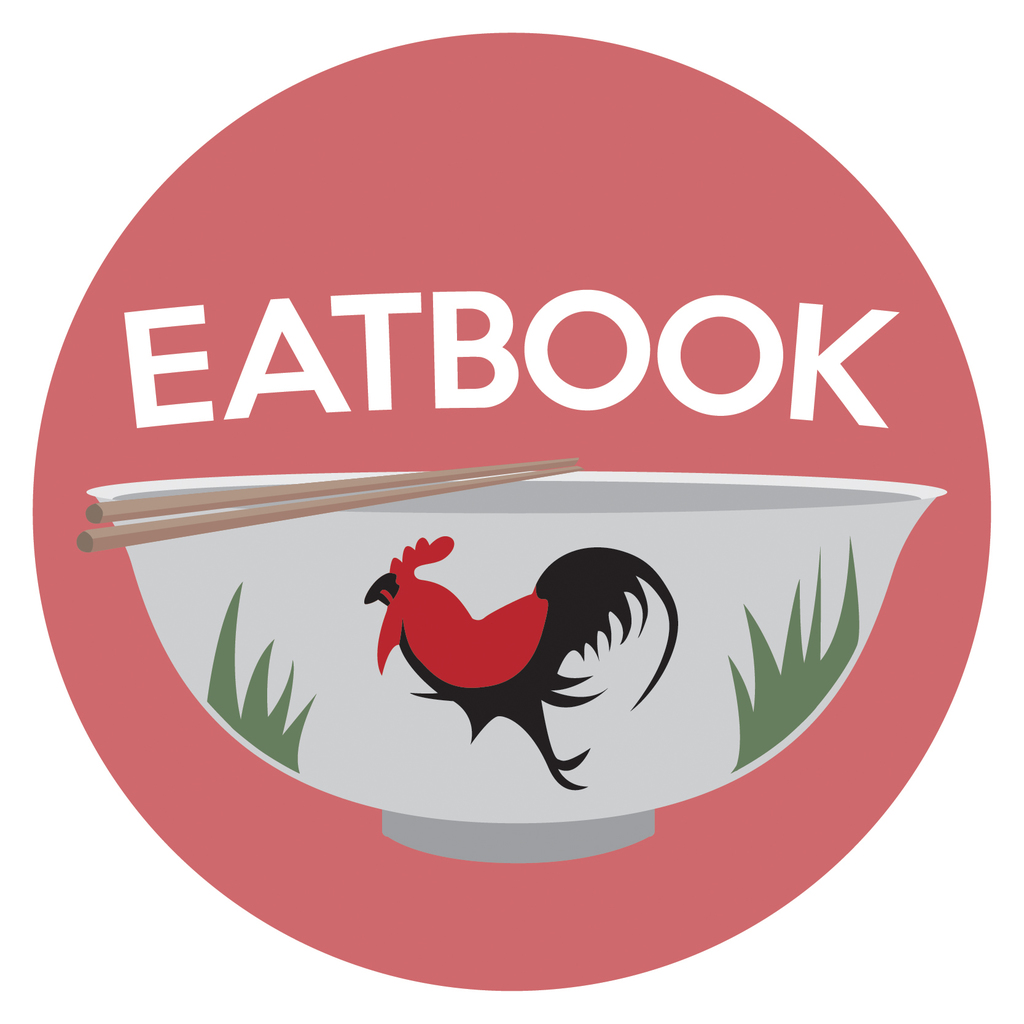 Drop us your email so you won't miss the latest news.