Chicken steamboat for the durian-loving souls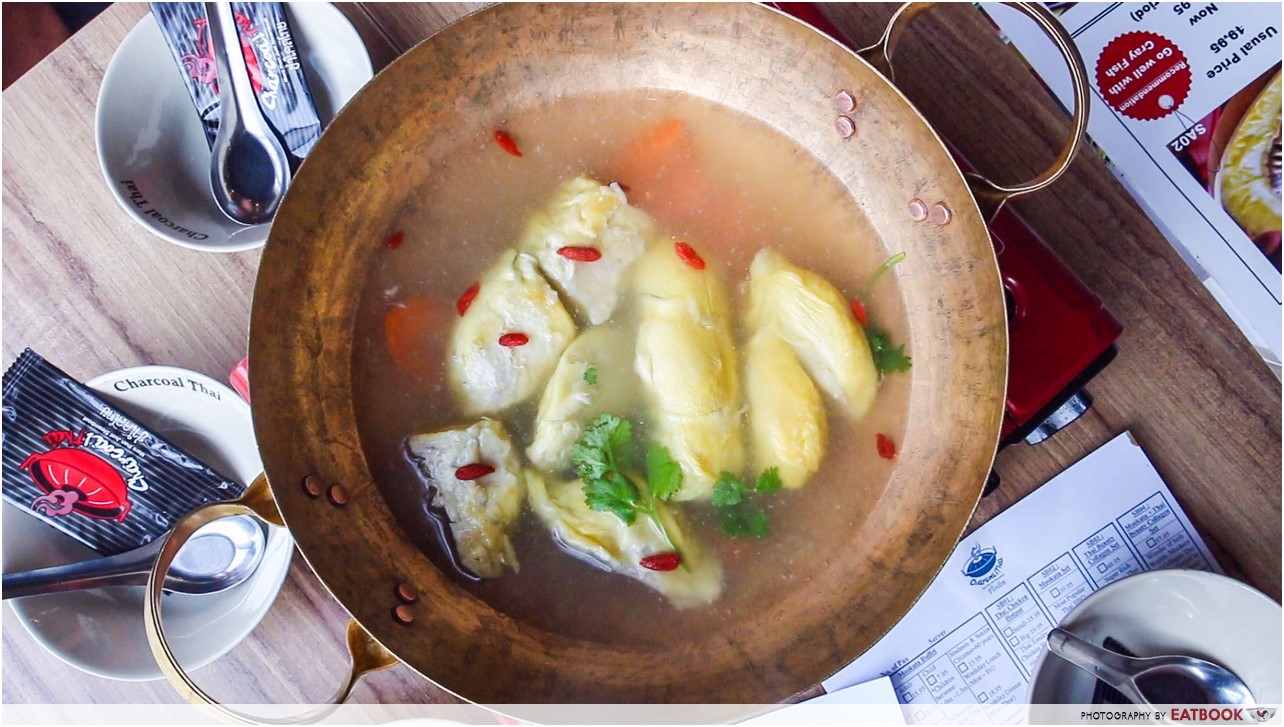 Everyone who knows me know I'm in a committed relationship with steamboat. My family doesn't just eat it during Chinese New Year, we eat it every month and we almost always end it off with multiple boxes of durian. So imagine my surprise when I heard Charcoal Thai brought my favourites together and created something I never thought would exist: durian steamboat.
King Durian Steamboat at Charcoal Thai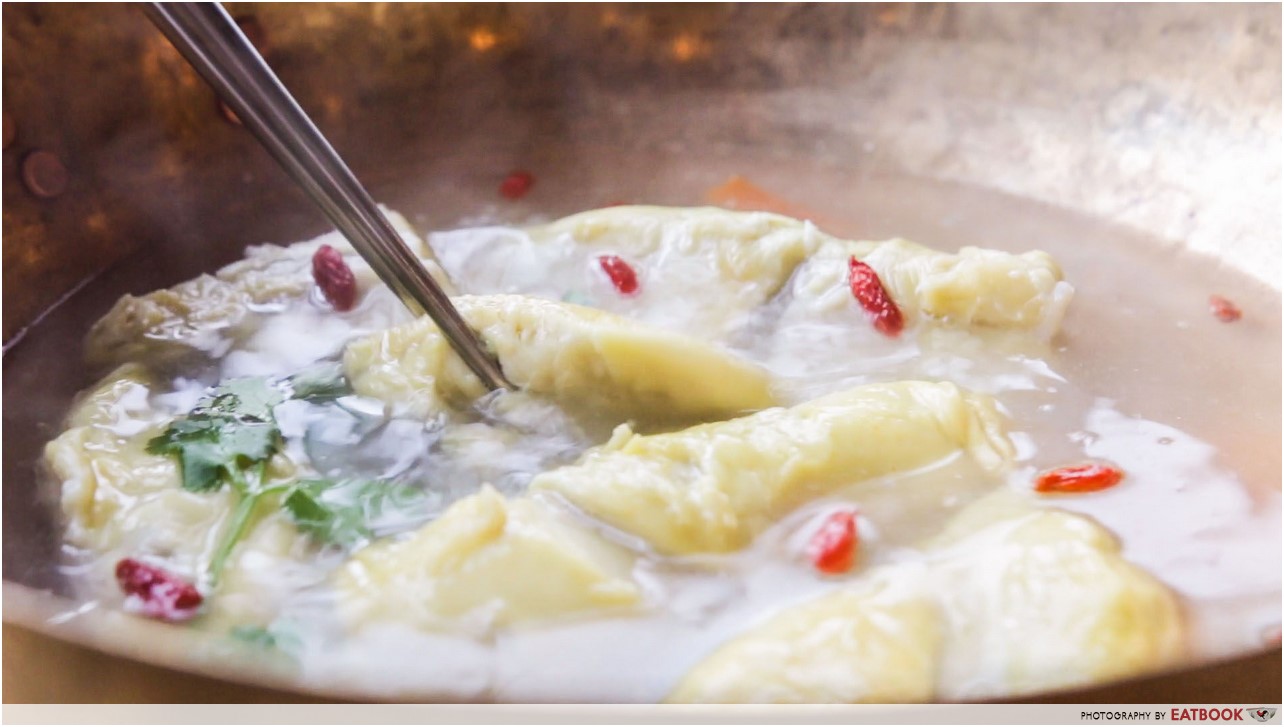 Just like any other steamboat, King Durian Steamboat ($19.95++) arrived at our table in a pot of chicken stock. But what stood out was fresh chunks of durian lying at the bottom of the broth. I was extremely thrilled to try it at first, but when the soup started to boil, I was on the verge of backing out 'cause I didn't know if my stomach could handle this peculiar combination.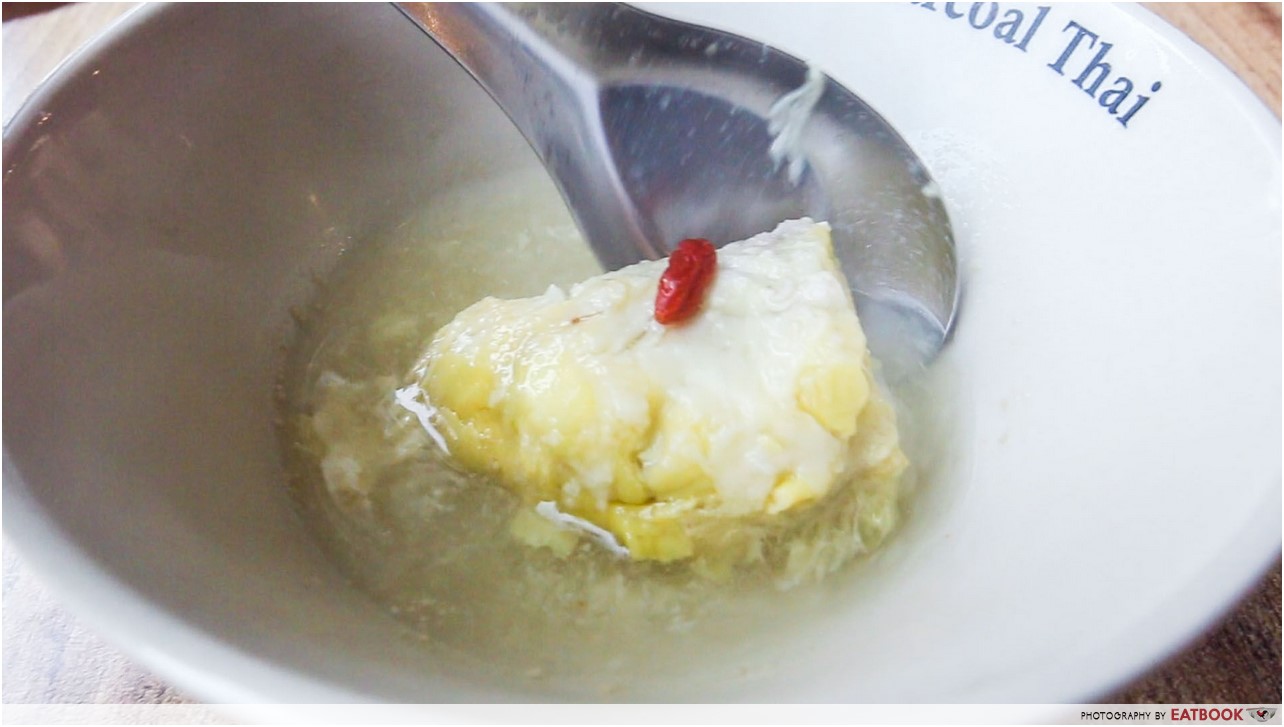 More curious than afraid, I braved myself and tried a spoonful of soup. The chicken broth tasted like salt water you'd drink in a durian husk. The durian flesh itself wasn't much affected by the broth, but the taste of durian intensified the longer it was soaked in the hot soup. At the beginning, the flavour of the soup and durian was still distinct from each other.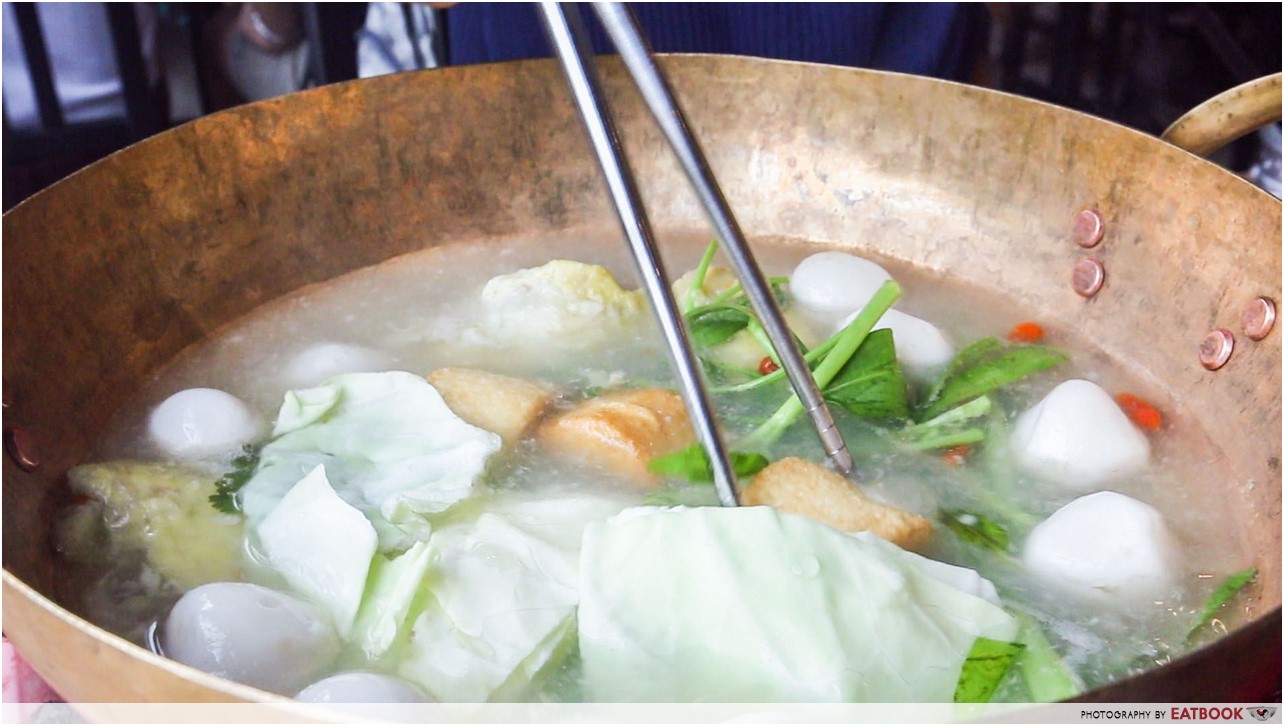 We disintegrated and mixed the durian flesh with the broth before throwing fishballs, tofu, quail eggs, kang kong, cabbage, pork belly and tang hoon in it.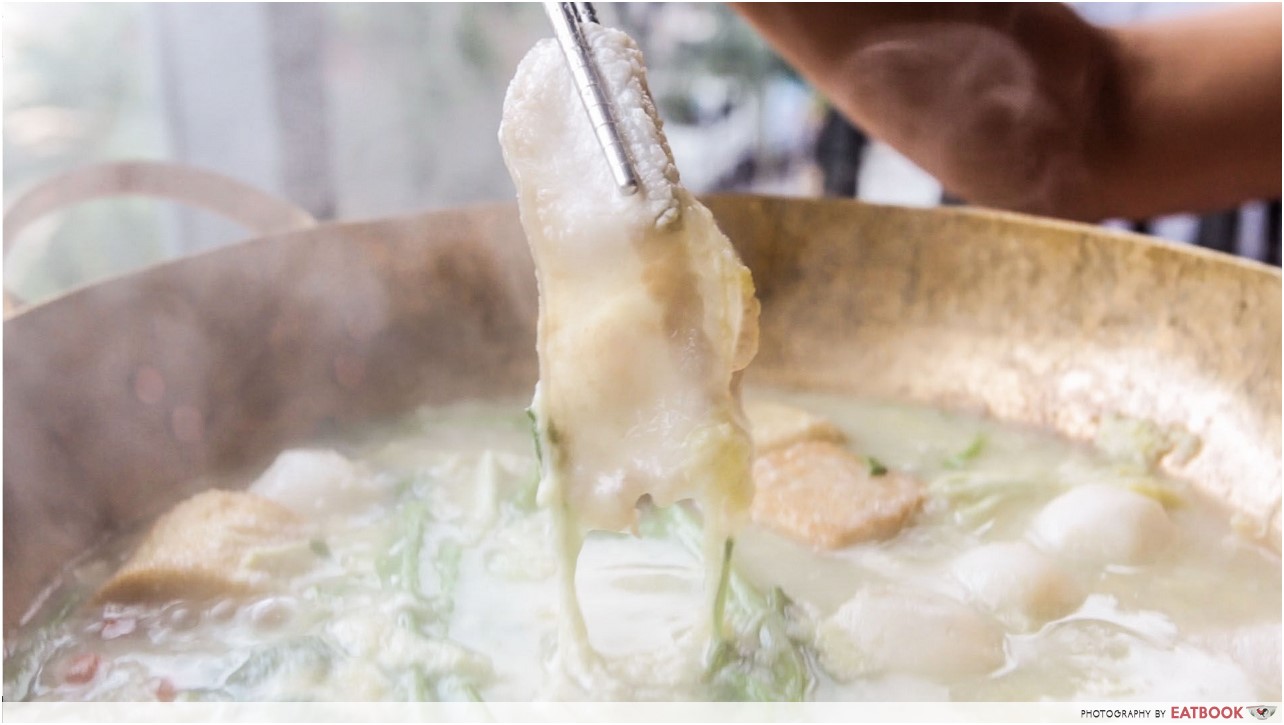 First up, pork belly time. The fragrance of durian overpowered the slice of pork belly and we could barely taste the meat at all. Luckily, that only lasted for the first few bites as the sweetness of meat started to come out gradually. I had the same experience for the rest of the ingredients except tang hoon, which completely absorbed the taste of durian.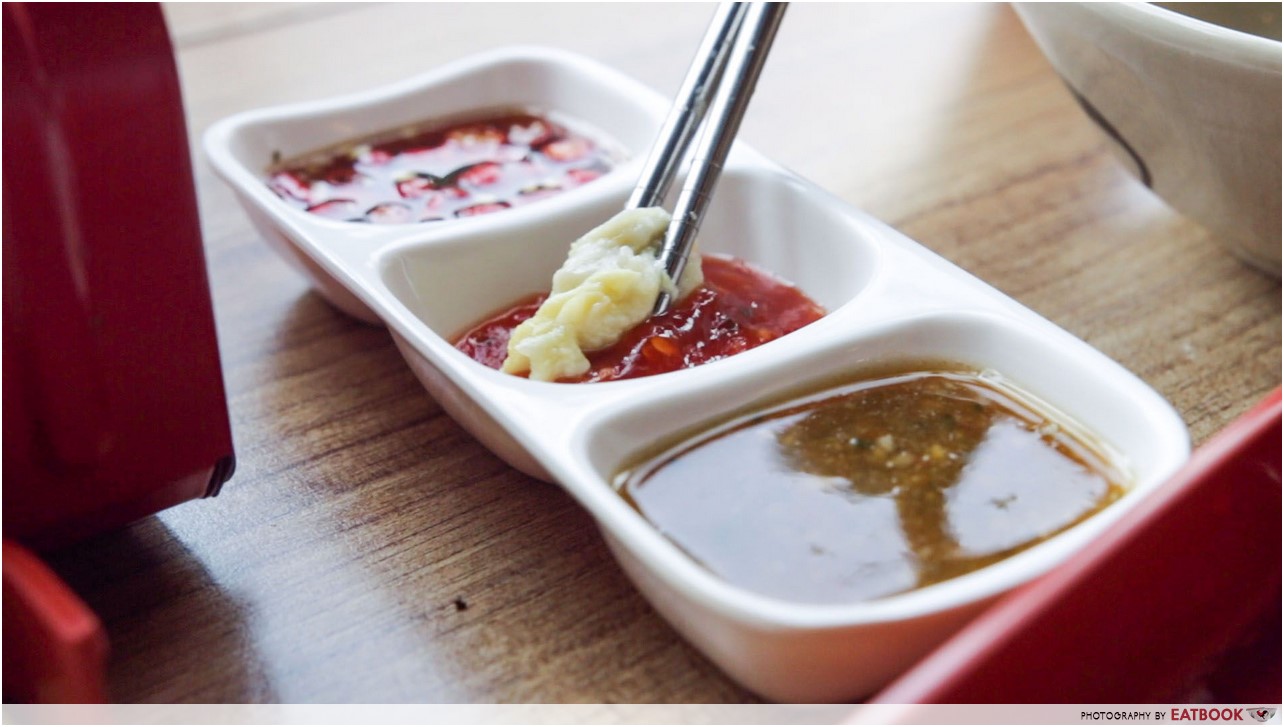 One thing that makes me really happy at steamboats is the variety of condiments available and Charcoal Thai had that too. I went bold and dipped my boiled durian in their signature Thai red chilli. As expected, these two flavours were not meant to be together.
Durian steamboat was a mind-boggling experience but surprisingly, I found myself eating more than I thought I would. As the soup thickened, however, the durian steamboat became too jelak.
Side dishes at Charcoal Thai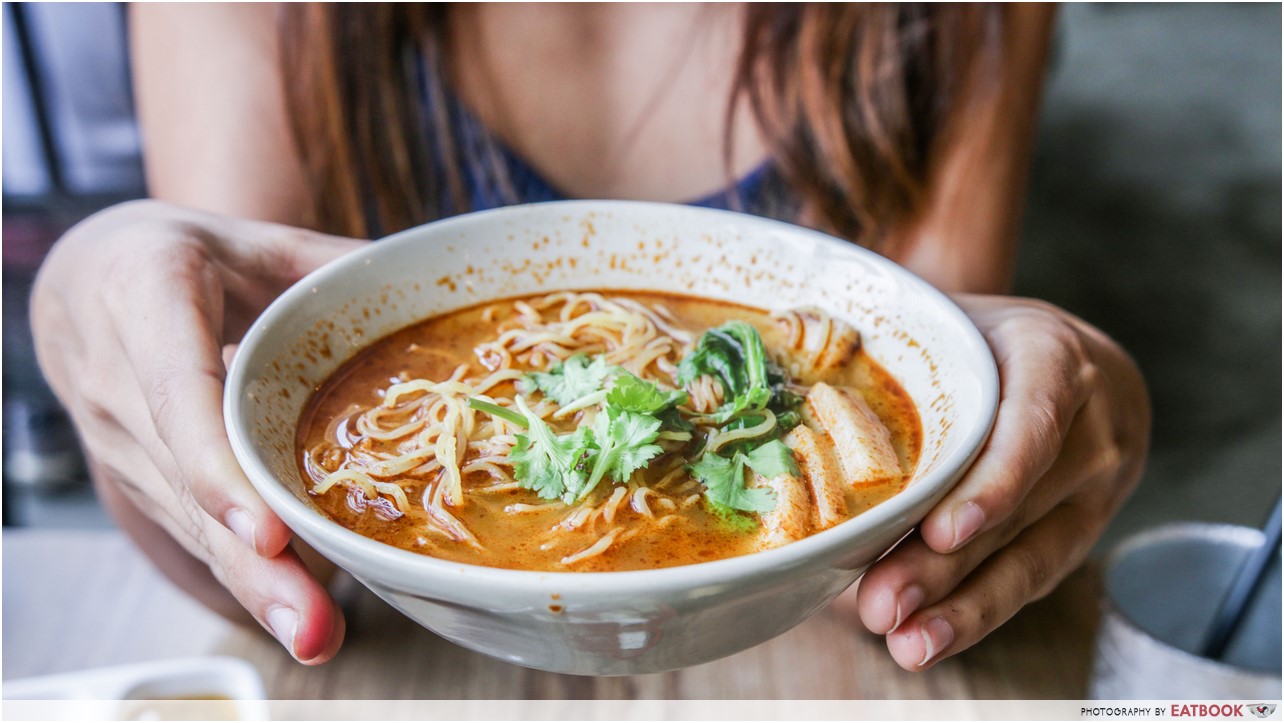 Besides steamboat and mookata, Charcoal Thai also serves Thai dishes. Thai Tom Yum Noodle ($1.95++) was perfect for washing down the lingering taste of durian and left me feeling satisfied. The noodles had a springy texture that I'd slurp all day, but the soup was a little diluted.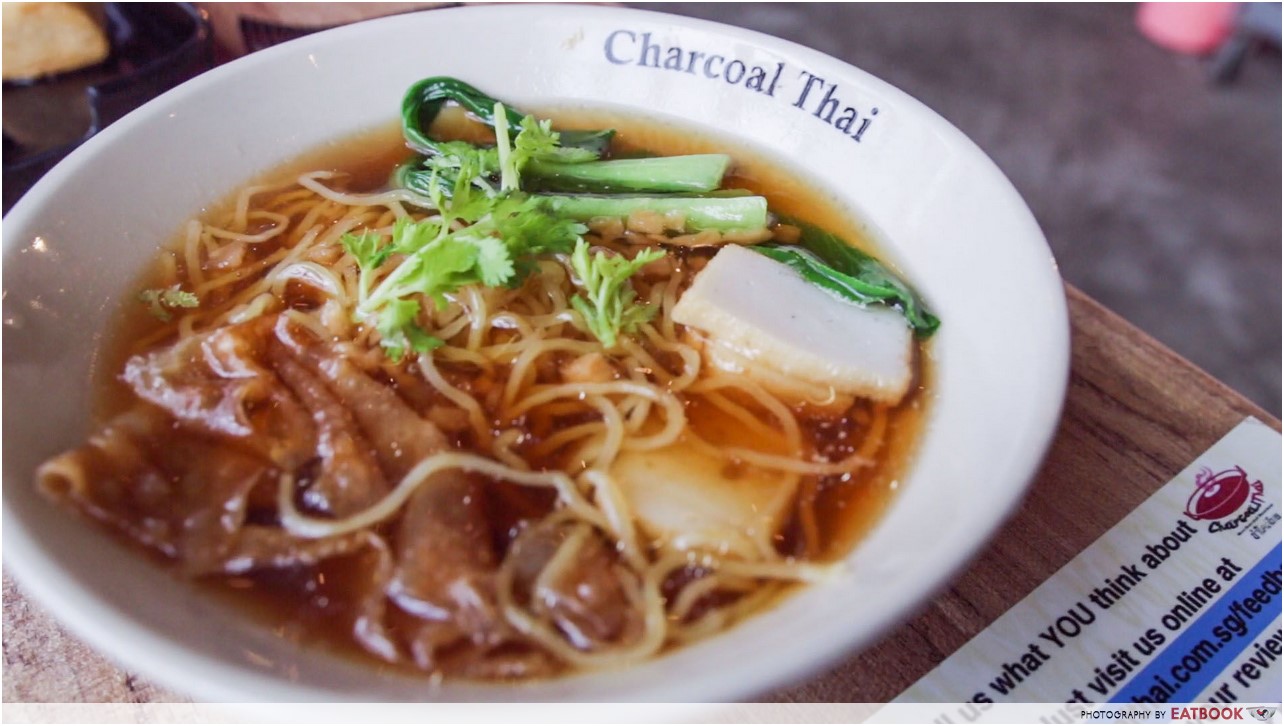 If you need something simple and hearty to calm your stomach from all that durian, you need to order Thai Wanton Mee Soup ($1.95++). The soup is light and flavoured with soya sauce – comfort in a bowl.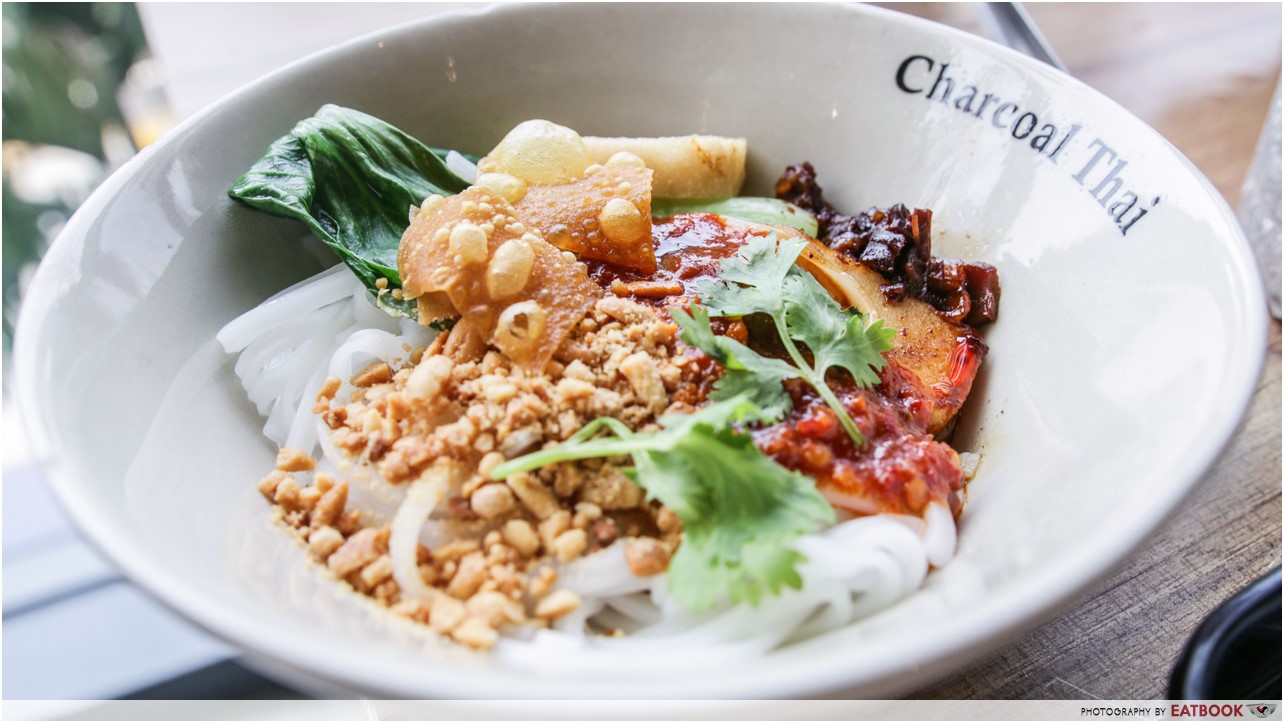 This bowl of Dry Thai Boat Noodle ($1.95++) that came with a riot of fishcake, pok chui crackers, vegetables and crushed peanuts was the best. The sweet black sauce and chilli used made this dish taste a little bit like rojak. The crunchy peanuts provided a delightful contrast with the soft kway teow.
The Verdict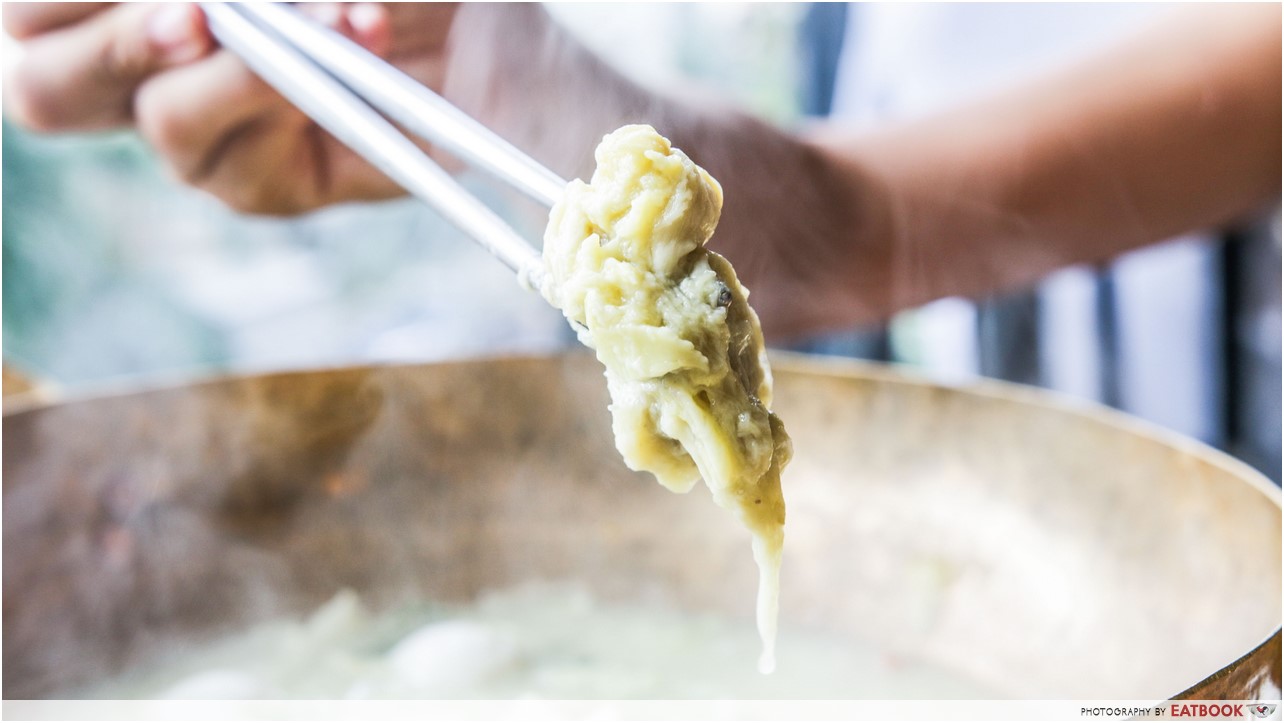 Whether it's catching up with your friends or challenging bae over food, durian steamboat at Charcoal Thai will definitely be an unforgettable experience. I would still choose ma la steamboat over durian steamboat any day, but I honestly think this is something durian lovers and adventurous foodies should try once in their life. 
Here are some tips for brave souls planning to take this challenge: scoop up some durian at the beginning so you can adjust the intensity of the taste to your liking and don't order too many ingredients at the start because you might waste it if you really can't stand the taste of durian chicken soup. Other than that, go forth, be brave, and let us know how your experience with durian steamboat was!
This is an independent review with all expenses borne by Eatbook.sg.
Summary
Pros
– Affordable
– Unique dish
Cons
– Not for everyone
Recommended Dishes: King Durian Steamboat ($19.95++), Dry Thai Boat Noodle ($1.95++)
Operating Hours:
Monday – Sunday 11am to 10:30pm
Address: 321 Clementi Avenue 3, #02-08, 321 Clementi, Singapore 129905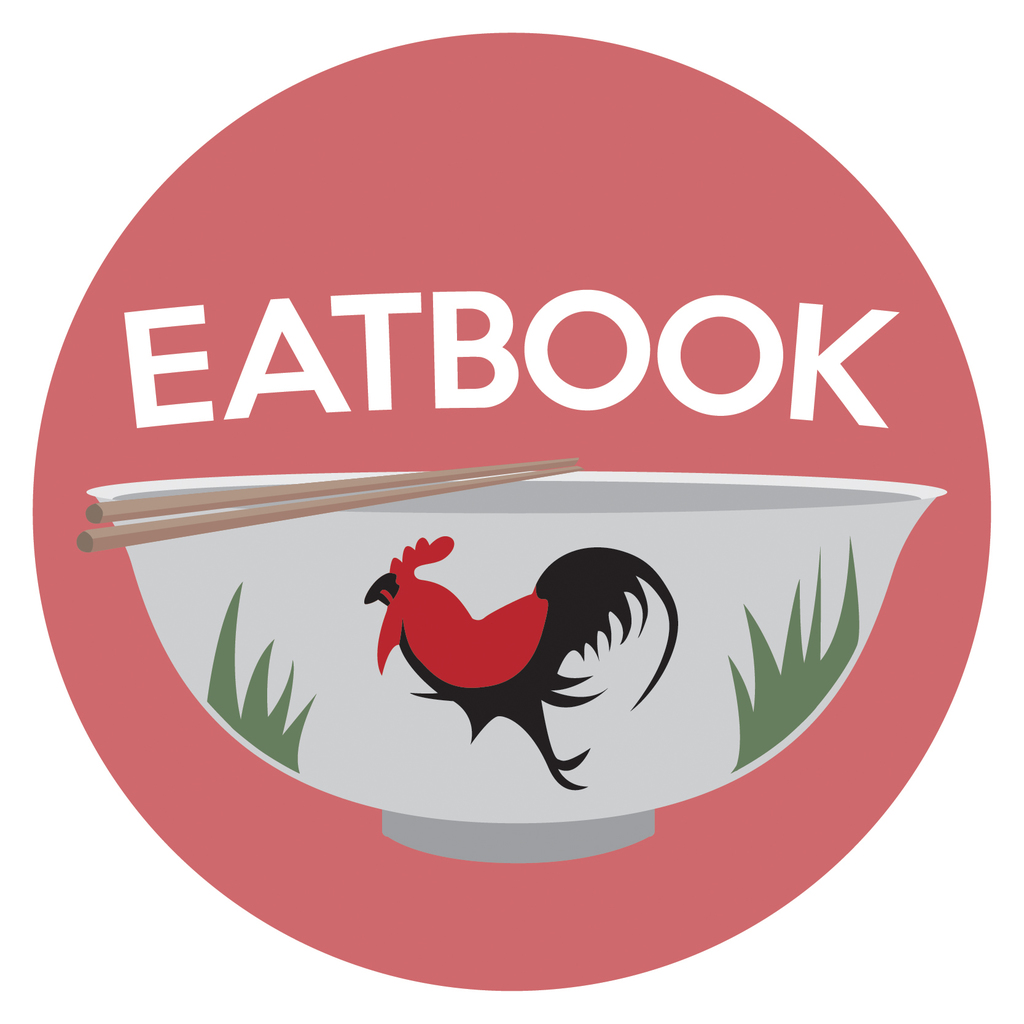 Drop us your email so you won't miss the latest news.