FairPrice CNY 2022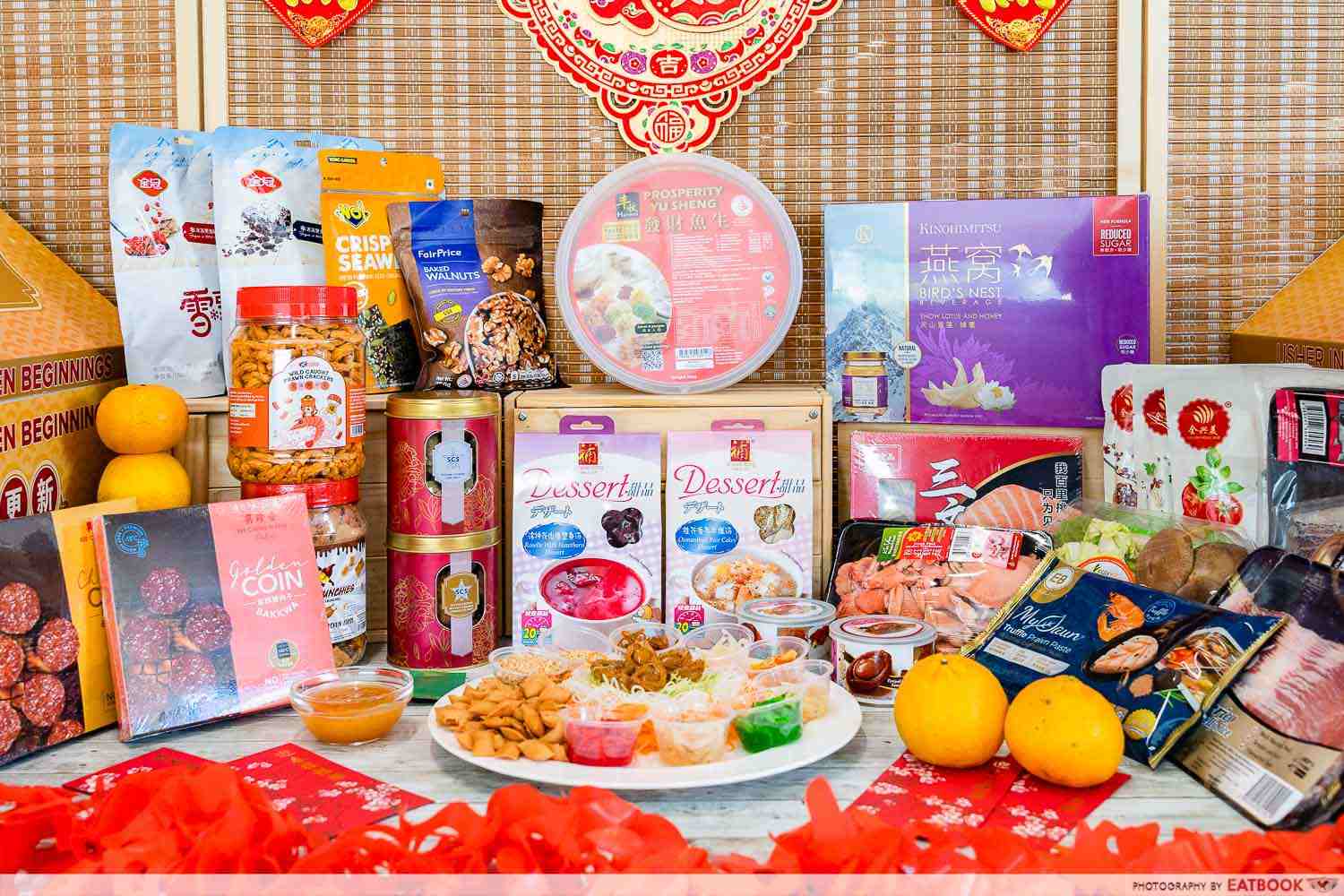 Whether you're planning to enjoy a steamboat dinner at home, or you're stocking up on the Chinese New Year goodies for your guests, FairPrice has got you covered with their extensive lineup of festive essentials. Shop everything from hotpot soup bases to yummy CNY cookies and snacks exclusive to the supermarket brand! 
That's not all—from now till 16 February, spend a minimum of $30 in one receipt for a chance to win one out of eight MG ZS EV cars. Multiple entries are allowed. For more information, check out FairPrice's CNY catalogue.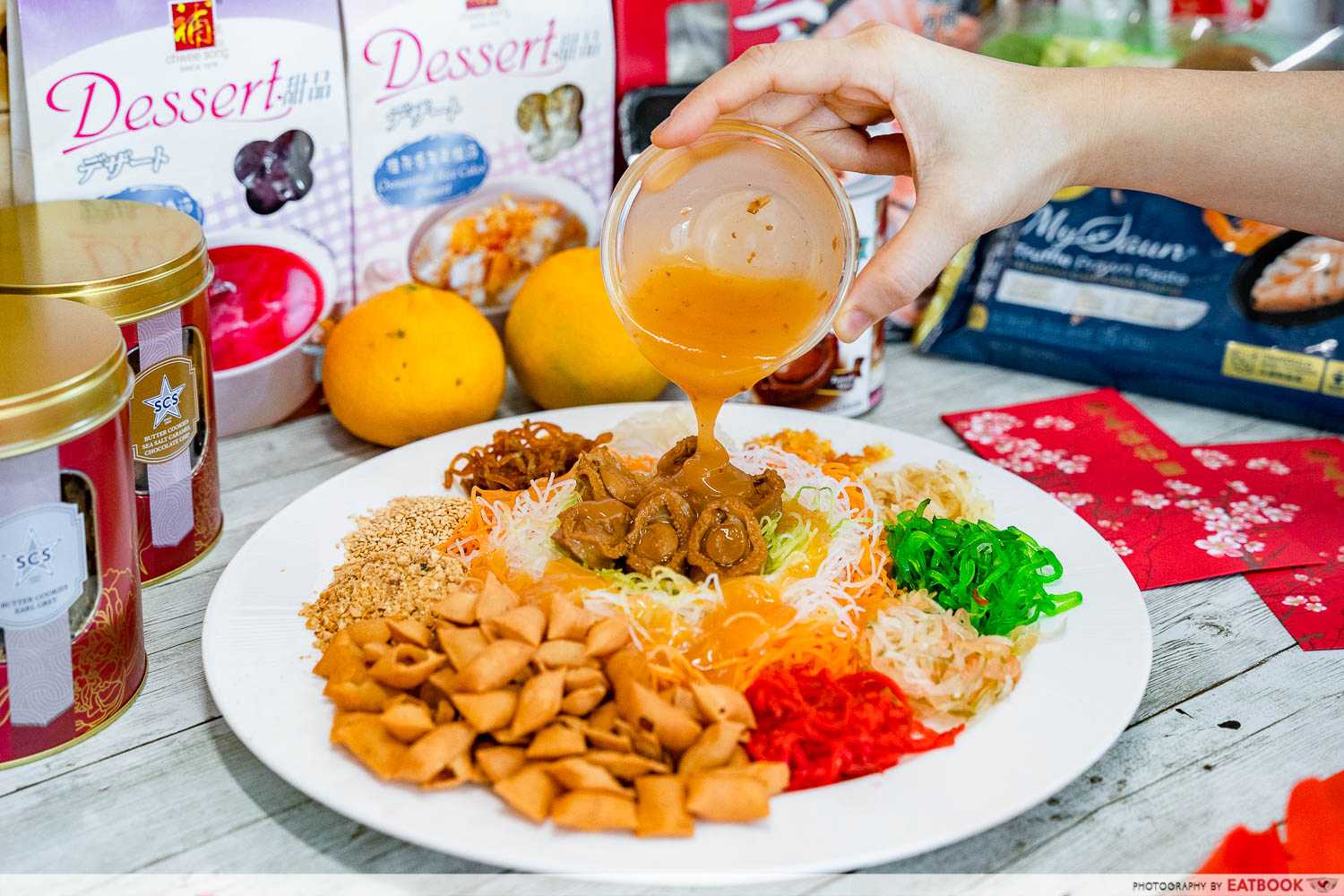 CNY isn't complete without yusheng with the fam. Toss to good health and wealth with the Harvest Prosperity Yu Sheng ($12.80, 500g), an affordable option that you can dress up and customise according to your preferences. Save the hassle of shredding fresh veggies by plating your yusheng with the Quix Shredded Carrot Mix ($3.95, 150g), and top it all off with some abalone for more huat.
If you're struggling with what to say during your lo hei, FairPrice's Yu Sheng Voice Assistant is a step-by-step tool that helps you voice auspicious sayings for the season—so you won't have to get caught up with pronouncing unfamiliar words.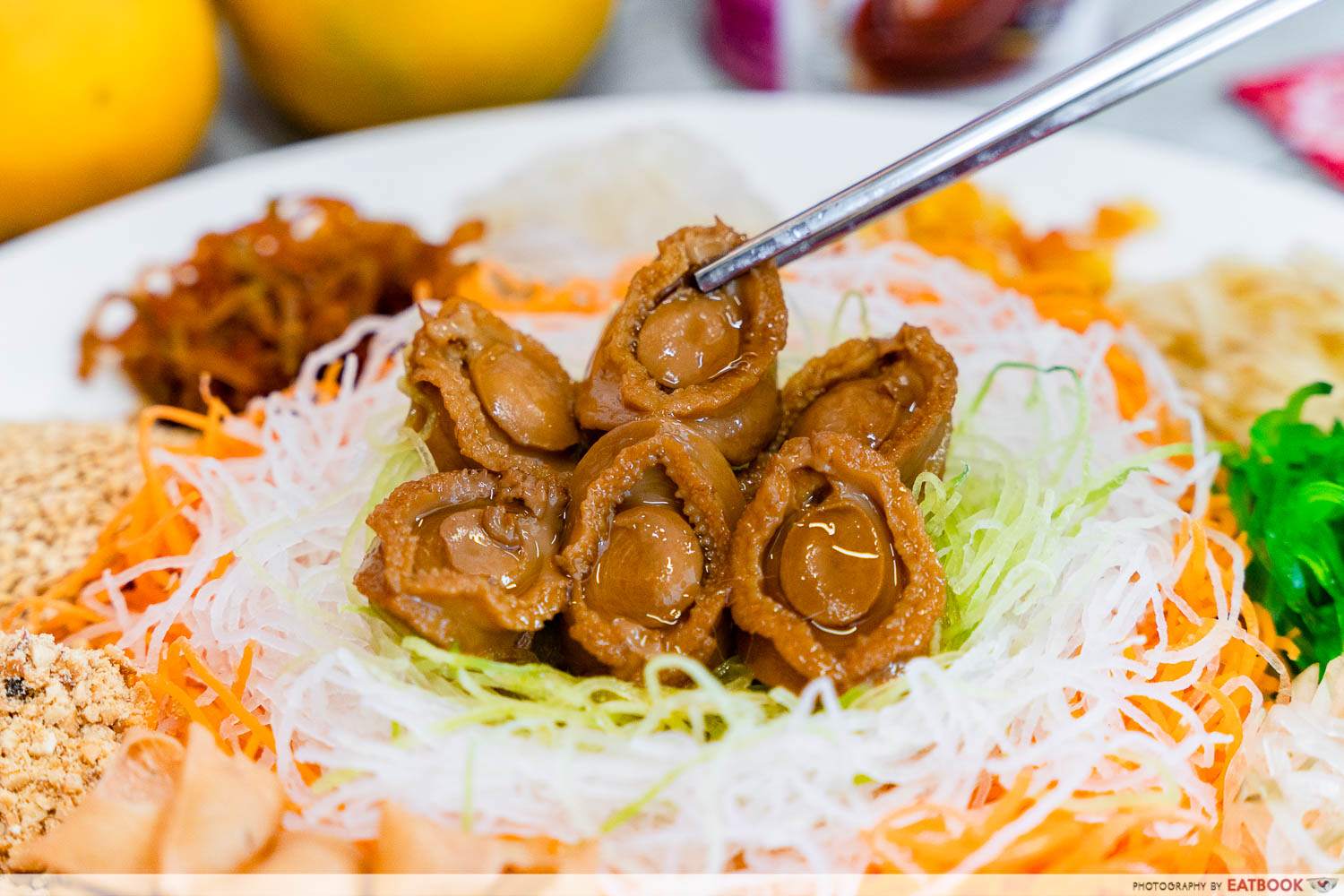 Available in three flavours—Black Truffle, Scallop Strips, Teriyaki Sauce—the Flying Wheel Abalone ($15.90, 170g) will zhng-up your yusheng without any extra effort. These canned abalones are great for gifting this season too!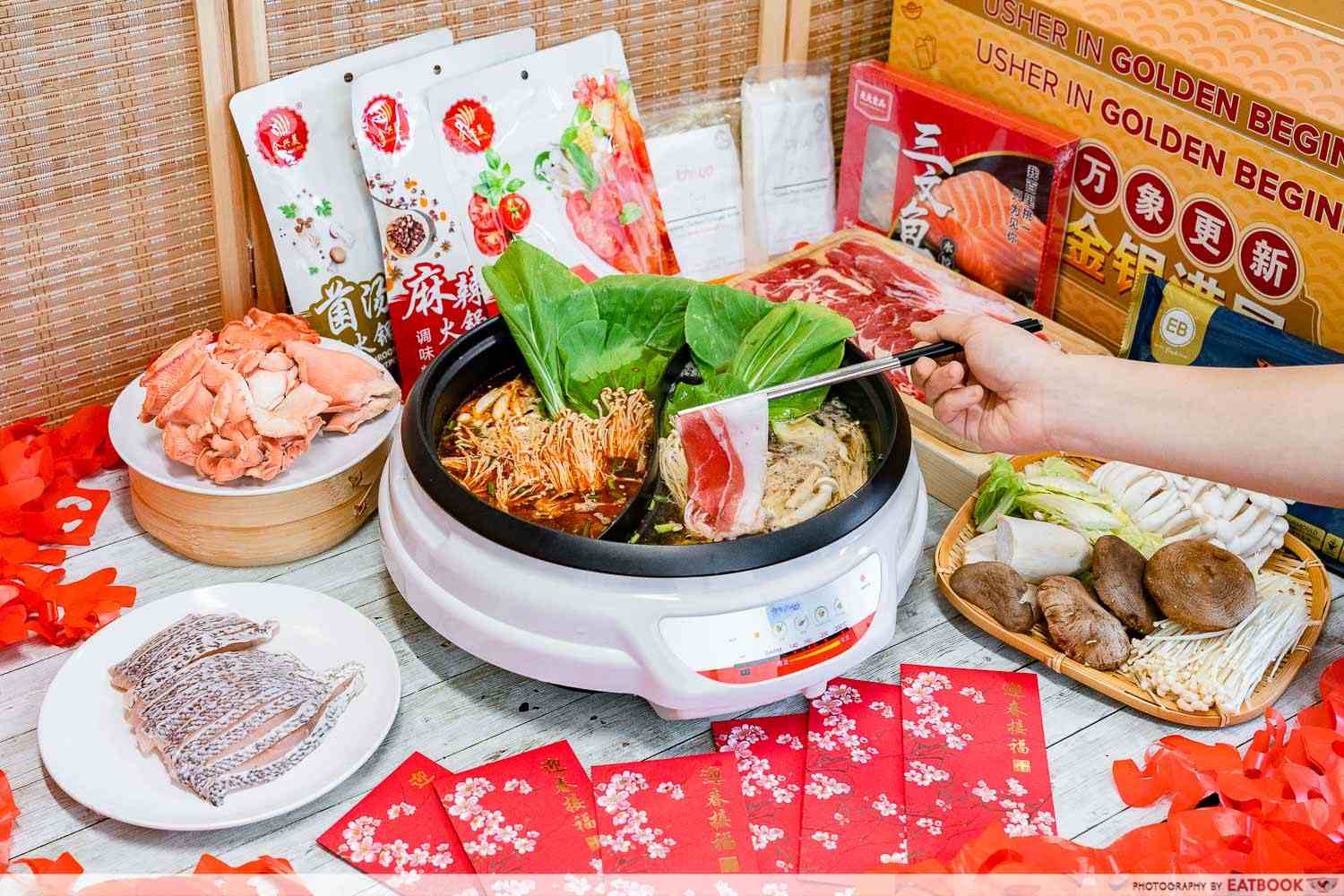 Those planning a steamboat at home can check out FairPrice's range of hotpot staples for an easy and fuss-free meal. From fresh veggies and premium meats, to ready-to-cook dumplings, take your pick from the wide selection available in-store.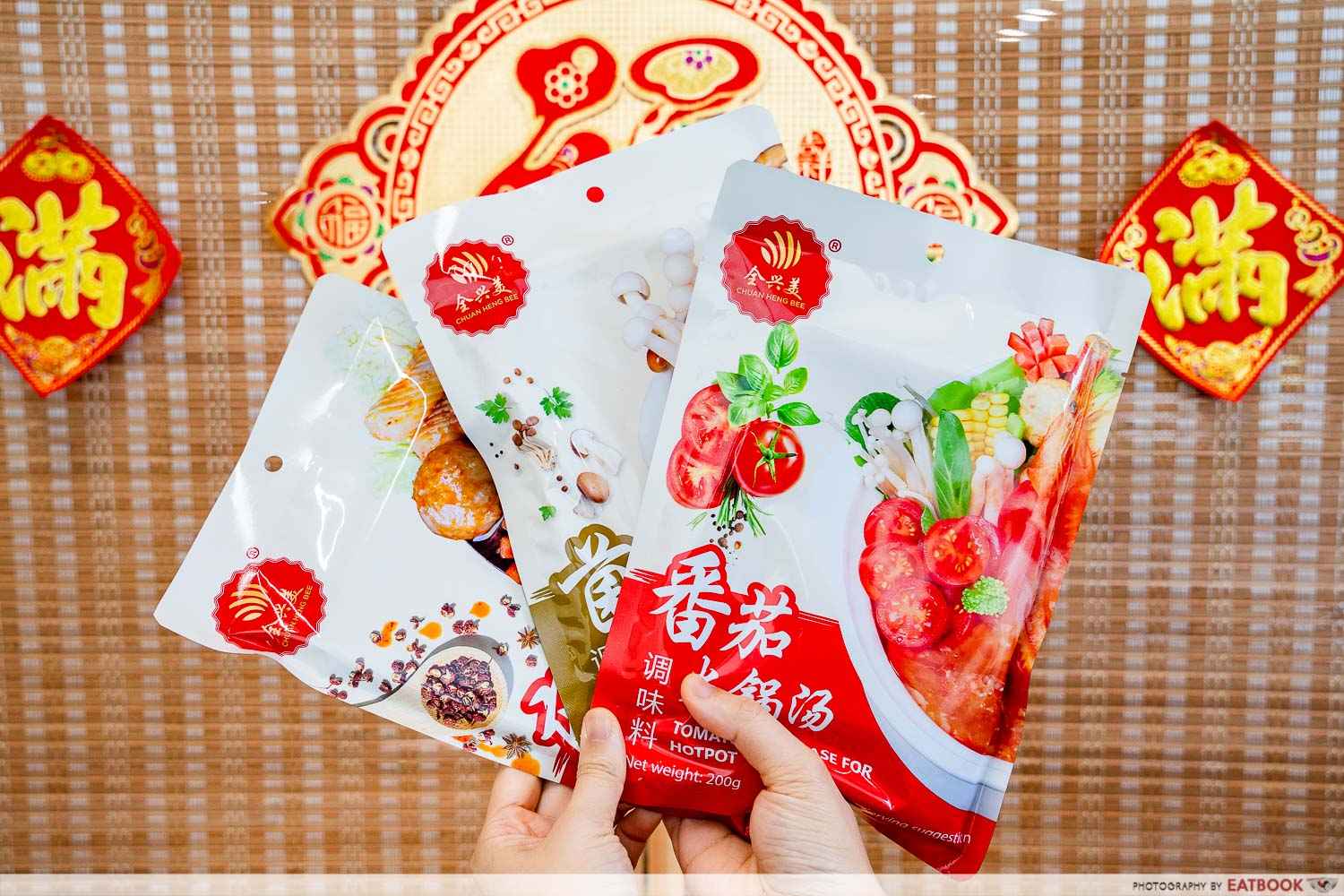 Start with the Chuan Heng Bee Steamboat Soup Base ($3.65, 250g), which only requires you to add water to create a flavourful broth for dipping your ingredients into. Choose from Mushroom, Tomato, and Spicy flavours.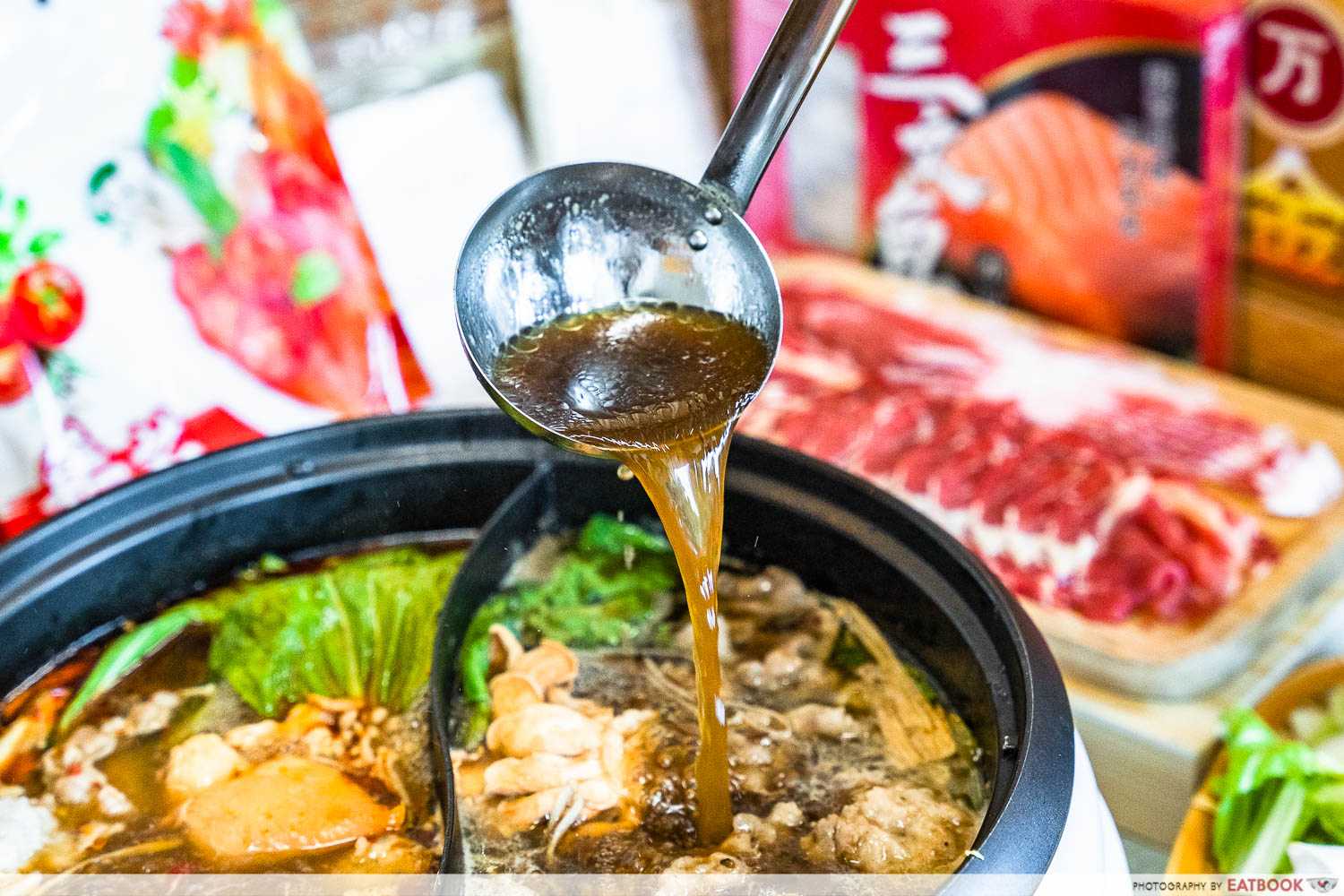 If you want to impress your guests, level up your hotpot experience with the 1CHI-YO Superior Pork or Chicken Collagen Broth ($6.00, 250g)! These premium broths are brewed with top-notch ingredients for eight hours, so each mouthful is packed with tons of flavour and nutrients.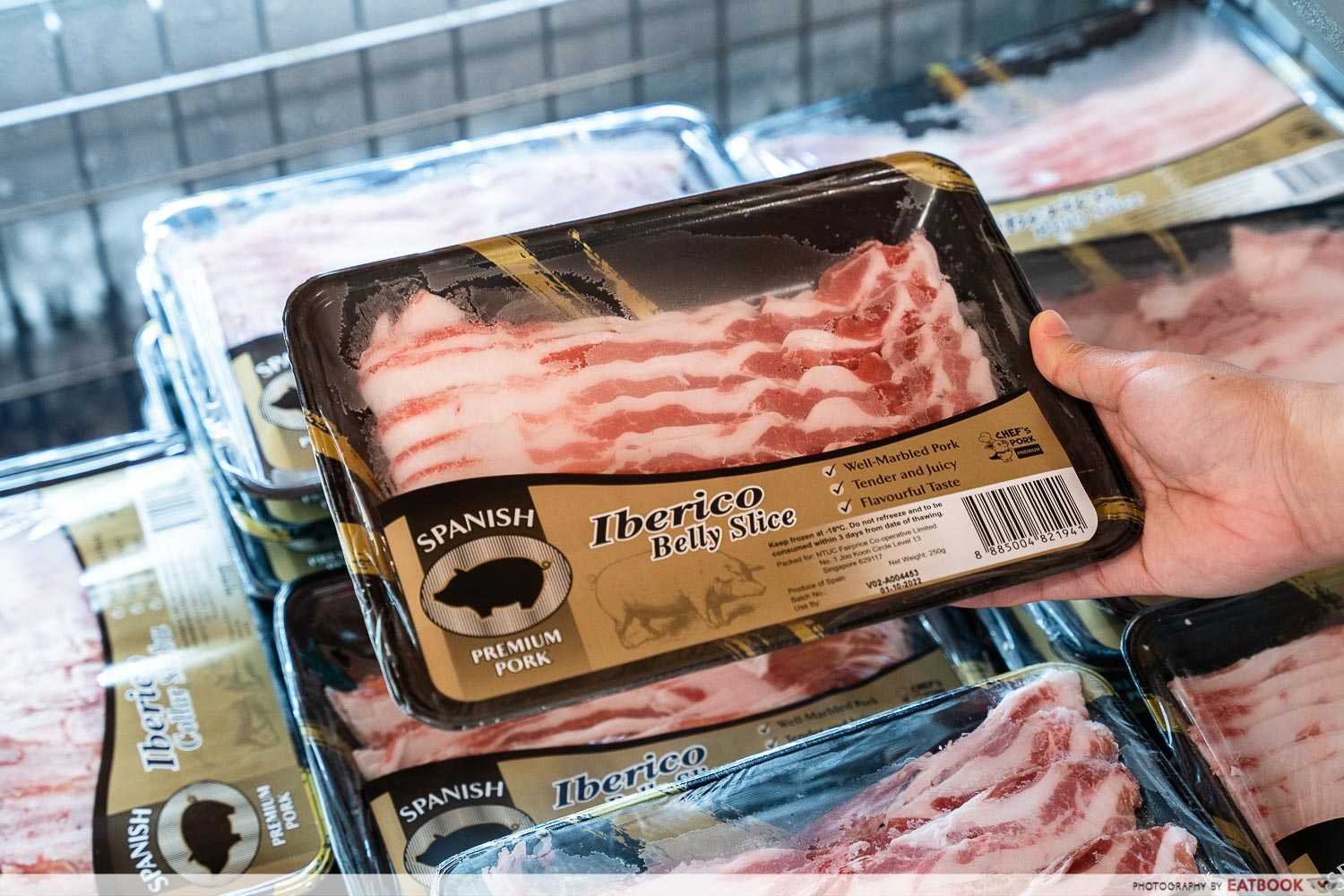 Another must-have at any steamboat table is the Chef's Pork Iberico Belly Slice ($11.90, 250g), which features premium quality pork slices from Spain. Iberico pork is known for having excellent marbling, texture, and flavour. Dip each slice into your chosen broth, and enjoy the rich and juicy meat.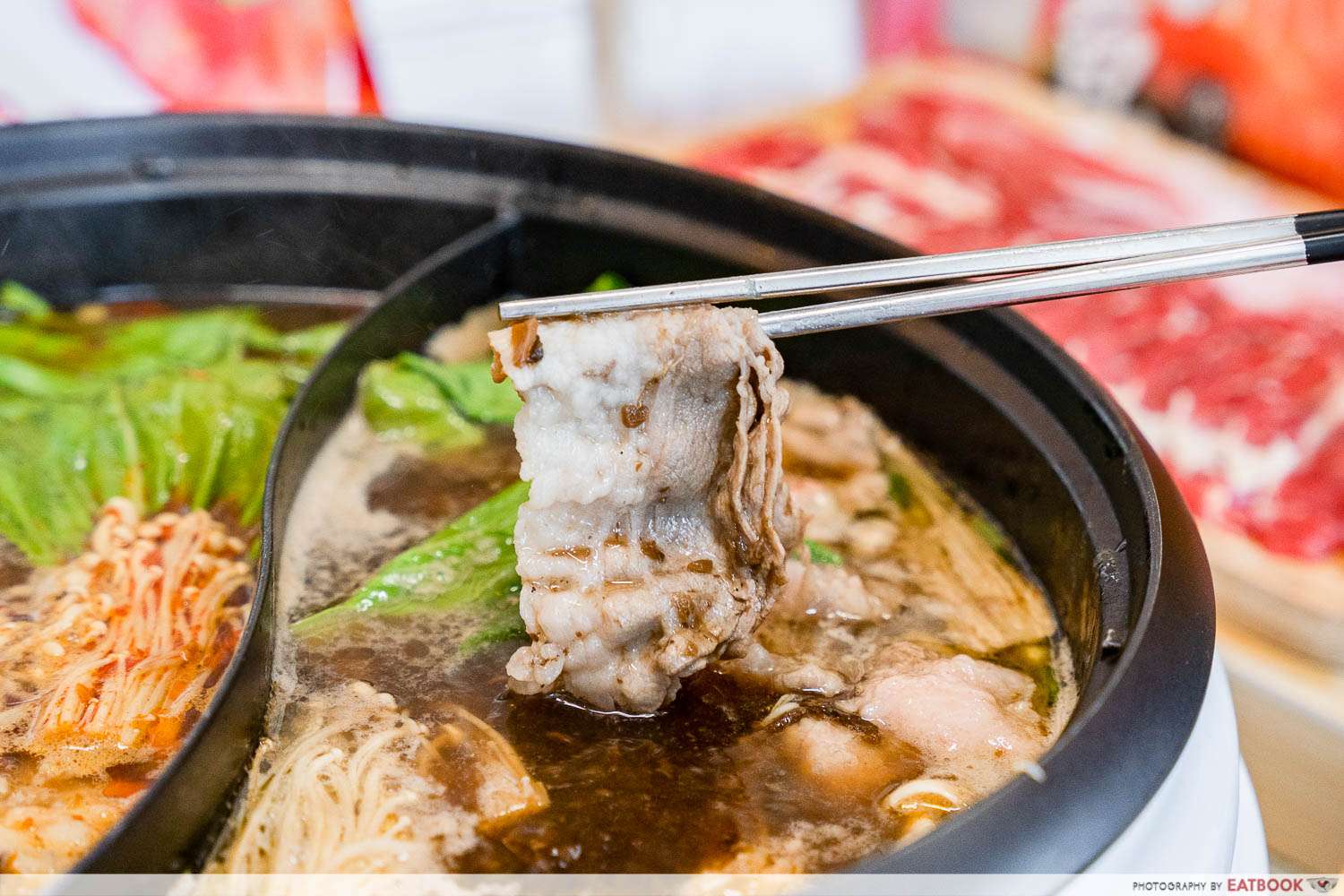 Don't forget to add the Frozen Beef Ribeye Shabu Shabu ($8.80, 200g) to your spread if you love beef. Available for a limited time only, these shabu slices boast a balanced fat marbling, resulting in a tender texture and rich flavour.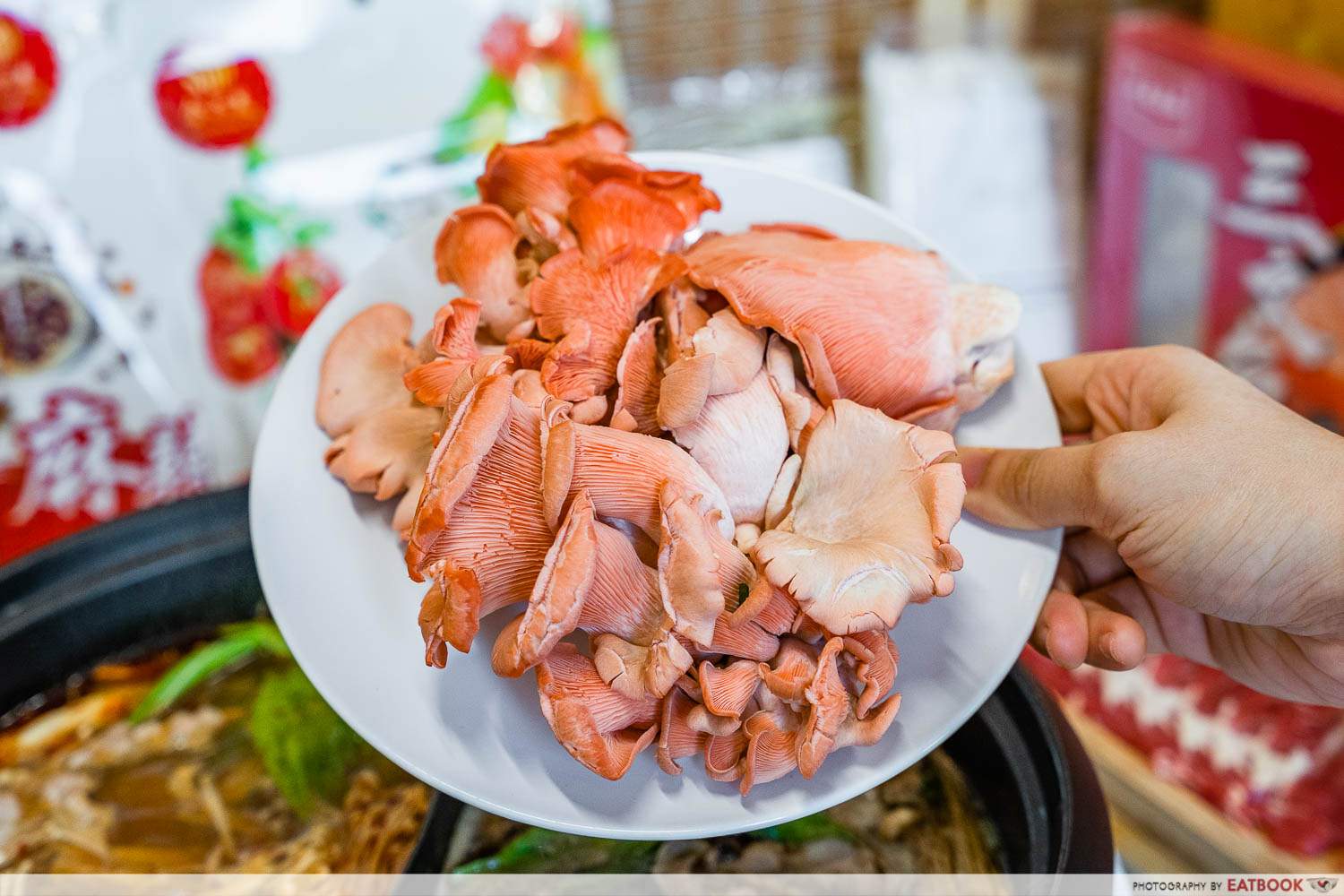 Add some greens to your table with the Veggystar Mushroom Hotpot Combo ($3.95), which saves you precious time with its individually portioned, ready-to-cook packaging. Another highlight is the Kin Yan Fresh Pink Oyster Mushroom ($2.95, 130g). These locally grown pink oyster mushrooms are a meaty, umami addition to your reunion meal, whether you choose to throw them into your steamboat, or whip up a quick veggie stir-fry.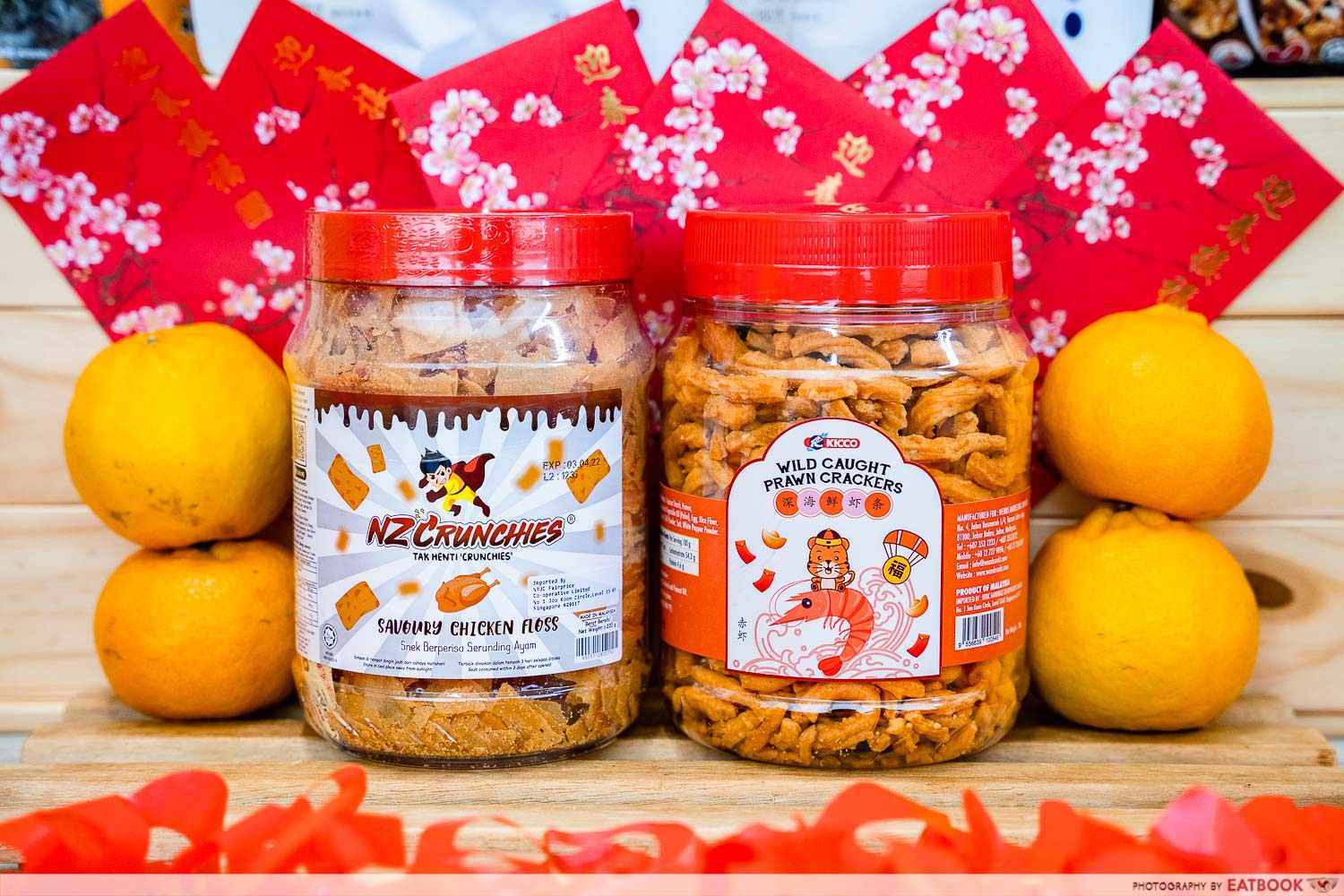 Get your CNY snack game on with FairPrice exclusives such as the KICCO Wild Caught Prawn Crackers ($10.95, 280g), made with fresh Red Prawns sourced from Pantai Remis Perak Malaysia for their unique texture and exceptional taste. These dangerously addictive snacks do not contain any added preservatives or flavourings, so you're getting nothing but pure seafood goodness.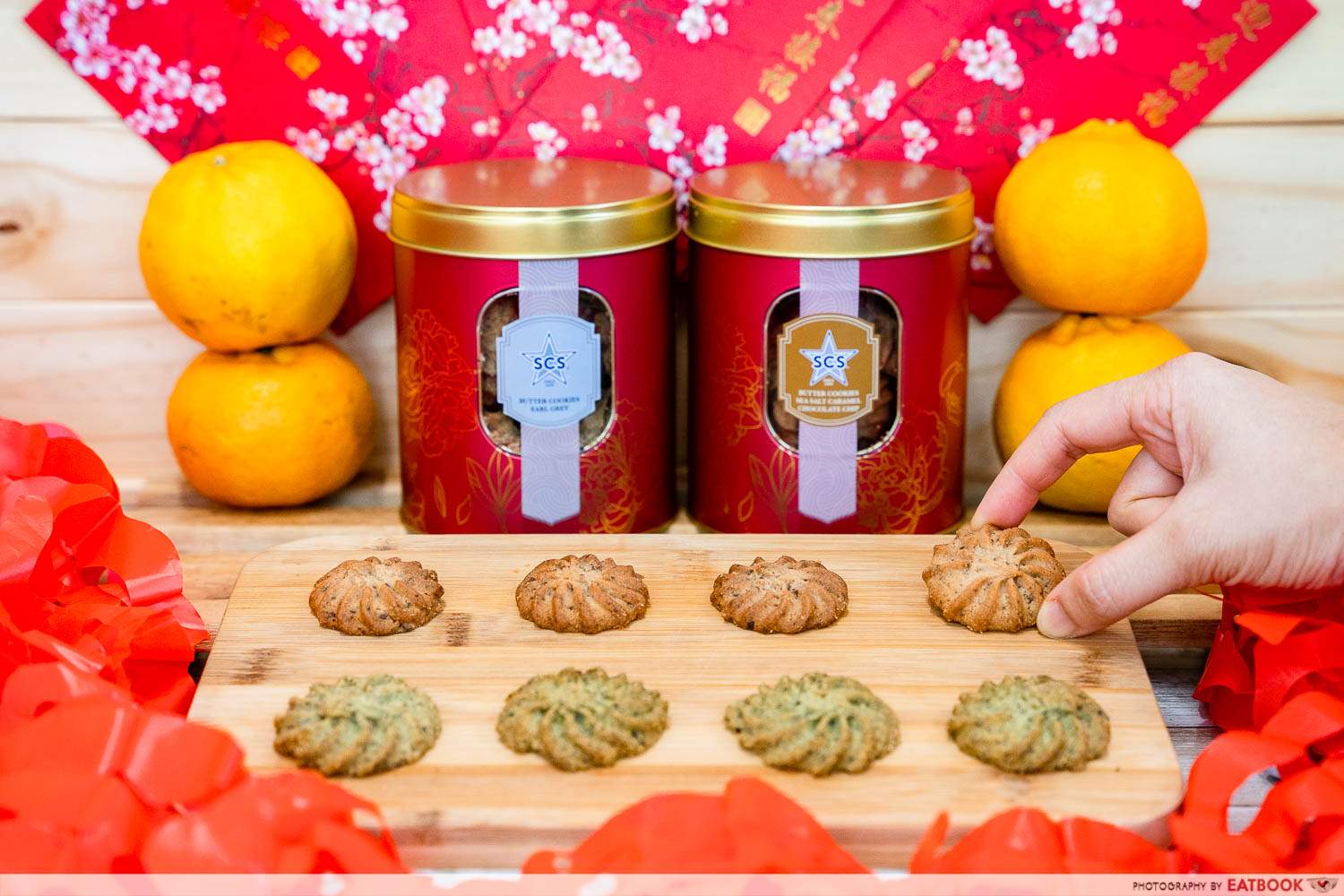 Also new and exclusive to FairPrice's CNY lineup this year are the SCS Butter Cookies ($11.90, 235g), in Original, Double Chocolate Peppermint, Earl Grey, and Sea Salt Caramel Chocolate. These crisp and buttery cookies are packed in an auspicious red tin with a gold cap—perfect for gifting to your friends and family!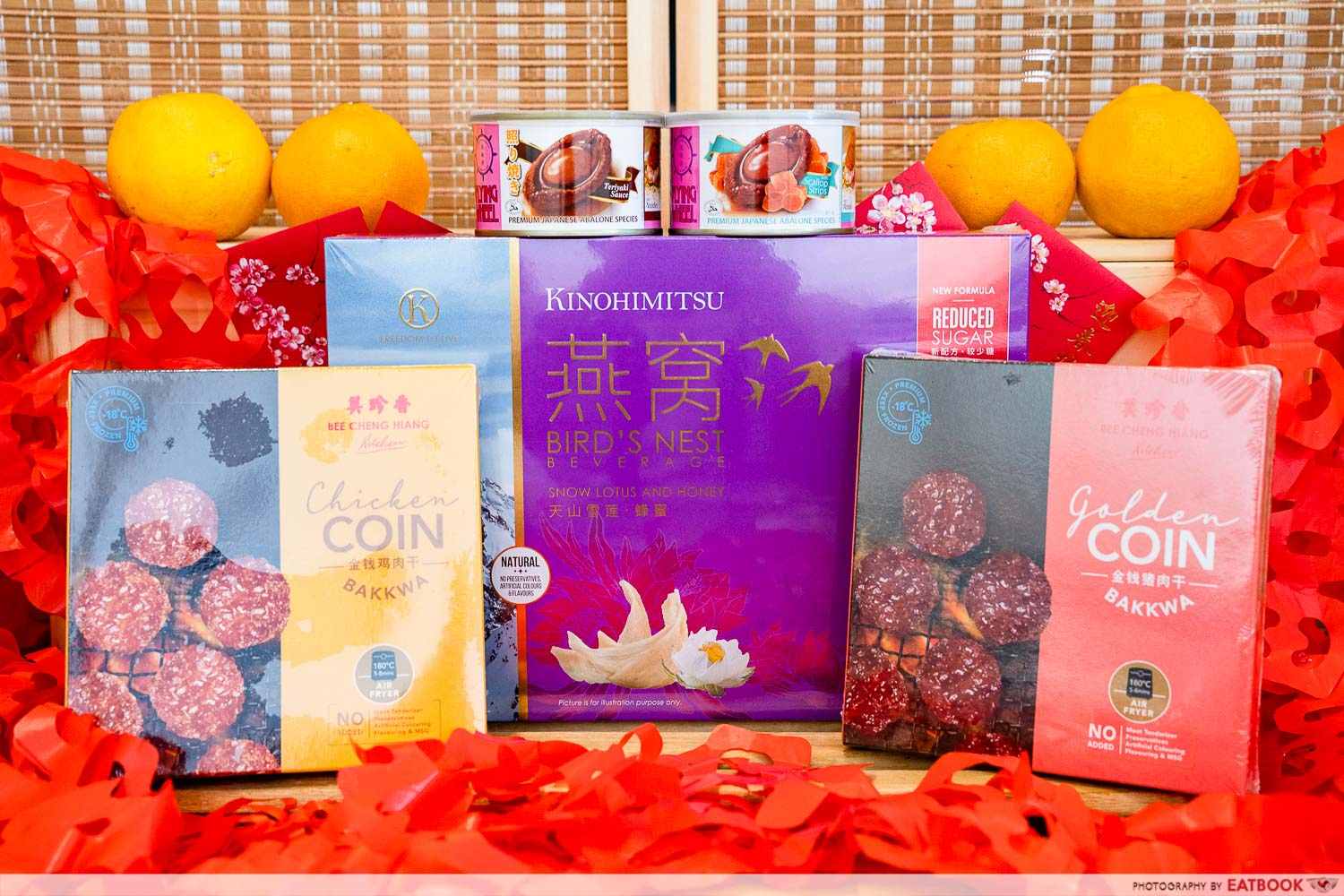 Bak kwa is a staple at any CNY gathering. Instead of queuing up at bak kwa chains, stock up on the Bee Cheng Hiang Coin Bakwa ($8.40, 175g), new to FairPrice's CNY lineup. Made with premium meat without any added preservatives or artificial additives, the coin-shaped bak kwa is available in Original Pork, Chicken, and Spicy Pork flavours. These also make great gifts for your friends, as they keep for longer than fresh bak kwa!
Alternatively, splurge on the Kinohimitsu Bird's Nest ($49.90), which comes in a box of eight ready-to-drink portions in your choice of flavour: Snow Lotus or Snow Lotus Reduced Sugar. Gently cooked to ensure that maximum nutrients are retained, the nourishing drink contains no preservatives or artificial flavourings. These also have the added benefits of snow lotus, a rare herb known for its antioxidant properties.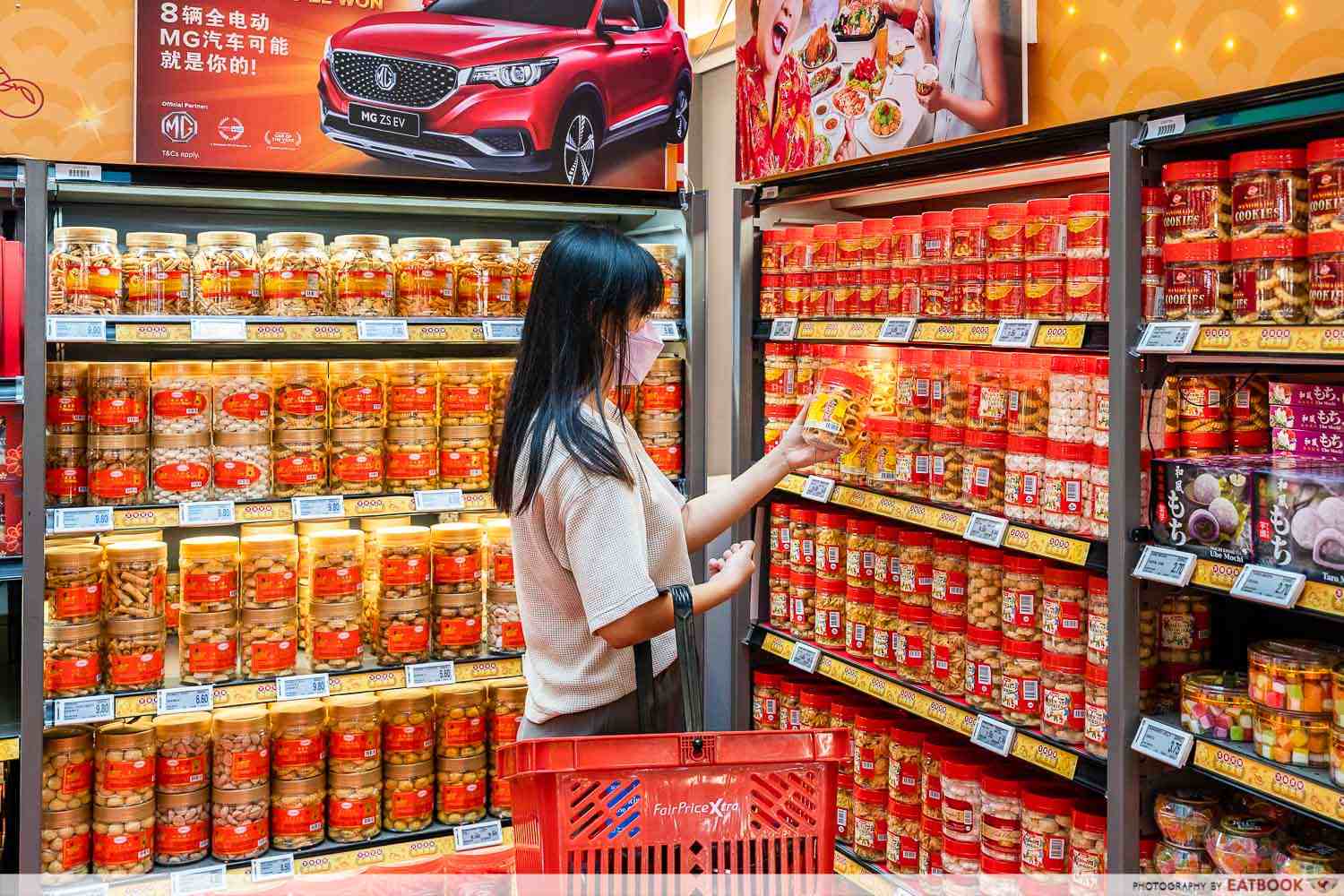 Head to your nearest FairPrice, a one-stop shop, for all your festive needs this CNY! We're also teaming up with FairPrice to give away a $100 e-gift voucher to three lucky winners. To enter the giveaway, check out our IG page for more information.
Photos taken by John Lery Villaneuva.
This post is brought to you by FairPrice.