---
Exclusive snacks and desserts at FairPrice USA Fair
---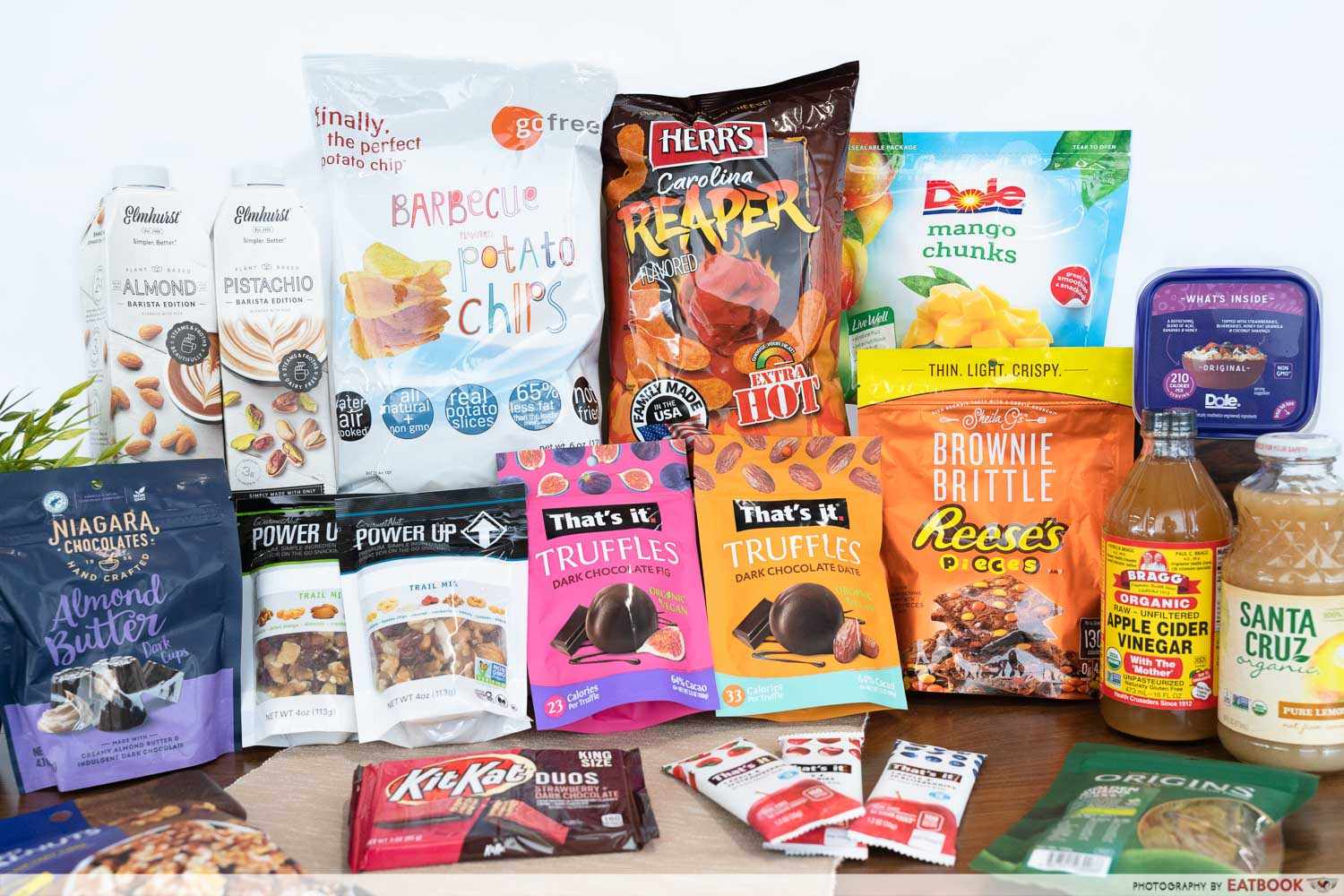 You don't have to hop onto a plane to get your favourite snacks from the States, with the FairPrice USA Fair taking place from now till 27 July 2022. From healthy plant-based milk to peanut butter-flavoured brownie brittle, the all-new lineup is now available at all FairPrice outlets for the first time ever. Here are 10 must-try products! 
---
1. Elmhurst 1925 Plant-based Milks
---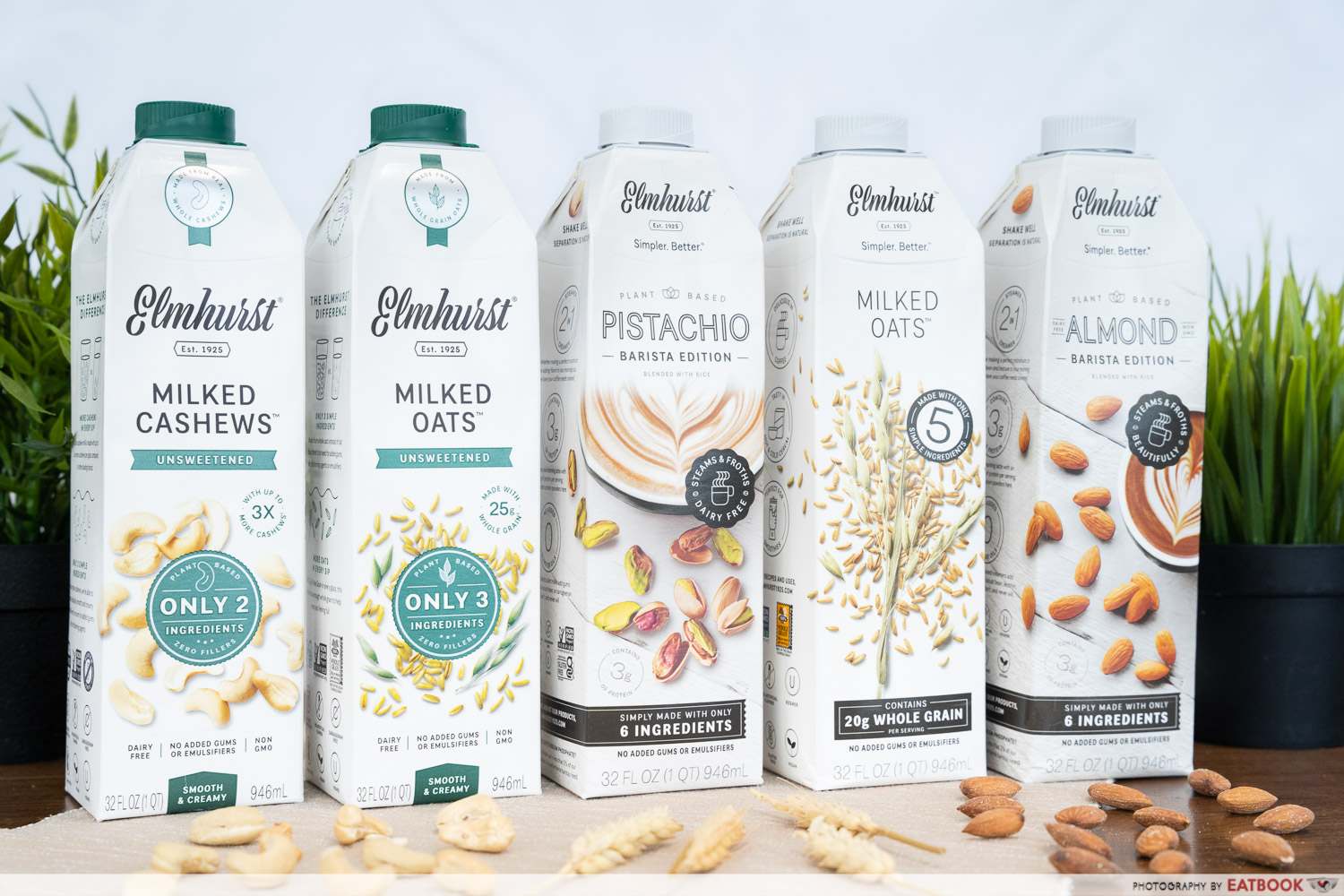 If you're hopping on the plant milk bandwagon, Elmhurst's range of dairy-free milks will have your sorted. Made with simple ingredients—nuts, whole grains, filtered water, and cane sugar—each flavour is great for drinking on its own, or pairing with your morning cereal.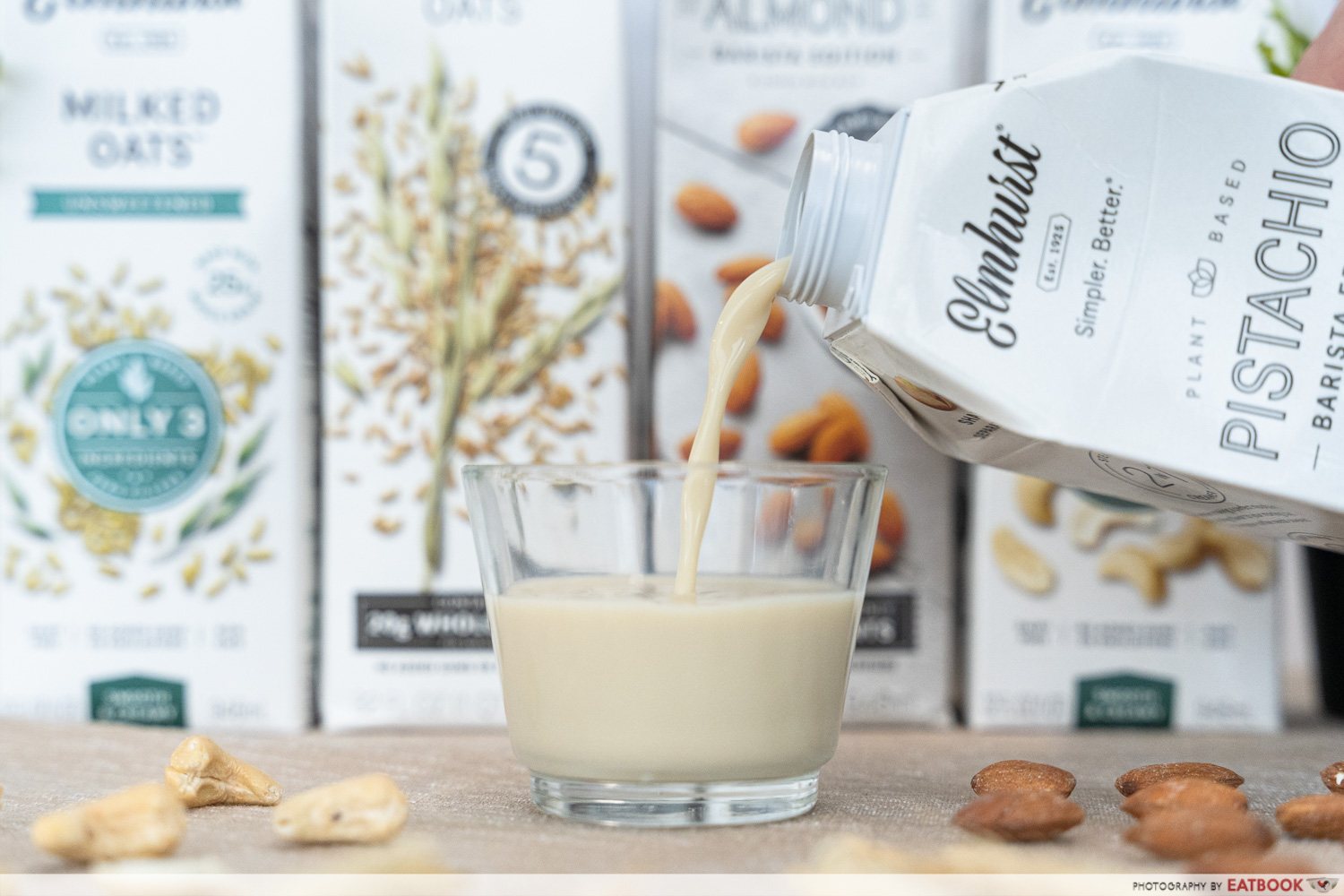 A less-common variant is the Pistachio Barista Edition ($7.50, U.P. $7.90), a vegan and gluten-free concoction made with raw pistachios. There's also the Almond Barista Edition ($7.50, U.P. $7.90) if almond milk is up your alley. As the Barista Edition range is created with the help of real baristas, the milks are made to froth beautifully for the perfect latte.
---
2. Herr's Cheese Snacks
---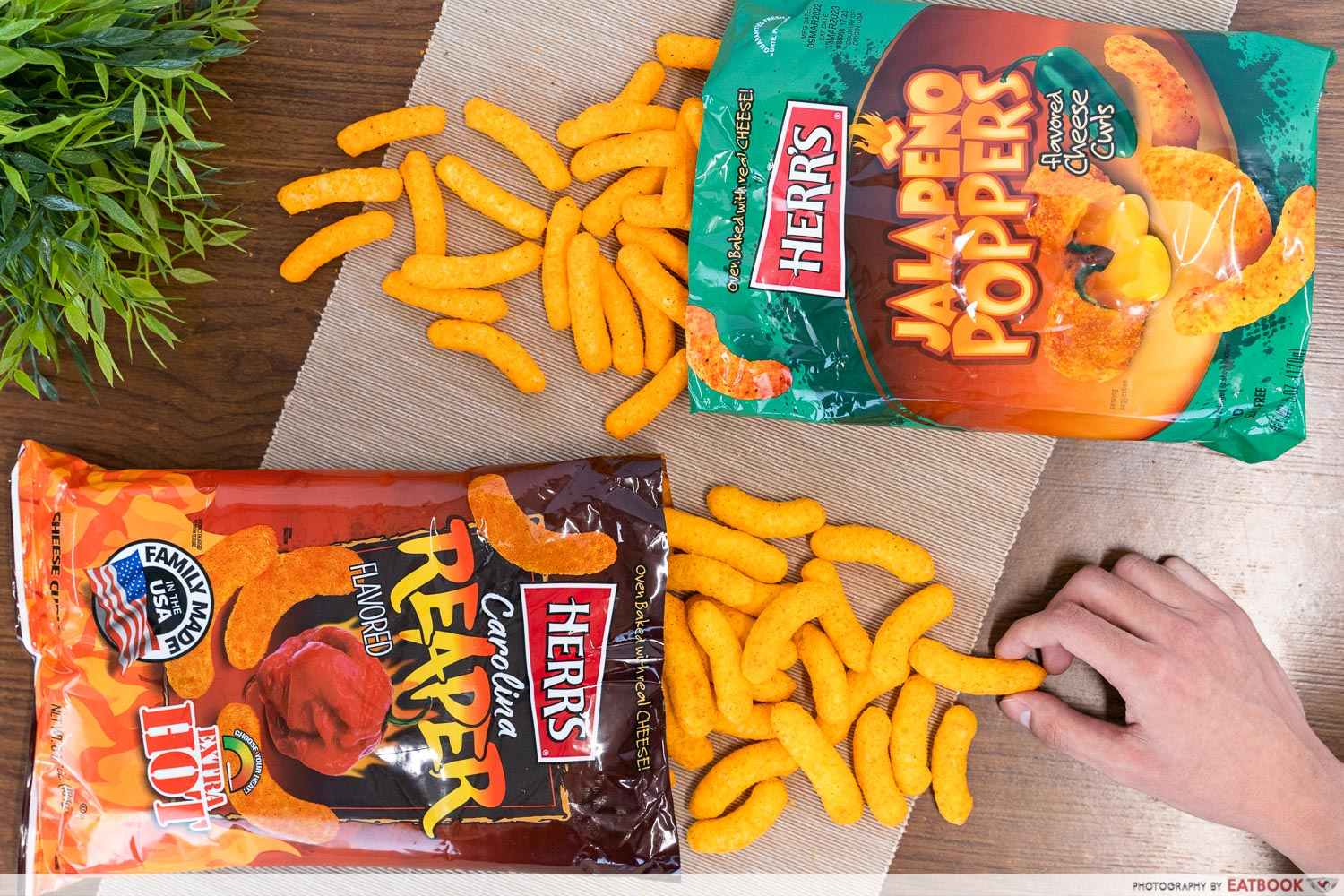 Herr's is most known for their savoury cheese curls in a wide range of innovative flavours. At the FairPrice US Fair, you can expect two spiced-up renditions: Jalapeno Popper ($5.90, U.P. $6.50), and Carolina Reaper ($5.90, U.P. $6.50). The former features the brand's classic cheddar cheese curls infused with a kick of jalapeño—perfect if you're a fan of mildly spicy snacks.
Take things up a notch with the Carolina Reaper Cheese Curls, which spotlight what's arguably the hottest pepper in the world. These corn snacks are said to be extra hot, so be warned if you're intolerant to spice! 
---
3. That's It Fruit Bars
---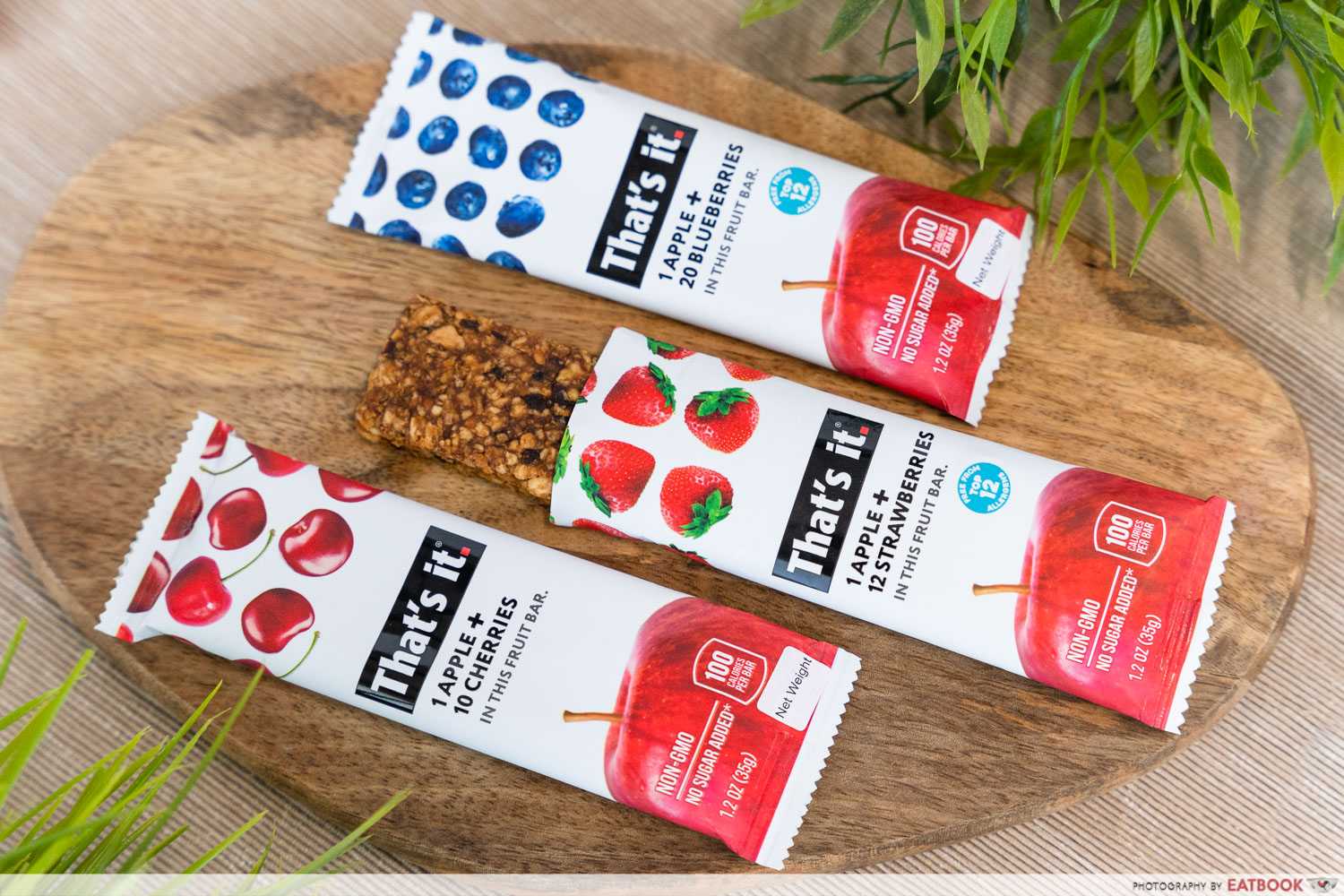 For something healthier, try That's It Fruit Bars (price TBC), which come in an assortment of flavours including Apple + Cherry, Apple + Strawberry, and Apple + Blueberry. Made without added sugars, each plant-based bar is just under 100 calories, so you can snack guilt-free. The first flavour, for example, contains two whole servings of fruit in the form of 12 cherries and one apple. 
What's more, these bars do not require refrigeration, so you can snack whenever and wherever! 
---
4. That's it Dark Chocolate Truffles
---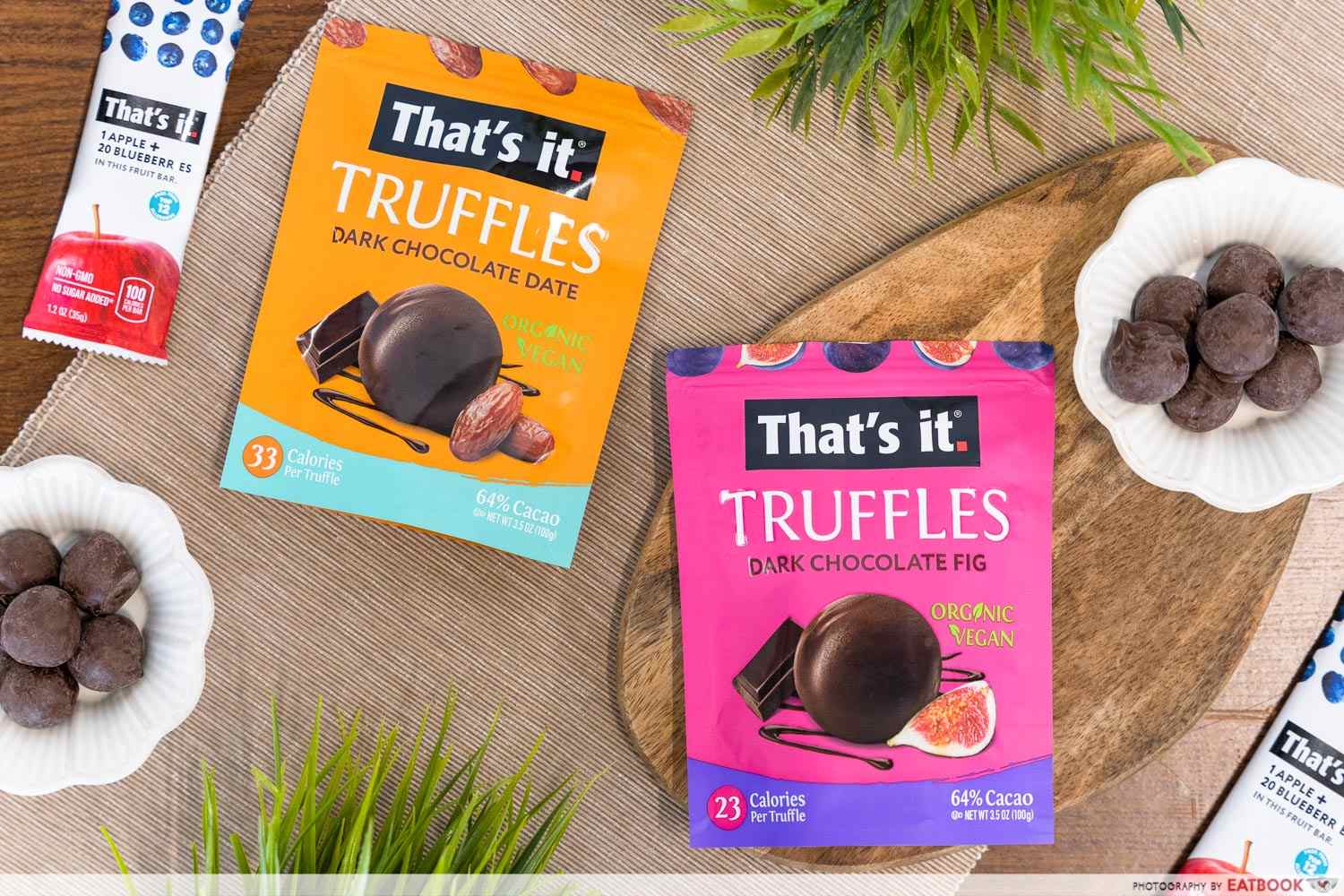 Another highlight from American brand That's It are the Dark Chocolate Truffles, available in two yummy flavours: Date ($6.90, U.P. $7.90) and Fig ($6.90, U.P. $7.90).These vegan treats are made with simple, organic ingredients such as figs, dates, and cocoa butter, so you're only getting all-natural sweetness and goodness here. Each date truffle is only 33 calories, while the fig flavour is just 23 calories per pop, which make them perfect for a healthy snack or light post-dinner dessert. 
---
5. GourmetNut Power Up Trail Mix Nuts
---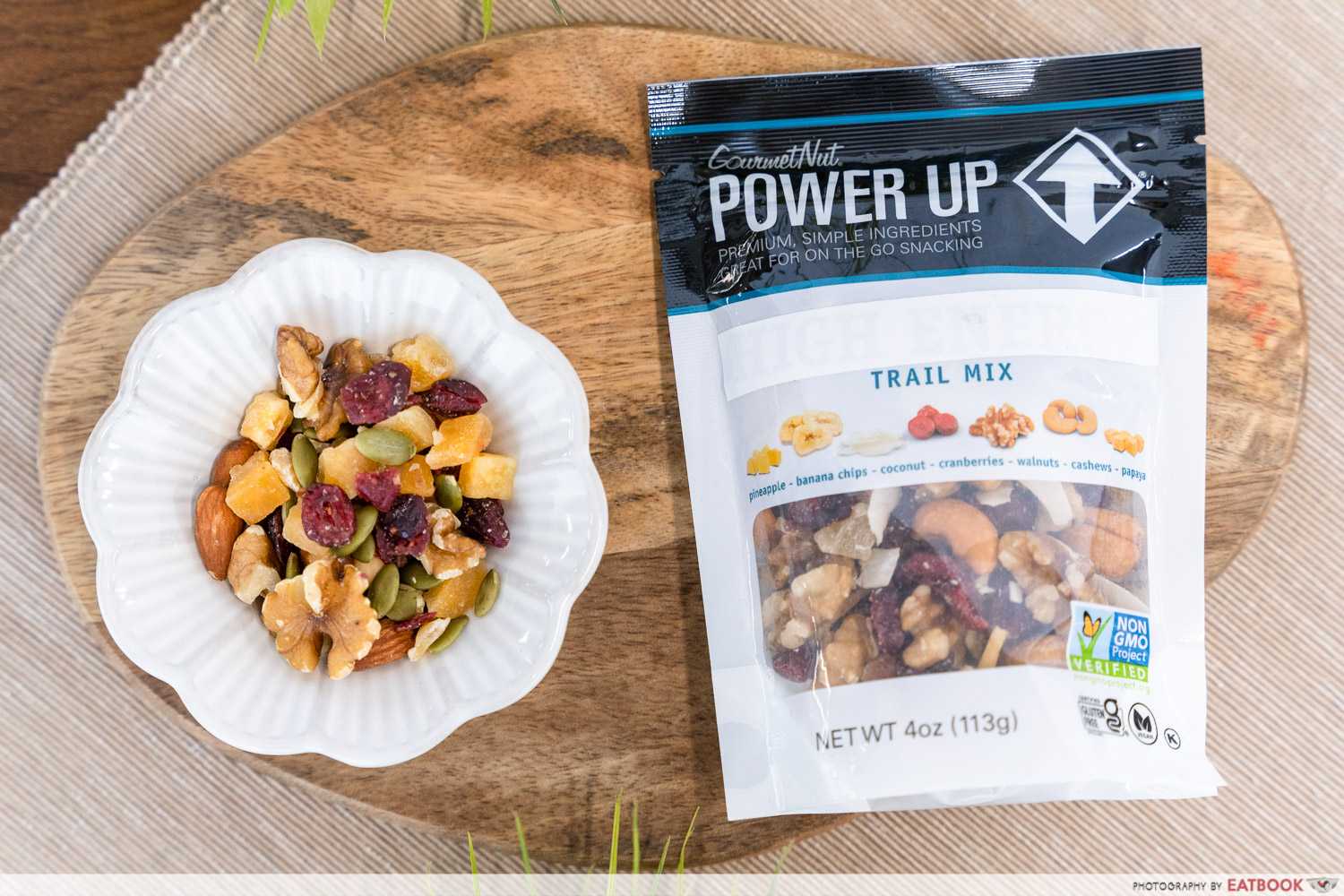 Add the GourmetNuts Power Up Trail Mix Nuts ($5.50, U.P. $5.95) to your shopping list if you're looking for healthier snacks that'll keep you feeling satiated and energised. Available in an assortment of flavours, including Protein Packed Trail Mix and High Energy Trail Mix, these ready-to-eat packets are made with premium nuts and dried fruits that are non-GMO. They're also vegan and gluten-free, so you can snack without worrying. Enjoy them as is, or sprinkle a handful over your salad and yogurt for added crunch and nutrients! 
---
6. Go Free Potato Chips
---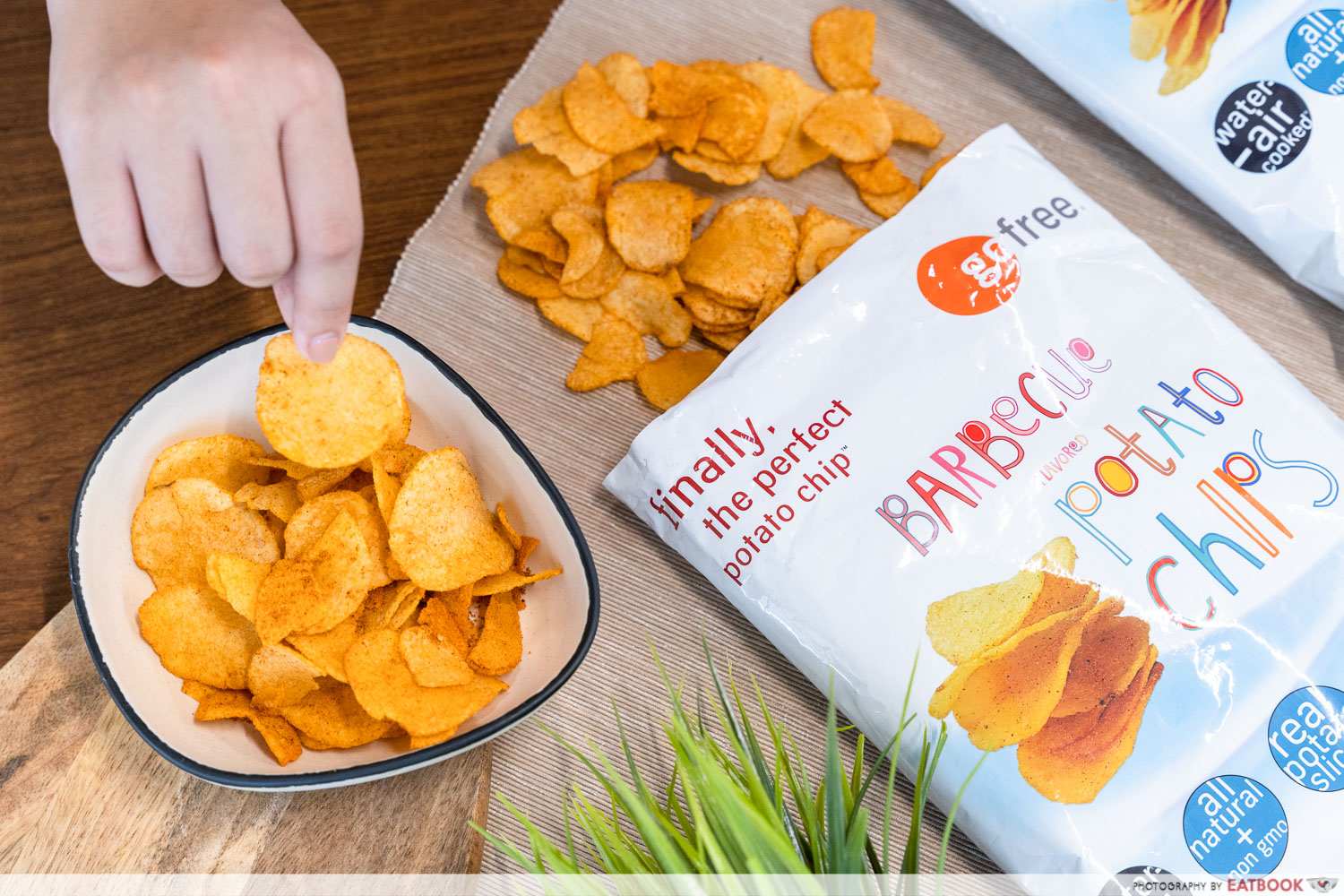 Potato chips may not be the healthiest snack out there, but Go Free Potato Chips ($6.90, U.P. $7.90) promises a better-for-you version. These gluten-free crisps comprise only three all-natural ingredients: real potato slices, sunflower oil, and seasonings. 
Prepared without preservatives, these potato chips are water-air cooked instead of deep-fried. This results in a light and crunchy snack that contains less fat and calories than its traditional counterparts. Try them in two flavours: Sea Salt and Barbecue.
---
7.  Sheila G's Brownie Brittle
---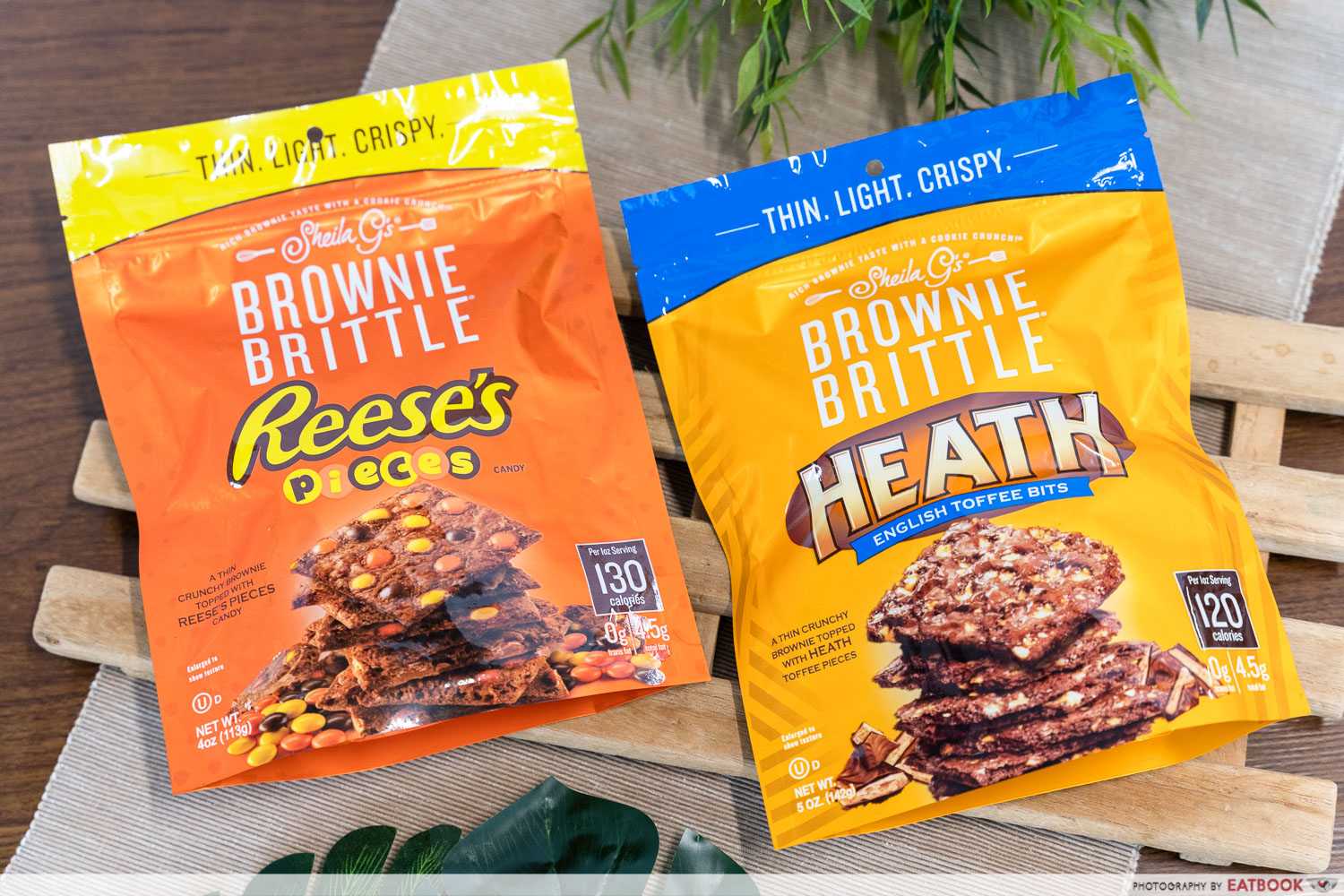 Fresh off the press is Sheila G's Brownie Brittle's latest flavour, Reese's Pieces ($6.90, U.P. $7.80). The popular brownie brittle company has teamed up with everyone's favourite peanut butter-chocolate confectionery brand, Reese's, to create an indulgent snack worth trying.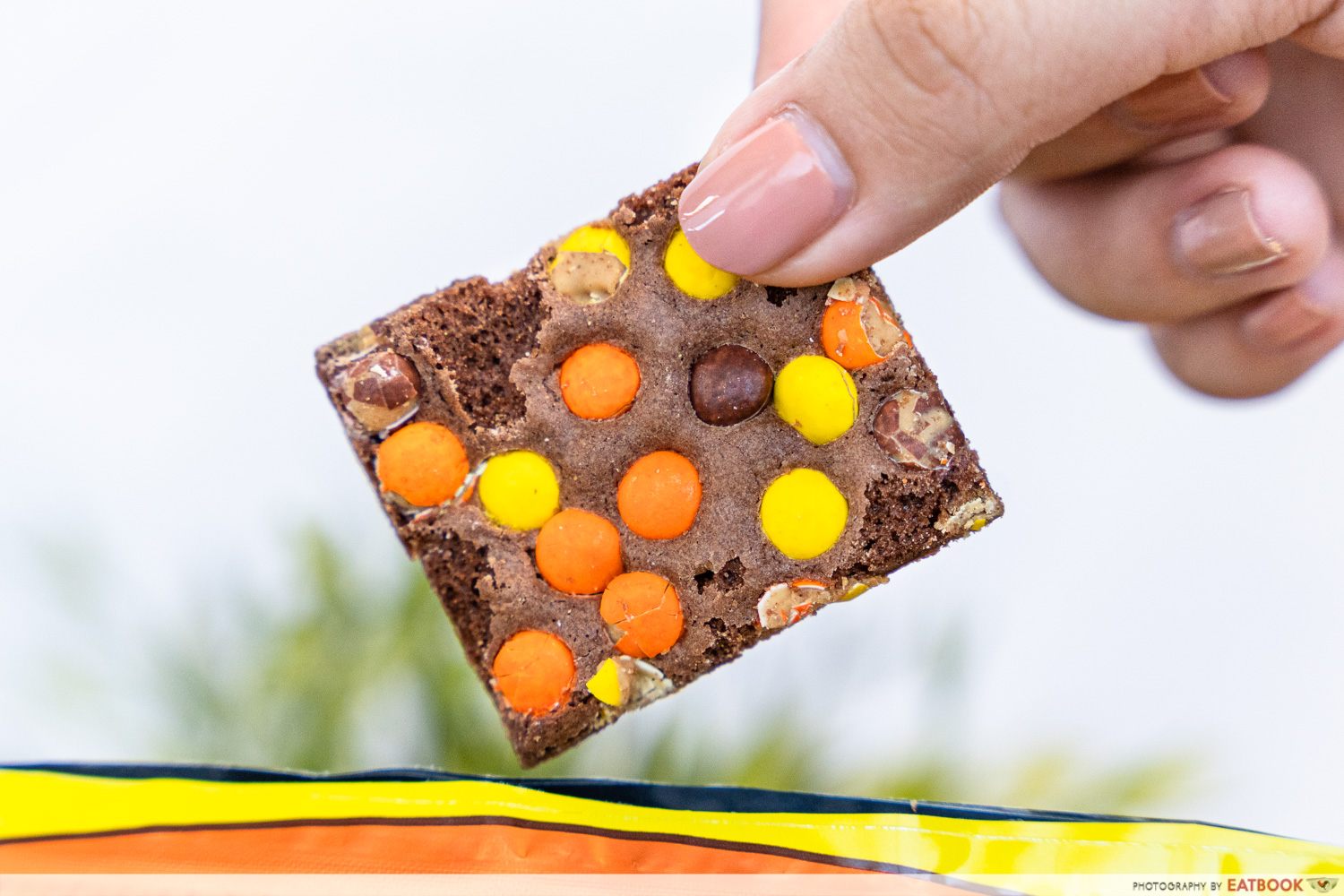 It features a thin and crispy chocolate brownie brittle layer topped with Reese's Pieces candies, which are essentially chocolate-coated peanut butter bites. 
If you're not a PB fan, try the new Heath Toffee Bits ($6.90, U.P. $7.80) flavour instead, which stars sweet and sticky toffee bits for a caramelly taste. 
---
8.  Niagara Dark Chocolate
---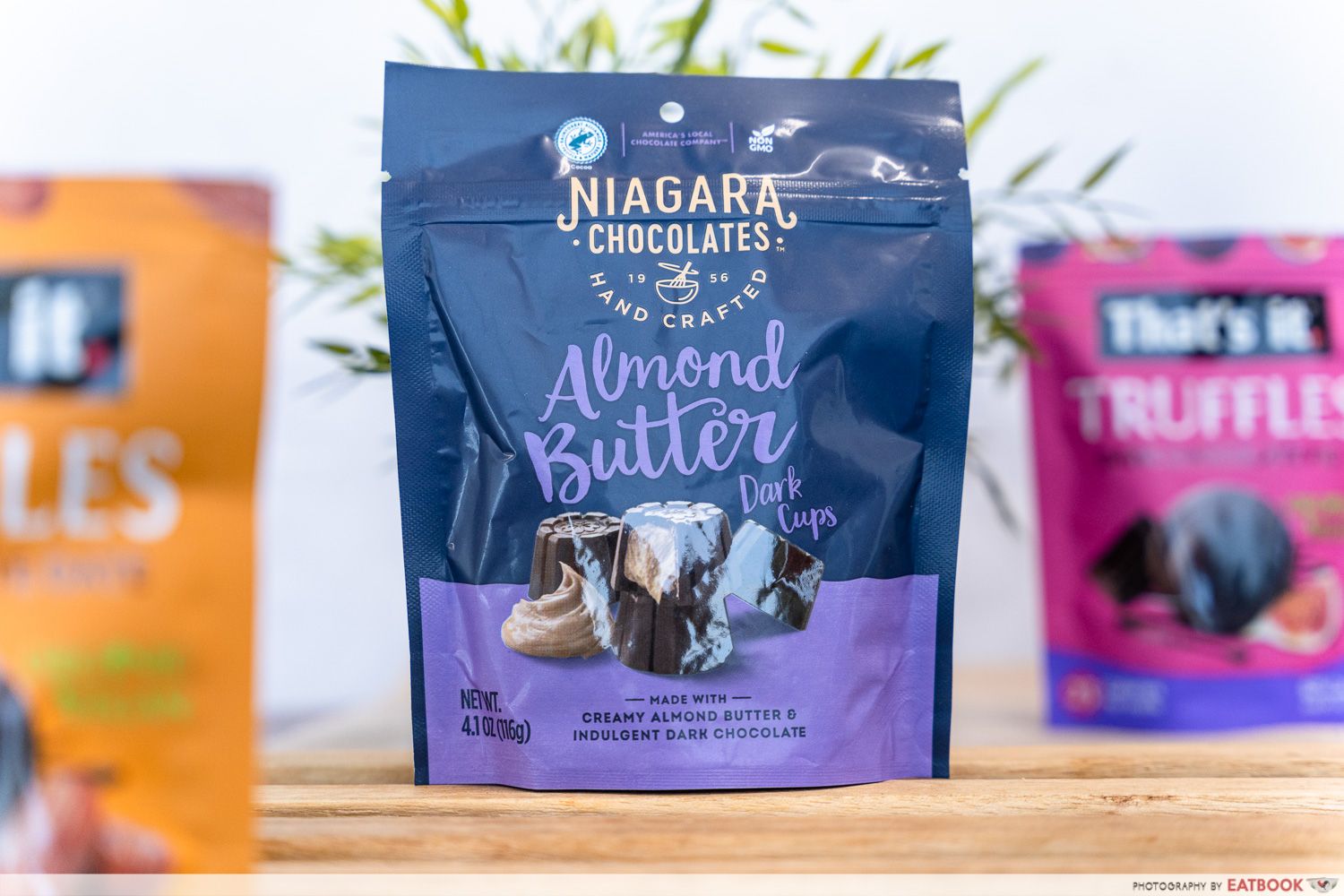 Niagara Chocolates has been around since 1956. The small New York-based business specialises in delicious chocolate treats that are handmade with non-GMO ingredients and sustainably-sourced cocoa.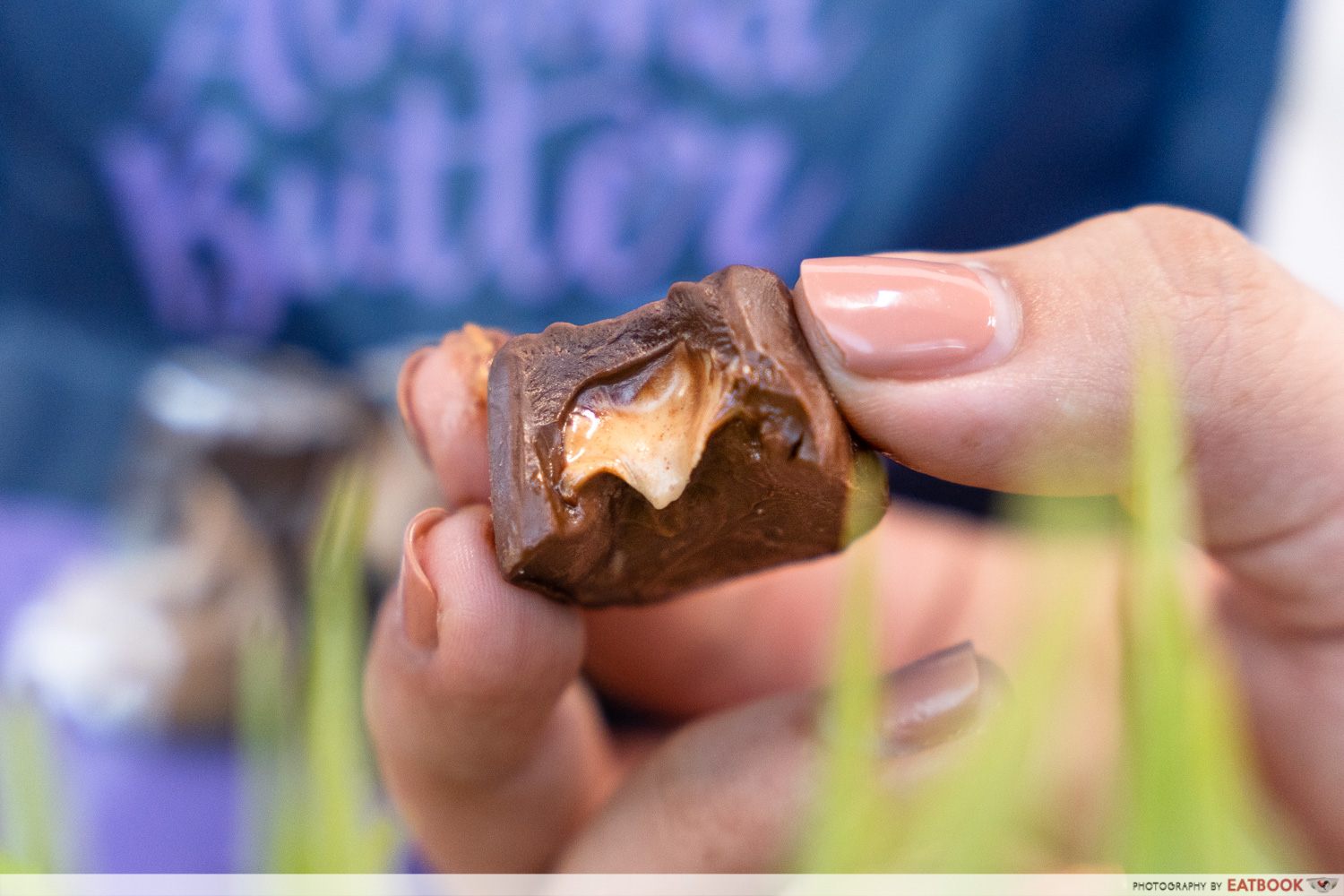 The goodies are handcrafted in small batches, including these Almond Butter Dark Cups($11.90, U.P. $12.90) that feature a rich dark chocolate shell with a creamy almond butter centre. They also come in a resealable stand-up bag for easy and fuss-free snacking!
---
9.  BRAGG Organic Apple Cider Vinegar
---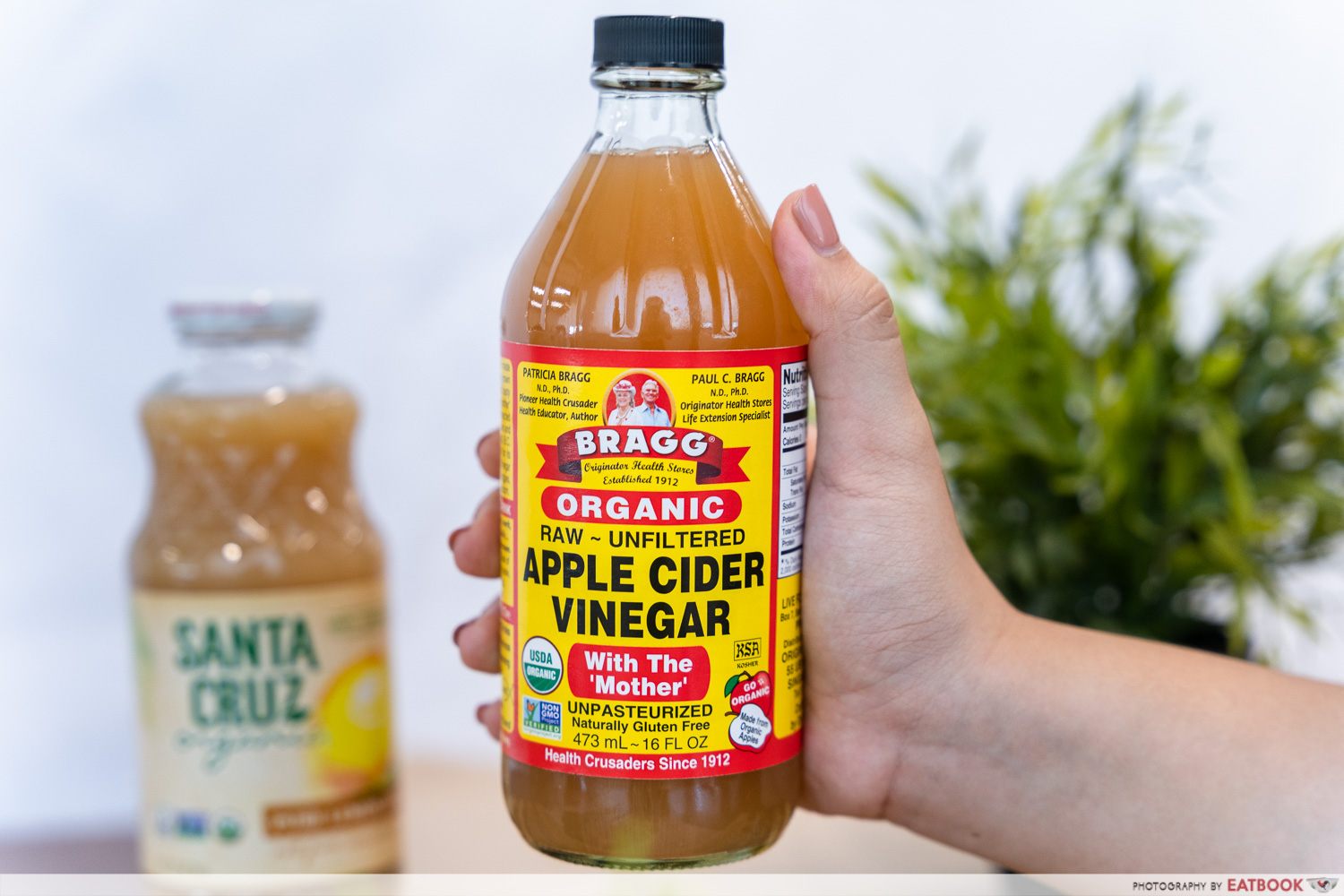 Apple cider vinegar contains acetic acid, which has numerous health benefits, including curbing the appetite and maintaining healthy blood sugar levels. Get your daily dose in with BRAGG Organic Apple Cider Vinegar ($9.10), made in the US with organically grown apples. There are multiple ways to use this versatile product; simply add a teaspoon to a glass of water for a quick and healthy beverage, or mix it into your salad dressing for a refreshing zing!
---
10. Dole Acai Bowls
---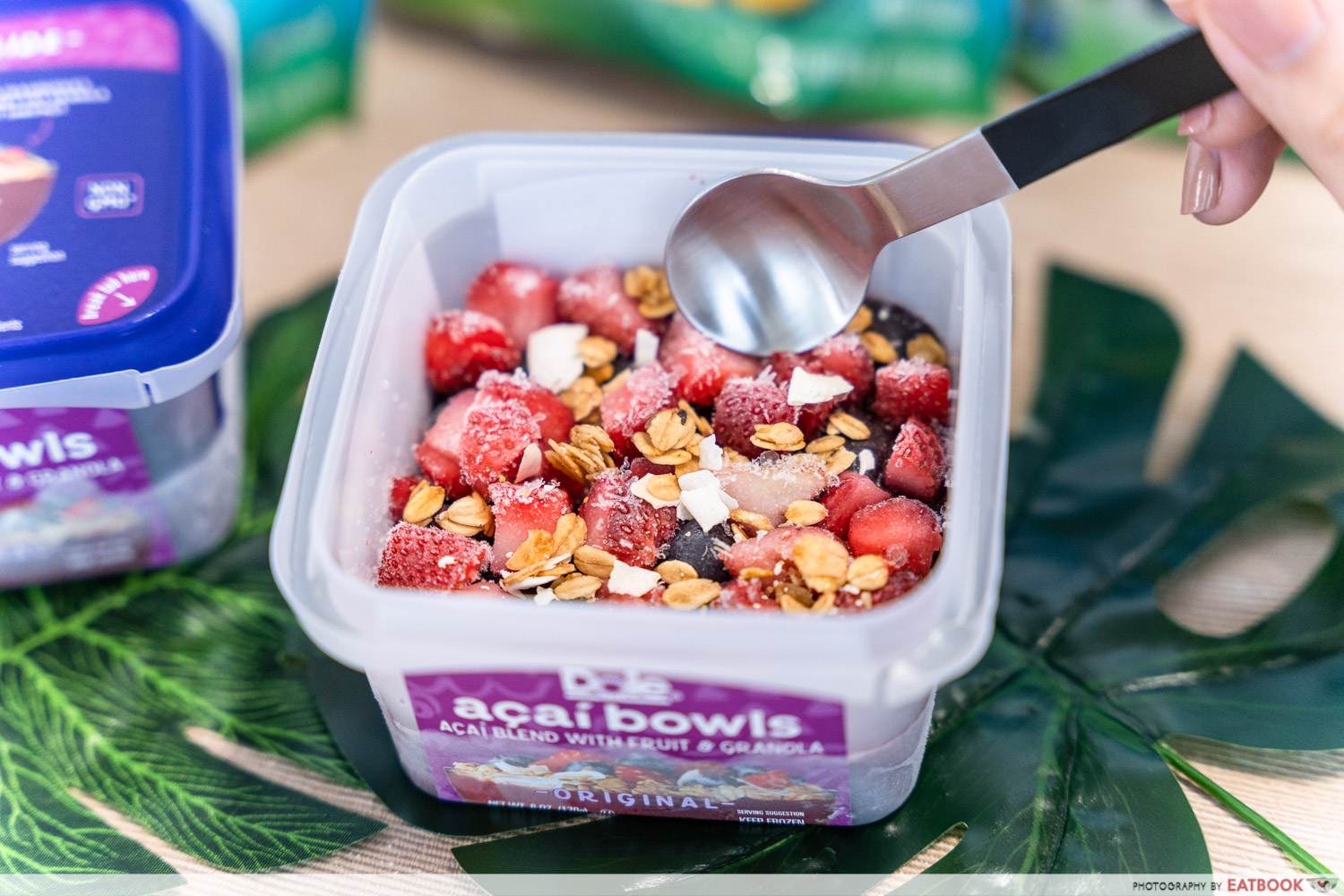 Hop onto the açai trend and make the refreshing dessert at home with the Dole Açai Bowls ($5.95) in Original. These DIY bowls feature a frozen açai base made of real açai, and sweetened naturally with bananas and honey, then topped with crunchy honey oat granola and berries. Each ready-to-eat tub contains just 210 calories, so you can have it for brekkie or as a healthy pick-me-up on a hot afternoon.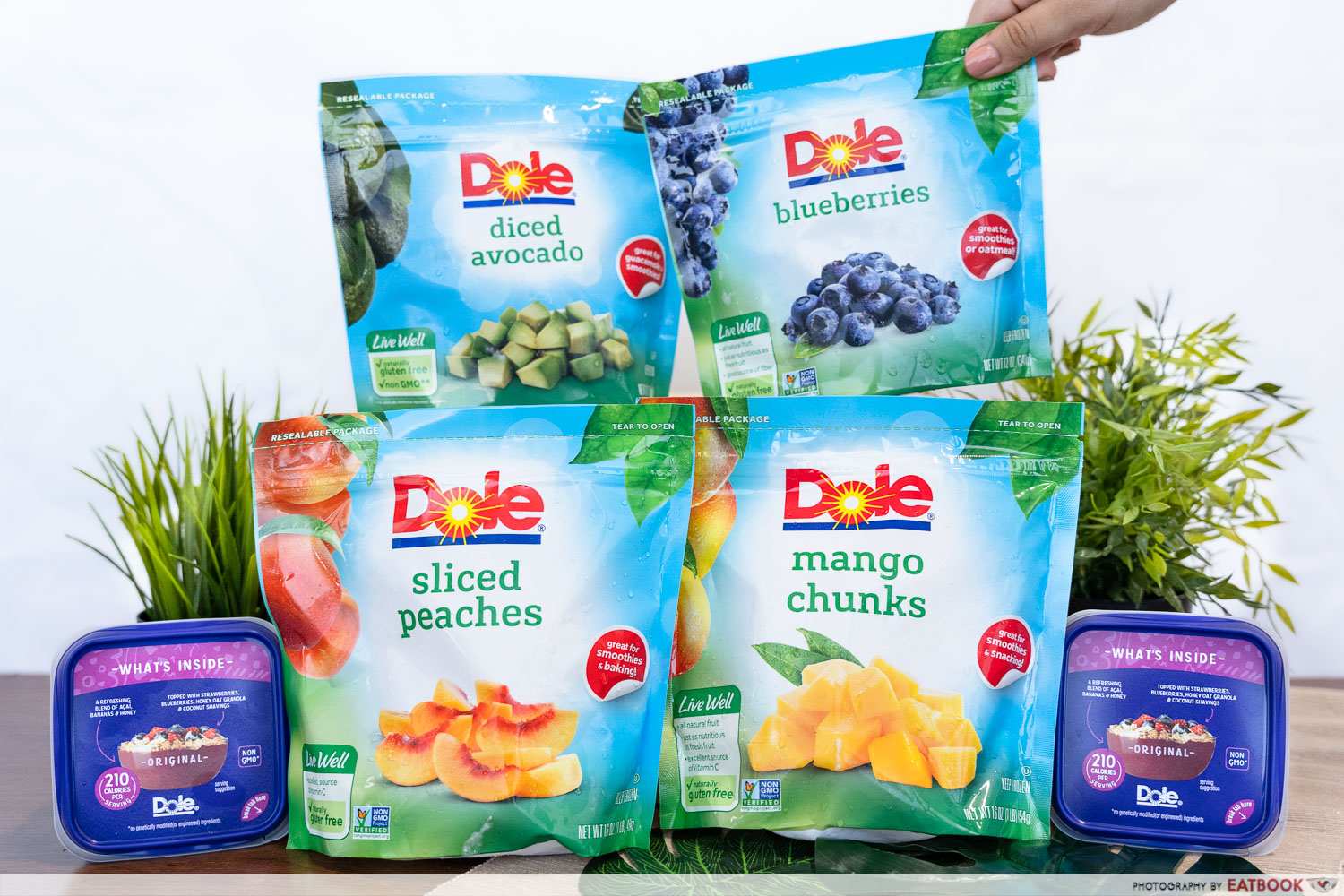 For more natural sweetness, top your açai bowl with some frozen fruit chunks from Dole. The lineup includes sliced peaches, mango chunks, and blueberries ($7.55, U.P. $8). There's also diced avocado for you to throw into your morning smoothie!  
---
FairPrice USA Fair for delicious treats 
---
Snag these healthy and popular American treats, available across all FairPrice outlets from now till 27 July 2022. Do note that product availability may vary from store to store. Selected products are also available online via the FairPrice App, if you prefer home delivery. Stock up while you can, so you don't have to scramble to find these limited-run snacks when the cravings hit! 
Photos taken by Melvin Mak.
This post is brought to you by FairPrice.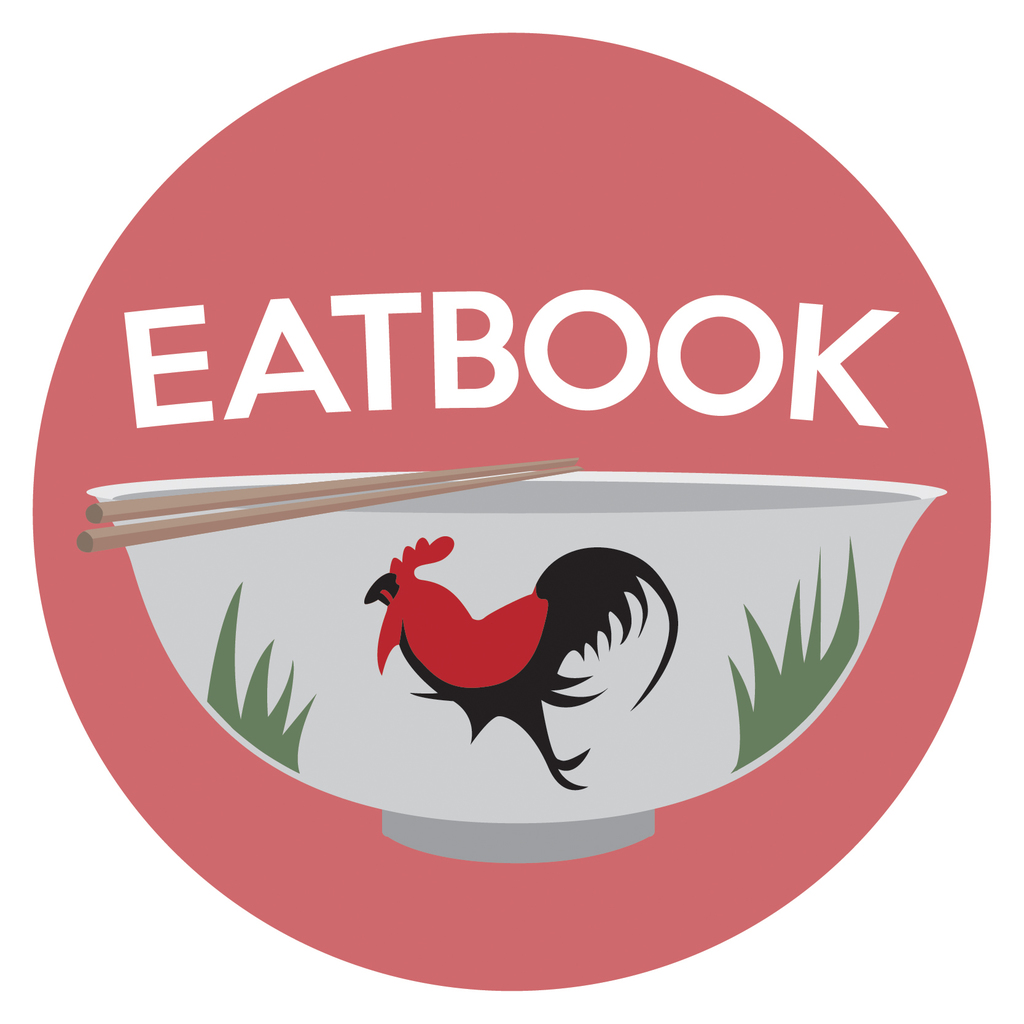 Drop us your email so you won't miss the latest news.