Time to jio all your F.R.I.E.N.D.S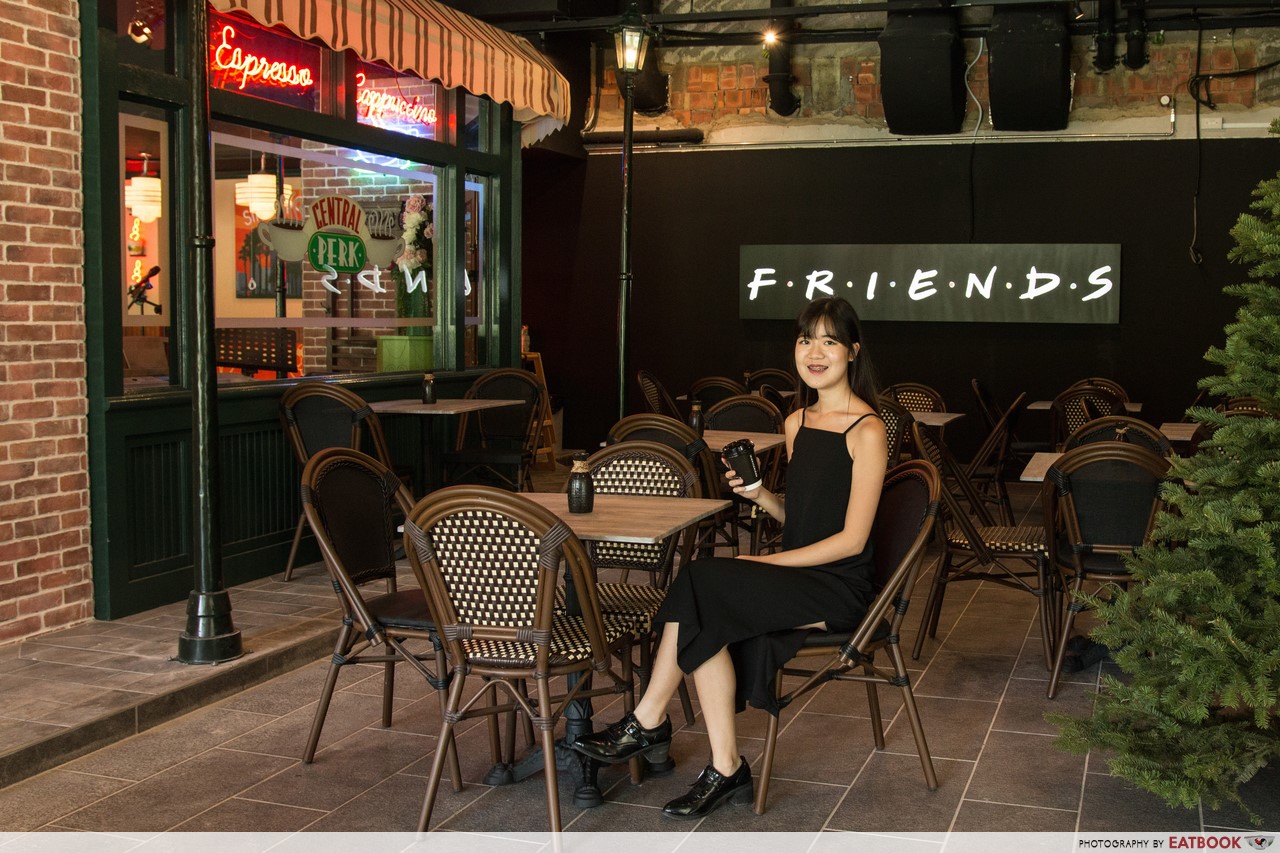 My fellow 90s kids, this is it. Even though our days of marathon-ing Friends is long over, we can now relive those hours of watching our favourite clique chilling on a couch at Singapore's very own Central Perk.
Slated to open two weeks from now, this new cafe at Clarke Quay seriously resembles the real deal. It's modelled after the actual set, and even tiny details like coffee cups look exactly the same as what Rachel used to serve. Fans of Friends, get ready to Janice:
Food at Central Perk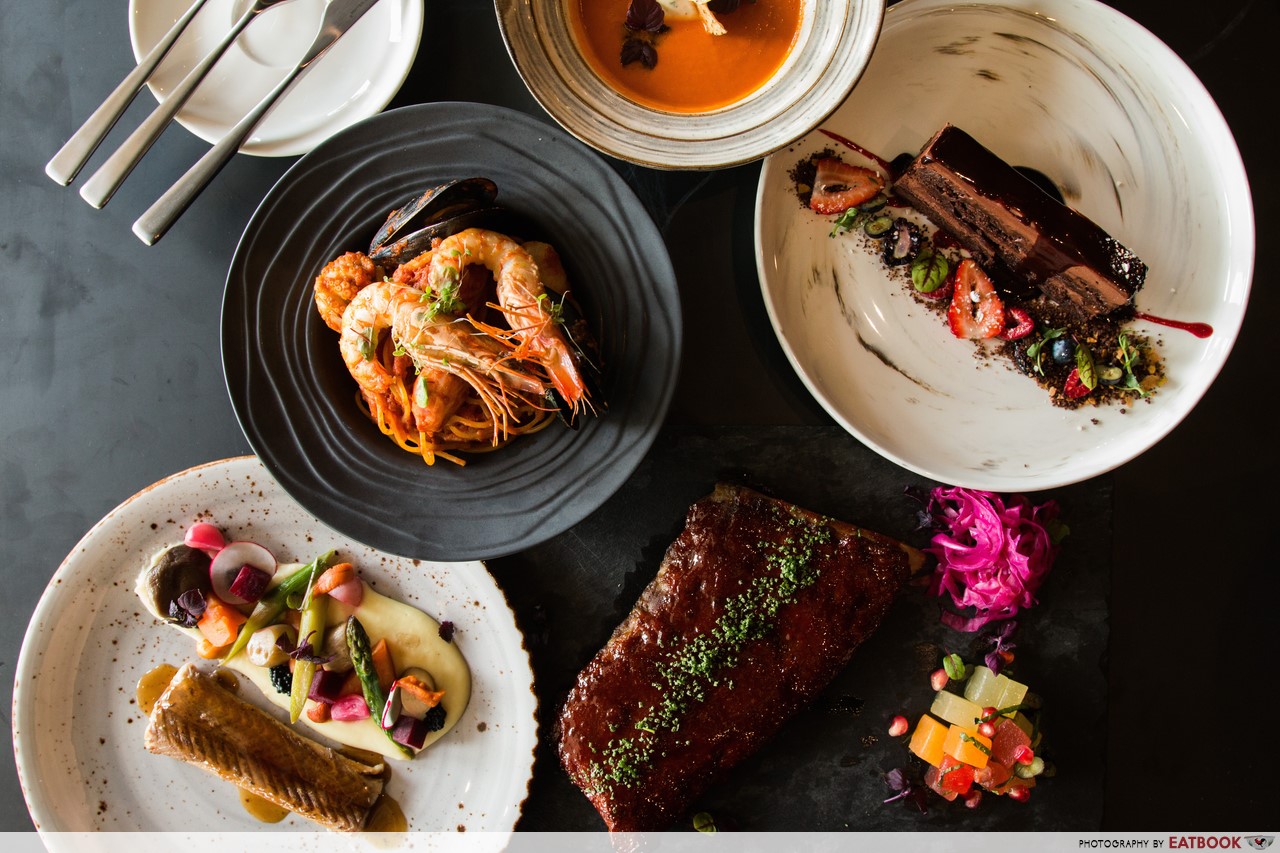 Joey may survive on pizza and secret Chandler payouts, but you don't have to dine like a struggling actor at Central Perk. The large menu is conceptualised to take after the characters in the sitcom, and you'll find items like Rachel "Green" Salad ($13++), Ross' Thanksgiving Sandwich ($18++) and Phoebe's "I Can't Eat Meat Steak" ($69++) here. The dishes popped with colour, promised variation, and looked like they belonged in a Masterchef season finale.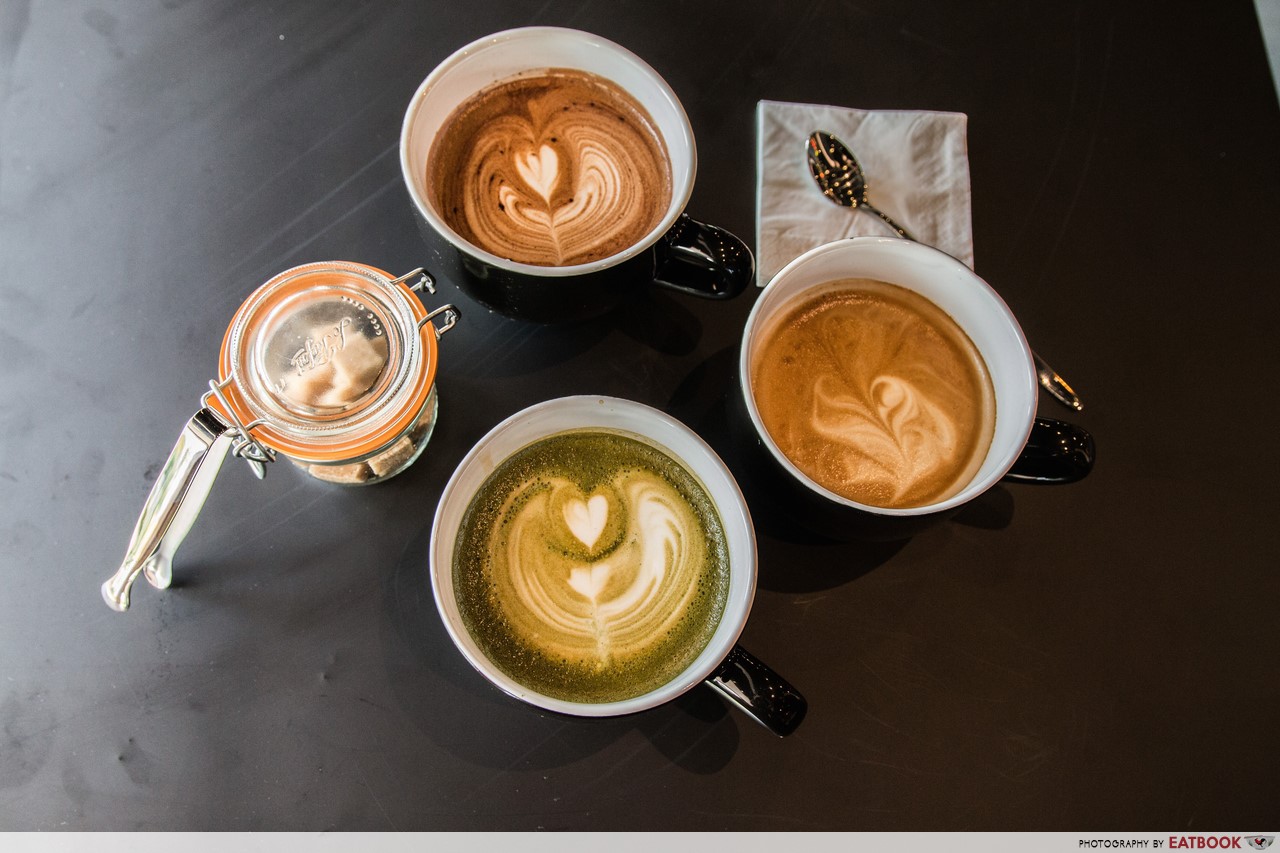 And it's not just the food. Drinks were created based on different characters' personalities as well, and we took a good ten minutes attempting to choose one. From lighter blends like Rachel to the nutty Phoebe and strong Joey, you're bound to find the right cuppa for you. After picking the blend, you also get to choose how you'd like it done. From espresso to cafe latte with chocolate, matcha or soy milk, the baristas here have got your back.
We tried Phoebe Latte ($8++), Rachel Matcha ($8++) and Ross Chocolate ($8++). Although all three came with a coffee base, Ross Chocolate tasted like a usual hot chocolate, and the coffee taste in Rachel Matcha was overpowered by matcha taste. Phoebe Latte promised nutty notes but it didn't come through very strongly, and instead had a sweet and light finish.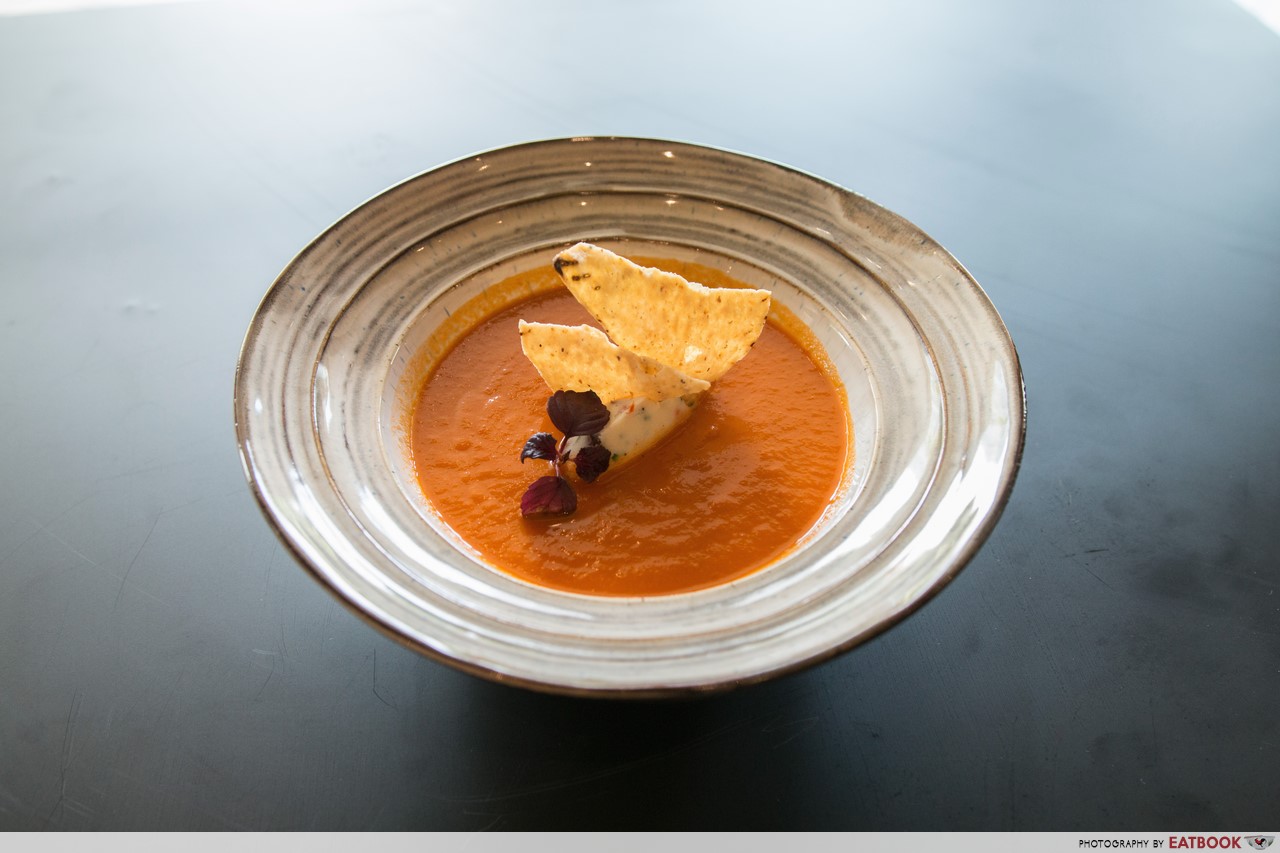 Once we all had foam mustaches on, we wasted no time in stuffing our faces. To start, we had Chandler's Traditional Holiday Feast Chilled Tomato Soup ($12++). I loved the acidity of the soup and it wasn't as cold as I had imagined it to be, which was a pleasant surprise.
Thick in texture, a spoonful of this crimson beauty packed a punch of flavour, and the accompanying halloumi cheese gave the soup a little chew.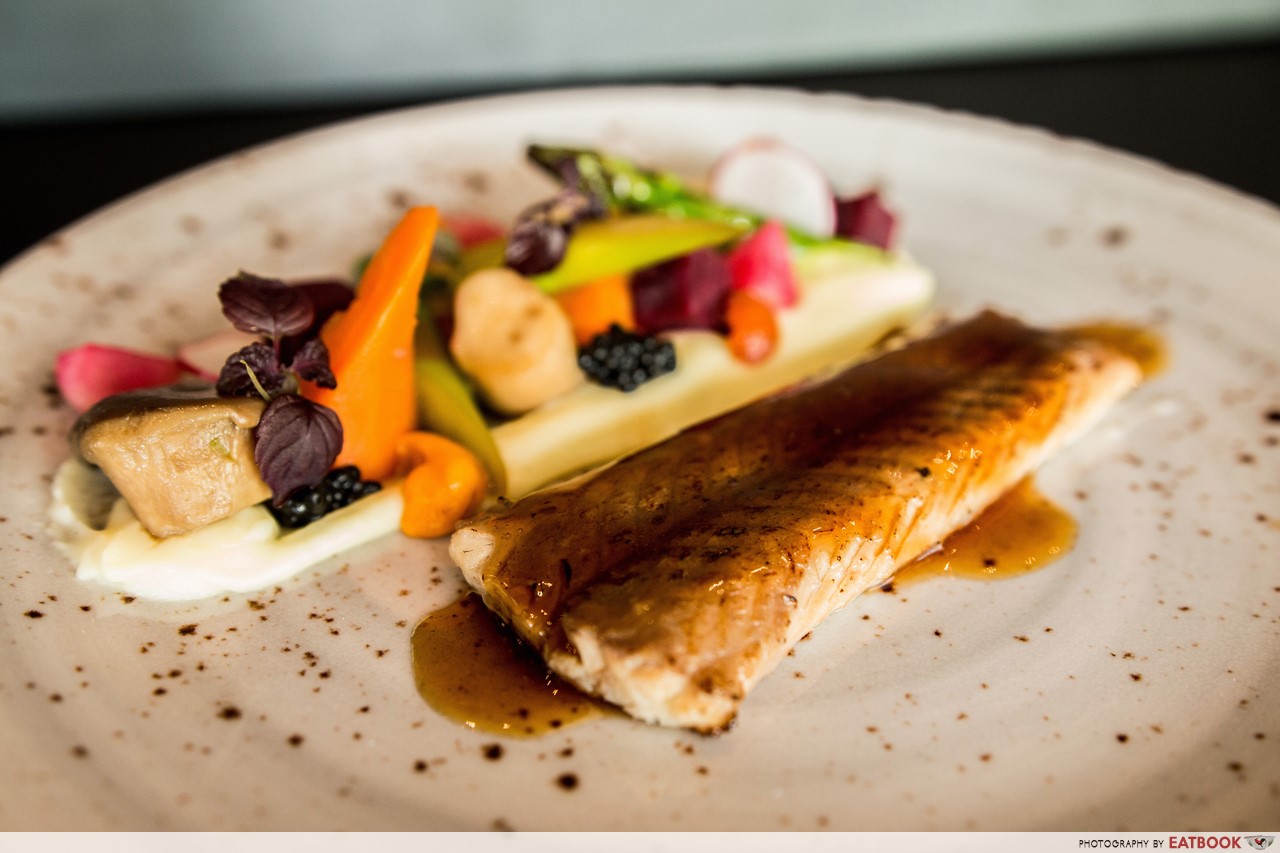 Ross fans, go for Ahh… Unagi ($36++). A slab of tender unagi was drizzled with a wonderfully balanced soy sauce reduction. On a bed of creamy mash, there were crunchy asparagus and baby beetroot, caviar, uni and meaty oyster mushrooms that provided a myriad of textures, easily making this my favourite dish.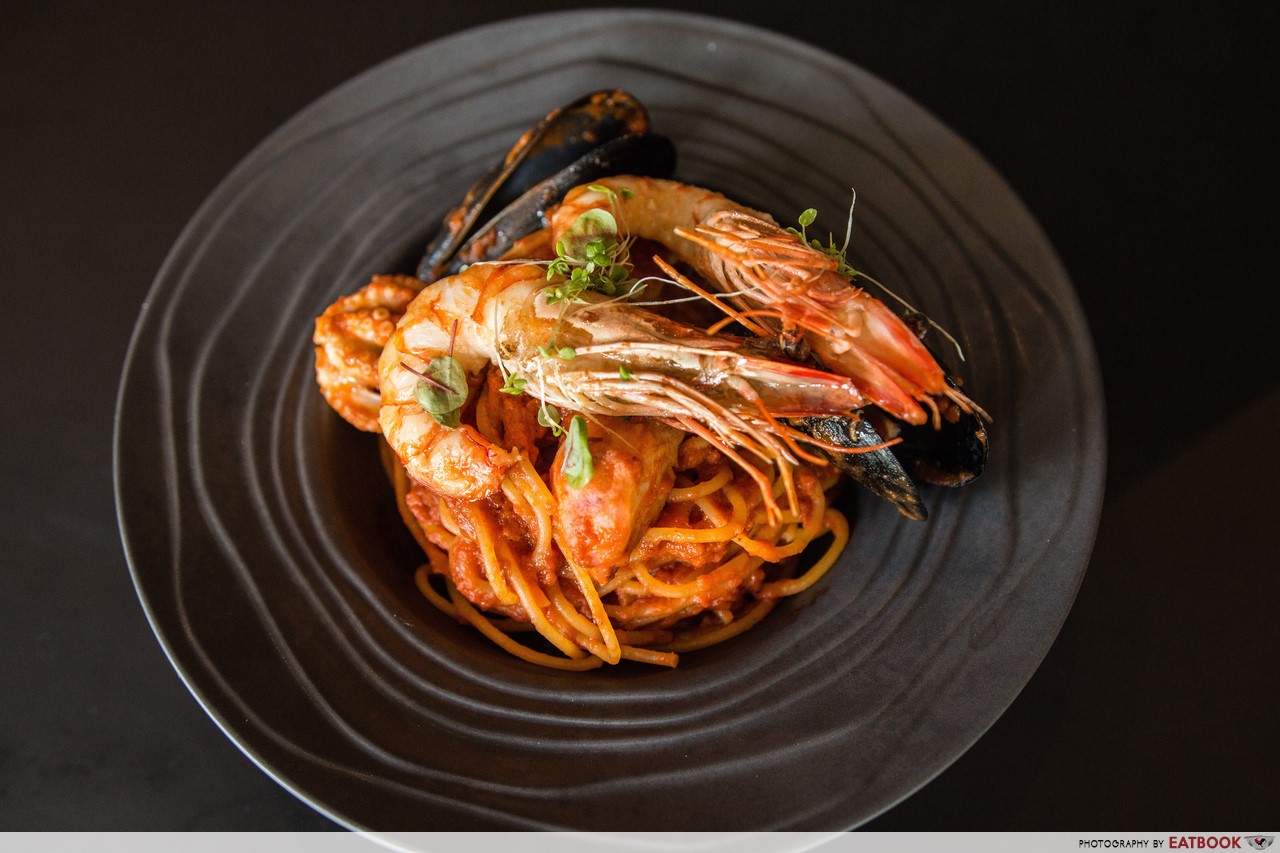 Monica's Marinara ($32++) was a tomato base pasta with prawns, fresh water scallops and Spanish octopus. I generally stay away from tomato based pastas because of their sourness, but this had just the right amount of acidity and creaminess. Just like what Monica would have done, the chefs here used fresh seafood and none of that frozen stuff you might get elsewhere.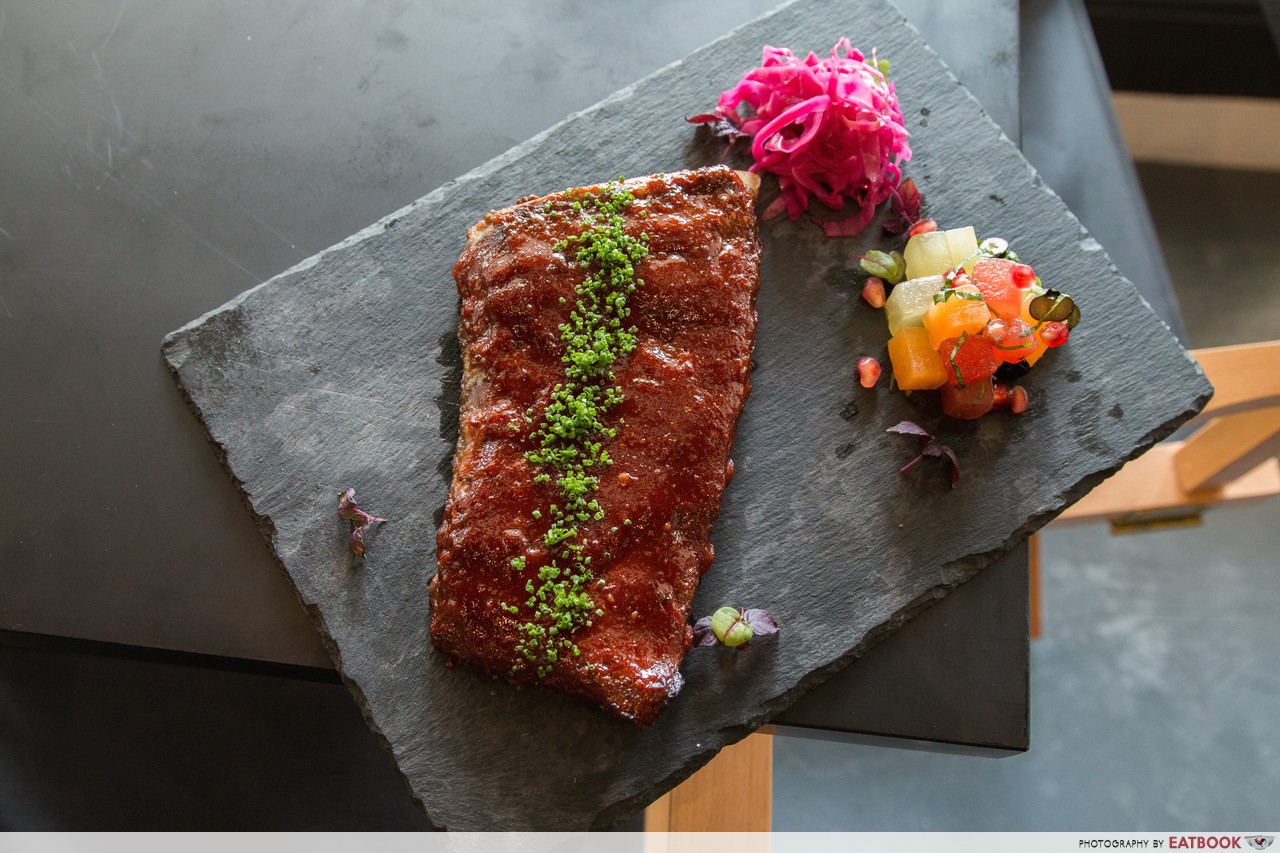 For something more substantial, get Janice's Oh. My. God. Baby Back Ribs ($39++). Iberico pork is cooked for 72 hours to achieve a stunning fall-off-the-bone effect for this.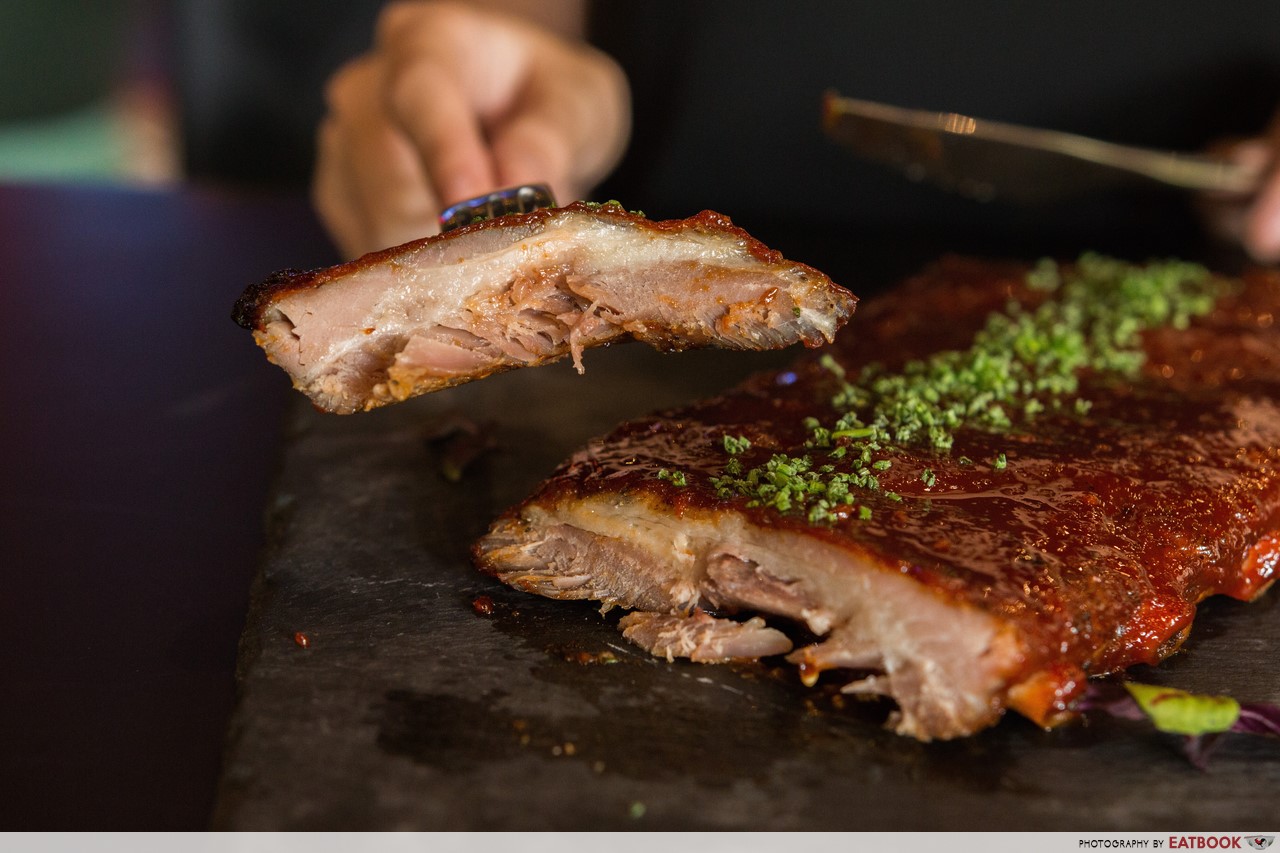 While the texture was "Oh. My. God."-worthy, I wished they haven't slathered on so much sauce as it masked the natural sweetness of the meat. The compressed fruits on the side made a nice touch, but besides the refreshing watermelon cube, the honeydew and rock melon were jarringly sweet.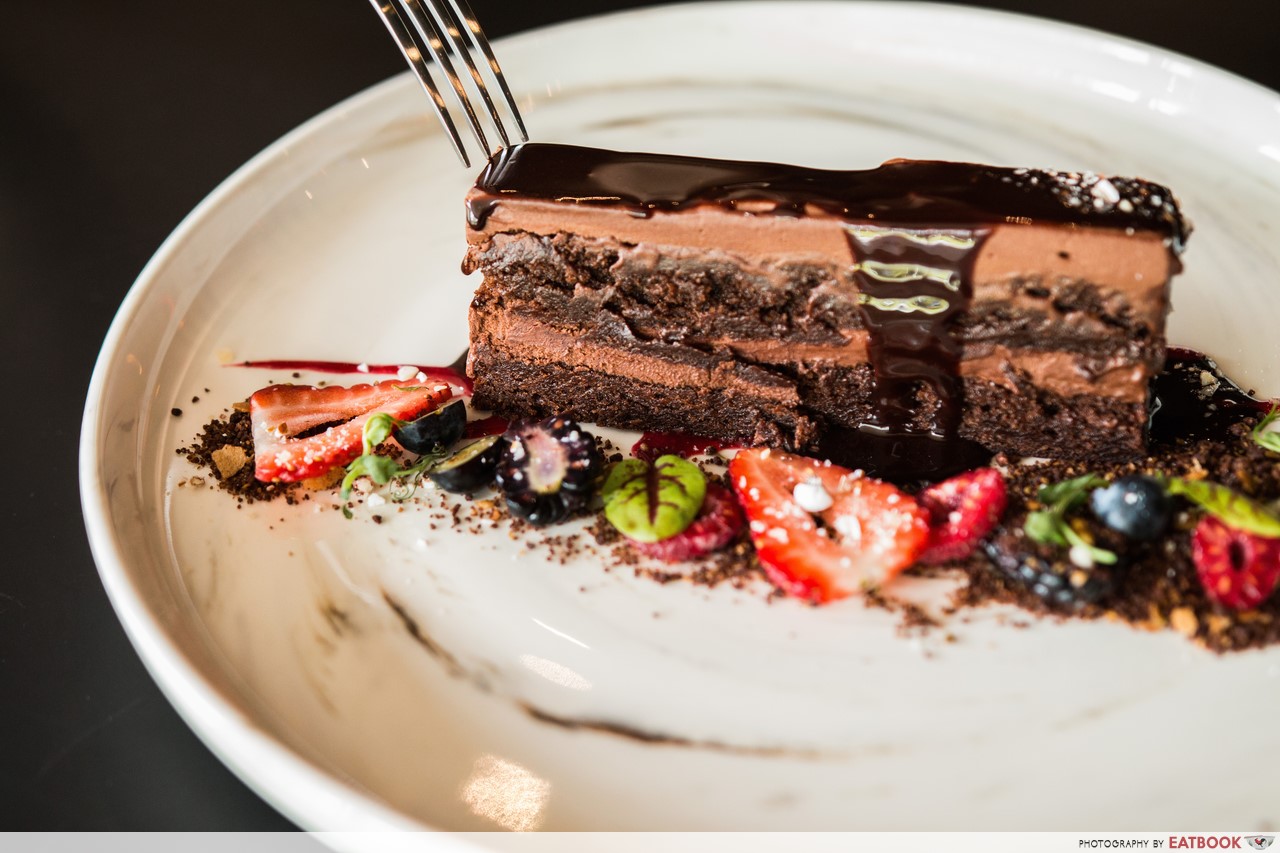 So the story goes that Joey brings a girl out for a date and they're getting dessert, but there's only one mudcake. When his date excuses herself, Joey finishes the entire mudcake and he was not sorry about it. Well, neither were we.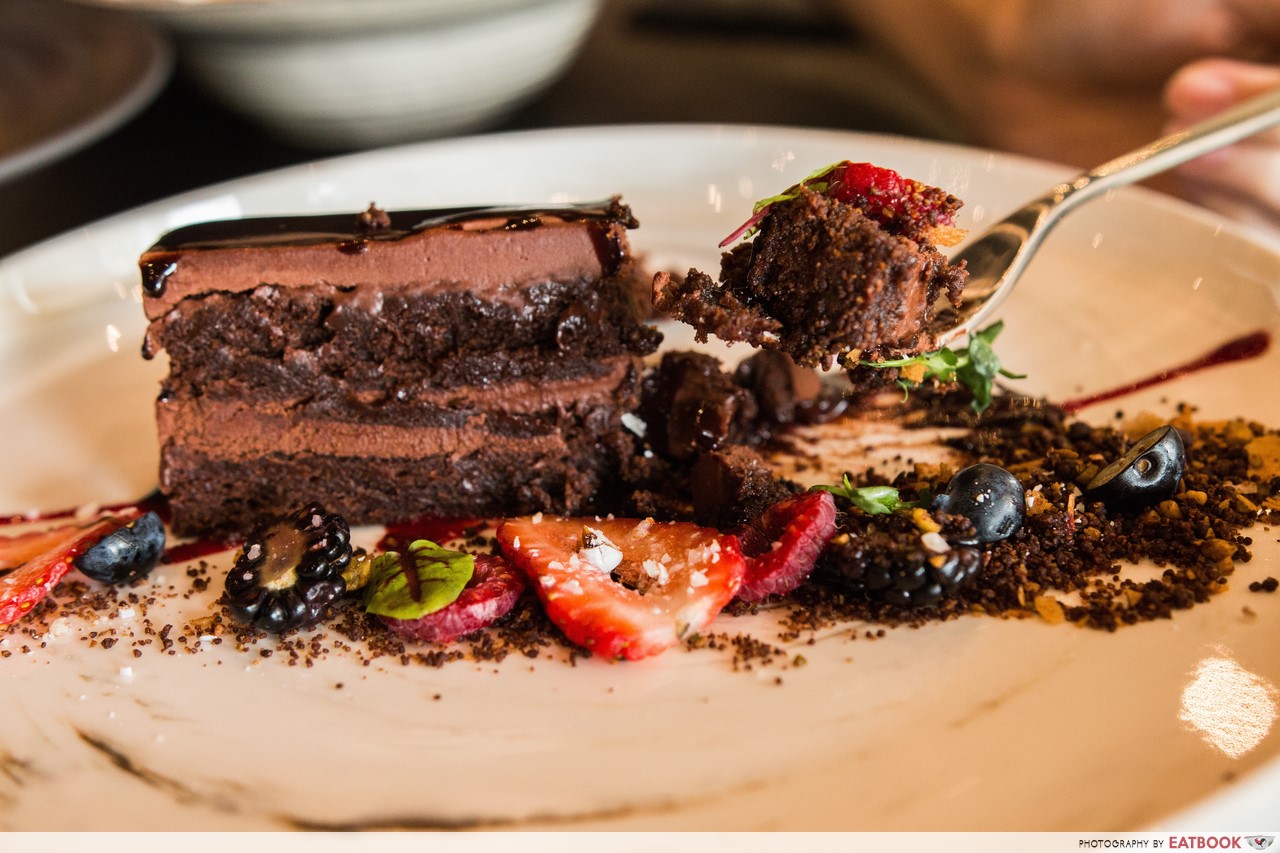 This Heavy Fudge Chocolate Mudcake ($16++) was fudgey and crunchy, velvety and rich. It's thick enough for you to call it gao, yet at the same time you don't get sick of it. Patron XO Cafe tequila is in the glaze, but you won't taste it outrightly as it's used to enhance the flavours and pull everything together. We're confident that this dessert will be a favourite whether you're #TeamJoey or #TeamRoss.
Ambience at Central Perk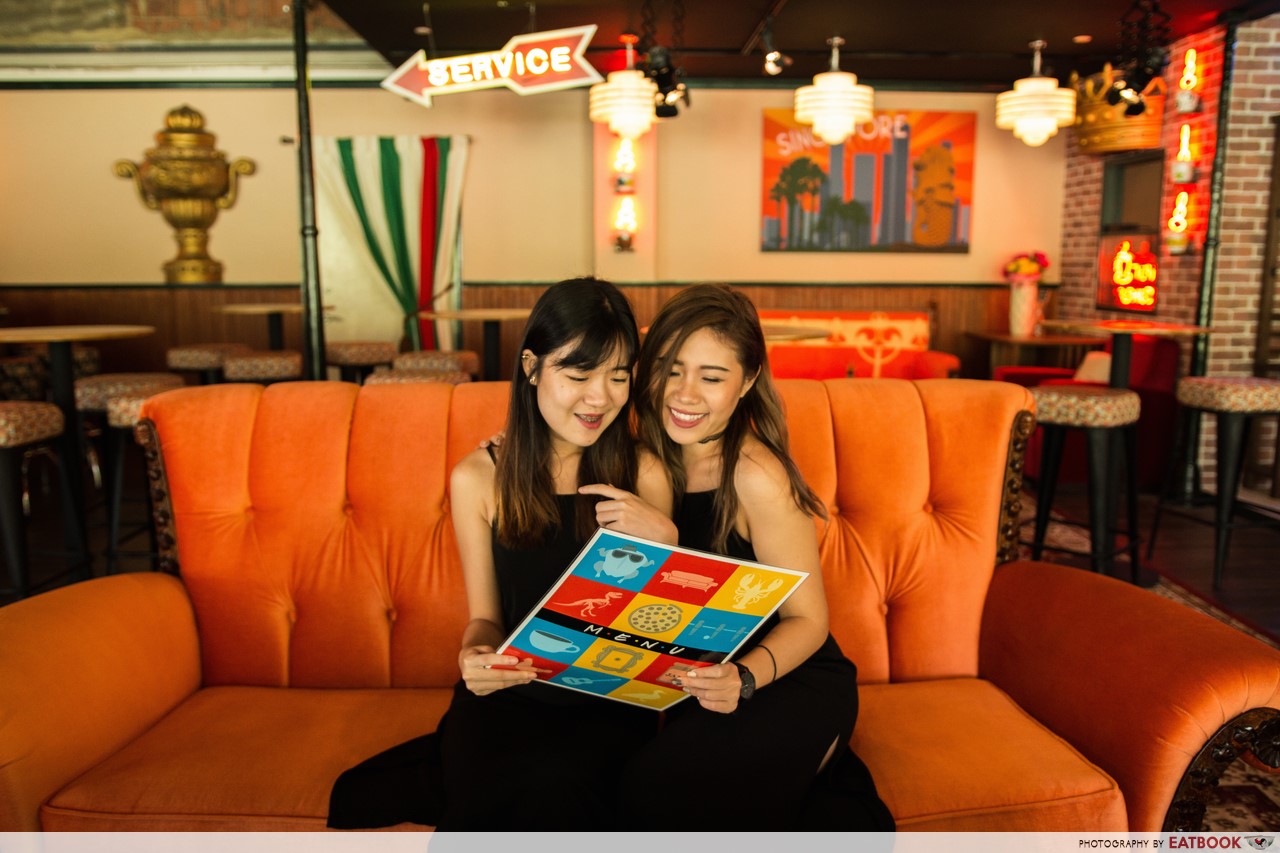 Friends fans will defo go crazy for the cafe's interior. Not a single scene was spared when it came to research, and it reflects in the cafe. From the iconic orange couch to an al fresco dining area, you can definitely reenact certain scenes here.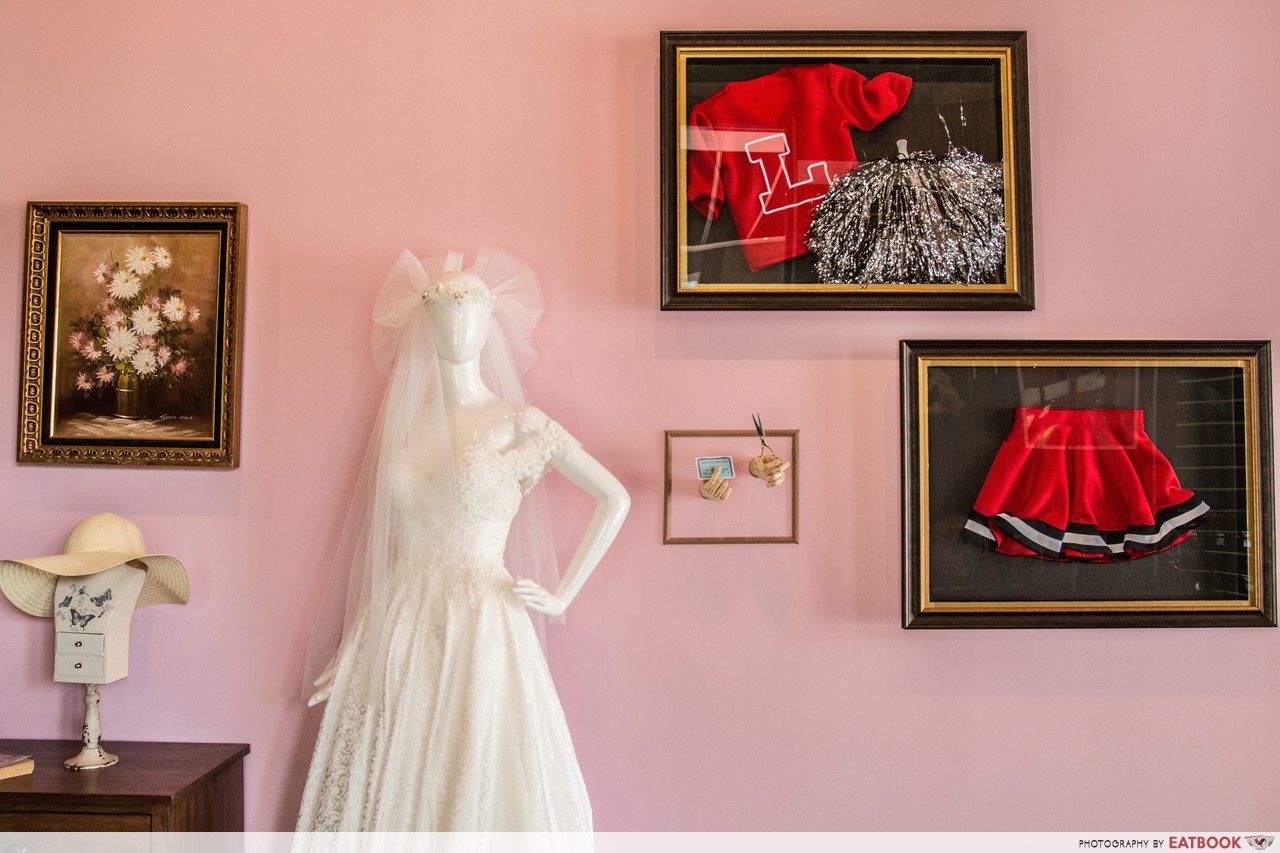 Various areas are dedicated to paying tribute to the different characters and the wedding gown you see in Rachel's corner can be actually be ordered for your own wedding. But no matter how much you love Rach, please don't run away from your ceremony in this.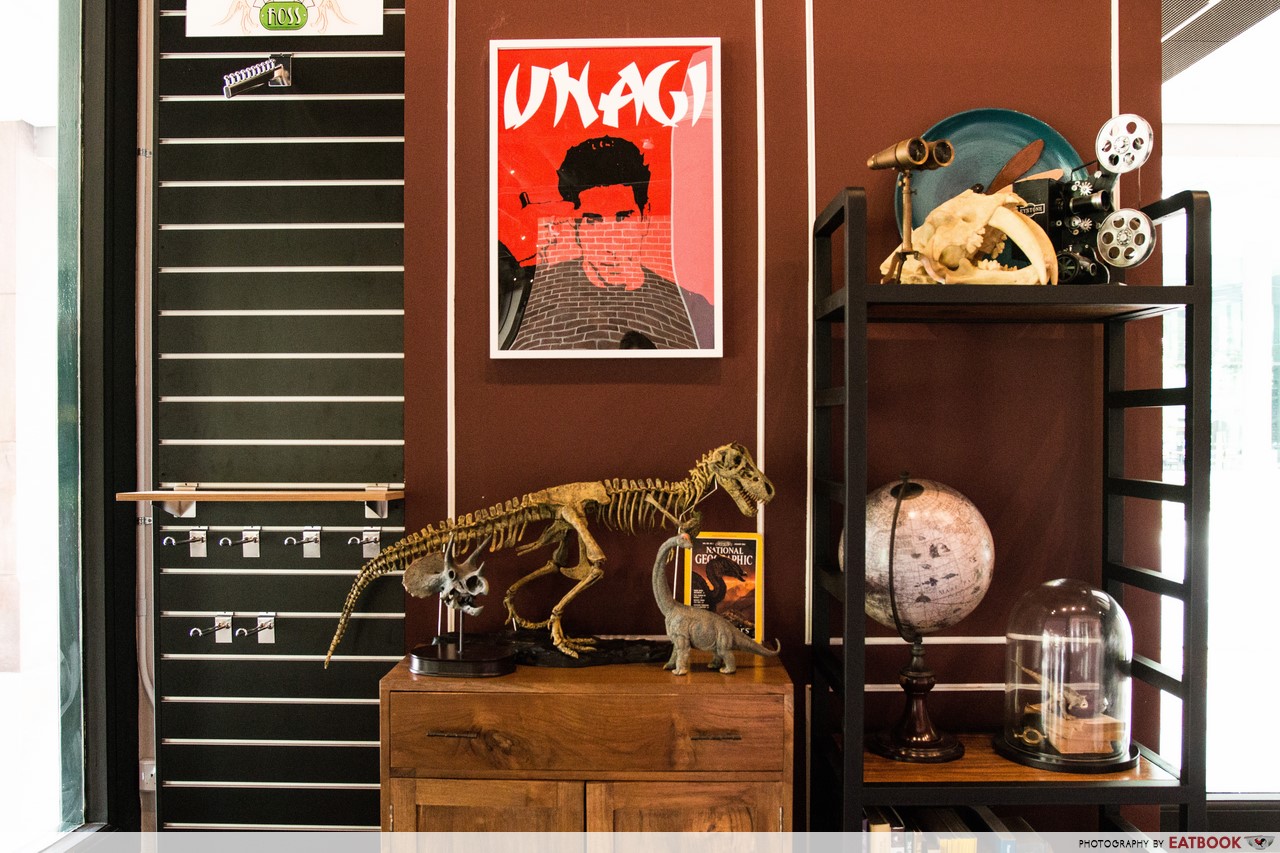 And of course, Ross' geeky dinosaurs and unagi state of complete awareness.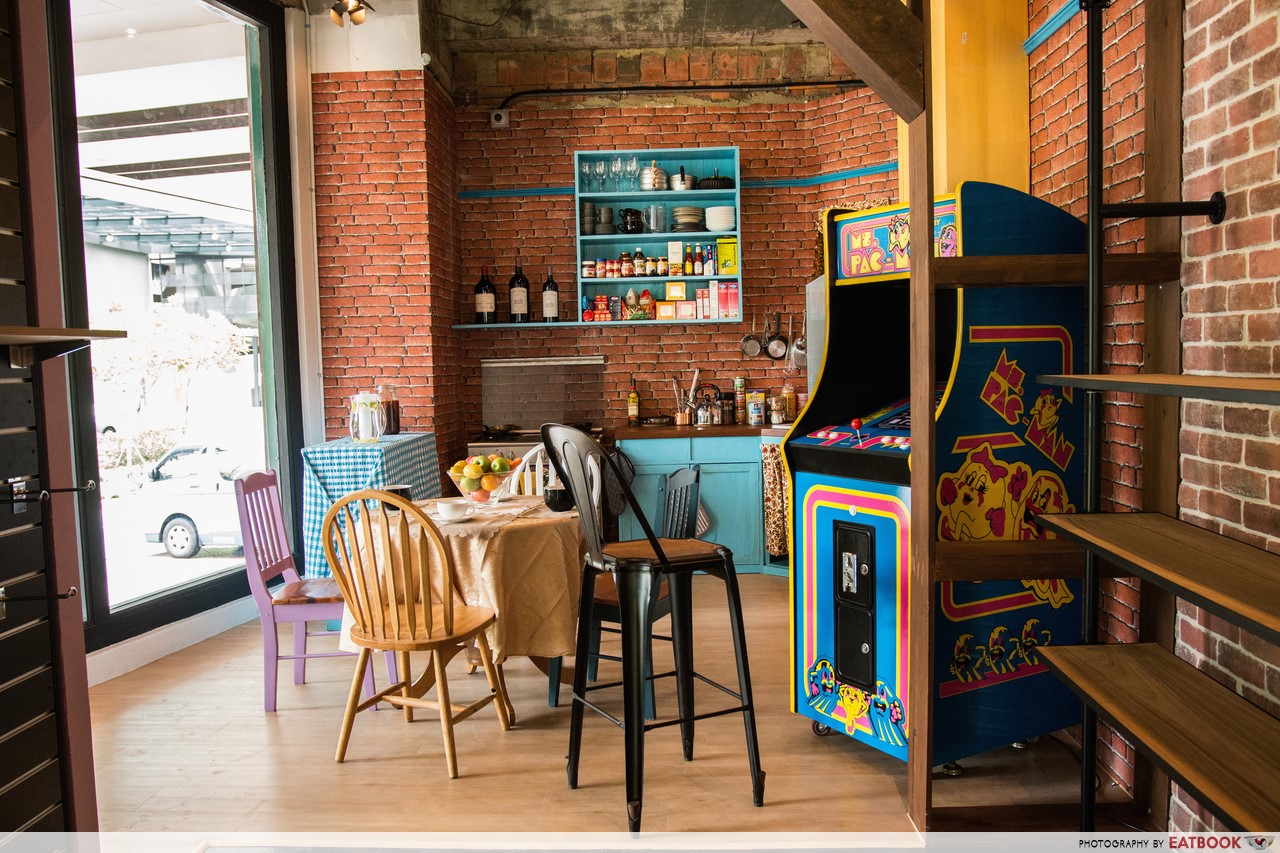 Hanging out at Monica's kitchen is definitely a must as well.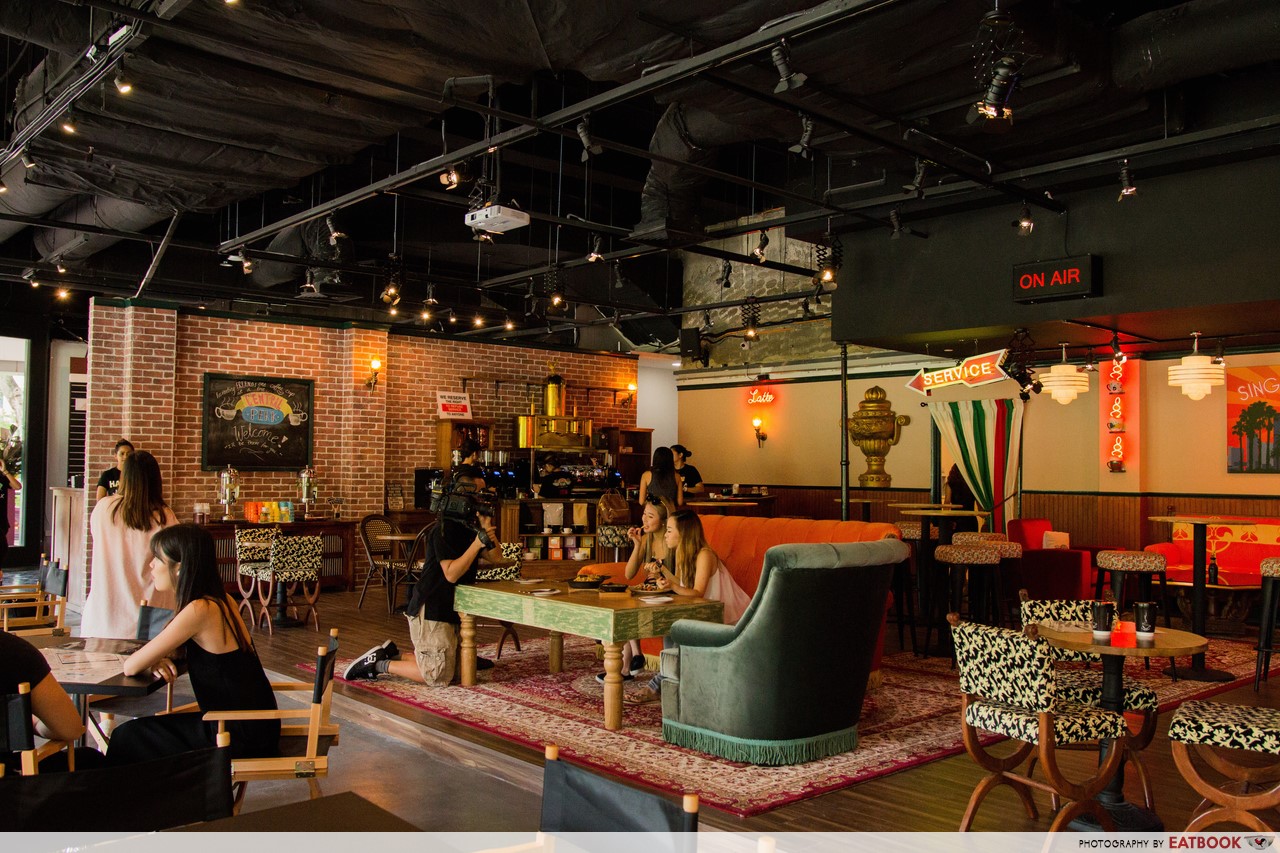 The cafe currently seats about a hundred guests and there'll be a comfortable space between you and the table beside, so no unwanted ears would be able to eavesdrop on your conversations. Even if you're not a fan of the show, the decor here will still impress. It is lavish, quirky and not a common theme among most cafes that chose the minimalist route.
The verdict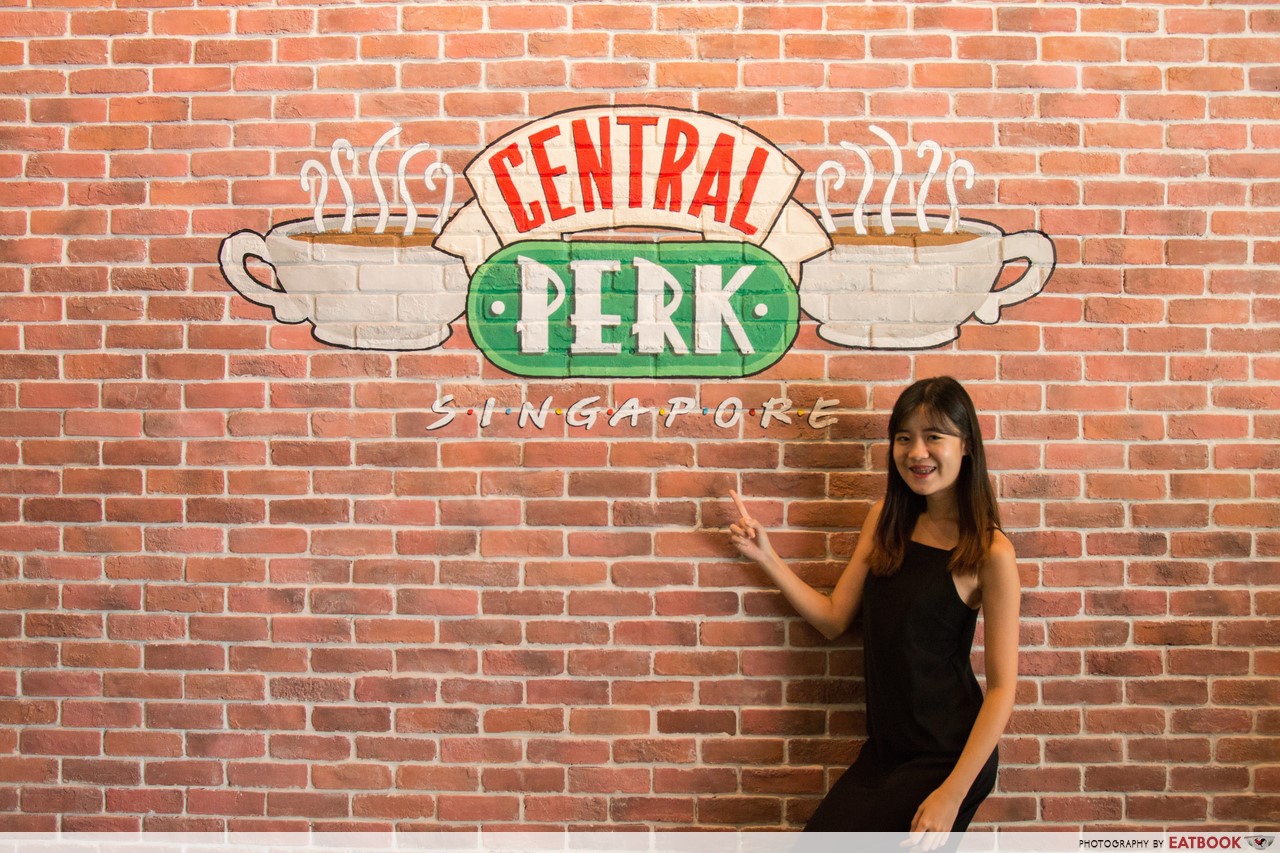 While Central Perk has it's perks, it is a pricey place to frequent. Unless you're an avid fan, this is somewhere you'd want to reserve for special occasions. That being said, Friends fans, prepare to go wild in your version of Disneyland.
This was a media tasting at Central Perk.
Summary
Pros
– Unique decor
– Convenient location
Cons
– Expensive
Recommended Dishes: Ahh…Unagi ($36++), Heavy Fudge Chocolate Mudcake ($16++)
Operating Hours:
Tuesday – Thursday & Sunday 11am to 11pm
Friday – Saturday 11am till late
Tel:
9025 2524
Address: 1 Magazine Road, #01-06, Central Mall, Singapore 059567