G Bar and Grill dishes at Henderson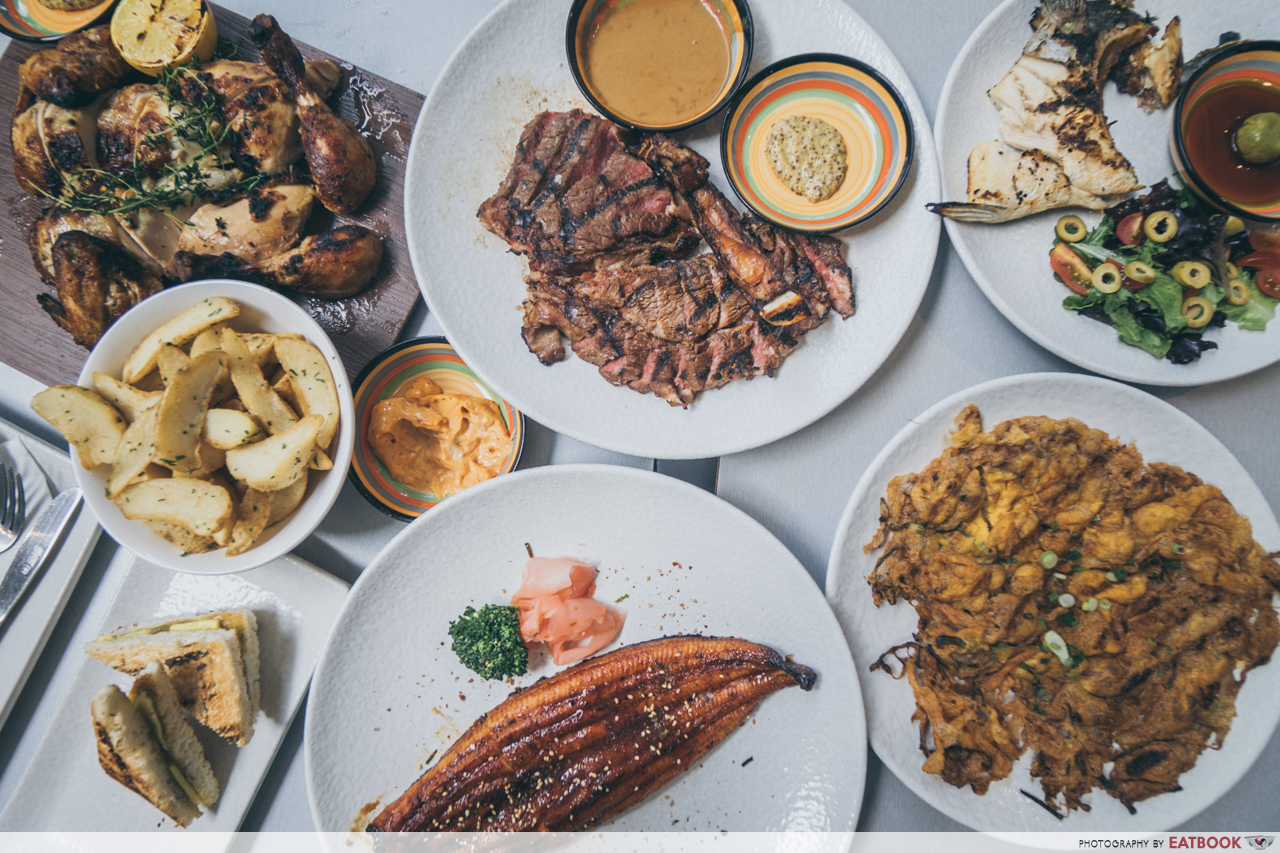 You know the deliciously smoky scent of grilled food that permeates the air at a beach bonfire? A similar aroma wafted into my nostrils, as I leaned back in my barstool at G Bar and Grill, sipping on a dainty cup of English Breakfast tea. I inhaled deeply; my stomach was prepped and I was ready. A sumptuous spread of Western-Asian fusion dishes awaited me, all of which were grilled in a huge charcoal oven. Upon hearing what the restaurant had in store, my appetite was fired up – no pun intended.
Food at G Bar and Grill
Unagi lovers, get yourselves a plate of the oven-grilled Unagi ($15++, no gst and service charge during lunch)! Accustomed to being a diner on a budget, the first thing I noticed was the price. For the generous length of fish I was served, $15 sounded extremely reasonable.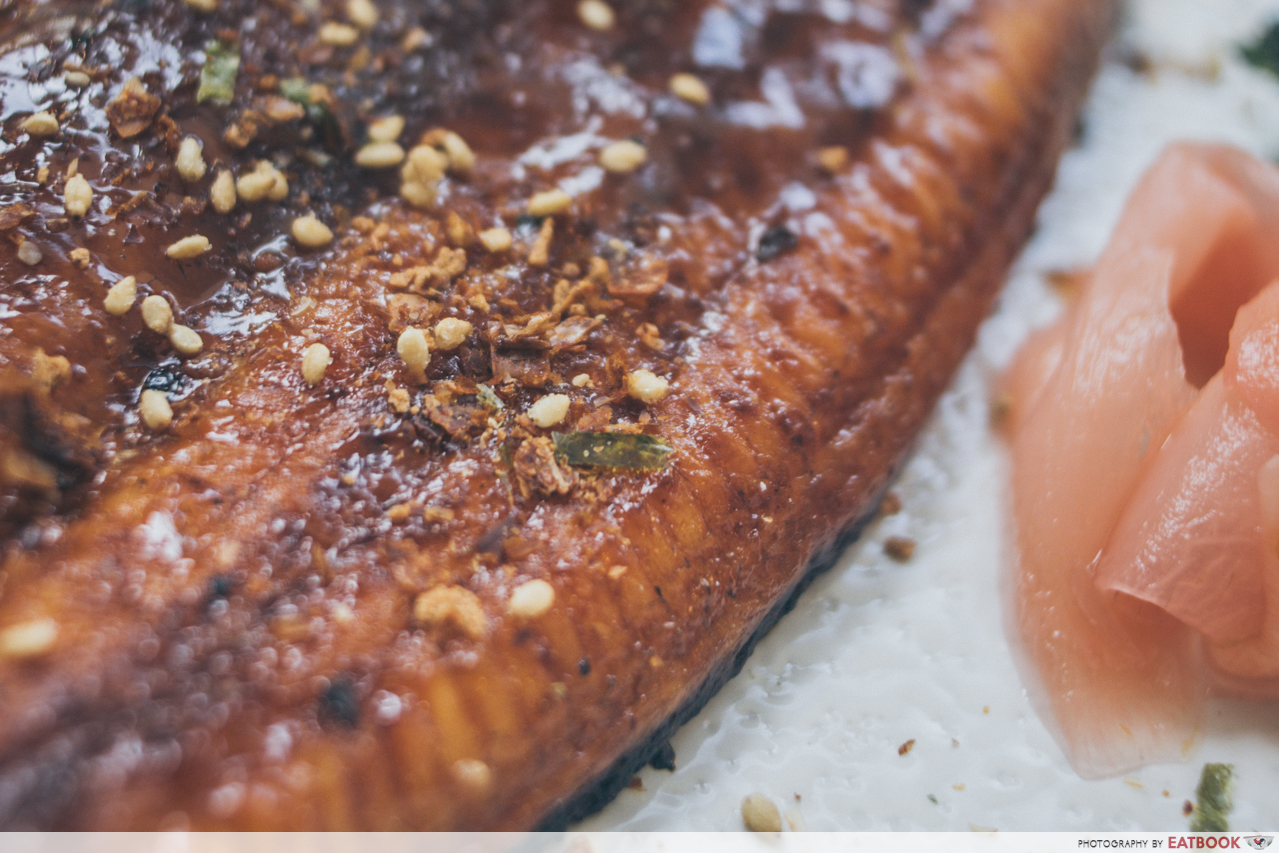 The thick, long slab of grilled unagi was marinated in a familiar sticky-sweet Nitsume soy sauce. I loved the simple garnishes of bonito flakes, sesame seeds, and seaweed, which contributed a pleasant, salty crunch to the fish.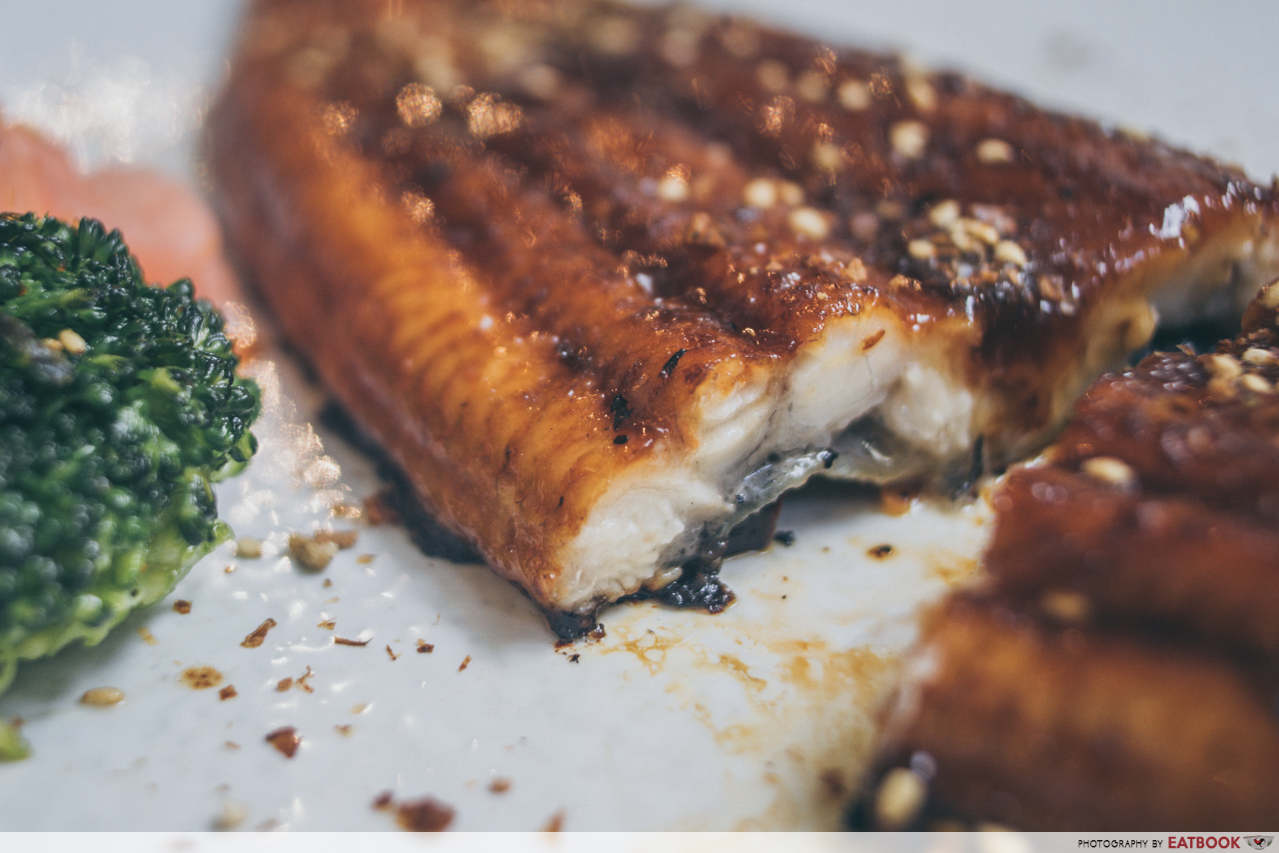 The unagi was enveloped in a pronounced, smoky aroma. It was crisp on the outside, while soft and tender on the inside. They are also adding an unagi sandwich on the menu in the near future! I was given the opportunity to try it before it launches, and I have to say it really does work.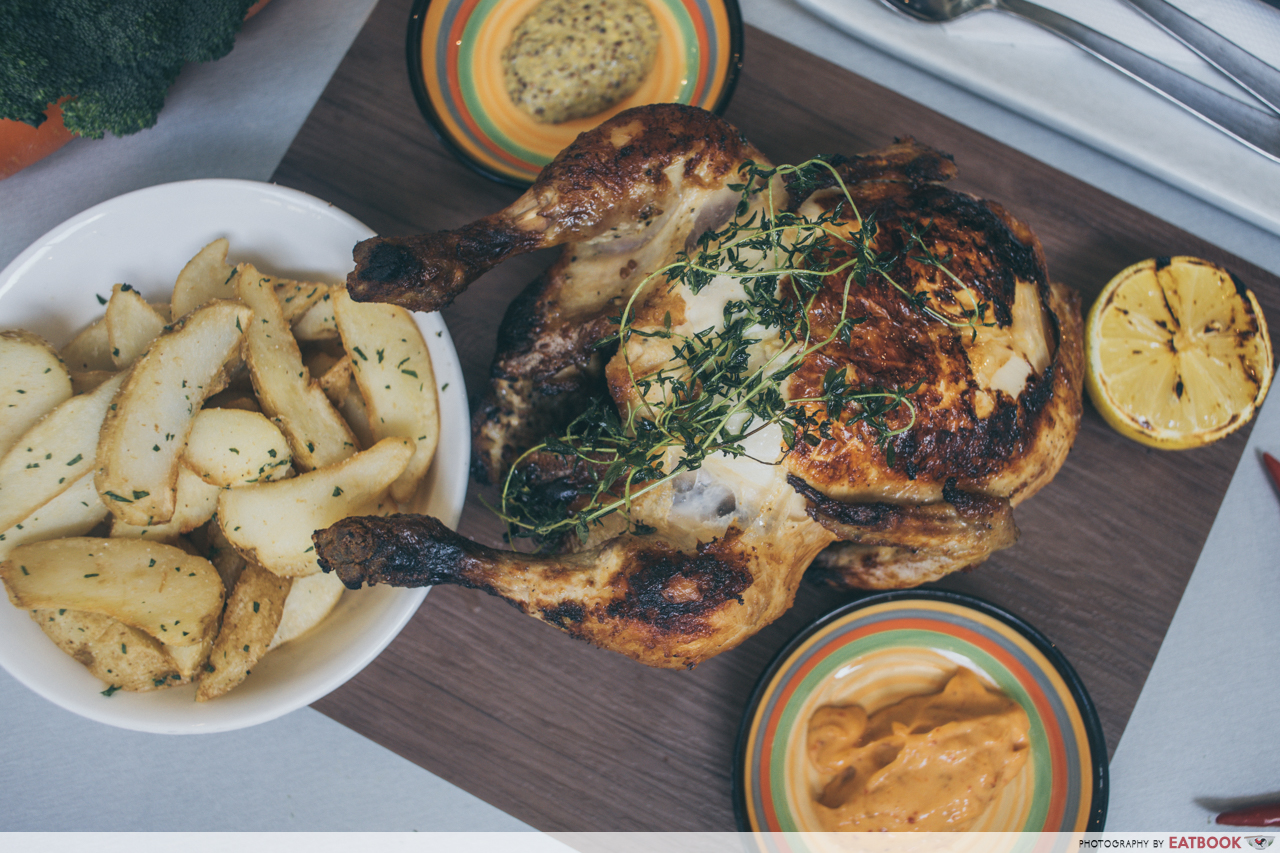 If you love rotisserie chicken, you'll fall head over heels in love with G Bar and Grill's Oven-Grilled Spring Chicken ($18++, no gst and service charge during lunch). The chicken teared away easily from its bones and was extra-tasty. It was served together with a side of truffle and parsley potato wedges that were super addictive.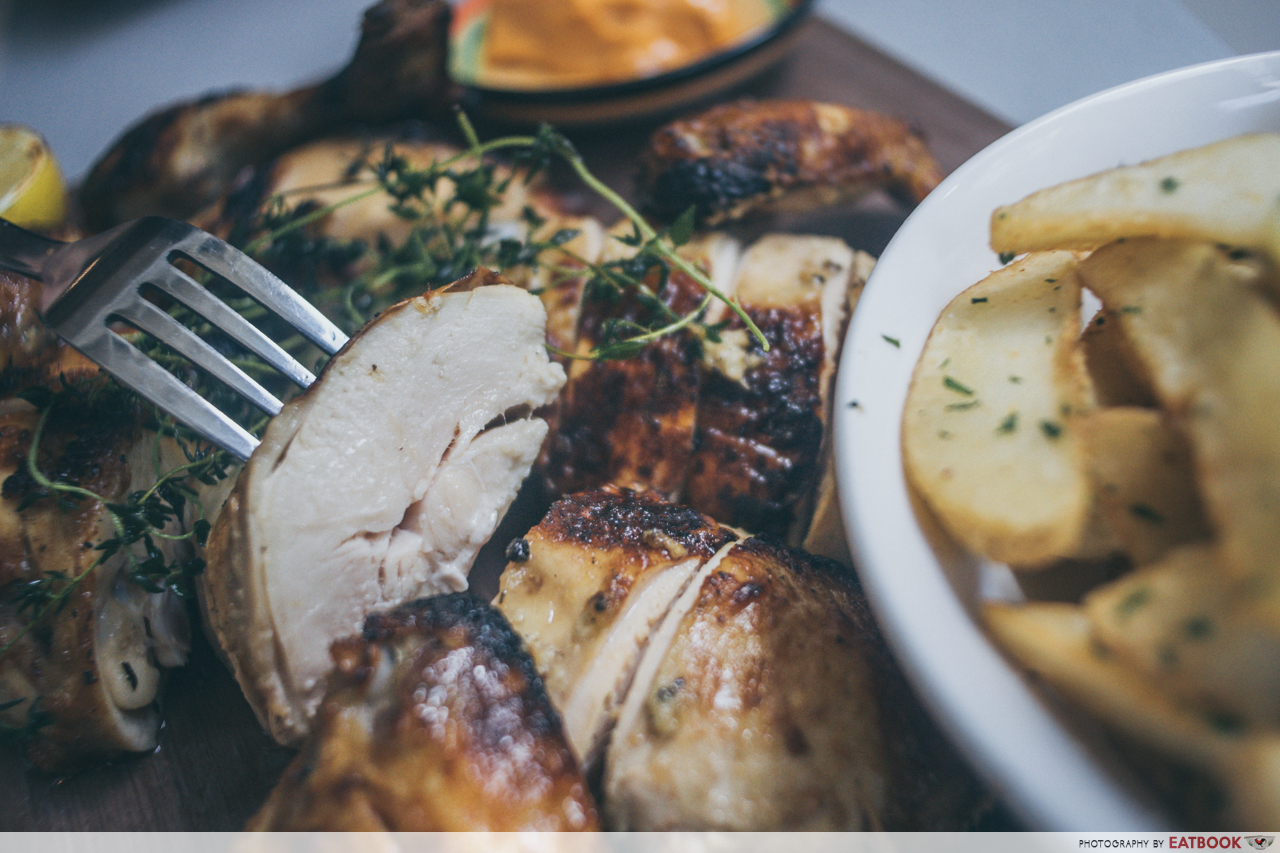 I appreciated how the chicken is first presented to you as a whole, giving you the chance to capture a Insta-worthy shot. Once your phone is done "eating",  the chicken is sent back to the kitchen to be divided for easy sharing.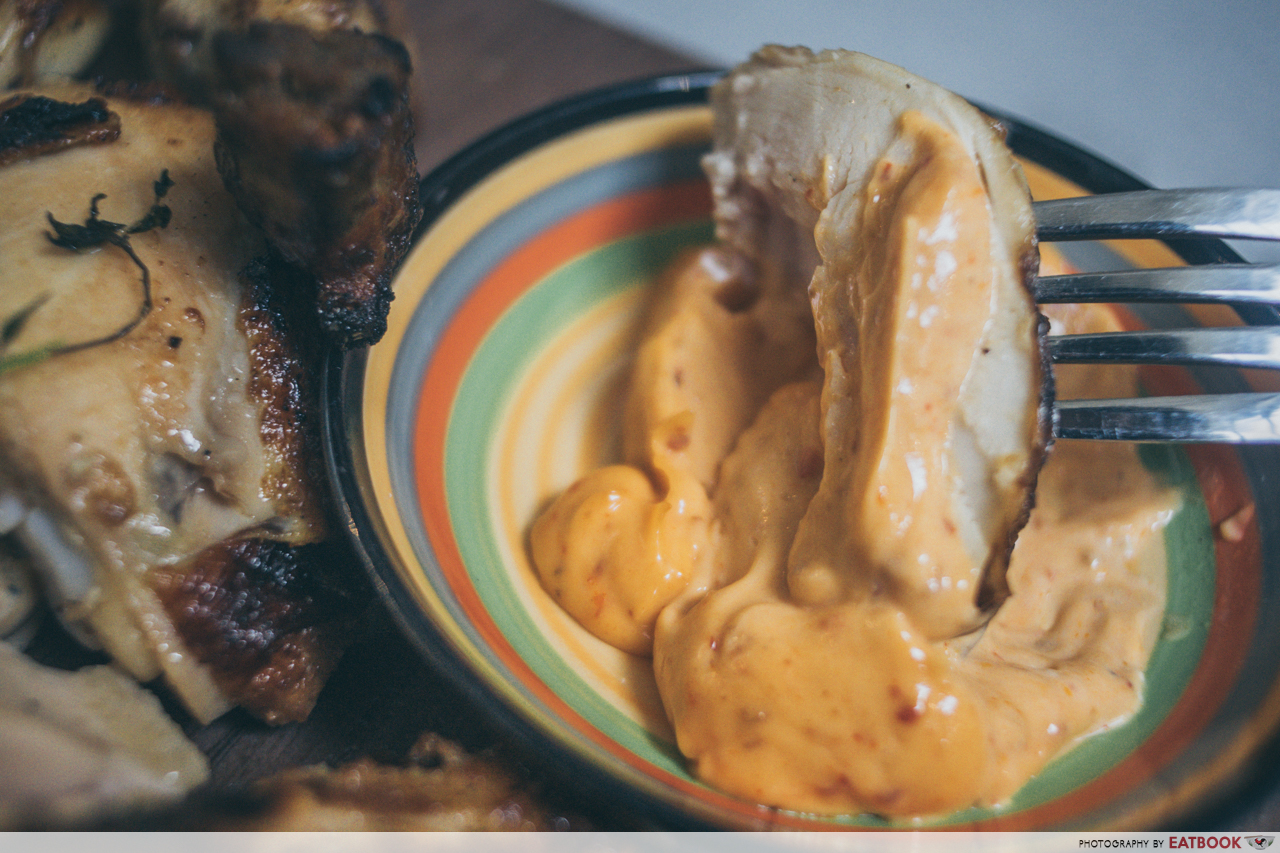 I could almost taste the fire from the charcoal oven as I bit into the mahogany chicken skin. I liked how the skin was papery thin; not too greasy or fatty. I recommend making full use of the halved lemon provided by squeezing its juice all over the chicken for a nice, sourish kick.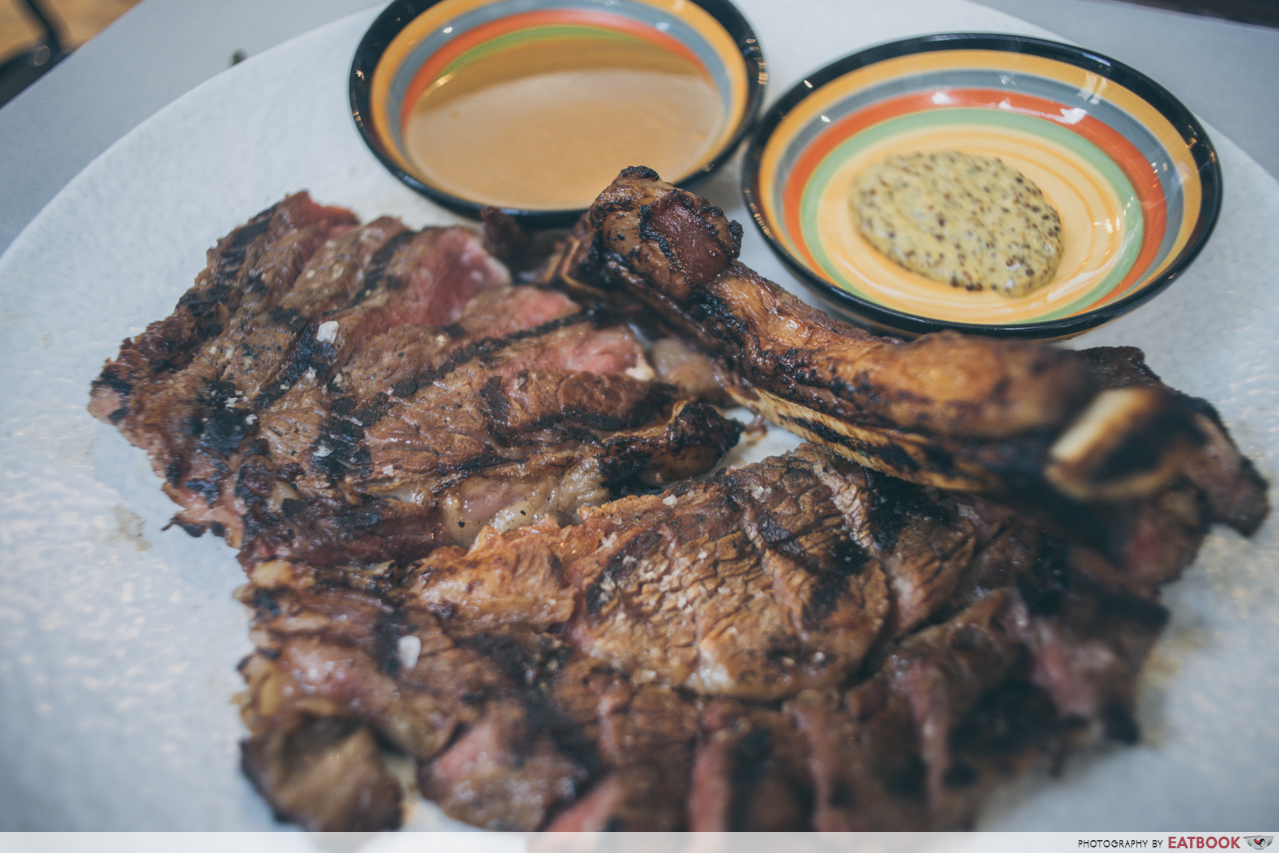 Next up was the Bone-in Ribeye ($50++, no gst and service charge during lunch). This ribeye, which came with a side of mustard and brown sauce, took on a more rustic, backyard-barbecue approach, with its rugged slices and charred edges.
I believe the amount of fat in a steak strongly influences its taste, and the fat marbling in this ribeye was fired up to melt and infused into the chunks of beef. This not only resulted in softer meat, but a deeper depth of flavour. If you have a taste for the finer things in life, you'd know this is a quality steak right here.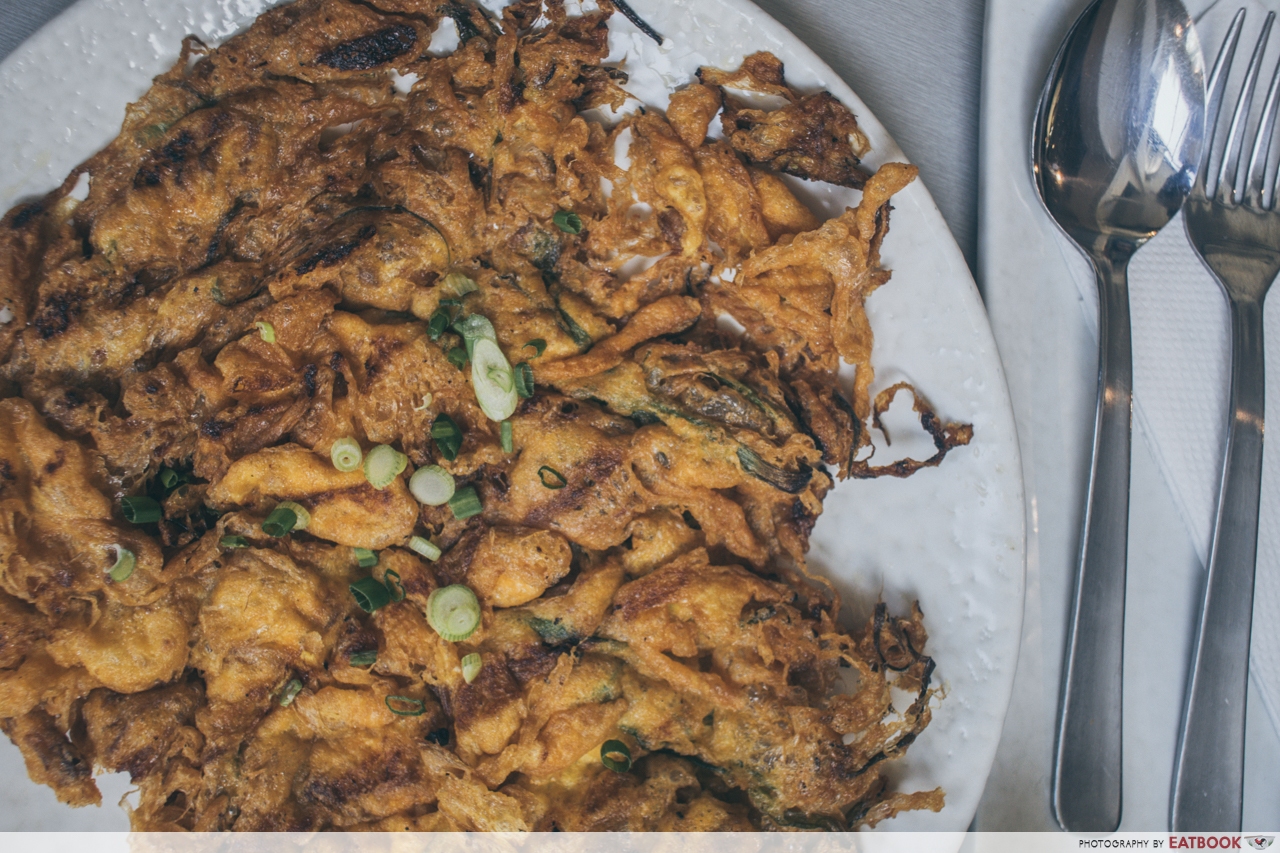 It's not everyday you eat grilled eggs. Share the Oven-Grilled Crispy Fried Egg ($5++, no gst and service charge during lunch) with a friend or have it as an appetiser. The egg featured dark brown lines from the grill, and was stuffed with minced pork. Although the dish was a little oily, it was thick, fluffy and crispy – a lot like my favourite Thai omelette. In fact, it was the crispiest omelette I've ever had the pleasure of trying!
Sweeten up your palate with some dessert like their affordable Cheese Tarts ($4++ for two pieces), which are also grilled in the charcoal oven. I've had my fair share of cheese tarts, but the ones served at G Bar and Grill pleasantly took me by surprise. The tarts were oozing with molten cream cheese and yoghurt, which packed a rather sour punch. The crust was sweet and crumbly, nicely complementing the savoury filling. If you think about it, you're only paying $2 per piece for a slice of heaven. This is pretty cheap, especially since one cheese tart at BAKE costs $3.50!
Ambience at G Bar and Grill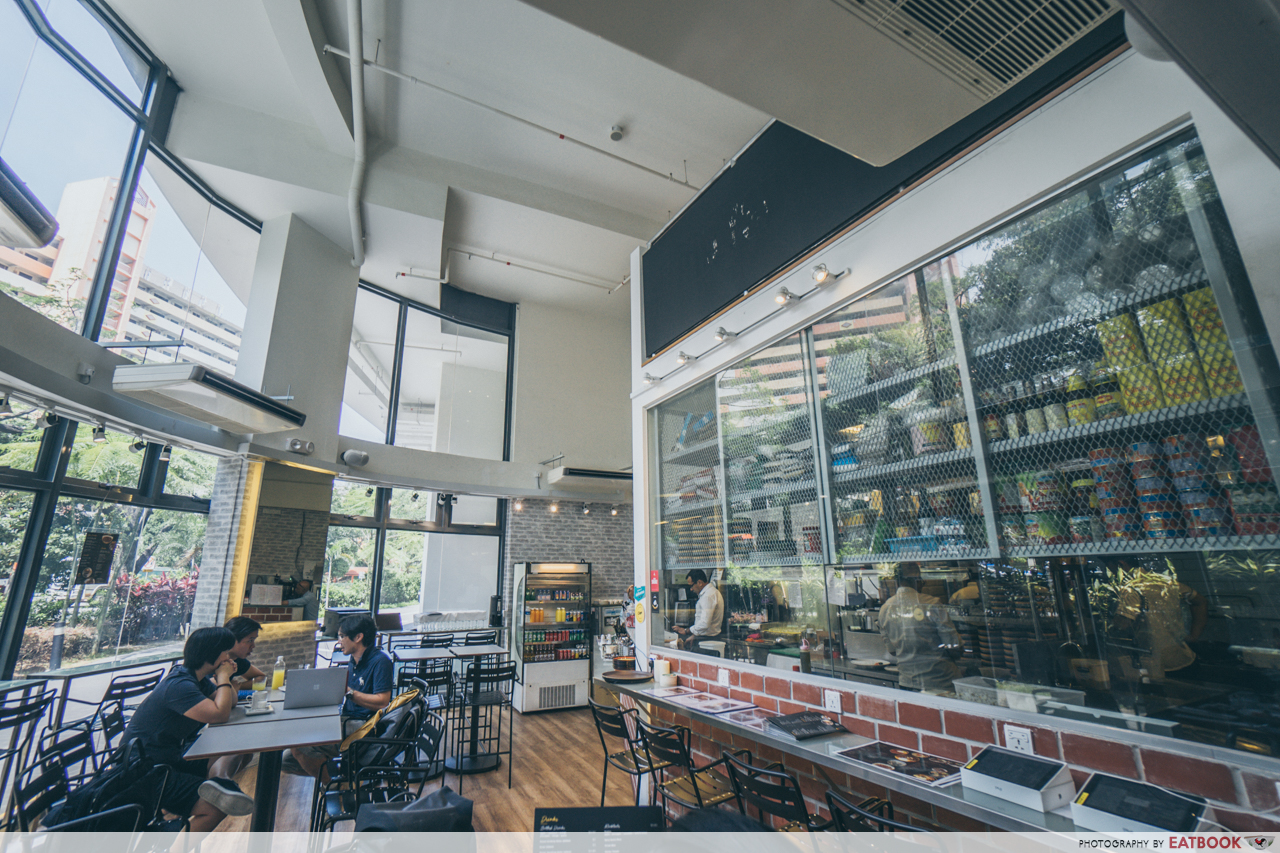 G Bar and Grill is located right beside Lobby One of Apex @Henderson. If you arrive by cab, do note that the drop-off point is on the third floor, so you have to take a lift down to the first storey to get there. I liked how the walls at the entrance to G Bar and Grill are made of glass, allowing as much sunlight as possible to stream in. If you ask me, nothing beats natural lighting. The kitchen walls are also made of glass, so you'll be treated to a live showcase of your food being prepared. There are plenty of seats available, from tall bar stools to regular tables and chairs, and even a private function room for 50 pax on the second floor!
The verdict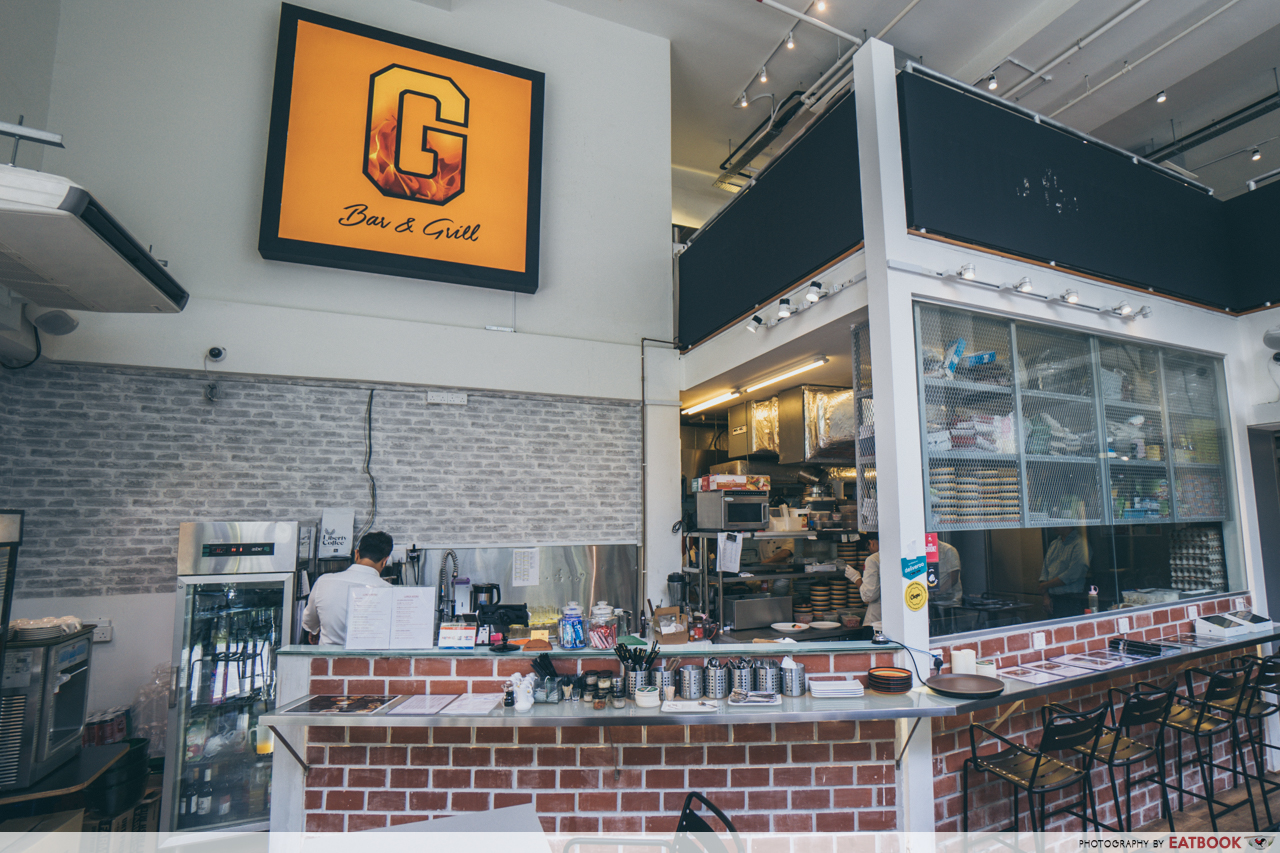 Good vibes, great service and delicious, value-for-money food. This is an ideal place to gather with a large group of friends for some light drinking and dining. There's also currently a promotion of $25++ for free-flow Heineken beers for two hours! Order big, split the bill and by the end of the meal, your wallet will still thank you.
Come for their Weekend Brunch (Sat-Sun and P.H.10:30am to 5:30pm) where for just $28++ per person, you get to choose a starter, main, and carbo to fill you right up. This is pretty worth it in my opinion, as you can pick from items such as a half-grilled unagi, lemon and thyme half spring chicken, fried beef hor fun, pork leg bee hoon and more! On top of that, you also get to indulge on free-flowing desserts from the menu, as well as coffee, orange juice and ice cream. Do bring little ones along, as kids dine for free.
Address: 201 Henderson Road, #01-06, Apex @Henderson, Singapore 159545
Opening hours: Tues-Fri 11am to 3pm, 6pm to 9:30pm, Sat-Sun 10:30am to 9:30pm
Tel: 6258 1257
This article is brought to you by G Bar and Grill.
Summary
Pros
– Quality food
– Pleasant ambience
– Good service
– Affordable weekend brunch set
Cons
– Restaurant may be a little out of the way
Recommended dishes: Oven-Grilled Spring Chicken ($18) and Bone-in Ribeye ($50)
Address: 201 Henderson Road, #01-06, Apex @Henderson, Singapore 159545
Opening hours: Tues-Fri 11am to 3pm, 6pm to 9:30pm, Sat-Sun 10:30am to 9:30pm