About Gin Khao
---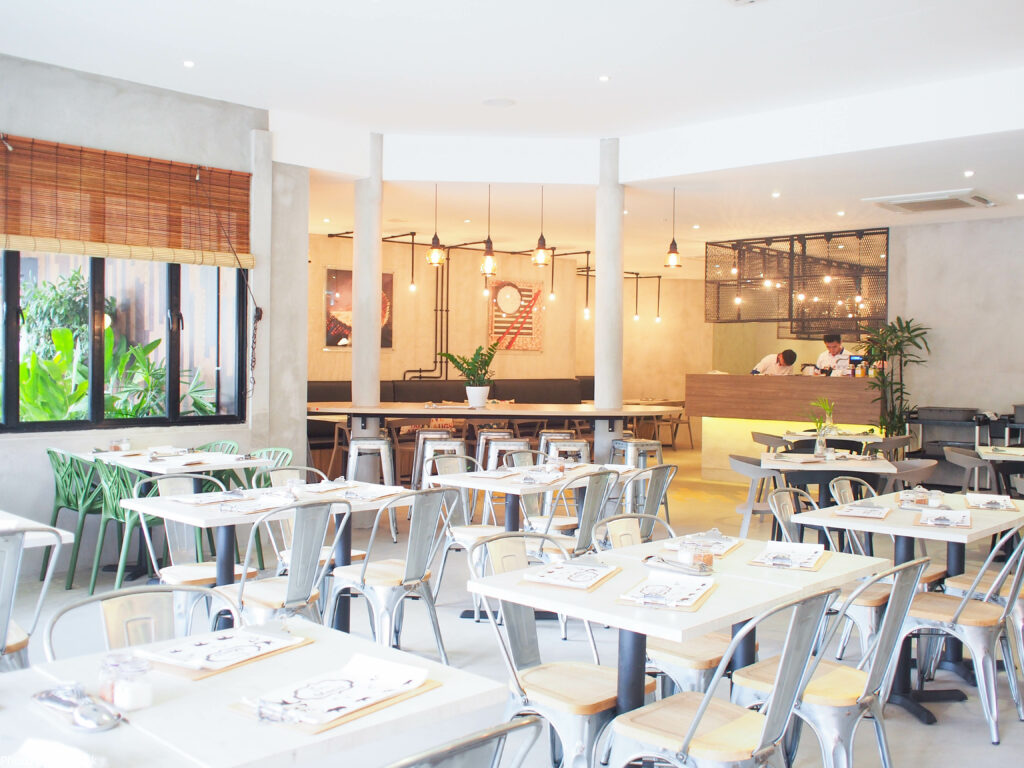 Thai for 'eating rice', Gin Khao aspires to bring people together through authentic Thai cuisine and communal dining. Their space at East Coast Parkway is minimalist but creative, with quirky art pieces and ornaments arranged around the restaurant. The same themes are reflected in their simple but visionary menu. There were hits and misses, but there is potential in what Gin Khao has to offer.
---
Thai Street Delights

---
Mango and Green Papaya Relish – $7.80
---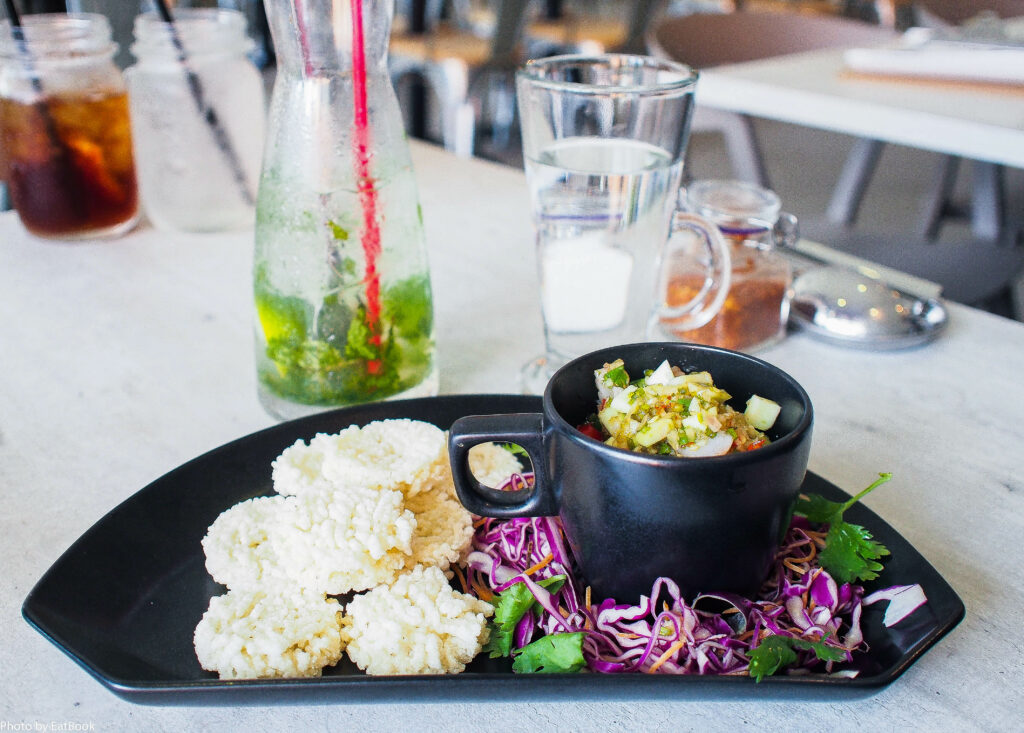 The traditional thai version typically features a spicy peanut and chicken gravy served with rice crackers. However, the team at Gin Khao felt that it was overdone, and decided to present a modern interpretation instead. Rather than using a heavy, creamy gravy, they substituted it for a spicy, refreshing relish, which works much better.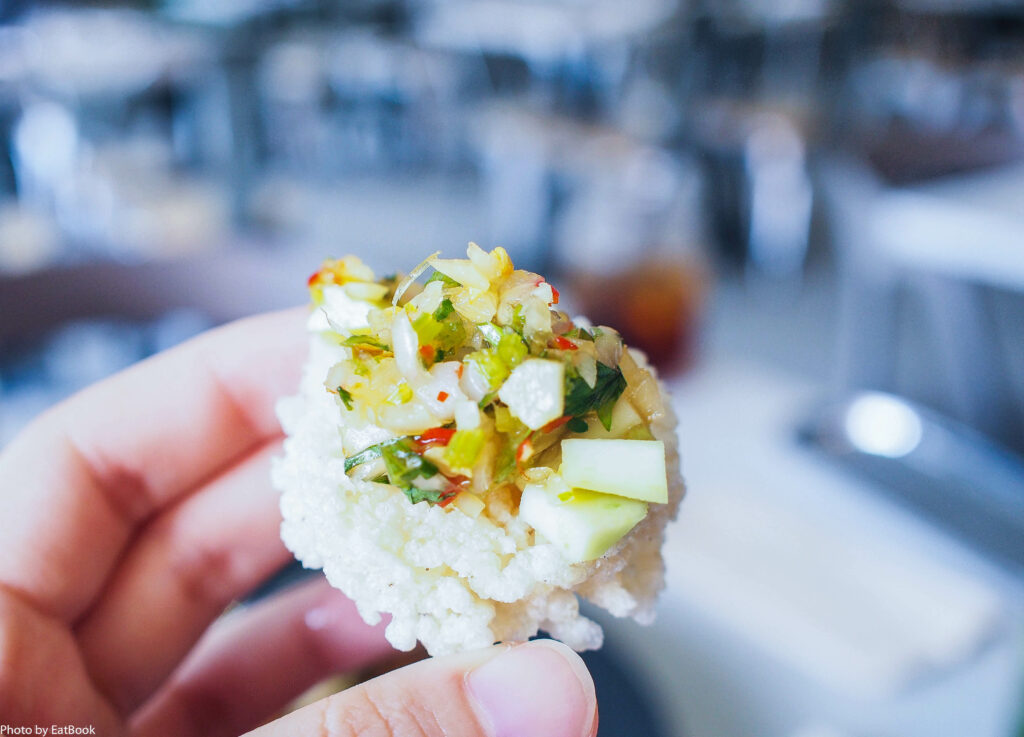 The combination of tart crunchy mangoes, briny fish sauce coated shrimp, and fiery chilis on a crispy bed of rice crackers will make your tastebuds dance for joy. It's almost difficult to stop yourself from reaching for one more piece. You might have to get your hands dirty for this dish, but I guarantee it's worth the sticky fingers afterwards.
---
Som Tam Pu Nim – $7.80
---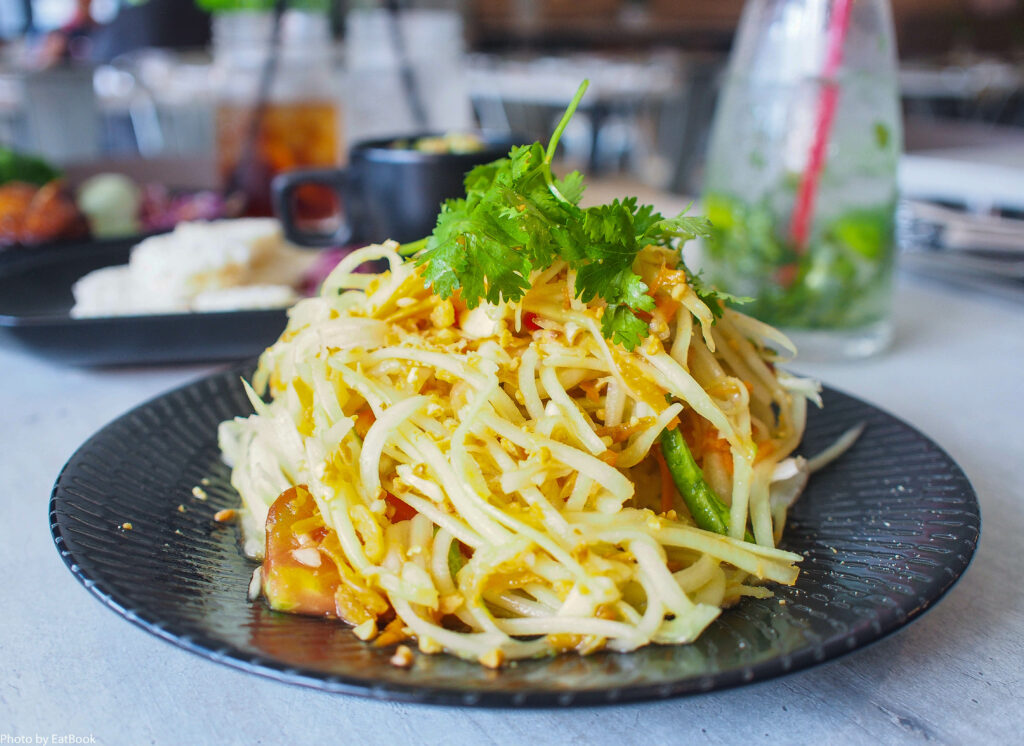 The papaya salad comes highly recommended, but it pales in comparison to the ones I've had in Bangkok. The seasoning could be sharper and spicier, and the papayas weren't crunchy enough.
---
Mains

---
Stir-fried Squid with Runny Salted Egg – $14.80
---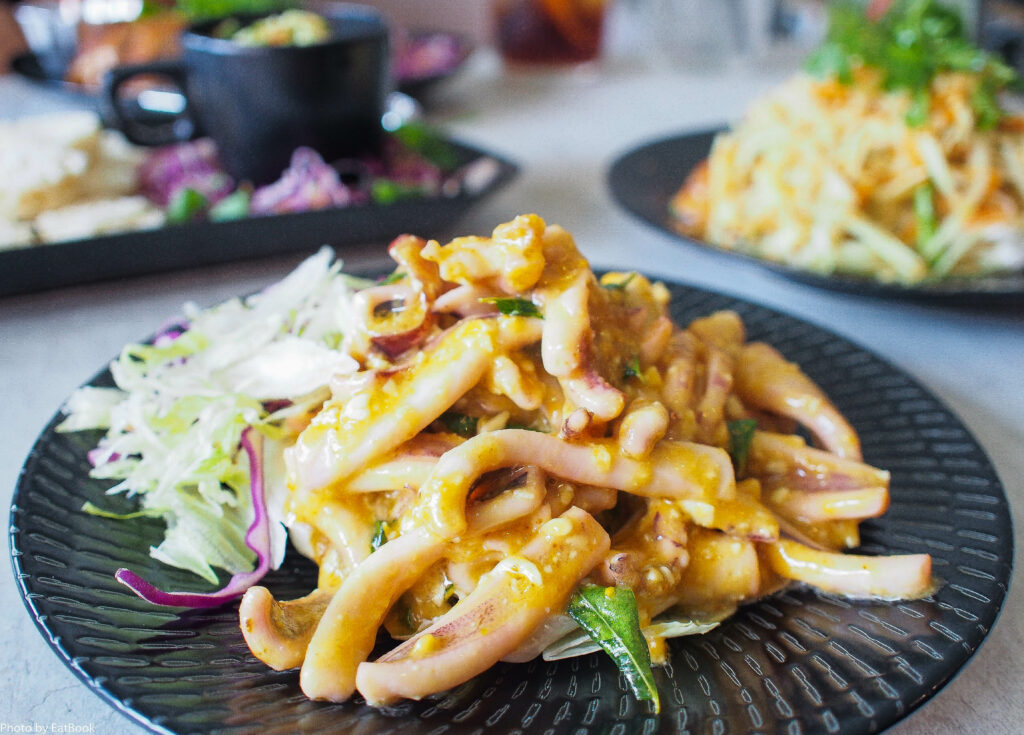 If there's one Thai dish that has managed to elude most of Singapore's Thai restaurants so far, it would be this. Singaporeans seem to love the deep-fried version, but no one here has done a good stir-fried one yet. It's hard to see why, since the fragrant, creamy salted egg yolk sauce goes brilliantly with tender, chewy squid.
---
Phat Se-Ewe – $14.80
---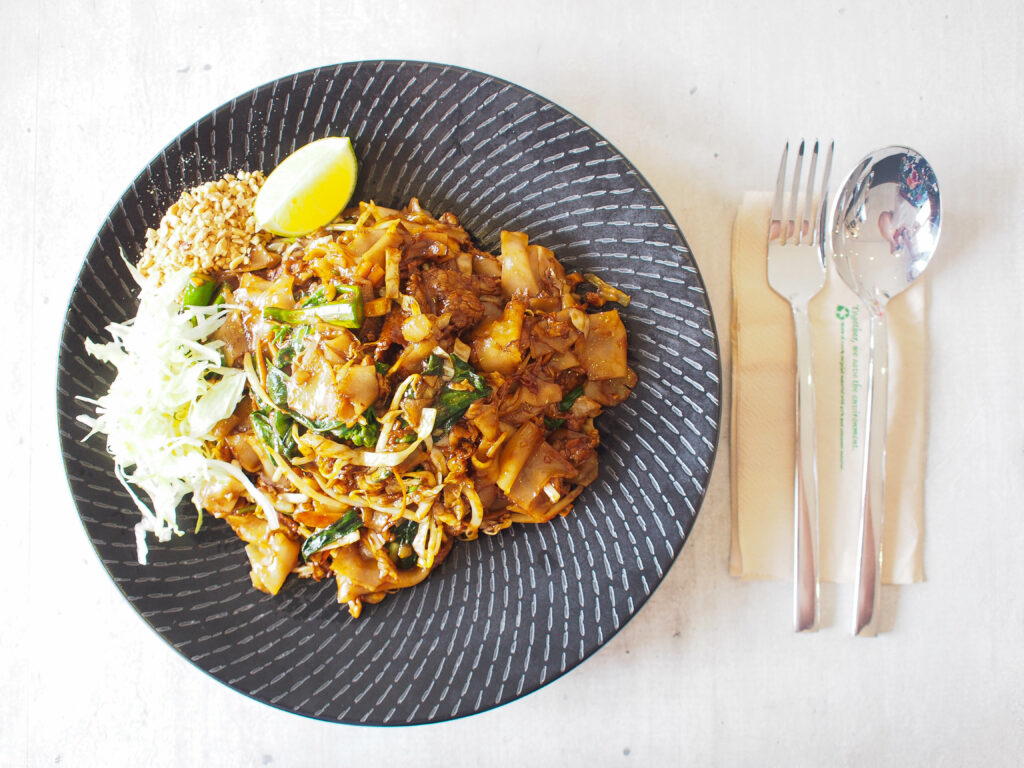 Phat Se Ewe is another highly underrated dish that deserves way more attention than it gets. It is somewhat like a Teochew char kway teow with the smoky aroma of dark soy sauce, but just a little sweeter and wetter. Personally, I would order this intense noodle dish over Phat Thai any day.
---
Kang Ob Woon Sen – $16.80
---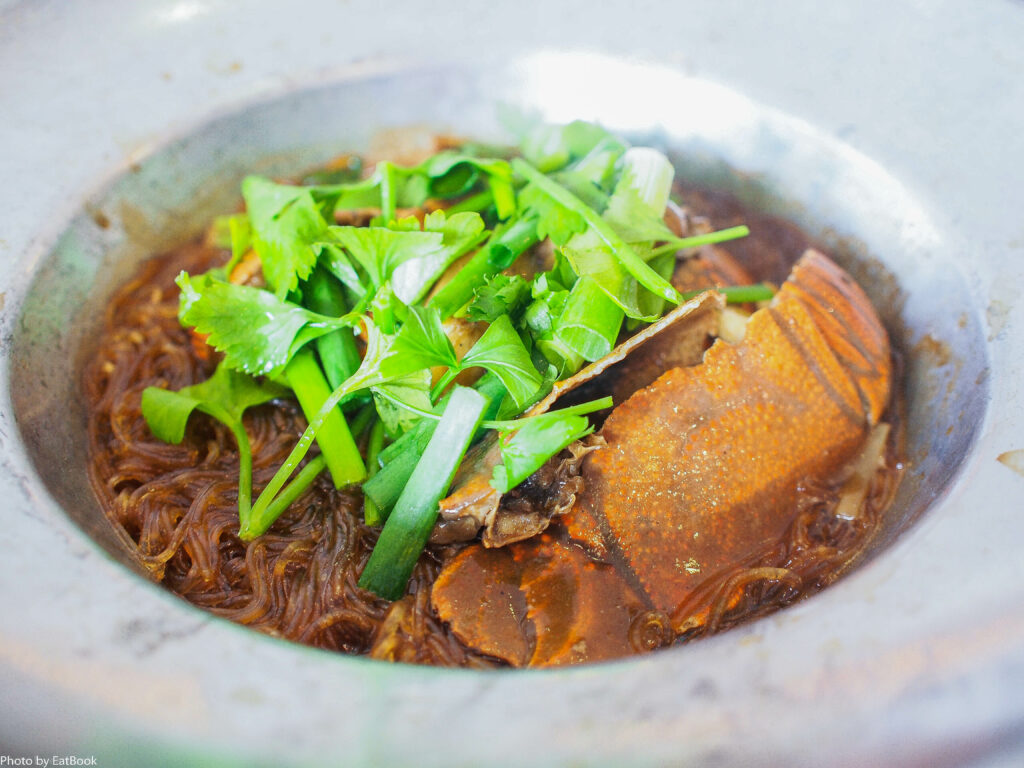 Gin Khao does an excellent rendition of Thai crayfish glass noodles. The crayfish was on the small side, but the meat was firm and juicy. The highlight though was definitely the bouncy glass noodles that were well-infused with seafood stock and a wonderful charcoal aroma. If I had to pick favourites, this would be my choice.
---
Drinks & Desserts

---
Coconut Mojito – $6.80
---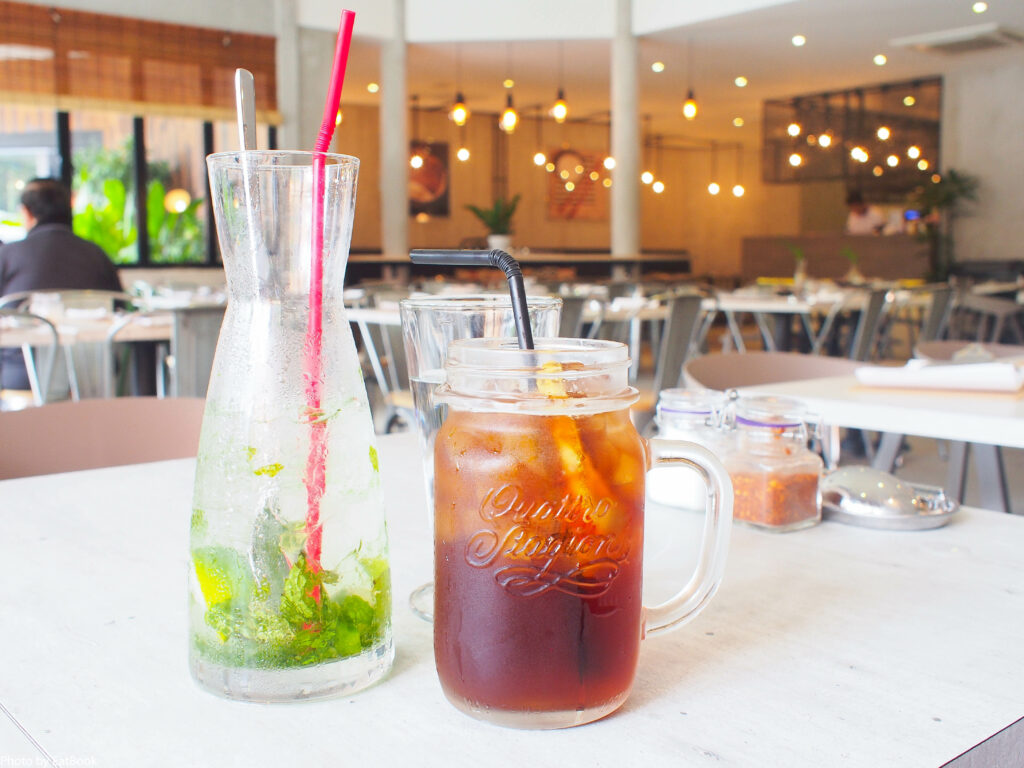 The coconut mojito makes for an excellent thirst quencher in our perpetual state of heat. This invigorating combination of coconut juice, mint, and lime works so well, I think I'll demand for coconut juice in all my mojitos from now on.
---
Green Curry Gelato with Sticky Rice – $8.80
---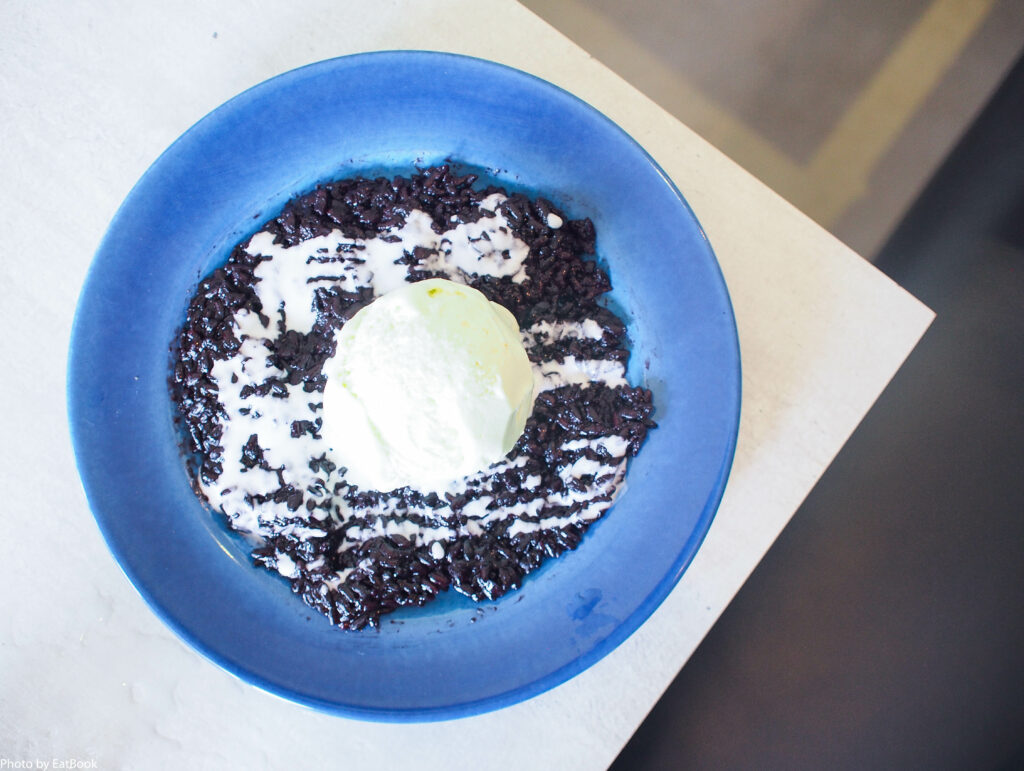 This dessert is definitely not for the faint of heart. Served on a bed of plump, chewy black glutinous rice, this green curry gelato is blazing with intensity. The texture of the gelato is surprisingly light, but the curry flavour is unmistakable. I would recommend this for it's novelty and the audacity to break boundaries. If you prefer something safer, try their mango with sticky rice gelato instead.
This article was brought to you by Gin Khao.
Summary
Pros:
-Innovative
-Dishes are different from other thai restaurants
-Good range of deep fried and grilled food
Cons
-Some flavour profiles are too bold
-Disappointing papaya salad
Recommended Dishes:
Crayfish Glass Noodles – $16.80
Green Mango and Papaya Relish – $7.80
Salted Egg Yolk Squid – $14.80
Opening Hours:
Monday to Thursday: 1130am – 3pm/530pm – 10pm
Fri to Sun: 11.30am to 10.30pm
Address: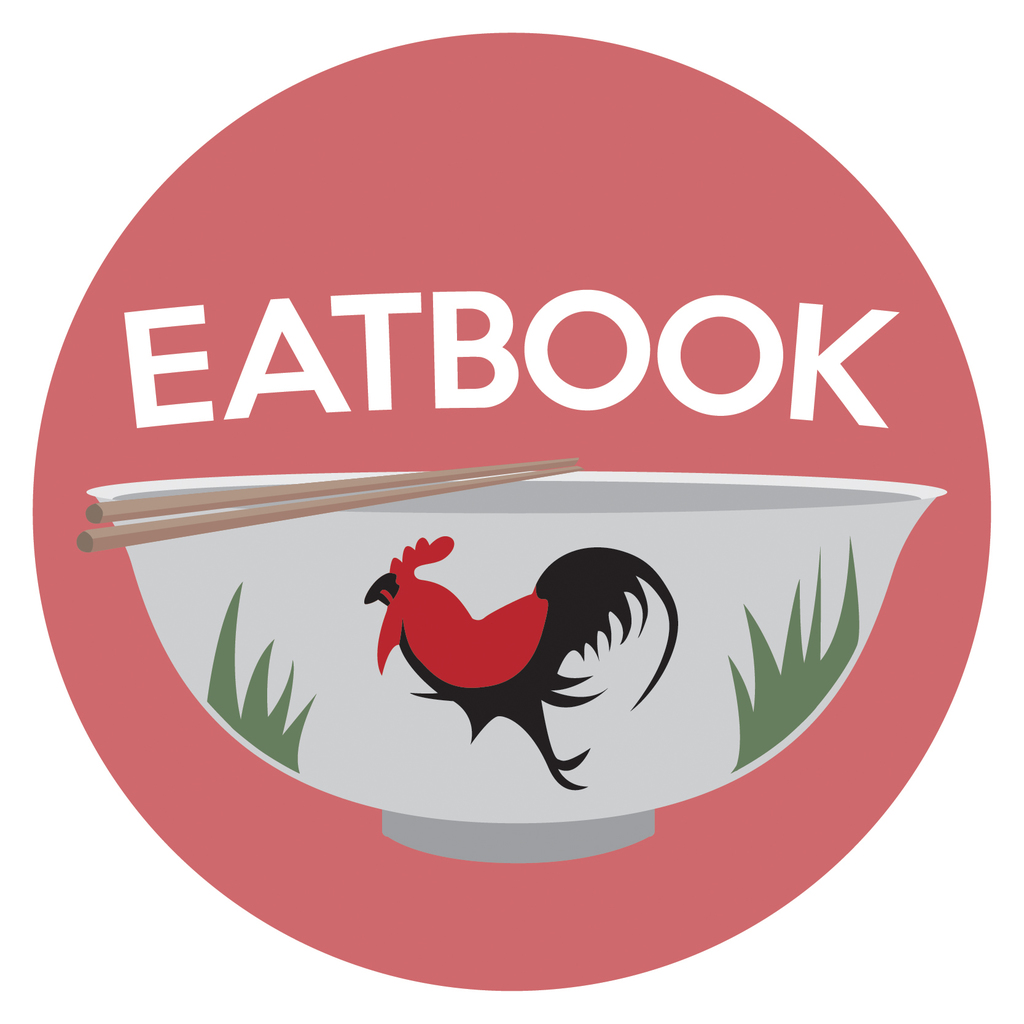 Drop us your email so you won't miss the latest news.