Stock up your pantry with Knorr Instant Cup Pasta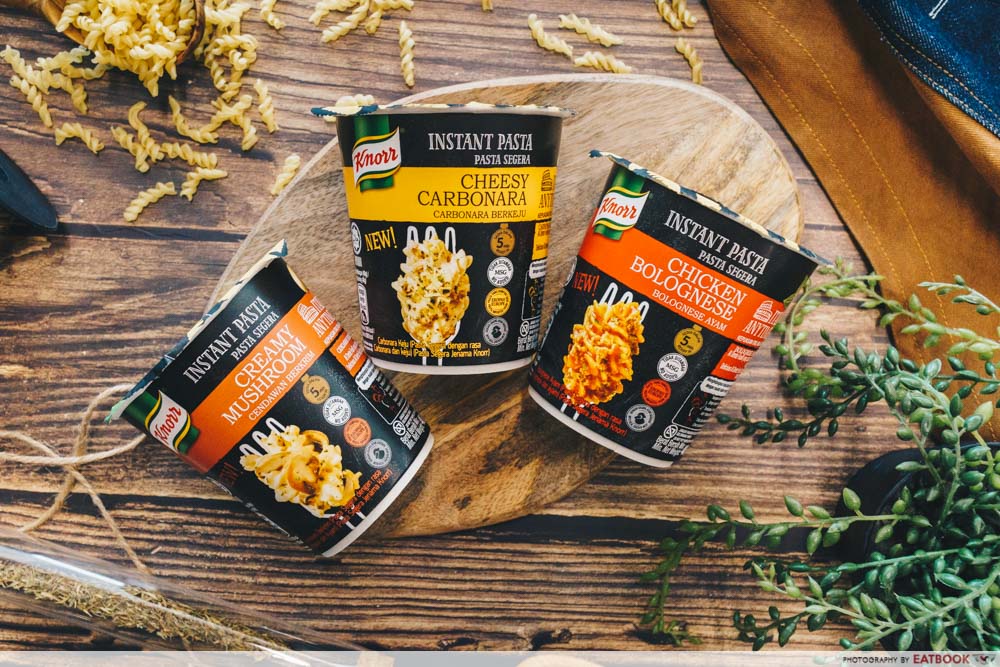 As much as I like my weekly dose of cup noodles, it can get a lil' sian to keep adding sausages to them just for a protein fix. Then, there are some days, I really don't want soup. Thankfully, it looks like my pantry is about to get a few new tenants⁠—courtesy of Knorr Instant Cup Pasta.
The range comprises three classic flavours: Cheesy Carbonara, Chicken Bolognese, and Creamy Mushroom—all of which contain real chicken meat and pasta imported from Europe. Plus, they're halal-certified and MSG-free!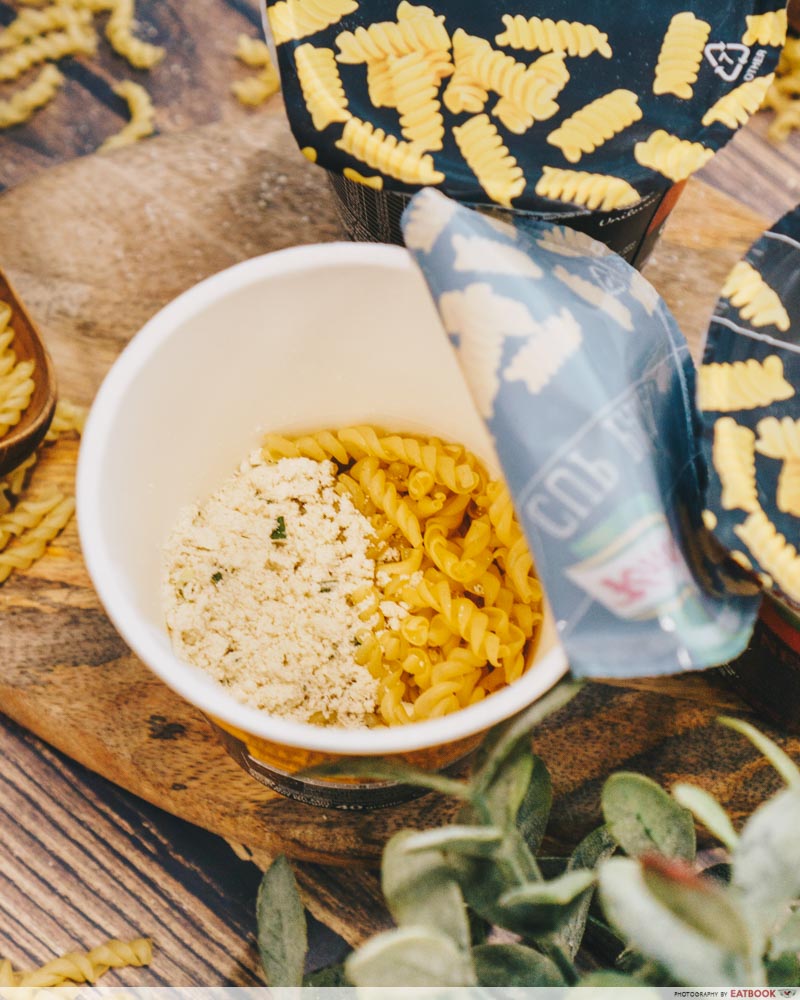 In each cup you'll find two sachets containing uncooked pasta and powdered sauce—both of which come in equal amounts. Don't worry if the mixture looks small; it'll expand once you add in boiling water.
Be careful to not add too much hot water in as it can turn this dish into a soupy mess—something my colleague learnt the hard way. One trick we used was to pour till it hit the fine line indicated inside the cup.
Once that's done, simply close the lid and wait for five minutes. The result will be beautifully cooked pasta in thick sauce.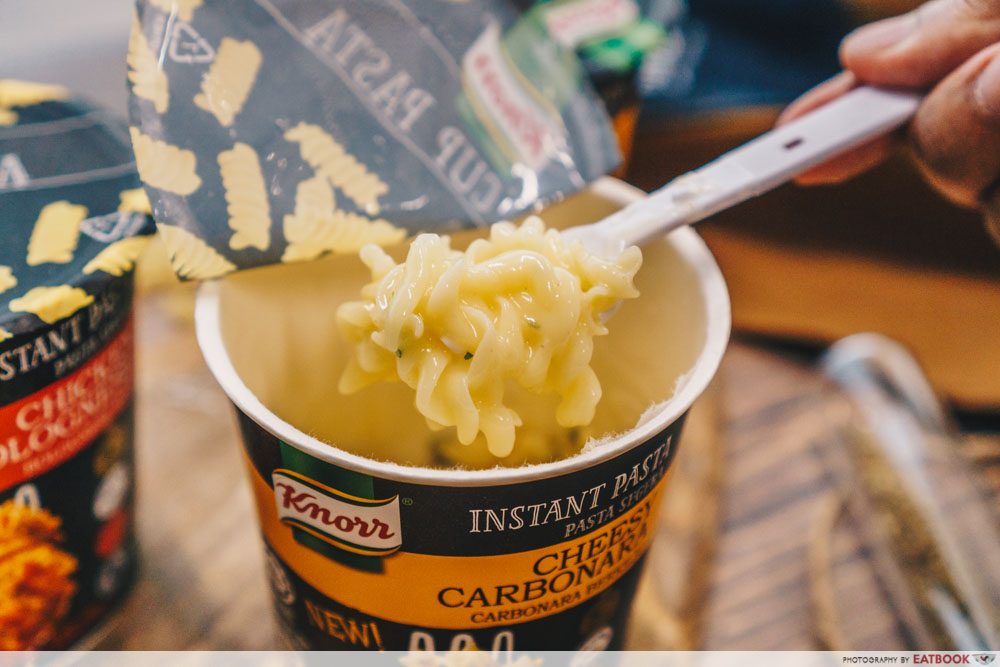 The Cheesy Carbonara was overflowing with carbonara sauce. This was where the fusilli—the pasta used in all three cups—came in handy. Its spiral shape—coupled with the al dente texture—trapped the sauce, locking in all the creamy flavours, and each mouthful was bursting with rich flavours.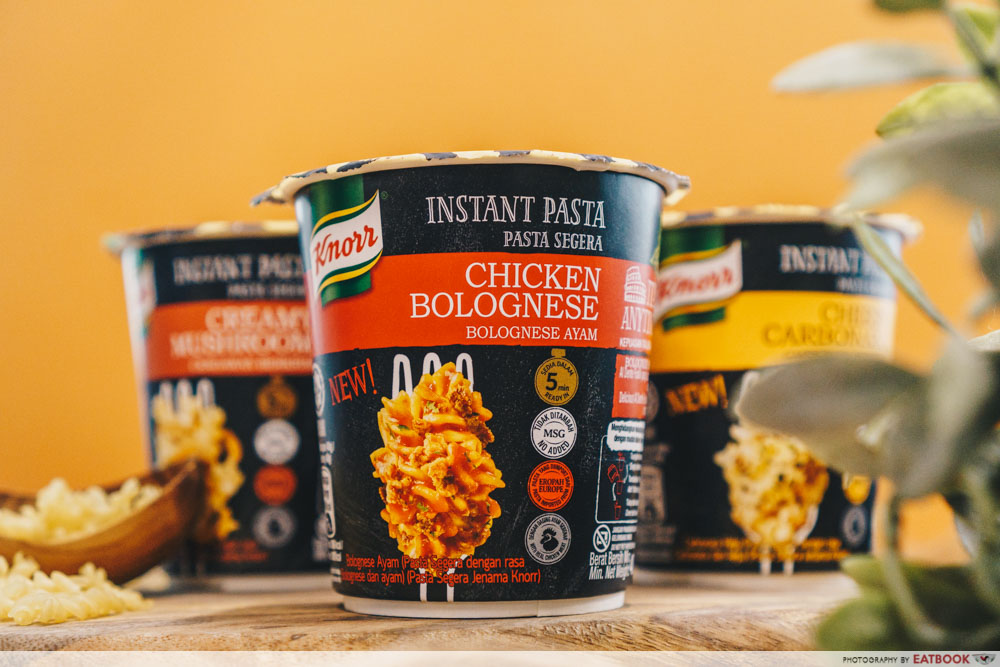 On the other hand, the Chicken Bolognese swapped the cheesy sauce for tangy tomato sauce.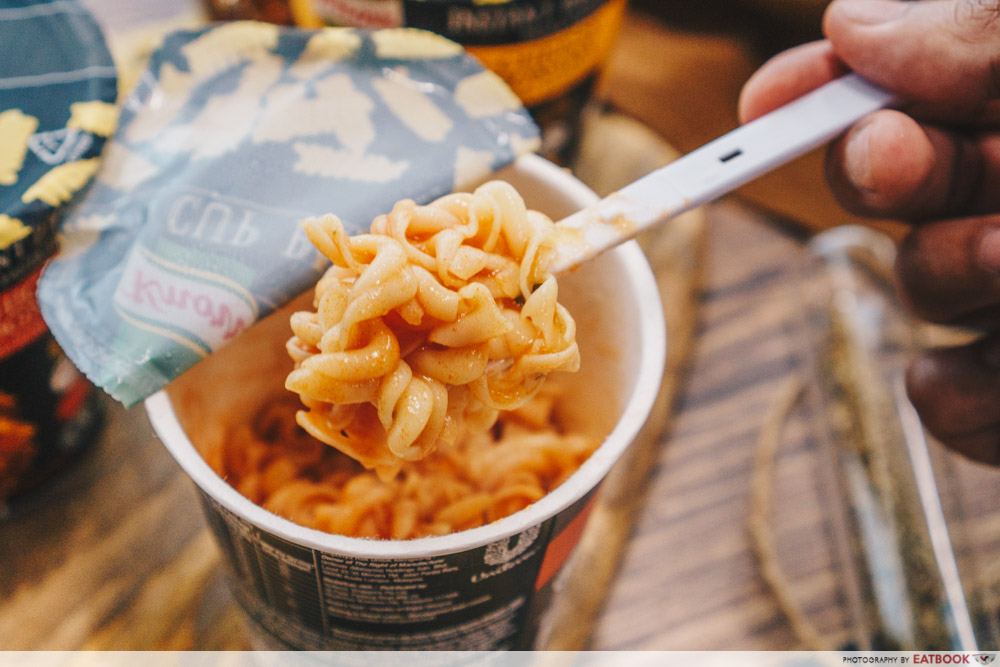 I was impressed by how pronounced the meaty and tangy flavours were. The chicken bits were aplenty and studded every inch of the pasta, giving each bite a savoury kick. Out of the bunch, this was by far my favourite.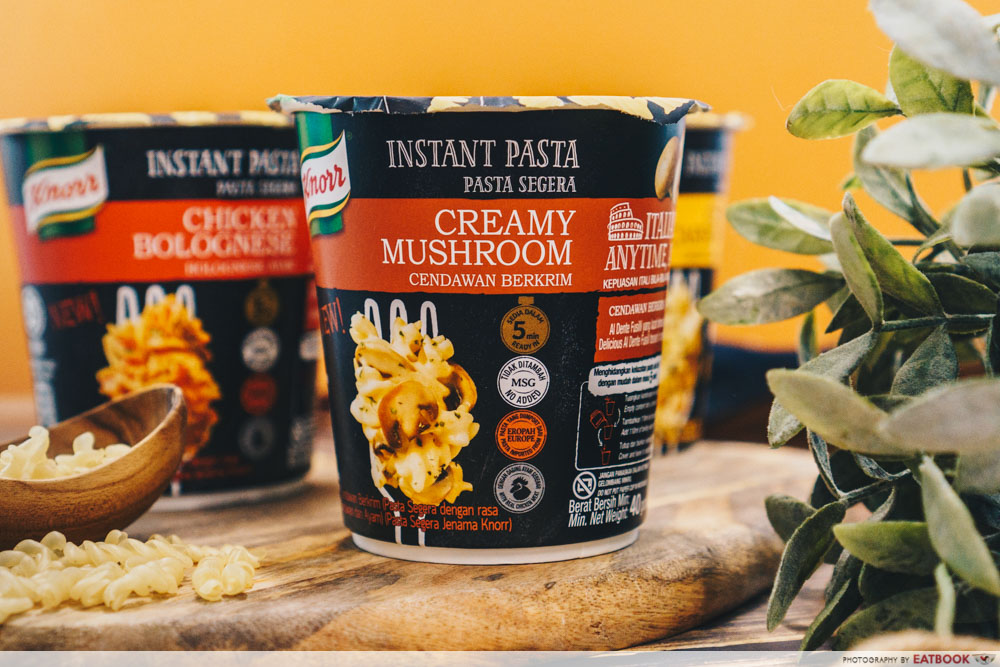 True to its name, the Creamy Mushroom was heavy on the mushroom flavour. It was as if someone poured mushroom soup over pasta.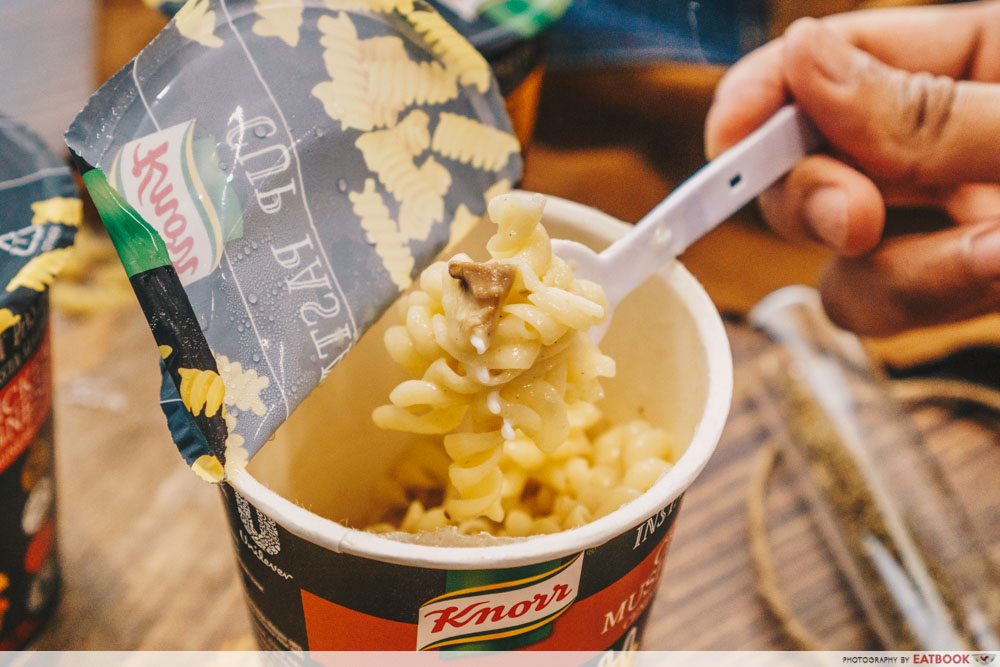 That being said, I wished there were more mushrooms in each cup. Don't get me wrong, the umami flavour is still pretty potent. It's just that having more juicy mushrooms would have helped create a greater depth of textures for a more pleasant mouthfeel.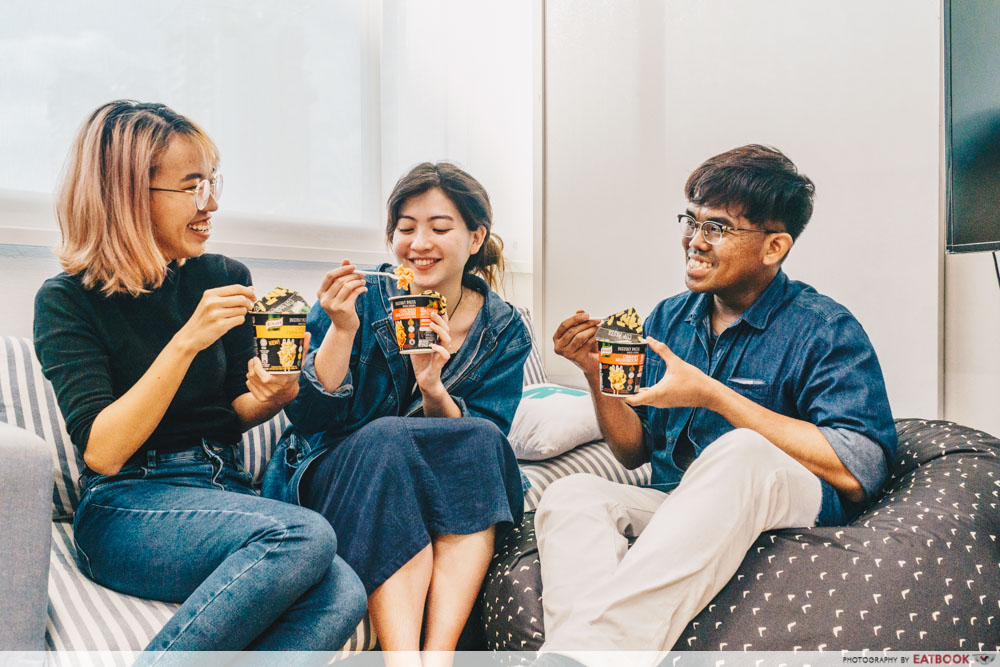 At $2.50 a pop, Knorr Instant Cup Pasta is well worth the money—thanks to its bold flavours and convenience. It's also pretty filling to boot, with the sauce and pasta giving you a quick carbo fix. So if you're someone who OTs a lot or a broke uni student tryna survive the week, head to your nearest supermarket and line your pantry with these cups!
This post is brought to you by Knorr.
Photos taken by Alexis Tan Wen Lin.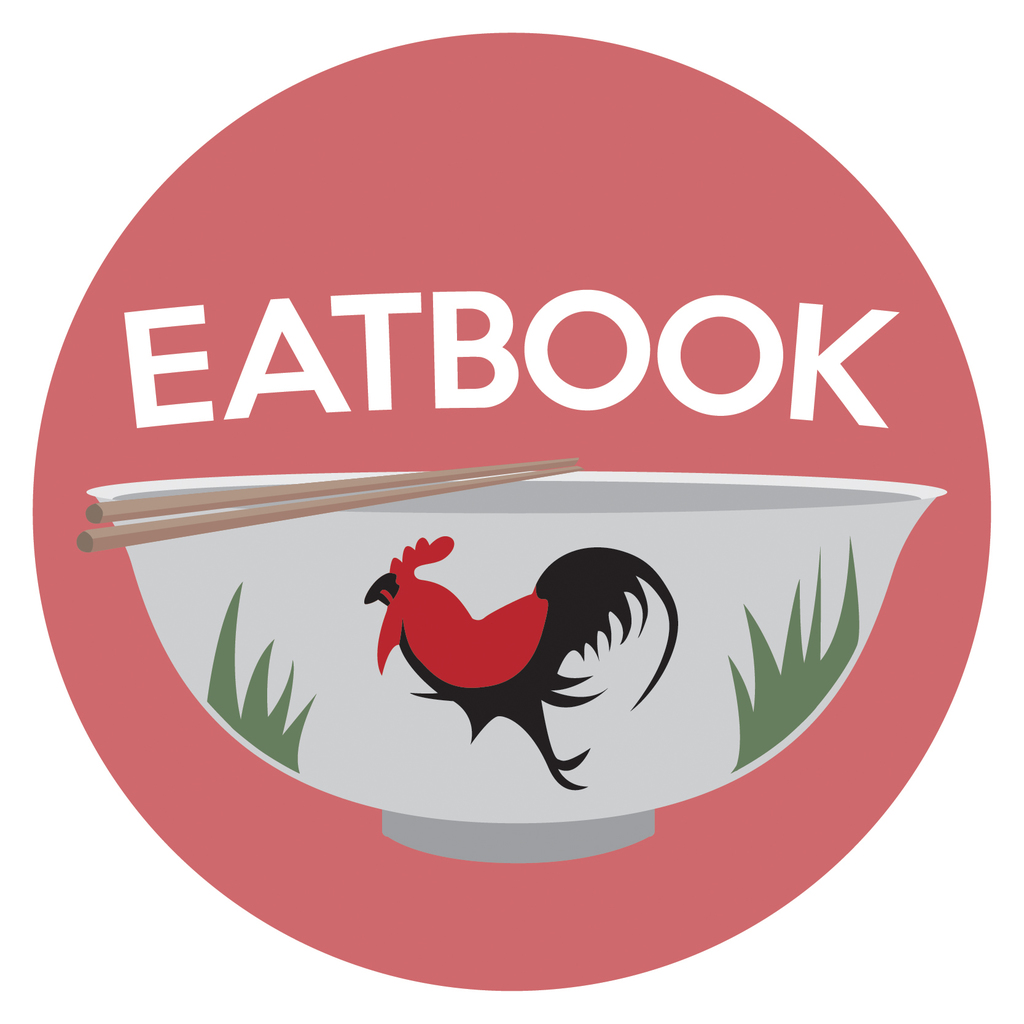 Drop us your email so you won't miss the latest news.