Kafe UTU for African food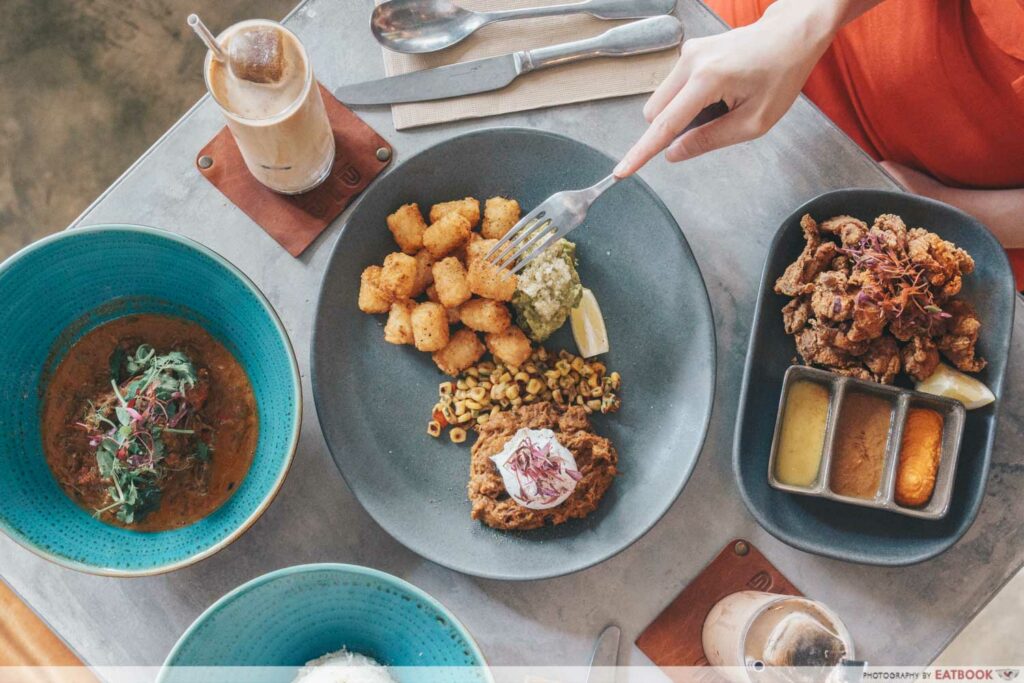 Despite having an endless list of cuisines easily available in Singapore, it's not every day you'll find African food on our Little Red Dot. So as the adventurous diner I am, I knew I had to check out African-themed cafe Kafe Utu when I heard of its existence. Exotic food and unique cuisines are my weakness, and I will opt for something out of the ordinary rather than the same ol' brunch fare.
Food at Kafe UTU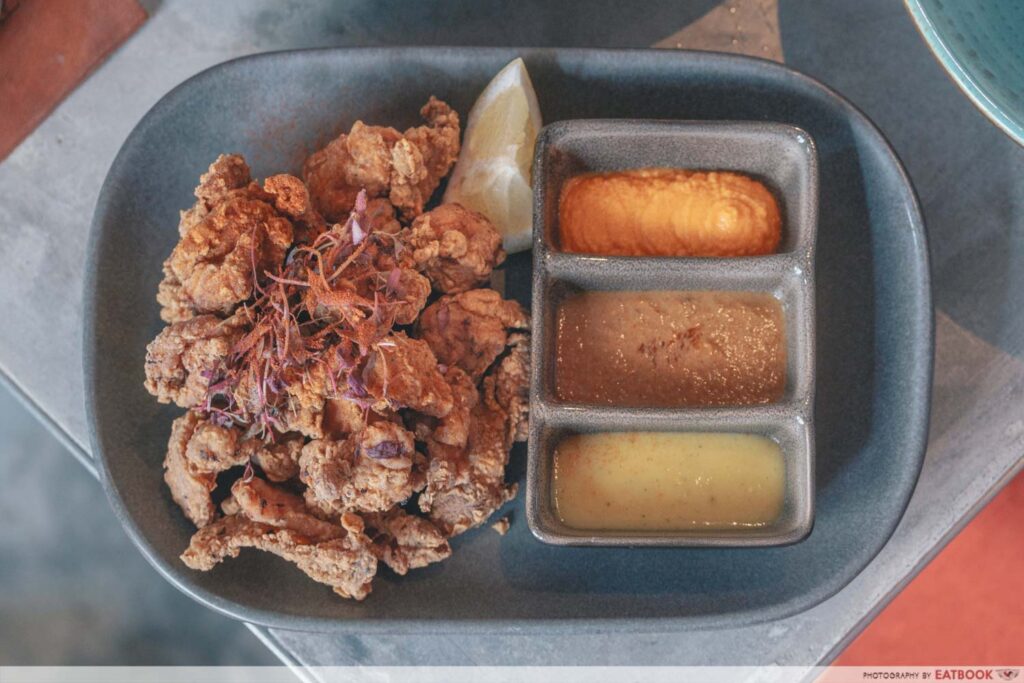 The first level of the three-storey space was packed when I came here on a Friday afternoon. Thankfully, the food Gods love me, and there was one table to spare for my colleagues and I.
As we were all small eaters, we decided to share two mains and a side: the Pulled Pork Breakfast ($25) from the brunch section; Caribbean Goat Curry ($28) from Mama Africa; and the Buttermilk Fried Chicken ($18) from the Kidogo (Bites) column.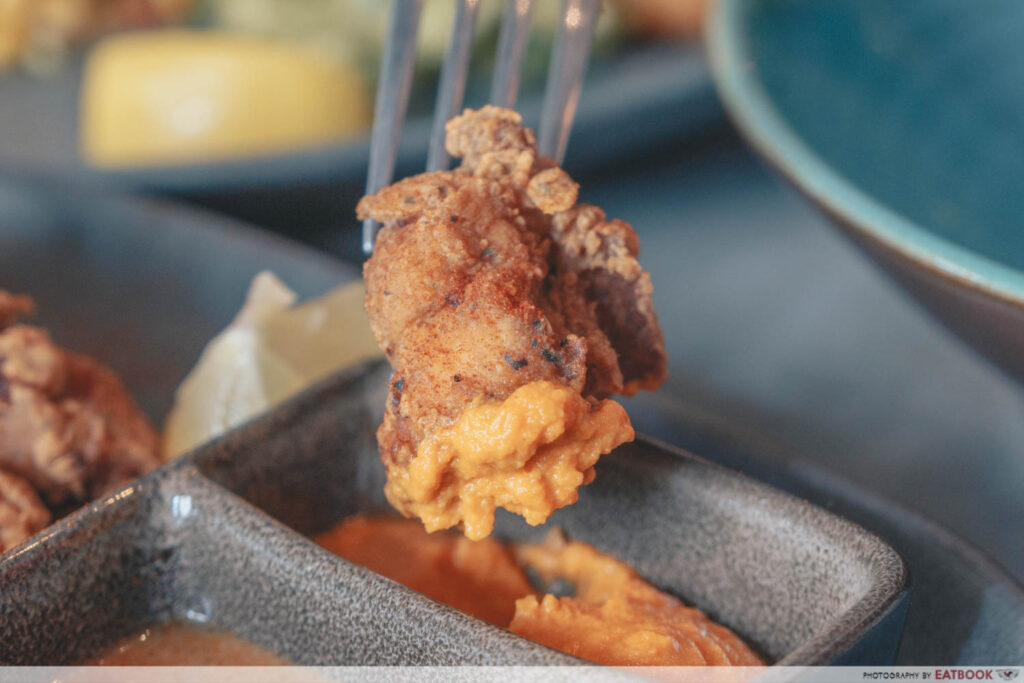 Serving us the plate of crispy fried chicken, the friendly waitstaff proceeded to explain the three house-made sauces that came along with it –  Congo Bongo, Fresh Mango Chilli Marmalade and House Chilli. The last one was addictively spicy, leaving a tingling sensation on our tongue. It was unlike ma la though, with a more straightforward spiciness that just left a burn.
For those who like chicken skin, you will enjoy these seasoned bite-sized goodies, as it had a nice ratio of fried skin to juicy meat. Popping each piece into our mouth brought upon an ASMR-worthy crunch. It felt like it was air fried too, as there was no sheen of oil.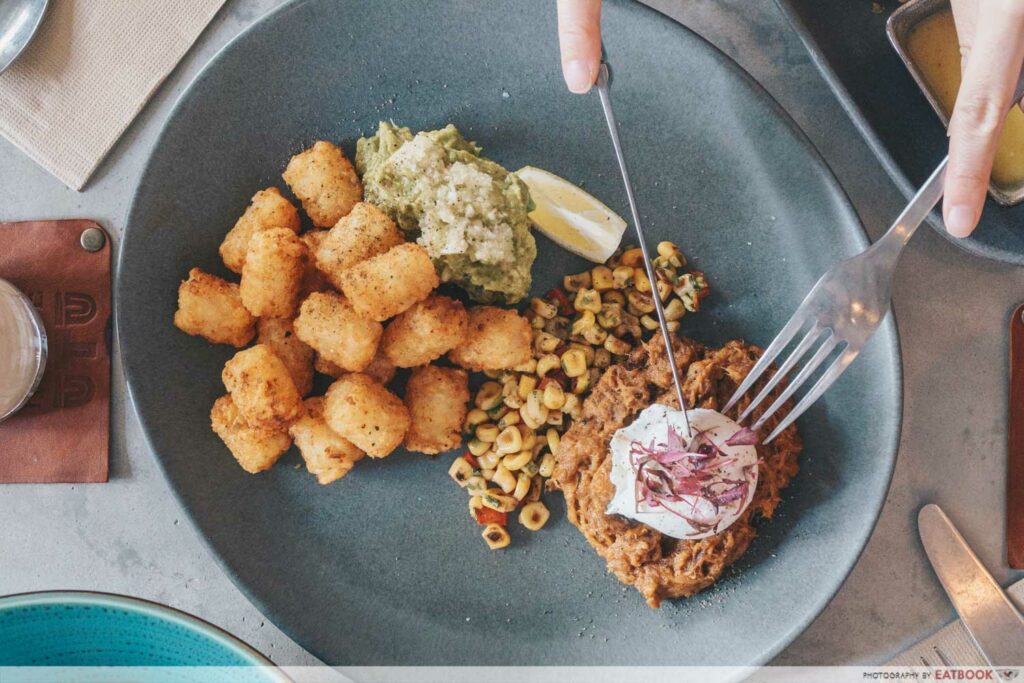 The Pulled Pork Breakfast is no looker, but sure tasted good. It offered a symphony of flavours and textures, where each ingredient complemented the other perfectly.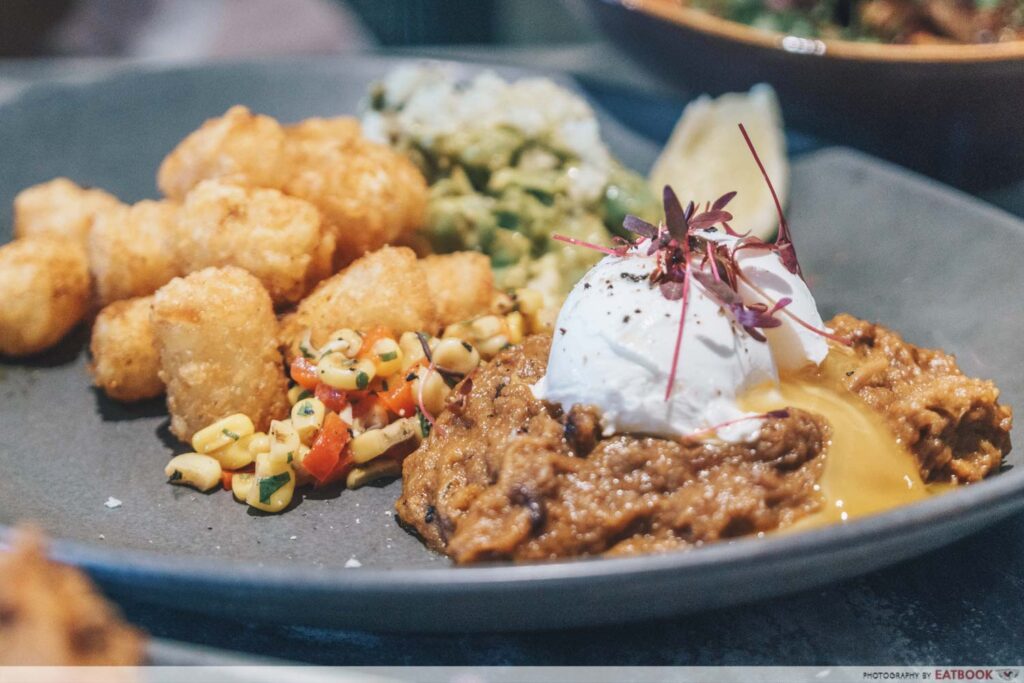 The pulled pork had a deep sweetness, which we assumed came from the hickory barbecue sauce. Allowing the egg yolk to flow over it helped temper away the treacly taste, and provided a savoury creaminess.
Pair it with the corn salsa for a sourish kick. Or take a break from the punchy flavours by snacking on the perfectly fried tater tots.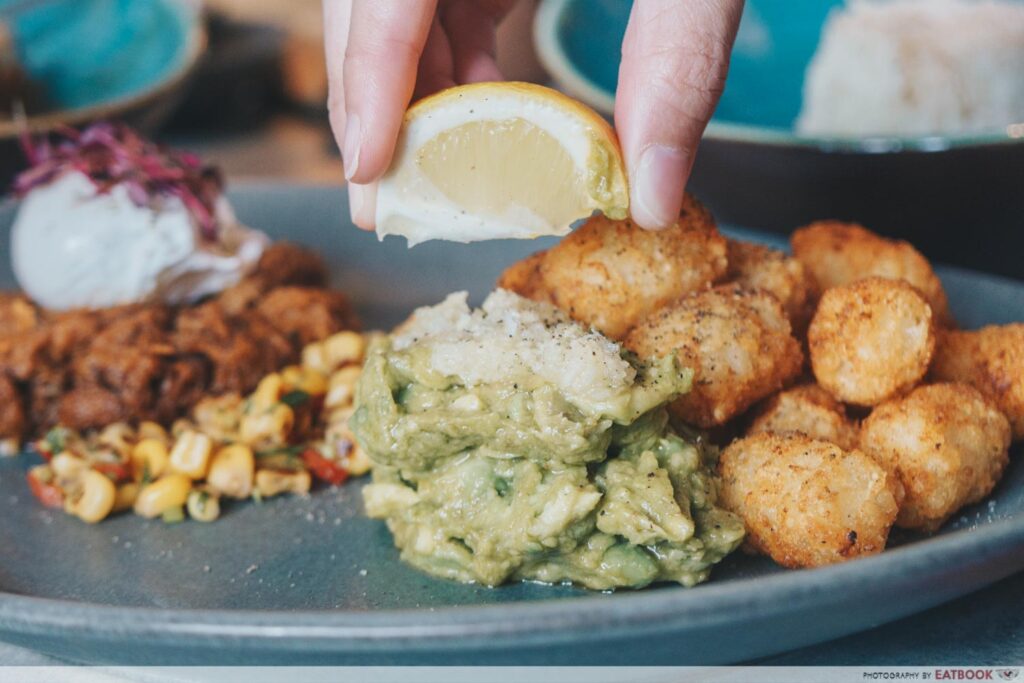 For avo fans, the star of the show is def' the curry avocado. Crowned with minced garlic and a drizzle of lemon, the mashed avocado had a mellow zing, followed by a tinge of spice. The fresh garlic helped highlight the buttery richness of the avocado, without overshadowing it.
Put everything into your mouth and experience the various flavours dance across your palate, with a subtle sweetness followed by an explosion of spices.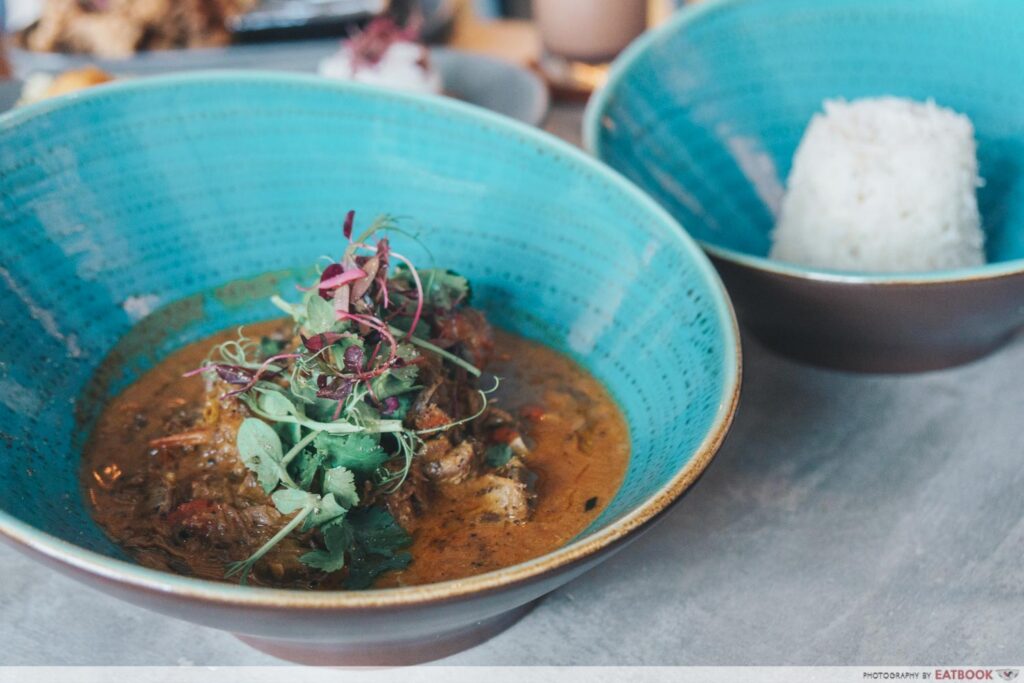 The Caribbean Goat Curry was highly recommended by the staff. However, while it was no doubt delicious and redolent with heady spices, we did find that this dish paled in comparison to the rest. The curry was nothing amazing, tasting exactly like any other mutton curry you'd find at a good prata shop.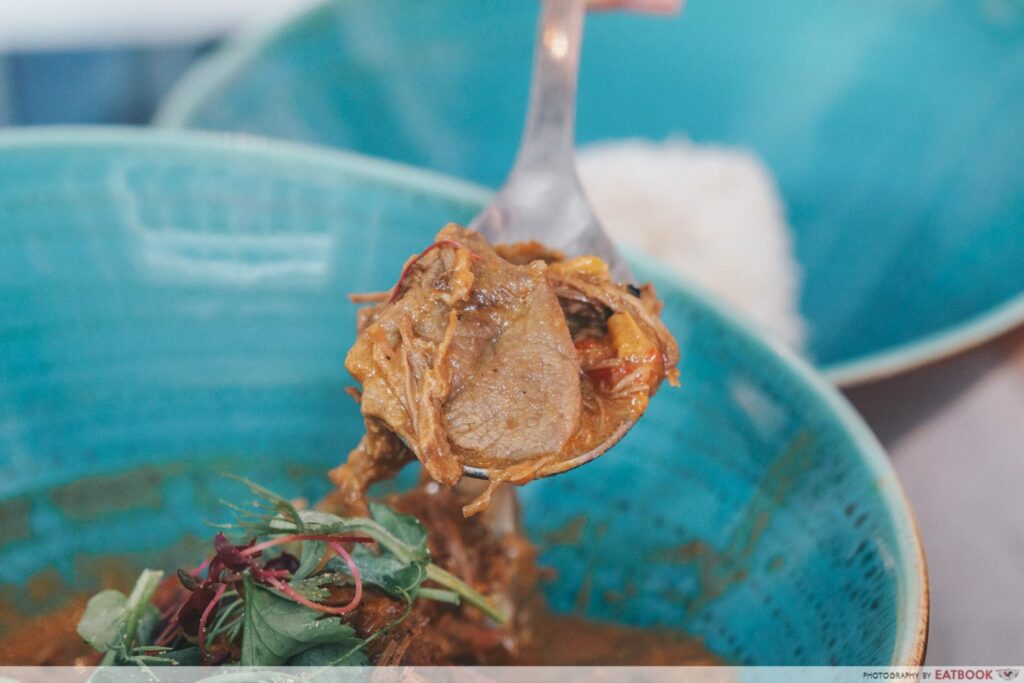 And while the cubes of lamb were meltingly tender during our first visit, our second trip there proved otherwise – it was tough and required much jaw work.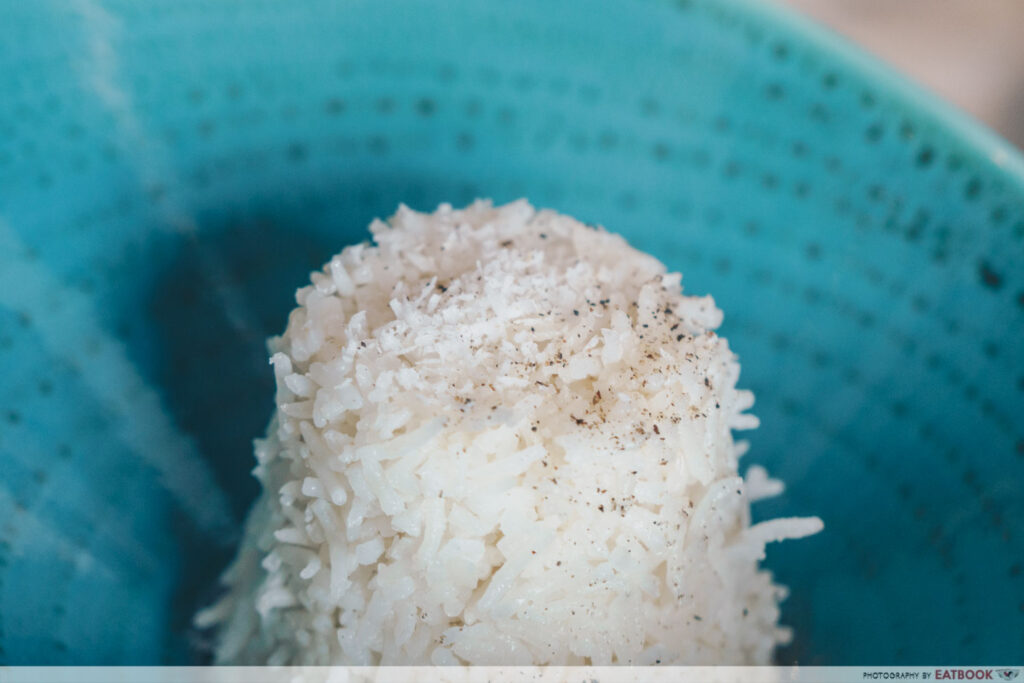 The fluffy coconut rice it came with would put any nasi lemak specialist to shame. The grains did not clump together, and it was extremely fragrant with lemak notes. Its lightness provided the perfect base to the heavy curry.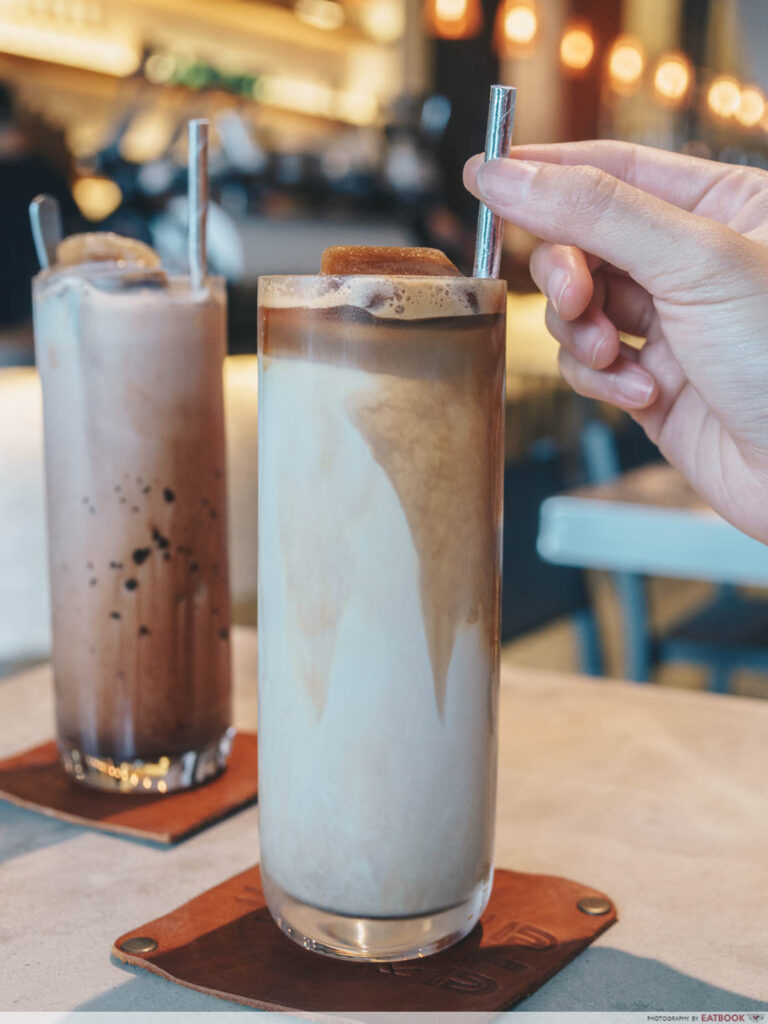 Kafe UTU takes pride in their coffee too, so we decided to try their Iced Latte ($6.50) to cool our tongues down from the spice overload.
Even though it came in a tall glass of milk, the robust flavour of the shot of coffee was pronounced. I liked how it was well balanced; not too bitter or acidic. It came with an ice coffee cube too, ensuring your drink won't become diluted.
Ambience at Kafe UTU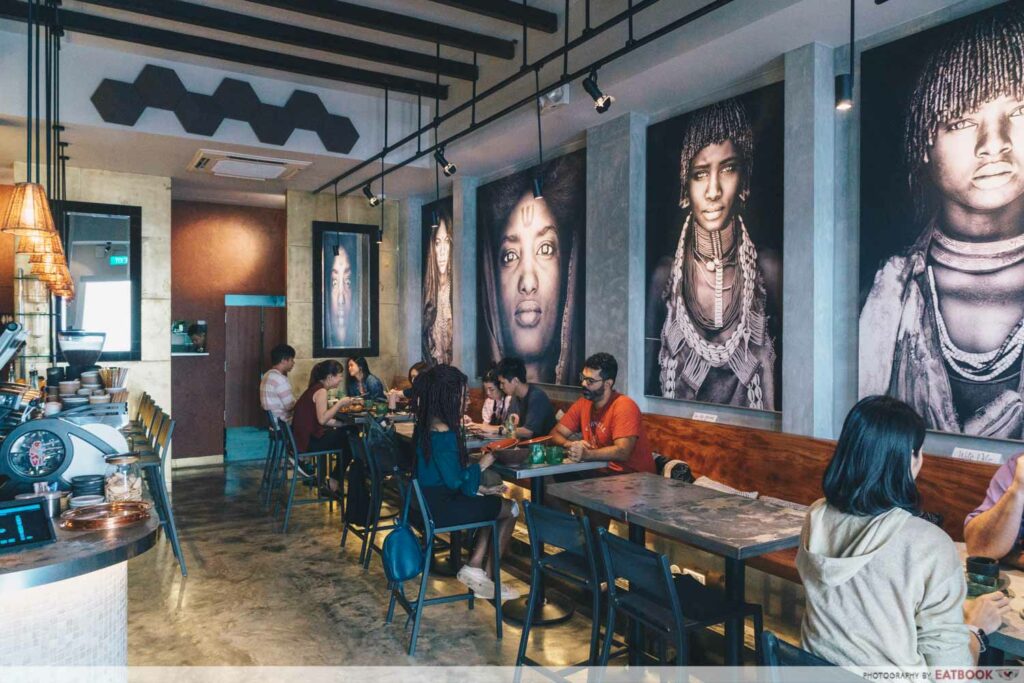 Kafe UTU is unlike all the garden-themed or minimalist cafes you'd find in Singapore. The space has character, with massive portraits of African natives lining the wall. Head up to the second storey, and you will find the lounge area – marked by a glass shelf full of tribal leather bags and comfy sofas.
The waitstaff here are extremely friendly too, adding on to the inviting beauty of this new cafe.
The verdict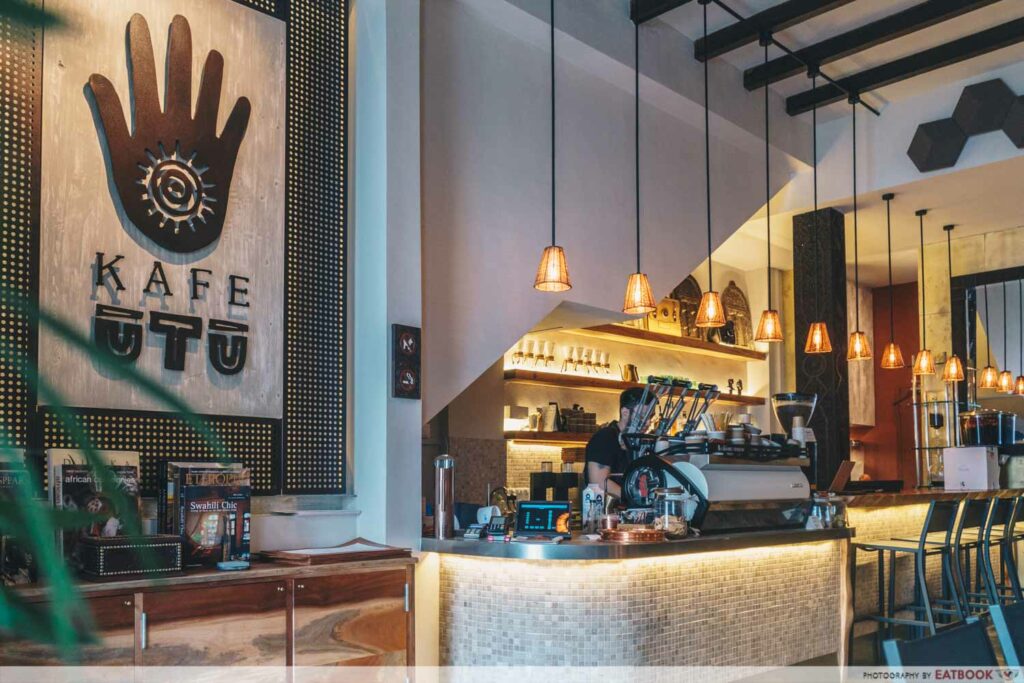 I'm not much of a cafe-goer. However, I won't mind converting into a cafe hopper if more joints push out interesting and delicious food like Kafe UTU. I foresee this space to survive Singapore's competitive culinary scene in years to come, as it provides both great food and good vibes.
Address: 12 Jiak Chuan Road, Singapore 089265
Opening hours: Wed-Fri 10am to 5pm, 6pm to 10:30pm, Sat-Sun 9am to 5pm. 6pm to 10:30pm
Tel: 6996 3937
Website
Kafe Utu is not a halal-certified eatery.
Photos taken by Lim An.
This is an independent review by Eatbook.
Summary
Pros
– Great ambience and friendly staff
– Delicious, unique food
Cons
– Pricey
Recommended dishes: Pulled Pork Breakfast ($24), Buttermilk Fried Chicken ($18)
Opening hours: Wed-Fri 10am to 5pm, 6pm to 10.30pm, Sat-Sun 9am to 5pm, 6pm to 10.30pm
Address: 12 Jiak Chuan Road, Singapore 089265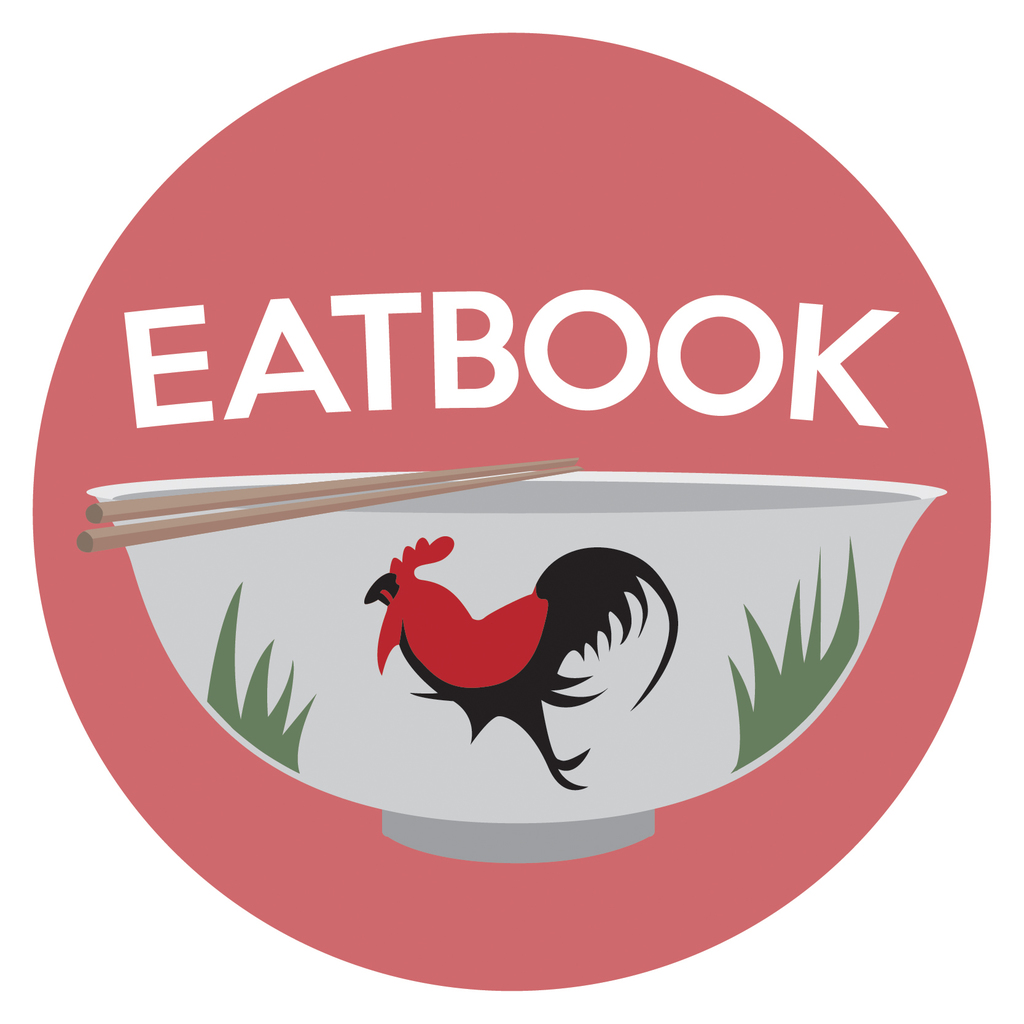 Drop us your email so you won't miss the latest news.