---
Now every day can be TGIF
---
Whether you're tired from all that OT work or a little brain dead after hitting the books, a little R&R would do you good. I love winding down with good music, and I've rounded up a couple of my favourite live music bars that are guaranteed to take away your troubles for a night. From house bands to resident DJs, there are tons of music bars hidden in Singapore, all ready to welcome you. And you thought you already knew all that was to know about Singapore's live music scene!
---
1. Artistry
---
Most people know Artistry as a cafe with delicious coffee and brunch that tastes as good as it looks, but Artistry is also a haven for artistes. Occasionally hosting all sorts of events from bands to exhibition openings to poetry open mic, Artistry celebrates art in all forms. Currently, they have The Bluemonks on their roster every last Tuesday of the month. Kick back with a pint, or bring your instruments and join in if you are feeling the groove. Focusing more on the underground music scene, Artistry has hosted multi-instrumentalist Pablo Aldunate and progressive electro producer Hinterlandt as well.
Address: 17 Jalan Pinang, Singapore 199149
Opening hours: Tues-Sat 9am to 11pm, Sun 9am to 4pm
Tel: 6298 2420
---
2. LongPlay
---
Old-school music lovers would love LongPlay. With over 3000 vintage vinyl records in its collection, LongPlay has everything from Motown tunes to old school rock, complete with a state-of-the-art sound system. Food cravings are answered with offerings like Red Snapper Ceviche ($17++) and Potato Gnocchi ($18++) over an open bar and kitchen. Even better are their selections of cocktails, which are inspired by a myriad of South American countries including Peru, Brazil, Venezuela and Argentina.
Address: 4 Haji Lane / 33 Arab Street, Singapore 189197
Opening hours: Wed-Sun 4pm to 12am
Tel: 6291 3323
Menu
---
3. The Mad Men Attic Bar
---
Feel at home with an eclectic vibe that seems to overpower the entire atmosphere at The Mad Men Attic Bar. Located very conveniently in town, there's a live DJ or band every night to entertain hard workers. They also do fancy hot dogs and Luncheon Meat Fries ($12++), and my favourite thing to end the night with is a pair of The Mad Sour Plum shots ($60++ for 6 shots). After that, it's going to be hard stopping at just one drink!
Address: 11 North Canal Road, #03-02, Singapore 048824
Opening hours: Mon-Thur 5pm to 1am, Fri-Sat 5pm to 3am
Tel: 9822 1789
---
4. Lepark
---
Hidden away from the city at the top of People's Park Complex, Lepark is only accessible via a flight of stairs in the shopping centre or through the carpark. As a social space and cafe, Lepark is the place to explore new and unknown music. They've even revived the electronic getai scene, hosting events like Getai Electronica and Getai Ethnica that were quite well received in the music scene. Must try from their tapas menus include Chunky Spam Fries with Truffle Mayo ($8) and Salted Egg Yolk Cheese with Nachos ($8). Yum!
Address:1 Park Road, #06-00, People's Park Complex, Singapore 059108
Opening hours: Tue-Thur 4pm to 11pm, Sat 12pm to 12am, Sun 12pm to 10pm
Tel: 6908 5809
Menu
---
5. Acid Bar
---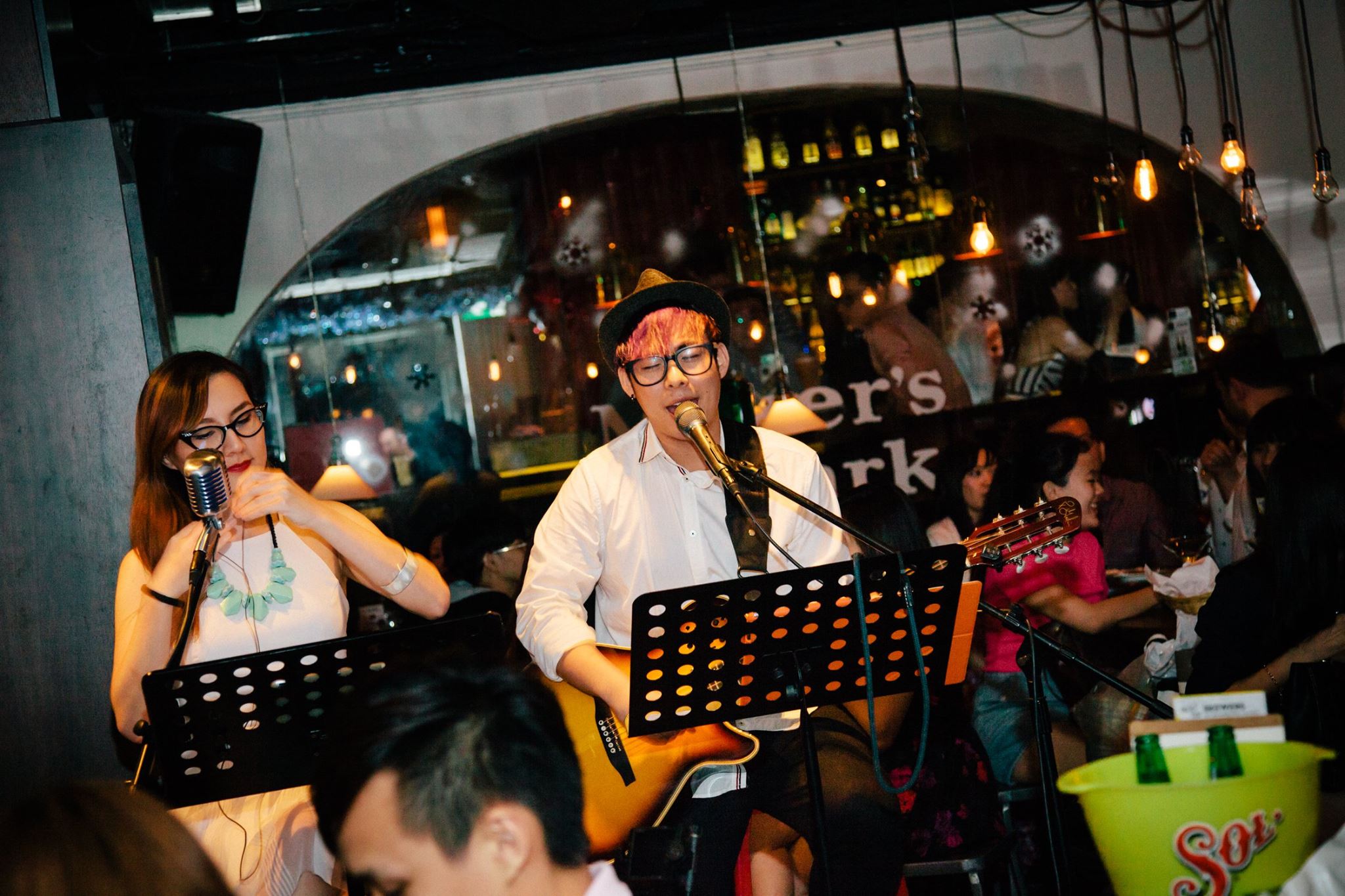 Source
One of my long time favourites, Acid Bar has seen many local bands play and some of them stayed on to become house bands. Tucked in a quaint shophouse, Acid Bar might feature a stellar lineup for the night, but their mojitos are to die for as well. And instead of a food special of the day, they feature a martini of the night to keep your tastebuds excited. For those not into martinis, chill with a selection of house pours and beers.
Address: 180 Orchard Road, Singapore 238846
Opening hours: Sun-Thur 5pm to 2am, Fri-Sat 5pm to 3am
Tel: 6738 8828
Menu
---
6. Bob's Bar
---
One of the best places to hit after a day at the beach, Bob's Bar's Cuban-inspired cocktails and cuisine can help you wash away the heat of the day. Their mains include local dishes seasoned with Carribean sauces and condiments like Chicken Rice Salad Cubano Style ($25++), but the must-try would definitely be their cocktails. Their signature Virgin Bob's Fresh-Pressed Mojito ($19++) is simply perfect, and hits the definition tanginess right on. If you feel like something classic, enjoy a Bob's Old Fashioned ($29++) against the backdrop of the house band, which just adds to the relaxing atmosphere.
Address: 1 The Knolls, Sentosa Island, Singapore 098297
Opening hours: Mon-Sun 12pm to 12am
Tel: 6377 8888
Menu
---
7. OverEasy
---
OverEasy takes their music as seriously as they take their food. Their burgers are seriously "To Die For" ($24++) – yes, that's the name of a burger – and I really want to find out what goes into their house burger sauce. They also do an All-Day Diner Breakfast ($26++) as well as milkshakes. Here's a tip: add $5 for a spiked milkshake, and it might just give you the little kick you need! Music wise, they've got their tunes down with some old school Brit-pop and house grooves, having heard Andy Hart, Cherokee and Zimmer as some of their live musicians.
Address: 1 Fullerton Road, #01-06, One Fullerton, Singapore 049213
Opening hours: Mon 5pm to 1am, Tue-Thur 11:30am to 2:30pm, 5pm to 1am, Fri 11:30am to 2:30pm, 5pm to 3am, Sat-Sun 5pm to 3am
Tel: 6684 1453
Menu
---
8. Cato
---
Restaurant by evening and a bar-slash-club by night, Cato is your one stop go-to for food and entertainment. Thumbs up goes toAuntie Jasmine's Fish Curry ($25++), and the rest of the menu pretty much features Asian-western fusion dishes. Once you're done with eating, head upstairs to the bar, and if you are in luck, there might be a house DJ at the decks for some chill house tunes or a guest DJ dropping into town for the night.
Address: 237 South Bridge Road, Singapore 058786
Opening hours: Tues-Sat 6pm to 12am
Tel: 8299 6434
---
9. kult kafe
---
Another one of those venues that hosts anything from live bands to film screenings to samba dancers, kult kafe is perfect for an experience that is down the road less travelled. The drinks menu, curated by local bartender Zac Mirza, is full of classic cocktails with a little surprise. I won't spoil the surprise, but my favourite is Kult Julep ($20++), which is rum mixed with gula melaka and topped with a kaffir lime leaf. Catch one their regular events or even chill out to their house band to get a guaranteed good night.
Address: 11 Upper Wilkie Road, Singapore, 228120
Opening Hours: Wed-Fri 5pm to 12am, Sat-Sun 12pm to 12am
Tel: 9389 2185
---
10. Unplugged Singapore
---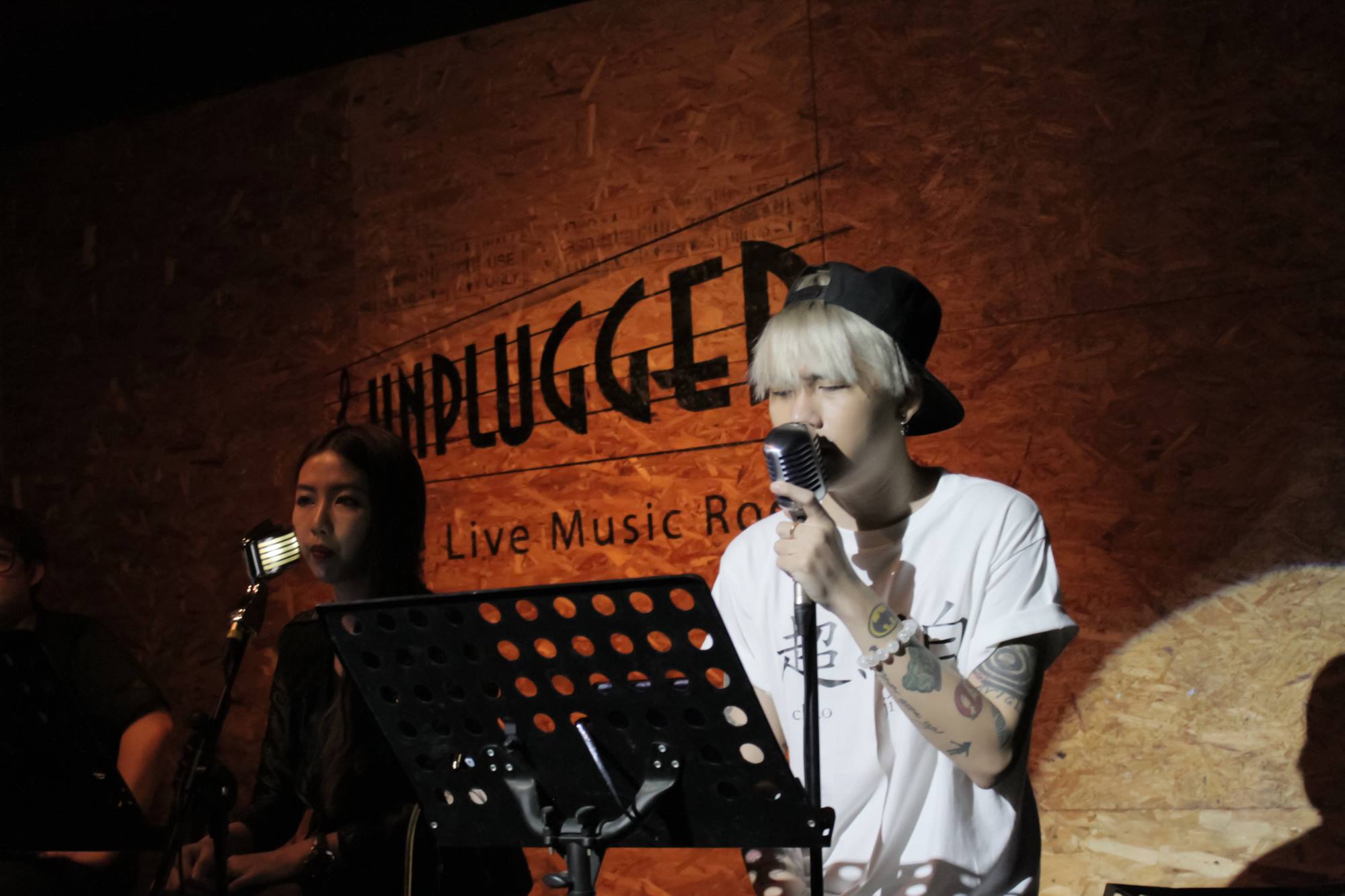 Source
Helmed by Sylvester Sim, the runner up of the very first Singapore Idol, Unplugged Singapore is a place for aspiring musicians to get taste of performing live. With regular open mic nights and house bands, their food and drink menus are no joke either. There are classic cocktails like margaritas on the menu, and you can also get the bartender to mix something up for you if you're feeling a little adventurous. If not pick from a selection of wines and beers and get some bar bites to finish up the night.
Address: 7 Dempsey Road, #01-03, Singapore 249671
Opening Hours: Mon-Sat 4:30pm to 1am
Tel: 6466 6676
Menu
---
BONUS: Montreux Jazz Cafe
---
Slated to officially open its doors on 7 October, Montreux Jazz Cafe seems promising as an upcoming music venue. Born out of the founder's love and passion for music and fine dining, this new kid on the block aims to create a space where culinary arts and music interact. Some of the fare offered at the cafe include the famous BB Cheese Burger ($28++), Squid Ink Tagliatelle ($38++), and Ella's Cheesecake ($15++). 
Address:10 Claymore Road, Pan Pacific Orchard, Singapore 229540
Opening Hours: Mon-Sun 12pm to 3pm, 6pm to 11pm; bar is opened Sun-Thur 12pm to 12am, Fri-Sat 12pm to 1am
Tel: 6733 0091
Menu
---
Time for some R&R
---
Go ahead and let loose any day of the week because you deserve it. If you know of any other bars with awesome live music that you love, let us know in the comments and we will drop by to check it out.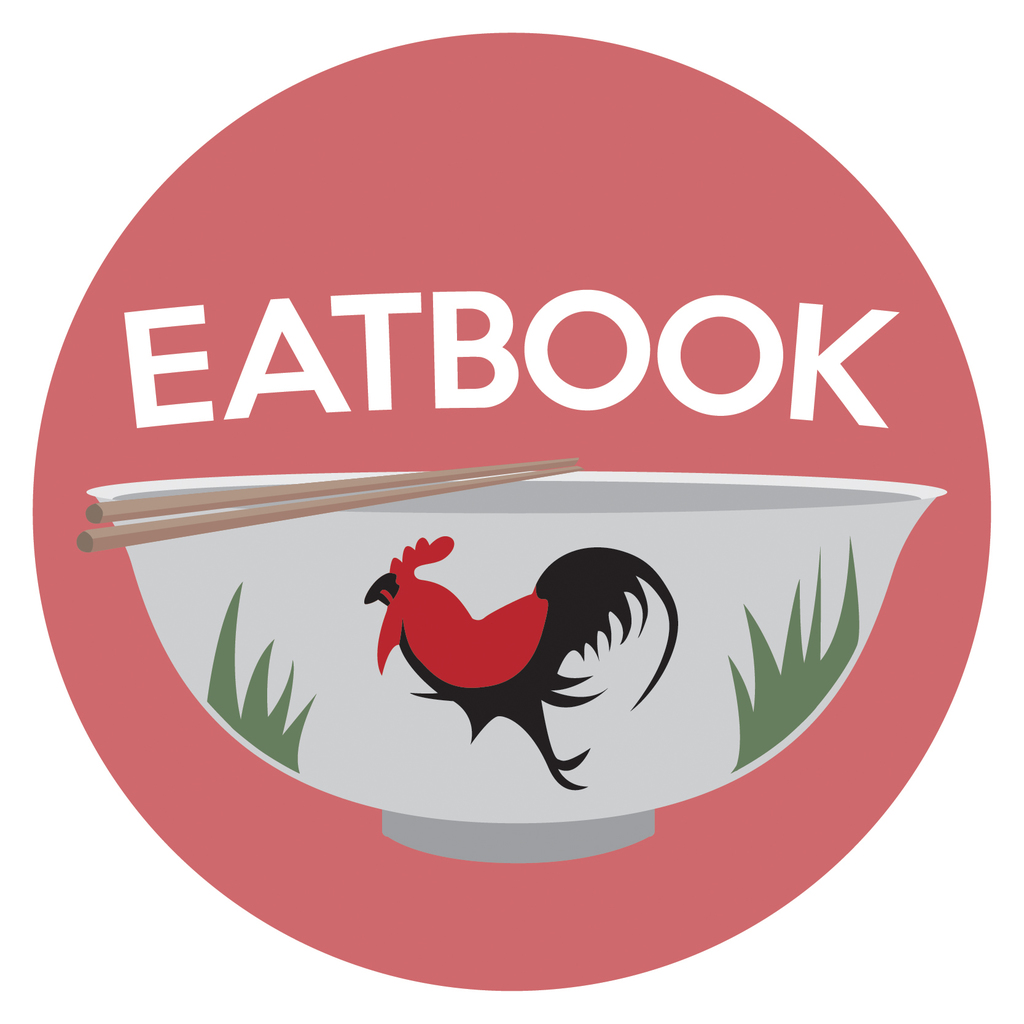 Drop us your email so you won't miss the latest news.