About Long Bar Steakhouse
Update (4th Apri 2019): Long Bar Steakhouse has permanently closed.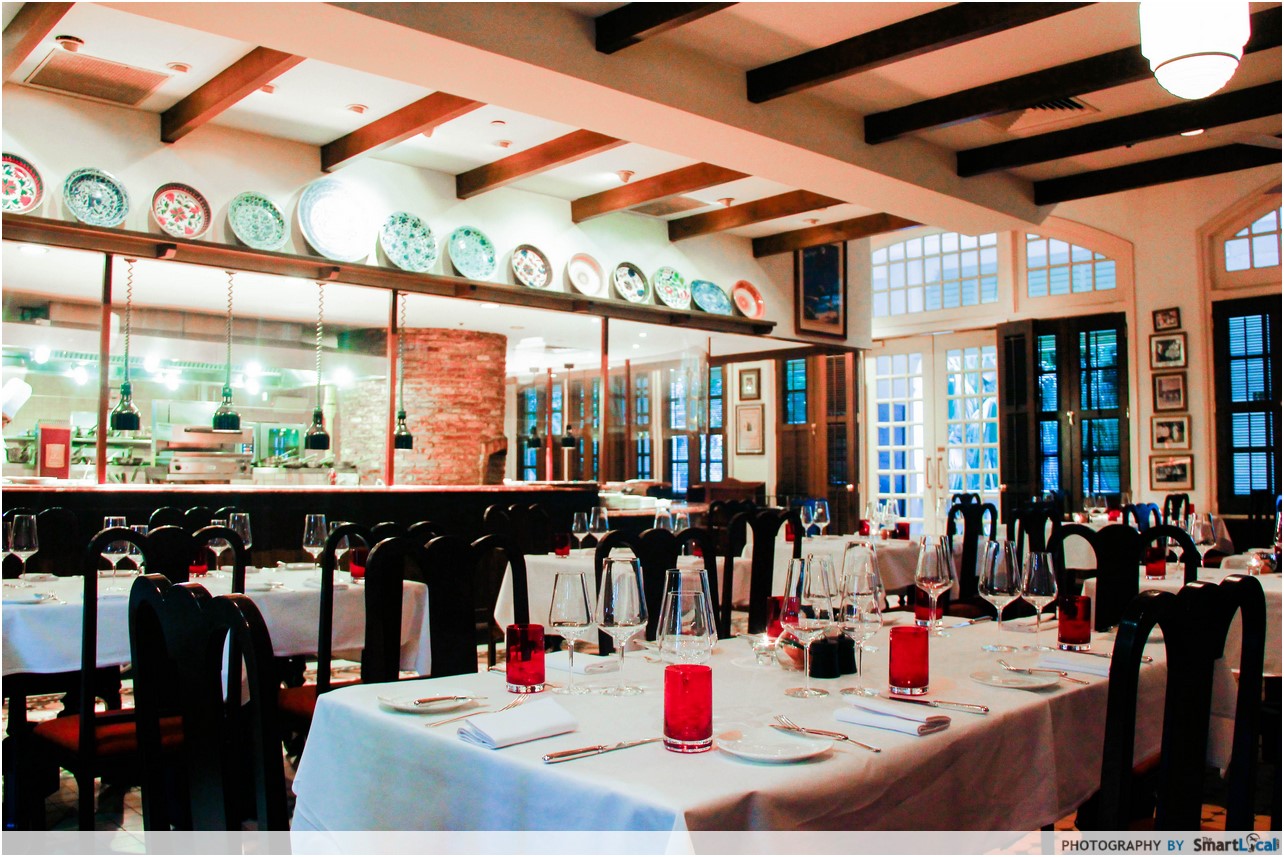 Adjacent to the world-famous Long Bar, birthplace of the Singapore Sling; Long Bar Steakhouse has long been touted one of the best steakhouses in Singapore. Sporting a brand new menu every month, Long Bar prides itself on serving premium cuts of beef, old and new world wines and the freshest seafood.
We were privileged enough to be invited to sample some of Long Bar's new menu items, as well as a couple of their signature dishes. Upon stepping into the restaurant, I was enchanted by the colonial-inspired interior and grand open kitchen, and immediately put at ease by the earthy hues.
A classic and unpretentious dining environment that just oozes luxury – I had high hopes for the food to come.
The Appetizers
Maine Lobster Salad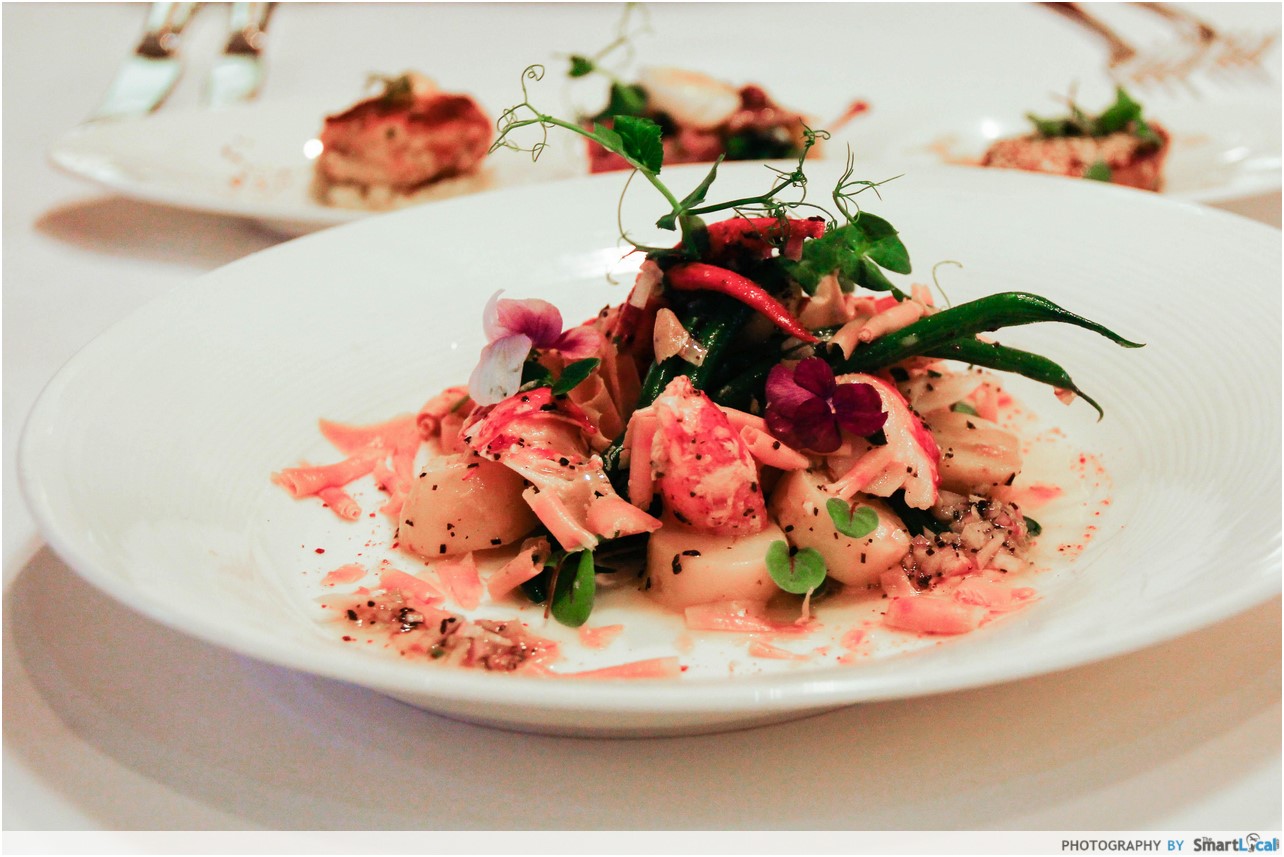 For starters, we were treated to a taste of the ocean with one of their new appetisers: the Maine Lobster Salad ($49). Served with crunchy blanched Kenya beans, ratte potatoes, curls of frozen foie gras and a drizzle of truffle vinaigrette, everything on the dish worked in perfect harmony.
It was a pity that the lobster meat was a little too rubbery, but this fresh, light salad was a joy nonetheless.
Long Bar Steakhouse Sampler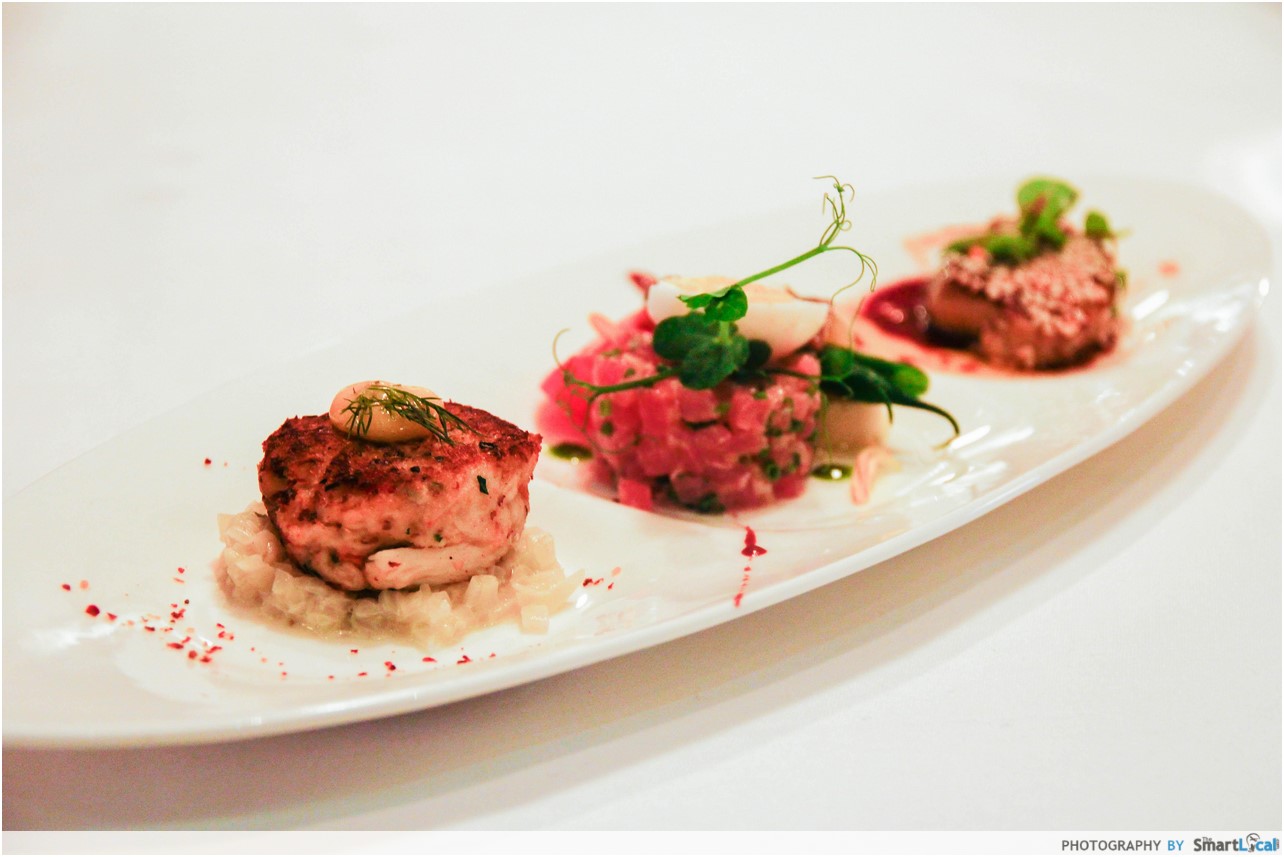 A trio of appetisers, our Long Bar Steakhouse Sampler ($52) featured Long Bar's Foie Gras "Piccata", Tuna Tartar and their signature Dungeness Crab Cake. We pored over the delicately plated sampling platter, which scored high in terms of presentation with its  vivid hues and skilful plating.
Each dish brought a something different to the table: the humble crab cake was the ultimate comfort food, generously stuffed with creamy crab meat and sitting atop a bed of fennel aioli; the foie gras was incredibly decadent, even the tiniest forkful would hit you with its rich, gamey flavor.
The tuna tartar was sort of a "carnivore-lite" version of beef tartar – a stack of chopped tuna tower tossed with house-made confit lemon. This zesty, refreshing appetiser complemented the other two items wonderfully, perfect for the tropical Singapore weather.
I had nothing but praise for Long Bar's sampler, adequately whetting my appetite for the remaining courses.
The Mains
Bone in Rib Eye Steak "Côte de Bœuf"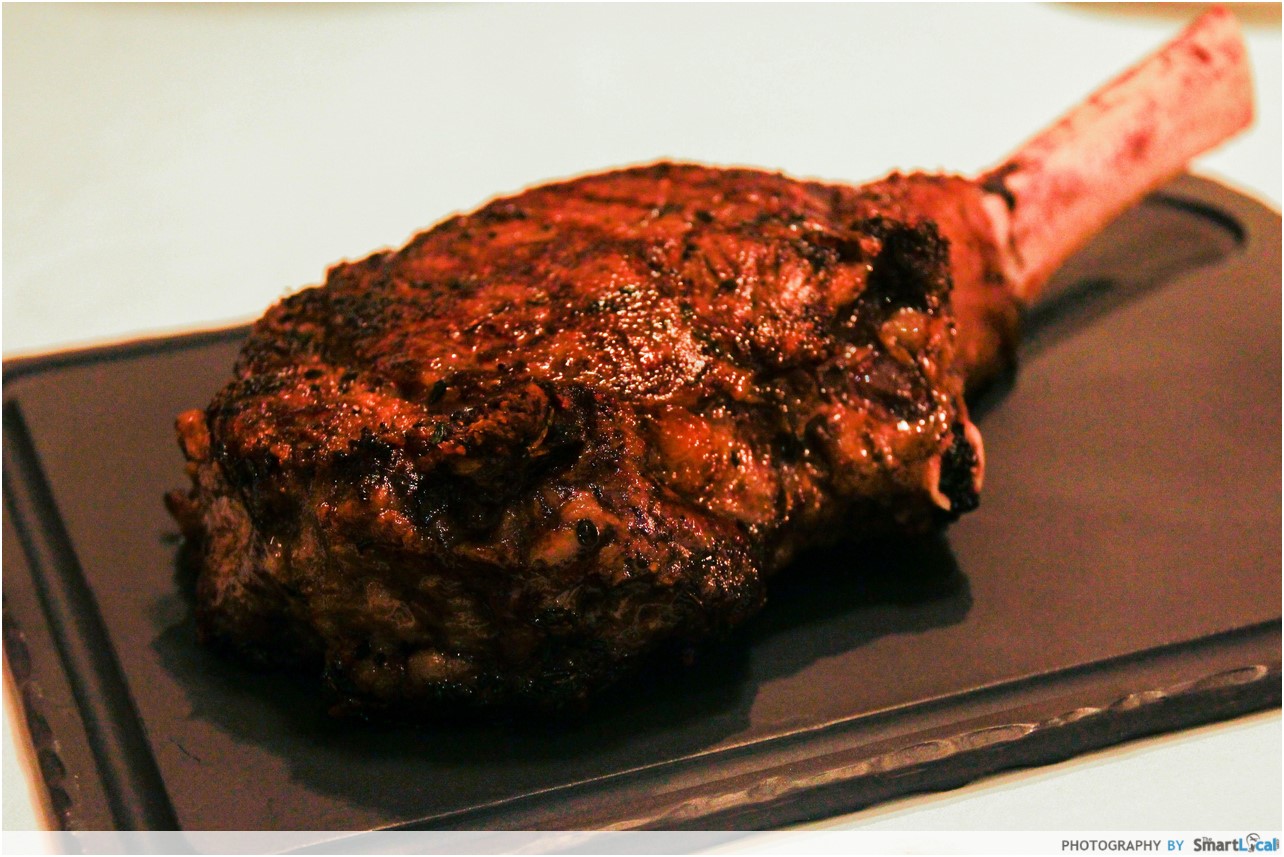 All eyes were fixed on this massive hunk of beef as our waiter sauntered into the dining room. Later carved to reveal a beautiful blush of pink and red, Long Bar's Bone in Rib Eye Steak "Côte de Bœuf" ($192) sealed the deal for me. Cooked to a perfect medium rare, it took all of my self-control not to singlehandedly devour this melt-in-your-mouth marbled goodness.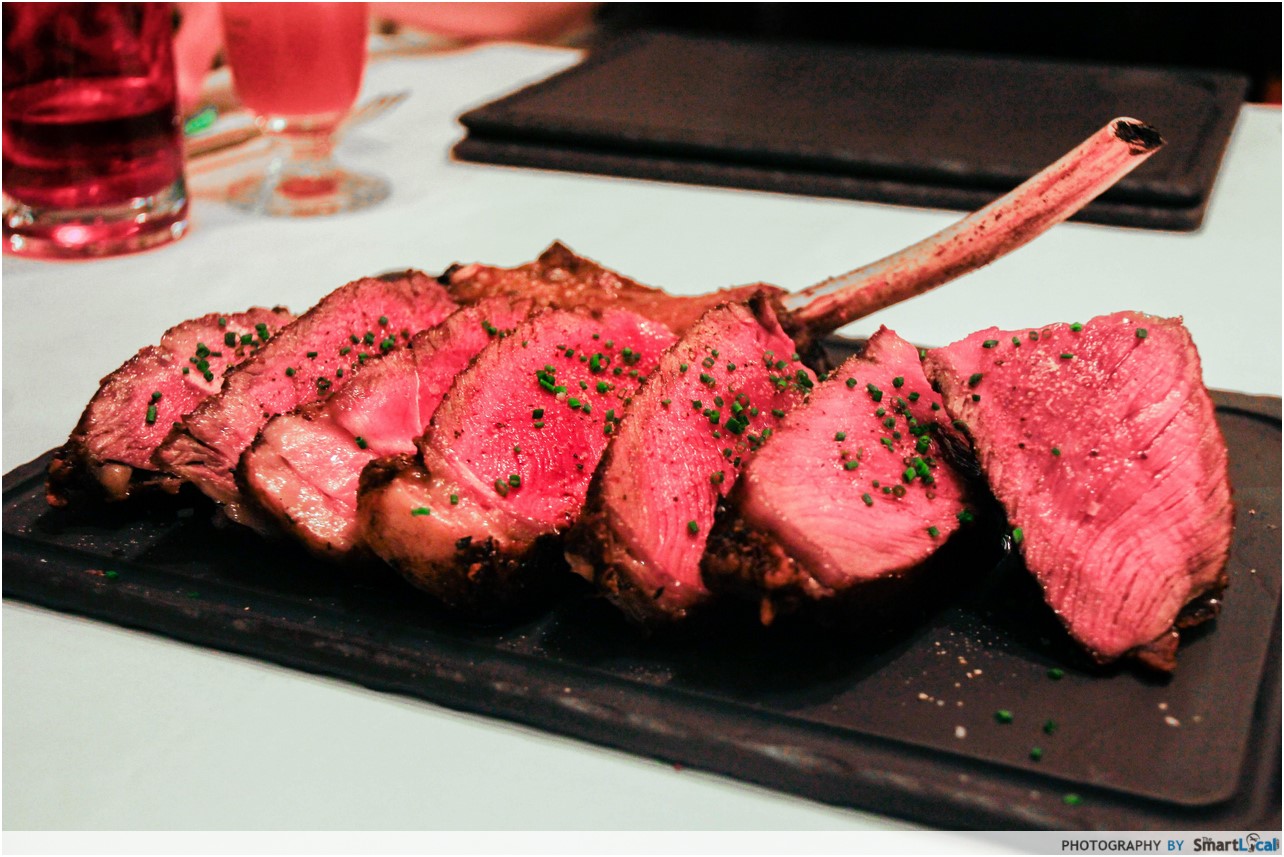 It was well-seasoned, slightly charred and seared extremely well. The steak was well rested which meant that the meat's juices were all sealed in. This thick steak was flawless, and our completely clean plate was a testament to that.
Caramelised Iberico Spareribs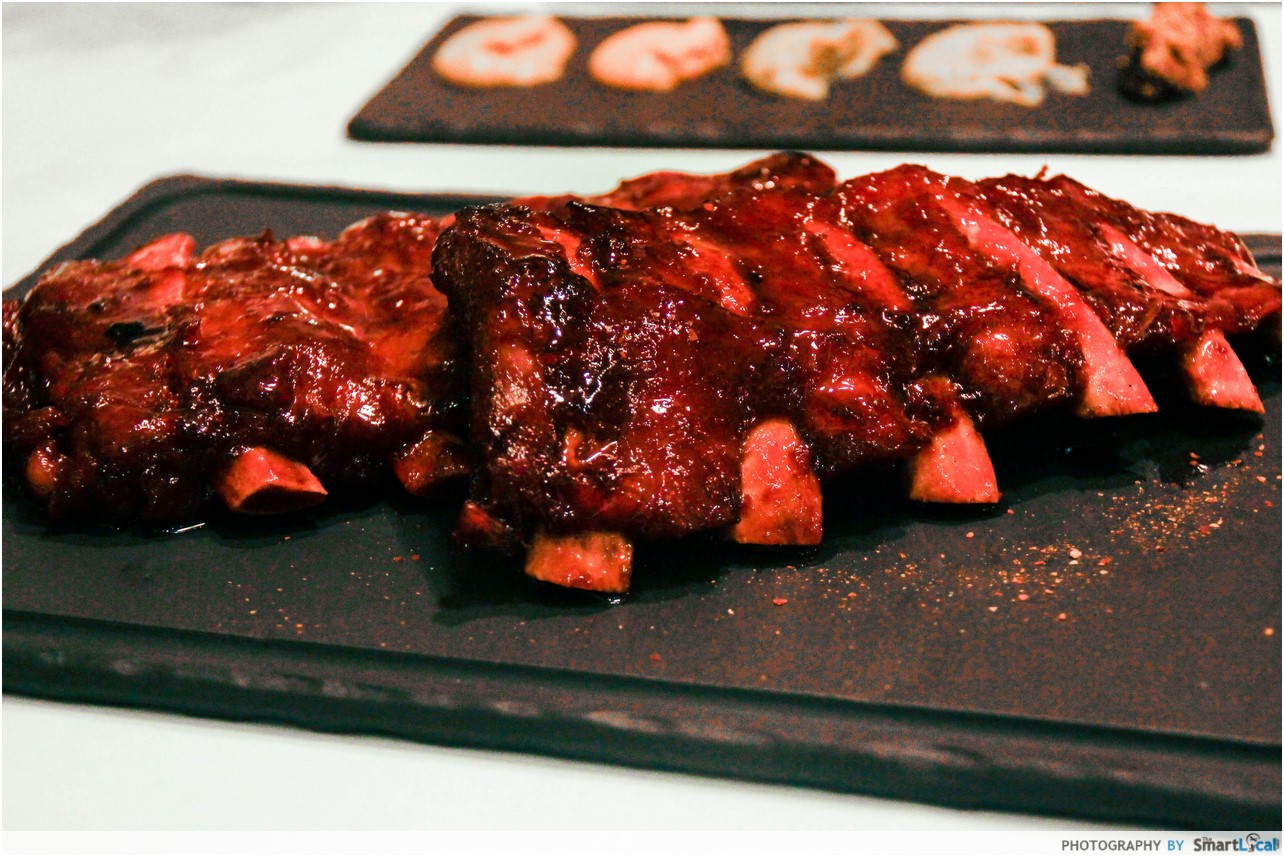 Though the Ribeye steak was unquestionably the highlight of the night, Long Bar's no-frills Caramelised Iberico Spareribs ($68) came in a close second. Generously coated in a delightful sweet-savoury marinade, the meat was fork-tender, falling off the bone at the slightest nudge.
The spareribs were oddly reminiscent of char siew (Chinese BBQ pork belly), but it was a tad too sweet for my liking so it gets a bit jelat. Still, it's safe to say that meats are most definitely Long Bar's strong suit.
The Sides
Fine Mashed Potatoes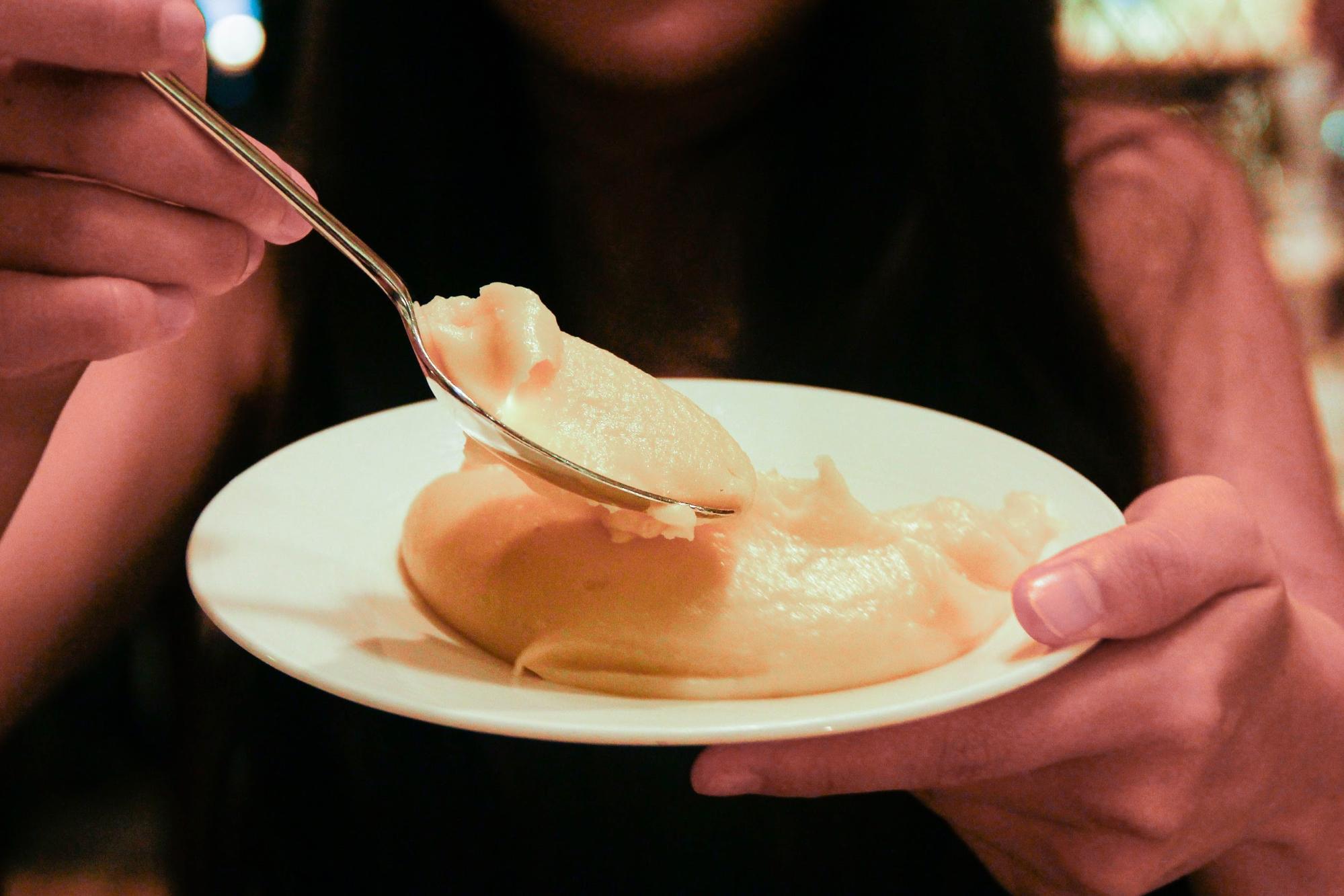 Of the four side dishes, Long Bar's Fine Mashed Potatoes ($9) elicited the most 'oohs' and 'aahs' from our table. The mashed potatoes were creamy and silky – every other mash I've had seemed dull in comparison.
Penne Pasta with Foie Gras Sauce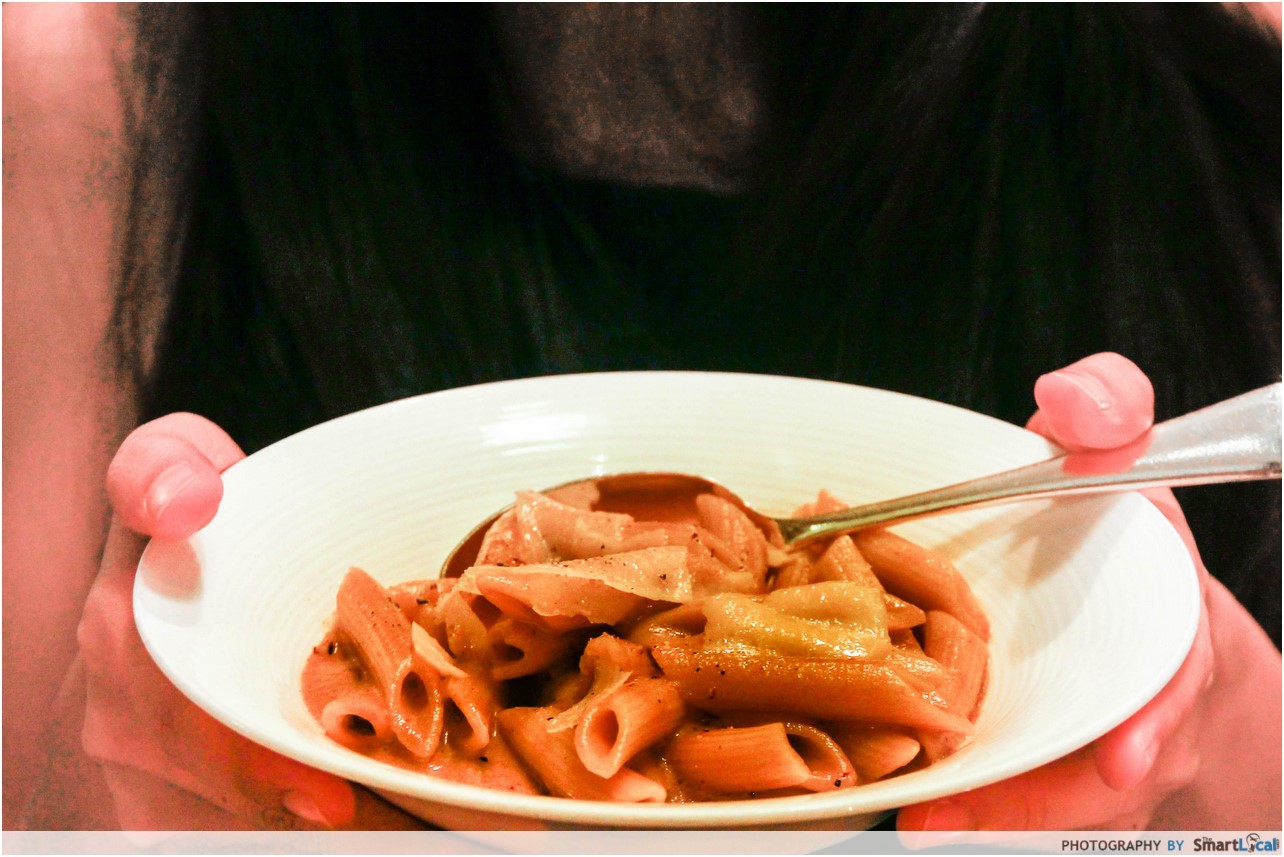 Their Penne Pasta with Foie Gras Sauce ($9) was a classic case of 'don't judge a book by it's cover'. Though the foie gras sauce rendered it a dull brown colour, the mellow richness of the sauce instantly elevated the flavour of the pasta; the penne pasta itself was cooked al-dente and had a nice bite to it.
Macaroni "Zita" With Comte Cheese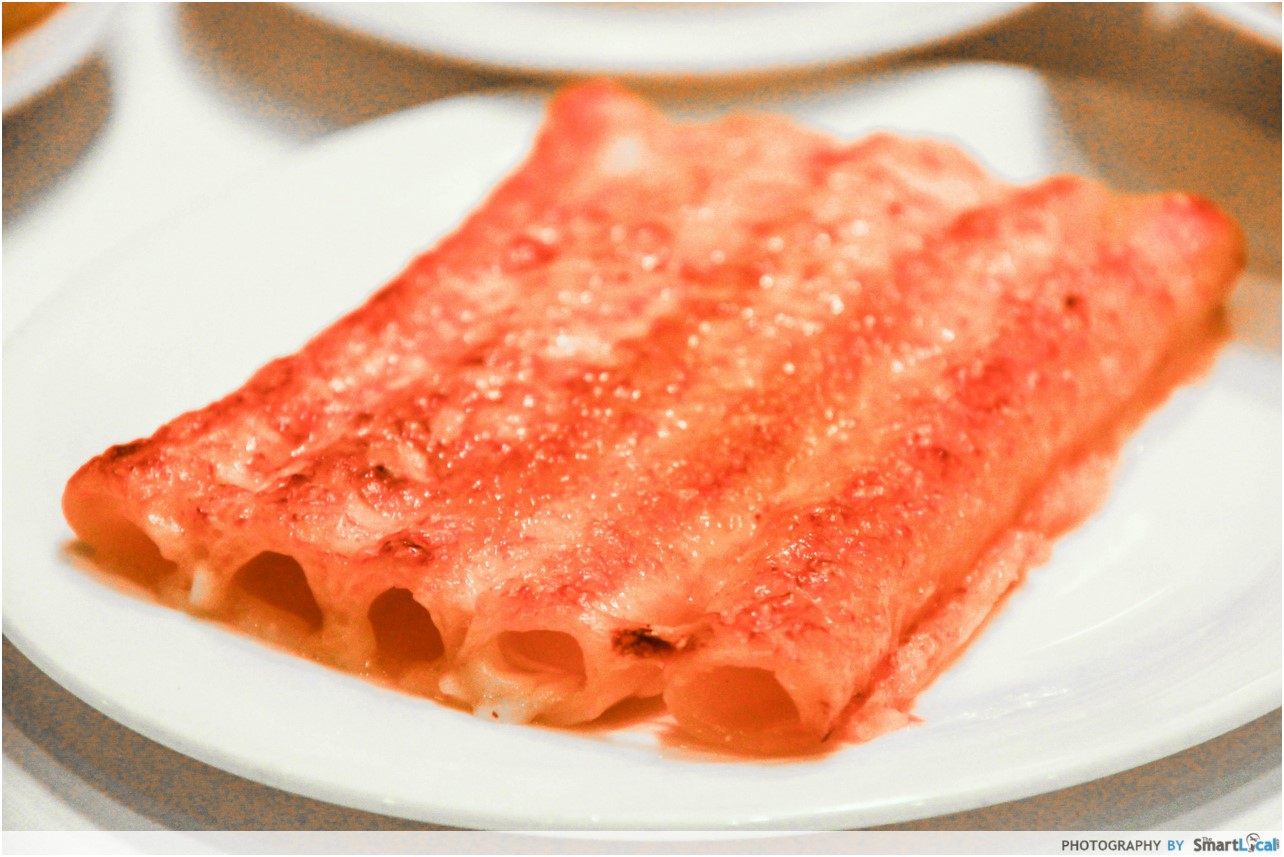 Onion Rings
I tried two other sides – the Onion Rings ($9) and Macaroni "Zita" With Comte Cheese ($9) – they were nothing spectacular. The macaroni was dry and hard, and I personally felt they could afford to be more heavy-handed with the comte cheese. The onion rings were well-executed, but forgettable.
Though they were some hits and misses, as a whole the sides were a decent supporting cast to the main dishes.
The Desserts
Berries Salad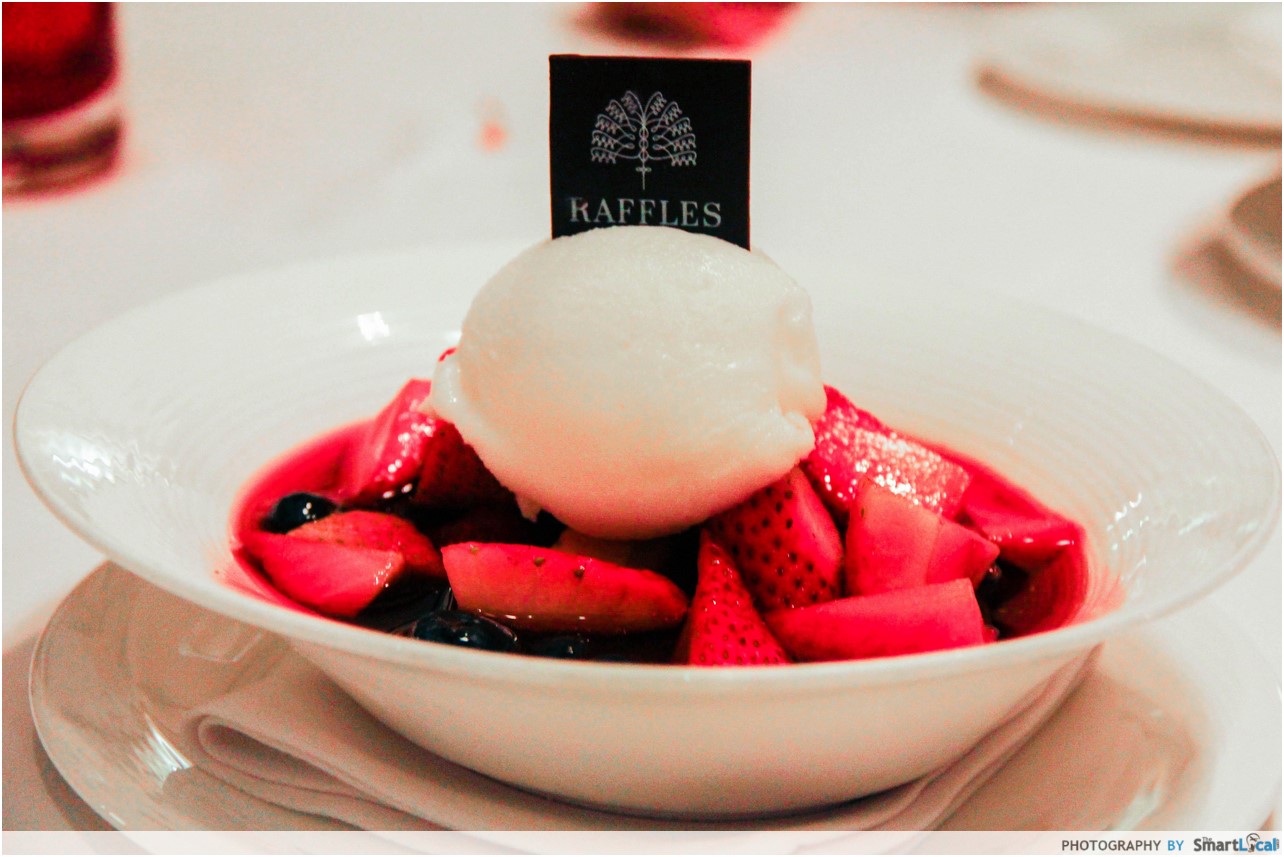 Our first dessert was Long Bar's Berries Salad ($20): passionfruit cream, a dollop of lime sherbet and berries swimming in a bowl of rose broth. Mild, sweet and slightly tart, the lime sherbet was smooth and a great end to our meal. While the rose broth was fragrant, the berries were little on the sour side, ruining the otherwise pleasant dessert.
Profiterole "Tout Chocolat"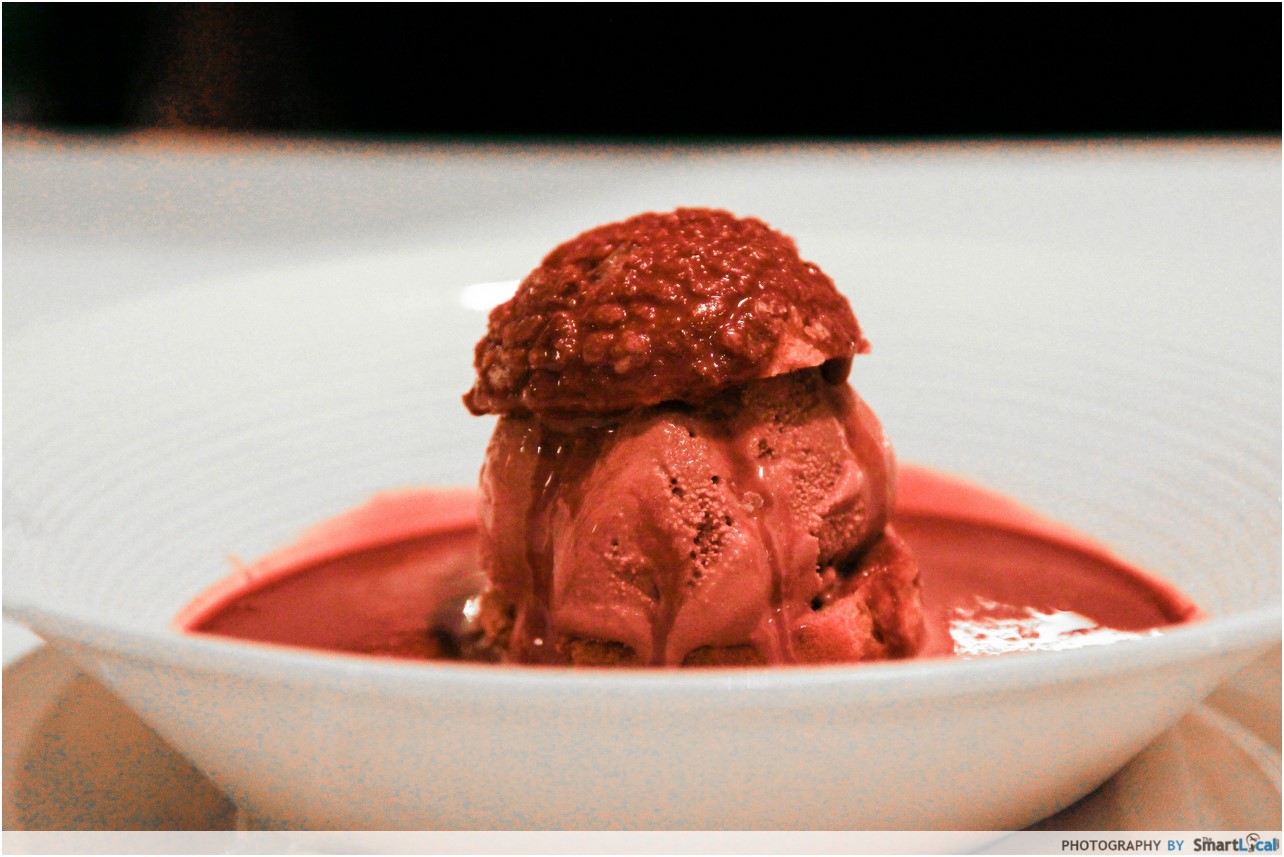 Light as air choux pastry hugging milky chocolate ice cream – we were unduly excited to tuck into this Profiterole "Tout Chocolat" ($20). I enjoyed the crunch provided by the chocolate crumble, and the juxtaposition of hot and cold was awfully satisfying. However, I was disappointed as the chocolate was not nearly rich enough, leaving me craving for more.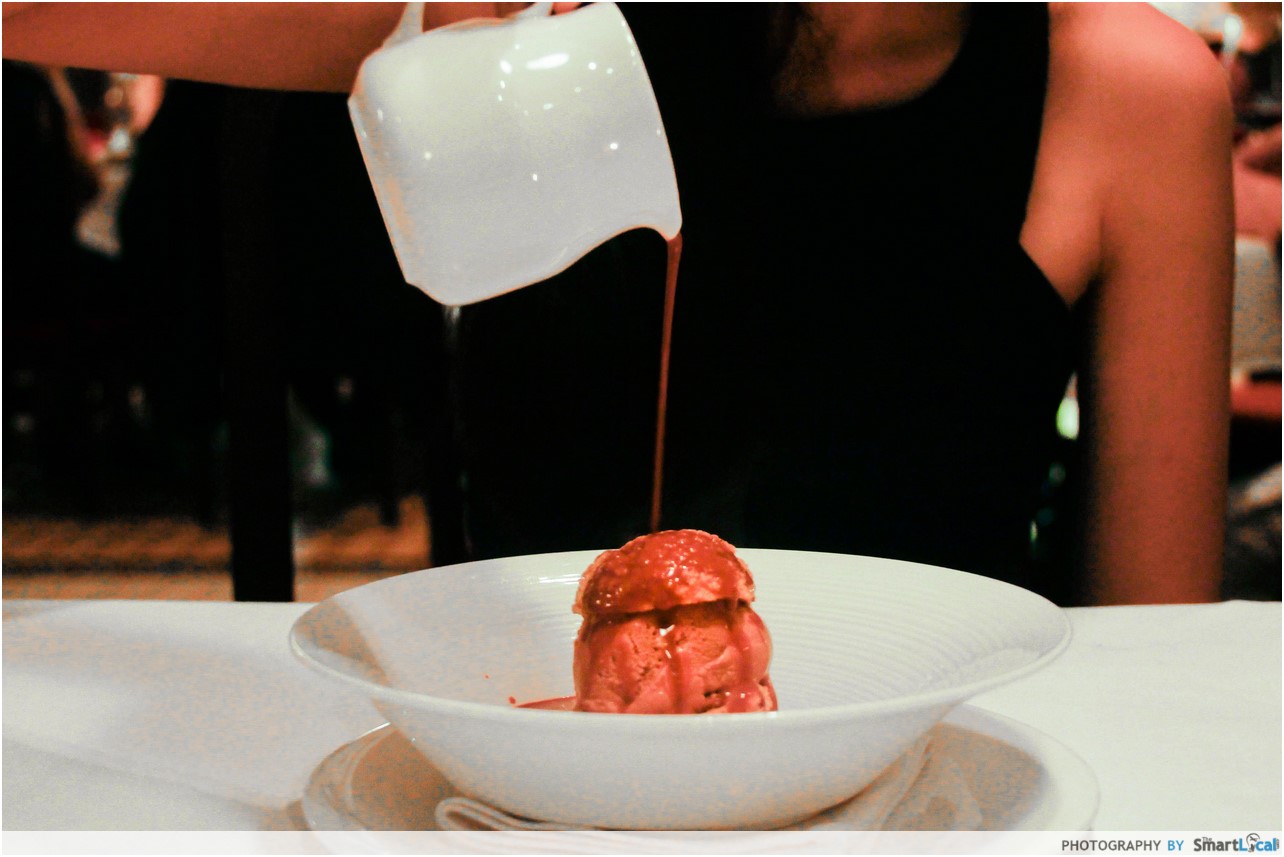 The Long Bar Experience
One of the higher-end steakhouses in Singapore, Long Bar certainly lives up to its name. Everything was decidedly well-executed, and most deserve a spot on their permanent menu. Dining here will have you feeling like royalty, perfect for a romantic date night or to celebrate a special occasion.  
Rating: 7.5/10
Long Bar Steakhouse
Address: #2-00 Raffles Hotel 1 Beach Road Singapore 189673
Contact: +65 6412 1816
Opening Hours: 6:00pm – 10.30pm (Thurs & Mon), Closed on Tuesdays and Wednesdays
This post was brought to you by Long Bar Steakhouse