---
Easy, overnight low-carb breakfasts
---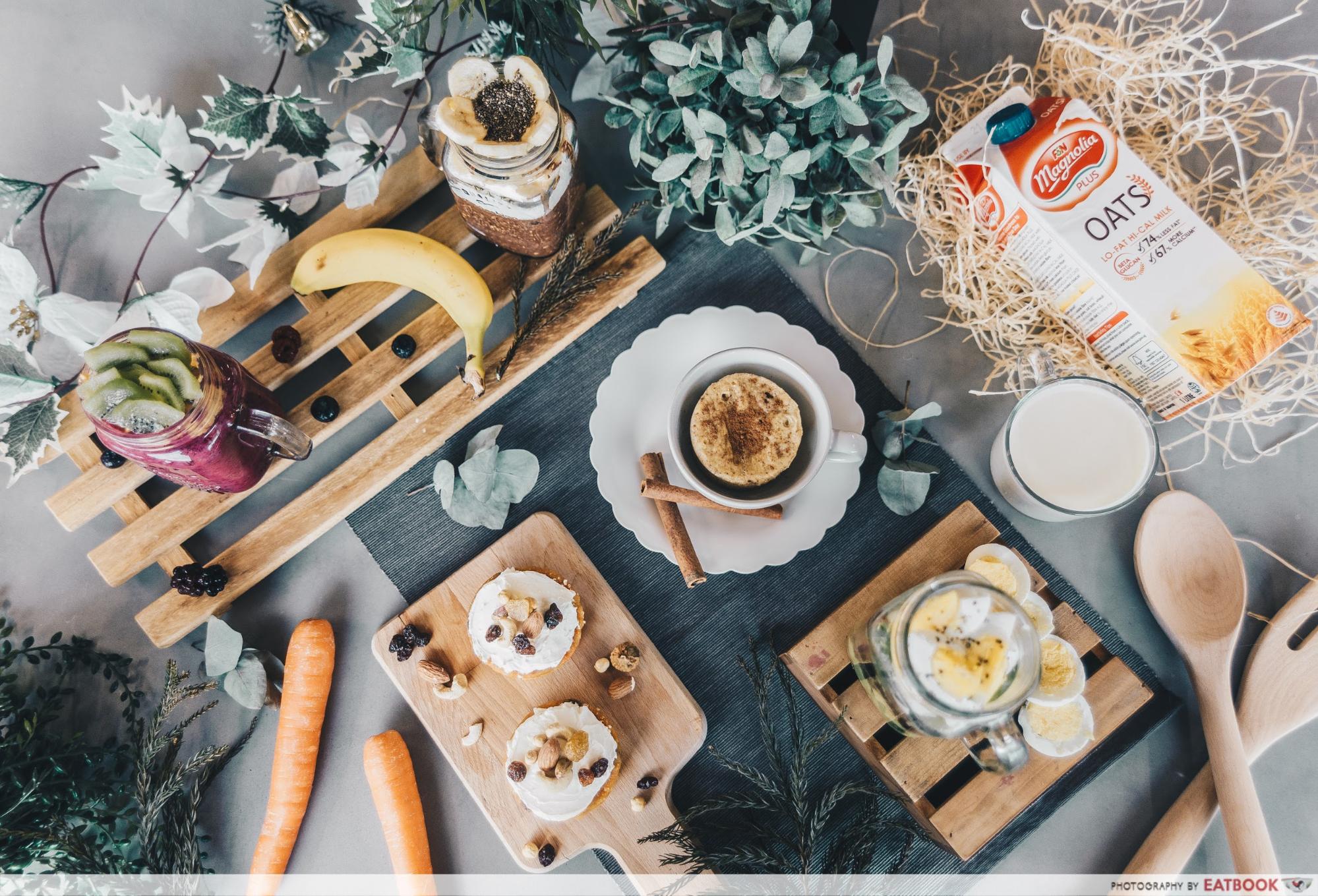 As cliche as it sounds, breakfast really is the most important meal of the day. And while we can settle our morning hunger pangs with kaya toast, such fuss-free breakfast options can get boring pretty quick. Plus, I hate the morning slug that comes from a carb overdose! Thankfully, there are plenty of ways to make delicious low-carb breakfasts the night before.
---
1. Overnight Choco-coco
---
We can never say no to chocolate – especially when it's as healthy as this chocolate and coconut concoction. The slight bitterness from the unsweetened cocoa powder is balanced out by the sweet and refreshing shredded coconut. The flaxseeds gives this dish a nutty touch, crunch, as well as tons of nutrients and fibre.

Ingredients:
1 cup shredded coconut (fresh, not dessicated)
1 cup ground flaxseeds
2 tablespoons unsweetened cocoa powder
2 tablespoons honey
1 teaspoon of vanilla extract
250ml Magnolia Plus Oats Lo-Fat Hi-Cal Milk
1 banana
½ tablespoon chia seeds
Directions:
Throw ⅓ cup of shredded coconut along with flaxseeds and cocoa powder into a mason jar.

Mix until everything turns brown from the cocoa powder.

Add Magnolia Plus Oats Lo-Fat Hi-Cal Milk, honey, and vanilla extract.

Stir everything well.

Layer your mason jar with the concoction and the remaining shredded coconut.

Leave in the fridge overnight to set.

Top off with sliced banana and chia seeds when ready to eat
---
2. No-Bake Carrot Cake 
---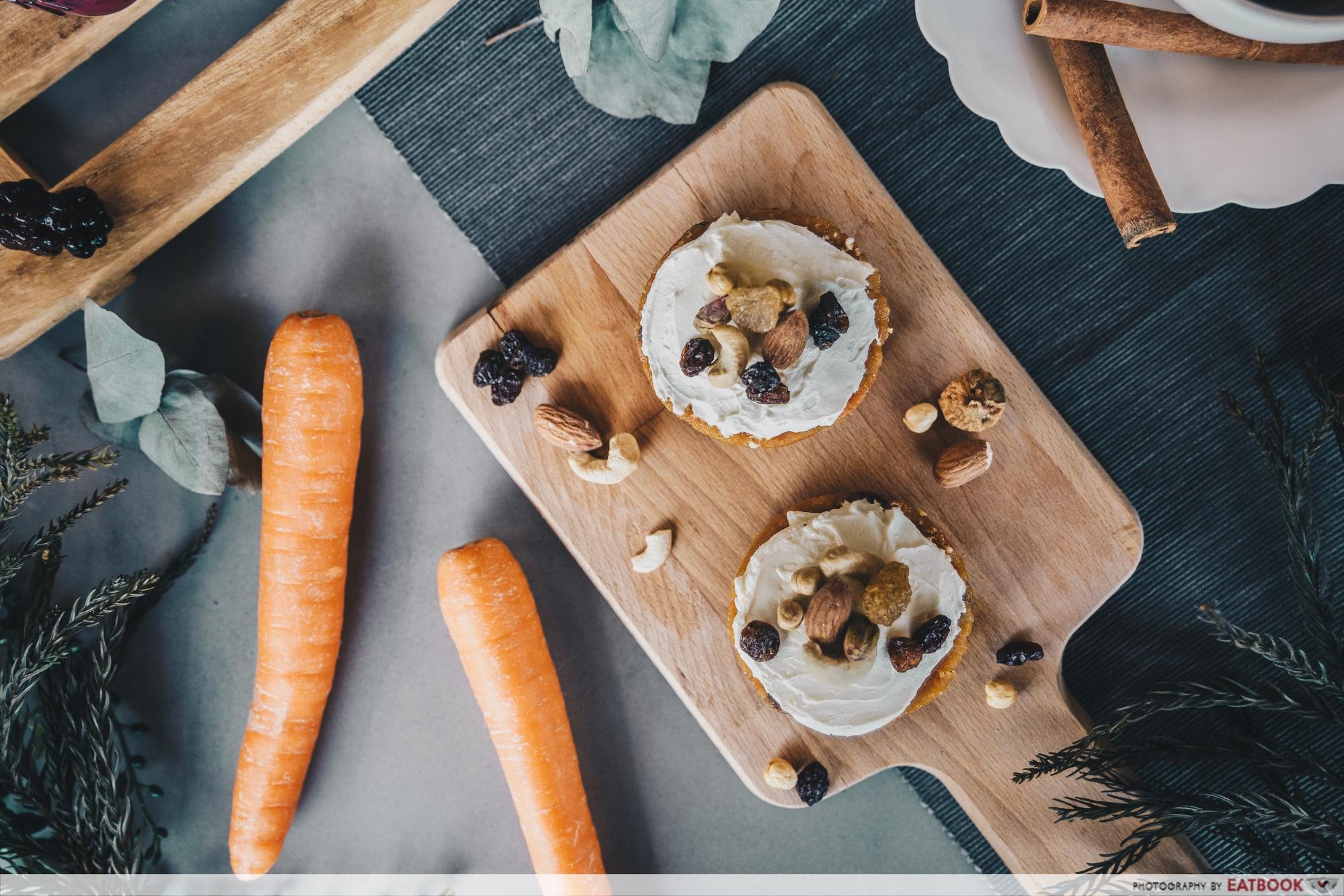 You don't need an oven to prepare this fudgy carrot cake. This is made without any sugar and it looks great, making your colleagues think you took hours to whip this up. While you can make your own cream cheese icing, we lazy folks decided to just use store-bought, low-fat cream cheese for a more fuss-free treat.
Ingredients:
1 cup grated carrots
4 tablespoons raisins
150ml carrot juice
1 cup almond meal
1 tablespoon cinnamon powder
½ tablespoon ground nutmeg
2 tablespoons honey
½ cup peanut butter
250ml Magnolia Plus Oats Lo-Fat Hi-Cal Milk
Frosting (optional)
Low-fat cream cheese
Directions:
Line a 6 x 6 muffin pan with cling wrap.

Soak grated carrots and raisins in carrot juice.

In a mixing bowl, mix together almond meal, cinnamon powder, and ground nutmeg.

Add honey and peanut butter into a heatproof bowl, and place it over a pot of hot water.

Stir occasionally until the peanut butter and honey are well-mixed and turn creamy smooth.

While waiting for peanut butter and honey to turn creamy smooth, add grated carrots, raisins and carrot juice into the mixing bowl of dry ingredients and whisk everything together.

Still whisking, slowly add in Magnolia Plus Oats Lo-Fat Hi-Cal Milk as well as the peanut butter and honey concoction.

Once everything is mixed well, scoop the mixture into the lined muffin pan.

Firmly press down the mixture and shape each muffin with the back of your spoon or fingers.

Leave it in the fridge overnight to set.

Spread some cream cheese on each muffin when ready to eat.
---
3. Berry Chia Seed Pudding
---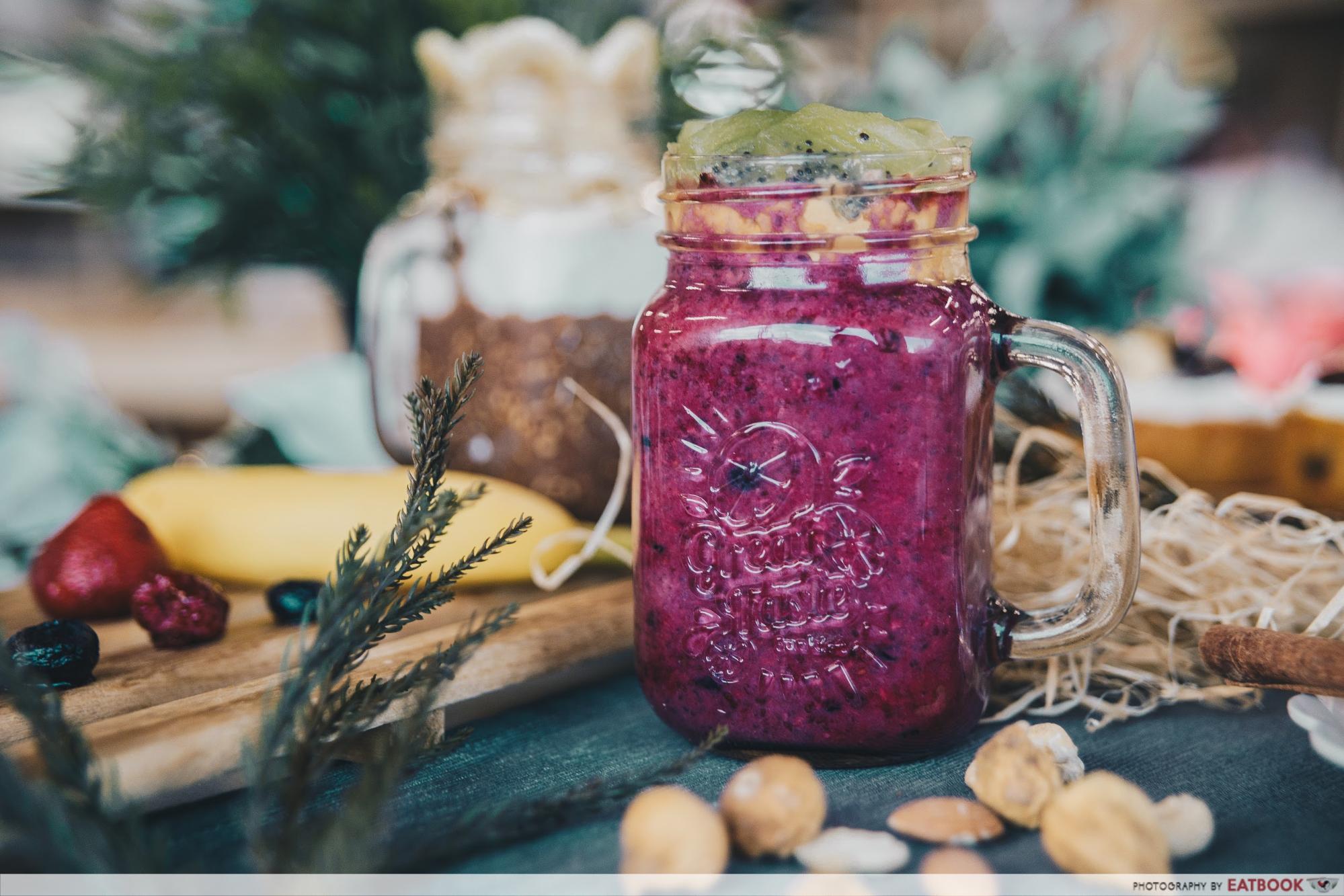 Start your day right with this refreshing Chia Seed Berry Pudding that takes less than five minutes to prepare! It's rich in antioxidants as well as omega-3 fatty acids, fibre, iron and calcium, definitely giving you the super energy boost you need in the morning. Plus, it looks totes gorgeous and the cherry colour will help brighten up your day.
Ingredients:
1 cup fresh or frozen mixed berries
2 tablespoons shredded coconut
4 tablespoons chia seeds
100ml Magnolia Plus Oats Lo-Fat Hi-Cal Milk
Toppings (optional)
Mixed nuts  
Cut fruits
Peanut butter
Directions:
Mash mixed berries with a fork.

Add shredded coconut and chia seeds, folding them into the mashed berries.

While folding, gradually add Magnolia Plus Oats Lo-Fat Hi-Cal Milk.

Pour mixture into a mason jar and leave it in the fridge overnight to set.

In the morning, top the berry chia seed pudding with some cut fruits or peanuts, if desired.
---
4. Mini Souffle Pancake
---
Fluffy yet dense, this mini souffle pancake is a breakfast dish we don't mind having any day. Don't be fooled too – while it is a pancake, this toothsome breakfast mug dish is low in carbs and contains no sugar. The best part is, it only takes two minutes to prepare and you don't need a stove – just pop it into a microwave and watch it rise!
Ingredients:
Coconut oil
¼ teaspoon baking powder
2 teaspoons cinnamon powder
1½  tablespoons almond meal
1 egg
1 teaspoon honey
80ml Magnolia Plus Oats Lo-Fat Hi-Cal Milk
Directions:
Line the entire mug with coconut oil.  

Add dry ingredients into a mug and stir to combine.

Break in the egg, add honey, and pour in Magnolia Plus Oats Lo-Fat Hi-Cal Milk.

Using a fork, stir until everything is mixed well.

Microwave for a minute or a few seconds longer, depending on your microwave.

Dust with some cinnamon powder.
---
5. Egg and avocado salad
---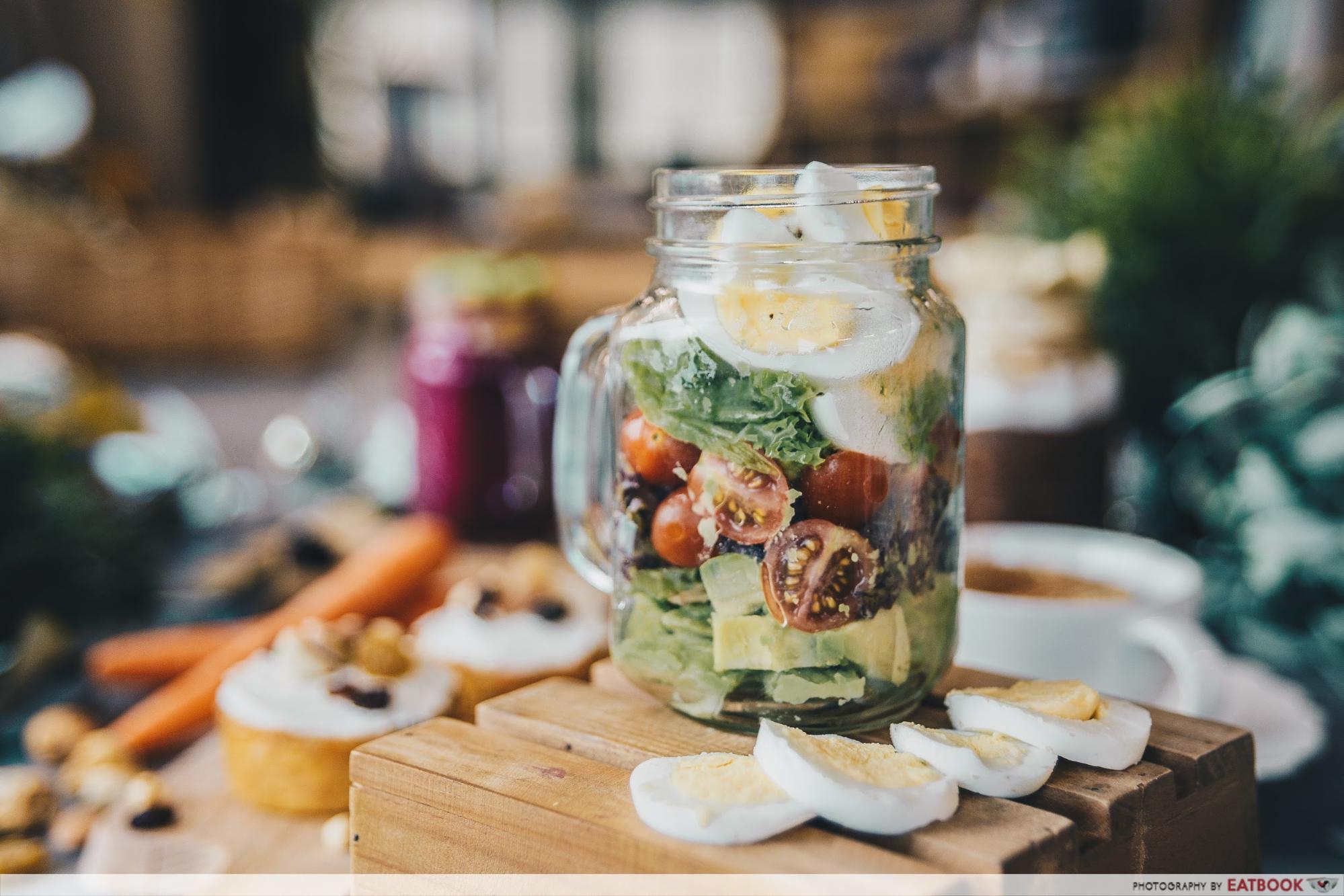 We are huge fans of avocado and eggs. But whipping up an IG-worthy avo toast topped with poached eggs is beyond us on weekday mornings; getting off bed is already a struggle. Make do with this colourful salad that is just as delicious and doesn't come with a hefty price tag.

Ingredients:
1 avocado
2 hard-boiled eggs
10 cherry tomatoes
1 cup lettuce
1 tablespoon salad dressing of your choice (optional)
Directions:
Dice avocado.

Cut hard-boiled eggs into quarters.

Slice cherry tomatoes into halves.

Line the jar with avocado.

Top with lettuce, cherry tomatoes and egg.

Chill it overnight in the fridge and have it the next morning with or without salad dressing.
---
Low-carb breakfasts to start your morning right
---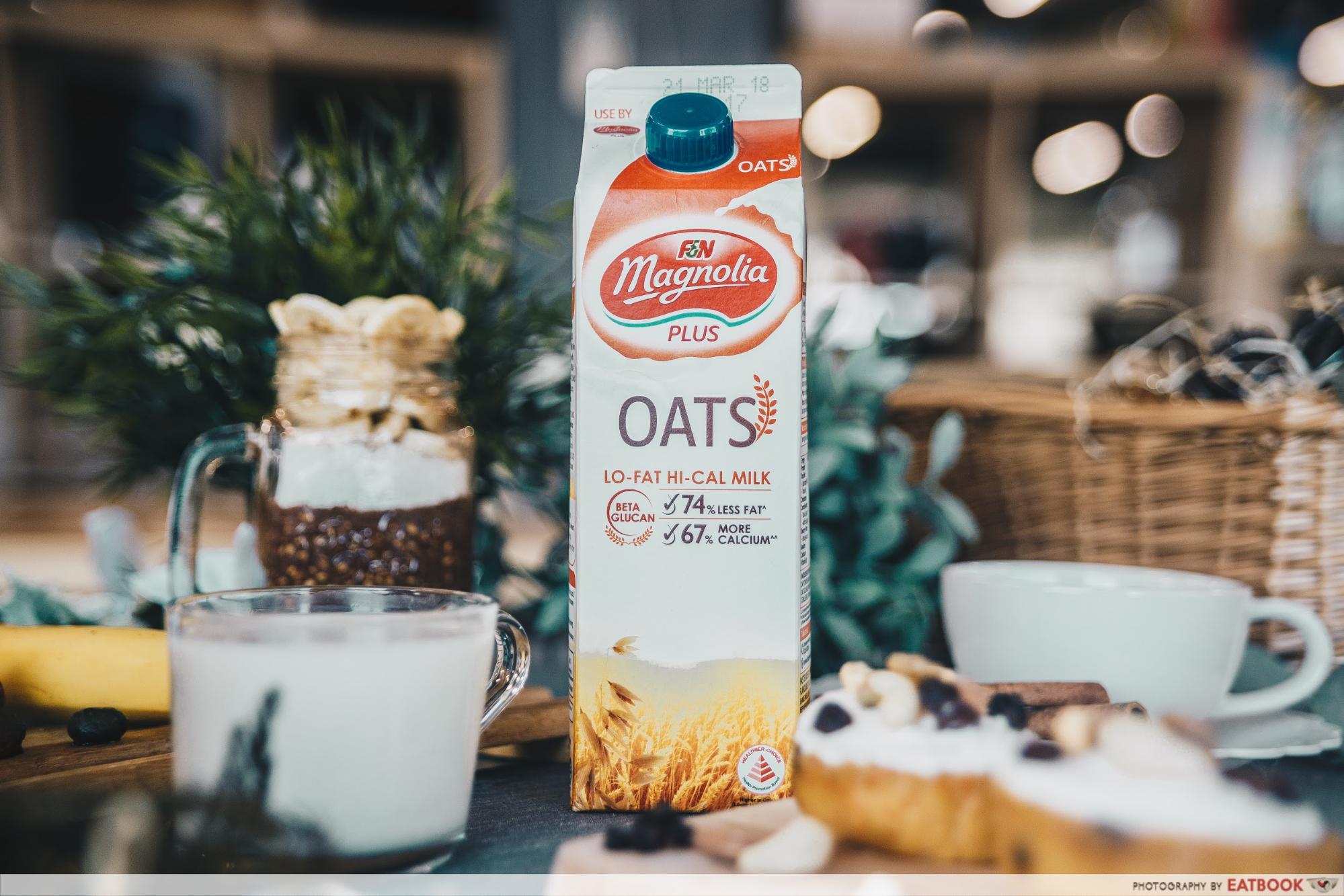 Start your day on a right note with these low-carb recipes and make your breakfast extra nutritious with a glass of Magnolia Plus Oats Lo-Fat Hi-Cal Milk ($3.50 for 1 litre). Low in fat and high in calcium, this milk is a powerhouse of nutrients, with added beta-glucan, which is a soluble dietary fibre.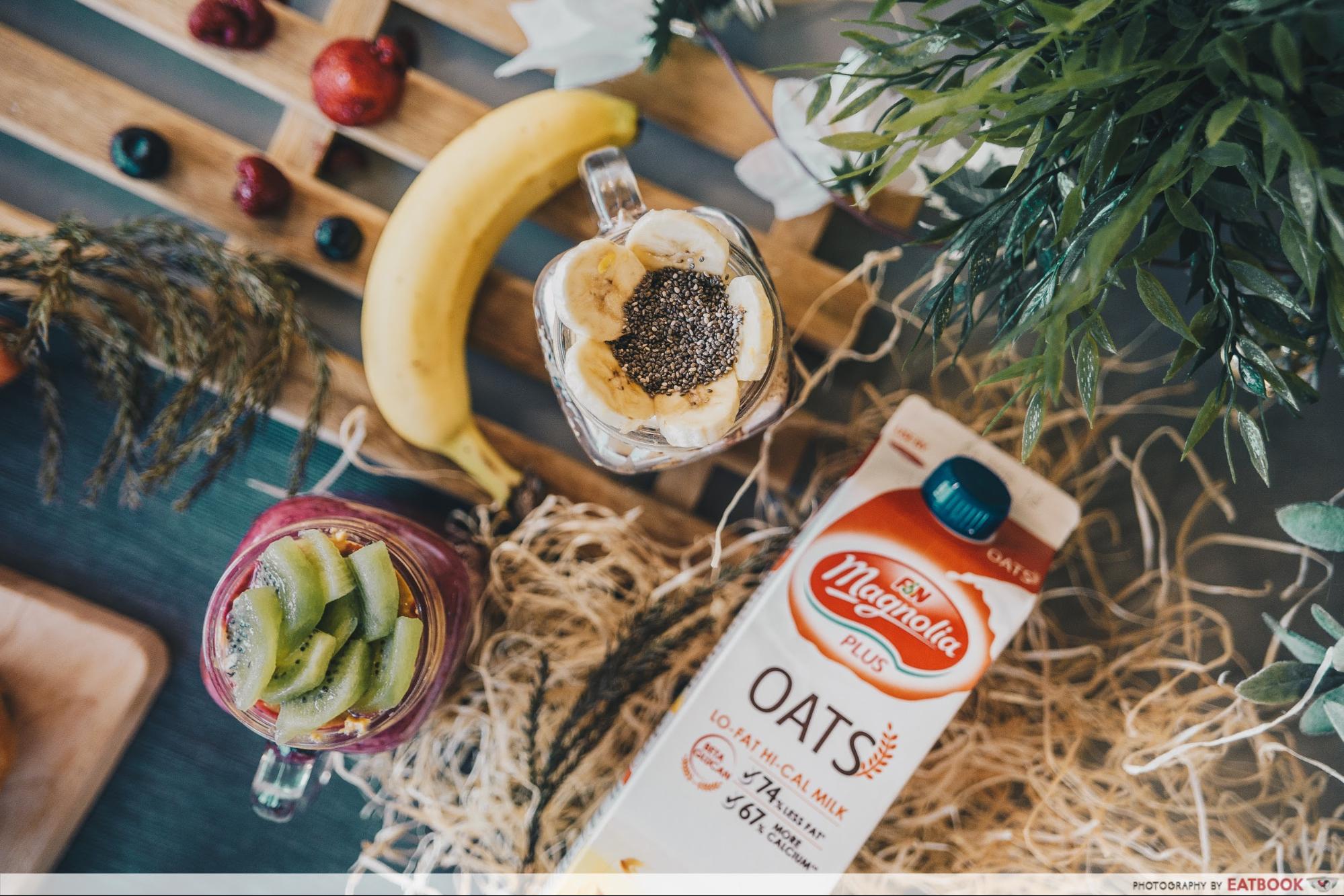 Even if you don't have time to prepare breakfast, just one glass of this tasty milk along with your usual bread or bee hoon can help boost your energy as you get ready to hustle! To find out how the Magnolia Plus Oats Lo-Fat Hi-Cal Milk tastes like, check out our taste test of it:
Find out more about Magnolia Plus Oats Lo-Fat Hi-Cal Milk!
This post is brought to you by Magnolia.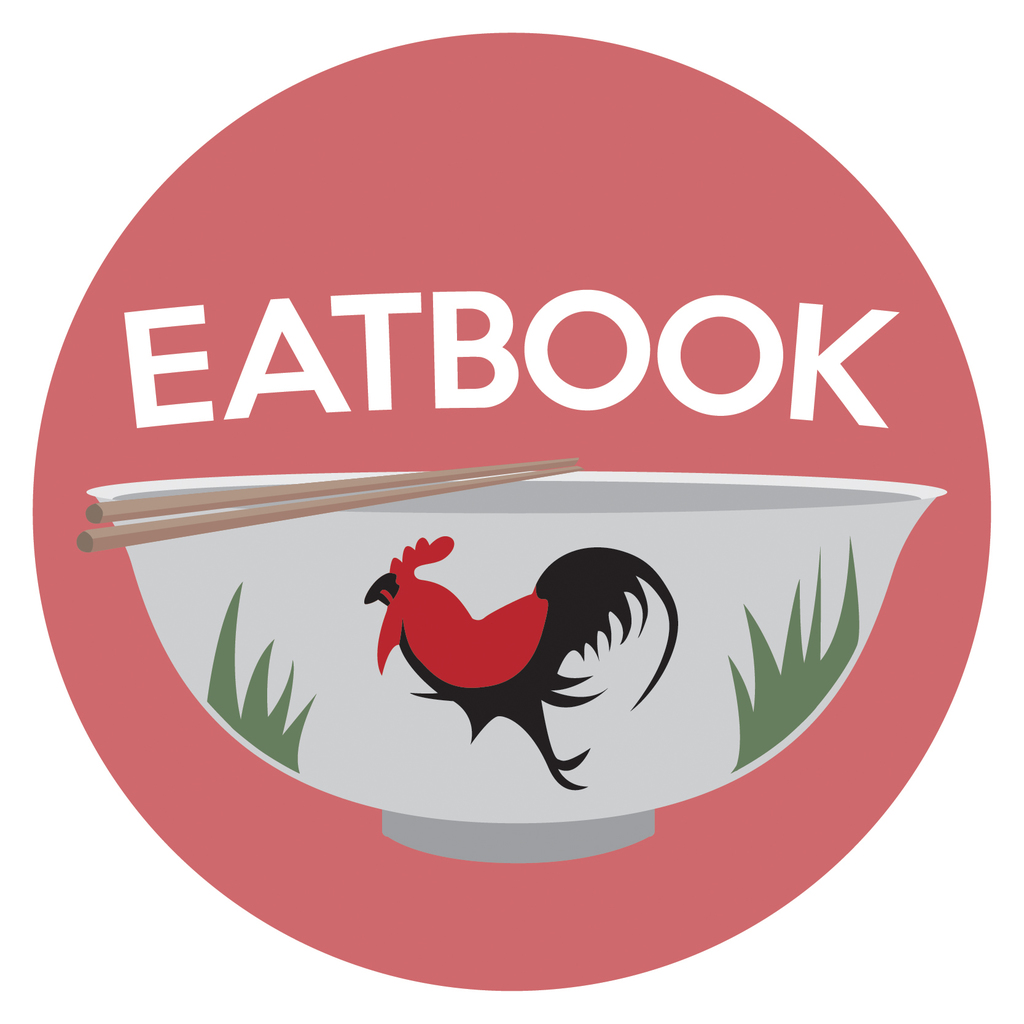 Drop us your email so you won't miss the latest news.