Mister Wu serves up quality Chinese food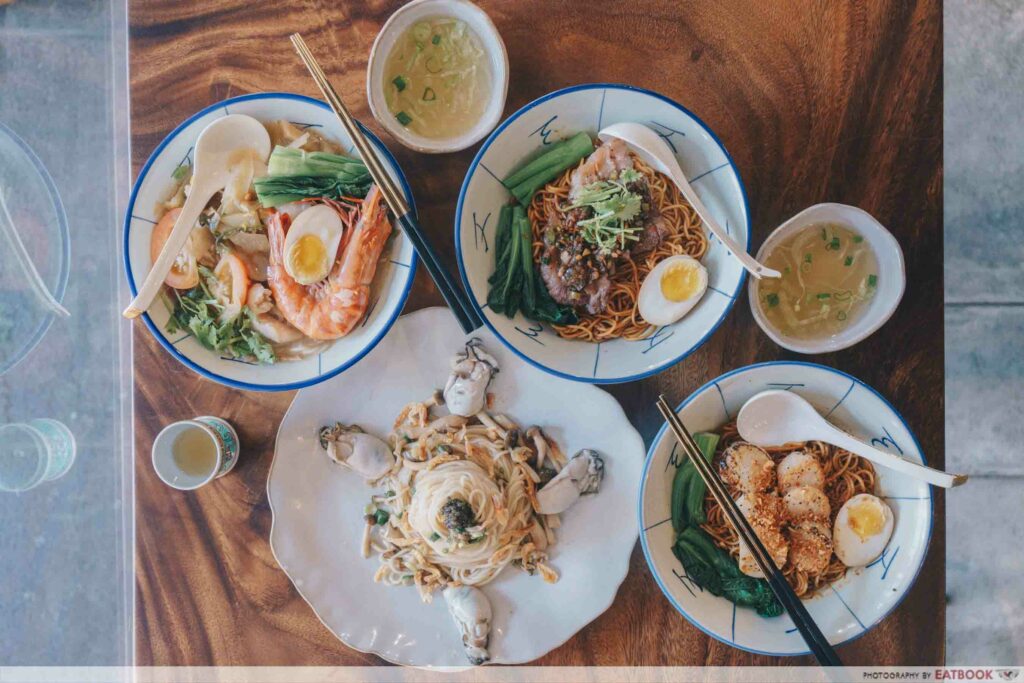 I am ashamed to admit that when I go to Chinese restaurants, I don't pay much attention to the tea – sometimes even skip it as a whole. Serving Chinese food with a modern twist, Mister Wu intends to bring a fresh experience to tea tasting, through their food and beverage.
Food at Mister Wu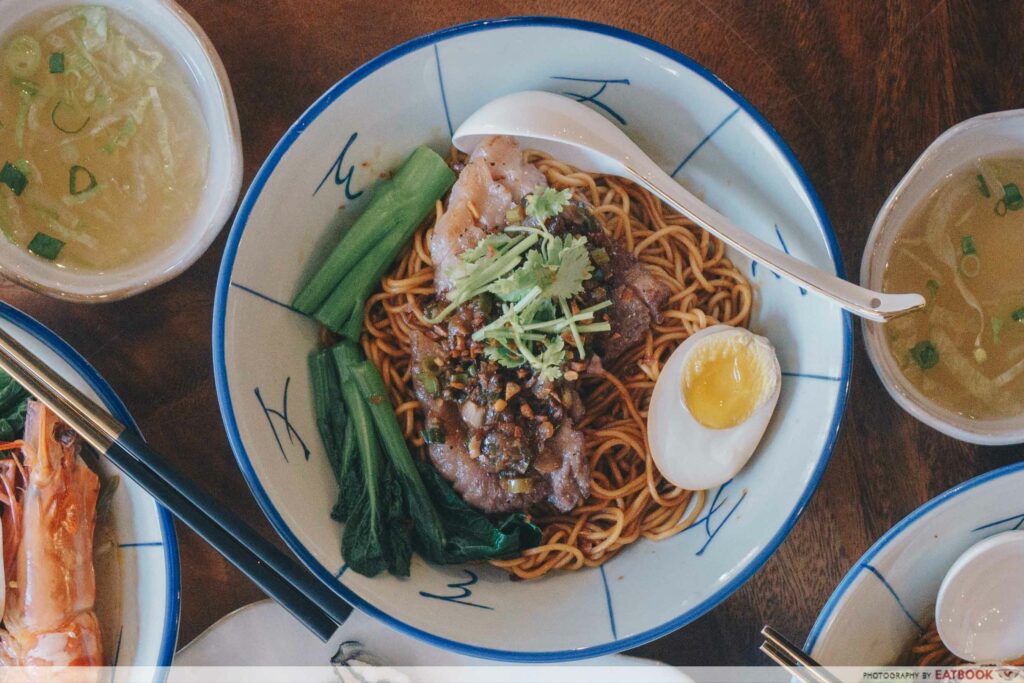 Mister Wu offers a different menu for both lunch and dinner. The lunch menu offers safer choices with more familiar flavours to cater to the working crowd. Most dishes start at $8++, such as their Sesame Sauce Dry La Mian and Mr Su's Braised Pork rice.
When we were there, we got the chance to try their dinner menu. First up, we had the Hokkaido Wagyu Steak La Mian ($23++). When the dish was served, I was immediately reminded of wanton mee, except this came with fatty cuts of wagyu layered on top.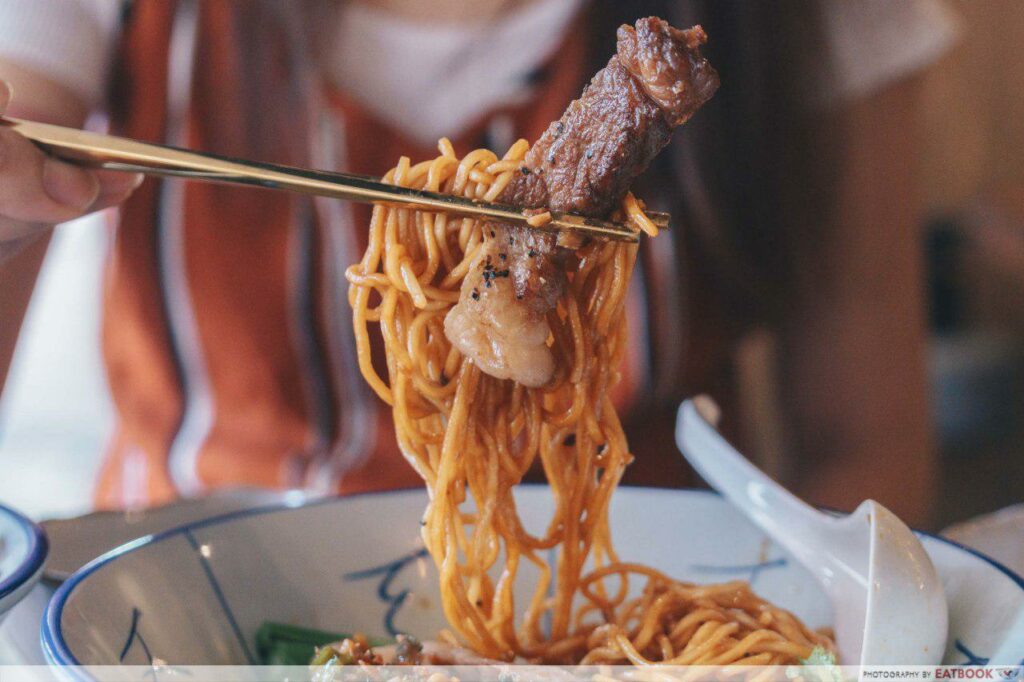 The premium wagyu had a good fat-to-meat ratio, but it was a tad overdone.
The noodles were slightly overcooked, and I would have preferred more sauce as the dish was rather dry. I found myself reaching for soup in between mouthfuls. I recommend having the noodles while they're hot as they can get clumpy when cold.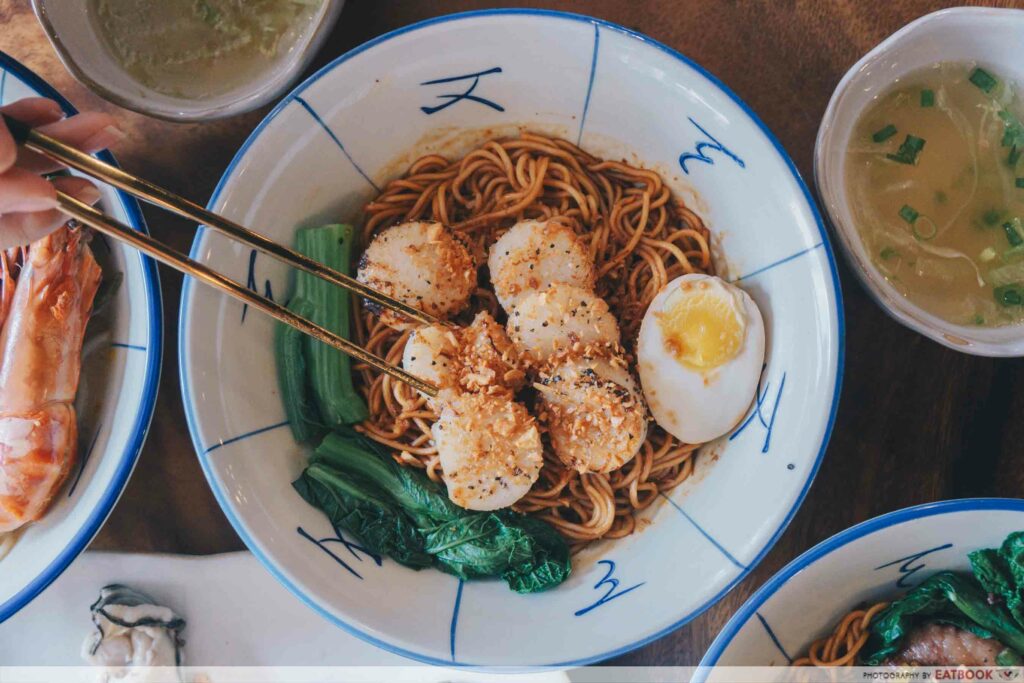 Next, we had the XOXO Jumbo Scallops La Mian ($18++) which features seared Hokkaido scallops tossed in a fragrant and spicy XO sauce.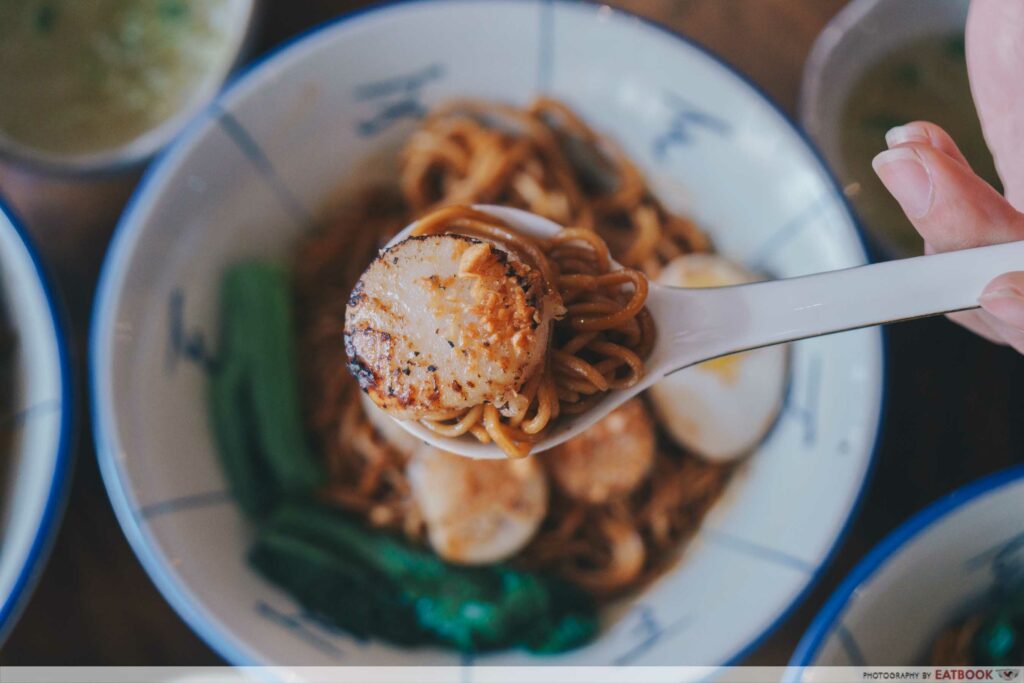 The scallops had a crusty exterior with a soft interior. It was chewy but not rubbery, soft but not too goopy. There was a light coating of crushed peanuts on the scallops that added a good crunch to the dish.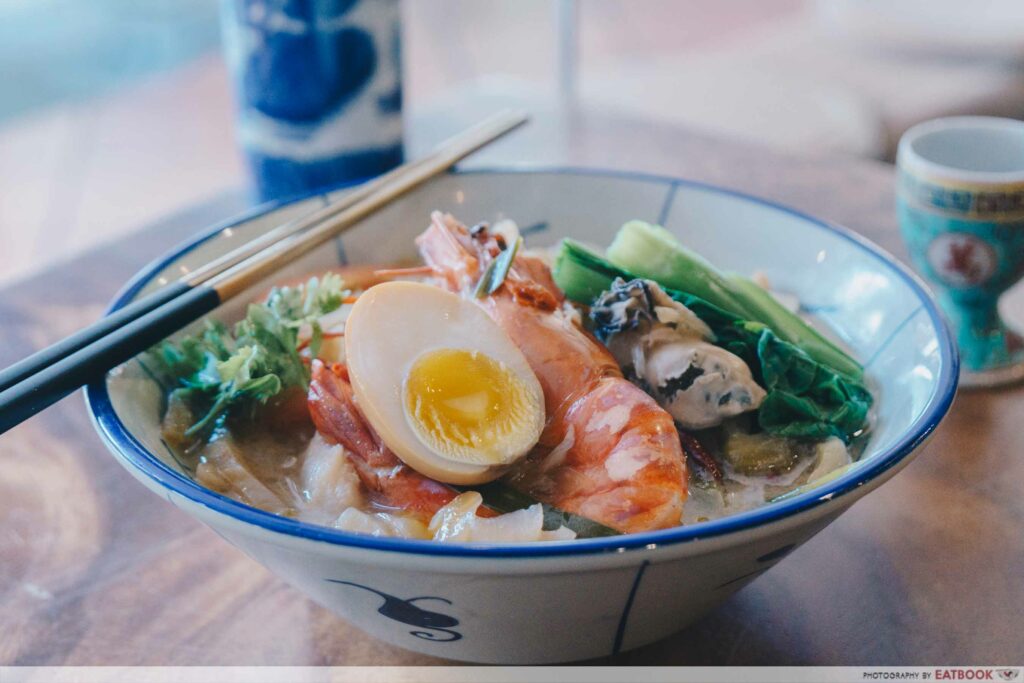 The broth in the Hibiki Whisky Seafood Soup La Mian ($28++) packed a ton of flavour from the variety of seafood in the dish. Before pouring the Hibiki whisky, which was served separately in another cup, I thought the chef was too heavy handed with the salt. However, after pouring in the whisky, the flavours balanced out well.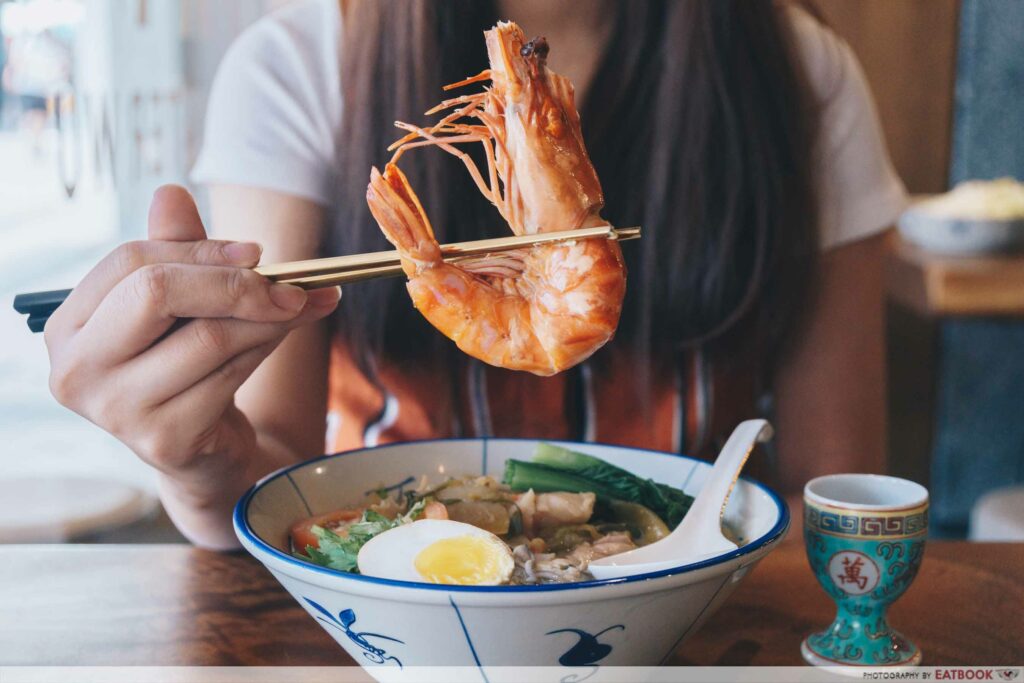 The first thing that caught my eye was how big the prawns were. They were fresh and meaty, and the flesh within was juicy and succulent.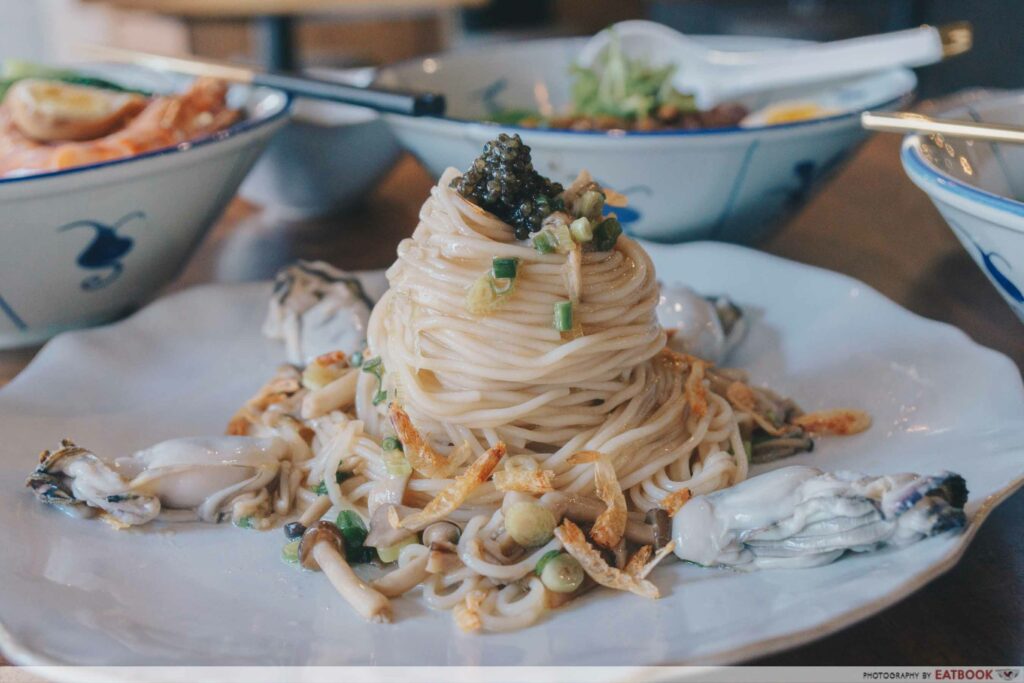 For me, the Chilled Truffle Caviar Oyster La Mian ($23++) was the most impressive of the lot. Call me biased, but I was already certain that I would love this dish upon hearing that truffle was involved.
The noodles were served on a plate and reminded me of a pasta dish. The flavours were clean and light, but the truffle taste was strong. Some might say this dish lacks flavour, but I feel that the delicate flavours allowed the freshness of the seafood to stand out.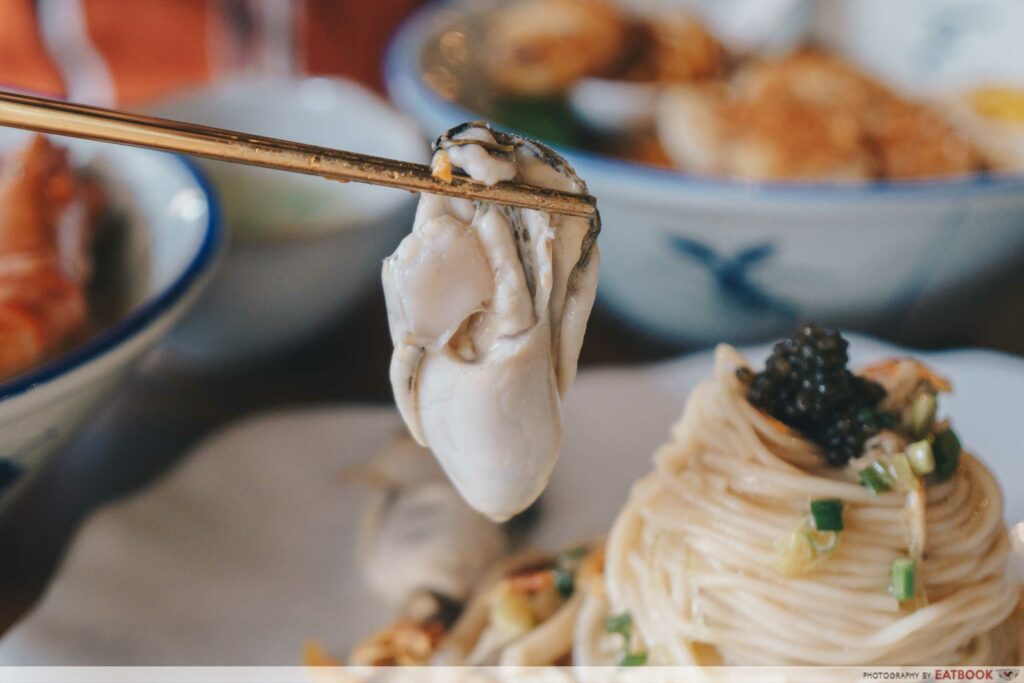 The oysters are imported from Hiroshima. Japanese oysters are known to be much larger than others, explaining its sheer size. The raw oysters looked plump and juicy. Biting into it, the flesh was creamy, but had a fishy aftertaste.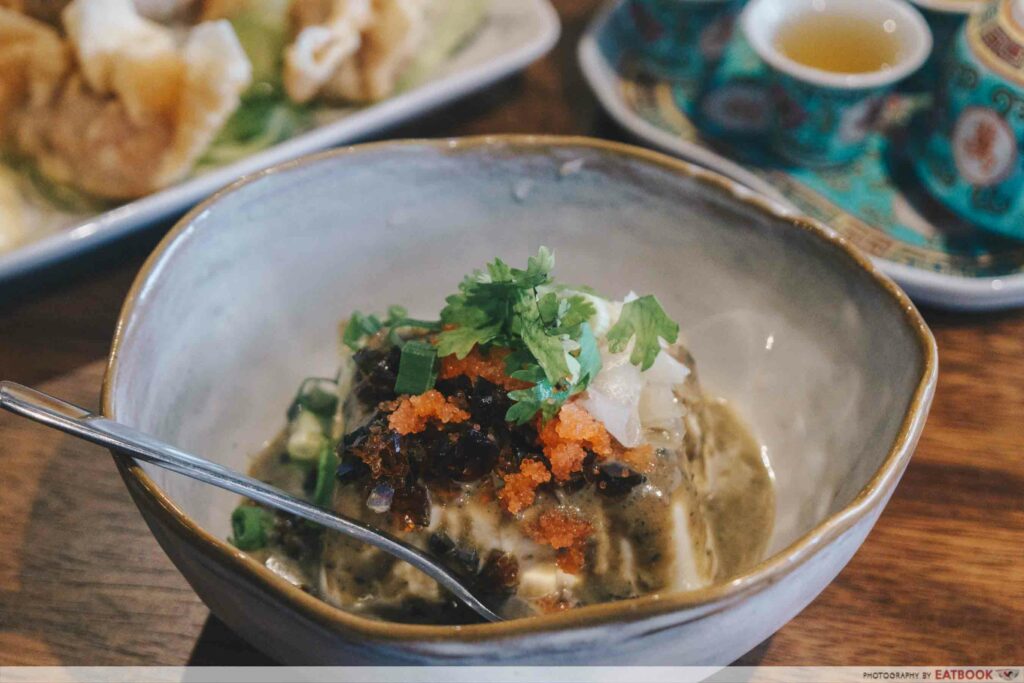 With its clean and light flavours, the Pi Dan Tofu ($8++) made for a good starter.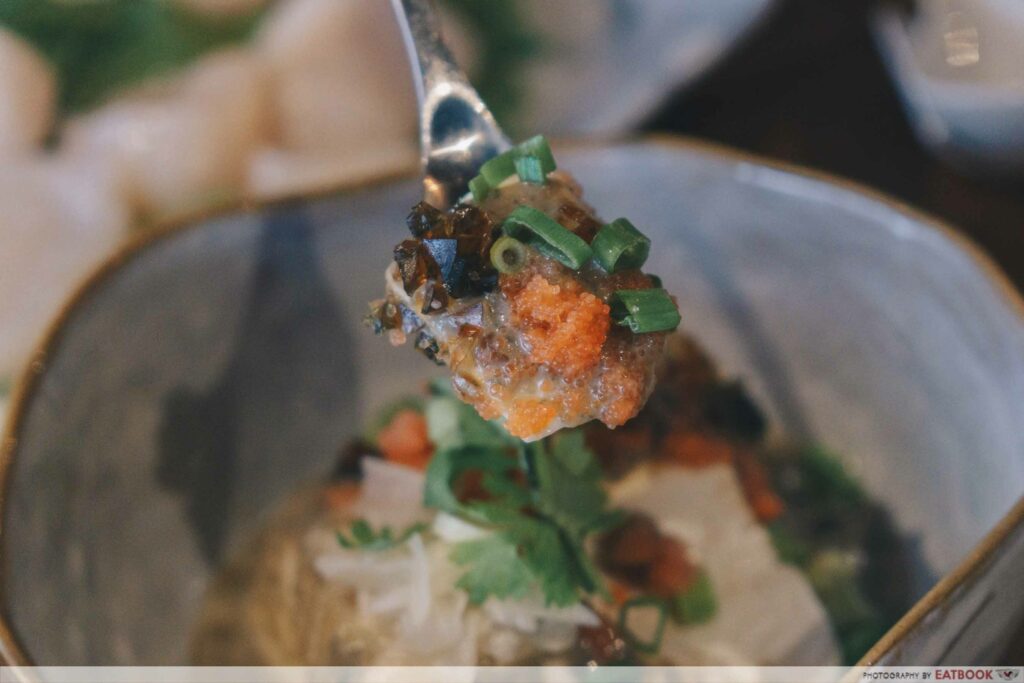 The tofu came topped with century egg, fish roe, pickled ginger, spring onions and parsley. There was also a generous serving of their house-made pi dan sauce.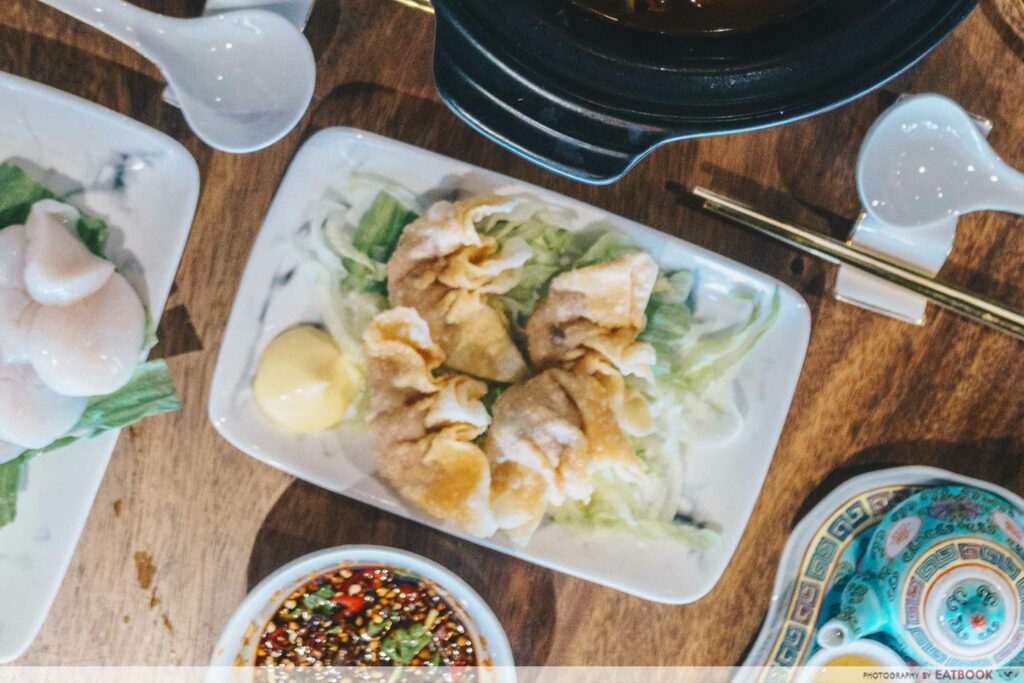 Popular as a bar bite, the Fried Ping Pong Wanton ($8++) is made from shrimp, chicken, pork, water chestnut and mushroom. Each wanton had a crispy exterior and a generous serving of meat within. I was satisfied with how juicy the fillings were even after they were fried.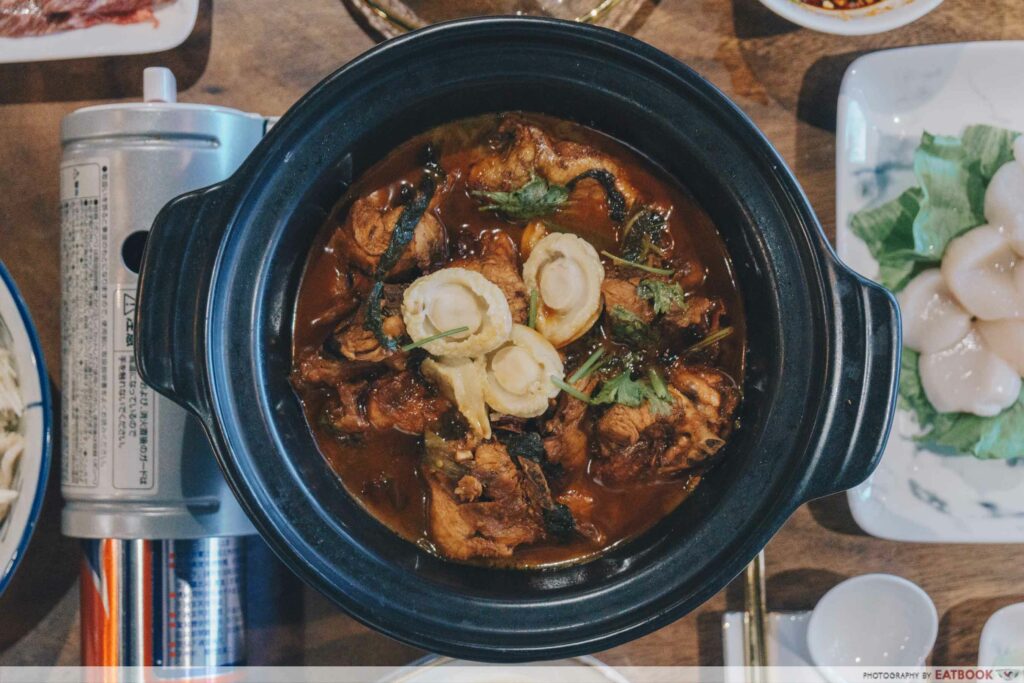 You can order their Mouth Watering Abalone & Kampong Chicken Hotpot ($38++) in both dry or soup. You can choose to add on various ingredients to your hot pot, from Kurobuta Pork Shabu Slice ($13++) to Vegetable & Mushroom ($10++) – there is sure to be something for everyone.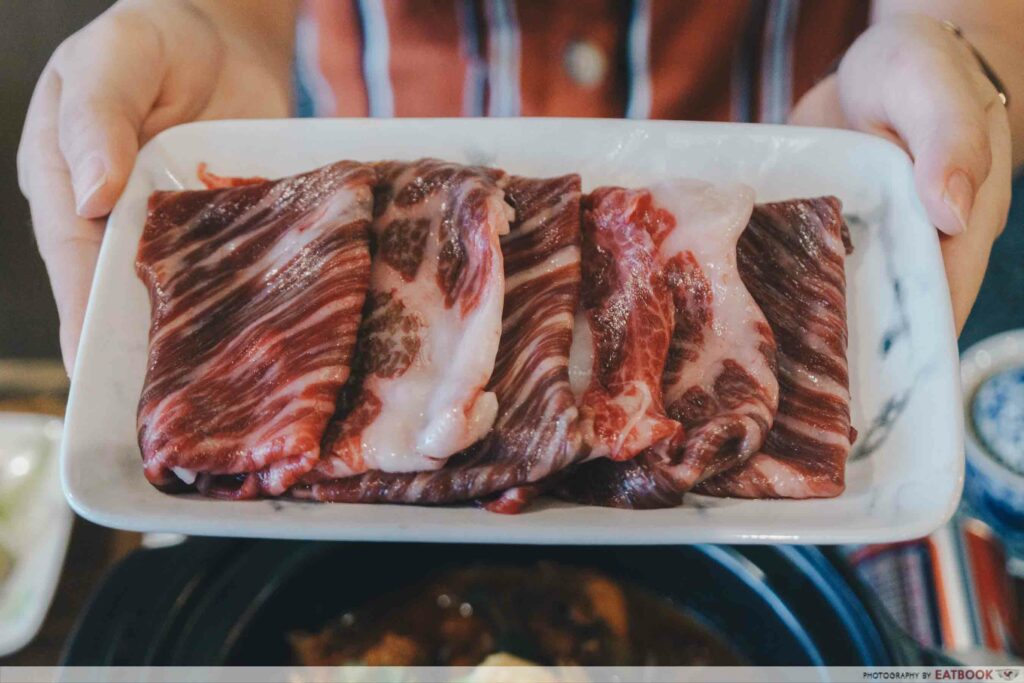 The Japanese Wagyu Shabu Slice ($18++) were sliced thinly, with the perfect marbling of fat throughout. With how tender the meat was, I highly recommend having a go at this, as you will not be left disappointed.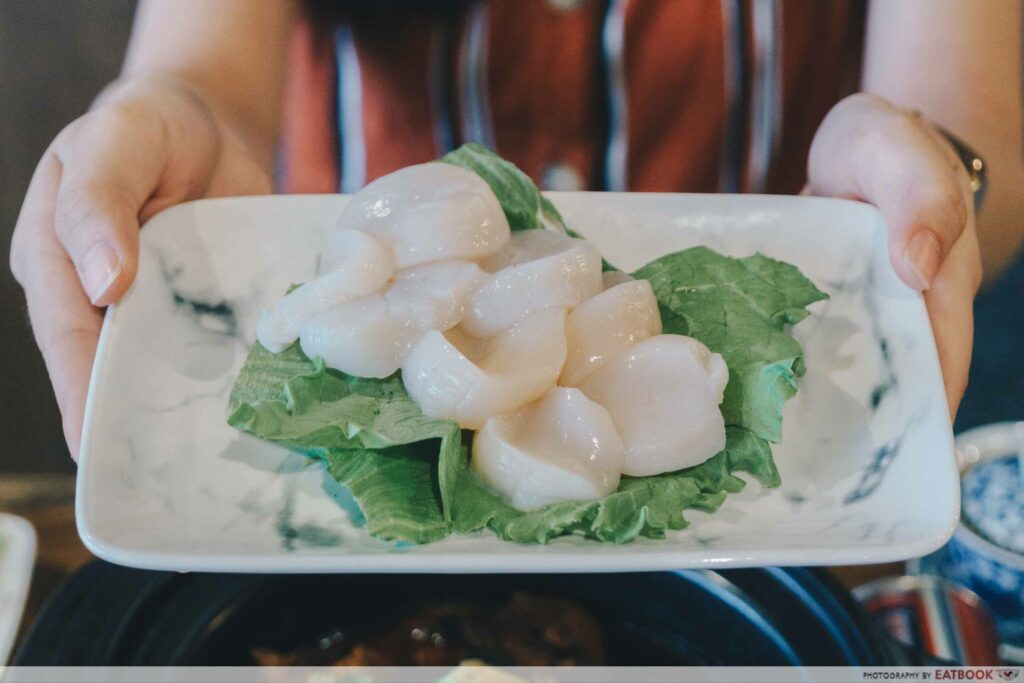 When the Jumbo Scallops ($16++) were served, my gaze was fixed on how plump and juicy each piece was. It was explained that these Hokkaido hotate were sashimi-grade, and we were encouraged to try them raw because of how fresh they were.
The raw scallops were fresh and the meat had a slight sweetness to it.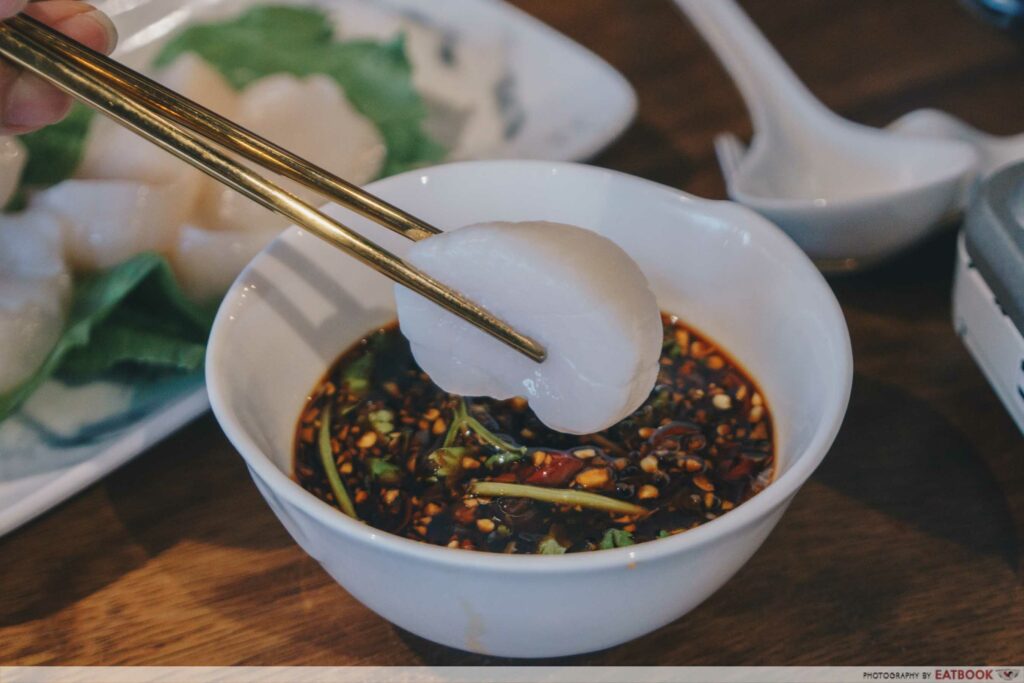 The dipping sauce that was served alongside was a unique combination of calamansi, garlic, soy sauce and chilli. For those those who like a little heat in your food, be sure not to miss out on this.
Drinks at Mister Wu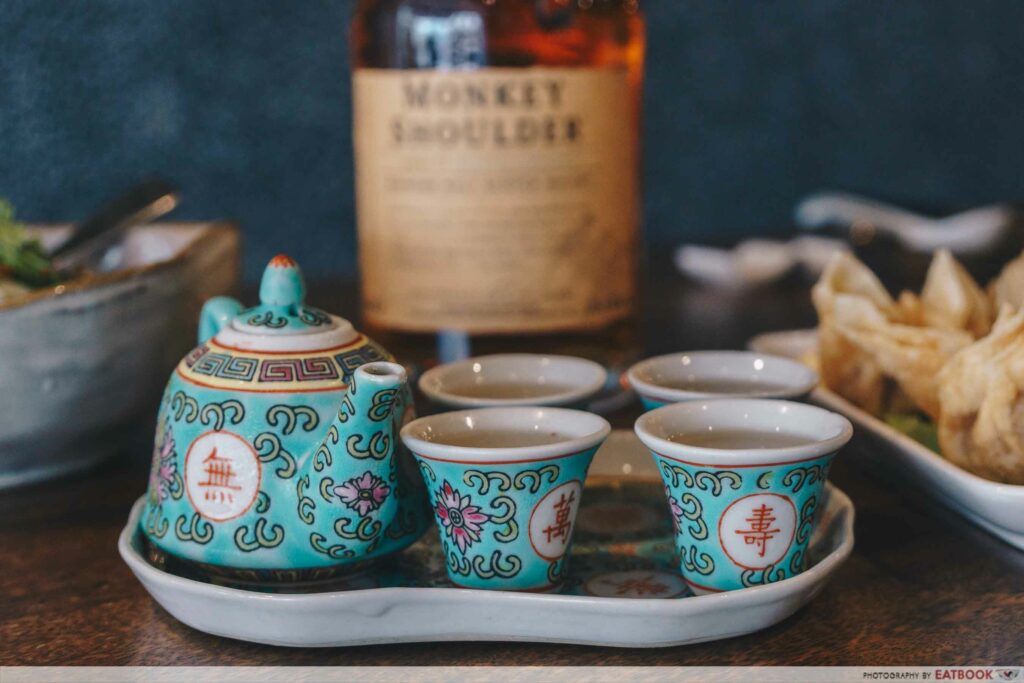 Mister Wu also serves up Signature Chinese Tea Cocktails, which go at $18++ with each food order. For three months, the owners personally went to China to source for traditional Chinese tea. At Mister Wu, there are currently 38 different Chinese teas that can be used for different blends and concoctions. The owners intend to bring a unique experience to tea tasting. Most of the tea cocktails here are concocted by Jia Wei, a bartender at the popular Employees Only along Amoy Street.
The White Jade Monkey King is a blend of White Jade Monkey Tea, Monkey Shoulder Whiskey and sour plum shots. It was served in small teapot with four small cups. The flavour of sour plum hits you first, followed by a light fragrance of Jasmine. It reminded me of Choya Umeshu, a Japanese plum liqueur.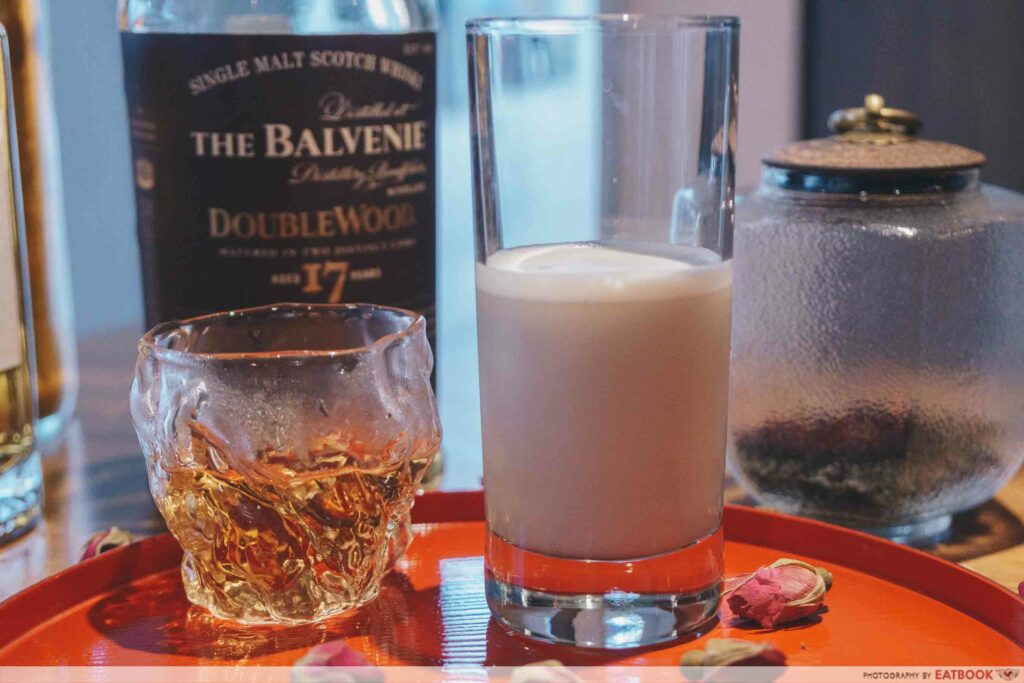 If you prefer bolder flavours, go for their Adult Milk Tea or General Gao's Rose Affair instead. The former presents a unique blend of tea – you can choose either oolong, lychee, or osmanthus green tea – milk and alcohol. I won't deny that the skeptic in me was questioning the flavour combination, but the drink turned out well-balanced.
Made by pouring hot tea into ice-cream, the "milk" in the milk tea had a thicker consistency than your usual BBT milk tea drink.
Ambience at Mister Wu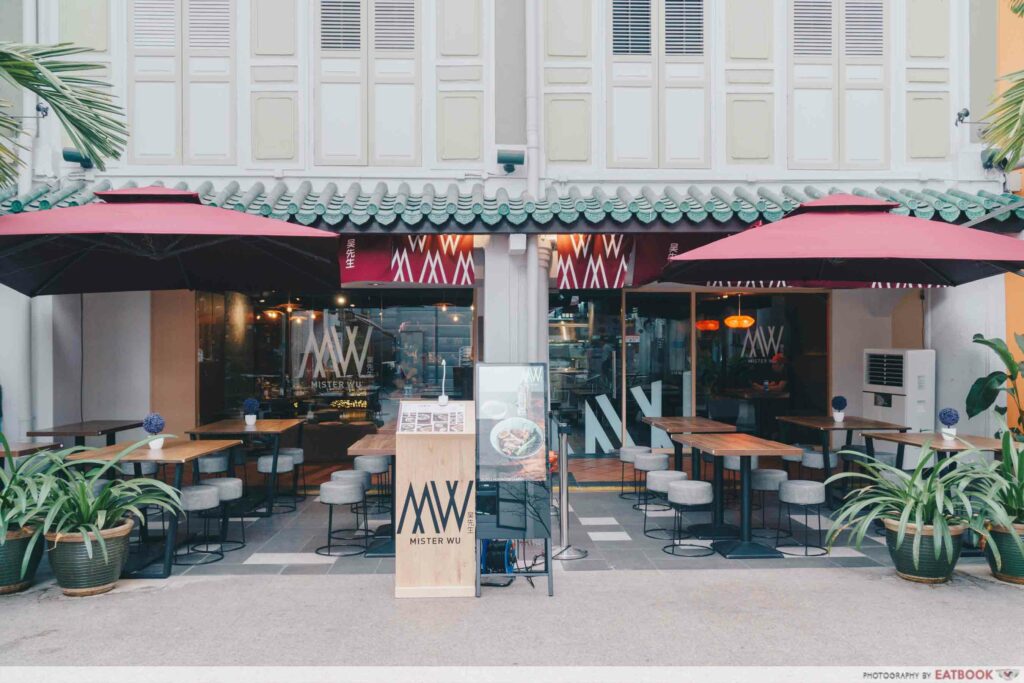 Just a short walk from Telok Ayer MRT Station, Mister Wu is located in China Square Central along Pickering Street.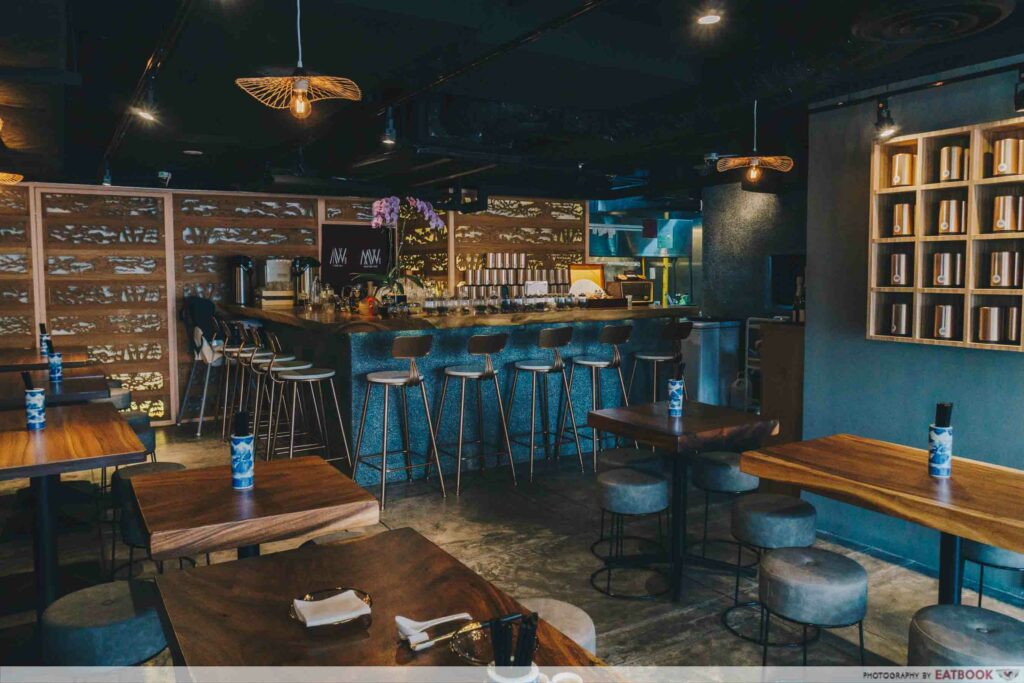 The neat interior of the restaurant was elegantly designed. At the bar, customers can mix their own unique blend of tea cocktails or have a taste of the 38 different teas that Mister Wu offers.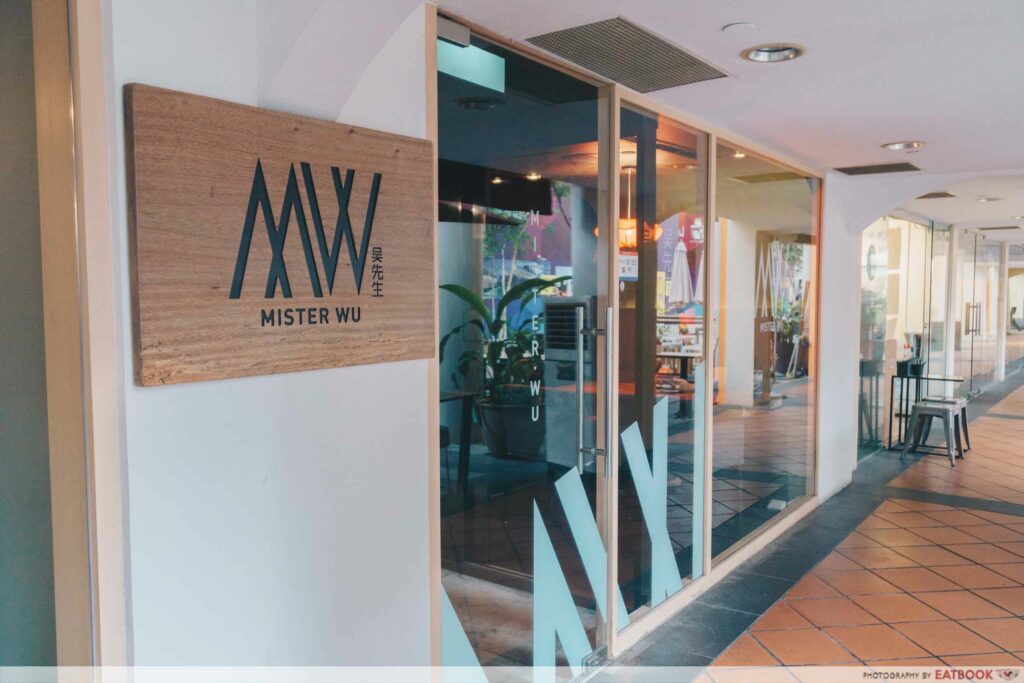 Mister Wu aims to make traditional Chinese teas more contemporary and relatable for the younger generation – and they do their same with their hand picked selection of tracks. My ears were greeted with modern renditions of old-school Chinese songs. If you love the music here, you'll be happy to find out that you can actually find their playlist on Spotify as "Mister Wu".
Fun fact: They decided to create the playlist because he saw someone trying to 'Shazam' the song in the restaurant!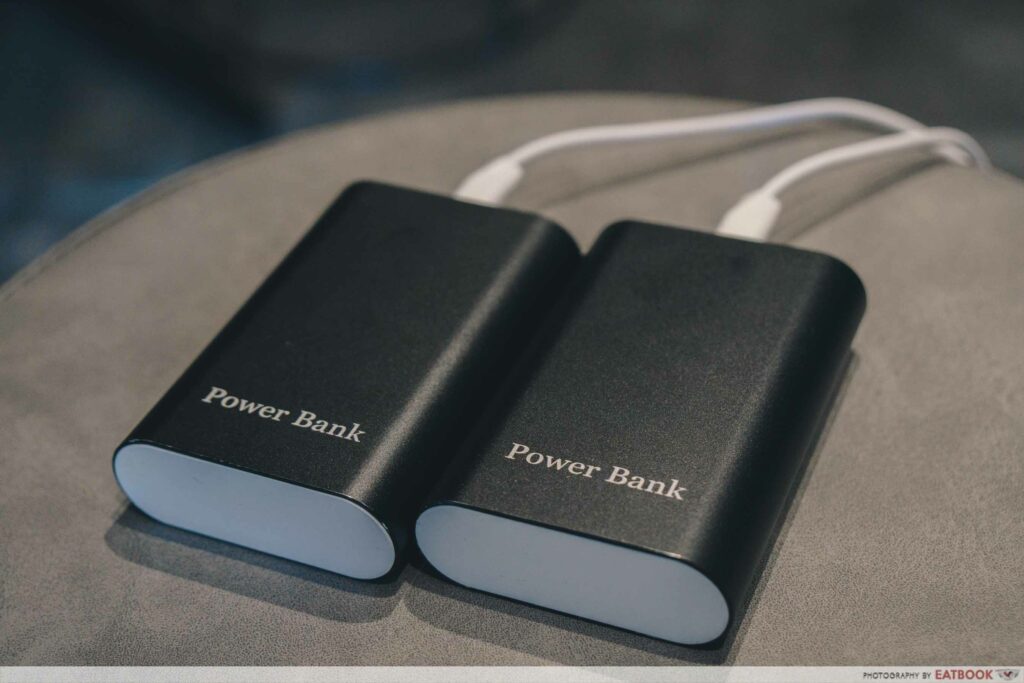 Mister Wu also offers portable chargers for in-store borrowing. Customers can not only refuel themselves with a meal here, but their phones as well.
The verdict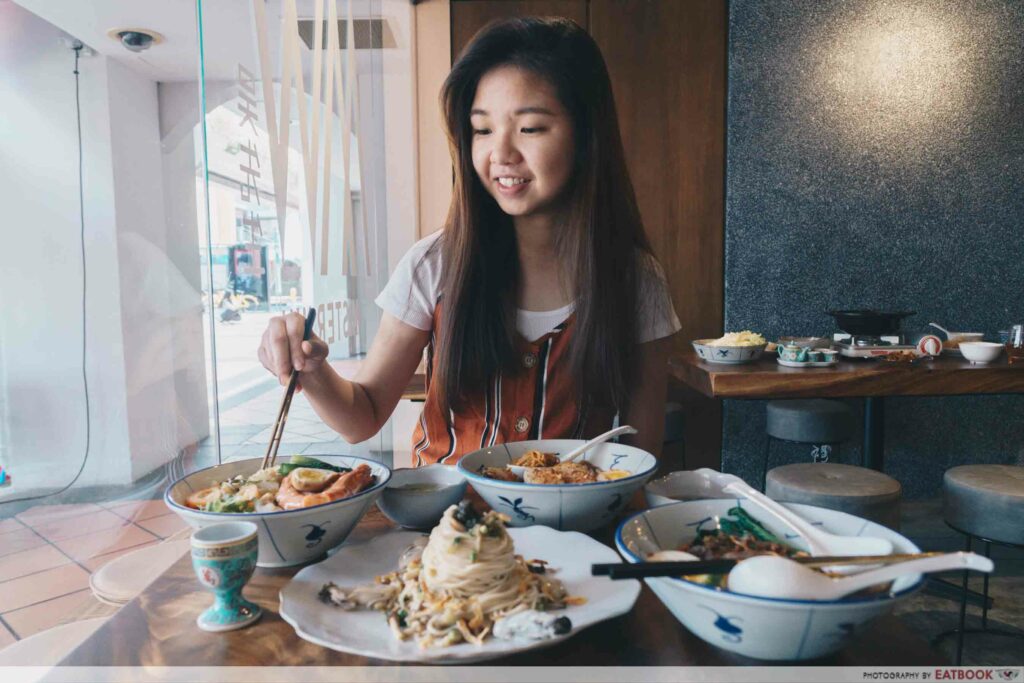 Mister Wu is a casual teahouse in the afternoon, and transforms into a tea bar at night, where customers can come for drinks. We featured dishes from the dinner menu in this article, but seeing how good the food is here, I would definitely come down to try the items from their lunch menu too, which have been gaining much popularity since their opening.
If you are coming down for lunch, get the Mister Wu Set Lunch that comes with one classic side dish and one premium tea for just an additional $4++ on top of your selected la mian or rice. Keep a lookout on their Facebook page for more updates!
Address: 3 Pickering Street, Nankin Row, #01-44/45, China Square Central, Singapore 048660
Opening hours: Mon-Sat 11:30am to 2:30pm, 6pm to 10pm
Tel: 6781 3833
Website
Mister Wu is not halal-certified.
Photos taken by An Lim.
This was a media tasting at Mister Wu.
Summary
Pros
– Unique la mian dishes
– Wide variety of tea cocktails
– Aesthetic and chill, good for groups
Cons
– Noodles can get dry and clumpy when cold
Recommended Dishes: Mouth Watering Abalone & Kampong Chicken Hotpot ($38++), Chilled Truffle Caviar Oyster La Mian ($23++), Fried Ping Pong Wanton ($8++)
Opening Hours:
Mon-Sat 11:30am to 2:30pm, 6pm to 10pm
Address: 3 Pickering Street, #01-44/45, China Square Central, Singapore 048660