Okinawan food at Heijoen and Gyu Jin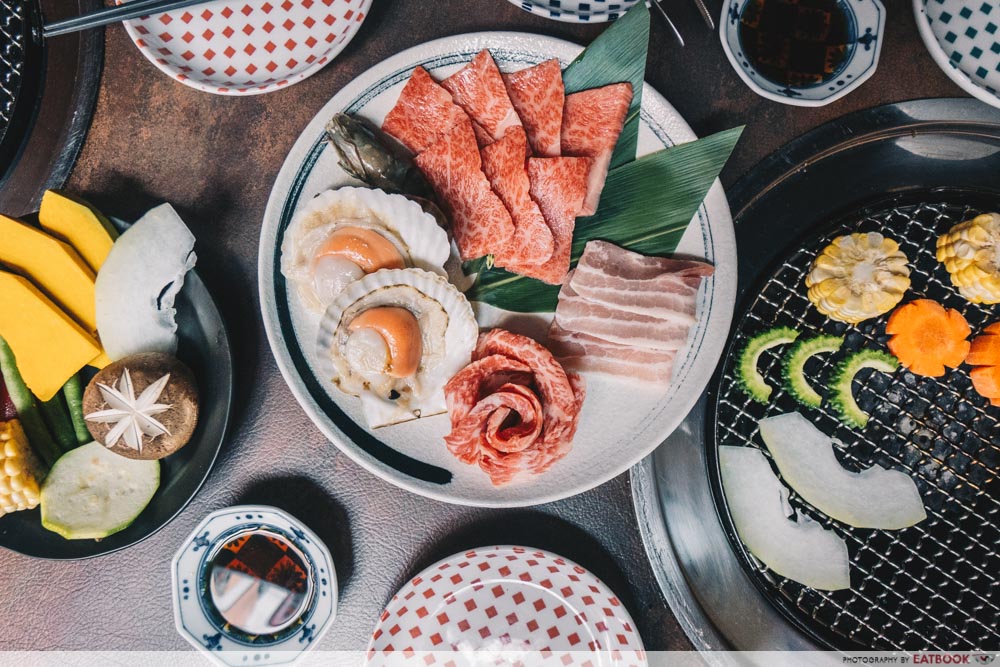 I first set foot onto Okinawa back in 2017, after hearing my colleagues wax lyrical about it. And they were right. The white sand beaches, majestic shrines and delish food – everything there played like a scene from Your Name.
However, the thing that struck me most was seeing how physically active the old folks were. We're talking along the lines of daily sword fights and being able to lift three huge plastic bags in one trip.
It wasn't till much later that I learnt the reason for their strength was their food. Comprising mostly locally produced vegetables, this diet has helped them net the highest average life expectancy in the world. TL;DR: Eat good, live long.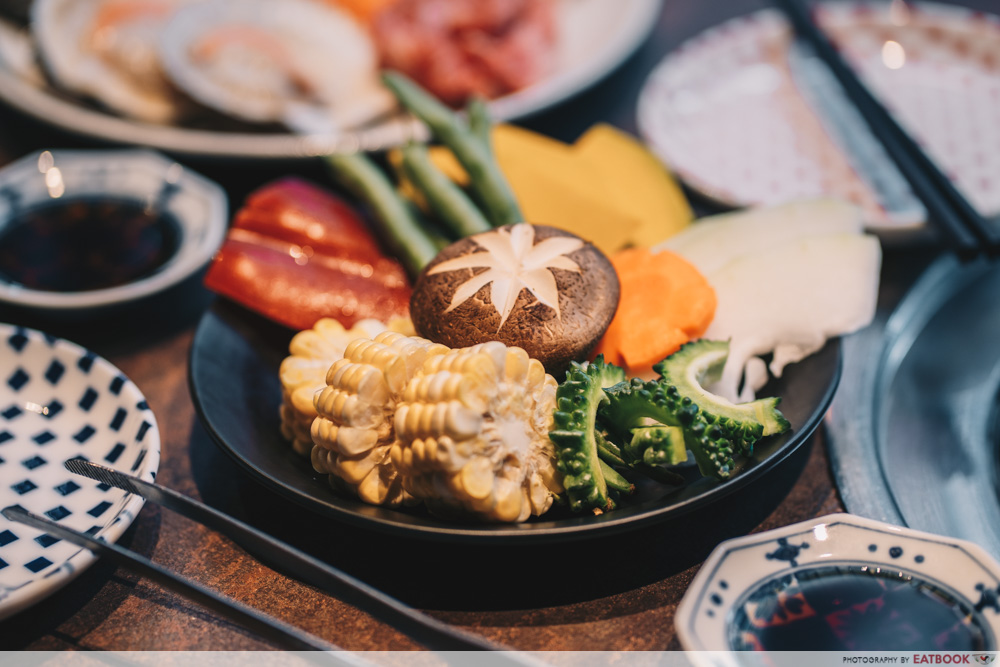 Well, Singaporeans can sip on the elixir of life from now till 31st March 2019 'cause Yakiniku Heijoen and  Gyu Jin Shabu Shabu  will be serving Okinawan vegetables including goya, sweet corn and Okinawa spinach.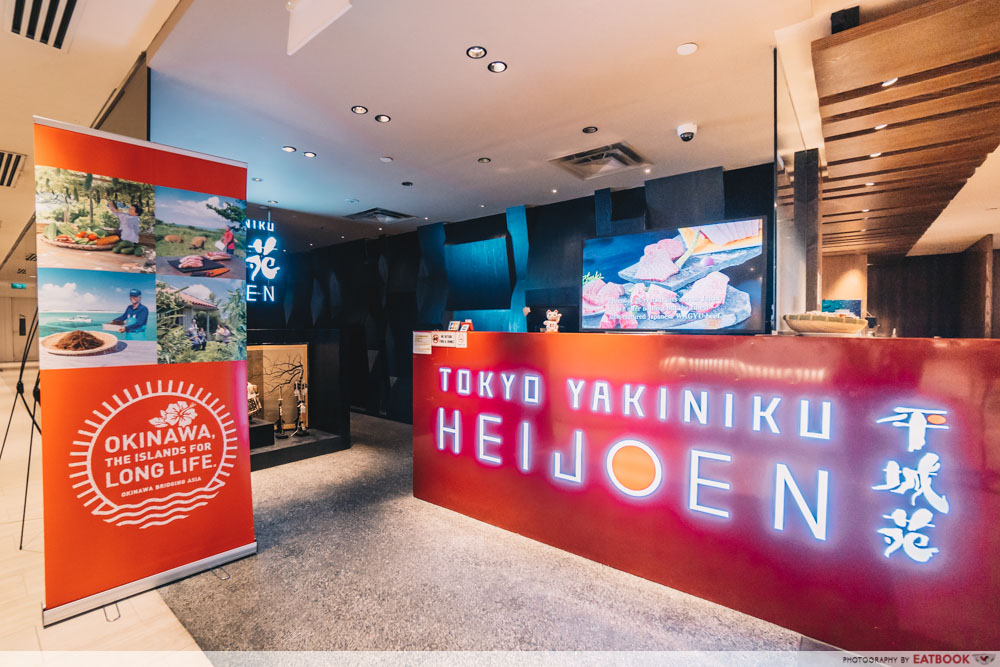 As beauts as these vegetables are, eating them raw is an insurmountable task, which is why we opted to have 'em grilled at Yakiniku Heijoen first.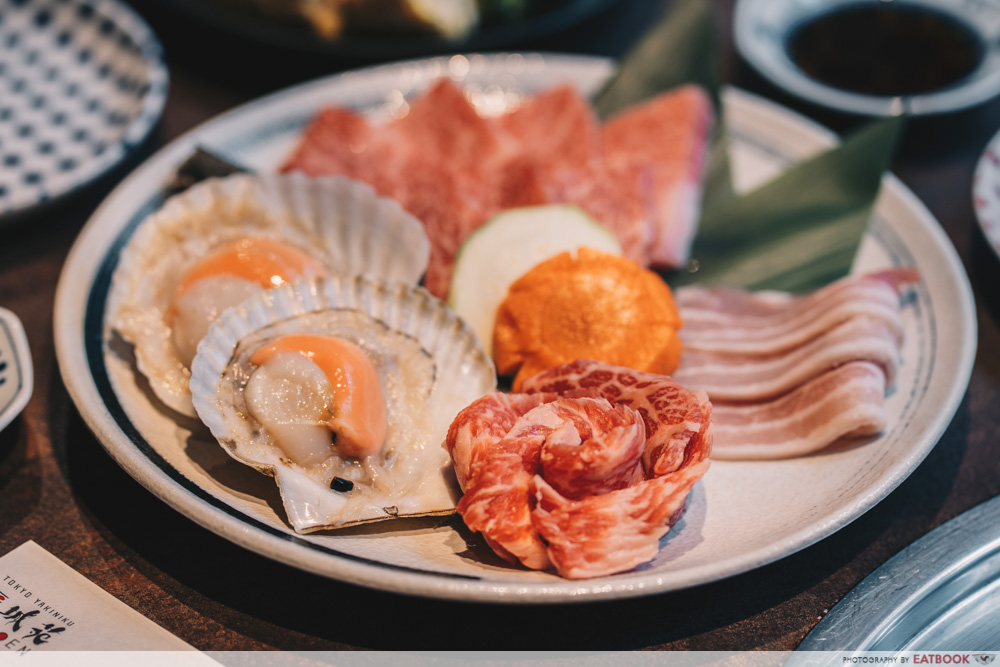 Joining them on the trip to the wire mesh was a platter of assorted meats like Heijoen Kalbi ($22.90++) and Jo-Kalbi ($18.90++). Bear in mind, these are A5 grade beef we're talking about – the best of the best. So having that sort of luxe to go with our super vegetables was amazing to say the least.
Admittedly, I was hesitant to try the goya (Japanese bitter gourd), as I thought it'd taste as terrible as it looked.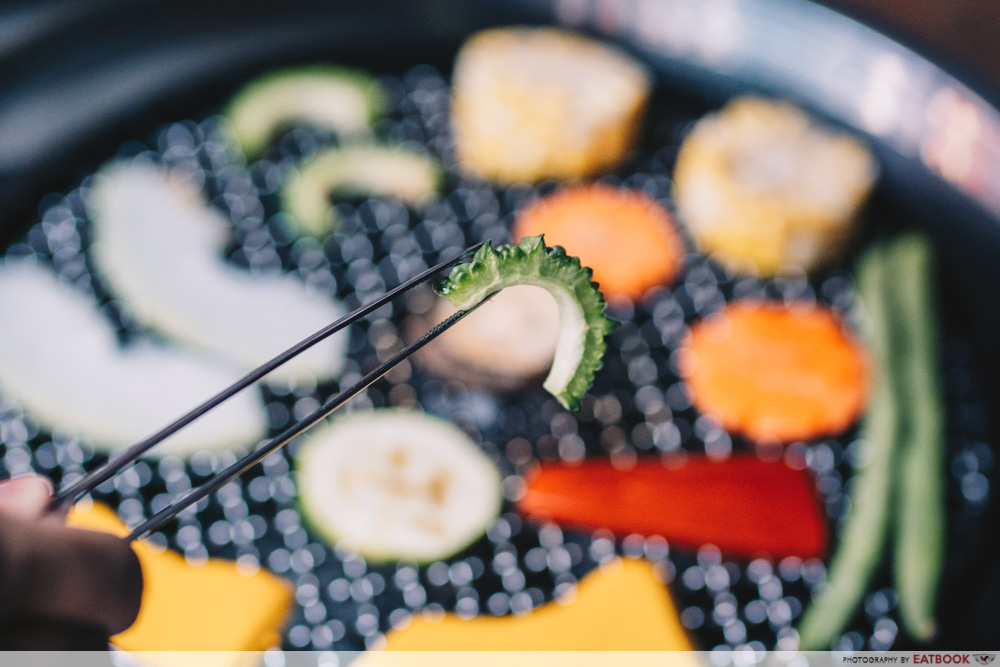 Thankfully, my worries dissipated once I removed them from the grill. While they still had a lingering bitterness, they were charred beautifully, giving off an intoxicating smokiness.
There's a Japanese proverb which translates to "good medicine tastes bitter". I guess this holds true for the goya, as it has anti-aging properties and even helps prevent colds.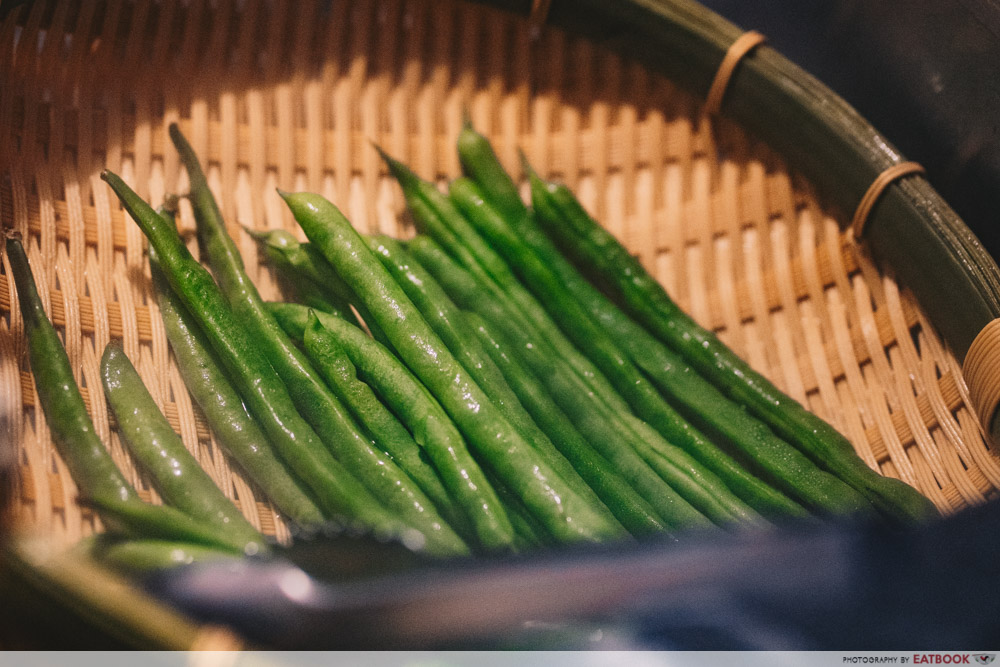 If there's one thing you absolutely have to grill, it's the string beans. Even in their raw state, you could tell that the Okinawan variety was plumper than their local counterparts.
After we grilled them, the beans still retained their juiciness while being crisp. Bonus points for the pods which popped out with ferocious intensity when we bit into them.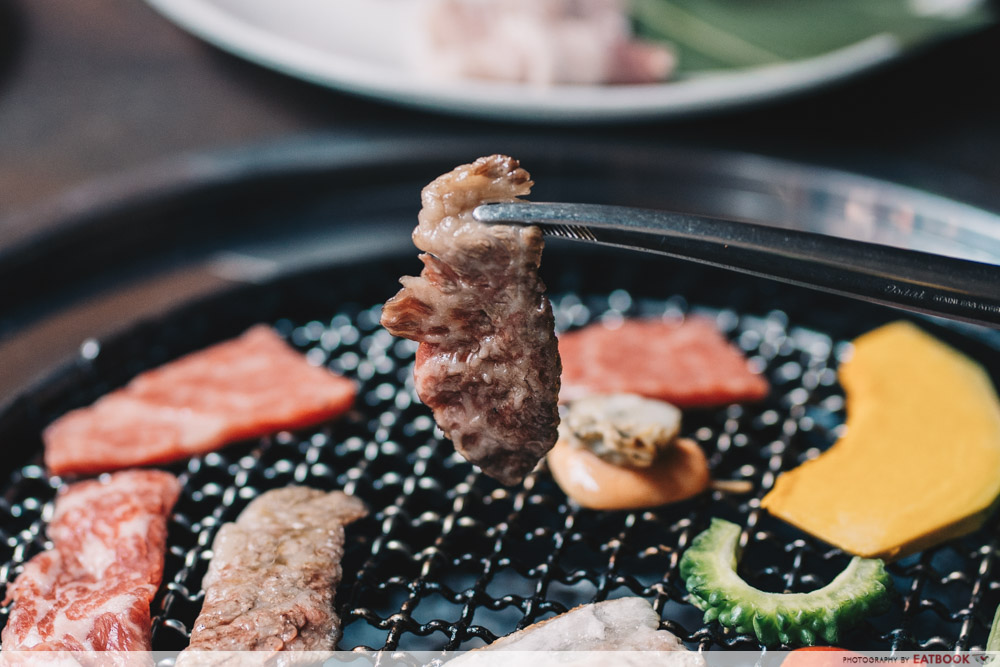 The best part of yakiniku is, of course, the niku (meat) aspect, and the ones here passed with flying colours. Since they're of A5 grade, they possessed beautiful marbling and a generous amount of fat.
What we loved most, however, was their buttery taste. We grilled them for five seconds on each side and the beef was melt-in-your-mouth tender.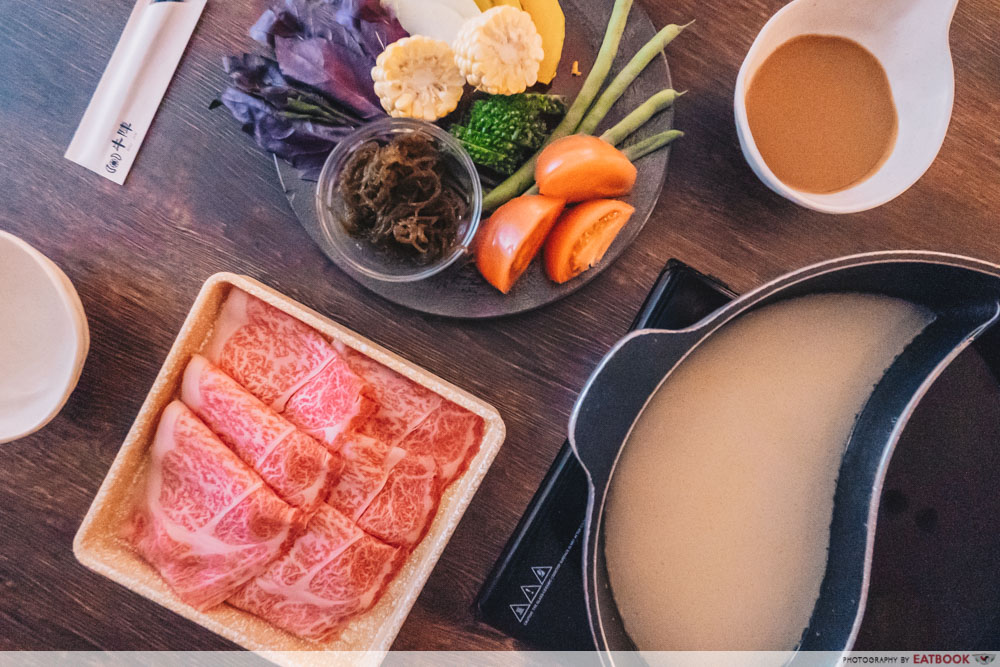 We then made our way to Gyu Jin Shabu Shabu for their all-you-can-eat course (from $40.90++ per person) which includes free-flow wagyu!
The shabu shabu set comes with two choices of dashi; we opted for the Hidaka Kelp Dashi and Ginger Chicken Dashi for contrasting flavours.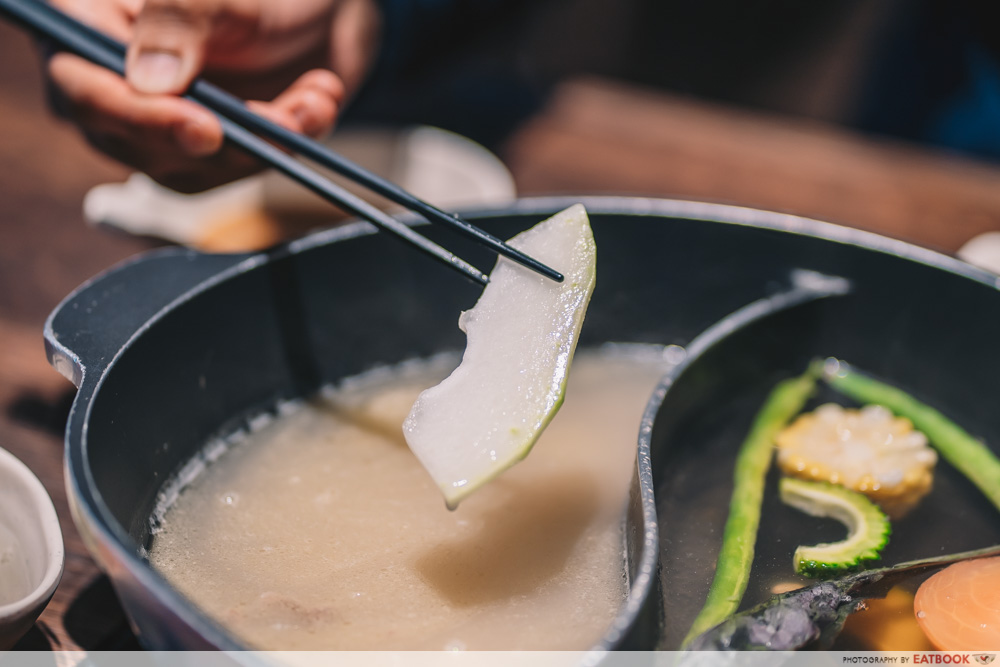 When we grilled winter melon at the previous restaurant, its taste wasn't much to shout about. However, letting it soak in the meat-infused broth brought its flavour profile to a whole new level.
The fruit absorbed the meat flavours extremely well. As it was still slightly firm, biting into it brought to mind a mild tasting meatball.
Another thing to note was how filling the winter melon was. Since we didn't have any carbs to go with the hot pot, we kept piling on the melon to fill our tummies – free from guilt as the fruit has practically zero calories.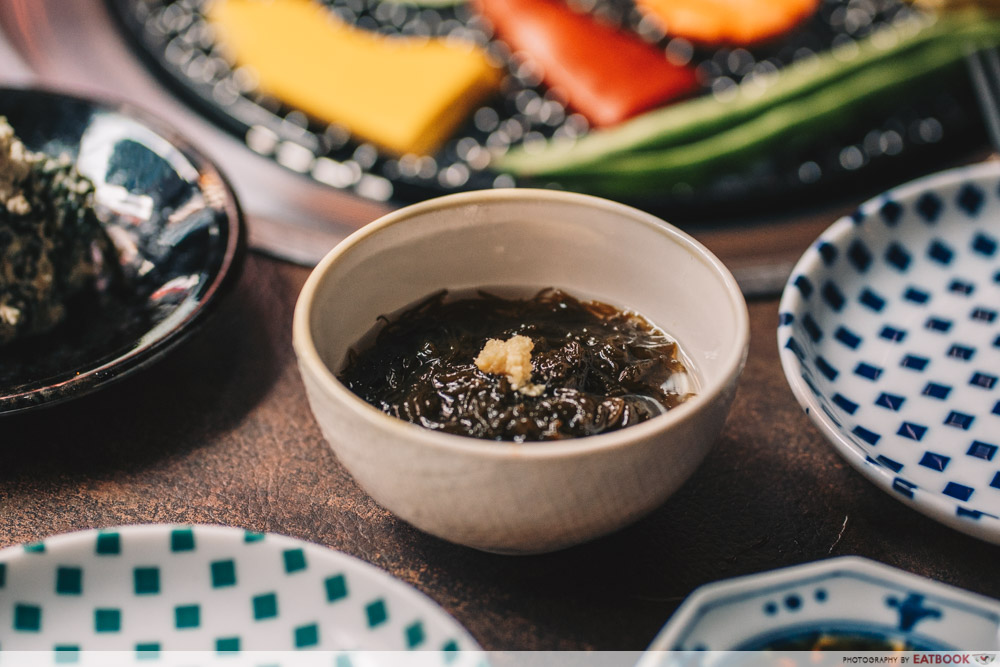 You can also enjoy the Okinawan vegetables as à la carte dishes. Pictured is the Mozuku with Sanbaizu Sauce ($6++) which strengthens your immune system, so you won't have to visit the polyclinic often.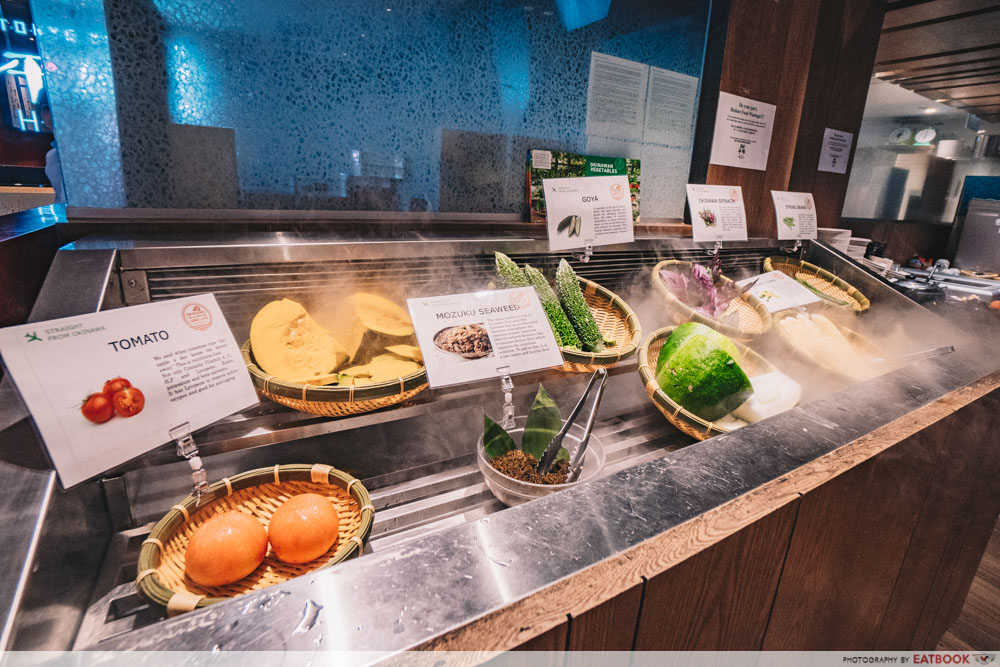 All these Okinawan vegetables are available upon request exclusively at the 100AM outlets of Gyu Jin Shabu Shabu and Yakiniku Heijoen till 31st March 2019. As such, make a reservation immediately if you want in on the secrets of the "Island of Long Life".
Who knows, maybe the next Guiness World Record holder for Oldest Living Person will be you?
Gyu Jin Shabu Shabu
Address: 100 Tras Street, #03-10, 100am, Singapore 079027
Opening hours: Daily 11am to 10:15pm
Yakiniku Heijoen
Address: 100 Tras Street, #03-11, 100am, Singapore 079027
Opening hours: Daily 11am to 10pm
Photos taken by Dexter Looi.
This post is brought to you by JTB.