---
Populus Will Have The Cool Kids Coming To Their Yard
---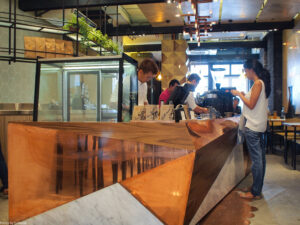 It's hard for cafes to stand out as the hipster cafe scene gets increasingly saturated. However, Populus seems to have gotten that winning formula for achieving success in the F&B scene right. Between the wooden feature wall, copper details, and marble flooring, Populus has nailed the industrial chic meets minimalist vibe that is bound to attract hoards of instagrammers to this beautiful space. Their unique menu is also well-executed and ups its one-of-a-kind hipster quotient that will make people return time and again. Anyhow, we called it first – head to Populus before it gets really packed!
---
Mains
---
Pulled Pork Grain Bowl – $18
---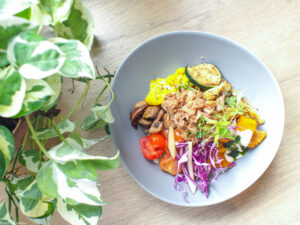 This wholesome bowl of nutritious vegetables, meat, and grains will give other modern donburi places a run for their money. From their triple grain base to the slow-cooked pulled pork, and roasted butternut squash, you will see a great deal of effort in every single element of this dish. I liked the combination of quinoa with bulghur wheat, and pearl barley as it creates a harmonious blend of textures that goes well with the other ingredients. The vegetables were brilliant to say the least, but the Asian pulled pork stole the show with its moist tenderness. Although this is not something I would necessarily order every time I'm here, it's nice to have a healthier option on the menu for days you don't want to indulge in too much decadence.
---
The Populus Scramble – $17
---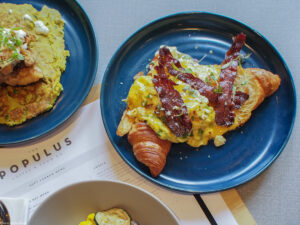 This is easily one of the best croissants I've tasted in recent months with its toasted exterior and fluffy, buttery layers. The creamy scrambled eggs were also a perfect accompaniment to the rich croissant and super crispy bacon. This is the epitome of breakfast done right, even if it is a little more pricey than other cafes.
---
Spring Pancake & Fried Chicken – $21
---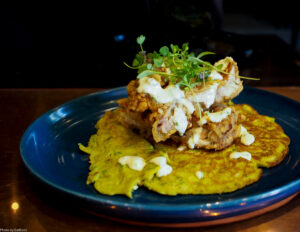 My favourite dish of the day would have to be this spring onion and corn pancake served with crispy fried chicken, and ranch dressing. Unlike the typical western style pancake, this spring onion pancake is dense and heavy. It's almost like a Korean pancake that has sweet corn instead of kimchi. The dash of cumin adds on to the appeal of this pancake, which goes perfectly with their crispy and succulent fried chicken. Who needs chicken and waffles when you can have this outstanding fusion combination instead?
---
Desserts
---
Opera – $7
---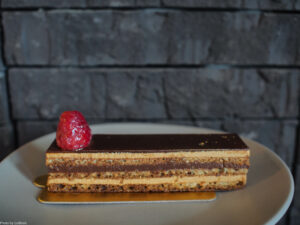 This classic French cake is a beauty to behold – neat buttercream and ganache layers with a touch of gold dust to enhance its sophistication. Flavour-wise, this cake was mediocre. It could do with a more intense coffee taste and the sponge was just a little too dry.
---
Strawberry Sundae – $13
---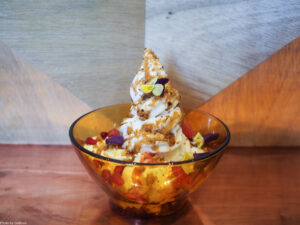 This is not your average sundae with the tahitian vanilla soft serve, meringue kisses, pomegranate seeds, and pistachio crumbs. It sounds like a mouthful, but the components complemented each other perfectly. The vanilla ice cream was light and melty, perfect with the light pistachio sponge cubes and tangy strawberry and thyme jam. With the various textural contrasts and surprise pops of herby and floral flavours, this is definitely Strawberry Sundae game strong.
Summary
Pros:
Interesting flavour combinations
Unique menu that is well executed
Beautiful space that is highly instagrammable
Cons:
Pricier than most other cafes
Recommended Dishes:
Spring Onion and Corn Pancake with Fried Chicken – $21
Strawberry Sundae – $13
Address: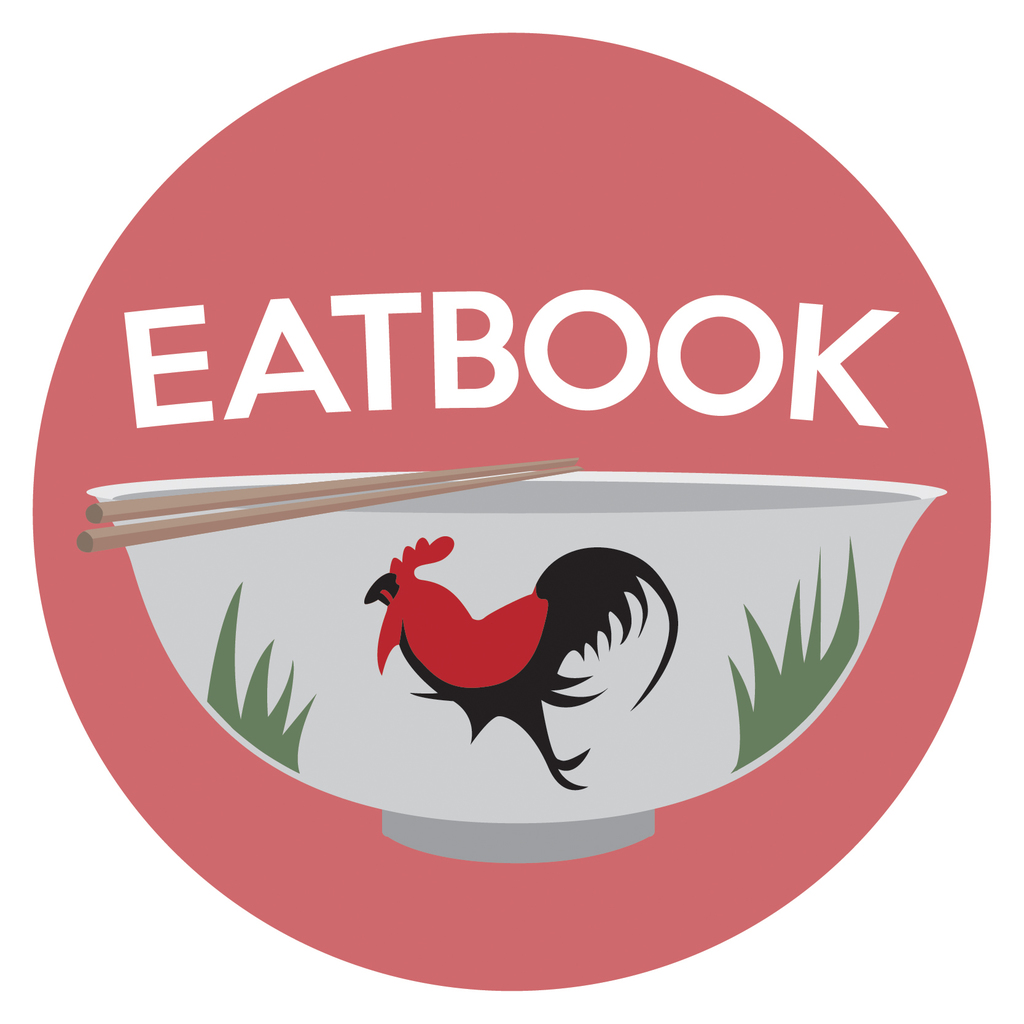 Drop us your email so you won't miss the latest news.