Quentin's the Eurasian Restaurant has devil's curry and sugee cake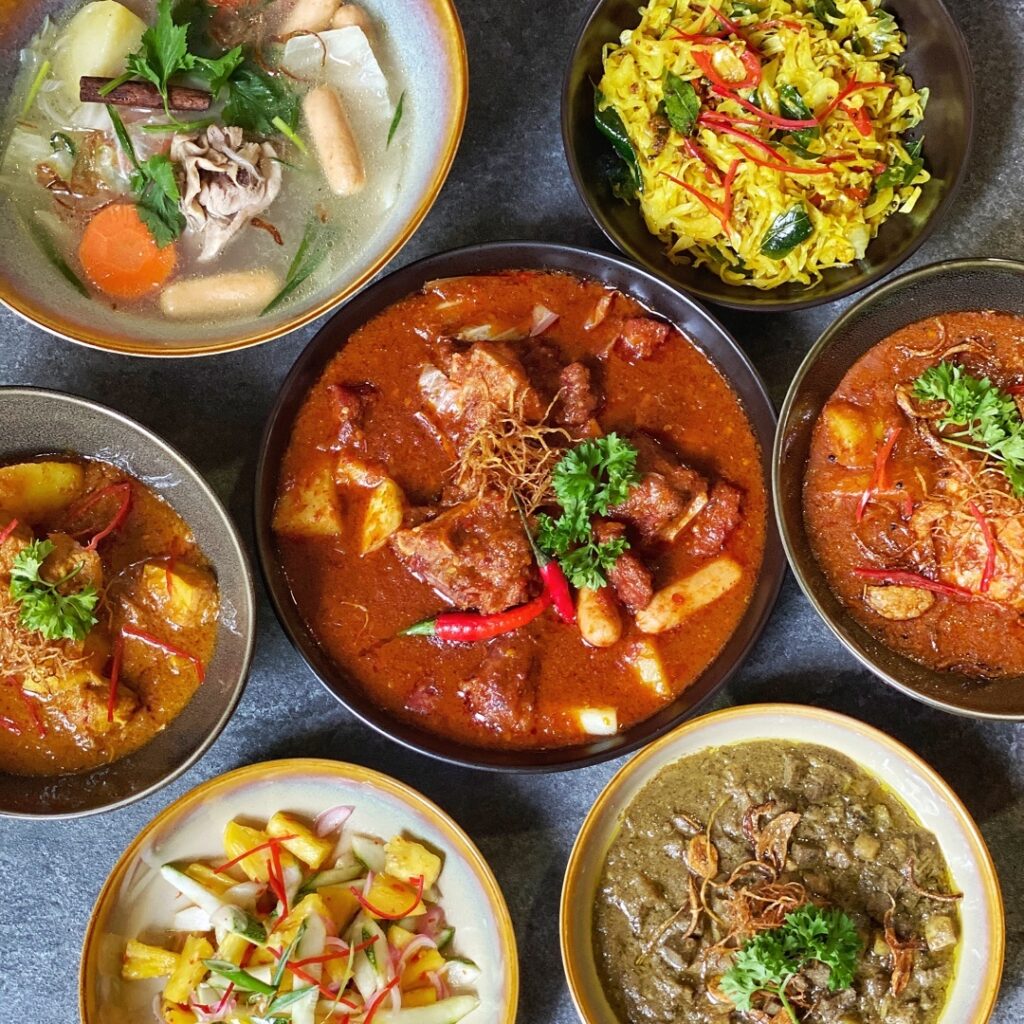 Image credit: @quentinssg
Food in Singapore is largely influenced by its melting pot of cultures. Eurasian cuisine, for instance, takes inspiration from European and Asian flavours, specifically with references to Portuguese, Dutch, Malay, and Indian dishes. Here's a little backstory: the Eurasian communities largely came about from Portuguese and Malayan intermarriages, after the Portuguese captured Malacca in 1511. Thereafter, Malacca was taken over by the Dutch and these communities moved over to Singapore, bringing along their cuisine and ingredients. It's the many years of exchanging food cultures and traditions that led to the formation of what we know of today as "Eurasian cuisine", where you'll find hearty stews and curries that star Asian spices and herbs such as lemongrass and ginger.
For a taste of history, visit Quentin's the Eurasian Restaurant, possibly the last-standing Eurasian restaurant in Singapore. While there are other eateries serving popular Eurasian dishes or related iterations, Quentin's is known to be the go-to when it comes to Eurasian food.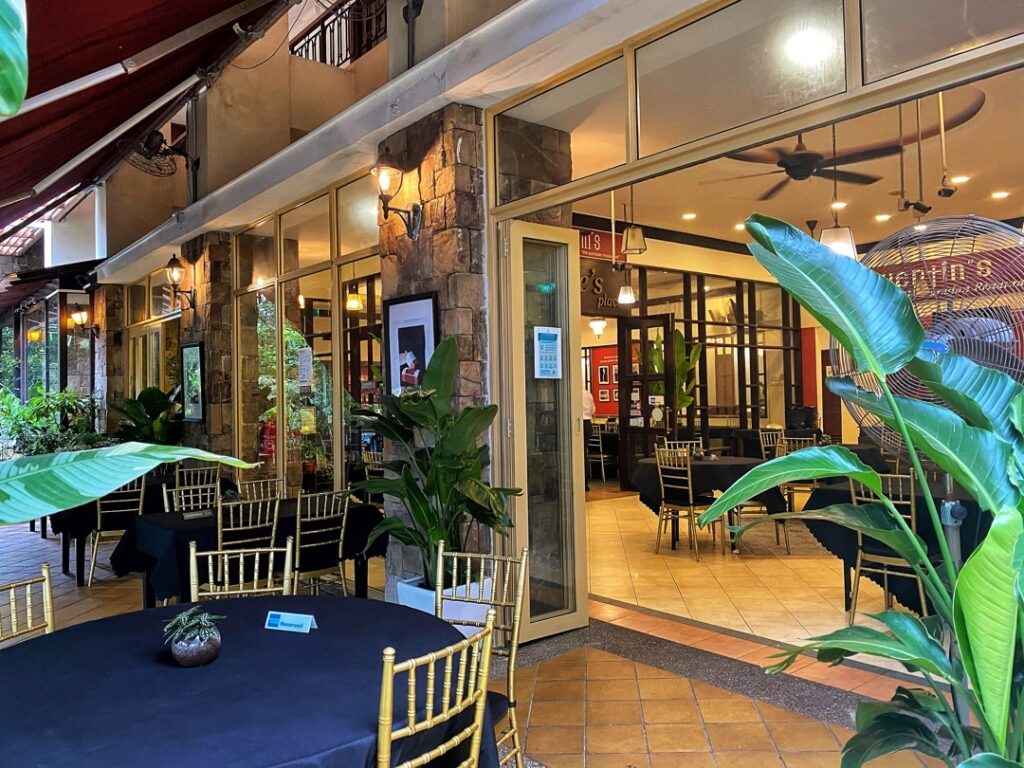 Image credit: @quentinssg
Located in the Eurasian Heritage Gallery, the namesake restaurant is run by chef Quentin Pereira, whose recipes are from his grandparents.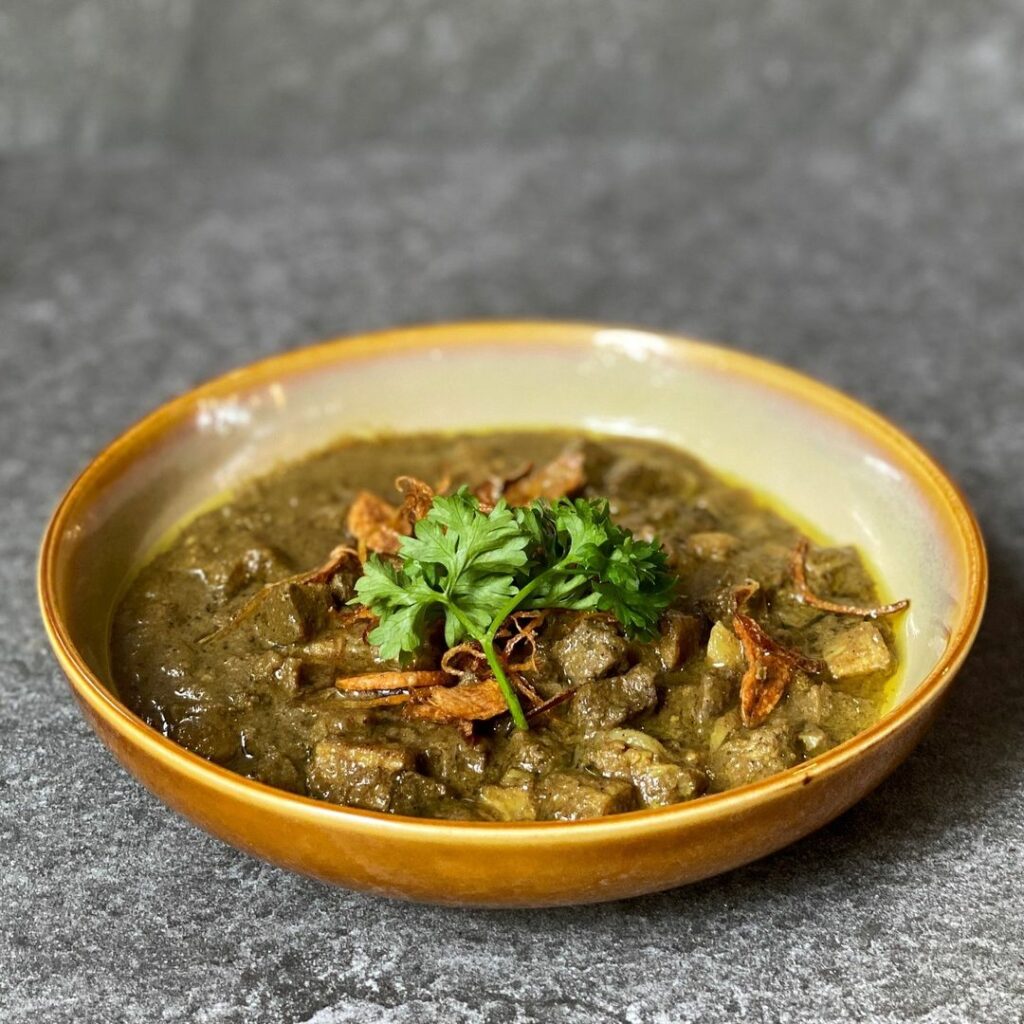 Image credit: @quentinssg
Regulars love their Feng ($23.60++), a traditional Eurasian curry featuring pork liver and pork heart. Usually served during the Christmas season, this festive dish goes well with some warm baguette ($5.80++) or steamed rice (from $3.50++).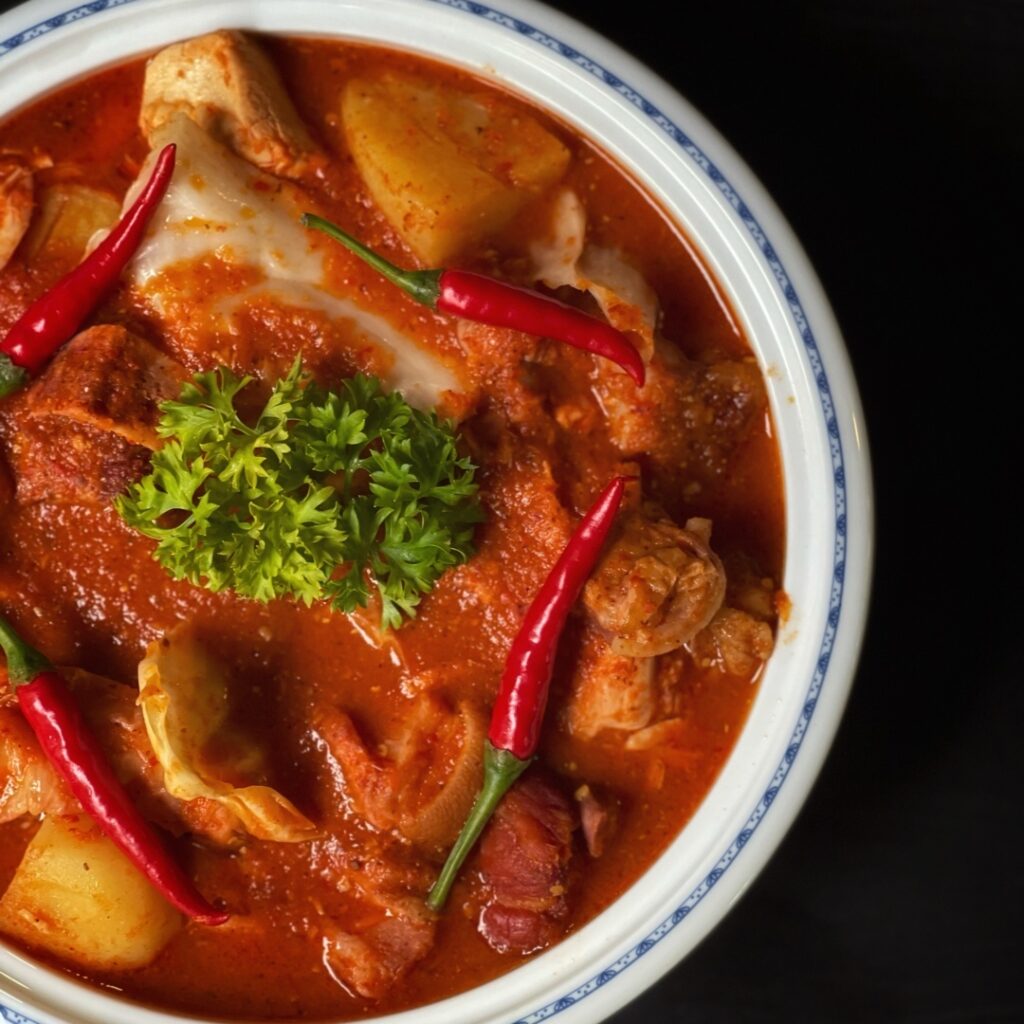 Image credit: @quentinssg
If you can take spicy, a must-try is the Curry Debal Oxtail ($31.90++) AKA Devil's Curry, a flavourful curry packed with spices and aromatics, along with rich and tender oxtail. There's also a chicken version ($27.50) if you prefer.
Don't miss out on other popular Eurasian stews and curries, too. Some highlights include Fish Bostador ($23.60++), a coconut-based dish with fresh herbs, and Pot Roast Beef ($31.90++) that's made with Wagyu beef chunks.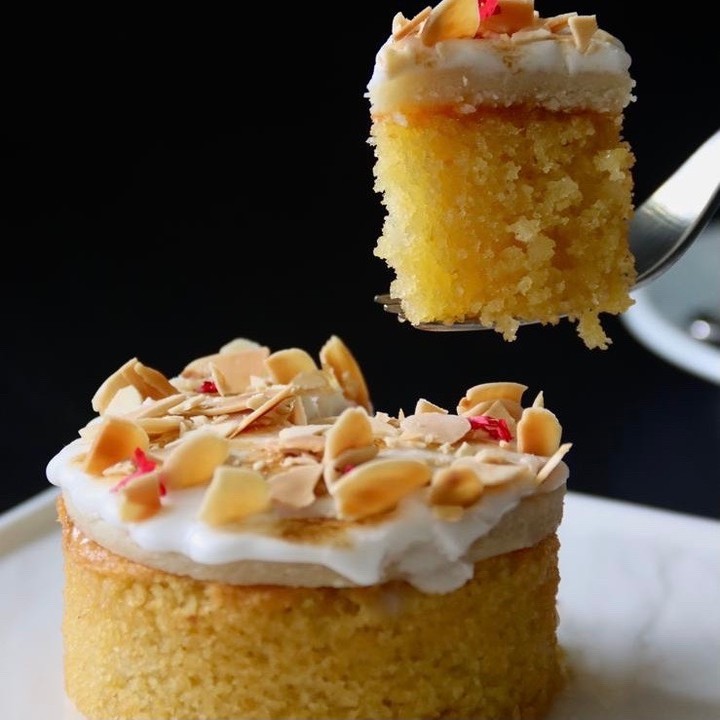 Image credit: @quentinssg
For dessert, you won't go wrong with the house-made Sugee Cake ($11.30++), a Eurasian classic made with semolina and almonds. Otherwise, try the lesser-seen Putugal ($14.50++): steamed tapioca rice cakes with shredded coconut, flavoured with pandan and butterfly blue pea extracts.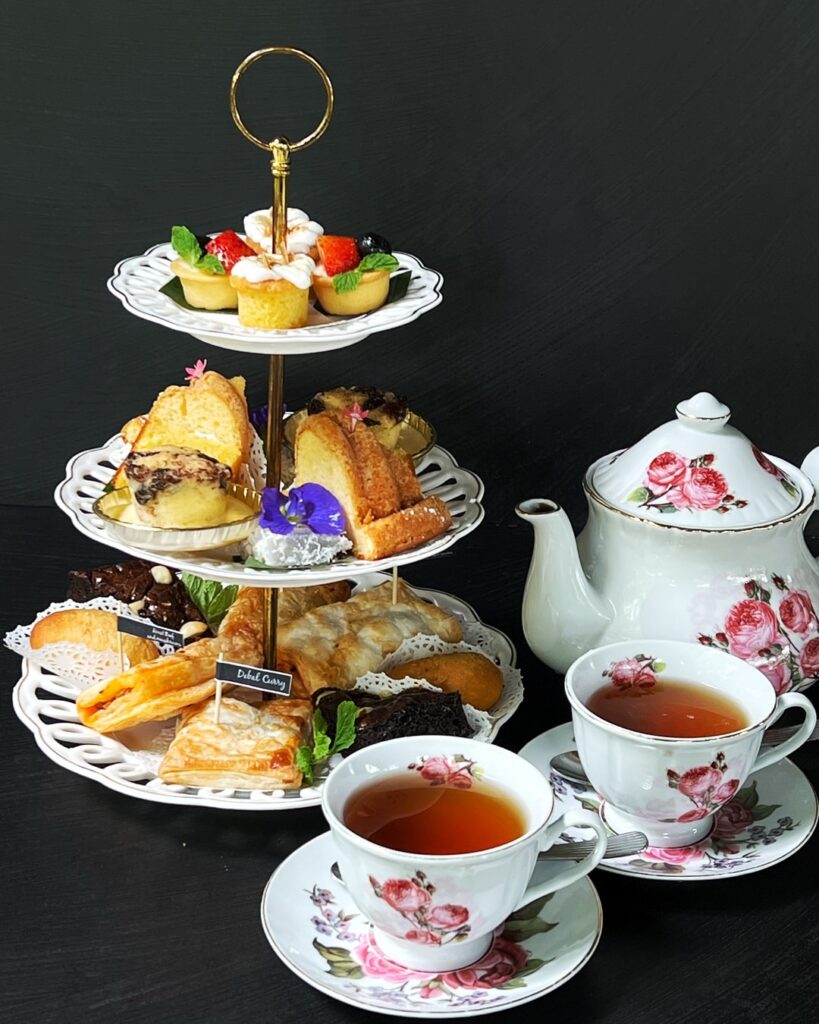 Image credit: @quentinssg
On weekends from 11:30am to 5pm, get their Eurasian High Tea set that's well-priced at $45++ for two. It comes with three tiers of bite-sized treats such as Sugee Cake Bites, Debal Curry Puffs, and Buah Keluak Brownie.
Quentin's main restaurant sits along Ceylon Road, which is within the Joo Chiat district. It's a 15-minute walk or a short bus ride from Dakota MRT Station. Alternatively, head to their second outlet, Quentin's Bar and Restaurant in Sentosa, for a completely different vibe.
For more nostalgic eats, head to the nearby Kim Choo Kueh Chang for delicous kueh, rice dumplings and more! Otherwise, check out Cafe Natsu, a pretty Japanese-inspired brunch cafe that's also within the vicinity.
Address: 139 Ceylon Road, Level 1, Eurasian Community House, Singapore 429744
Opening hours: Tue 11:30am to 2:30pm, 5:30pm to 9:30pm, Wed-Fri 11:30am to 2:30pm, 5:30pm to 10:30pm, Sat 11:30am to 10:30pm, Sun 11:30am to 9:30pm
Tel: 6348 0327
Website
Quentin's is not a halal-certified eatery.
Kim Choo Kueh Chang: Legendary Nyonya Dumplings And Kueh At Joo Chiat
Featured image adapted from @quentinssg