The finest selection of seafood dishes
Singapore Restaurant Week embodies everything that food is supposed to represent. It is a occasion to celebrate friends, family and of course, great food and wine. Every year, die-hard foodies can indulge in a huge range of cuisines from more than 100 of Singapore's best  restaurants.
This year, Singapore Restaurant Week celebrates the "Feasts of the Ocean". With top dining establishments aiming to lure in customers with their delectable seafood offerings. We were invited to a private tasting to have a sneak taste of some of the dishes that would be on offer at Singapore Restaurant Week, and here's what we thought!
Note: All dishes were served in canape sizes and don't reflect the final plating and presentation.
Portico Prime
Headed by local boy Chef Nixon, Portico Prime is a modern European dining venue which constantly pushes the edges of innovation and creativity. After the success of it's sister restaurant Portico at Alexandra Road, Portico Prime reinvents itself with a more upmarket look as well as new takes on classic Portico dishes.
This year for Singapore Restaurant Week, Portico Prime brings the flavors of Asia to our plates. Incorporating familiar tastes from Japan and Thailand, the dishes showcased a clean and modern approach to classic dishes we know and love. Here's what they had on offer for the night.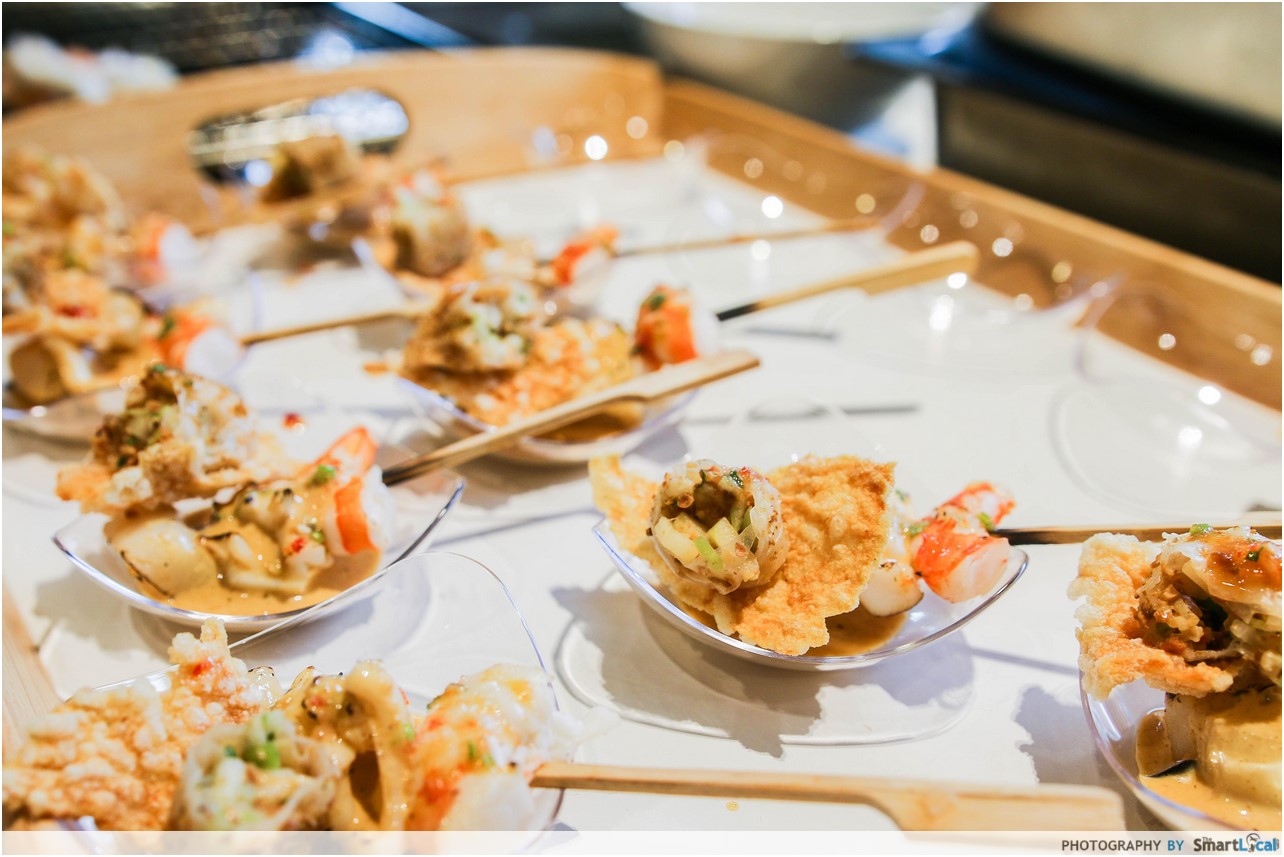 Thai Seafood Skewer, Tom Yum Infused Espuma, "Koong" Cracker, Guava "Som Tam"
This dish was the classic example of why you should never judge a book by its cover. It looked messy and rather haphazardly put together. A skewer of grilled seafood was dunked in what seemed to be a tom yum sauce and was topped with a prawn cracker and a bundle of guava salad. I was unimpressed, but I was soon proved wrong by this hidden gem.
The seafood was cooked to absolute perfection, the prawns, scallop and squid were cooked individually before being blowtorched. The result was a beautiful smoky char reminiscent of aburi sushi.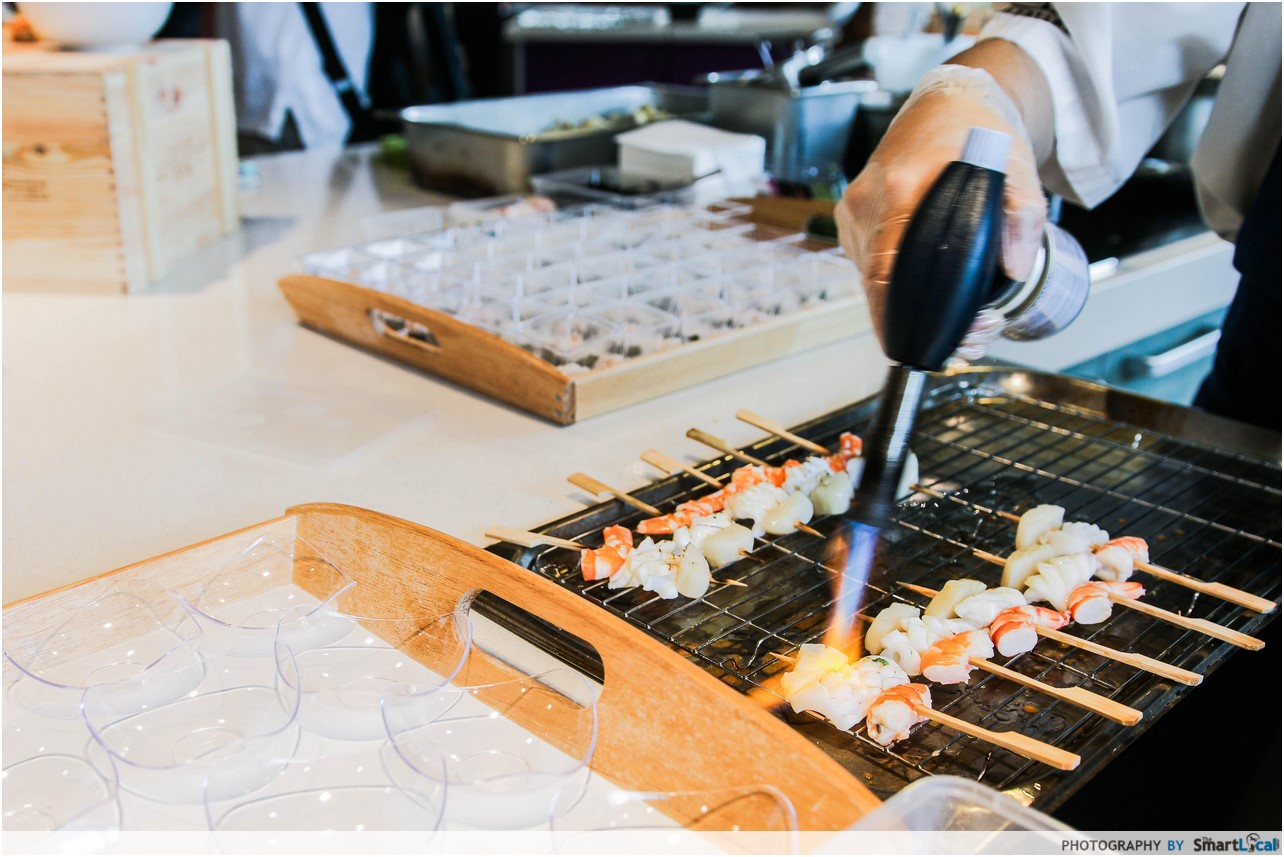 The tom yum espuma was well balanced and had a vibrancy about it which helped to balance the other flavors of the dish. There wasn't much spice in the tom yum, it was subtle and lingered on your tongue for just a sliver of a second before fading. Perhaps Chef Nixon was trying to the European palate, but personally I could have used a little more just to liven things up.
The guava salad and the prawn cracker were the perfect accompaniments. The cracker added a delightful textural contrast, giving the dish a much needed crunch. The salad added light citrus notes which cut the richness of the sauce and cleansed my palate.
Overall, this was the standout dish of the night. I had to stop myself from going back for a fifth serving of it because I was so enraptured by it. This plate of food definitely captures the essence of Thai street food and elevates it to another level.
Rating: 9/10
"Deadliest Catch", Snow Crab Bisque, Snow Crab Meat, Crispy Wakame, Soft Shell Crab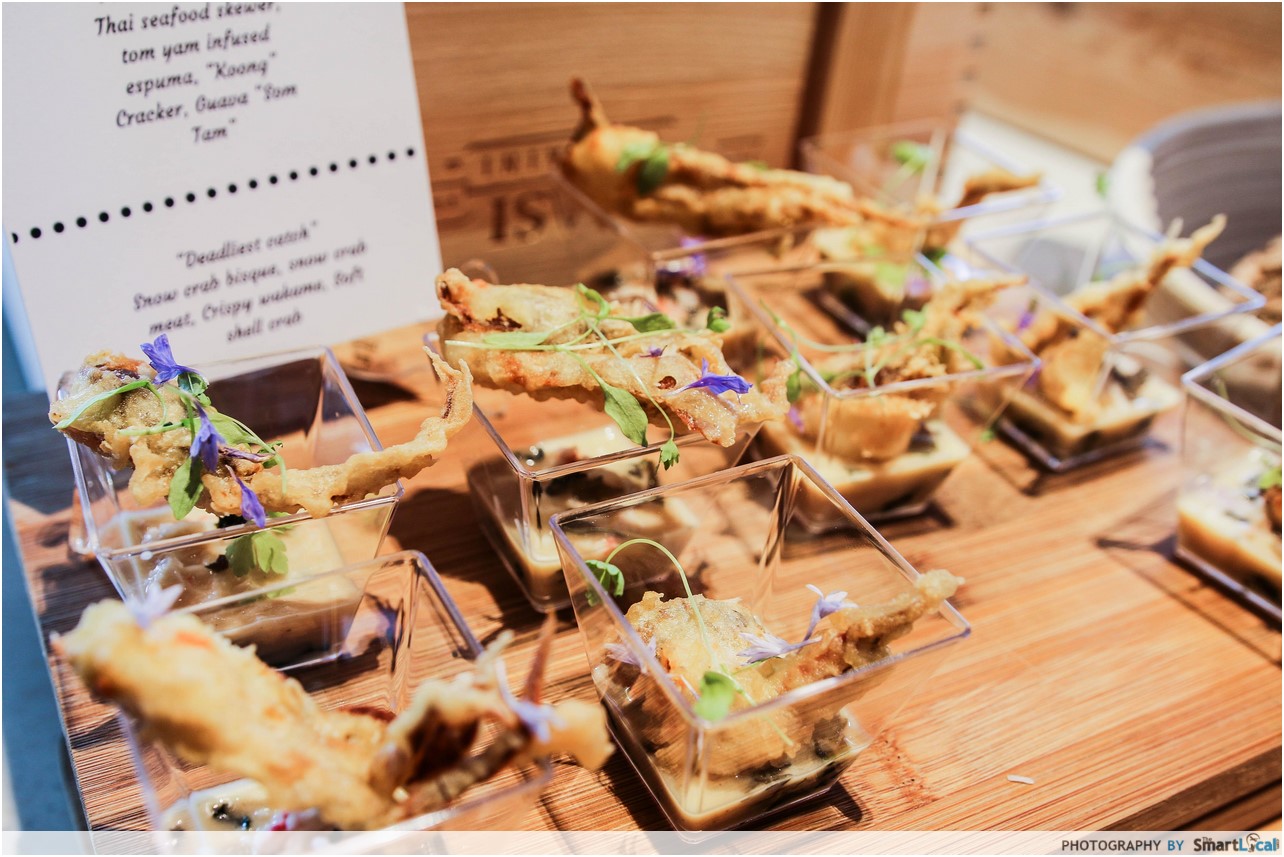 Chef Nixon describes this dish as a tribute to the reality television series "Deadliest Catch", which chronicles the life aboard a crab fishing vessel on the high seas. It is a fitting tribute indeed, with most of the elements stemming from crab related ingredients.
The highlight had to be the soft shell crab which was lightly coated in tempura batter and fried to a crisp golden brown. Unlike other soft shell crab dishes which I've had before, this was miles ahead of the competition. The batter didn't lose its crunch even after sitting there for a good fifteen to twenty minutes.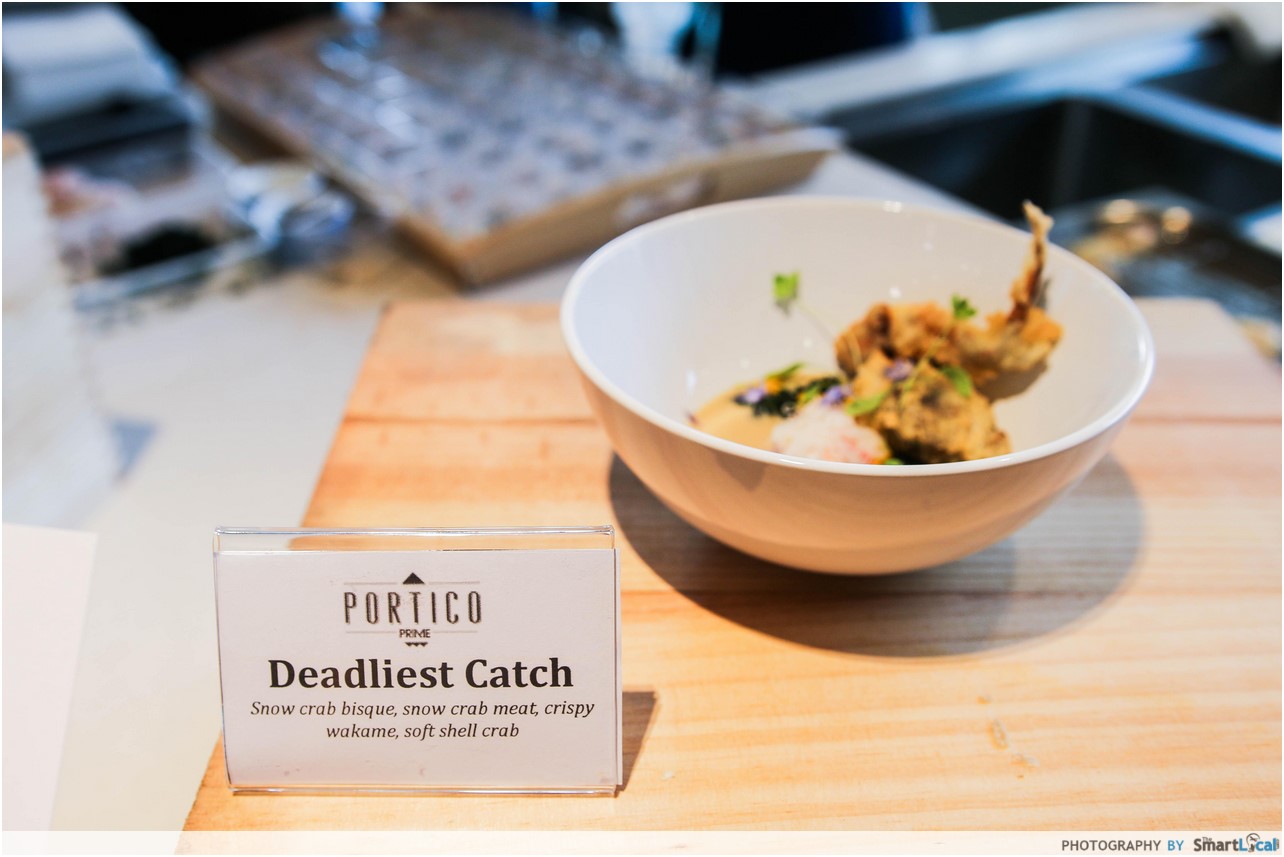 When I was told there was a crab bisque, I was immediately drawn to it. I envisioned a thick and slightly creamy broth packed full of crustacean flavor, accentuated with crispy seaweed. What I got instead was a rather flat broth which was a little too salty for my liking. The seaweed had been sitting in broth for far too long and ended up as a slimy mess.
While the soft shell crab excited me beyond realms of mortal comprehension, the crab bisque was not quite at the same level. Perhaps more could have done to the broth, it was crying for more some kind of herb or seasoning.
Rating: 6.5/10
Alati
Coining themselves as the producers of "divine" greek cuisine, Alati is already making waves in the Singapore food industry despite them only opening in September last year. Chef Sotsous Dimitrios ensures that his fish and seafood is imported from the fishermen of the Aegean sea three times a week to maintain the quality that Alati has been known for.
For Singapore Restaurant Week, Alati is bringing the flavors of Attica to your table. Chef Dimitrios is serving up authentic Greek comfort food with an emphasis on bold and and punchy flavors. Here's what Alati had on offer for the night.
Taramosalata (Cod Roe Cream) w/ Roasted Beetroots, Orange Cream On Walnut Biscuit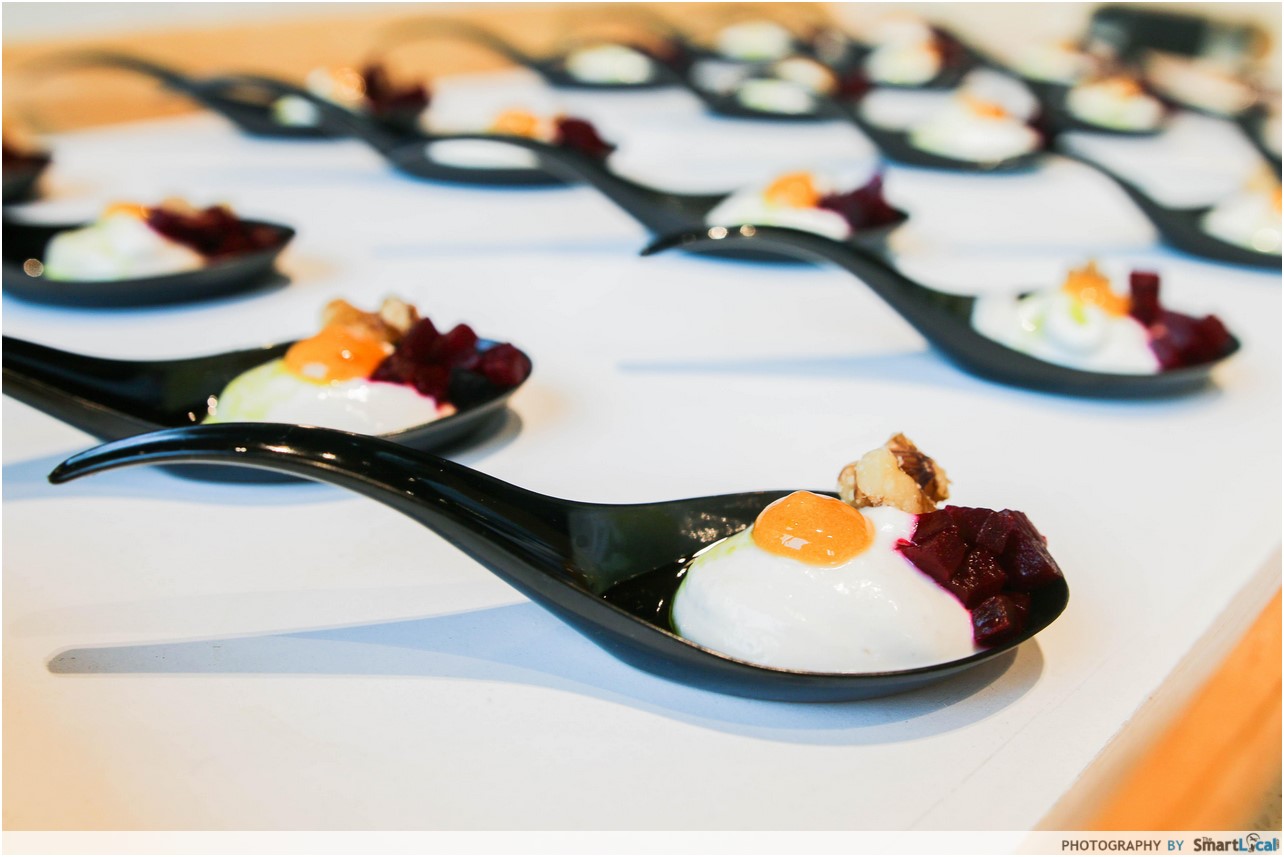 Taramosalata is a traditional Greek meze (appetizer) made from the cured roe of cod mixed mixed with lemon juice and olive oil. The result is a dip which was like an atomic bomb of flavor going off in your mouth.
However what made this dish spectacular wasn't how well the Taramosalata was prepared, it was the balance of all the elements, and how they sang in perfect harmony. The orange cream added a sour citrusy note to the dish which helped cut through the richness of the dish, while the beetroot surprised me with its subtle sweetness. The walnut biscuit was the cherry on the cake, it gave the whole dish texture and a nutty savouriness which was brilliant.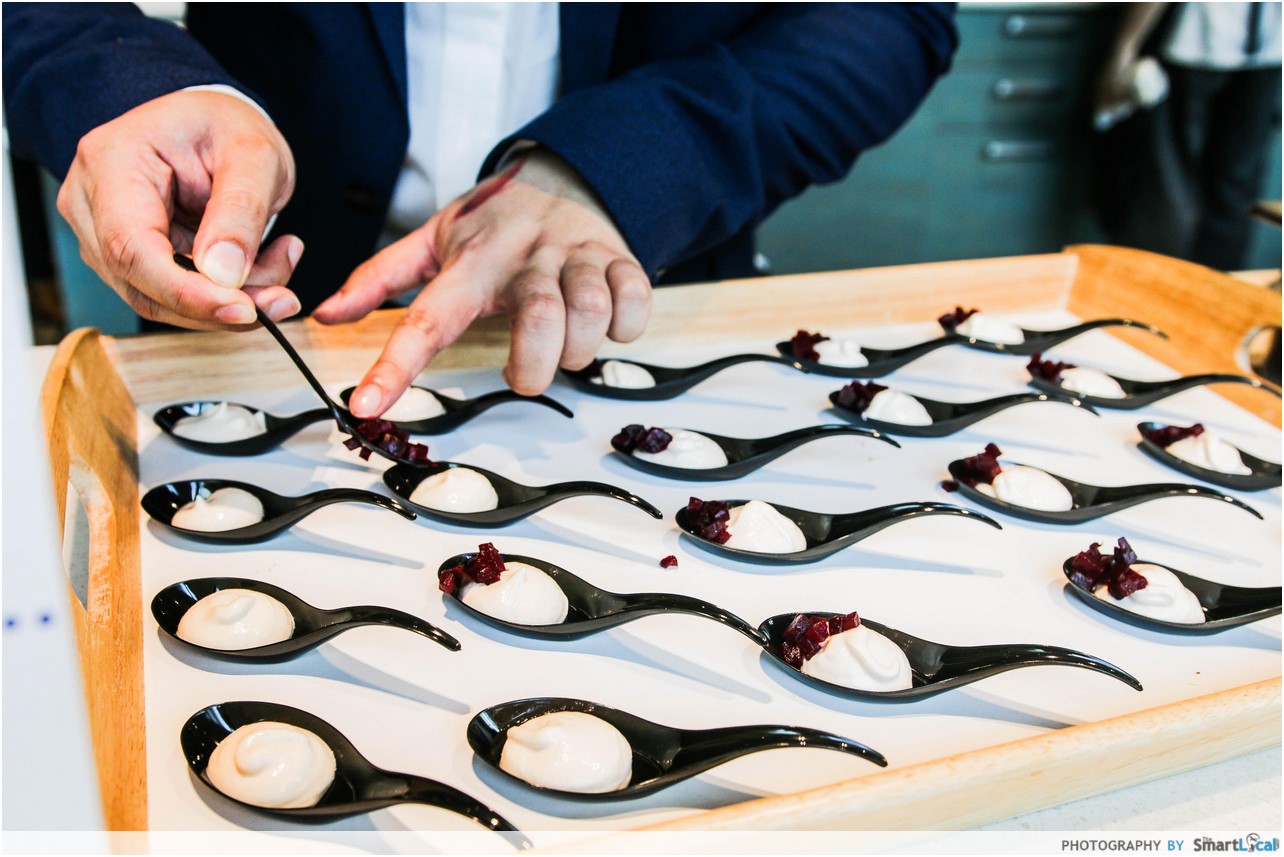 This one spoonful of Taramosalata was enough to convince me that Alati meant business and was definitely on the right track to reinventing Greek cuisine in Singapore.
Rating: 8.5/10
Santorini Fava Bean Puree w/ Grilled Prawns and Chilli Jam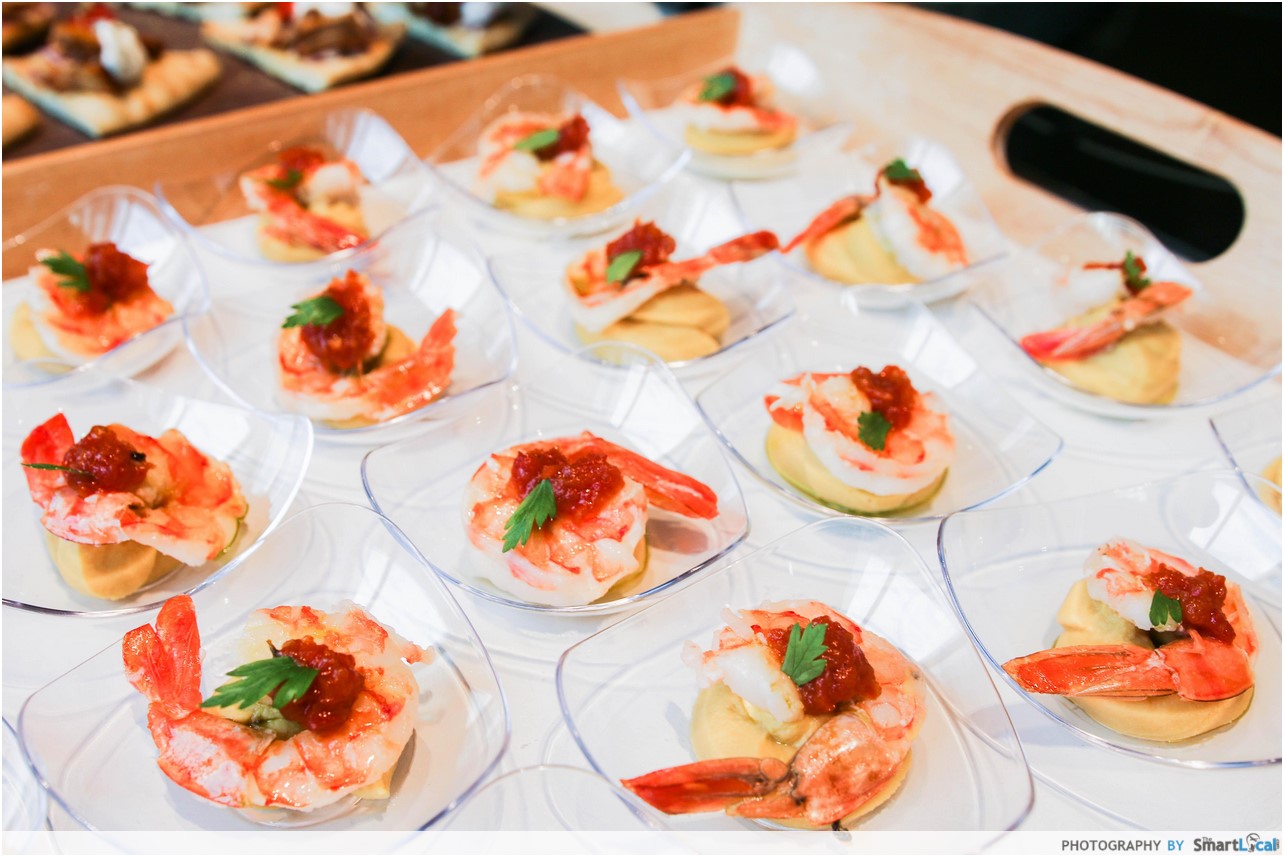 I love prawns, they tell you so much about a chef in one bite. The quality of a single prawn shows the amount of effort a restaurant has put into preparing it. From the procurement of the freshest catch of prawns, to the care taken in cooking it to absolute perfection. Each step is pivotal in the curation of any prawn based dish.
The grilled prawns by Alati were done exceptionally well. They were plump and fresh, truly a testament to the seafood produce of the Aegean sea. Although well prepared, the prawns were sliced in half for the tasting portion, and I definitely didn't think that was a wise choice. A lot of texture and bite was lost from cutting the prawn and it affected my impression of the dish as a whole.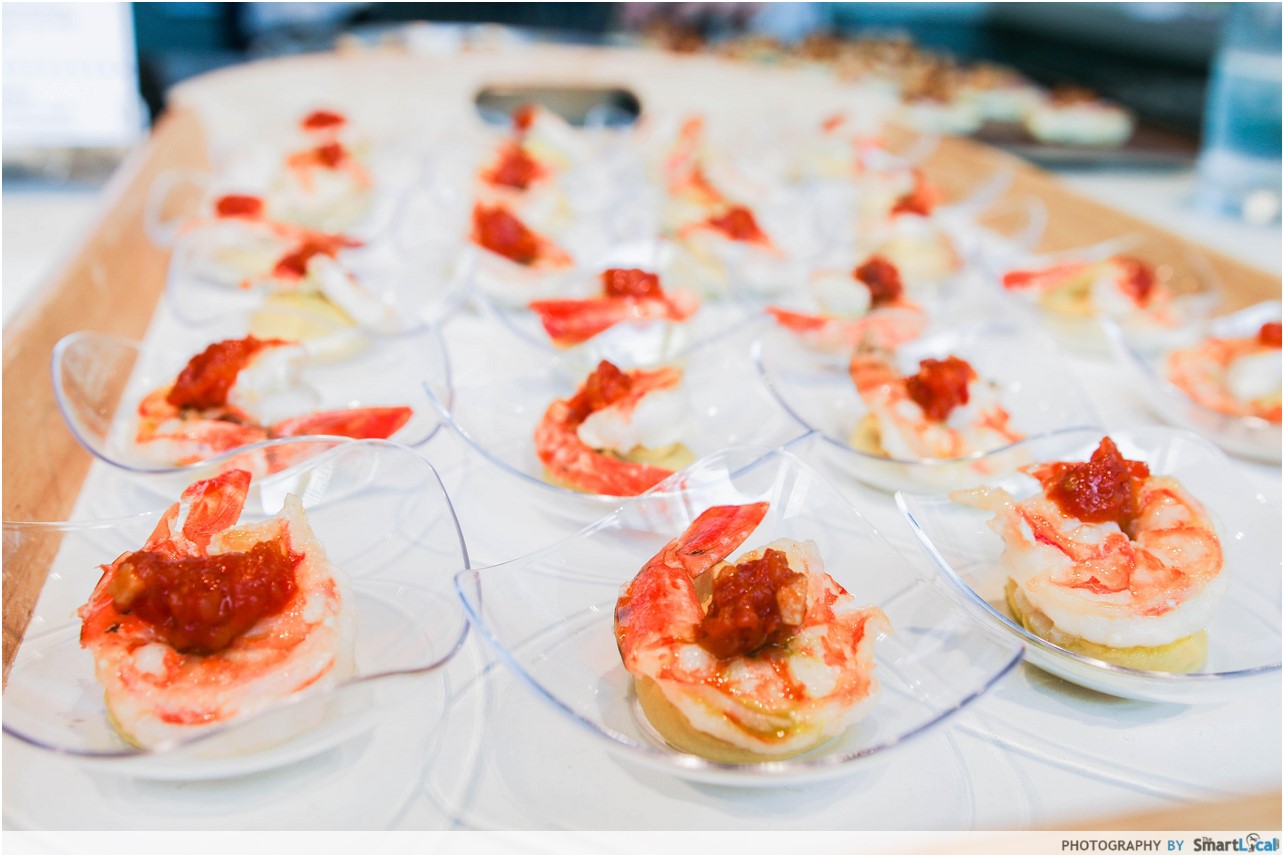 Complementing the prawns were a puree of fava beans and a sweet chilli jam. The fava bean puree was rather forgettable, despite having a smooth and silky texture it did not have a strong enough flavor. The chilli jam on the other hand, was well balanced and enhanced the sweetness of the prawn, I just wish there was a little more of it in the portion.
Rating: 7/10
Pork Gyros, Pork Belly w/ Home-Made Tzatziki, Onions and Tomatoes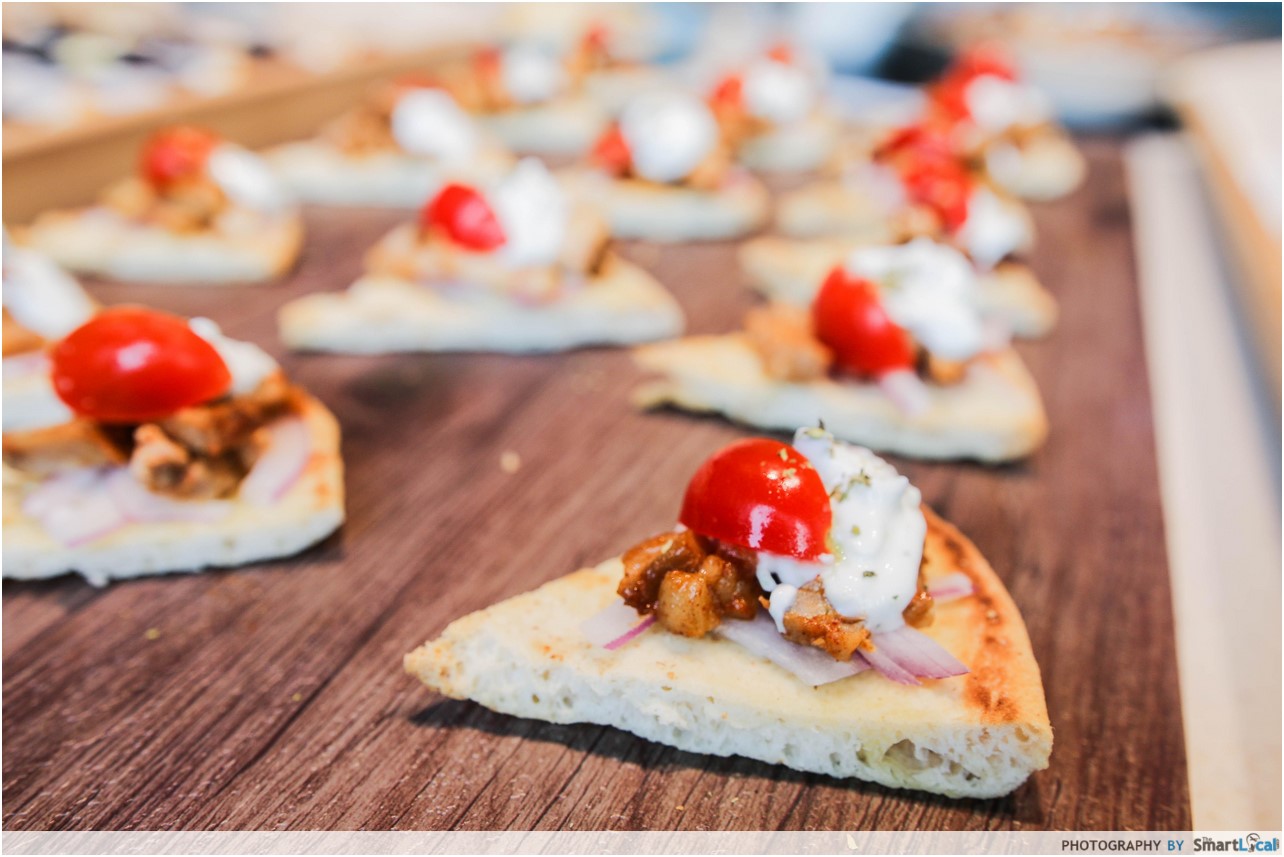 If you've had Greek cuisine before, chances are you've heard of pork gyros slathered in tzatziki sauce. The latter being a savoury yoghurt based sauce, incorporating various herbs like mint, parsley and garlic.  
Alati's take on the classic tzatziki sauce, it felt like a nod to the classic version rather than a brand new take on it. The sauce was impeccably done, it was smooth, silky and had just the right amount of tang to it. The flavors of the sauce were robust and reminded me of late night kebab runs in Melbourne, except this was prepared with much more care and finesse.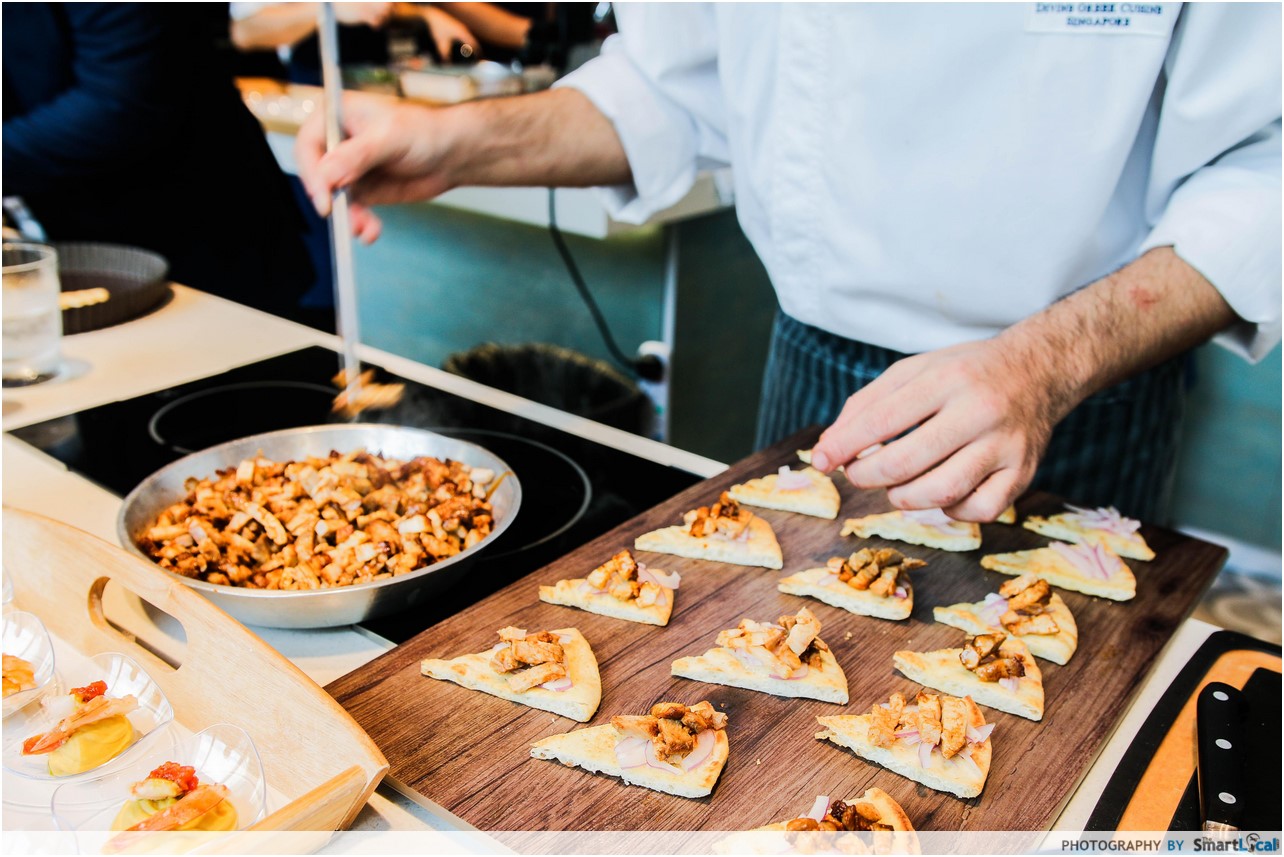 The pita bread which held the pork and sauce was wonderfully light and airy, it was the perfect accompaniment to the lovely sauce which was resting atop of it. However, the biggest letdown of the dish was the pork itself. There was far too little pork in each portion,  and as a result the flavors of the meat were completely dwarfed by the tzatziki.
Rating: 7.5/10
Fyr Cycene Ono Drinc
Pronounced as Fire Kitchen and Drink, FYR is one of the latest additions to Boon Tat Street's list of restaurants. They specialize in cooking in charcoal ovens using lychee wood, which imparts a lovely smokey flavor to the meats and seafood. The aesthetic of FYR's plating and their food philosophy focuses on earthly elements such as stone and wood, creating a sense of timelessness in their food.
With Singapore Restaurant Week, Chef Micail Chepi mixed modern European dining with subtle asian flavors, creating an twist on dishes tried and tested. FYR had two dishes for us to try that night and we were super excited to see what they could be.
Roasted Duck Foie Gras w/ Butter Toasted Brioche, Mixed Berries and Gula Melaka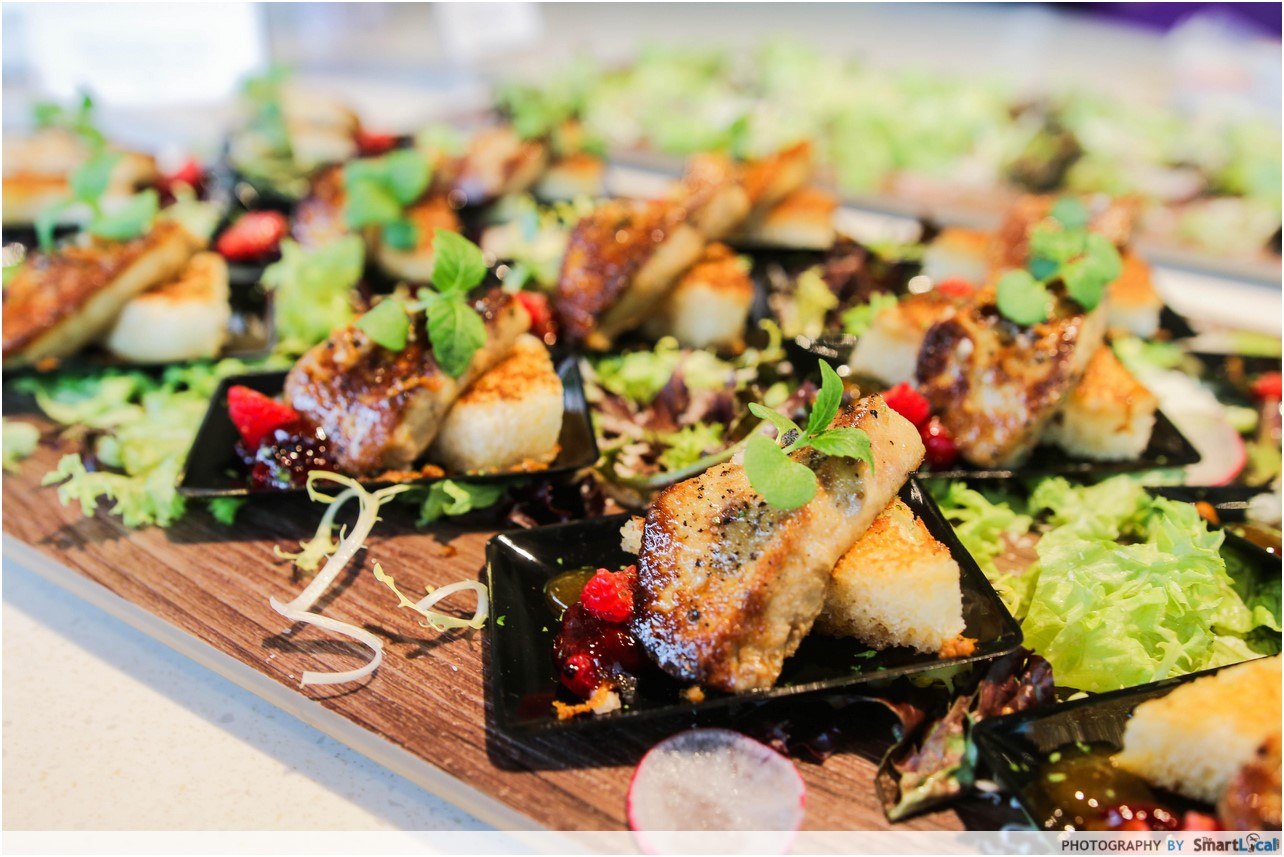 If you're one of those naysayers who believes that gula melaka should only be in desserts, this dish will convert you 100%. The balance of sweet, savoury and acidity in this dish is just remarkable. It manages to fend off the richness of the foie gras without compromising its flavor and texture, a feat which few restaurants can achieve.
The gula melaka adds an incredible restrained sweetness which truly shines in this dish. It doesn't overpower the star of the dish – the foie gras, in any way, but yet it enhances its flavour with its toffee like sweetness.
The only complaint I had for this dish was the brioche. It definitely needed to be toasted for a longer time to hold it's own against the foie gras and sauces. However, I'm just nitpicking at this point, the dish as a whole is great and is definitely deserving of its spot in FYR's menu.
Rating: 8.5/10
Marinated Snapper in Banana Leaf w/ Buttered Basmati Rice, Local Fruits Salsa, Lime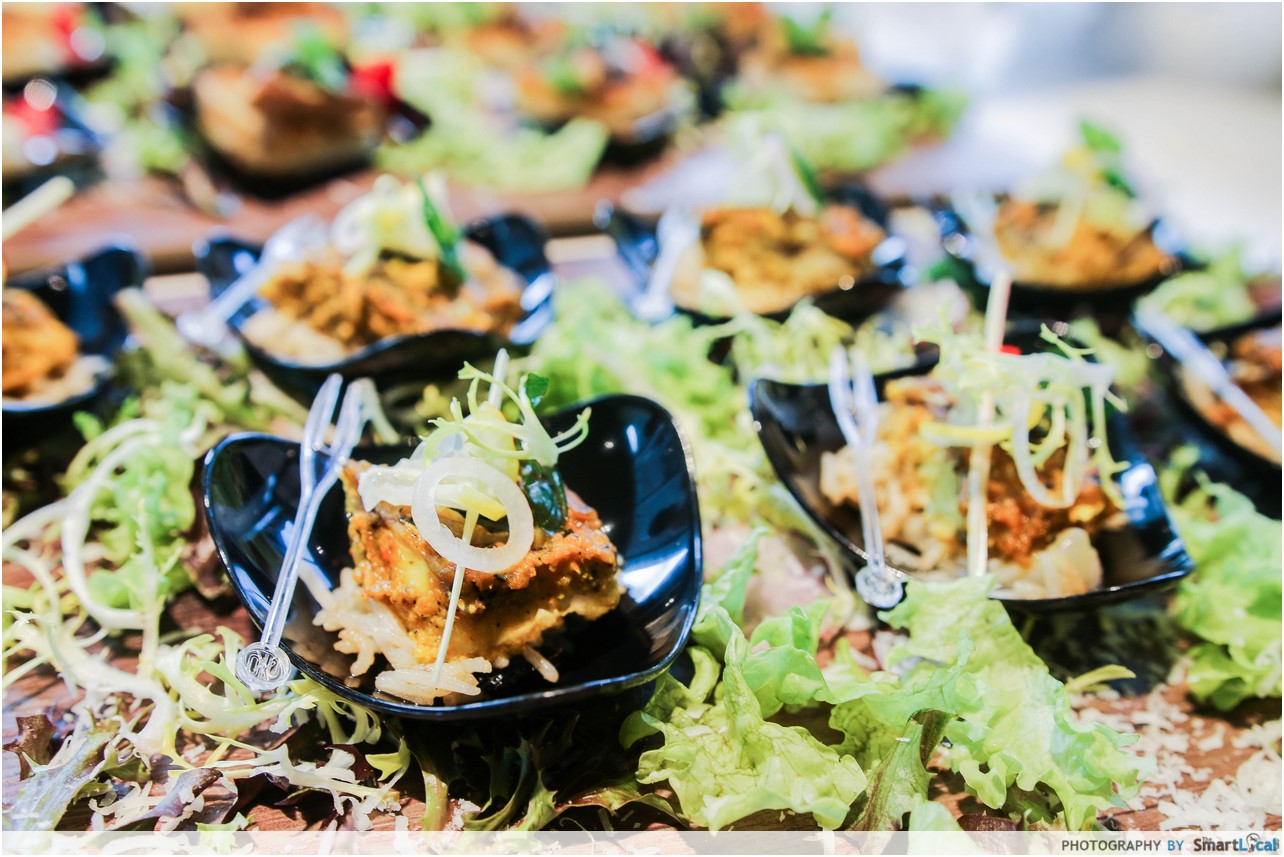 If there was a dish of deconstructed fish curry, this would be it. The flavors are very reminiscent of Middle Eastern curries with a few surprising asian wists. Lemongrass lends a lovely floral scent and flavor to the fish, and curry leaves add an earthy aroma.
The fish was well cooked, it was fork tender but it could have been more moist, however, I attributed this to the plating time of the canapes. The fish was covered in a crust of tumeric, curry powder and other Middle Eastern spices, which gave the snapper character and body.
The dish as a whole was well executed, however it did not surprise me like some of the other dishes. The flavors were not as daring or adventurous as the rest and it lacked star quality, however it was still a great bite of food.
Rating: 7.5/10
Singapore Restaurant Week March 2016
Portico Prime, Alati and FYR aren't the only restaurants strutting their stuff during Singapore Restaurant Week. Reputable restaurants like Basilico and Wooloomooloo Steakhouse will also be joining the fold and will be providing affordable set menus for diners to partake in, and that's just the tip of the iceberg.
I definitely enjoyed this sneak peek of what Restaurant Week had to offer, the eclectic fusions, delectable flavors and passion stemming from the chefs all added up to an extremely memorable evening. Just tasting the dishes of these three restaurants has left me wanting more, and I've already made my bookings, hopefully you will too!
Singapore Restaurant Week runs from 19 March to 26th March 2016
Participating restaurants will offer exclusive three-course menus for both lunch and dinner priced at $28++ and $38++ respectively. Dining City Star-Awarded restaurants will offer their set menus at $40++ for lunch and $58++ for dinner.
To place your reservations and for more information about the participating restaurants head over to www.restaurantweek.sg
This post was brought to you by Singapore Restaurant Week