Seoul Garden HOTPOT has affordable Korean food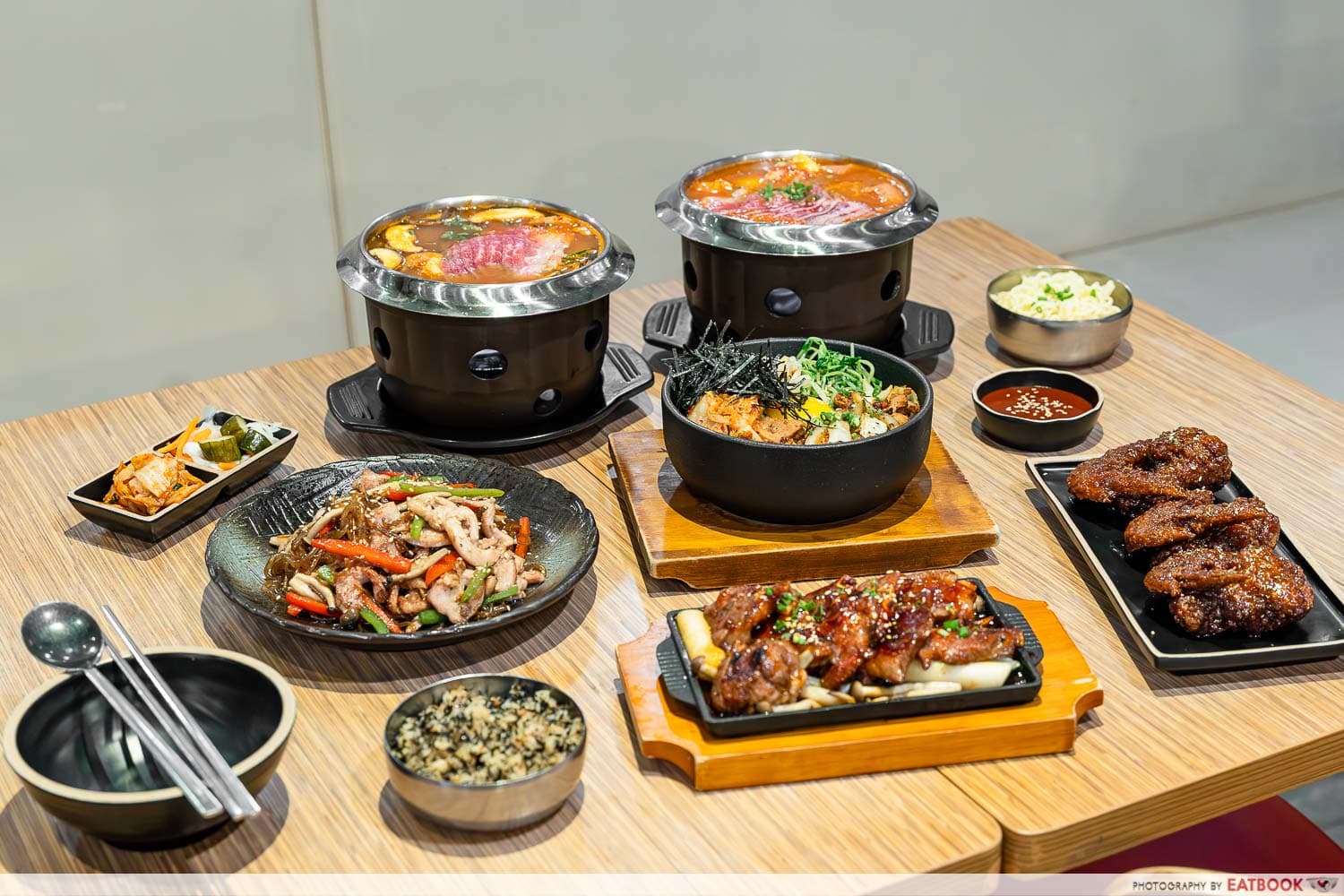 There are two things Singaporeans go crazy over: hotpot and Korean food. It's no big secret, the number of Korean and hotpot restaurants and stalls in seemingly every hawker center and mall these days shows just how much our sunny island loves these foods. Thankfully, there's no need to decide between the two for your next meal, as Seoul Garden HOTPOT exists to bring you the best of both worlds, alongside a whole new spread of other beloved Korean dishes as part of their recent rebrand.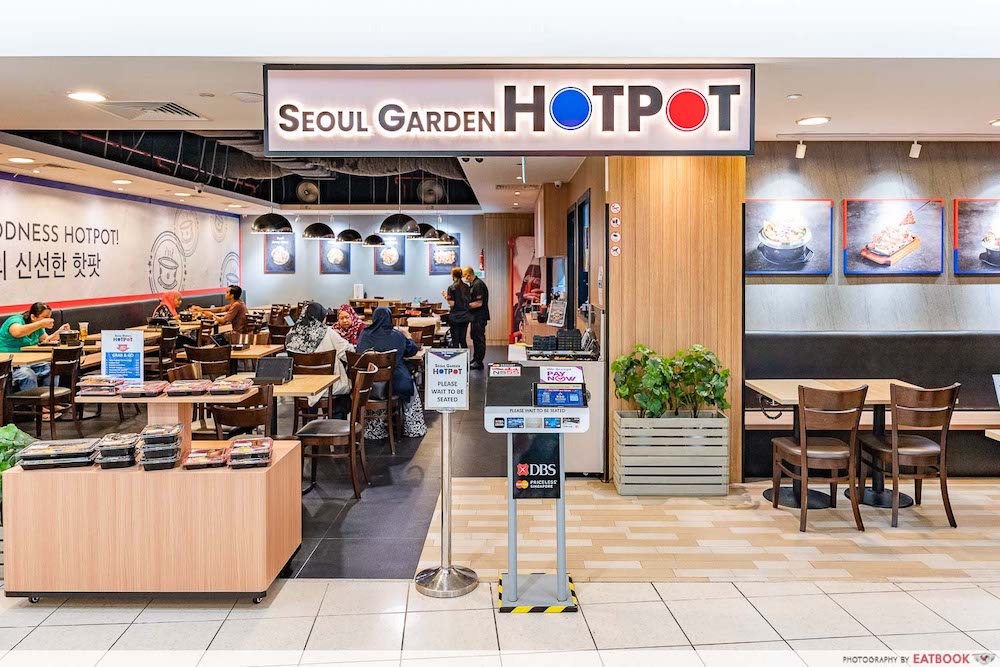 You might recognise the name Seoul Garden as a household name in the K-BBQ and all-you-can-eat buffet scene. Seoul Garden HOTPOT isn't Seoul Garden, but rather a sister chain which functions as a casual eatery. They've actually been around for the past 13 years, located in malls all over the island and serving value-for-money Korean dishes with an efficiency that doesn't compromise on quality.
Food at Seoul Garden HOTPOT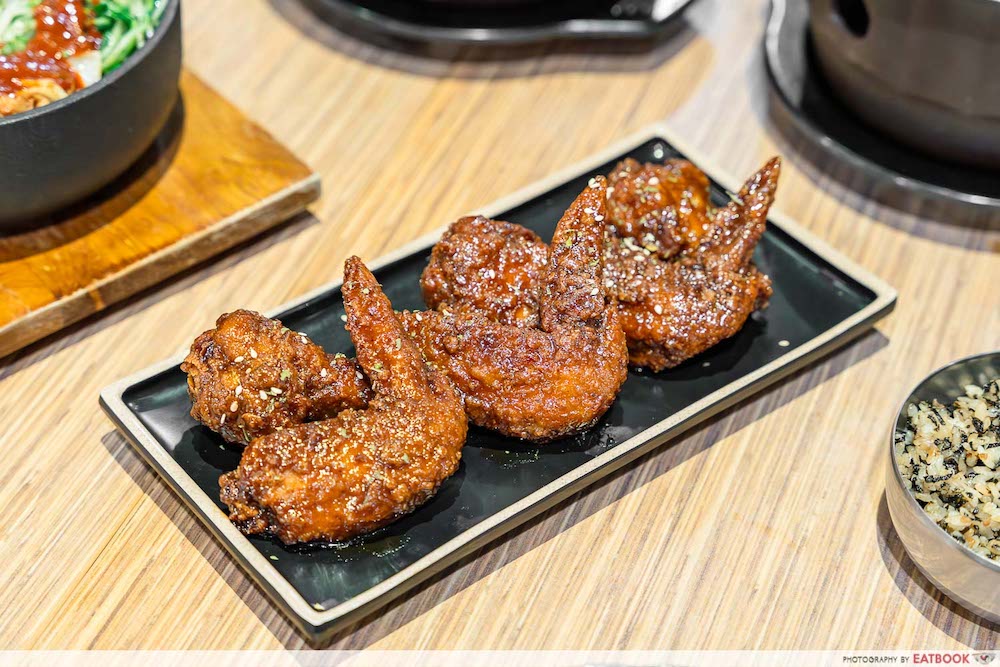 Seoul Garden HOTPOT's menu consists of three main categories: Soup & Stew, Rice & Japchae, and Hot Plate. As a halal eatery, no pork is served here. Instead, treat yourself to chicken, lamb, and even Wagyu beef and seafood. They also have a range of banchan available, including three different Korean fried chicken choices on the menu such as the new and improved Soy Garlic Fried Chicken ($7.90++/$9.90++), which has juicy chicken wings coated in a thick honey-soy marinade.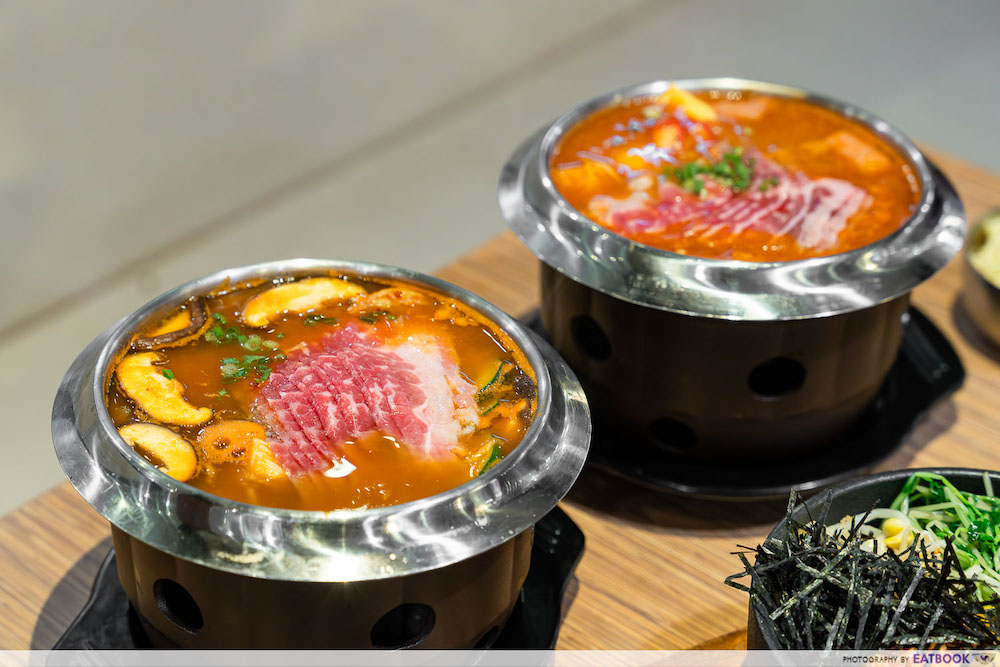 To start off, we got two mains from the Soup & Stew section, their individual hotpot and army stew, in their signature beef varieties.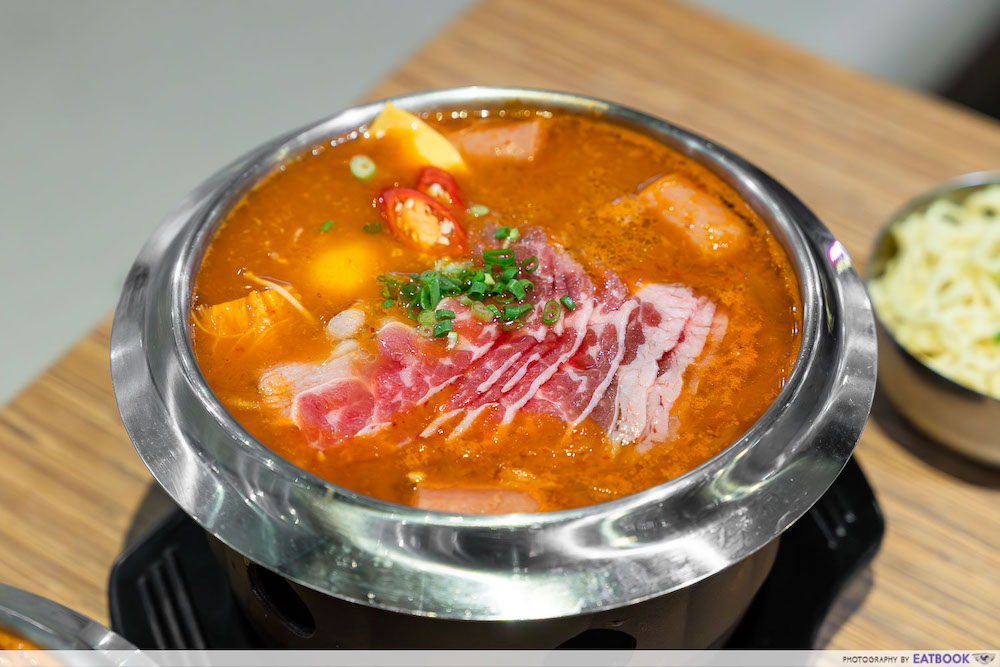 The Kimchi Beef Hotpot ($16++) is Seoul Garden HOTPOT's rendition of the ever popular kimchi stew. Featuring ingredients such as shiitake mushrooms, sliced rice cakes, and slices of beef short plate stewed in the bubbling red broth, this hotpot produced an aroma that was simply divine.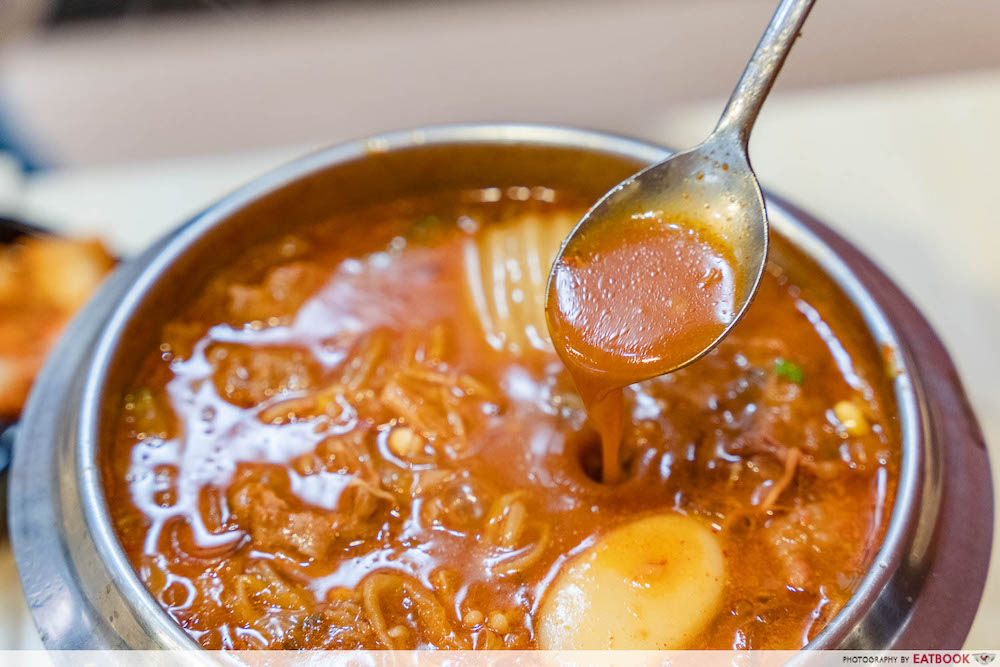 Here, the hotpot's soup is made using their special kimchi pickle, made to cater specifically to local tastes. Expect a soup that is lighter and slightly on the sweeter side, though no less shiok or vibrant in colour.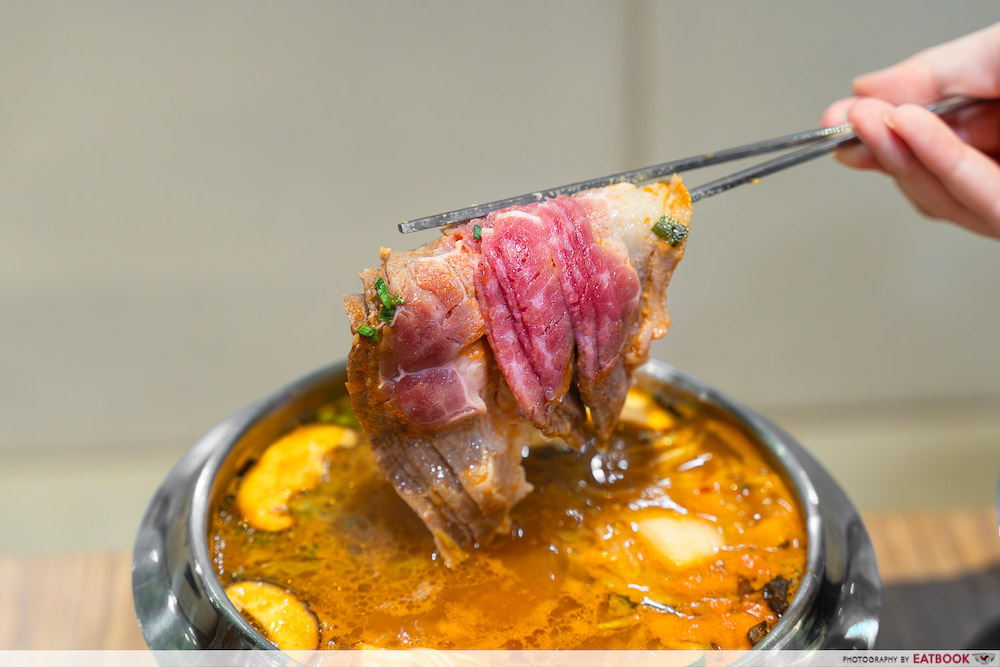 The beef short plate slices also soaked up the shiok flavour of the kimchi stew, lending it a mildly spiced, refreshing flavour on top of its existing beefiness. Overall, it's pretty clear why this was one of Seoul Garden HOTPOT's signature items. My colleague was raving over the homely taste of this dish, declaring it his favourite of the dishes we tried here.   
Compared to the kimchi hotpot, the Beef Army Stew ($16++) boasts a far more robust and thicker broth, helped along by the added egg cracked straight into the broth and a slice of cheese, making the stew creamier though notably less spicy.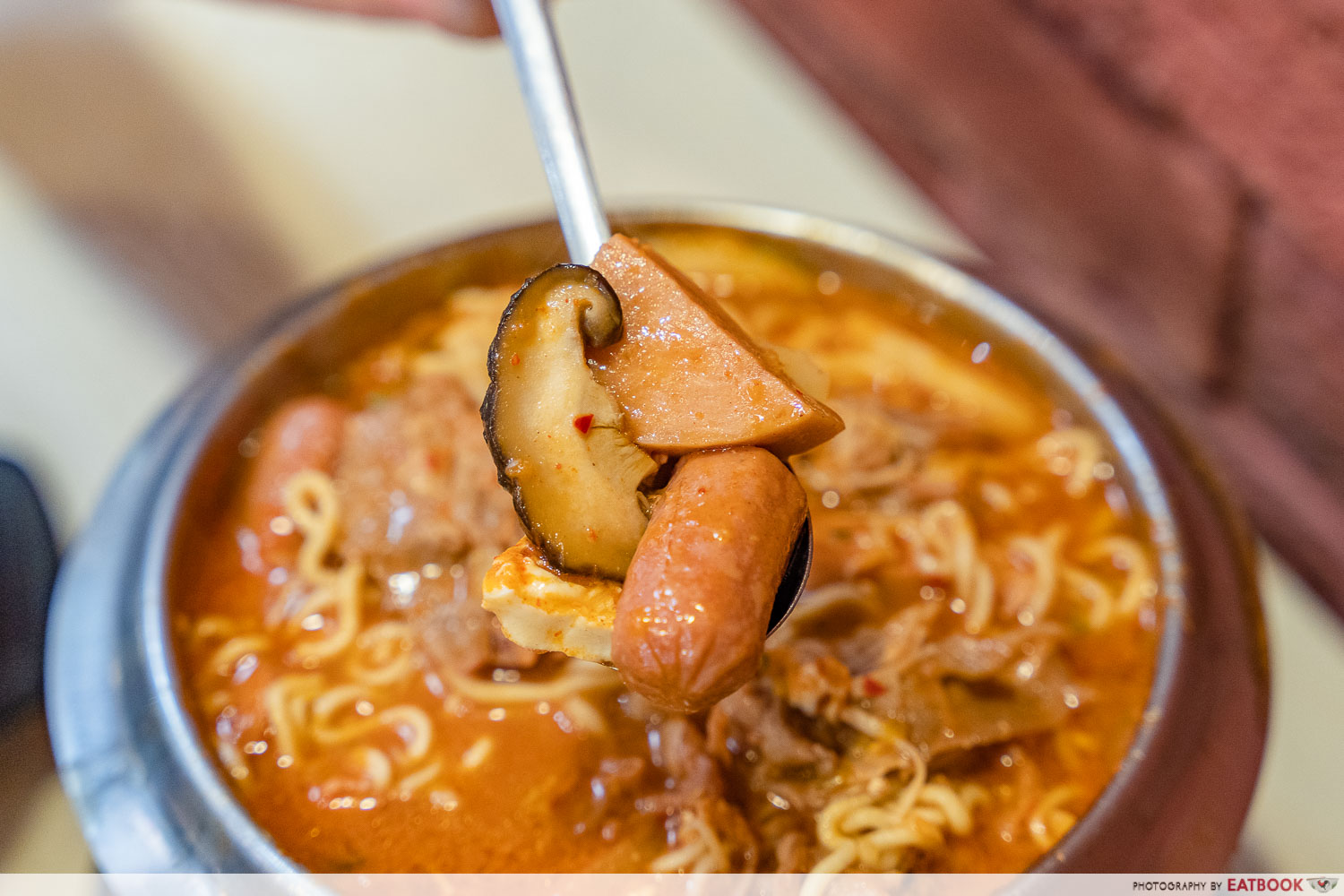 This hearty stew comes loaded with a slew of ingredients, including chicken luncheon meat, sausages, sliced rice cakes, and of course a large helping of beef short plate slices for maximum satisfaction. To balance out the meat fest, there's also mushrooms, leeks, and sliced onion added to the mix.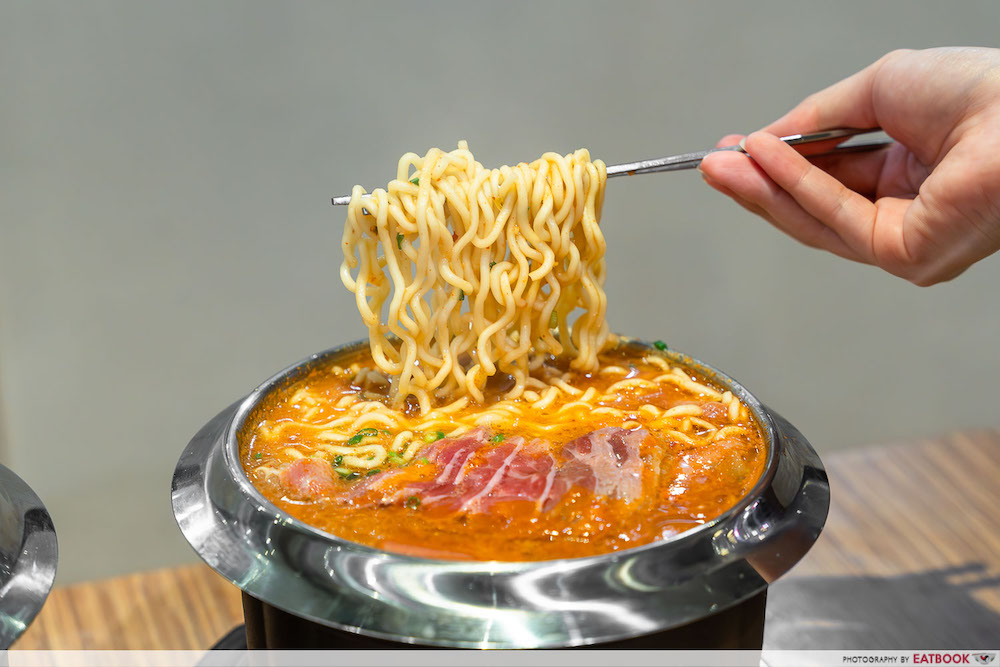 With this dish, you also get a separate bowl of Korean Ramyeon that is otherwise $2++ a la carte. Tip it all straight into the stew to soak up the flavour, or portion it out a little at a time to ensure your noods remain perfectly QQ over the course of your meal if you are a slow eater. 
[PIC]
Another dish we quite liked was the Bulgogi Chicken Bibimbap ($12), which came with a small saucer of house-made gochujang on the side.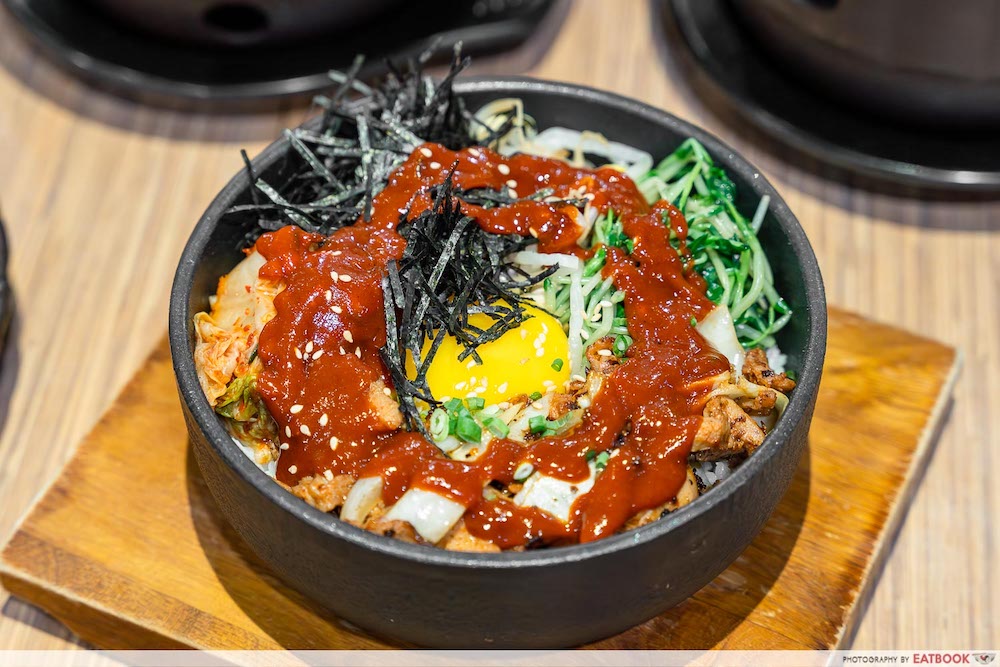 Drizzling the red sauce all over the dish, breaking the golden yellow yolk, and mixing it all up was a satisfying affair. I did wish that the predominantly sweet gochujang flavouring the rice was spicier, but I still felt that this dish was my personal favourite.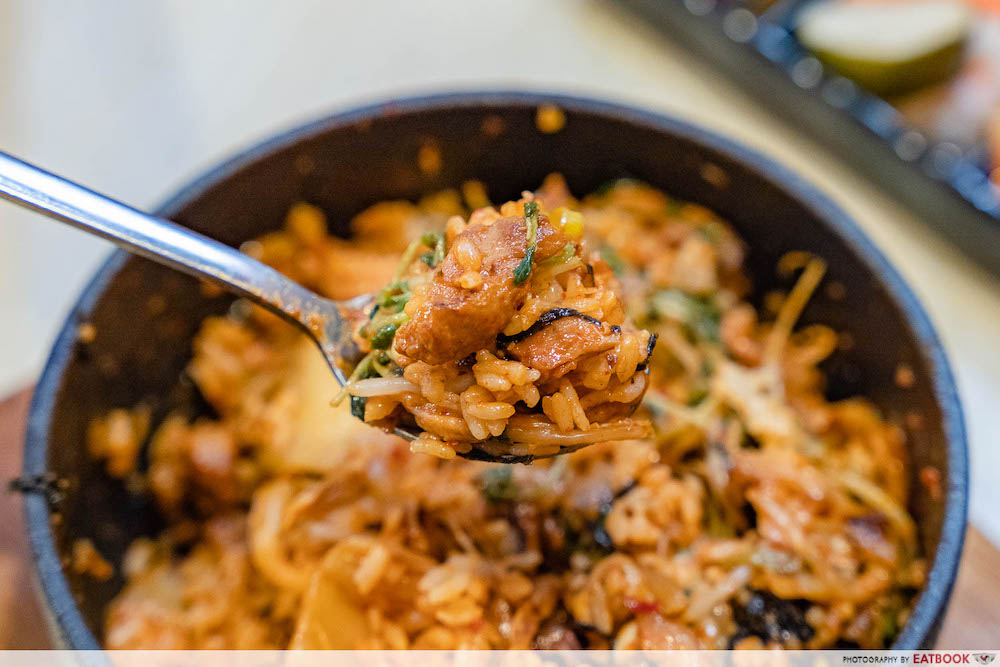 The mix of ingredients made for a rather filling meal, with tender and juicy chicken bits that were well-marinated. I was also very excited to find charred rice edges that I love in claypot rice at the bottom of the bowl, but unfortunately soaking in the sauces had rendered them no longer crispy once I got to them. Finally, we tried their signature Bulgogi Lamb ($17.90), with a generous amount of lamb, onion, mushroom, cherry tomatoes, and tteokbokki sizzling on a hotplate. We also got their popular Kimgaru Rice ($2) on the side for some added carbs.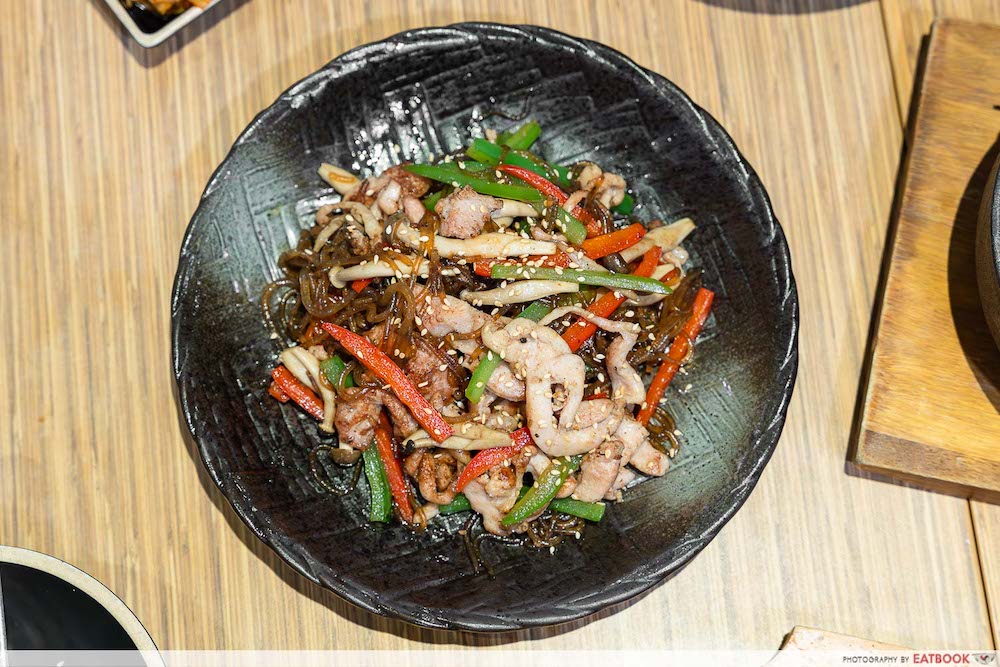 We also tried a second chicken dish, the Chicken Japchae ($13), that had brown glass noodles tossed with red and green peppers, chicken, and shimeji mushroom.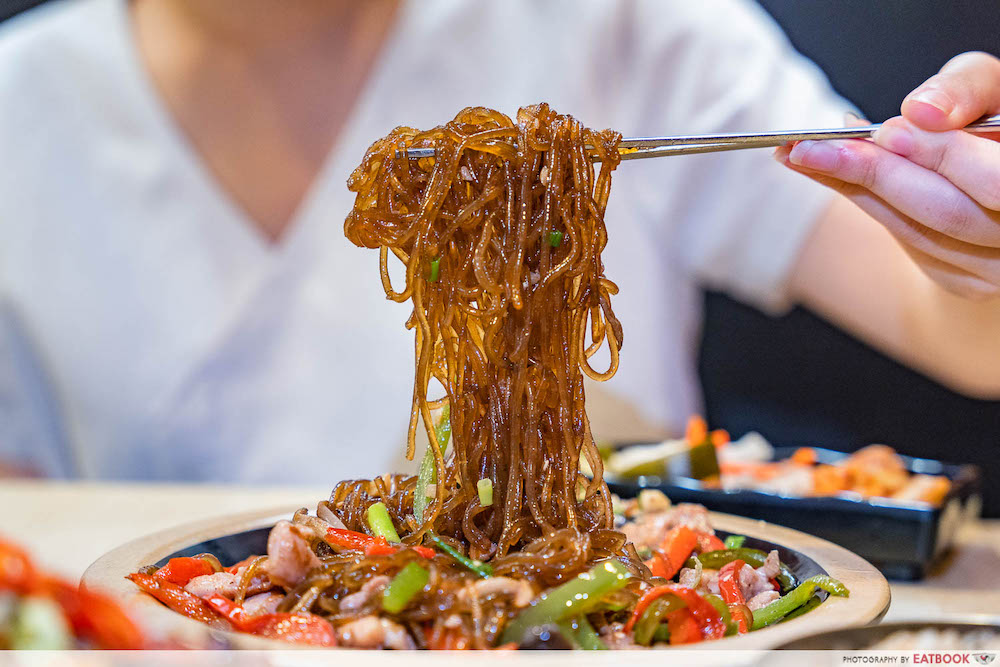 The noodles were bouncy and lightly seasoned so they weren't overly salty, but still a little too oily for me. Nevertheless, it was still a satisfying dish that was easy on the stomach.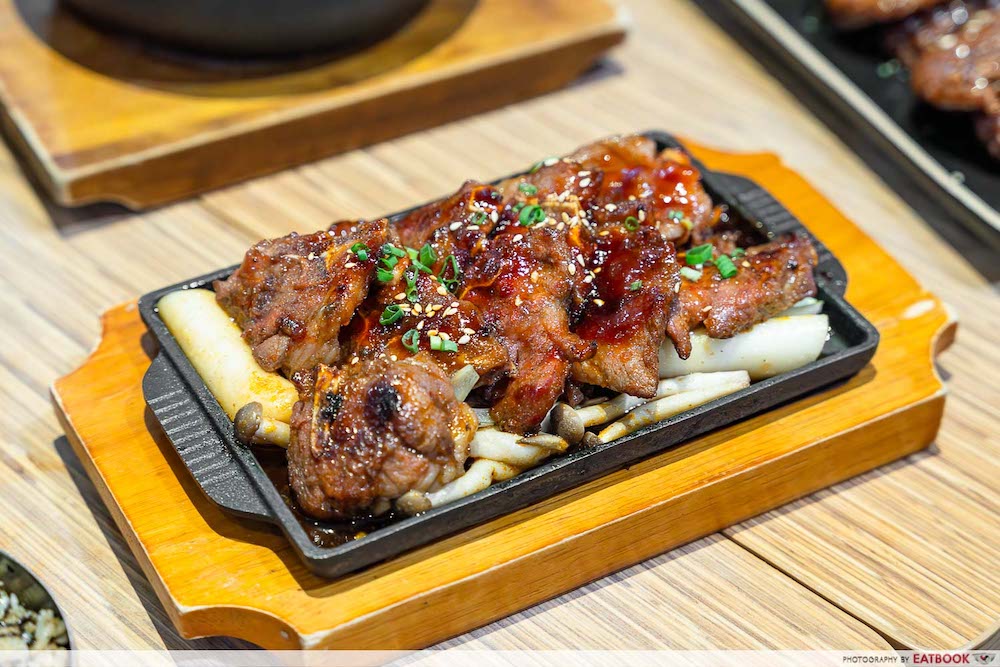 Finally, we tried their signature Bulgogi Lamb ($17.90), with a generous amount of lamb, onion, mushroom, cherry tomatoes, and tteokbokki sizzling on a hotplate. We also got their popular Kimgaru Rice ($2) on the side for some added carbs.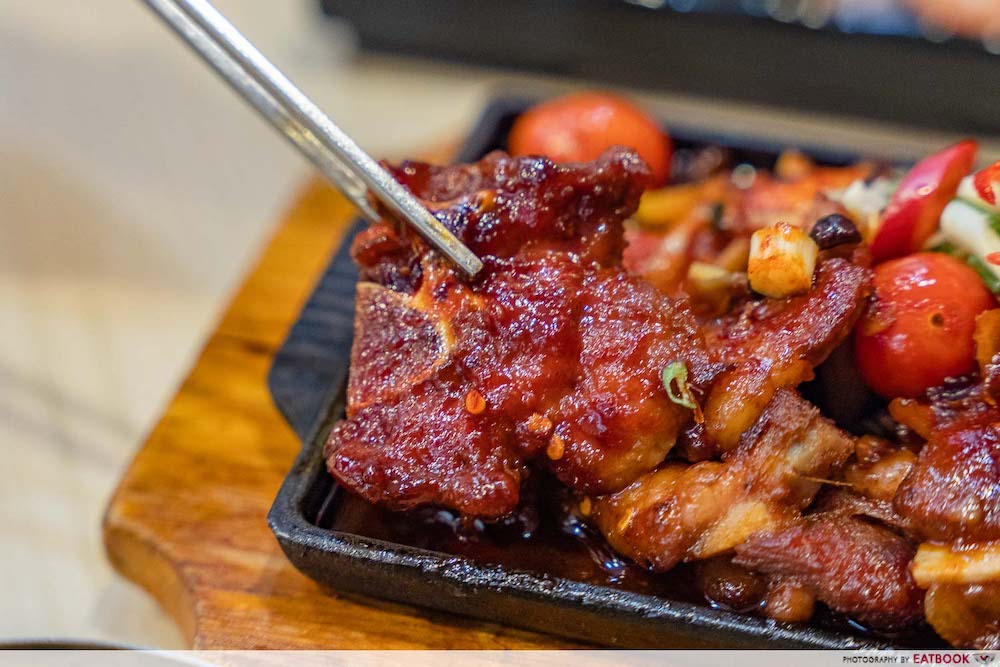 The Australian-imported lamb shoulder was liberally coated in the sweet red gravy, with meaty chunks that were well marinated and flavourful, though also a little gamey.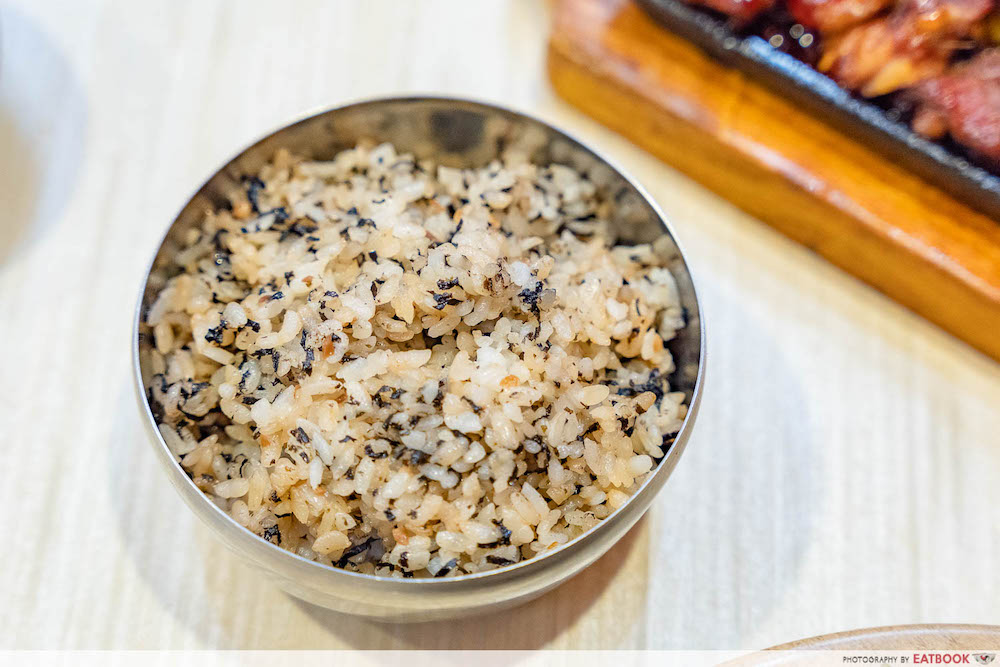 I really liked the Kimgaru rice, AKA steamed white rice dressed with sesame oil, garlic, and shredded seaweed, and could probably eat it on its own as a simple meal.
Ambience at Seoul Garden HOTPOT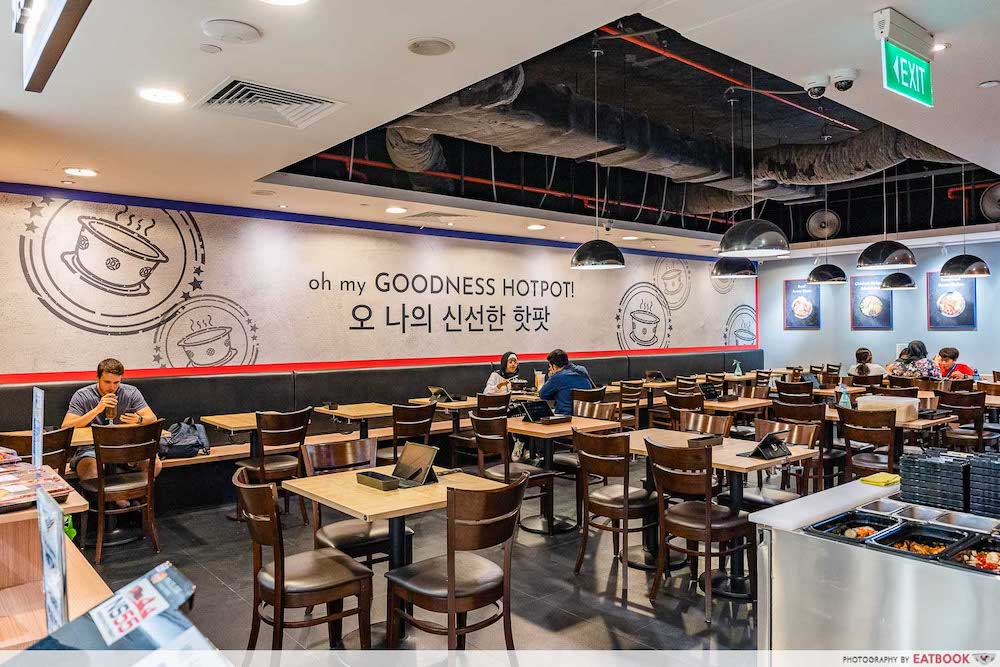 We paid a visit to their HarbourFront Centre outlet, which is located on the second floor. Be aware, it's not the Seoul Garden outlet on the first floor! The mall itself is conveniently linked to Harbourfront MRT Station, making for a short four-minute walk from Seoul Garden HOTPOT to the MRT.
The inside of the restaurant is clean and quite spacious, with tables spaced well apart from each other so you don't feel cramped in with other customers. I also appreciated that the staff here were attentive and friendly, taking time to explain the revamped menu to us and delivering us our food with practiced efficiency.
The verdict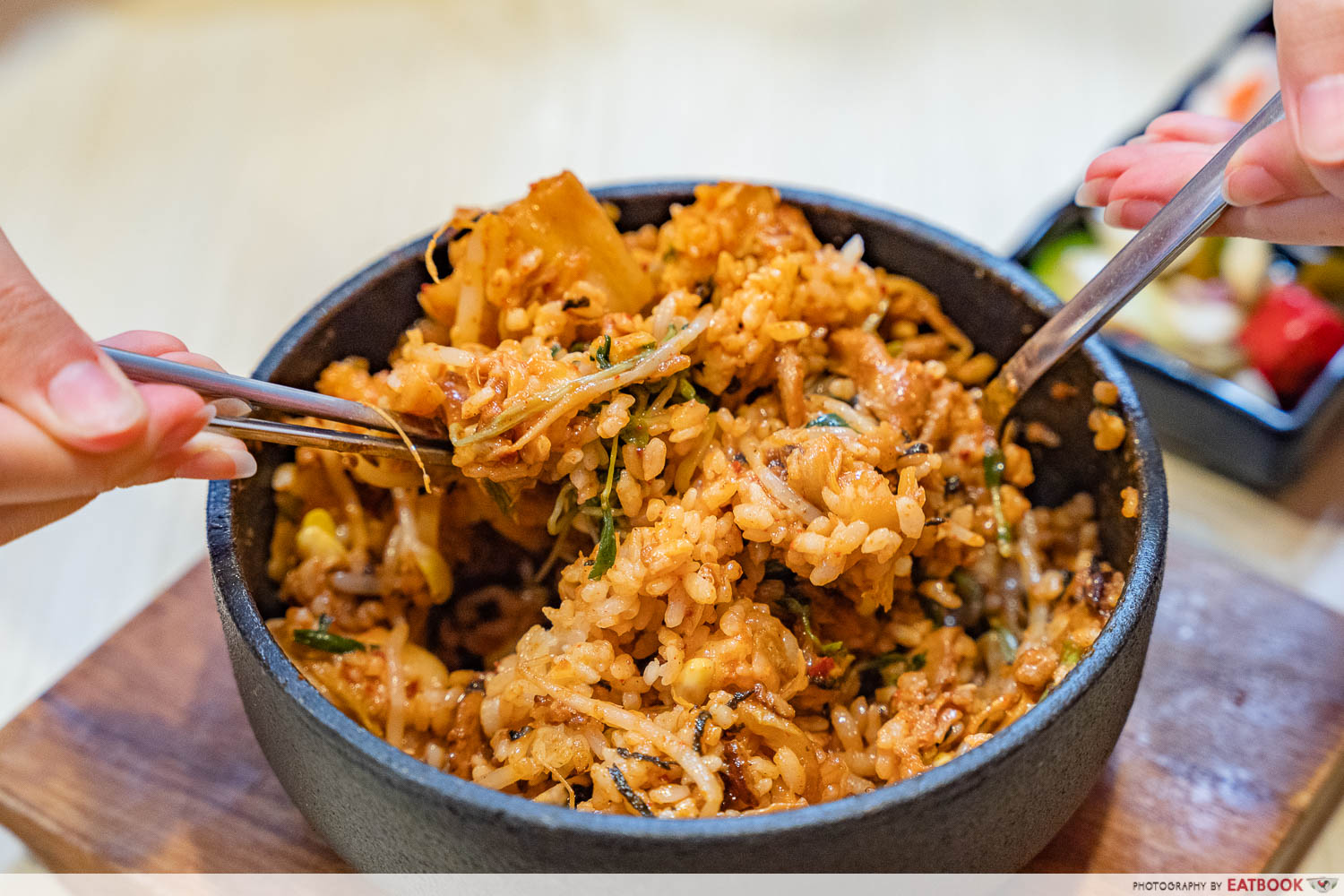 Overall, I had a good experience here at Seoul Garden HOTPOT. The food was above my expectations and we were amazed by how affordable and tasty the food here was. The relaxed, casual atmosphere, good food, and impeccable service are definitely reasons why we would come back. 
To celebrate their rebranding, the brand currently has a limited time offer open to all new and existing Seoul Garden Group Members! From now till 10th September 2023, pay just $60 in order to get $120 worth of vouchers, with no minimum spending required. 
Website | List of outlets
Seoul Garden HOTPOT is a halal-certified eatery.
Photos taken by John Lery Villanueva.
This post is brought to you by Seoul Garden HOTPOT.
Summary
Pros:
– Shiok broths
– Value for money
– Good service
Cons:
– Lamb was a little tough
– Would prefer everything to be a little spicier
Recommended dishes: Kimchi Beef Hot Pot ($16++), Bulgogi Chicken Bibimbap ($12++)
Opening hours: Daily 11:30am to 10:30pm
Address: 1 Maritime Square, #02-03/04, HarbourFront Centre, Singapore 099253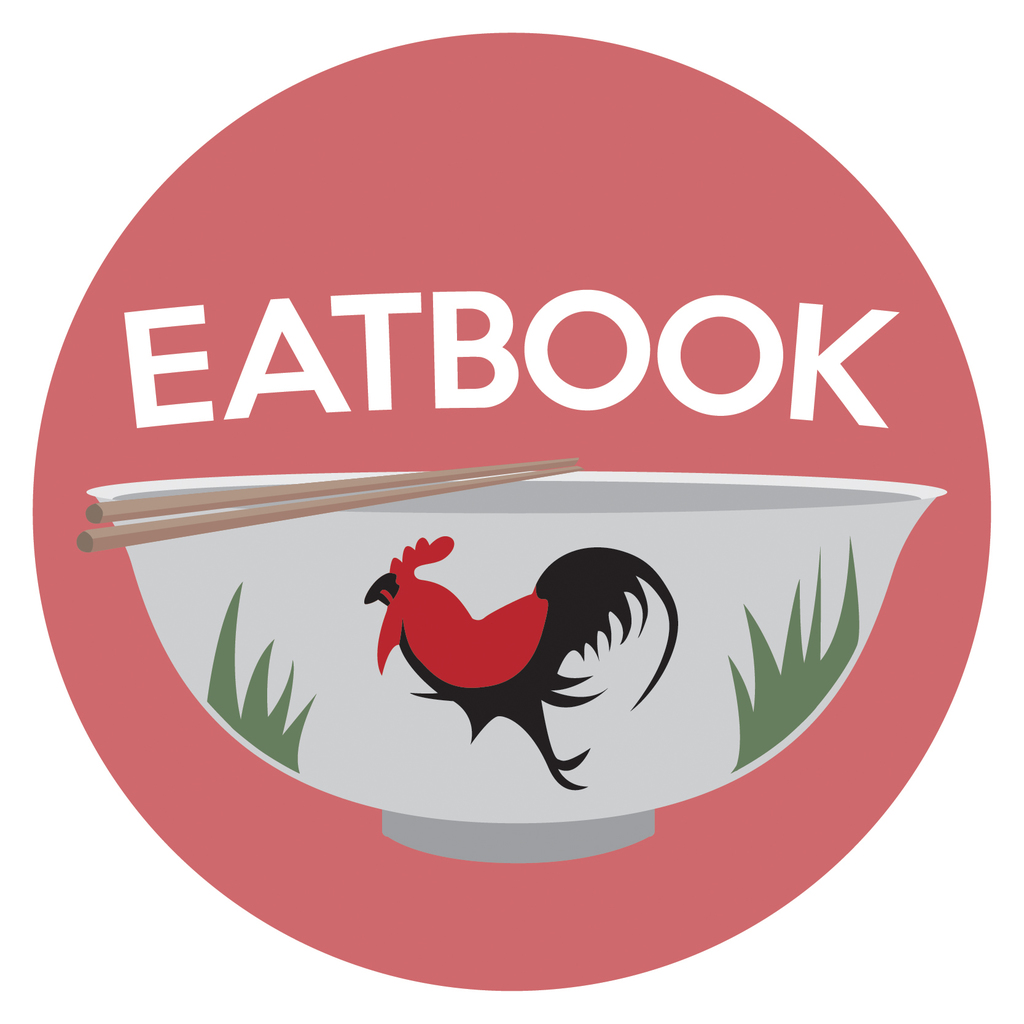 Drop us your email so you won't miss the latest news.