Channel your inner royalty
Update: The Teavana has closed down.

Once upon a time, just the thought of becoming a princess who would ride into the sunset with my Prince Charming was enough to make me swoon. Although this dream has gone to dust, I still look forward to high tea sessions with my friends to feel like royalty for a while. One thing though, living the tai tai life all the time is not practical in Singapore, so the auntie in me crosses the border to save some cash.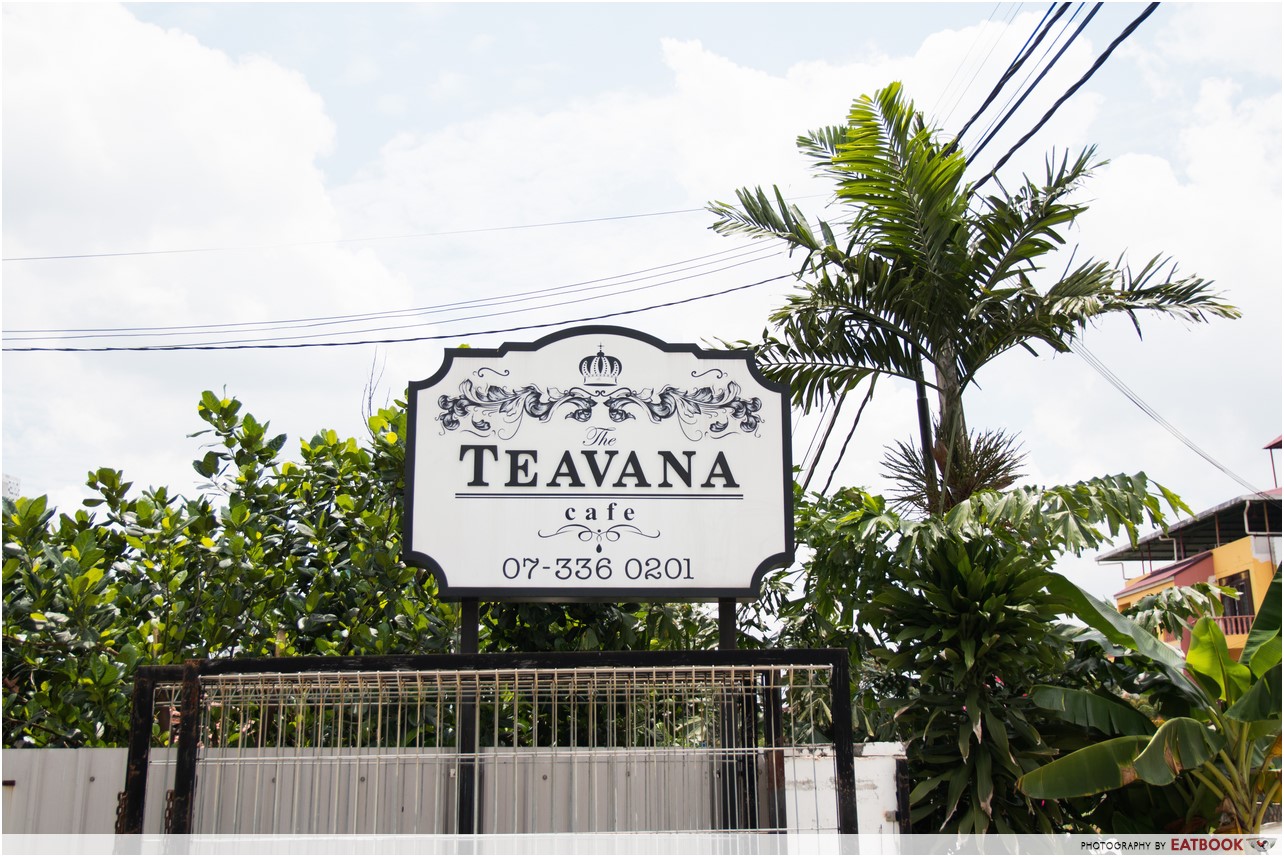 One of the places in JB where I can count on feeling like I've entered an atas English cottage is The Teavana. Don't be deceived by its simple high tea sets and cakes, their halal menu has a surprisingly huge variety of Western food, including pastas and pizzas. They've also got sharing platters like Meat Sampler (RM168+/~S$55.70), which includes salmon, ribeye steak, lamb backstrap and half a crispy spring chicken.
Mains at The Teavana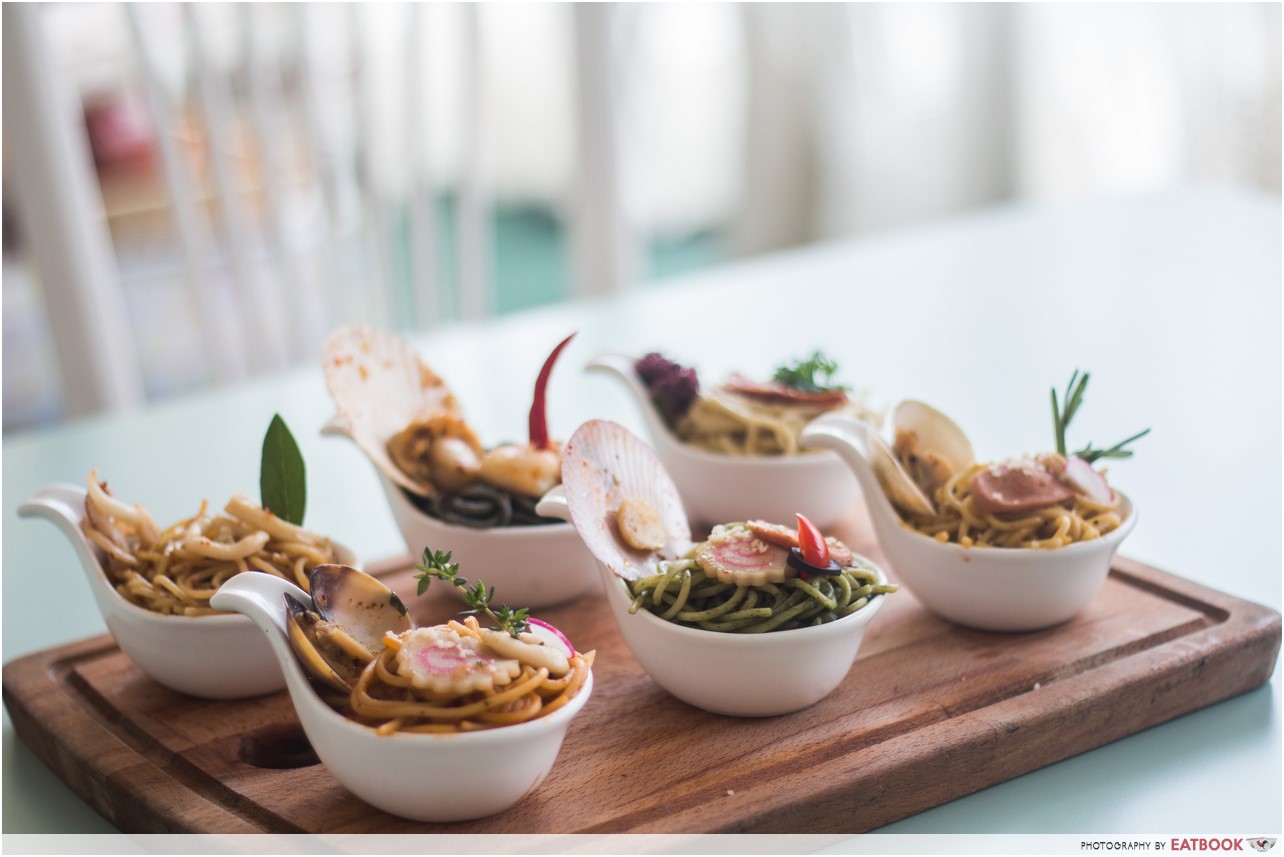 As a fan of trying a little bit of everything, sharing platters are my go-to whenever I'm out with friends. So we got Pasta Sampler (RM35.90+/~S$11.90), a board of all 6 pastas on their menu: spicy aglio olio, squid ink, pomodoro (tomato), mixed greenish vegetables, golden pumpkin and garlic carbonara with duck. The pastas are otherwise priced from RM16.90 (~S$5.60) to RM32.90 (~S$10.90) for each full portion.
Judging from the sequence of bowls that were wiped clean, it was clear that spicy aglio olio was the crowd's favourite. Its sweet, spicy combination reminded me of Arnott's pizza-flavoured Shapes biscuits. Next was garlic carbonara, which had a good dose of garlic without being too creamy, followed by the tangy and sweet pomodoro pasta.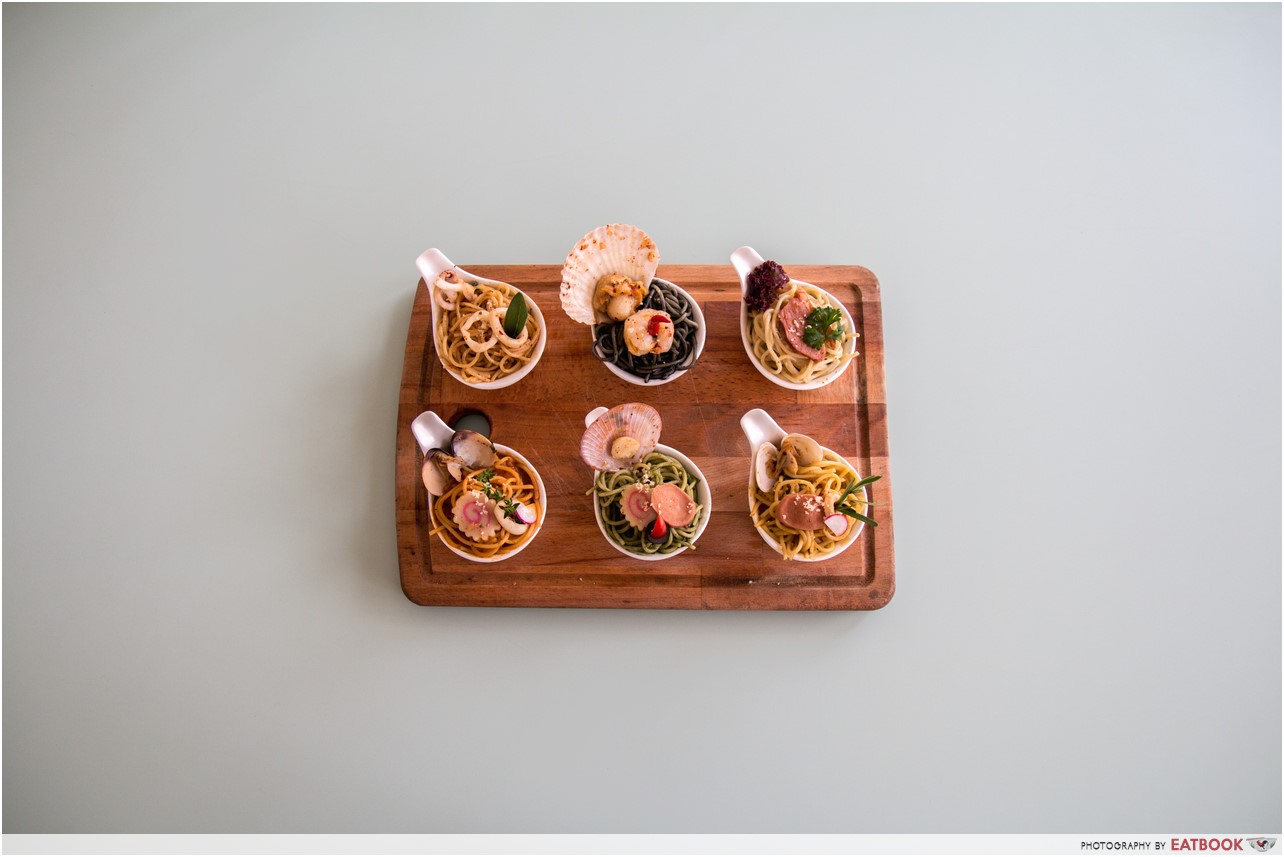 Despite looking the most appetising, both the mixed greenish vegetables and squid ink pastas were a letdown in terms of flavour. Both dishes were so lightly coated in sauce that they weren't distinctive in taste besides being slightly salty.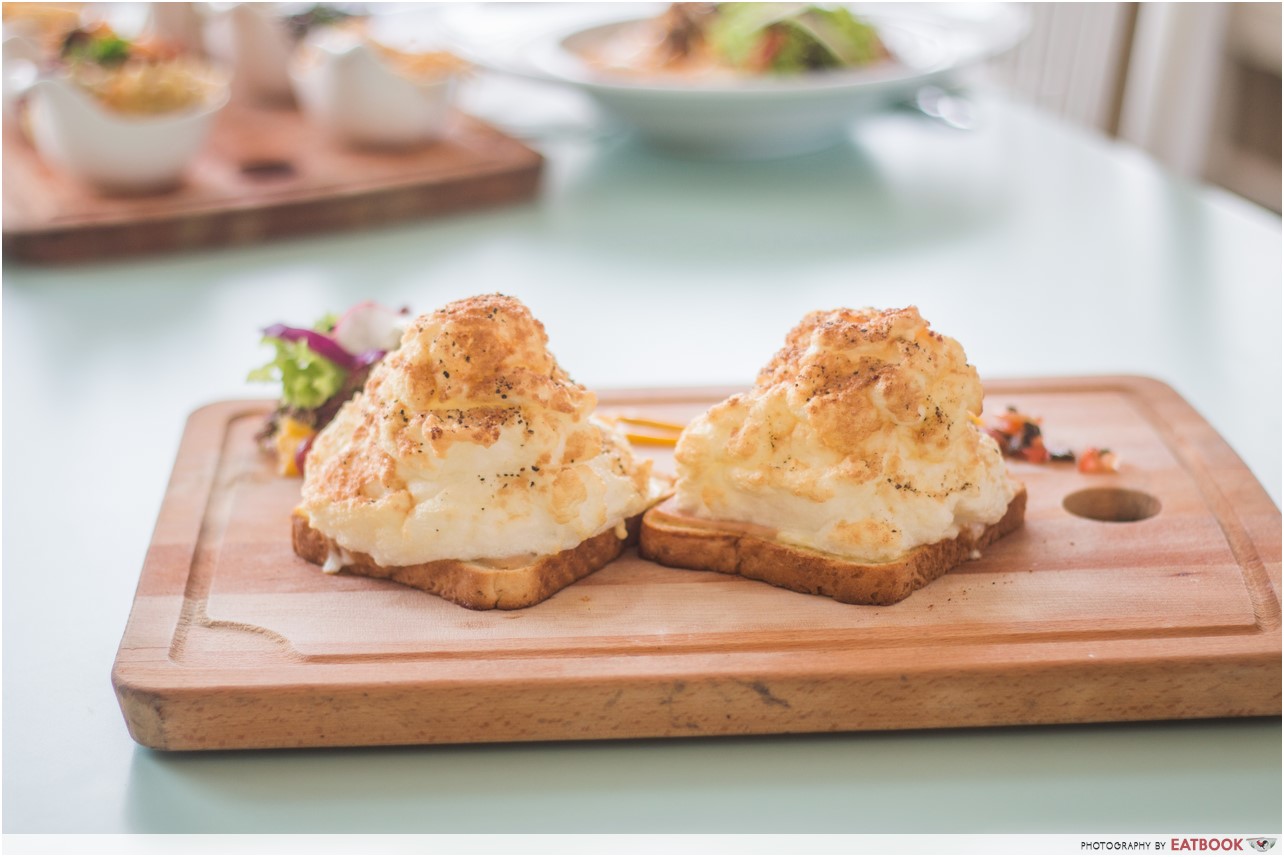 If you've ever looked out of an aeroplane window and wondered how it'd be like to grab a bite out of the clouds, have a piece of Cloudy Toast (RM13+/~S$4 for 2 pieces). Made of meringue puffs sitting on top of picnic ham and bread, this is one of Teavana's most popular all-day brunch items.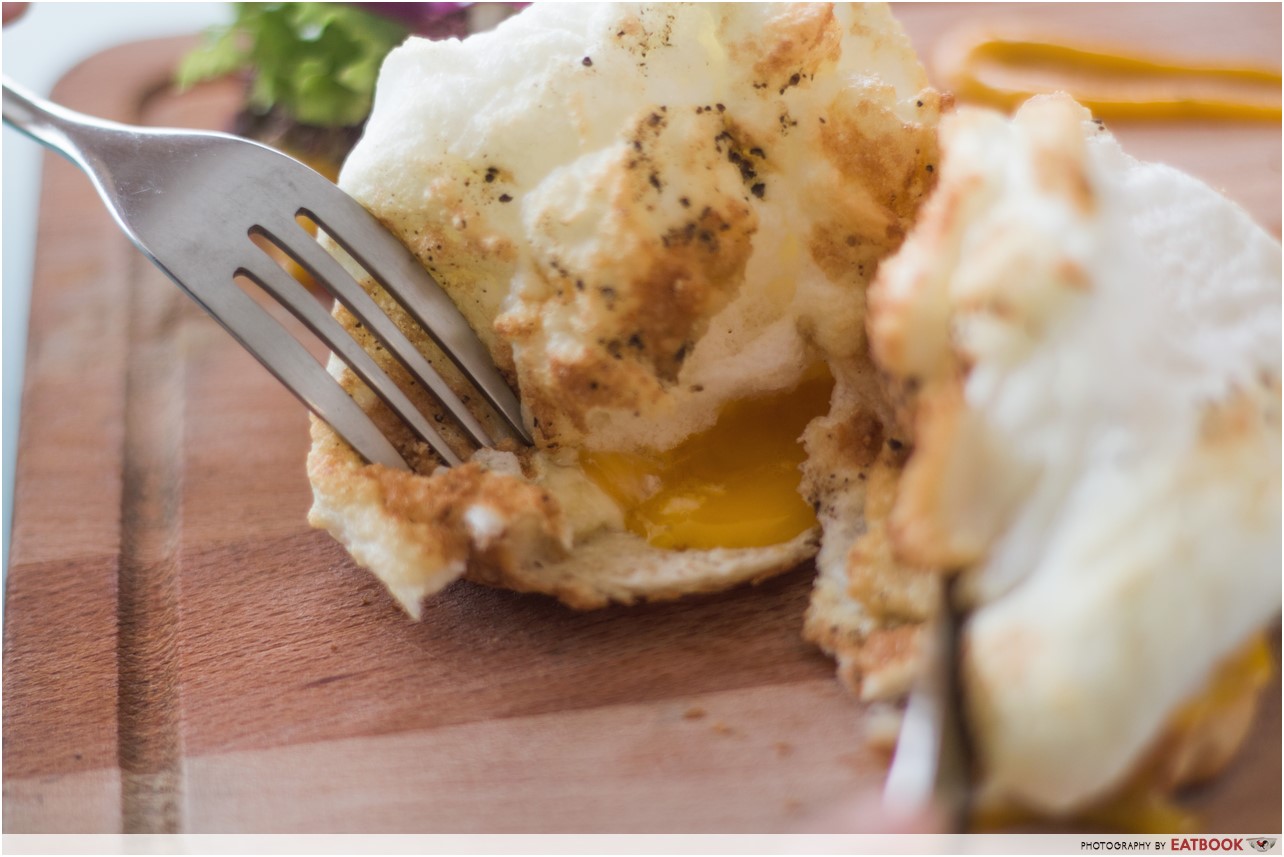 From the moment it reached my table, I couldn't stop poking at it with my fork, before finally cutting it through to reveal a runny yolk that completely dressed the toast. I loved how the caramelised top on the meringue reminded me of cotton candy.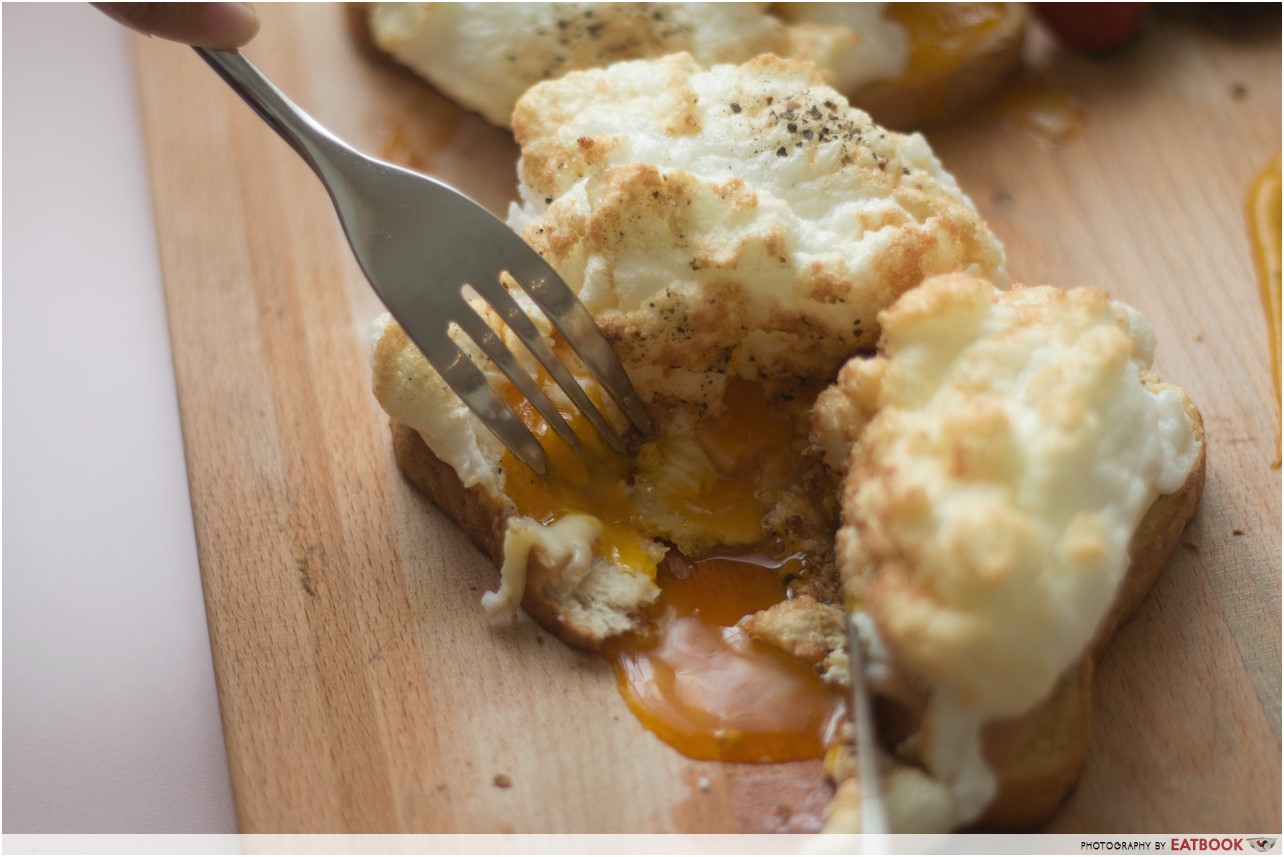 It was also seasoned with hints of pepper, which made it a sweet and savoury combination. The toast itself tasted like the way I'd normally have mine at Ya Kun, by dipping the bread into a bowl of soft-boiled egg. Overall, it's an atas version of a ham & egg sandwich, without an atas price tag.
Sides at The Teavana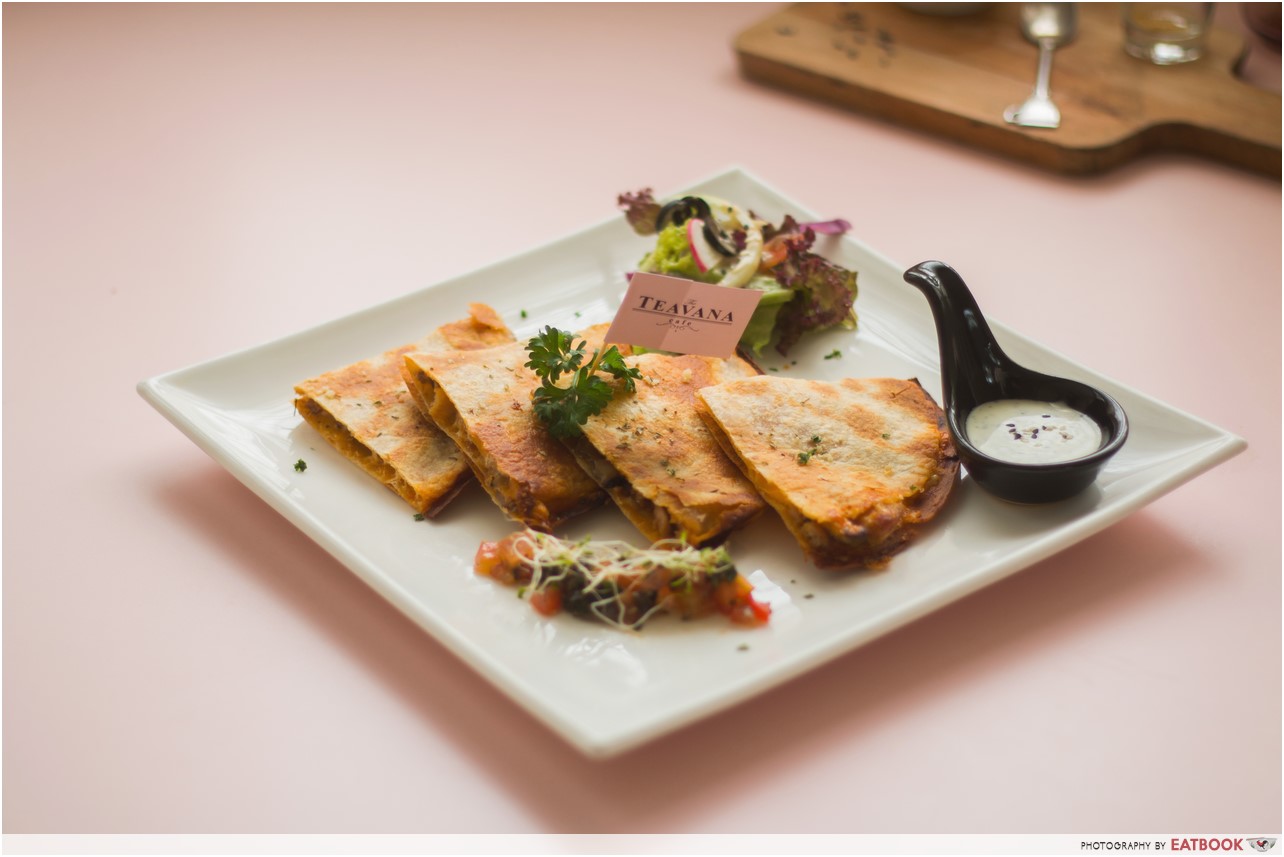 Smoked Duck Quesadillas (RM19.90/~S$6.60) came out like a tapas dish, served with a small side salad. Although it wasn't one of those photogenic cheese dish that you could take a money shot of, I was impressed by the crispiness of the pastry. I only wished the flavours of the smoked duck could shine through, instead of being overpowered by the taste of canned button mushrooms.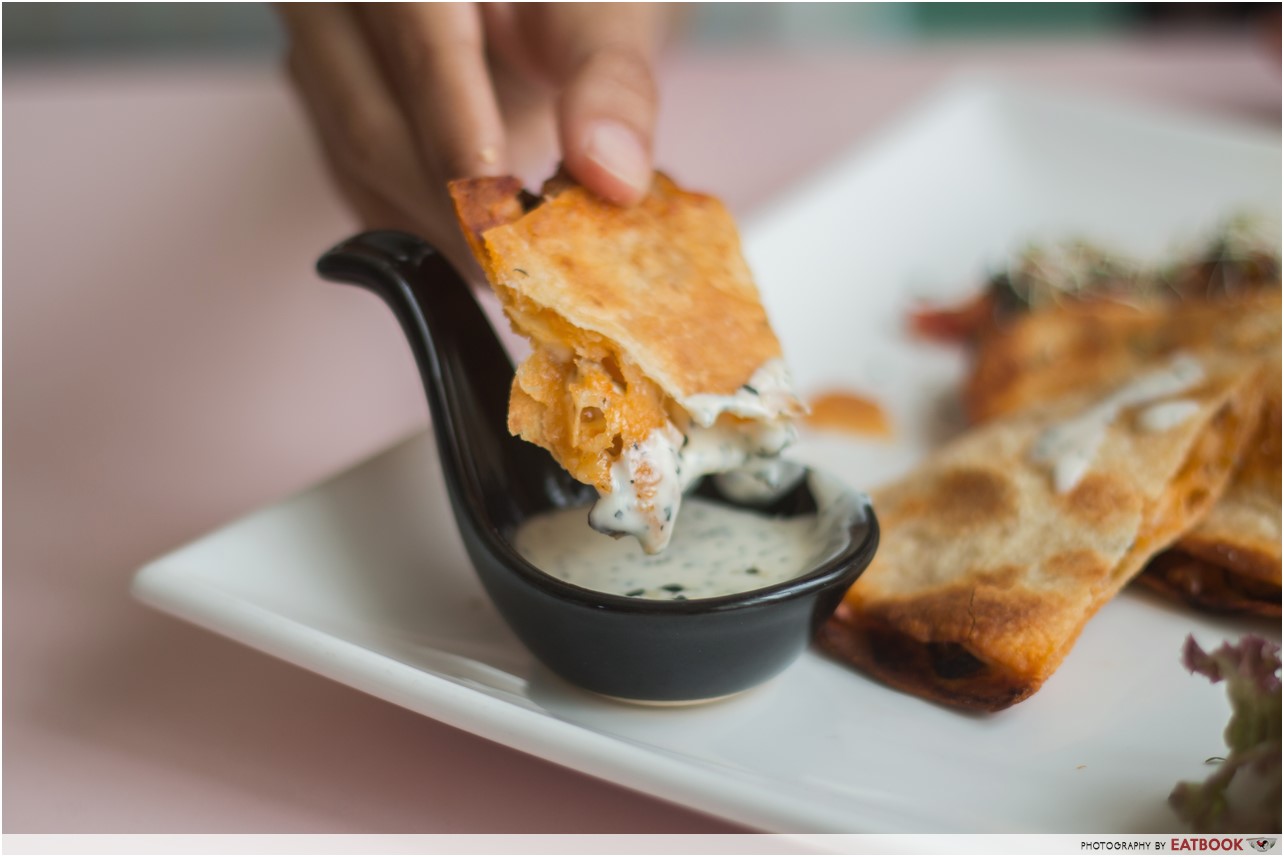 As for the sauce, my taste buds were naturally hyped up for the combination of blue cheese sauce and duck, but dipping in, I quickly realised it was tartare sauce instead. I found the tangy sauce, combined with a squeeze of lemon, quite overpowering and preferred the crispy quesadillas on its own.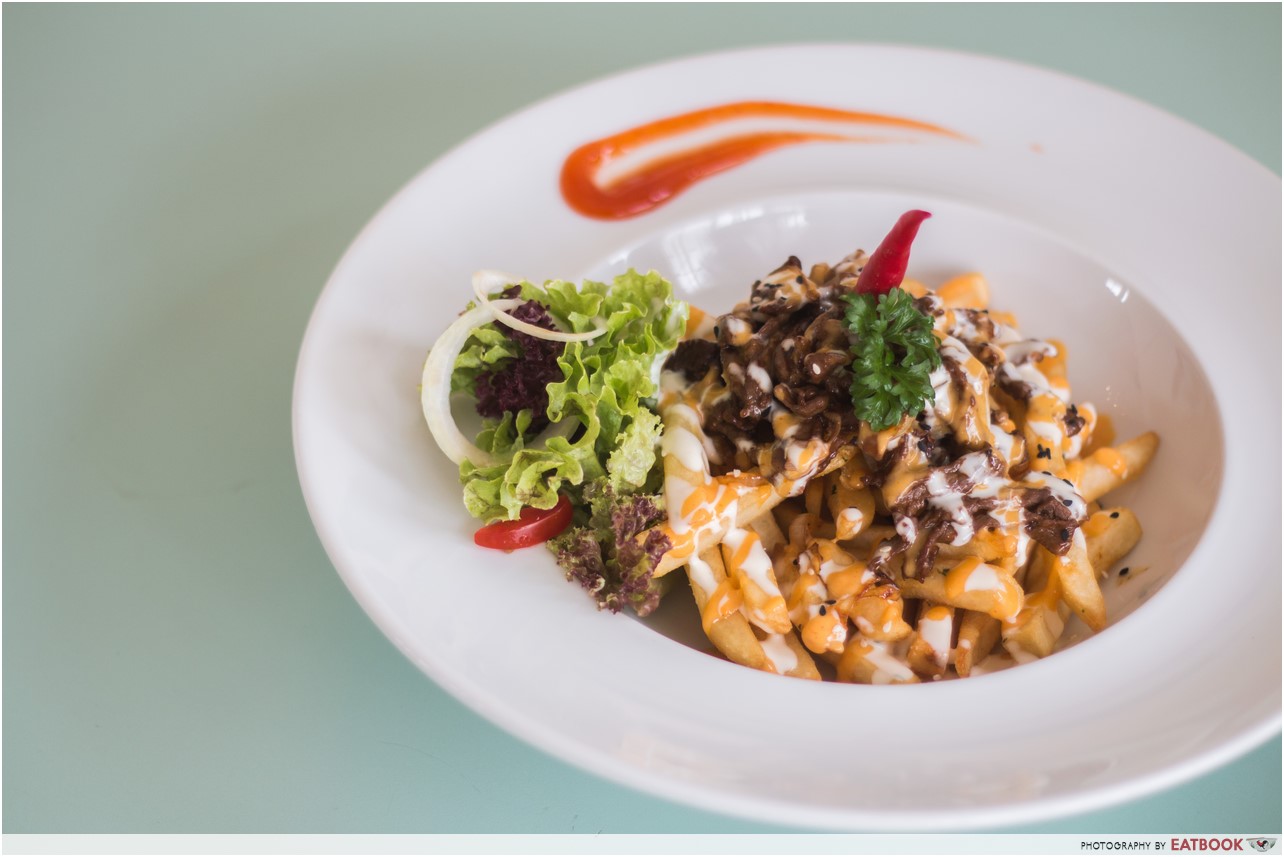 Although Korean Beefy Cheesy Fries (RM20.90/~S$6.90) was made for sharing, I was tempted to devour it on my own when it arrived. Not only were the thick-cut fries topped with teriyaki bulgogi and soft onions, it also had a surprising hit of truffle oil, making it a sweet-savoury combination with a hint of umami.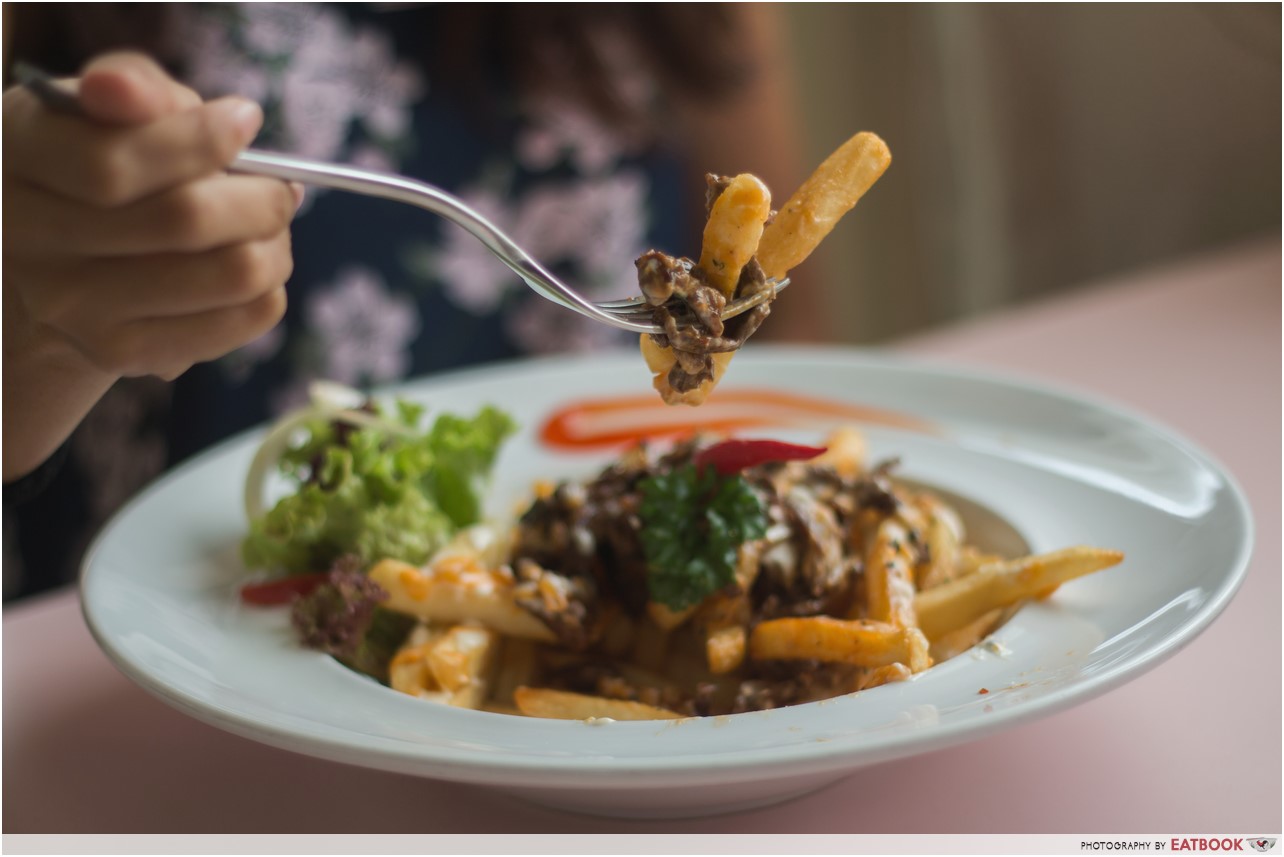 Unfortunately, there was only a pitiful amount of mayonnaise and cheese sauce drizzled over the top. The bulgogi wasn't succulent or juicy enough to match the fries either, hence the fries got quite dry towards the end.
In terms of flavour and quantity, it's still a hearty dish that I'd order again to share, but this time with extra sauce on the side.
Coffee at The Teavana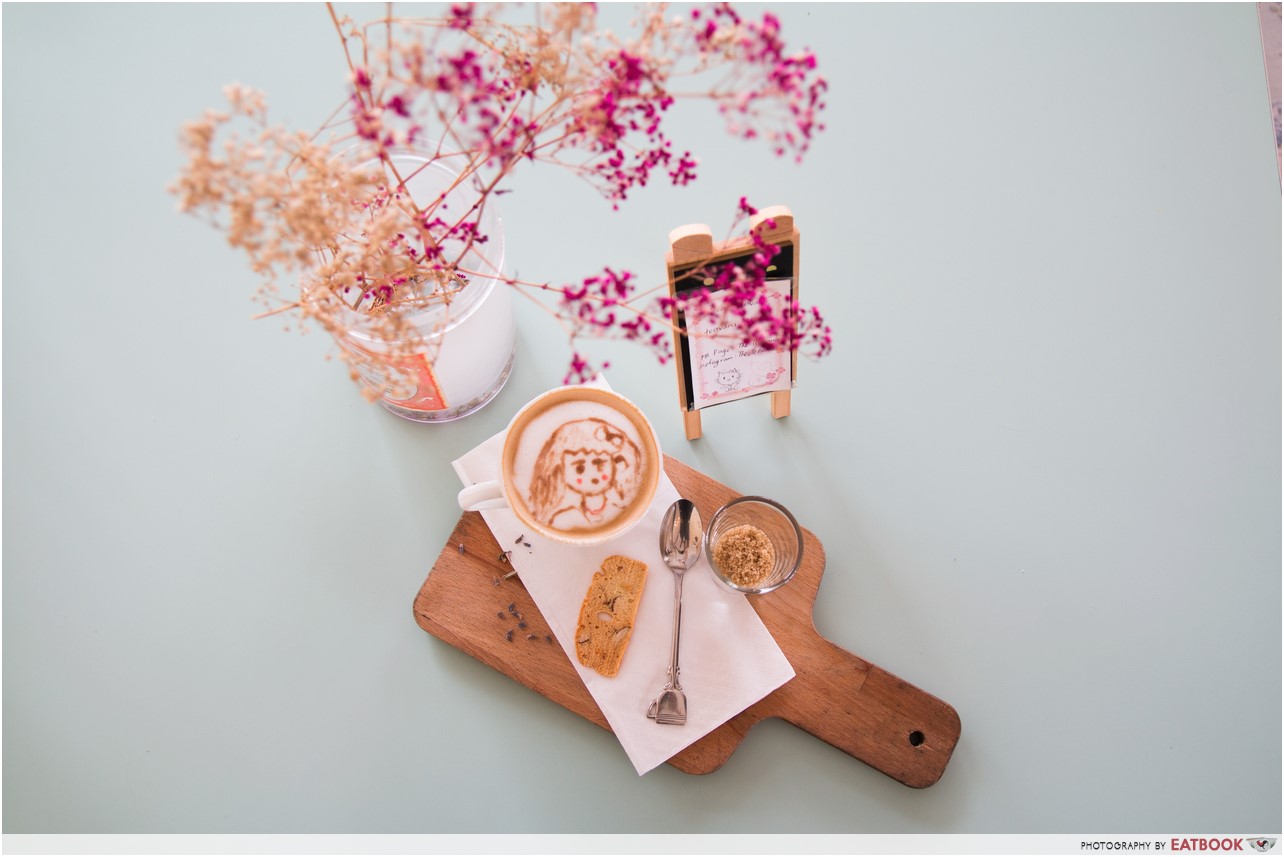 A cafe visit is never complete without tea or coffee. Teavana is known for flavoured lattes, with options like rose, fruity peach and even a cinnamon-based Teavana Specialty Woodie Latte (RM 10.90+ for hot, RM 11.90+ for cold/~S$3.60 and ~S$3.90 respectively), served with a side of biscotti.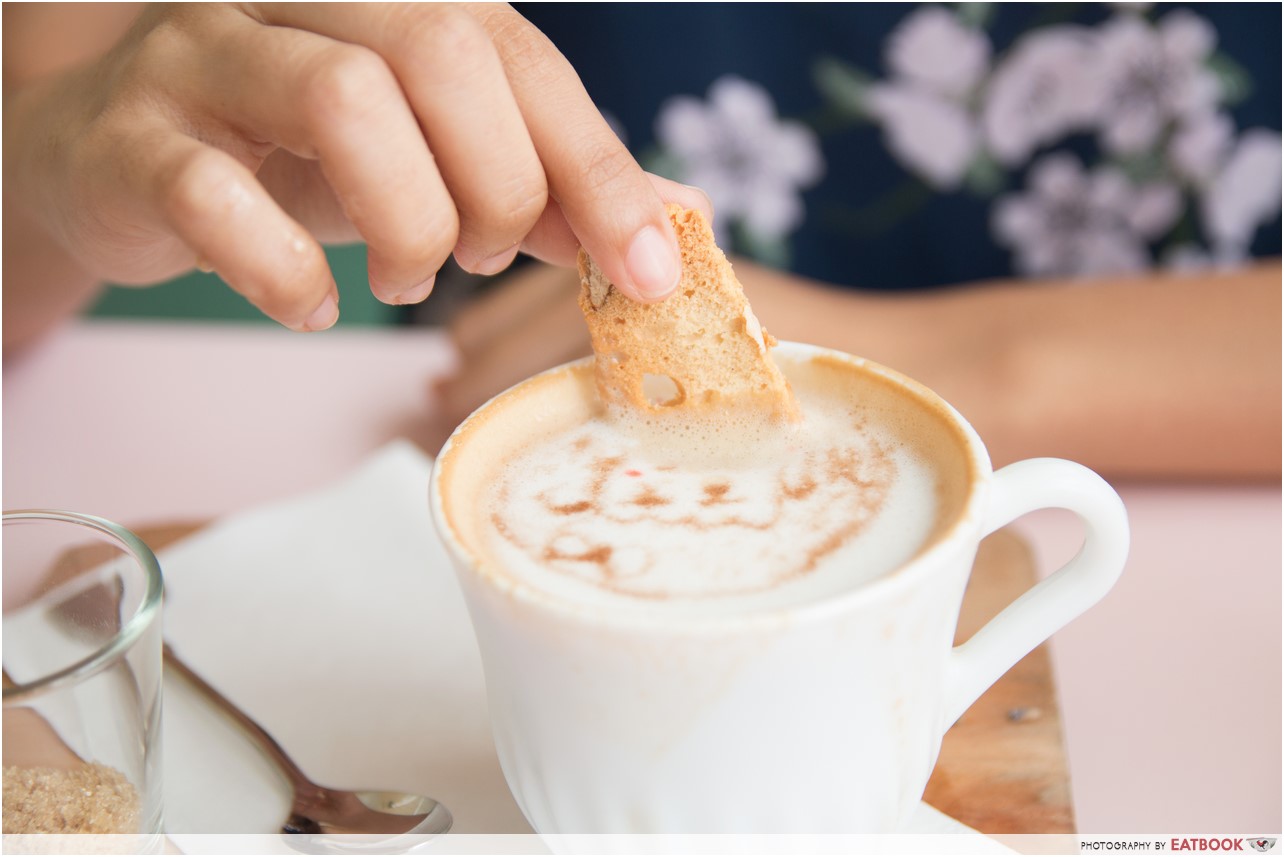 I got a Lavender Latte (RM 10.90+ for hot, RM 11.90+ for cold/~S$3.60 and ~S$3.90 respectively), which was milky smooth and light on the palate, ending with floral notes from dried lavender. Although no syrup was added, it was sweet enough for me to forgo sugar.
If you want to max out your tai tai experience, high tea sets are available too. With Single Set (RM29.90/~S$9.90), Couple Set (RM55.90/~S$18.50) and Signature High Tea Set (RM69.90/~S$23.15) available, you definitely won't need to splurge for a pampering experience here.
Ambience at The Teavana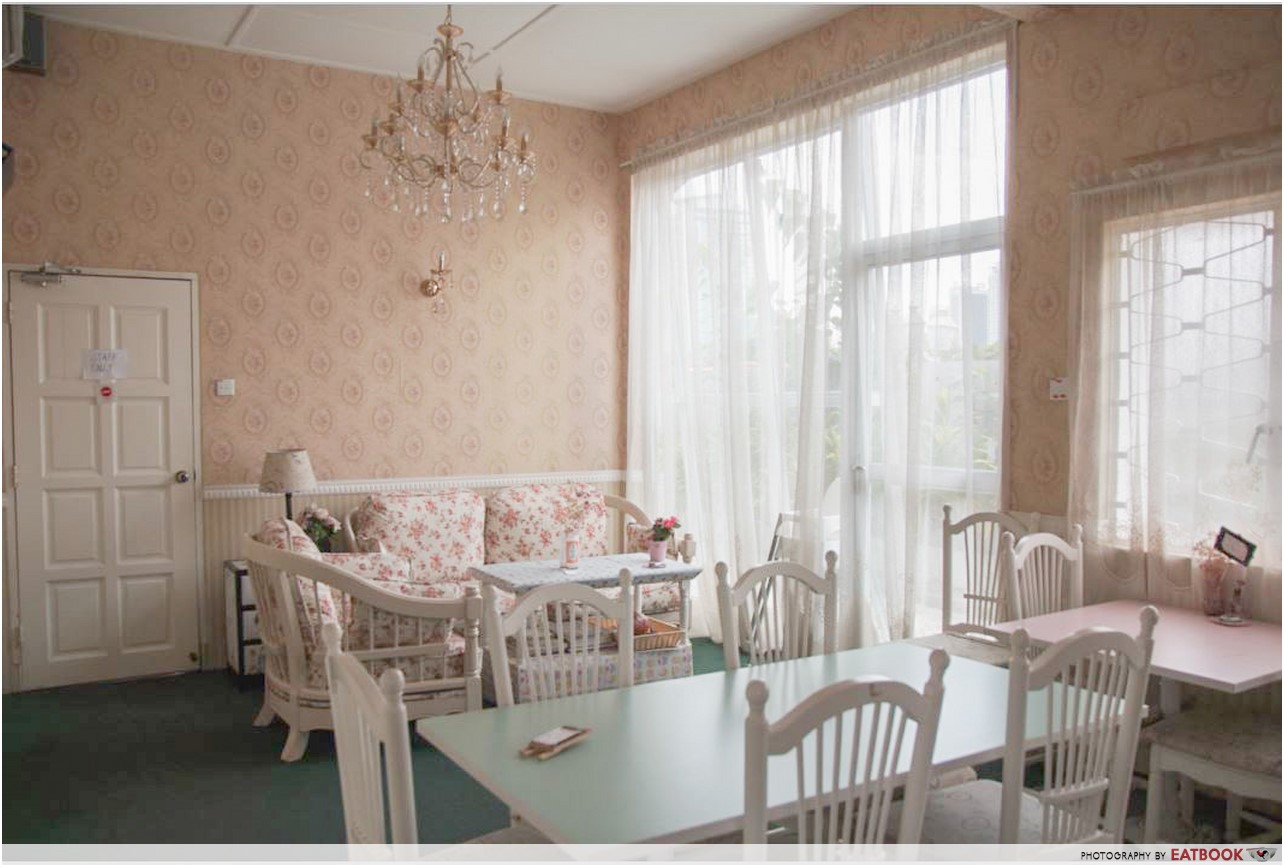 Decked in antique garden furniture, The Teavana is a quaint spot I'd never expect to see by the side of a highway. Its Victorian-themed decor boasts floral fitted sofas and dainty wallpaper designs, and its relaxing atmosphere makes you want to stay here for longer.
Beyond their food, I appreciated their polite service too. Although the service staff wouldn't directly approach you to check on things, I was grateful for their patience in doing their best to grant our requests and deliver our food promptly. As a Singaporean too giam siap to buy data for the day, I was also glad they provided their Wi-Fi password on each table.
The verdict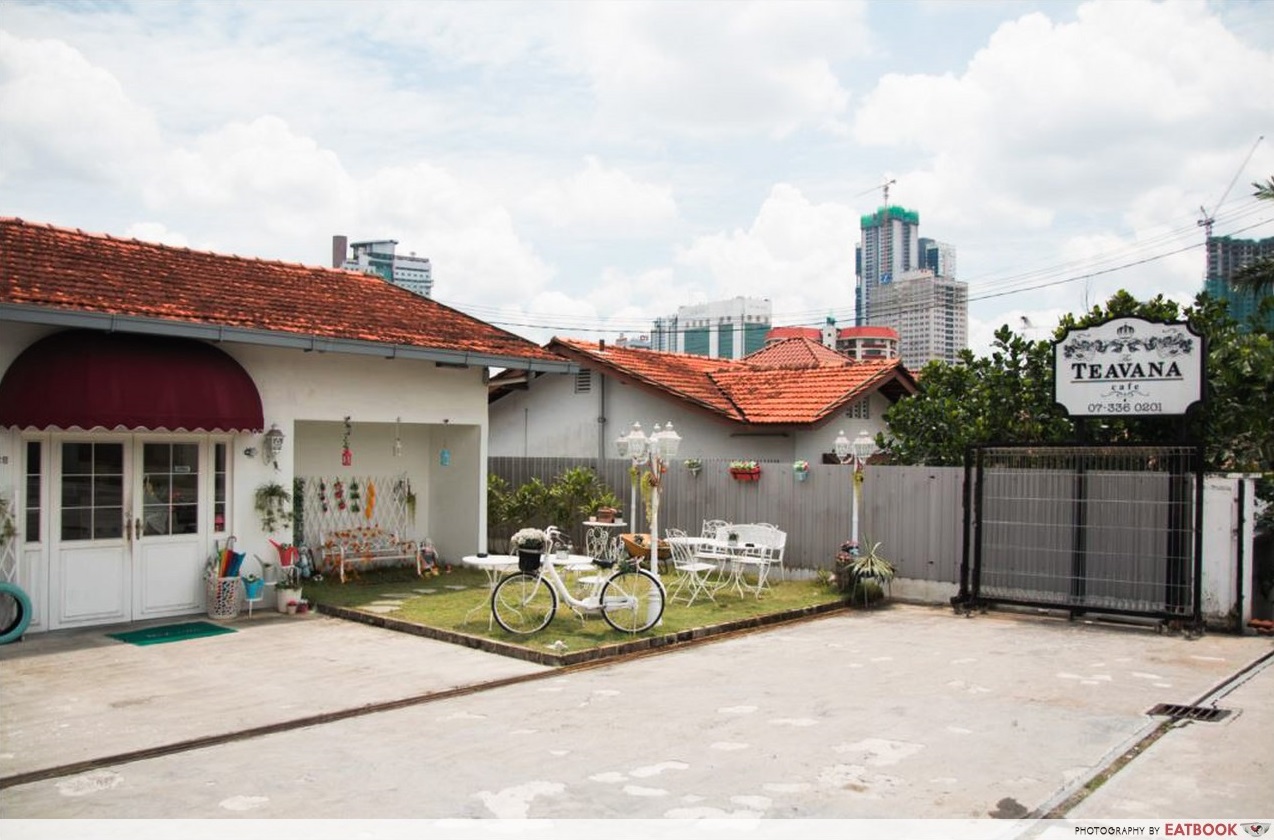 Be it sipping a cup of tea or indulging in a full-blown meal without the hefty price tag, The Teavana is a cafe I'd recommend for those who have an afternoon to spare. Private rooms are available for large groups with a minimum spend of RM100 (~S$33.10), and you can rent the entire cafe for events and birthday parties as well.
I love how they provided board games and I'm glad they have a variety of Western dishes that can accommodate everybody's taste buds. Don't come expecting fine dining, but for its price, service and atmosphere, this makes a simple and serene hangout spot for those who just want a moment away from the city.
This is an independent review by Eatbook.sg.
Summary
Pros
– Pretty decor
– Free Wi-Fi
– No service charge
Cons
– Only accessible by car
– Limited parking
– Cash only
Recommended Dishes: Pasta Sampler (RM35.90+, ~S$11.90), Korean Beefy Cheesy Fries (RM20.90, ~S$6.93), Lavender Latte (RM 10.90+ for hot, RM 11.90+ for cold, ~S$3.60 and ~S$3.90 respectively)
Operating Hours:
Monday – Sunday 12pm to 10pm
Tel:
+60 7-336 0201
Address: 128 Jalan Dato Sulaiman Taman Abad, 80250 Johor Bahru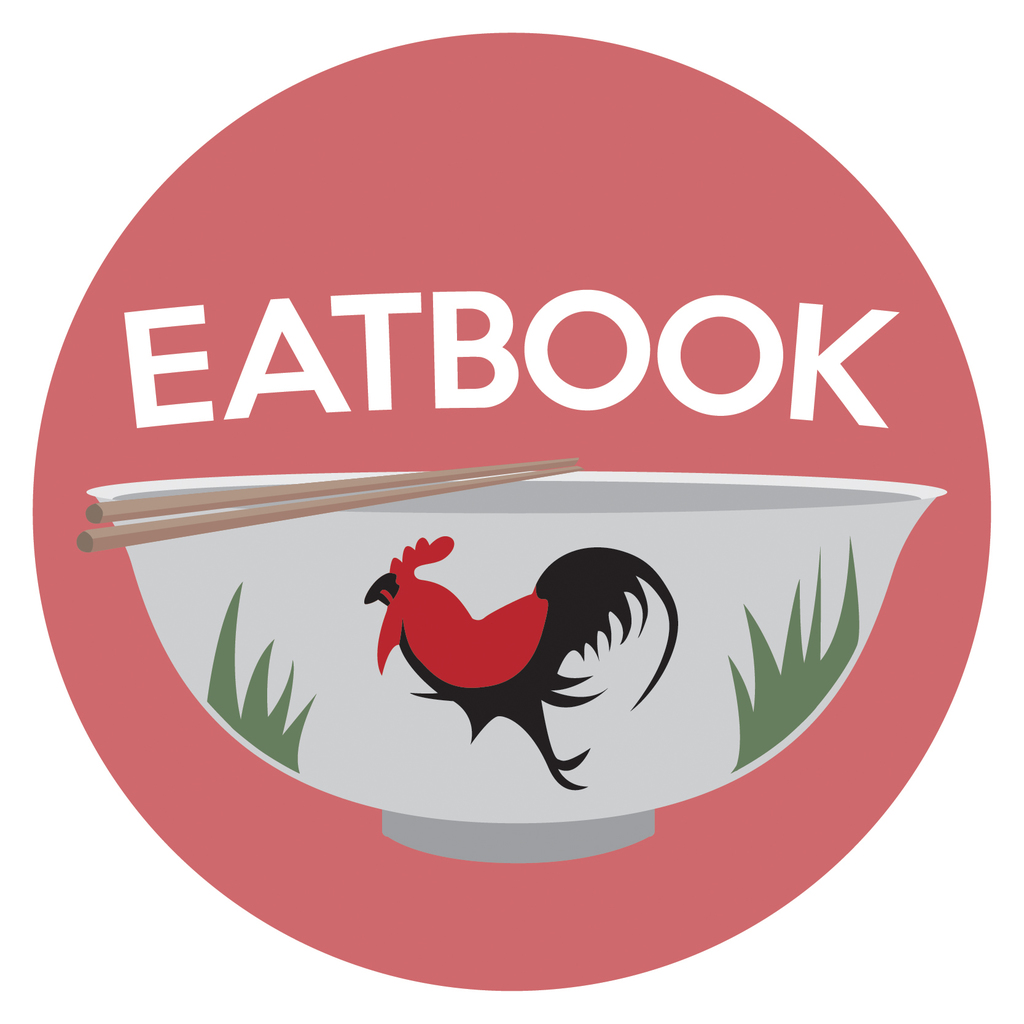 Drop us your email so you won't miss the latest news.