Finally, Do-It-Yourself Kaisendon!
This was an undercover review with expenses covered by Eatbook.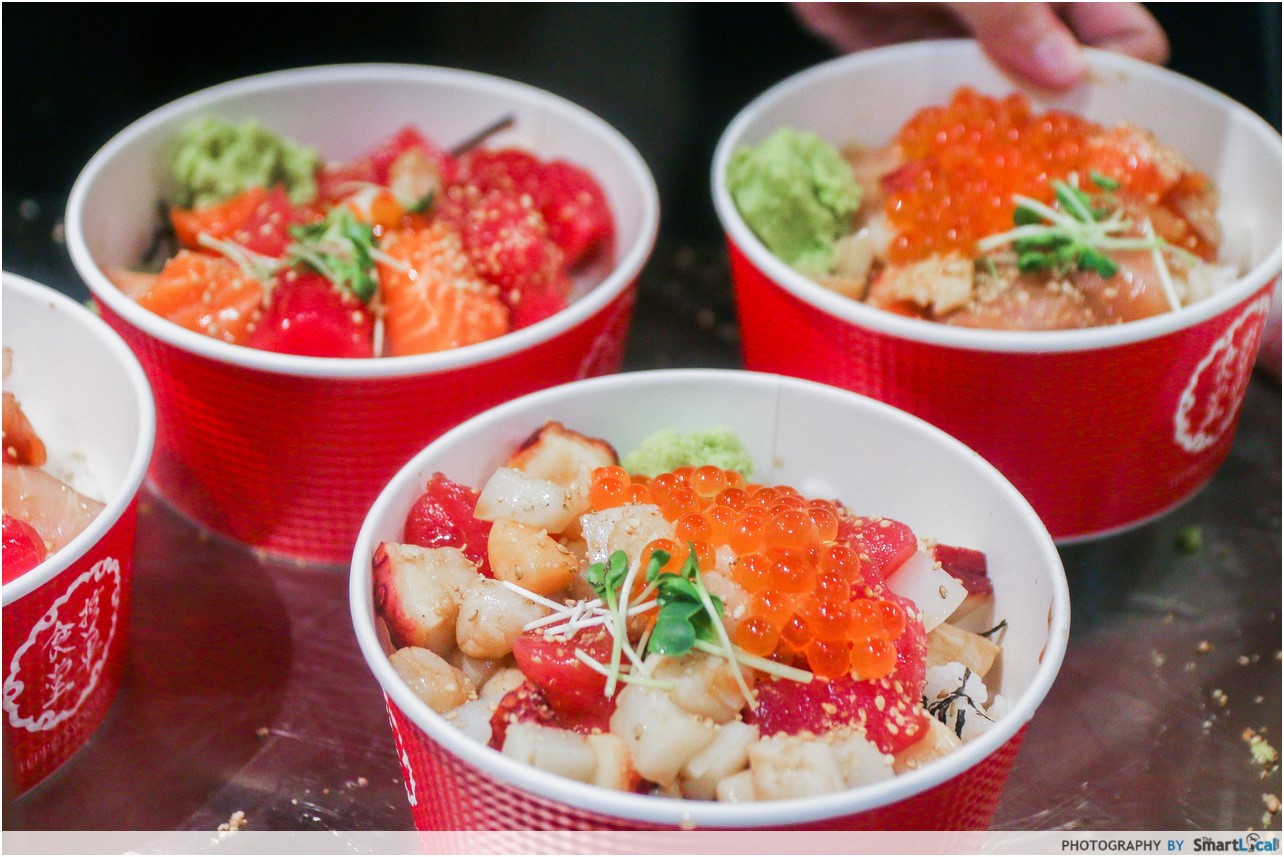 Teppei Syokudo is my #1 go-to for affordable restaurant-grade donburi takeaway. Their kaisendon is priced below $20; there are few places in Singapore where you can get a heaping bowl of delicious sashimi and rice at such a price. Another major plus is that you don't have to make reservations days in advance for a seat at the popular Teppei restaurant in Tanjong Pagar. Quick, fuss-free, and quality Japanese food? YES PLEASE.
As much as I love sashimi, in my eyes, not all raw fish are made equal. Or rather, there are just some types of raw fish that I love above others. Imagine my delight then, when I heard that the latest branch of Teppei Syokudo introduced a new concept: DIY Kaisendon!
The beauty of DIY kaisendon lies in the option of choosing double scoops, or maybe even triple scoops of your favorite fish. You don't even have to go to the trouble of specially requesting for ingredient swaps (and risking the weird looks shot in your direction). If you're a picky Japanese food fan, Teppei Syokudo @ ION is a dream come true.
How To Order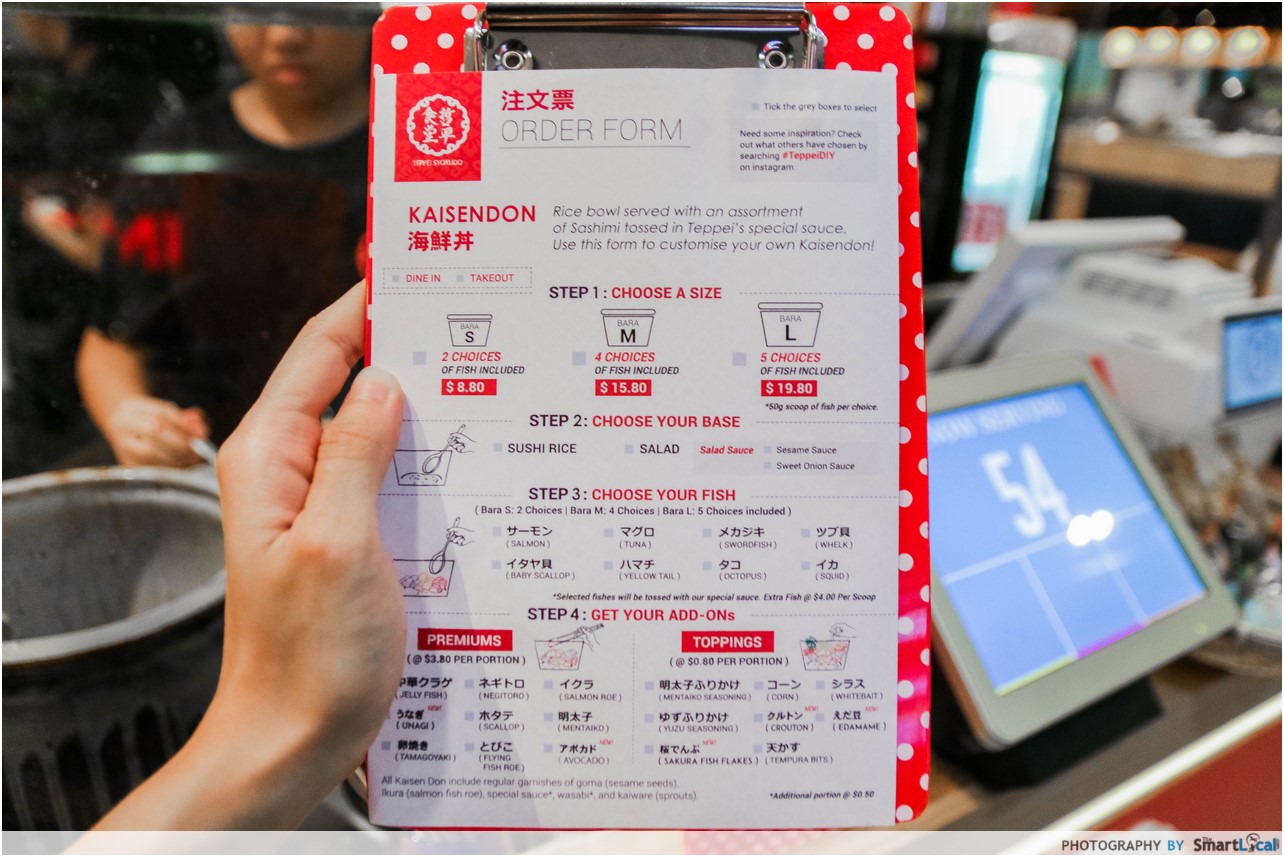 Step 1: Select the size of your kaisendon. A Medium Kaisendon ($15.80) would be enough to fill most people up; it comes with four 50g scoops of any sashimi you desire. But if you're really feeling ravenous, then upgrade to the Large Kaisendon ($19.80).
Step 2: Select your base. You can choose between a sushi rice base, or a salad base. Go with the rice. Kaisendon isn't the same without a bed of sticky seasoned rice.
Step 3: Select your sashimi. There are 8 different types of seafood to choose from, from tuna to whelk. Additional helpings are priced at $4 per scoop.
Step 4: Add ons. Upgrade your kaisendon with Teppei's extensive range of Premium Add-Ons ($3.80), with options like smoky grilled unagi and sweet, fluffy tamagoyaki rolls. Customers get the options to add Toppings ($0.80) such as tempura crunch, and even cheese!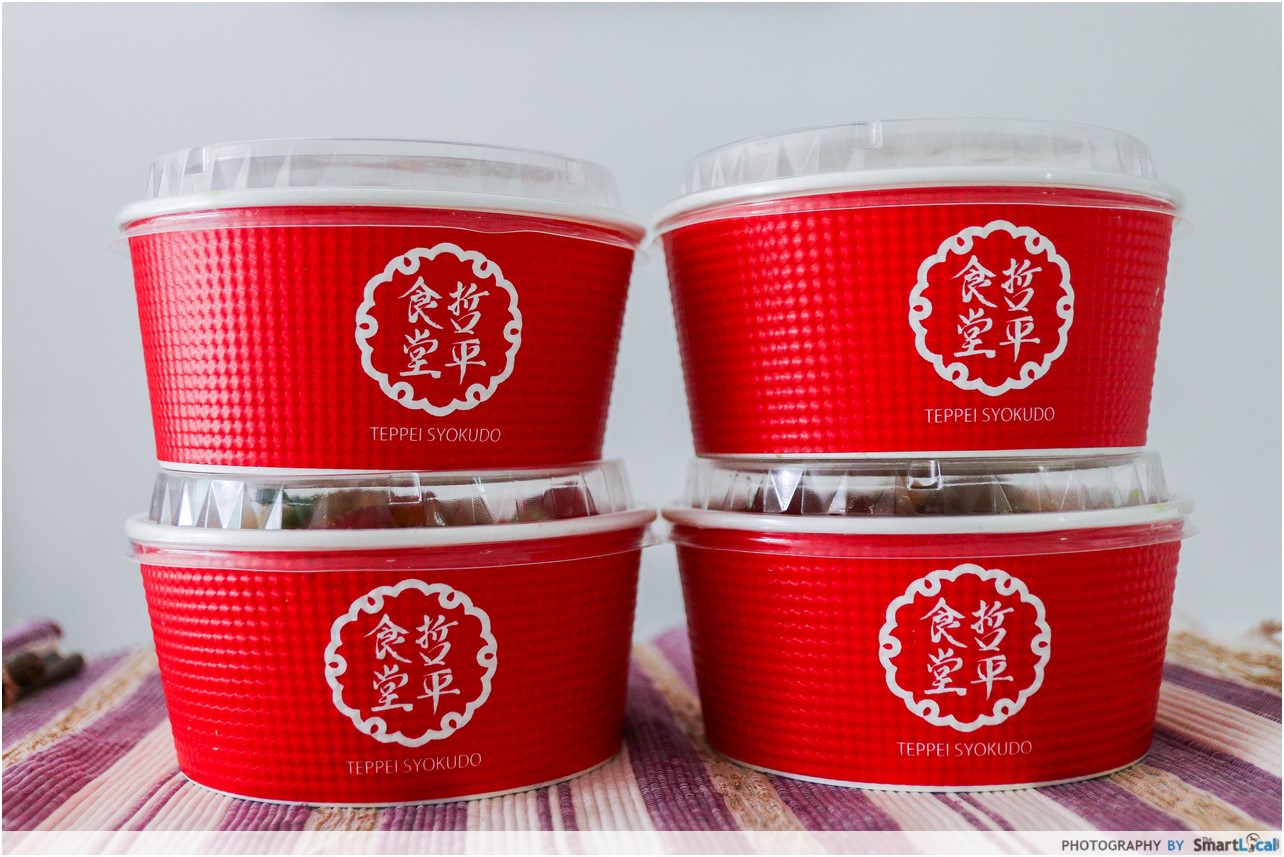 All packed and ready to go.
The Food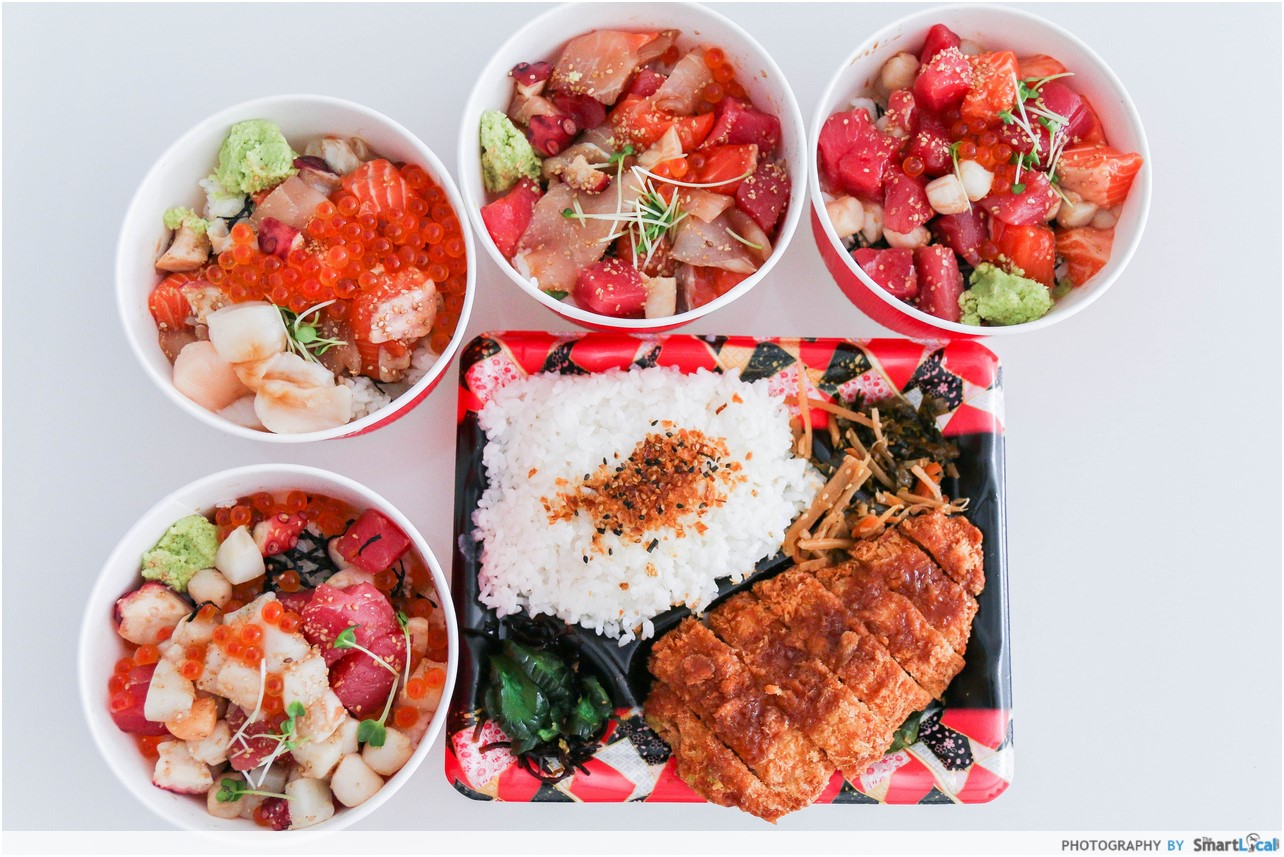 Props to Teppei Syokudo for their mad packing skills! Everything was packed up nice and tight, so I was able to make it home safe with no overturning or spillage.
Pork Katsu Don ($15.80)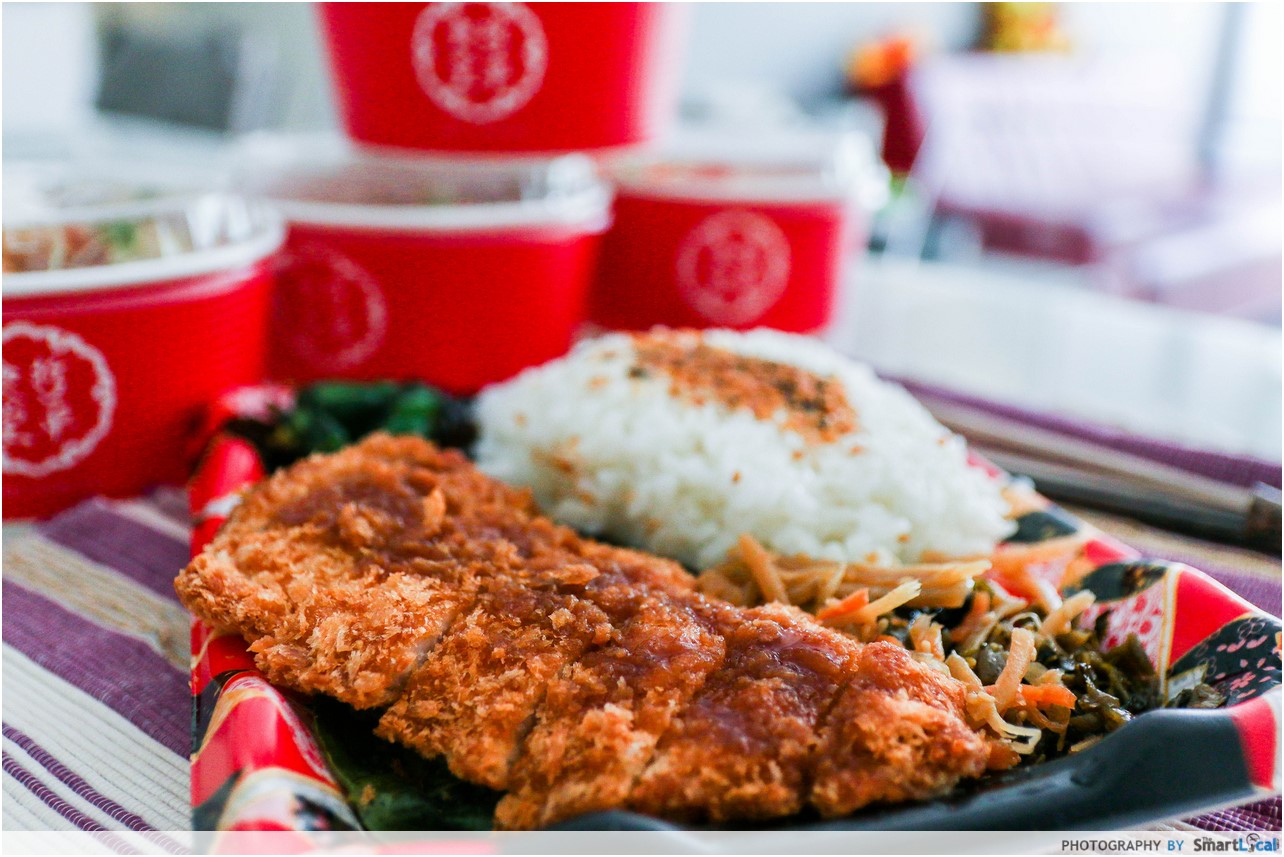 The thick, golden brown cutlet of Pork Katsu came with a generous serving of furikake-topped sushi rice, and an assortment of tsukemono – pickled Japanese veggies commonly eaten with as a side dish. After a short bake in the toaster oven (about 5 minutes), the pork katsu was crispy and hot, all ready for immediate consumption.
The slices of pork cutlet remained succulent on the inside, despite having been reheated, and was crispy without leaving an oily sheen on my lips. The tonkatsu sauce that the cutlet was drenched in was delicious; sweet and thick with a comforting umami body.
My main gripe was that they could have been more generous with the tonkatsu sauce, and that the panko-crust could be fluffier. Naturally, the pork katsu wouldn't taste as shiok as compared to the freshly-fried ones served at restaurants, but it fares very decently as a takeout bento.
DIY Kaisendon
Served in bright red takeaway paper bowls, each Medium DIY Kaisendon ($15.80) was topped with a spoonful of ikura, microgreens, and a liberal sprinkle of toasted sesame seeds. I could almost hear the glistening chunks of sashimi calling out to me as I pried the lid open.
The key to a delicious DIY-kaisendon lies in the combination of sashimi that you choose. However, as long as you stick with what you love, then you won't go wrong.
Medium Kaisendon: Tuna, Salmon, Baby Scallops and Yellowtail
Starting off with 2 common kaisendon staples: Tuna and Salmon. The lean chunks of maguro tuna were firm and superbly fresh, making for a pleasant contrast to the softer, buttery cuts of salmon sashimi. The milder-tasting Hamachi (yellowtail) had a great crisp texture and clean aftertaste.
Overall, the raw fish was fresh and well-marinated; definitely one of the better quality kaisendon out there.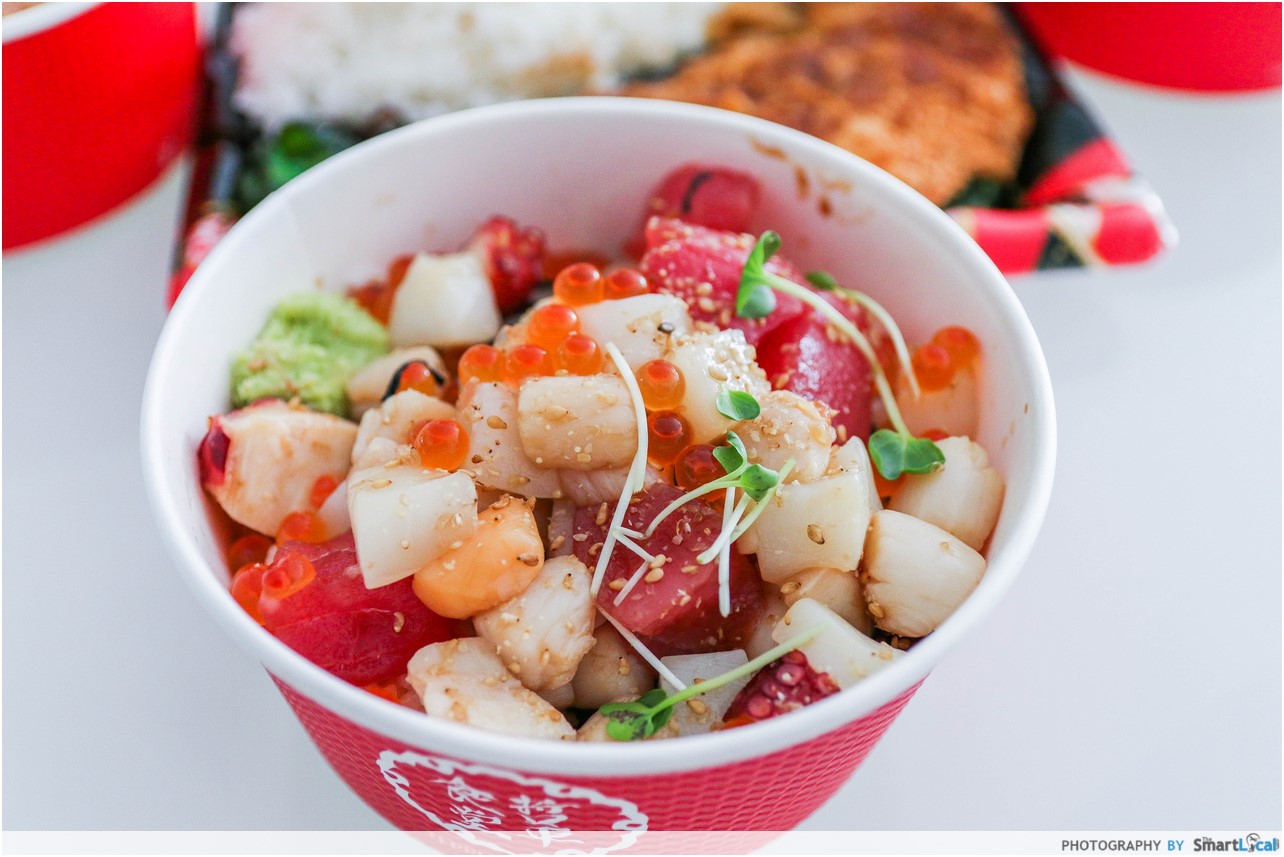 Medium Kaisendon: Tuna, Tako, Baby Scallops and Ika (Squid).
Ika (squid) is hands-down one of my favorite types of sashimi, and the ika in this kaisendon won my approval with its chewy, creamy texture and uplifting flavor. The Tako (octupus) sashimi was juicy and chewy, but if you had to pick between the two, I say go for the ika.
The Baby Scallops were a fantastic choice as well; the tender morsels added a lovely layer of sweetness to my kaisendon. For something a little more luxurious, you can get the Premium Scallop add-on ($extra $3.80), although personally, I prefered the sweeter baby scallops.
Out of all the toppings, the only miss for me was the Whelk. Compared to all the other toppings, the crunchy whelk was virtually tasteless.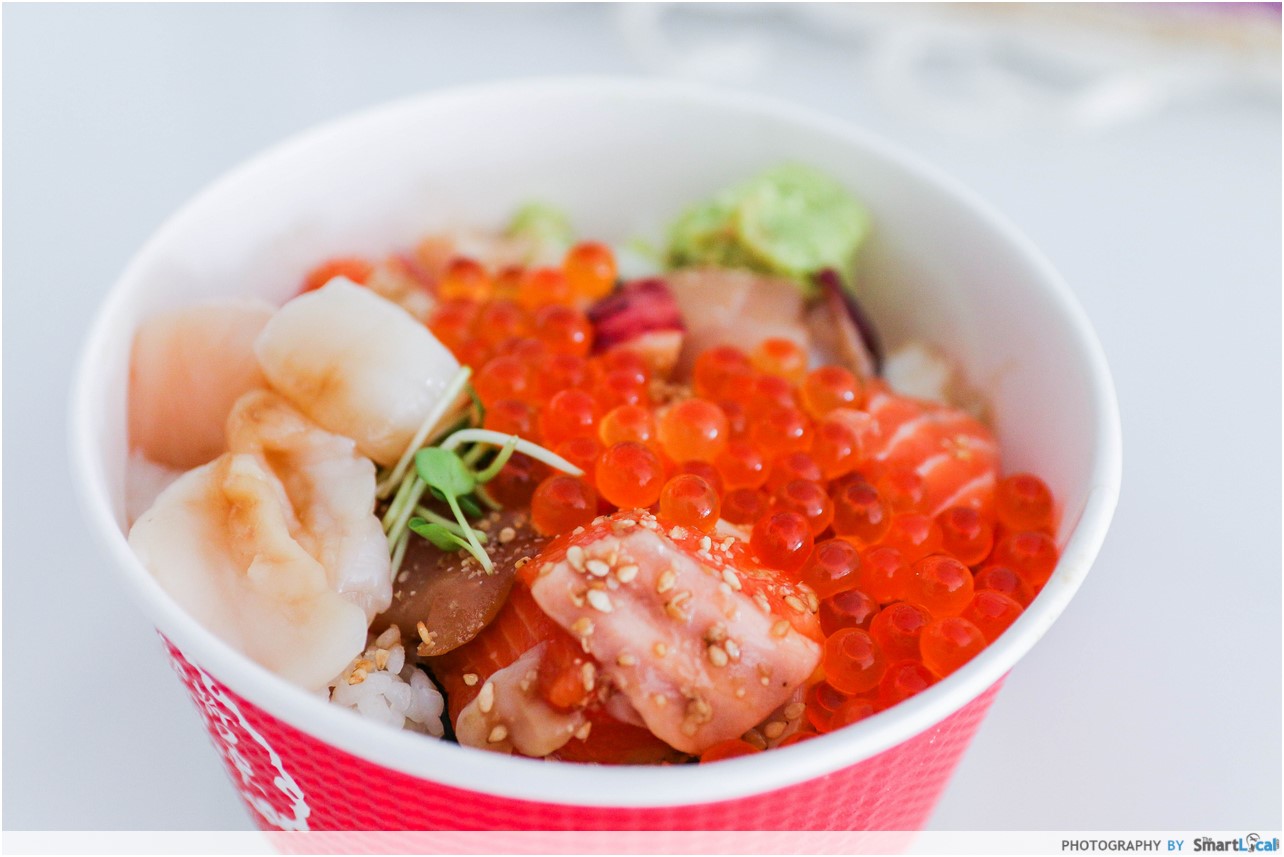 Medium Kaisendon: Salmon, Tako, Swordfish and Welk, with Premium Ikura and Scallop add-ons.
Oh my goodness. That salmon roe. Do yourself a favor and get a premium add-on of Ikura (extra $3.80). The sparkling orange-hued orbs were chock-full of umami seafood flavor. Each spoonful was a crazy explosion of deliciousness that filled my mouth with an incredible briny-sweet essence.
The ikura was phenomenal mixed in with the rice, and really boosted the kaisendon to the next level of seafood perfection. I felt like I could polish off a whole bowl of rice topped with Teppei's salmon roe alone.
Add on a scoop of tempura crunch ($0.80), to experience the ultimate myriad of textures.
I would definitely get the DIY kaisendon again. The ingredients were fresh, the sashimi toppings generous, and the price was extremely reasonable for the portion size. Toss it up with the lightly seasoned sushi rice, and you've got yourself a beautiful, sumptuous mountain of grains and seafood, just waiting to be devoured.
The Verdict

There's something about consuming kaisendon that makes you feel so good about life. It's satisfying, visually-stunning and healthy. Above all, it's flavor-packed with all sorts of punchy seafood goodness.
Teppei Syokudo's DIY Kaisendon takes this dish to the next level by giving you free reign with its endless customizable options. By playing around with the different tastes and textures, you'll be able to craft a kaisendon that's 100% perfect for you.
Takeout food doesn't have to be boring and mediocre, and Teppei Syokudo @ ION exemplifies that. Head down today, for a nutritious and incredibly satisfying kaisendon takeout dinner.
Summary
Pros
– Fully customizable Kaisendons at affordable prices
– Delicious and wholesome food
Cons
– The service was poor even during off-peak periods
– Very limited seating space, and long queues during lunch/dinner hours
Recommended Dishes: DIY Kaisendon ($15.80 for Medium)
Operating Hours:
10am to 10pm (Daily)
Address: ION Orchard, 2 Orchard Turn, #B4-57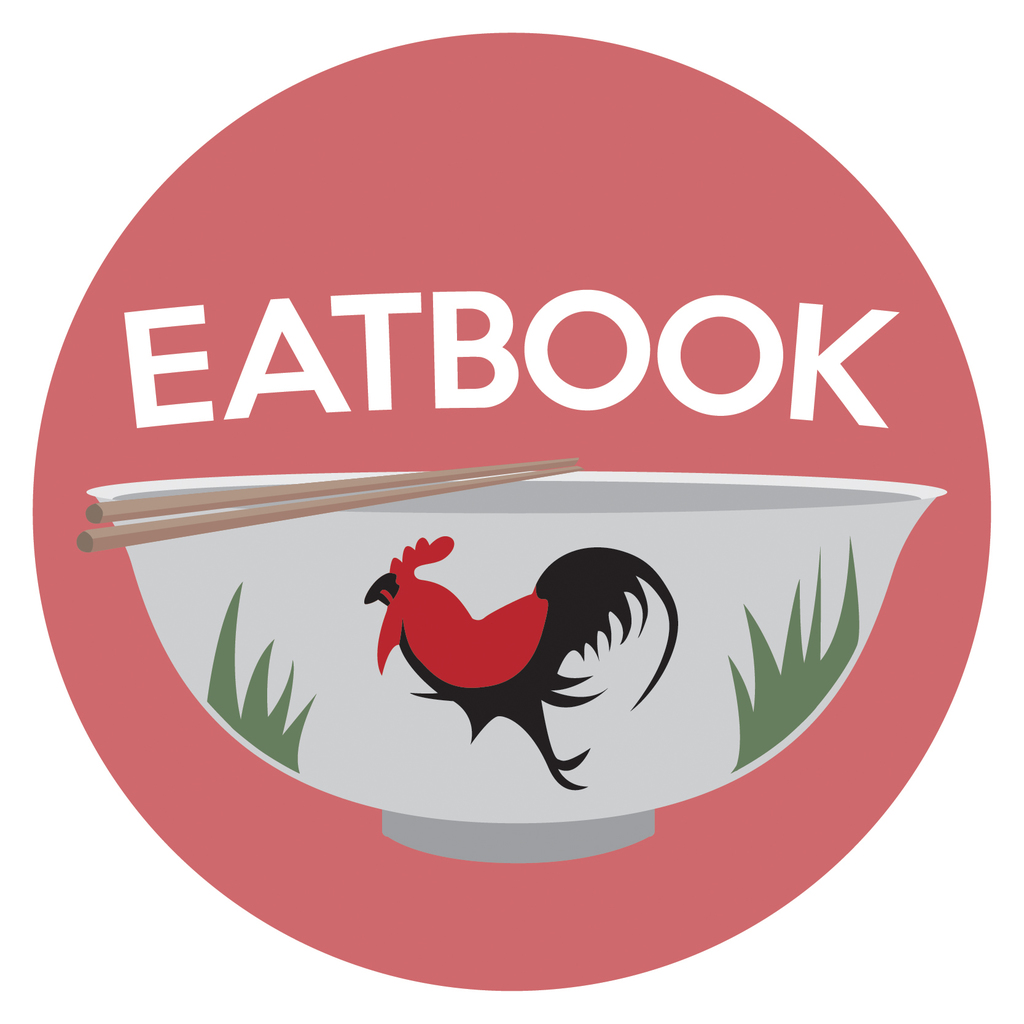 Drop us your email so you won't miss the latest news.