---
Food at The Star Vista 
---
Now that Christmas is slowly approaching, we rejoice as it is the time of the year when we can catch up with our loved ones over cosy get-togethers. Especially for those living in the West, here are 10 food places at The Star Vista for you to enjoy your meals at during this festive season. 
The first 100 readers to flash this article at the Customer Service Counter at Basement One will be able to redeem a $10 F&B voucher. Simply spend a minimum of $50 at any of the listed restaurants below with a maximum of three combined same-day receipts, to qualify for this attractive giveaway. Read till the end for even more promos!
---
1. Dewgather Coffee House 
---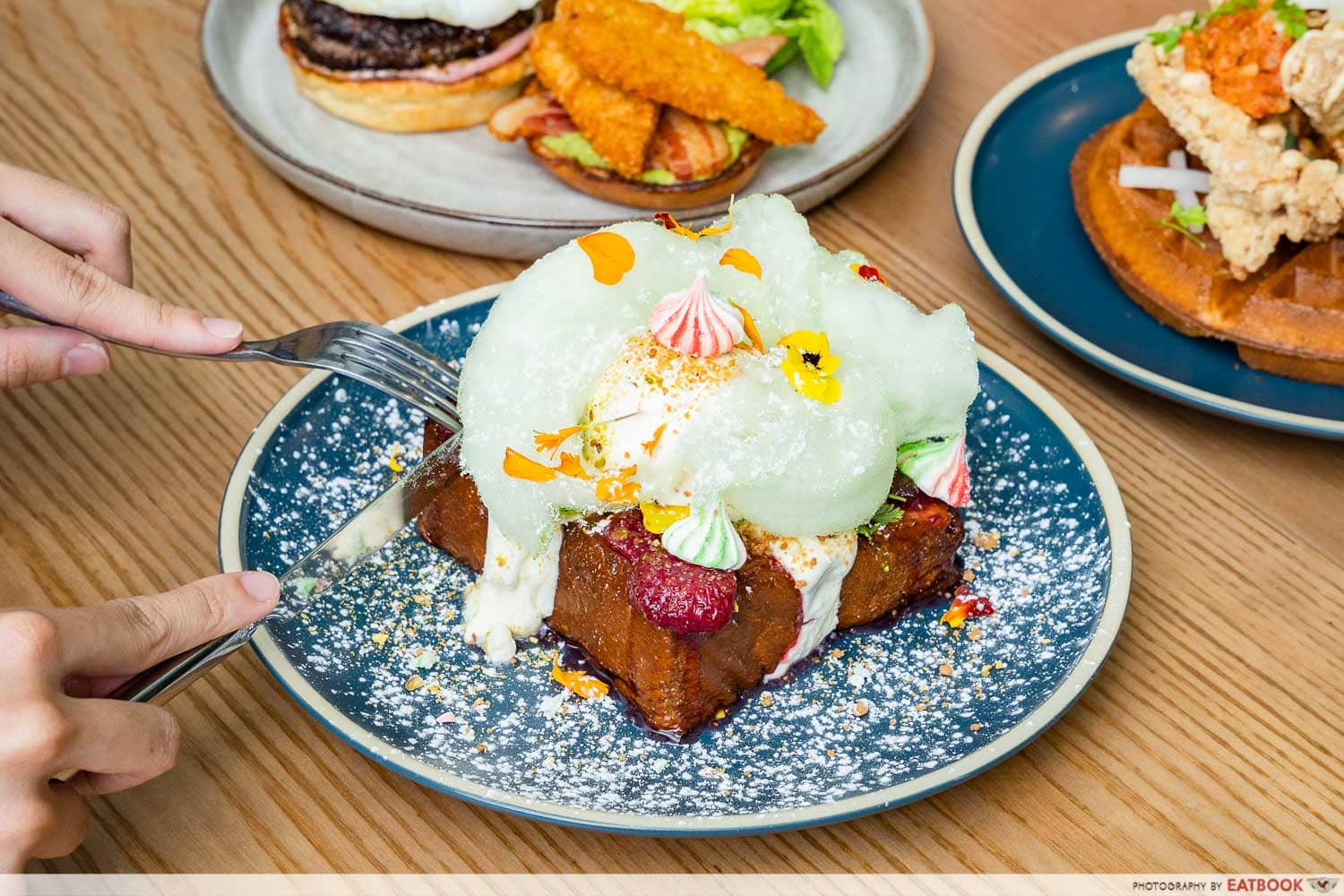 Grab brunch at the newly opened Australian-inspired cafe, Dewgather Coffee House. To celebrate this festive season, they have launched new items including a refreshing Peppermint Mocha ($7.50++), a bright red Hibiscus Pomegranate Fizz ($6++), as well as a Christmas-themed French Toast ($18++) that is decorated with colourful meringue and fluffy cotton candy.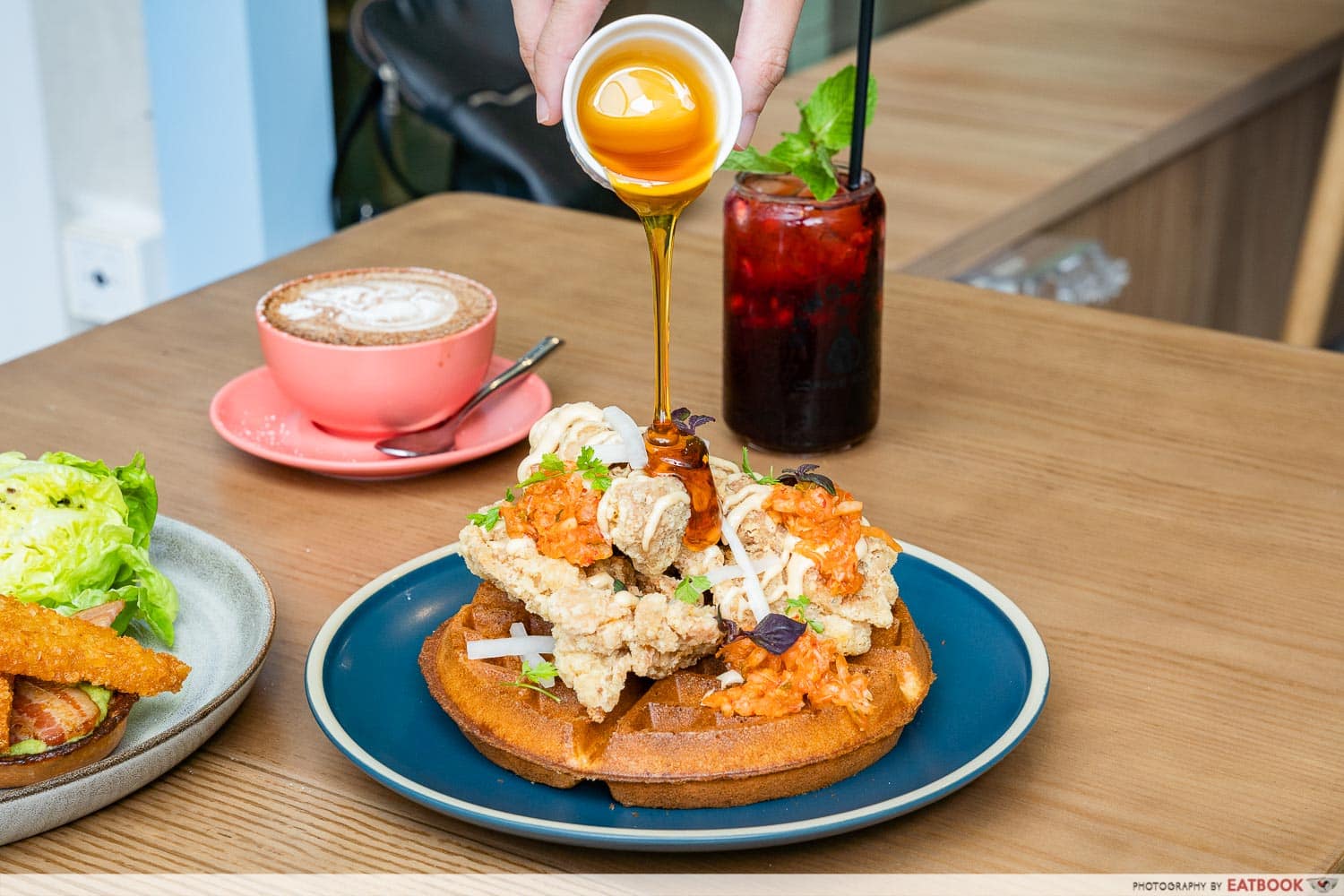 For a savoury-sweet dish, try the Waffle & Fried Chicken ($20++), which features juicy chunks of fried chicken, kimchi, pickled daikon, and garlic aioli, all atop a thick buttermilk waffle. Finish it off with maple syrup to satisfy your sweet tooth. Another substantial dish would be DGBB ($27++), which sees a Wagyu beef patty slathered in mountain pepper mayo, with two toasted brioche buns. 
Unit number: #01-46 
Opening hours: Daily 8am to 10pm 
Website
Dewgather is not a halal-certified eatery. 
---
2. Itacho Sushi 
---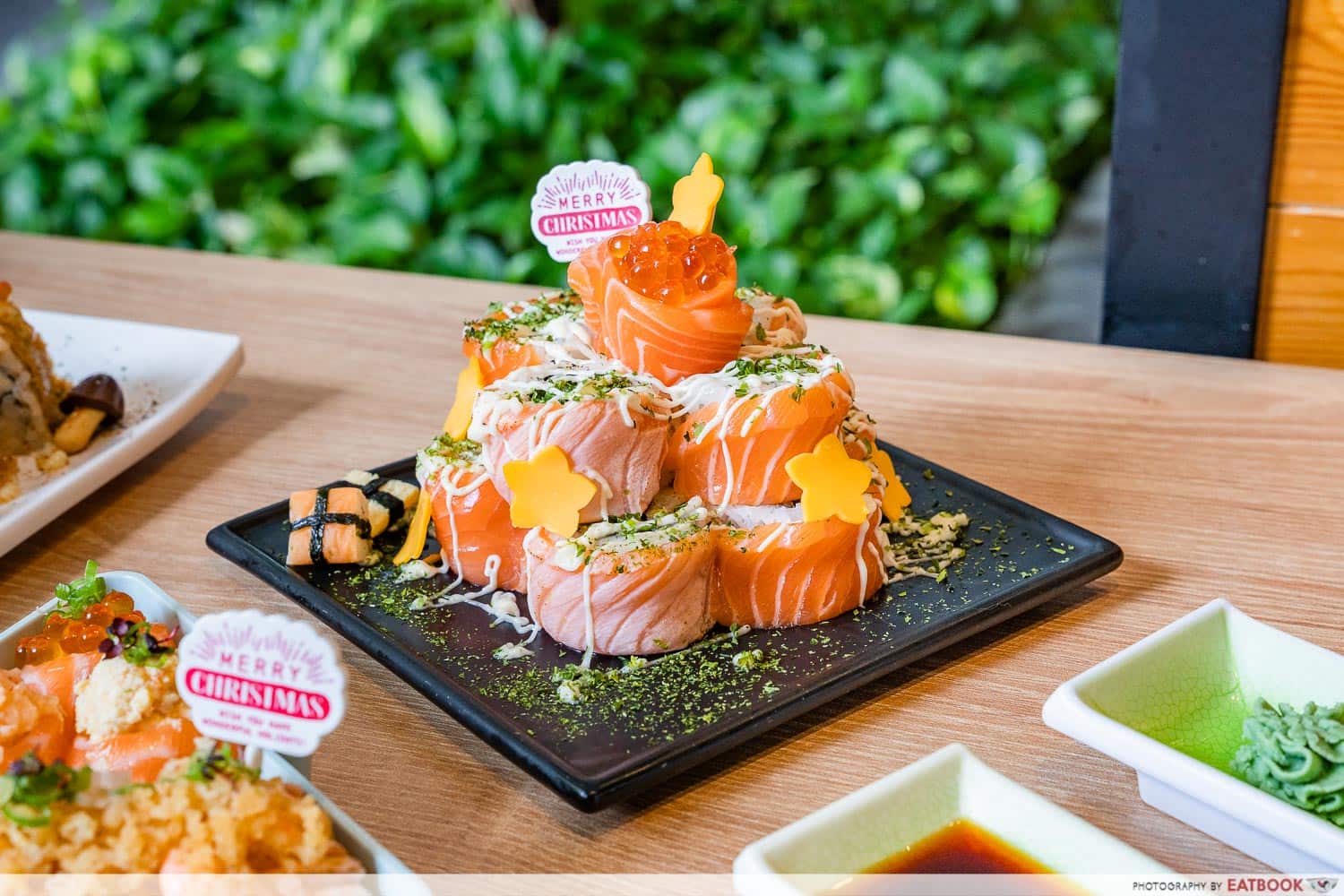 Itacho Sushi has also launched festive-themed items on their menu that are adorably IG-worthy. The Starry Christmas Salmon Tower ($23.80++) features seared and sashimi salmon rolls, all stacked up to form a cute Christmas tree-like tower. The Christmas Village Salmon Roll ($15.80++) is wrapped in inari and sprinkled with powdered sugar for a sweet finish.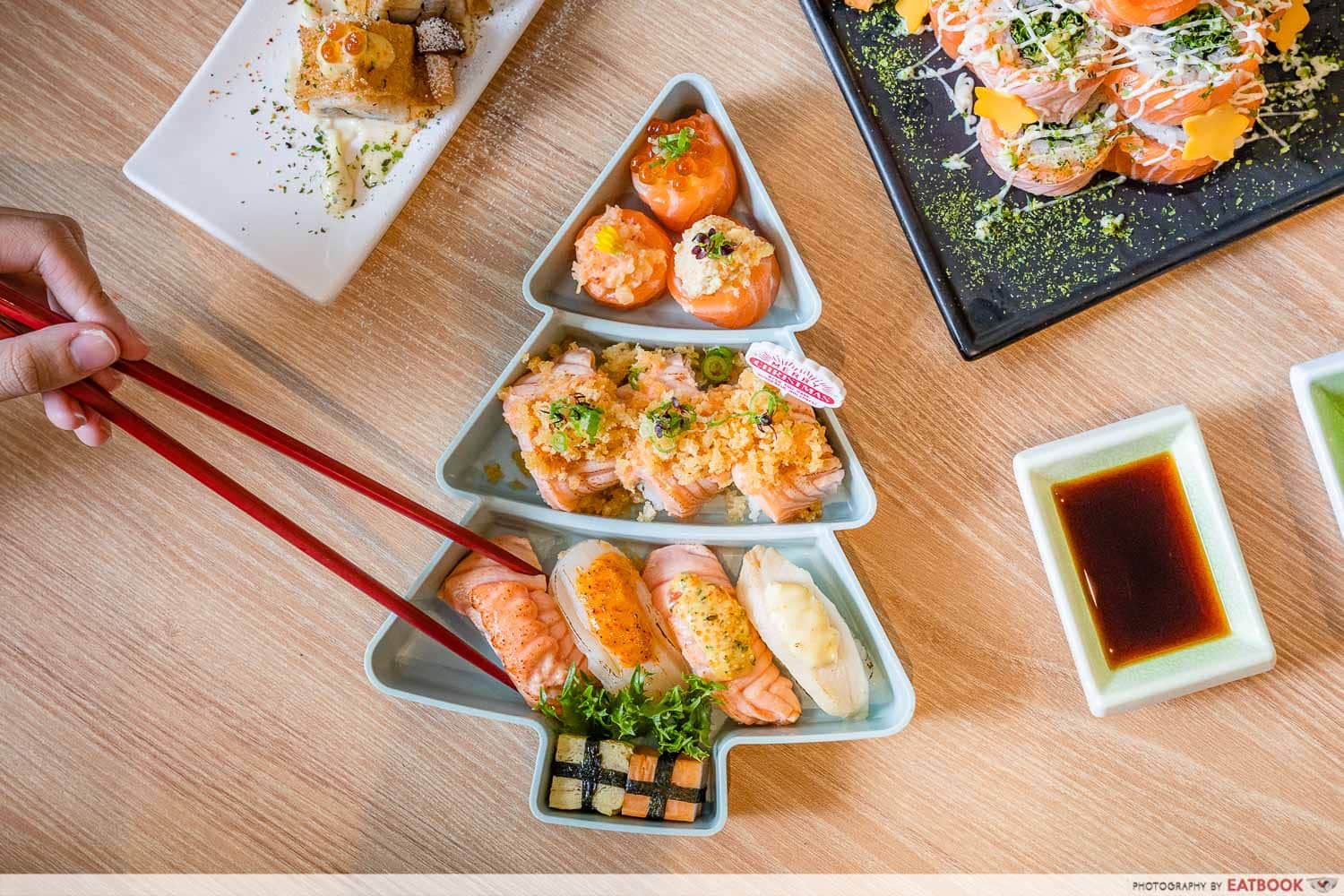 There is also the Christmas Tree Sushi Combo ($22.80++) that is served in a cute Christmas tree shaped-plate, containing eight different flavoured sushi. This combination allows you to enjoy pieces of roasted salmon tenkasu rolls, roasted scallop sushi, salmon and ikura sushi and more. Do note that these prices are applicable for dine-in only, and will differ if you opt for takeaway. 
Unit number: #B1-12
Opening hours: Sun-Thurs 11am to 10pm, Fri-Sat 11am to 10:30pm
Website
Itacho Sushi is not a halal-certified eatery. 
---
3. iSTEAKS 
---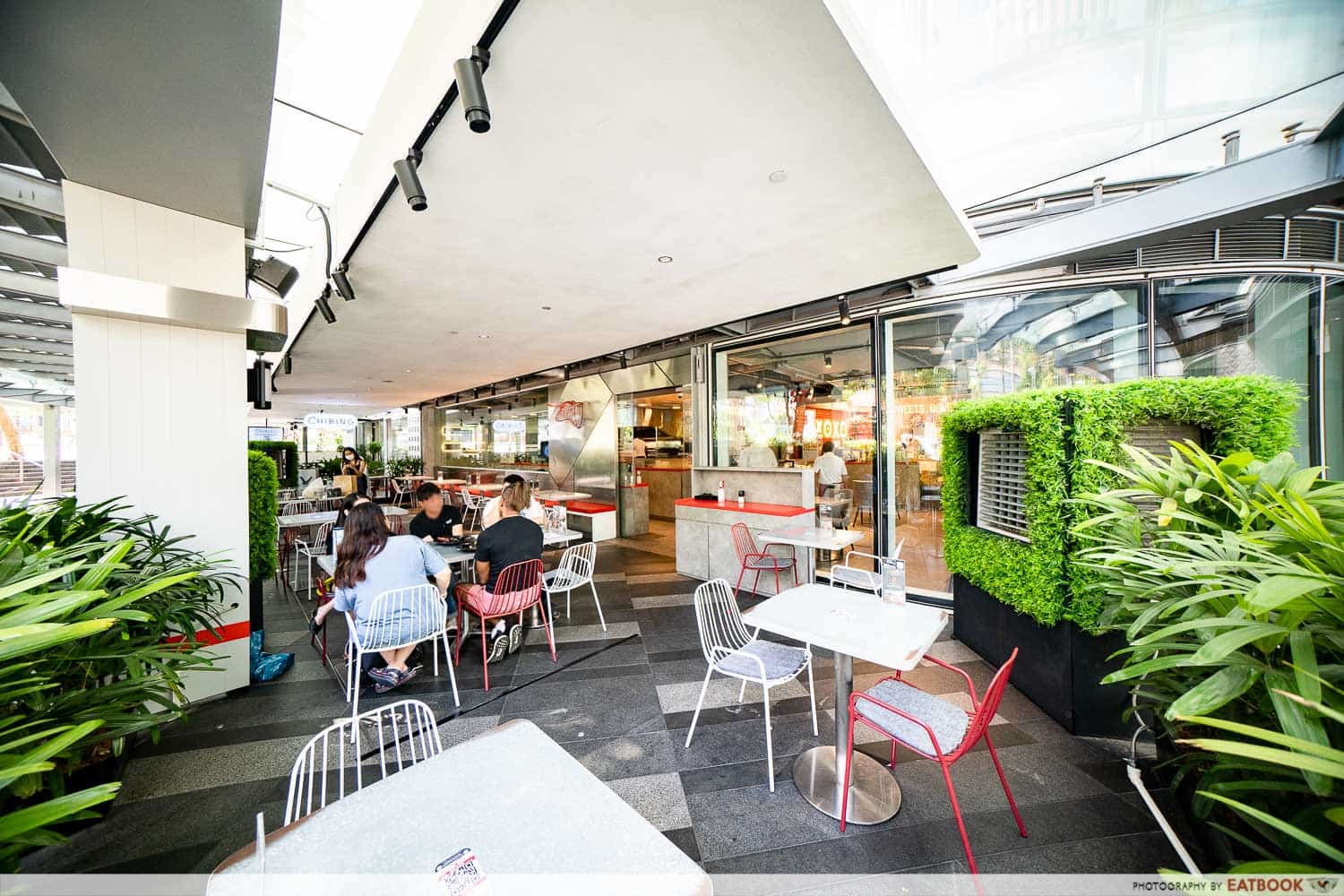 A place suitable for a casual date night would be iSTEAKS, which has an alfresco dining area. This restaurant is well known for their high quality and generous cuts of steak that are priced affordably.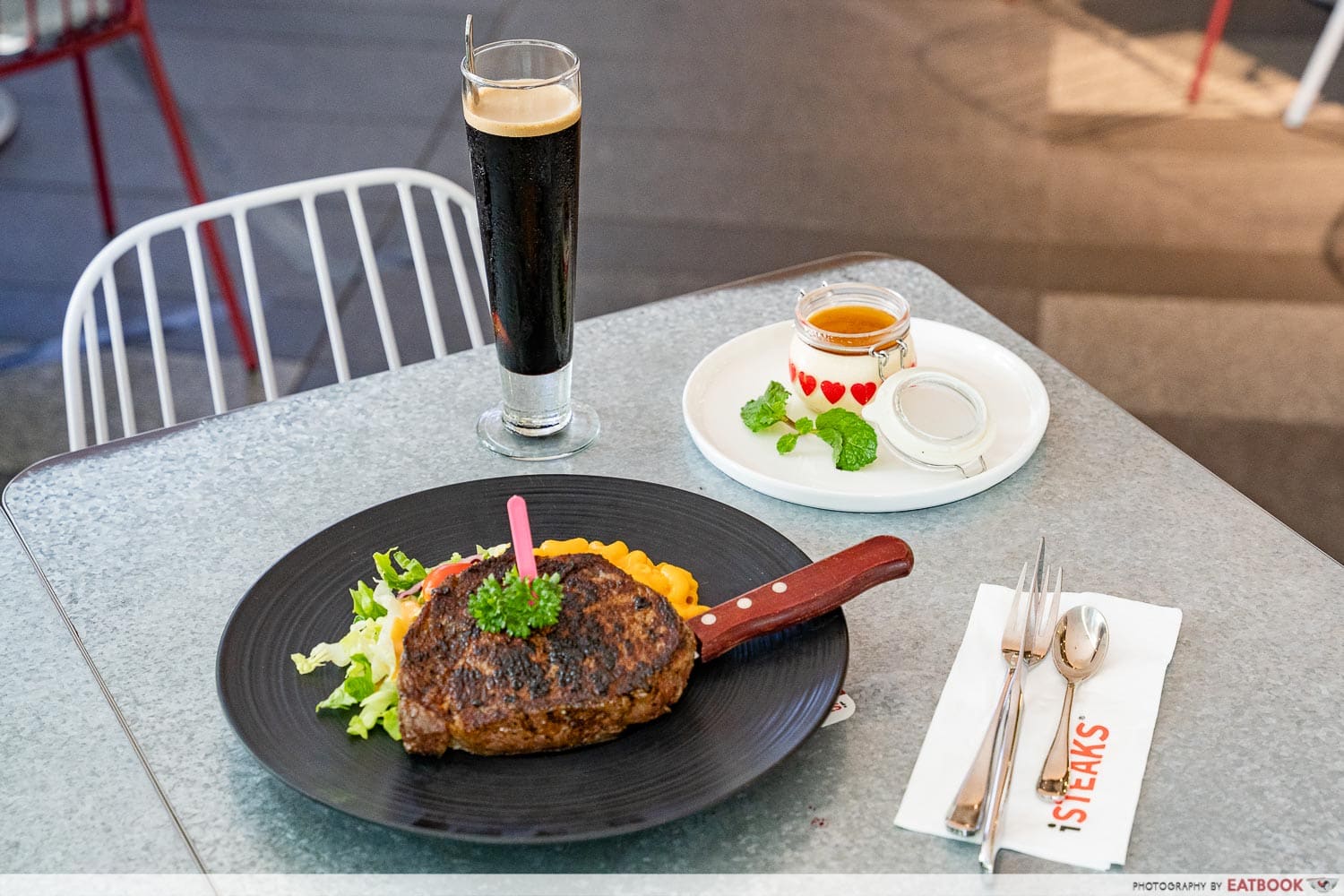 For a unique twist to an old school dining experience, go for the New Zealand Silver Fern Pasture Fed Ribeye done with iSTEAKS' Signature Steakhouse Char ($32 for 350g) served with two sides of your choice, the Pot De Crème ($6) topped with maple syrup and sea salt, along with a Nitro Cold Brew Nanyang Coffee ($4).
Unit number: #01-42/K3 
Opening hours: Daily 11am to 10pm 
Website
iSTEAKS is not a halal-certified eatery. 
---
4. Chi-Bing 
---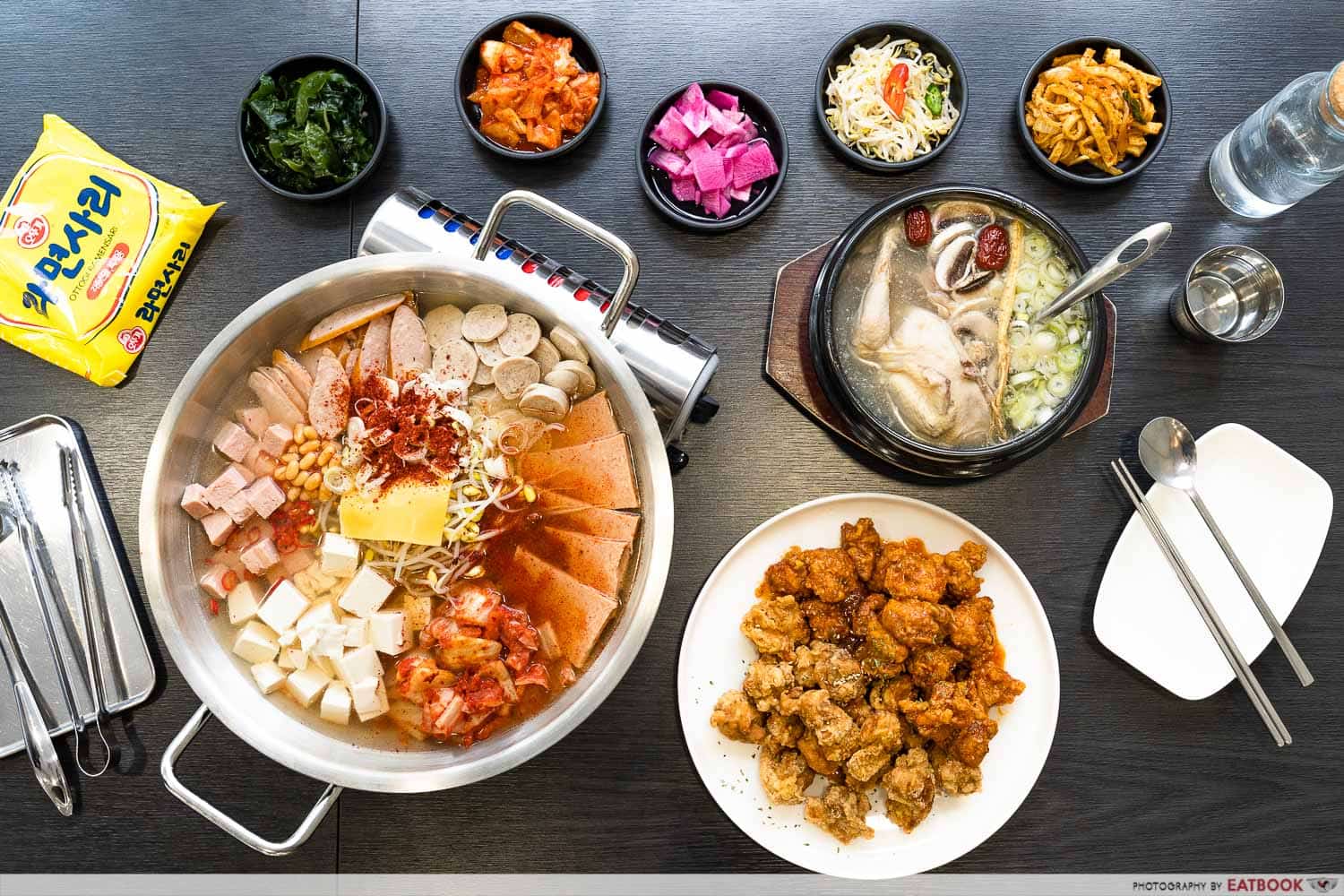 K-drama fans can head down to Chi-Bing at The Star Vista, which boasts an ambience that makes you feel like you're in Korea. Grab a beer and pair it with their Half & Half Chicken ($33.90++)—chicken served half tossed in Spicy Soy sauce and the other half in Original sauce. 
Another hearty dish is the Ginseng Chicken Soup ($26.60++), which comes with an entire spring chicken hidden within the translucent soup.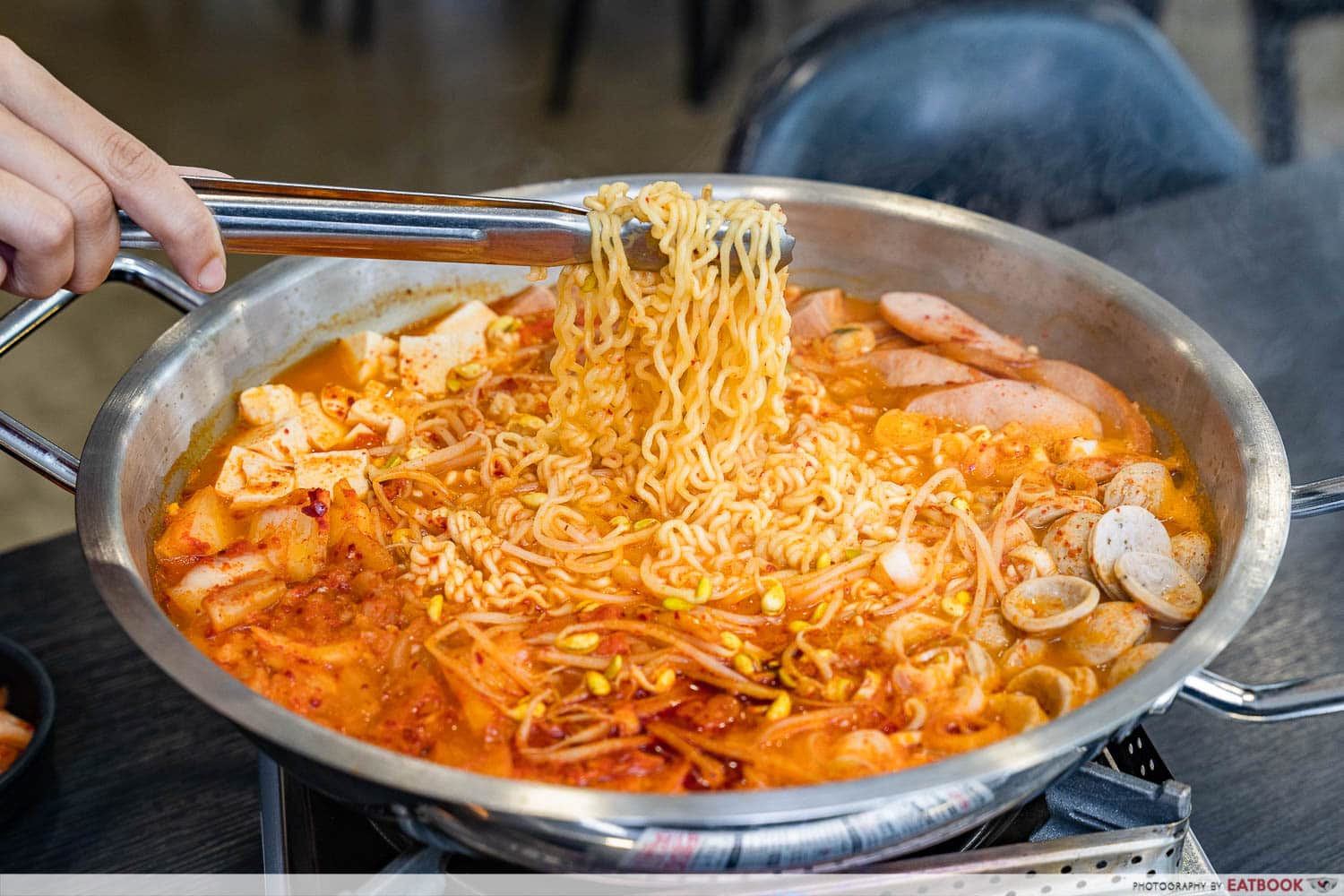 If you're dining here in a party of five, go straight for the Korean Army Stew ($43.90++). This contains an assortment of sausages, vegetables, and a packet of ramen to cook in the spicy stew. With a plethora of ingredients swimming in the flavourful broth, this is one dish that will surely satisfy everyone's taste buds. 
Unit number: #01-43
Opening hours: Daily 11:30am to 10pm
Website
Chi-Bing is not a halal-certified eatery. 
---
5. Morganfield's 
---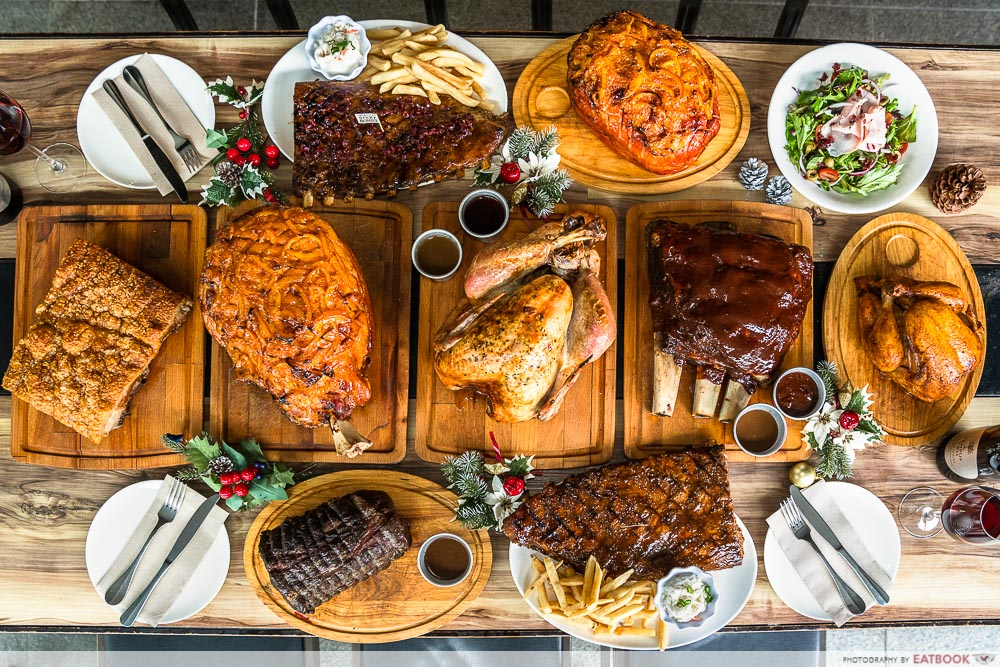 Host a mini Christmas party at Morganfield's with Morgan's Christmas Feast ($149.90++) that comfortably serves up to four people. This set has nine different components, including their smoky Christmas Chestnut Sticky Bones, a slightly tangy Christmas Cranberry Sticky Bones, succulent Crackling Pork Roast and more. 
Pair the meats with a refreshing Somersby Summer Punch ($19.90++), which is a Somersby and Vodka cocktail perfumed with floral notes, finished with fruit chunks.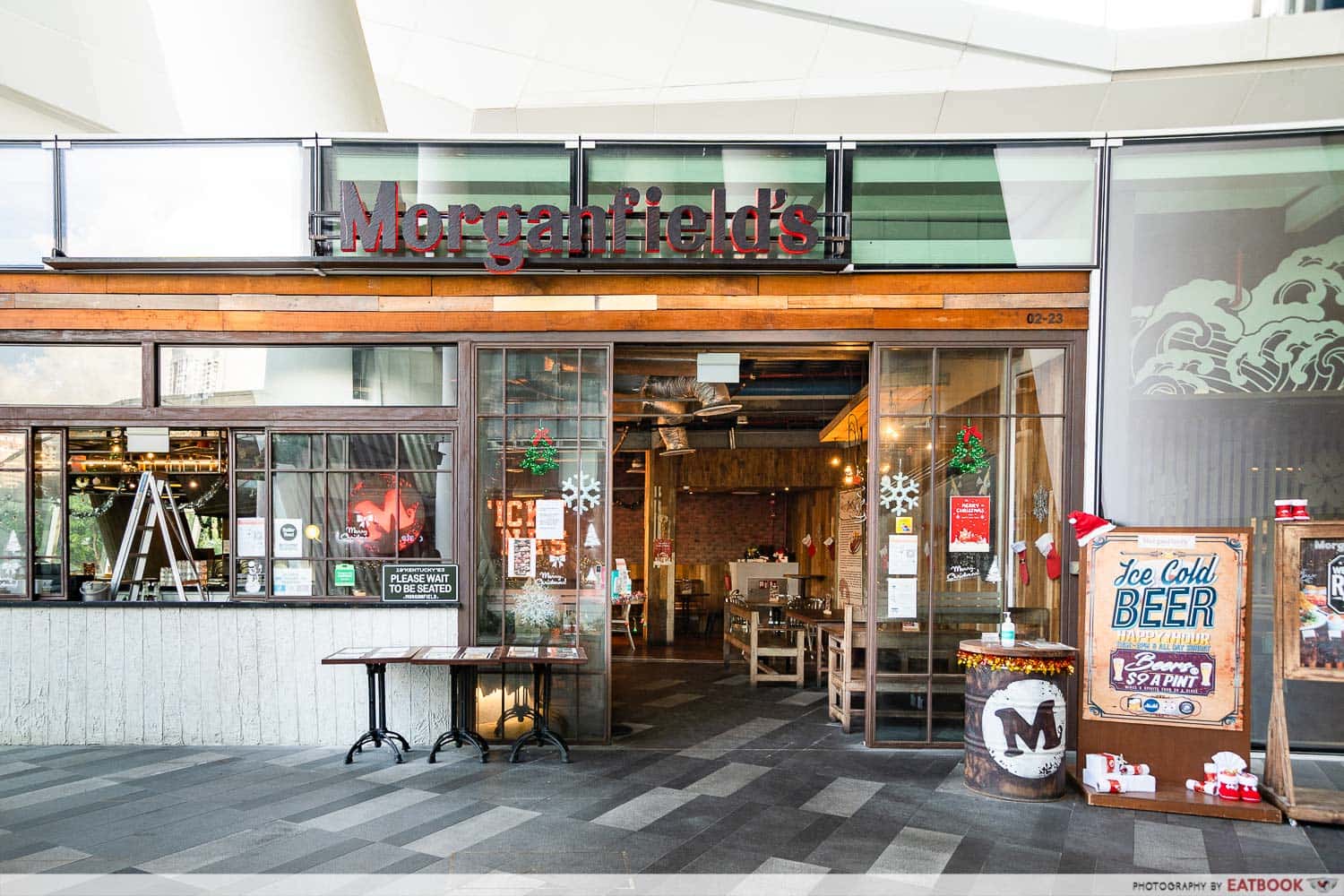 Satisfy your sweet cravings with their Black Forest Lava Cake ($16.90++), featuring a gooey chocolate lava cake drizzled in a dark cherry sauce. This is served with a scoop of vanilla ice cream to complement the rich chocolatey flavours. 
Unit number: #02-23
Opening hours: Daily 11am to 10pm
Website
Morganfield's is not a halal-certified eatery. 
---
6. WATAMI Japanese Dining 
---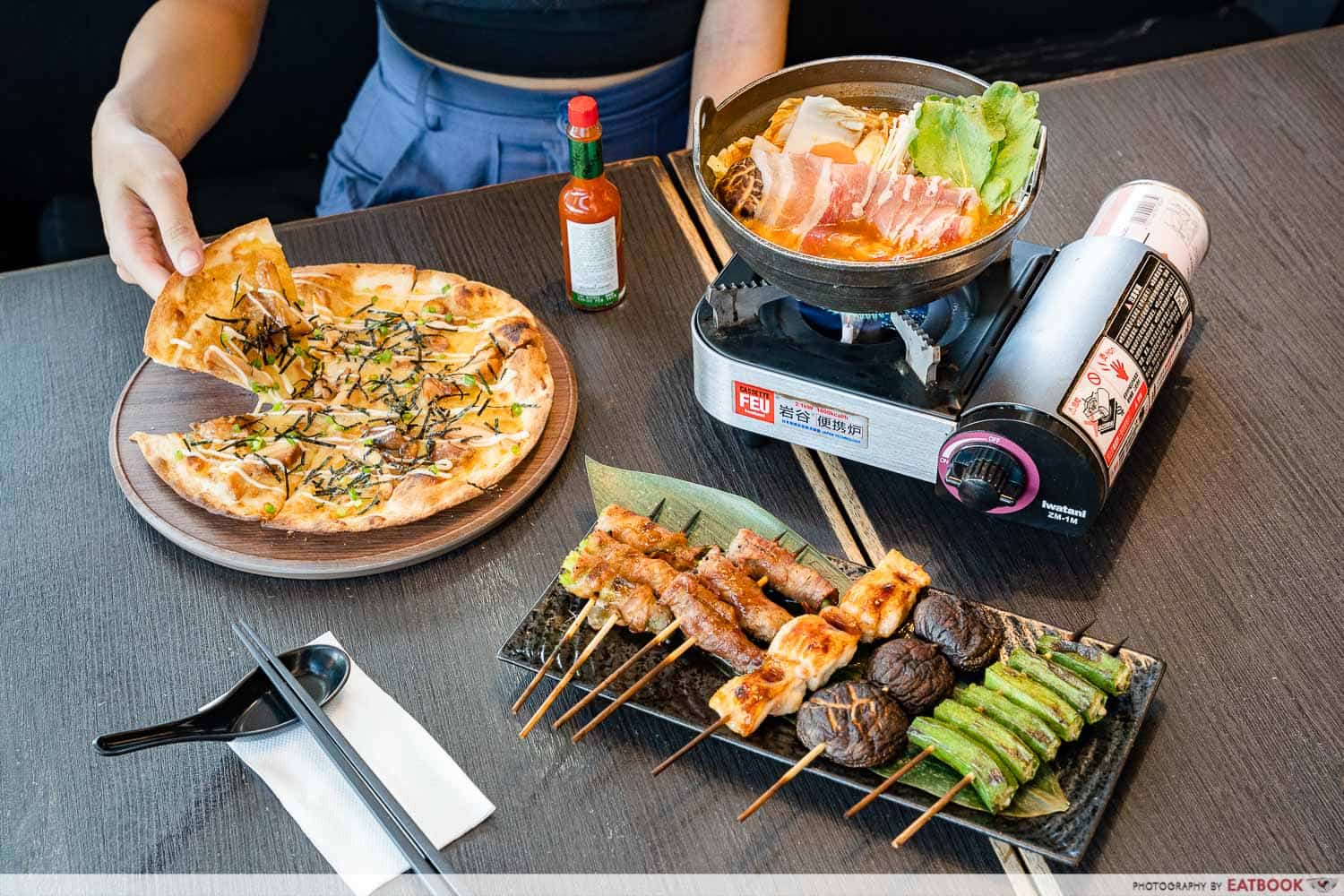 A chill hangout spot to head to is WATAMI Japanese Dining, known for its casual dining concept and relaxing atmosphere. For a dish with good variety, opt for the 5 Kind Skewer Platter ($12.90++) that includes okra, chicken thigh, shiitake mushroom, pork, and beef skewers. 
Alternatively, go for the Teriyaki Chicken Pizza ($9.90++) for a house-made thin-crust pizza that is topped with teriyaki chicken, seaweed, and mayonnaise. Mentaiko lovers will be delighted to know that there is a mentaiko mayonnaise version of this pizza as well!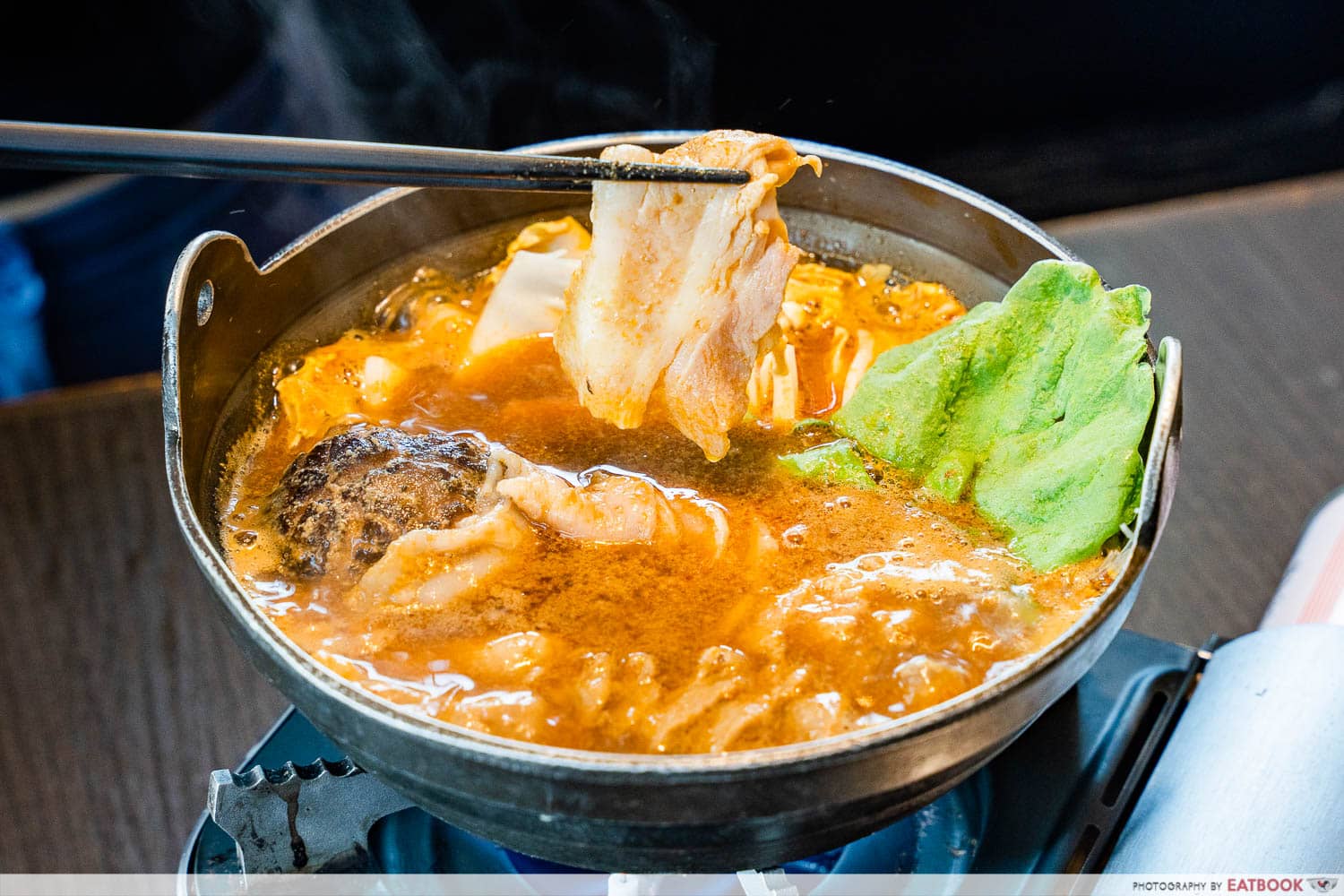 Combat the rainy weather with the Spicy Miso Hot Pot ($9.90++), filled with green vegetables, tofu, vermicelli, your choice of beef or pork, and a hearty savoury-spicy soup. This dish comes with a DIY concept, as you are able to cook the ingredients by yourself. 
Unit number: #02-16
Opening hours: Daily 11:30am to 9:30pm
Website
WATAMI Japanese Dining is not a halal-certified eatery. 
---
7. Zaffron Kitchen 
---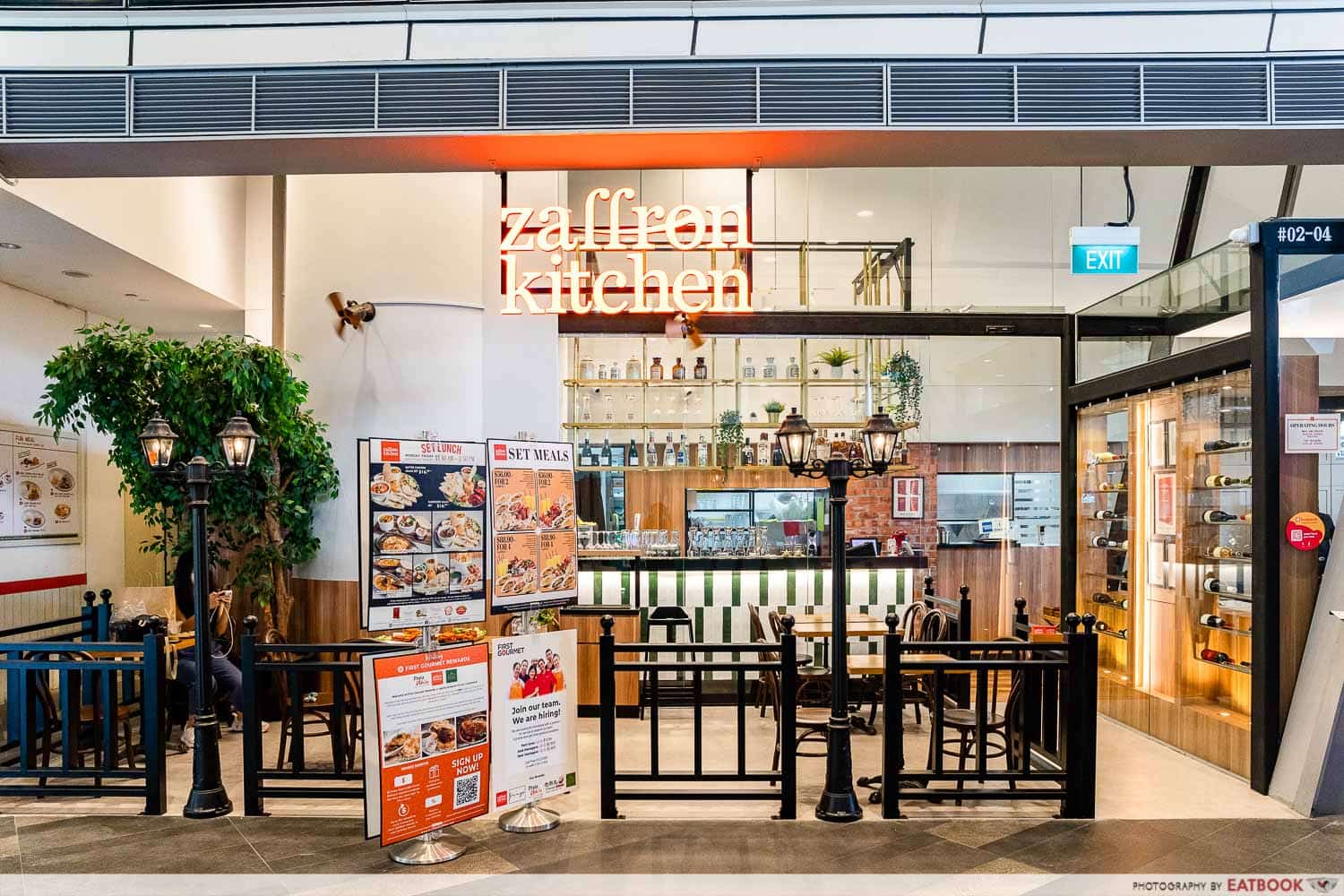 For a fix of Indian food, go straight to Michelin Bib Gourmand-awarded restaurant Zaffron Kitchen, which sees a brightly-lighted and cosy interior. A dish that is perfect for sharing would be the Xmas Platter For 4 ($49.90++) that comes with decently sized pieces of smokey tandoori chicken, crispy deep-fried soft shell crabs, sausages, and roasted vegetables.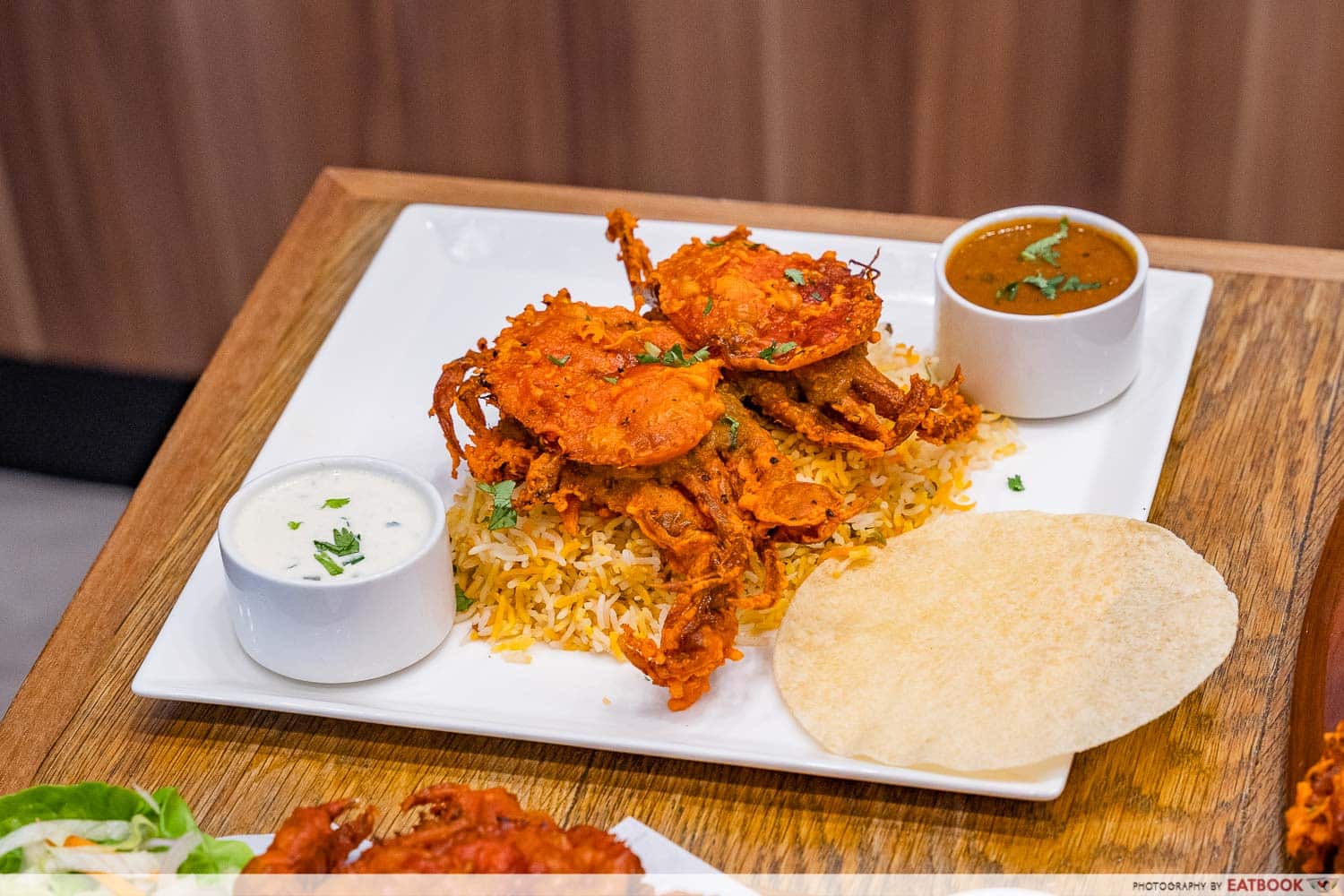 There is also a unique Soft Shell Crab Briyani ($25++): fragrant rice topped with two soft shell crabs, along with a side of curry, yogurt, and papadam. Opt for the Soft Shell Crab 65 ($19++) for an a la carte serving of the aromatic crabs without the rice. 
Unit number: #02-04
Opening hours: Mon-Fri 11:30am to 2:30pm, 5:30pm to 9pm, Sat-Sun 11:30am to 9pm
Website
Zaffron Kitchen is not a halal-certified eatery. 
---
8. Saizeriya 
---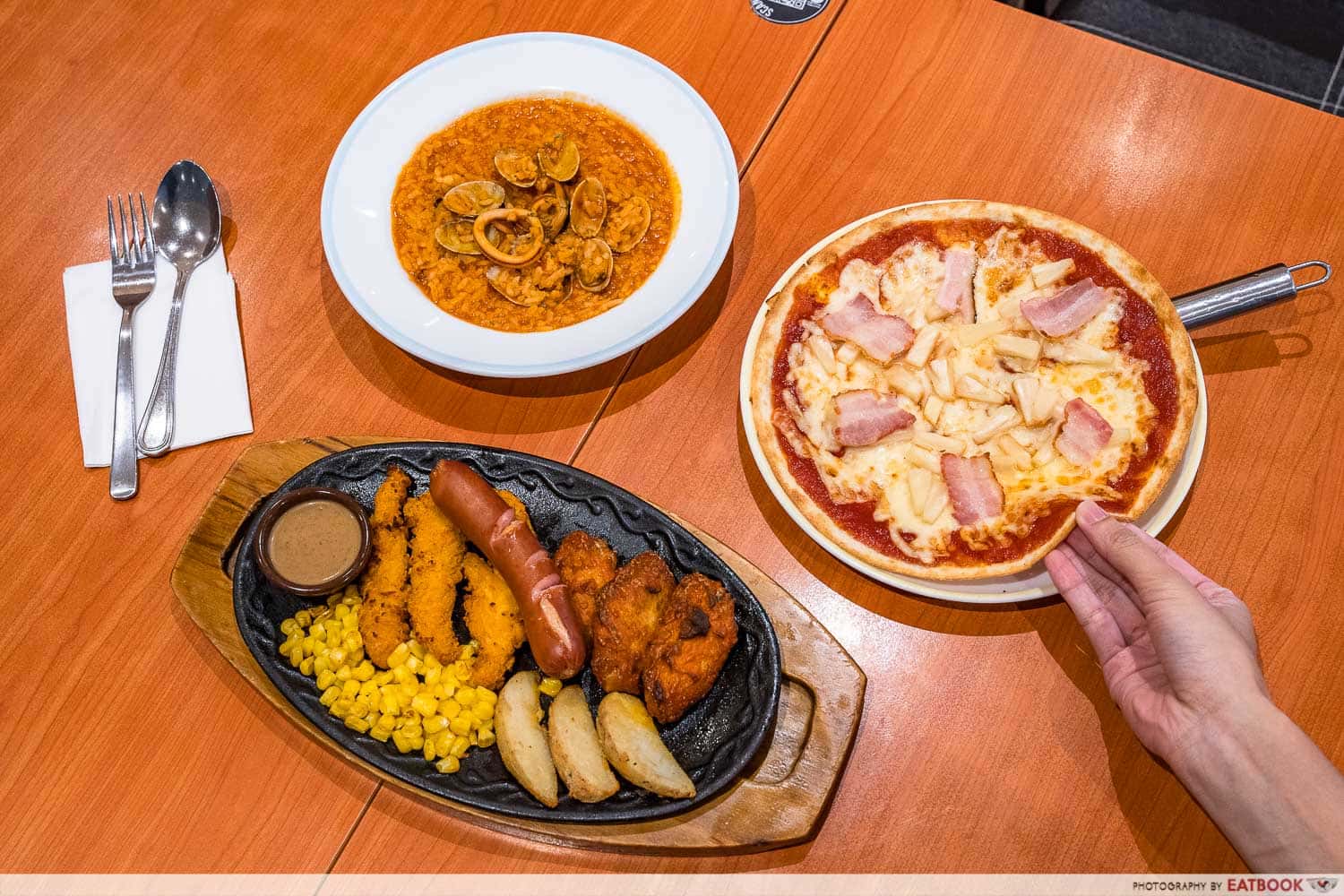 Saizeriya is a casual Italian restaurant known to many, for being a one-stop eatery for affordable pastas, pizzas and more. If you're looking for a side to share, go for the Grill Combo ($7.90) that features a platter of five items including a cheddar-filled sausage and crispy chicken tenders. For mains, there is a Seafood Risotto ($5.90), which features creamy rice paired with a tangy tomato-based sauce, topped with fresh clams and squid.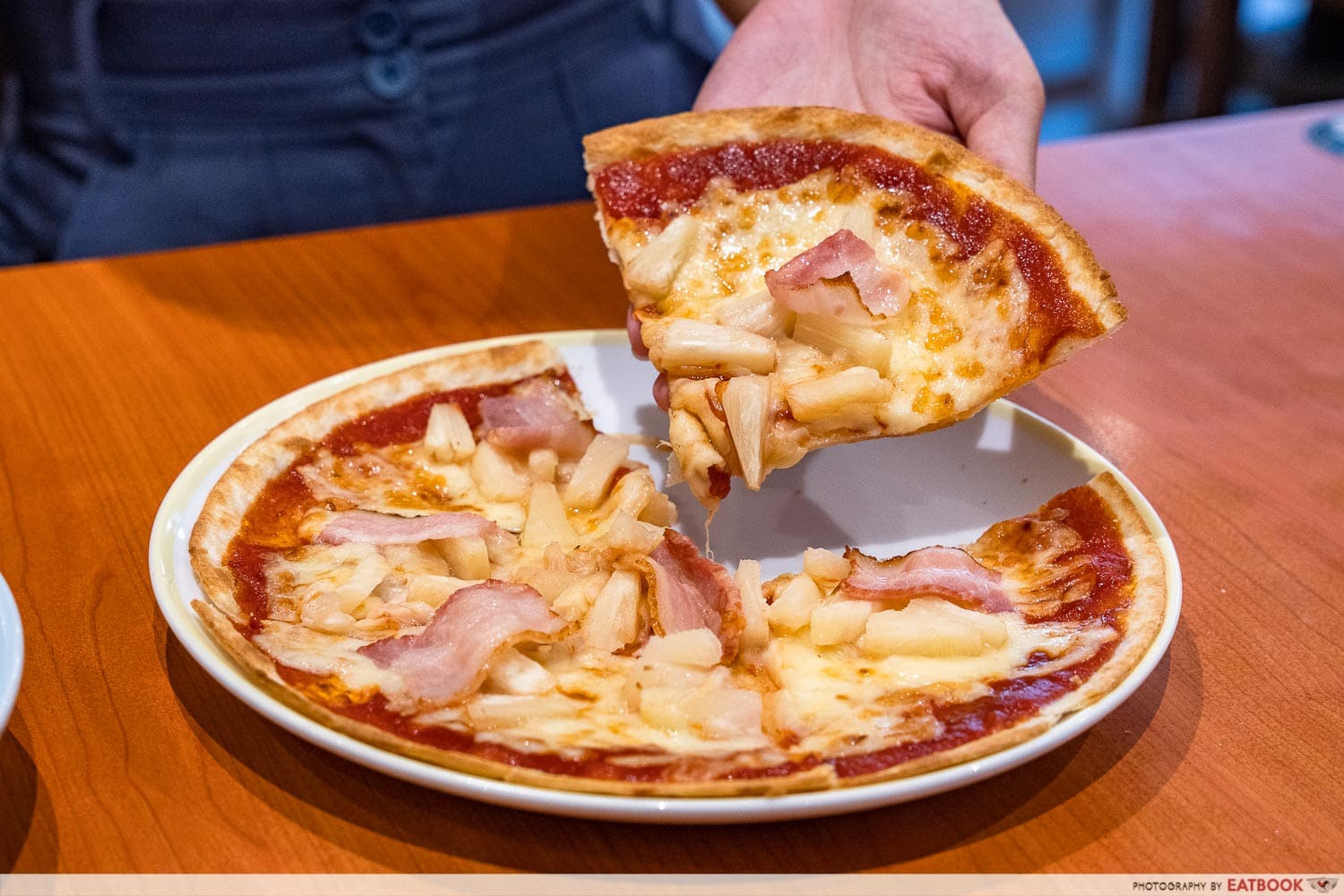 There is also the Pineapple & Bacon Pizza ($6.90), similar to the all-familiar Hawaiian pizza. The pineapple perfumes the pizza with hints of acidity and sweetness, while the bacon balances out the flavours with a savoury kick. It is topped with a mix of cheeses for a satisfyingly creamy finish. 
Unit number: #01-44/45
Opening hours: Daily 11am to 10pm
Website
Saizeriya is not a halal-certified eatery. 
---
9. Nando's 
---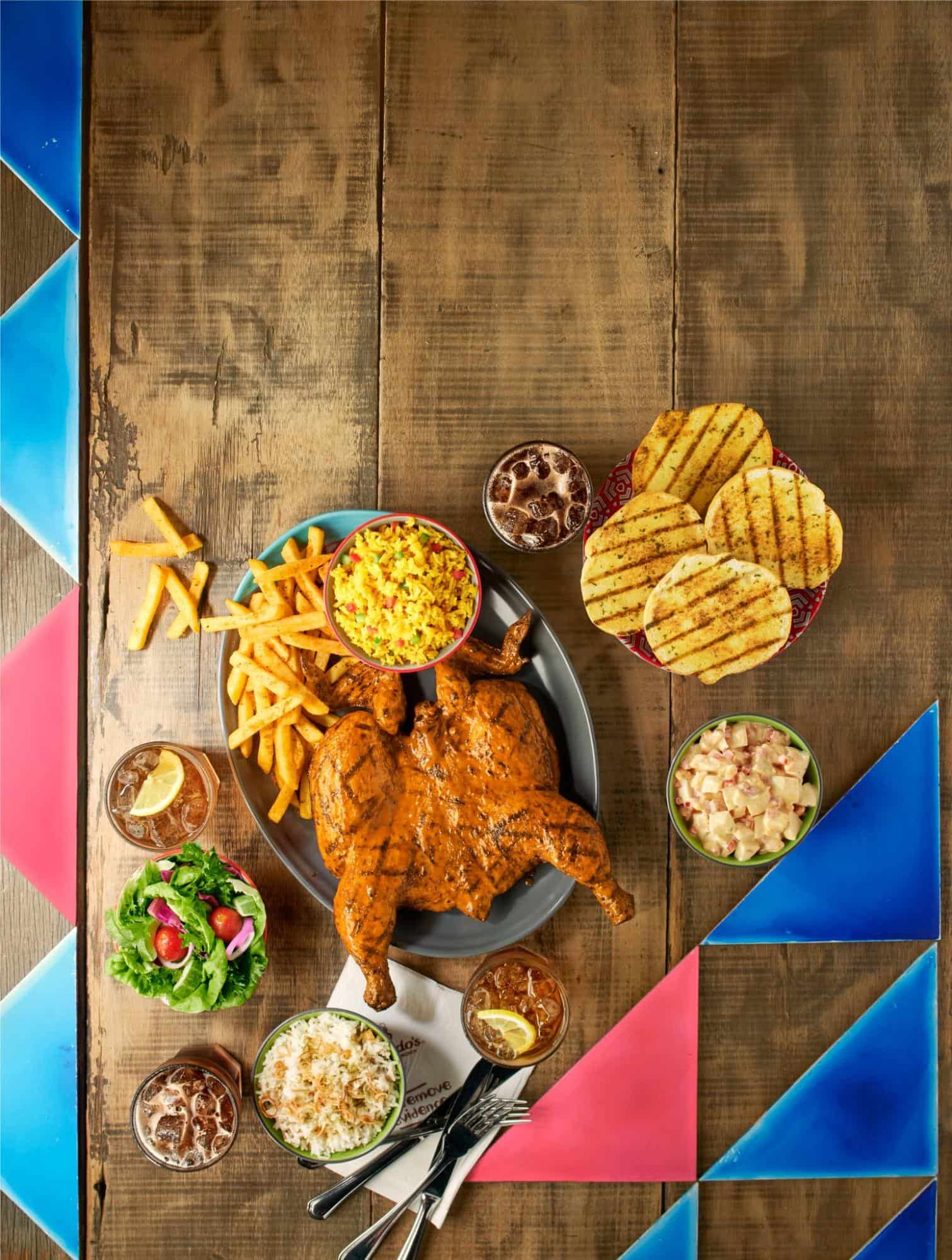 Stop at Nando's for their new limited-edition Soy PERi-PERi flavour that sees a unique Asian-African flavour combination. With their Joy For 4 Platter ($64) you get two PERinaise egg salads, a large garlic bread, one whole chicken, four sides, along with four bottomless Coca-Colas.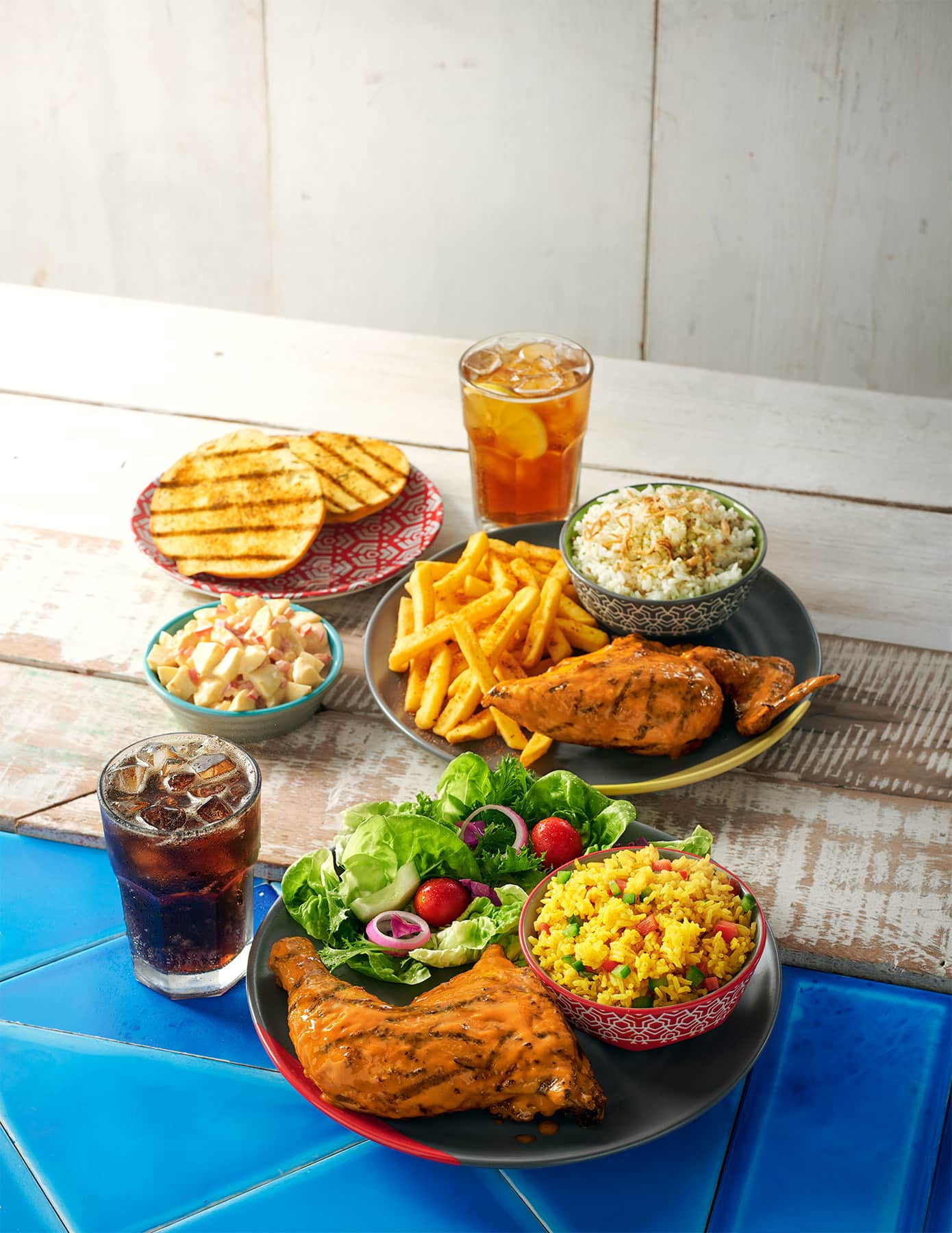 If you're dining here in a small group of two, opt for the Joy For 2 Platter ($40) that includes a PERinaise egg salad, a regular-sized garlic bread, two pieces of quarter-sized chickens, four sides, and two bottomless Coca-Colas. Do note that their Soy PERi-PERi flavour will only be available till 9 January, so mark your calendars if you want to have a taste of this exclusive add-on! 
Unit number: #B1-09 
Opening hours: Daily 11am to 10pm 
Website
Nando's is a halal-certified eatery. 
---
10. Cold Storage 
---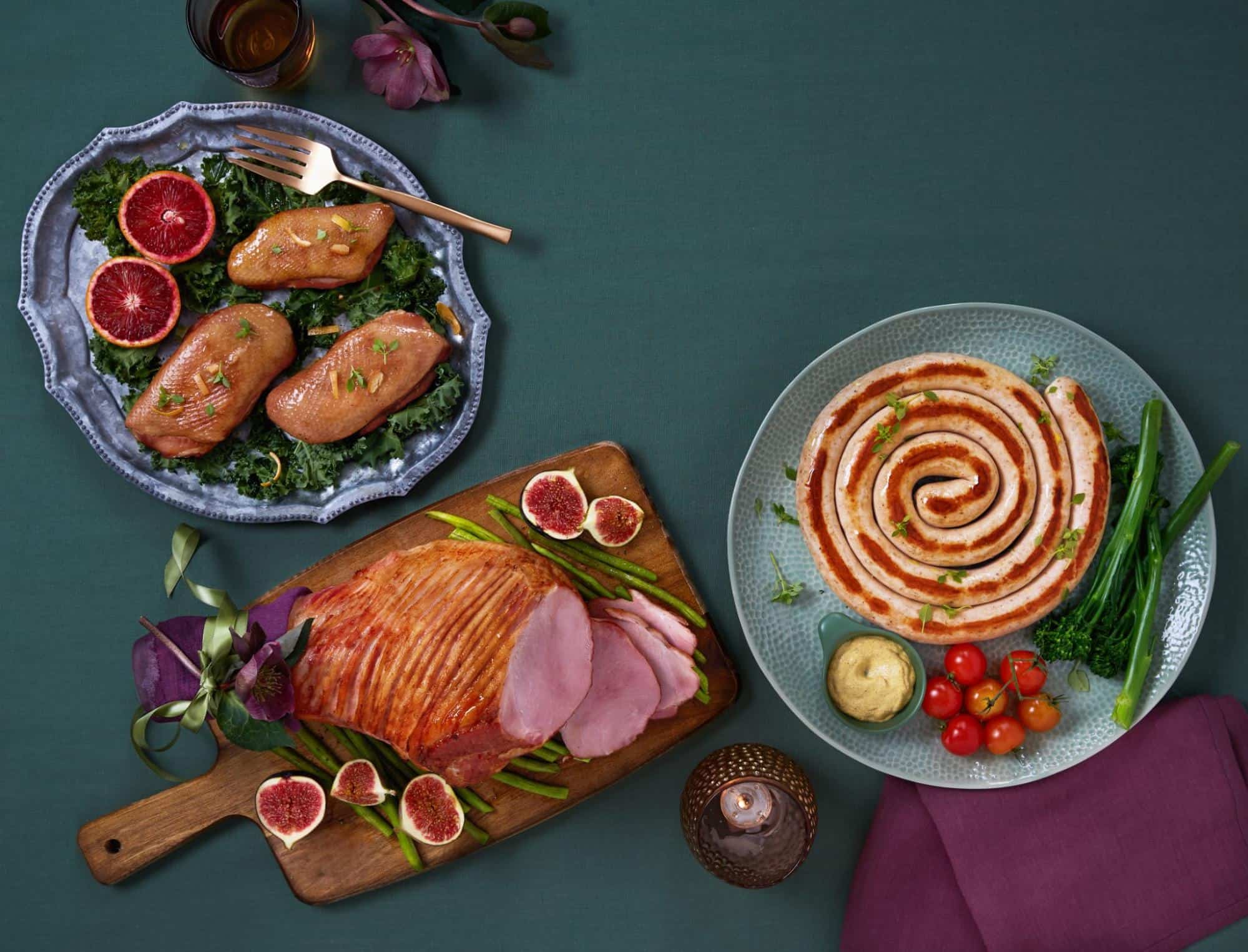 Host a lavish Christmas party in the comfort of your own home with festive-themed items from Cold Storage. Opt for the Scrumptious Christmas Feast ($90) that will serve six to eight of your guests. This includes a large Banjo shoulder bone-in ham, a pork sausage snail with cranberries, a fragrant smoked orange duck breast, and a free cooler bag for you to place your cold beverages in.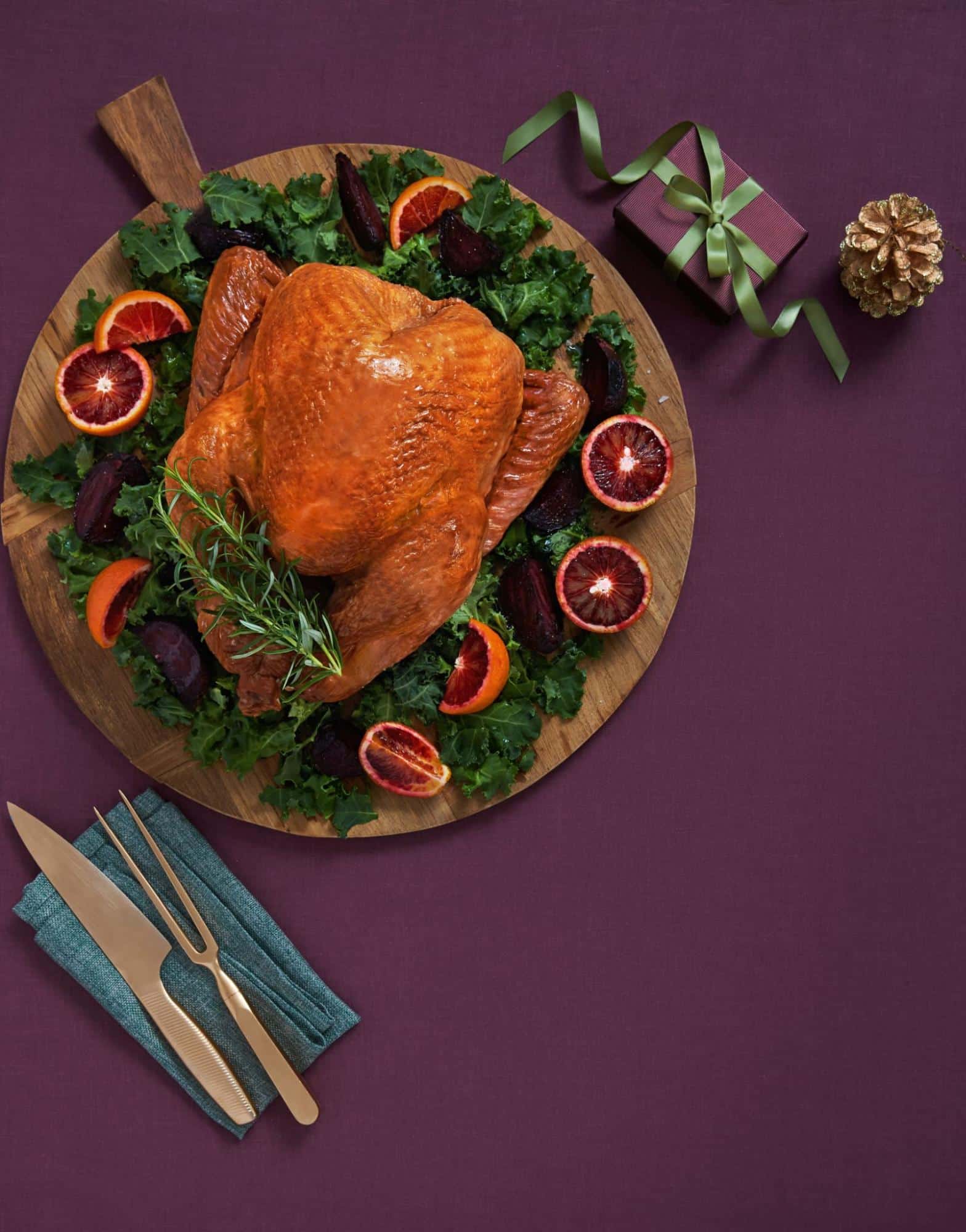 Alternatively, get the Butterball Roasted Turkey ($65) for a whole succulent brined turkey that is great for sharing between friends. Receive a free cooler bag to store your turkeys, especially if you're not planning to consume it on the same day. 
Unit number: #B1-02
Opening hours: Daily 8am to 11pm
Website

---
Promotions at The Star Vista
---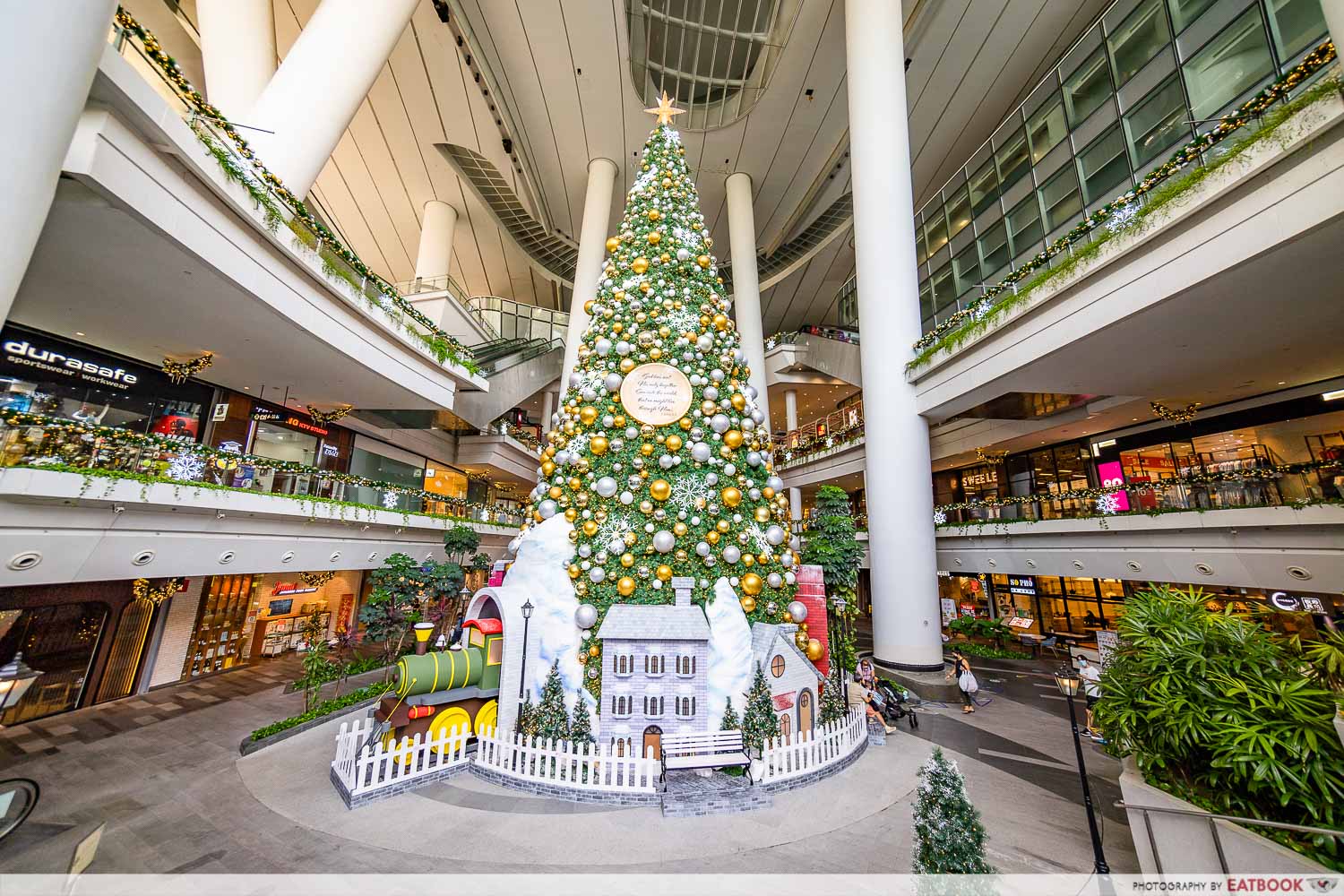 While indulging in delicious food at The Star Vista, you will also get rewarded with a handful of gifts for your spendings. 
From now till 2 January 2022, spend a minimum of $30 to redeem gift wrappers, or spend $100 to receive a $10 gift voucher. Alternatively, spend $80 to earn a card, which lets you can play a game on your phone for a chance to win attractive gifts worth up to $39.  From now until 31 December 2021, you can also enjoy 2 hours of free parking. 
You can also opt to participate in the 12 Days of Pampering Retreats lucky draw, and possibly earn yourself a pampering retreat including hair service, nail spas and more, all worth up to $478.  
Between 13 December and 23 December 2021, simply follow The Star Vista's Instagram page to redeem a complimentary beverage at the Customer Service Counter located at Basement One. Do note that this is only valid from Monday to Thursday, between 12pm to 6pm only.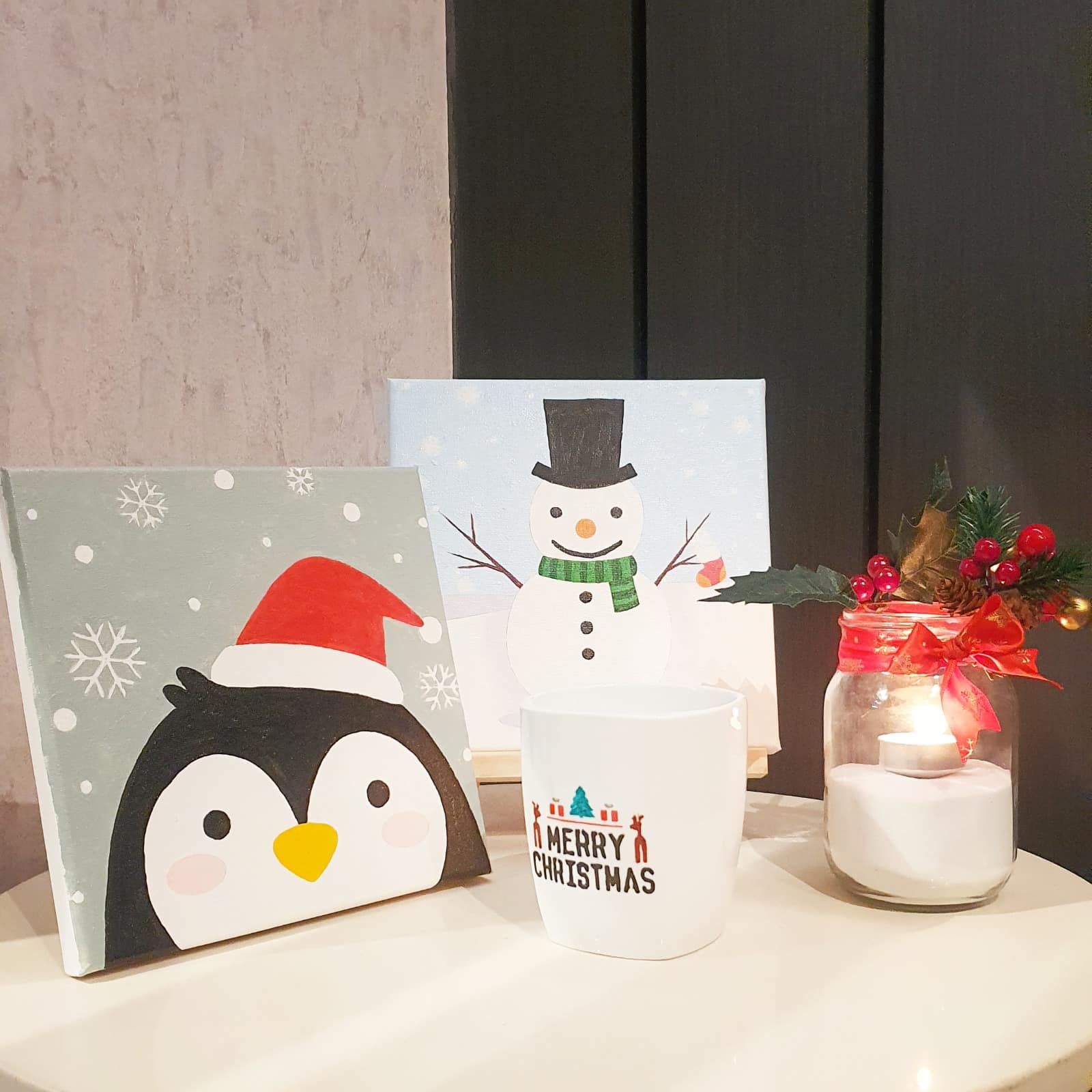 Here's one more easy peasy gift from The Star Vista: shoppers may redeem an exclusive DIY craft kit with a minimum spend of $80 from now till 26 December 2021. 
Terms and conditions apply for all the promotions above. 
Address: 1 Vista Exchange Green, Singapore 138617

Photos taken by John Lery Villanueva.
This post is brought to you by The Star Vista.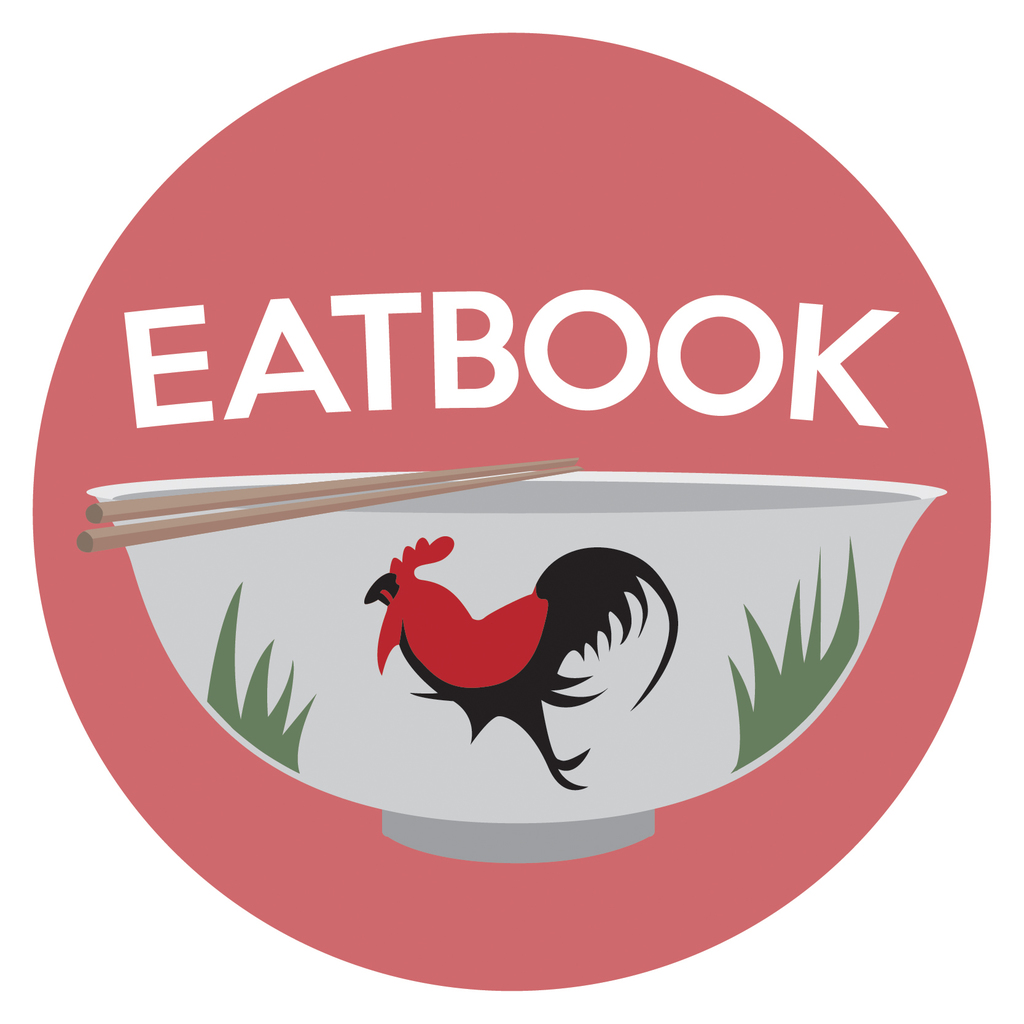 Drop us your email so you won't miss the latest news.