Three Peacocks at Labrador Park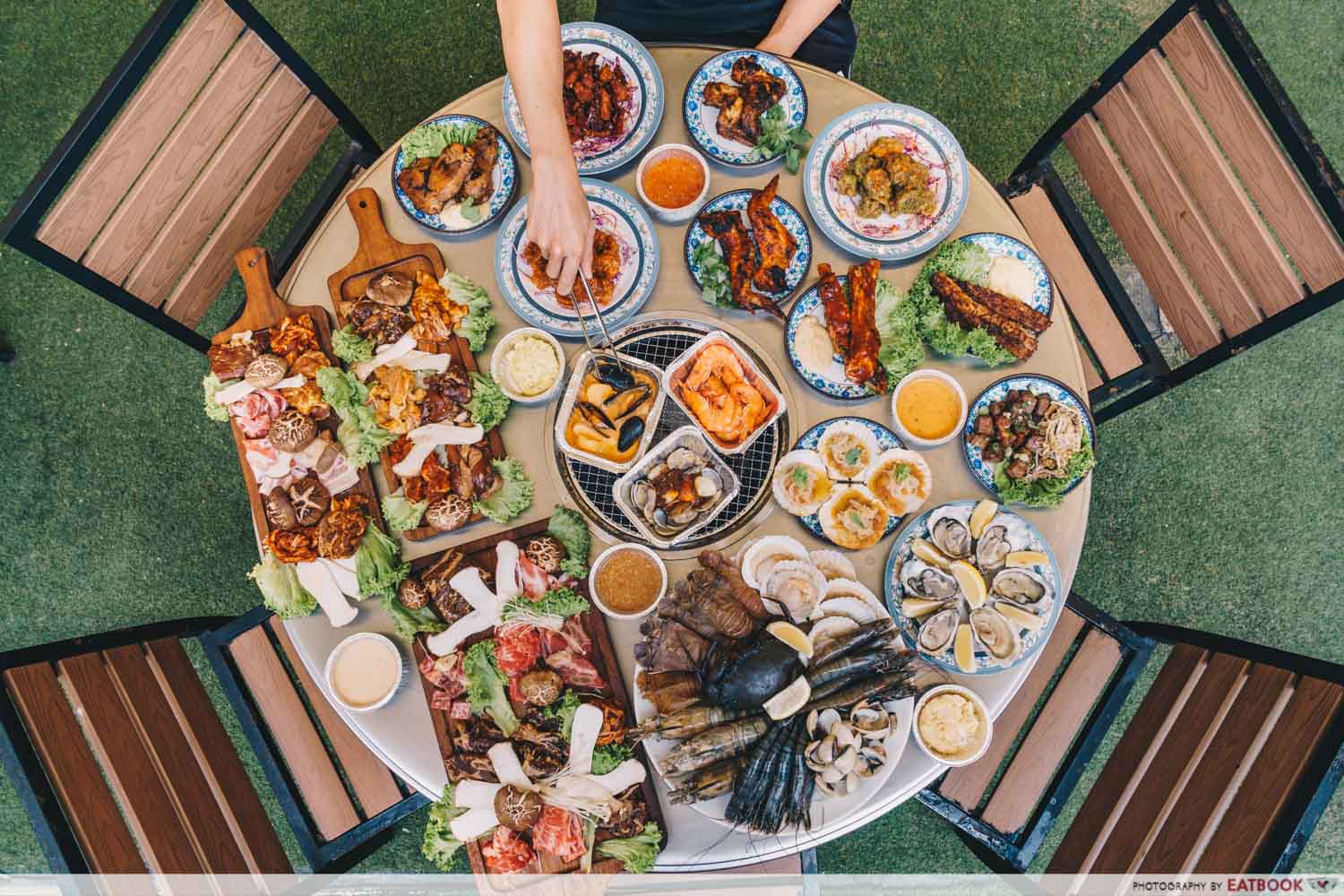 I think of outdoor charcoal barbeques with fond memories of year-end school chalets, spent with my friends over the barbeque grill. Thus, when I heard about Three Peacocks offering the largest outdoor charcoal barbeque buffet in Singapore, I had to go down to relive that experience. 
Food at Three Peacocks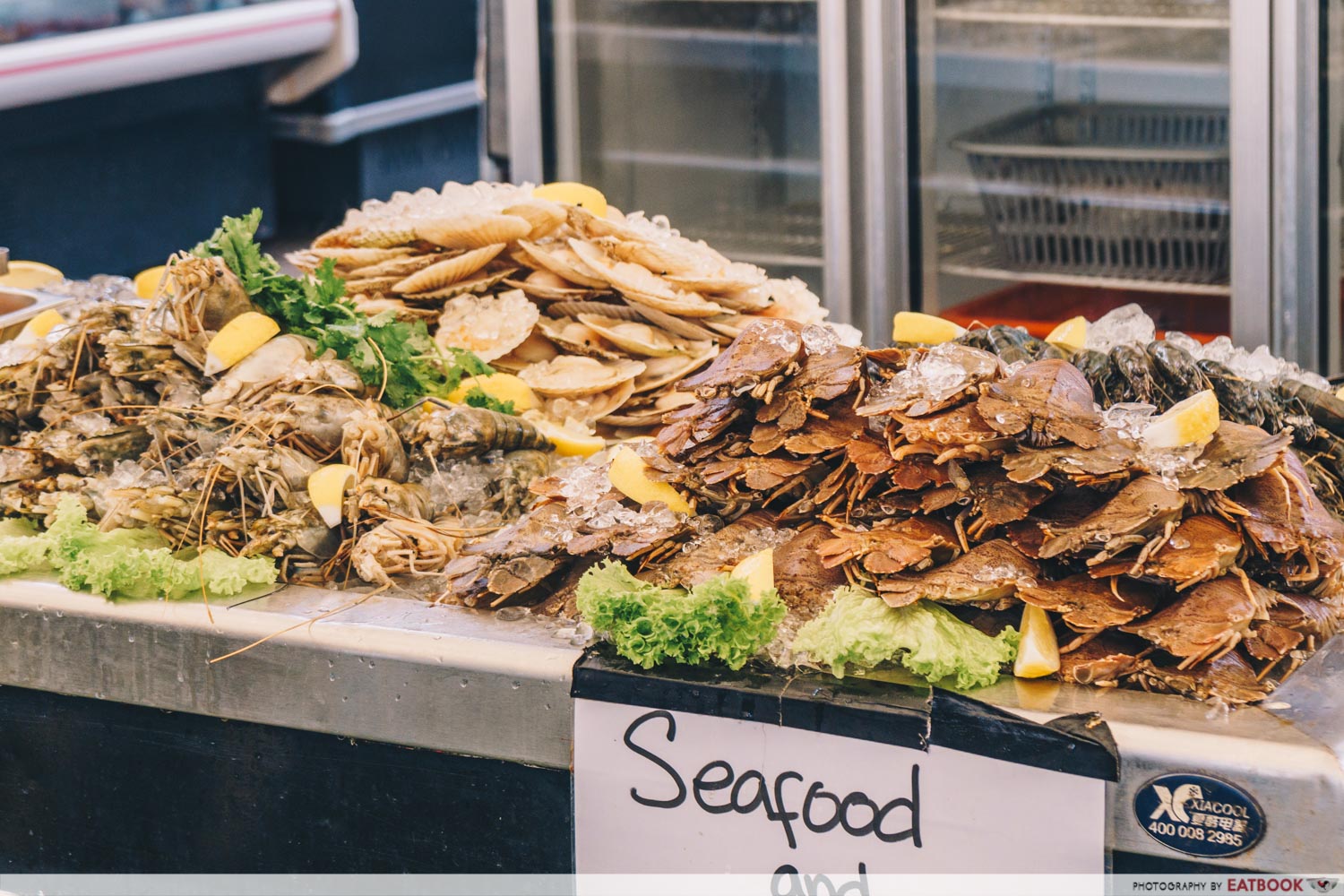 Their standard Peacock Buffet will have a promotional price available till the end of May, priced at $55 for seniors, $56 for adults and $34.10 for children on weekdays. On weekends, public holidays, and the eve of public holidays, there is a $5 surcharge for seniors and children, whereas the adult buffet is priced at $69.90.
Their Peacock Buffet is an international buffet that offers a selection of over 100 menu items. With the scan of a QR code, items that range from free-flow Australian wagyu, black pork, crayfish, to live oysters will be sent to your table. Each diner can also redeem half a Boston Lobster with this offer.
As the sheer variety of ingredients may be overwhelming, they have a seafood welcome platter to get you started.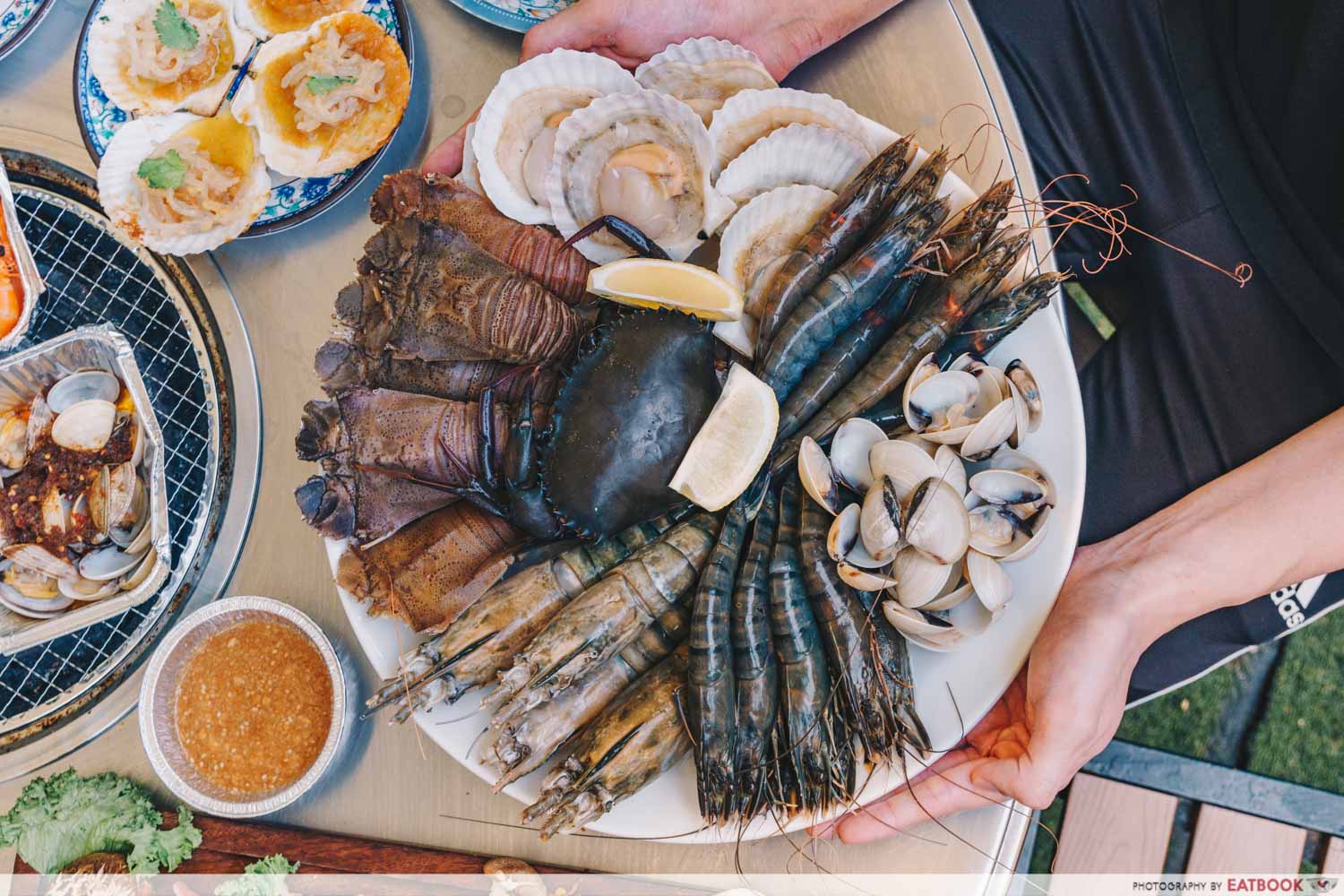 Our platter came with a generous selection of tiger prawns, grey prawns, crayfish, mussels, cockles, and a mud crab. The combination of what is on these platters are decided daily by the restaurant.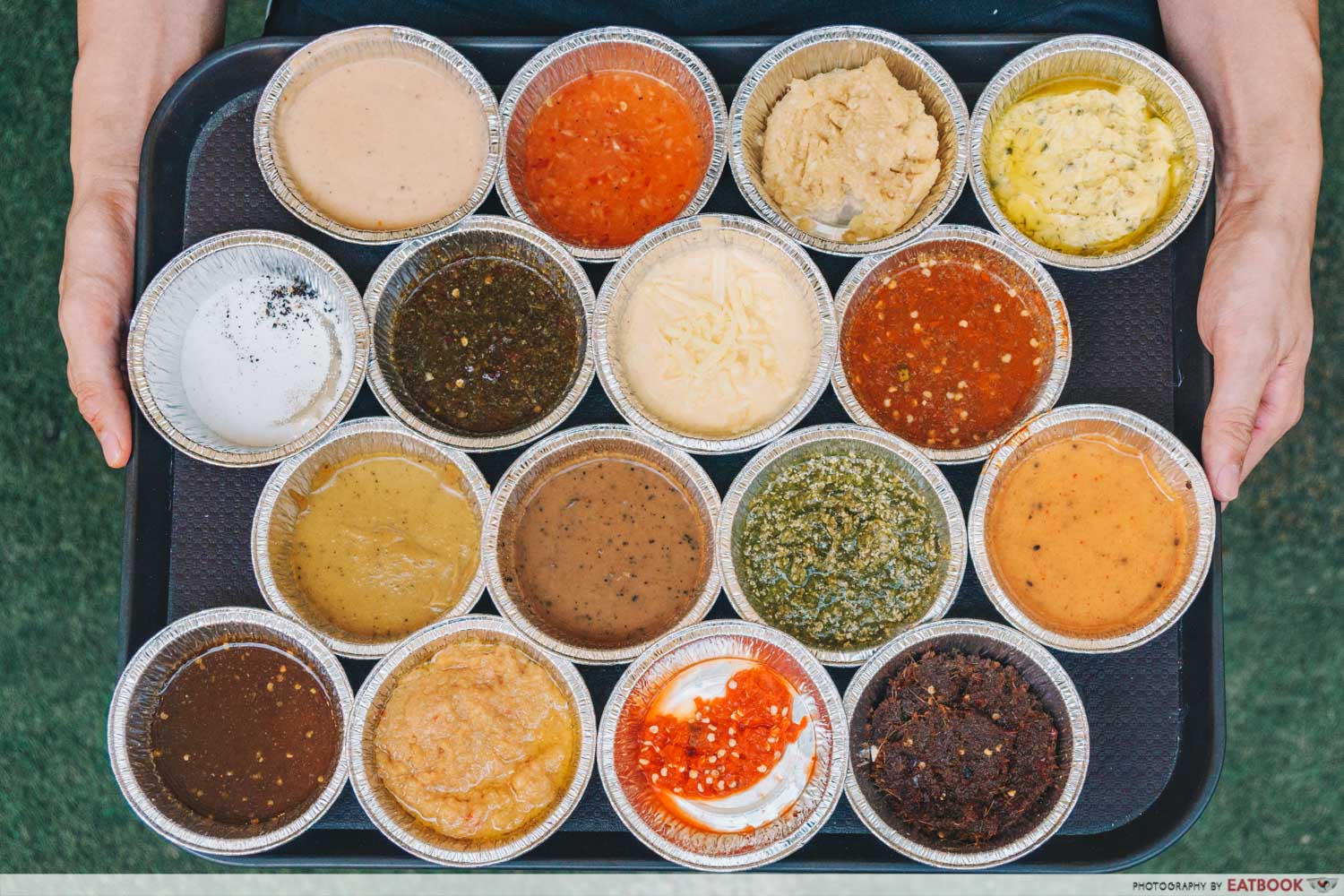 A wide variety of over 20 sauces, concocted in-house, awaits. They are in the process of rolling out new sauces with the aim of catering to an even wider variety of diners.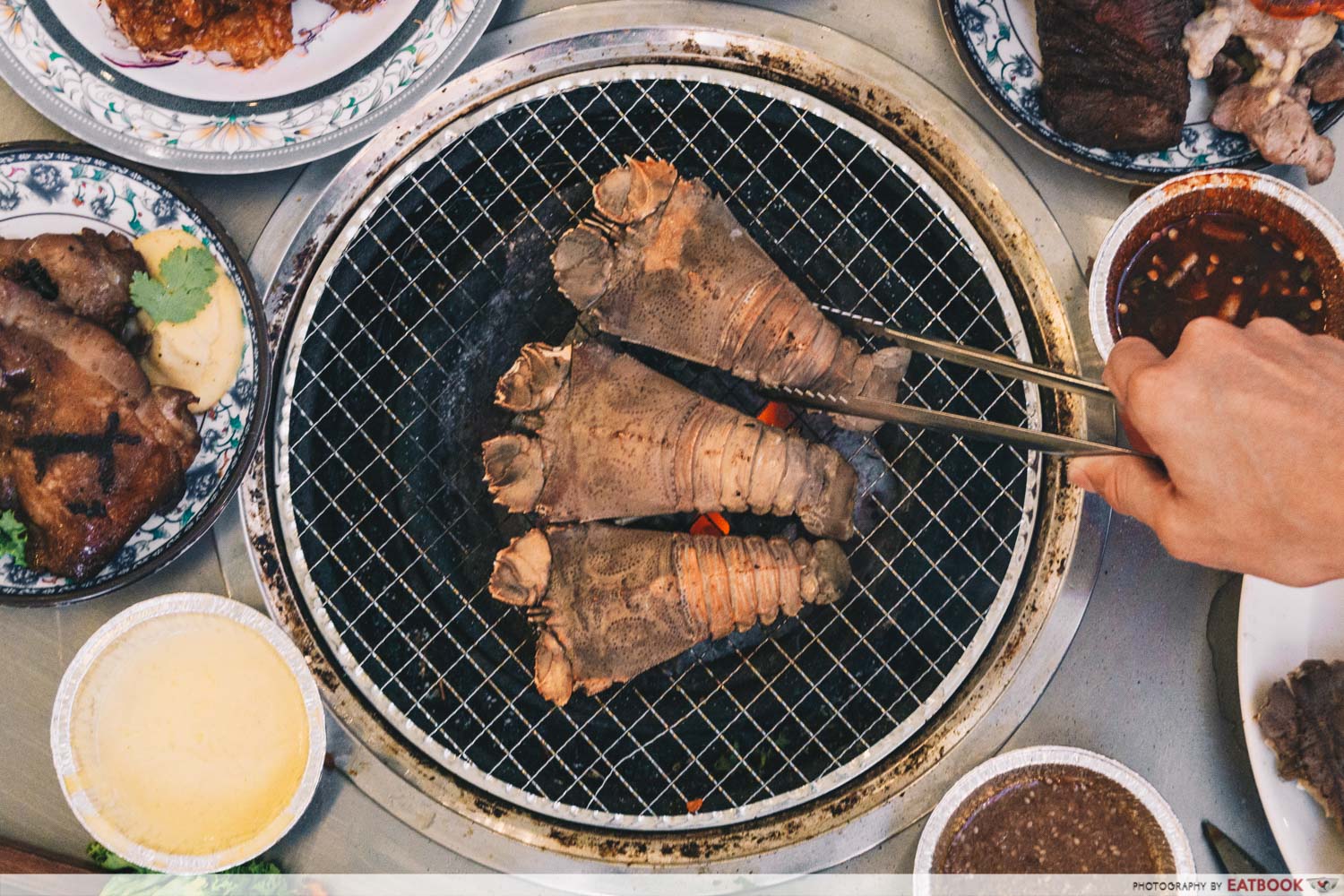 Scissors and tongs are provided as aid for deshelling the crayfish. The crayfish is packed with fresh succulent meat, a bit like extra tender prawns.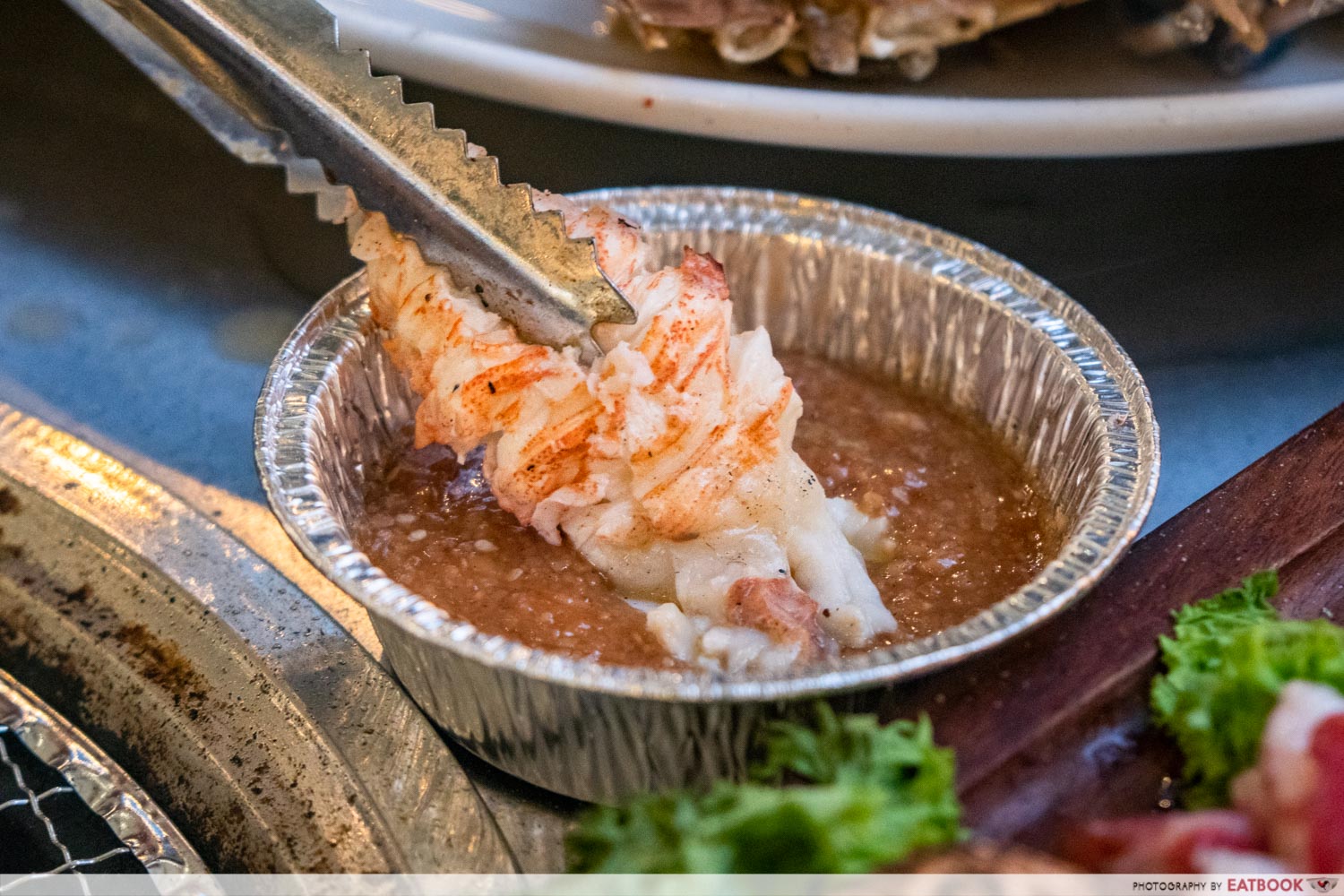 I lightly dipped the crayfish flesh in the tangy Special Peanut Sauce, which is quite different from the satay peanut sauce I am used to. This was much lighter and complemented crayfish with its zestiness.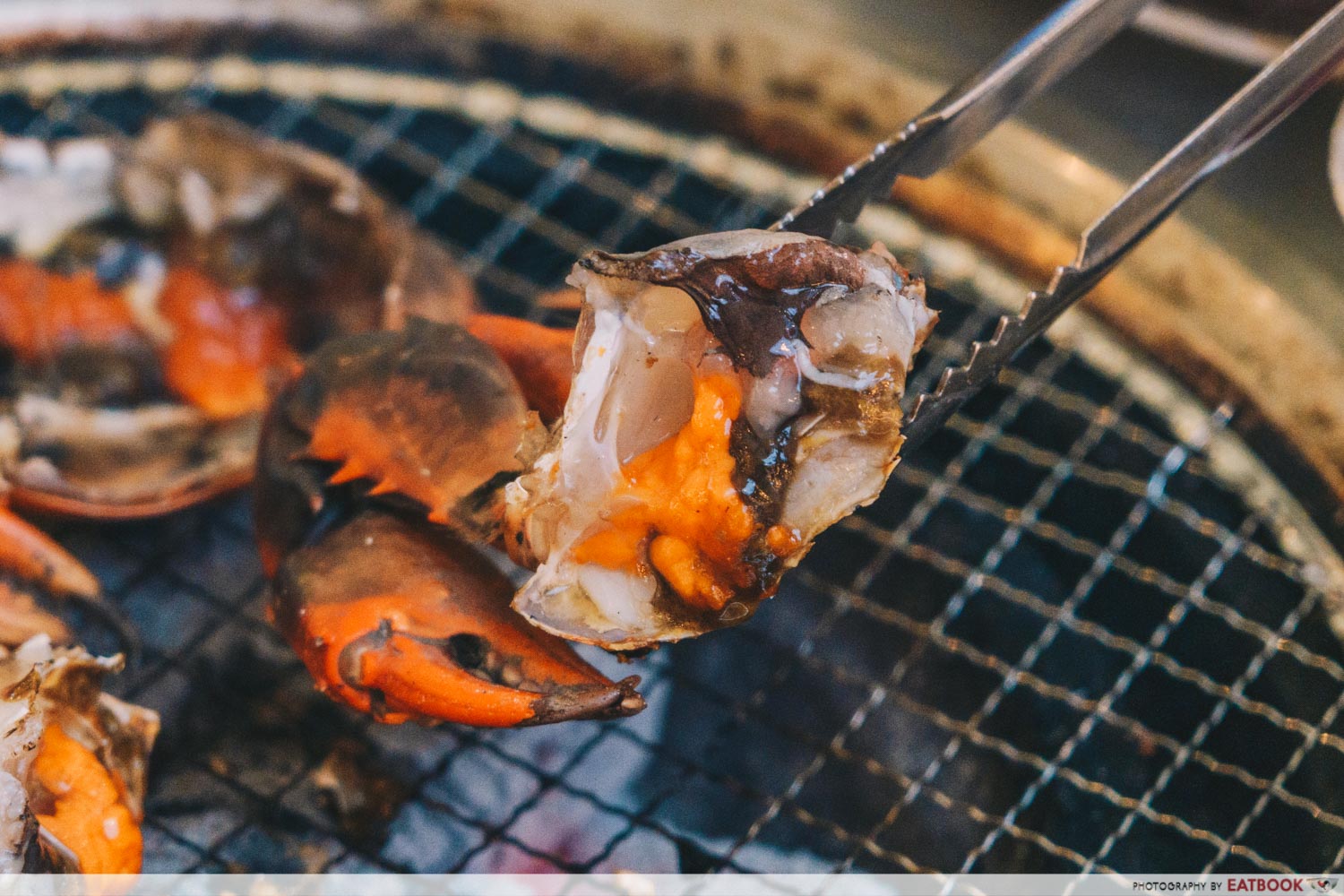 The Live Mud Crab opened to reveal copious amounts of creamy orange crab roe that has a fresh briny taste.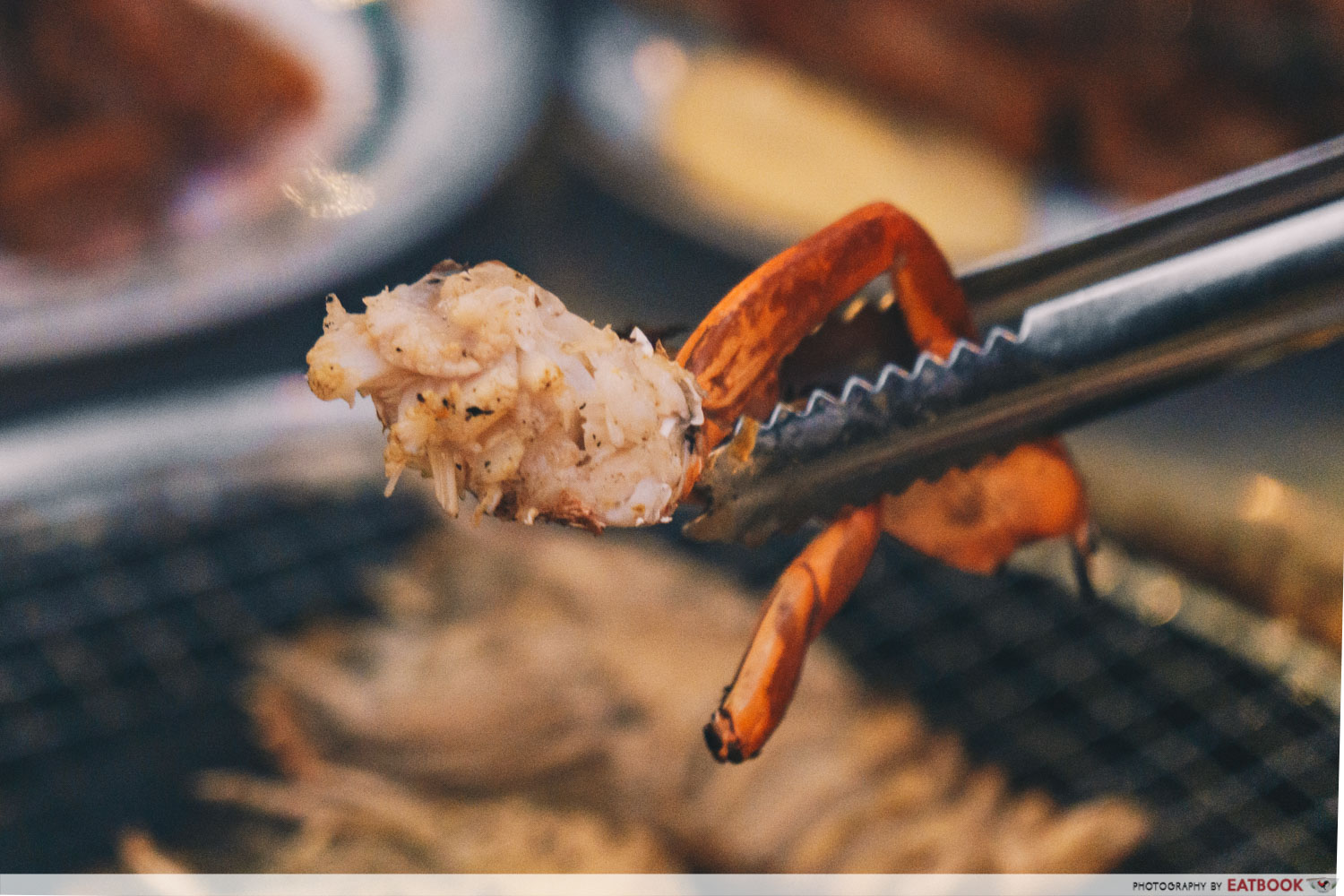 With the rest of the crab, it's a game of delayed gratification, as hidden beneath the shell is tender and sweet meat that stays fresh even after grilling.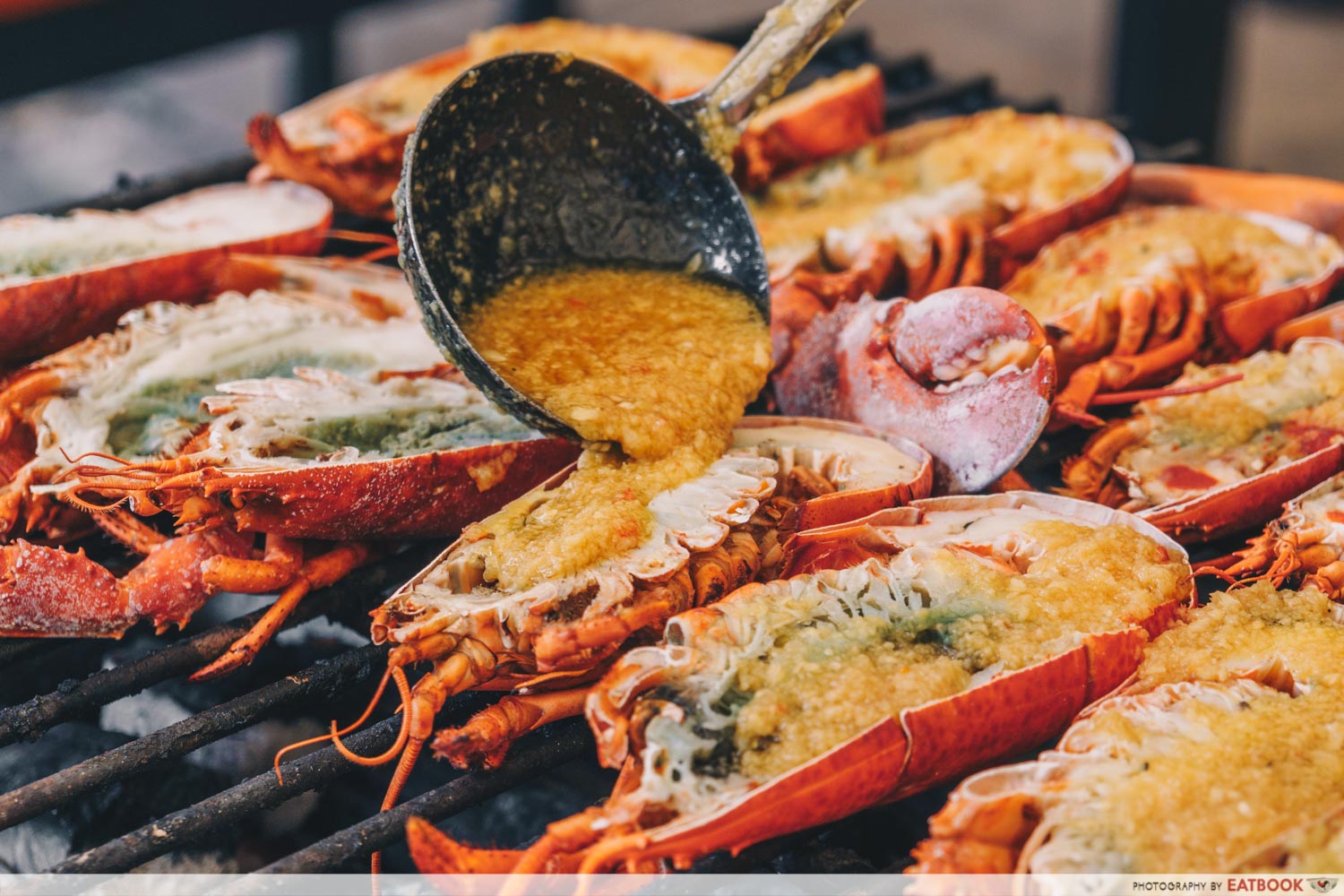 The Half Live Boston Lobster was prepared over an open fire grill, and dressed with Three Peacock's own special garlic sauce. The sauce tasted light despite being garlic-based, and complimented the lobster well without masking any of its natural sweetness.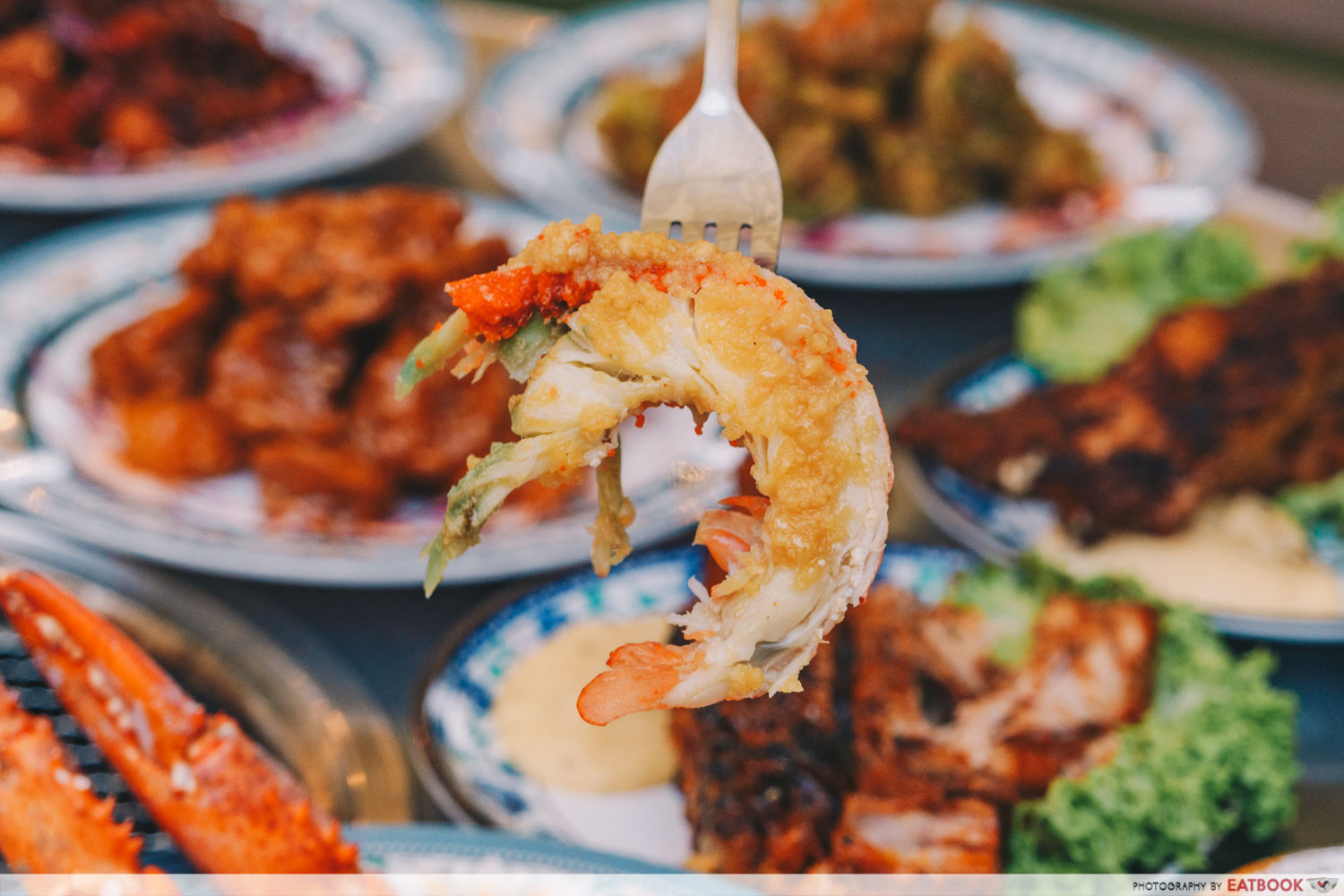 I easily extracted the whole lobster tail with a fork, as it was firm and plump.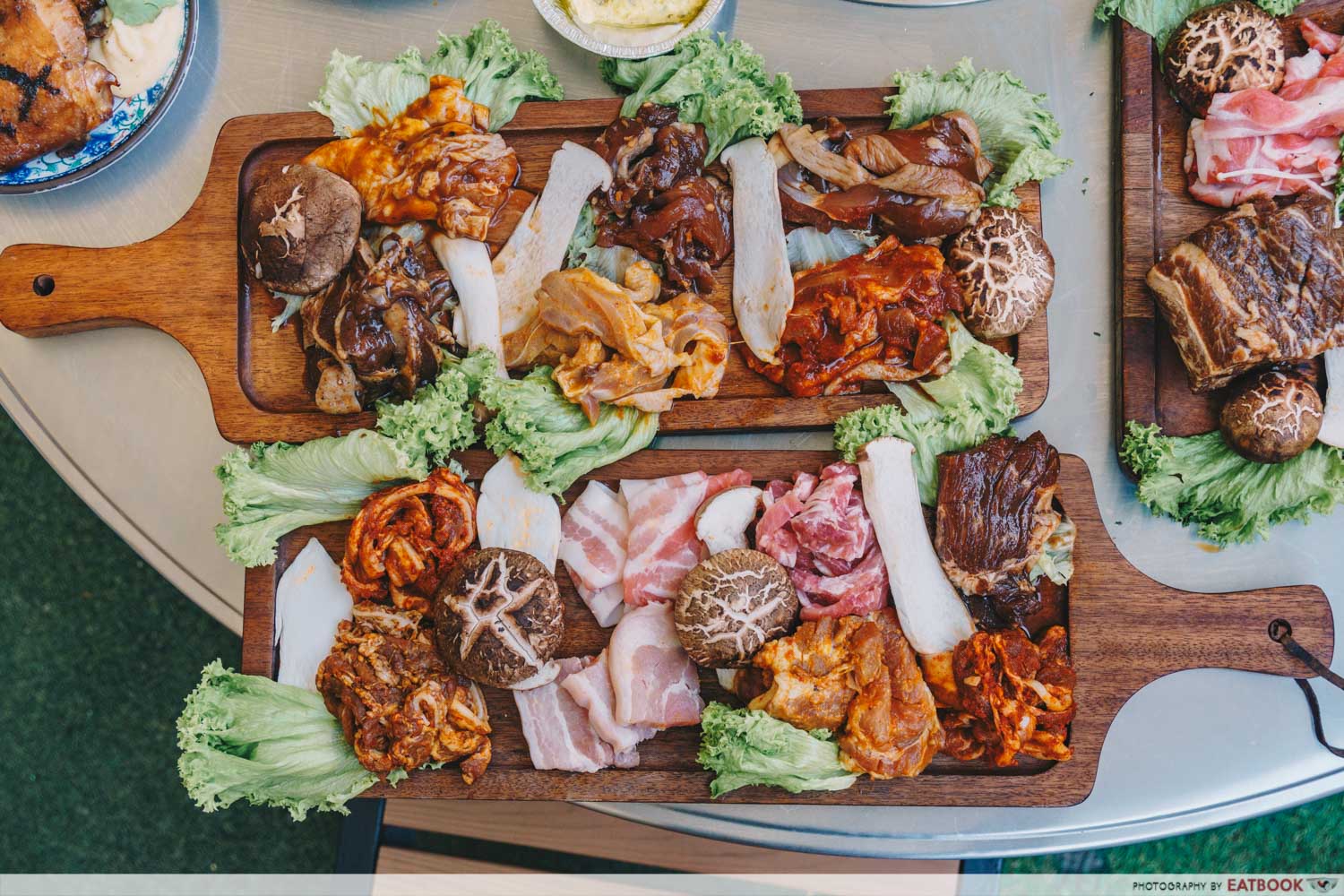 Meat orders are served as a platter on a wooden serving board, with different flavours of meat seperated with garnishings of lettuce and mushroom.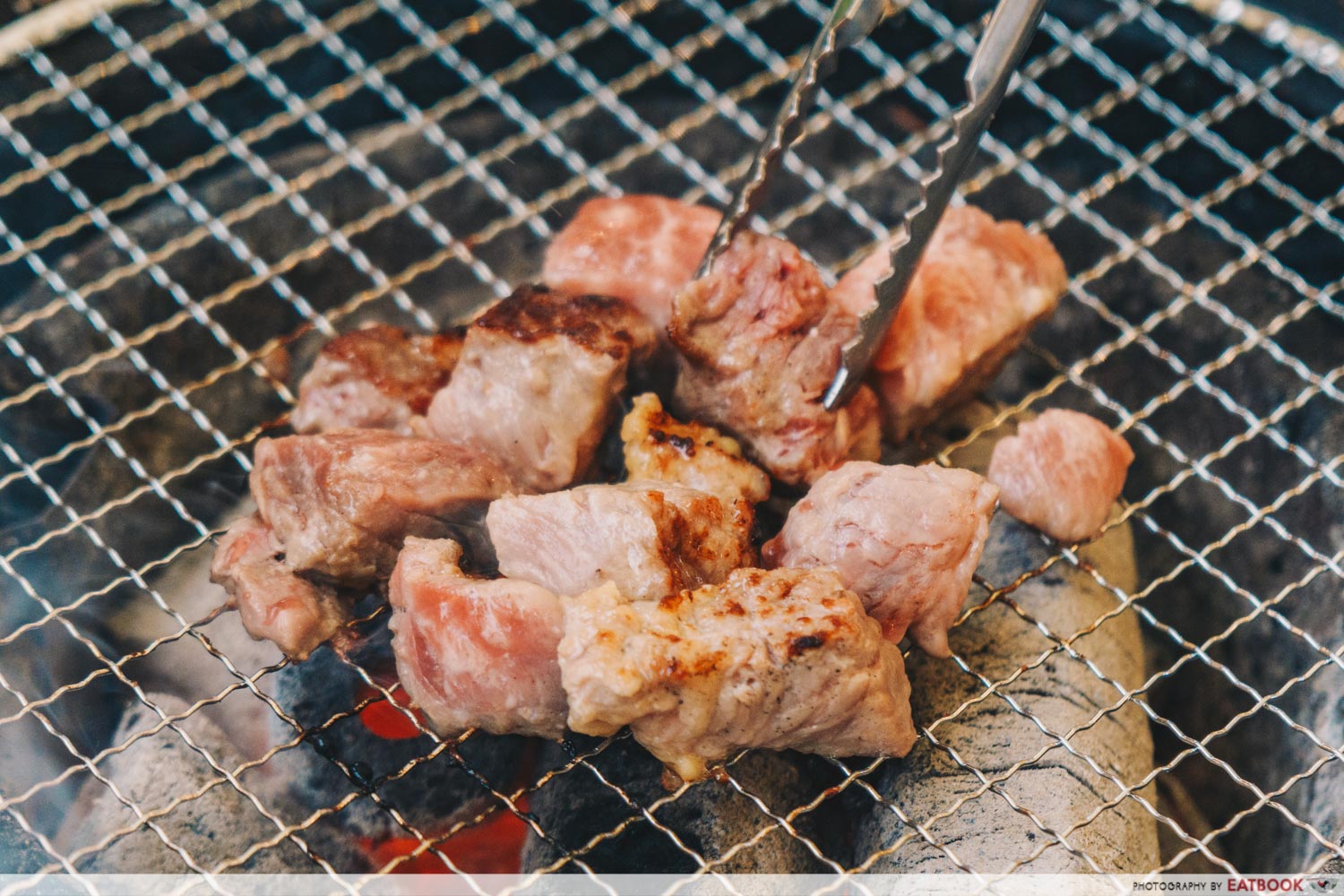 The Australian Wagyu Cubes here bore the premium beef's characteristic marbling. Though it was bite sized, it was densely packed with beefy flavour.
Be attentive with the wagyu cubes. I learnt this the hard way as mine quickly melted and got stuck on the grill. Crispy wagyu does not make sense at all.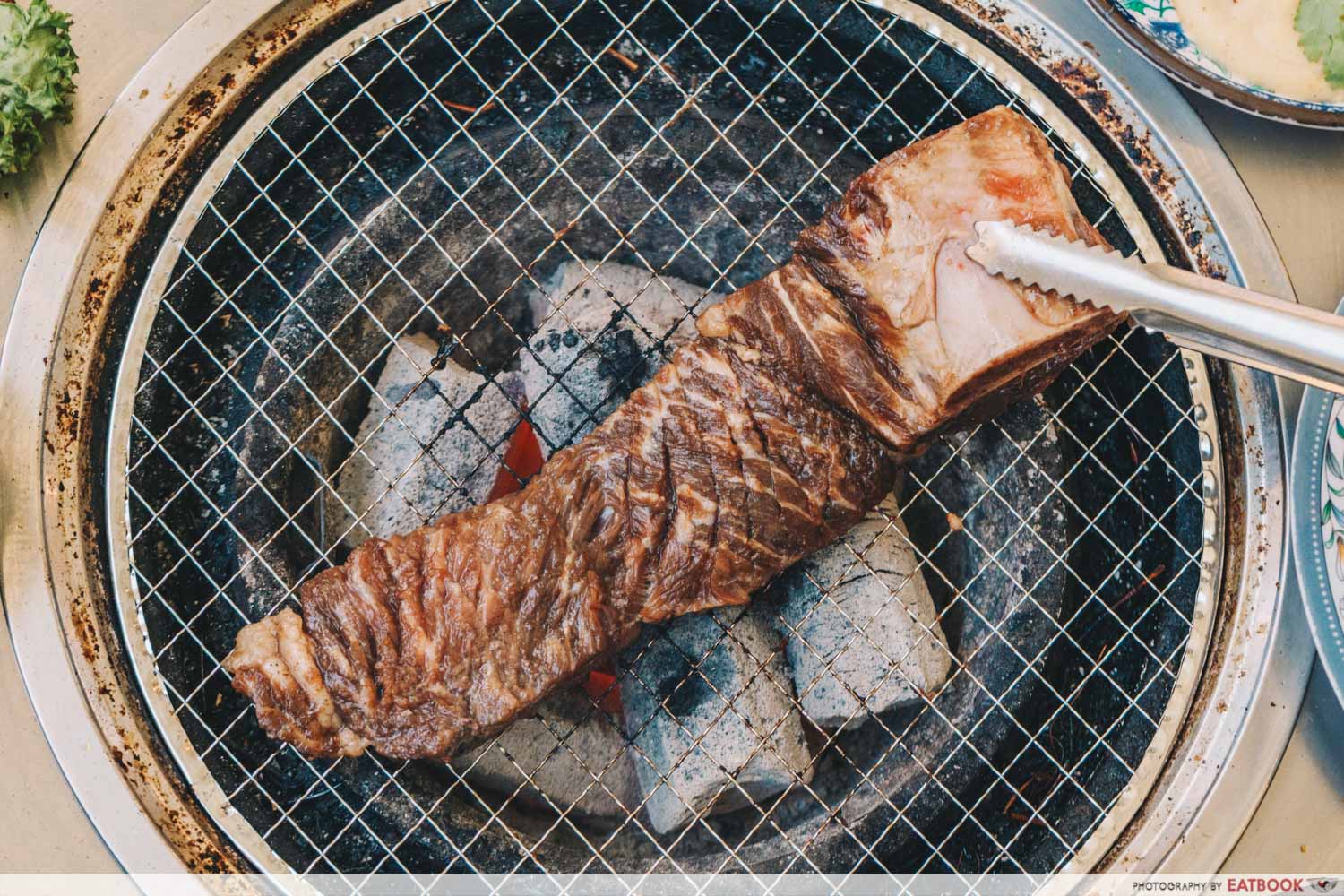 Thanks to the scoring, the Korean Marinated Big Bone Galbi Gui unrolled satisfyingly over the grill. This also helped the meat achieve an even cook.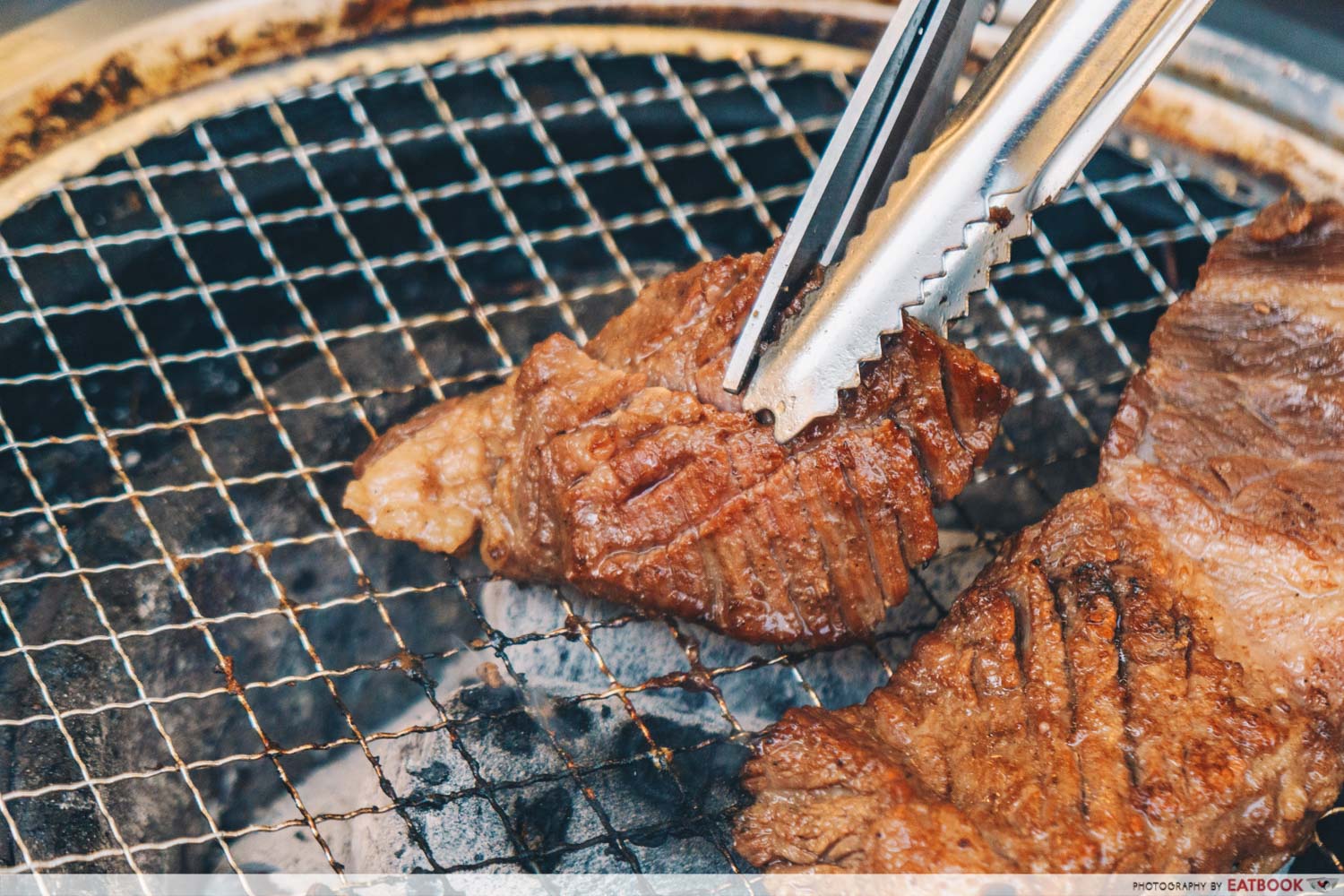 The meat was not as tender as I would have liked, although I might have left it a touch too long on the grill. However, it still carried a combination of savoury and sweetness from the marination. Though it was a tad sweet for my liking, I thought it was good for variety.
For those who prefer a less DIY approach to your buffet experience, Three Peacocks offers an equally large variety of cooked food that ranges from Japanese teppanyaki style dishes to a wok specialties selection.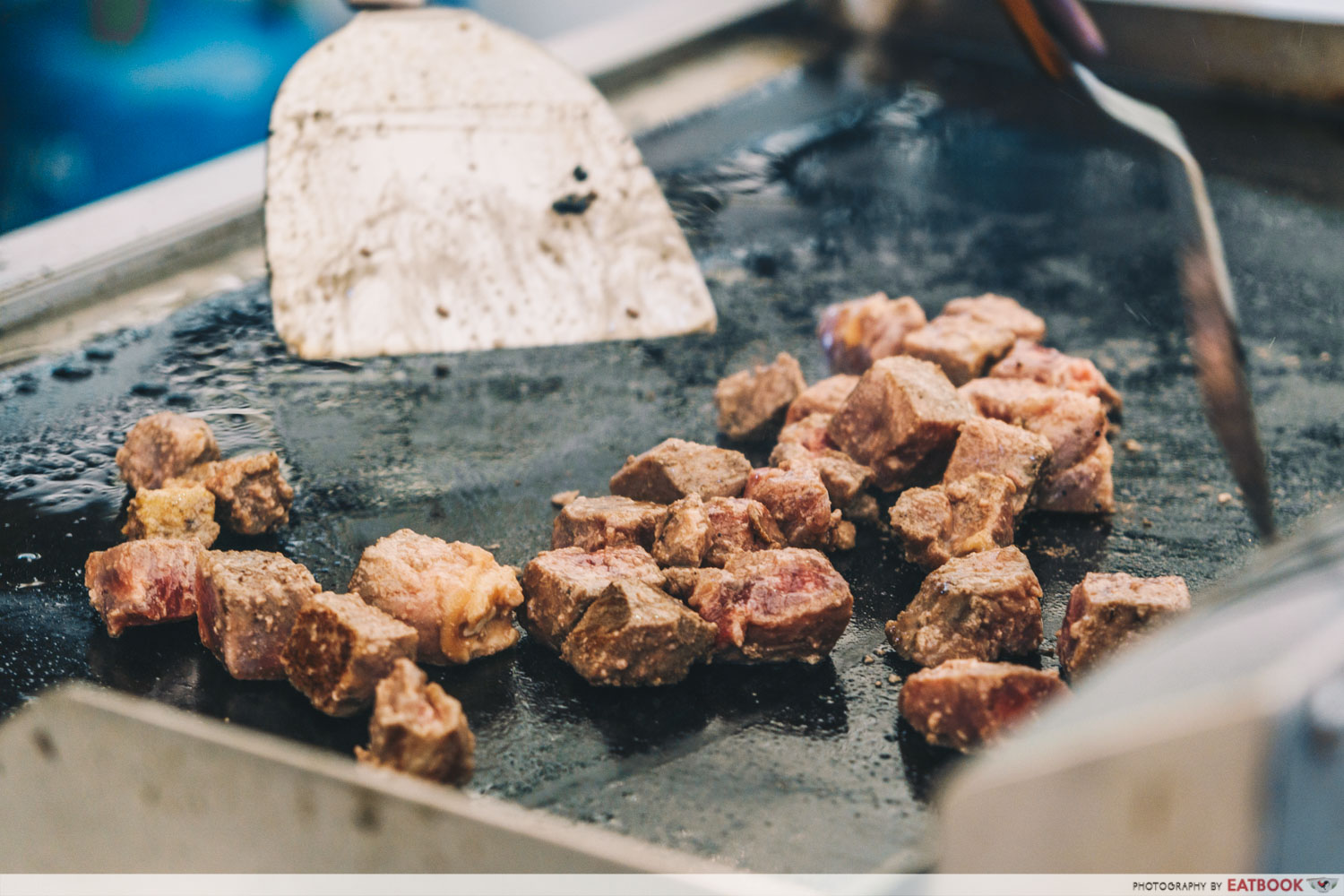 For teppanyaki, choose from a selection of pork ribs, cajun wings, marinated ribeye, and more. Feast your eyes as the chef rhythmically grills the teppanyaki at the live station.
My favourite out of all the meat options is their Sukiyaki Tenderloin Beef Cubes.They remained tender and juicy, even though I was so engrossed with grilling raw meat that I almost forgot about them.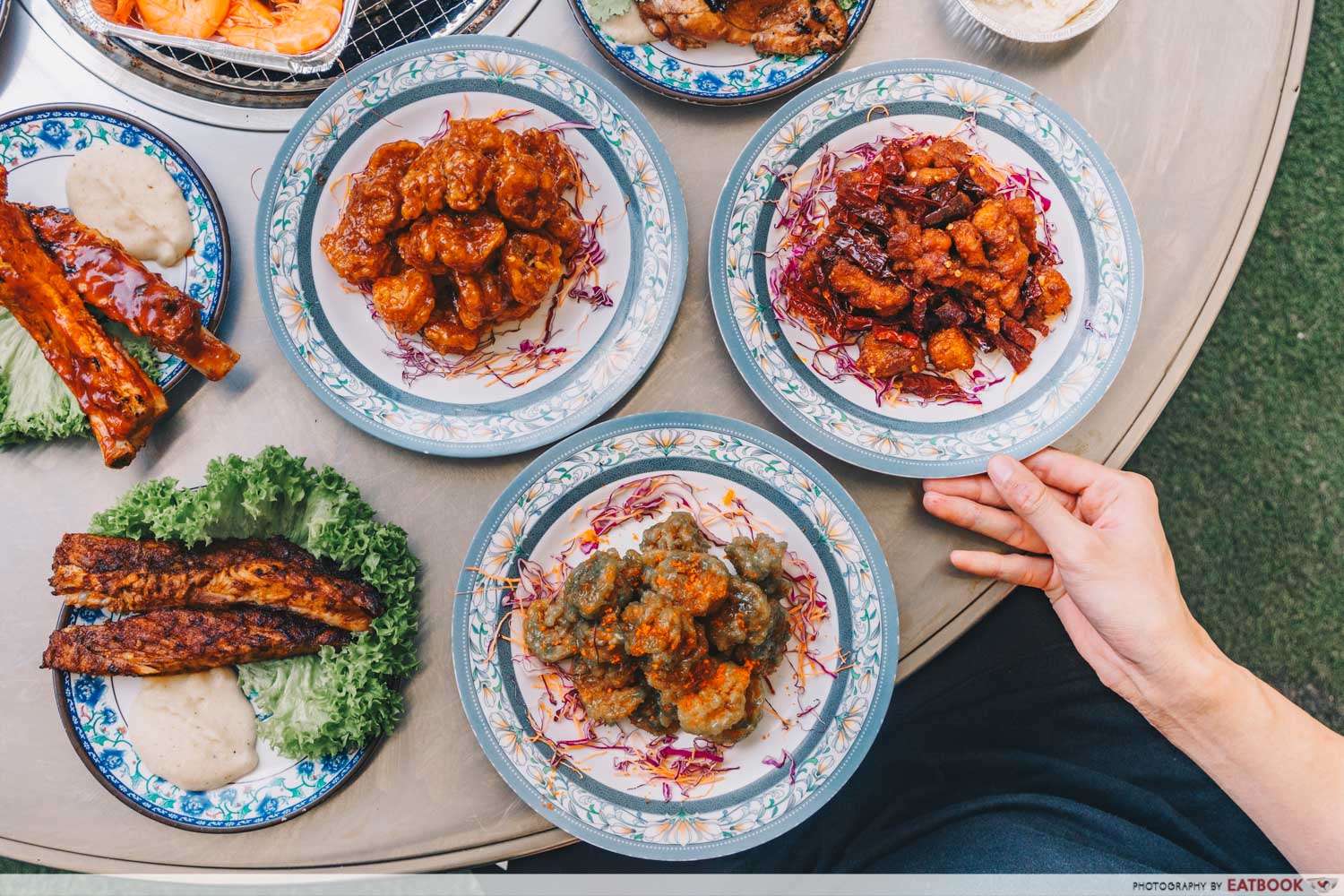 Wok specialties, better known as zi char, represent a homely feeling for Singaporeans, and that's why diners at Three Peacocks still gravitate towards the selection, despite being here for a barbeque buffet.
There are over 10 zi char items to choose from, including Satay Pork Cubes, Wasabi Mayo Prawn Ball, Sambal Fried Rice, and more.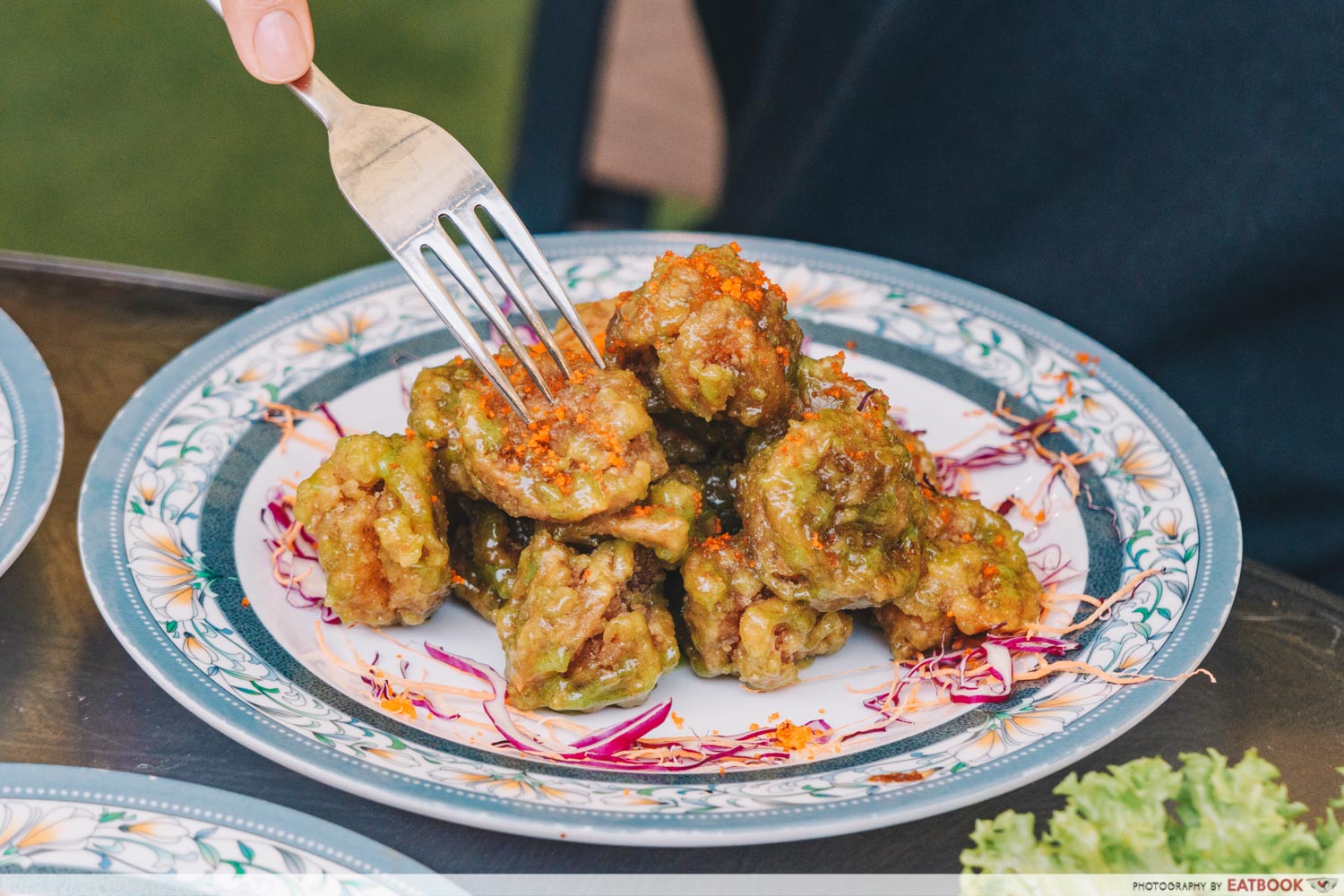 Though I didn't receive the stinging spicy kick from these Wasabi Mayo Prawn Ball, the umami and chew made them as addictive as potato chips. I couldn't stop reaching for these as the other items were being cooked.
Apart from the Peacock Buffet, Three Peacocks is also launching an all-you-can-eat meat buffet, priced at $38.50. Other than meat options, this buffet includes live station food and the option to redeem half a Boston lobster as well.
Ambience at Three Peacocks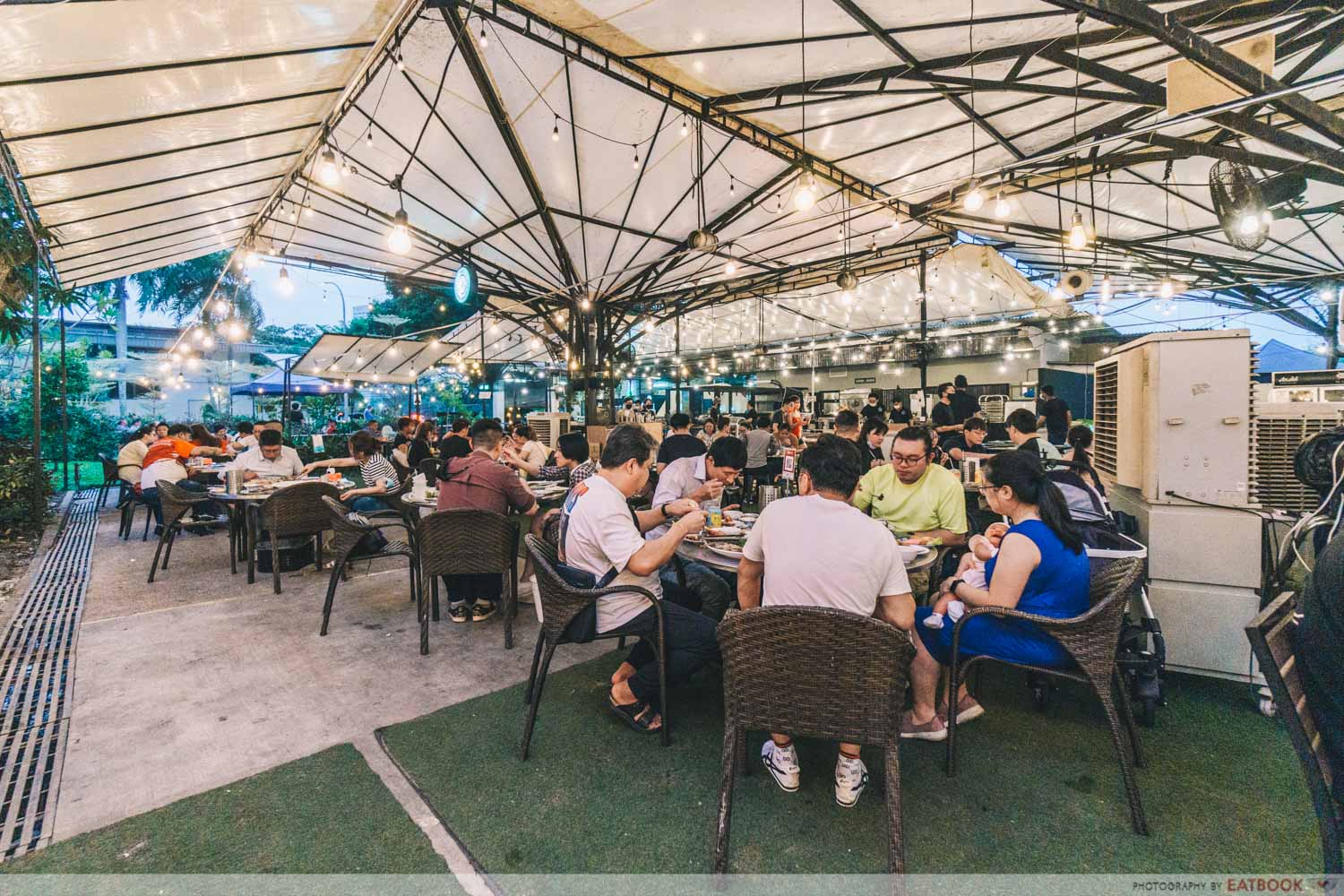 Located at a 12-minute walk from Labrador Park MRT Station, the eatery might not be the most accessible, although they do provide shuttle bus services from Labrador Park MRT Station Exit A.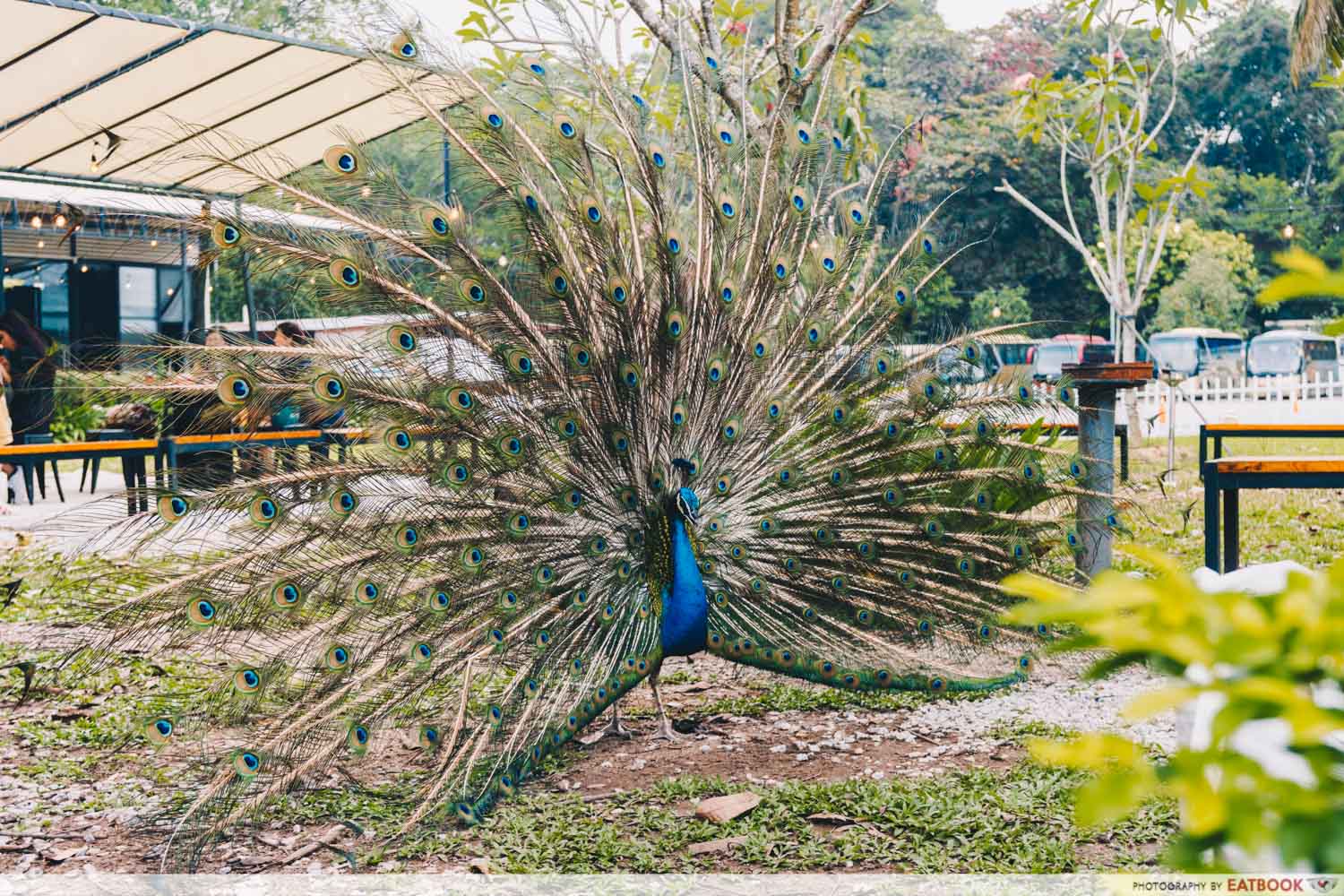 The advantage of the seclusion is that you will be rewarded by a laid back and relaxed atmosphere, with an added bonus of being able to watch resident peacocks strutting around. 
It can get very crowded during meal times. If you enjoy outdoor dining, the eatery makes for a lively communal atmosphere similar to an outdoor barbeque party.
The verdict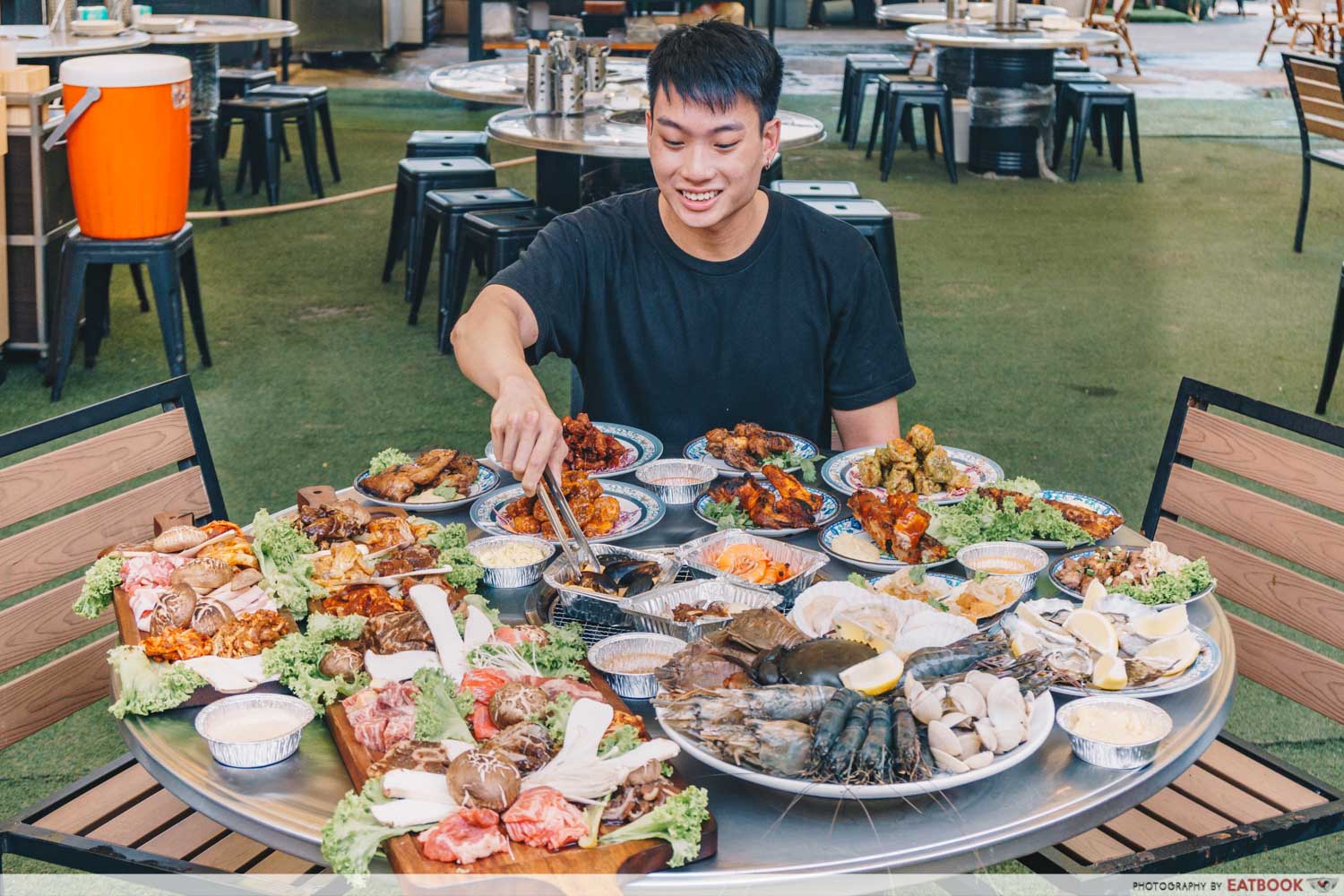 Considering the sheer variety of food and the impact of the pandemic on operating procedures, the staff at Three Peacocks may come across as overwhelmed, thus compromising the service of the place. That, however, doesn't overshadow the quality of the food and the unique ambience that you will be hard-pressed to find anywhere else, especially at this price point. 
For more food nearby, check out our Labrador Park food guide.
Address: 8 Port Road, Labrador Park, Singapore 117540
Opening hours: Daily 5pm to 11pm
Website
Three Peacocks is not a halal-certified eatery.
Photos taken by John Lery Villaneuva.
This post is brought to you by Three Peacocks.
Three Peacocks Review: Singapore's Largest Outdoor Buffet Has Free-Flow Australian Wagyu And Live Seafood
Three Peacocks Review: Singapore's Largest Outdoor Buffet Has Free-Flow Australian Wagyu And Live Seafood -

7.5/10
Summary
Pros
– Wide variety of food
– Ingredients were fresh
Cons
– Dining area can get warm
Recommended dishes: Wagyu Cubes, Wasabi Prawns, Boston Lobster
Opening hours: Daily 5pm to 11pm
Address: 8 Port Road, Labrador Park, Singapore 117540