---
Dinner theatre for foodies
---
Update (4th April 2019): Wagokoro Hide Yamamoto has permanently closed.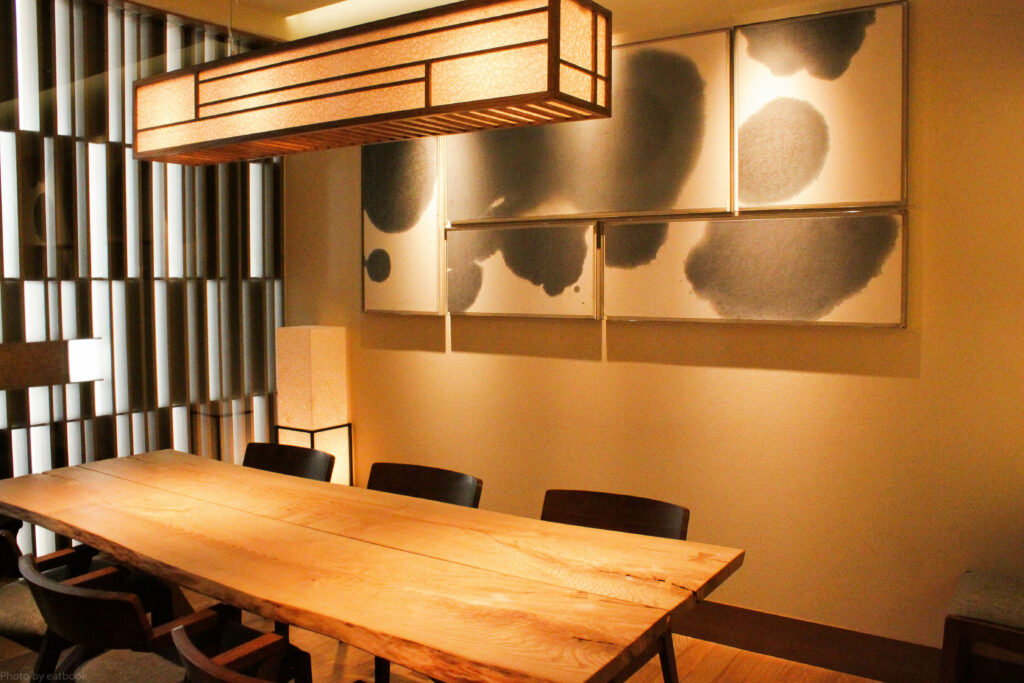 For me, Japanese over the counter restaurants have always felt intimidating. You sit on a tiny chair as the chef watches your every move and judges every micro expression on your face as you take a bite into his precious work of art. And god forbid if you're someone who isn't accustomed to traditional Japanese dining and mix your wasabi into the soy sauce!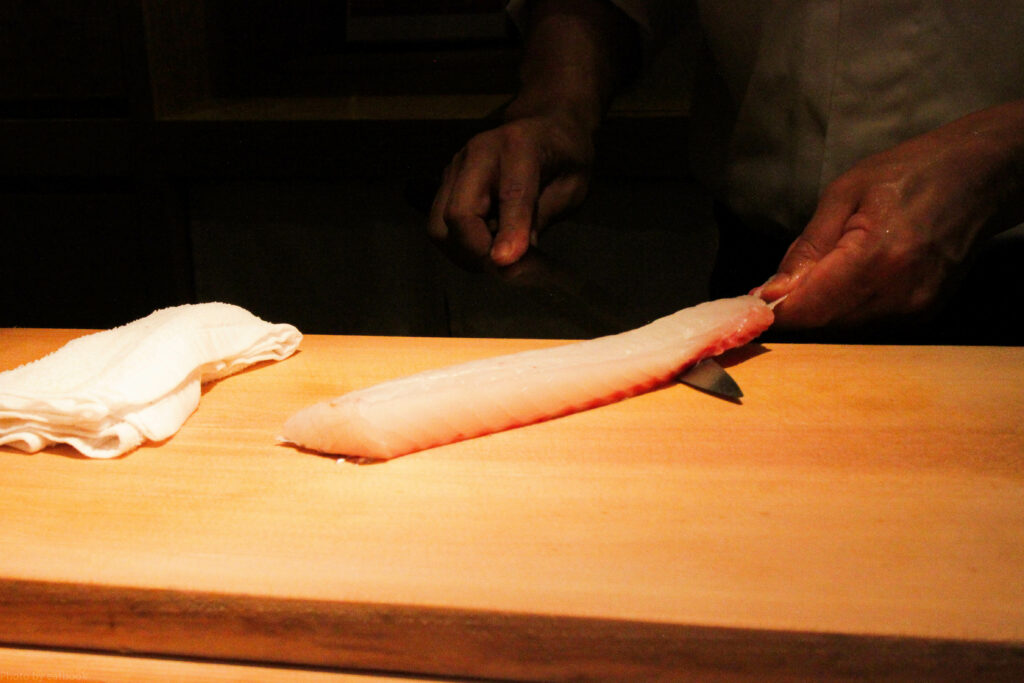 But my fears were quickly dismissed. I felt like I was guided through the experience instead of being intimidated every step of the way. While it is a Hide Yamamoto concept, the chef overseeing the restaurant is a native of Kyoto and so are most of the ingredients used during our meal. From eggplants to specialty peppers, each ingredient represented a special element of Kyoto's produce and unique agricultural practices.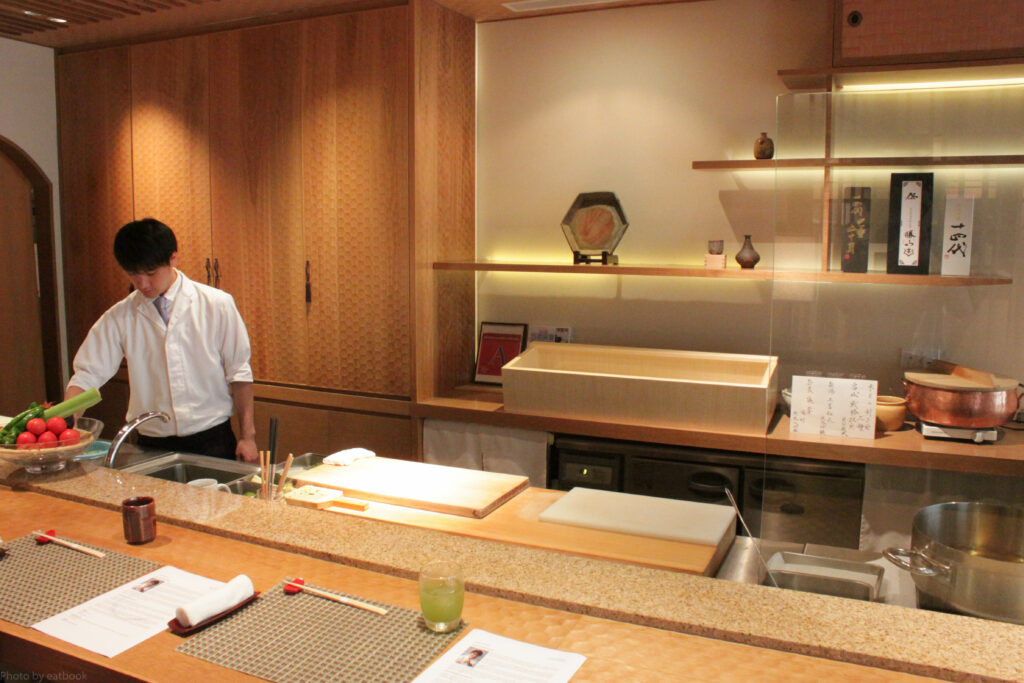 After oogling at the various expensive looking and totally amazing knives, we dived into the Ayame dinner menu ($158) experience.
---
Pumpkin Mousse topped with Okura Walnut
---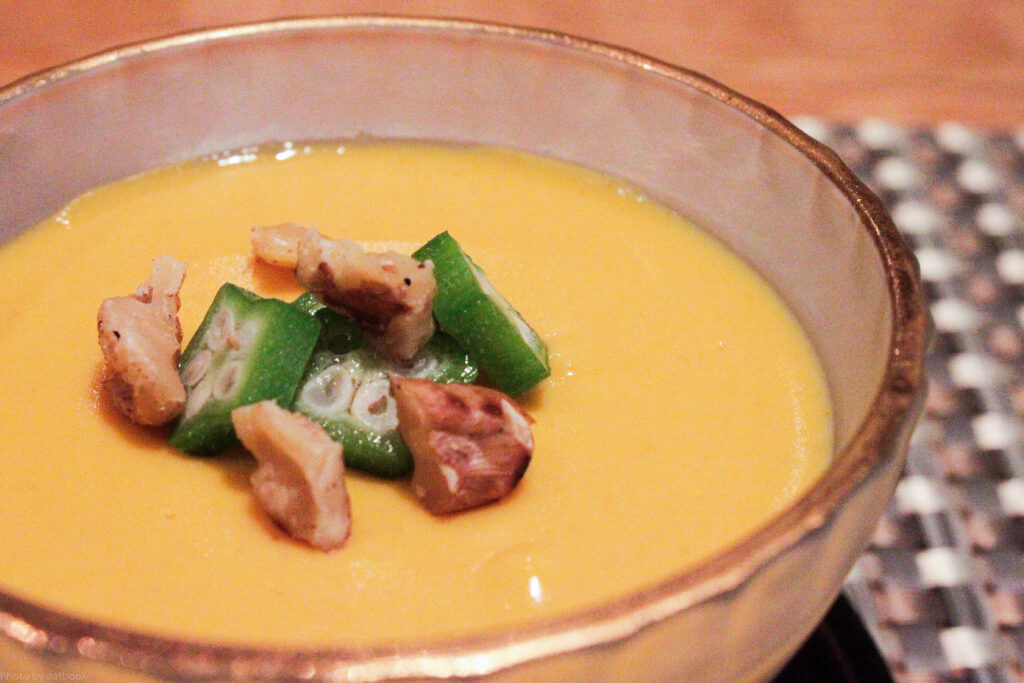 This light and mildly sweet mousse served as a good appetizer, preparing your tastebuds for a journey of the senses. The okra and walnut offered a variance of texture that was welcome and added an earthiness to the dish. I originally thought it could have been more flavourful, but it felt like an intentional choice. Kaiseki meals tend to start off slow and build flavour over the course of the meal, which would explain the softer flavours here.
---
Seasonal fresh fish: Sea Bream, Toro, Kamasu (Barracuda)
---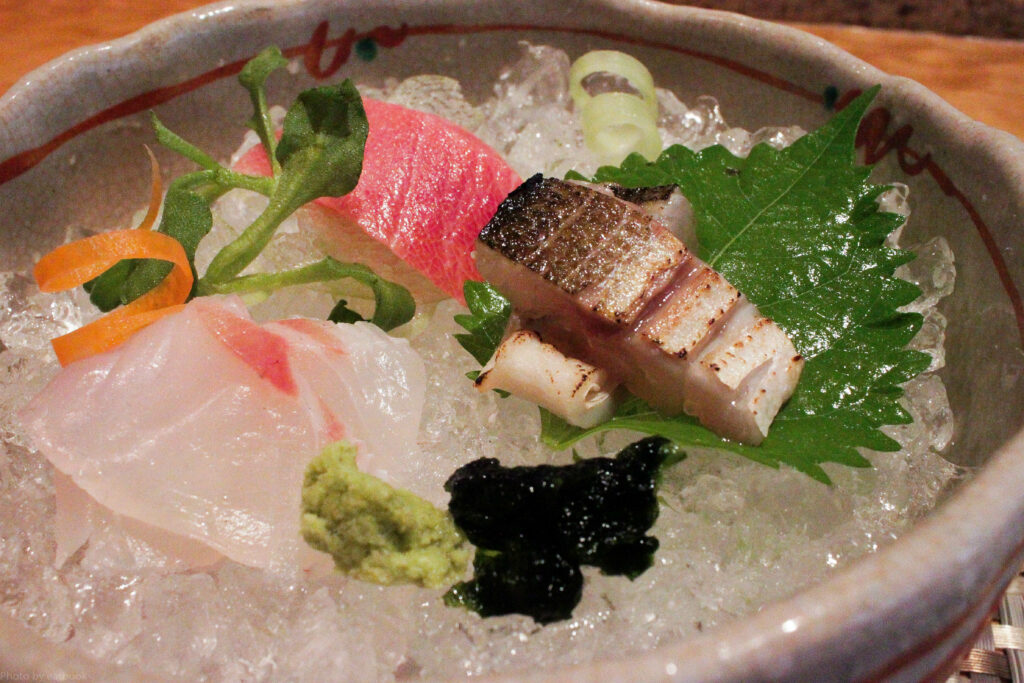 Elegantly and beautifully placed onto a bowl of ice, these exquisite slices of fish did not fail to impress. Offering clean and fresh flavours straight from the sea, these were a delight to eat especially the Toro which was packed with fatty flavour.
---
Kamo Egg Plant with Sea Urchin (Kamo is the name of a place in Kyoto)
---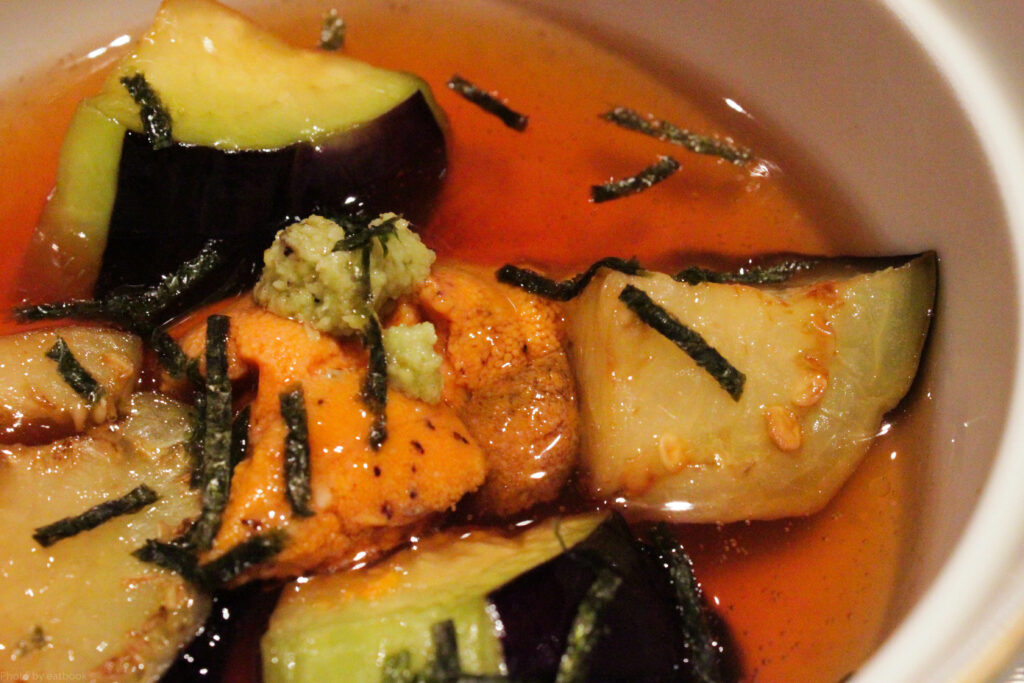 One of my favourite dishes in the meal, the eggplant is gently stewed in a dashi broth that's thickened before serving. The result is a tender and soft eggplant flavoured with a savoury stock that coated the chunks gloriously. The sauce was insanely addictive and I loved every spoonful I shoveled into my gaping mouth.
---
Black Cod Marinated Miso with Truffle Edamame
---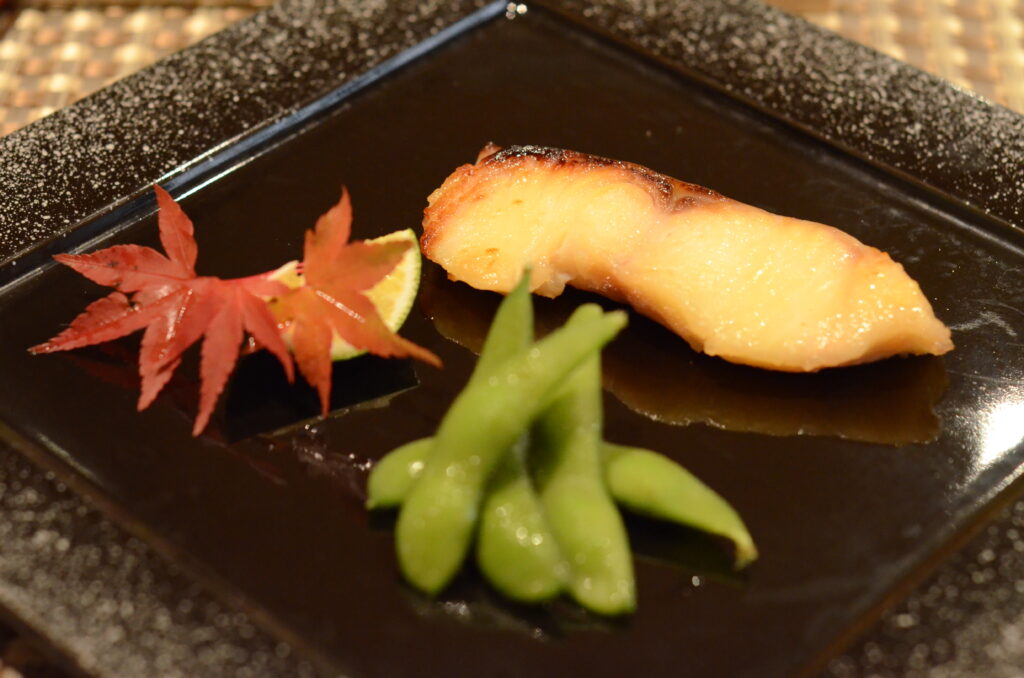 If you're read our guide to the most overrated food trends of the year, you'll know how we feel about truffle oil. I'm glad to say this truffle edamame might have just changed my mind, almost. It's a great flavour combination of sweet and earthy that pays off addictively.
The glistening black cod was no disappointment either. The sweet aromatic flavour of the miso was a great match to the delicate and fatty black cod.
---
Asparagus rolled with Pike Conger
---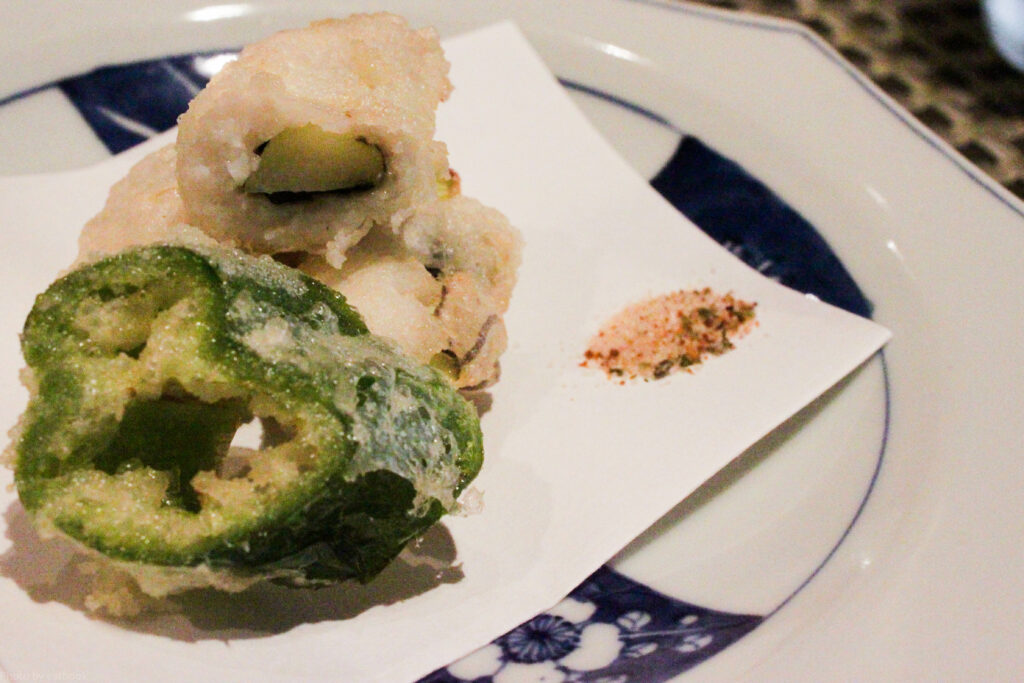 Pike Conger is a long eel like creature that's extremely popular in Kyoto. It's extremely difficult to prepare and even requires a special knife to deal with the thousands of bones present in each fish.
The tempura style preparation of the dish was also served with tempura pepper and a special salt mixed with togarashi. I wasn't a big fan of the lightness of this dish especially at this point of the experience, but if your tastebuds aren't as abused as mine have been over the years, you might find this acceptable.
---
Duck Consommé Oden with Radish, Fish Cake And Tamago
---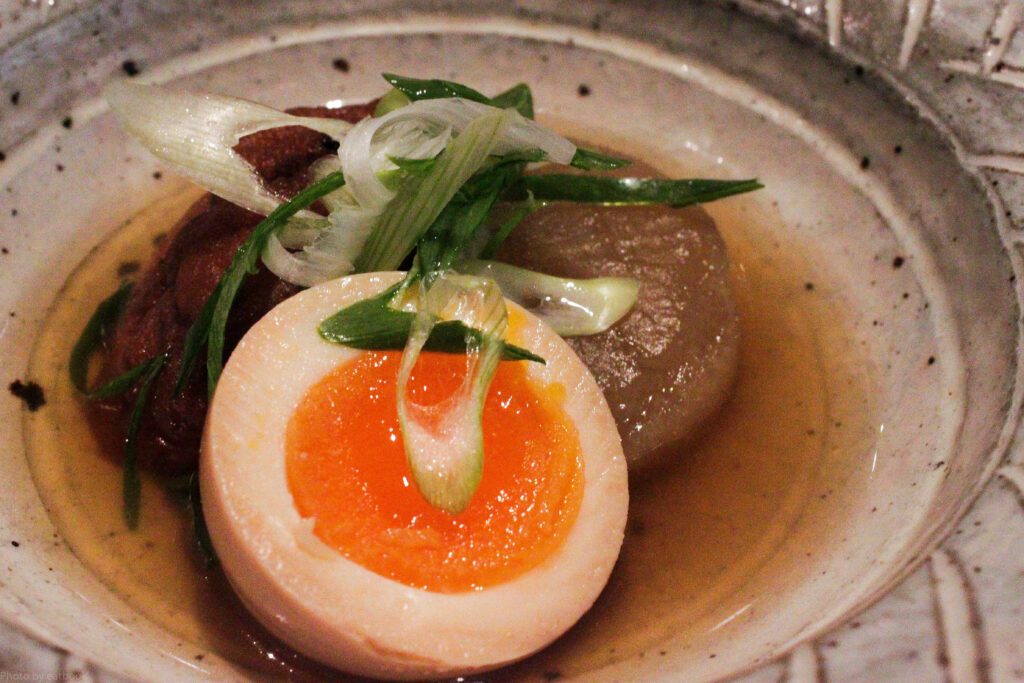 A blend of east and west, the richness of the duck consomme is paired with radish and the fishcake here. I thought it was great with the lightness of radish and buffed up its flavour profile, but I wasn't so sure it did anything substantial with the fish cake. Having these elements individually was delicious though.
For all you egg people, the tamago is exactly what you'd expect it to be soft on the outside with a savoury gooey yolk. It's the dream for Japanese egg enthusiasts.
---
Handmade Cold Soba Noodles
---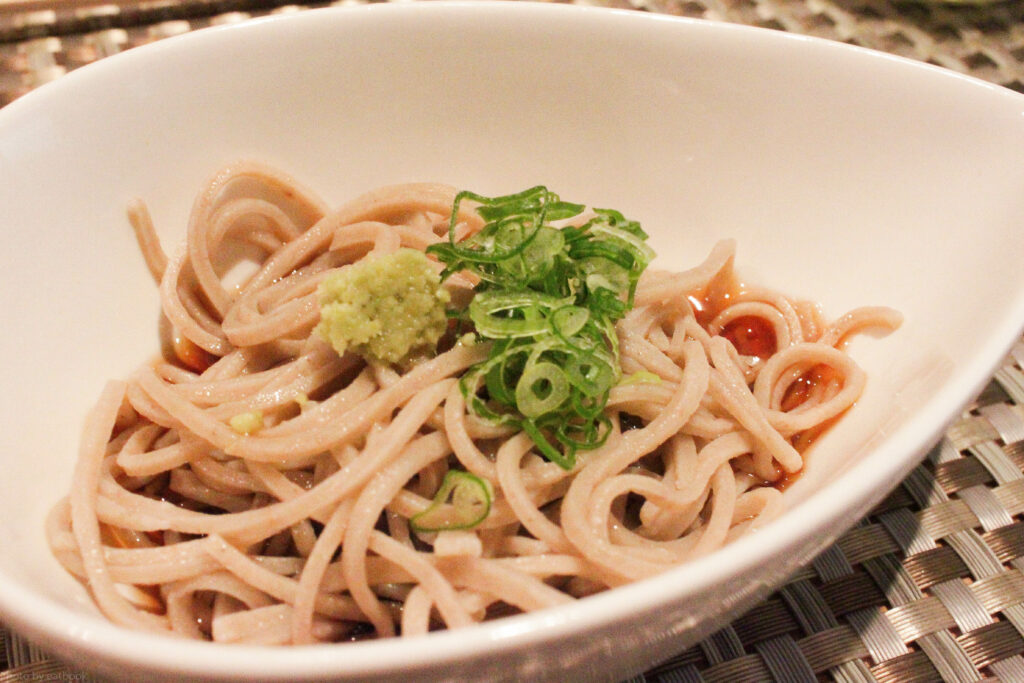 These soba noodles had a more "al dente" like texture than the sobas I've tried anywhere else. While I did like it, it's something very subjective and I can see why some people might not enjoy it. Aside from the texture though, there was nothing that really stood out.
That would usually be fine, but as far as a $158 meal goes, I'd expect something special about every component, and that something special was just lacking here.
---
Homemade Pudding with Yuzu Sorbet
---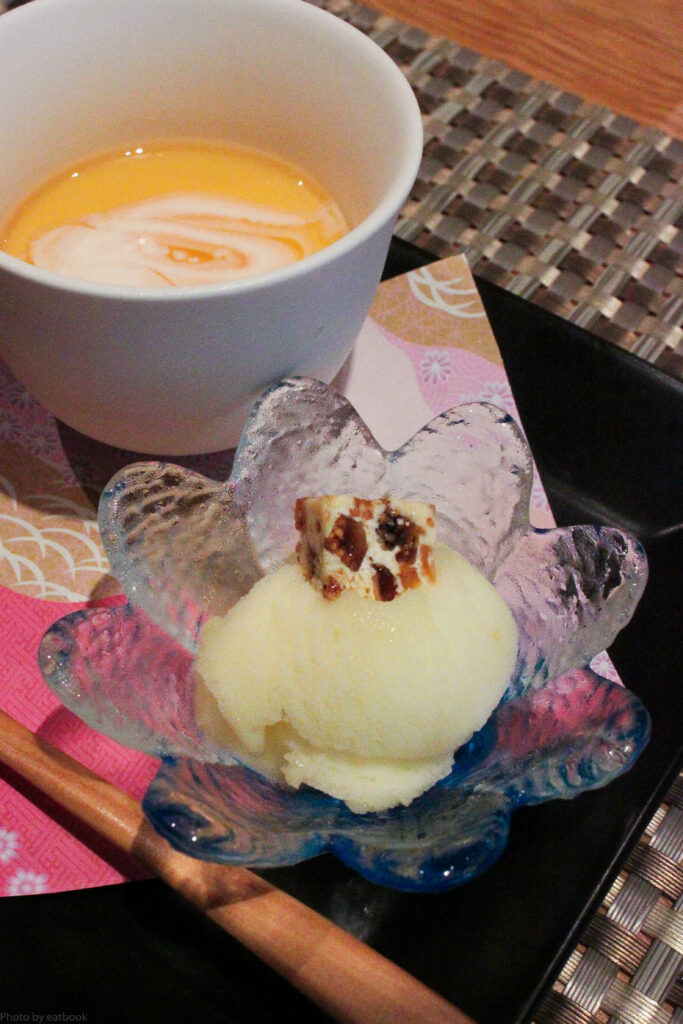 No Japanese meal is complete without some sort of yuzu being thrown in. The pudding itself is a pretty standard creme caramel. The dessert combo suffers the same issue as the soba as well. While the dishes are completely serviceable and even good, they are a little too basic and lack the "wow" factor for a meal at that price.
This article is brought to you by Wagokoro
Summary
Pros
– Great quality produce
– Some outstanding dishes
– Intimate and educational experience
Cons
– Certain dishes don't live up to the $158 price tag
Opening Hours
Mon-Sat: 1130am-2pm / 6pm to 11pm
Contact
+65 6733 6315
Address
60 Robertson Quay #01-04