Yakiniku-GO for Japanese grilled pork belly and more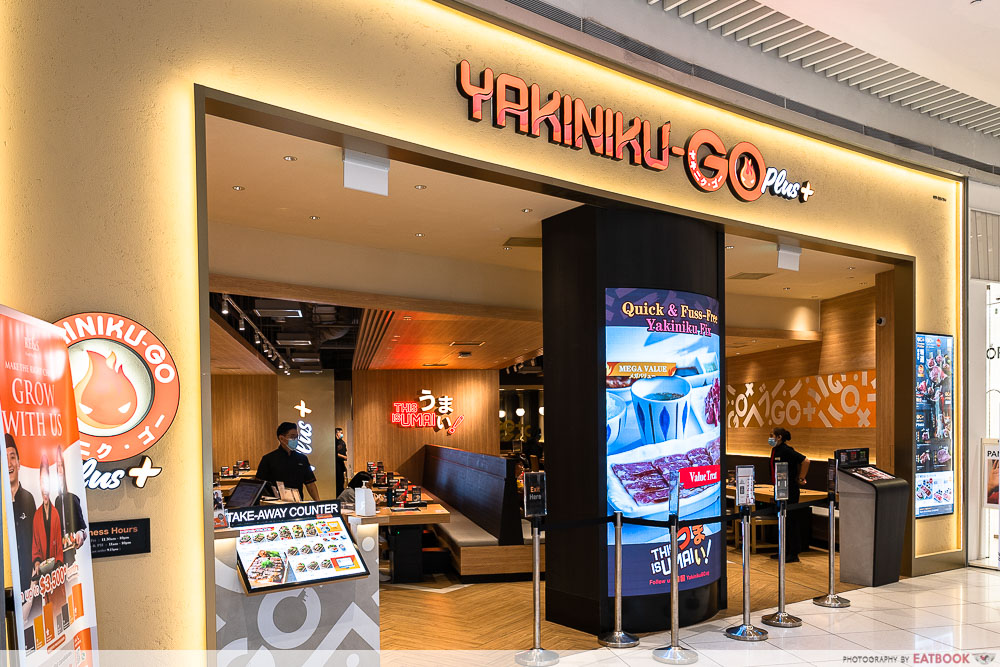 Yakiniku fans, you'll want in on this: popular Japanese grill chain Yakiniku-GO is launching an all-new pork selection across all six outlets, including Yakiniku-GO Plus in Suntec City.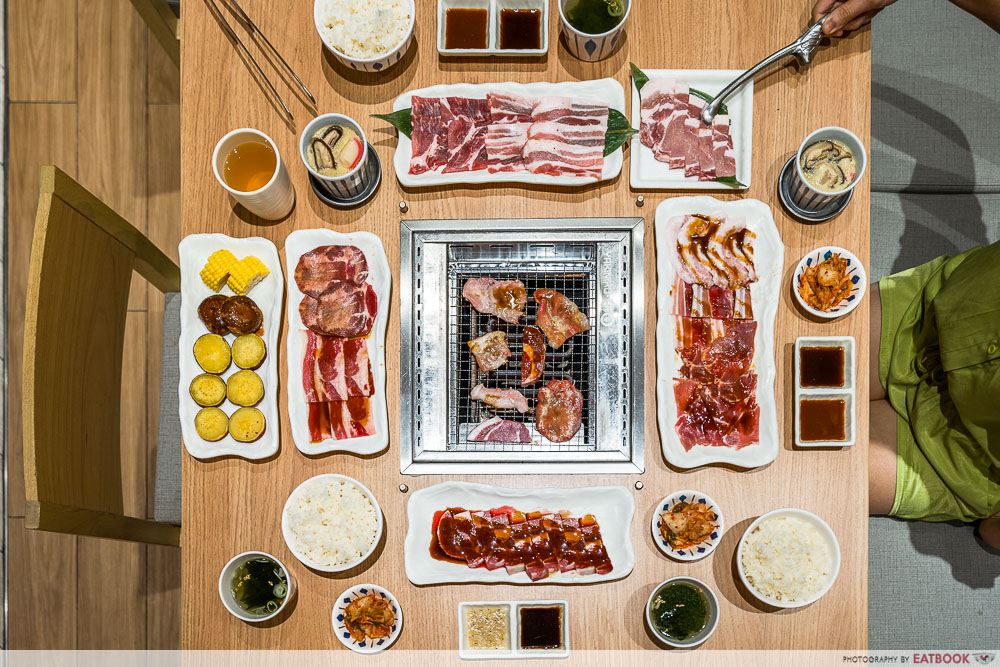 Tuck into premium pork, namely Miyazaki Pork and Duroc Pork, both raised in stress-free environments. The Miyazaki breed originates from Kyodo Farm in Miyazaki, and is fed a diet of whole corn kernels—the key to tender and flavourful pork. 
On the other hand, the Duroc Pig is a cross between white and Iberian breeds, and hails from Spain. The generous marbling of the meat ensures the pork remains juicy and flavourful after it's fresh from the grill.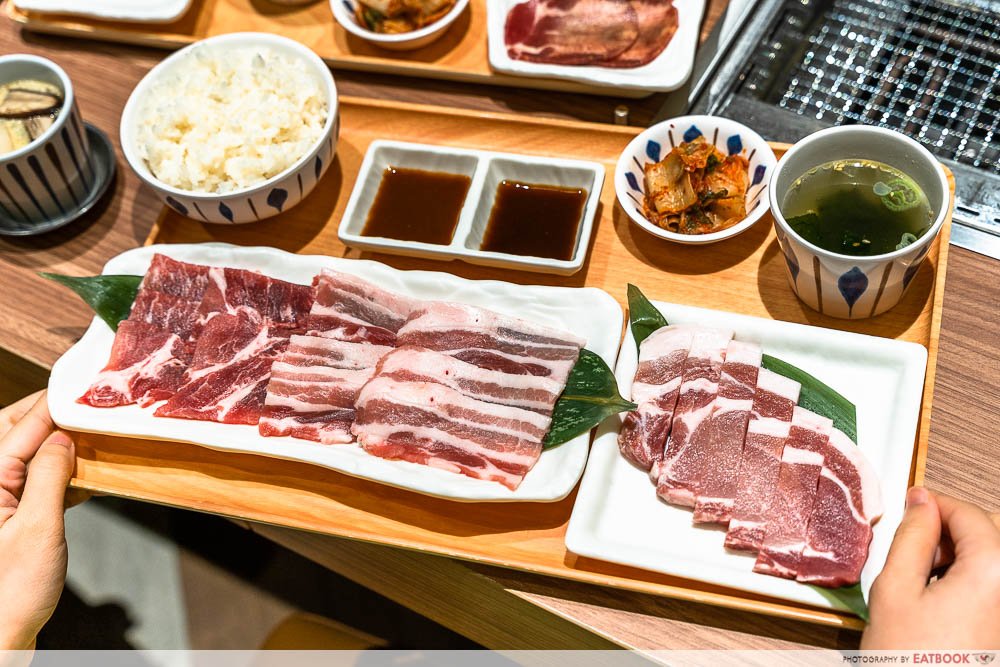 A splurge-worthy item to share is the Miyazaki Tokujo Pork Set ($28.80++, 180g), which comes with three different cuts of meat: Miyazaki pork belly, Miyazaki pork collar, and Miyazaki pork loin steak.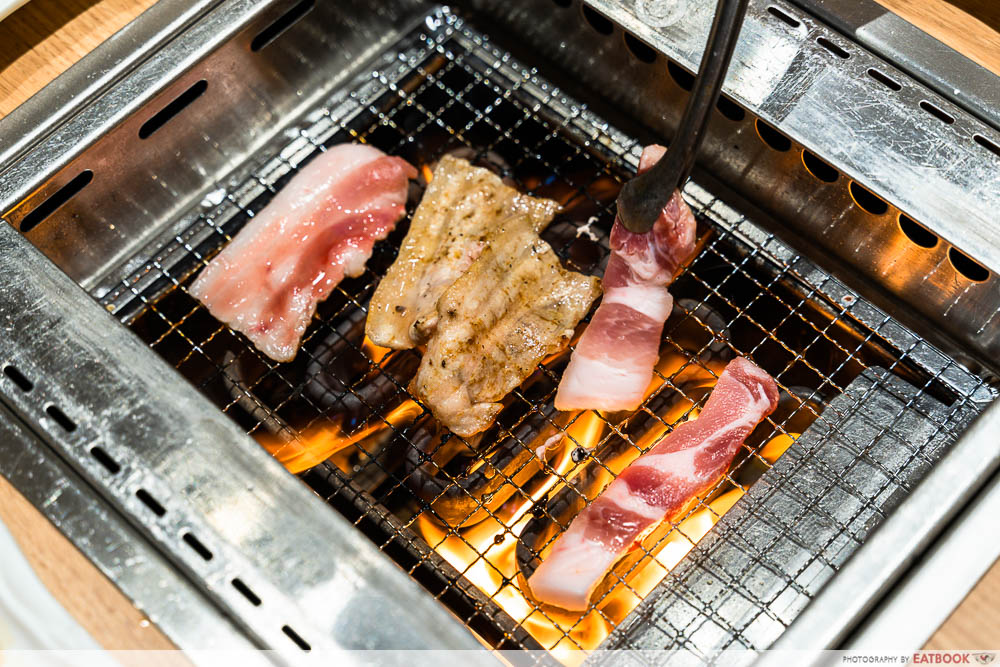 The Miyazaki Buta Bara, AKA pork belly, stars a good layer of fat that sizzles upon hitting the grill. Let it grill till it reaches a beautiful char.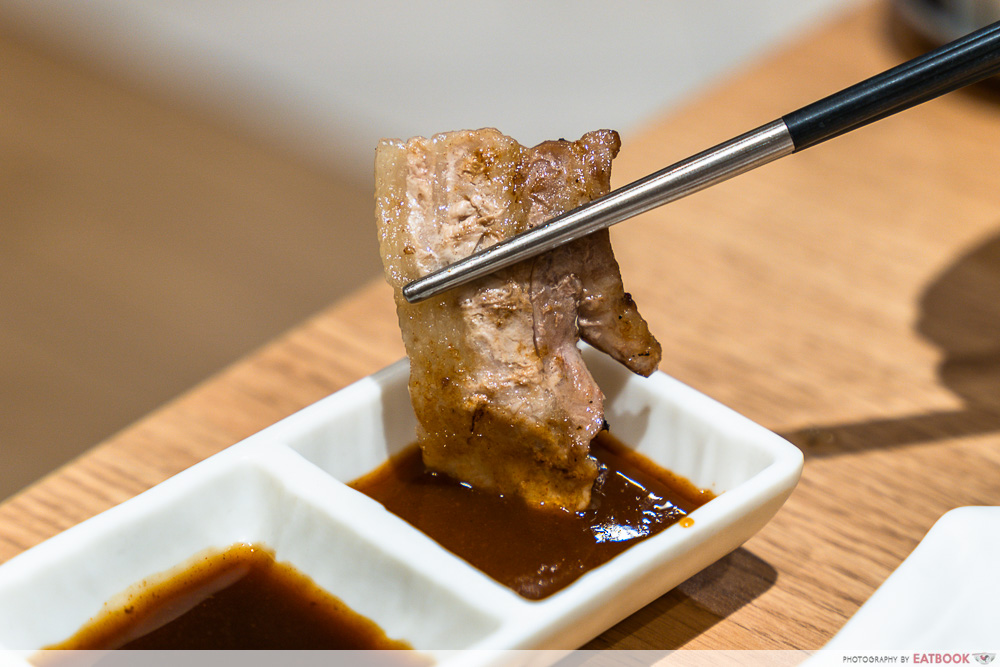 If you have little patience, you'll love the Miyazaki Buta Kata Rosu. The pork collar is thinly sliced, so cooking takes no longer than a couple of minutes. Dip each slice into the House Special Yakiniku Tare, a signature sauce that's sweet, savoury, and umami all at once.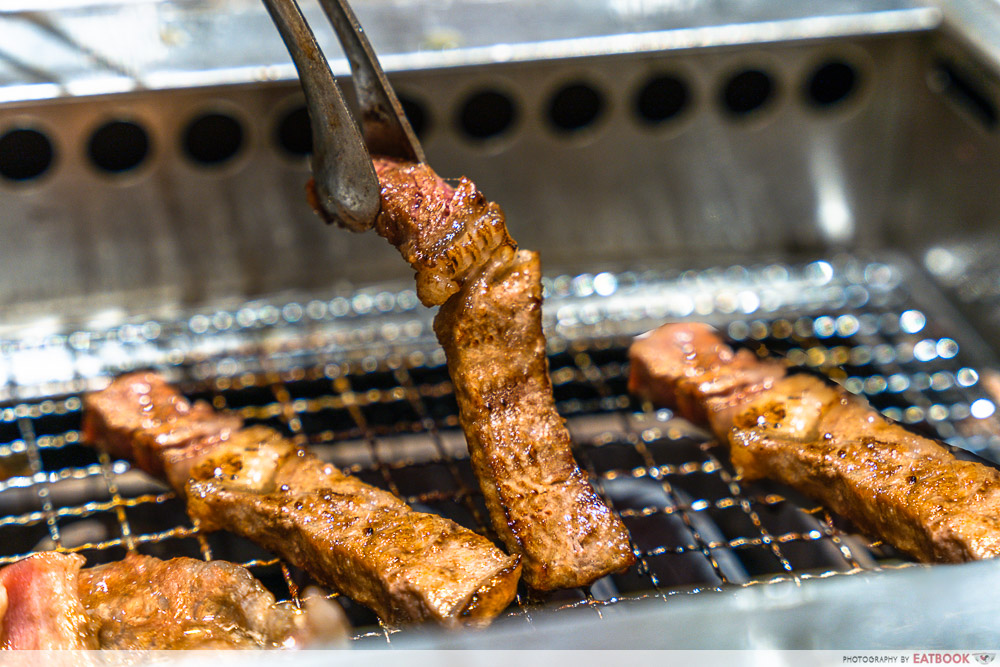 The Miyazaki Buta Rosu Steak, AKA pork loin steak, has a good ratio of lean meat with a small chunk of fat in the middle, so you won't feel too jelak even after indulging in one too many. The flavour is rich yet clean, and the meat is tender with a delightful bite.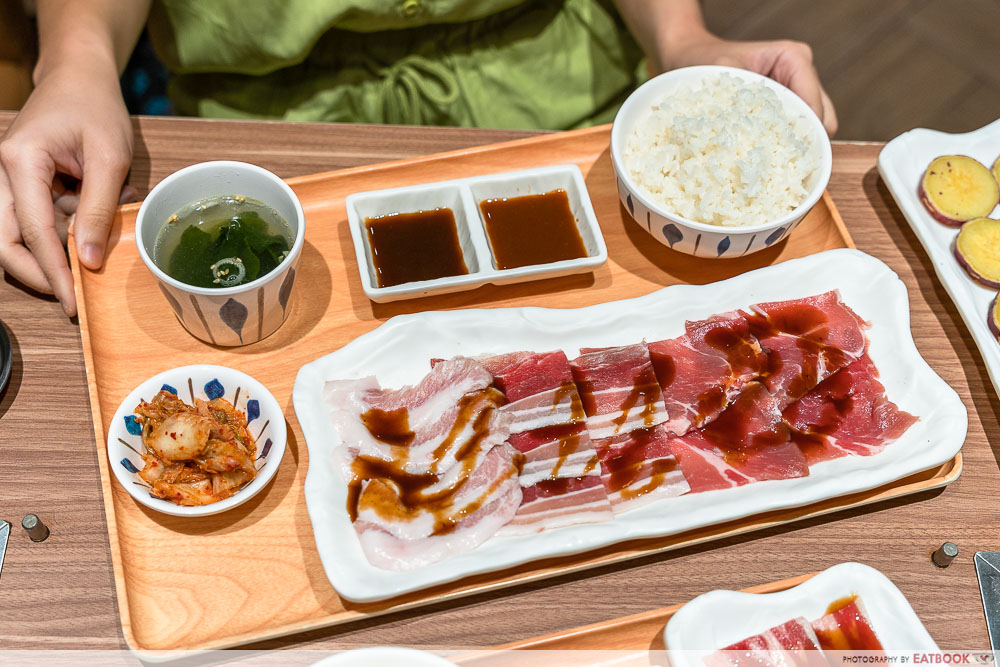 The Pork Sanshu Mori Set ($16.80++, 150g) is another new addition to the menu. The platter stars Duroc Pork in the form of pork belly and pork collar. You also get a side of pork jowl, which comes with generous layers of fat for a tender and juicy finish.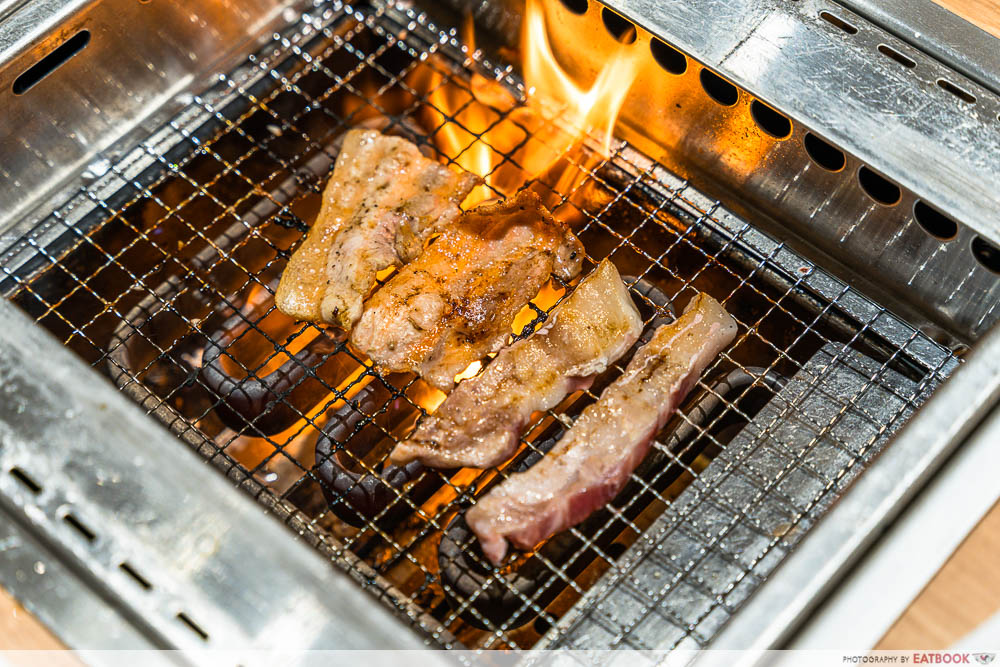 These thin pork slices feature a high marbling content, which ensures a succulent texture even after it's kissed by the fire. I personally prefer how it tastes when left on the grill to crisp up for a while longer.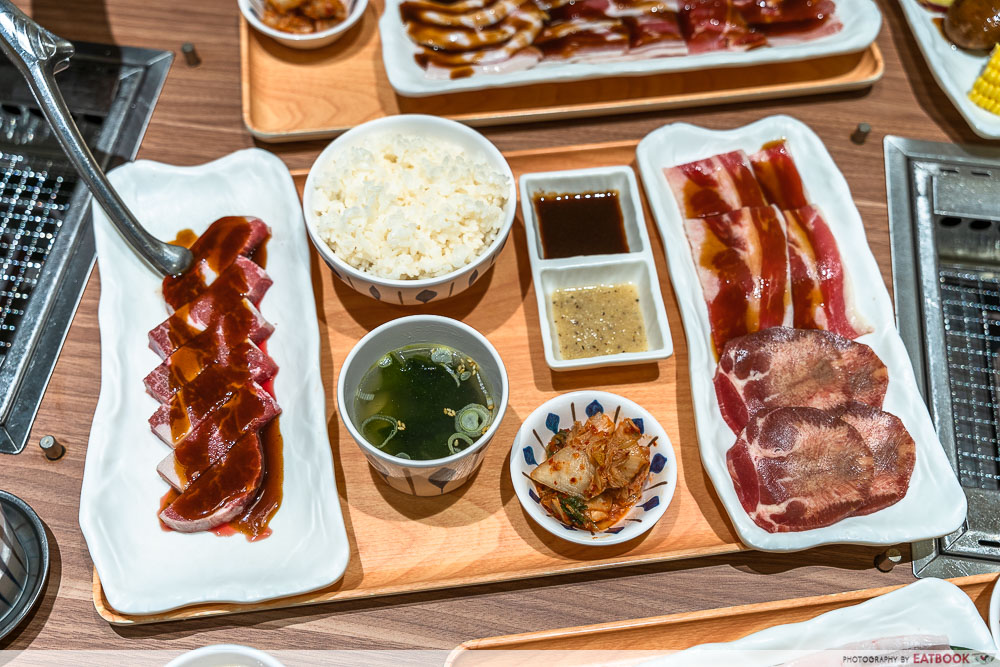 The yakiniku chain also has other meat platters for you to add to your order, should you wish to go all out on a meat feast. There's the ever-popular Yakiniku-GO Set (from $17.80++): a trio of Angus ribeye steak, beef short plate, and beef tongue.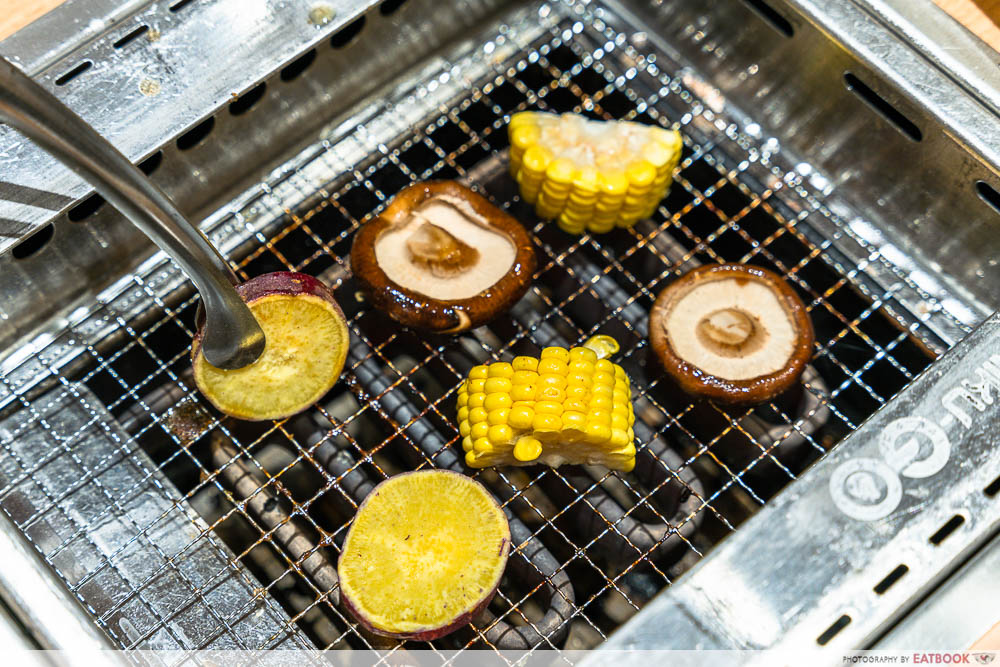 The aforementioned sets include a side of short-grain rice, kimchi, and seaweed soup to keep you satiated. If you're still peckish, add a Veggie Platter ($4++) to your order, which comes with fresh mushrooms, sweet potatoes, and corn. Alternatively, the classic Chawanmushi ($2.50++) is another satisfying snack worth getting.
Website | Full list of outlets
Yakiniku-GO is not a halal-certified eatery.
Photos taken by Chew Yi En.
This post is brought to you by Yakiniku-Go.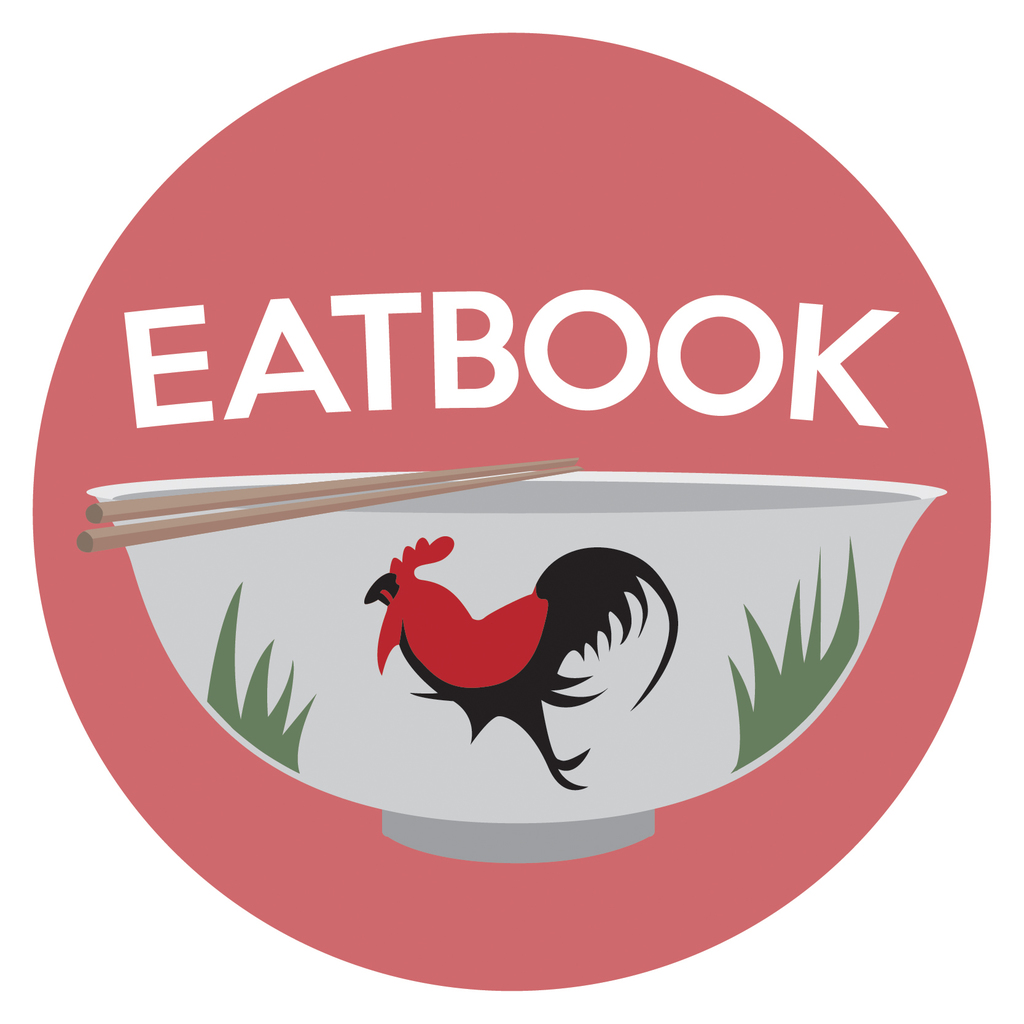 Drop us your email so you won't miss the latest news.