Zao Lek Lok Lok has value-for-money lok lok buffet
[Zao Lek Lok Lok has relocated to 605B MacPherson Road, #03-08, Singapore 368241.]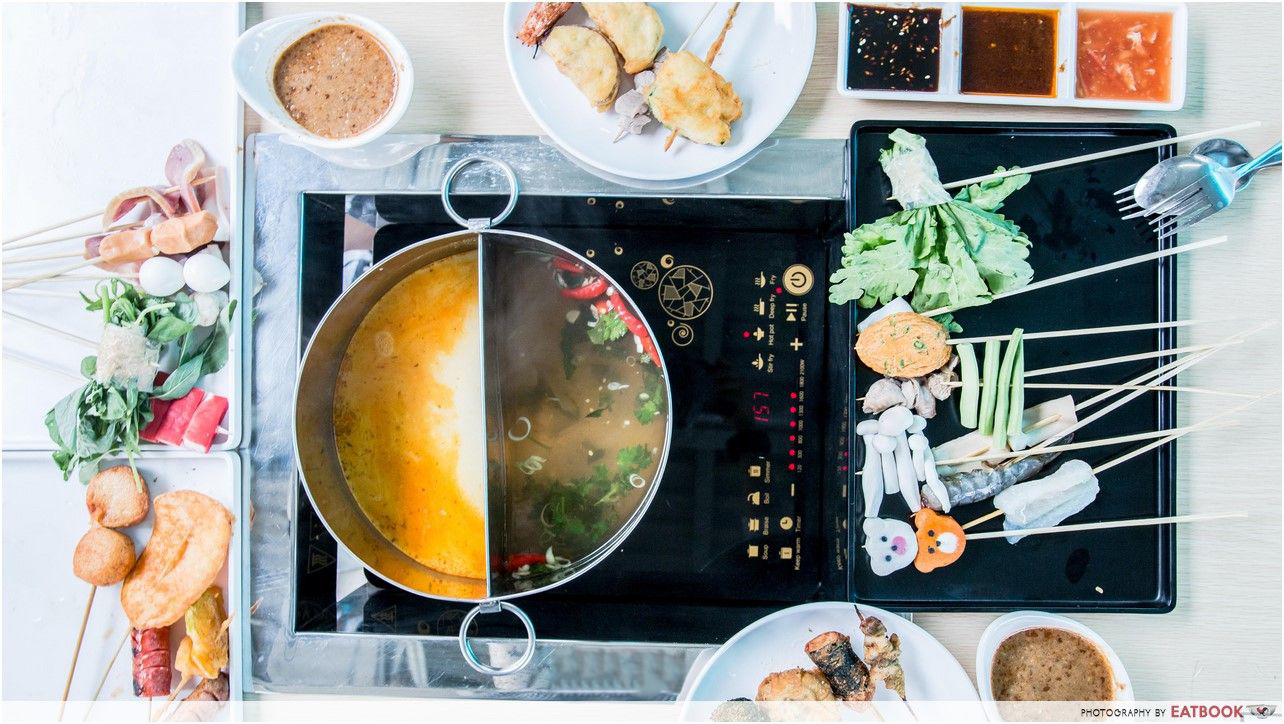 Here's one of my contributions to #firstworldproblems: lazing in a comfortable bed with a growling stomach and a too-long list of restaurants to visit after a few too many scrolls through #foodporn feeds on social media. Sizzling grilled meats, steaming hot pots, crunchy deep fried food, I want them all. Instead of checking separate restaurants off my list one at a time, I killed all my cravings in one meal at Zao Lek Lok Lok.
Food at Zao Lek Lok Lok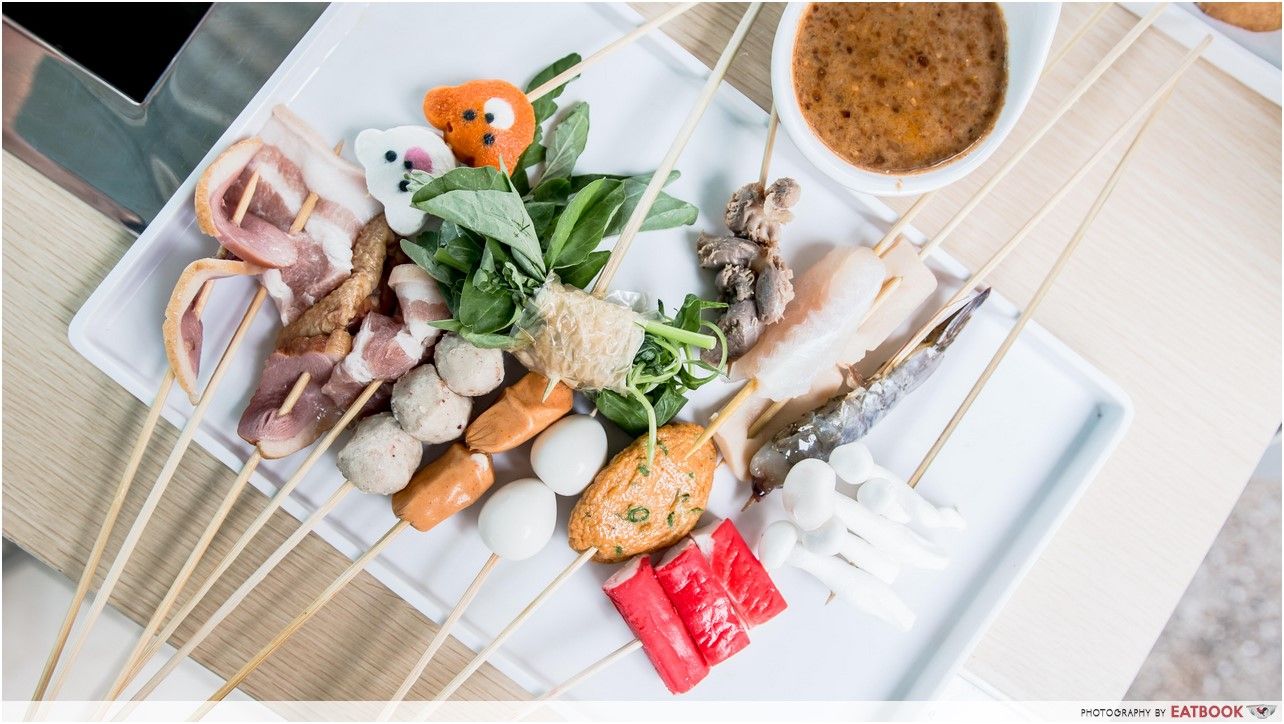 Zao Lek Lok Lok's claim to fame is their Lok Lok Buffet, which has a few prices:
Monday to Thursday:
Adult – $24
Child (three to 10 years old) – $12
Students – $20
Friday to Sunday:
Adult – $27
Child – $13.50
Besides meat and vegetables, the buffet also includes free-flow skewered fruits, ice-cream, and syrupy fruit drinks. They even offer free Wi-Fi!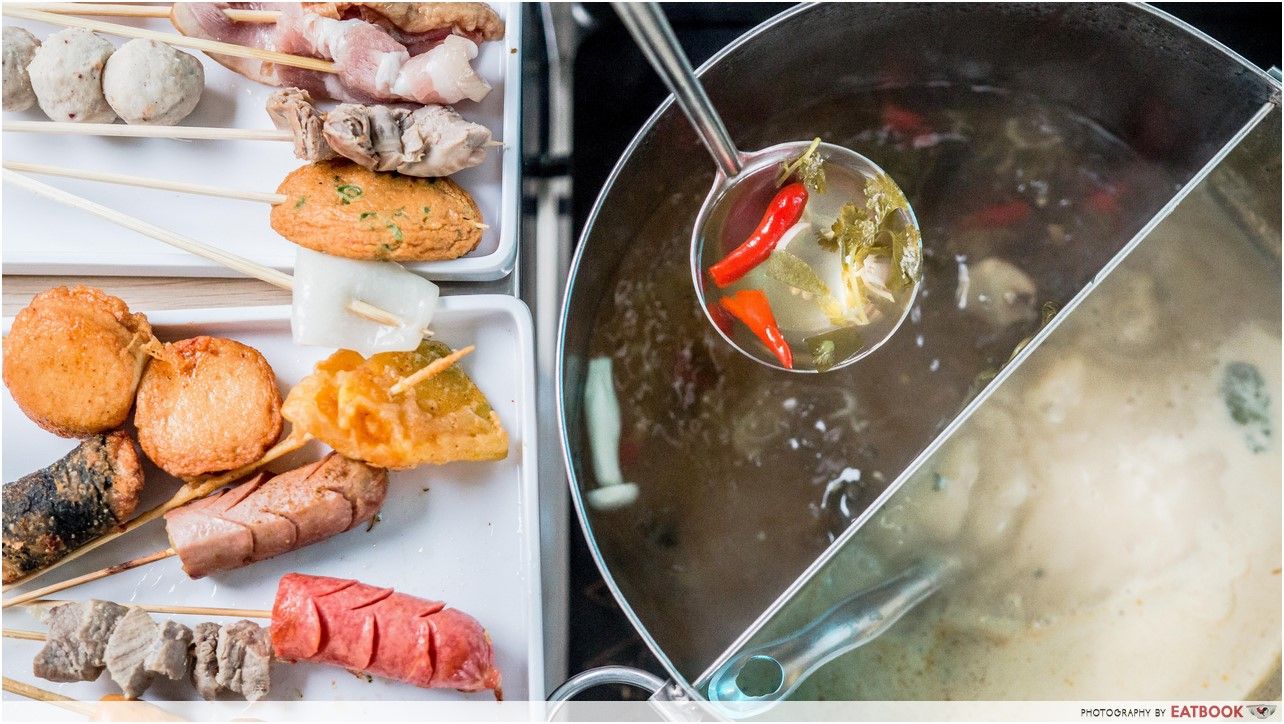 After settling down at our table, we were offered two choices from six soup bases, namely bak kut teh, laksa, chicken soup, tom yam, ma la, and peanut (+$4). We decided to go with laksa and tom yum soup on our waiter's recommendation. Zao Lek Lok Lok accommodates vegetarian requests too; they can modify their tom yum soup base to suit vegetarians if you put in a request.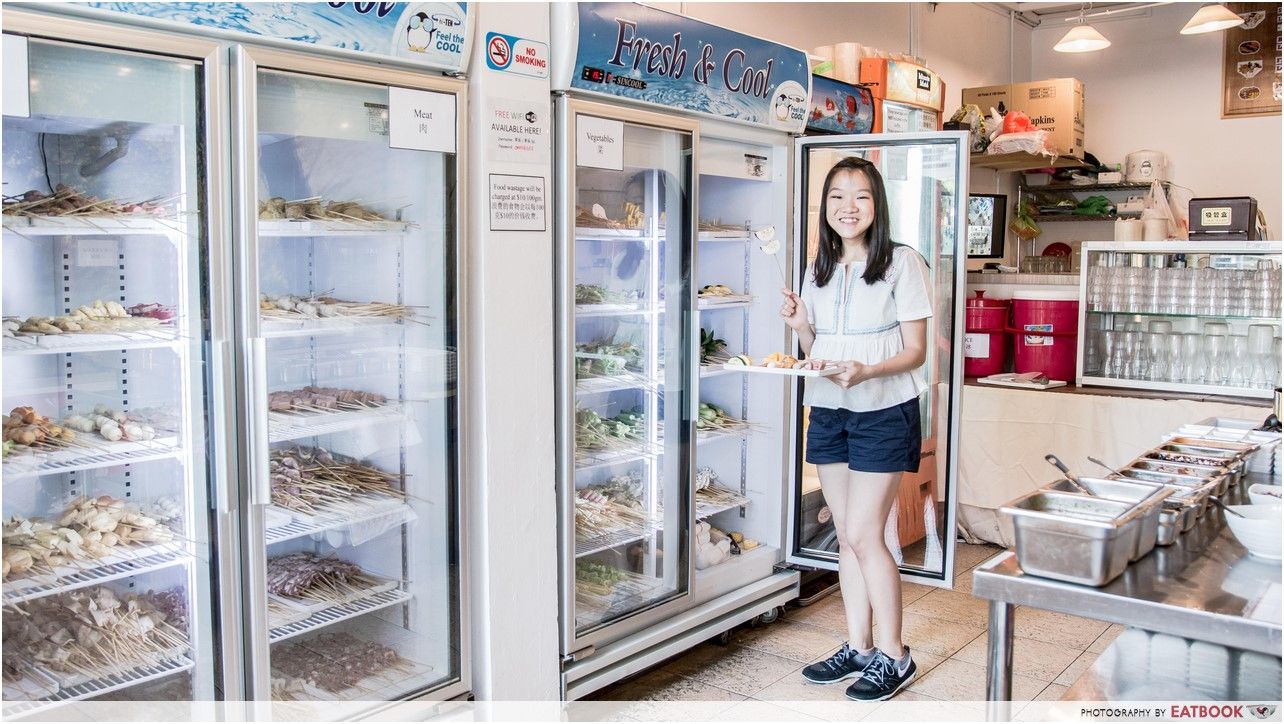 We checked out the skewer spread after choosing our soup bases. Indoors, two fridges held a neatly-arranged selection, separated into seafood, meats, and vegetables. There was a good spread including prawns, fish, pork belly, slices of duck, and a whole variety of vegetables. Besides skewers, there were also carb options such as instant noodles, rice vermicelli, and white rice.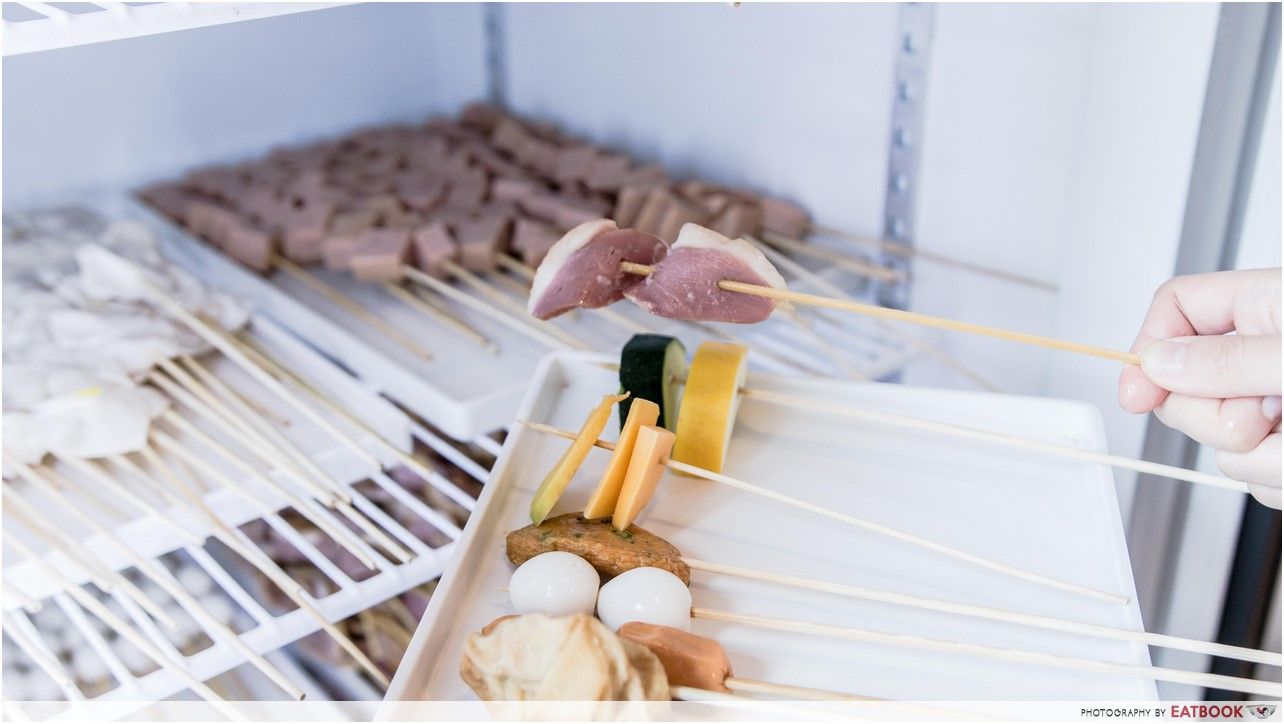 Skewers can be prepared in three ways: boiled, grilled, and deep fried. After taking our pick from the fridges, we separated our haul into two trays – one with skewers we wanted to boil at our table and the other with skewers to be deep fried. On the latter we attached a peg that each table is assigned with, and passed it to one of the staff members.
Each table is allowed a maximum of 12 fried items at any one time, and you can go back for more subsequently. There is a smaller selection when it comes to grilled items; the staff members will go around the dining area routinely with platters of freshly grilled skewers you can pick from.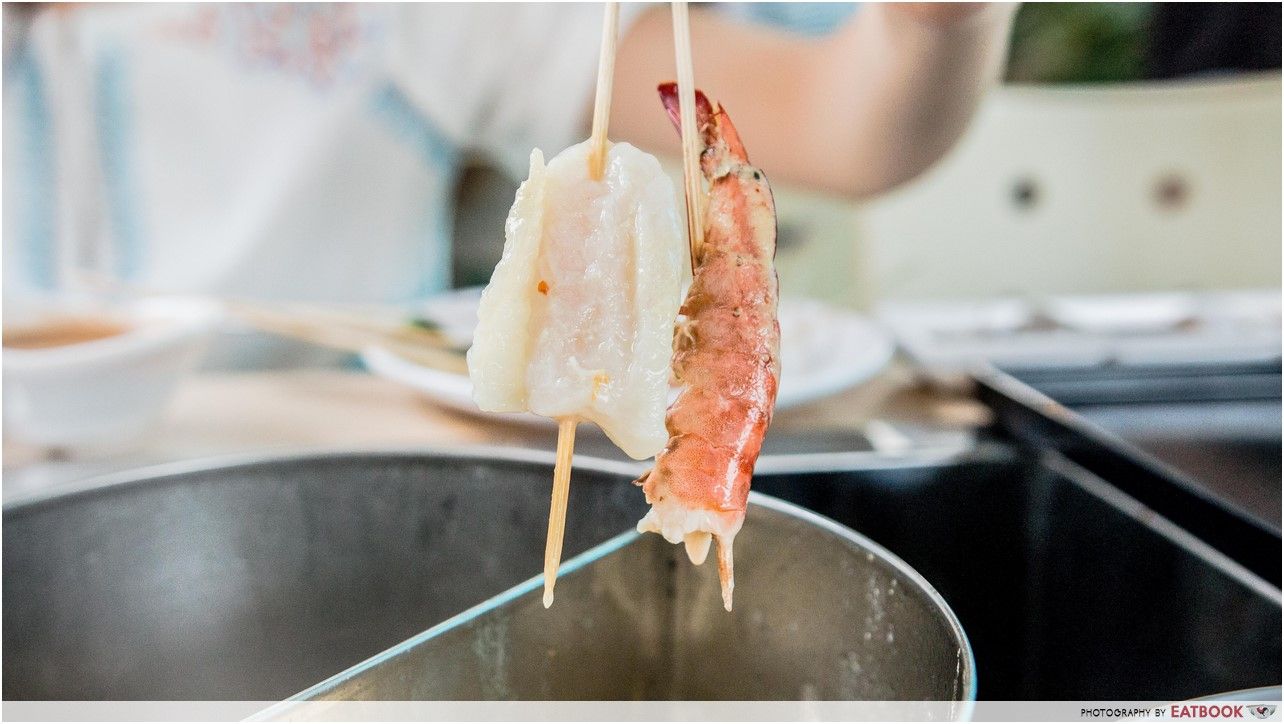 We appreciated the wide variety of skewers and how fresh the ingredients were. The prawn meat was firm and peeled apart easily from its shell. The sliced fish carried no hint of unpleasant odour either.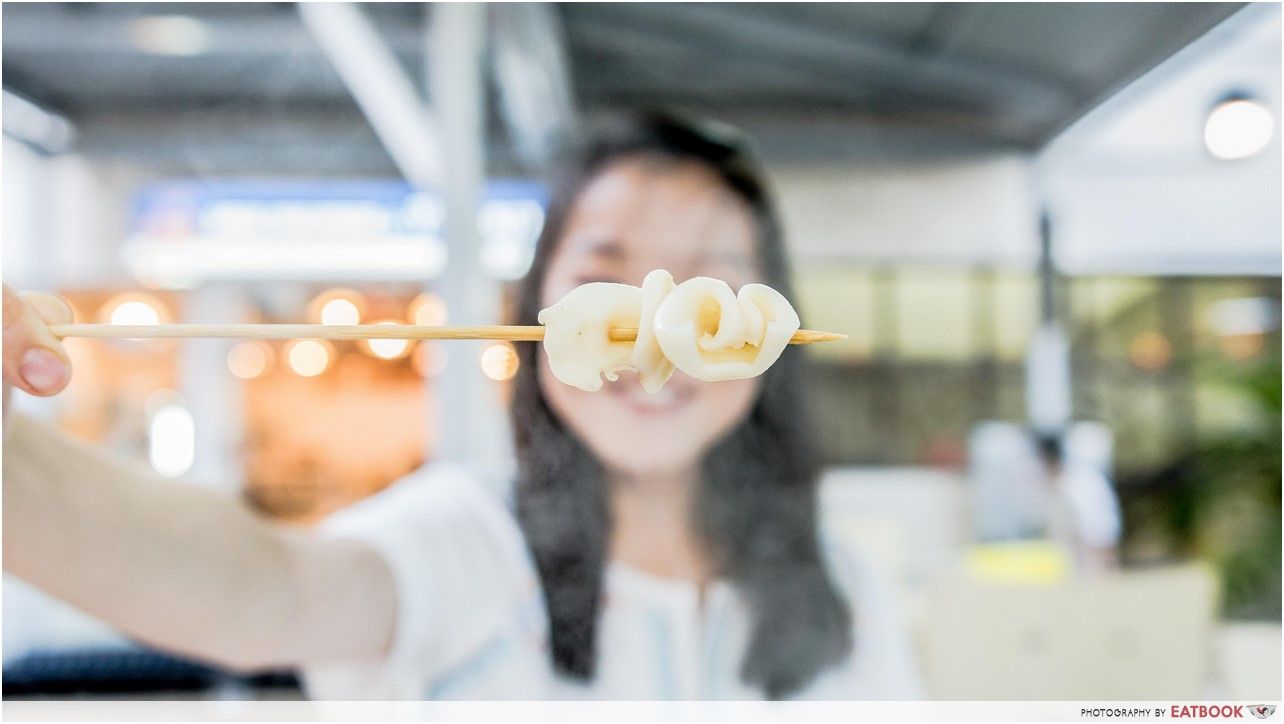 My favourite was the sotong that, when cooked just right, was satisfyingly Q and went perfectly with the tom yum sauce from the condiments bar. Quail eggs were another of our favourites.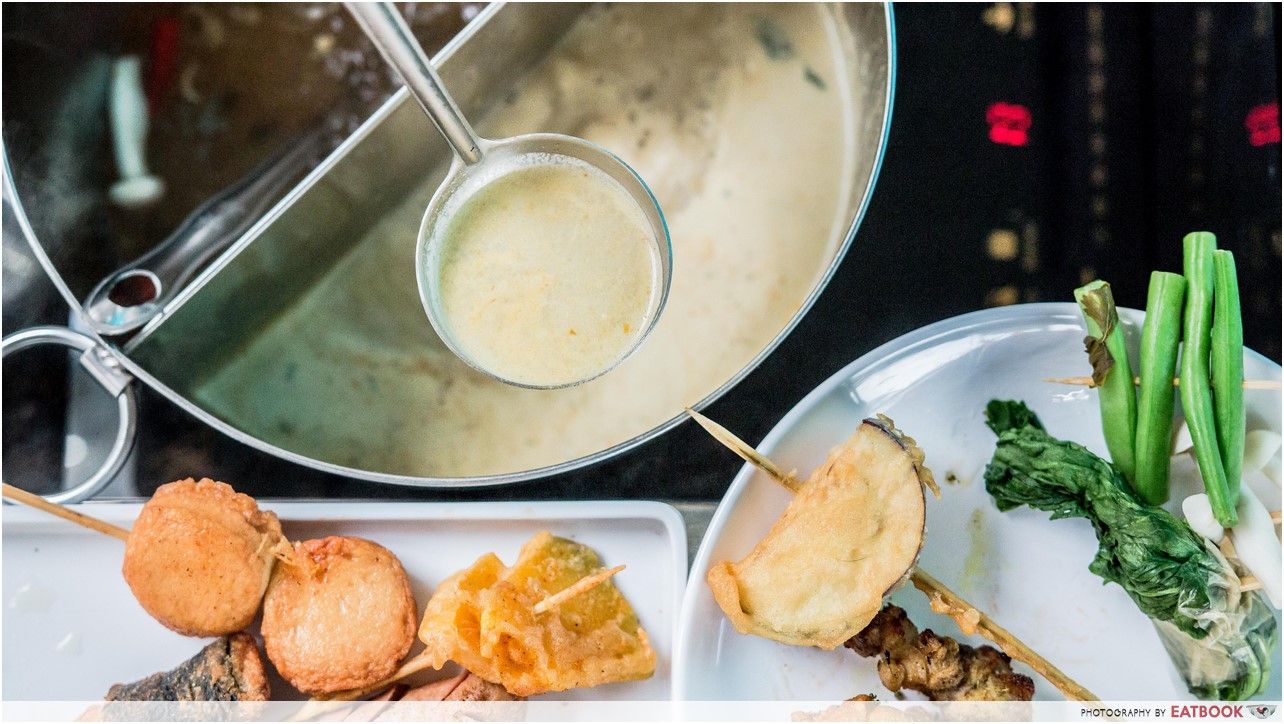 If you're a fan of curry laksa, you'll love their laksa soup base. Its milky quality and fragrant spices were absorbed by the meats and vegetables we cooked in it. Having the huge pot of laksa soup base was like getting to drink from an unending bowl of laksa soup.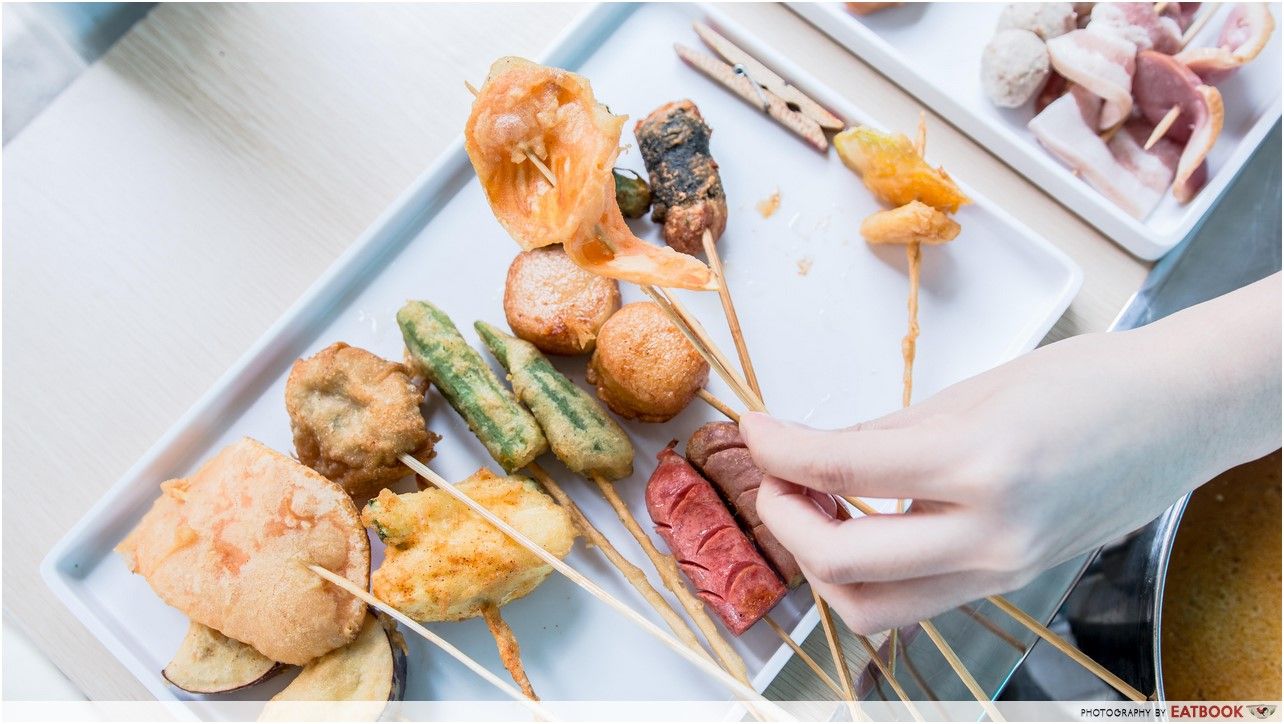 Our tray of fried items was served to our table soon after. I liked the tempura-like batter coating the vegetables. It formed a light and airy golden shell that remained crunchy even after we left the items to sit for a while.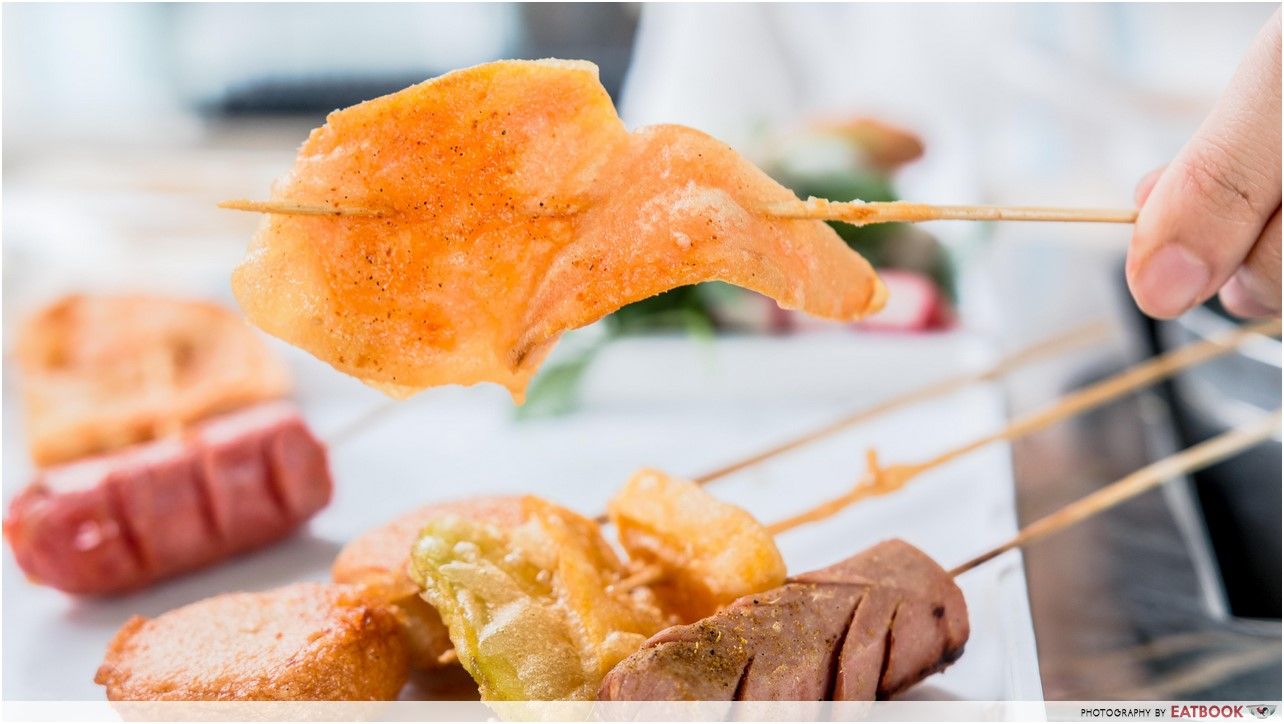 The vegetable skewers were sprinkled with a seasoning powder that appeared to contain chilli powder or paprika, making the skewers a little spicy, salty, and sweet. Even non-veggie eaters will want seconds of these skewered vegetables.  
While we were there, the staff members went around with selections of grilled sausages, satay, squid, and prawn. The meats were generally well seasoned, but lacked the smoky aroma of food grilled over charcoal. Unfortunately, the quality of the grilled skewers lacked consistency – we liked the satay skewers the first time, but its tough meat disappointed us on the second.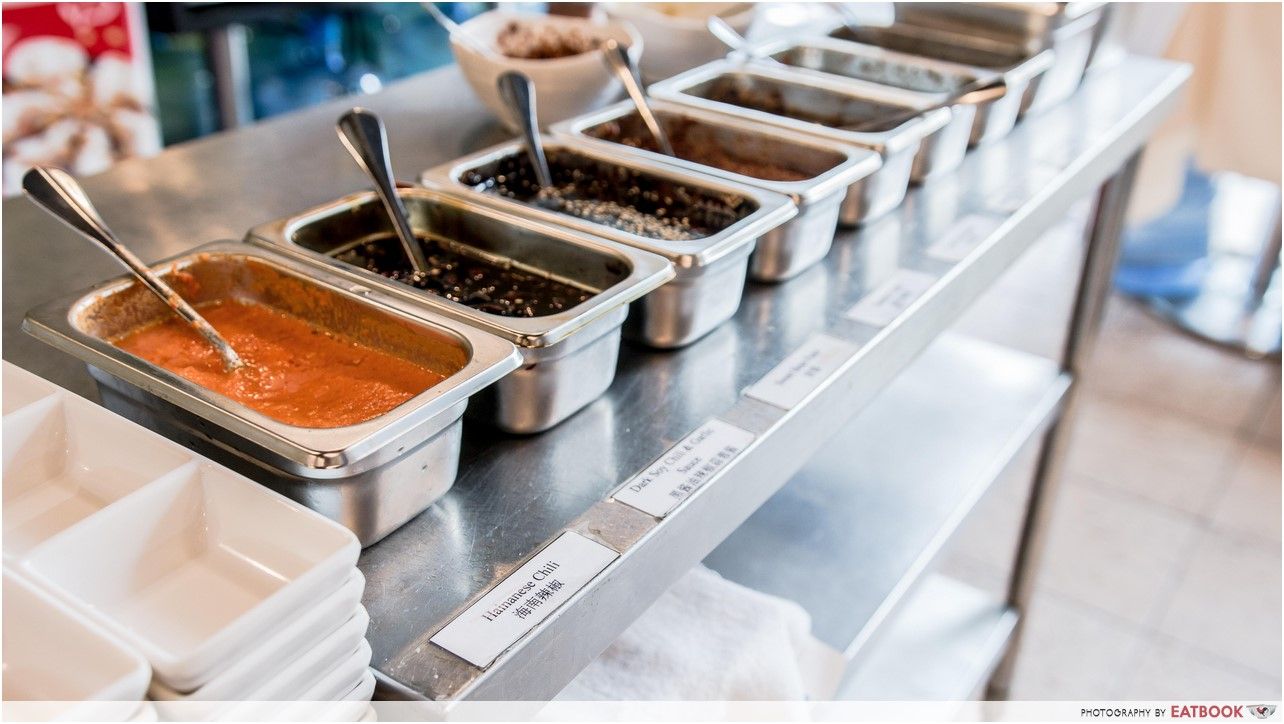 Another highlight of this lok lok buffet is Zao Lek's condiments bar, which features nine house-made sauces.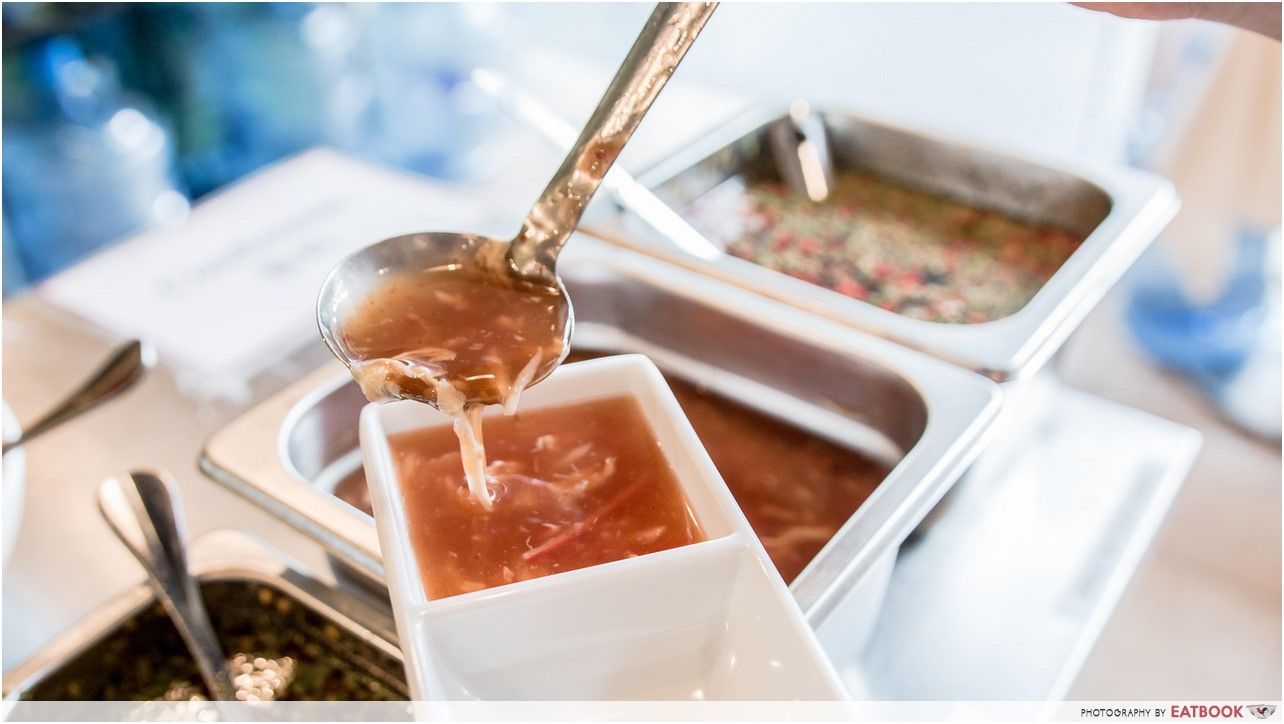 Chili crab sauce caught our eye, with bright red flecks of imitation crab meat running through it. Though it was on the sweeter side and lacked the eggy thickness of traditional chilli crab sauce, Zao Lek's chilli crab sauce was still the best partner to their fried mantou.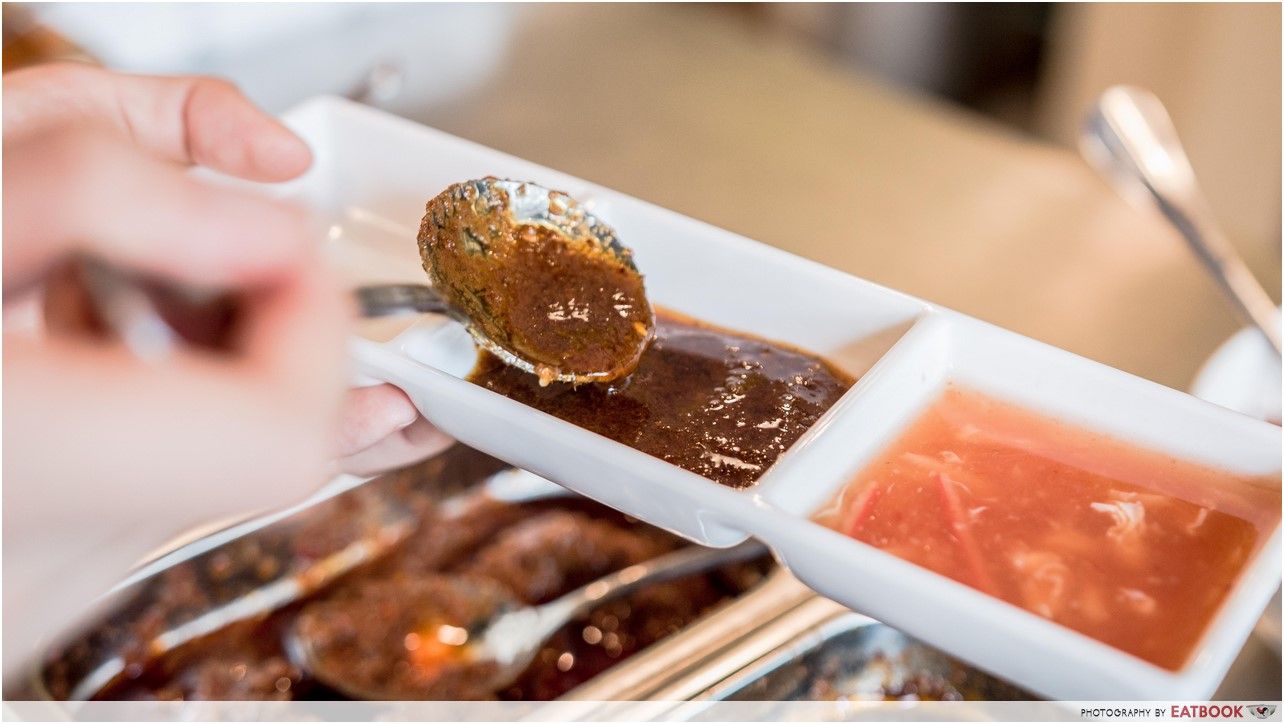 Our favourite was tom yum sauce. A robust, citrusy aroma of lemongrass hit my taste buds on first taste before spiciness came through. Since lemongrass has a light flavour, the tom yum sauce did not overwhelm the natural taste of the items I dipped in it.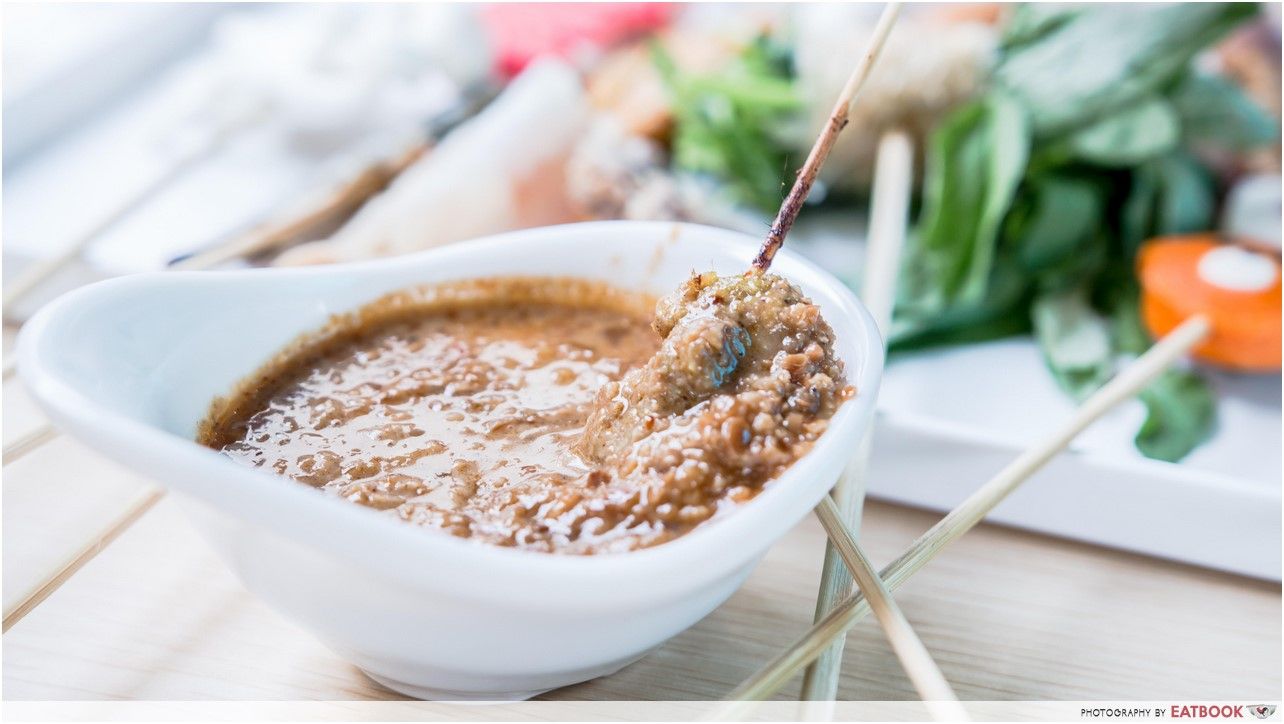 Zao Lek Lok Lok also makes their own satay peanut sauce that is not available on the sauce bar. Each serving costs $1, unless you order the peanut soup base that entitles you to free-flow peanut sauce. Don't discount its apparent runniness as lacking in flavour – it's practically filled with chopped nuts that build up to a distinct nuttiness. I'd recommend getting it at least for satay and other grilled meats.
Ambience at Zao Lek Lok Lok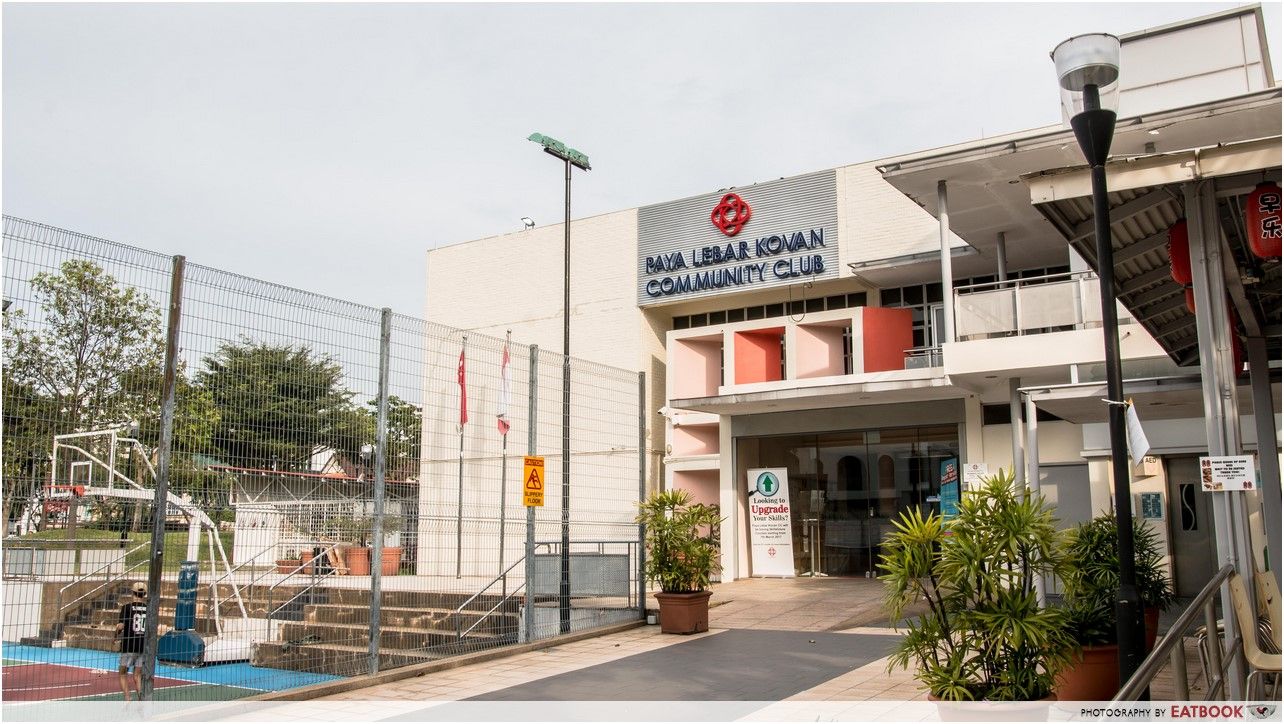 Zao Lek Lok Lok is located in Paya Lebar Kovan Community Centre. The dining section is outdoors while the buffet spread is housed in an air-conditioned room indoors. The restaurant was surprisingly clean, as were the fridges where the food items were kept, though the constant traffic of people opening the fridge doors meant the temperature indoors was probably compromised. Even so, there's no cause for worry since the human traffic means the ingredients are regularly replenished and fresh.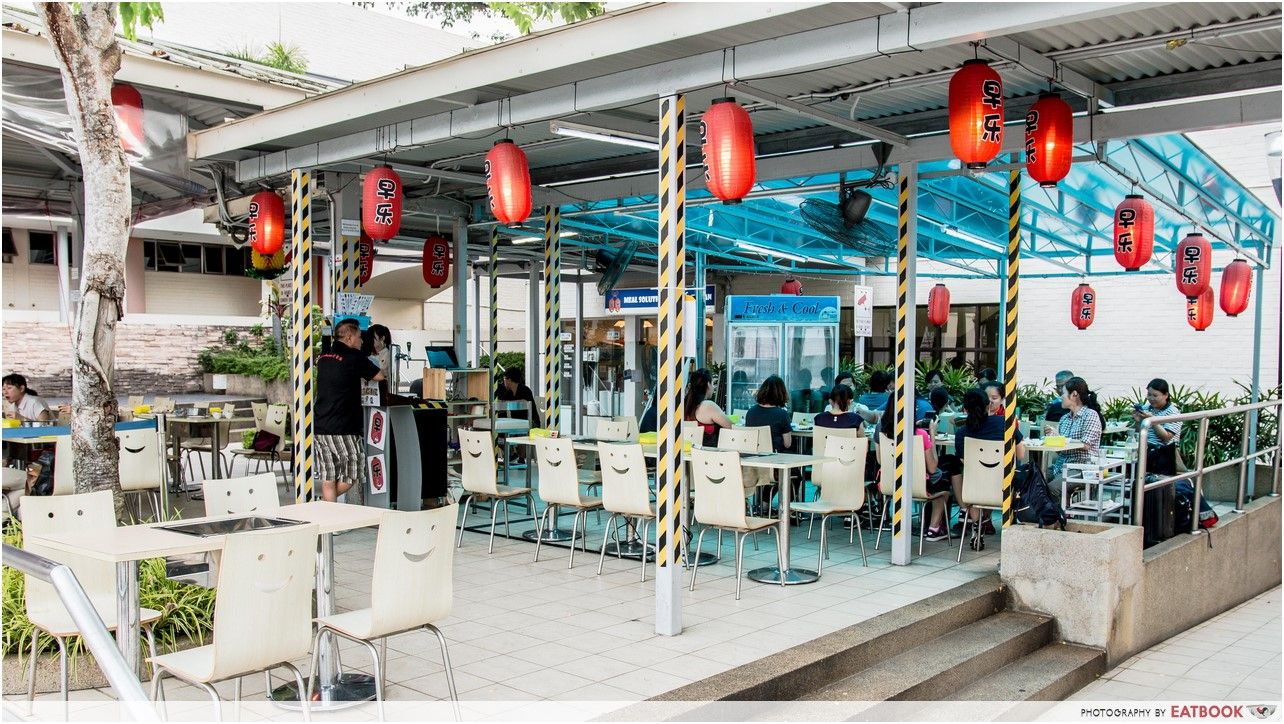 Since the dining area was outdoors, there were some pesky house flies that kept flying around our food. We'd recommend taking the skewers in small batches so you won't have to leave each batch exposed for an extended period.
The verdict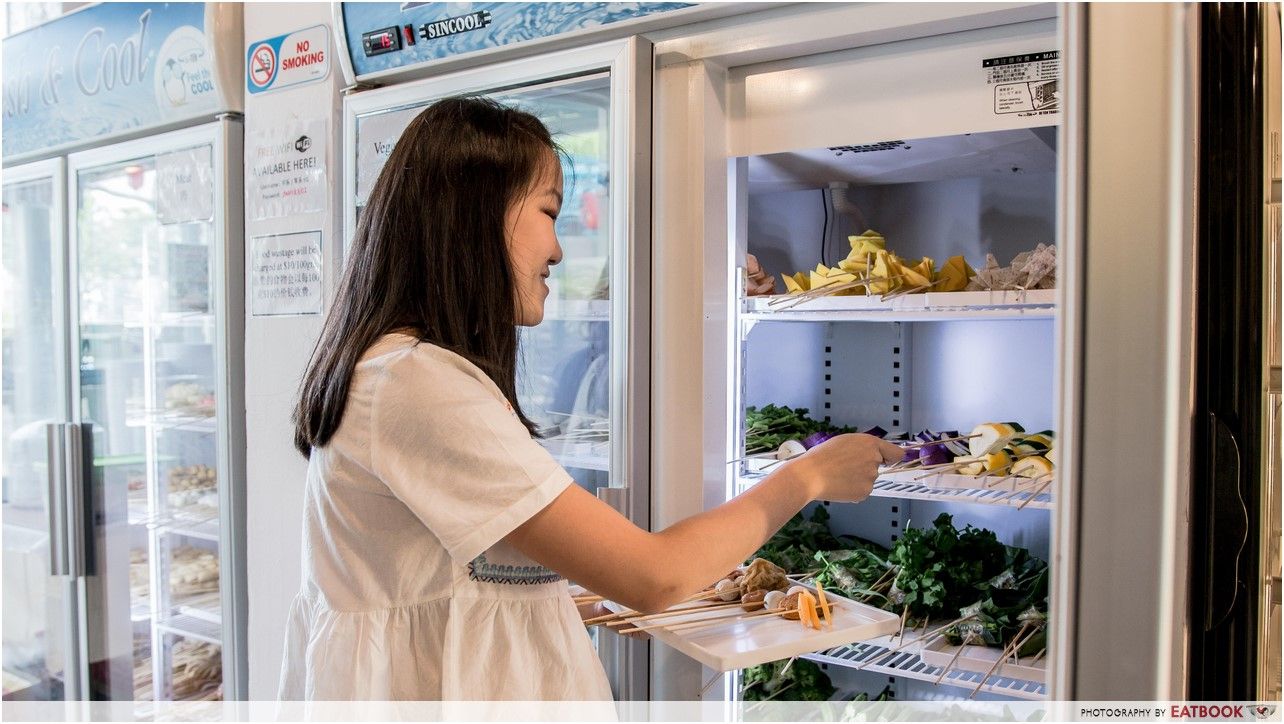 Zao Lek Lok Lok offers an unbeatable value for lok lok and an ample selection. Seeing how items can be prepared differently and paired with various sauces, it's suitable even for large groups since there's a flavour combo for everyone. The staff members were accommodating and helpful, offering to assist with any dietary requirements and brought the food out quickly, which made for an extremely enjoyable dining experience.
It's not surprising then that Zao Lek sees a strong crowd every evening. We strongly encourage making a reservation in advance, especially if you're coming in a group larger than four people – we saw groups being turned away though it was still early in the evening.
Address: 207 Hougang Street 21, Paya Lebar Kovan CC, Singapore 530207
[Zao Lek Lok Lok has relocated to 605B MacPherson Road, #03-08, Singapore 368241.] Opening hours: Daily 5:30pm to 11:30pm (last order at 11pm)
Tel: 6282 4005
Website
This is an independent review by Eatbook.sg.
Summary
Pros
– Relatively affordable
– Wide selection available
– Fast service
– No GST or service charge
Cons
– Smaller selection of grilled items
– Outdoor seating means houseflies are unavoidable
Recommended Dishes: Laksa soup base, sotong, deep-fried sweet potato, deep-fried pumpkin, grilled prawns
Operating Hours:
Daily 5:30pm to 11:30pm (last order 11pm)
Tel:
6282 4005
Address: 605B MacPherson Road, #03-08, Singapore 368241