Zui Hong Lou at Club Street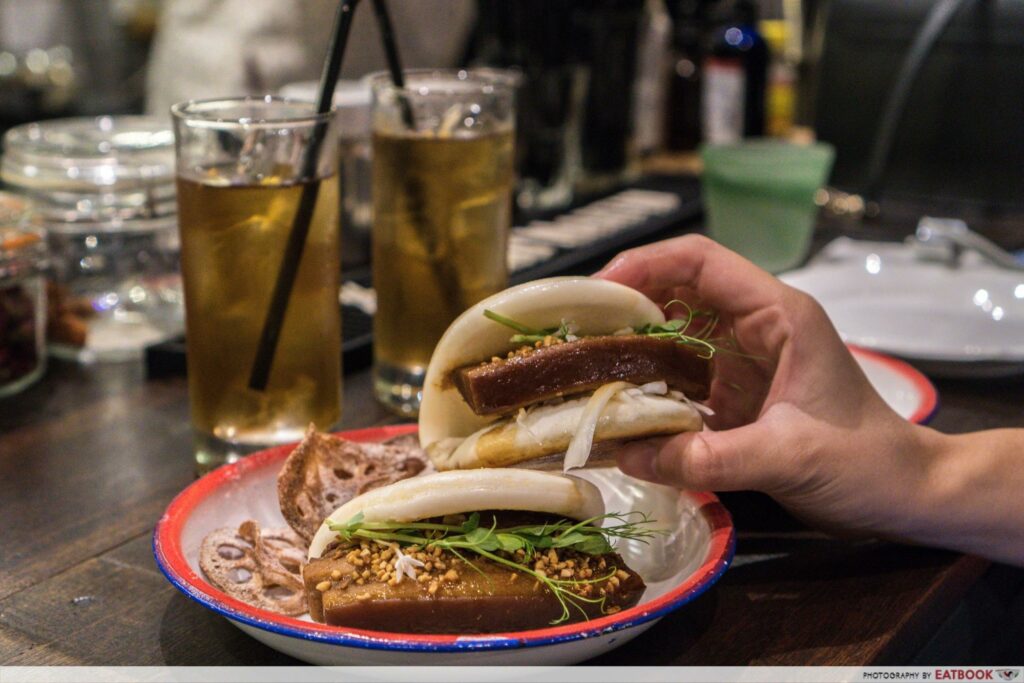 Yes, this is the same Zui Hong Lou that first opened in 2013 at Ann Siang Hill. Previously a dim sum bar, the  "drunken red brothel", as it is loosely translated, closed down due to high rental. It has since been revived, and the cocktail bar is now back in action at Club Street, bringing modern Chinese small plates and tipples inspired by Singaporean favourites to the table.
Food at Zui Hong Lou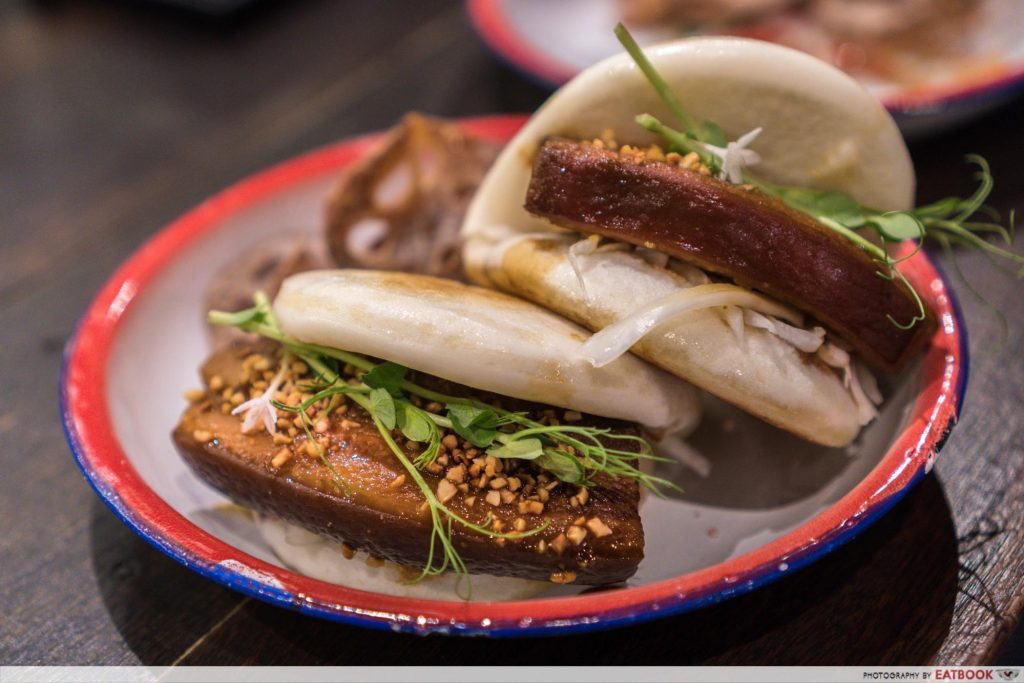 Set to fill you up is their selection of bao ($9++ for a pair). A must-try is the Braised Pork Belly. The steamed buns were pan-fried until toasty and held a slab of succulent pork belly, pickled cabbage, cilantro and peanuts. I liked how the sharp tartness from the pickled cabbage cut through the fatty pork. On the side were some deep-fried lotus root chips that were garnished with sour plum powder.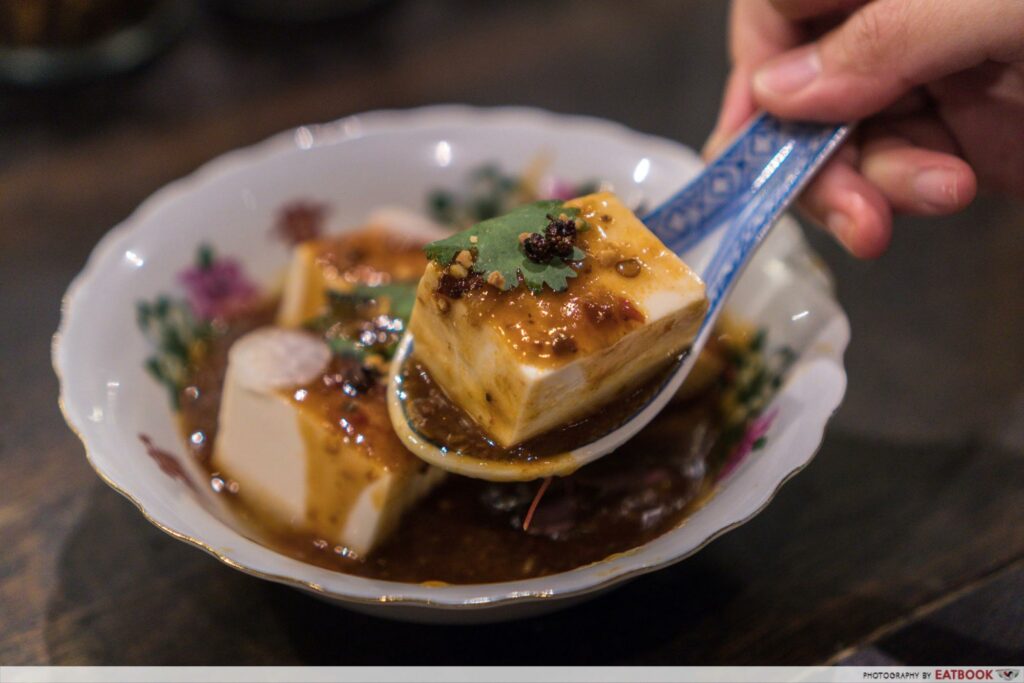 Unlike your everyday Ma Po Tofu ($7++), the one served at Zui Hong Lou came with four cubes of cold, silky tofu sitting in a warm Sichuan ma po sauce. The deep red base delivered a slight numbing sensation at the back of my throat, while the cold tofu helped cool down the burn. It was simple, yet addictively delicious.
Even though the skin was intentionally made thicker to absorb the piquant chilli oil, I did not fancy the Spicy Dumplings ($7++ for five pieces). It seemed that the chewy skin took too much spotlight, and overshadowed the pork and cabbage filling.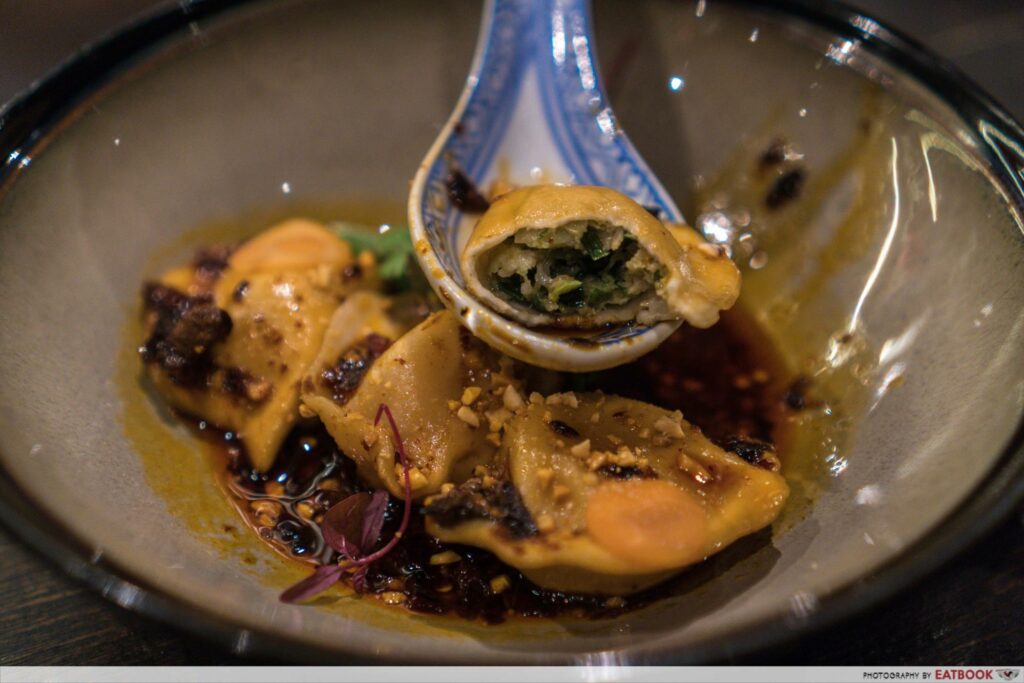 Nonetheless, there was a slight burst of porky goodness as I popped the entire piece into my mouth, but it was not spectacular. The chilli oil, too, wasn't as spicy as it was hyped up to be.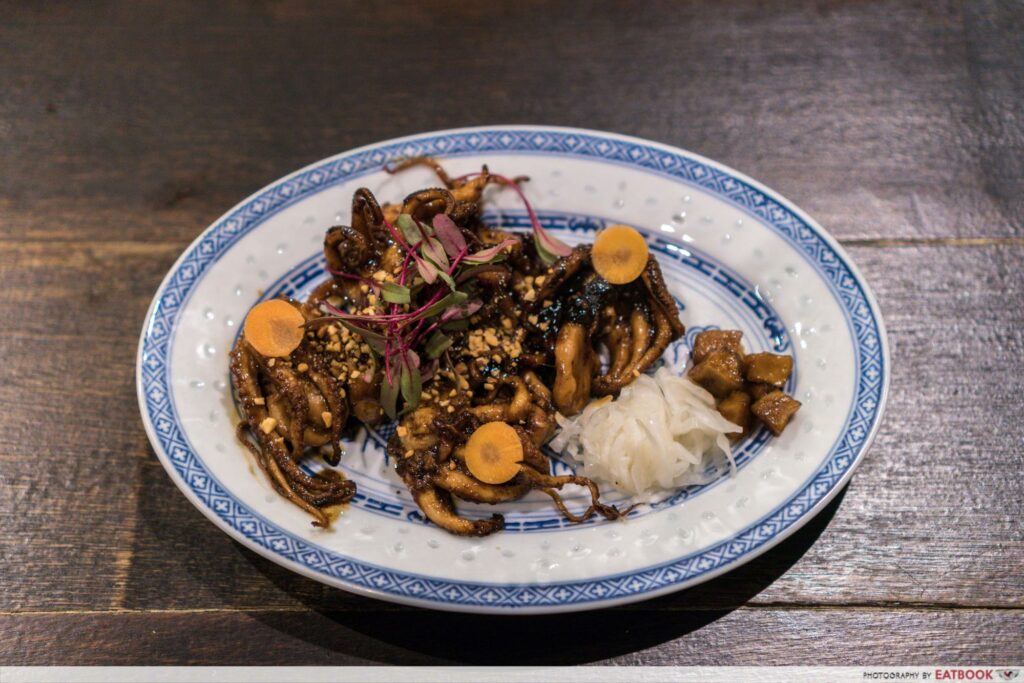 If you hate octopus because of its leathery texture, the Kung Pow Baby Octopus ($8++) might convert you into #teamocto.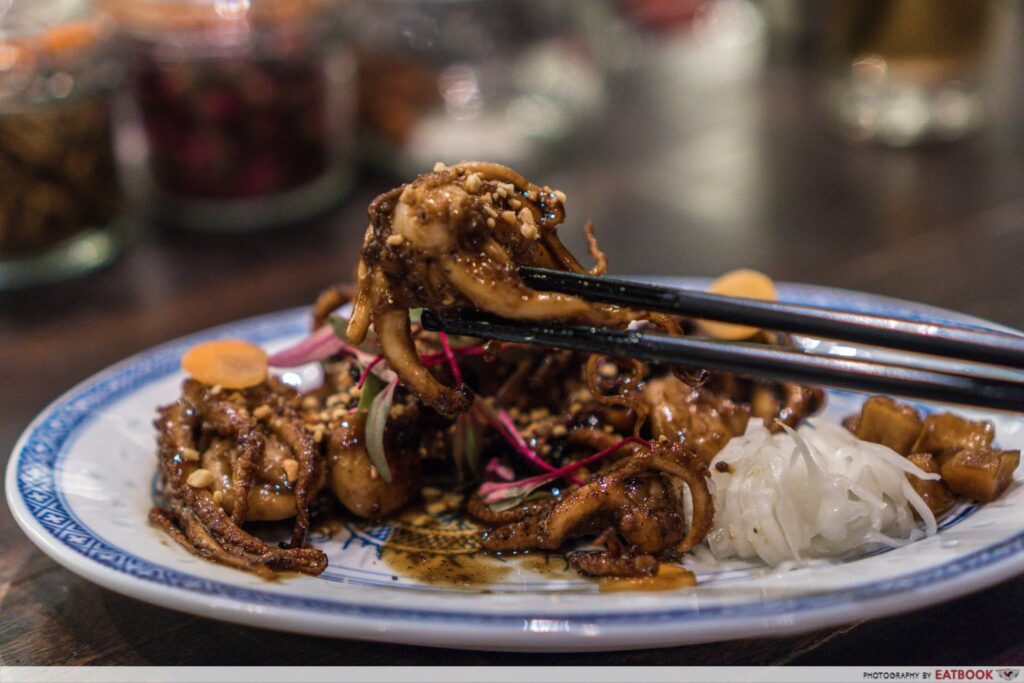 Simmered for just five minutes, the octopus was gentle to bite into, and did not give our jaw a workout. What caught me off guard was the small chunks of caramelised apple, which resembled pork lard. Putting the octopus, apple and pickled carrot into my mouth brought upon a medley of sweet, savoury and tangy flavours.
The owner, Colin, is a stickler for good fried rice, going as far as to jokingly mentioned he would fire his chef if they can't do this Yang Zhou Fried Rice ($5++) right. Fried up on a teppanyaki to ensure a wok hei aroma, the rice is also tossed in oil collected from the grilled lap cheong hidden within the rice. This ensured that each grain is deeply coated in the savoury-sweet flavour of the Chinese sausage, and you don't just get the umami tang when you bite into the lup cheong. Do note that the regular portion is bigger than this tasting portion.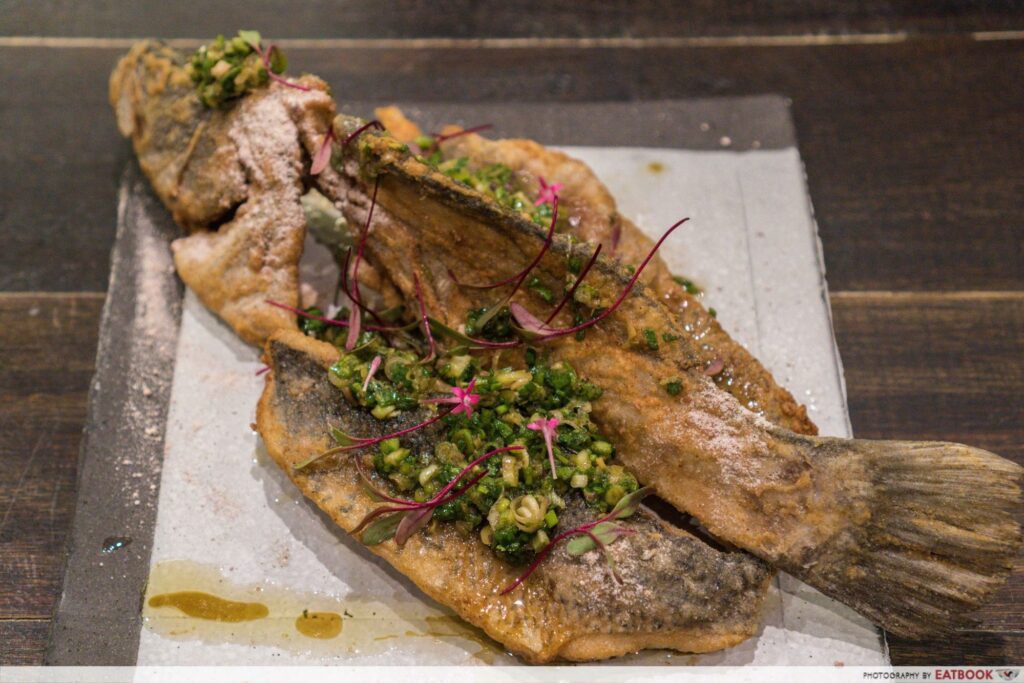 Freshness makes a world of difference when it comes to fish, and the Whole Fish Asian Style ($28++) proved this statement true. Bought at a nearby market earlier that day, the fish was plump and soft.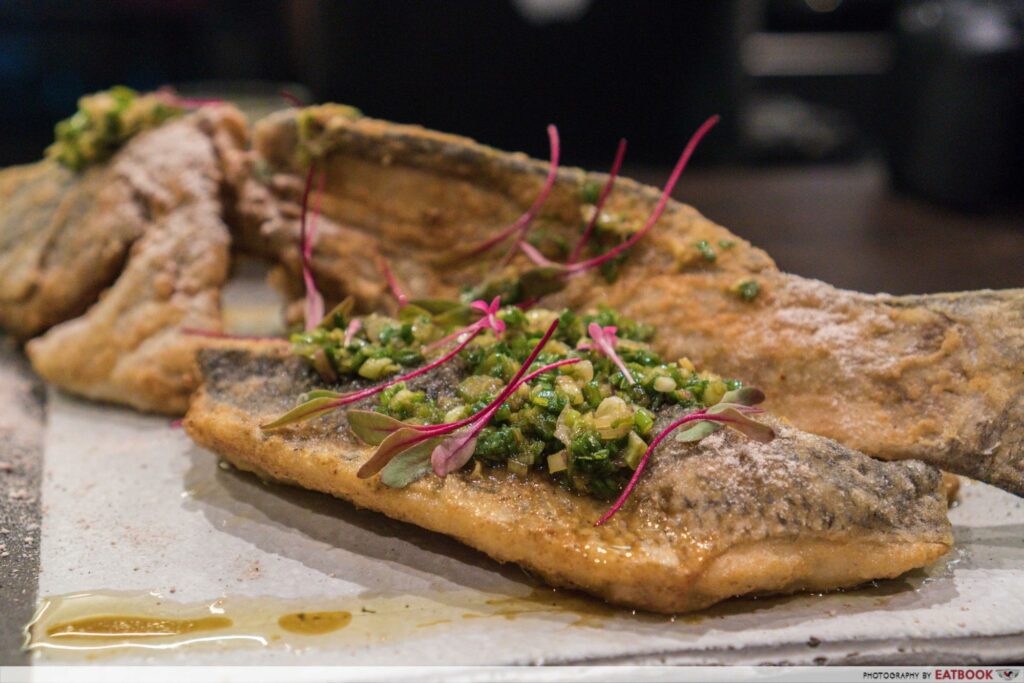 It came with a deeply flavoured ginger-scallion dressing that elevated the tastiness of the fish, without drawing attention away from its pristine flavour. Sure, it's not under $10, but for an entire fish, it's helluva affordable.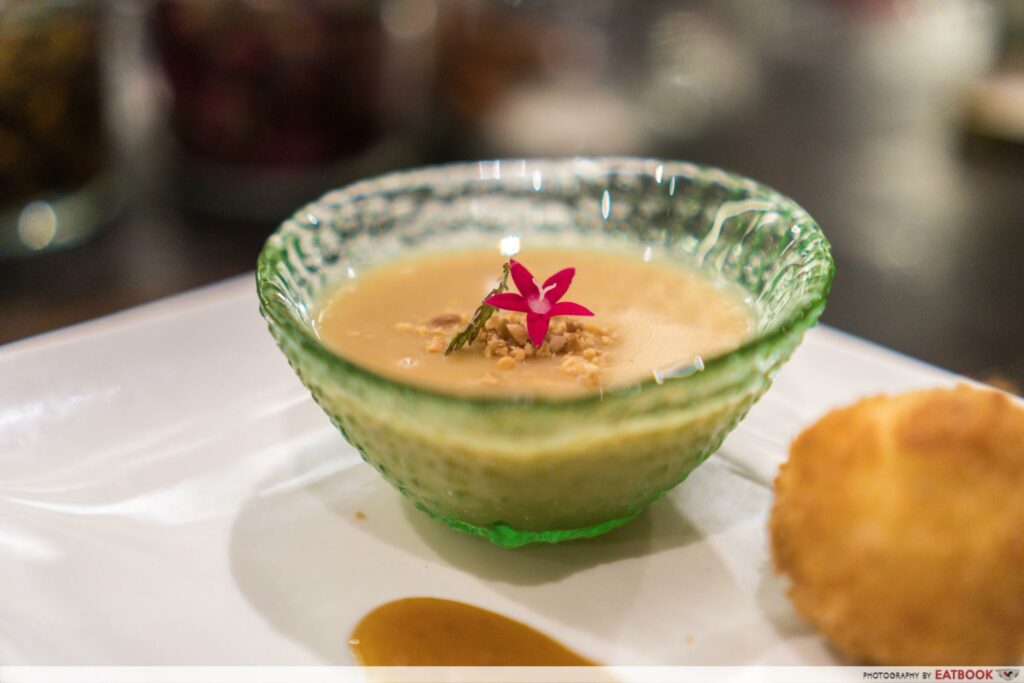 Putting a creative spin on tang yuan is the Peanut Paste Soup ($8++). For someone who is guilty of wiping out an entire jar of peanut butter in one seating, this side of creamy peanut paste was pure joy.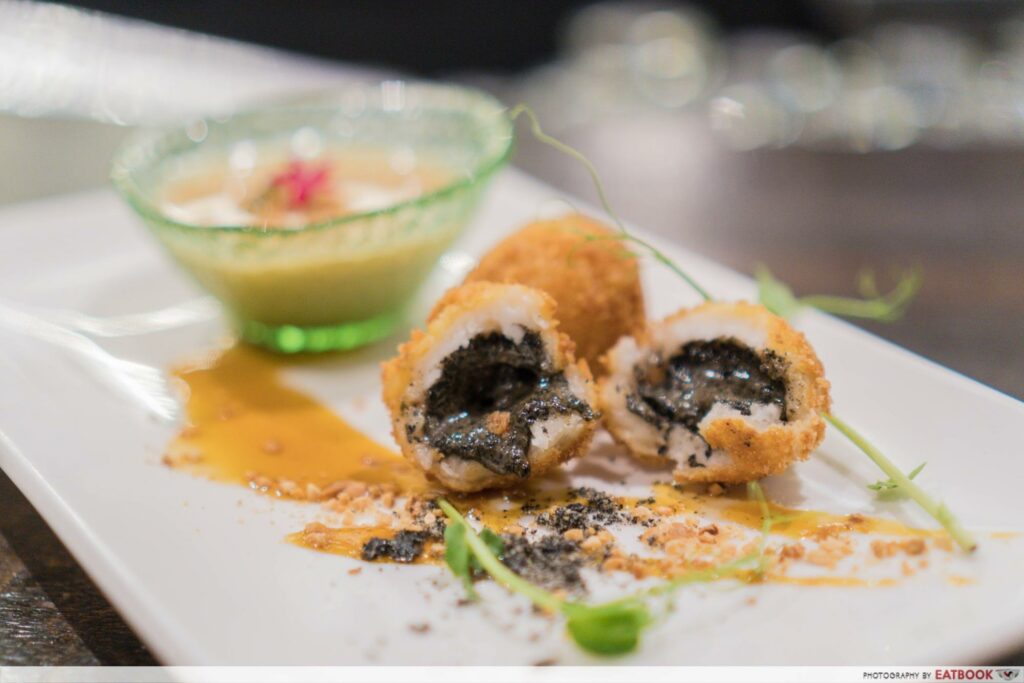 The two accompanying glutinous rice balls were also stuffed with peanut and sesame paste, before being fried to crisp perfection.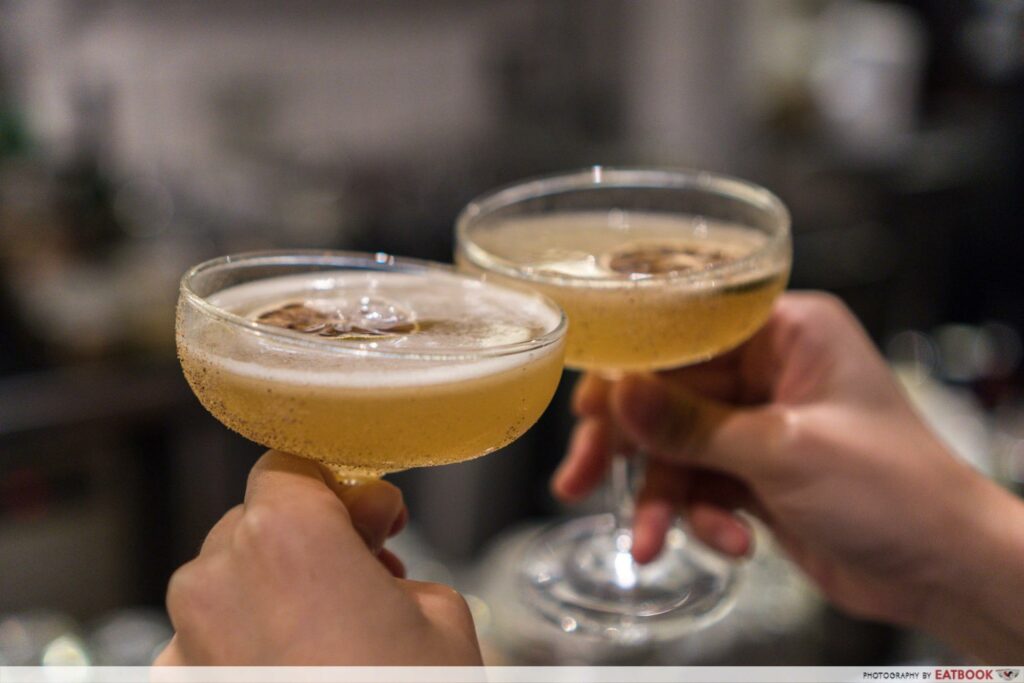 The cocktails here are worth having too, especially since it's not super pricey, with classics starting at $14++. One that received our two thumbs up was the Nanhai Magarita ($16++). Made with tequila, smoked plum, Cointreau-infused roasted green tea and lime, the smooth tipple had a bit of bite to it, and paired extremely well with the dishes we tried.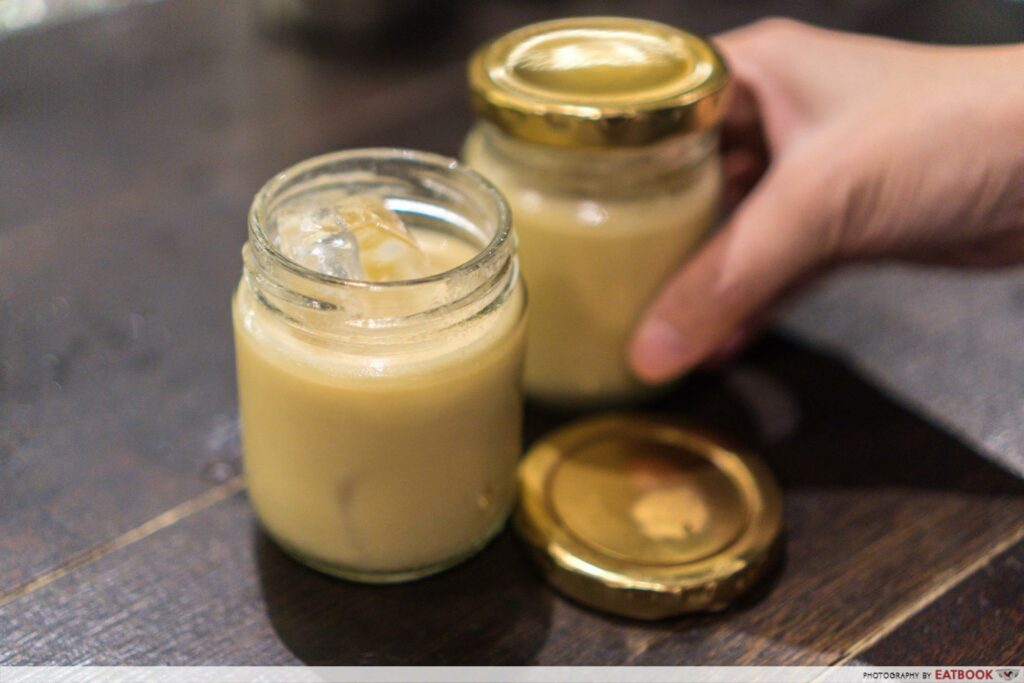 Tiny but powerful was the Breakfast Club ($16++). Served in a small jar, the rum-based concoction was shaken up with coffee-infused Averna, kaya oat milk, evaporated milk and egg yolk.The result was a creamy, toothsome drink with a potent kick.
Ambience at Zui Hong Lou

The cocktail bar is intimate, with red tables and bar stools to brighten up the predominantly black interior. On the right you will see a featured graffiti wall, adding an edgy charm to the space. Snag a seat at the bar counter to catch all the action, from the chefs whipping up a storm to the bartenders shaking up your cocktails.
The verdict
Gone are the days where bar bites are just secondary in drinking dens. Hiring Chef Clement, whose previous experiences include working at The Ritz-Carlton and one-Michelin starred Bacchanalia, to head the kitchen, Zui Hong Lou's no-frills dishes are hearty and very well-executed. I can totally see myself making a date with my friends to come over here for just dinner.
Address: 90 Club Street, Singapore 069458
Opening hours: Mon-Thur 12pm to 2:30pm, 6pm to 1am, Fri 12pm to 2:30pm, 6pm to 2am, Sat 6pm to 1am
This is an independent review by Eatbook.sg
Summary
Pros
– Affordable small plates
– Good quality food
Cons
– Limited seatings for big groups
Recommended Dishes: Braised Pork Belly ($9++ for a pair), Whole Fish Asian Style ($28++) and Nanhai Magarita ($16++)
Operating Hours: Mon-Thur 12pm to 2:30pm, 6pm to 1am, Fri 12pm to 2:30pm, 6pm to 2am, Sat 6pm to 1am
Address: 90 Club Street, Singapore 069458