---
Seaside restaurants in Singapore
---
After a long day/week/month of being caught up with tight schedules, just being near the sea and feeling the breeze, can be all the comforting we need. Your first thought when it comes to seaside restaurants may be the tacky stretch of seafood restaurants at East Coast Park, but this guide will school you on some other spots including some of Singapore's best kept dining secrets!
To catch a break, pay these 10 spots a visit, and we guarantee you'll feel the stress ebbing away.
---
1. The Wine Company
---
If you are someone who believes ambience is just as important as the quality of food, this is a must-visit. Besides an extensive selection of wine, it offers a vast selection of local favourites and classic Western fare. Think Curry Chicken ($12.80), Prawn Linguine ($15.80) and Fish & Chips ($15.50). Dine alfresco, then take a slow stroll into Sentosa or back to VivoCity while carrying a deep conversation with a partner. Not bad for a first date, we think!
Operating hours: Mon – Thu: 5pm – midnight, Friday – Saturday & eve of PH: 5pm – 2am, Sun & PH: 12 noon to 11pm
Address: 6 Sentosa Gateway, Singapore 098072
Contact: 6376 9029
---
2. Tanjong Beach Club
---
Even when it is bustling on the weekends with a live DJ spinning, those looking for some privacy can choose to dine a little further away, at tables on the beach. Expect a hearty, upmarket selection of classic bar grub. The Tanjong Burger ($27), featuring USDA prime beef, cheddar, tomato, red onion and shredded lettuce on a homemade bun, comes with a side of fries. Don't miss having a glass or pitcher of Mojito ($18/$70), that will give you a good buzz for the long night ahead.
Operating hours: Tue – Fri: 11am – 10pm, Sat & Sun: 10am – 11pm
Address: 120 Tanjong Beach Walk, Sentosa, Singapore 098942
Contact: 6270 1355
---
3. La Cantina in Venezia
---
Here's one reason to travel to the east: a rooftop restaurant with a panoramic sea view and a selection of delicious pizzas, pastas and daily specials (make that two). For indecisive folk, you can't go wrong with the Prosciutto Funghi ($22.90) pizza – a well-liked pairing of ham and mushroom. The best part? This restaurant rewards latecomers, with diners getting a 25 percent off all drinks after 10pm, from Tuesday to Friday.
Operating hours: Mon – Fri: 11am – 3pm, 6pm – 11pm, Sat & Sun: 11am – 11pm
Address: 1 Netheravon Road, Changi Village Hotel, Singapore 508502
Contact: 6546 9190
---
4. Smith Marine Floating Kelong Restaurant
---
Hungry patrons at this establishment can catch their food and eat it too – if they want snapper or sea bass, that is. Cooks will be on hand to cook up a big catch, at the eatery that is only accessible via bumboat from Changi Point Ferry Terminal ($100 for a two way trip, to take a maximum capacity of 12 people). But for fresh Sambal Mussels ($15), Chilli Crab and Lobster (seasonal prices), I do, I do, I do.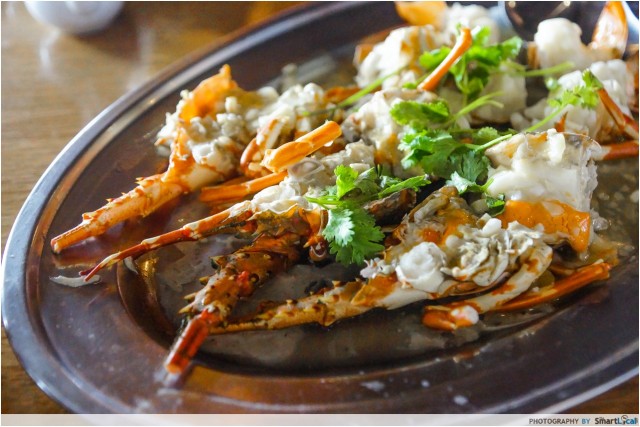 Source
Operating hours: Call +65 9792 7609
Address: Pulau Ubin Coastal Area, GPS : 01'23'52″N 103'57'42″E
---
5. House of Seafood
---
I am a huge fan of a chilli crab dish that is not too sweet and leaves a spicy kick. The Chilli Crab (seasonal price) at this joint is just right for me. Also, give their speciality Black Pepper Crab and Salted Egg Crab (seasonal prices) dishes a try. Because of its location, this Punggol outlet is popular with families on the weekends.
Operating hours: Mon – Sun: 11am – 2pm, 5pm – 11pm
Address: 3 Punggol Point Road, The Punggol Settlement, #01-01/02, Singapore 828694
Contact: 6466 9000
---
6. Rasa Istimewa Woodlands Waterfront Restaurant
---
The joint draws a steady crowd with halal barbecue fare and an often underappreciated view of the Straits of Johor. Favourites on the menu include BBQ Stingray ($13/$20) and BBQ Shellfish ($7/$10). For Northies, this could be a good playing card to get friends to hang out in your side of the town!
Bonus: If you're feeling lonely the monkeys there will be more than happy to join your table, and you don't even have to open any bottles!
Operating hours: Mon – Fri: 2pm –  midnight, Sat & Sun: 12pm – midnight
Address: 6A Admiralty Road West, Woodlands Waterfront Park, Singapore 747445
Contact: 6366 9339
---
7. Golden Beach Seafood Paradise
---
The walk after a good meal here may just be as good as the meal itself. That long, Instagram-worthy jetty stretch in the far East screams slower pace of life, particularly after putting delicious lobster and crab (seasonal prices) in your belly that the restaurant is famed for.
Operating hours: Mon – Sun: 11am – 2.30pm, 6pm – 9.30pm
Address: 2 Andover Road, Singapore 509984
Contact: 6542 7720
---
8. Trapizza Sentosa
---
Sometimes old is gold, and this well-known spot along Sentosa's Siloso Beach sets a perfect mood for the night out. Its selection of pastas, pizzas and beers are but an accessory to its prime location. Be it sipping on cocktails or spilling your work woes, this is a great spot for friends to catch up.  
Operating hours: Mon – Sun: 11.30am – 9.30pm
Address: 10 Siloso Beach Walk, Singapore 098970
Contact: 6376 2662
---
9. Wave House Sentosa
---

This one is for the activity junkies, who would love to ride some waves as a pre-dinner exercise. Indulge in the chef's recommendations of Spaghetti Aglio Olio with Ocean Gen Prawn ($19.50) and Slow Braised Lamb Shank Risotto Rice ($27.80). And for the love of all the calories you've burnt, don't leave without dessert. We'd go for the Chocolate Lava Cake ($10.50).
Operating hours: Mon – Sun: 10.30am – 10.30pm
Address: 36 Siloso Beach Walk, Singapore 099007
Contact: 6377 3113
---
10. Privé Grill
---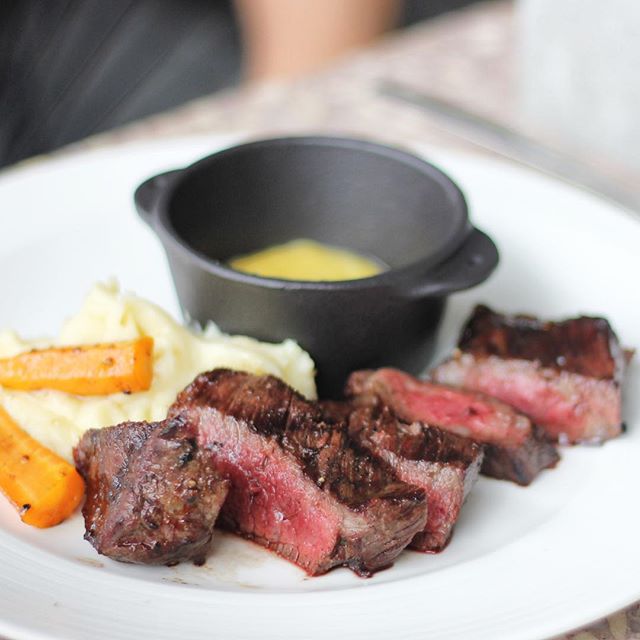 Diners at this joint will get to have dinner while taking in the view of luxury yachts. The Angus Grain-Fed Tomahawk Steak ($188), which happens to be the most expensive item on the menu, seems like just the right order. Made to be shared by two to three people, it comes with butter-glazed baby carrots, potato sarladaises (made of potato, garlic and fat) and garlic confit bone marrow.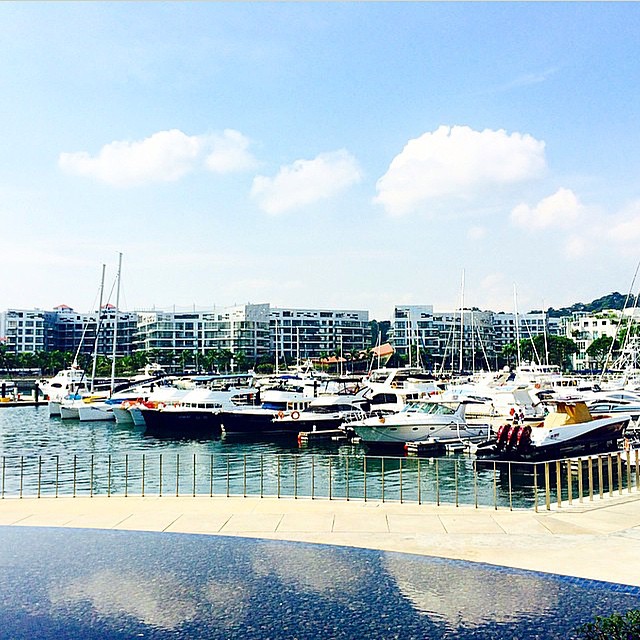 Operating hours: Mon – Fri: 11.30am – 3pm, 6.30pm – 11.30pm, Saturdays & eve of PH: 6.30pm – 11.30pm
Address: 2 Keppel Bay Vista, Singapore 098382
Contact: 6776 0777
---
Seaside Dining
---
Doing research for this list of seaside establishments, ranging from the luxurious to the more affordable, has left me aching for next weekend break. Which is your favourite joint? Let us know, because good things must share!
Written by Annabelle Liang