2KulGuyz has Muslim-friendly Italian dishes at One-North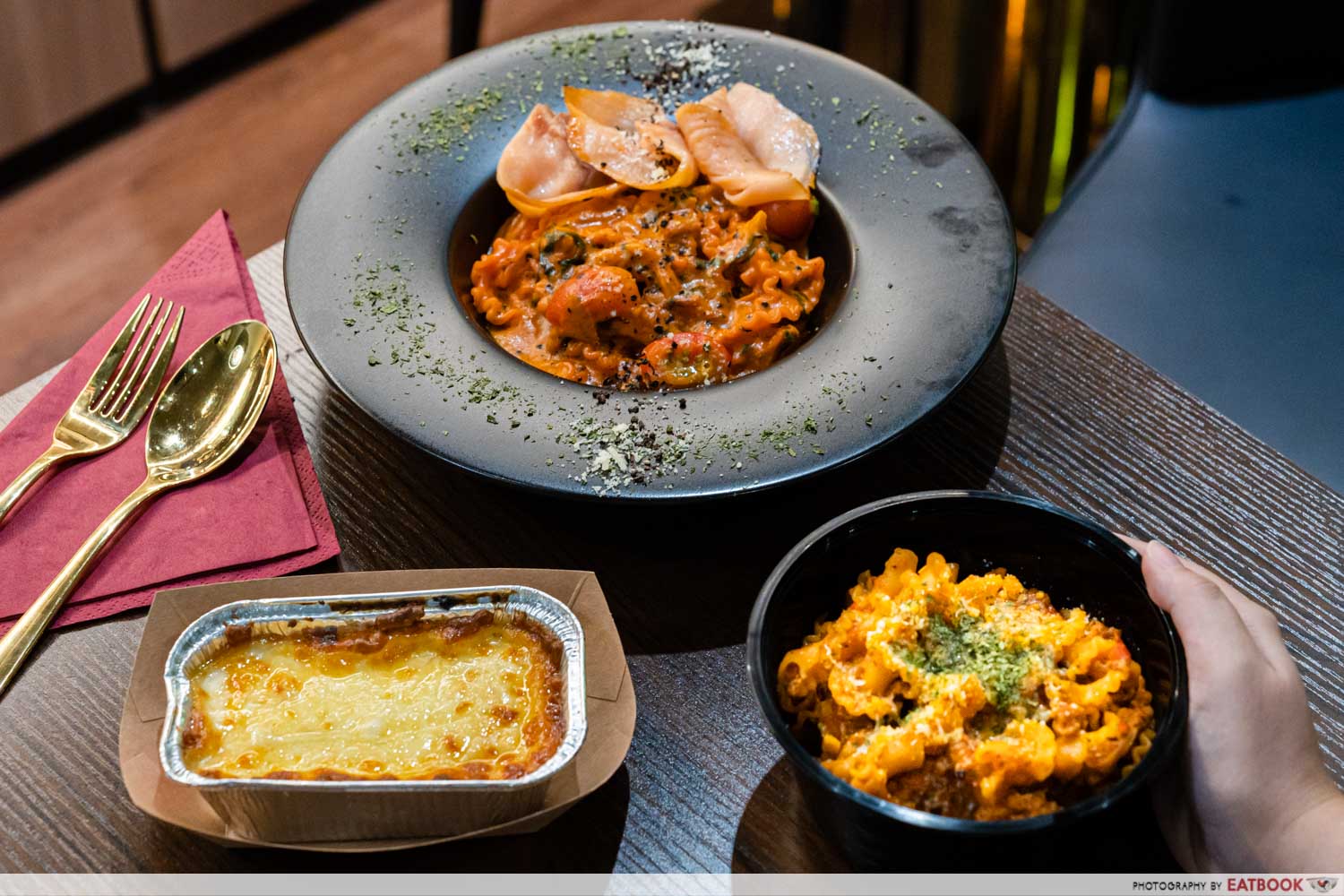 My parents are no Italian chefs, but their simple version of a spaghetti bolognese was a staple Sunday meal in our household for much of my life. As I grew older, I enjoyed trying different pasta dishes at restaurants with my friends. That's why I was thrilled when a colleague recommended 2KulGuyz, a newly opened, Muslim-owned pasta restaurant. They specialise in handmade pasta, with unique flavours such as pink grapefruit and blue pea. Intrigued by their inventive menu, I immediately headed down to give them a try.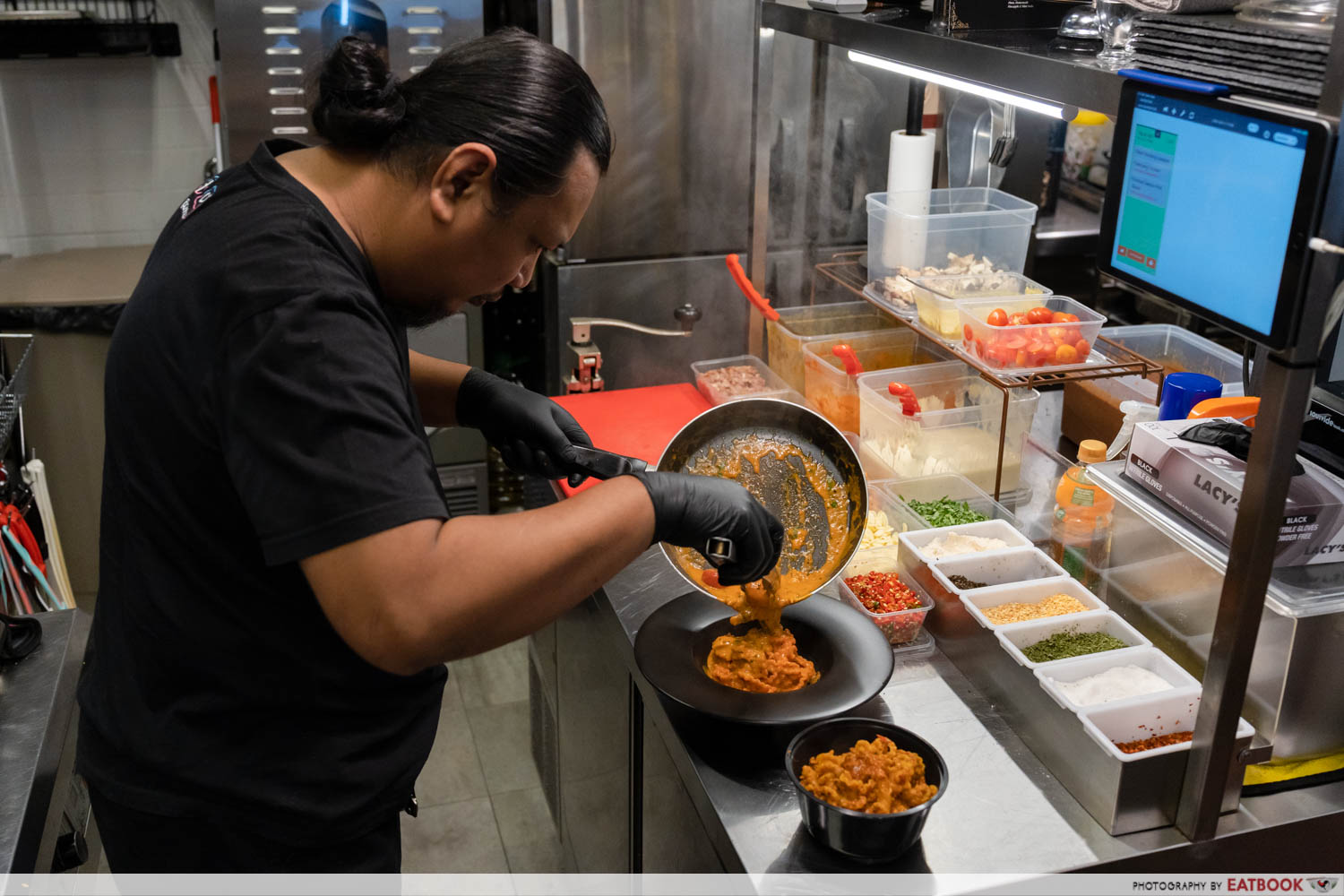 2KulGuyz initially started as a stall at Woodlands Bazaar before the owners, Chef Shukor Sazali and Ibrahim Wee, decided to open a standalone restaurant, offering a comfortable but chic dining experience. Both owners have extensive experience in the F&B industry, with Chef Shukor Sazali having worked at iconic establishments such as The Fullerton Hotel and COVA Pasticceria, as well as having experience working with Michelin-starred chef Michele Sorrentino.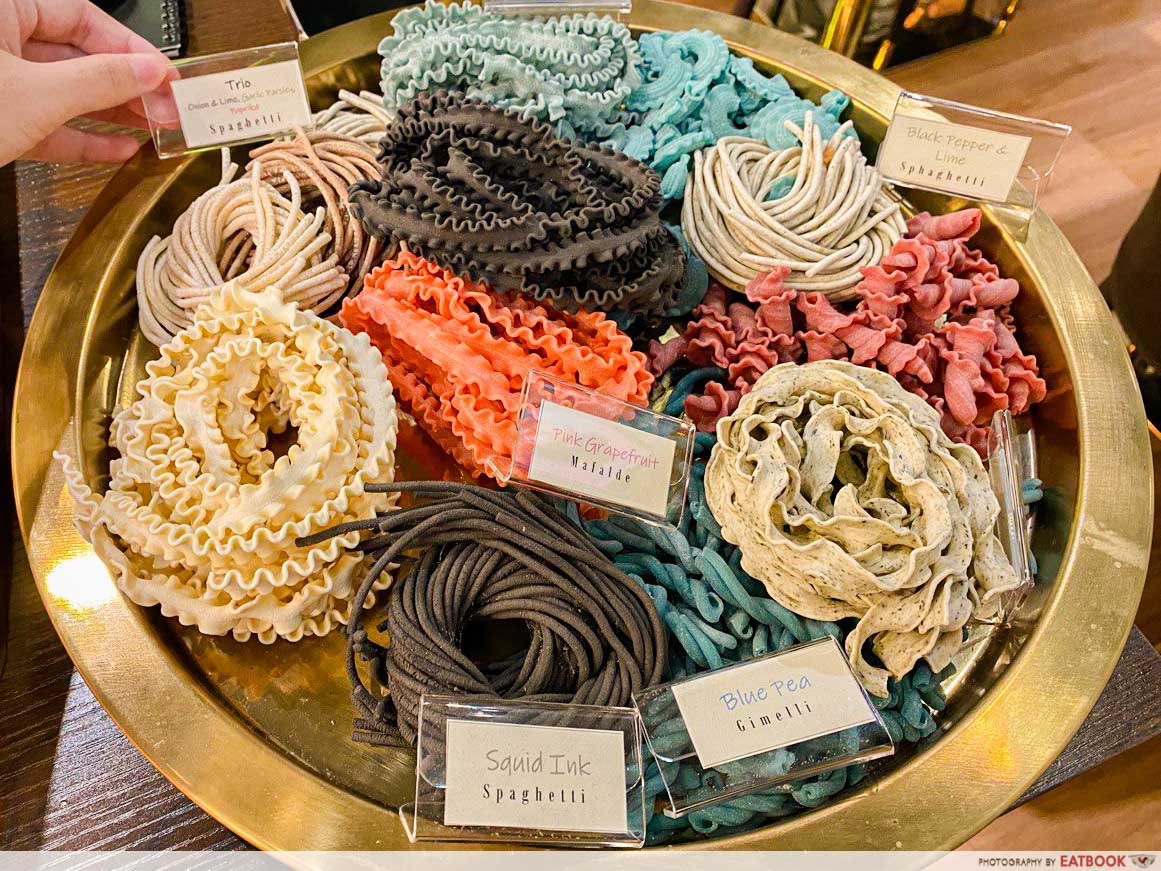 In terms of pasta options, we had three choices for the lunch menu: Samyang Campanelle, Pink Grapefruit Mafalde, and Blue Pea Creste di Gallo Rigato. It's recommended that you visit  during dinnertime for a wider selection of evening menu and pasta options, including standout choices such as Black Pepper and Lime Spaghetti and Paprika Spaghetti. 
Fun fact: Chef Sazali occasionally finds inspiration for new pasta flavours while he's at the supermarket. All the pastas are made in-house, and air-dried for three days before they are cooked. 
Food at 2KulGuyz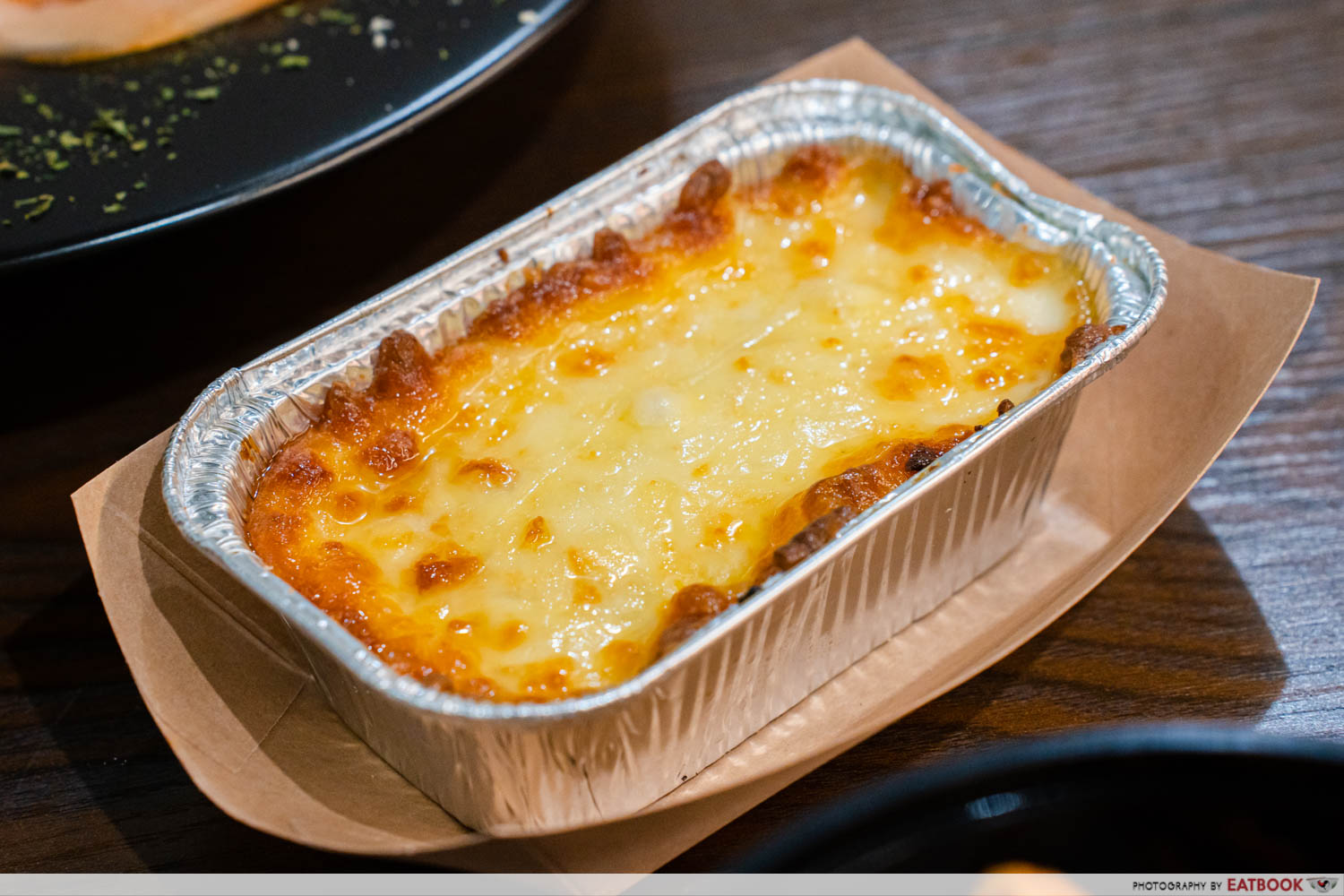 We started with their locally inspired dish, the Beef Rendang Lasagna ($9.90+), which was served in an unassuming foil tin with a golden-brown layer of cheese on top.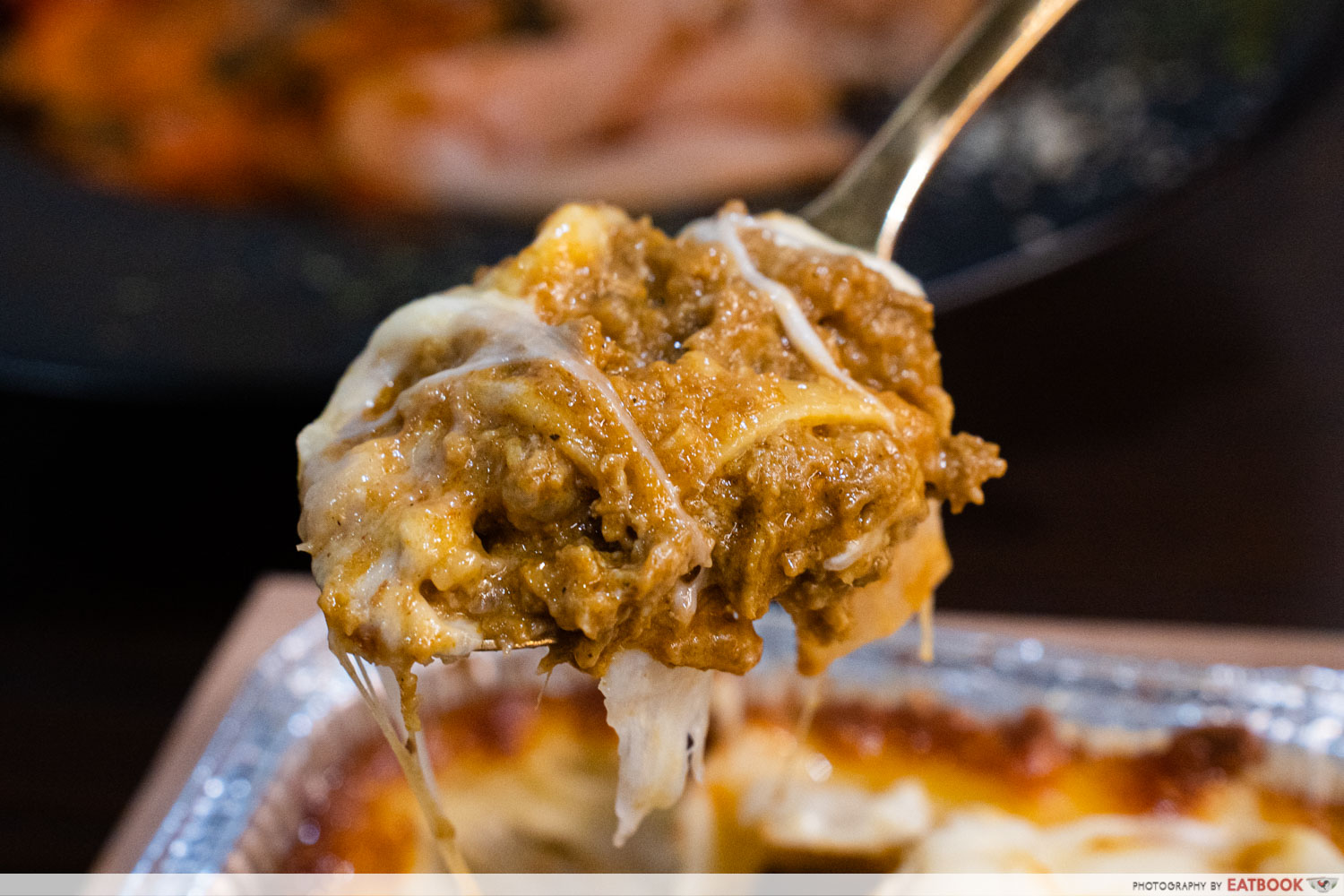 I took a bite and immediately loved how cheesy and flavourful it was. The creamy sauce had a rich mix of sweet and savoury flavours that paired well with the chewy minced beef. The lasagna layers were soft, while the cheese was delightfully creamy. My colleague and I couldn't stop eating this because it was so tasty! It also had a mild spiciness that I found pretty manageable. 
Typically, beef rendang comes with chunks of beef, but the use of minced beef here made for easier eating. The only downside was that the portion size is a bit small for the price.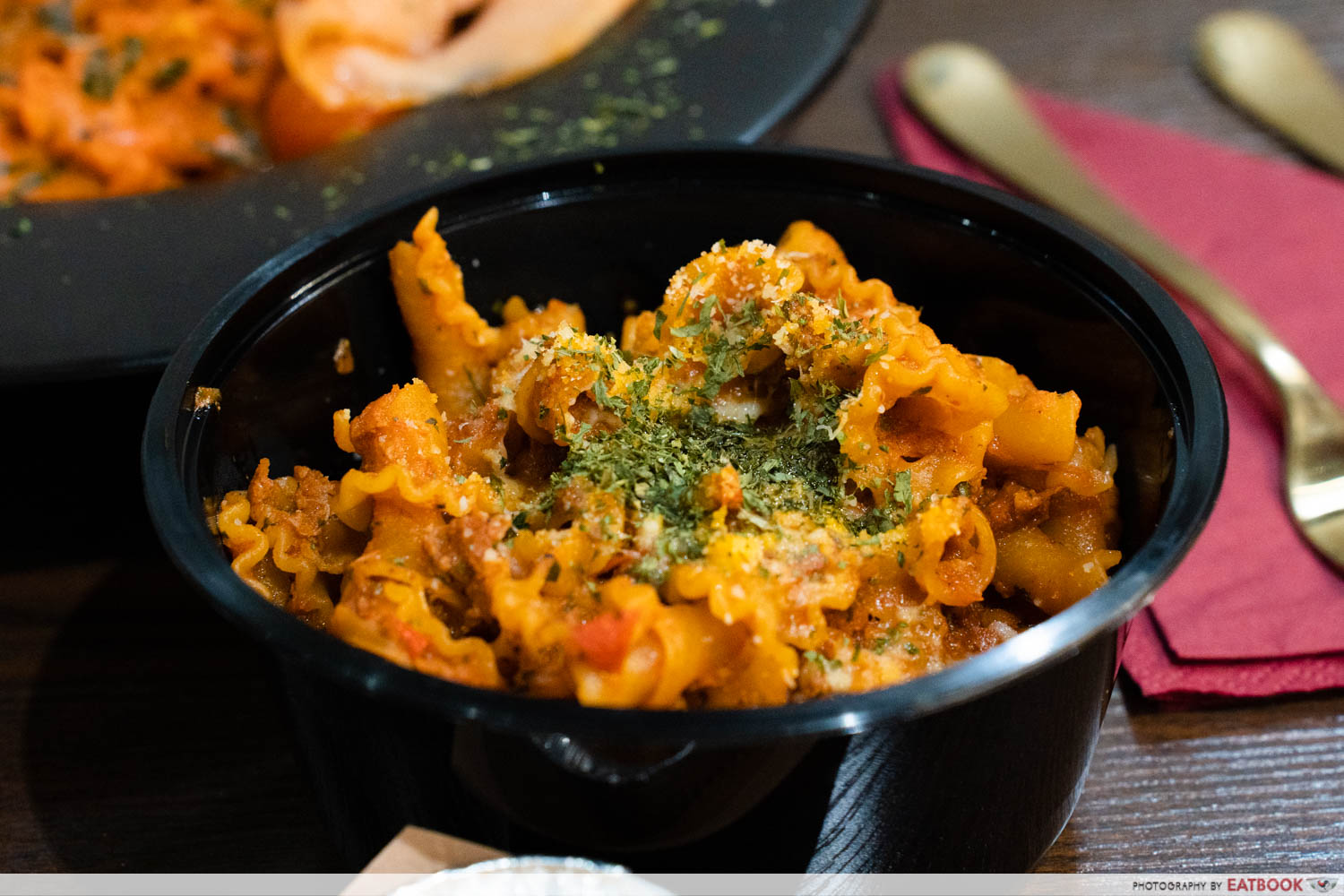 We then moved on to the Samyang Chicken ($16.90+). We paired this with Samyang Campanelle, where campanelle is a bellflower-shaped pasta with twirly edges. This tomato-based dish was cooked with minced beef, chopped chilli peppers, and Samyang Chicken sauce, then topped with parsley and shaved parmesan.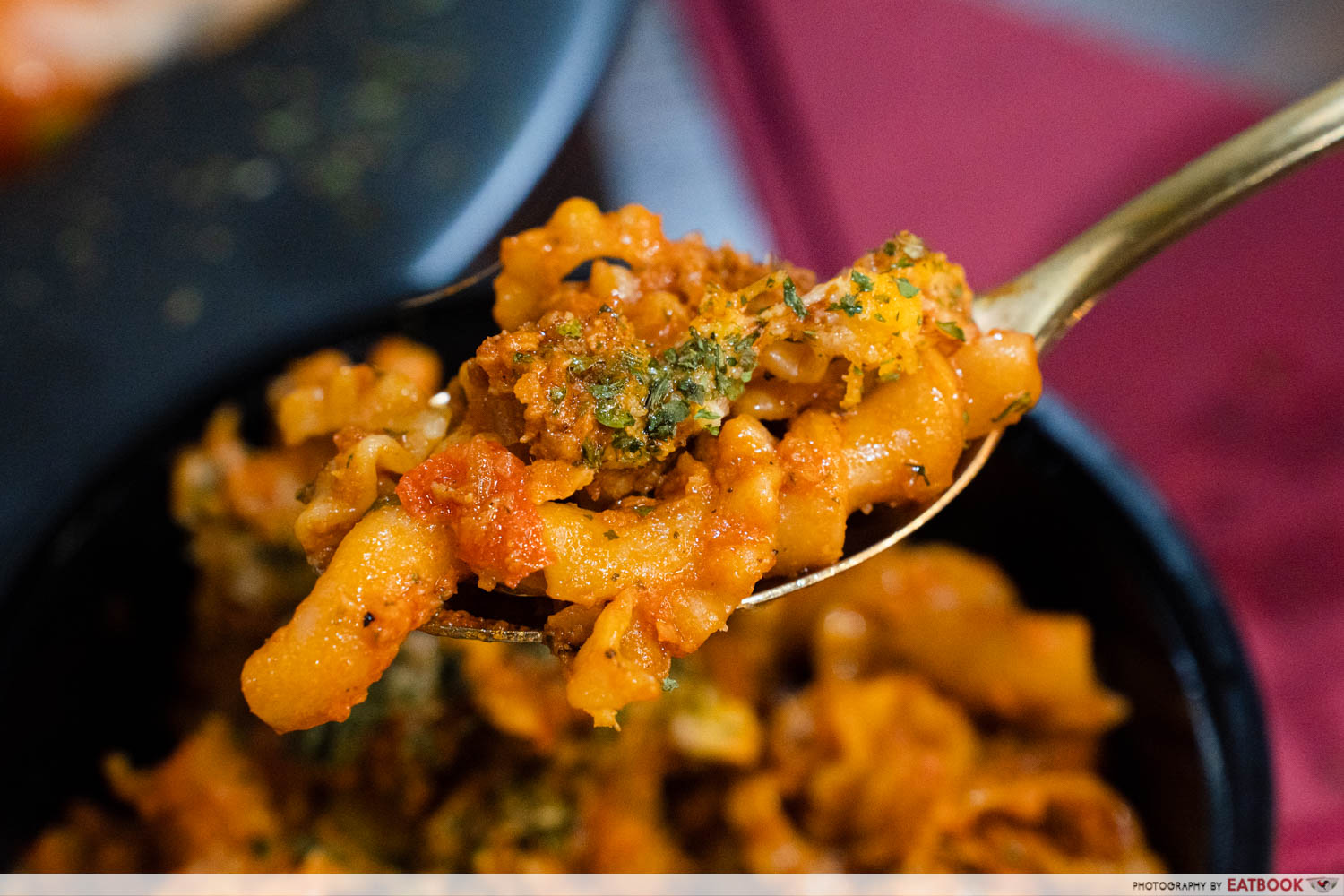 As someone who has tried the actual Samyang ramyeon, I was disappointed to find that this dish wasn't as savoury and flavourful as the instant noodles. Although it was spicy with a mild tomato flavour, it just wasn't appetising enough for me. 
On the bright side, I enjoyed how the hollow centre of the campanelle acted as a scoop for the sauce and minced beef. The pasta was also cooked until al dente, resulting in a satisfying chewy texture.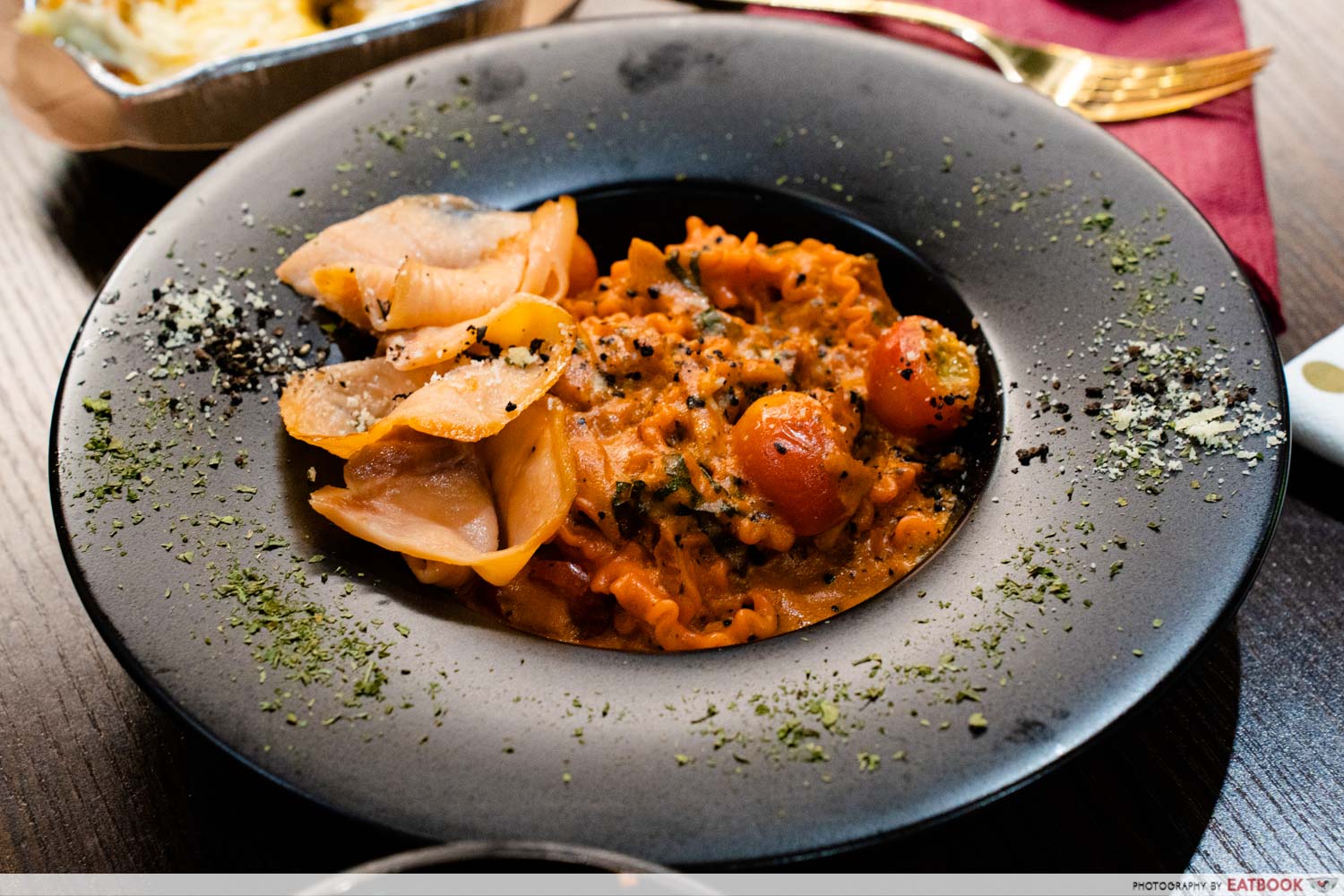 We finished off with the Smoked Salmon Pink Sauce ($18.90+), featuring Pink Grapefruit Mafalde pasta dressed in a tomato cream sauce, topped with slices of smoked salmon, cherry tomatoes, basil, parsley, and shaved parmesan. 
Mafalde pasta bears resemblance to lasagna, but is way skinnier, and stretched out to form long strands. These ribbons feature both smooth and wavy edges, providing an interesting contrast of textures. 
In this dish, I found the pasta itself was well-cooked, with a good chew, and the sauce was smooth, rich, and sweet. However, I felt that the sauce overpowered the taste of this pasta, so there wasn't much of a distinct pink grapefruit flavour. Nonetheless, I liked this dish more than the previous one, as the pasta more closely resembled my preferred pasta options of tagliatelle or linguine.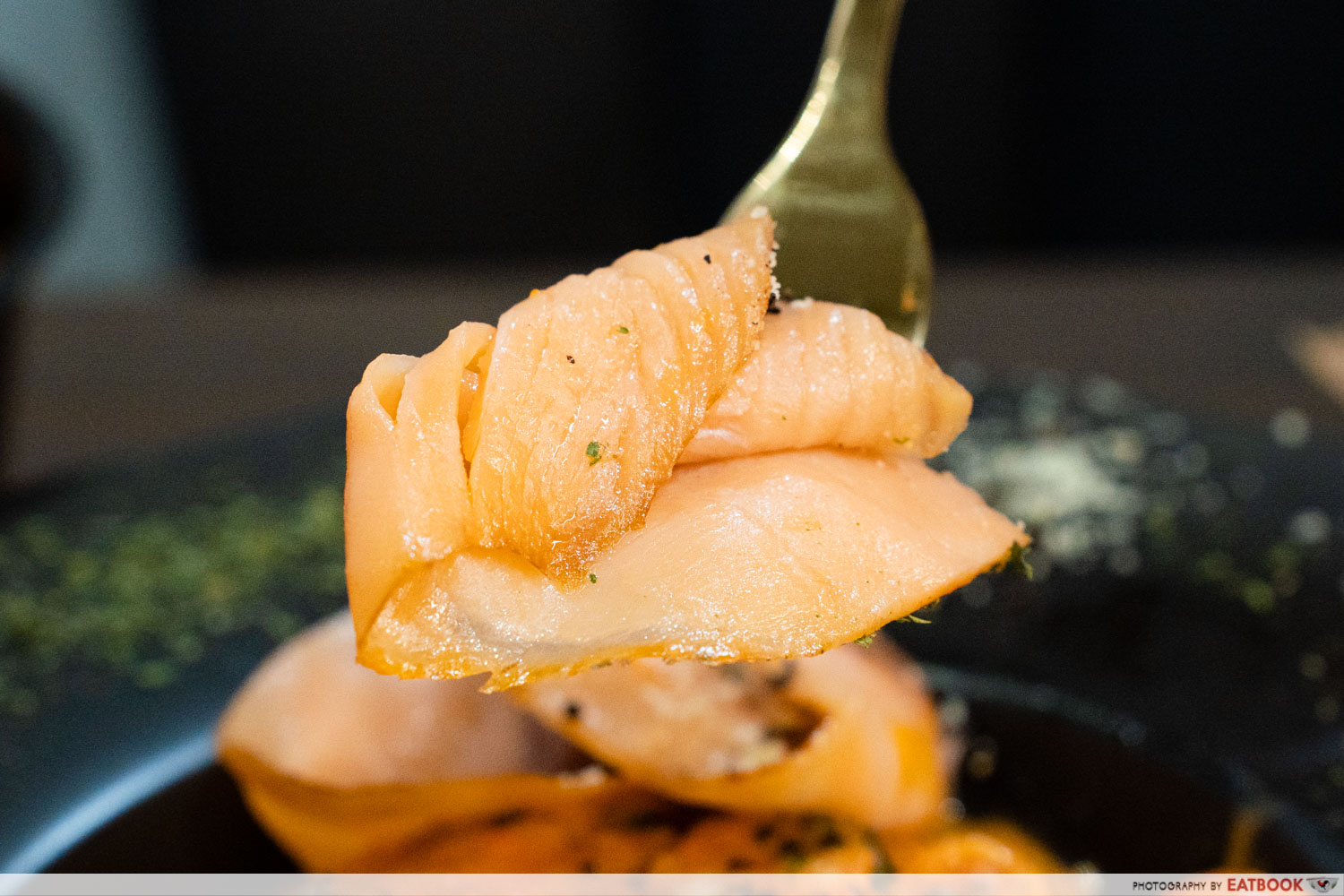 The slices of smoked salmon had crisp edges, from what I suspect could be a quick turn in the pan. Their briny, slightly smoky flavour complemented the pink sauce well; I also appreciated how the dish wasn't jelak at all. 
Ambience at 2KulGuyz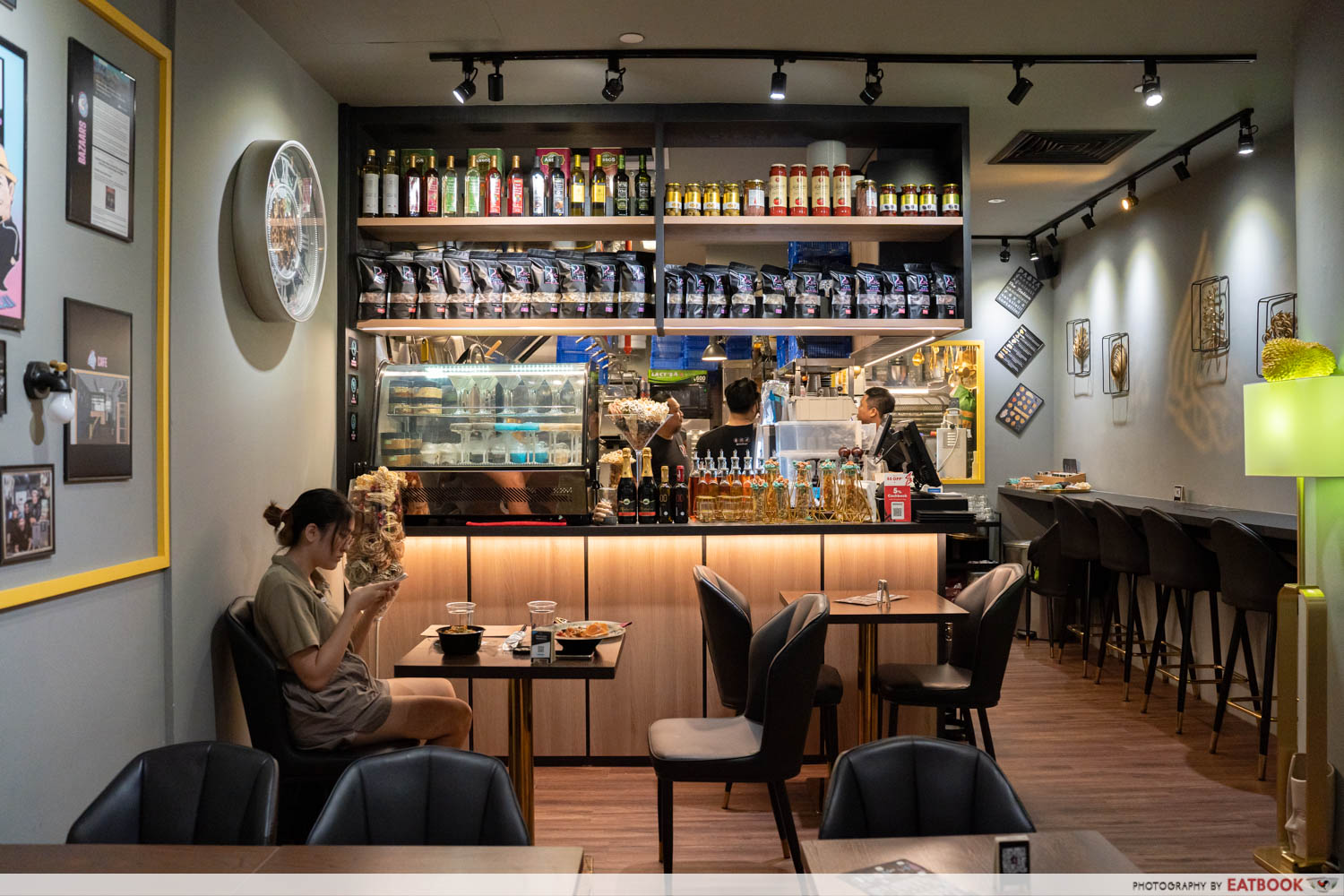 2KulGuyz is located at Galaxis, conveniently situated just above One-North MRT Station. We arrived at 11am, so there weren't any other customers at the time. The restaurant is small, but it has a cosy ambience, and is furnished with modern and sleek furniture. 
With their open kitchen concept, you have the opportunity to watch the chefs as they prepare your pasta dishes. The staff here were also really friendly, which elevated our dining experience. 
15 Best Italian Restaurants In Singapore For All Budgets—$5 Pasta, Truffle Pizza And More
The verdict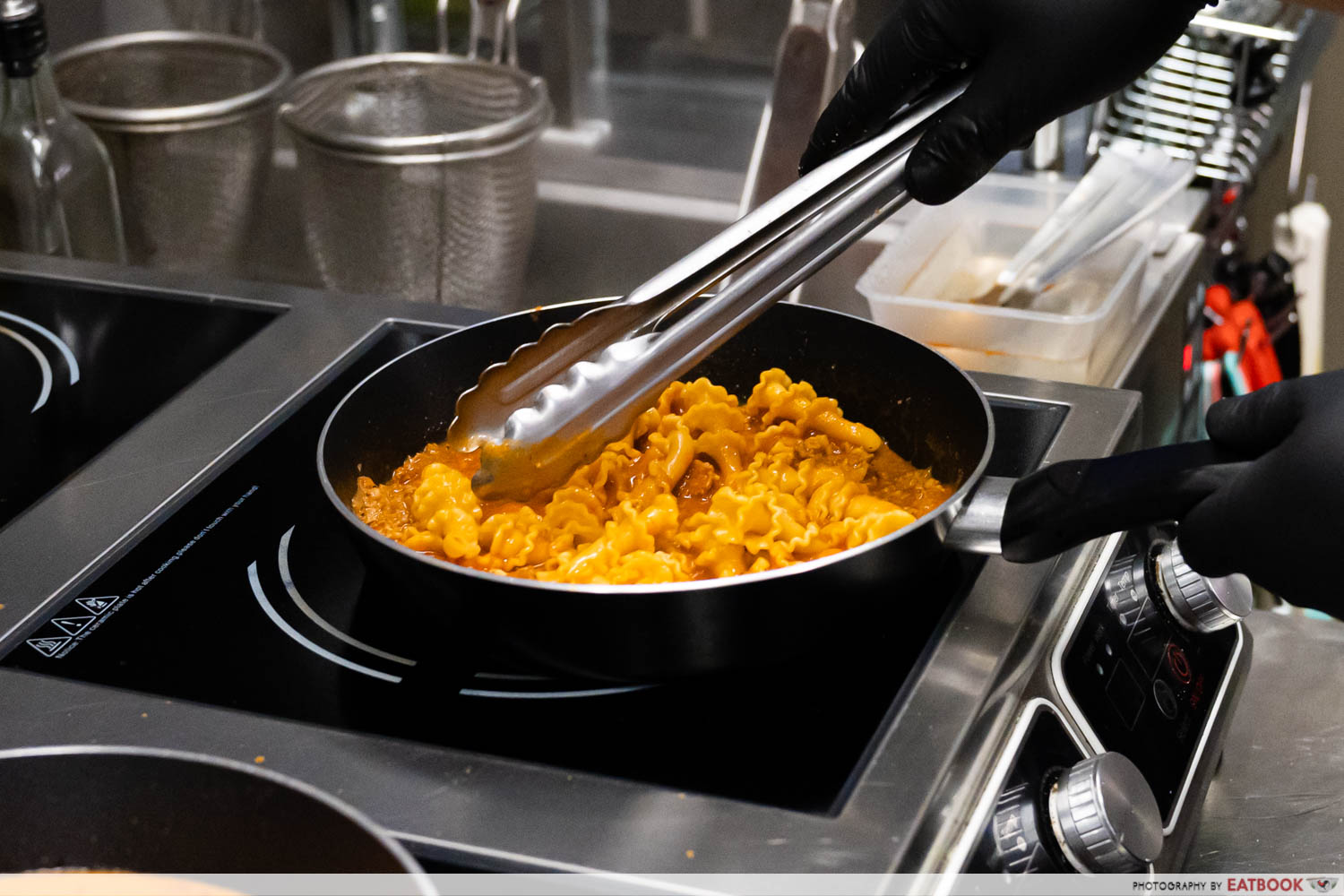 Overall, I believe that the restaurant is worth a visit as I enjoyed the decent-tasting pasta dishes here and the ambience of the restaurant. The Beef Rendang Lasagna was definitely my favourite and the dish I'd recommend! However, due to their location, I would still stick to the pasta spots closer to where I live. 
For more Italian food spots to hit up, read our guide to the best Italian restaurants in Singapore. Or if you'd like more food options in One North, check out GelatiAmo for gelato made by an Italian chef!
Address: 1 Fusionopolis Place, #01-34, Galaxis, Singapore 138522
Opening hours: Mon-Fri 11am to 2:30pm, 5:30pm to 9pm, Sat 11am to 5pm
Tel: 8044 0463
Website
2KulGuyz is in the process of getting halal-certified.
GelatiAmo: New Gelato Cafe By Italian Chef With Burrata Balsamic, Ferrero Rocher And More Flavours
Photos taken by Rifdi Syahir.
This was an independent review by Eatbook.sg
2KulGuyz Review: Grapefruit And Blue Pea Handmade Pasta At This Muslim-Owned Restaurant In One-North
2KulGuyz Review: Grapefruit And Blue Pea Handmade Pasta At This Muslim-Owned Restaurant In One-North -

7.5/10
Summary
Pros
– Most of the dishes were tasty
– Interesting pasta flavours
– Cosy ambience
– Convenient location
Cons
– Samyang Chicken was not that flavourful
– Portion for Beef Rendang Lasagna is small for its price
Recommended dishes: Beef Rendang Lasagna ($9.90+), Smoked Salmon Pink Sauce ($18.90+)
Opening hours: Daily 11:30am to 8:30pm
Address: 1 Fusionopolis Place, #01-34, Galaxis, Singapore 138522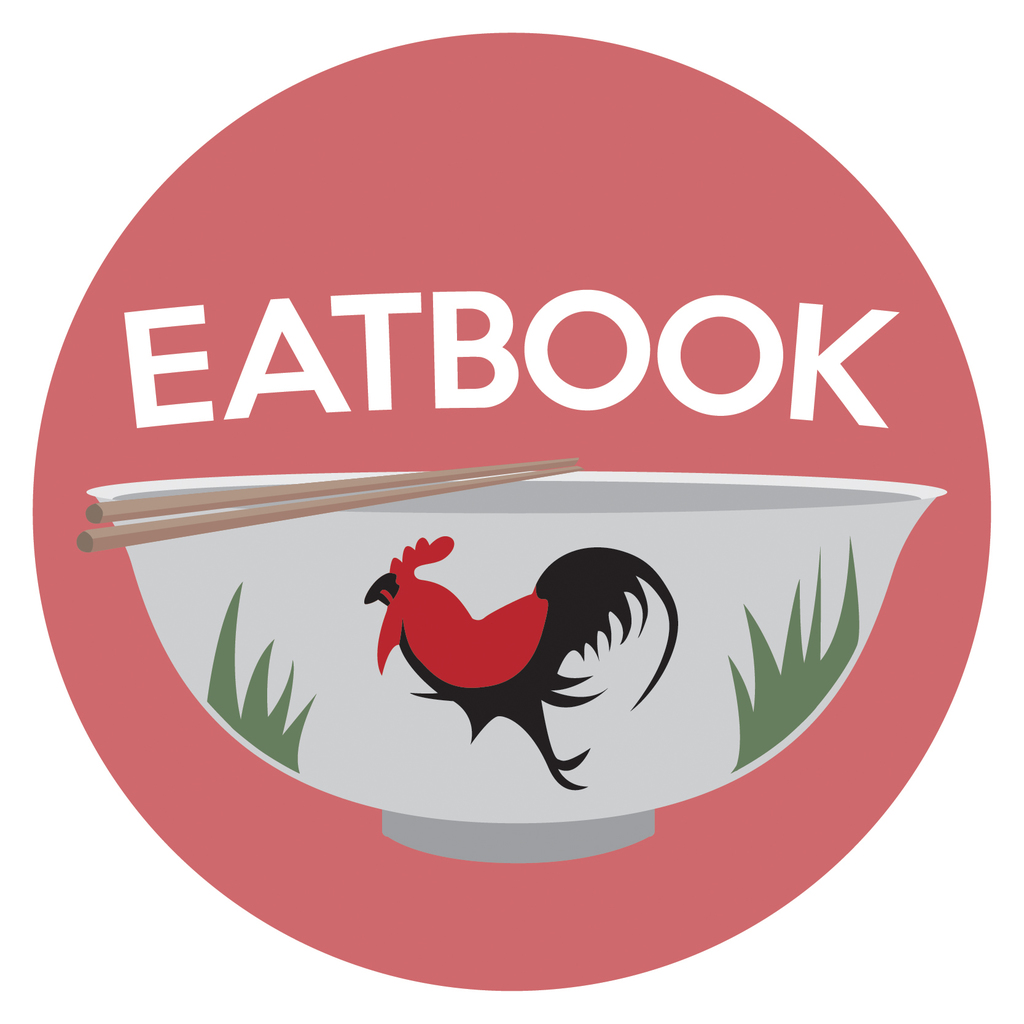 Drop us your email so you won't miss the latest news.