300 Boru offers Japanese comfort food at Bencoolen
Update (23 Feb 2018): 300 Boru has permanently closed.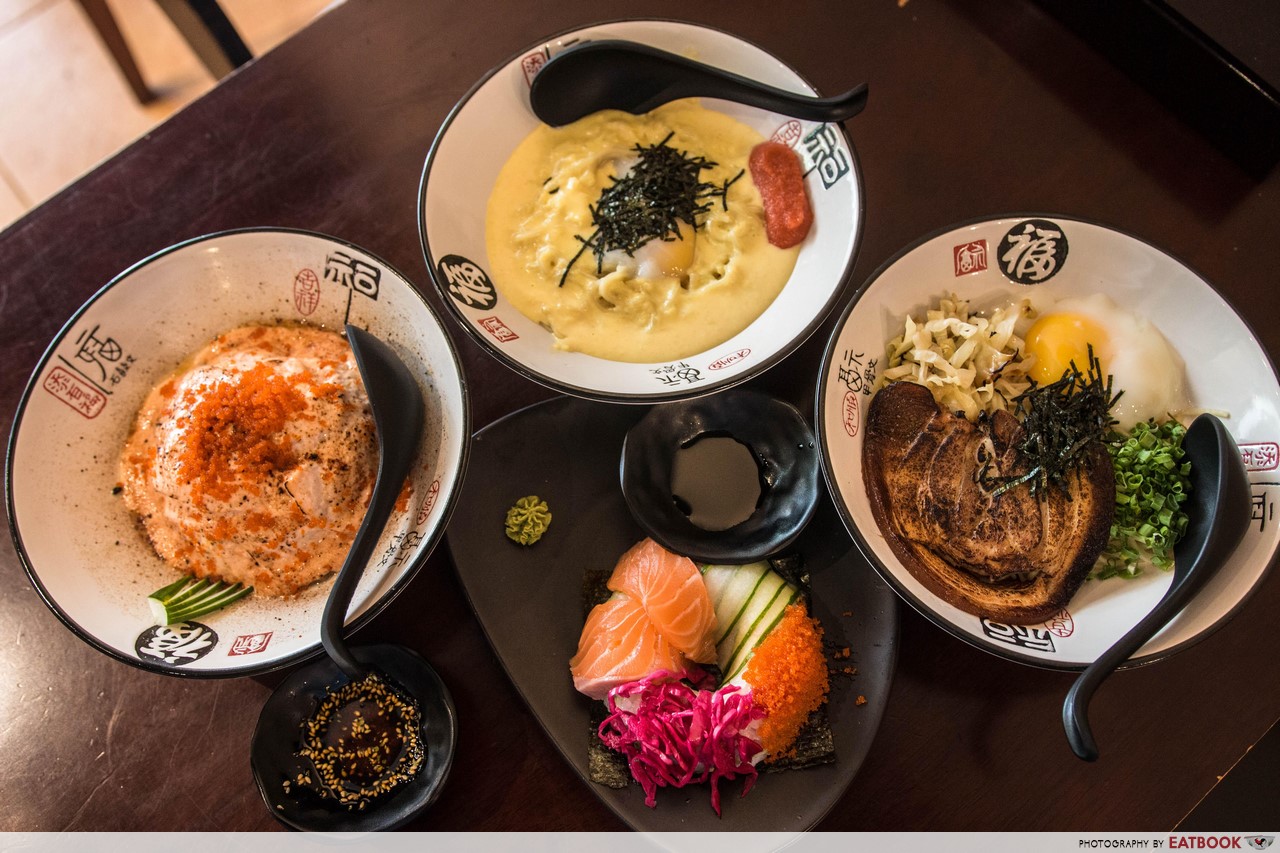 Tucked away in an unassuming corner of Burlington Square lies a new Japanese joint, 300 Boru. Though only four months old, 300 Boru has already attracted many students and office workers from the area. The space is shared with Geisha Speciality Coffee which serves coffee made using Panama Geisha Coffee Beans, to lucky patrons who chanced upon this humble little shop. There are limited seats, and an equally limited but hearty menu to offer. Sushi donut and cheese mentaiko ramen are just some of the uncommon and affordable Japanese dishes served here.
Food at 300 Boru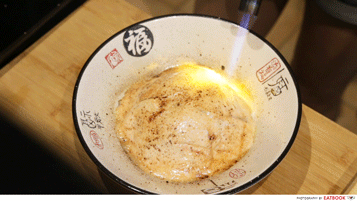 The enticing wafts of burnt mentaiko sauce alerted us that our Aburi Salmon Don ($9.90) was close to being done. Excited, my colleague and I stood up and peered shyly over the counter to witness and take in the wonderful process of the mentaiko sauce being torched. I wish you could smell what we did through the gif.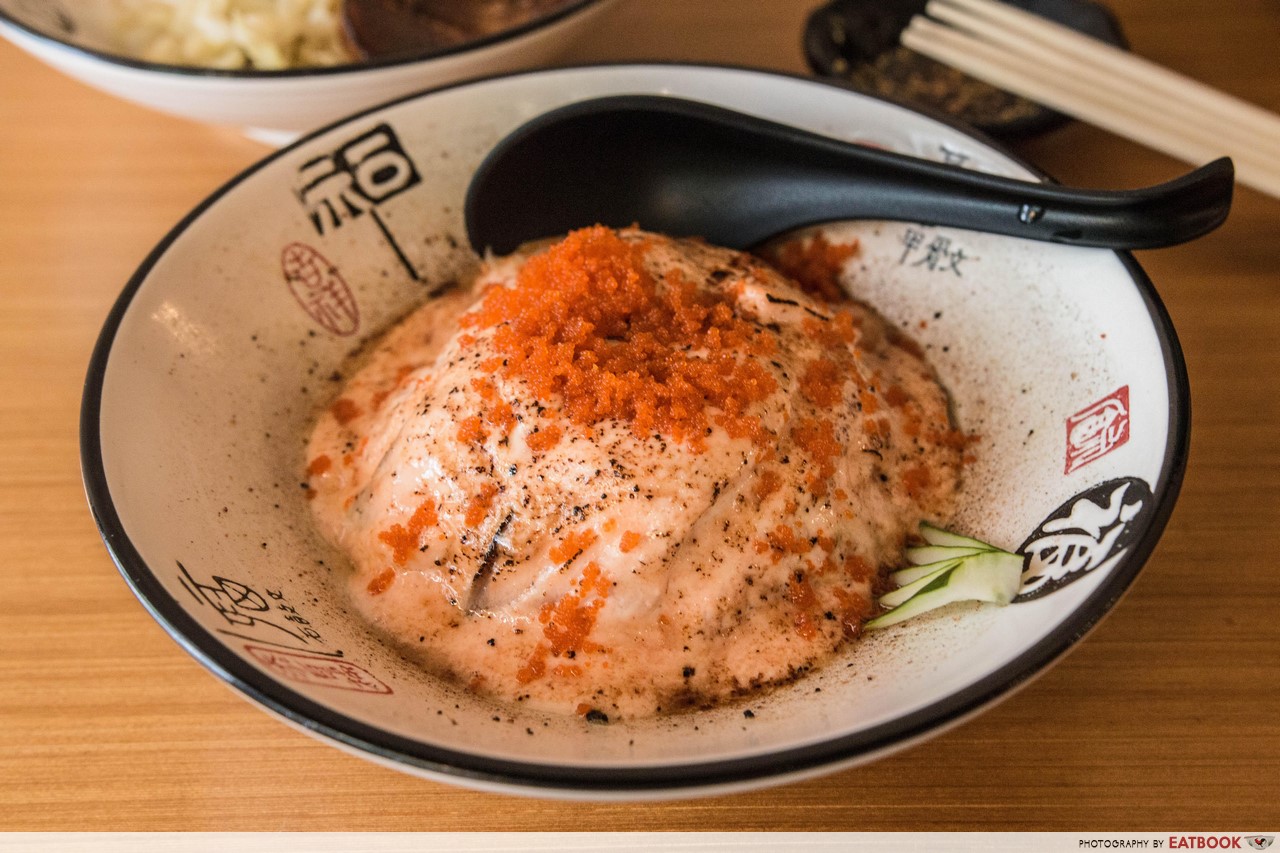 This was a feast for the eyes. An orange mess made up of tobiko was scattered atop a generous layer of mentaiko sauce, and salmon slices were hiding below it, with a bed of white Japanese rice underneath. With a spoon each in our hands, we dove in. Like clockwork, we took a mouthful of it, gave each other a look of disbelief, and squealed in excitement. It was that good.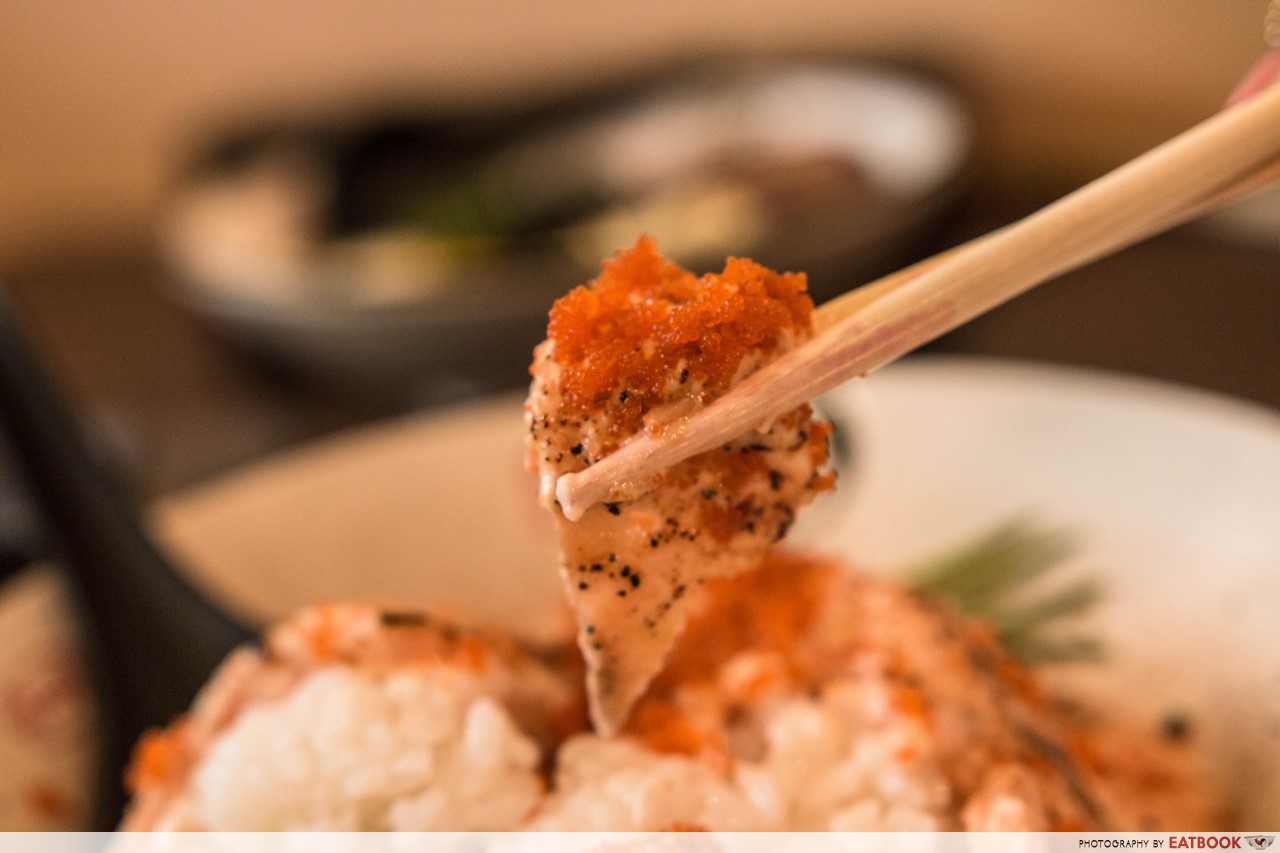 The torched mentaiko sauce was smooth and creamy, while the half-cooked salmon brought both fresh and savoury tastes at the same time. It was a melt-in-your-mouth experience. I recommend eating this only with a spoon – old-school laksa style – as the salmon fell apart when we used chopsticks.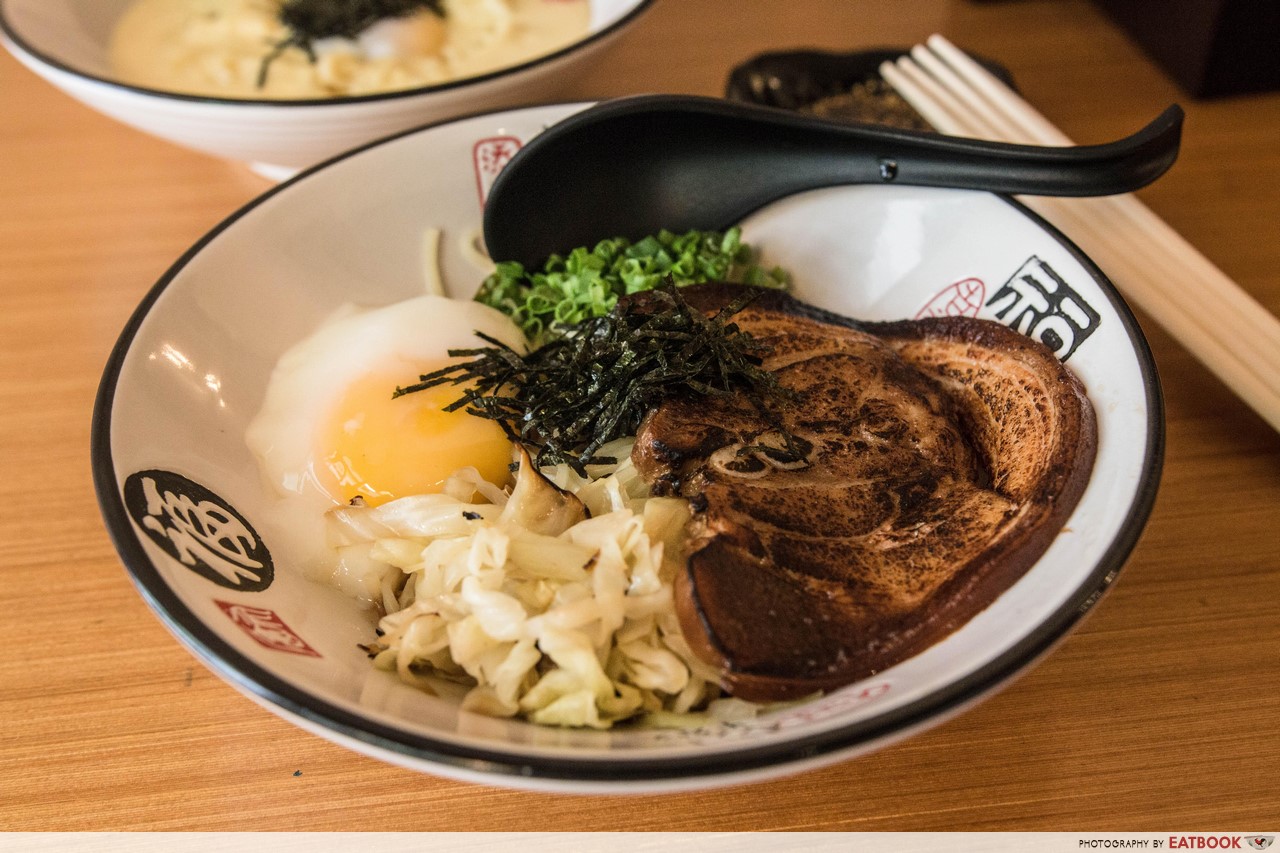 The next one we tried was Mazemen Kuro ($6.90). The evenly charred chashu was huge, its diameter as wide as the width of my palm.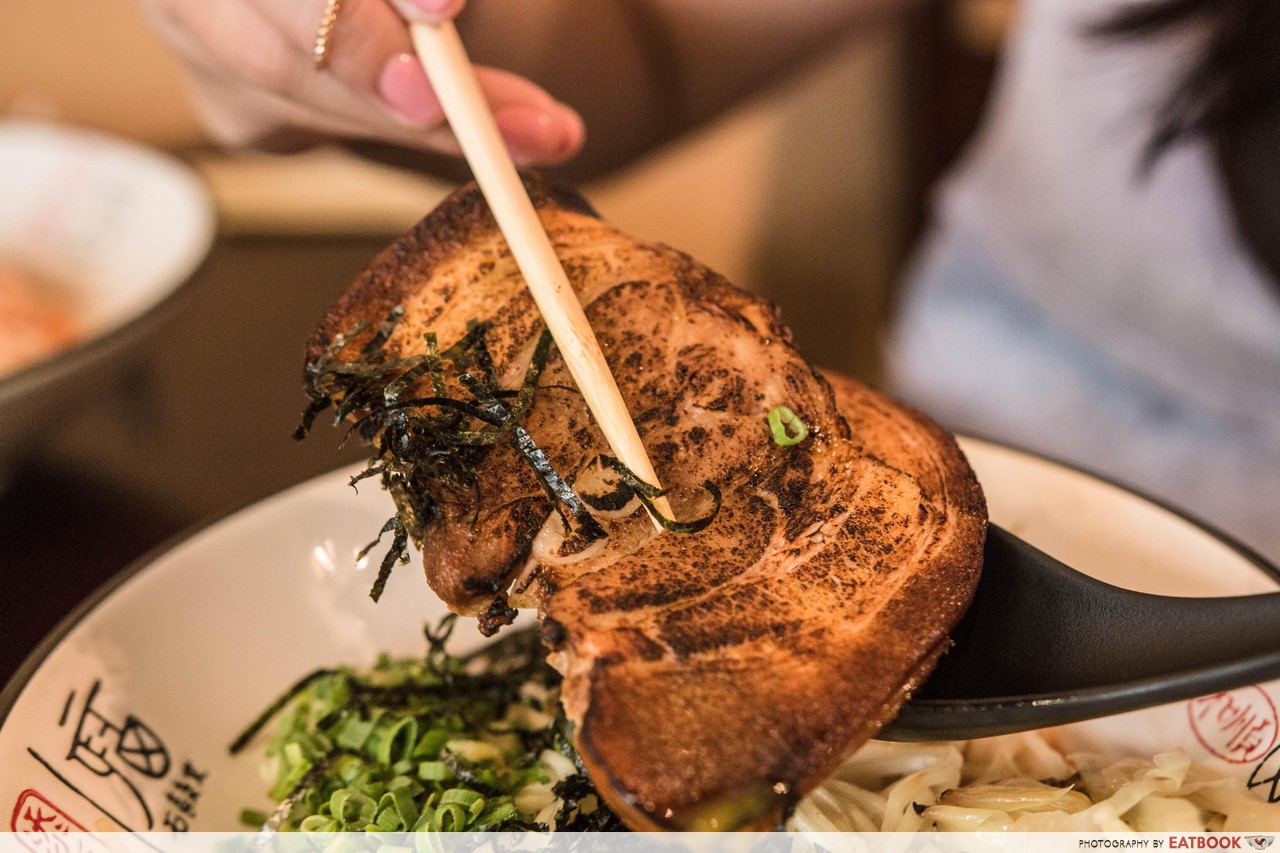 The slice had a good dark Maillard sear to it, creating a hint of smoky taste. I thoroughly enjoyed the meat as it was soft and tender. The noodles underneath were coated with a luscious dark ramen tare sauce, that scored highly on the umami scale. Breaking the onsen egg not only provided extra entertainment with the #eggporn, it also enhanced the flavours of this no-broth ramen.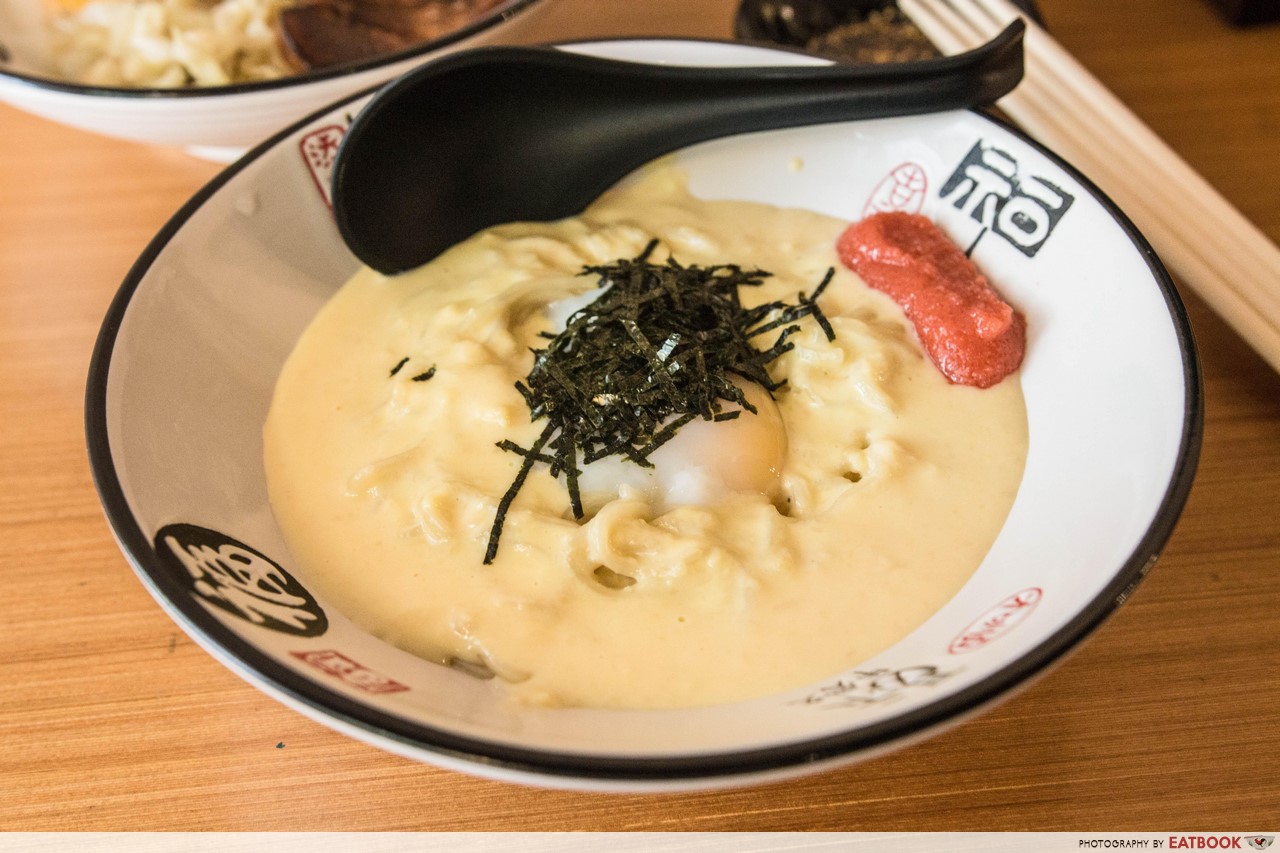 Shout out to all cheese lovers. Mazemen Shiro ($6.90) is not to be trifled with. The ramen is drowned in a thick cheese sauce, topped with an onsen egg, a dollop of salty mentaiko, and shreds of roasted seaweed.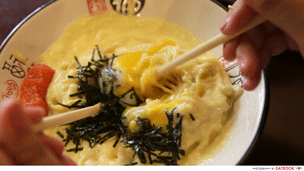 Mixing them all up not only triggers an ASMR, it gives you a perfect concoction of creamy and salty in a bowl. The seaweed also brings a bright contrast of freshness to the overwhelmingly rich mouthful. It might be too jelak for a meal, but great as an appetiser to share with your friends. Well, unless you are genuinely crazy about cheese like me.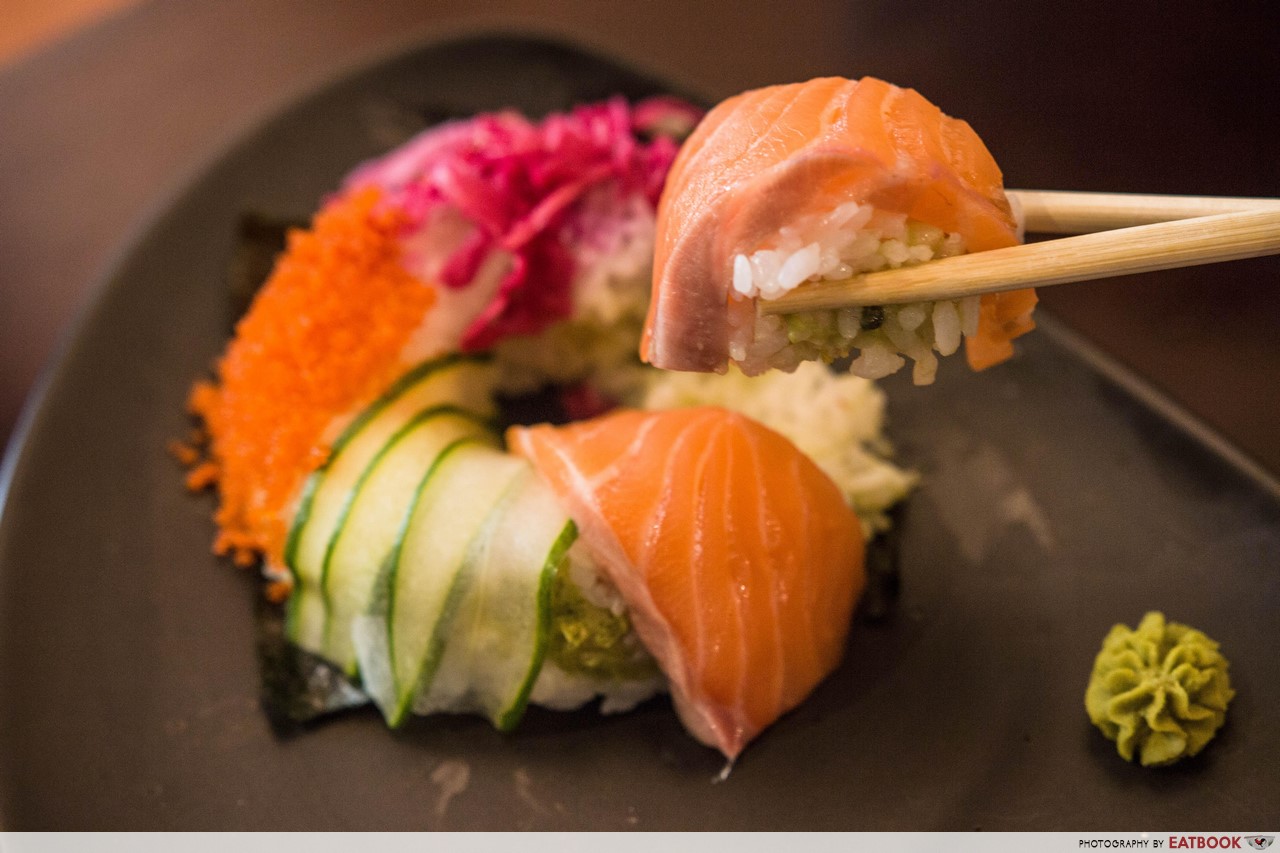 The Poke Loop ($4.90) is one of the first of its kind to be found in Singapore. This dish is better known as a sushi donut. It is coloured like the rainbow with the use of healthy ingredients such as salmon sashimi, tobiko, cucumber and pickled cabbage, all laid on top of sushi rice in the shape of a donut. I was pleasantly surprised when I saw a thin layer of green between the ring of rice. Thinking it was wasabi, I carefully popped a small section into my mouth. Sadly, I was not as impressed by the taste. It was underwhelming as it tasted bland, and the mysterious green paste was definitely not wasabi. The owner later explained that it was guacamole!
Ambience at 300 Boru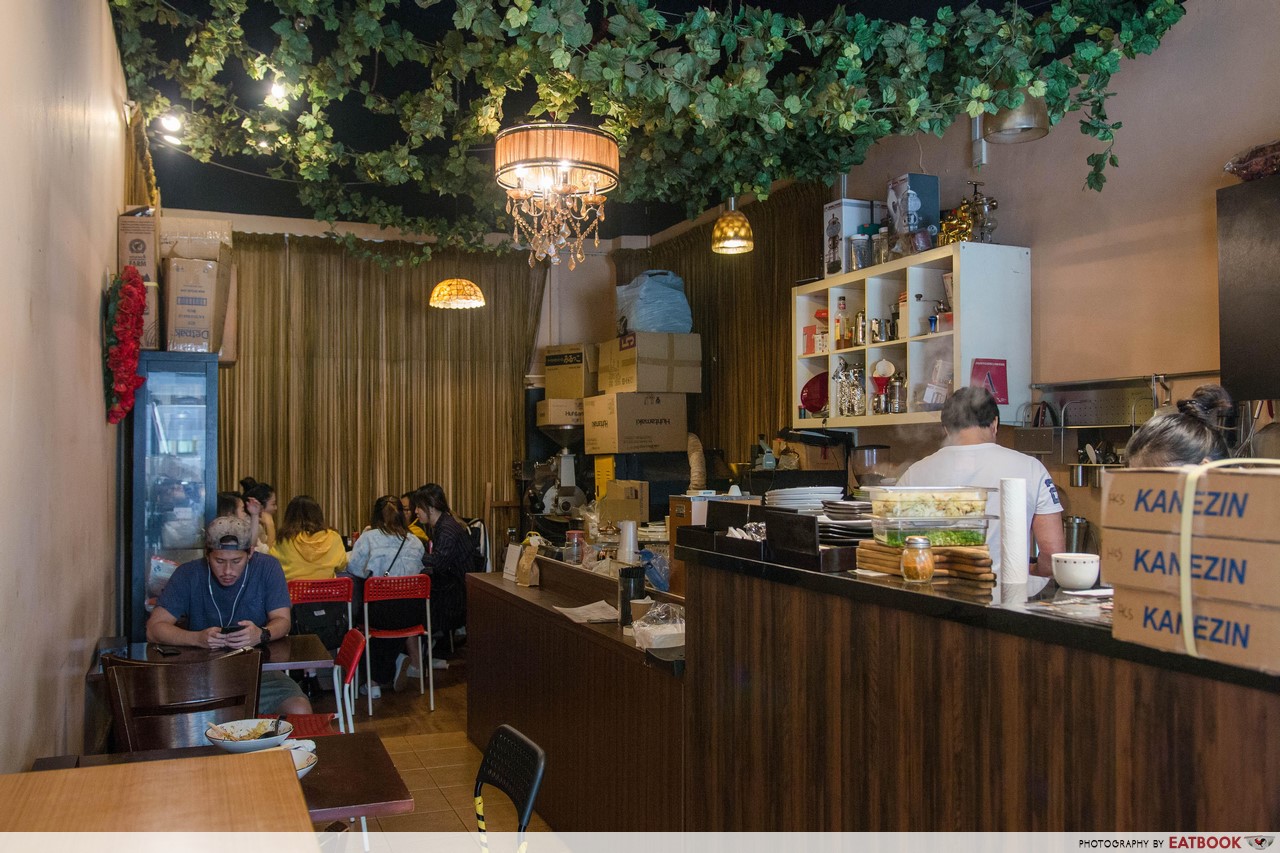 I love everything about this quaint little cafe, from its inconspicuous exterior to the messy but cosy ambience. It feels like a family-owned cafe you might chance upon in an ulu alley of a Japanese suburb. The owners are a couple, and they operate this humble store like a dream team. I also witnessed their elderly mother blow-torching the slices of chashu, with one hand propped on her hip #likeaboss.
The verdict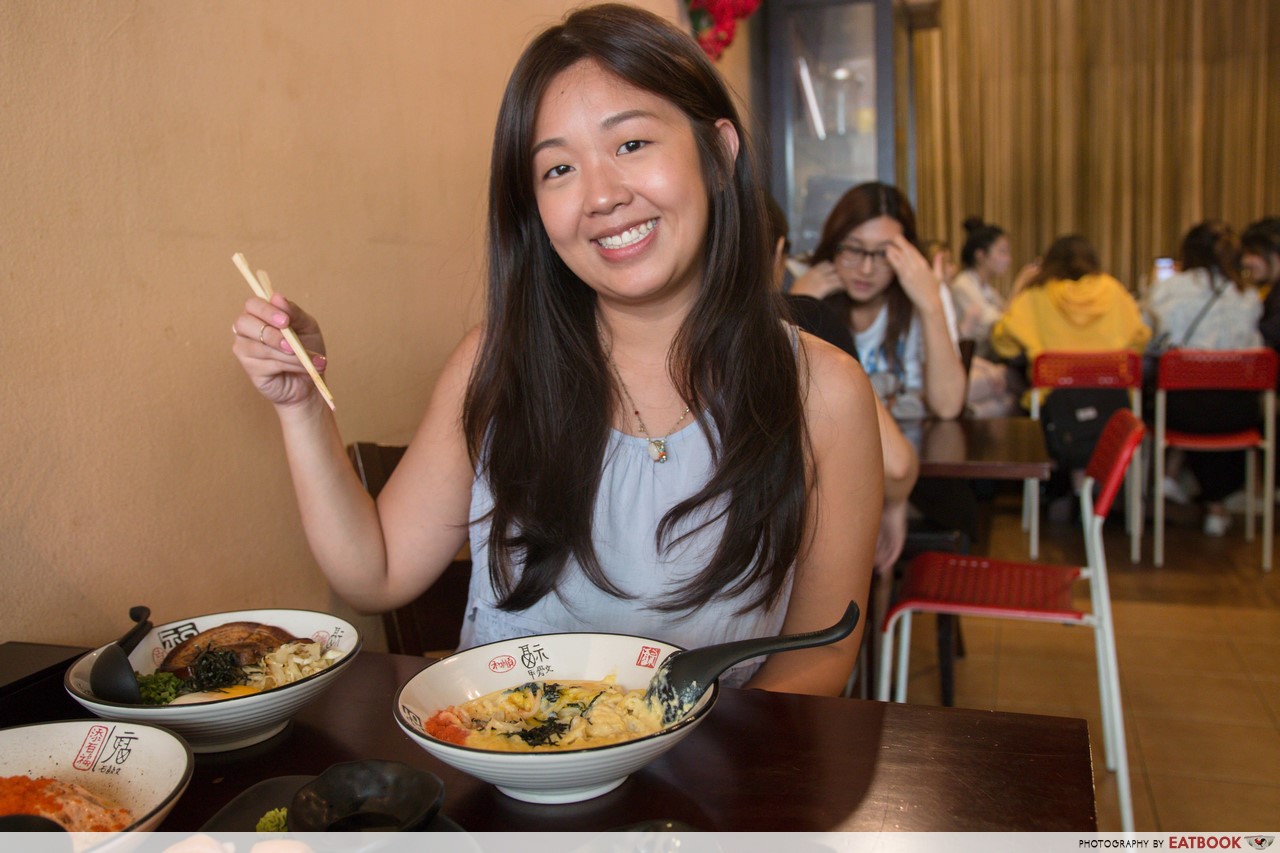 This new food joint ticked all the boxes for me. It offers value for money, with great tasting food to boot. These days, cafes are popping up here and there, but closing down as quickly as they appeared. With the novel refresh 300 Boru brings to the food scene, I am sure it is here to stay. The owner, who does not have a background in culinary, has impressed us. It was his passion for food which motivated him to create such innovative recipes. It is good to note that the area is small, but group meals of four to six people can be possible before or after the lunch hour. Small dates would be definitely be more suitable in this secretive little cafe. I highly urge you to visit this hidden gem before it gets too known to be cool. If you are schooling, working, or always in the area, these other Bencoolen food places make good options as well.
Address: 175 Bencoolen Street, #01-55, Burlington Square, Singapore 189649
Opening hours: Sun-Fri 11am to 8pm
Website
Menu
300 Boru is not a halal eatery.

This is an independent review by Eatbook.sg.
Summary
Pros
– Creative menu
– Well-flavoured dishes
– Value-for-money
– No GST or service charge
Cons
– Food may be a bit salty for some
– Servings are on the smaller side
– Limited seats
Recommended Dishes: Aburi Salmon Don ($9.90), Mazemem Kuro ($6.90), and Mazemem Shiro ($6.90)
Operating Hours:
Sun-Fri 11am to 8pm
Address: 175 Bencoolen Street, #01-55, Burlington Square, Singapore 189649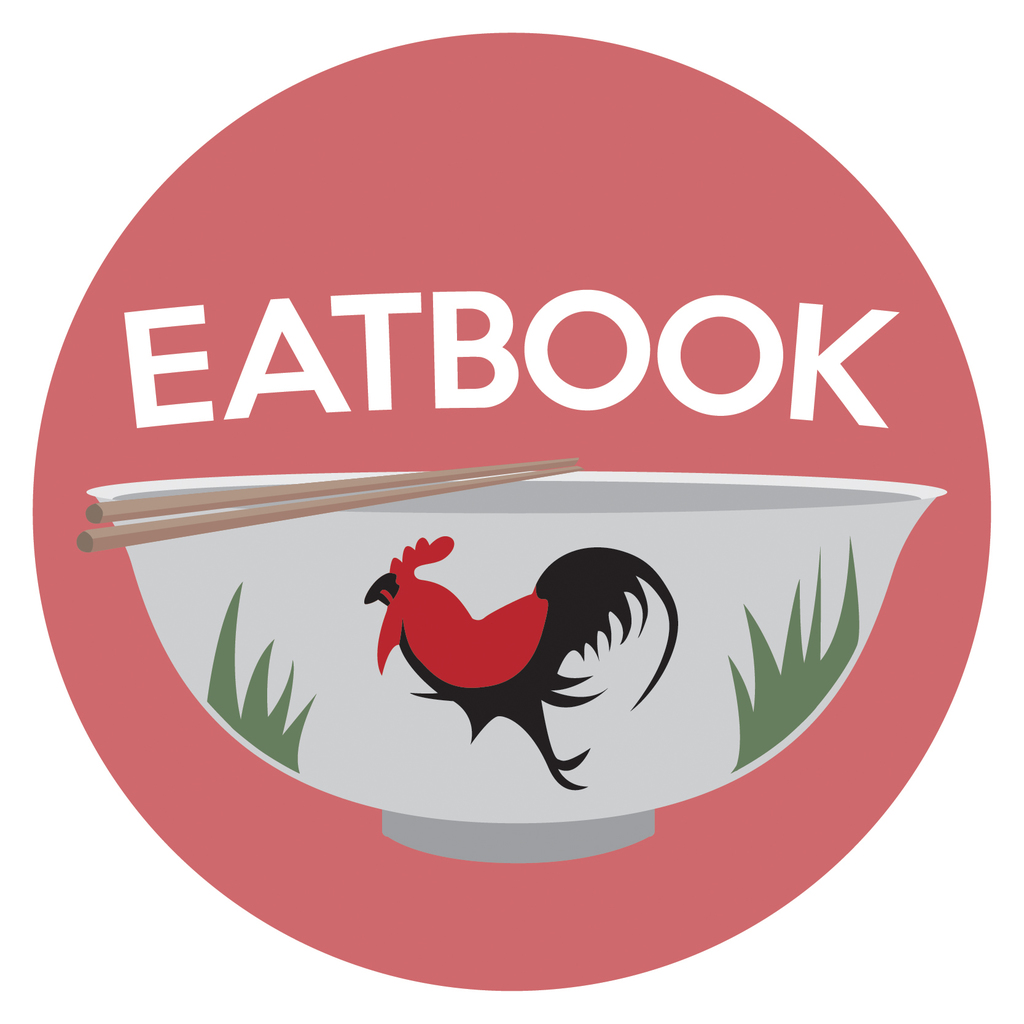 Drop us your email so you won't miss the latest news.