---
Best kopi stalls in Singapore 
---
For many of us, myself included, traditional kopi forms an important aspect of our daily lives. It is also a drink iconic to Singapore, as the coffee you get here is truly local, and not the kind you can find in cafes abroad. We sussed out and ranked these top 10 best kopi stalls in Singapore so you don't have to—consider this your go-to guide!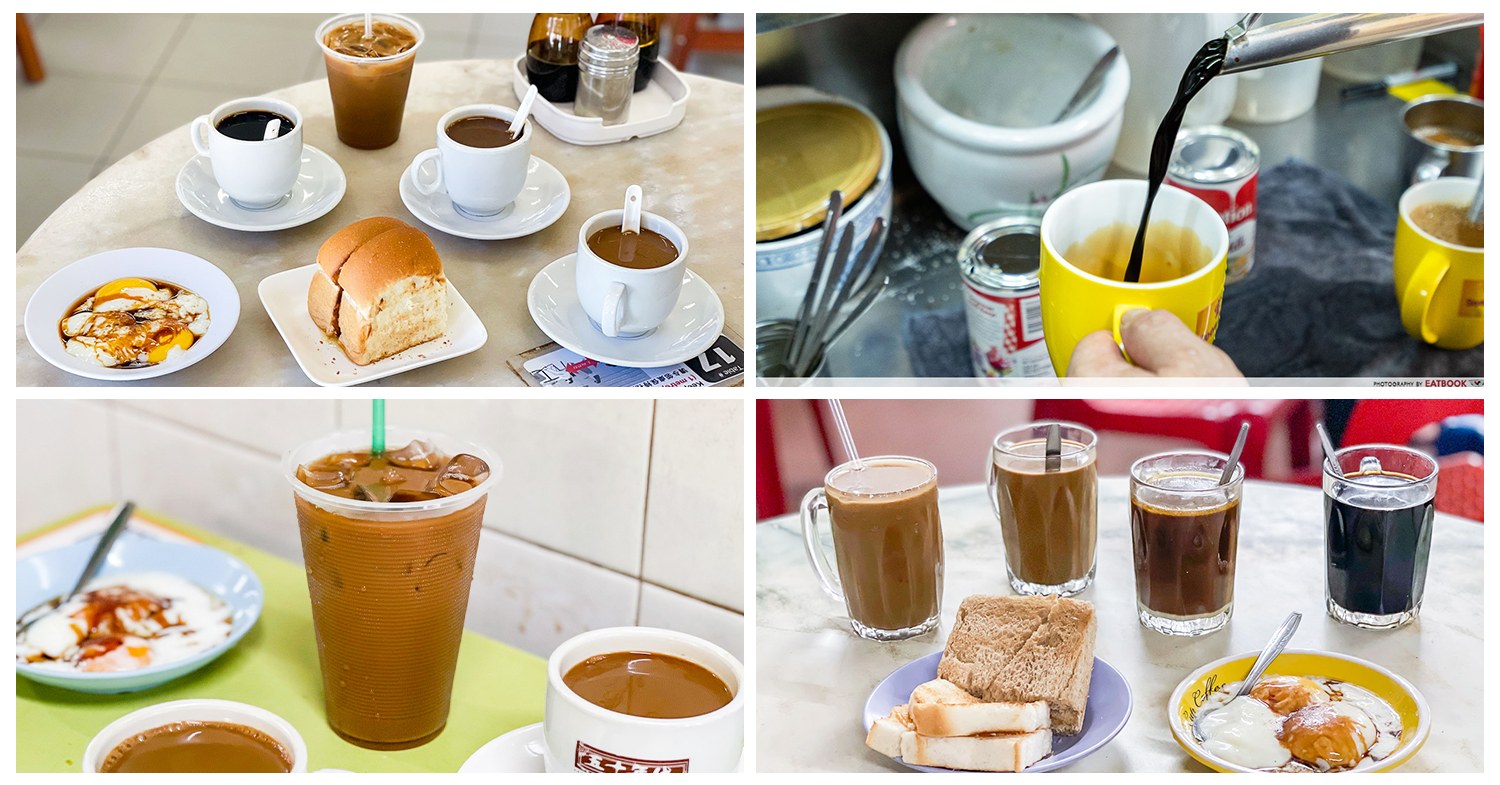 ---
The criteria
---
A good cup of Nanyang-style kopi should be rich, aromatic, and strong, but still well-balanced without being too "gao" or "siap" (astringent). Instead of Arabica beans commonly used in Western-style espresso, Nanyang-style, or Hainan kopi incorporates Robusta coffee beans, which have a more earthy, robust finish.
For each stall, we ordered four cups: kopi o, kopi c siew dai, iced kopi, and one specialty coffee. When there wasn't any specialty coffee on the menu, we'd order a standard kopi. 
We rated each place based on four elements of their kopi: taste, strength, ratio, and value.
The coffee should have a discernible fragrance and robust flavour that isn't too acidic. It should be full-bodied and strong, but not overly so. There should be a good ratio of milk, sugar, and ice, where relevant. A good kopi stall should have consistency across the board in terms of taste. We also rated the value of the drinks based on serving size and price. 
For all you kopi peng lovers, we bore in mind a few components that define a good iced coffee. The drink should have enough ice so it's kept cold while you're consuming it, but it shouldn't taste too diluted even after the ice has melted. There should be a golden ratio of coffee, milk, and sweetener, so that the beverage isn't too milky or sweet.
Each category is given a maximum of 5 points, for a total of 20, which is then converted to a percentage score. Without further ado, here's where you can find the best kopi in Singapore.
---
10. Ah Seng (Hai Nam) Coffee
---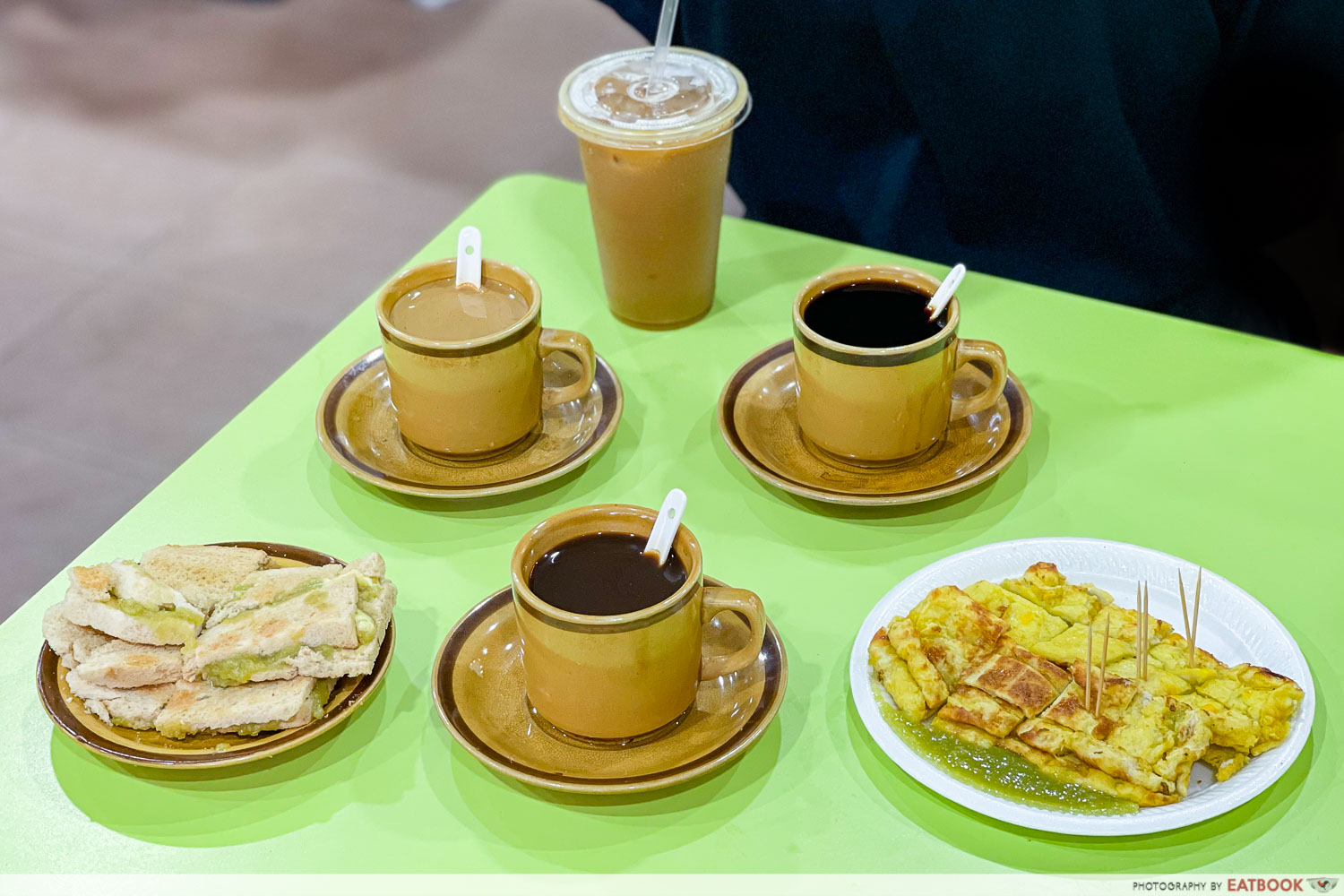 Ah Seng (Hai Nam) Coffee has been around for 58 years and counting. Originally located at Lau Pa Sat, the coffee stall shifted to Amoy Street Food Centre in 1997, and is now run by its second-generation owner.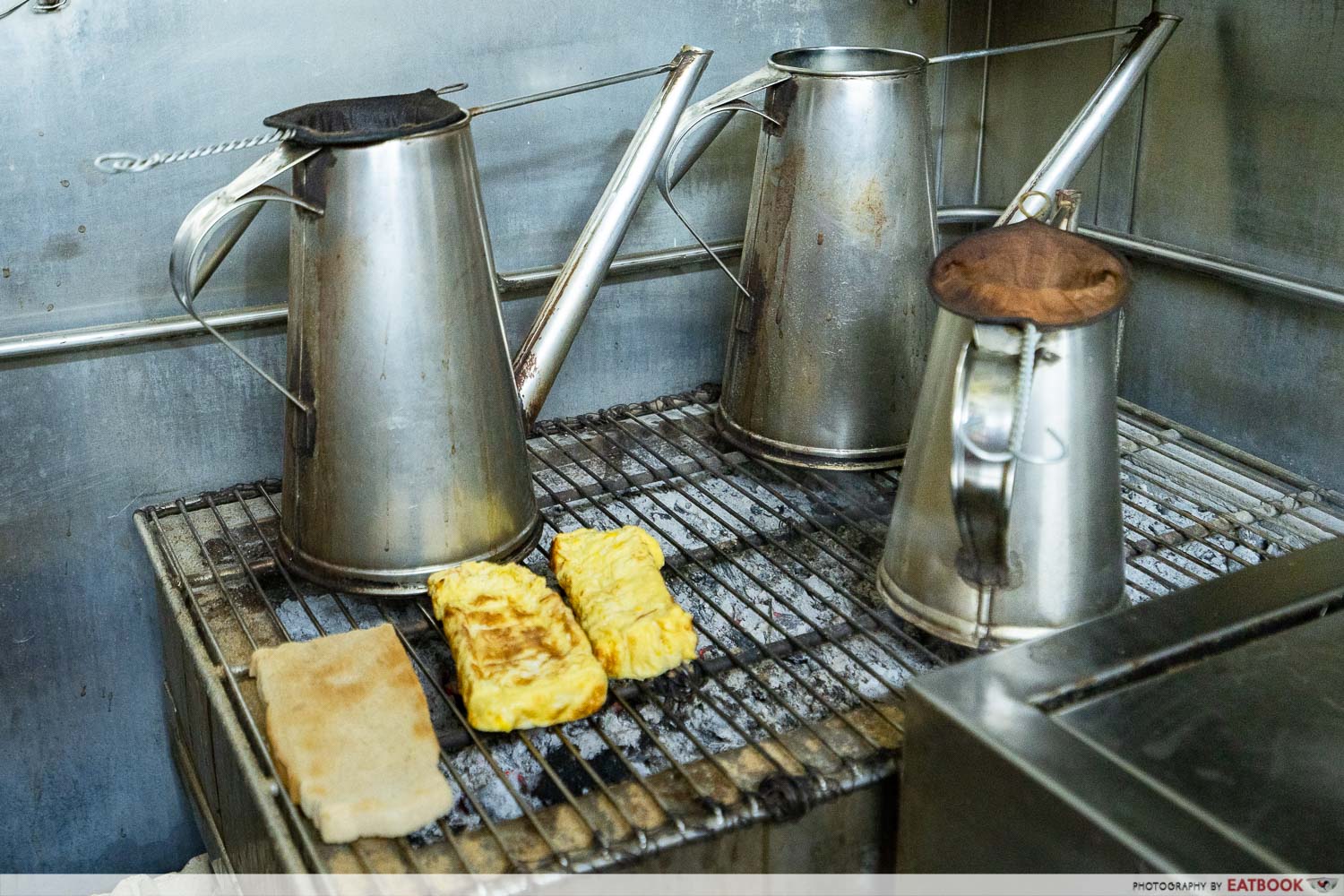 The small hawker stall has been featured in numerous publications, including the Michelin Guide, for its charcoal-grilled French Toast, house-made kaya, and legit Hainan-style kopi. Old-school kettles and kopi socks are seen heating up over the charcoal fire, alongside the bread.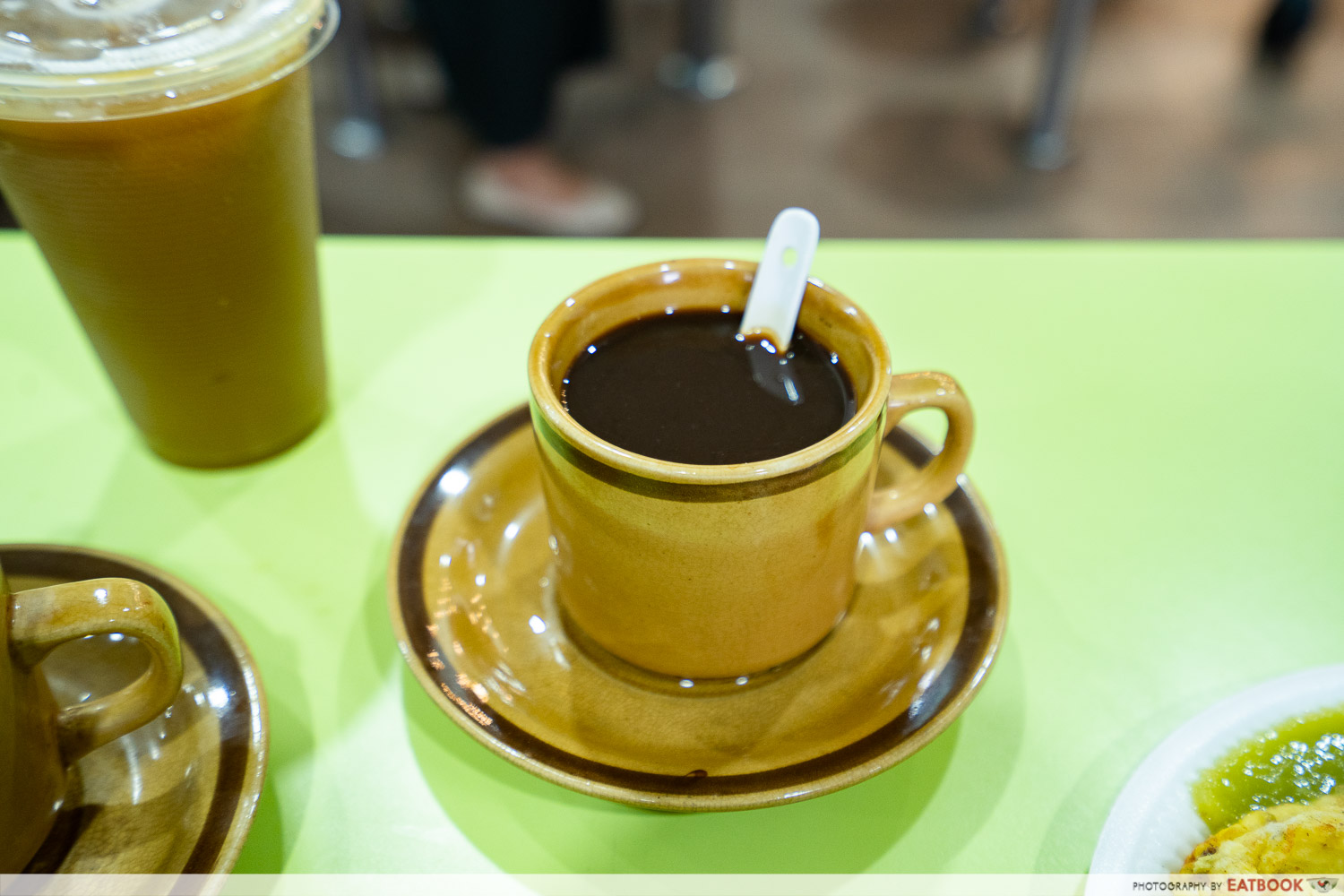 For a central location like Amoy Street, their beverages are still priced affordably: Kopi O goes for $1, and Kopi is $1.20. Unfortunately, the flavour of the coffee was little to shout about. There wasn't much fragrance or body, which was rather disappointing. The Kopi C Siew Dai ($1.30) was way too milky for me, so if you like your coffee on the creamier side, it might be worth a shot.
The Kopi Bing ($1.50) was also mediocre, tasting more diluted and bland than it should. But maybe we just caught Uncle on an off day, so a second trip might turn the tide.
Taste: 2.5/5
Strength: 2.5/5
Ratio: 2.5/5
Value: 4/5
Total: 57.5%
Address: 7 Maxwell Road, #02-95, Amoy Street Food Centre, Singapore 069111
Opening hours: Sat-Wed 5:30am to 3pm
---
9. Soon Seng
---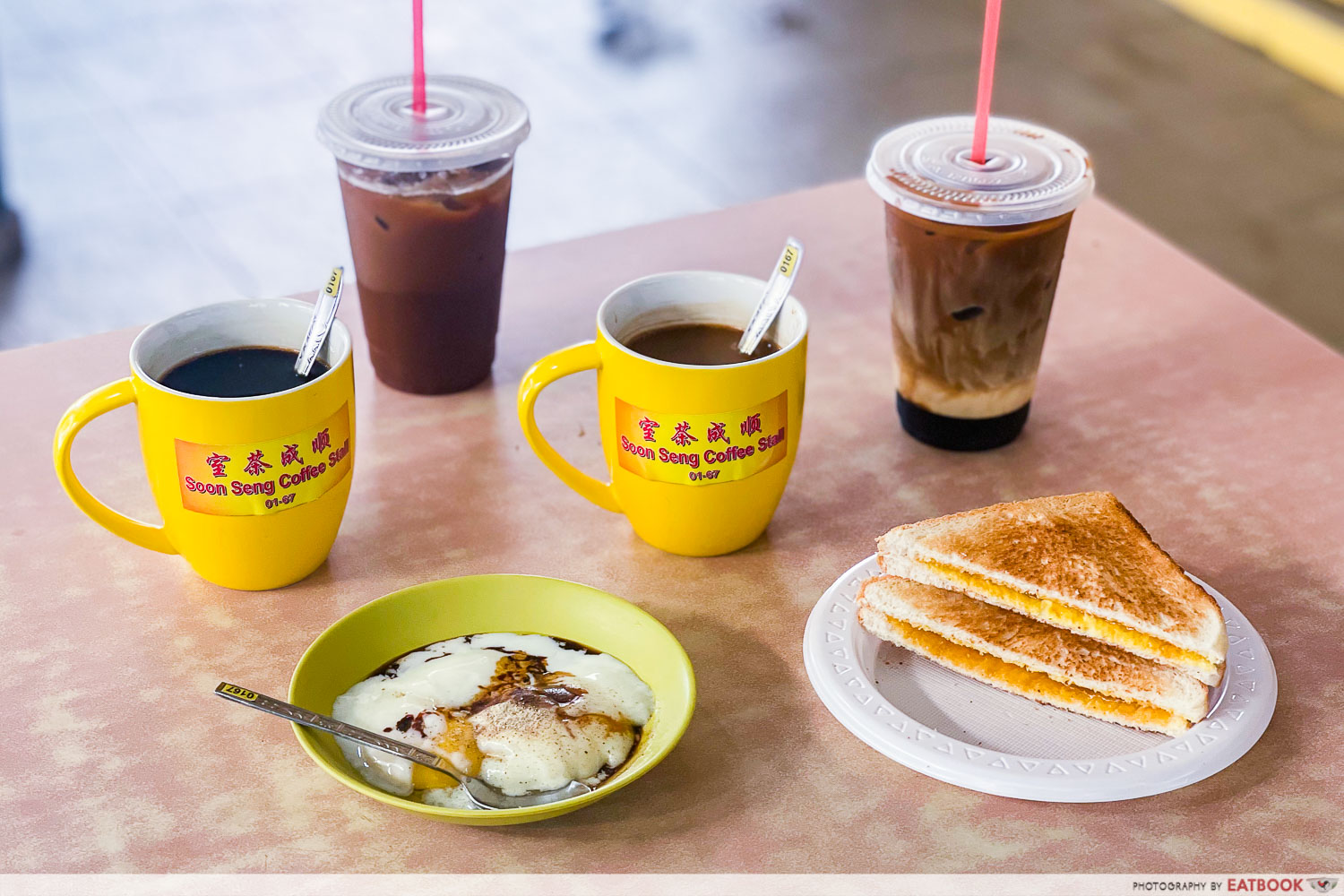 Located in Alexandra Village Food Centre, Soon Seng is a second-generation coffee stall that has been in operation since 1988. Drinks are still well-priced here, with the cheapest being the Kopi O at $1.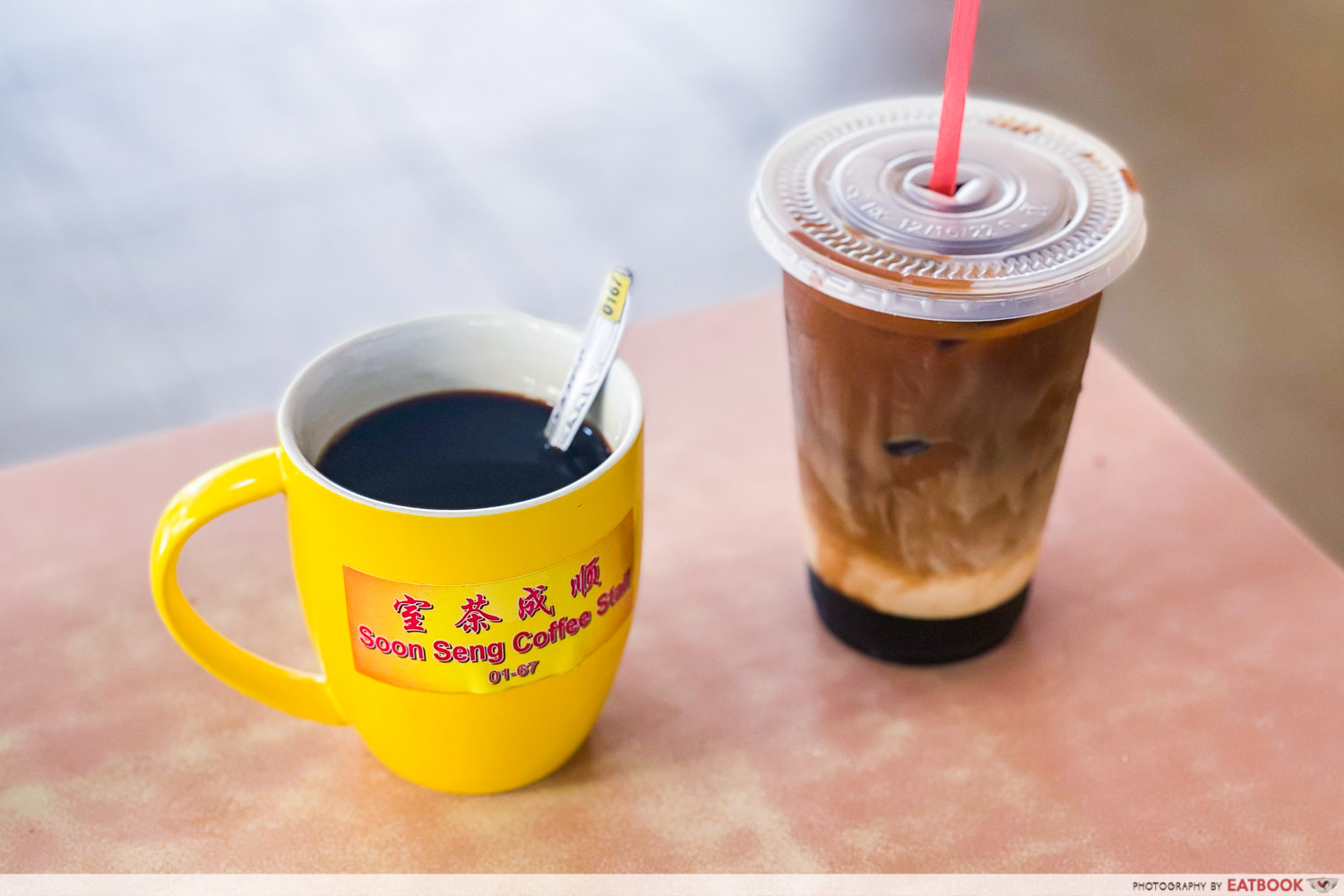 The kopi drinks were all light-tasting, except for the Iced Gula Melaka Kopi ($2), which turned out to be our favourite order from the stall. This signature drink came with a generous layer of sticky-sweet gula melaka at the bottom, followed by evaporated milk, and black coffee on top. It tasted as great as it looked, though it leaned jelak at the halfway mark. 
There was a decent kopi to ice ratio for the Kopi Bing ($1.40), though we found the drink too sweet. The Kopi C Siew Dai ($1.20) was not overly milky, which was a plus, but the coffee notes here were not as fragrant as I wished. The Kopi O was also pretty average too, and could use less sugar. 
Come to Soon Seng if you're a fan of lighter brews. For me, I need something stronger to wake up in the morning.  
Taste: 3/5
Strength: 2.75/5
Ratio: 3/5
Value: 4/5
Total: 63.75%
Address: 120 Bukit Merah Lane 1, Alexandra Village Food Centre, Singapore 150123
Opening hours: Tue-Sun 9am to 8pm
Website
---
8. Keng Wah Sung
---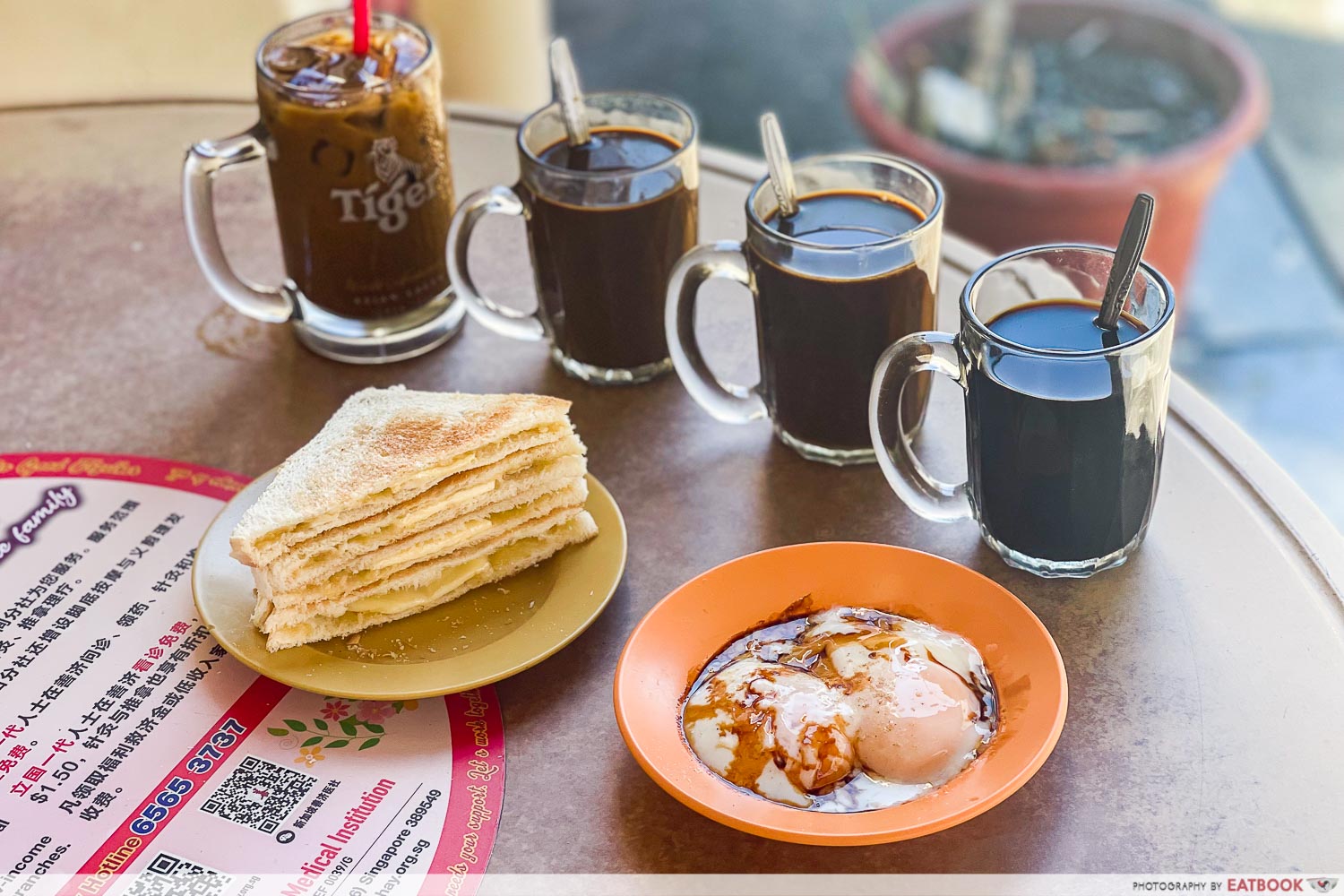 Keng Wah Sung is touted as one of the oldest coffeeshops in Singapore, having been around for more than 70 years. Locals flock to this old-school kopitiam for their daily dose of traditional kopi, kaya toast, and runny eggs. If that doesn't satiate your appetite, you can fill up on economical bee hoon, and a limited selection of pastries on display. There's also a wonton mee stall operating in the same coffeeshop.  
Flavour-wise, the coffee here leaned acidic with a bittersweet flavour that lingered. We did find ourselves wishing the flavour profile was more robust.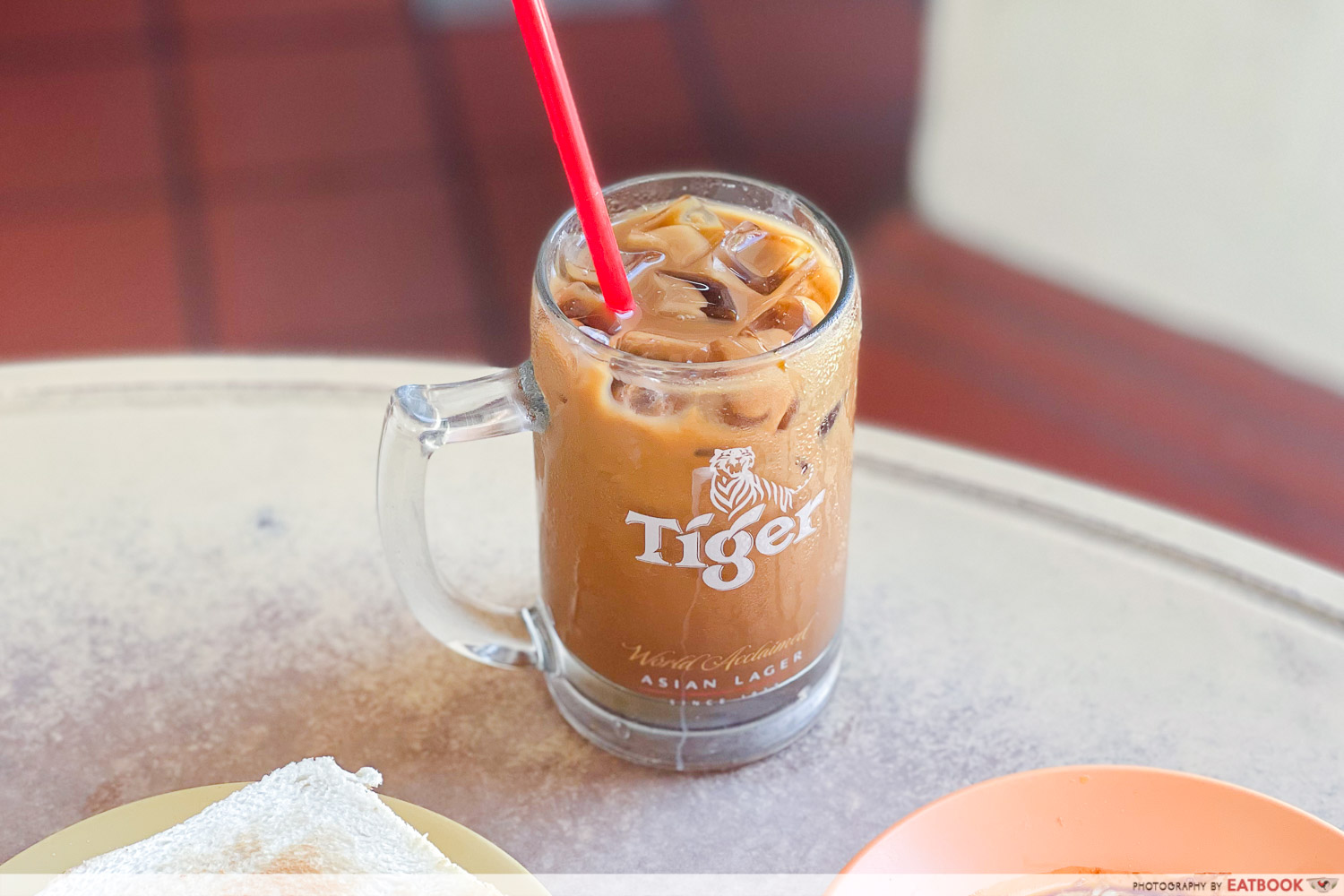 Though strong, the Kopi O ($1.20) was more "siap" than I'd liked. Nonetheless, the coffee had an old-school aroma that some would be fond of. I preferred their Kopi C Siew Dai ($1.40), which tasted almost unsweetened—this was fine by me as I'd rather my coffee be less sweet than overly so. If you like your coffee sweeter than usual, get their Kopi ($1.30) or Kopi Bing ($1.30). Personally, I felt that both were way too sweet, so the next time I return I'll definitely get them siew dai.
Top tip: get their kaya toast, no matter what. For some reason, the thinly sliced bread had the perfect ratio of kaya and butter; it was a stellar example of simple done right.
Taste: 3.25/5
Strength: 3.25/5
Ratio: 3/5
Value: 3.75/5
Total: 65%
Address: 783 Geylang Road, Singapore 389672
Opening hours: Mon-Sat 5:30am to 11pm
---
7. Coffee Break 
---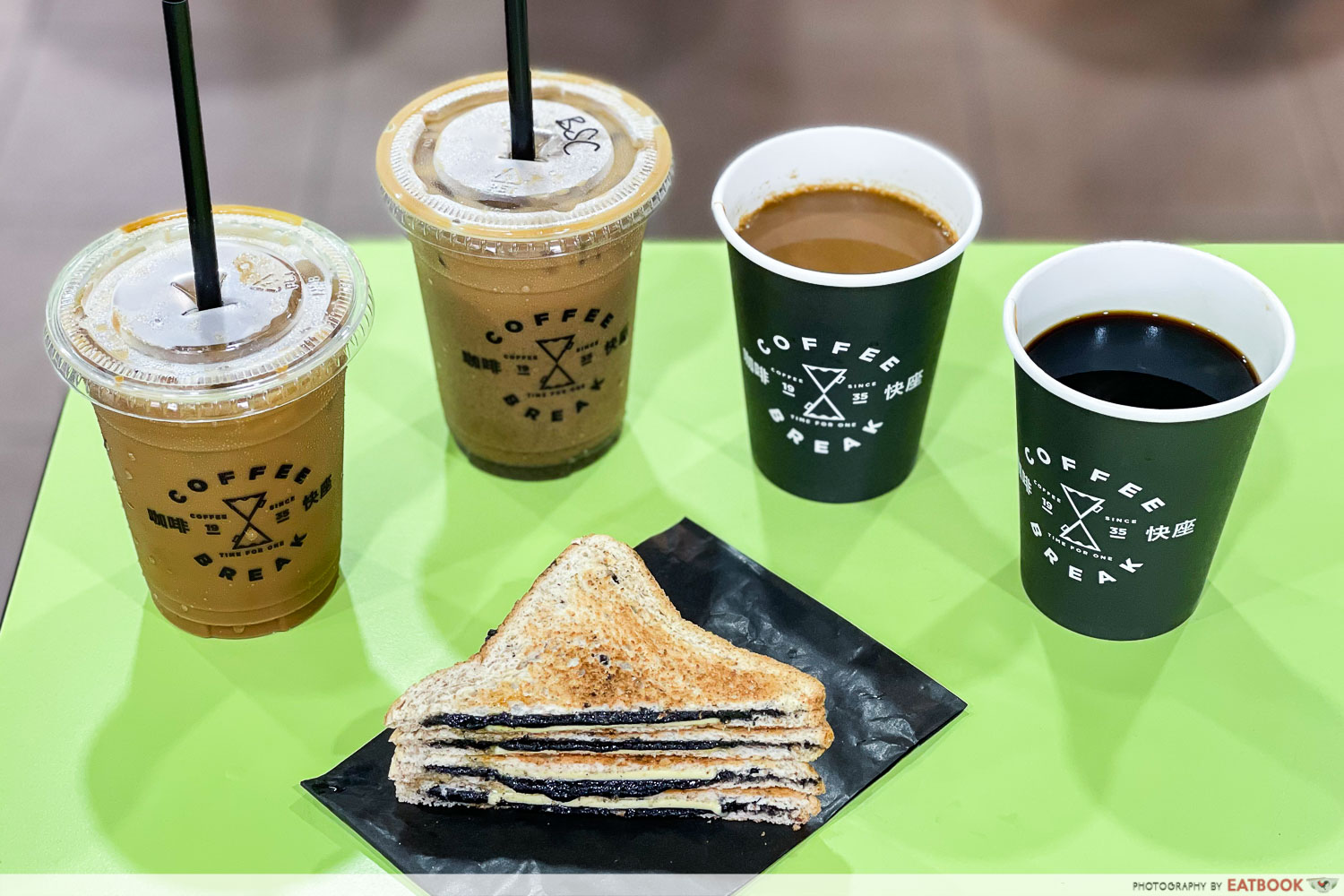 Third-generation hawker stall Coffee Break has its humble beginnings in 1935, when their Hainanese grandfather first set foot in Singapore to set up a pushcart. In 1999, the coffee stall moved to Amoy Street Food Centre, and 10 years after, opened a second outlet in Hong Lim Food Complex. We visited their OG stall for a taste of their modern-meets-traditional kopi.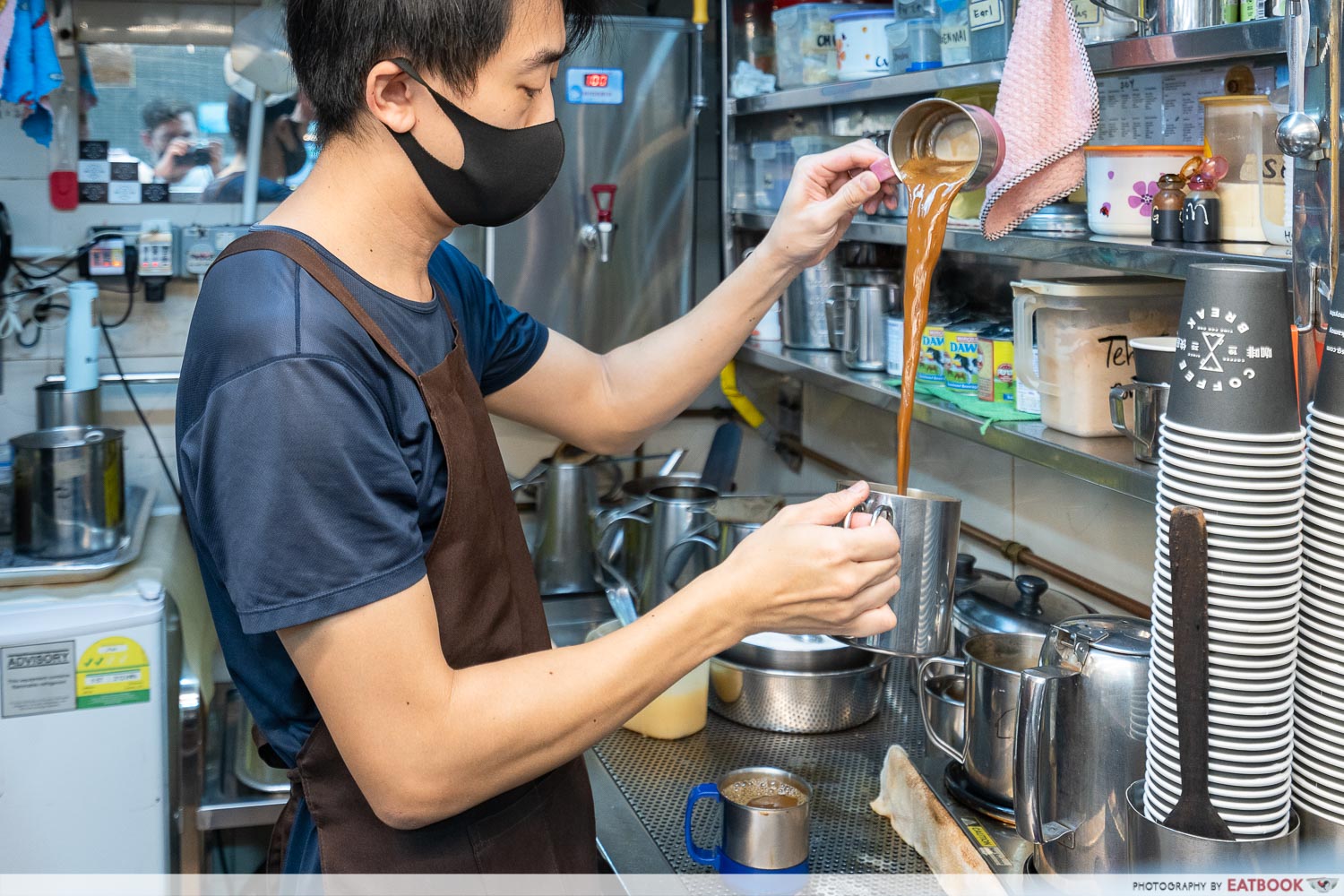 You might feel overwhelmed by the options if it's your first time here, as there's a plethora of flavours and combinations displayed on the menu. Don't take too long to peruse, though, or a line will form before you know it.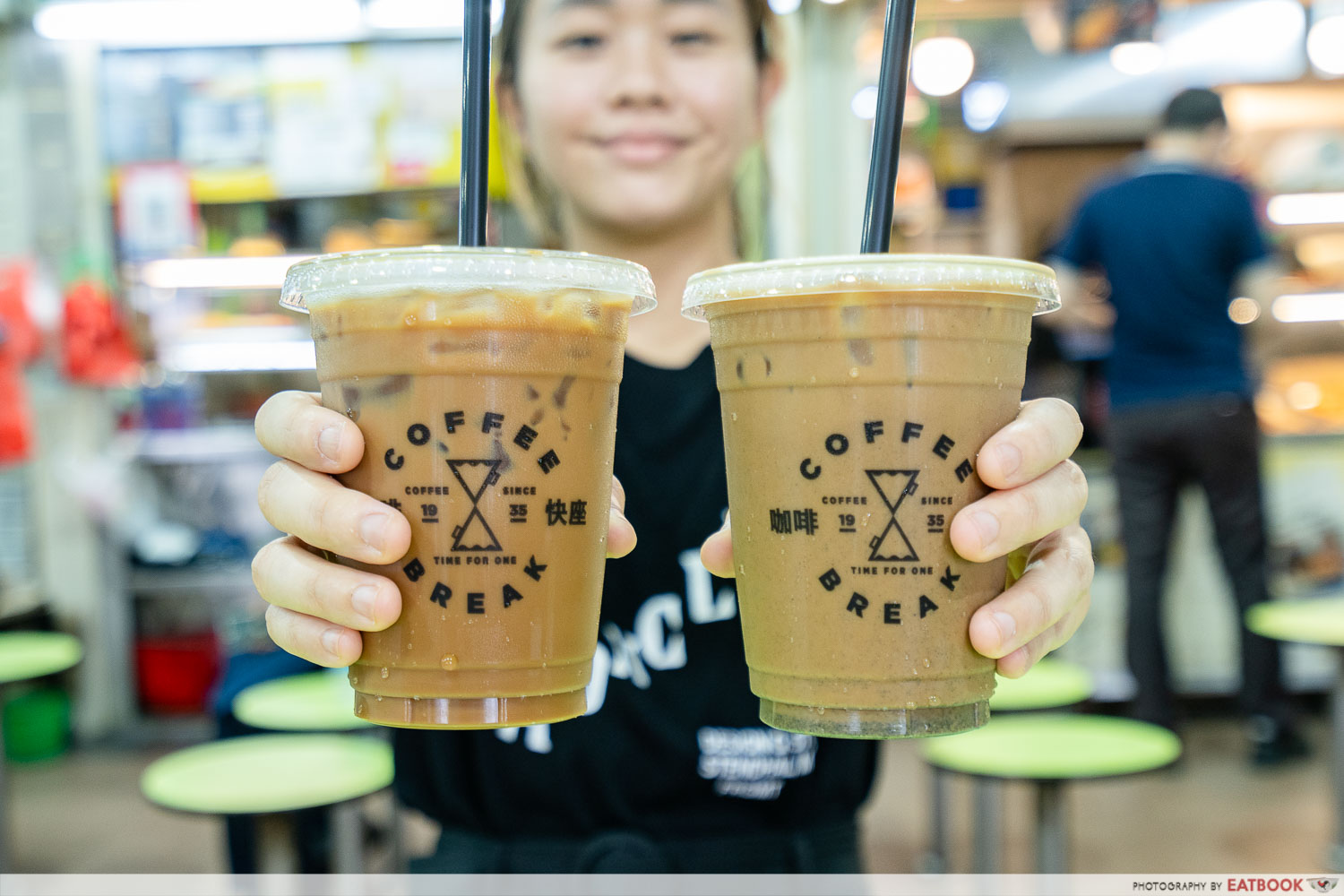 The Black Sesame Iced Kopi ($3) is listed as a signature drink, and it's easy to see why. On the first sip, the earthy notes of the black sesame came through—a refreshing change from the regular Iced Kopi ($2.10). It wasn't too sweet either, with the nutty black sesame complementing the smooth kopi base. The Iced Kopi, however, was a tad diluted, so I think I'll stick to the flavoured renditions next time. 
We also enjoyed their Kopi C Siew Dai ($1.60), which boasted a caramelly, roasted sweetness that wasn't jelak. The Kopi O ($1.60) was decently done, too, but nothing spectacular. 
Prices at this coffee stall were slightly higher than other traditional kopi stalls, but you get a wide array of drinks to choose from, and I think it's worth topping up for something more unique. 
Taste: 3.5/5
Strength: 3.5/5
Ratio: 3.75/5
Value: 3.25/5
Total:  70%
Address: 7 Maxwell Road, #02-78, Amoy Street Food Centre, Singapore 069111
Opening hours: Mon-Fri 7:30am to 2:30pm, Sat 9:30am to 2:30pm
Website
---
6. Hock Hai Coffee
---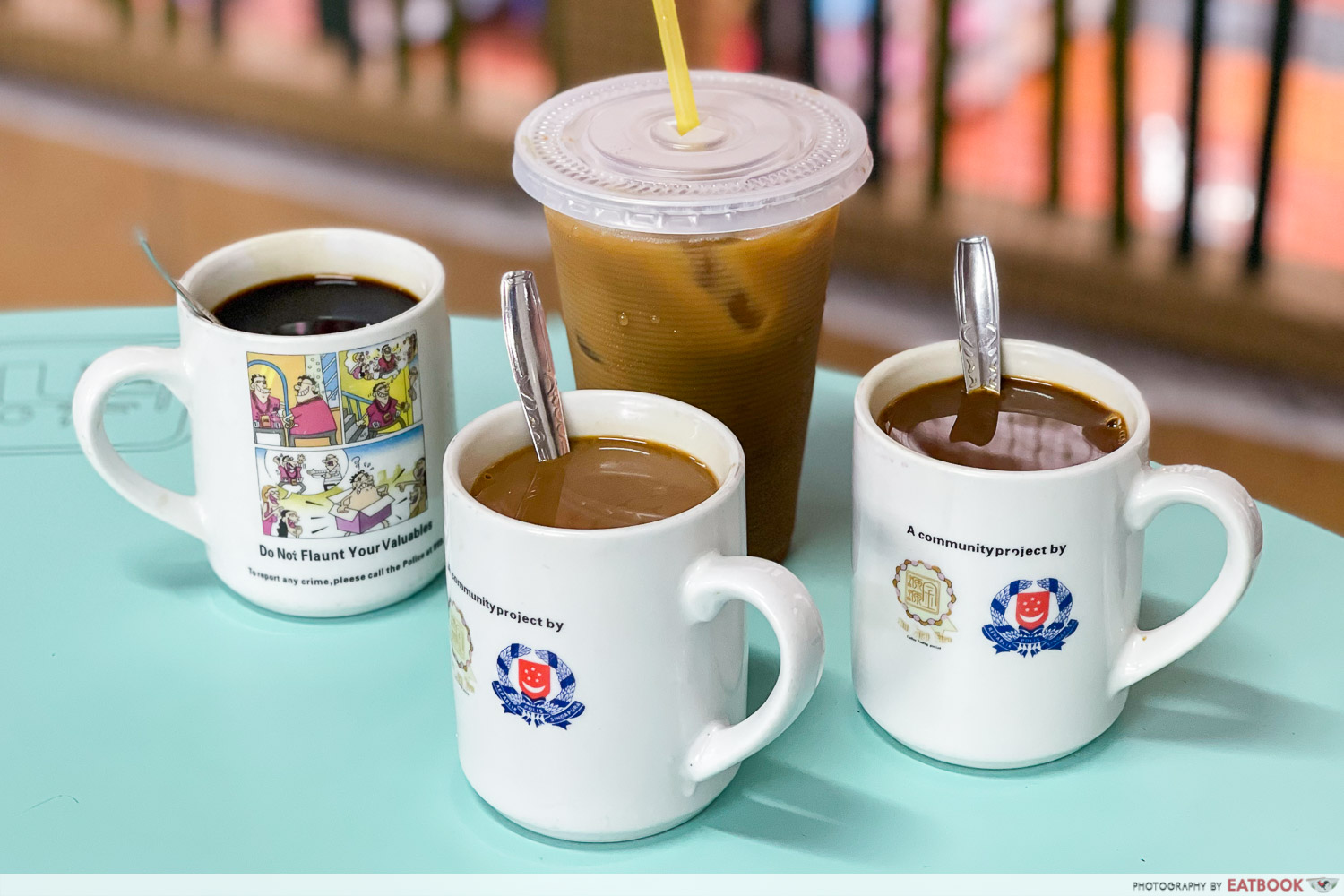 Tucked in a corner of the bustling Hong Lim Food Centre is Hock Hai Coffee, a humble kopi stall that's somewhat of a not-so-secret gem among the office crowd. Hock Hai is popular for their super affordable prices—think Kopi O at just $0.90 a cup—so there's almost always a queue no matter the time of the day.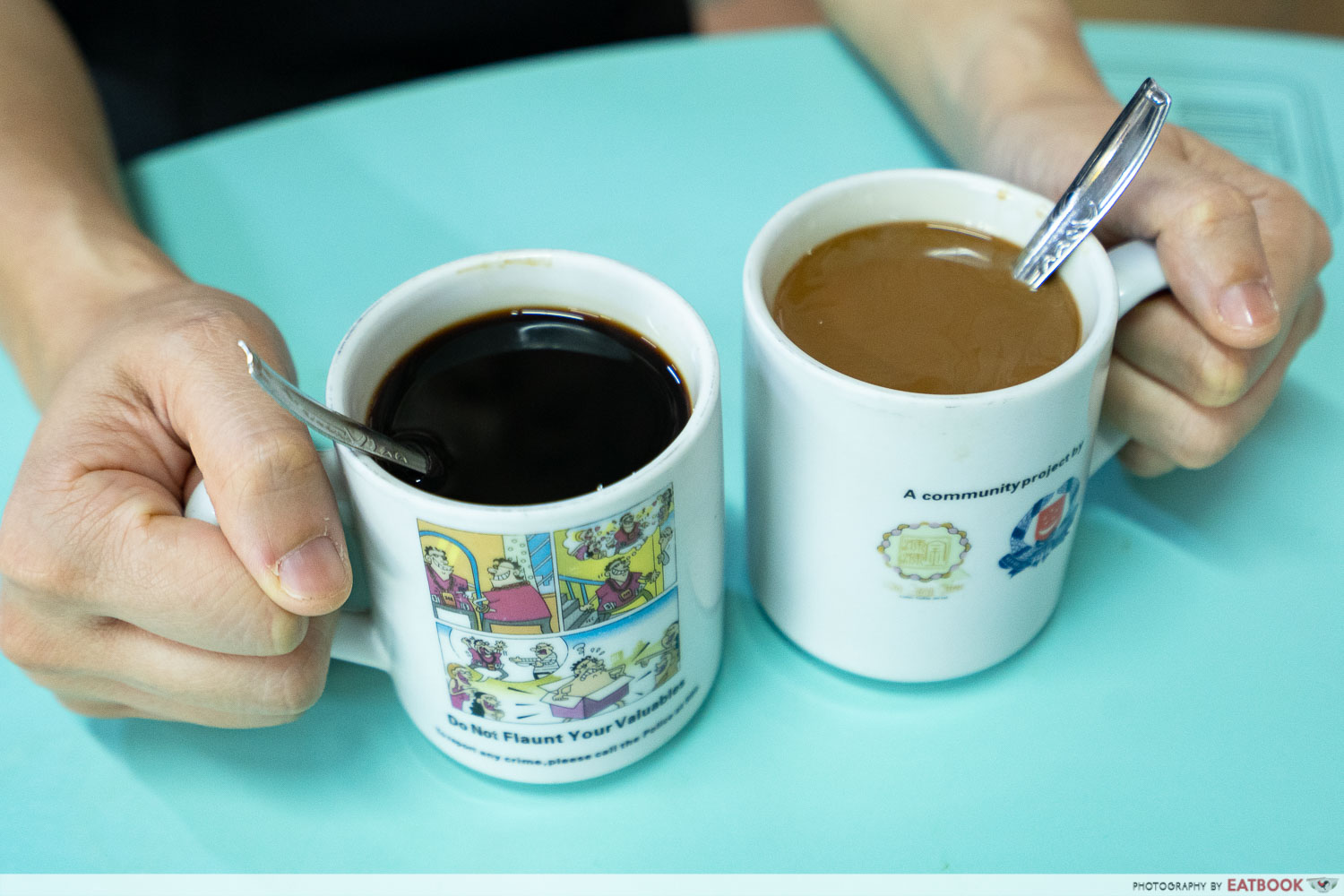 I enjoyed their Kopi C Siew Dai ($1), which had just enough evaporated milk and sugar for the aroma and taste of the coffee to shine through. The Kopi ($1) reminded me of Vietnamese coffee, with its dark and caramelly notes. Both were strong enough—a big plus in my books.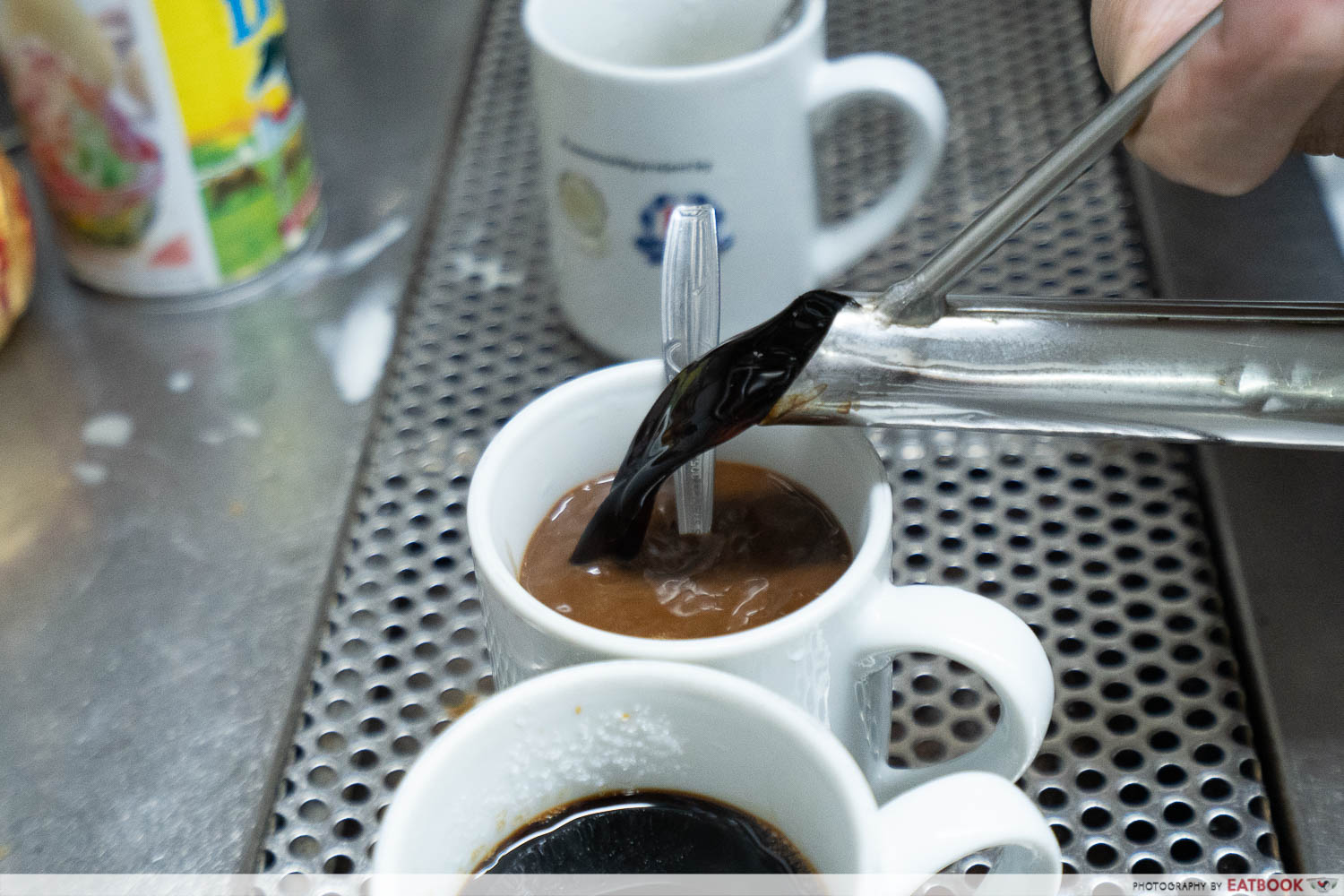 Unfortunately, the Kopi O fell short as it was too sweet, detracting from the roasted fragrance of the coffee beans. The Kopi Bing ($1.30) was also too sweet, though it's the cheapest iced coffee out of all the other places. There was thankfully enough ice, but we felt that it needed to be more gao. 
The main draw for us was the amazing value. The hot drinks are served in mugs instead of those tiny, traditional kopitiam cups and saucers, so the amount of coffee is pretty generous—especially for the prices you're paying.
Taste: 3.5/5
Strength: 3.5/5
Ratio: 3.25/5
Value: 4.5/5
Total:  73.75%
Address: 538 Upper Cross Street, #02-68, Hong Lim Food Centre, Singapore 050538
Opening hours: Mon-Fri 6:30am to 3:30pm
---
5. Heap Seng Leong
---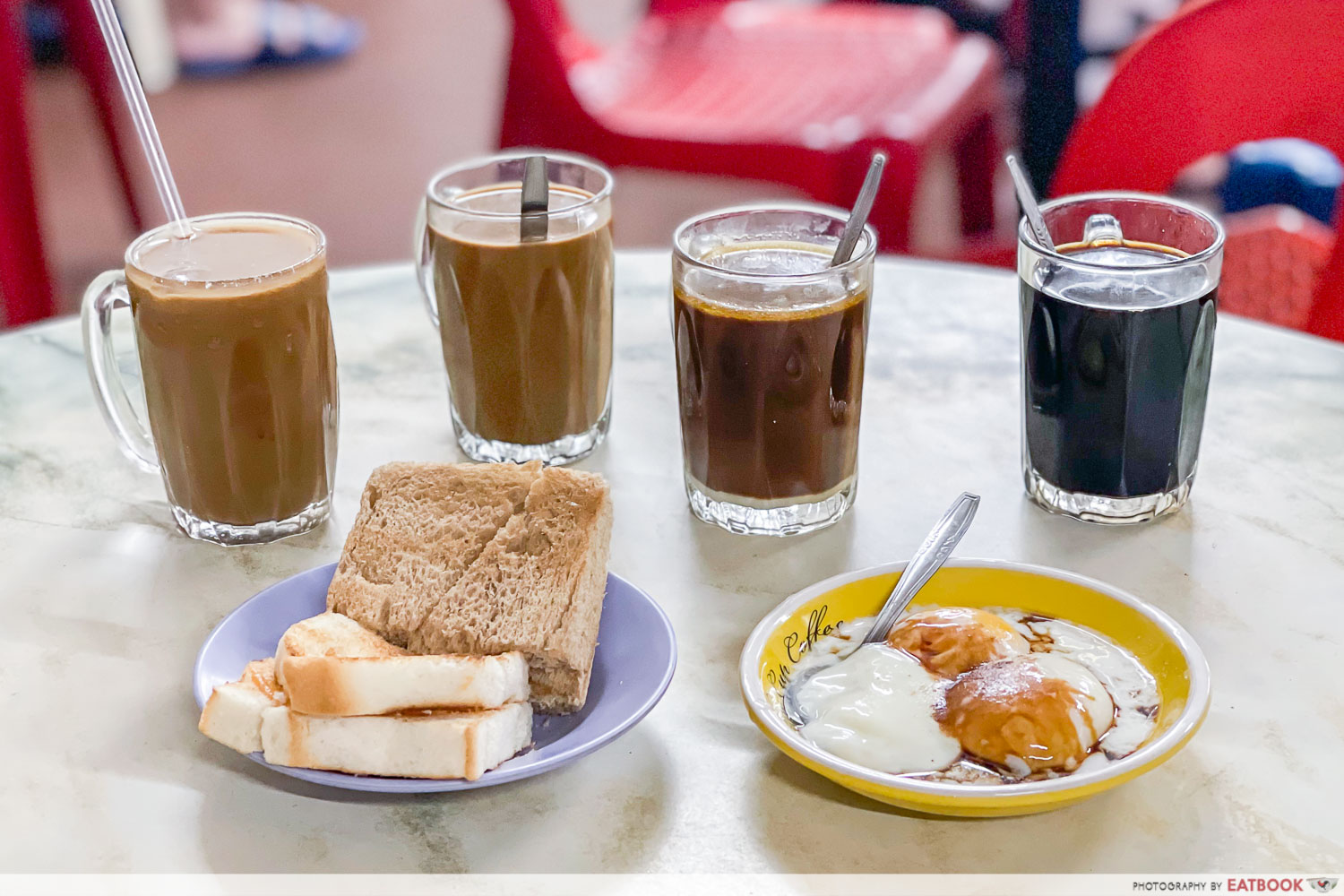 Heap Seng Leong is a stalwart in the kopi business, having been in the exact same spot since the 1970s. Run by father-and-son duo The Shis, this old-school kopitiam is best known for their traditional Nanyang kopi and charcoal-grilled toast. Take a seat inside and you'll be transported to a nostalgic era, where the trifecta of kopi, soft-boiled eggs, and kaya toast was everyone's go-to brekkie and teatime fuel.
We noticed that almost all of the tables had a cup of Kopi Gu You ($1.30), so we knew we had to order it too. This popular old-school beverage is essentially a hot cup of kopi with a cold slab butter. The butter added a distinct layer of richness and creamy mouthfeel to each sip, but it wasn't exactly mind-blowing. I wished they'd used salted butter instead to counteract the sweetness from the kopi and add a dimension of flavour to the drink. 
Our cheapest order—Kopi O ($1)—turned out to be the dark horse instead. This was my photographer's favourite rendition out of all the other kopi stalls. It boasted the magic ratio of water, sugar, and coffee, rendering a remarkably smooth and well-balanced taste.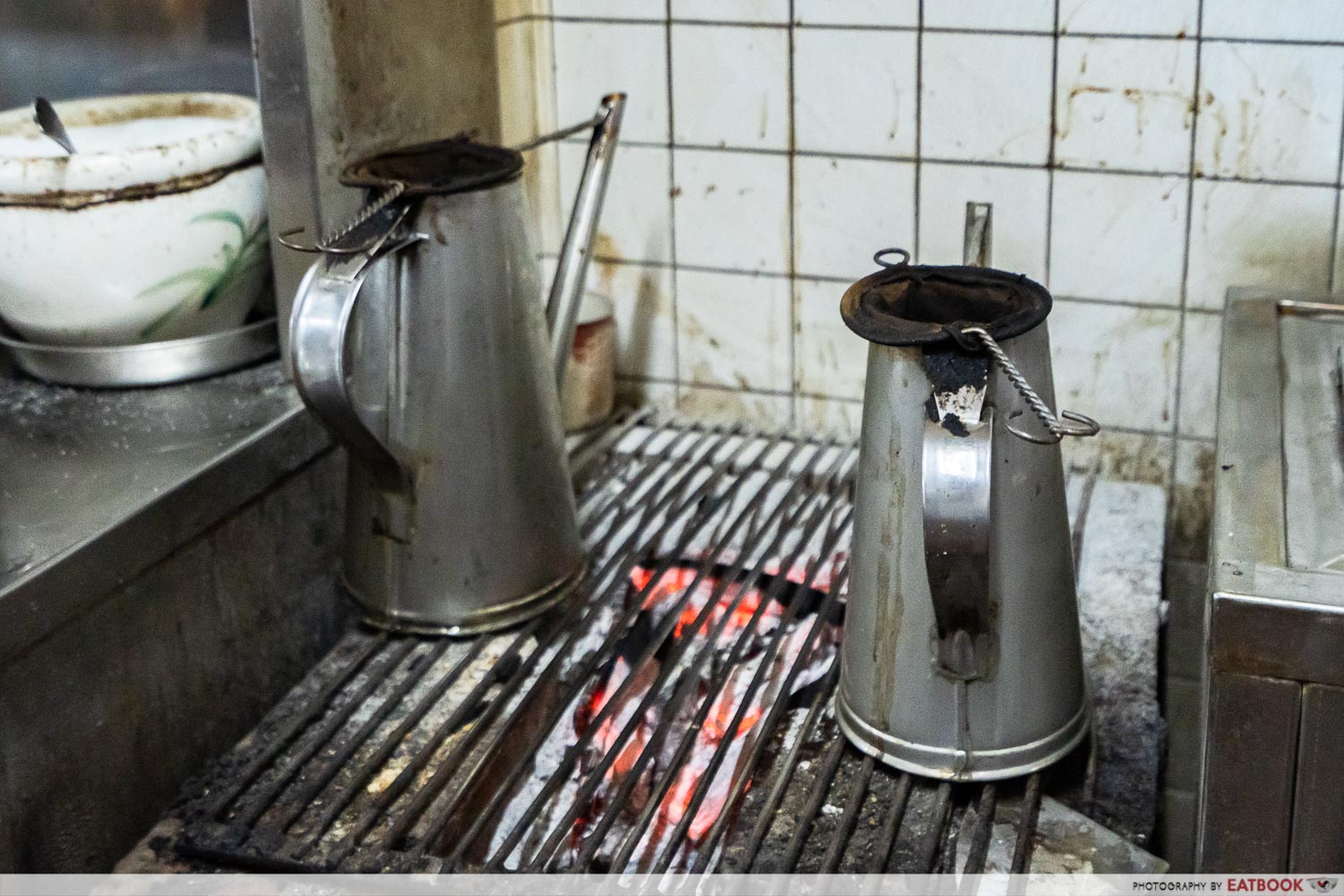 The caramelly, buttery fragrance of the kopi was most prominent in our Kopi C ($1.10). It was a decent brew, though we would have preferred if the coffee was slightly warmer.
Unfortunately, we were let down by the Kopi Bing ($1.30). There was way too little ice, leaving us with lukewarm coffee that tasted diluted. It was also rather light on the palate, so it's not for those who like their kopi rich. 
Besides Heap Seng Leong's longstanding history, another thing that stood out for us was how affordable their drinks were. You can get your caffeine fix at just $1, which is really a steal in this day and age!  
Taste: 3.75/5
Strength: 3.25/5
Ratio: 3.5/5
Value: 4.5/5
Total: 75%
Address: 10 North Bridge Road, #01-5109, Singapore 190010
Opening hours: Daily 5pm to 4pm
---
4. Wan Gui
---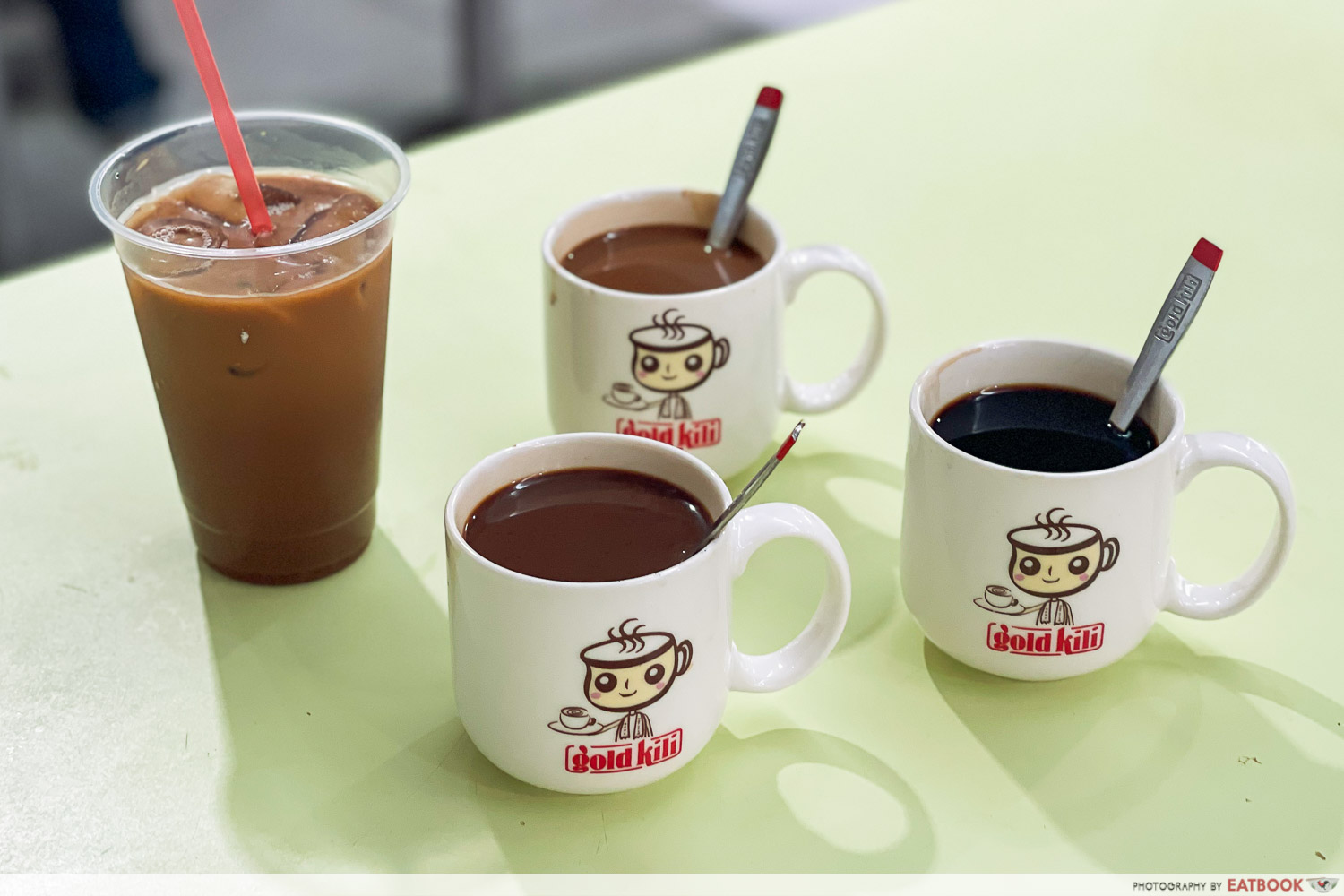 Wan Gui is frequented by the Eatbook team as it's situated in Bendemeer Food Centre, which is a short walk from our office. The striking, yellow-fronted kopi stall is not featured much by the media, but they're beloved for their cheap and strong brew, with Kopi O priced at just $1 a cup. Since they're a hot favourite among the team, we knew we had to add them into this list. 
A fair word of warning: if you don't like your kopi strong, you might not like this place. All the drinks we ordered were proper punchy, as if we ordered them gao. A few sips of their Kopi O gave us just the caffeine kick we needed; it was a robust cup of joe made stronger than most other stalls we tried.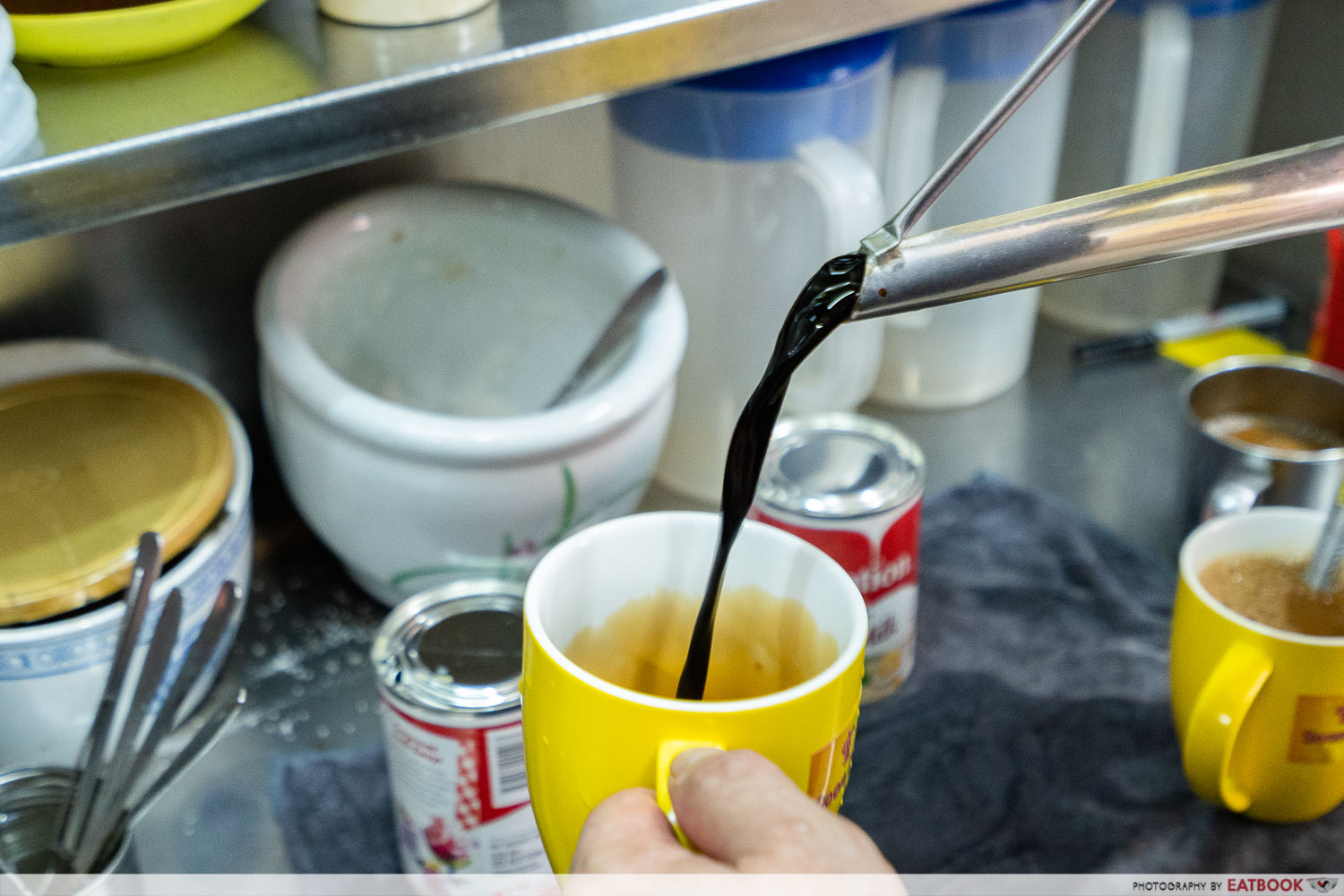 The Kopi C Siew Dai ($1.20) was sweeter than expected, but it was my favourite out of the lot as the roasted Robusta notes were most prominent here. I don't like my Kopi C too milky, so this was great for me, but others might prefer it less concentrated and more creamy instead. Both the Kopi ($1.10) and Kopi Bing ($1.30) were rich and intense, with the latter boasting a healthy ice to coffee ratio. The main drawback was that they were too sweet for our liking, so make sure you order siew dai if you don't have a sweet tooth. 
There's almost always a queue at Wan Gui, but the line moves fast, and each batch is fresh due to the high turnover.
Taste: 3.5/5
Strength: 4.5/5
Ratio: 2.75/5
Value: 4.5/5
Total: 76.25%
Address: 29 Bendemeer Road, #01-07, Singapore 330029
Opening hours: TBC
---
3. Generation Coffee 
---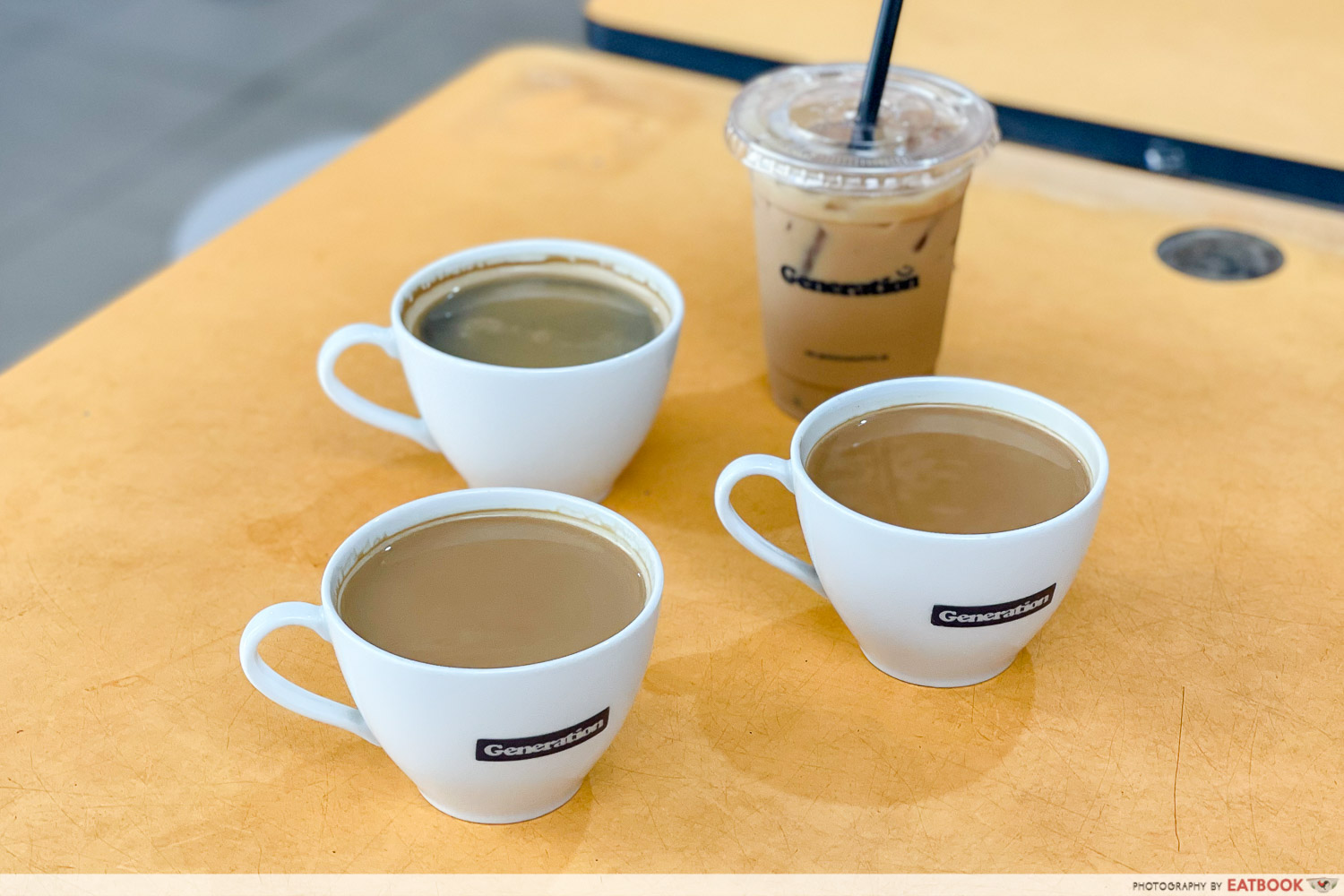 Ardent kopi enthusiasts might not agree with this inclusion, but Generation Coffee serves a solid kopi—albeit prepared in an unconventional way. This fairly new hawker stall in Tekka Food Centre was opened by two ex-air force engineers with one goal in mind: to bridge the gap between traditional and specialty coffee. So if you peer into their humble space, you'll notice that each cup is brewed with an espresso machine instead of the traditional kopi sock.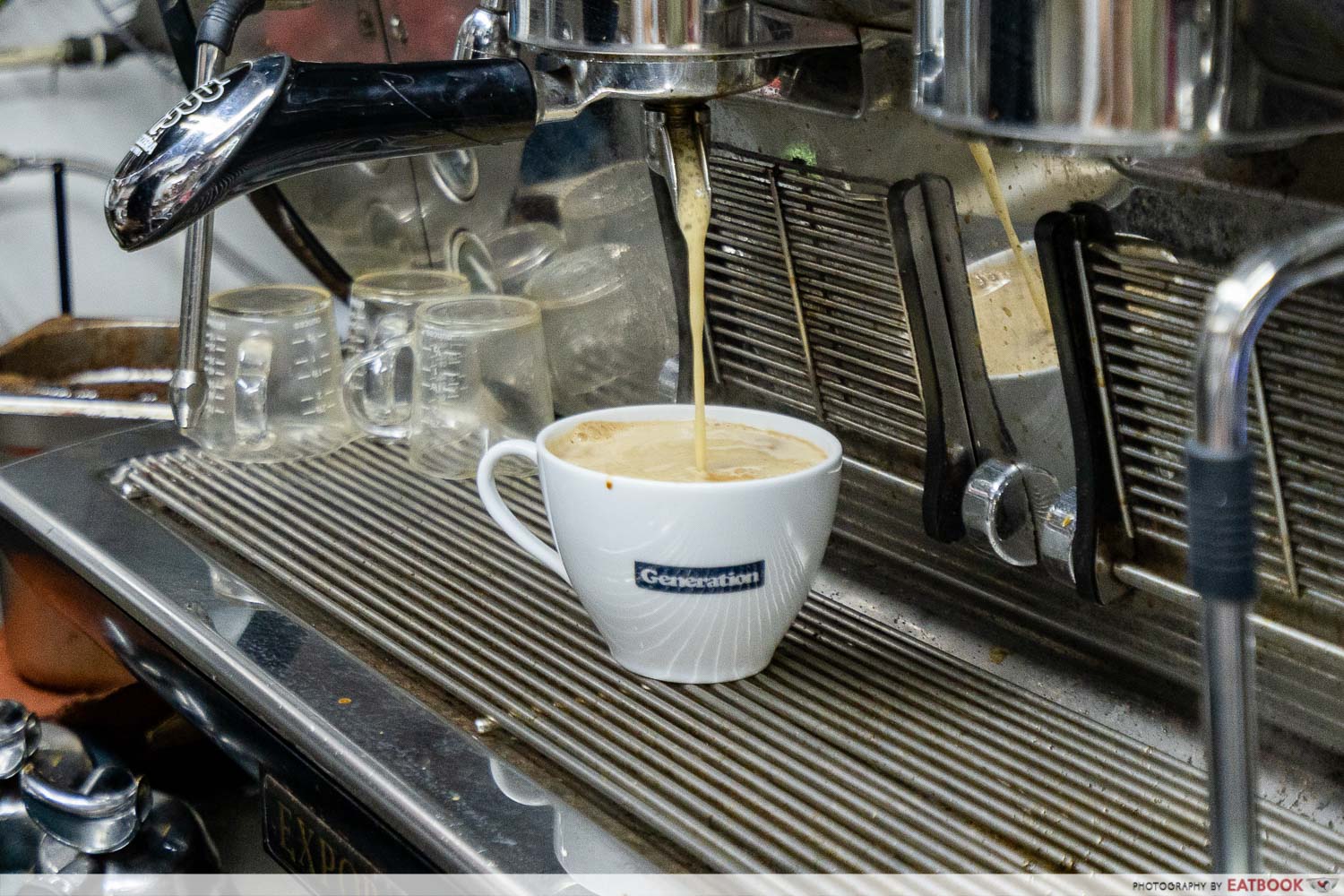 Because every cup is prepared with the team's trusty espresso machine, they're able to achieve a consistent quality each time. And yes, the differences are prominent. For one, our Kopi O ($1.30) came with a beautiful layer of crema—a mark of a well-pulled espresso shot. Compared to old-school Nanyang coffee, Generation Coffee's kopi also had more complex notes in terms of flavour, sans the buttery aroma commonly associated with a traditional brew. Perhaps this is due to the fact that they roast their own beans without sugar or margarine. 
We thought the Kopi O and Kopi ($1.50) were too sweet, which detracted from the coffee's natural fragrance, but you can opt for siew dai. On the other hand, the Kopi C Siew Dai ($1.60) was excellently done, with the perfect dose of milk to bring out the natural richness and creaminess of the espresso. According to their site, Arabica beans are added to the traditional Robusta beans for an elevated flavour.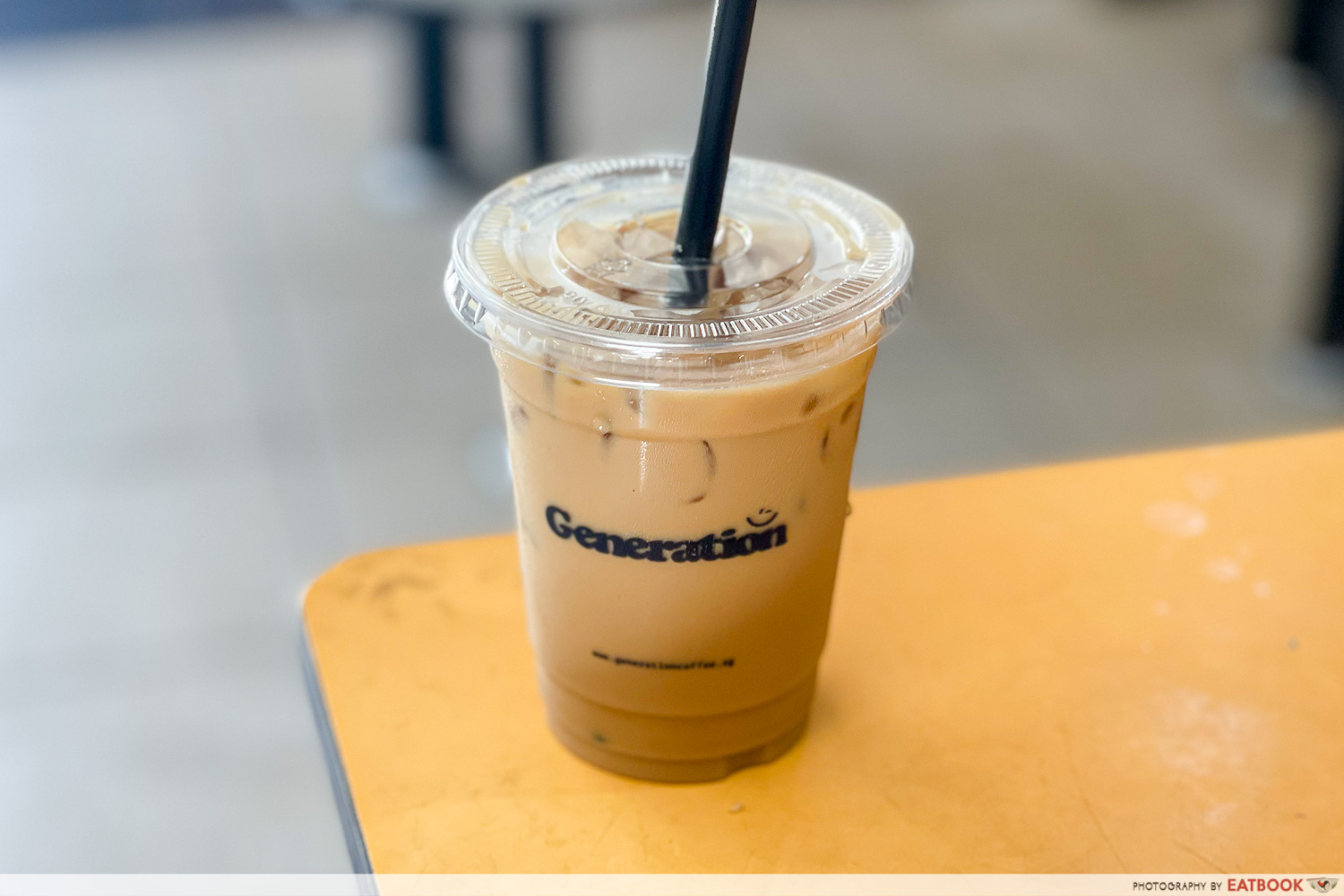 The Kopi Bing ($2) boasted a good ice-to-coffee ratio, with a roasted aftertaste, but also leaned sweet.
All in all, Generation Coffee is worth a second visit. Even if you're a kopi purist, I beckon you to give Generation Coffee a try for something different, yet familiar-tasting.
This Hawker Stall Sells Cafe-Style Iced Lattes And Speciality Coffee Under $4 At Tekka Food Centre
Taste: 4/5
Strength: 4.25/5
Ratio: 3.75/5
Value: 3.75/5
Total: 78.75%
Address: 665 Buffalo Road, #01-321, Tekka Food Centre, Singapore 210665
Opening hours: Mon-Tue, Thurs-Fri 7am to 3pm, Sat 7am to 1pm
Tel: 8891 2911
Website
---
2. YY Kafei Dian
---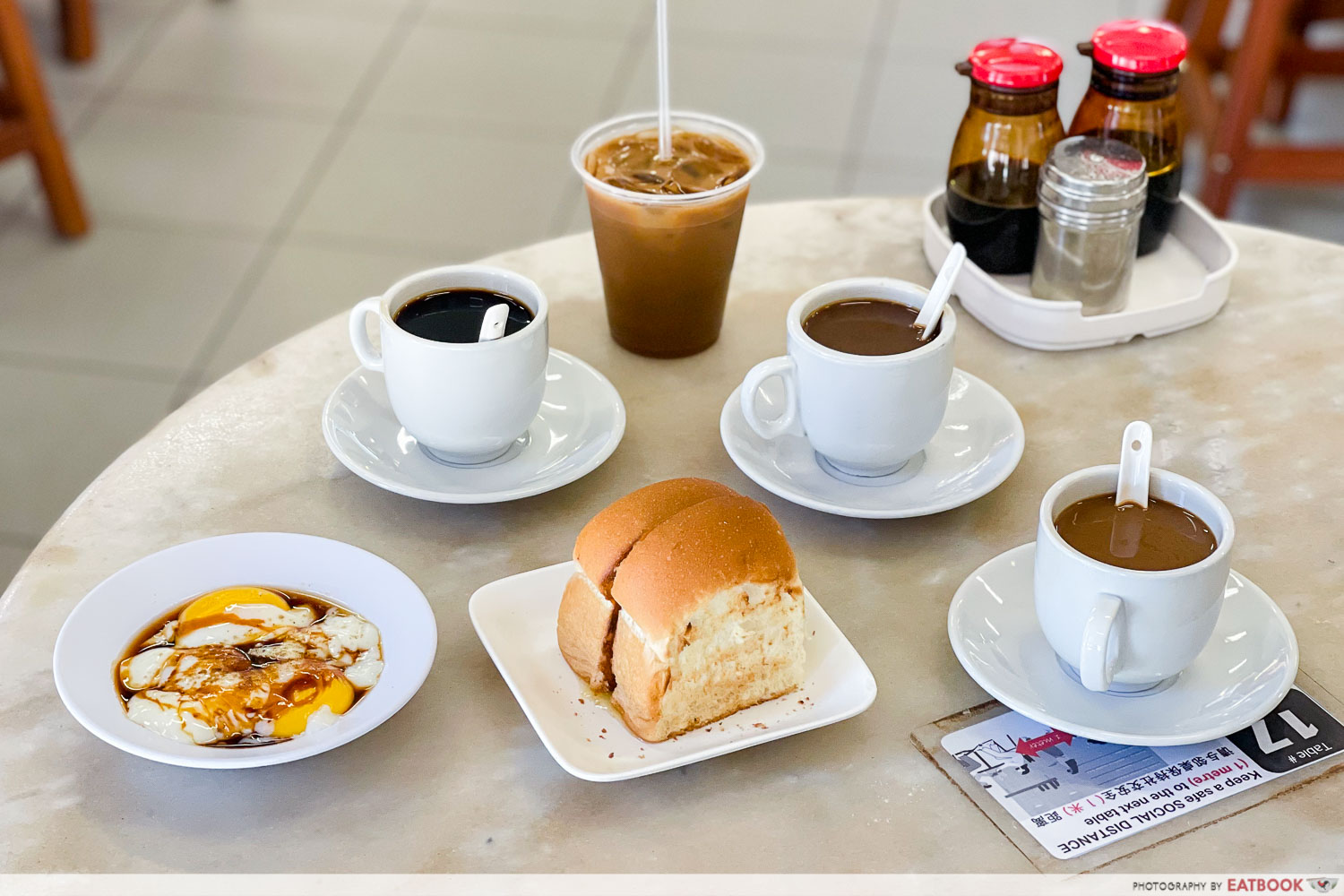 YY Kafei Dian is another favourite in the kopi and kaya toast scene. You can also fill up on Hainanese-style fare including Chicken Rice ($4.50), as well as their signature Kaya Bun ($1.50): soft and fluffy buns that are baked in-house, toasted till crisp, and slathered with kaya and a slab of butter for that perfect hot-cold combination.  
If there's one word to describe the kopi here, it's 'consistent'. We were thoroughly impressed with their Kopi C Siew Dai ($1.70), which was strong enough, yet not too sweet. Here the caramel, buttery notes shone the most. The Kopi Bing ($1.90) was another favourite, with just the right amount of ice to cool us off from the heat outside.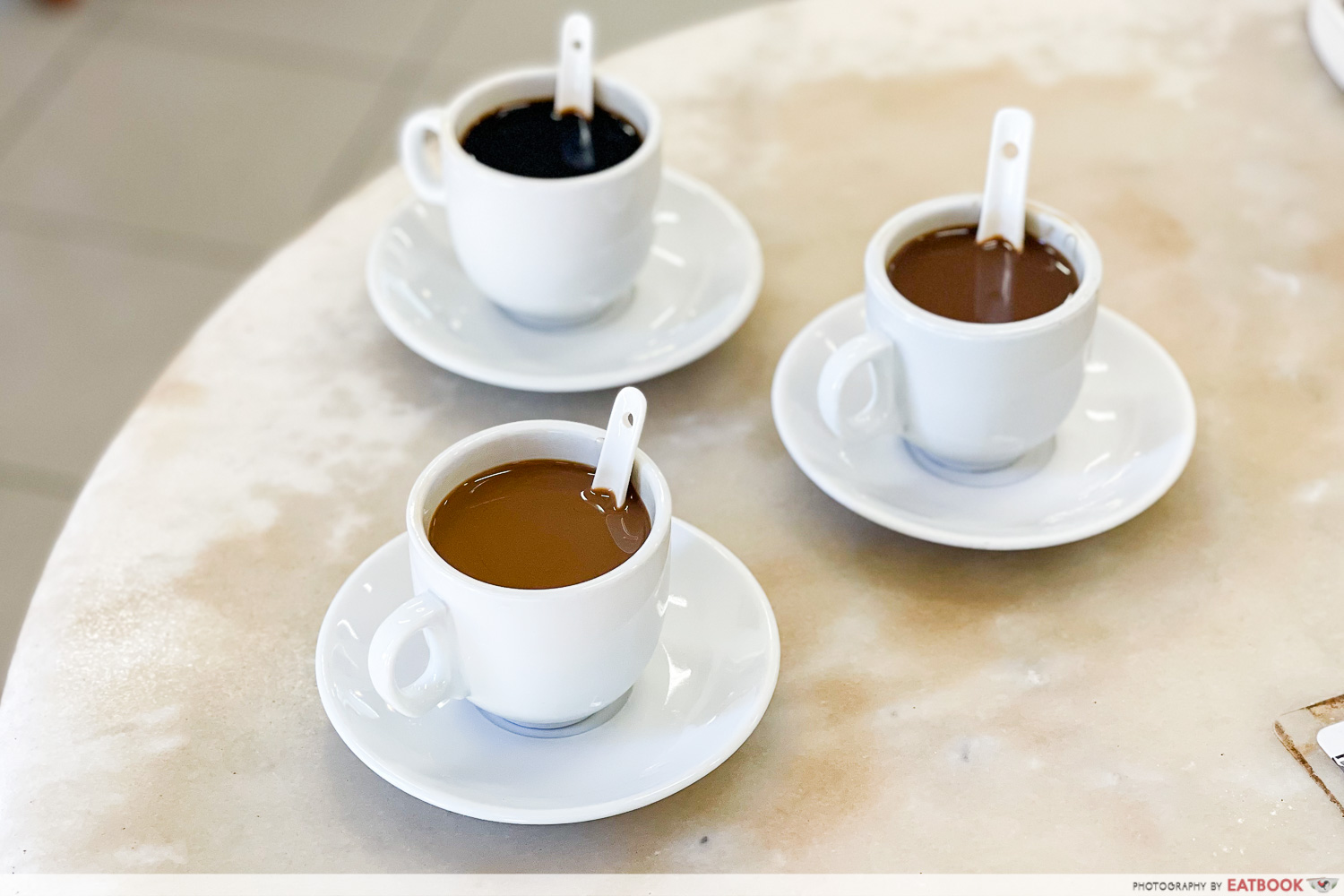 The regular Kopi ($1.60) boasted a rich texture and robust flavour, but I somehow found myself wishing the roasted notes of the beans were more prominent. Rounding off our kopi journey here was the surprisingly smooth Kopi O ($1.40), which went down easy despite me having a preference for coffee with milk.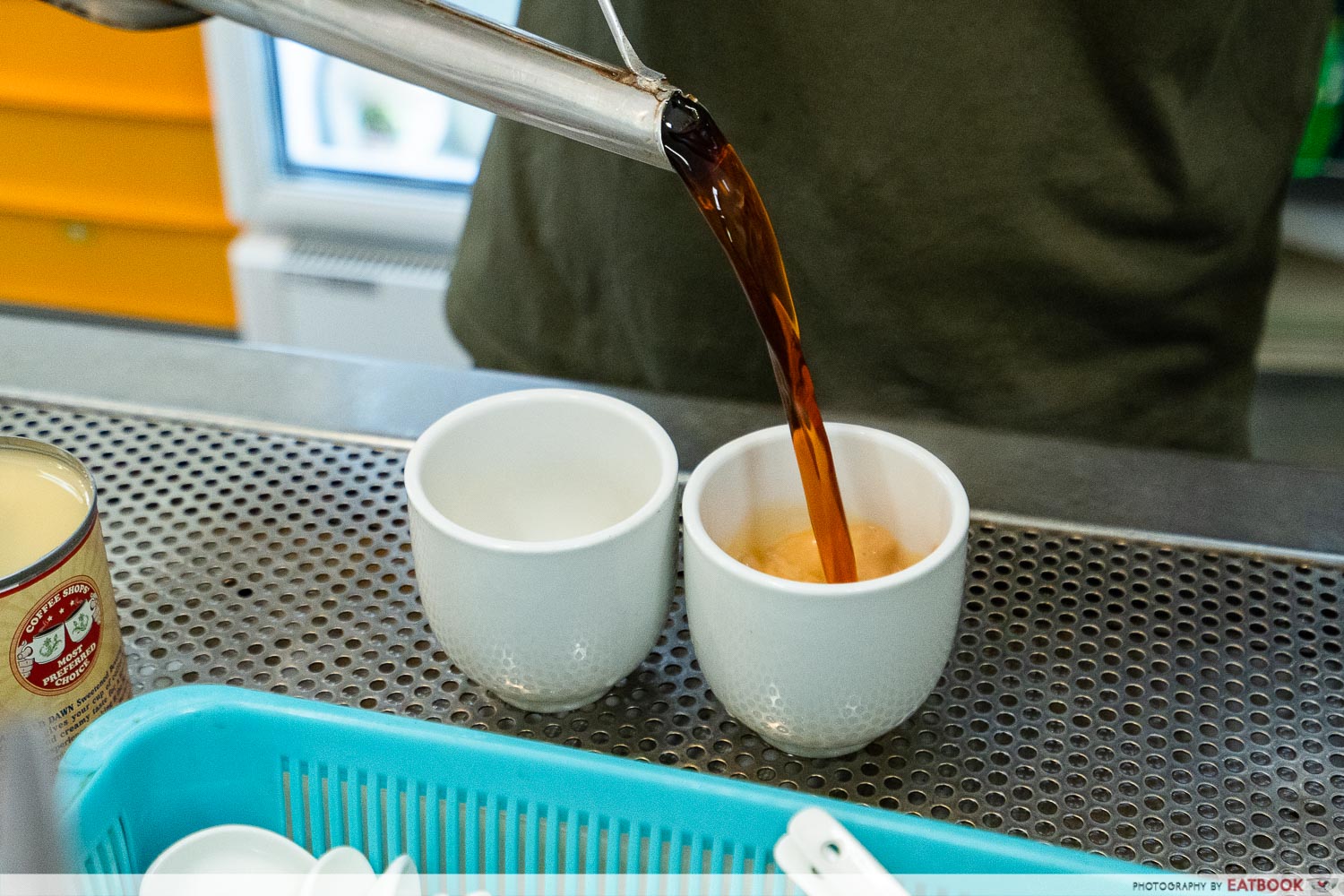 If you're on the hunt for a smooth brew that's pleasant to drink, and without much acidity, you'll find it at YY Kafei Dian. From our experience here, each cup was well-prepared with just enough milk and sugar, placing the spotlight on the coffee's balanced, near-creamy flavour. But if you prefer your coffee punchy, make sure you ask for gao. 
Taste: 4.25/5
Strength: 4/5
Ratio: 4/5
Value: 3.75/5
Total: 80%
Address: 37 Beach Road, #01-01, Singapore 189678
Opening hours: Mon-Fri 7:30am to 7pm, Sat-Sun 8am to 7pm
Tel: 6336 8813
Website
---
1. The 1950s Coffee
---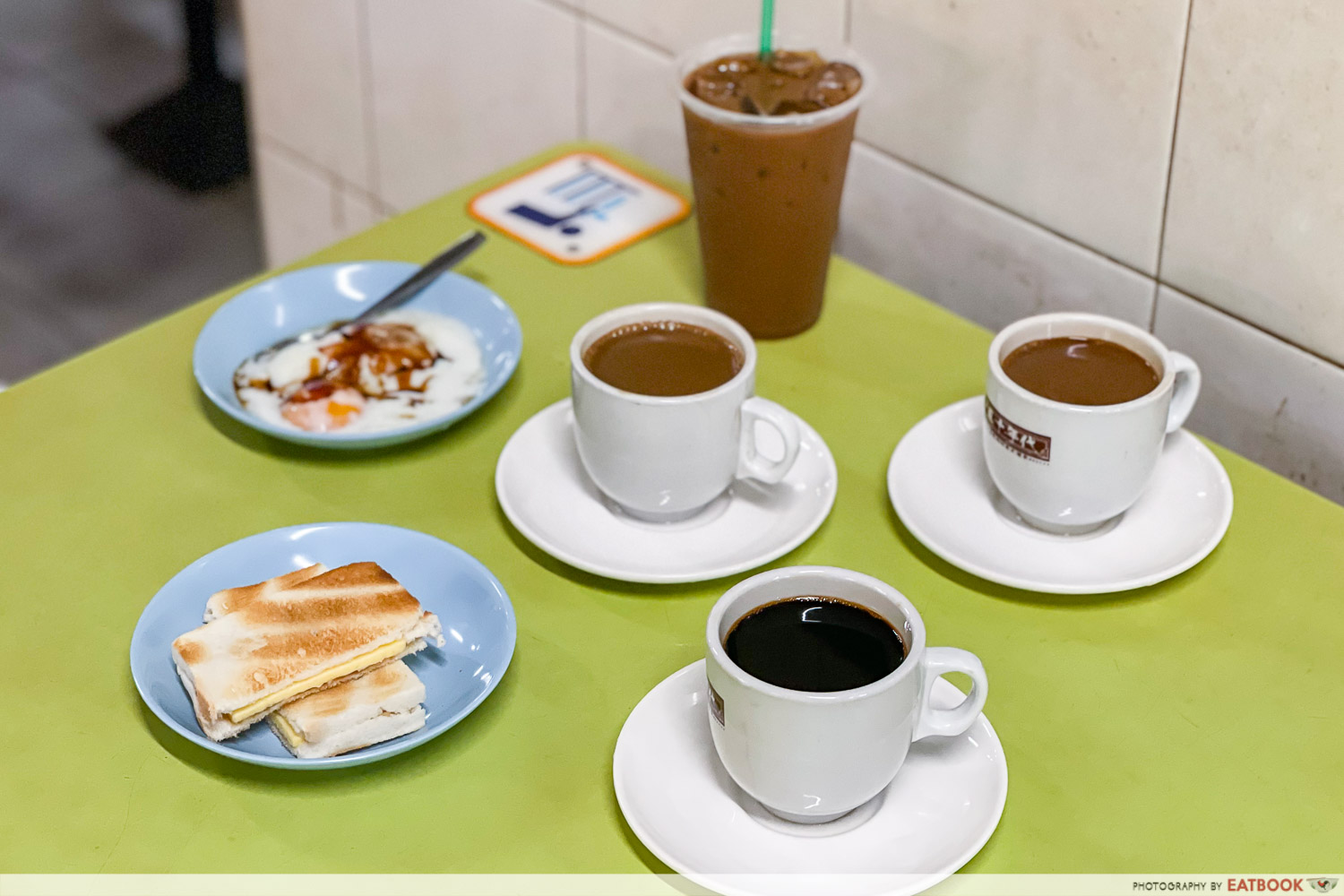 Tucked in the sprawling Chinatown Complex Food Centre is The 1950s Coffee, a humble stall that has earned a spot in the Michelin Guide for serving a "classic taste of Singapore". There's no need to trawl through the myriad of stalls here though, as the hawker stall is in plain sight as soon as you come up via the escalator. Additionally, The 1950s Coffee draws a queue from locals and tourists alike, no matter the time of the day, who are in search of a solid cup of Nanyang brew.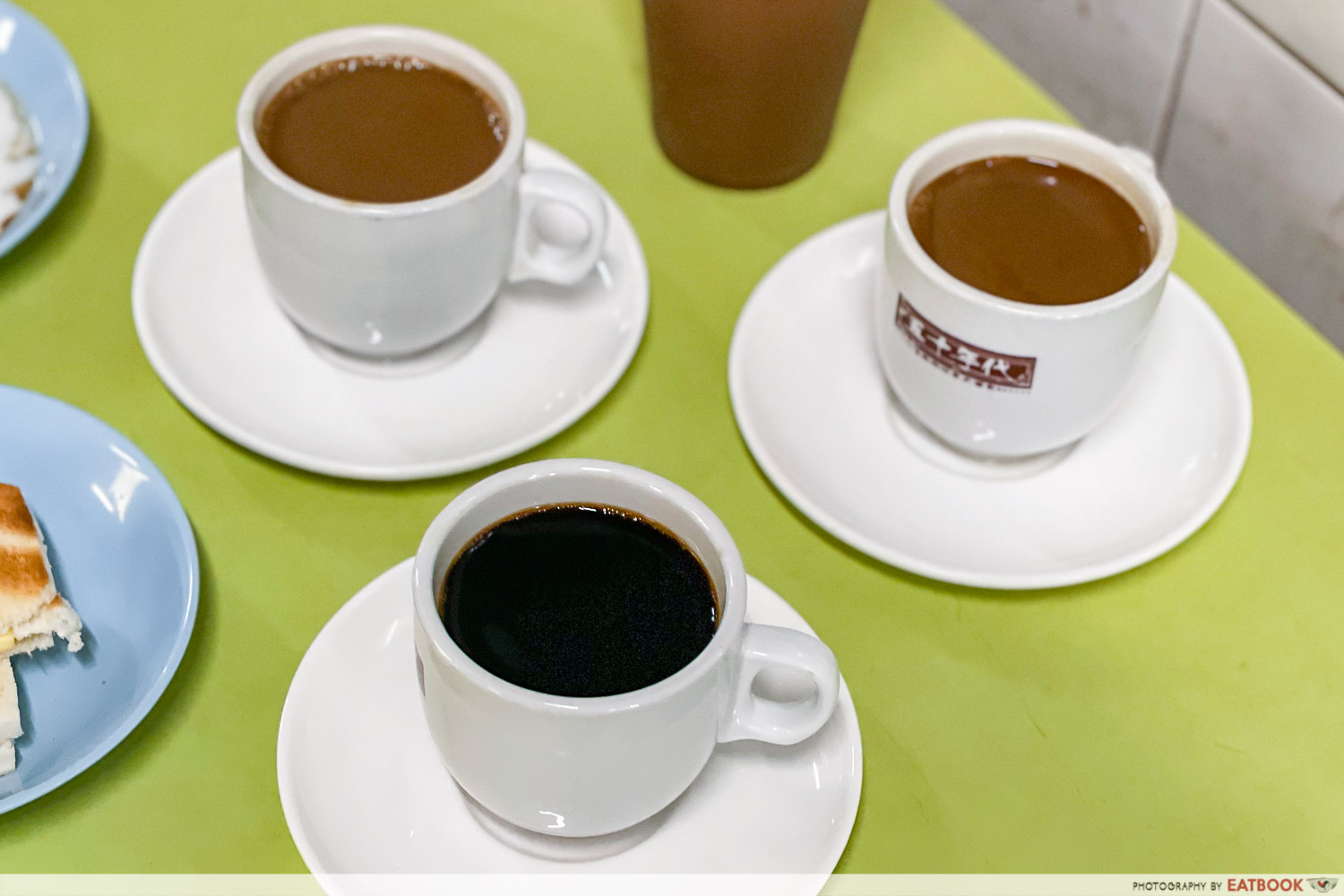 We thoroughly enjoyed our Kopi O ($1.10), served proper strong with caramel-like notes similar to Vietnamese coffee. One sip was all it took for my photographer to exclaim, "The coffee here is the type of coffee that will wake me up!"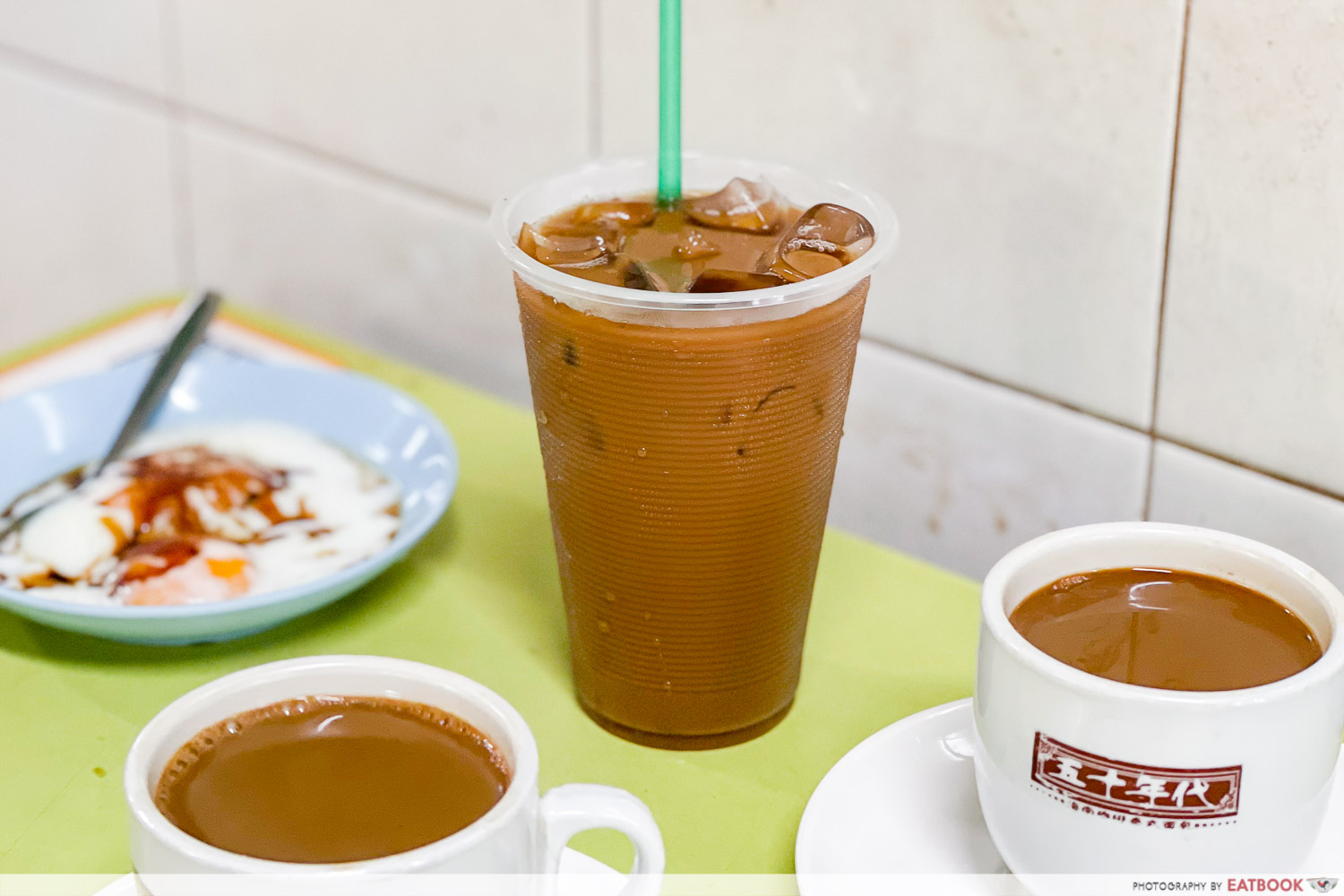 Next up was the Iced Kopi ($1.70), which boasted the perfect ice-to-coffee ratio. There was enough ice, so the drink was still cold even after our shoot.
The sweetness level was also spot-on for all four drinks, as with the milk-to-coffee ratio for the milk-based options. We were both impressed by how consistently good each cup of kopi was, albeit the different variations.
Surprisingly, the Kopi ($1.20) turned out to be the weakest brew. Don't get me wrong—it's still a delicious cup of kopi, but perhaps the sweetness from the condensed milk detracted from the full aroma of the coffee. 
Taste-wise, the Kopi C Siew Dai ($1.30) was my personal favourite. Here the roasted flavour of the beans really shone, especially since the drink was made less sweet, which brought the focus to the coffee fragrance itself. We unanimously agreed that The 1950 Coffee's version is the best out of the 10 stalls we've tried. 
If you're to visit the stall, a fair word of warning: the aunty who makes the coffee is quite the character, so make sure you memorise your exact order while you're in the queue to avoid slipping up when it's your turn! 
Taste: 4.25/5
Strength: 4.25/5
Ratio: 4/5
Value: 4/5
Total: 82.5%
Address: 335 Smith Street, #02-048, Singapore 050335
Opening hours: Tue-Sun 7am to 5pm
Tel: 8923 3970
---
Where to get the best kopi in Singapore
---
As with most local fare, a good cup of kopi can be rather subjective. Some like it punchy and robust, while others prefer a milder, smoother brew. Oftentimes, the strength of the beans, and ratio of all the other components are largely dependent on who's making your coffee.
Whether you're team Kopi O or Kopi C, Siew Dai or Kosong, there's no denying how important traditional Nanyang-style kopi is to Singaporeans. Bookmark these 10 popular kopi stalls the next time you're in need of a caffeinated pick-me-up!
For more local food, check out our ranked list of 10 best bak chor mee stalls in Singapore. If you're looking for Singaporean-style brekkie, read our Chin Mee Chin Confectionery review!
10 Best Bak Chor Mee In Singapore Ranked—Tai Hwa, Tai Wah, Seng Kee And More
Photos taken by John Lery Villanueva.
This is an independent review by Eatbook.sg.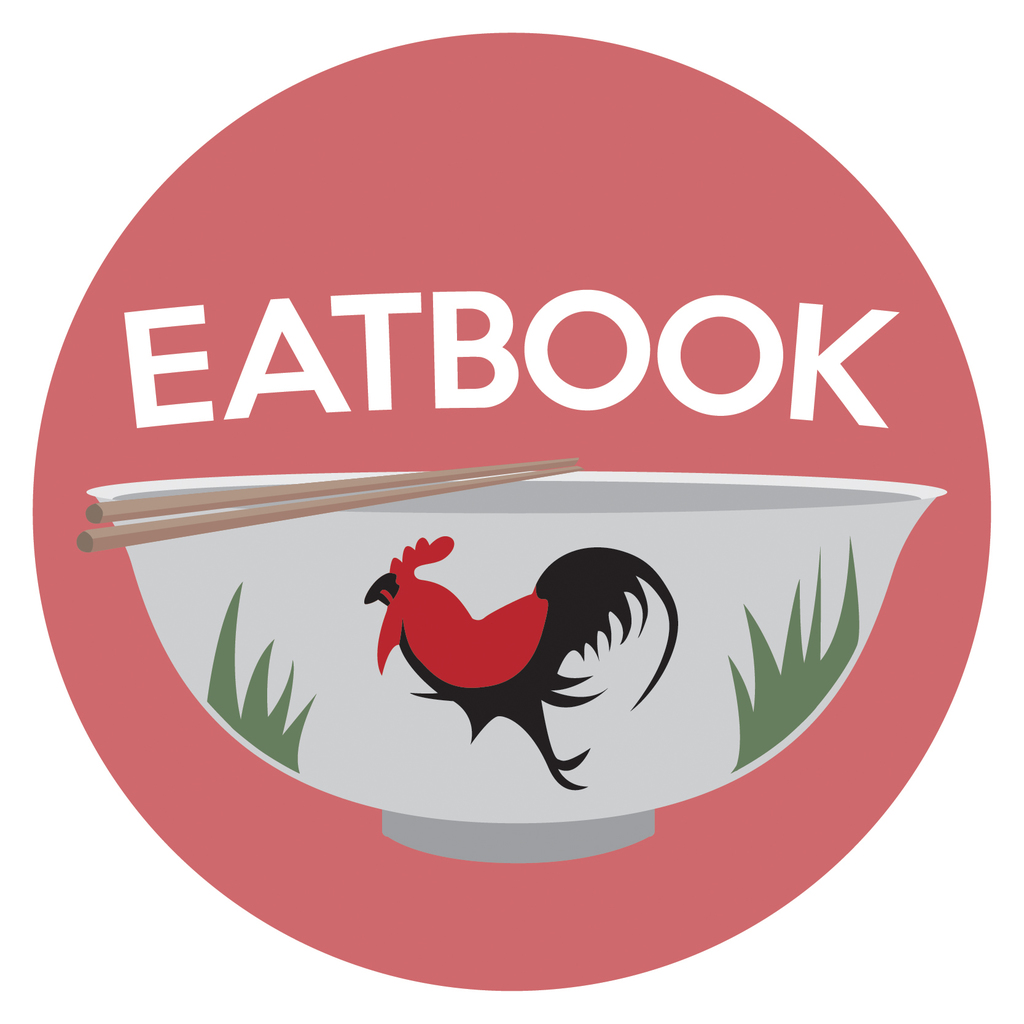 Drop us your email so you won't miss the latest news.