---
Best bak chor mee in Singapore
---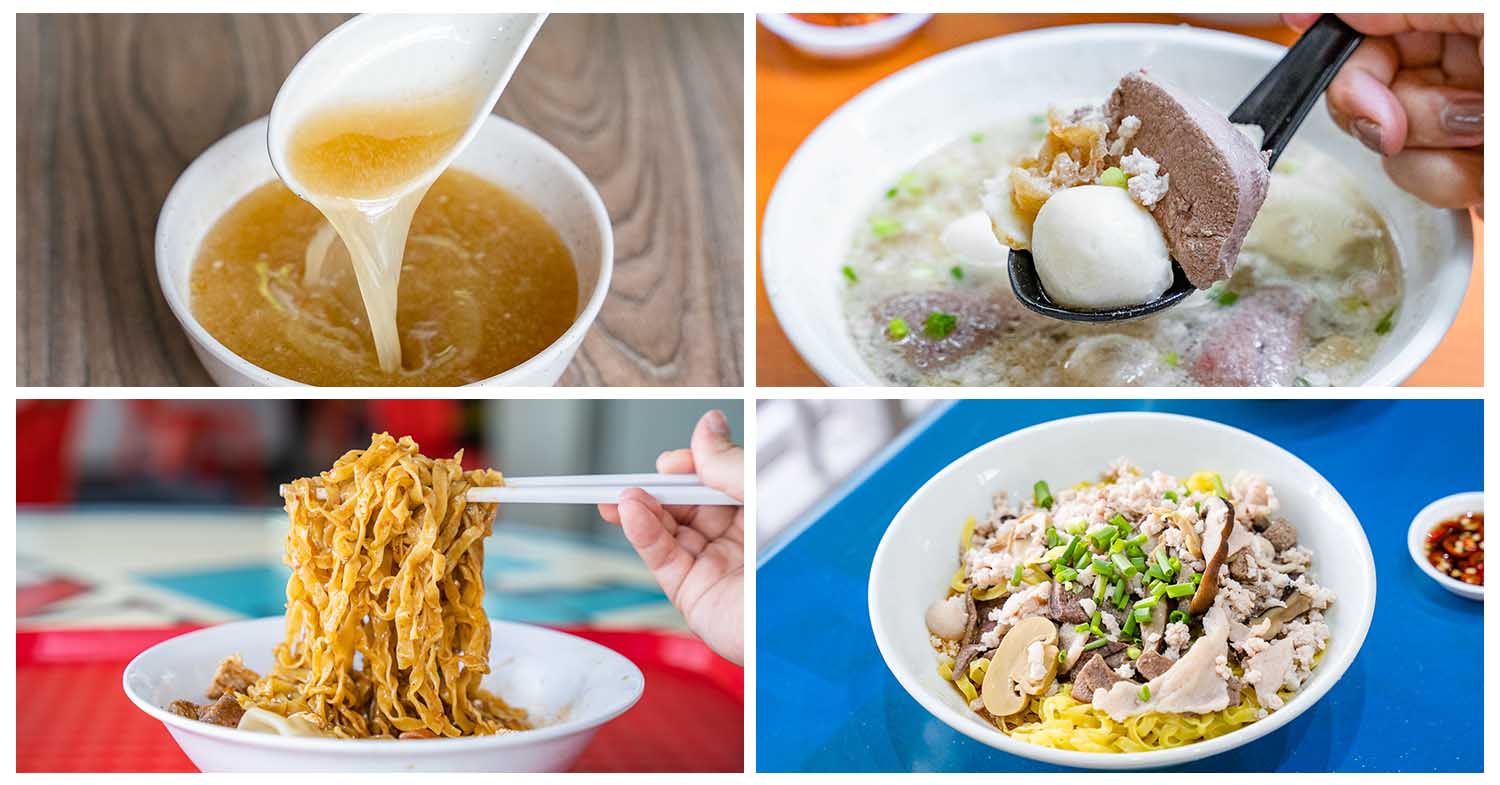 Like every other best-of endeavour that one would set upon, hunting down the best bak chor mee in Singapore was not an easy task. What's best in my opinion may not necessarily be the best in yours. Intangibles including the sentimental value linked to a particular stall, convenience and proximity to where one stays, and such will always play a big part in determining what we feel is 'best'.
That aside, this ubiquitous bowl of noodles can be found in almost every hawker centre and food court. Some, more than others, have made a name for themselves—Hill Street Tai Hwa Pork Noodles being the best example of this. There are also two general bak chor mee camps: soup, a la the famous Bedok 85 BCM stalls, and dry, which is what this list focuses on.
To level the playing field, we picked popular and heritage bak chor mee stalls across the island that do it the traditional way. We also visited the stalls anonymously, ordering the $5 bowl as far as possible: mee pok dry, with chilli.
---
The criteria
---
The name of the dish is simple, referring only to the minced meat, and the noodles. But what goes into crafting each bowl of these noodles is so much more than that. Various stalls also plump their versions up with differentiated accompaniments, so we distilled it down to the most important tangible aspects: noodles, sauce, meat, and soup—where said meat encompasses items such as sliced and minced pork, liver, and meatballs.
On the subject of noodles, we were looking for mee pok that was neither too thick nor thin, springy, and cooked to a QQ finish. This ideally came well-coated in a sauce mix that was a balance of savouriness, umami, fragrance from a full-bodied chilli, and an adequate punch of vinegar, with no single element overpowering the others. Our perfect bowl of BCM soup was one with layers of robust flavour that should not be overly porky, but complement the noodles it accompanied.
Then, there's the criteria of value, where we looked at the portion sizes and inclusions across the board. Lastly, we added an extra category for others, where the execution of elements including braised mushrooms, fried pork lard, shallots, sole fish, and wonton fell under.
Each of these criterion has a maximum value of 5 points, for a total of 30, which is then converted to a percentage score. For fairness of comparison, the stalls have been judged purely based on that one bowl which we ordered on the day of our visit.
---
10. Lai Heng Mushroom Minced Meat Noodles
---
Lai Heng Mushroom Minced Meat Noodles made the news earlier this year when they announced their intention to sell the recipe behind their popular noodles. The family-run stall has been around for 37 years, and regularly draws long queues, especially at lunchtime.
In spite of our intent to stay anonymous, our cameras and requests to shoot meant we weren't as discreet as we would've liked. We later found out that they had given us something like 50% more noodles than usual. They had also run out of mee pok, in spite of us visiting at 11am in the morning, before the lunch crowd had come by.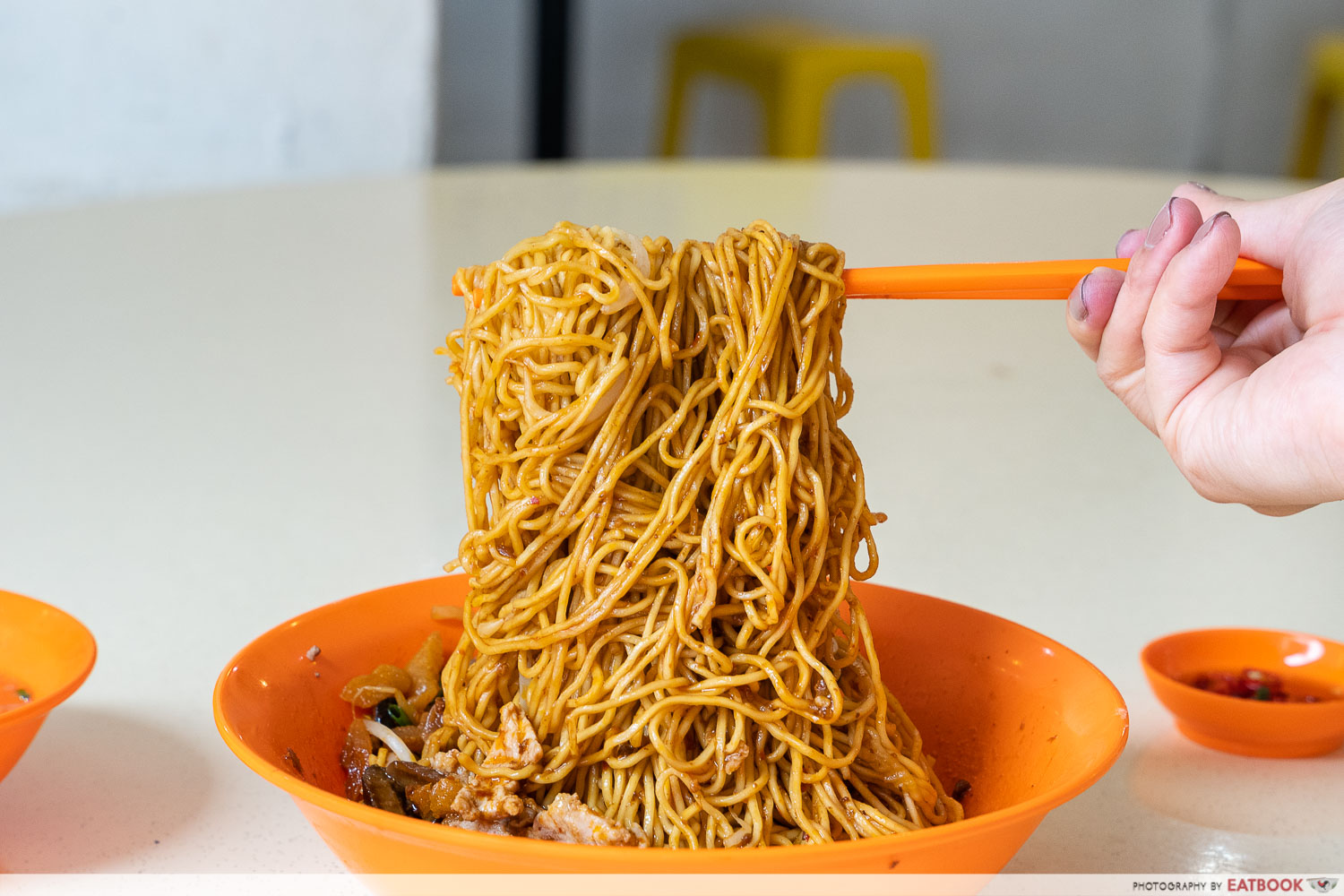 Perhaps due to the extra noodles in the bowl, we found the mee kia floury and clumpy in the mouth, rather than getting distinct, QQ strands, even though we dug in without much delay. They also erred on the softer side, without much of a bite.
Noodles: 1.5/5
With the amount of noodles in the bowl, it was tough to evenly coat them in the sauce, which we felt we didn't have enough of. Based on what we did taste, we found it to be fragrant with lard oil, with just the right amount of chilli. Were this a bowl of wonton mee, it might have worked; unfortunately one key element of BCM is the vinegar—we wished there was more of its punchy flavour.
Sauce: 2.5/5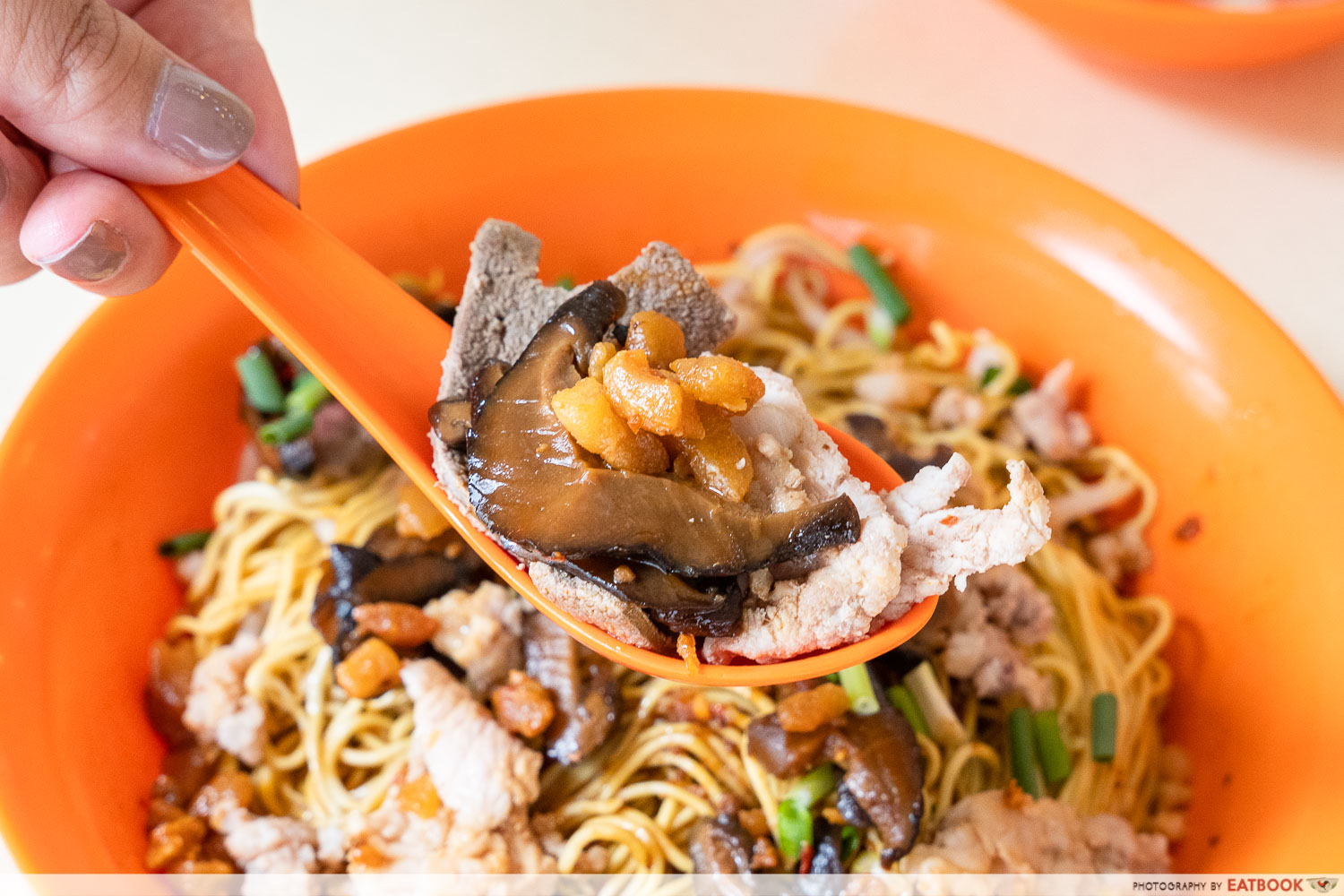 Relative also to the mee kia, the serving of meat was rather scanty. It came with a trio of pork slices, liver, and some minced pork, where the first of these still had a gamey, porky flavour. The liver, while tender, had a metallic taste, without the sweetness we gleaned at other locations on this list.
Meat: 2/5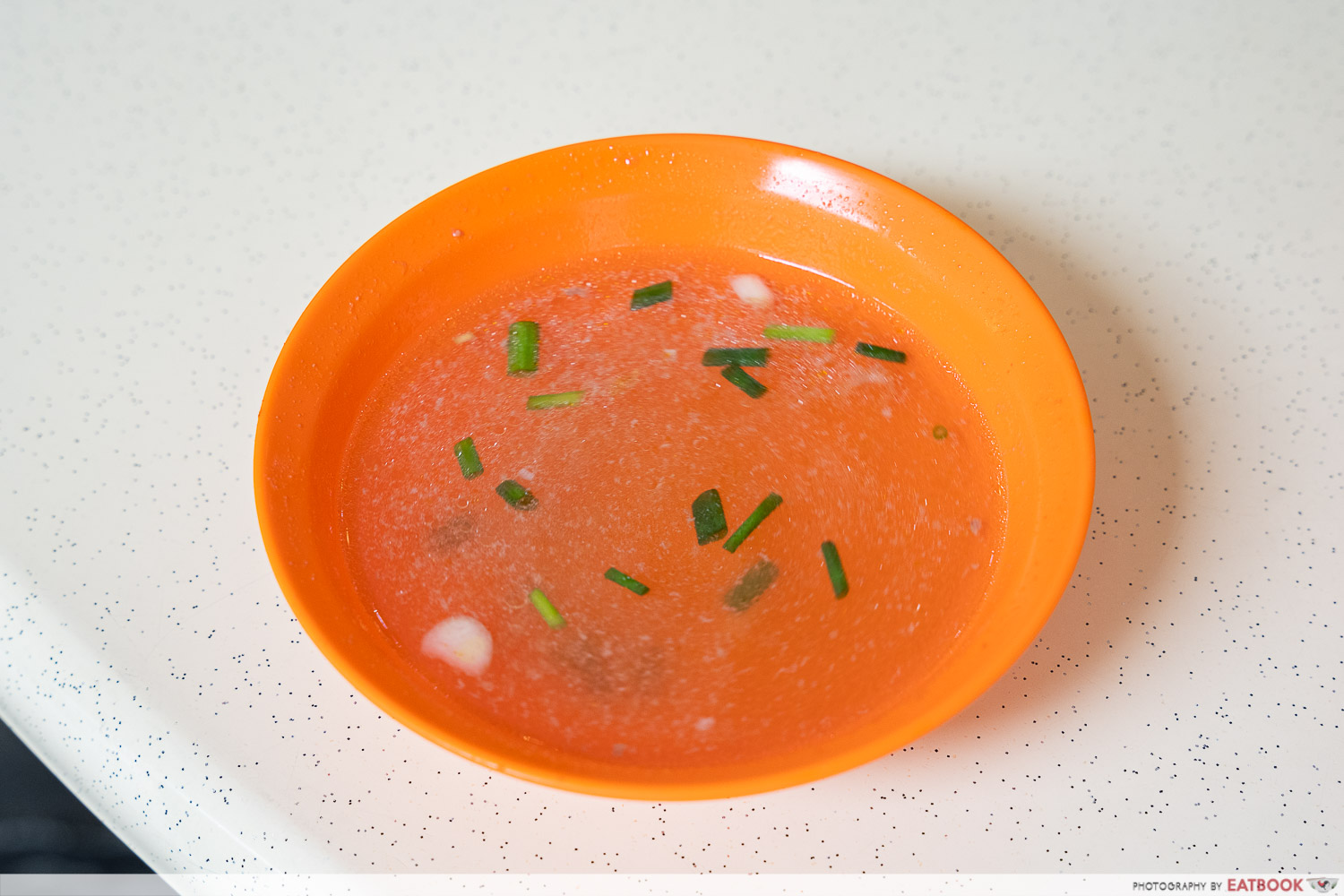 The clear soup held a hint of porkiness and was plain savoury, but tasted unremarkable. Of the 10 bowls of soup we sampled, this was by far the least memorable.
Soup: 1/5
The BCM at Lai Heng was served with bean sprouts—unnecessary, in my opinion, though its fresh flavour might be appealing to some. We also wished they'd given more stewed mushrooms in the bowl, though credit must be given for the crisp cubes of lard.
Others: 2/5
$5 is the cheapest bowl of bak chor mee on the menu here, and even without the extra noodles we were given, it's clear to see how the portion makes it a satisfying lunch amongst their regulars in the area.
Value: 4/5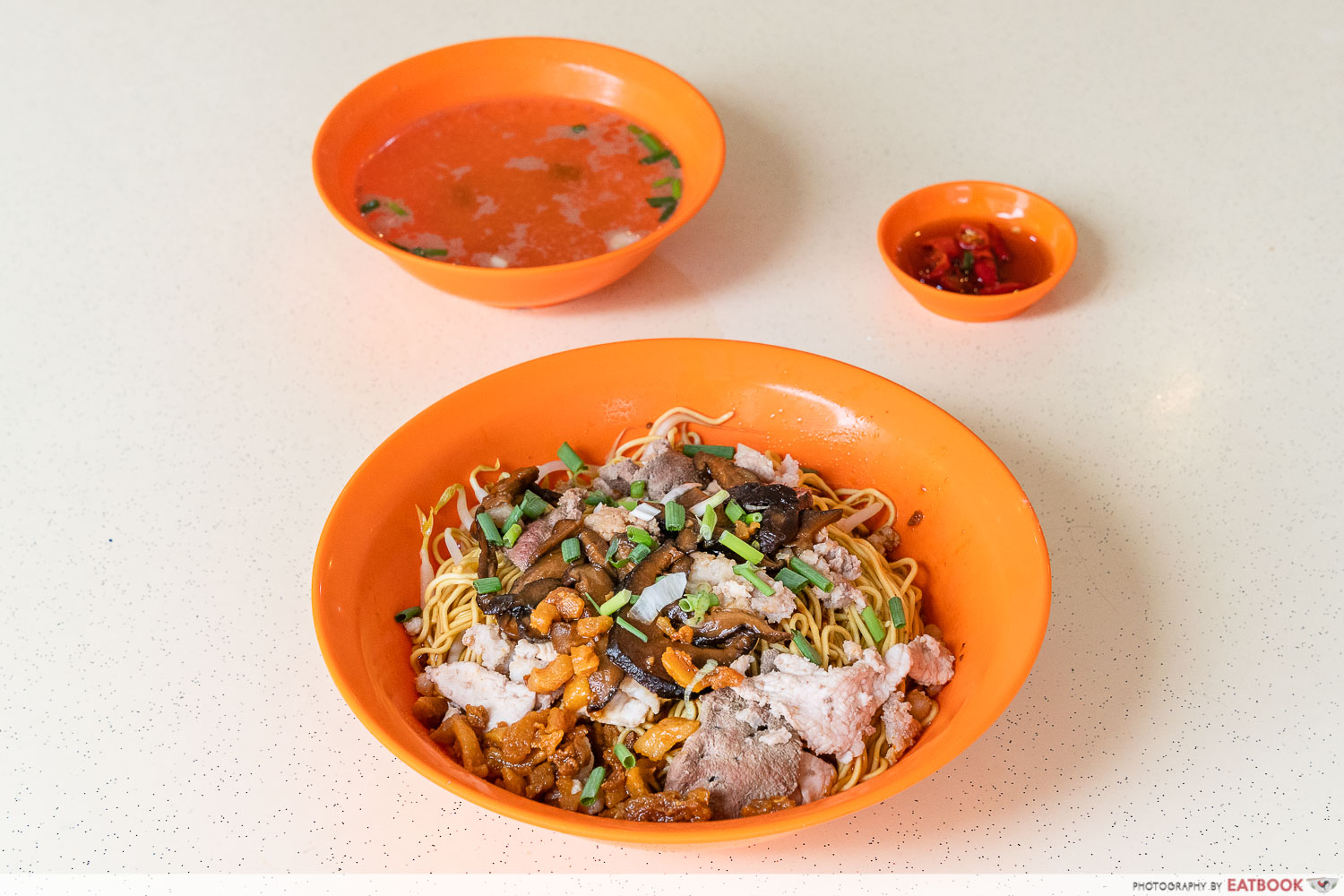 I can see how the homey, lardy taste of the bak chor mee here might be comforting to those who stay close by, with the generous serving making it extra value-for-money. It also seems that their soupy BCM may be the better option to go for, but for my dining companion and myself, it was hard to justify coming here for this.
Total: 43.3%
Address: Block 73 Toa Payoh Lorong 4, #01-611, Singapore 310073
Opening hours: Thurs-Tue 8am to 4pm
Tel: 9620 2074
Website
---
9. Seng Kee Bak Chor Mee
---
Another popular stall that's in its fourth decade is Seng Kee Bak Chor Mee, a longstanding tenant at Serangoon Garden Market & Food Centre. They recently opened a second location in Ang Mo Kio Industrial Park, where the founder is said to be stationed. Their OG outlet in Serangoon Gardens, now helmed by his daughter and her husband, is the one we visited.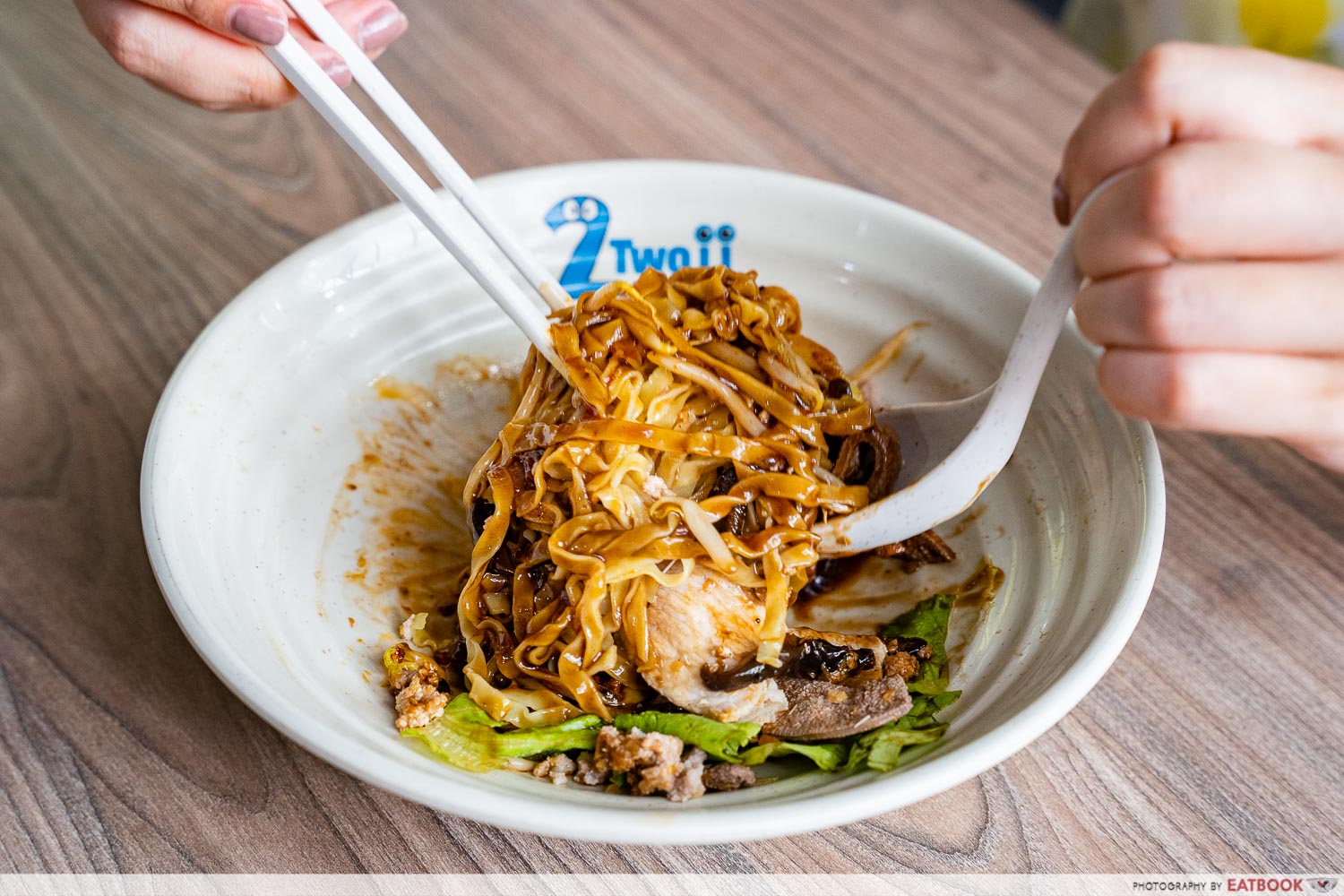 The Minced Meat Noodle Dry at Seng Kee is priced at $5.50 or $6.50, of which we ordered the smaller bowl. The noodles were QQ in spite of being on the thinner side, and were smooth and well-cooked.
Noodles: 3.5/5
The letdown in this bowl of bak chor mee was the sauce: the accent from vinegar was present but didn't have that oomph. It appeared promising as we tossed the noodles, with the sheen of oil and dark soya sauce coating it all, but it looked better than it tasted. The mild chilli also didn't hold its own amidst it all.
Sauce: 1.75/5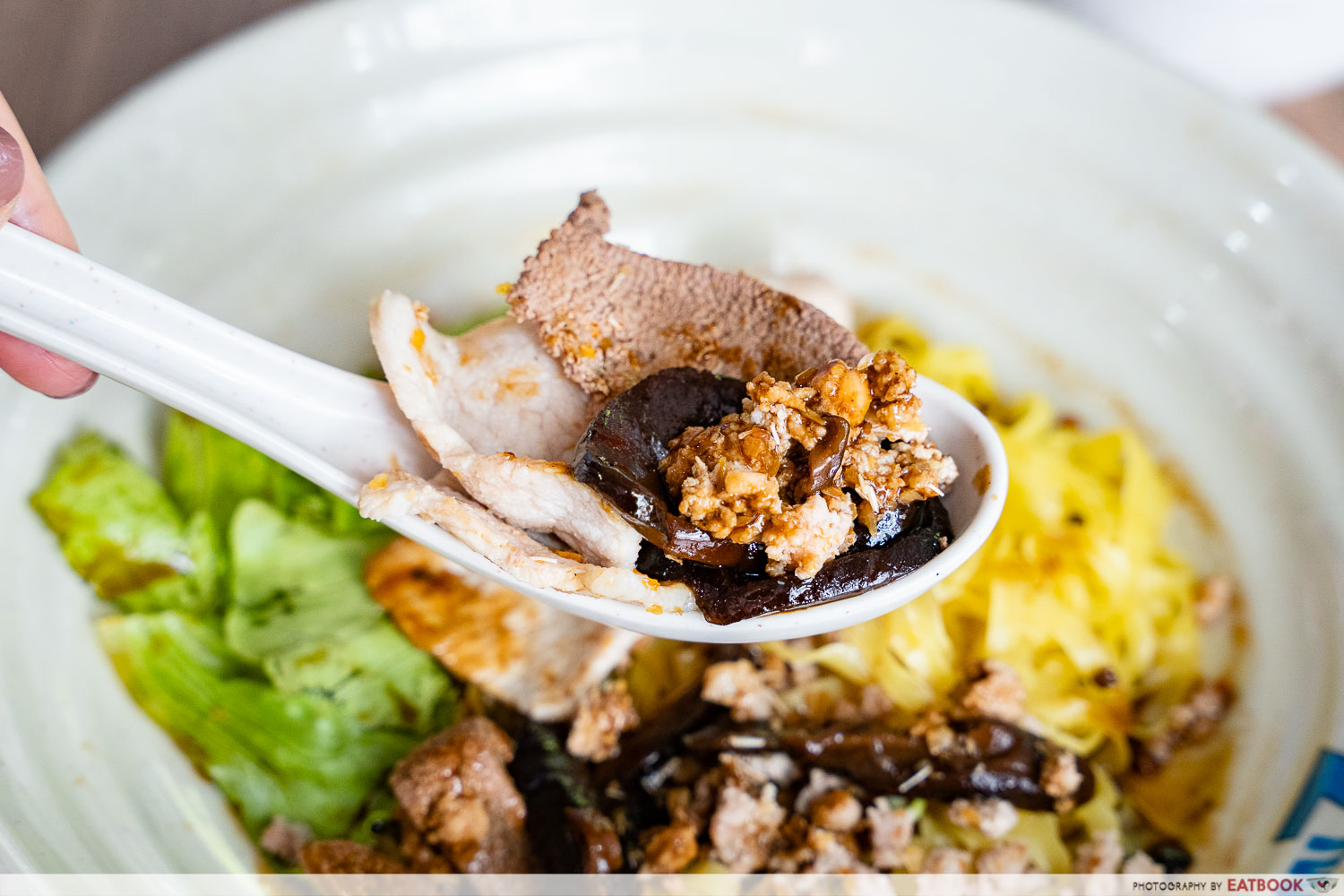 On the meat front, we were left unimpressed by the thin, dry slices of pork, and the powdery texture of the liver.
Meat: 2/5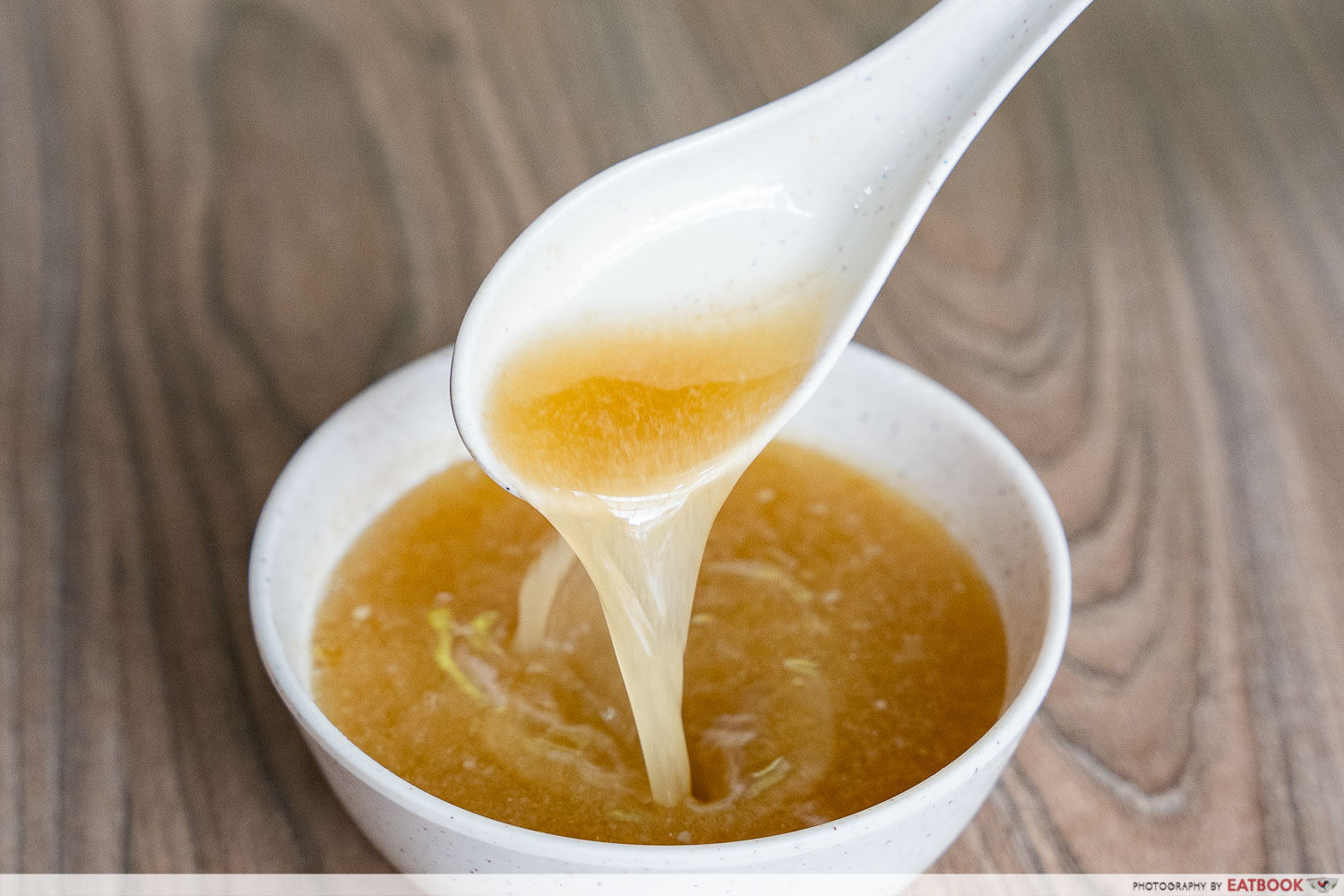 The most popular item on the menu at Seng Kee is their Fish Maw Soup ($12/$15), which we had a sampler of with the dry noodles. It smelled very good, with its signature heavy notes of ti poh, AKA dried sole fish. But both of us found this flavour overwhelming to drink on its own, though it is probably what they're beloved for. Perhaps this would go better with fish maw and other ingredients cooked into the soup, because we found ourselves wishing that it was balanced out with some sweetness.
Noteworthy though, is that this soup contains no MSG or sugar, and extra soup costs just $1!
Soup: 2.5/5
Fresh lettuce and lightly boiled tau ghey, which again I didn't fancy, accompany the noodles here. IMO, they dilute the flavour of the sauce mix. The cubes of lard here were crisp, but slightly burnt. This would probably vary from day to day, however, since you have to factor human error into the painstaking task of lard-frying.
The MVP at Seng Kee, to us, was the braised mushrooms, which salvaged the score on this criteria. These lusciously glossy slices are said to be stewed for at least four hours, adding a wonderful umami note to the dish.
Others: 3/5
The serving here was not generous, but wouldn't be too small for the average eater.
Value: 3/5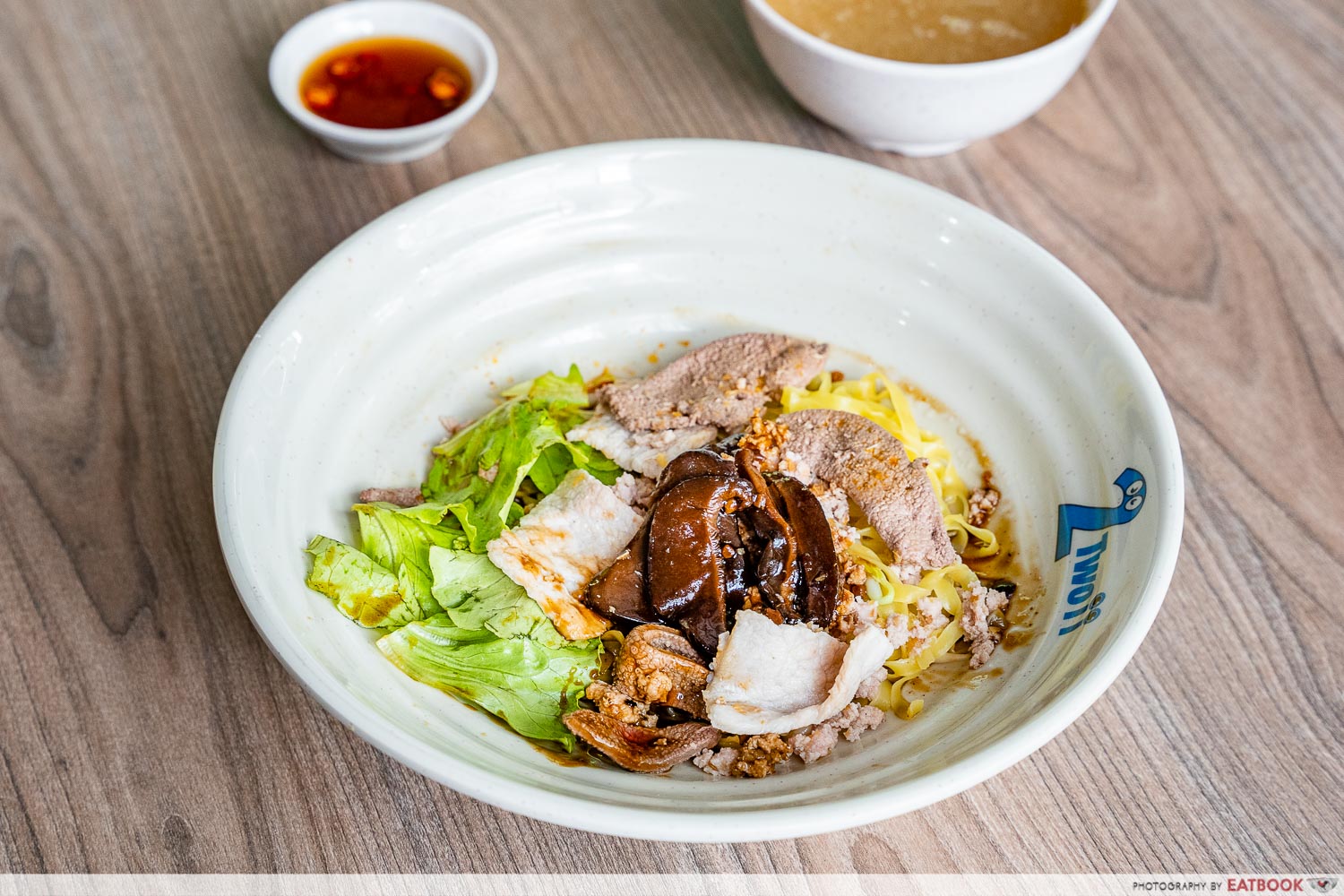 On the whole, we failed to see the appeal in the soup that we tasted, although it's evident that they took pains with it—it just wasn't it for us. The braised mushrooms deserve another mention for the only redeeming factor in this bowl of BCM.
Total: 52.5%
Address: 49A Serangoon Garden Way, #01-37, Serangoon Garden Market & Food Centre, Singapore 555945
Opening hours: Tue-Sat 7:30am to 1:30pm
Website
---
8. Ah Kow Mushroom Minced Pork Mee
---
Led by Jon Cher, a third-gen hawker who's keeping a 70-plus year legacy alive, Ah Kow Mushroom Minced Pork Mee brought us to a coffeeshop in Bukit Gombak. They weren't always located here; back in 1945, it was more centrally located in Chinatown, shifting several times in the decades since.
Jon started picking up the ropes of the trade from his late father in 2014, managing four years of training before his dad passed on in 2018. It's still a work in progress, as he continues to finetune the recipe and his methods.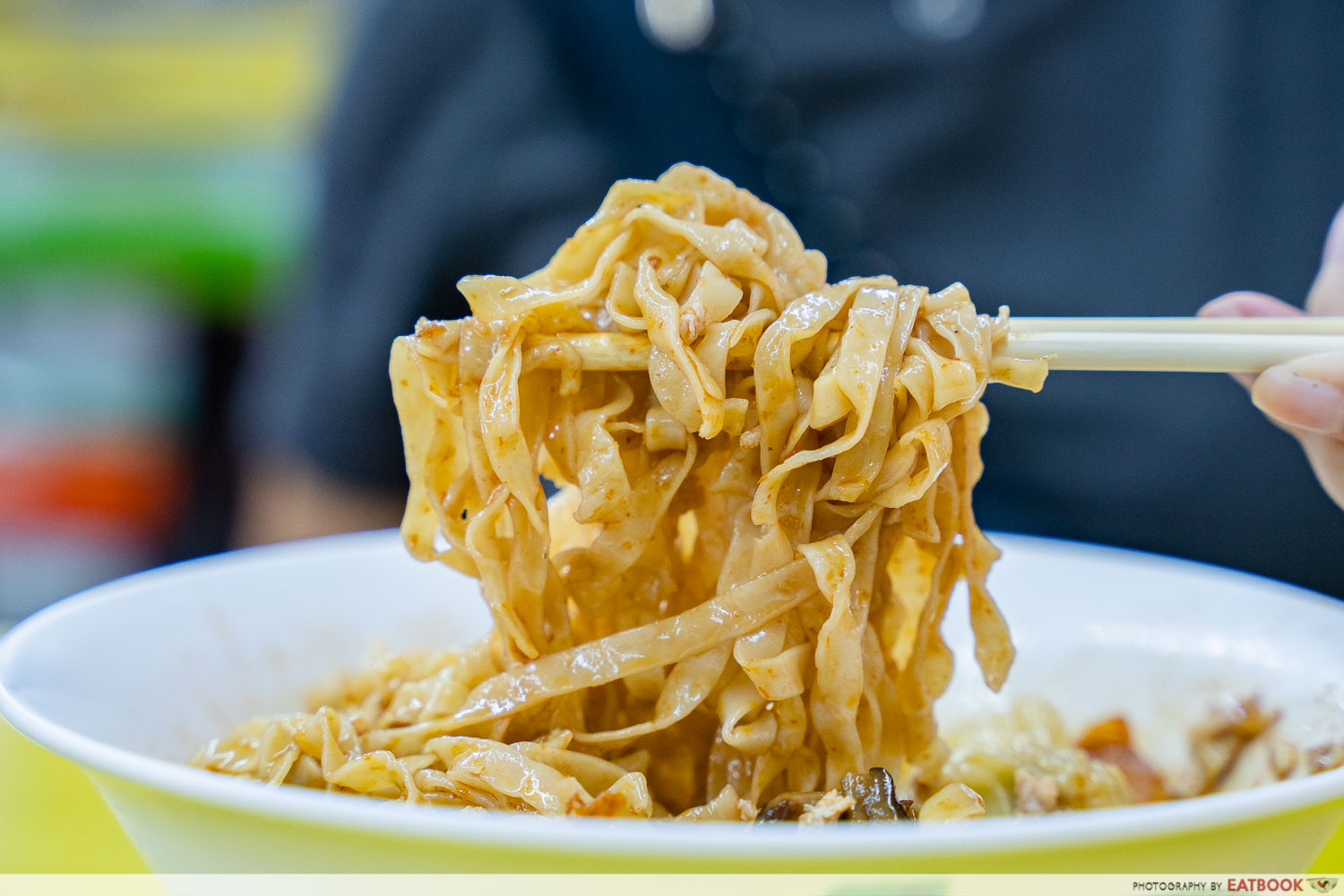 On our visit, we found the mee pok to be a touch overcooked, although they did still have a slight bite. They were smooth and of a nice thickness, so it wasn't all bad.
Noodles: 2.75/5
Since Jon is the only one manning the stall, some things have got to give—in his case, the chilli isn't house-made. It was also quite mild in contrast to the rather sharp flavour of the vinegar. My dining companion enjoyed this vinegary punch; I liked its presence but would have preferred if the other flavours in this sauce matched the sour kick.
Sauce: 2.5/5
There was only minced pork in this bowl in a decent serve. It wasn't overly fatty, nor did it come across too porky.
Meat: 2.5/5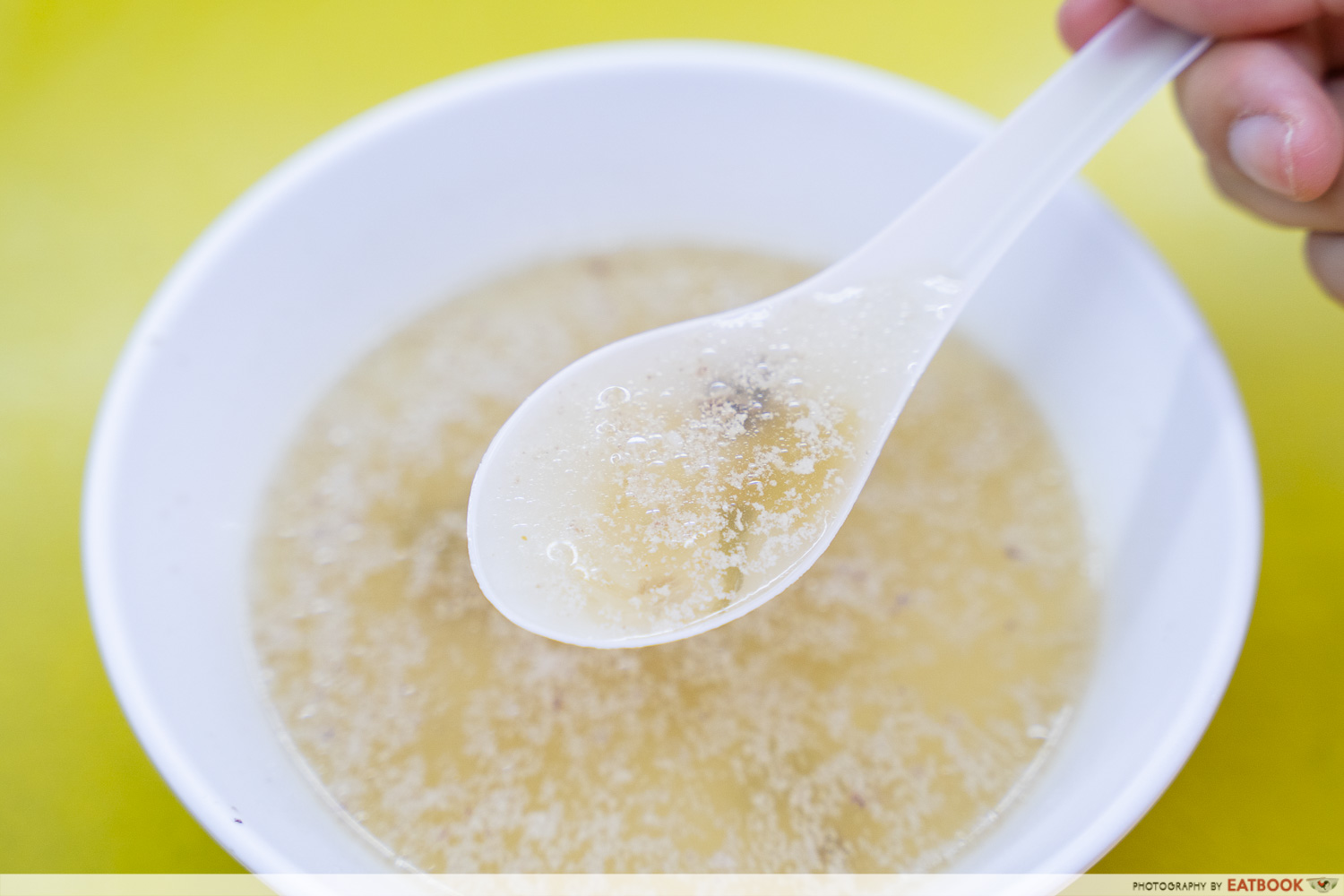 This bowl of soup was generally clear, with some cloudiness from the meat that was cooked in it. It was strongly scented by the dong cai, a preserved vegetable, in the bowl. I enjoyed it, but my dining companion did not.
Soup: 2.25/5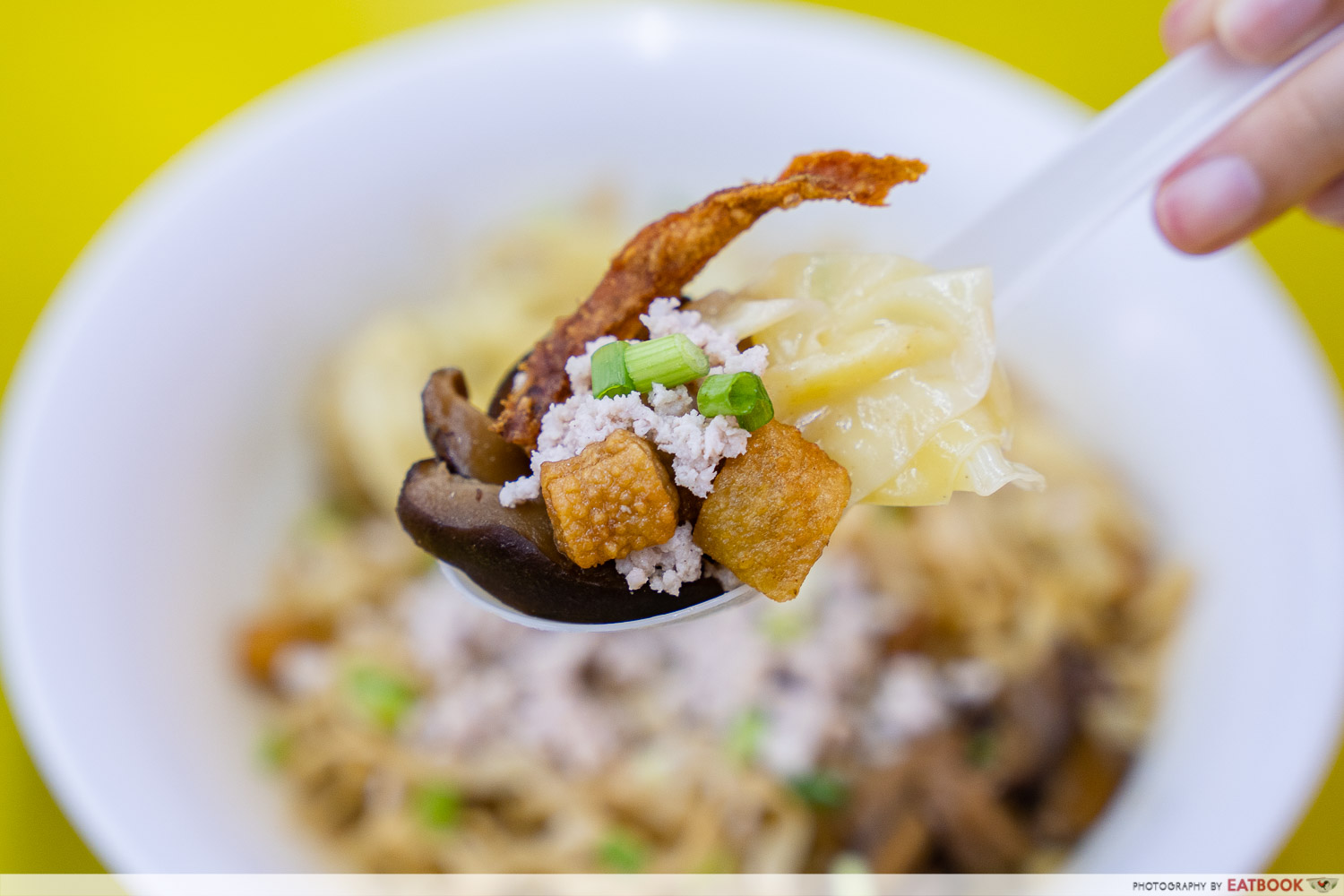 Wrapped in-house are their wonton, of which we had three in our bowl. They're bite-sized, so don't be expecting a chunky mouthful. Seasoned with ti poh, there was an umami edge to these little nuggets. The cubes of lard, also fried in-house, weren't crispy enough. On the other hand, the fried ti poh that came in the bowl had a bitter taste from being slightly burnt.
Moving on to the mushrooms, we found they had been overpowered by the vinegar in the bowl, making them too sour.
Others: 3/5
Although there's no liver or pork slices, we'd credit Ah Kow for the effort in making their own wonton. There's also enough liao to go around as you eat your way through the bowl of noodles, which comes in a satisfying portion.
Value: 3.25/5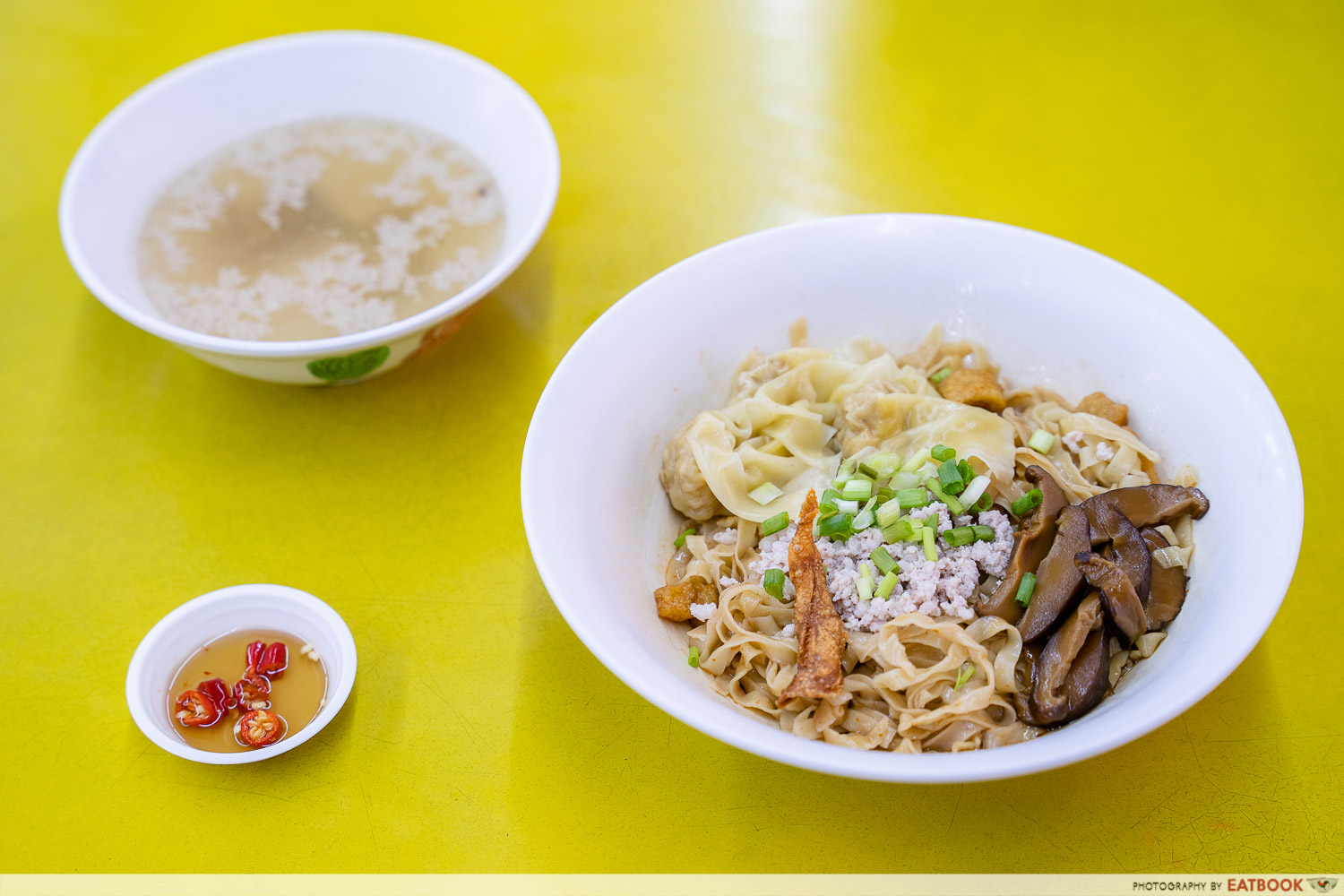 It's a decent bowl of bak chor mee, with some elements that would potentially taste better on a good day. Old-timers who've had the opportunity to try the BCM cooked by Jon's dad and grandfather say he hasn't replicated what they used to make, so perhaps there's still hope yet as he continues to make adjustments.
Total: 53.3%
Address: 359 Bukit Batok Street 31, Meng Soon Huat Food Centre, Singapore 650359
Opening hours: Sat-Thurs 7:30am to 3pm
Tel: 9846 0941
Website
---
7. Jin Xi Lai (Mui Siong) Minced Meat Noodle
---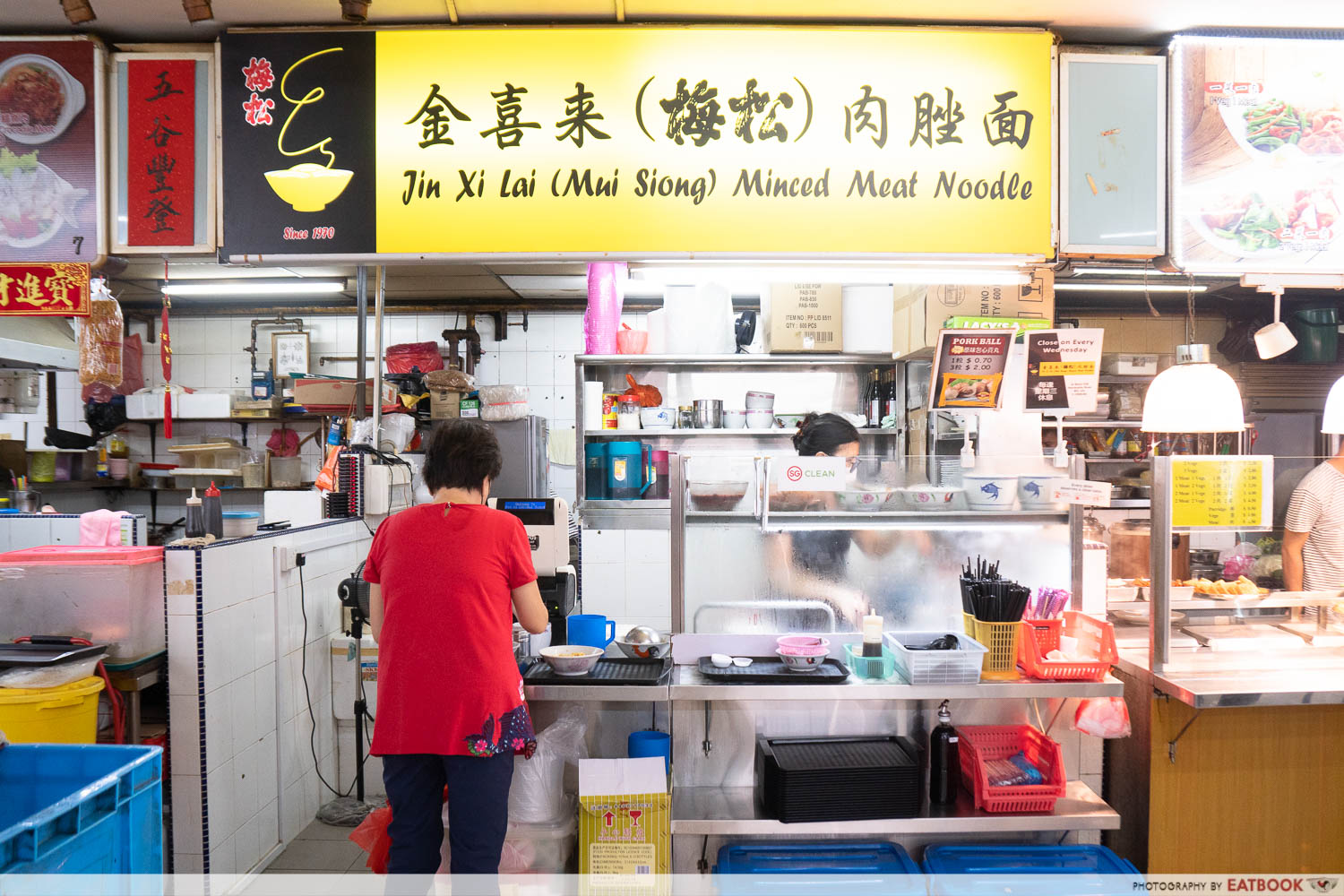 Jin Xi Lai (Mui Siong) Minced Meat Noodle now has several branches across the island, but the OG stall stands at Veerasamy Road, near Jalan Besar MRT Station, where it operates from 7:30am. Their recipe is more than half a century old, but what everybody really comes for is the pork liver. It's so popular, they're usually sold out way before their official 2pm closing time: we were issued a buzzer and had a 30-minute wait even when we arrived before 8am.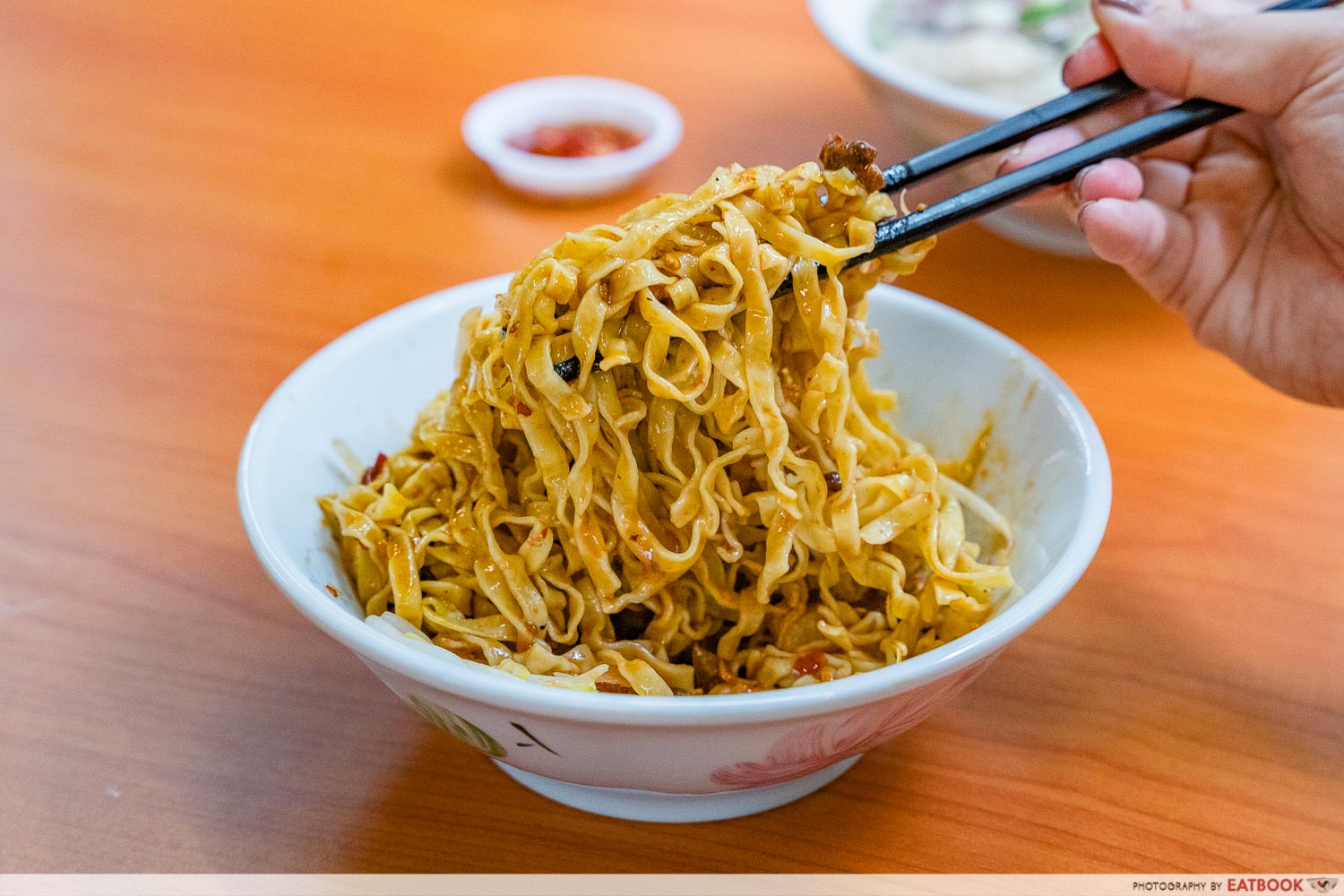 Of the 10 bowls of noodles that we had, Jin Xi Lai's mee pok was quite a bit thicker than those of their counterparts, which felt a bit clunky in the mouth. It was cooked al dente, but fell on the side of being a little harder than QQ.
Noodles: 2.5/5
This bowl of bak chor mee is best for those who are looking for a straight-up kick of spice with their noodles. Perhaps the chilli overwhelmed everything else, but it tasted like that was all the noodles were mixed with. I found myself adding dashes of soya sauce to it. For as much as we could smell the vinegar here, we couldn't taste it much, if any at all.
Sauce: 1.75/5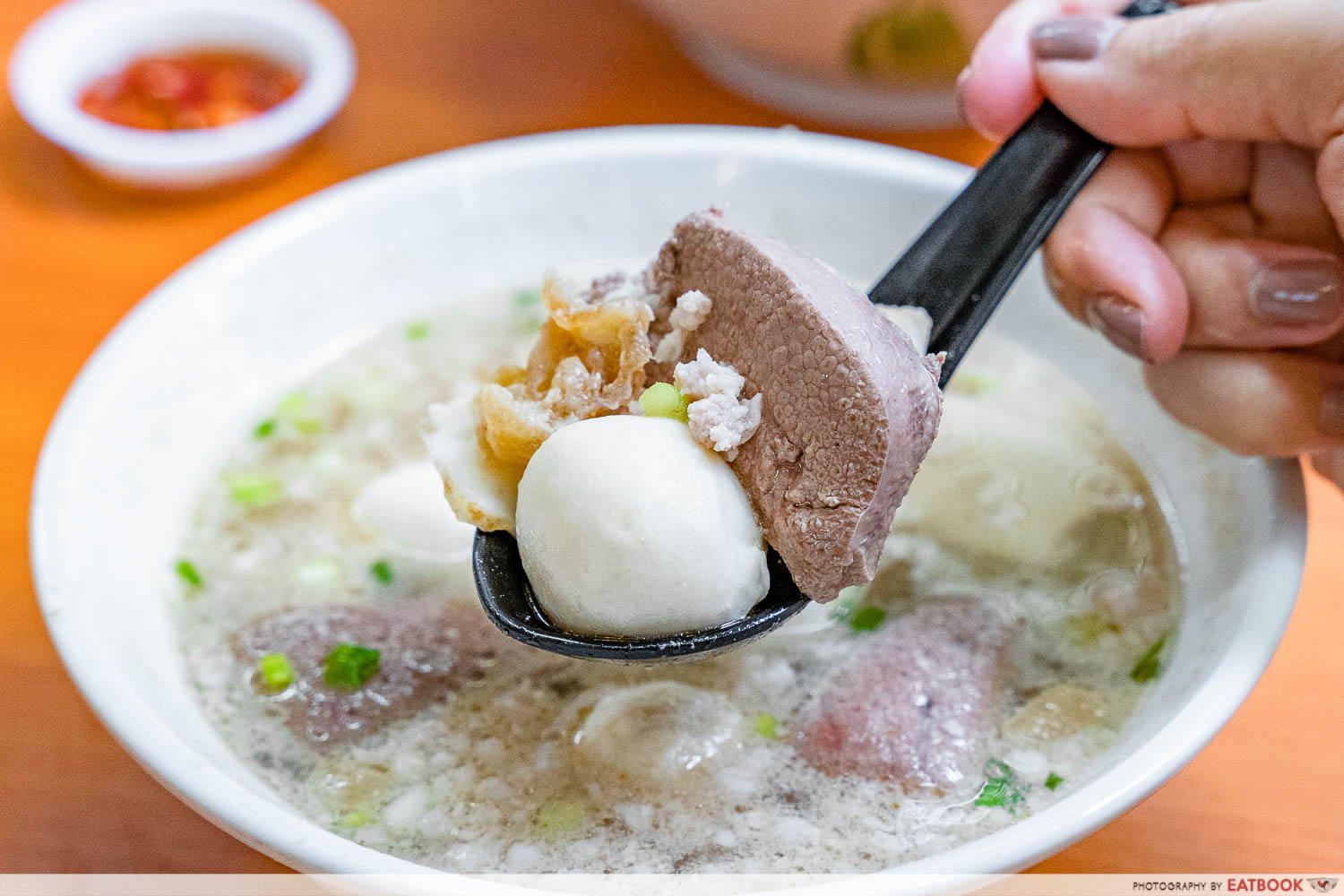 In a surprising turn of events, Jin Xi Lai topped our charts for the best meat category, after the disappointment of their noodles. What absolutely blew our minds were the thicc slabs of liver in the bowl of soup, cooked to perfect pink doneness, with a slight bite giving way to melt-in-your-mouth smoothness within. They also had a mild sweetness, unlike the metallic gaminess we were expecting. Mind you, my dining companion and I do not eat liver, but we finished every slice, comprehending what the hype was all about.
We also enjoyed the sliced pork, which was lightly marinated and tender, and sliced thicker than the average. Meatballs are an add-on, at $0.70 a piece, which we ordered for curiosity's sake. These come with a filled centre much like Fuzhou fishballs.
Meat: 5/5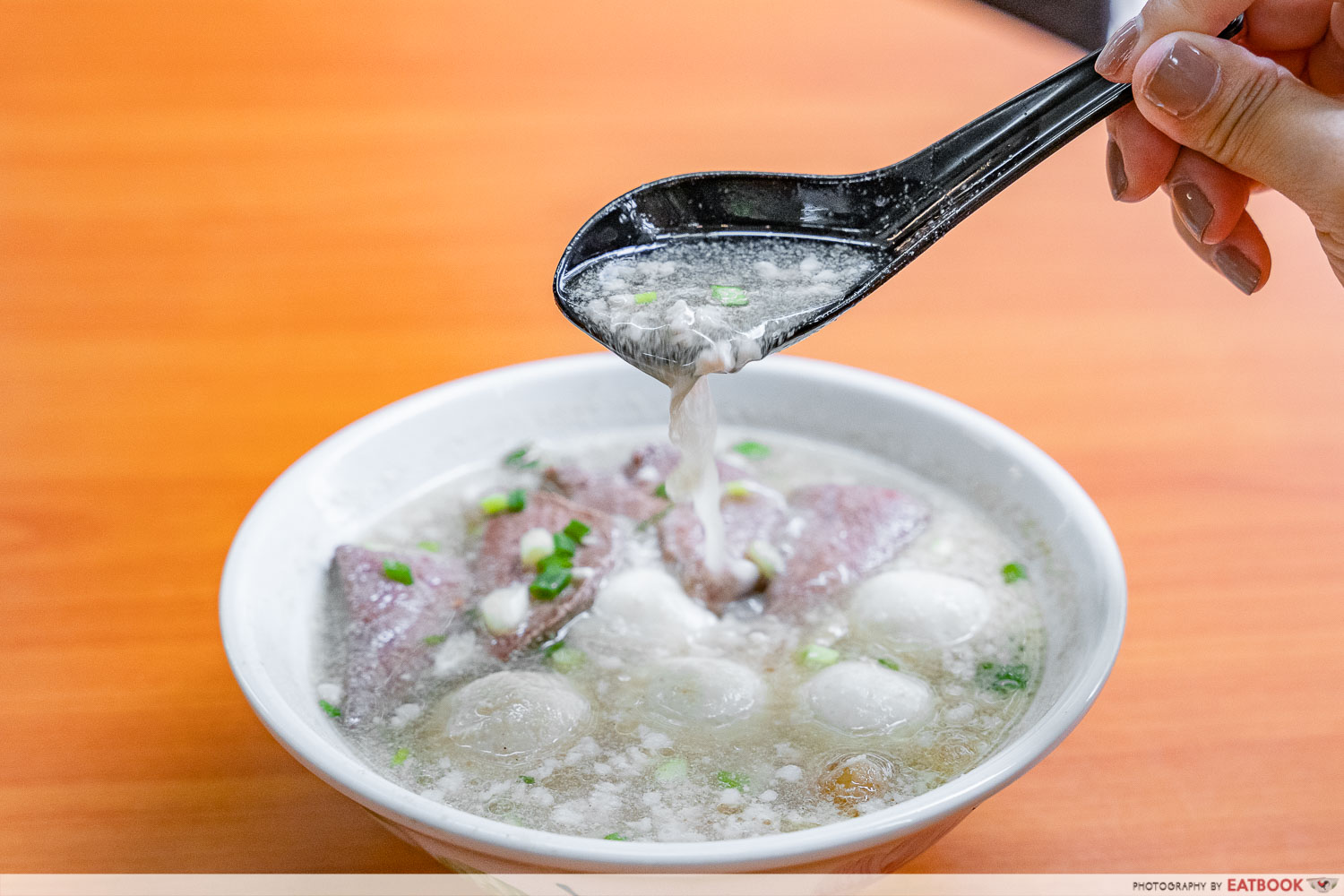 The base of this soup is pork and pork bones boiled for hours, enhanced by the meat, liver, and other ingredients of each bowl being gently poached in it. There's the slightest bit of gaminess, but it's mostly savoury, robust, and sweet.
Soup: 3/5
There were well-crisped shallots and lard, house-fried, dolloped on the noodles, alongside bean sprouts.  You'll also get a number of fishballs and slices of fish cake with the soup, albeit of the regular bouncy sort that aren't much to shout about.
Others: 3/5
We gave this BCM a perfect value score simply because of everything you get for $5. Whether you're looking at the quantity of noodles, or the quantity of ingredients, they're equally generous with it all—too much so with the chilli even.
Value: 5/5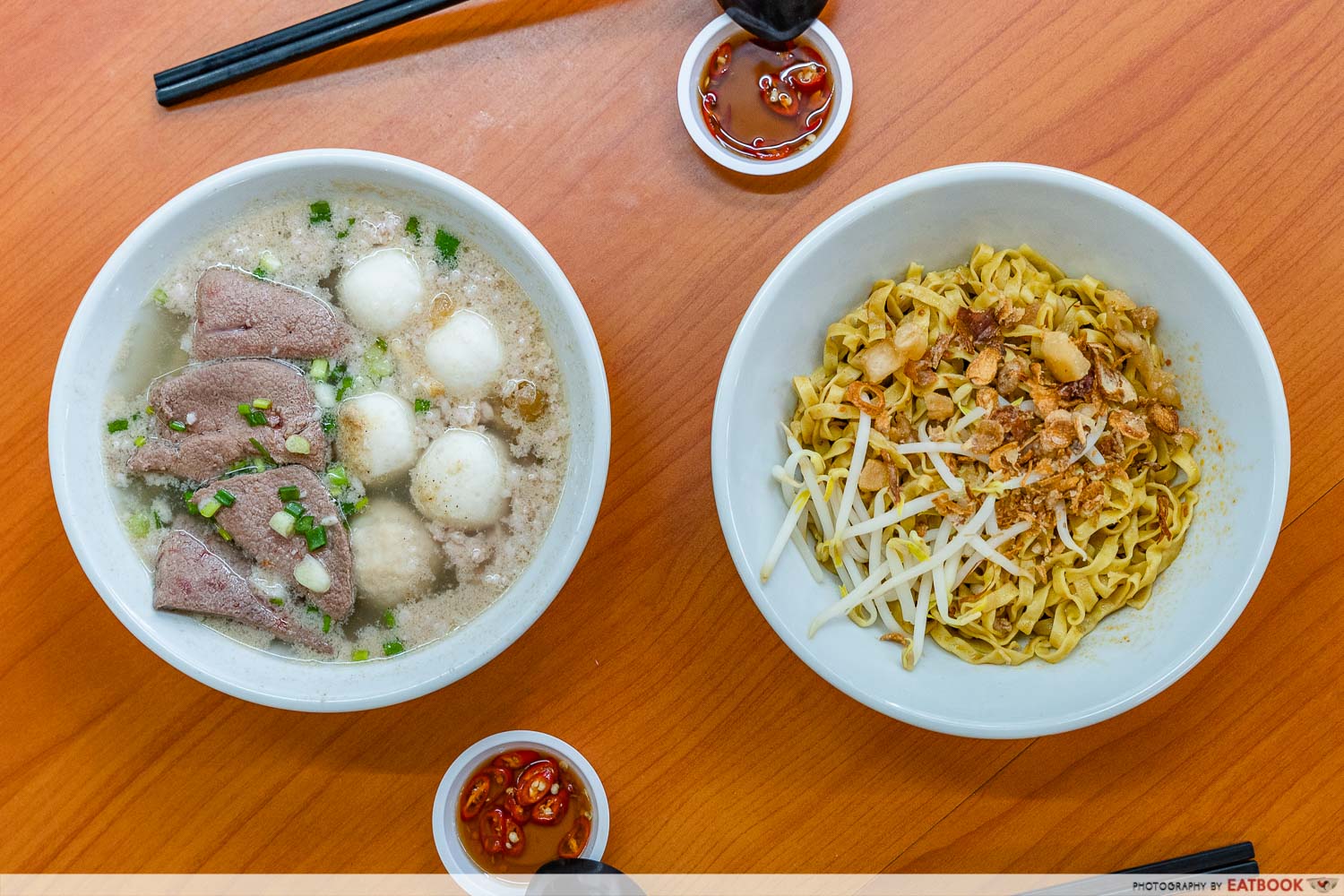 If you're thinking of coming to Jin Xi Lai and not having the liver, I'd say skip this bak chor mee. You'd get a much tastier bowl of BCM elsewhere, hopefully with a shorter waiting time, if the liver isn't what you're after.
Total: 60.8%
Address: 638 Veerasamy Road, Yi He Eating House, Singapore 200638
Opening hours: Thurs-Mon 7:30am to 2pm
Jin Xi Lai Mui Siong Minced Meat Noodle Review: 50-Year-Old BCM Stall With Pork Liver Soup
---
6. Macpherson Minced Meat Noodles
---
Today, the bowls of BCM at Macpherson Minced Meat Noodles are no longer cooked by the man who founded the brand, AKA Uncle Yap. Instead, the noodles are prepared by his disciples, who front the stalls in Tai Thong Crescent and Bukit Batok. Some claim they serve the best BCM around, and the queues prove it's no less popular than it was before.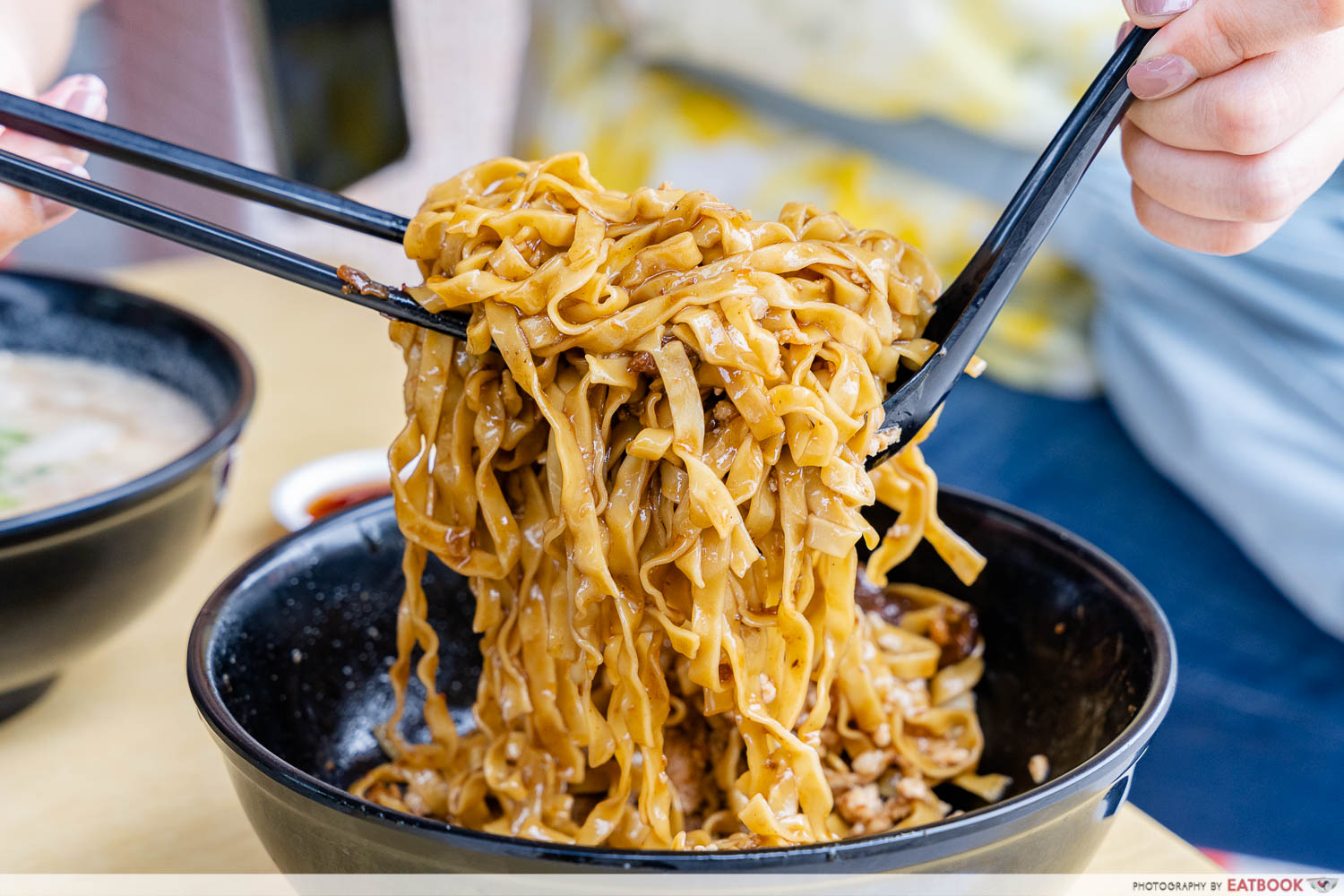 Relative to some of the other stalls on this list, the mee pok at Macpherson has less of a bite—softer than perfectly al dente, but not soggy.
Noodles: 3/5
It also came with a generous lashing of sauce, which allowed every strand of noodle to be coated in the sweetish sauce—possibly due in part to the braising liquid from the mushrooms. Personally, I didn't care for this sweetness, and we both found the chilli and vinegar underwhelming.
Sauce: 2/5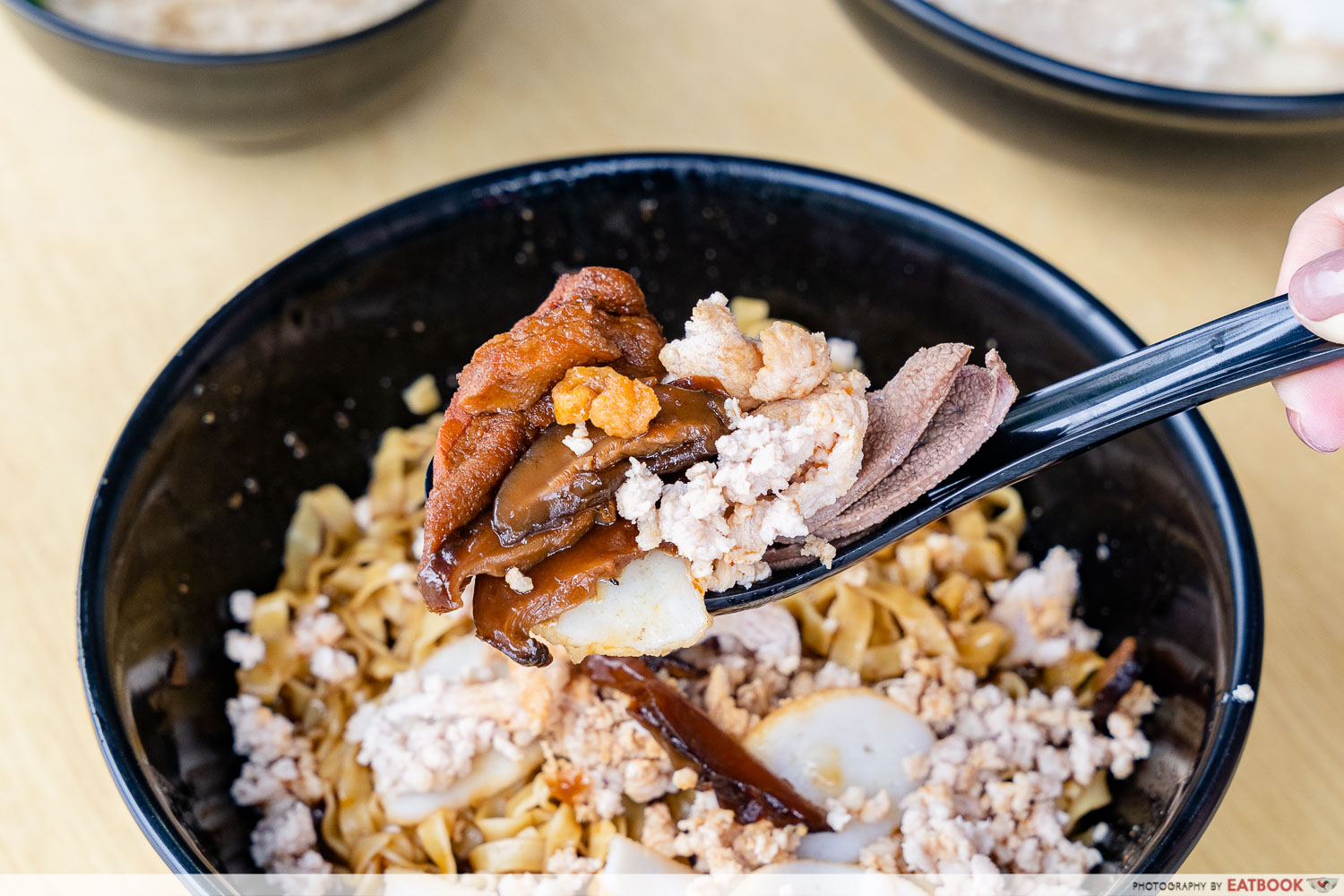 This bowl of BCM had a healthy dose of minced meat and sliced pork that was pleasantly smooth on the palate—almost as if it had been velveted. Unlike these, the liver was thin and hard, while the few slices of braised pork were rather dry.
We also had the opportunity to try a bowl of their Dish & Noodle ($7), where the liver and meats come in a comforting bowl of soup that my dining companion described as a warm hug on a rainy day. Here, the liver fared much better, though this isn't factored into the scoring.
Meat: 3.25/5
While I was queueing up for my noodles, I was able to observe the stallholders in their little space. Part of this process included them straining out the stock, which ultimately ended up in my bowl. Apart from the whole chickens which I saw, said specifically to be old hens, anchovies, soya beans, and of course, pork bones, go into the pot—all of which explains the light yet flavourful broth, with notes of sweetness.
Soup: 4/5
Falling under 'others' in this bowl are the braised mushrooms, lard, and slices of fish cake. The former, which we found leaned sweet, were well-braised regardless. As before, the fish cake was ordinary, though the lard pieces were golden and tasty.
Others: 3/5
Value-wise, this was a hefty bowl of noodles, with an above-average helping of liao.
Value: 4/5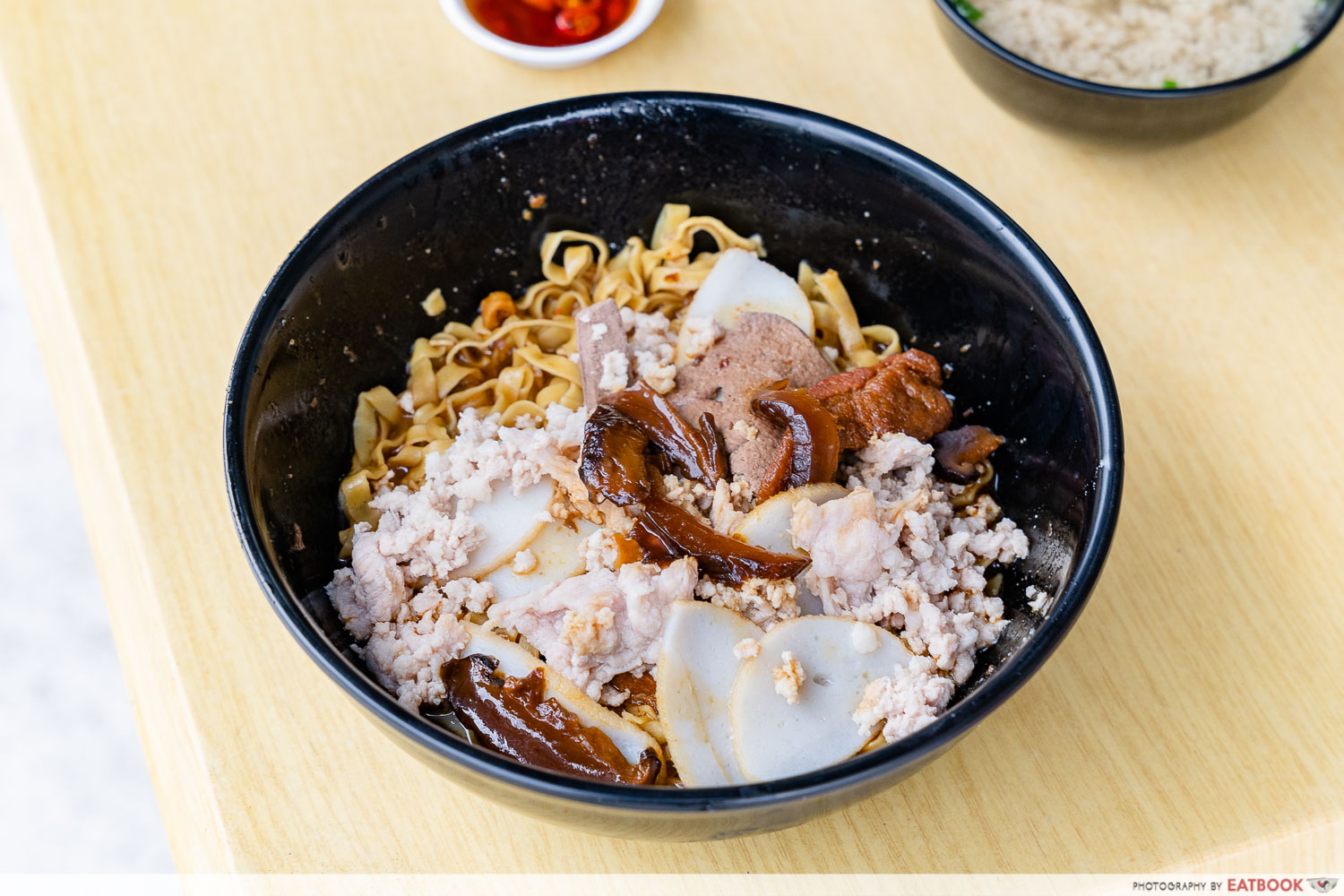 The queue, location, and short opening hours make Macpherson Minced Meat Noodles a little inaccessible, but it's a good one to have if you live nearby! It's not my favourite bowl of BCM per se, but I'd come back for the Dish & Noodle—I wouldn't need the noodles, just the eggy soup.
Total: 64.2%
Opening hours: Wed-Mon 6:30am to 1:30pm
Website
---
5. Famous Eunos Bak Chor Mee
---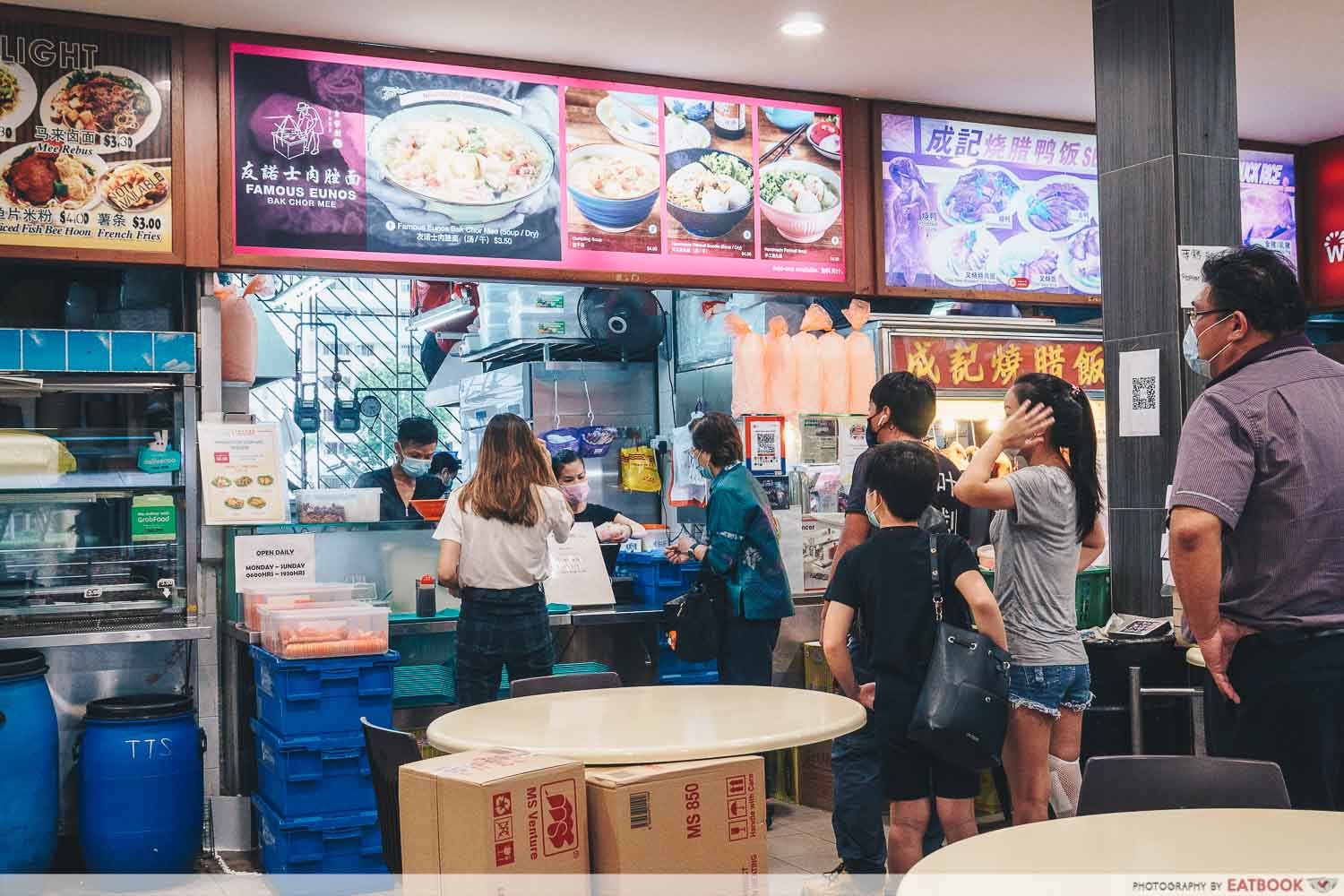 Possibly the BCM with the longest history on this list, Famous Eunos Bak Chor Mee lives up to the 'famous' in its name. They might even hold the distinction of being one of the original bak chor mee sellers in Singapore! The fifth-gen descendant of the original founder helms the brand today, more than 100 years since they first hawked BCM on portable stoves carried on a bamboo pole.
That's not all: their recipe is the backbone of as many as 10 bak chor mee businesses on the scene. Order yourself a bowl of their Famous Eunos Bak Chor Mee Soup ($4), and it is exactly how it was served a century ago.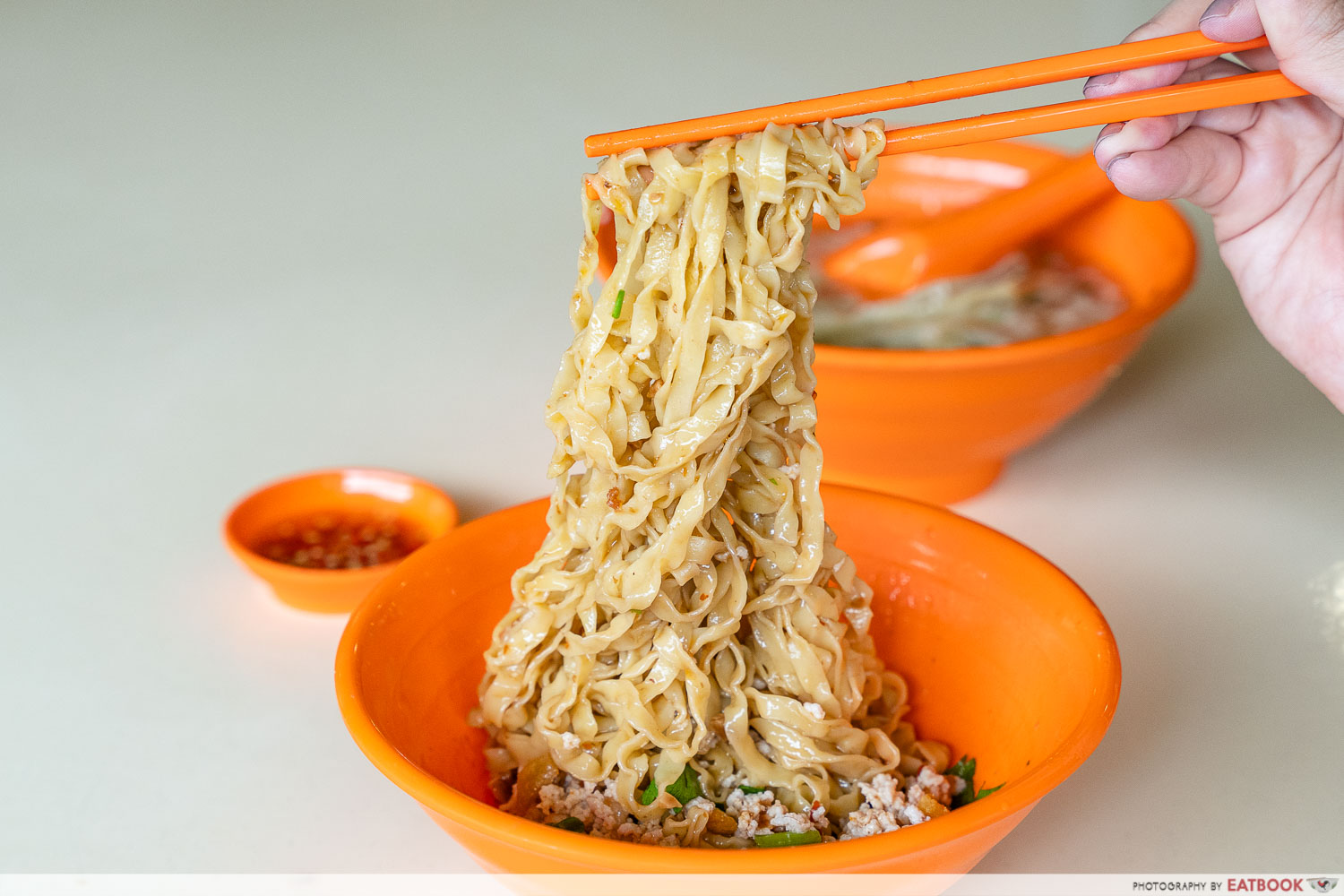 This bowl of mee pok concluded our first day on the BCM trail, and we found ourselves enjoying the noodles, in spite of it being our fifth consecutive dry mee pok of the day. The noodles were smooth, with the right touch of firmness in each bite.
Noodles: 4.5/5
Glossily coating the noodles was a moreish, lard-and-garlic-laden sauce, with a subtle whiff of vinegar and a delicate spiciness. This subtleness brought down the score, but not as much as when we previously encountered such an imbalance since it matched the garlicky goodness of this particular sauce blend.
A divisive addition is the coarse-chopped Chinese celery in this bowl—I enjoyed how it was complementary to the garlic, though not everyone loves this garnish.
Sauce: 4.25/5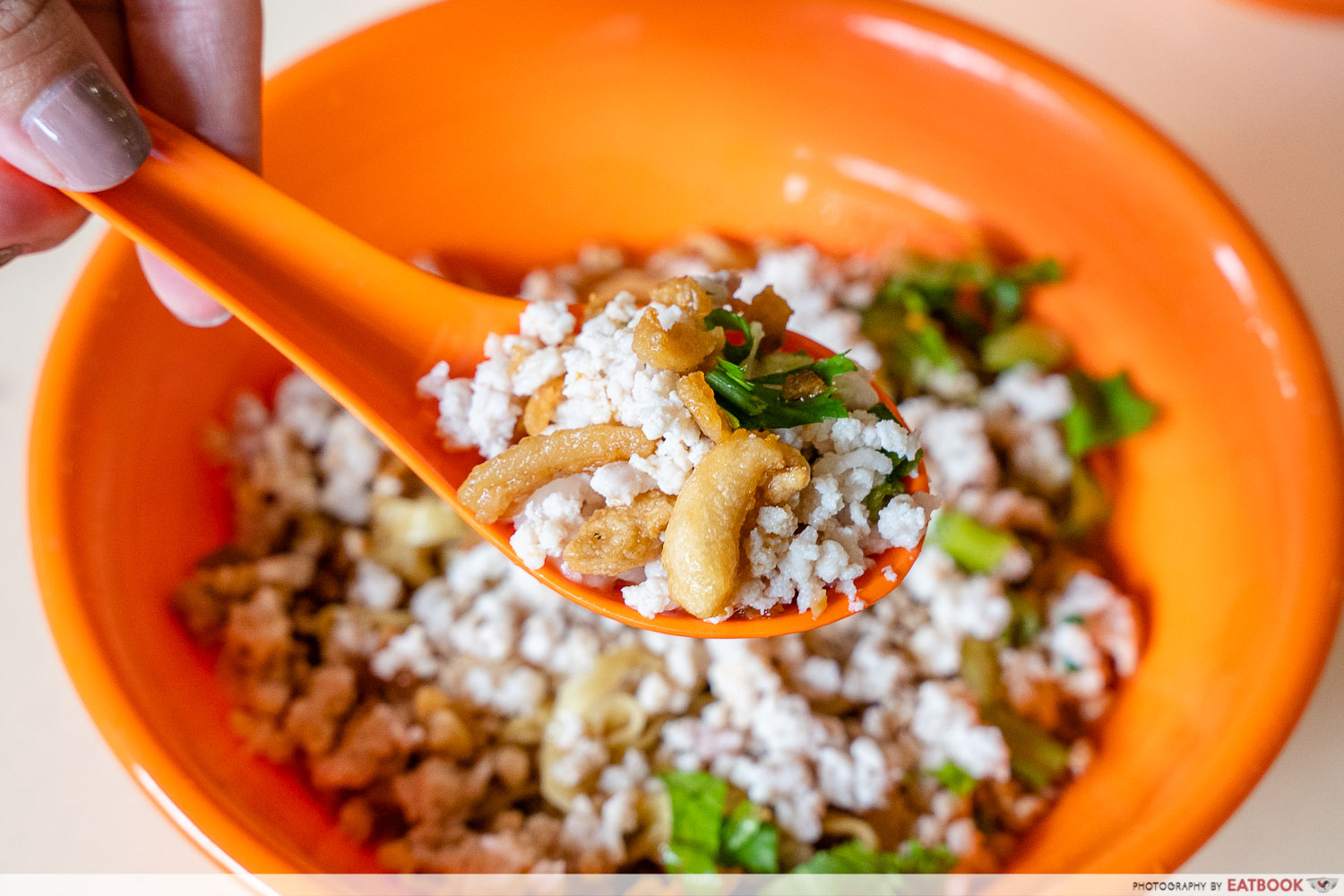 I'd topped up $1 for extra bak chor, AKA minced pork, since we were comparing $5 worth of BCM. Other than the mince, this didn't have any liver, sliced meat, or meatballs. I found, however, that the extra bak chor meant a nice ratio of lightly-seasoned minced meat to mee pok. I appreciated that the mince wasn't too mealy, retaining a degree of chunky integrity.
Meat: 3.25/5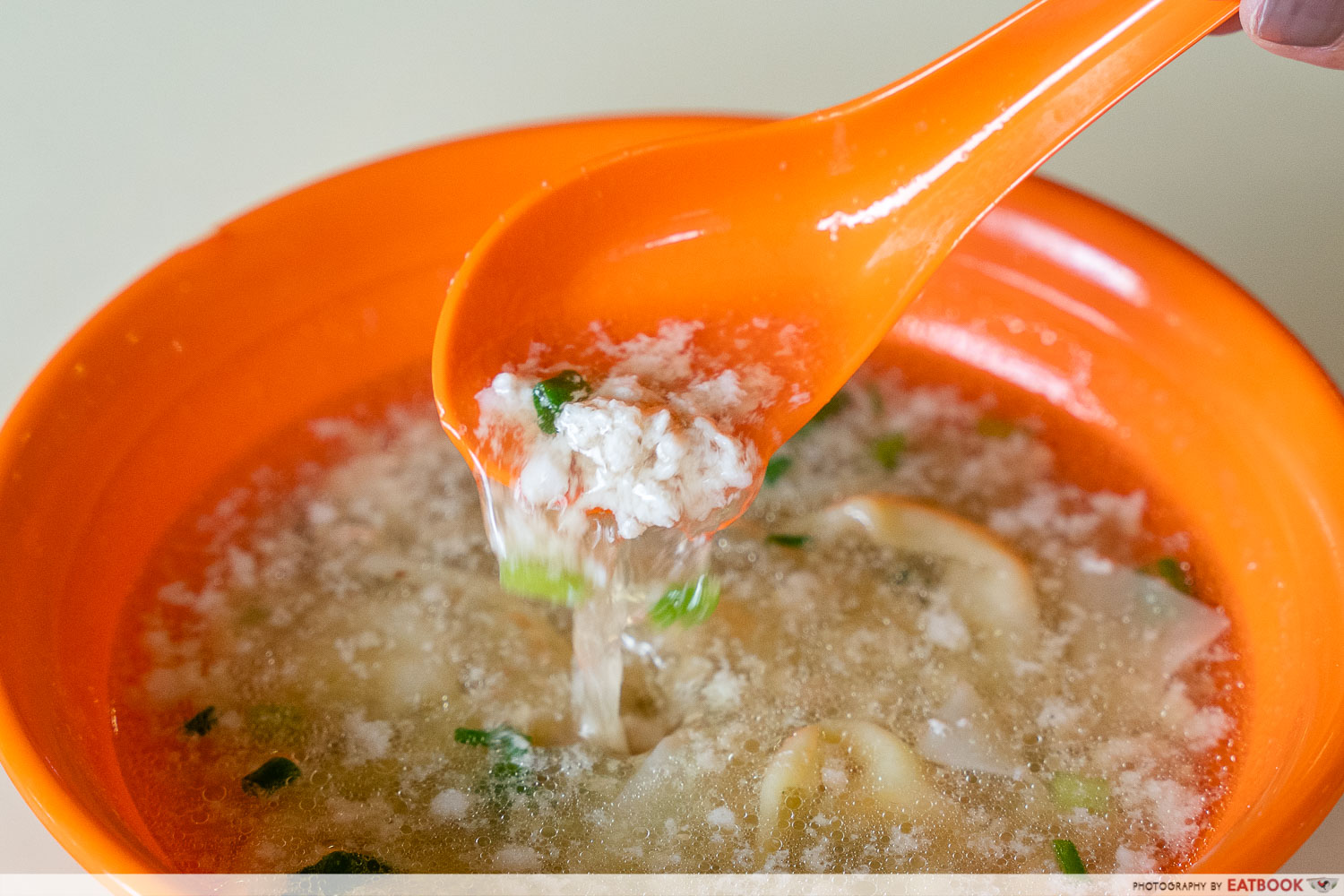 Fans of Xing Ji Rou Cuo Mian in Bedok 85 would recognise the same garlic-heavy notes of this broth, brightened with Chinese celery, and imbued with the large quantities of pork and bones that went into its making. It's essentially a clear soup, but it's not thin and watery, instead glistening with the fat that gives it flavour.
Soup: 4.5/5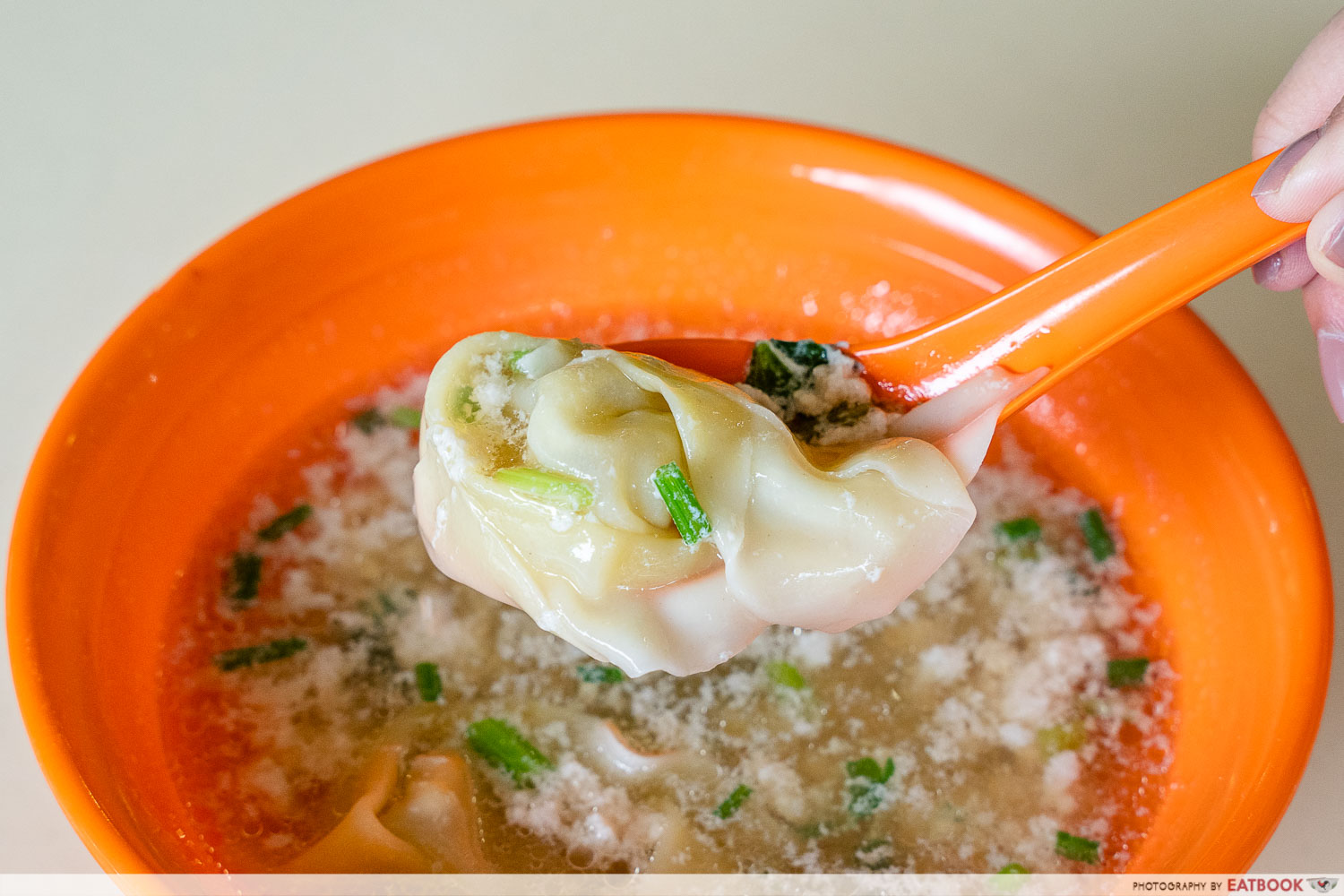 The house-made wonton is the only other meat ingredient in this BCM. They're a good size, with the marinated meat accentuated with ti poh, without the strong-tasting dried fish overpowering it. However, the lard pieces in the noodles were slightly chewy on this occasion.
Others: 3.75/5
We scored Famous Eunos Bak Chor Mee's bowl of noodles high on value as you get quite a good bang for your buck. They were held back by the lack of variety in ingredients, in staying true to the OG bowls they served in the 1920s.
Value: 4.75/5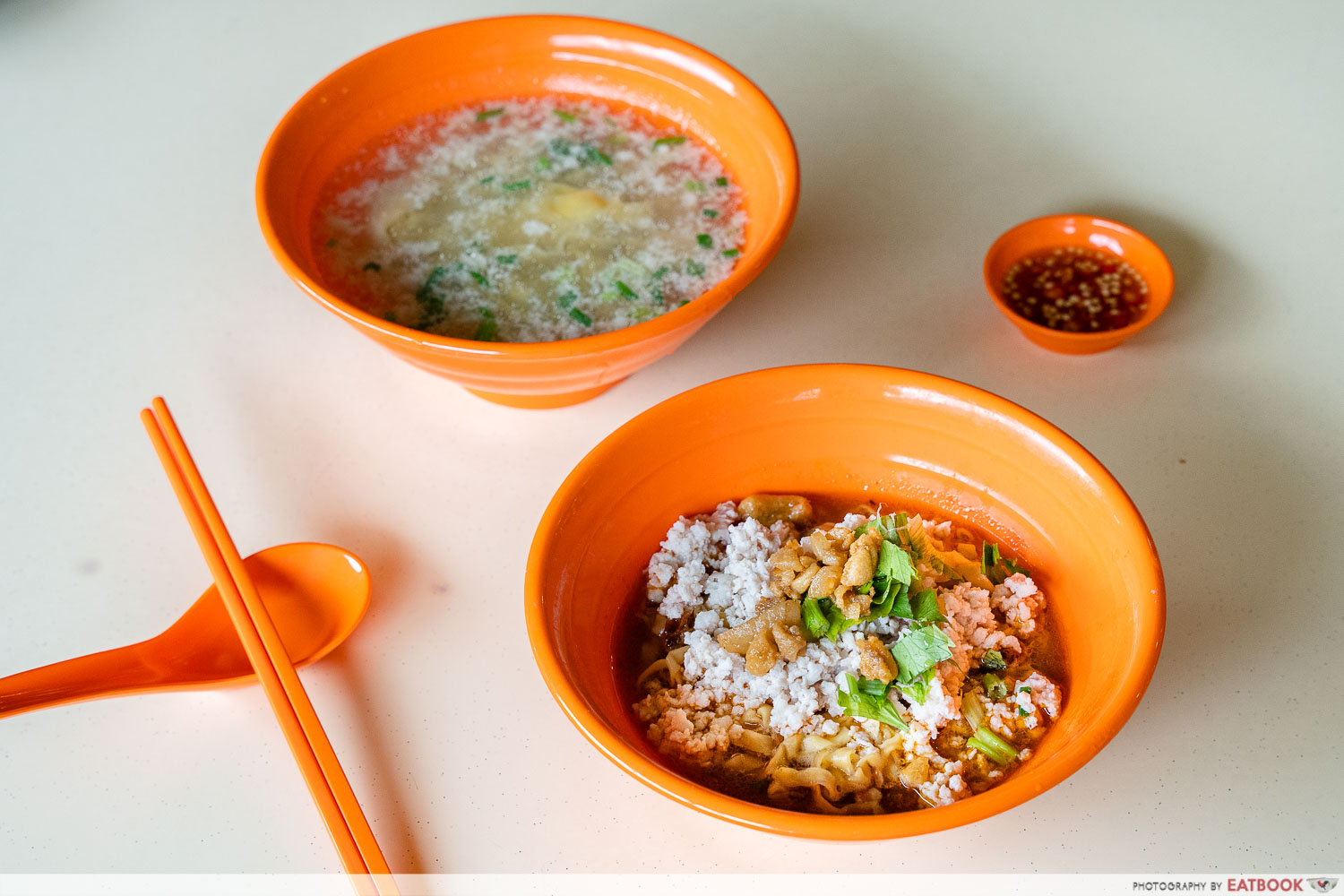 People who abhor garlic would do well to stay away from Famous Eunos Bak Chor Mee, and keep a distance from anyone who's had a meal there for a while after. It's a great bowl of BCM and gives me the best of both worlds: a garlicky dry-tossed noodle with the immensely flavourful soup I usually have to go to Bedok 85 to enjoy. But in the grand scheme of the proper vinegary BCM-verse, this still falls short.
Total: 83.3%
Address: 7 Eunos Crescent, Hong Lee Coffeeshop, Singapore 400007
Opening hours: Daily 6am to 7:30pm
Famous Eunos Bak Chor Mee: Behind The 100-Year-Old BCM Stall That Inspired Bedok 85 And 511
---
4. 58 Minced Meat Noodle
---
Our journey to find the best bak chor mee in Singapore led us to Taman Jurong Market & Food Centre, a far-flung corner in Western Singapore that's 18 minutes by foot from the nearest MRT station. 58 Minced Meat Noodle is said to have the best BCM this side of town, so there we were. We arrived at 8am, but didn't escape a 20-minute-long wait for our noods.
The 58 in their name refers not to the year in which they were founded, but their stall number when they first moved into the food centre. Founded in 1973, 58 Minced Meat Noodle be 50 years old next year—the stall is now manned by the founder's son, Deon, who took over the reins from his dad more than 10 years ago.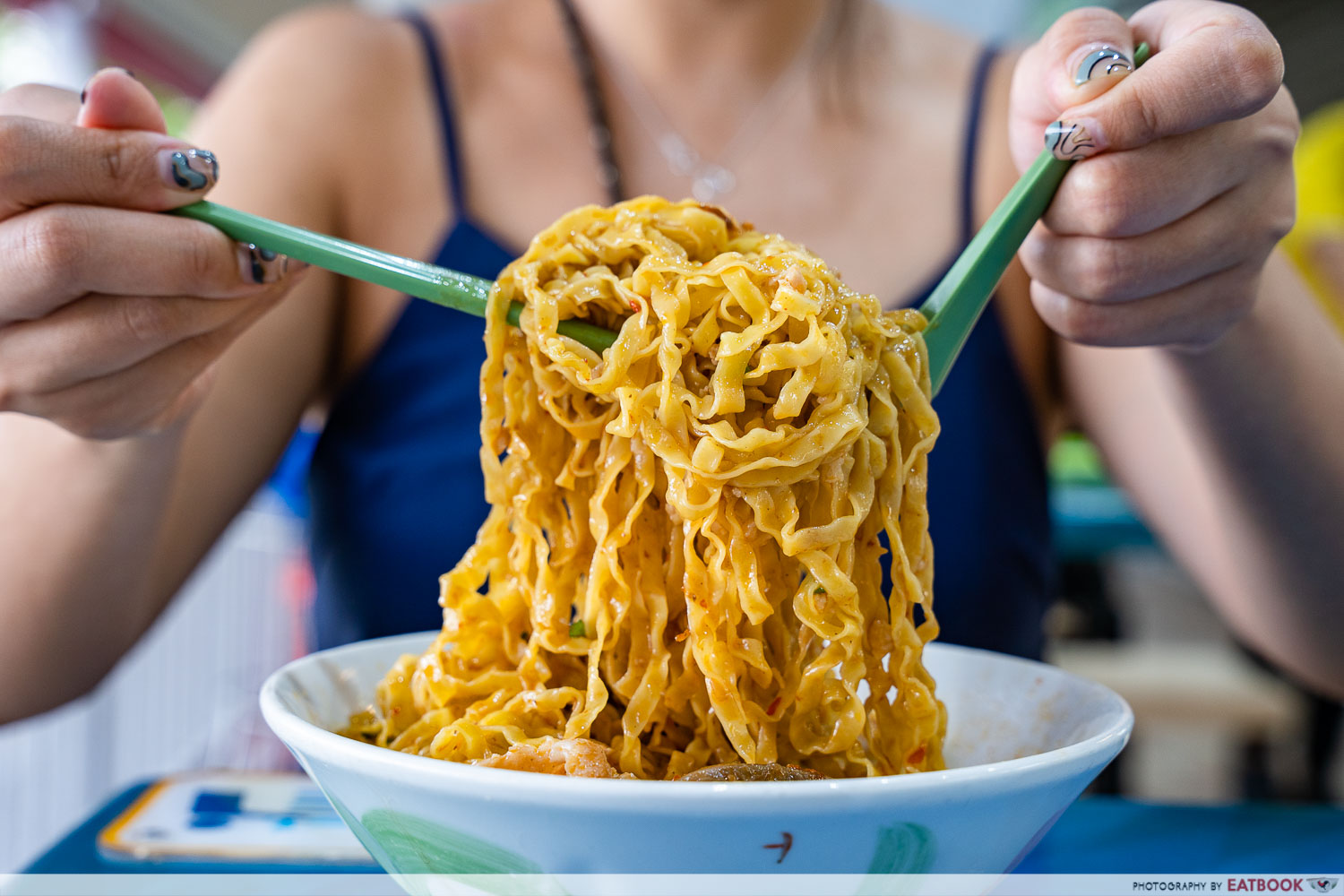 The mee pok in this bowl of BCM was smooth and had a nice bite to it, without tending soft nor hard.
Noodles: 4.75/5
This was a mostly well-balanced sauce mix, fronted by a very fragrant, hei bee-heavy chilli that elevated the overall experience. It smelled vinegary, but didn't taste that strong when eaten.
Sauce: 4.25/5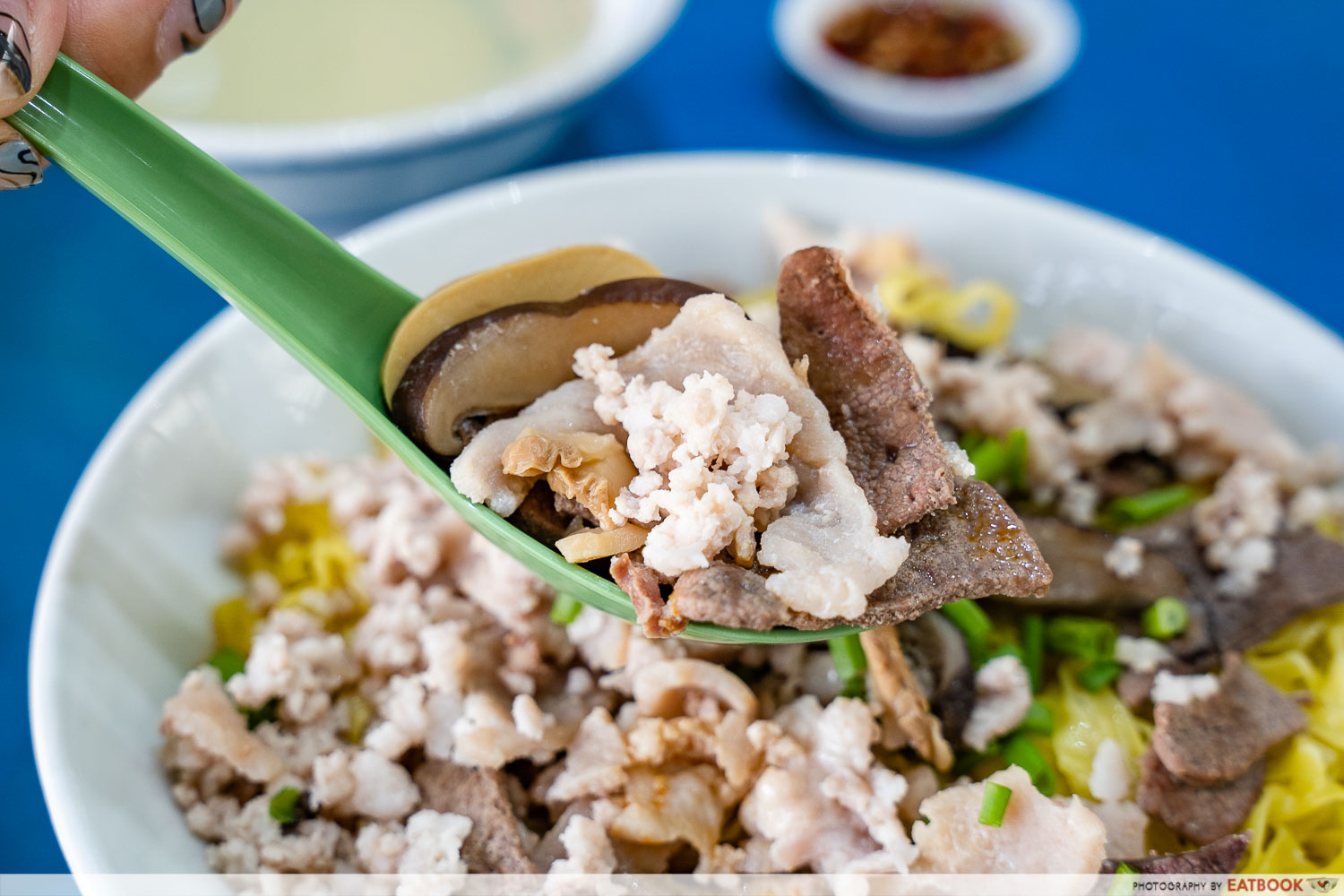 Meat-wise, this bowl of BCM came with a good heap of tender minced pork and sliced meat. The slices of liver looked thin and dry, but turned out well-cooked, featuring a bit of crunch and creaminess.
Meat: 4/5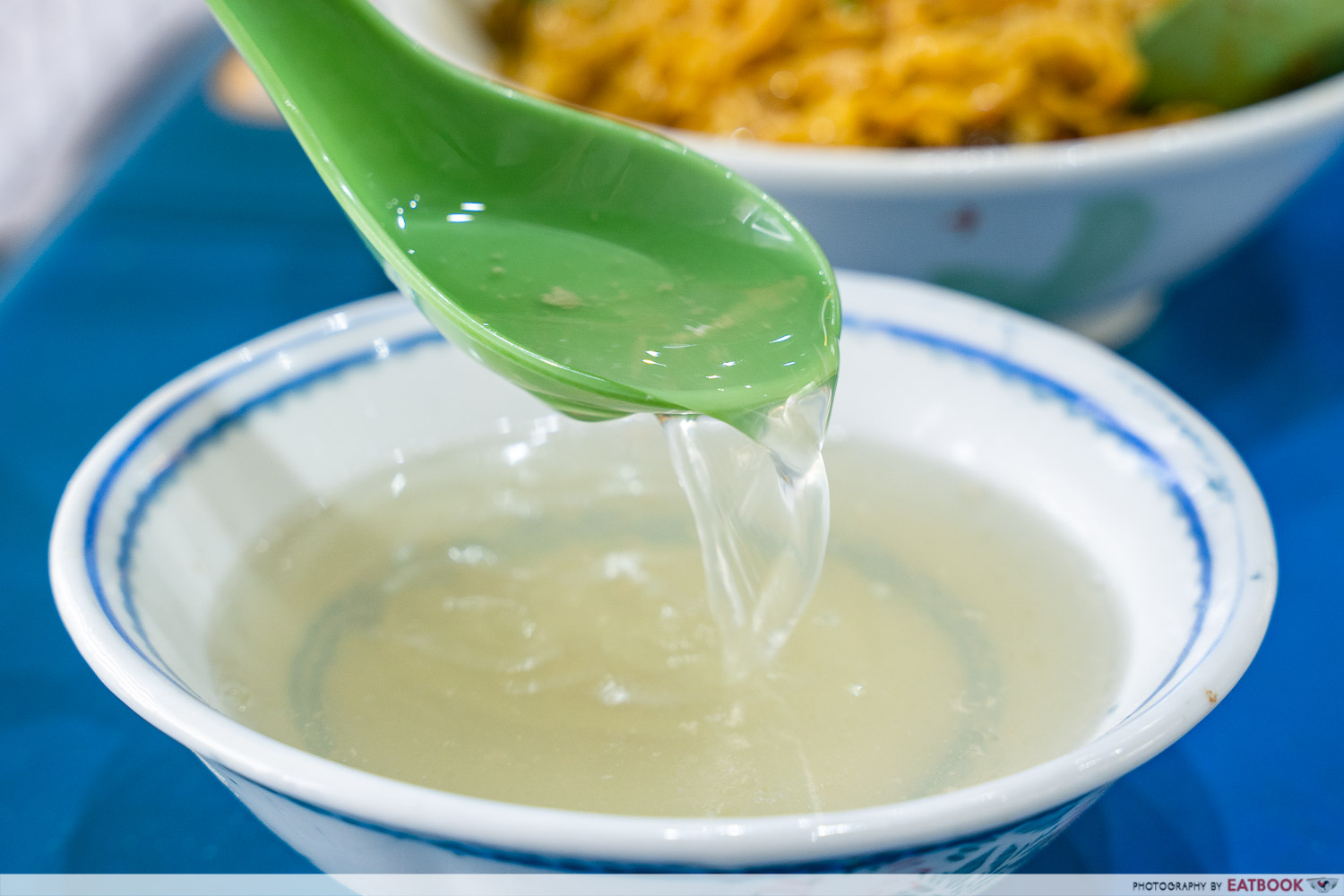 Although this soup was completely clear, it was surprisingly flavourful with a mild, porcine sweetness to it that offered a counterbalance to the flavourful noodles.
Soup: 4/5
There are no vegetables in this bowl of BCM, but it had a selection of mushrooms that set it apart from the other stalls we visited. Rather than the typical braised dried mushrooms, you'd find sliced canned champignons and sauteed shiitake that might upset the purists among us.
The pieces of house-fried lard looked soft, but turned out airy and crisp, which won them points in our books. I also tasted bits of dong cai in the noodles, lending extra savouriness to each bite.
Others: 4.25/5
A hearty portion of tasty noodles, with a more-than-decent ratio of ingredients to mee pok, and tasty soup makes 58 Minced Meat Noodle's BCM a worthwhile bowl to come for.
Value: 4.5/5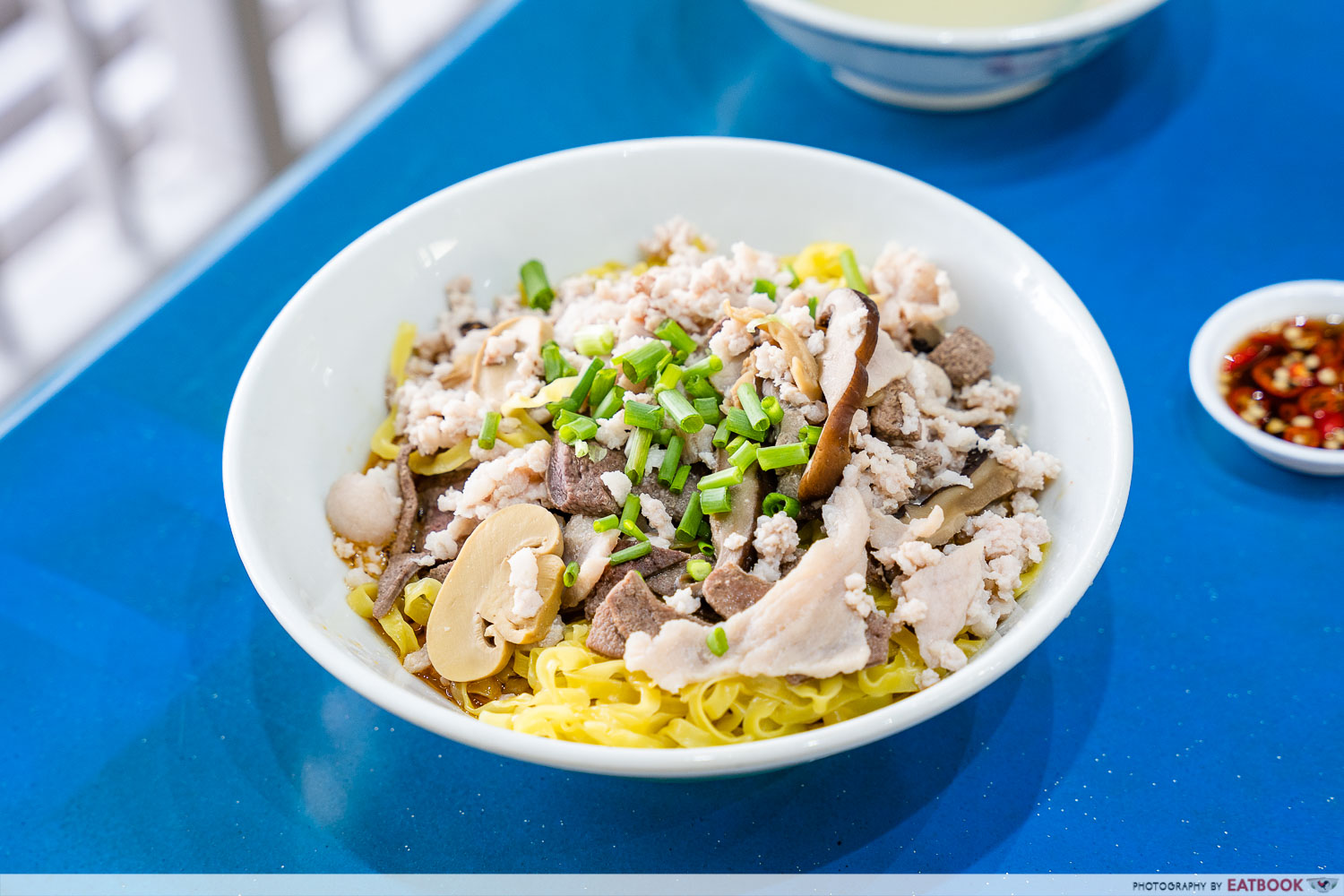 I wouldn't come all the way here for BCM, but I can understand why the folks who live around here love it so much. It's definitely one to mention in the great debate about which coast of Singapore has the best food.
Total: 85.6%
Address: 3 Yung Sheng Road, #03-150, Taman Jurong Food Centre, Singapore 618499
Opening hours: Thurs-Mon 8am to 2pm
Website
---
3. Ru Ji Kitchen
---
Ru Ji Kitchen didn't start out as a bak chor mee stall, but one hawking fishball noodles close to 20 years ago, after their founder learned how to make fishballs from his brother. Their BCM venture only dates back to 2017, when they took over the stall adjacent to their current Holland Drive outlet, quickly gaining recognition for their signature plump meatballs. They've even made it to the Singapore edition of the Michelin guide.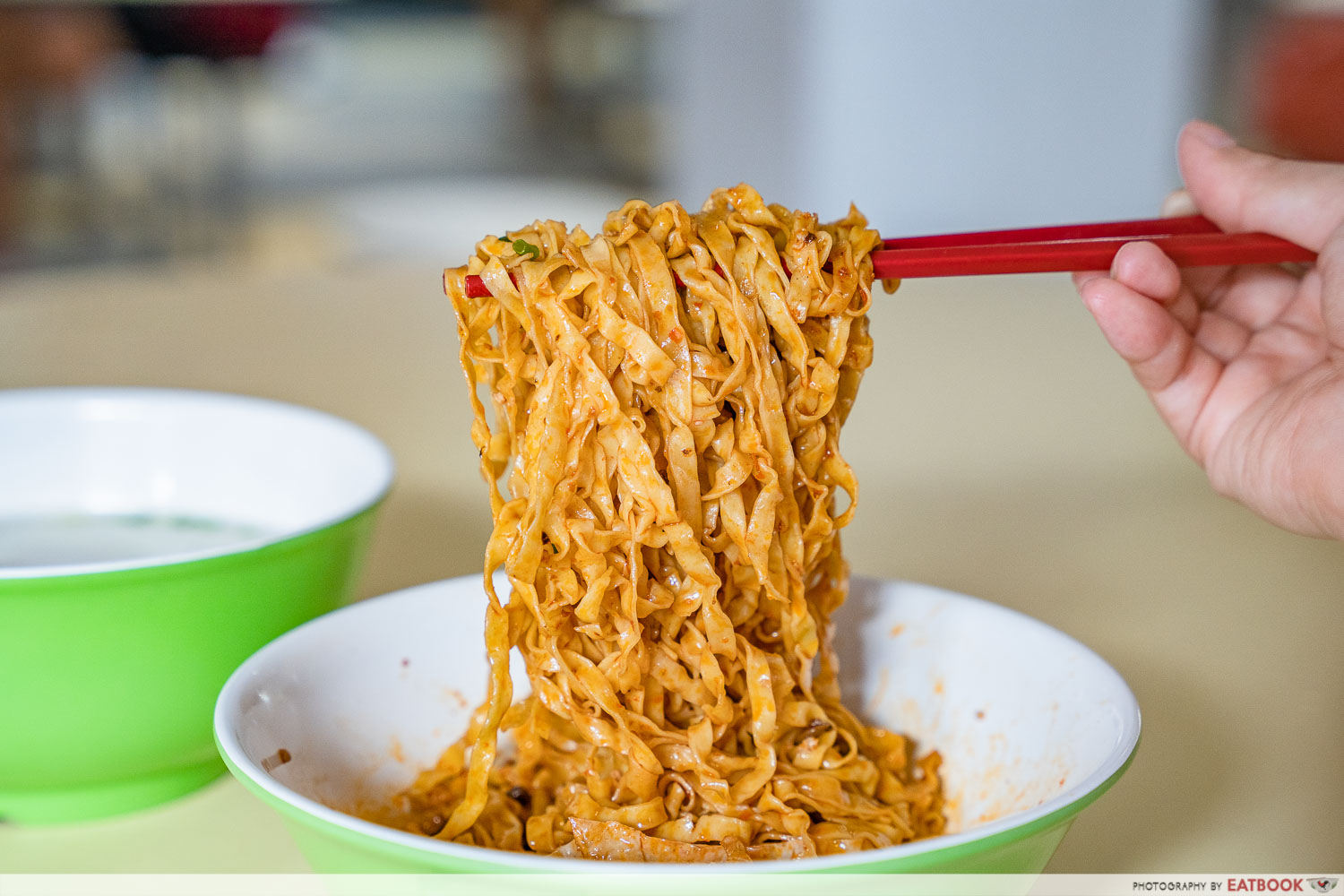 Al dente, smooth, and with a springiness to each nicely-thick strand, this bowl of mee pok was great.
Noodles: 4.5/5
Fans of Ru Ji's fishball noodles would be familiar with their piquant house-made chilli paste, mixed in with lard oil and more. Here, the spicy blend is zhnged-up with vinegar, though we would be happier with more of this.
Sauce: 4.25/5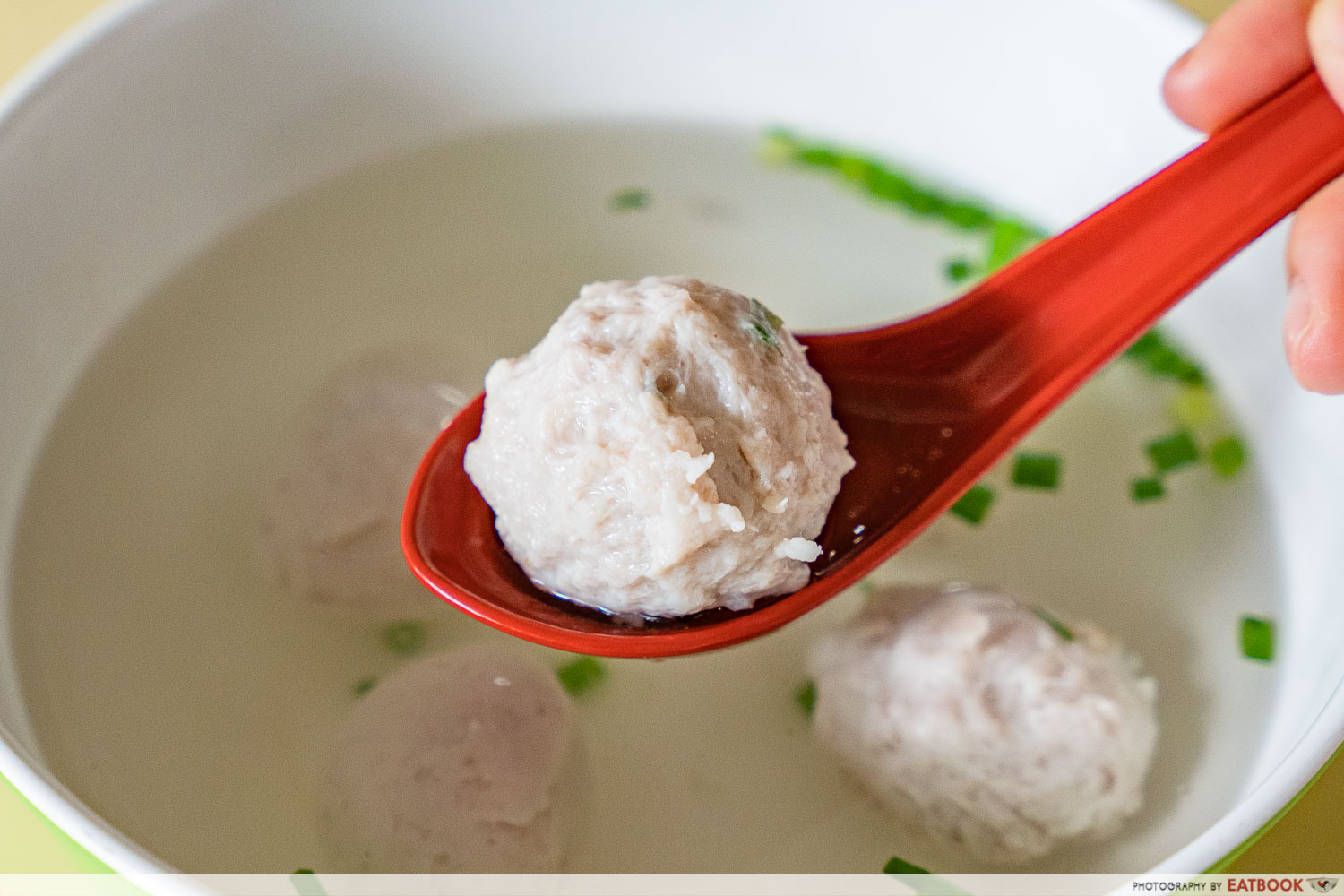 They don't serve liver in their version of BCM, but what they do have are large, juicy, house-made meatballs. There's also minced pork, which was tasty and lightly marinated, though naysayers might pick on this being pre-cooked.
Meat: 4.75/5
A food personality we once had the chance to speak with, told us that the fishball soup at Ru Ji Kitchen is his absolute favourite, and we finally understood why. It's not your regular porky, robust soup; it's clear, clean-tasting, and delicate. Its sweetness comes from the house-made yellowtail fishballs that sit in it each morning after they're made, before it's lightly seasoned with salt and rock sugar.
Soup: 4.25/5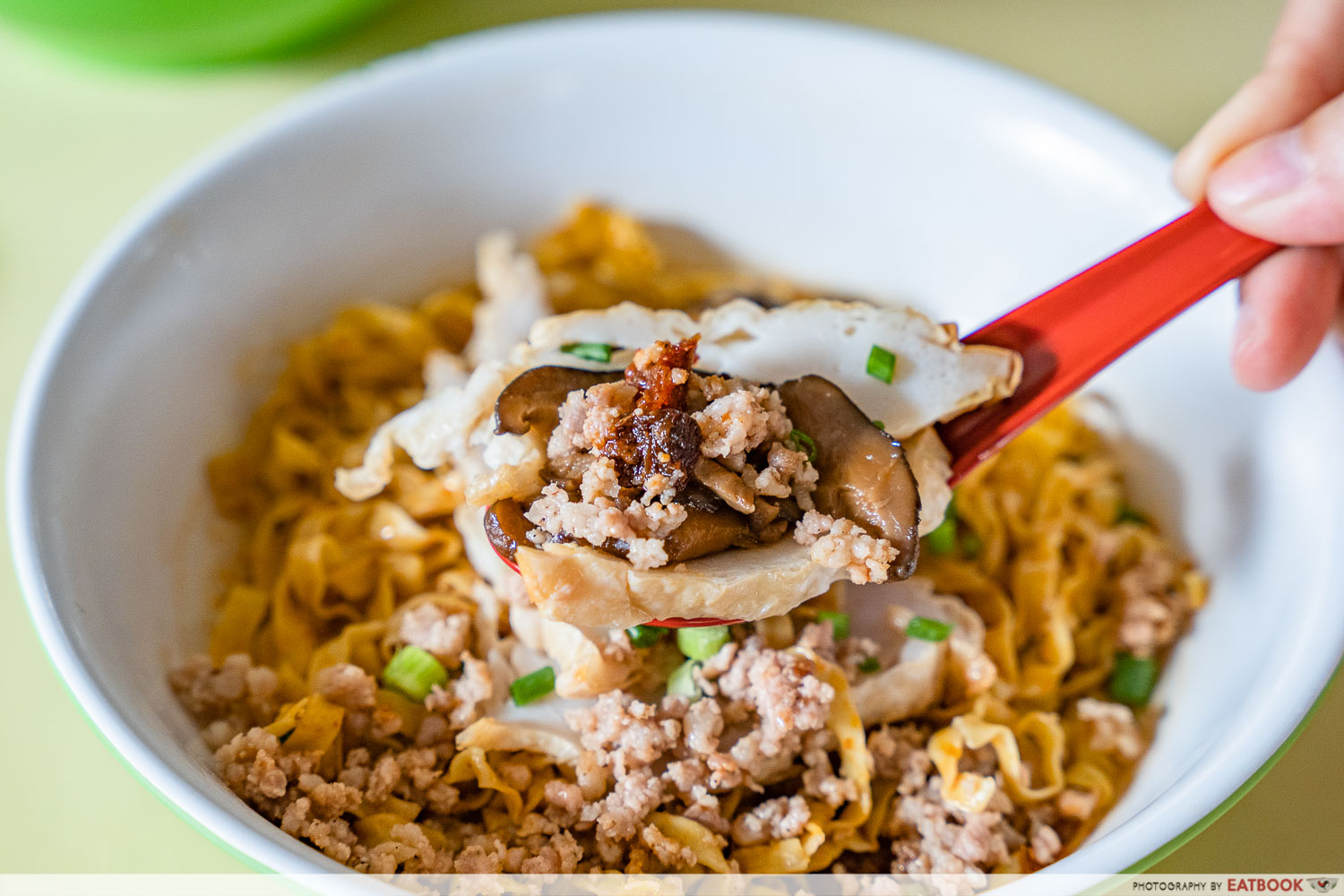 For $5, you could get an upsized bowl of BCM, or an All-In Combo that allows you to have their famous fishballs with your BCM. There are also thick slices of fish cake, though we were told there are two sorts that you'll be given at random: some are house-made, and some are sourced from a supplier, with manpower limitations meaning they can't produce as much as they'd like to.
We wished there was more braised mushrooms to go along with our noodles; they were also sliced a little too thinly for our liking. Then there are the lard pieces, which were extra crisp, but slightly burnt.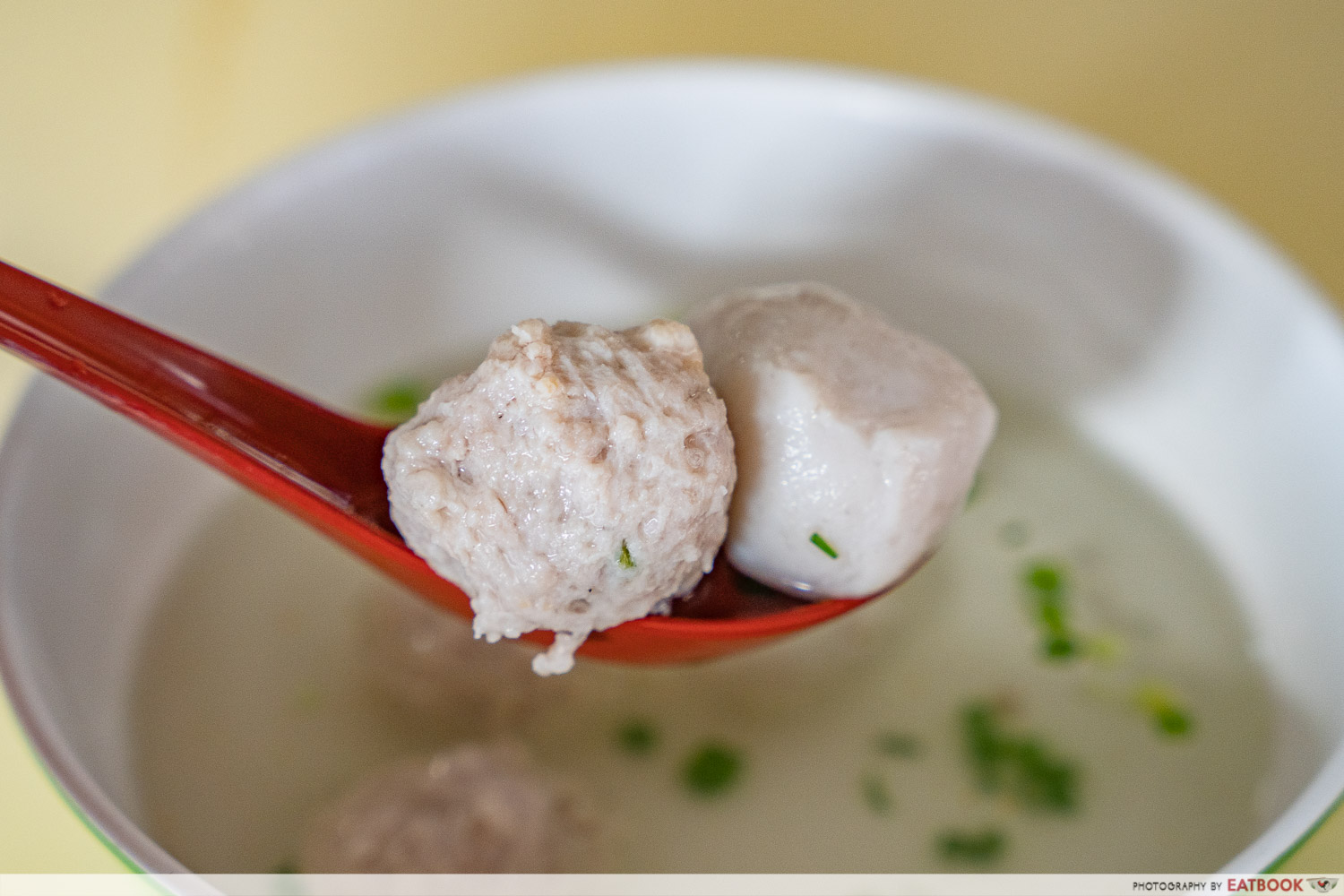 Unlike factory-made, super bouncy fishballs, Ru Ji Kitchen's fishballs are all irregularly shaped. They're slightly briny in flavour and naturally sweet.
Others: 3.75/5
We gave this bowl of BCM a perfect value score for the quantity and spread of ingredients, and the large balls. Even the soup comes in a large bowl, should you find yourself a fan of this.
Value: 5/5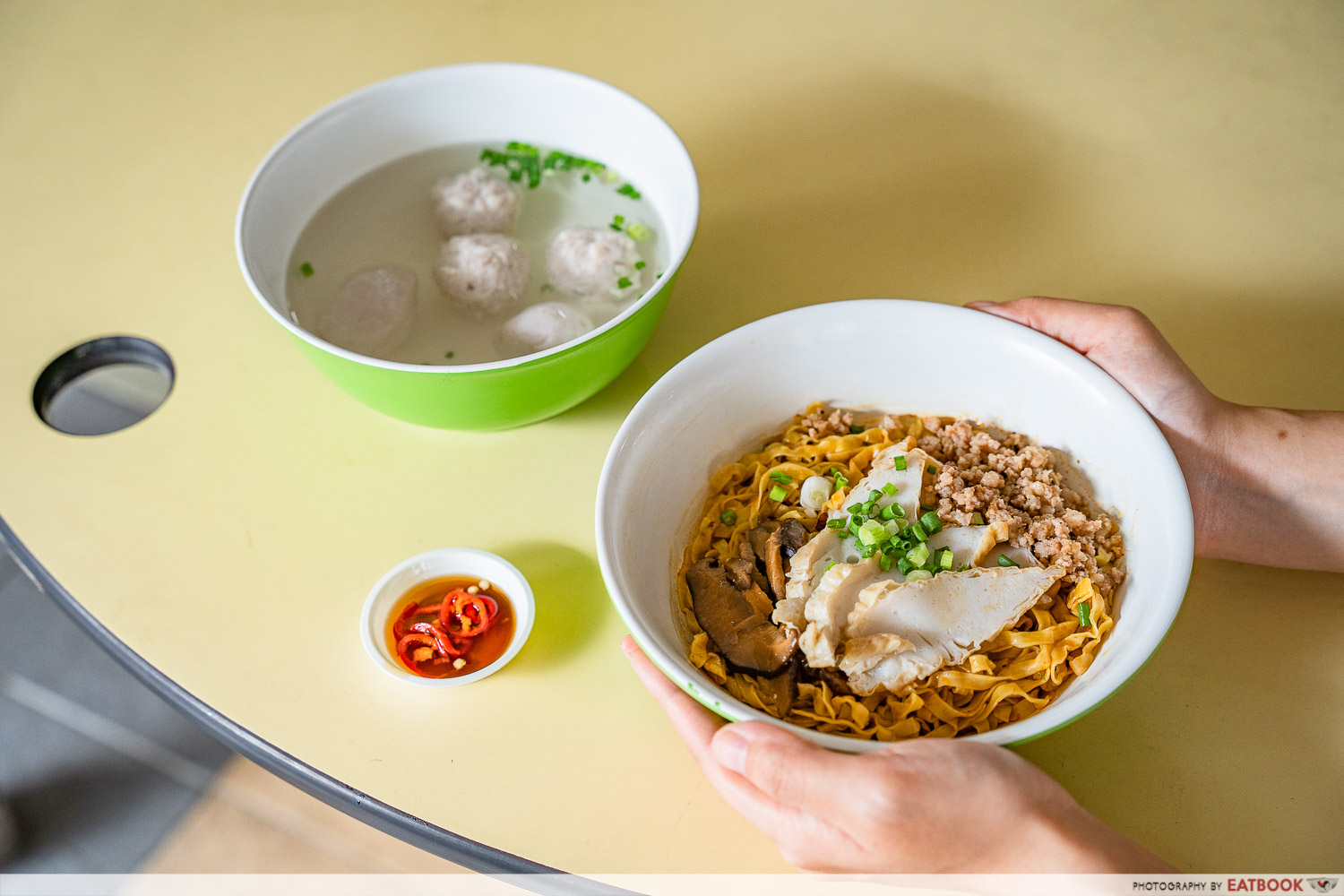 I risk sounding biased, but this is my go-to BCM for its proximity to home, minimal waiting times, and most of all because of the meatballs. If he could, my dining companion would have ranked them top based purely on the meatballs too.
Total: 87.5%
Address: 44 Holland Drive, #02-28/29, Holland Drive Market & Food Centre, Singapore 270044
Opening hours: Tue-Sun 7am to 1pm 
Tel: 9435 0820
Website
---
2. Tai Wah Pork Noodle
---
Michelin Bib Gourmand awardee Tai Wah Pork Noodle has just opened their ninth outlet in Bedok Reservoir, which is good news for fans of their BCM, who now no longer need to go all the way to Hong Lim Food Centre for their fix. The history behind Tai Wah goes back to 1939, only splitting into Tai Wah and Tai Hwa much later.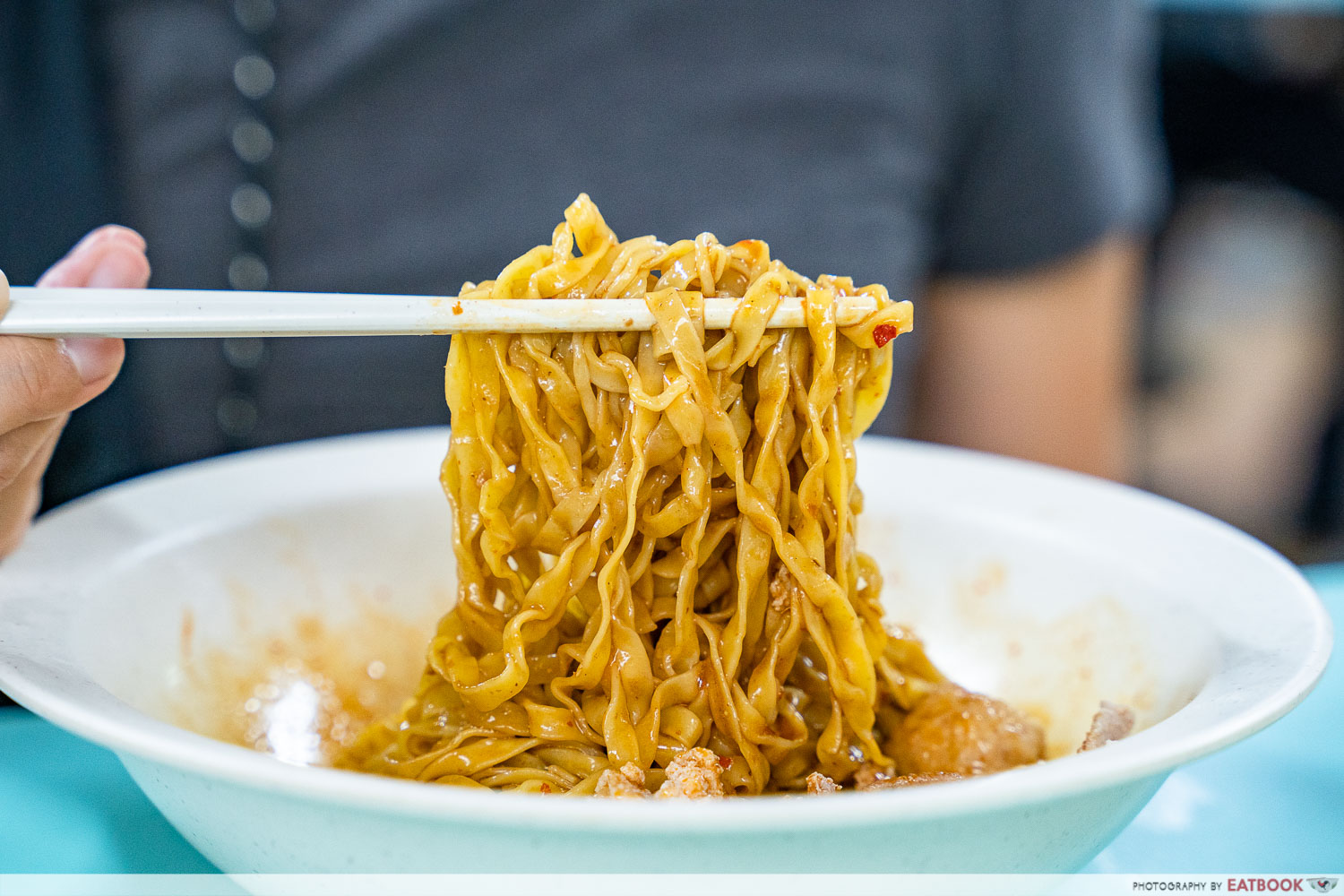 Of the 10 bowls of bak chor mee that we tried, we found this to be our favourite by far. They were extra smooth and QQ, with just the right amount of springiness and bounce.
Noodles: 5/5
There was a satisfying, vinegary kick in this sauce, which was spicy in equal measure. It also had an edge of sweetness countering the savoury tastiness of lard oil and the like. Relative to the other bowls that we tried, this stood out for its stronger, balanced flavours, but it still lacked that little extra depth. There was also more than enough of it that you could toss your noodles as you ate, to constantly top up the coating of sauce on the strands.
Sauce: 4.5/5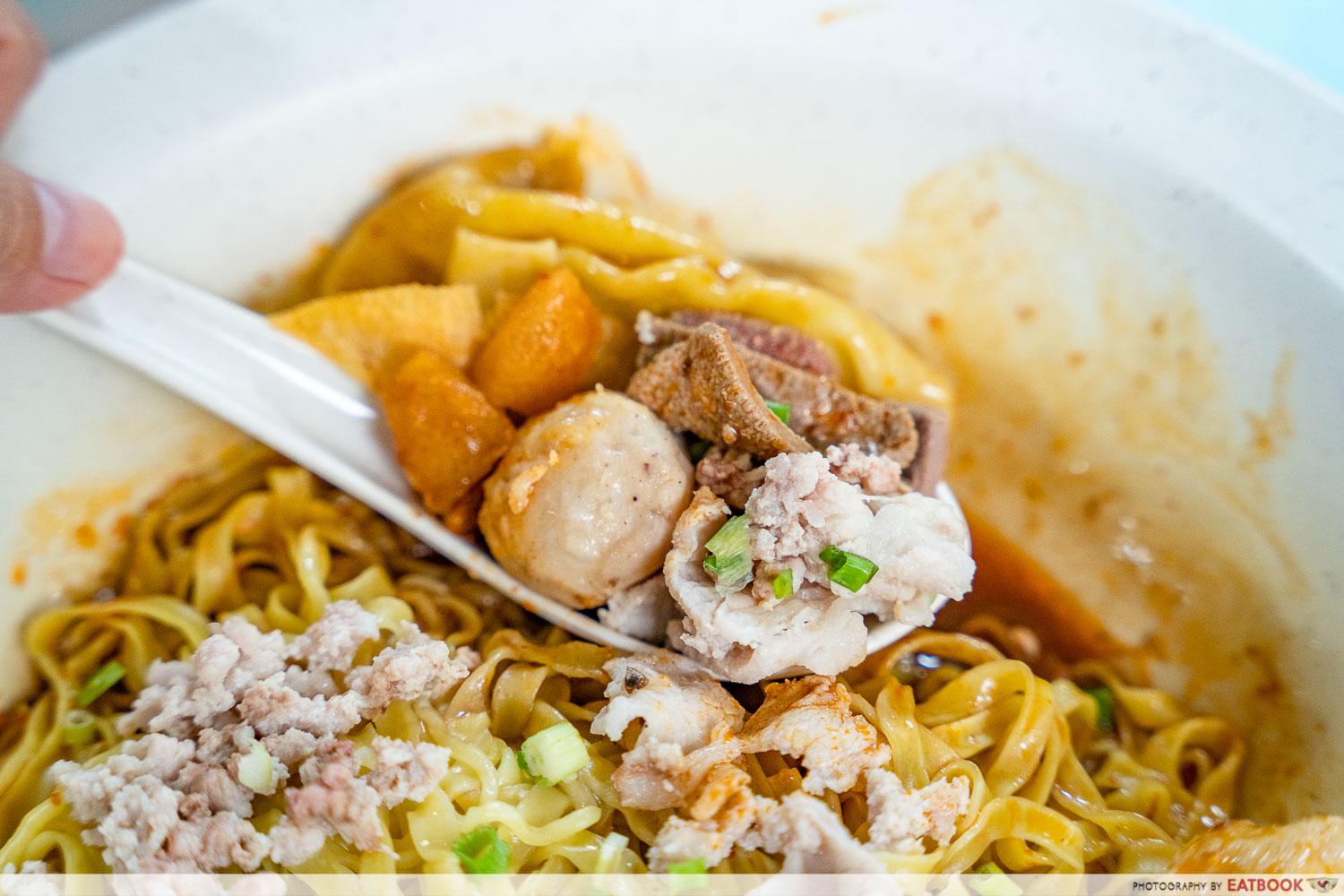 Special mention goes to the minced pork and liver here, which were just shy of done, which meant the liver didn't end up powdery or dry. Contrastingly, the sliced meat was overcooked, rendering it tough instead of tender. You get three small, dense meatballs that are deliciously savoury, but not out of the ordinary.
Meat: 4/5
Laced with the characteristic flavour of ti poh, the bowl of soup at Tai Wah Pork Noodle was cloudy and porky, with a slight livery taste. It was a good bowl of soup, but not a great one.
Soup: 4.25/5
Each bowl of BCM at Tai Wah comes garnished with a slice of fried ti poh—this was fried to a light golden brown. Similarly, the pieces of pork lard were light and crisp, poofing into savoury clouds in our mouths. There weren't any mushrooms, but it came with wonton with a meat filling that we found was a little too salty.
Others: 4.25/5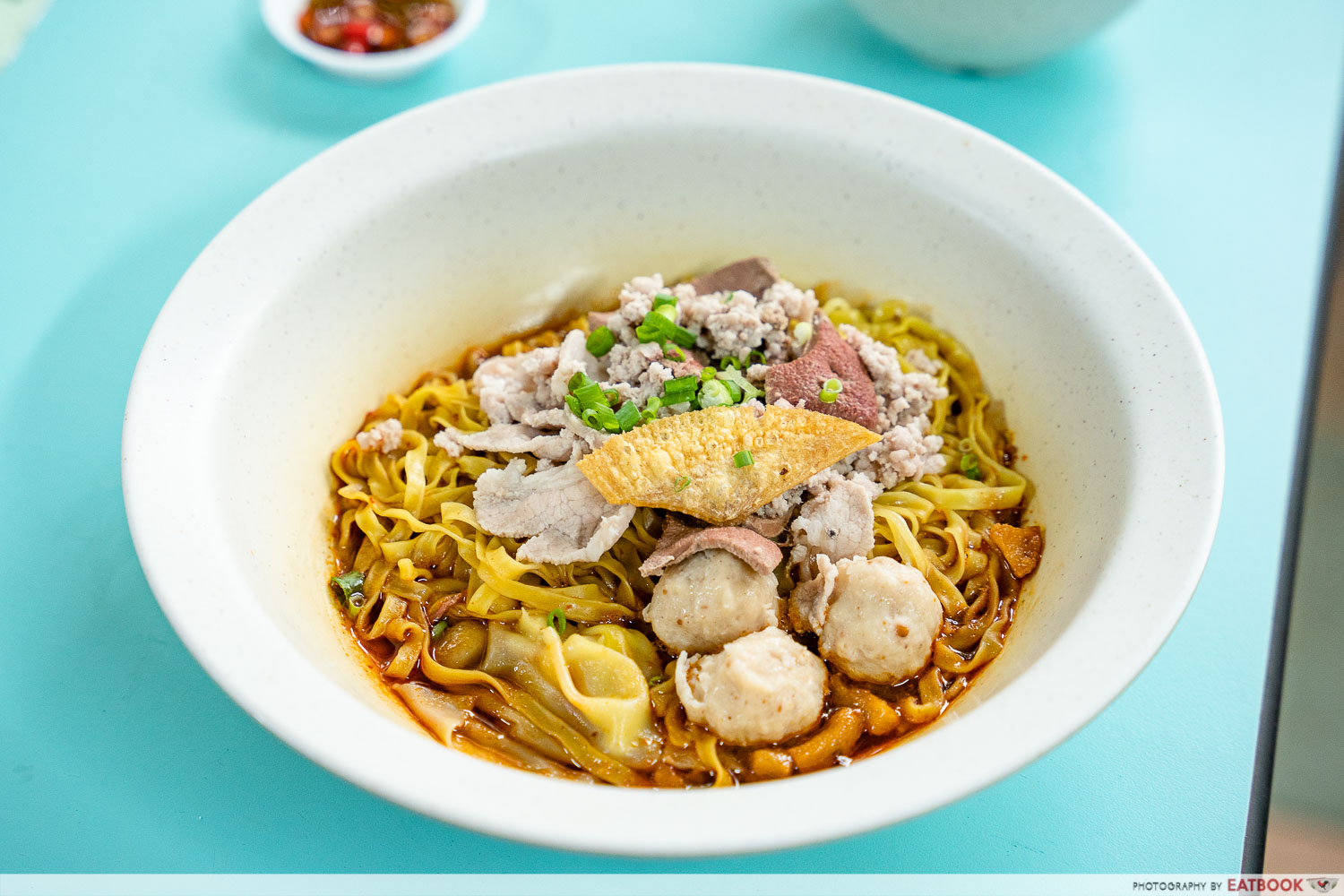 At $6 for the smallest bowl on the menu, it's a dollar more expensive than the other entrants on this list. But there's also a good variety of ingredients and a hearty portion of noodles in this bowl that make it worth the price.
Value: 4.25/5
We had a pretty good bowl of BCM when we visited Tai Wah on this occasion, which we have graded them based on, but people I've spoken to and reviews online have pointed to inconsistent standards. This is aligned with my own experiences, having eaten here multiple times to varying levels of satisfaction.
Total: 88.3%
Address: 531A Upper Cross Street, #02-16, Hong Lim Complex, Singapore 051531
Opening hours: Tue-Sun 7:30am to 3pm
Website
---
1. Hill Street Tai Hwa Pork Noodle
---
Similarly founded in 1939, Hill Stree Tai Hwa Pork Noodle remains the only branch in this arm of the family, although they have taken over another unit in the same coffeeshop. Standards are said to have dropped, but they have held on to their Michelin star since they first received it in 2016. They're now the only hawker with this distinguished honour.
We ate this bowl of BCM immediately after the one at Tai Wah, which allowed us to compare them as closely as we could, while enjoying them fresh off the stove. This mee pok had a thicker consistency, and while it was smooth, wasn't as QQ as the one at Tai Wah. We also detected a slight alkaline taste, which marred the overall experience. It was a teensy bit firmer too, so if we had to choose, this was the poorer noodle between the two.
Noodles: 4.25/5
On the other hand, where we had thought the sauce mix at Tai Wah was rather good, trying the one at Tai Hwa put things into perspective. It had more nuanced layers of flavour that blended harmoniously, plus that kick of vinegar that we had been missing throughout our search for the best bak chor mee.
Sauce: 4.75/5
The minced pork at Tai Hwa came in chunkier pieces, and it felt like we had more of it here. The liver was similarly well-executed, and they didn't overcook the sliced meat. Here, we found the meatballs to be softer and less salty.
Meat: 4.25/5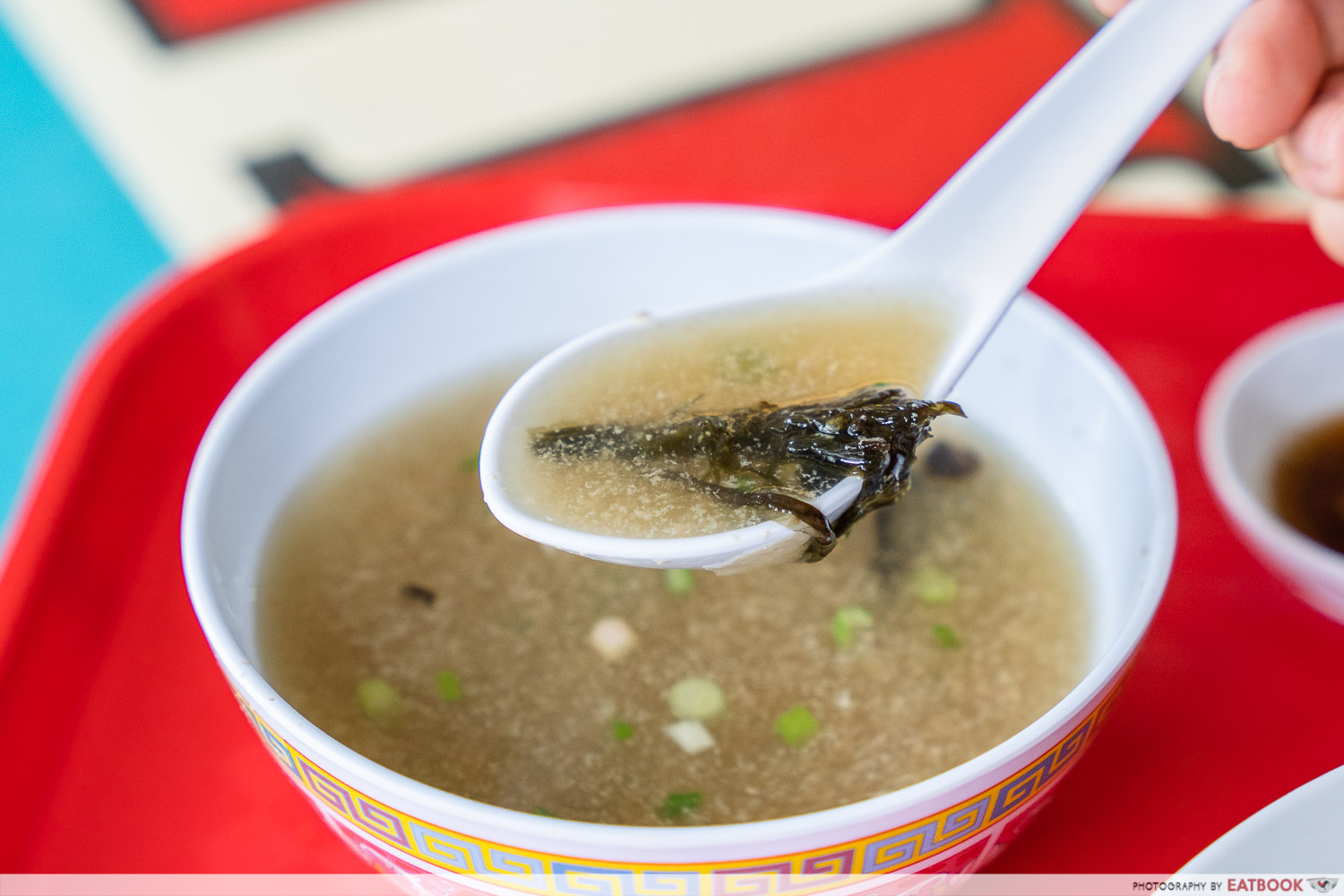 We much preferred this bowl of soup, with fried garlic, seaweed, and dong cai that added dimensions of umami to the pork-based broth, detracting from its porkiness.
Soup: 4.5/5
Unfortunately, the sole fish and lard that we had on our visit was slightly burnt, which was a shame in this otherwise excellent bowl of BCM. The wonton here had less bite to it but was generously filled and not too salty. There was also dong cai in the noodles, which provided a welcome touch of flavour.
Others: 4/5
Tai Hwa's bak chor mee is also priced at $6, but they were more generous with the meat, with thicker slices of pork. The portion of noodles was also substantial; coupled with the overall execution of this BCM, the extra dollar is justifiable.
Value: 4.5/5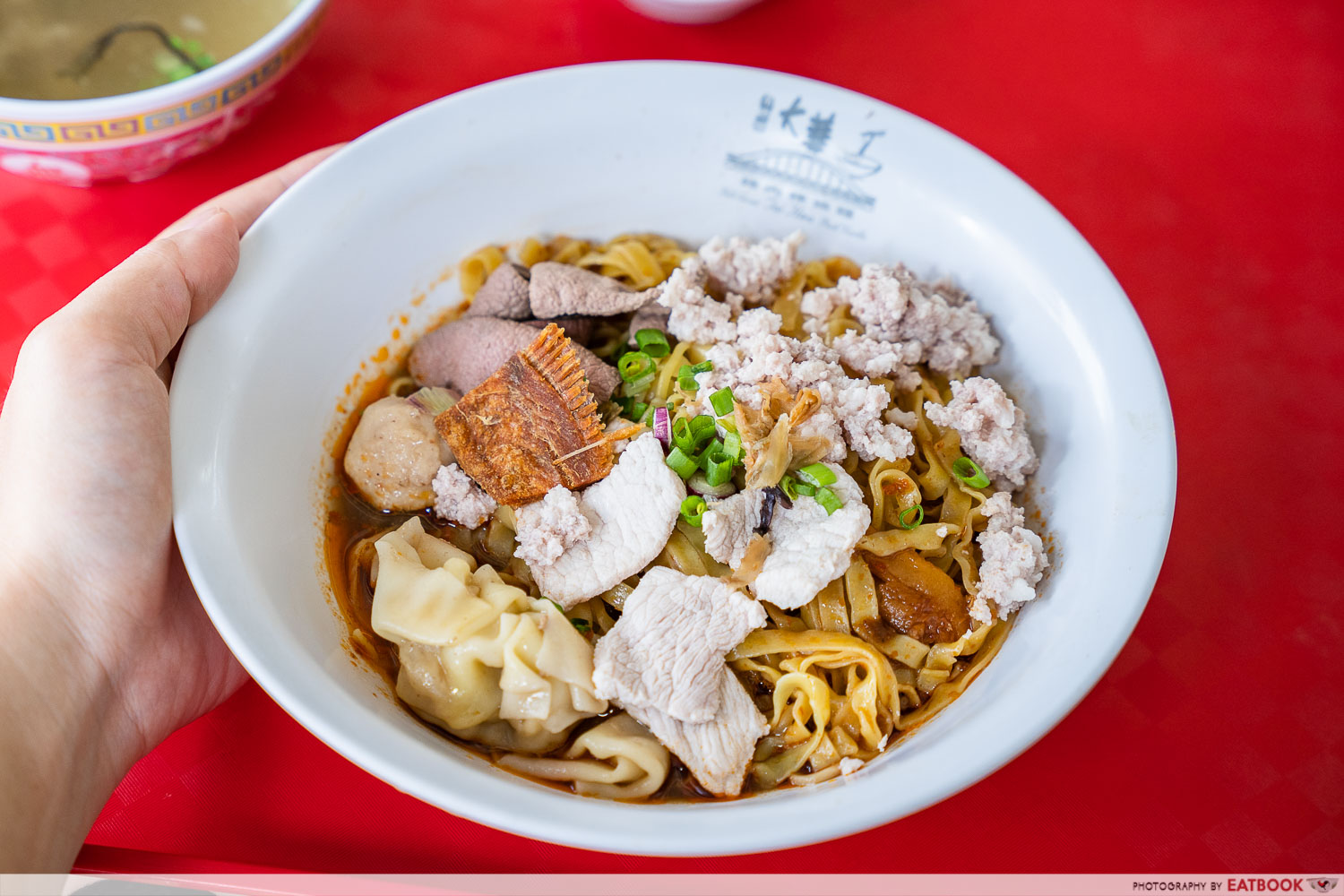 There's no doubt about it: Tai Hwa Pork Noodle lived up to their star and fame. Even with the handicap of being less shiok than it used to be in its heyday, their bowl of bak chor mee was an easy shoo-in for best out of the 10 we ate.
Total: 91.7%
Address: 466 Crawford Lane, #01-12, Tai Hwa Eating House, Singapore 190466
Opening hours: Tue-Sun 9:30am to 8:30pm
Tel: 9272 3920
Website
---
Where to eat the best bak chor mee in Singapore
---
Even after 10 bowls of bak chor mee, we didn't find ourselves dreading the thought of going back to our favourite spots for more. It's an entire package of savoury, tangy, spicy, and umami, that when done well is addictive and comforting. In short, it tastes like home. 
The bak chor mee on this list are by no means the only ones around, nor is it the intention of this article to discredit your favourite. We could only pick 10 highly popular spots across Singapore, and we judged them strictly based on tangible factors: what we saw, smelled, and tasted at the point of our visit. 
To sum it all up, here's the TL;DR version of our best bak chor mee round-up for easy reference:
Best noodles: Tai Wah Pork Noodle (Hong Lim)
Best sauce: Hill Street Tai Hwa Pork Noodle (Crawford Lane)
Best meat: Jin Xi Lai (Mui Siong)—Liver, Ru Ji Kitchen (Holland Drive)—meatballs
Best soup: Famous Eunos Bak Chor Mee
Best value: Ru Ji Kitchen (Holland Drive), Jin Xi Lai (Mui Siong)
Best overall bak chor mee: Tai Hwa Pork Noodle (Crawford Lane)
If you're on the lookout for chicken rice, here's our search for the best chicken rice in Singapore!
10 Best Chicken Rice In Singapore Ranked, Including Tian Tian And Boon Tong Kee
Photos taken by John Lery Villanueva.
This is an independent review by Eatbook.sg.