---
Toa Payoh cafes that deserve more attention
---
Toa Payoh is an underrated hood with a plethora of delicious food options, including Jiak Song Mee Hoon Kway and Korean BBQ restaurant Gogiyo. Upon some digging, we also found that there are a handful of cafes in the area that are worth checking out! Some of these restaurants and coffee spots are near Toa Payoh MRT Station and HDB Hub, so you can easily pop by after your appointment. Here's our list of the top 10 Toa Payoh cafes to visit for hearty brunch fare, freshly baked waffles and more.
---
1. The Larder Cafe
---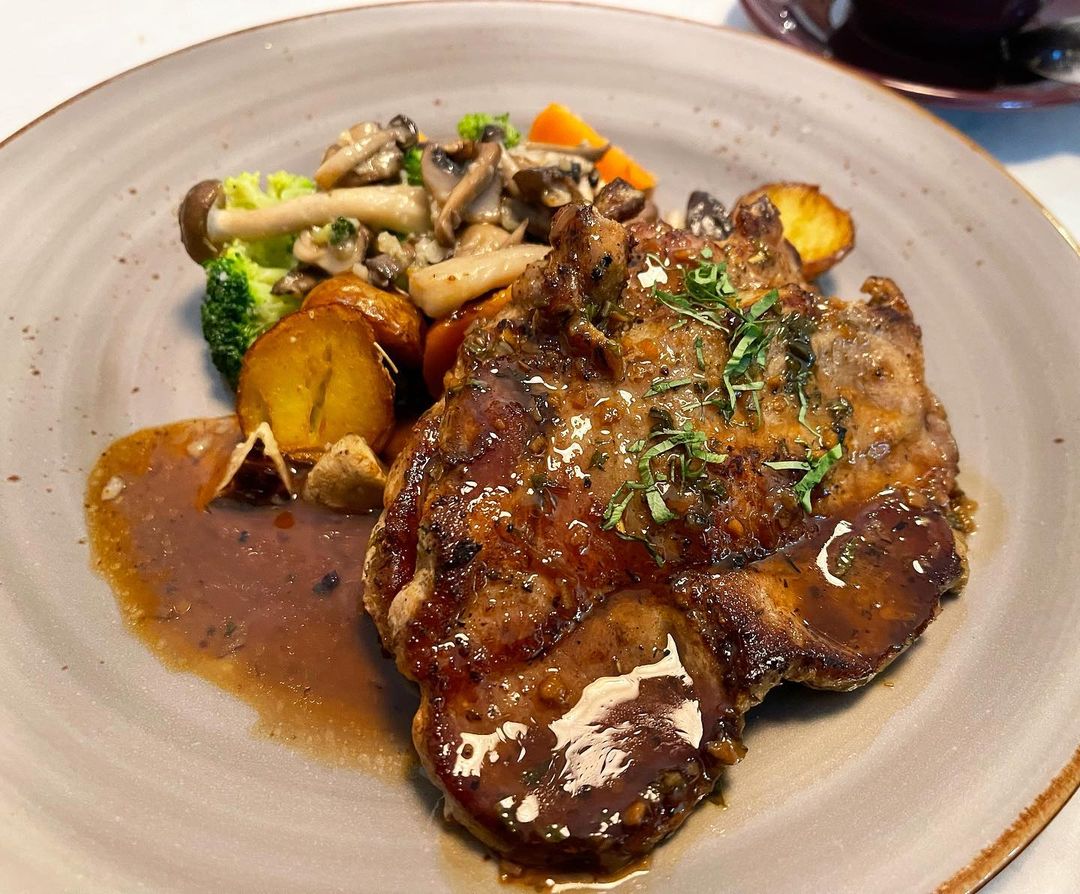 Image credit: @foodiexploder
The Larder Cafe prides themselves in dishing up quality brunch dishes and desserts at value-for-money, nett prices. A popular dish at this Toa Payoh cafe is the Pork Ribeye Steak ($18), which comes with seasonal veggies, baby potatoes, and a garlic soya sauce. There's also a decent range of pasta dishes to choose from, including Mushroom Aglio Olio ($13.50), Carbonara Spaghetti ($13.50), and Vongole Linguine ($14.50).  
If you're visiting for brunch from 11am to 5pm, get the Big Breakfast ($19.60) or Smoked Salmon Eggs Benedict ($17.50).
Address: Blk 177 Toa Payoh Central, #01-124, Singapore 310177
Opening hours: Tue-Sun 11am to 10pm
Tel: 6253 8382
Website
The Larder Cafe is not a halal-certified eatery.
---
2. Niche Savoureuse
---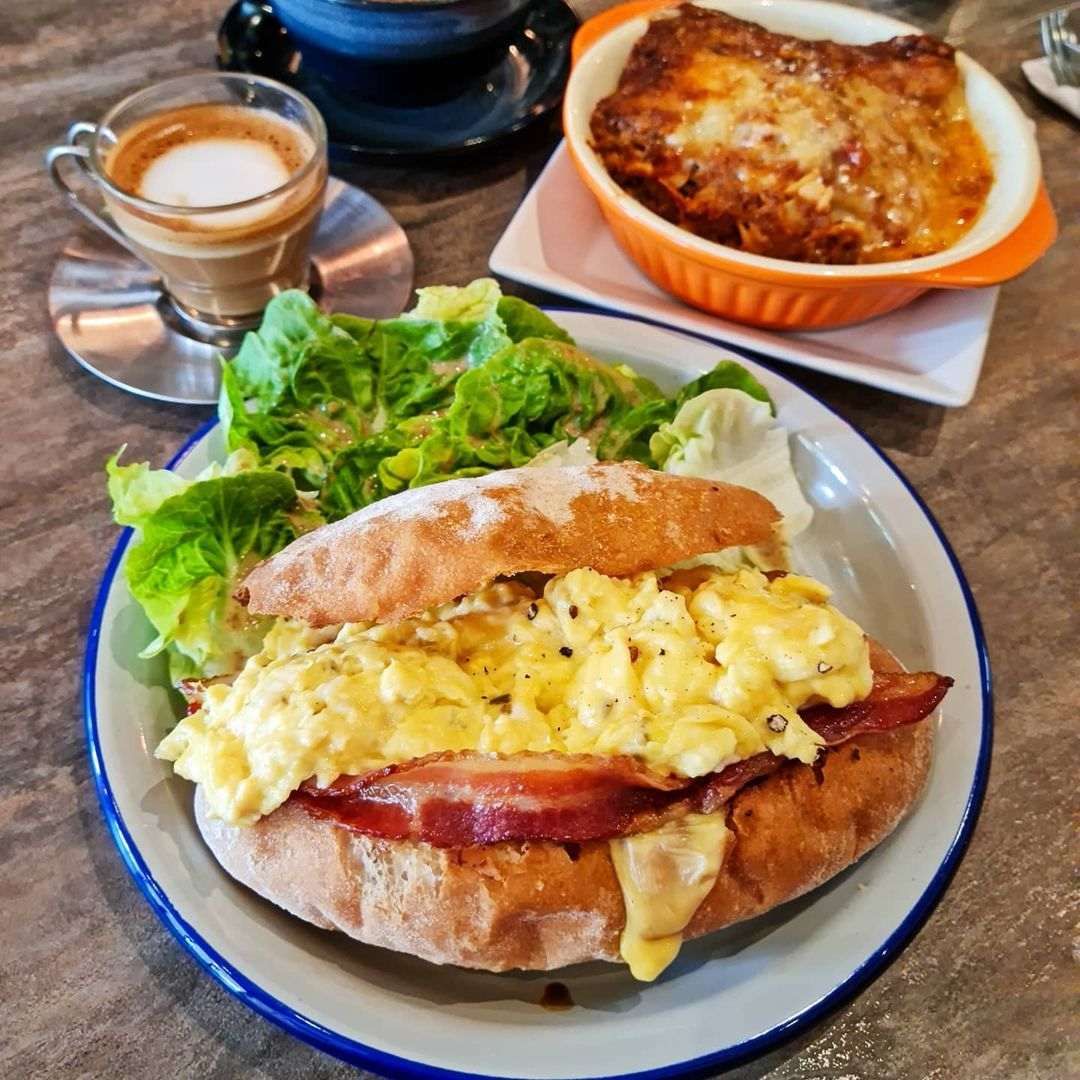 Image credit: @neo.food.nature
Niche Savoureuse is an underrated cafe in Toa Payoh specialising in sweet treats, with an equally good savoury menu and nett prices to boot. Expect brunch fare such as Niche All Day Breakfast ($15) and Mr Benedict's Eggs ($15), along with house-made cakes such as Mango Tango ($6.50) and Strawberry Fields ($5.90), comprising layers of tart strawberry cream and classic vanilla cake crowned with fresh strawberry slices.

The HDB cafe also offers coffee, in delicious-sounding flavours including Cappucino with Gula Melaka ($5.80) and Amaretto Latte ($5.60).
Address: Blk 128 Lorong 1 Toa Payoh, #01-833, Singapore 310128
Opening hours: Mon, Wed-Fri 10am to 7pm, Sat 8am to 7pm, Sun 8:30am to 6pm
Tel: 9633 5108
Website  
---
3. Shrove Tuesday
---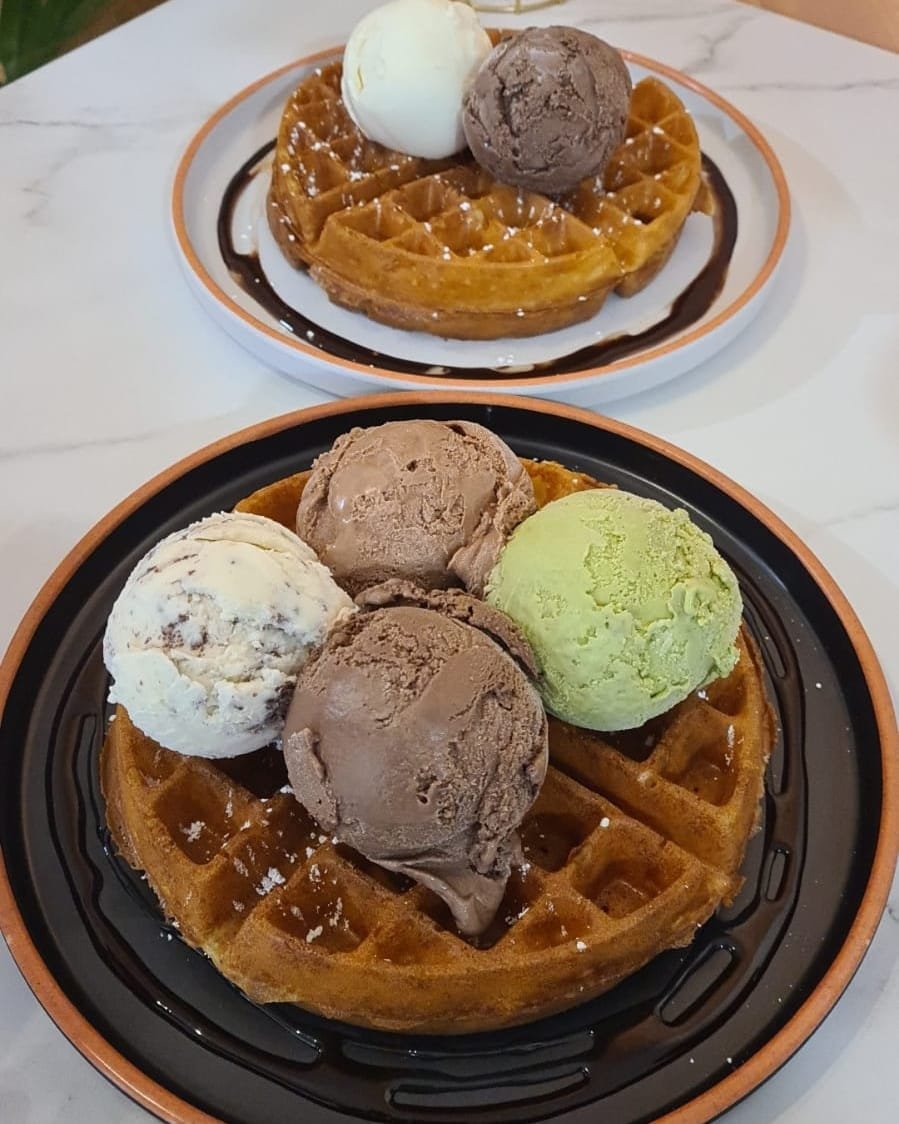 Image credit: @mummyeatseat
Tucked inconspicuously among a row of shops, Shrove Tuesday serves up both sweet treats and hearty mains. Their signature Nonya Chendol Waffles ($14.90) is a crowd favourite, comprising waffles stacked with two scoops of chendol gelato and vanilla soft serve that's topped with azuki red beans, gula melaka syrup, desiccated coconut and chendol jelly. Alternatively, DIY your dessert by getting the Charcoal Waffle ($6), topped with your choice of gelato (from $3.80).
If you prefer something savoury, snack on their Tater Tots with Garlic Mayo ($8.80) or fill up on mains such as the Beef Lasagne ($9.50).  
Address: Blk 94 Lorong 4 Toa Payoh, #01-32, Singapore 310094
Opening hours: Sun-Thurs 12pm to 9pm, Sat 12pm to 10pm
Tel: 8778 3862
Website
Menu
---
4. Mong Cha Cha 
---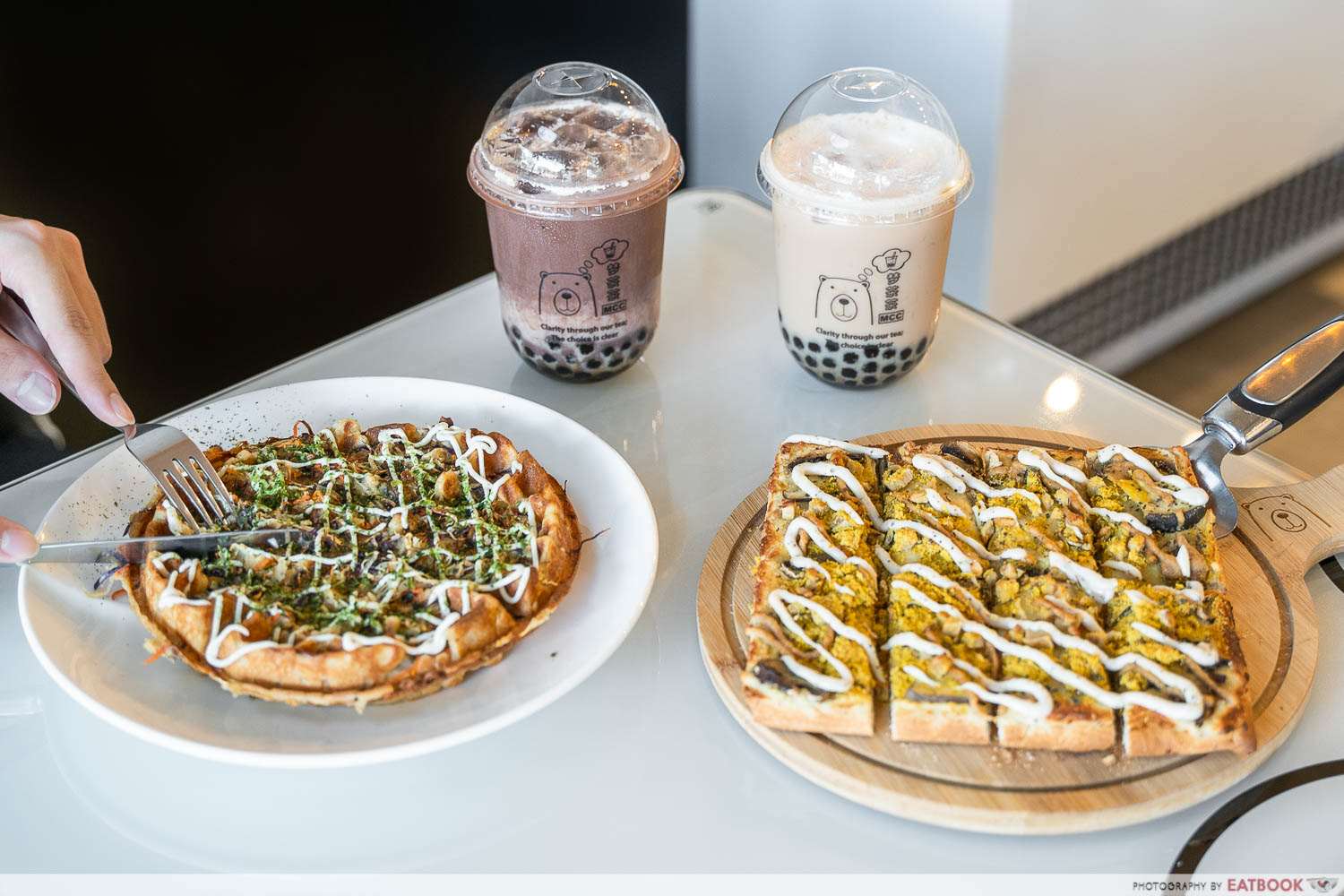 Mong Cha Cha Cafe is a vegan bubble tea cafe in Toa Payoh Central—a six-minute walk from the MRT station. Touted as Singapore's first wholly plant-based BBT shop, this cosy cafe boasts a fully vegan menu comprising drinks and light bites.
Try their Earl Grey Black Sugar Boba Tea ($5.90) that's made with soy milk instead of dairy, or the creamy Chocolate Oat Mylk Boba ($5.90), which stars oat milk. Then, fill up with the Okonomiyaki Waffle ($11.90), a savoury waffle filled with fresh veggies and topped with house-made okonomiyaki sauce, vegan mayo, and seaweed powder.
Address: 79E Toa Payoh Central, #01-75, Singapore 315079
Opening hours: Daily 12pm to 10:30pm
Website
Mong Cha Cha Cafe is not a halal-certified eatery.
This Vegan Bubble Tea Cafe In Toa Payoh Has Oat Milk Boba, Truffle Pizza And More
---
5. The Twisted Trio
---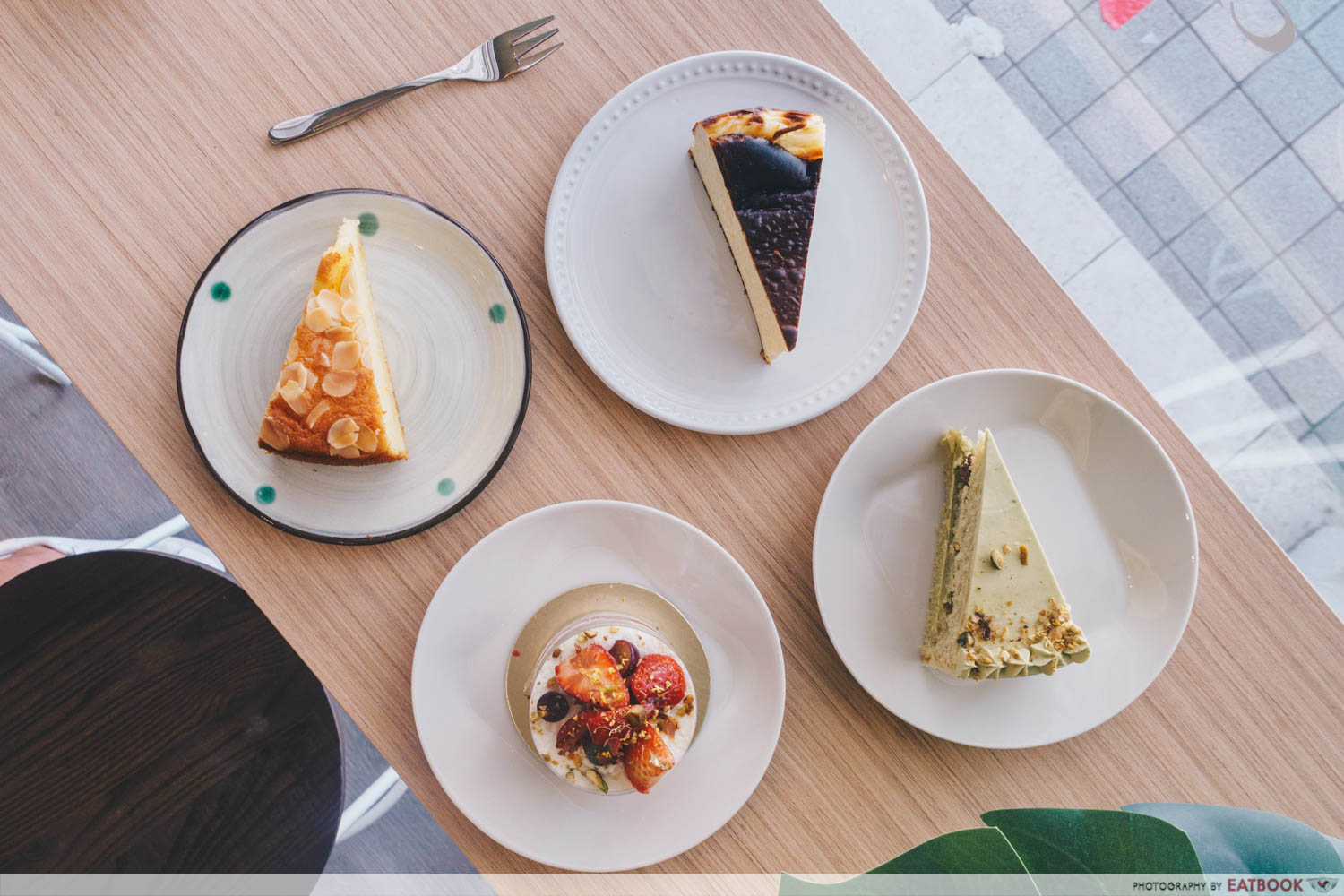 Bookmark The Twisted Trio, an under-the-HDB cafe near Toa Payoh MRT Station that serves a wide assortment of handmade cakes, including the Burnt Cheesecake ($8) in delectable flavours such as Milo, Matcha, and Earl Grey. There's also the IG-worthy Watermelon Rose ($8), a stunning layered cake with rose-scented sponge, sweet watermelon, and light cream.
Wash it all down with your favourite cup of joe; get the White (from $5) or Dirty Matcha ($6) for a caffeine boost.
Address: 85C Lorong 4 Toa Payoh, #01-385, Singapore 313085
Opening hours: Tue-Sun 12pm to 5:30pm
Tel: 9450 7885
Website
The Twisted Trio is not a halal-certified eatery.
---
6. Creamier 
---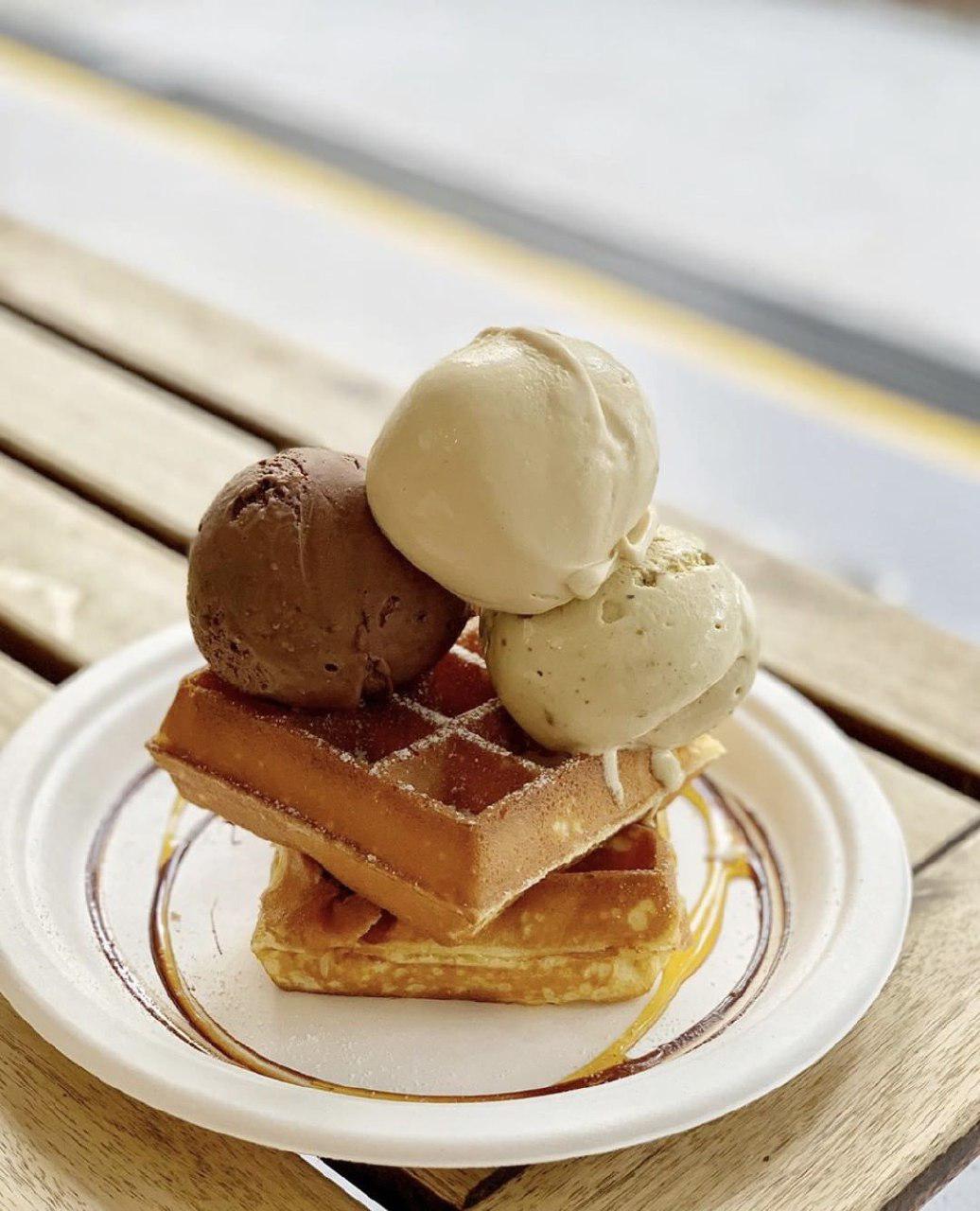 Image credit: @creamier_sg
Venture a little further and you'll find homegrown ice cream cafe Creamier. Since opening its flagship in Toa Payoh over a decade ago, the popular dessert parlour now has four outlets islandwide, including Punggol and Tampines. Prices start at $3.90 for a single scoop and $4.90 for premium flavours. Fans love their house-made waffles ($6.90), which are proper thick with crispy edges. Top up $3.30 to pair this with a scoop of ice cream.
Before you leave, grab a pint or two for indulging at home! Popular flavours include Roasted Pistacho, Sea Salt Gula Melaka, and Blue Pea Vanilla.
Address:131 Toa Payoh Lorong 1, #01-02, Singapore 310131
Opening hours: Sun-Thurs 12pm to 10pm, Fri-Sat 12pm to 11pm
Website
Creamier is not a halal-certified eatery.
---
7. Love at First Bite Cafe
---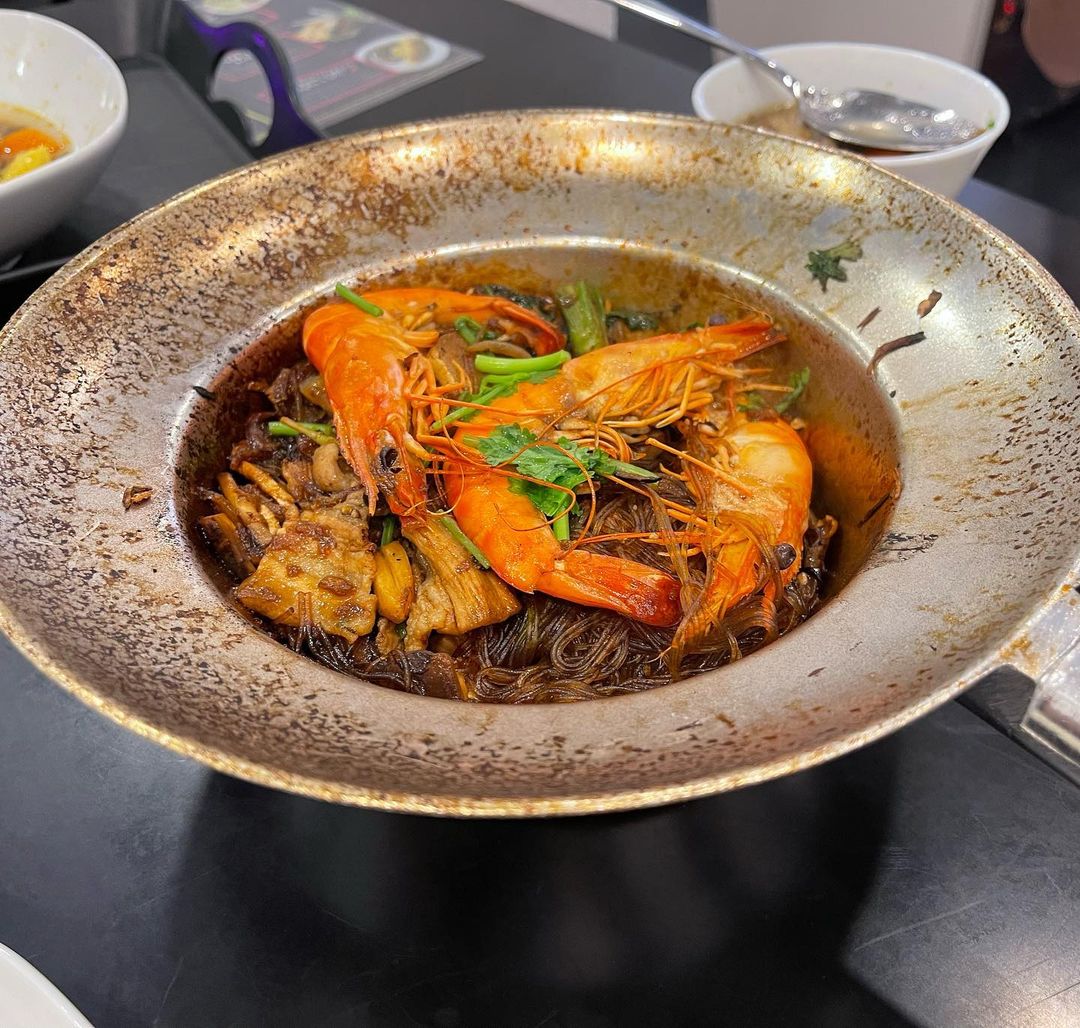 Image credit: @yaojun84
If you want something more than just cake and coffee, head to Love at First Bite, a cosy fusion cafe serving hearty mains, Asian-inspired sides, and desserts. Tuck into their Goong Ob Woon Sen ($9.90+), available on Wednesdays, Fridays, and Sundays. This flavourful Thai-inspired number features glass noodles topped with prawns, pork belly, and veggies. They also have fusion mains such as the Ngoh Hiang Linguine ($12.90+), served with a special curry sauce, on Tuesdays, Thursdays, and Saturdays.
End the meal on a sweet note with Mr. Waffle & Mrs. Gelato (from $10+): two scoops of Hokkaido gelato on a warm buttermilk Belgium waffle, drizzled with your choice of syrup.
Address: 85 Lor 4 Toa Payoh, #01-328, Singapore 310085
Opening hours: Tue-Sun 11:30am to 8pm
Tel: 9631 2187
Website
---
8. Kopifellas Cafe
---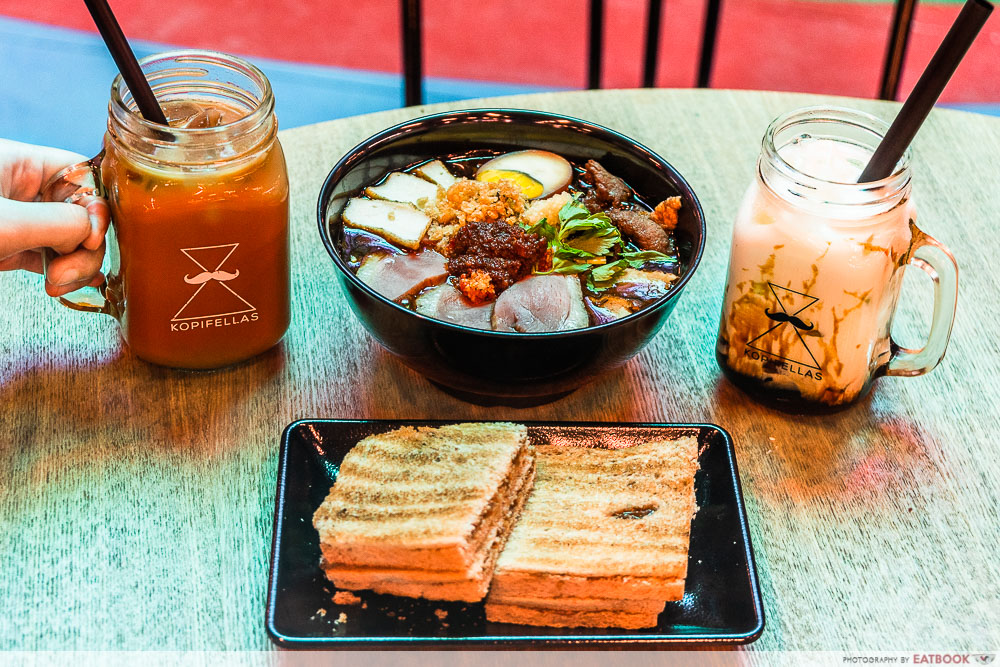 Kopifellas first started as a humble stall at Timbre+, before opening multiple outlets across the island—including a casual cafe next to HDB Hub, Kopifellas Cafe. Here you'll find a good mix of their signature toasts, hawker-inspired noodle dishes, and caffeinated concoctions to help you power through your day.
Get their All-Day Breakfast Set ($5.30), which comes with your choice of Matcha Milk or Earl Grey Milk spread, two soft-boiled eggs, and a cup of kopi or teh. Don't forget to try their signature Honey Oolong Milk tea ($3.20) and Earl Grey Milk Tea ($2.70) too!
Address: 190 Lor 6 Toa Payoh, #01-532, Singapore 310190
Opening hours: 7am to 6pm
Tel: 9877 8088
Website
Kopifellas Cafe is not a halal-certified eatery.
---
9. Tim's Restaurant & Cafe
---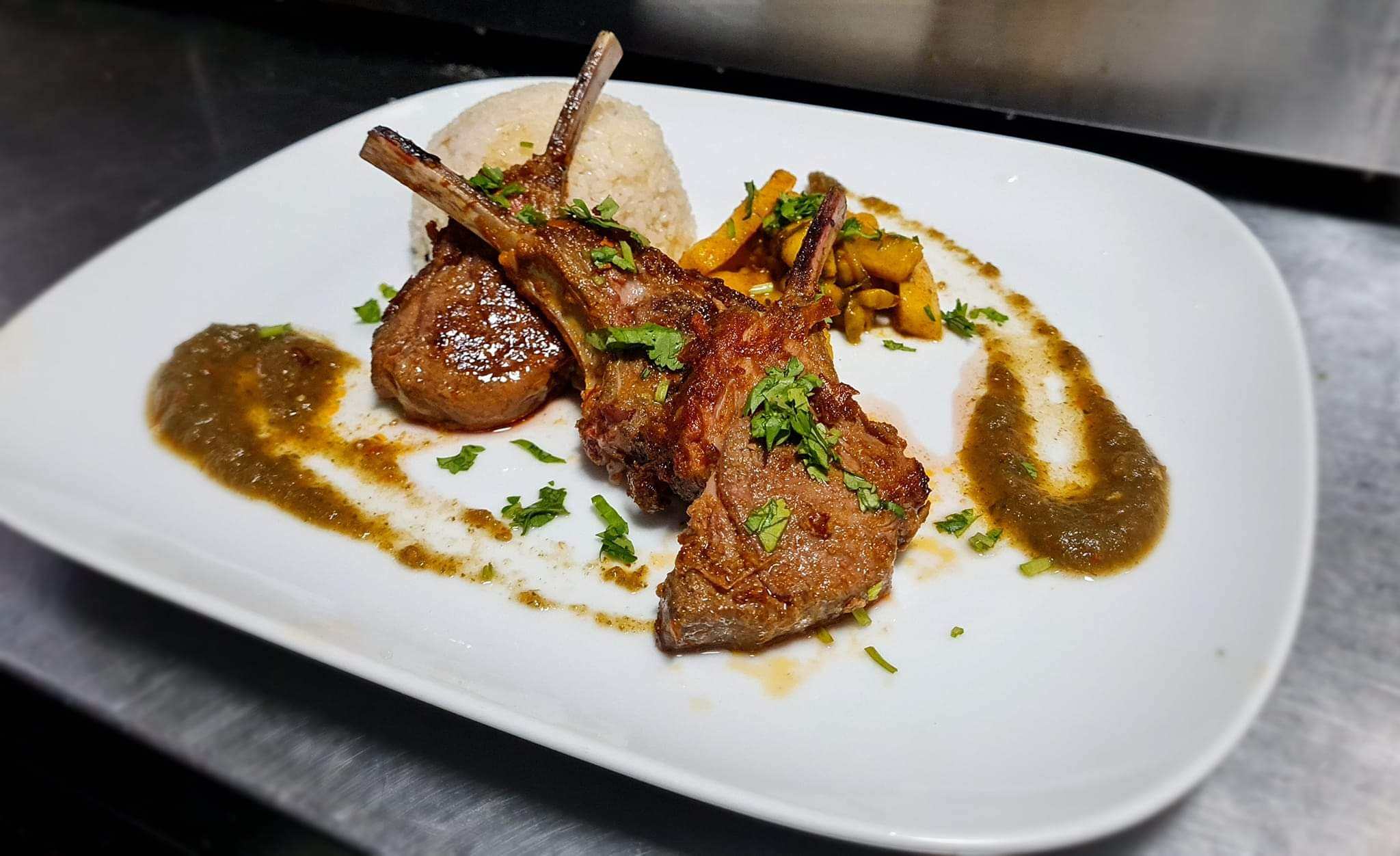 Image credit: Tim's Restaurant & Cafe FB
If you're bored of run-of-the-mill cafes, head to Tim's Restaurant & Cafe. This homely Toa Payoh cafe has been around since 2006, serving up delicious Nepalese and Western fare to Toa Payoh residents.
A must-order is the Chicken Momo ($10.50++): traditional Nepalese meat dumplings with fresh herbs, steamed and served with house-made achar. The restaurant also rolls out daily specials, such as the Nepali Lamb Rack Tash ($27.80++), served with rice on the side. and the popular Nepali Style Pork Belly ($18.50++) that's slow-braised with herbs and spices.
Address: 95 Lor 4 Toa Payoh, #01-52, Singapore 310095
Opening hour: Tue-Sun 11am to 10pm
Tel: 6250 5246
Website
Tim's Restaurant & Cafe is not a halal-certified eatery.
---
10. Glean Cafe
---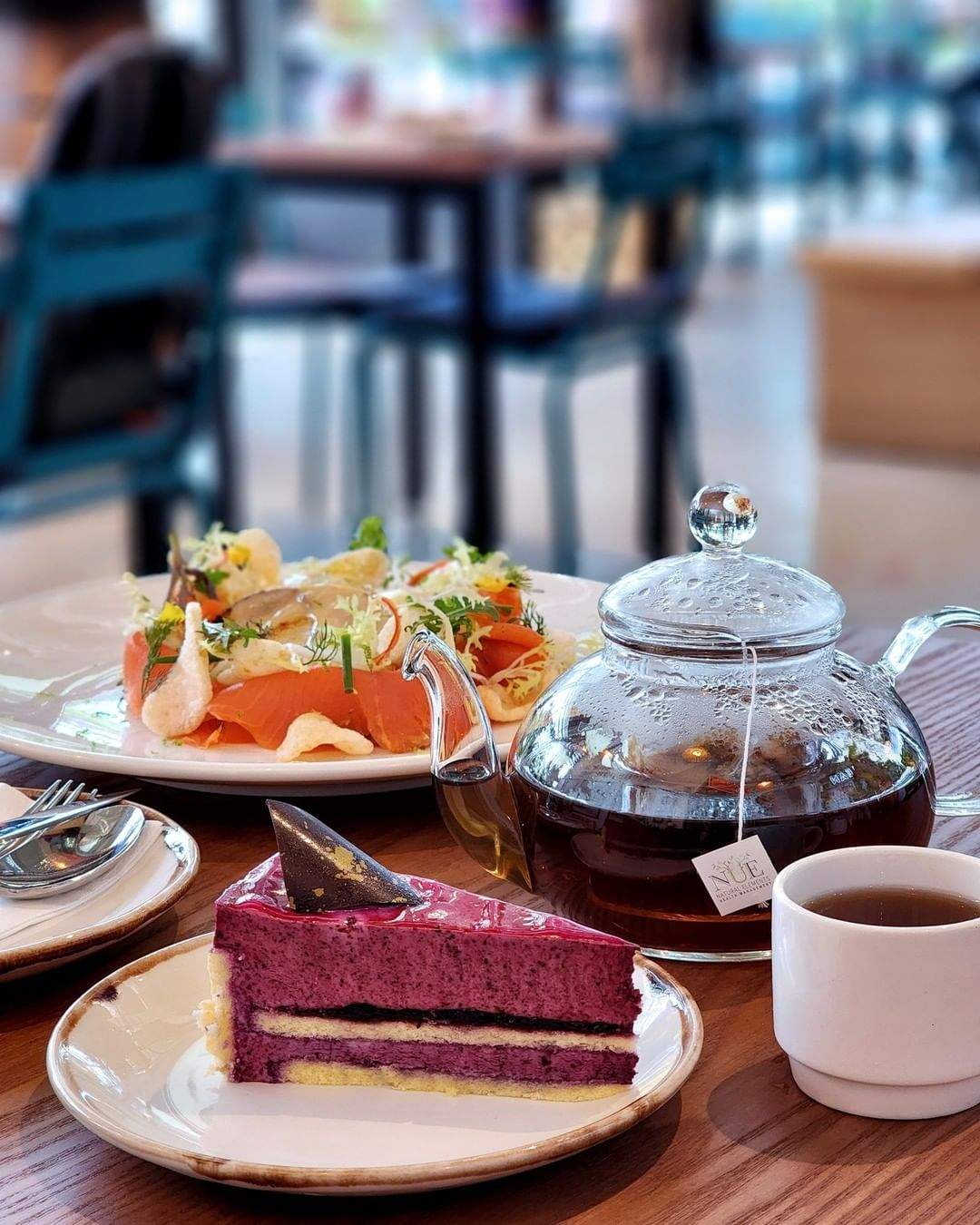 Image credit: @gleancafesg
If you don't mind a bit of travel, hop on the train and alight one stop after at Braddell MRT Station, which is the nearest station to Glean Cafe. This bright and spacious cafe serves all-day brunch dishes, with interesting fusion options such as "Indomie" Pancake & Kurobuta Pork Sausage ($20++) and Asian Inspired Spiced Chicken Rendang Pasta ($18++) on the menu.
Satisfy your sweet tooth with the Vanilla French Toast ($12++), or choose from the display of cakes and pastries (from $7.50) at the counter.
Address: 351 Braddell Road, #01-01, Singapore 579713
Opening hours: Mon-Thurs 10am to 10pm, Fri-Sat 10am to 10:30pm, Sun 10am to 5pm
Tel: 8383 0351
Website
Glean Cafe is not a halal-certified eatery.
---
Toa Payoh cafes that spice up this neighbourhood
---
Whether you're in the mood for a savoury breakfast platter, or delicious desserts after your meal, bookmark these Toa Payoh cafes the next time you're in the area. Time to rope in your food kakis to explore the neighbourhood! 
For more aesthetic cafes to visit, check out our guide to the best brunch and dessert cafes in Singapore. Or if you're in the West, head to the newly opened No Horse Run Cafe in Choa Chu Kang for kolo mee, muah chee gelato and more.
Feature image adapted from @creamier_sg, @neo.food.nature, @gleancafesg, and @yaojun84
This article was originally written by  Yin Yi Lim on 15 February 2018.
20 Cafes In Singapore For Brunch And Desserts, Including Glasshouse And Minimalist Cafes