---
Best waffle places in Singapore

---
One of the most inviting things about ice cream stores is the toasty aroma of freshly made waffles. If you allow yourself to be drawn by the scent, you'll find yourself standing in front of an ice cream display next, deciding which flavours to go with your piping hot waffle. You won't regret it, because your taste buds are in for a treat. 
Crispy, brown waffles. Rich and creamy gelato. That's really all you need for an indulgent break at any time of the day. To save you the trouble of looking for ice cream parlours to visit, here are 20 places to get your waffles and ice cream fix, including one that has savoury waffles too!
---
1. FATCAT Ice Cream Bar
---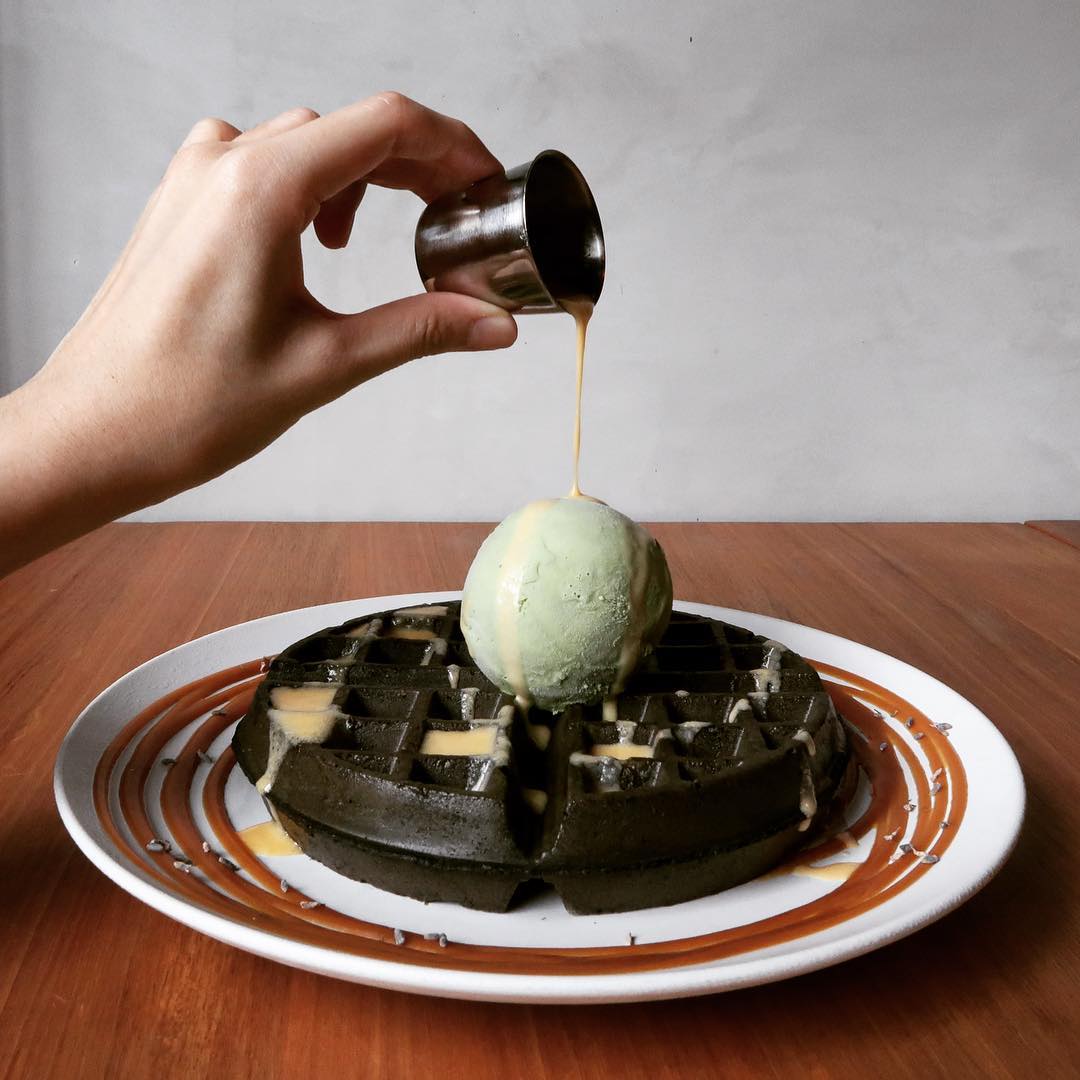 Image credit: FATCAT Ice Cream Bar
FATCAT Ice Cream Bar plays matchmaker with their unconventional ice cream waffle pairings. Order the Charcoal Waffles and Butterbeer Ice Cream ($11), and top it off with a drizzle of liu sha (salted egg yolk) sauce for just an extra dollar! If you're feeling daring, opt for the Mysterious Flavour ($4.50) and let FATCAT surprise you with something you'd never expect.
Address: 416 Bedok North Avenue 2, #01-25, Singapore 460416
Opening hours: Wed-Mon 1pm to 10pm
Tel: 6241 0830
Website
---
2. Sunday Folks

---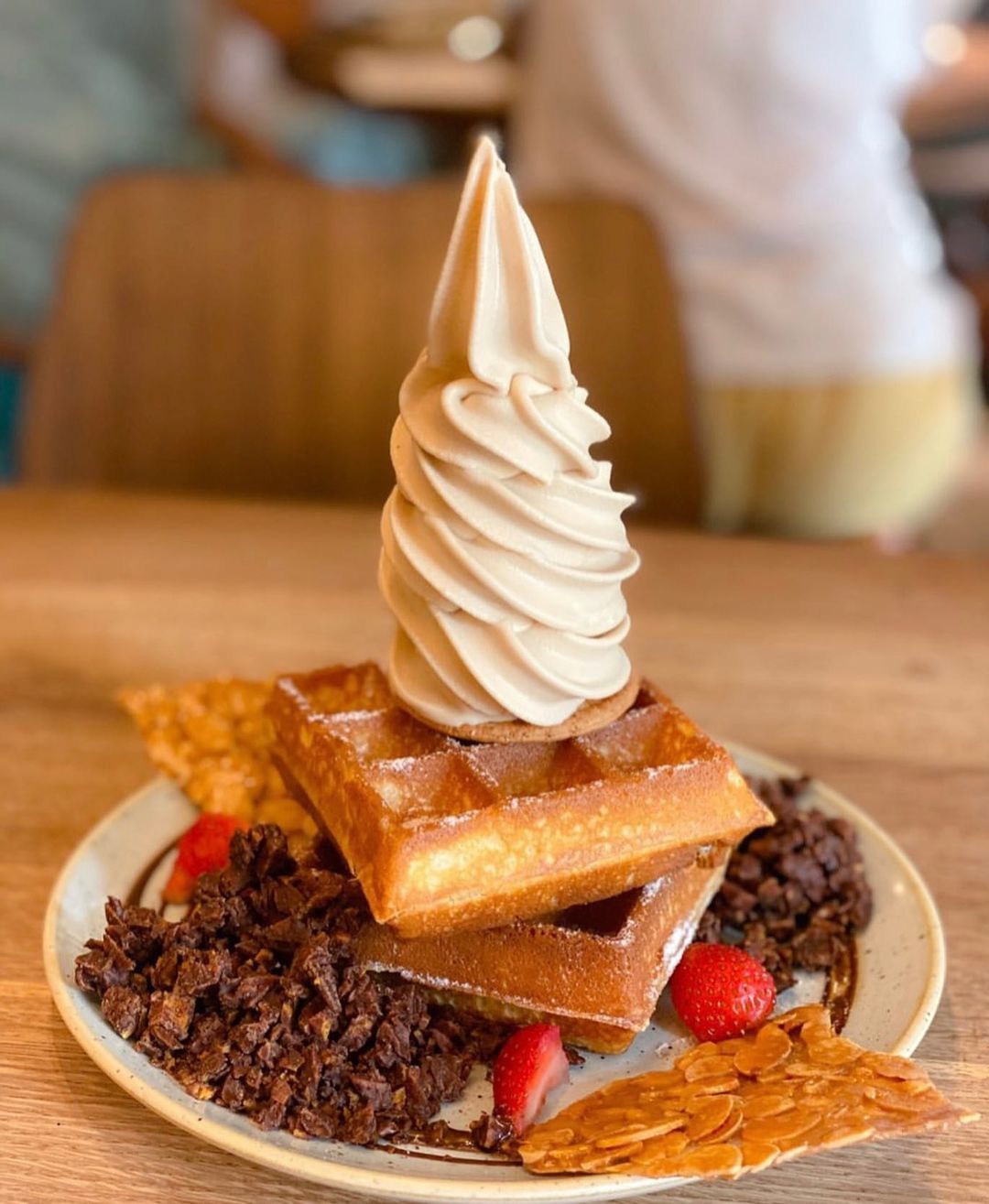 Image credit: Sunday Folks
This quaint looking cafe handmakes small batches of soft serve ice cream every morning to serve with freshly made waffles. The classic Sunday Folks' plate ($11.90) makes for an Instagram worthy shot ─ two square Belgian waffles with a swirl of creamy soft serve. A bite of their crispy waffles paired with a dollop of creamy Earl Grey Lavender ice cream will have you begging for more.
Address: 44 Jalan Merah Saga, #01-52, Chip Bee Gardens, Singapore 278116
Opening hours: Tue-Sun 1pm to 10pm
Tel: 6479 9166
Website
---
3. Hatter Street Bakehouse & Café
---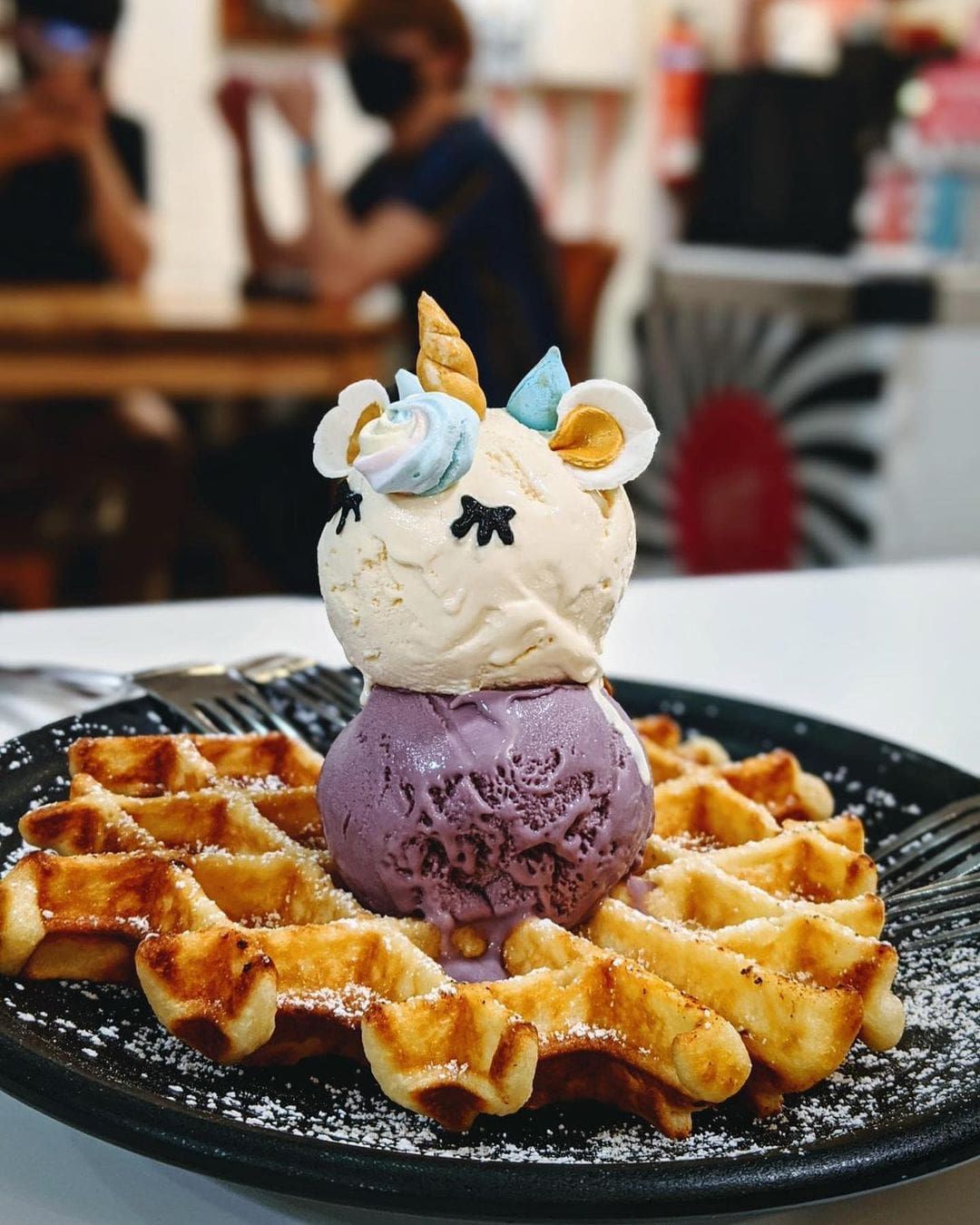 Image credit: @weeeekday
Finally, a chance to play Alice at the Mad Hatter's tea party! I was taken away by the quirky decorations and smell of fresh bakes upon entering Hatter Street Bakehouse & Café. They also serve a variety of ice cream flavours, including White Chocolate and Pandan-flavoured ones. Their famous waffles are crispy on the outside and soft on the inside. The sauce is always drizzled on like a masterpiece, making for the perfect Instagram shot. Look out for their ice cream waffle combinations at only $8.50. A good price for rich creamy goodness.
Address: 212 Hougang Street 21, #01-333, Singapore 53021
Opening hours: Daily 12pm to 10pm
Tel: 6988 4591
Website
---
4. Creamier Handcrafted Ice Cream and Coffee
---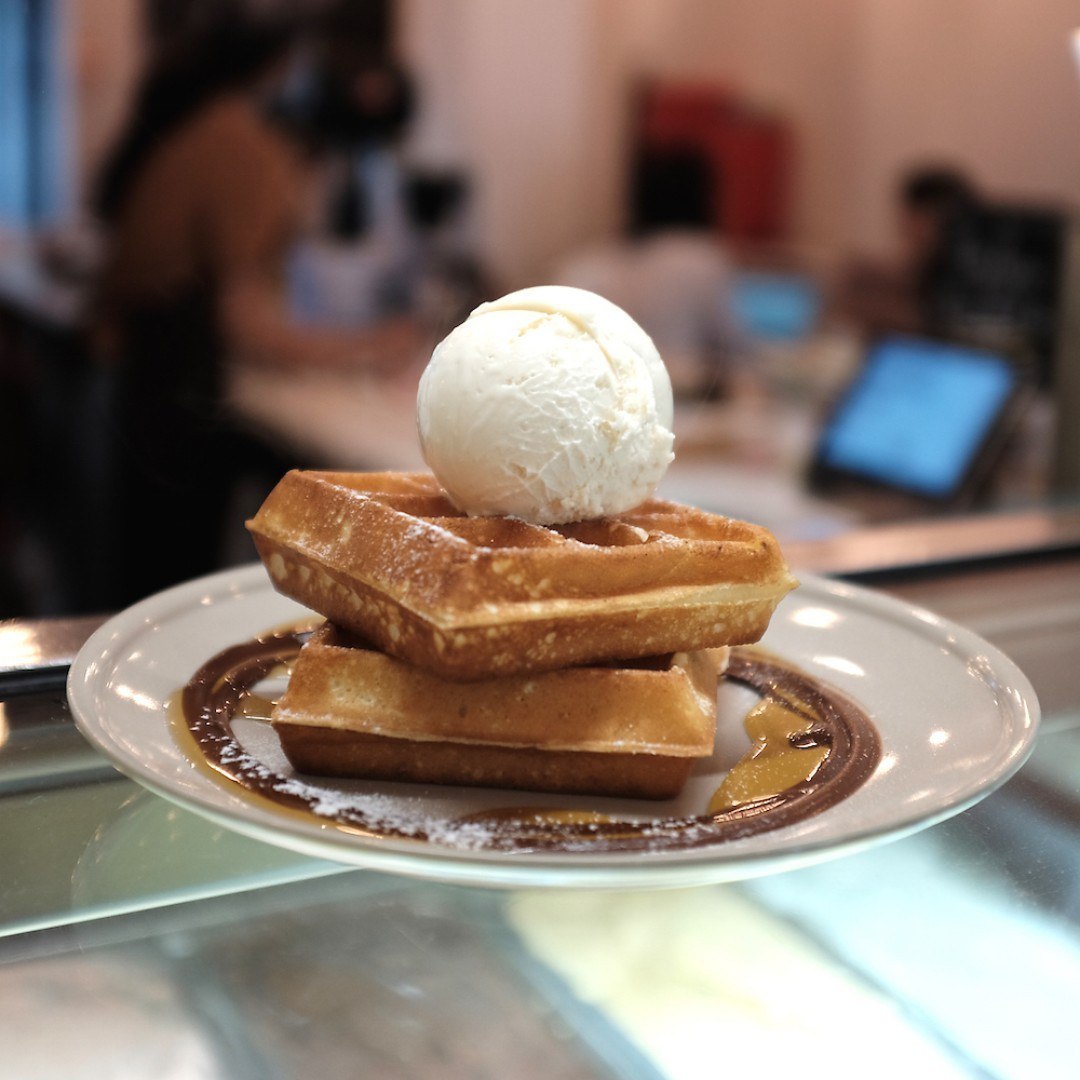 Image credit: Creamier Handcrafted Ice Cream and Coffee
If there was a competition for the crispiest waffle, I think we have a winner in Creamier Handcrafted Ice Cream and Coffee. Waffles here, with an undeniable crisp and fluffy texture, are served in twos ($6). Accompany this with an additional scoop of their freshly churned ice cream ($8.50), produced using only natural quality ingredients such as Tahitian Vanilla Beans and hand-harvested sea salt. You'll never go wrong with their best-selling ice-cream flavours, so check out their Earl Grey Lavender and seasonal Tau Huay (soya bean) ice creams!
Address: 131 Toa Payoh Lorong 1, #01-02, Singapore 310131
Opening hours: Tue-Sun 12pm to 10pm
Tel: 6250 1476
Website
---
5. The Milky Way
---

Image credit: @shovethisinyourface 
This quirky cafe will surely satisfy ice cream fans. The Milky Way serves ice cream ($3.80) that's rich and aromatic. Their signature flavours include Smurf (butterscotch flavour), Sicilian Pistachio, and Mao Shan Wang Durian. What really caught my attention was the fact that Smurf does not contain any artificial colouring! The cafe uses blue butterfly pea flowers to create a rich blue hue. Let's not forget the crisp waffles ($5) that are surprisingly buttery inside.
Address: 48 Tanglin Halt Road, #01-333, Singapore 142048
Opening hours: Tue-Sun 10am to 9pm
Tel: 9827 6502
Website
---
6. MADLYGOOD
---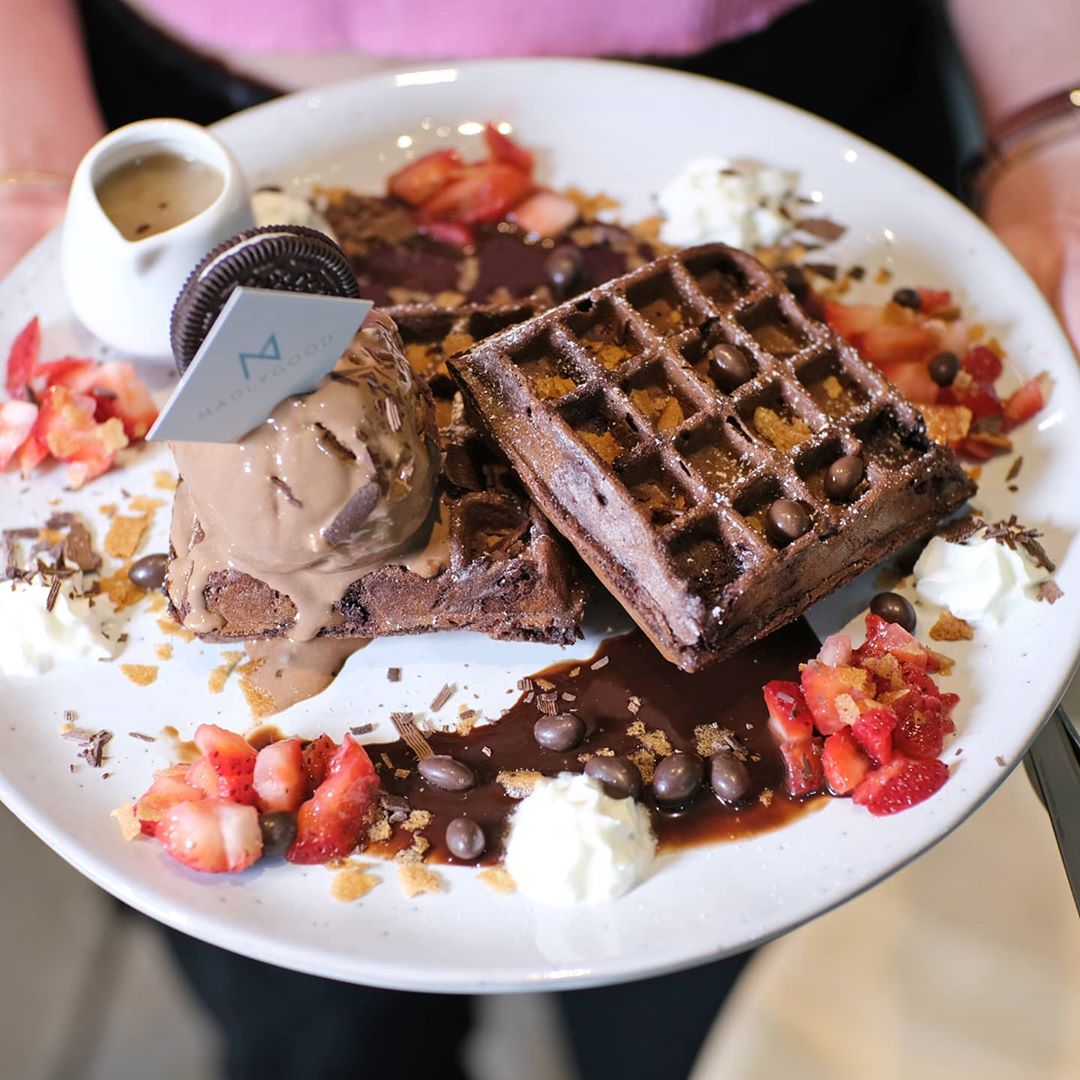 Image credit: MADLYGOOD
Stand in front of MADLYGOOD's counter and you'll find yourself having a hard time pondering what to get. That's because they serve a couple of wafflewichs as well as waffle and ice cream combinations, like the chocolatey Muddy Banana Caramel ($15.50) which is a hot favourite. For those who still can't decide, try their latest anniversary-special dish ─ Speculoos Biscoff Waffles. With two hefty pieces of speculoos waffles, this new creation is served with a fragrant housemade vanilla butter sauce, fruits and a black sesame powder garnishing.
Read our review of MADLYGOOD here.
MADLYGOOD Review: New Cafe With Cream Cheese Gelato And Peanut Butter Waffles At JCube
Address: 2 Jurong East Central 1, #03-12, JCube, Singapore 609731
Opening hours: Wed-Mon 12:30pm to 9:30pm, Tue 1pm to 9:30pm
Tel: 6694 3235
Website
---
7. Three's A Crowd
---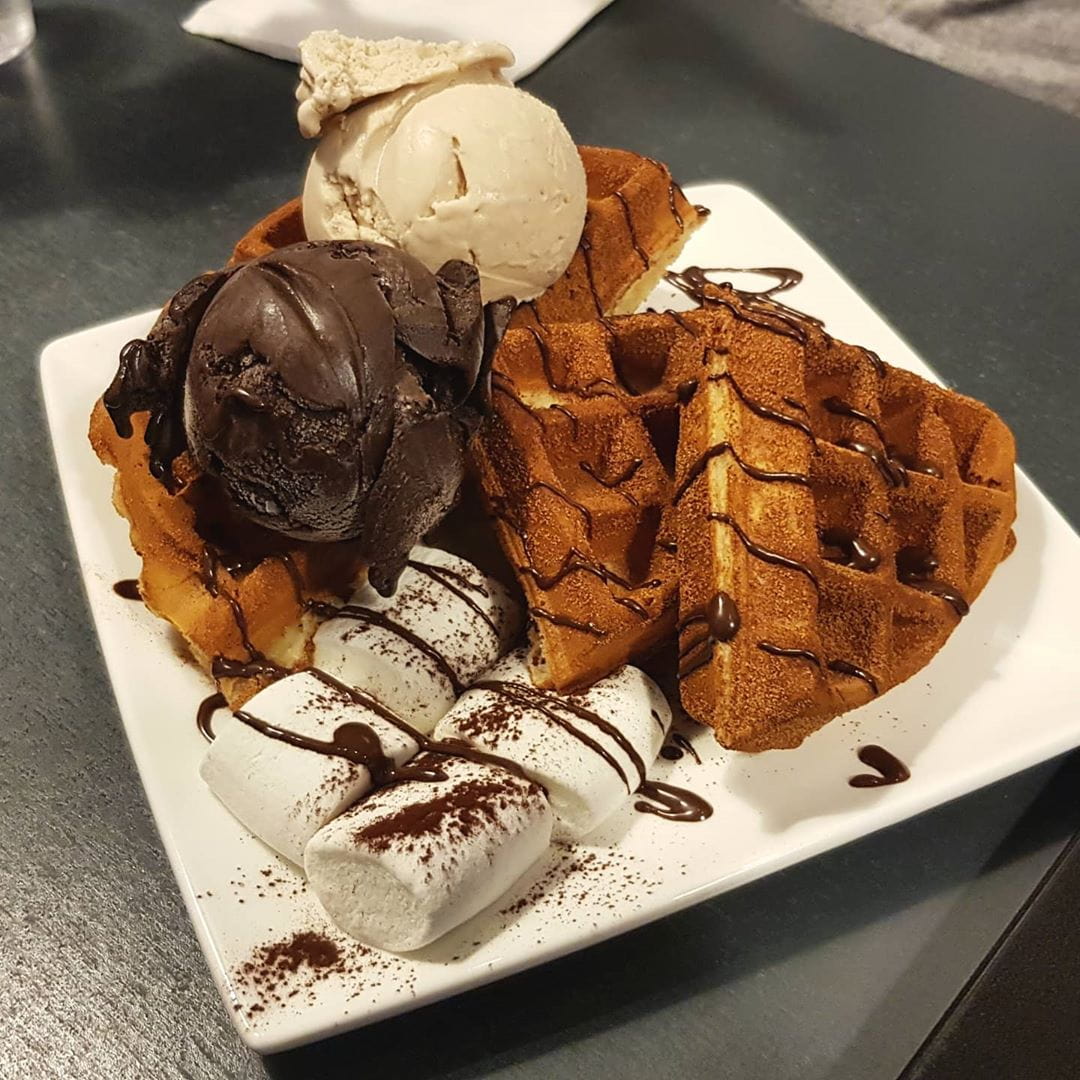 Image credit: @foooodieholic
As an Eastie, I boast about this cafe a lot because of their interesting creations. Three's a Crowd plays around with flavours that truly appeal to our local palate, such as the Churros Waffles ($8) that are generously coated with cinnamon sugar and paired with toasted marshmallow and chocolate sauce. Make it extra decadent by topping it up with a scoop of their freshly churned ice cream ($3), though we recommend their premium flavours ($4) like the Leegacy (dark chocolate) or Roasted Pistachio.
Read our review of Three's a Crowd here.
Three's A Crowd Cafe Review: Horlicks Waffles At A HDB Ice Cream Cafe In Tampines
Address: 802 Tampines Ave 4, #01-11, Singapore 520802
Opening hours: Sun-Fri 11am to 10:30pm, Sat 11am to 12am
Tel: 6702 0700
Website
---
8. 100Labs
---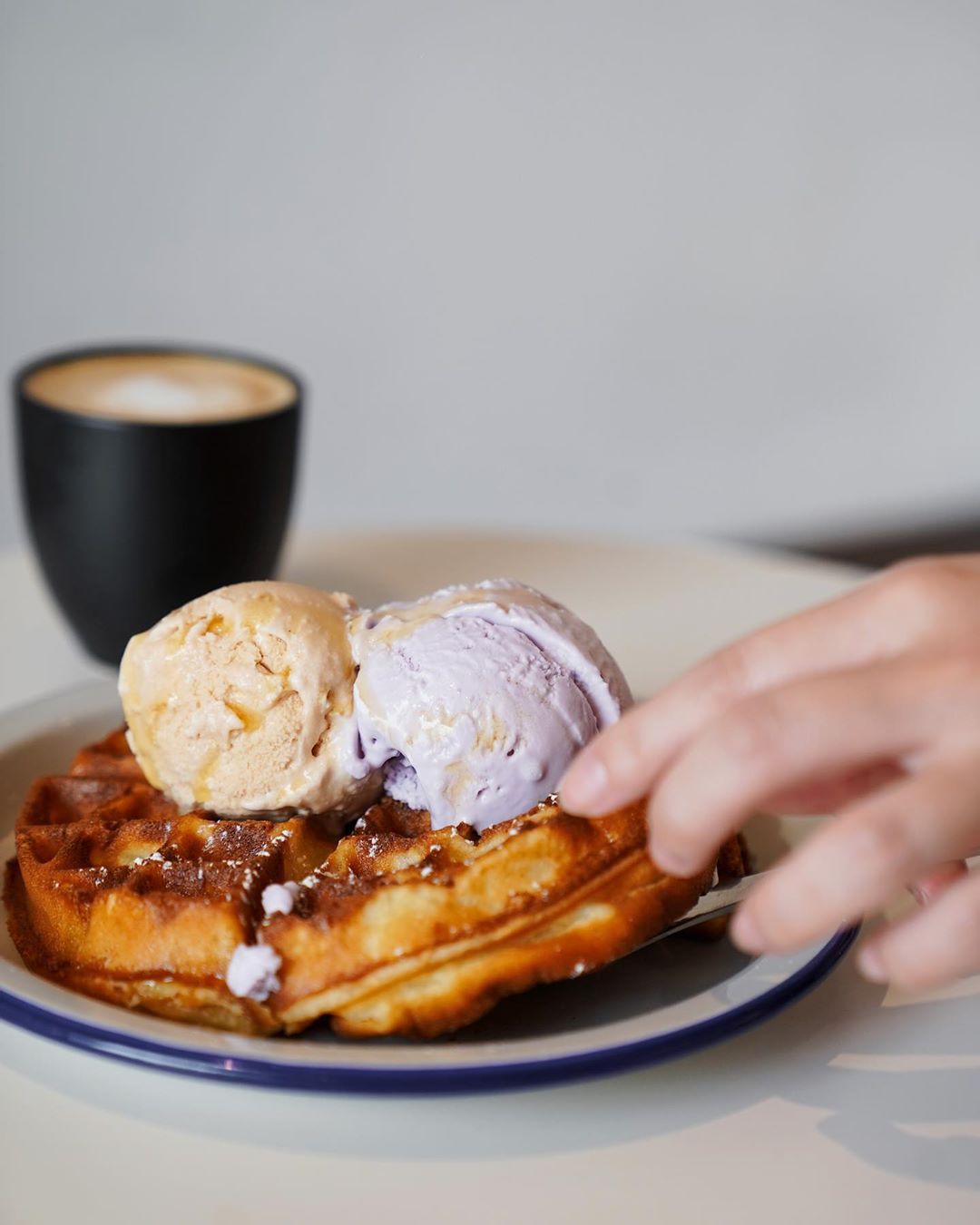 Image credit: @iris.nihao
Make way for 100Labs, the new halal gelato cafe in town. Located in Bugis, one of Singapore's popular food enclaves, this could be your next go-to spot for desserts. Their buttermilk waffles and ice cream range from $7 to $12.90. Expect crispy edges, a fluffy centre, as well as an incredible buttery fragrance with their Buttermilk Waffles. Some of their creamy gelatos include Taro Yam & Coconut, and Hojicha Green Tea. Oh, and if the same old flavours don't intrigue you anymore, fret not because 100Labs rolls out 12 new flavours every month to keep things fresh!  
Address: 41 Sultan Gate, Singapore 198489
Opening hours: Sun-Thu 12pm to 10pm, Fri-Sat 12pm to 12am
Tel: 6655 7649
Website
---
9. Lickers
---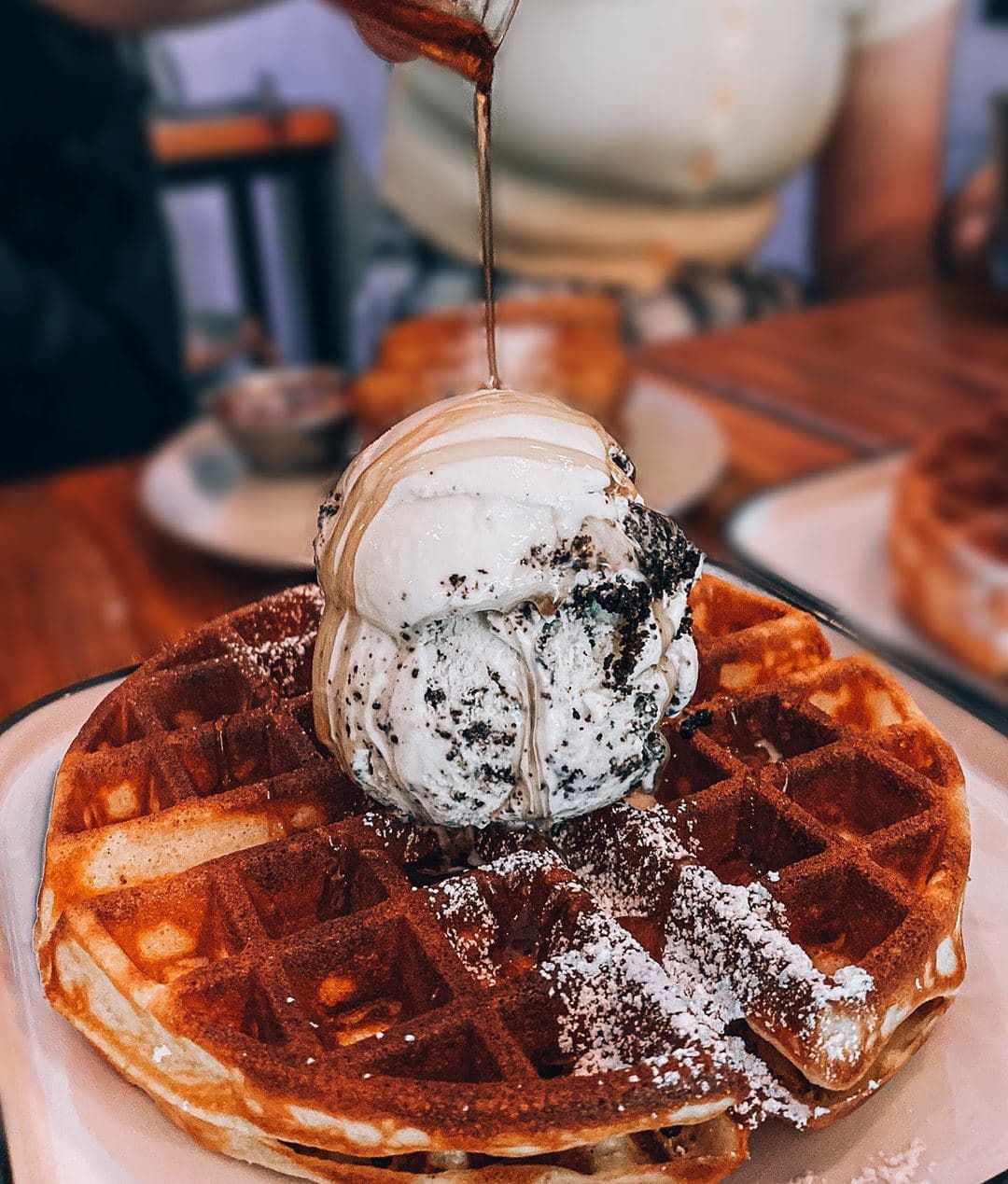 Image credit: @fatslifes
Many head to Lickers to satisfy their late-night sugar cravings because this ice cream bar opens till 2am daily! On top of its laid-back ambience and cheeky neon decor, they serve ice cream and waffles that are as Instagrammable as its interior. A thick slab of their waffles with a scoop of ice cream costs $7.50. Look out for some of their more interesting flavours such as Oolong Lavender, Cookie Monster as well as Yakult Oreo. Be prepared to queue especially if you're heading over after 10pm!
Address: 124 Hougang Avenue 1, #01-1446, Singapore 530124
Opening hours: Tue-Thu 1pm to 2am, Fri-Sun 12pm to 2am
Website
---
10. Oblong
---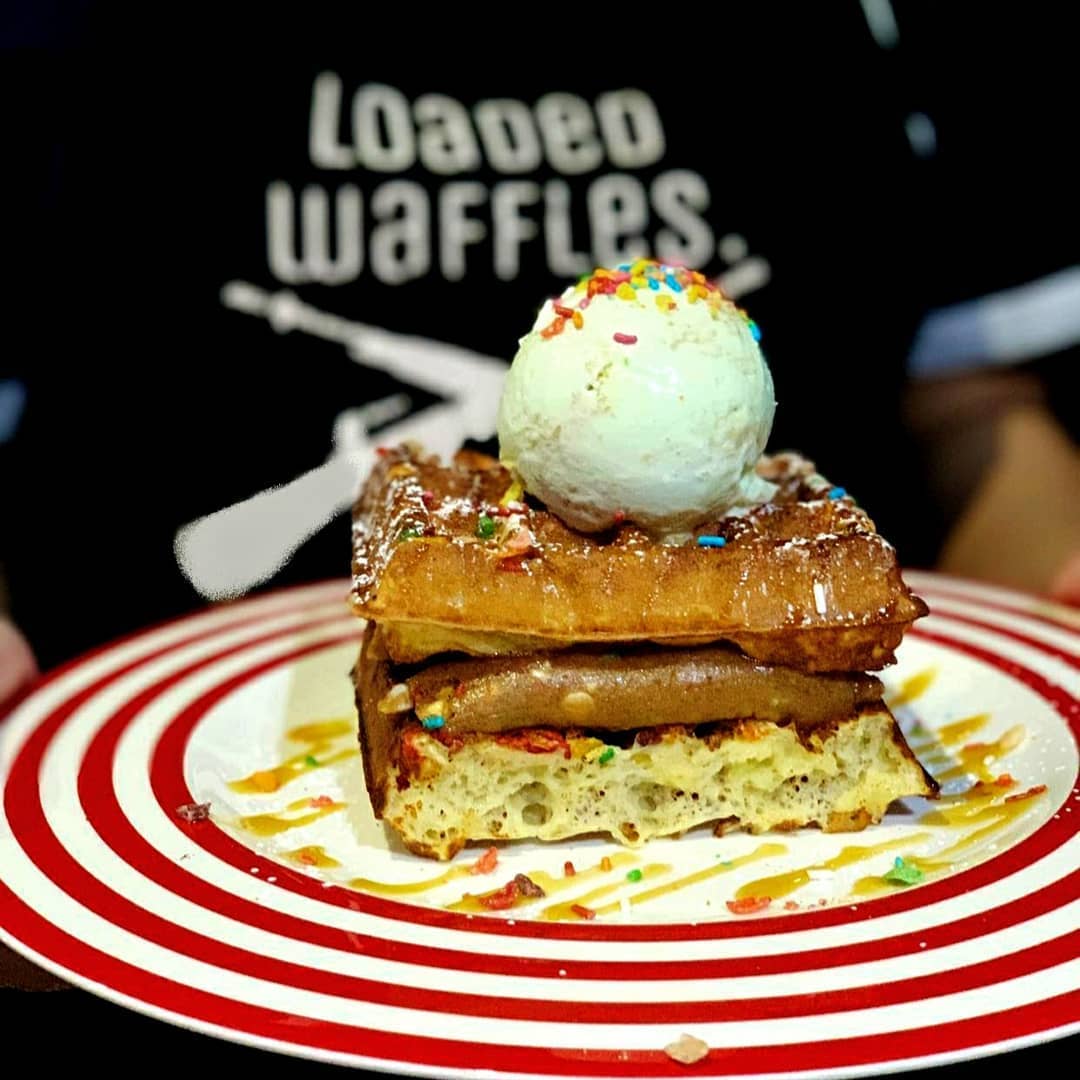 Image credit: Oblong
Oblong makes truly extravagant and unique loaded waffles. Customise your own combo ($10) with your choice of waffles, syrup and ice cream. Besides the usual waffle flavours like Buttermilk and Red Velvet, go big or go home with their supreme flavours for an additional $3 ─ Tiramisu, S'Mores and Strawberry Shortcake.
Address: 10 Maju Avenue, Singapore 556688
Opening hours: Sun-Wed 12pm to 11pm, Fri-Sat 1pm to 1am
Website
---
11. Hey Sugar
---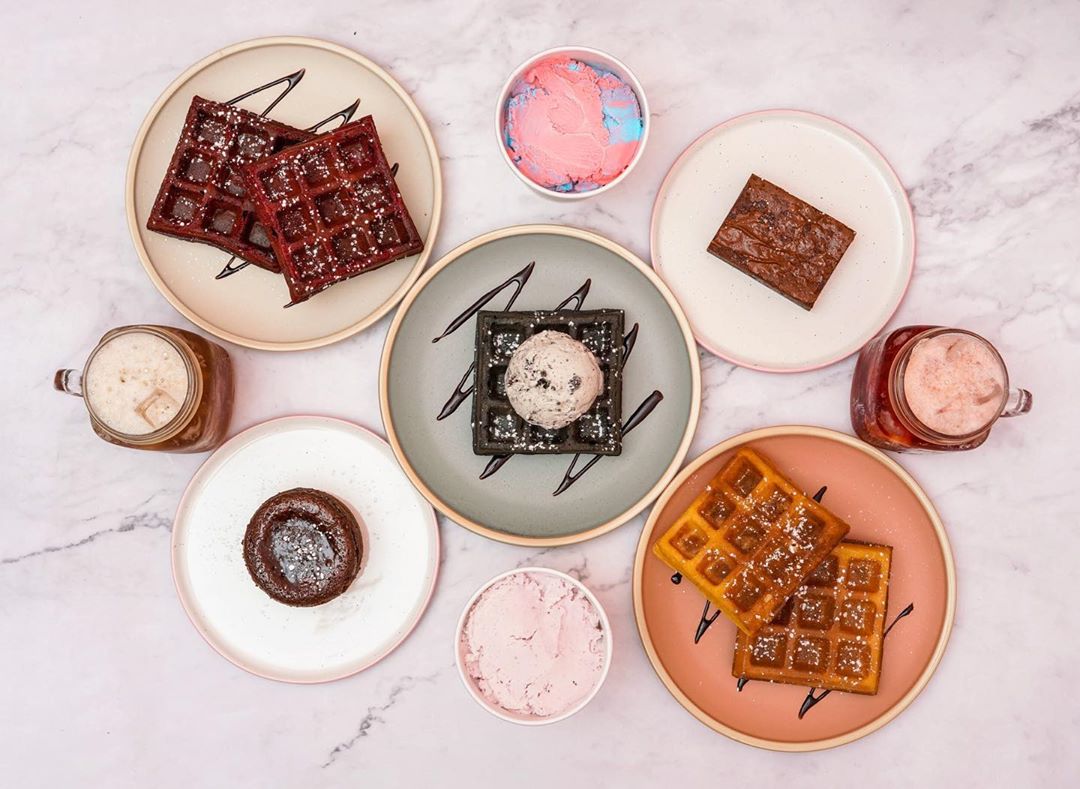 Image credit: Hey Sugar
Located in Choa Chu Kang, Hey Sugar isn't just a place that's pretty in pink. They also serve great waffles along with an array of ice cream flavours such as Cotton Candy Bubblegum and Blueberry Yogurt. Stretch your dollar with their waffles, available in Plain, Charcoal or Red Velvet, with their single scoop ice cream set ($9.90) that's accompanied with your choice of Ice Brewed Shaken Tea. 
Address: 818 Choa Chu Kang Avenue 1, #01-06, Singapore 680818
Opening hours: Sun-Thu 12:30pm to 10:30pm, Fri-Sat 12:30pm to 11:30pm
Website
---
12. Bloom Artisan
---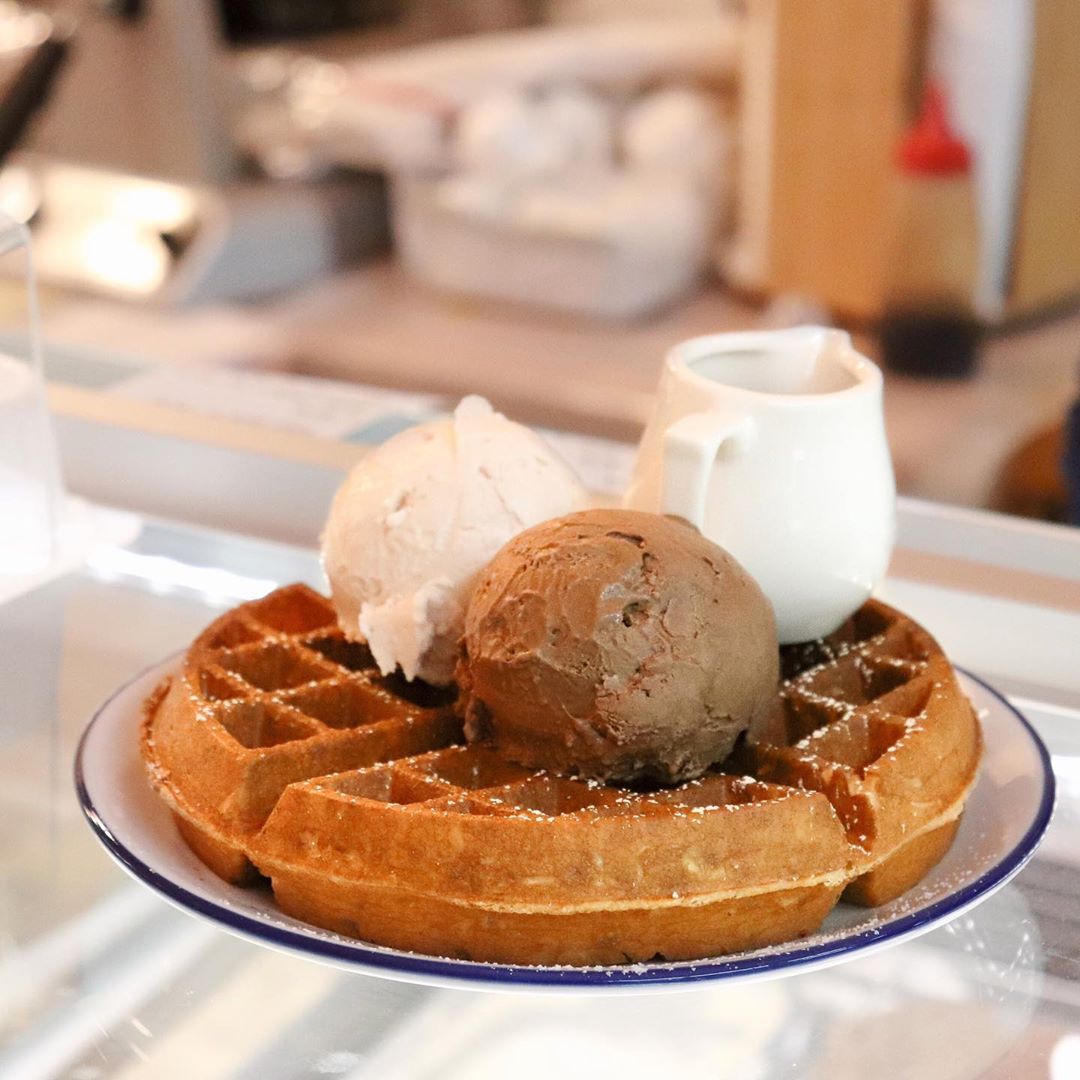 Image credit: Bloom Artisan
If you've seen our review on Bloom Artisan, then you'll know we loved their handcrafted gelato and sourdough waffles. Revel in their crispy and aromatic Brown Butter Sourdough Waffle ($4) that has a harmony of tangy and savoury flavours. Don't forget to top up with two scoops of ice cream ($6), especially with their boozy flavours such as the Whiskey Crancherry and Maryland & Cacao.
Read our review of Bloom Artisan here.
Bloom Artisan Review: Gelato Cafe With Sourdough Waffles And Unique Flavours Such As Wheatmilk In Yishun
Address: 645 Yishun Street 61, #01-322, Singapore 760645
Opening hours: Mon, Wed-Fri 12pm to 10pm, Sat-Sun 11am to 10pm
Tel: 9889 0366
Website
---
13. Wimbly Lu
---

Image credit: @ms_whitephink
People flock to Wimbly Lu especially on weekends for two things ─ brunch and desserts. Of course, if you're here for their waffles and ice cream ($7.50), you won't be disappointed. While their selection of flavours is not as extensive as other parlours, the tastes and textures of their offerings are right on point. We hear their Chocolate Truffle and Honey Cinnamon ice cream are pretty good. Douse it with maple syrup for an extra burst of sweetness!  
Address: 15-2 Jalan Riang, Singapore 358987
Opening hours: Mon-Fri 11am to 10pm, Sat-Sun 9am to 10pm
Tel: 6289 1489
Website
---
14. Shrove Tuesday
---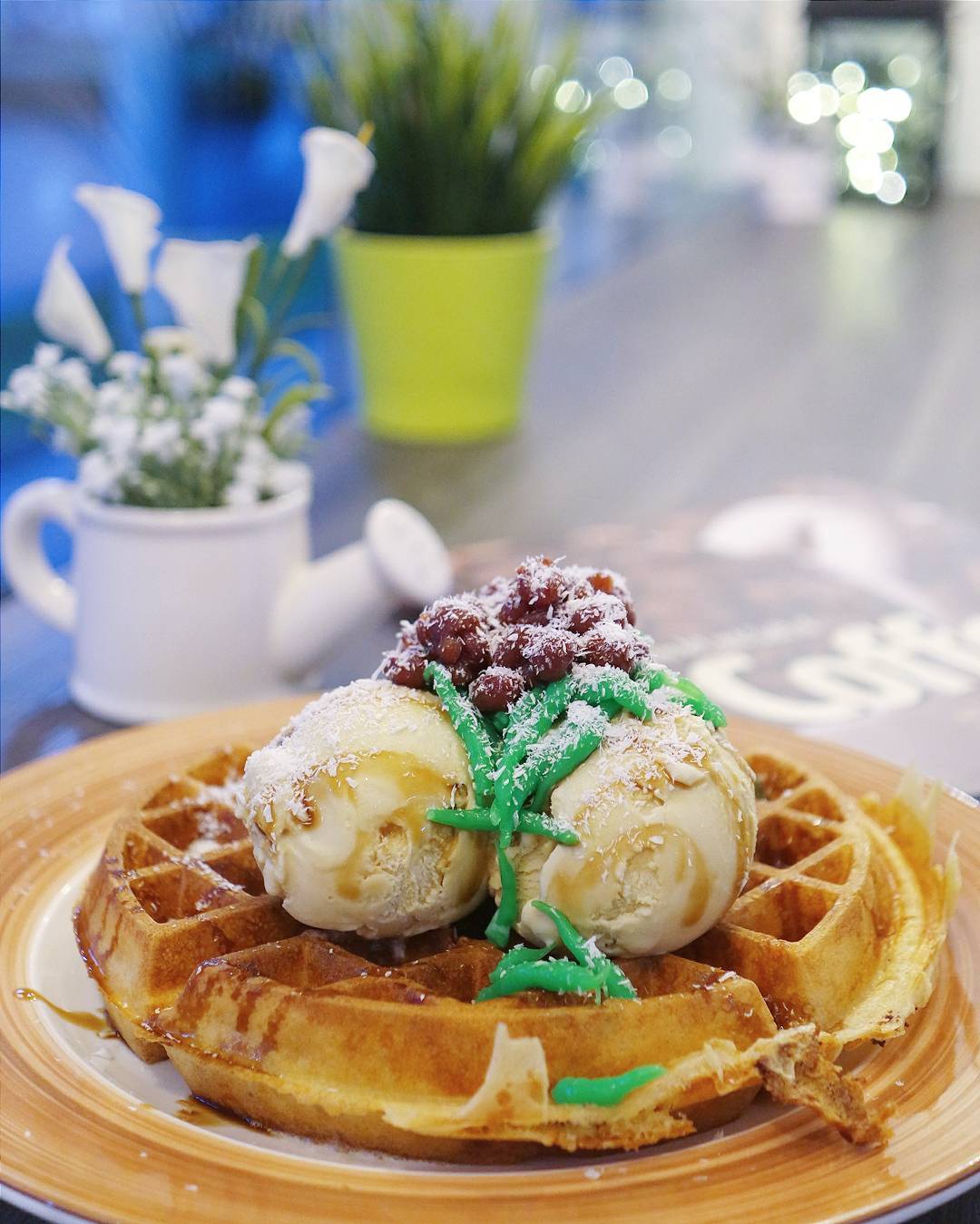 Image credit: @anthony.ali
Shrove Tuesday is also known as Pancake Day, though this cosy cafe in Toa Payoh serves waffles instead. Pair their light and crispy Signature Plain Waffles with either their soft-serve ($8) or artisan gelato ($8.50). They also have their own waffle creations, such as the Nyonya Chendol ($12.90). This dessert features two generous scoops of chendol gelato and vanilla soft-serve, adorned with azuki red beans, strands of chendol jelly, gula melaka and coconut flakes.  
Address: 94 Lorong 4 Toa Payoh, #01-32, Singapore 310094
Opening hours: Sun-Thu 12pm to 9pm, Fri-Sat 12pm to 10pm
Tel: 6258 2254
Website
---
15. Celine's Gelato
---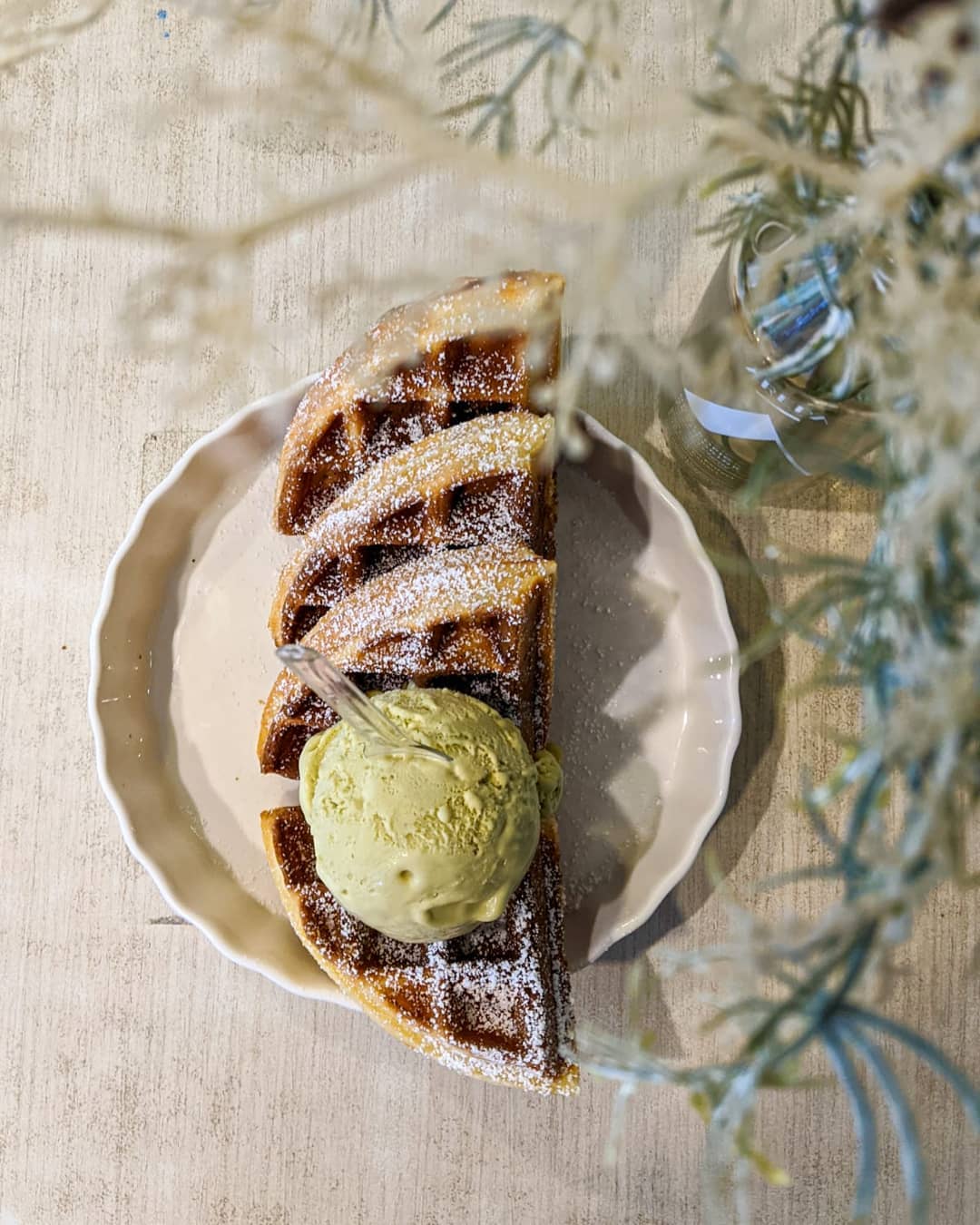 Image credit: Celine's Gelato
What was initially a portable gelato cart has now expanded to a new brick-and-mortar ice cream shop at Novena Regency. At Celine's Gelato, you can choose between six to eight simple flavours starting from $5 a scoop, which is served right from the cart's golden pozzetti, which is a traditional way of storing gelato. Complete your gelato with their freshly made buttery waffles ($2) as well as chocolate shavings ($1). 
Address: 275 Thomson Road, #01-30, Novena Regency, Singapore 307645
Opening hours: Mon-Sat 10am to 8pm
Tel: 9068 8961
Website
---
16. Obsessive Chocolat Desire Cafe
---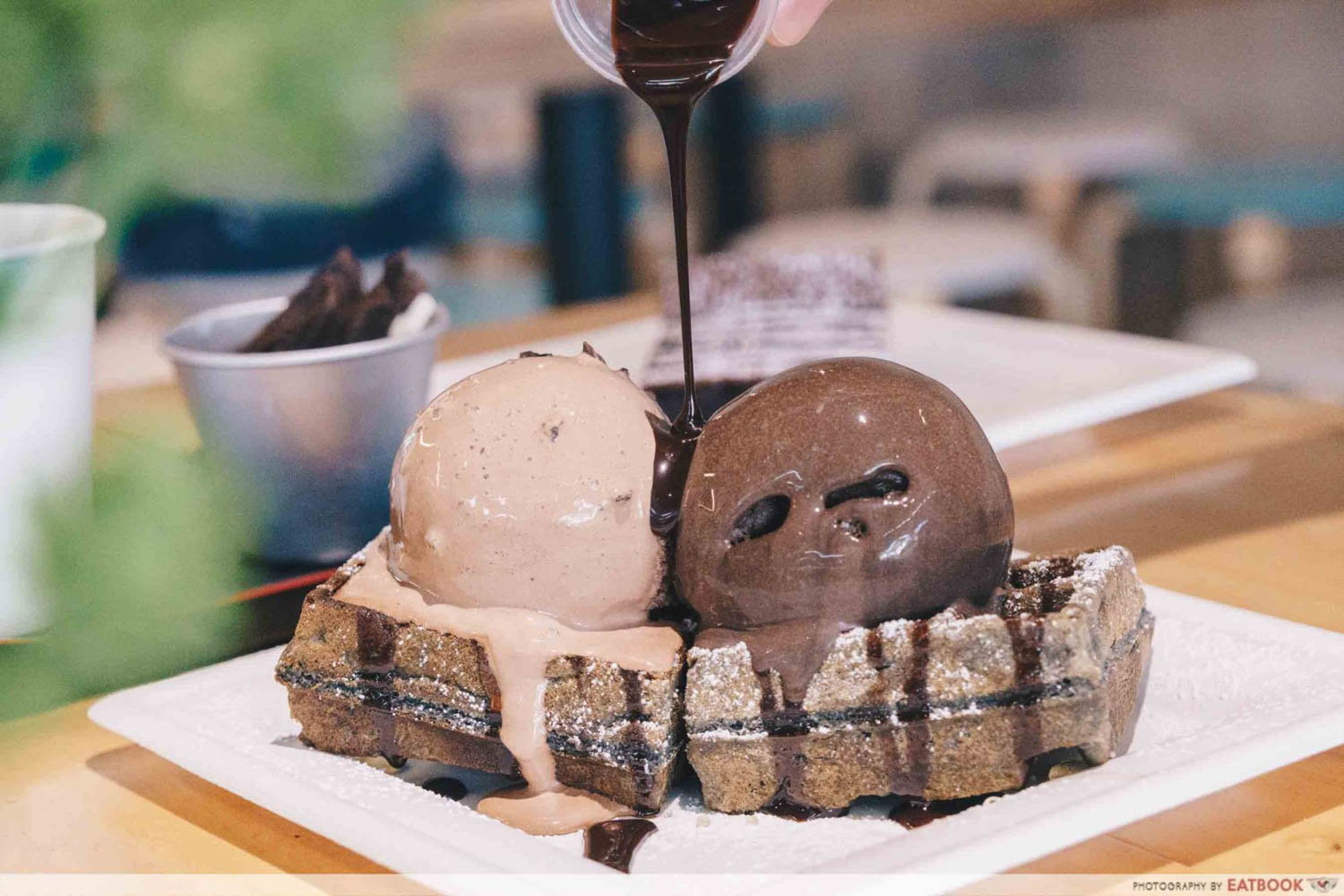 This one's for the chocoholics. Obsessive Chocolat Desire Cafe specialises in chocolate desserts, including their selection of chocolate ice cream with different cocoa percentages. Whether it is the semi-sweet milk chocolate or the rich, bittersweet cocoa flavour, there's something for everyone here. Select between the Original, Chocolate and Black Sesame Waffle ($5) with an additional ice cream of your choice ($4). If you're feeling adventurous, opt for their Corn Cheese or Truffle Waffle ($5) instead. 
Read our review of Obsessive Chocolat Desire Cafe here. 
Obsessive Chocolat Desire Cafe: Chocolate Cafe At Jalan Besar With Waffles And Ice Cream
Address: 114 Jalan Besar, Singapore 208834
Opening hours: Daily 11am to 11pm
Website
---
17. Denzy Gelato
---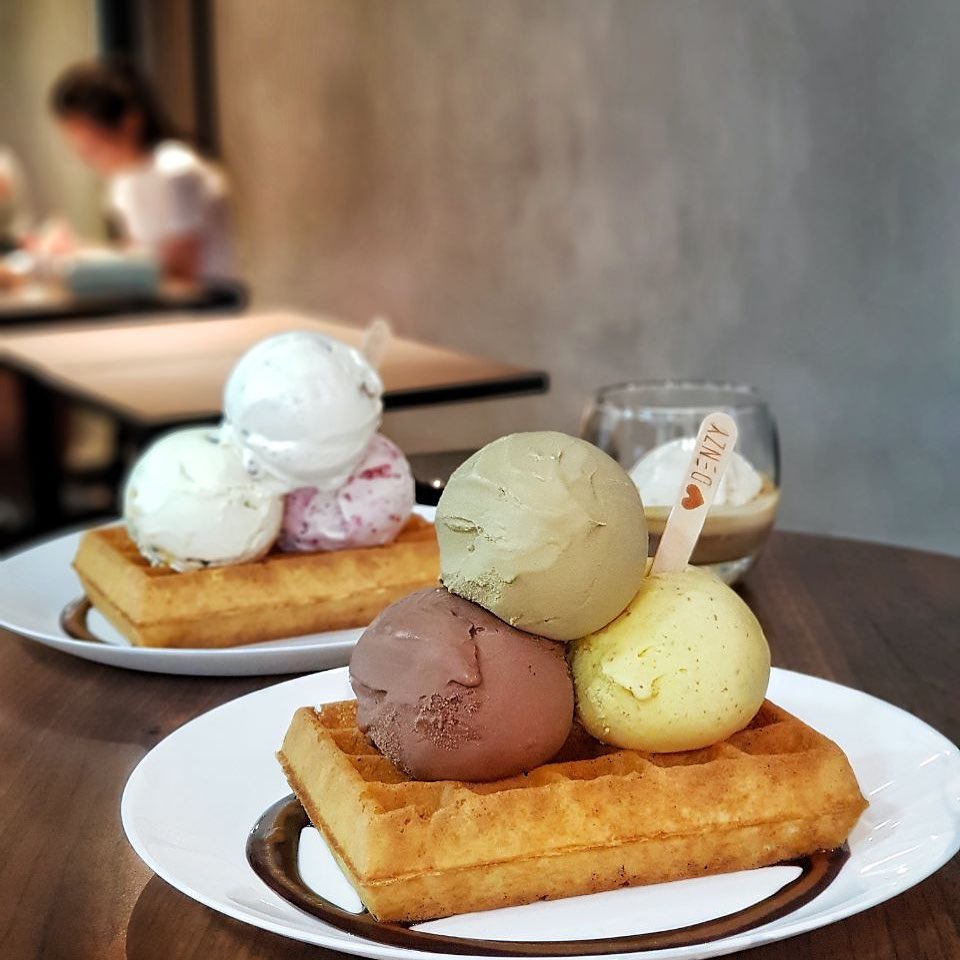 Image credit: Denzy Gelato
Titled as Singapore's Best Gelato in 2019, Denzy Gelato has legit handcrafted ice cream with unique flavours that would surely pique your interest. Look out for one of their best-seller, the Persian Prince, which is a blend of almond and saffron. They also managed to transform a typical breakfast item into a delicious gelato flavour ─ Cereal Milk. Accompany a single scoop of gelato ($3.60) with a slice of waffle ($5) to make this sweet treat even more satisfying.
Read our review of Denzy's Gelato here. 
Denzy Gelato Review: Ice Cream Cafe With Unique Flavours Such As Saffron At Bishan
Address: 506 Bishan Street 11, #01-404, Singapore 570506
Opening hours: Daily 12pm to 10pm
Tel: 8876 4925
Website
---
18. Lickety
---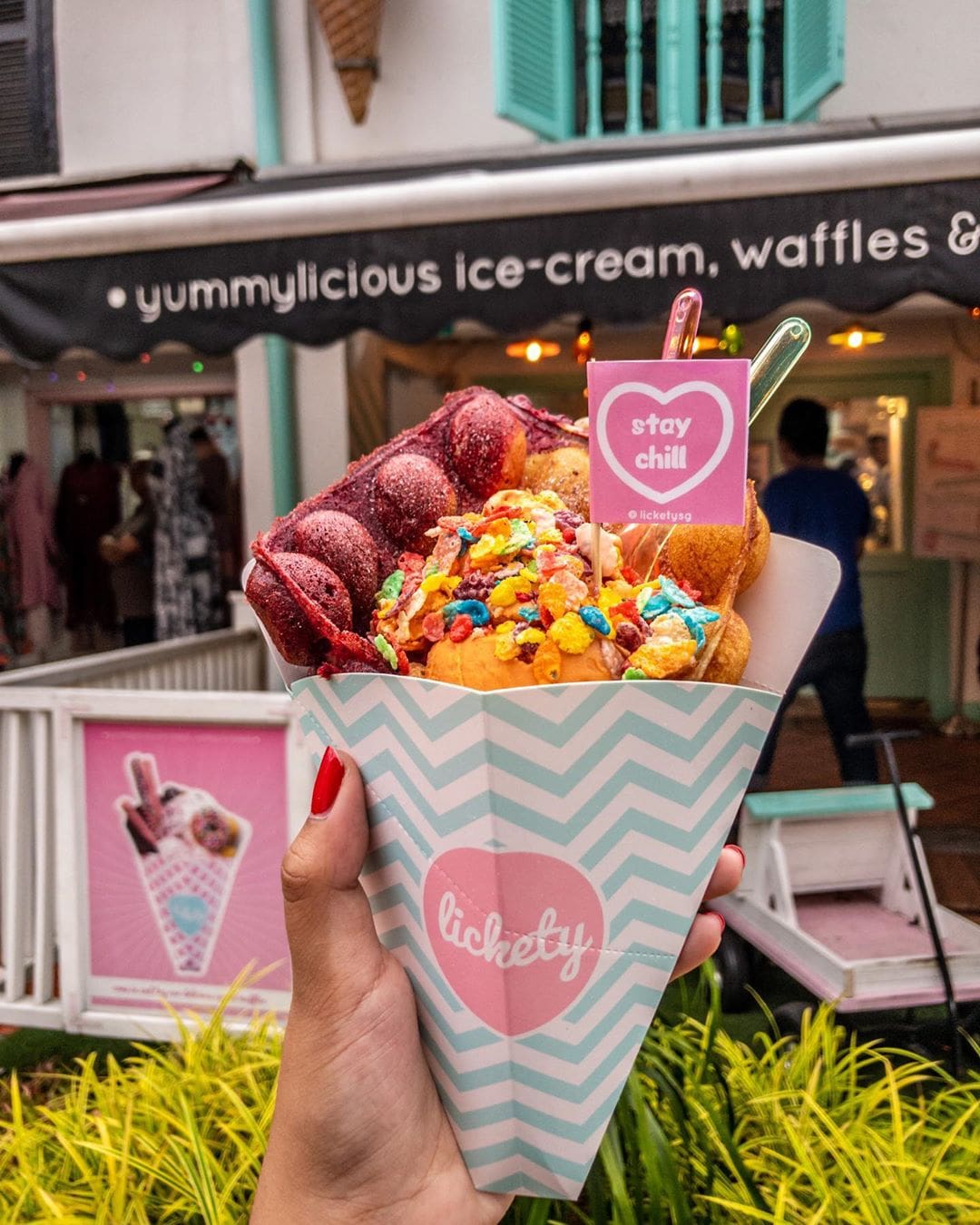 Image credit: @dyvnlicious
Located in the same vicinity as 100Labs, Lickety is known for their vibrant, colourful desserts and pastel-hued interior. This ice cream joint swaps out the typical honeycomb-patterned waffles for egg waffles. If you're not sure what to order, grab their Red Velvet and Buttermilk Waffles with Sea Salt Ice Cream and Fruit Loops ($8.90). This dessert comes with a duo of eggy waffles with hints of sweet and salty from the ice cream and toppings. Lickety also has other toppings such as pocky sticks, marshmallow and oreo to pair your waffles and ice cream with.  
Address: 34 Bussorah Street, Singapore 199452
Opening hours: Sun-Thu 12pm to 10pm, Fri-Sat 12pm to 11pm
Tel: 9002 3853
Website
---
19. Chapter 55
---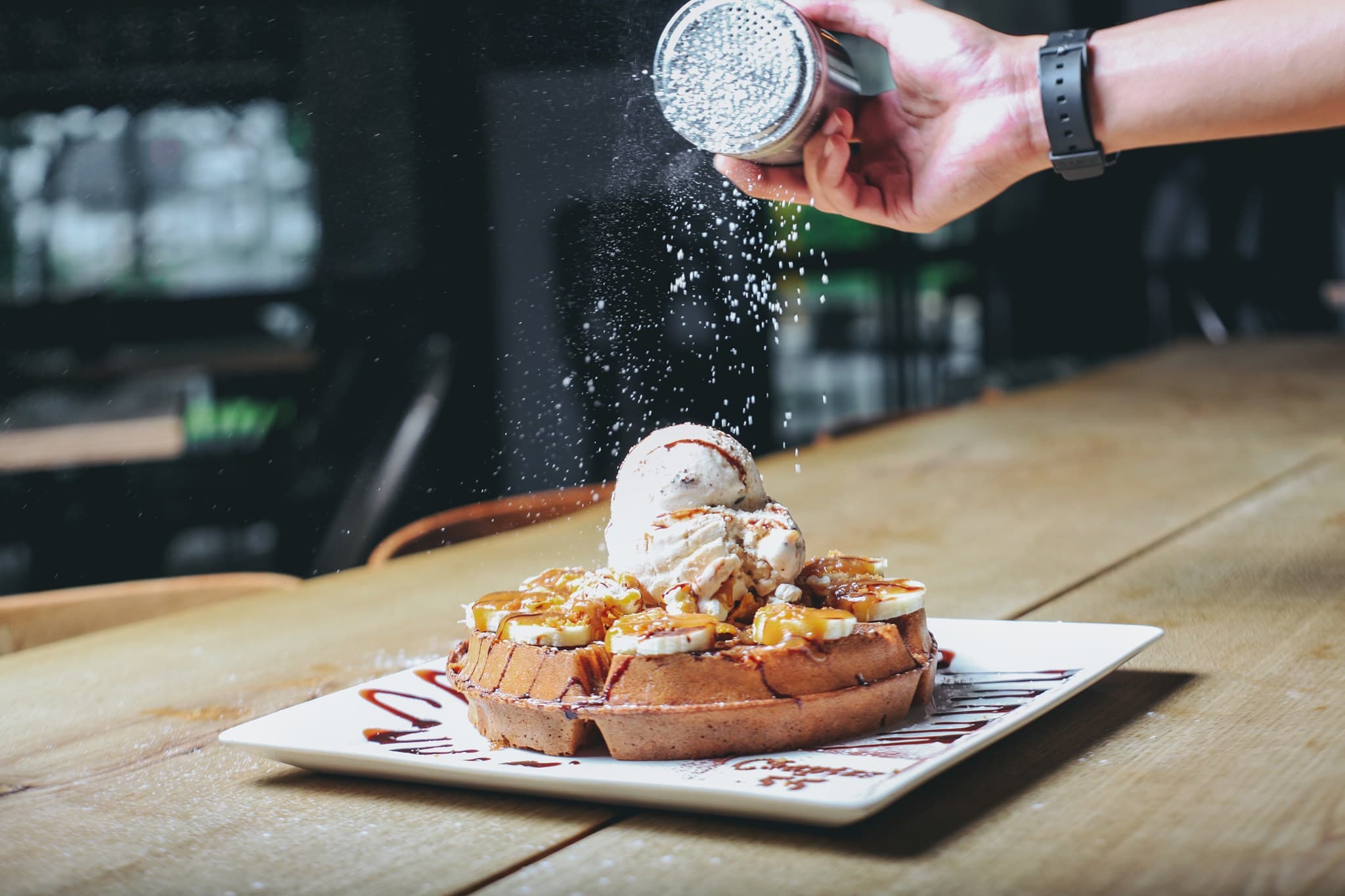 Image credit: Chapter 55
For those of you who are scrambling to look for a great place to impress your date, look no further. Chapter 55 is a fancy bistro in town that serves quality Italian fare. Their housemade gelato and waffles are made fresh daily. One of their must-try desserts includes the shareable Butterscotch Banana Crumble with Buttermilk Waffles ($18.80). The addition of nuts and butterscotch sauce help to give it a caramelised, nutty flavour. They also have single-serving options for individuals like the Mini Pandan Buttermilk Waffle with Coconut Gelato ($8.80). Do note that their dessert menu only commences at 11am. 
Address: 55 Tiong Bahru Road, #01-37, Singapore 160055
Opening hours: Daily 11:30am to 11pm
Tel: 6221 2219
Website
---
20. Revelry
---

Image credit: @alwayshangreh
Head to Revelry if you want the option of both sweet and savoury waffles. Their rendition of Eggs Benedict replaces English muffins with chewy waffles. Known as the Waffle Benedict ($17.50), this comes with the usual components of poached eggs, crispy bacon, baby spinach and hollandaise sauce. For those with a sweet tooth, opt for the Fly Me Mars ($16), which reminds me of s'mores. This has torched Mars bars, toasted marshmallows and vanilla ice cream on top of a crisp, airy waffle.
Address: 21 Lorong Kilat, Singapore 598123
Opening hours: Mon-Thu 11am to 10pm, Fri 11am to 11pm, Sat 10 to 11pm, Sun 10am to 10pm
Tel: 9278 0466
Website
---
Get waffles with ice cream in Singapore
---
Ice cream and waffles are good on their own, but sometimes, two is truly better than one. Follow our guide to these waffle and ice cream places and your sugar cravings will surely be satisfied. Do check out our list of other ice cream desserts paired with other pastries and delicacies.  
10 Updated Ice-cream Desserts For Days You're Tired Of Ice-cream With Waffles
This article was originally written on 25 September 2015 by Yeow Su Xian.