---
Send a sweet gift with these dessert box delivery services
---
Many local bakers have continued to find success in whisking up a storm in their kitchens. If your creations have yet to reach gifting standards, check out these dessert box delivery services by talented bakers who've already perfected the craft. 
This list compiles sweet treats across different price ranges, and also halal options for our Muslim friends. Make that special someone's day and support these small local businesses at the same time!
---
1. The Durian Bakery
---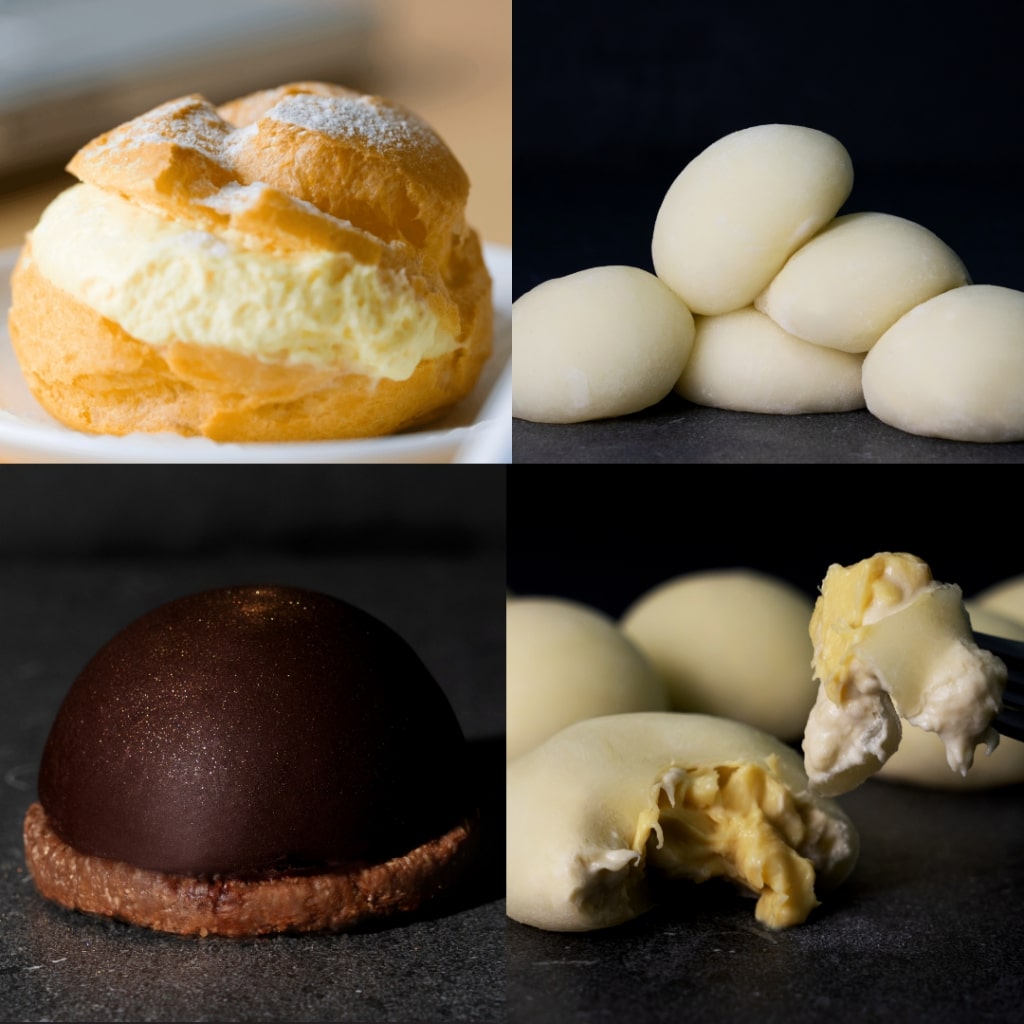 Image credit: The Durian Bakery
Award-winning The Durian Bakery is the go-to place for all your durian dessert cravings. Get the Signature Durian Dessert Box ($75) as a gift package for your loved ones who are fans of the King of Fruits. Each contains an assortment of their speciality desserts, such as the Super Burst MSW Giant Puff, D24 Snowy Mochi, and Dark Choco MSW Mousse. 
Image credit: The Durian Bakery
Apart from the box, another crowd-favourite is their eight-inch Mao Shan Wang Durian Mille Crepe Cake ($88), which is slathered with their house-made MSW SilkyGold Durian Puree. This signature puree is pure Grade-A Pahang durian, blended to a luscious and velvety texture. All of The Durian Bakery's cakes are baked in small batches daily, as they do not use any preservatives or additives.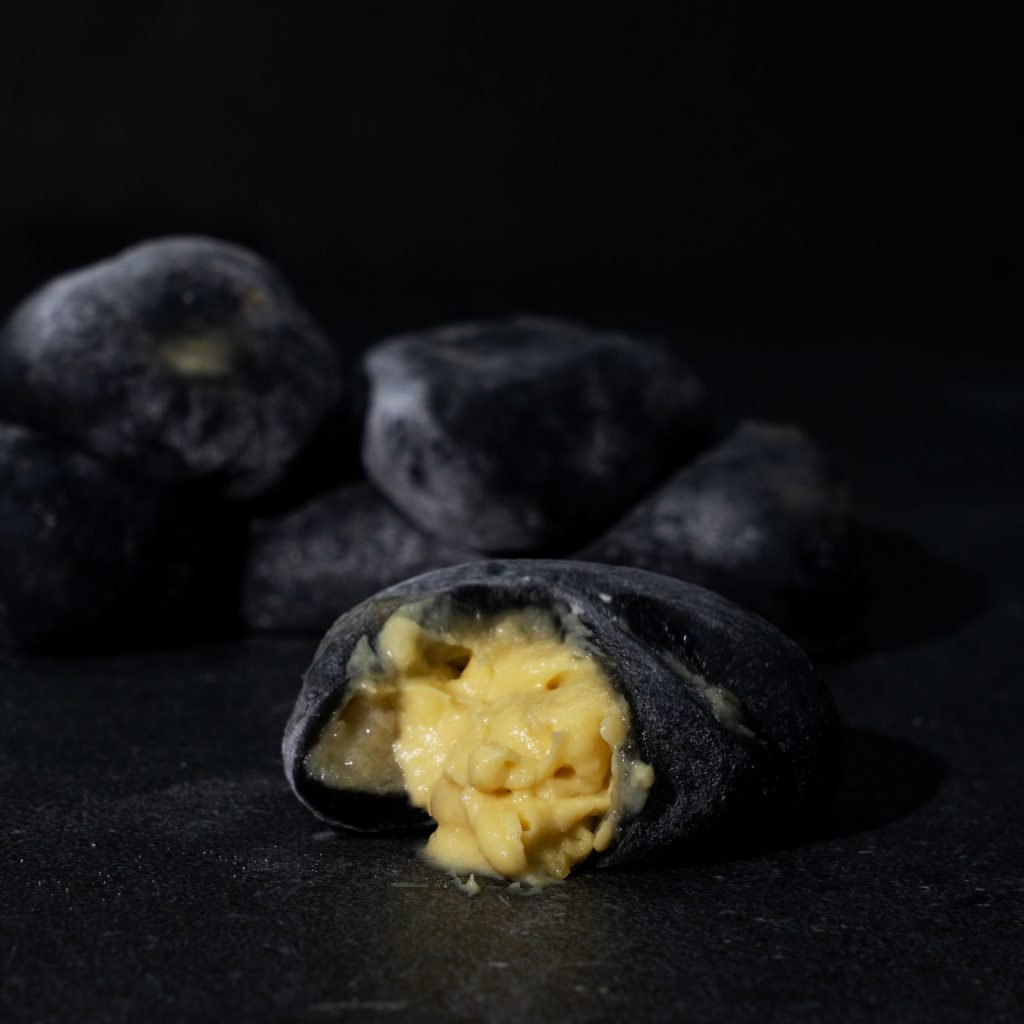 Image credit: The Durian Bakery
Same-day island-wide delivery is priced at $10 for every purchase, and is waived for orders for above $90. From now until 30 April 2022, get a free box of Black Gold Musang King Durian Mochi ($19.90) with a minimum spend of $50 when you quote 'EATBOOK' at checkout! 
Address: 1-26 Irving Place, #02-26, The Commerze @ Irving, Singapore 369546
Opening hours: Daily 9am to 6pm
Tel: 8875 1069
Website
---
2. Bob The Baker Boy
---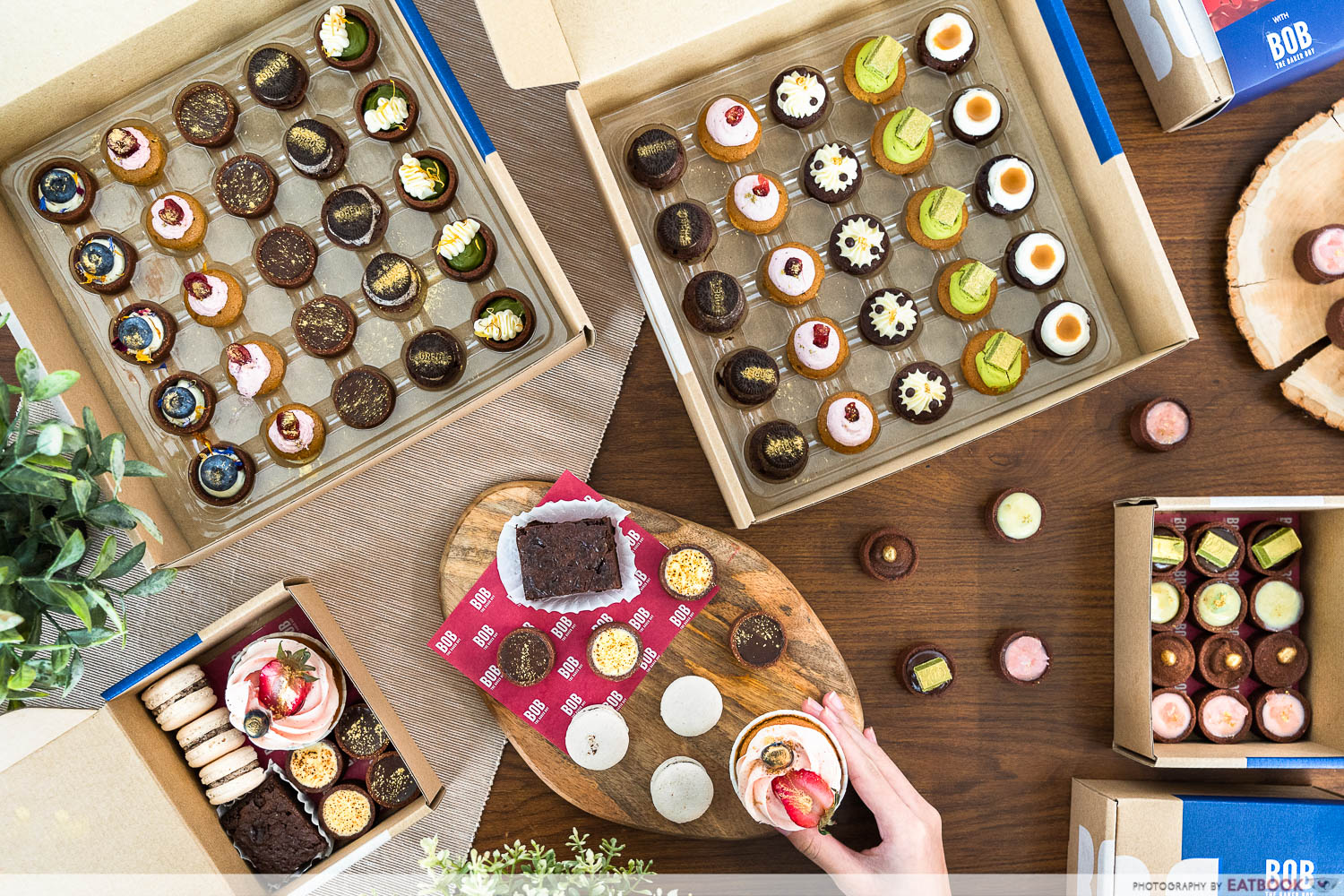 Bob The Baker Boy has one of the most comprehensive dessert box offerings around. They have a selection of over 10 different boxes, designed for occasions such as weddings, corporate events, baby showers, and care packages. Their curated boxes are also classified by price point on their website, so you can easily find an option that works for your budget.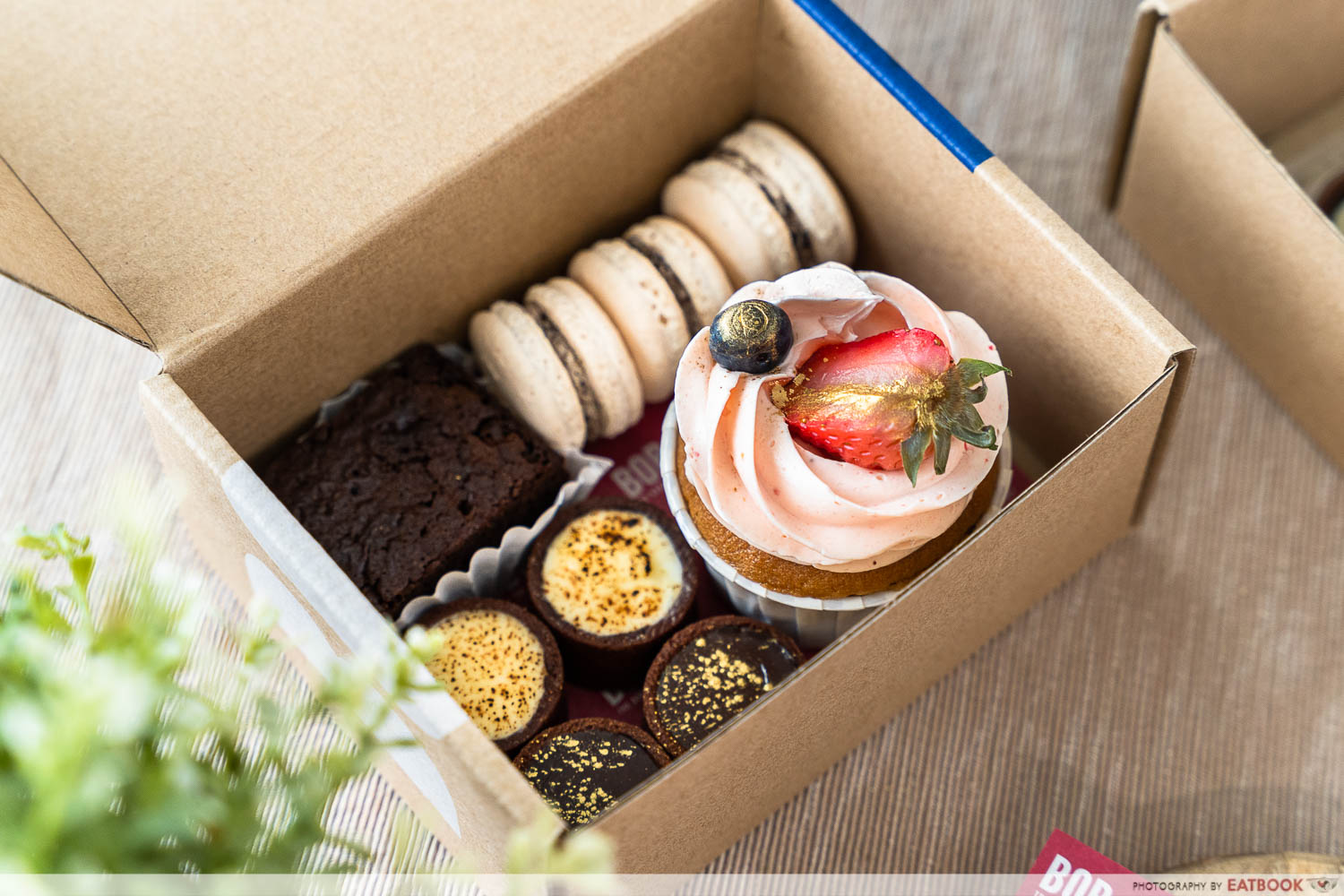 Their $28.90 dessert box is a popular option if you want the best of Bob The Baker Boy's small bakes. It comes with one classic cupcake, one ultra-moist, 55% chocolate brownies, three French macarons, and four mini tarts. Customisation options are also possible, whether you're looking for cupcake toppers bearing a brand logo, or just a themed design. You can check out their logo cupcakes here.
If you're looking for a dessert box that best suits a catering event, then get their Assorted Mini Tarts ($26.90). The box set is made in collaboration with Nestlé, so tart flavours showcase familiar items such as KitKat and Milo. They're one of the only bakeries in Singapore to have a partnership with this F&B giant!
Their cake delivery is made affordable at just $9.90 onwards, or free when you spend above $150. Same- and next-day deliveries are also possible, with a premium.
Bob The Baker Boy Has IG-Worthy Custom Bakes, Including Viral Money Pull, Drinkable And Lunchbox Cakes
---
3. Rainbowly
---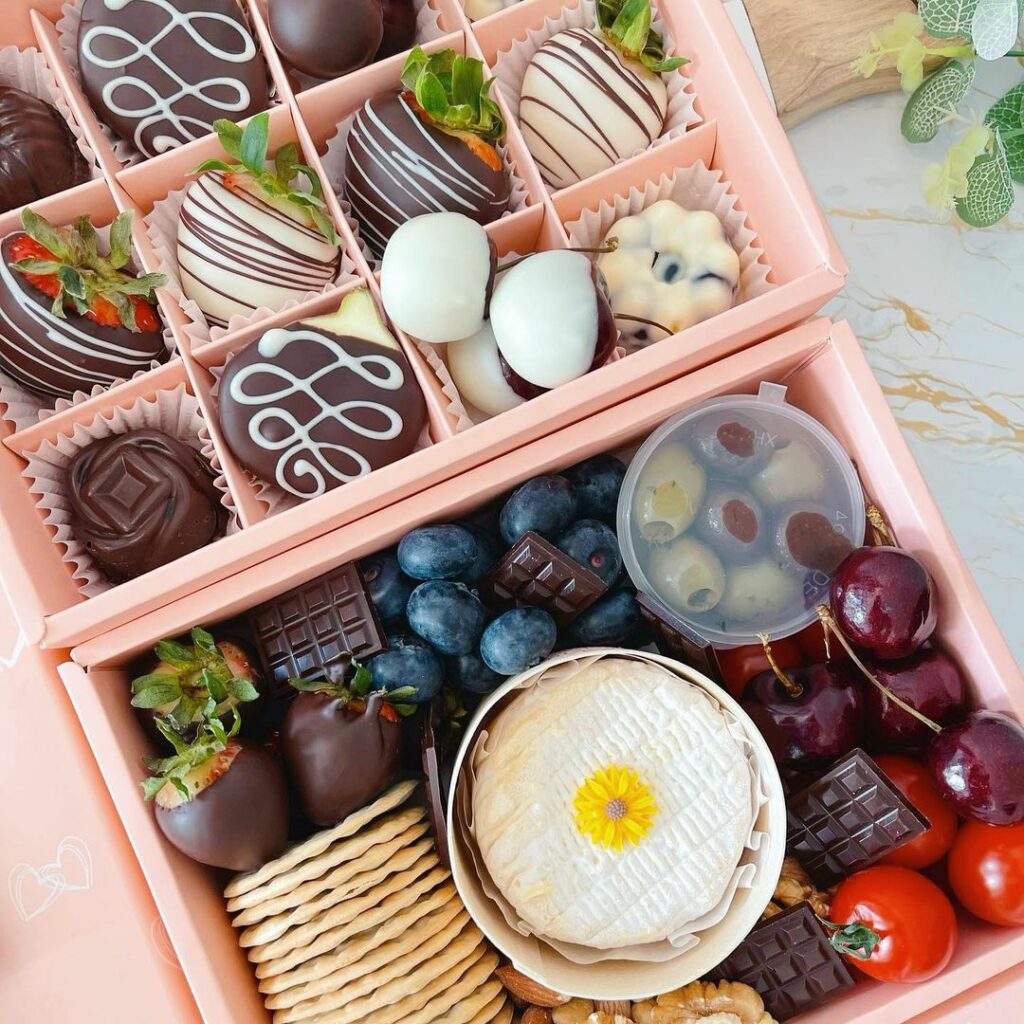 Image credit: @rainbowlysg
Whether you're sending a birthday treat to your bestie or splurging on yourself, Rainbowly's Chocolate Coated Mixed Fruits Platter will satisfy all sweet tooth cravings. The beautifully presented platter features chocolate-dipped fruits, including strawberries, cherries, and figs. Usually priced at $119, the dessert box is now going at $99 for a limited time only! For those who prefer savoury snacks, there's also a meat-free Cheese Platter ($118) alternative that comes with artisanal cheeses, nuts, premium chocolate, and seasonal fruits.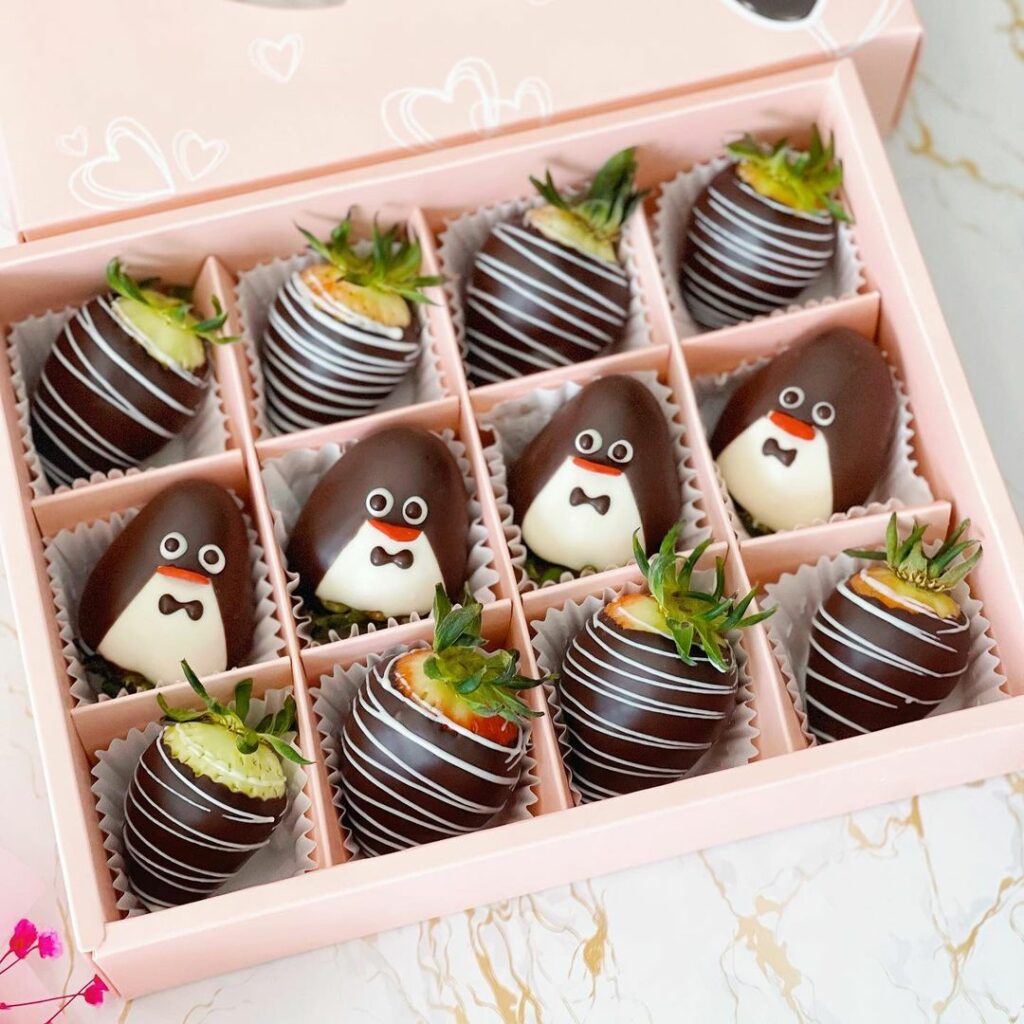 Image credit: @rainbowlysg
Otherwise, surprise your special someone with the uber-cute Penguin Theme Chocolate Coated Strawberry Fruit Gift Box ($79), another gift-worthy option to consider. Featuring dark and white chocolate-coated strawberries, these photogenic treats will brighten up anyone's day! 
Delivery costs $20 and there's an additional charge of $10 for addresses in Jurong Island, Sentosa Island, and Tuas. 
---
4. Luminyoyo
---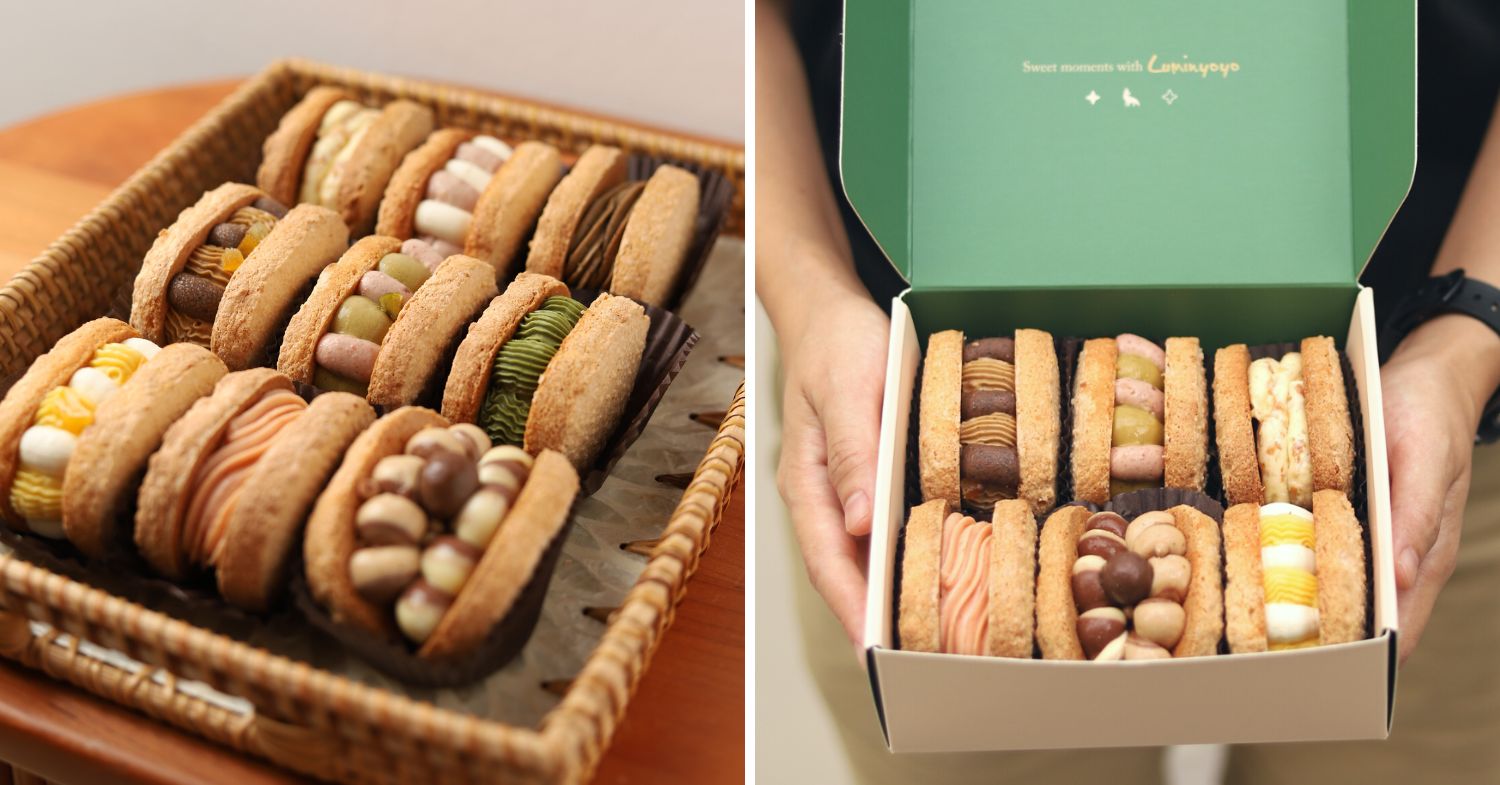 Image credit: Luminyoyo
A dacquoise is a cross between a cake and a French macaron. This delectable treat can be found at Luminyoyo, an online bakery. Crafted by a chef trained at the London outpost of Le Corden Bleu, their dacquoises are tailored to Asian palates and made to be less sweet, fluffier, and more fragrant than their French originals.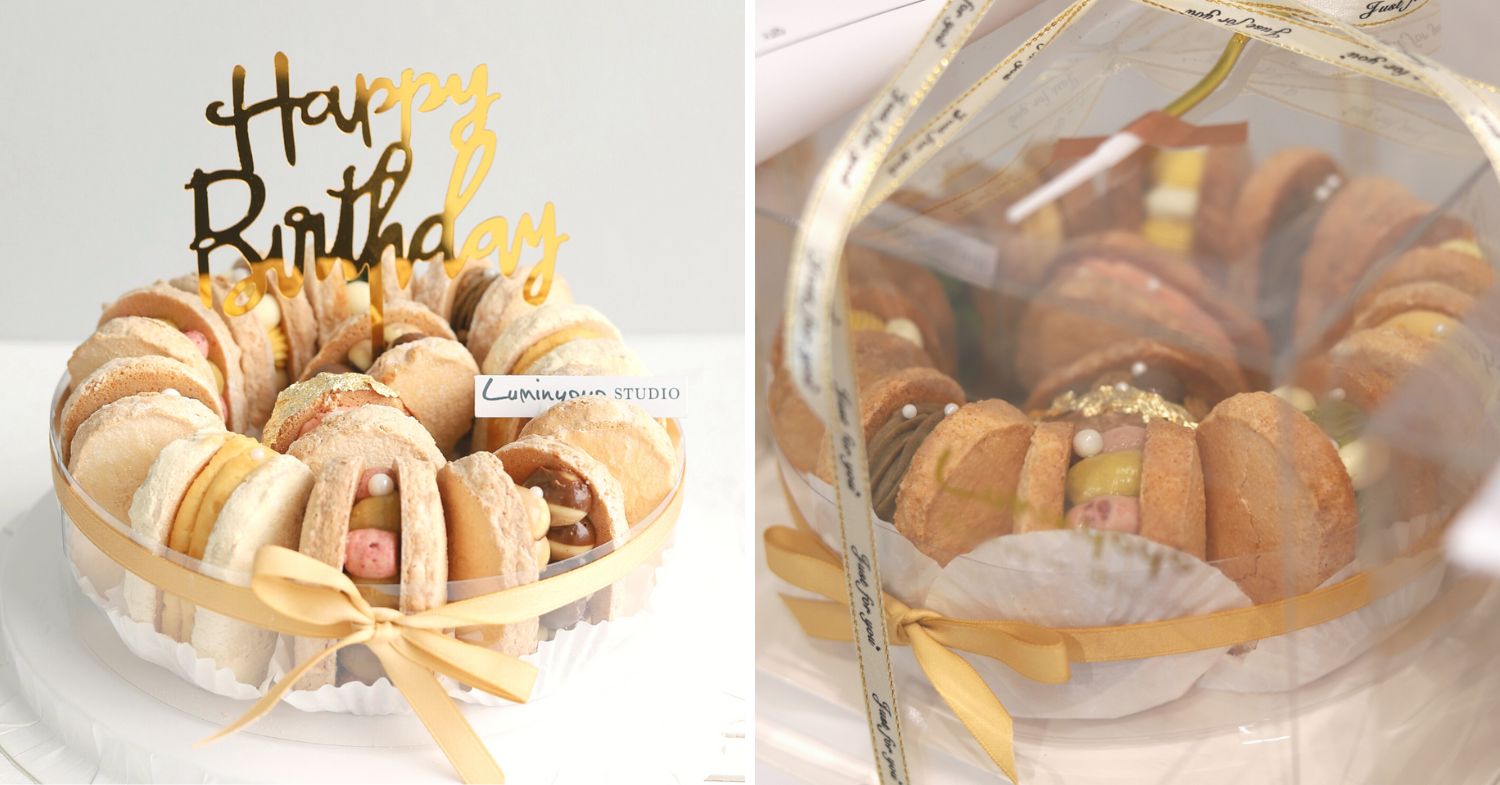 Image credit: Luminyoyo
Mix and match from 10 different flavours such as chocolate, pistachio, passion fruit, injeolmi bean powder, coffee, and tea with the Dacquoise Customise Box (from $28 for four pieces). Or, get the Dacquoise Celebration Bundle Cake (from $84) instead, which allows you to customise your very own dacquoise cake and it is easily shareable. The cake also comes with a candle, cake topper, and birthday hat.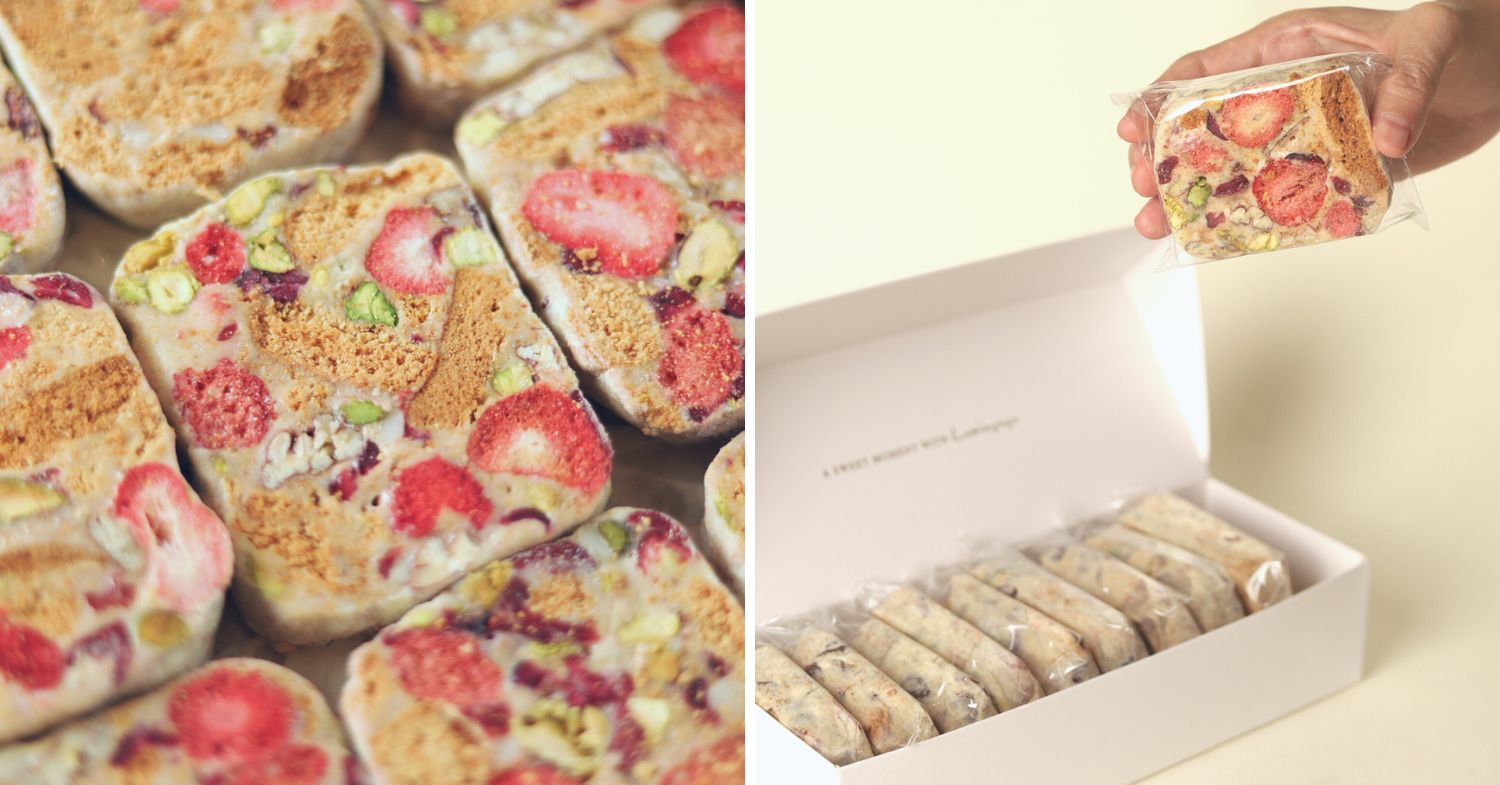 Image credit: Luminyoyo
Else, try the newly launched Dacquoise Snowflake Nougats, which are priced at $30 for a box of 400g (around eight pieces) and $37 for a box of 500g (around ten pieces). Made from crunchy dacquoise shells, cranberries, strawberries, pecans, pistachios, and macadamia nuts, the milky nougats offer a satisfying bite filled with fruity and nutty notes. Being individually packaged, this flavourful dessert is suitable for sweet moments of sharing with your loved ones!
Islandwide delivery is available at $9.80 per location, or at $5.80 per location for orders above $35. You can also enjoy free delivery with a minimum spend of $100.
Check out their Instagram page for more info, or order via the Luminyoyo website.
---
5. Chocolate Anatomy
---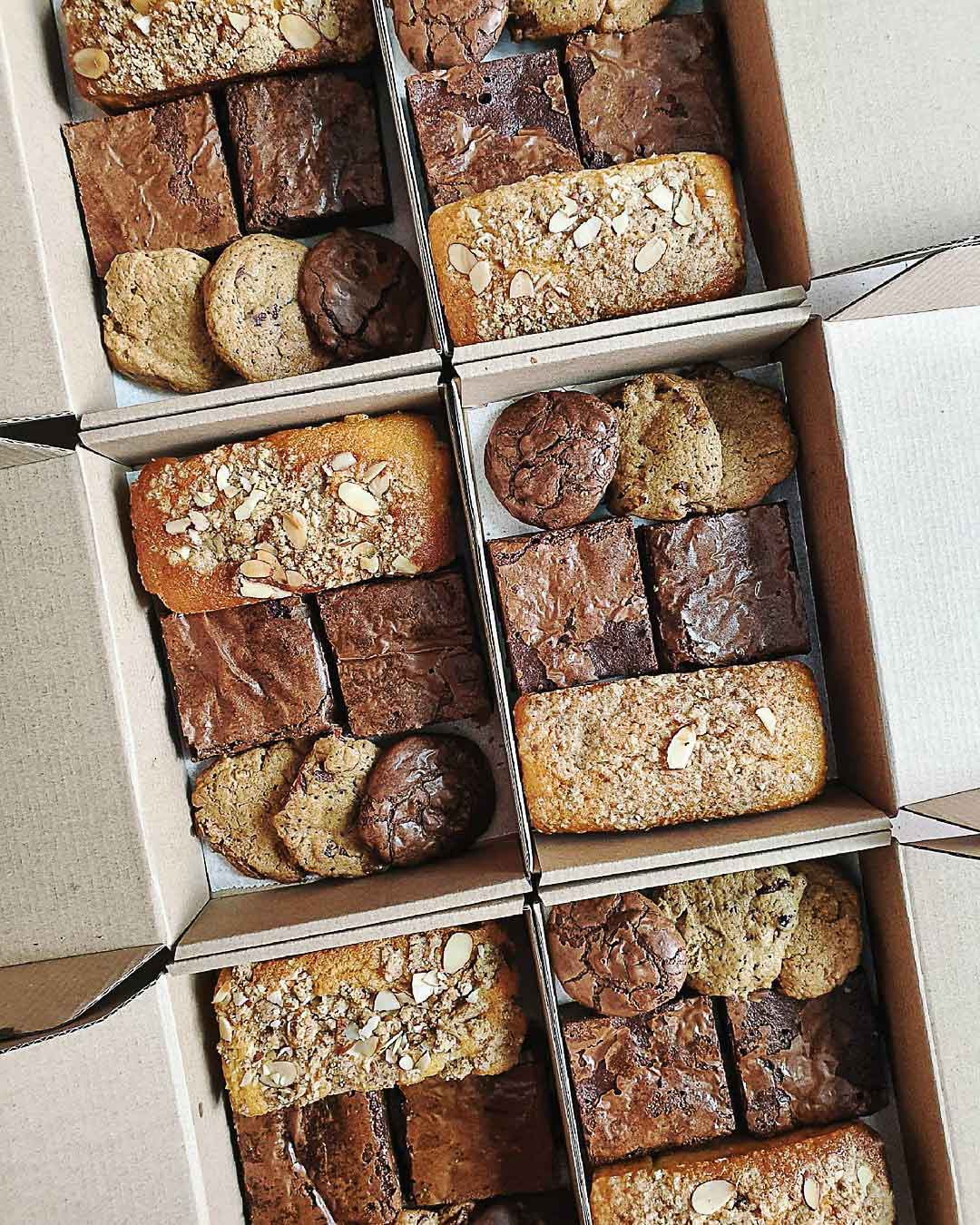 Image credit @chocolateanatomy
Chocolate Anatomy has an Omakase Style Box that requires neither a minimum nor a maximum purchase amount. From a curated list that changes every month, customers can create a dessert box to their own liking. They also have a Chocolate Omakase Box ($37.50) perfect for gifting. This comes with a chocolate loaf cake, two pieces of brownies, three cookies, and a box of 10 chocolate truffles.
Their islandwide delivery fees vary from $10 to $15 depending on your order amount.
---
6. Whisking Bakes 
---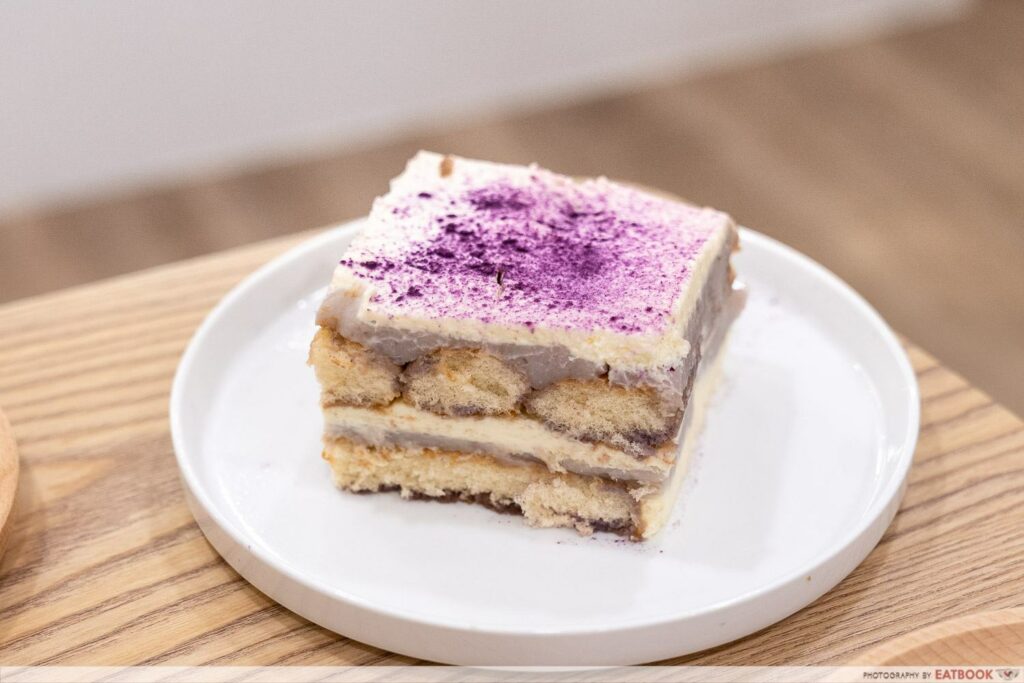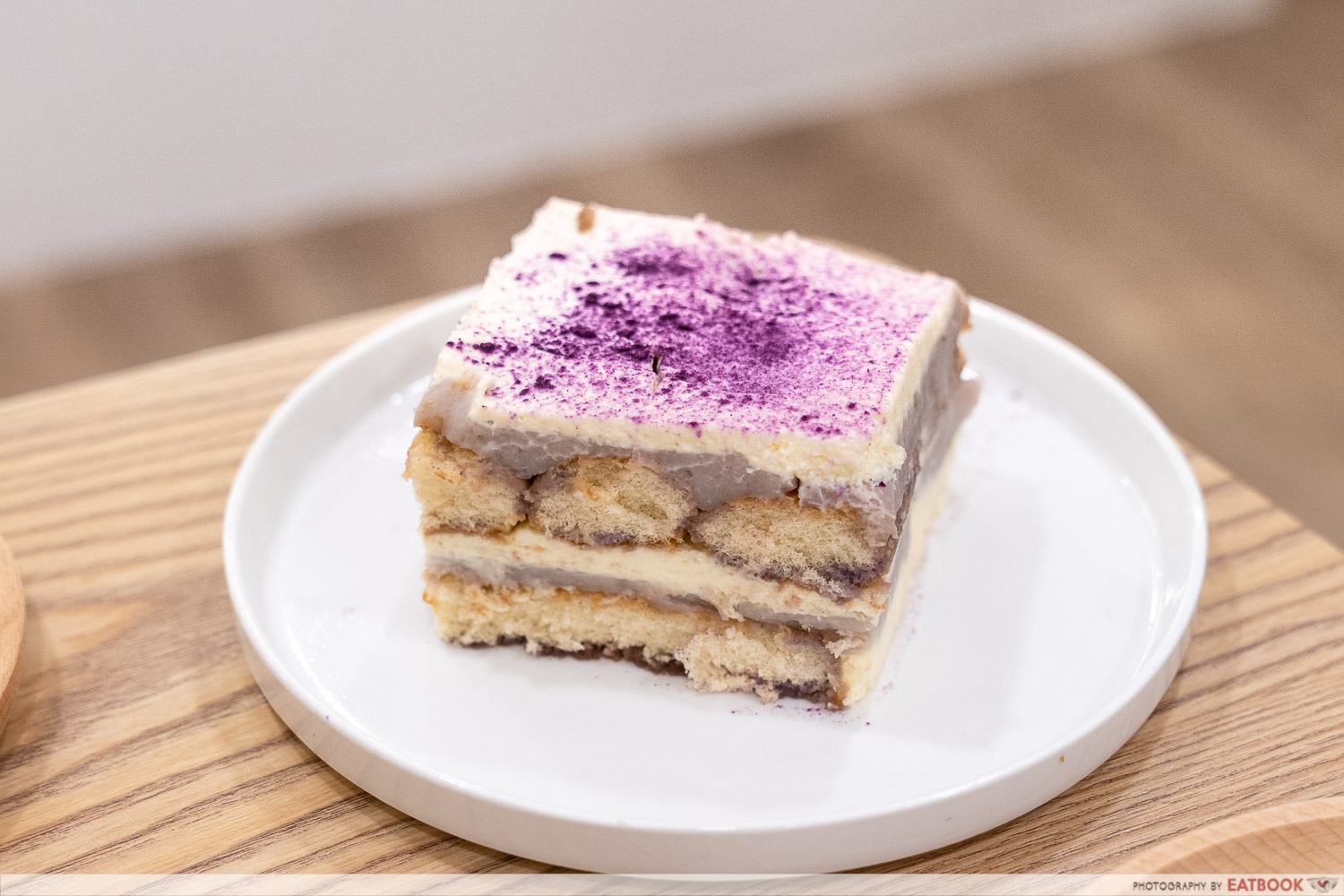 Whisking Bakes first started out as a home-based business, before opening their cafe earlier this year. They're most known for their yam-infused bakes including their Taro-misu ($6.50) that's made with pure taro paste, but you can also get non-taro flavoured treats such as Matcha Levain Cookie ($5) and Hojiacha Burnt Cheesecake (from $25).
Delivery is a flat rate of $12 for residential addresses and $17 for all other locations.
Order via Whisking Bakes' website!
Whisking Bakes Review: First Taro Cafe In Singapore By HBB With IG-Famous Orh Nee Tarts, Taromisu And More
---
7. Frosted by Fang
---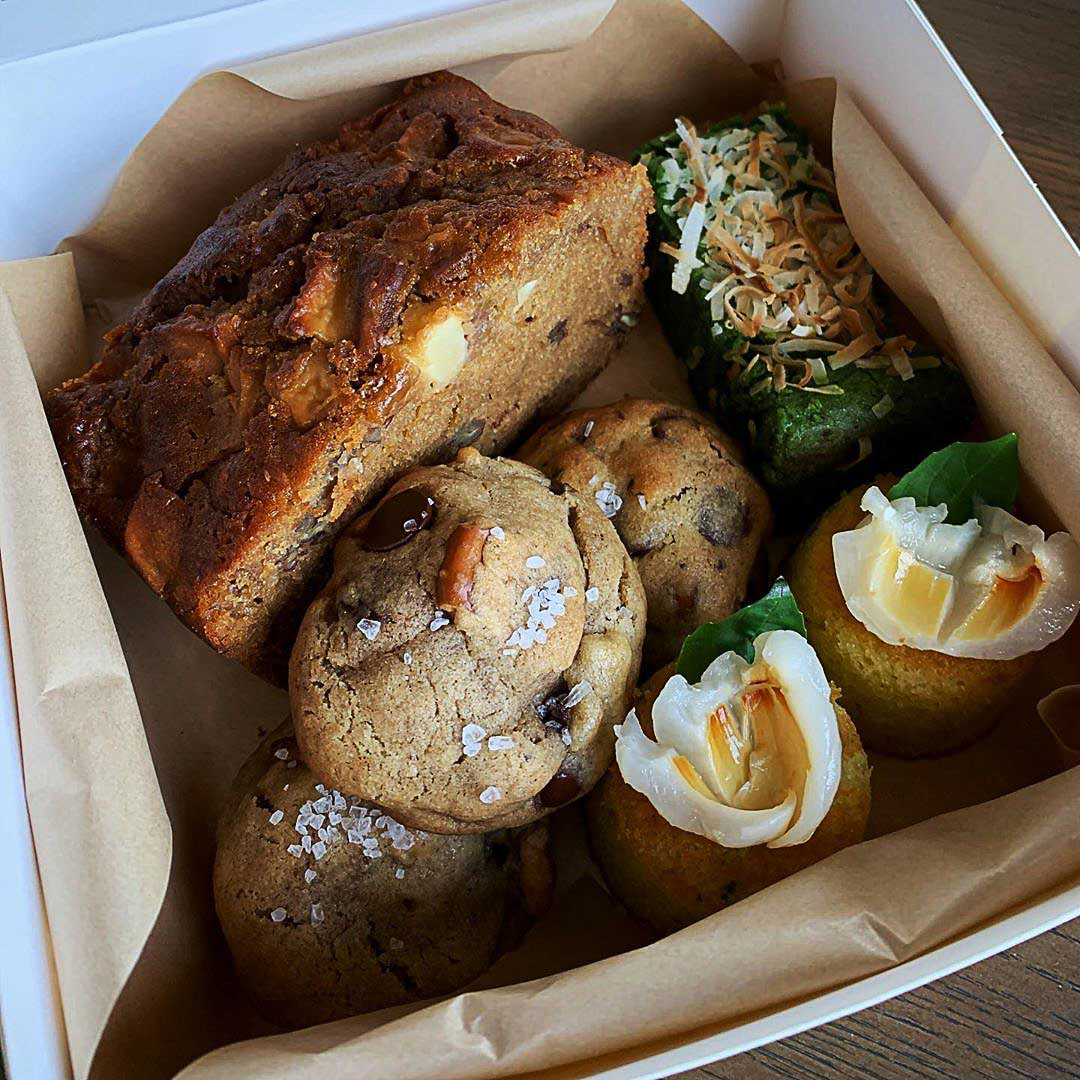 Image credit: @frostedbyfang
Helmed by a talented baker, Frosted by Fang is a home-owned bakery selling elaborate cakes, rosemary olive oil loaves stuffed with chocolate, gooey dark chocolate lava cookies, matcha speculoos cheesecake brownies, and other delectable treats. You can get customised dessert boxes for all occasions by dropping them a DM on their Instagram!
Islandwide delivery is available and the prices varies depending on the location.
---
8. Tartzan
---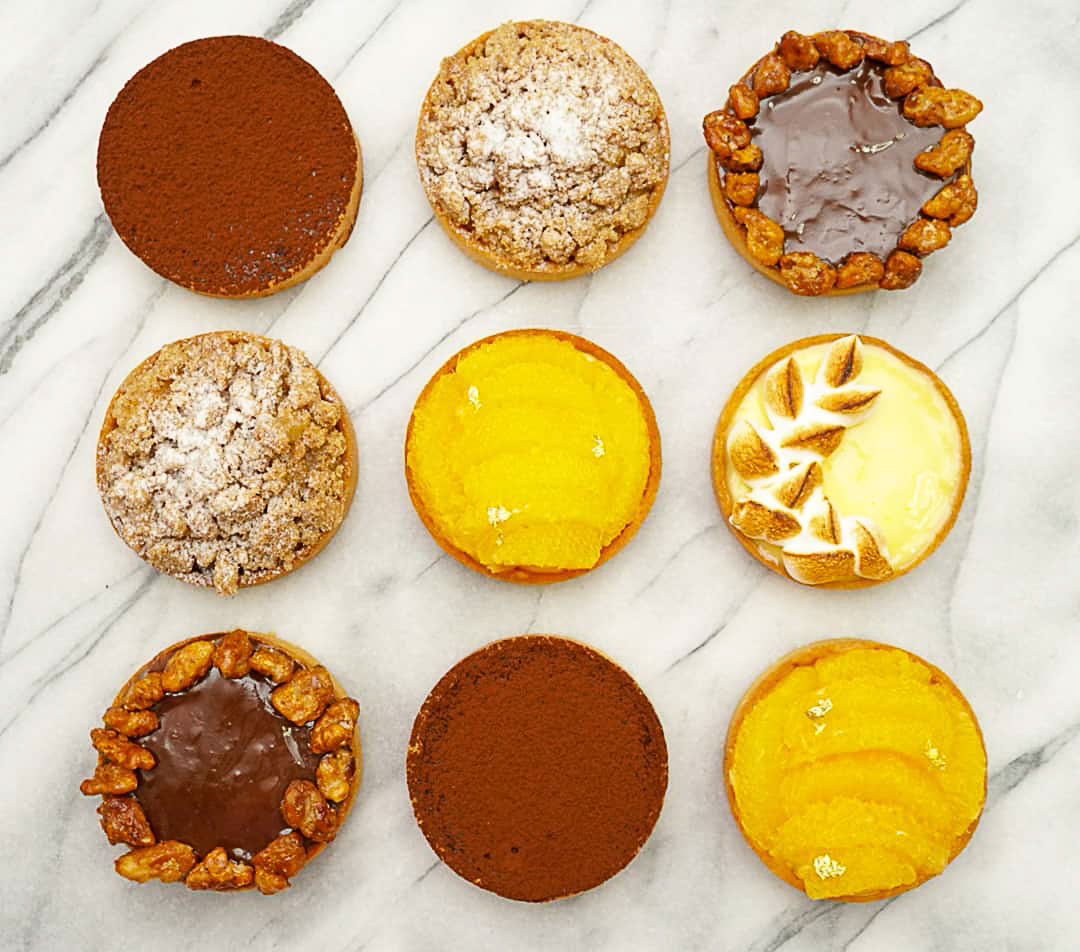 Image credit: @tartzan
Try Tartzan's 4 Tarts Bundle ($34), which consists of lemon yuzu tart, chocolate tart, ondeh ondeh tart, and mango pomelo sago tart. Their Signature Brownies (from $6) are another must-try.
There is a $10 delivery fee for orders below $34. The fee is waived for orders above $34, or with an order of four tarts and above.
---
9. She Sells Seashells
---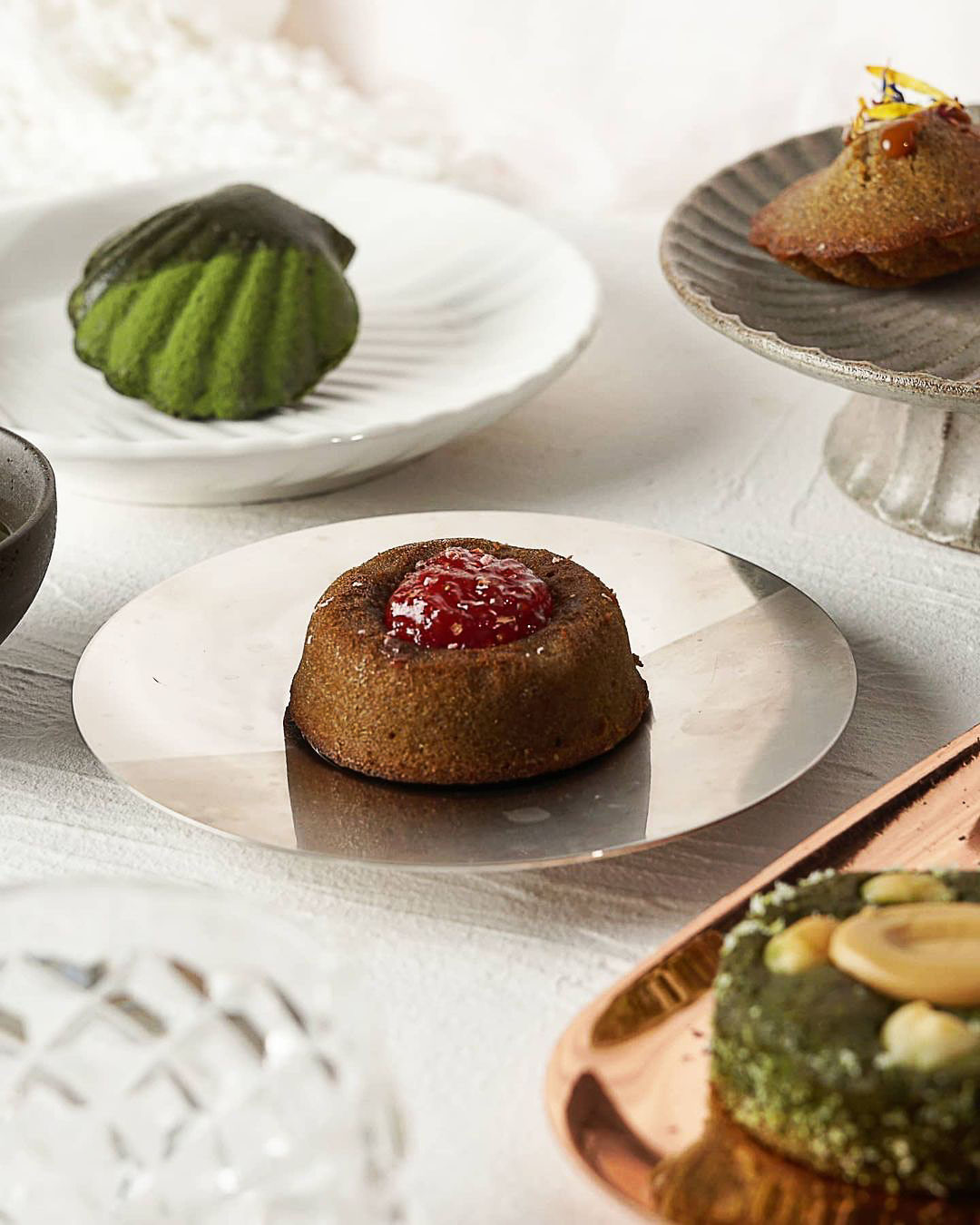 Image credit: @shesells.seashells.sg
The beautiful French-inspired bakes from She Sells Seashells are a feast for both your eyes and your tummy. They launch bake sales every month, with highlights including their Matcha & Yuzu Madeleines, Pickled Cherry Blossom Financiers, and Hojicha & Strawberry Financiers
Delivery fees range from $9 to $12.
DM their Instagram to order.
Popular Madeleine Baker She Sells Seashells To Open First Physical Bakery
---
10. Ree And Mummy
---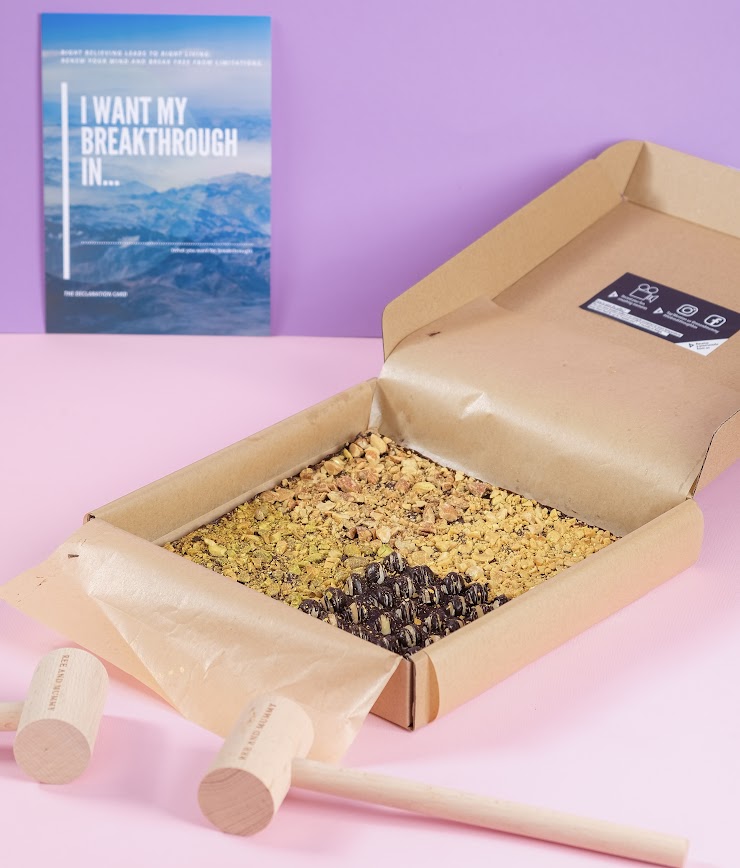 Image credit: @reeandmummy
Ree And Mummy is another one of those home-based business success stories. They've just launched their new dine-in cafe in Katong, selling a wide range of gelato, burnt cheesecake and more!
Surprise your friend with their Breakthrough Box Signature Toffee ($58), a fun gift that involves smashing the 400g slab of toffee while enjoying it. It comes with four flavours in a square: Signature Almond Pecan, Macadamia Nut, Pistachio, and Hazelnut. There's also a mini version at $38 if you want something smaller!
Delivery costs $15 per location.
---
11. Miss Van Dough
---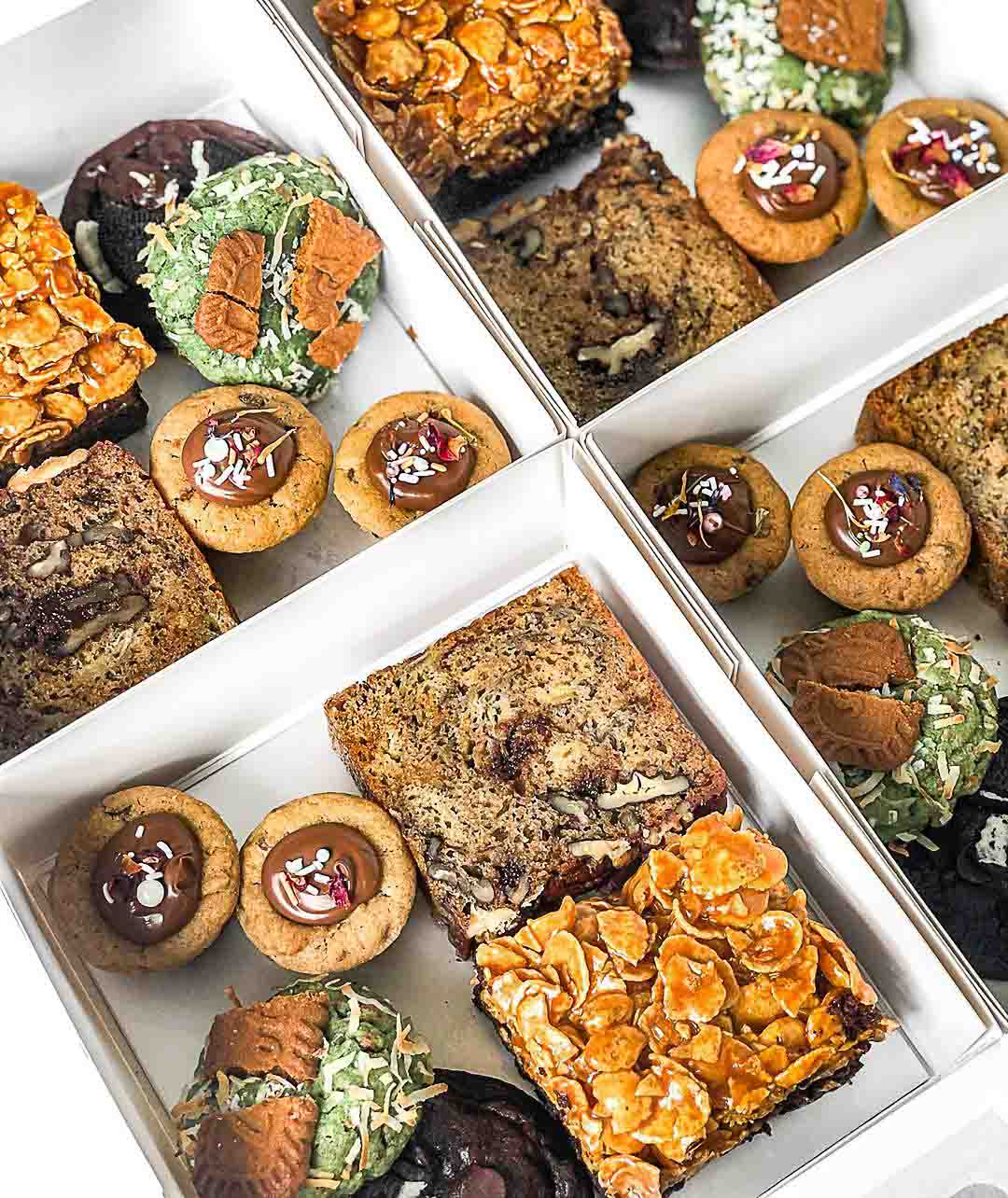 Image credit: @missvandough
This popular home bakery sets up weekend bake sales nearly every week, and their box of desserts are filled with a different mix of treats each time. Currently, for the month of December 2022, selected treats are available. The list includes Pandan Biscoff Tarts ($25) and Almond Florentines ($20). 
They provide islandwide dessert box delivery for a flat fee of $10, or you can self-collect at the home-based bakery near Mountbatten MRT Station.
Do keep your eye peeled on their Instagram for their order forms!
---
12. A Wild Flower Bakery
---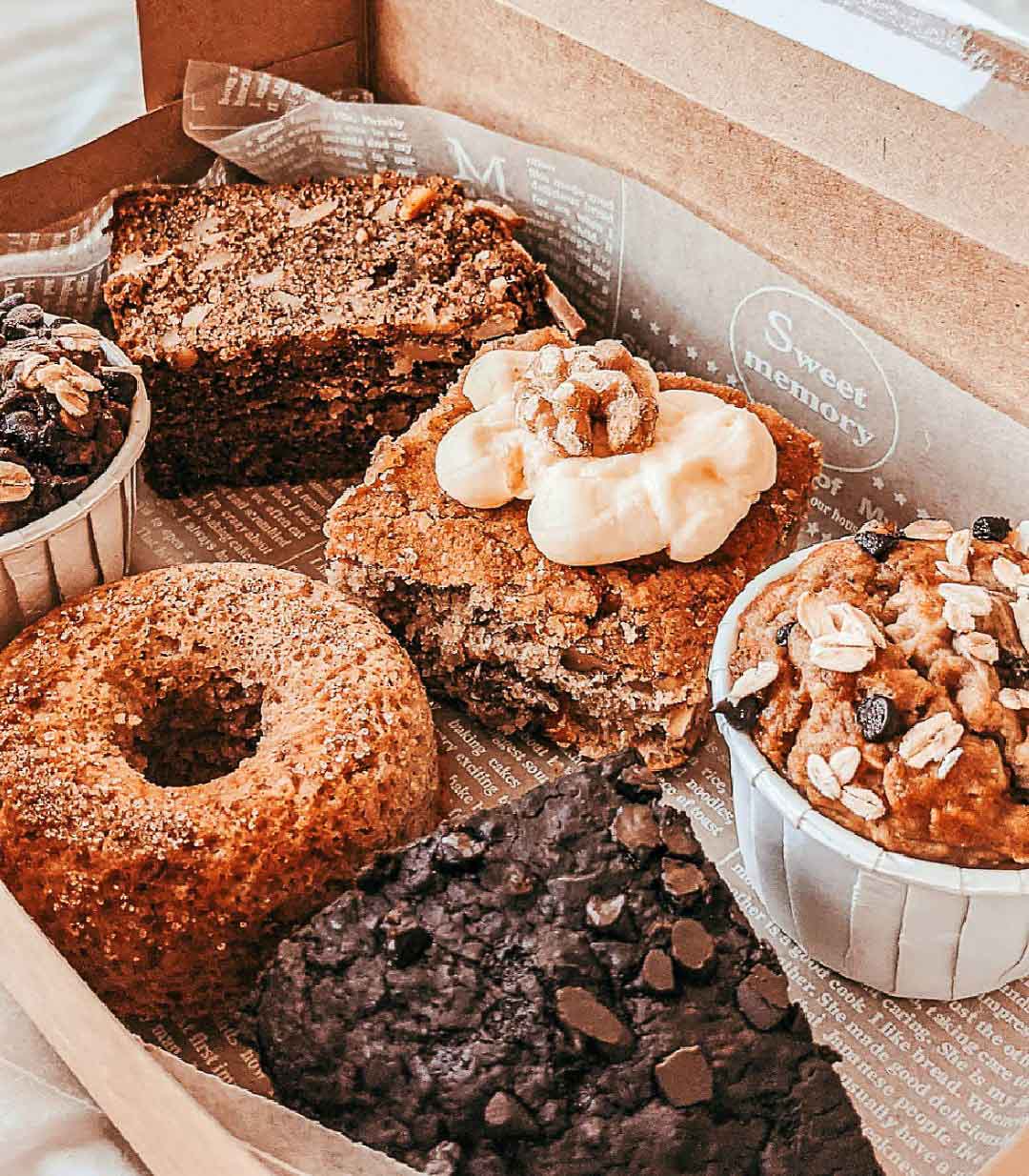 Image credit: @awildflowerbakery
Standing out from our list of indulgent desserts, A Wild Flower Bakery's baked goods won't sabotage your stay-home body as they are low-carb and sugar-free. A box of their Sweet and Savoury Bundle ($35) contains six baked doughnuts, in flavours such as Original Cinnamon.
They offer islandwide delivery services at $12 per location. Do note that delivery slots and orders must be booked at least three days in advance!
---
13. Esther Grace Cake
---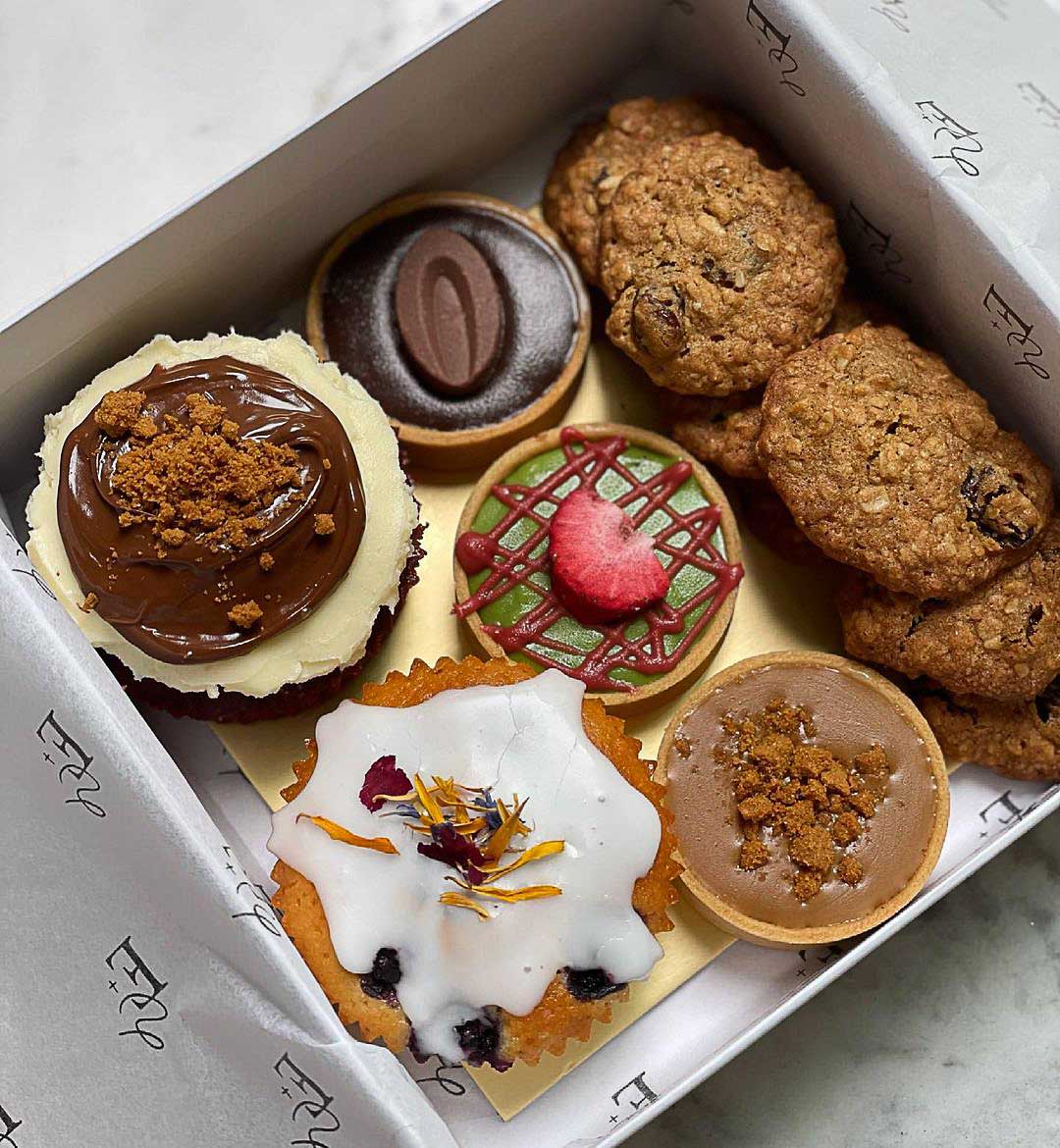 Image credit: @estergracecake
Formerly known as My Sister Bakes, Esther Grace Cake is one of the OGs in the home bakery scene. Besides stunningly elaborate custom cakes, they also sell dessert boxes and open bake sales every month. Their dessert boxes are priced around $38 each, and feature highlights such as lemon blueberry yoghurt Loaf, thick brookies, and mini chocolate cookie butter tarts. 
Delivery is priced from $8.
---
14. The Dessert Party
---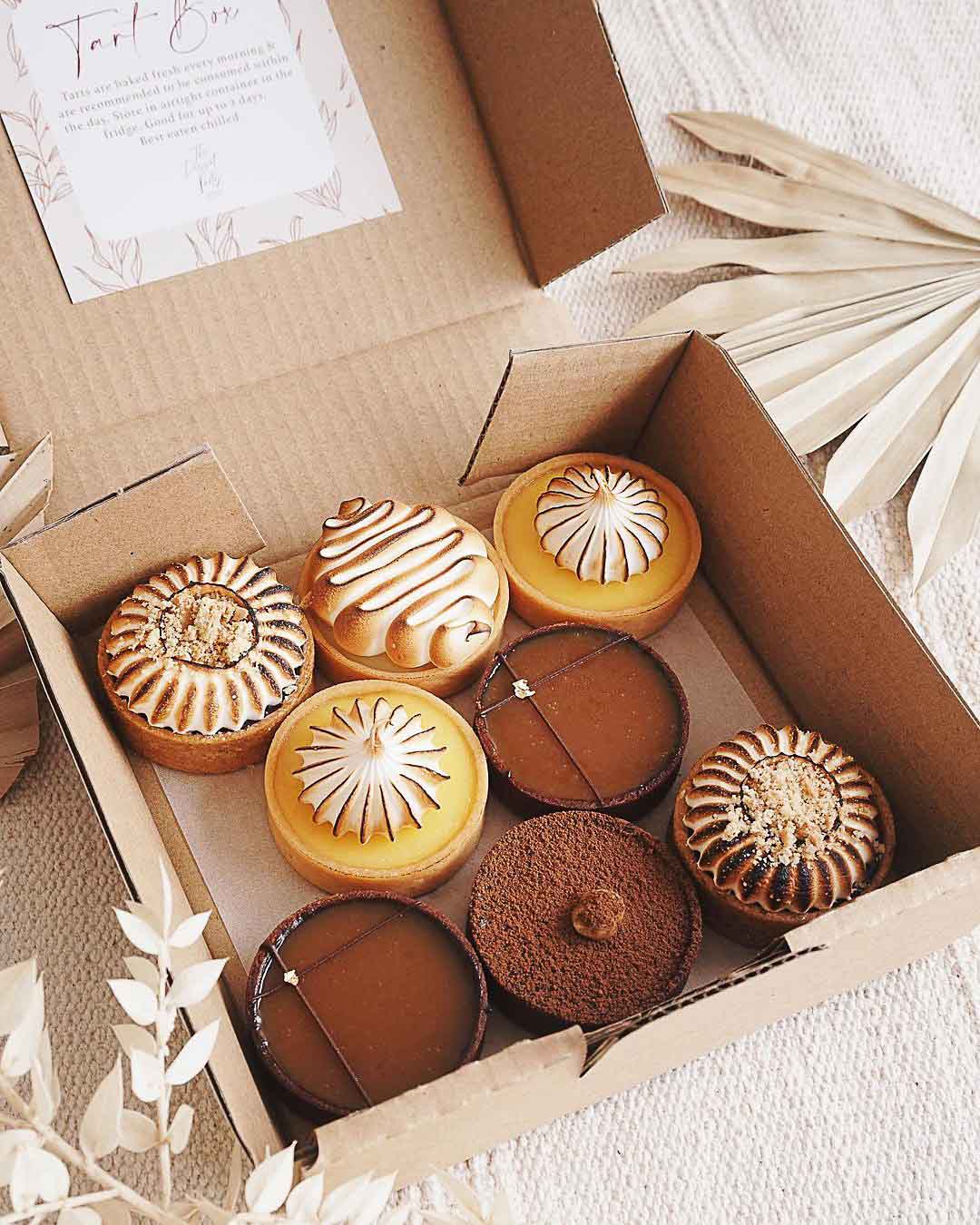 Image credit: @thedessertparty
The Dessert Party specialises in organising dessert tables for events and recently branched out into making dessert boxes. Their Mini Tart Platter ($50) is a mix of 16 mini tarts, which you can choose from a selection of Lemon Meringue, Passionfruit Meringue, Salted Caramel Chocolate, and Hazelnut Chocolate. 
Delivery costs $10 to $35 per location. 
Visit their website to order!
---
15. Chocolatea 
---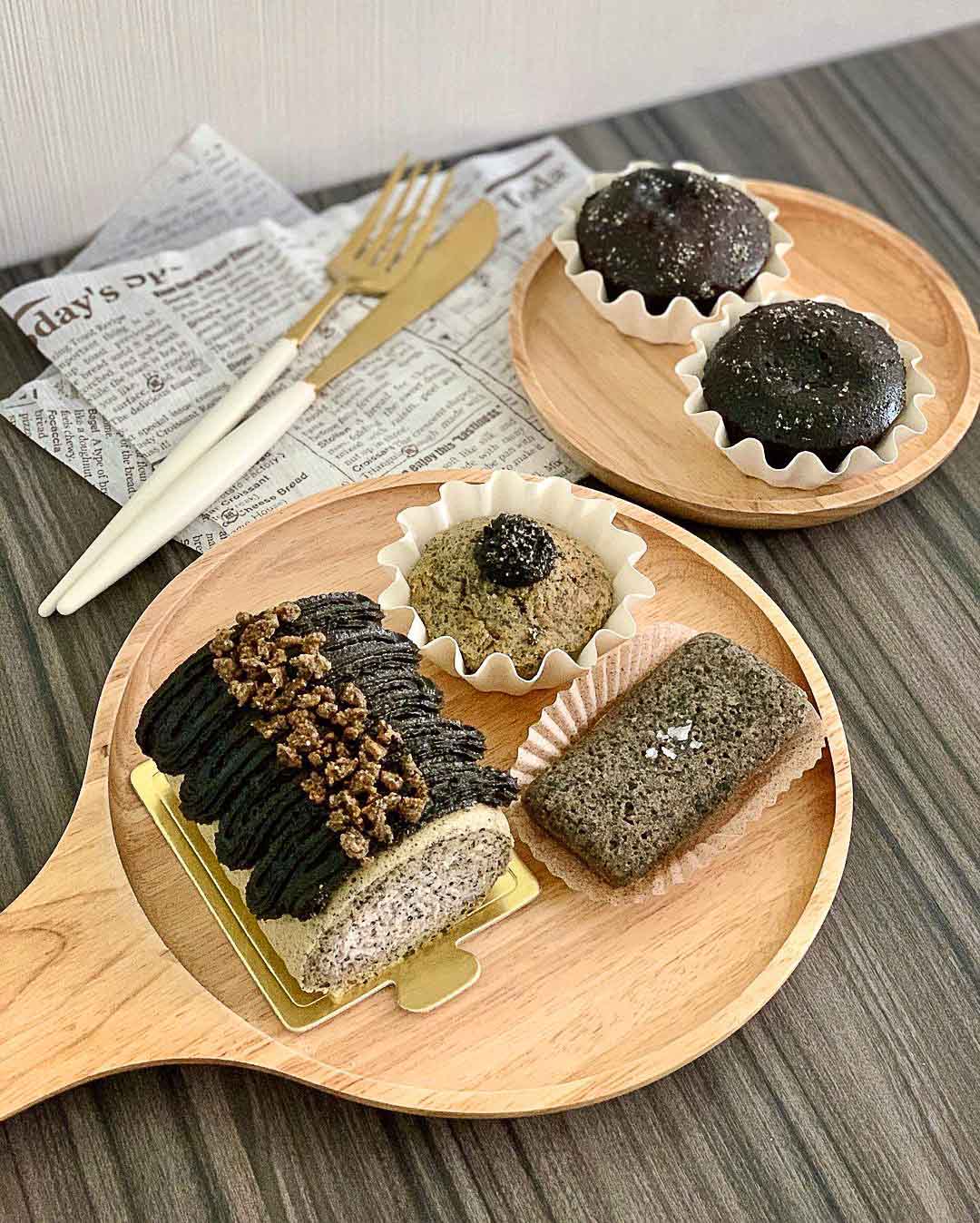 Image credit: @chocolatea_sg
Chocolatea specialises in French and Japanese-inspired bakes. They mainly do customised bakes, but for Christmas 2022, you can try their special box: Joyeux Noel ($43). This set comes with a Dark Chocolate Hazelnut Tart, a Rose Pistachio Petite Roll Cake, a Matcha Yuzu Financier, and a Kuri Amande Choux Au Craquelin.
Delivery is a flat rate of $14 per location.
---
16. Strangers' Reunion
---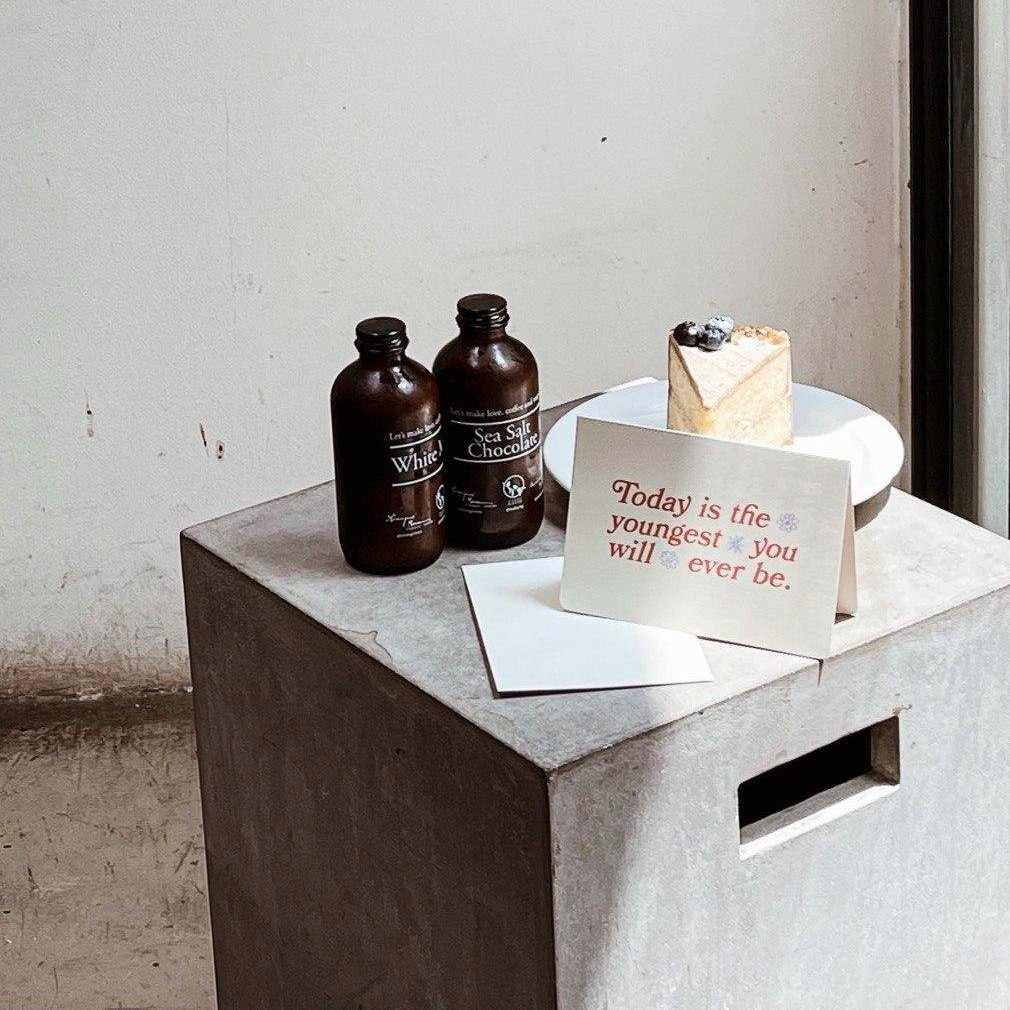 Image credit: Strangers Reunion
Get this kāi x Curious Palette gift bundle ($29), a limited-time-only set that comes with five beautifully designed cards, a slice of cake, and two cold brews! Alternatively, Strangers' Reunion also has pastries and cakes by the slice for delivery, priced from $5.50. Send your friend some cheer in the form of a Yuzu Danish, a slice of Dark Chocolate Cheesecake, or a Lemon Olive Cake.
Delivery costs $15 per location, but you can get it free if you order above $100.
---
17. Humble Bakery
---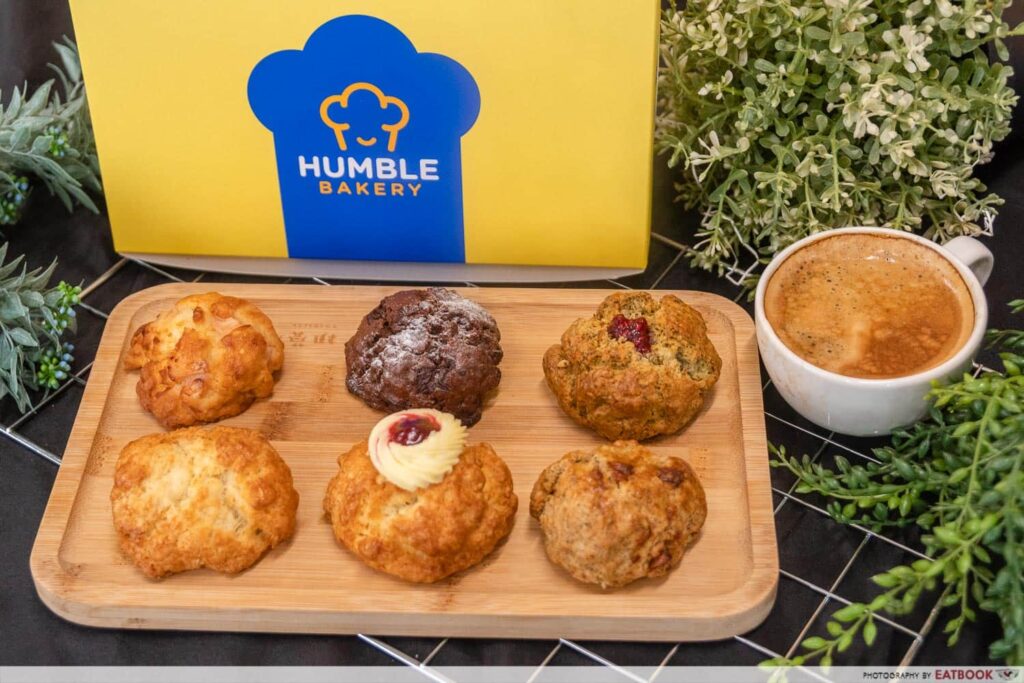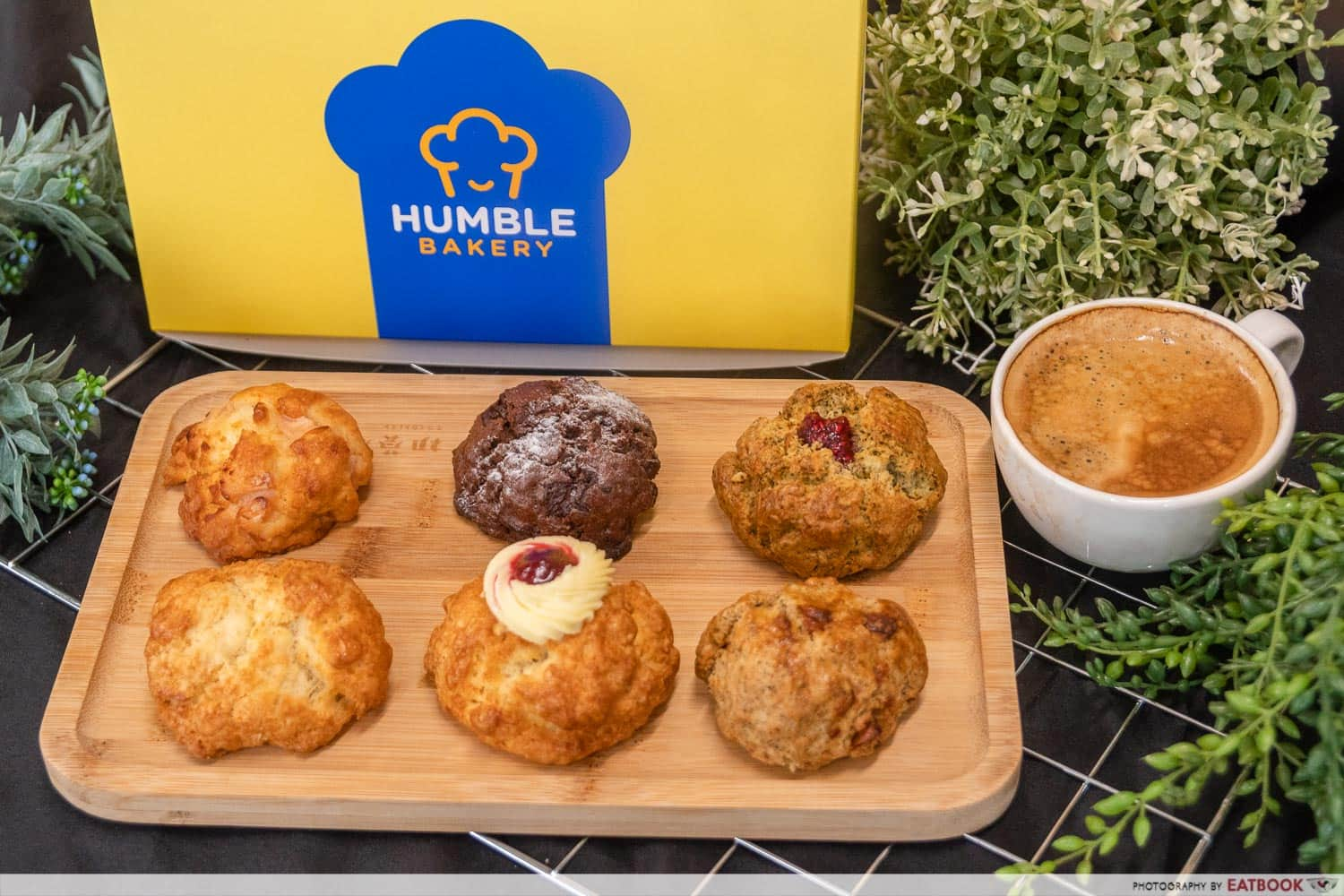 Humble Bakery made waves on social media when they launched earlier last year, specialising in artisanal scones. They've also recently opened their first physical dine-in space at Raffles Place, so fans can enjoy the bakes at the premises or collect them from there.
Try their Humble Scone Box ($21) for a sample of everything; you get two Original scones, two Earl Grey & Fig scones, and two Double Chocolate & Kaffir Lime scones, plus a mini tub of AOP French butter.
Islandwide delivery costs $12 per location, or you can order above $100 to enjoy free delivery.
Humble Bakery Opens In One Raffles Place With Mochi Scones, Tiramisu Choux And More
---
18. The Browner The Butter 
---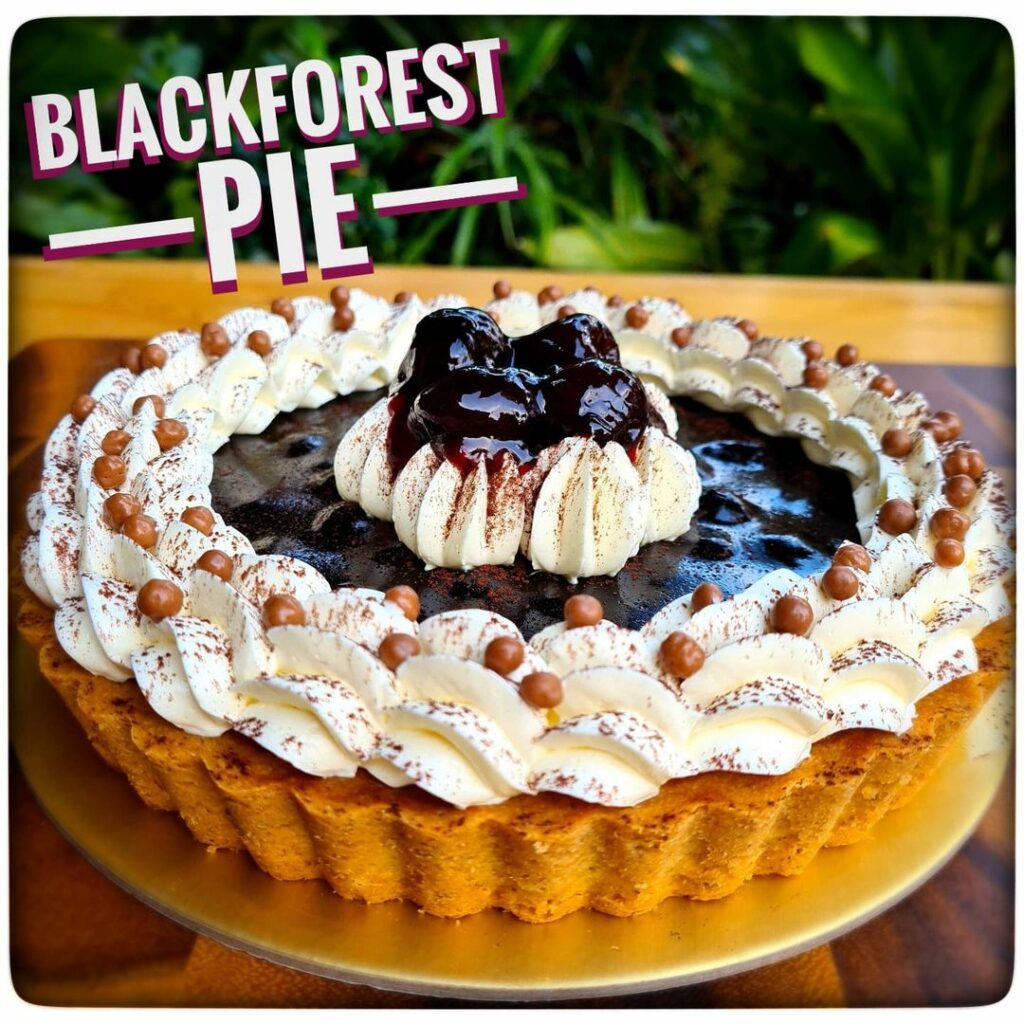 Image credit: @thebrownerthebutter
The Browner The Butter is an online bakery that serves an impressive range of pies, ranging from the savoury Mushroom Truffle Pie ($58) and Spring Pie ($68), which comes with asparagus, pine nuts, Gouda, and Parmesan, to the best-selling Pumpkin Dulce De Leche Pie with Torched Italian Meringue ($58). Alternatively, the mini-sized Pineapple Brown Butter Tartlets ($24 for six) will please anyone with a sweet tooth.

To order their off-menu specials, such as the Beef Cheek Pie ($78), you'll need to WhatsApp them at 90255301.
They also deliver islandwide, from $15 per location.
DM their Instagram to order.
---
19. Dream Hearts
---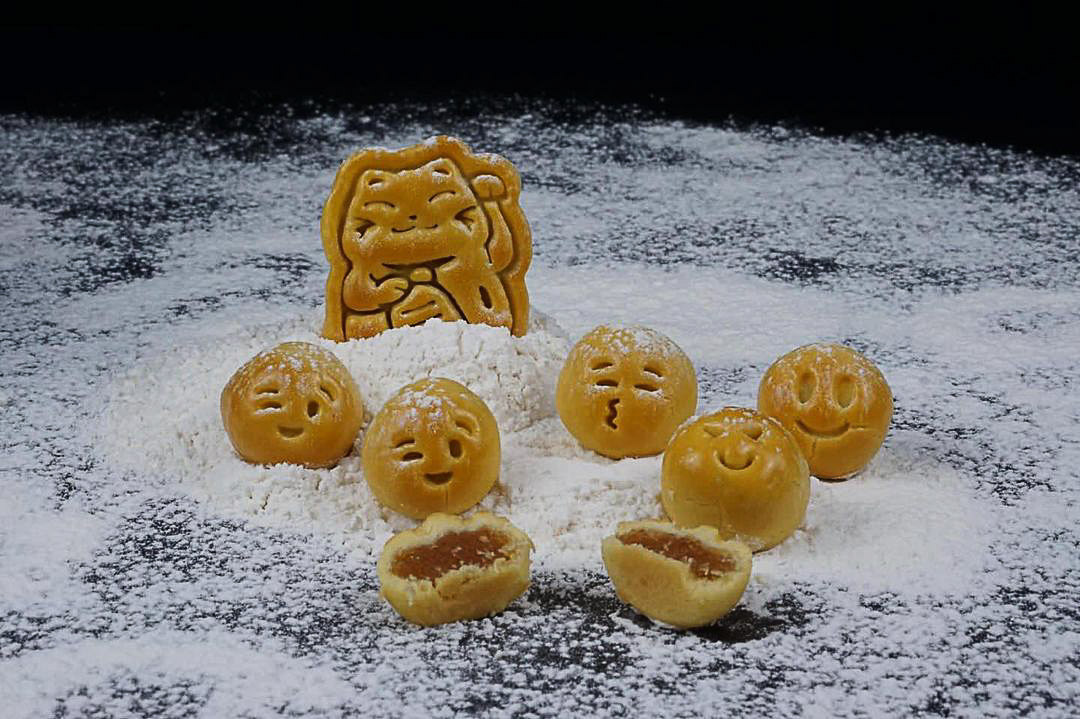 Image credit: @sgdreamhearts
Dream Hearts puts a unique spin on ordinary pineapple tarts by shaping them in unique designs such as fortune cats and smiley faces. They're currently selling a box of their Smiley Tarts at $16 for 18 pieces, and a box of the Fortune Cat Tarts at $18 for eight pieces. Order at least two boxes to score free delivery. Otherwise, there'll be a delivery charge of $4.
DM their Instagram to order.
---
Halal Options
---
20. Bites & Crumbs
---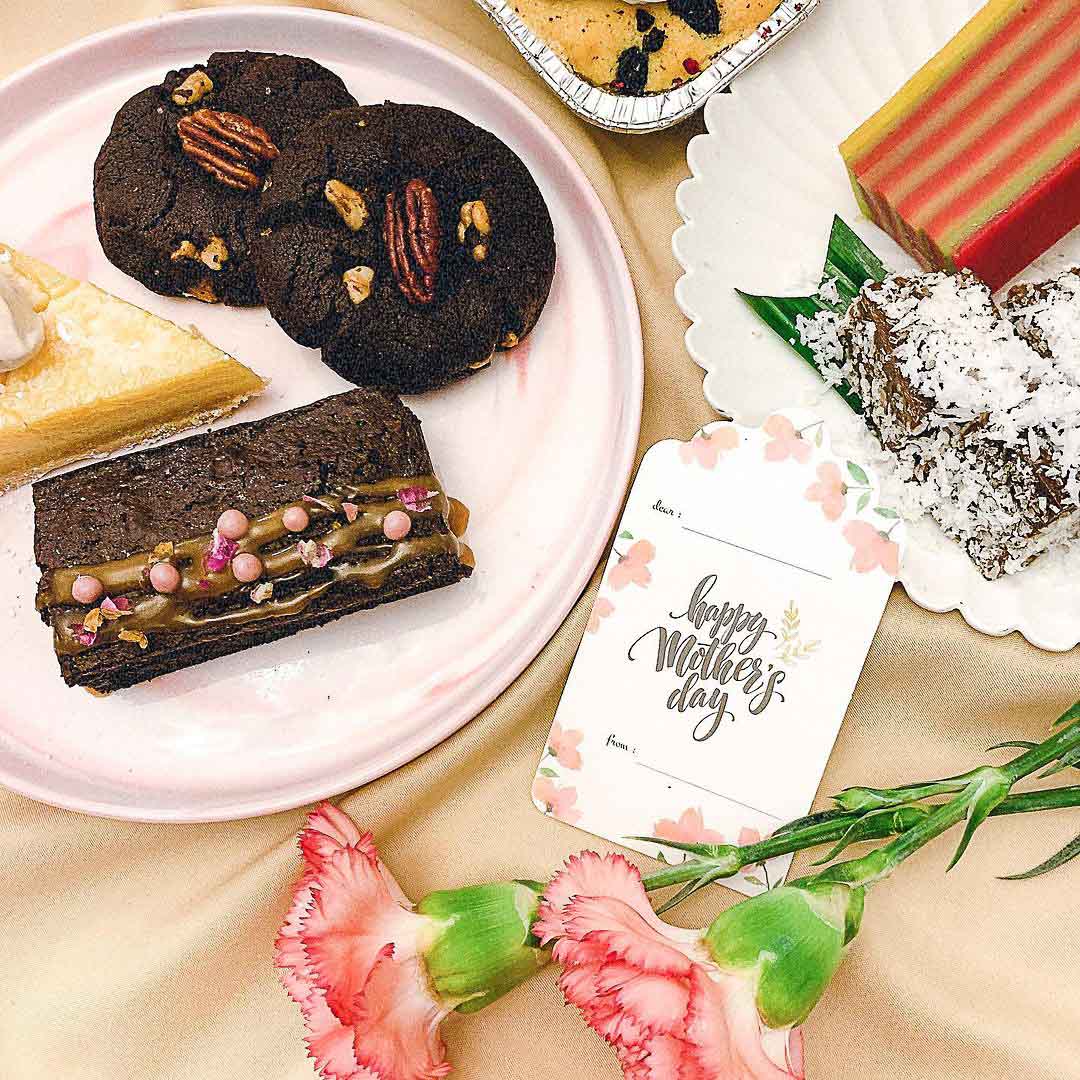 Image credit: @bitesncrumbs
Dessert spreads and wedding cakes may be their speciality, but this home-based bakery has also ventured into making smaller sweet and savoury treats. Their menu changes from time to time, so for December 2022, you can expect seasonal specials such as Brownies ($34) and Strawberry Pistachio Tart ($25).
They work with couriers to deliver islandwide. For cakes, cupcakes and door gifts, delivery is $25 while delivery for bakes from the standard menu ranges from $15 to $28, depending on the location.
DM their Instagram or WhatsApp 94426917 to order.
---
21. Baking Soba
---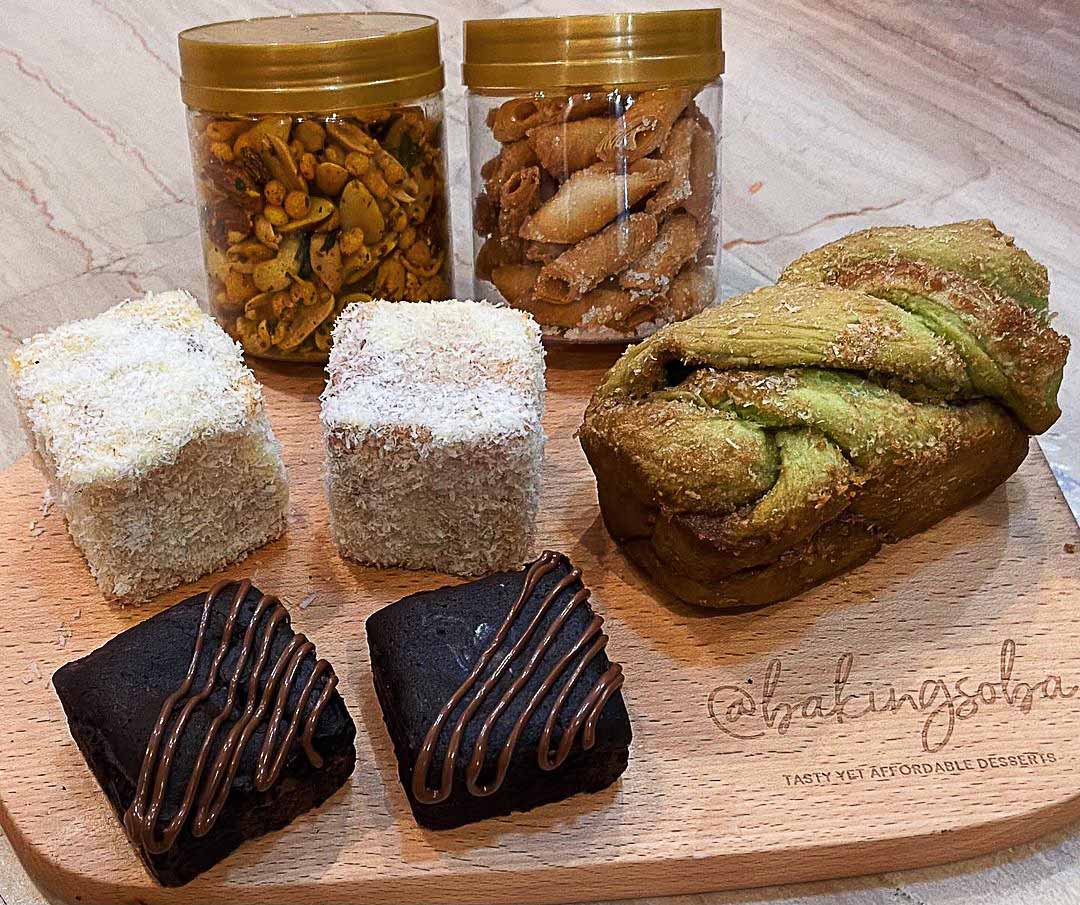 Image credit: @bakingsoba
Baking Soba is a smaller, Muslim-owned home bakery selling their sweet, rustic bakes online. They've got Brownie and Blondie slabs priced from $22 each for a six-inch box, with yummy flavours including Cookies & Cream, Sea Salt Fudge, and Macadamia White Chocolate. Their islandwide dessert box delivery fees range from $8 to $15, depending on your location.
DM their Instagram to order.
---
22. Mon Cerise Patisserie
---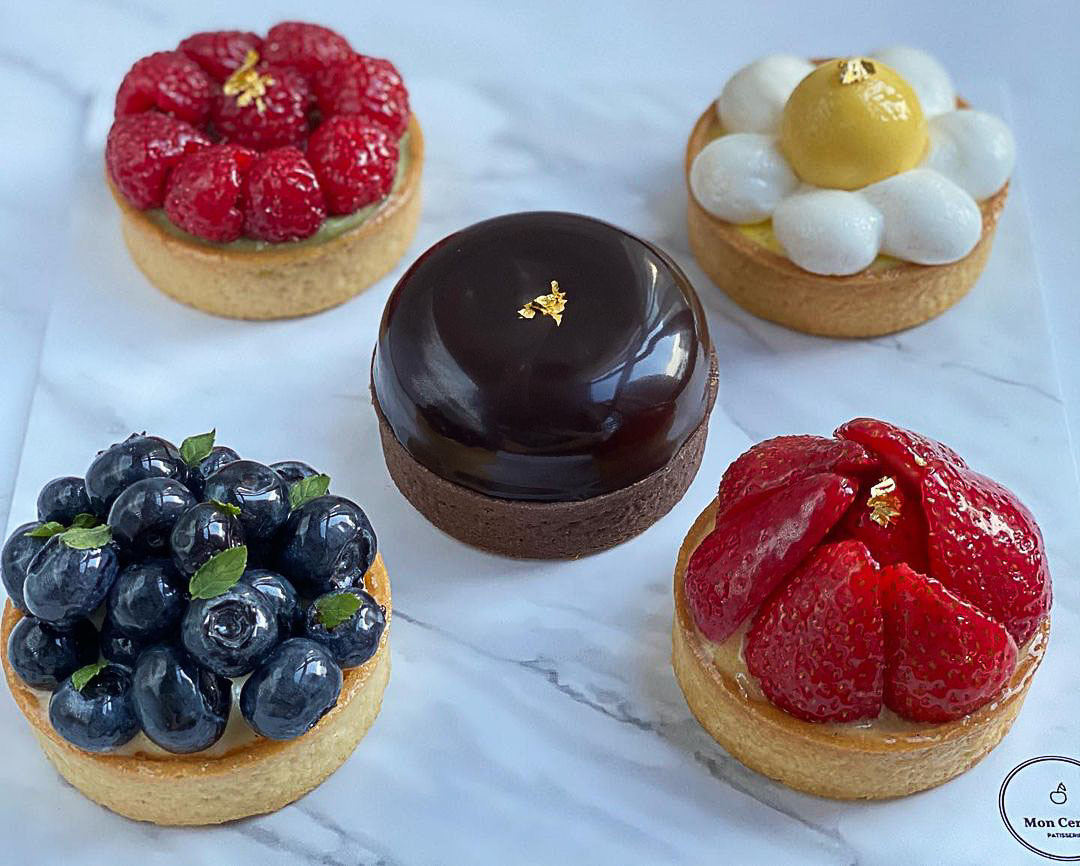 Image credit: @mon_cerisepatisserie
Started out by a Le Cordon Bleu graduate, Mon Cerise Patisserie specialises in French desserts. The owner also states that their patisserie is made only with premium French ingredients. They have a cute Lemon & Basil Tart from $58, featuring a crunchy, butter tart bottom, piped with tangy lemon and basil cream, and finished with meringue.
Islandwide delivery is at a flat rate of $20.
---
Dessert boxes for all budgets
---
With this multitude of options, send a gift over to your loved ones during this trying period and brighten up their day!
For a little perk-me-up, check out our coffee delivery guide for cold brew, artisanal roasted coffee and more. Otherwise, check out our cafe delivery guide for fried chicken waffles, mentaiko carbonara and more.
15 Cafe Delivery Options For Fried Chicken Waffles, Mentaiko Carbonara And More
Feature image adapted from @missvandough
This post is brought to you by The Durian Bakery, Rainbowly, Luminyoyo, and Bob The Baker Boy.
This article was originally written on 5 June 2020.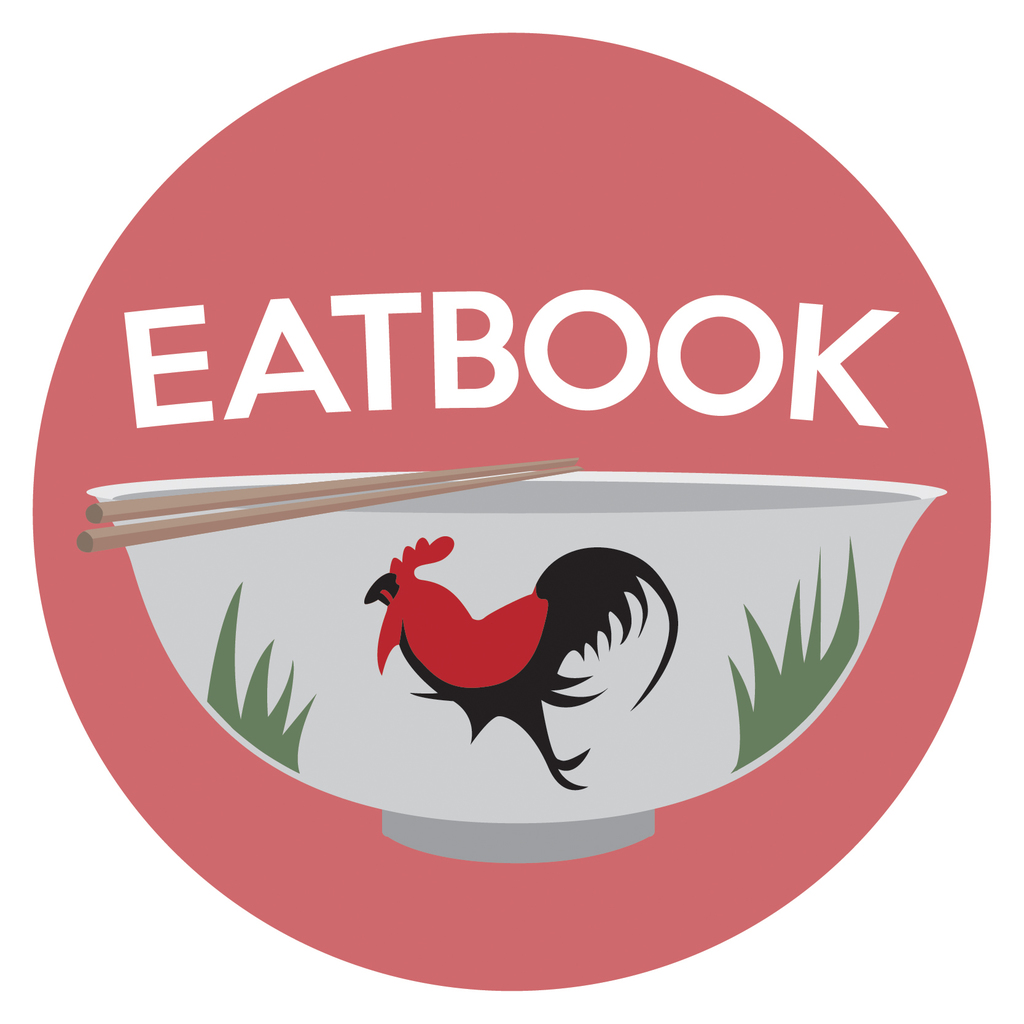 Drop us your email so you won't miss the latest news.