---
Cafes for the best coffee in Singapore
---
My friends often joke that my blood is made up of iced coffee. It's true, I am a self-proclaimed coffee fanatic. If you are like me and subsist on a diet of caffeine, check out our list of 21 best coffee cafes in Singapore for good brew. Some of them serve food too, if you want bites to go along with your favourite coffee. Many of them also roast their own beans, so you can take home a bag or two to make your own coffee at home.
---
1. Gloria Jean's Coffees
---
If you've missed your dose of Gloria Jean's from your overseas trips, heads up, because the brand is back in Singapore! With three outlets at Esplanade Mall, West Coast Plaza, and Marina Square, and a staggering 70 drinks on the menu, they've got your upcoming coffee and chill dates sorted.
Choose from three coffee blends━Special Espresso Blend, Nicaraguan Single Origin, and Glorious Blend━to go with your drinks, including Voltage Espresso Chiller, which features blended coffee beans for texture. This ice-blended coffee, as well as the non-caffeinated Chai Tea Chiller, Rocky Road Chiller, and Matcha Crème Brûlée Chiller, start from $6.90 a cuppa.
Esplanade Mall
Address: 8 Raffles Avenue, #01-13E, Esplanade Annexe, Singapore 039802
Opening hours: Sun-Thurs 8am to 10pm, Fri-Sat & Eve of Public Holidays 8am to 11pm
Tel: 6931 7899
West Coast Plaza
Address: 154 West Coast Road, #B01-07, West Coast Plaza, Singapore 127371
Opening hours: Daily 8am to 10pm
Tel: 6974 6880
Marina Square
Address: 6 Raffles Boulevard, #03-132/133, Marina Square, Singapore 039594
Opening hours: Sun-Thurs 9am to 9pm, Fri-Sat 9am to 10pm
Tel: 6993 2089
Website
Gloria Jean's Coffees is in the process of applying for halal certification.
---
2. Nylon Coffee Roasters
---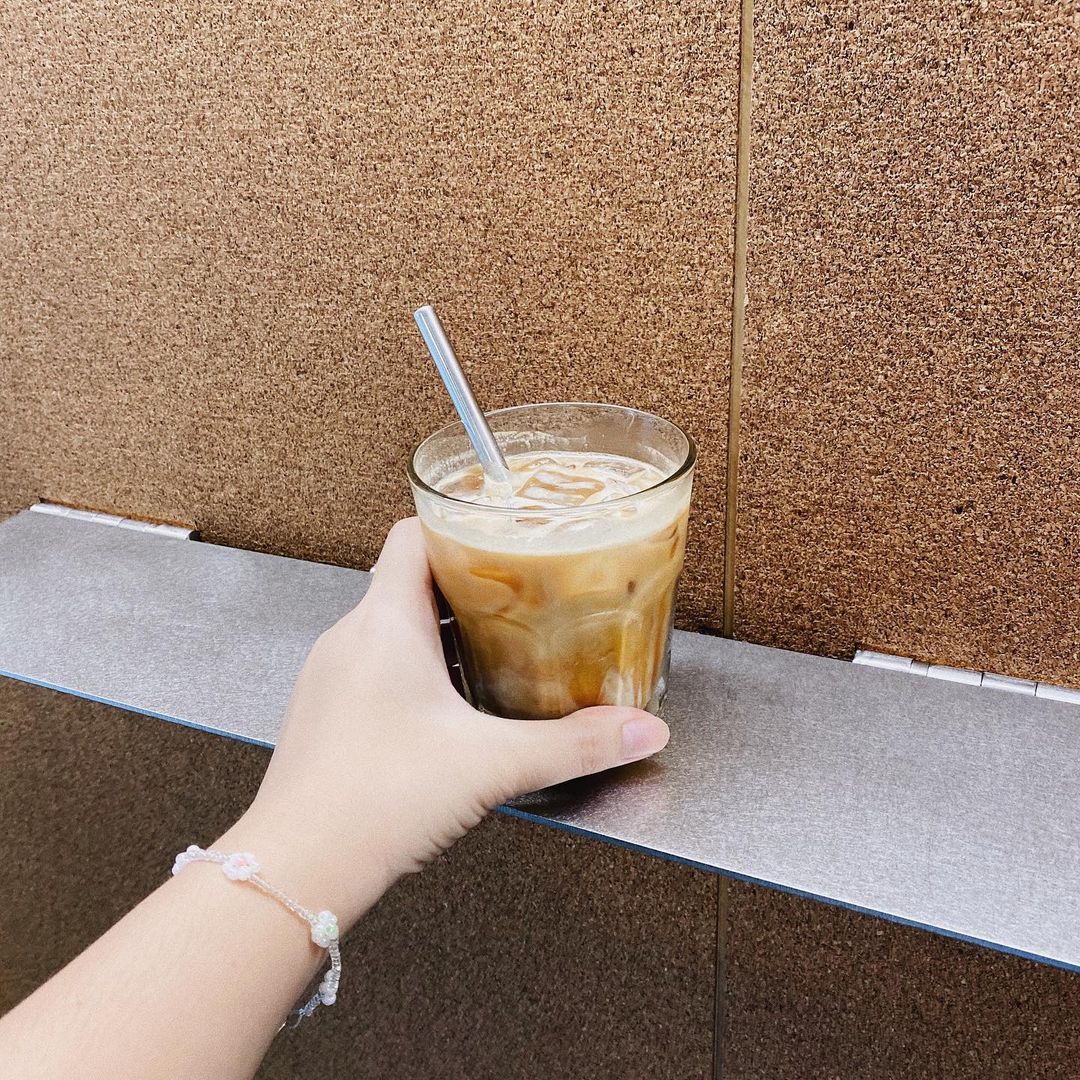 Image credit: @fatty.png
Nylon Coffee Roasters is no stranger to Singapore's coffee scene. Established in 2012, the hole-in-the-wall cafe prides itself on sourcing the best coffee beans. They have garnered a strong following, with long queues at any time of the day. Many ardent fans even look to this humble cafe as a spot to get some of the best coffee beans you can find in Singapore.
Nylon enthusiasts swear by the cafe's White (from $4.50) with Oat Milk ($1). Meanwhile, purists can opt for their filter coffees, with a range of blends to choose from. These include the Ethiopia Haru ($6.50), which has lime, peach, and jasmine undertones. Do note that the coffees here are seasonal.
Address: 4 Everton Park, #01-04, Singapore 080004
Opening hours: Wed-Sun 9am to 4:30pm
Tel: 6220 2330
Website
---
3. Venture Drive Coffee
---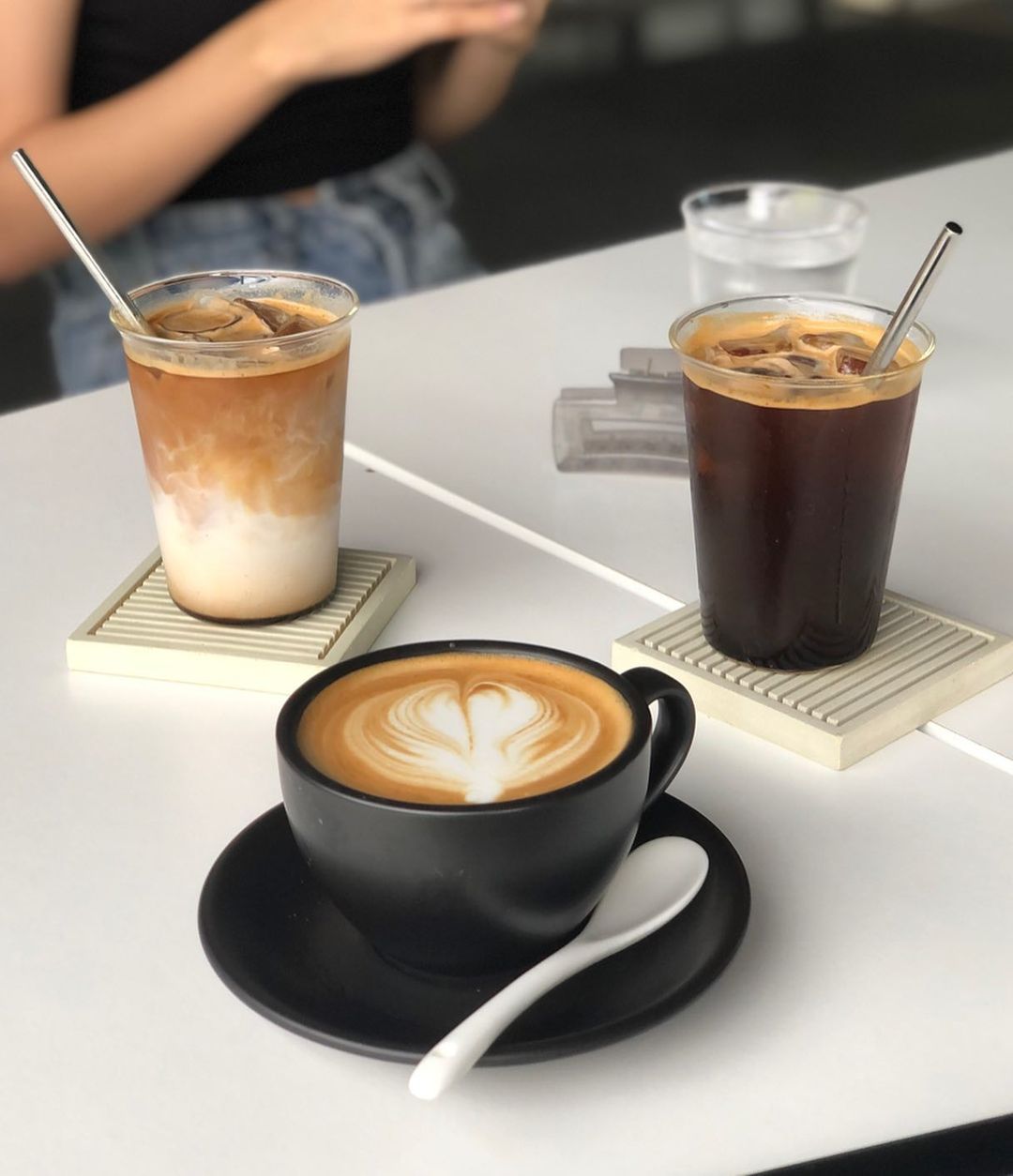 Image credit: @tianscrumbs
An underrated Westside cafe, Venture Drive Coffee serves up single-origin coffees in a minimalist setting. The space is decked in monochromatic hues, with a sleek bar where you can watch the baristas make your coffee.
Get the Iced Black ($6) to enjoy a complete flavour of the beans, while staying refreshed in Singapore's heat. If black coffees are too potent for you, the Iced White ($6.50) makes for a good alternative.
Address: 123 Bukit Merah Lane 1, #01-110, Singapore 150123
Opening hours: Thurs-Sun 10am to 6pm
Website
---
4. Homeground Coffee Roasters
---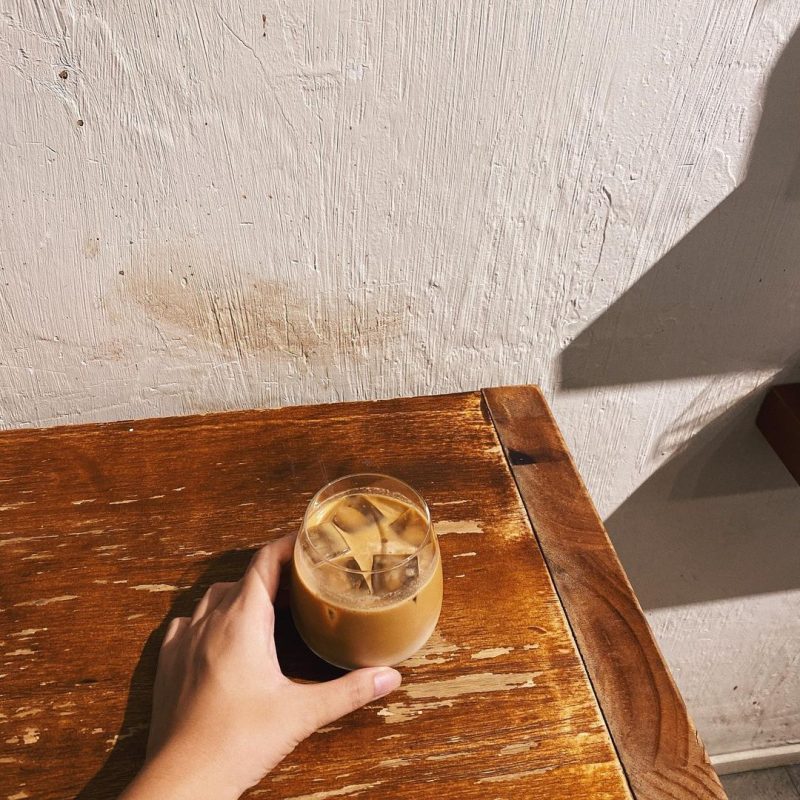 Image credit: @fatty.png
Katong is home to many cafes that offer some of the best coffee in Singapore, and one of them is Homeground Coffee Roasters. With a mission to spread their love for brewing, the cafe also provides coffee-making guides and classes. 
Go for the White (from $4.50), made with their signature Lollipop blend. This has white chocolate notes, with a malty finish. Alternatively, try the filter coffee with their Breakfast In Bed Blend ($7), which has a maple syrup flavour. If you want a fuller meal, they also do light bites, mains, and pastries.
Address: 475 Joo Chiat Road, Singapore 427682
Opening hours: Daily 9am to 5pm
Tel: 8218 4285
Website
---
5. Chye Seng Huat Hardware
---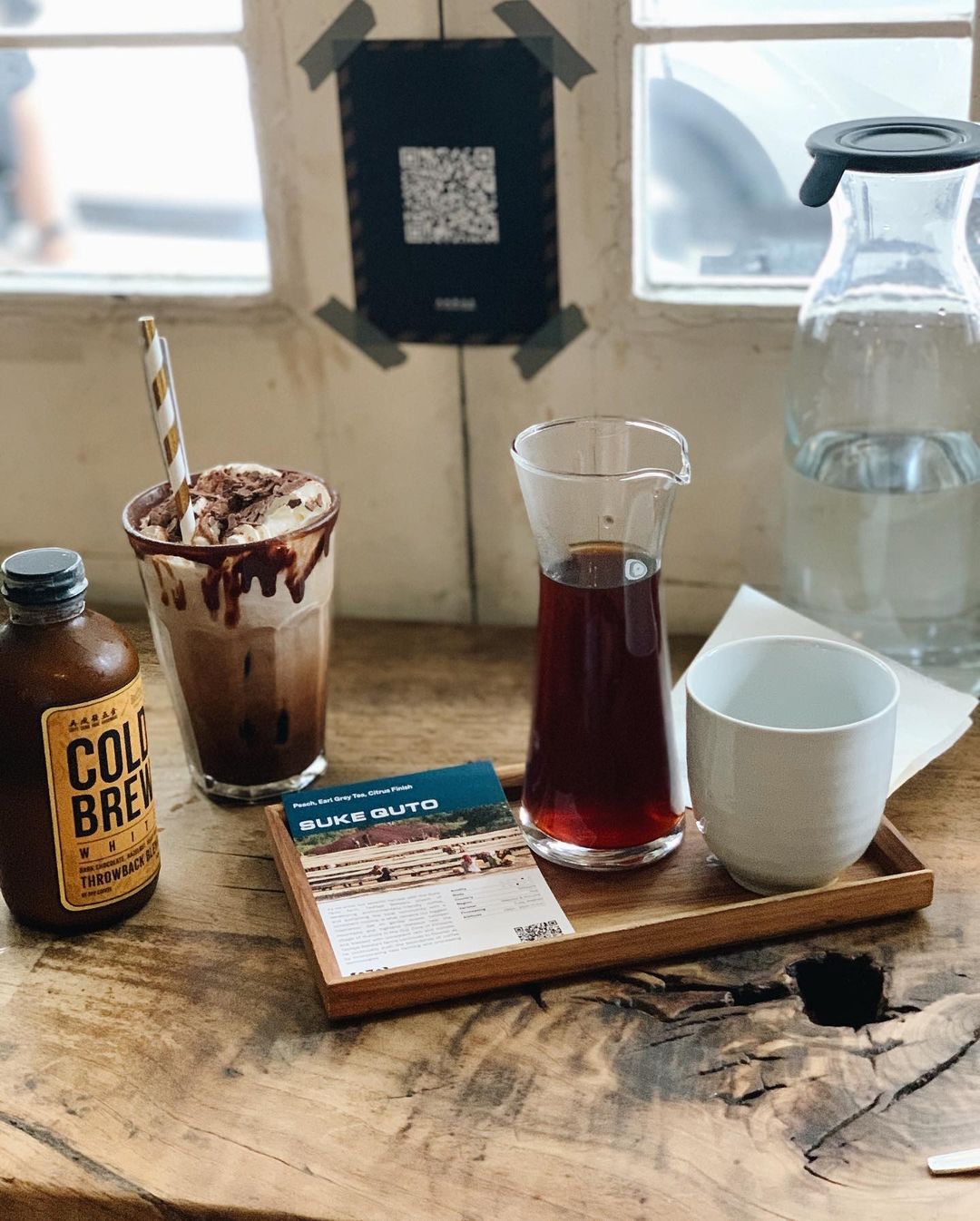 Image credit: @joandjuseats
Most people go to Chye Seng Huat Hardware for their brunch and industrial-chic vibes, but the cuppas here contend as some of the best coffee you can find in Singapore. As the flagship for coffee roasters PPP Coffee, the space sees a coffee bar, where you can get a 360-degree view of the baristas hard at work. 
Venture out of the usual hot cappuccinos with their Cold Brew Red ($8), made from coffee cherries and jasmine tea. If not, you can't go wrong with their Latte (from $6), which stars a roasted, nutty aftertaste.
Address: 150 Tyrwhitt Road, Singapore 207563
Opening hours: Daily 9am to 10pm
Tel: 6396 0609
Website
---
6. Alchemist
---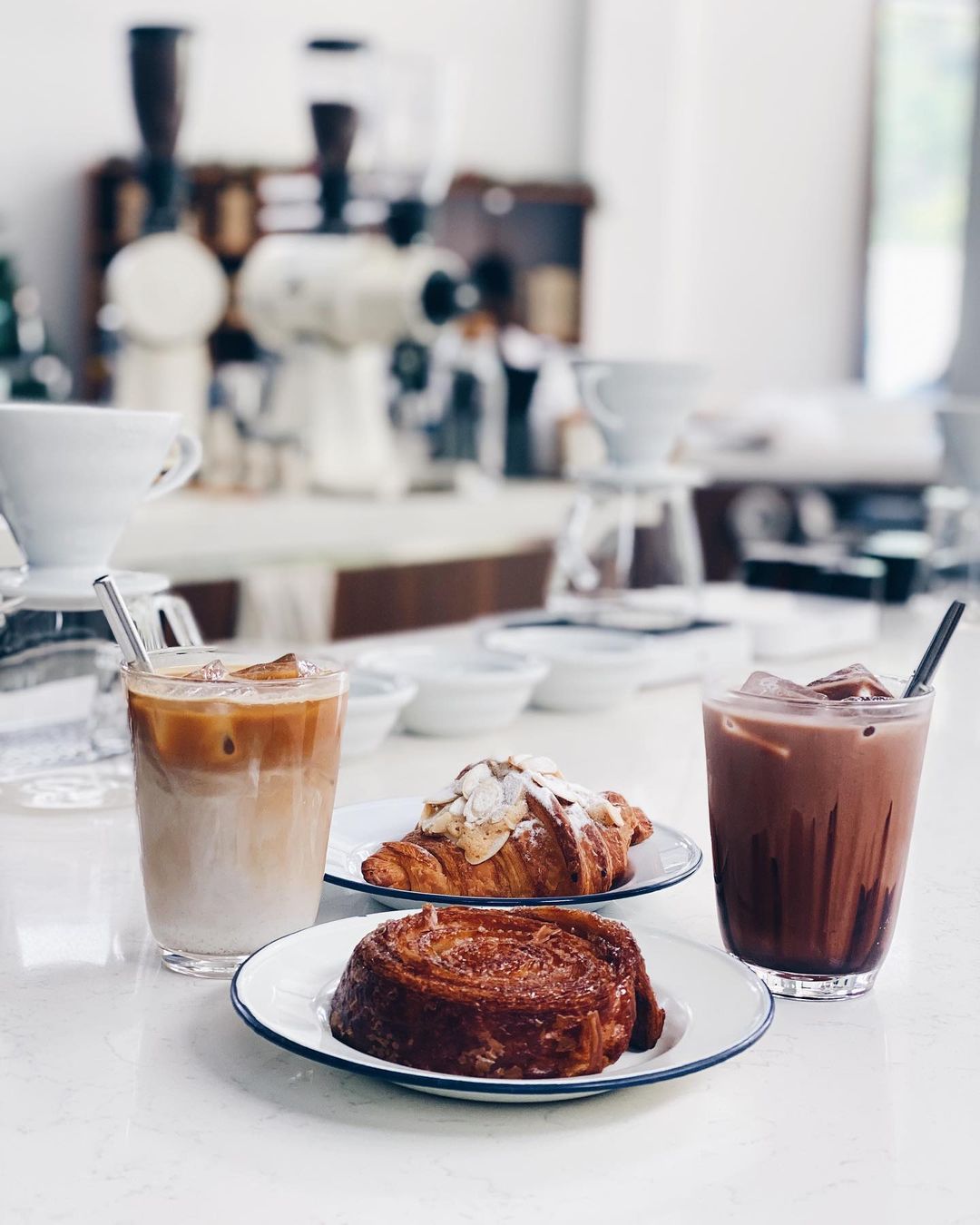 Image credit: @jollyceeeel
You might recognise Alchemist from its storefront, which looks like a Khong Guan biscuit tin. The brand started out as a takeaway joint in International Plaza and has five outlets to its name today. 
Apart from the standard espresso-based coffees, they also do seasonal pour-overs. These are priced from $6 to $12, and feature beans from Colombia, Kenya and more. If you're feeling peckish, the cafe sells pastries too, sourced from local bakery The Bakehaus.
Address: 2 MacTaggart Road, #01-01, Khong Guan Building, Singapore 368079
Opening hours: Mon-Fri 8am to 5pm, Sat-Sun 9am to 6pm
Tel: 8875 7790
Website
---
7. Double Up Coffee
---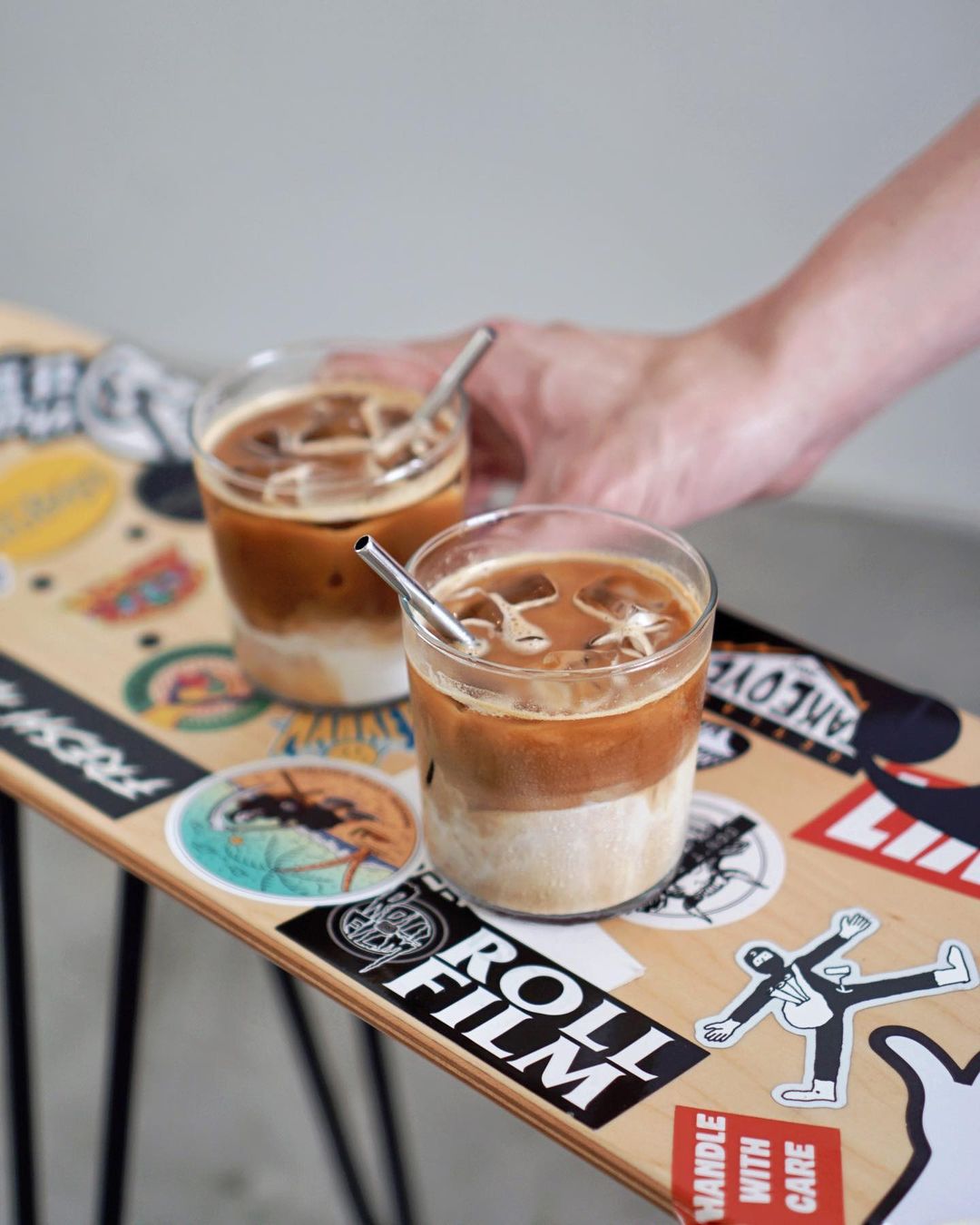 Image credit: @travlim
I am most intrigued by the quirky skateboard table and old-school chairs at Double Up Coffee. Aesthetics aside, their menu comprises coffee, non-coffee drinks, and pastries, all laced with fun elements.
For example, the conventional latte is named Spro With Milk ($5), where 'spro' is slang for 'espresso'. Meanwhile, the black is humorously named Spro With Water ($4.50). These coffees use beans sourced from a local cafe, Bearded Bella, with milk chocolate notes. Do note that their pastries are served on a rotational basis, so you'll be surprised every time. 
Address: 7 Jalan Klapa, Singapore 199319
Opening hours: Mon, Wed-Thur, Sun 10am to 6pm
Website
---
8. %Arabica
---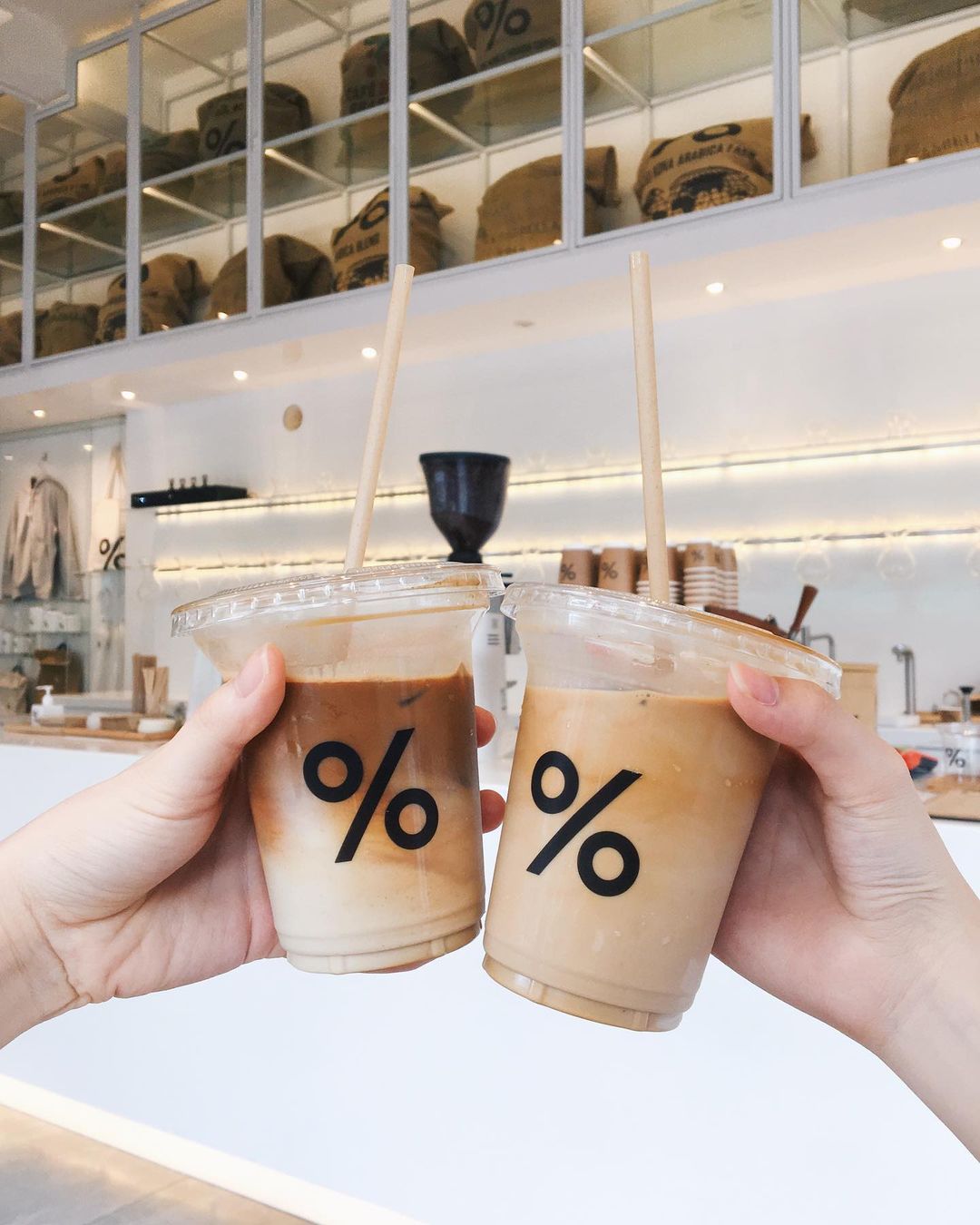 Image credit: @fattyrecs
I was ecstatic when %Arabica first arrived on our shores with their flagship at Arab Street, having patronised the OG store in Kyoto before. Their prices are on the steeper end, but worth the splurge every once in a while.
You can choose their signature blend, or top up $1 for single-origin coffee. Sweet-toothed readers will surely enjoy the Spanish Latte (from $7.80), made with condensed milk. Meanwhile, if you're here with a non-coffee drinking friend, the Matcha Latte (from $8.60) is a great beverage option.
Address: 56 Arab Street, Singapore 199753
Opening hours: Sun-Thurs 8am to 6pm, Fri-Sat 8am to 8pm
Tel: 6291 3887
Website
---
9. Apartment
---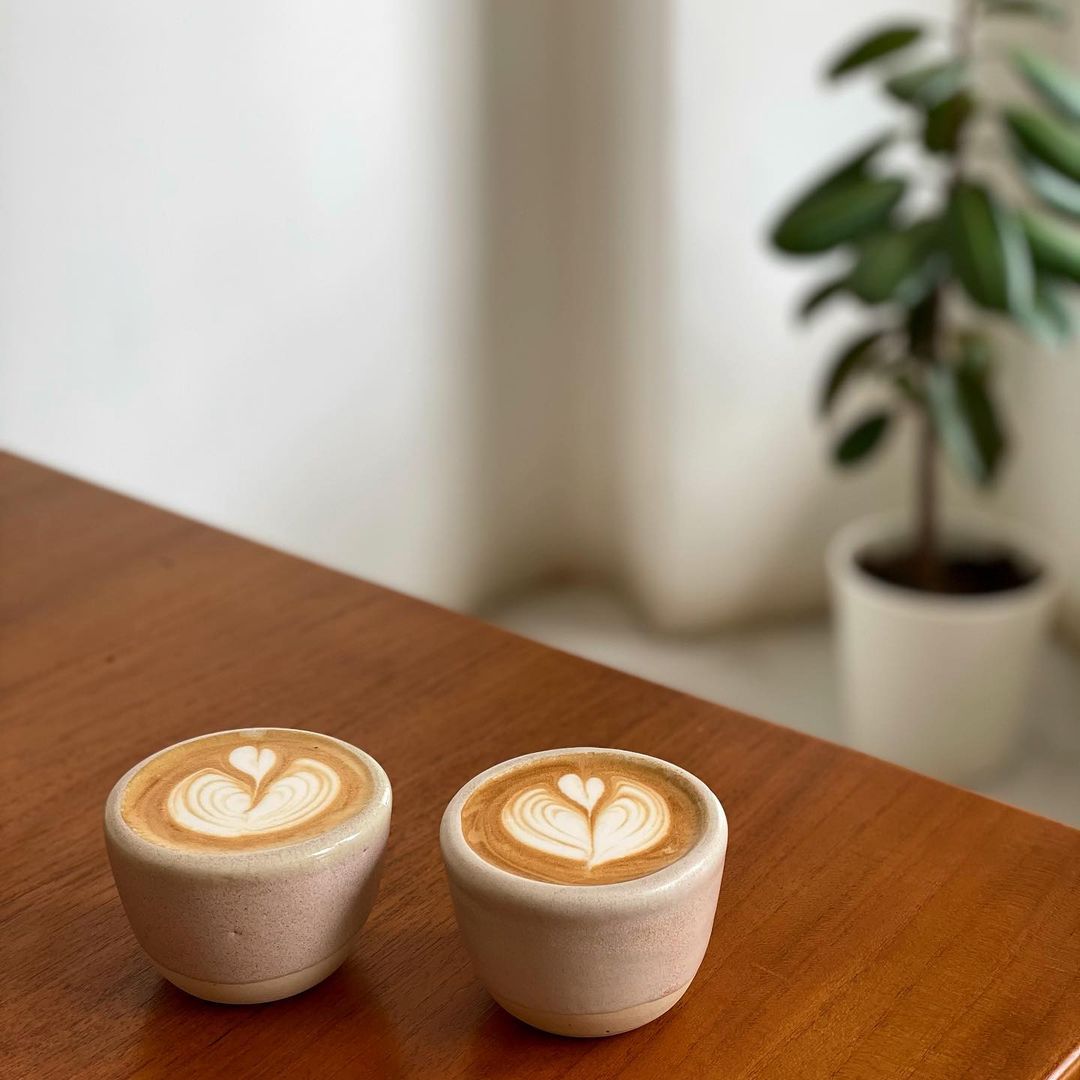 Image credit: @thecontentedbelly
Apartment is owned by a Singapore Brewers Cup champion, the most prestigious award there is for local baristas. Probably one of the most gorgeous cafes I've seen, the space sees sunlight-dappled interiors, with a mix of white and brown decor. Every ceramic cup of coffee comes with a card that explains the backstory of the beans used—a display of the brand's passion for coffee.
Their menu is seasonal, with a focus on filter coffees priced around $6.30 to $7.30. They feature beans from around the world, including El Salvador and Ethiopia. 
Address: 161 Lavender Street, #01-12, Singapore 338750
Opening hours: Daily 10am to 6pm
Website
---
10. Old Hen Coffee Bar
---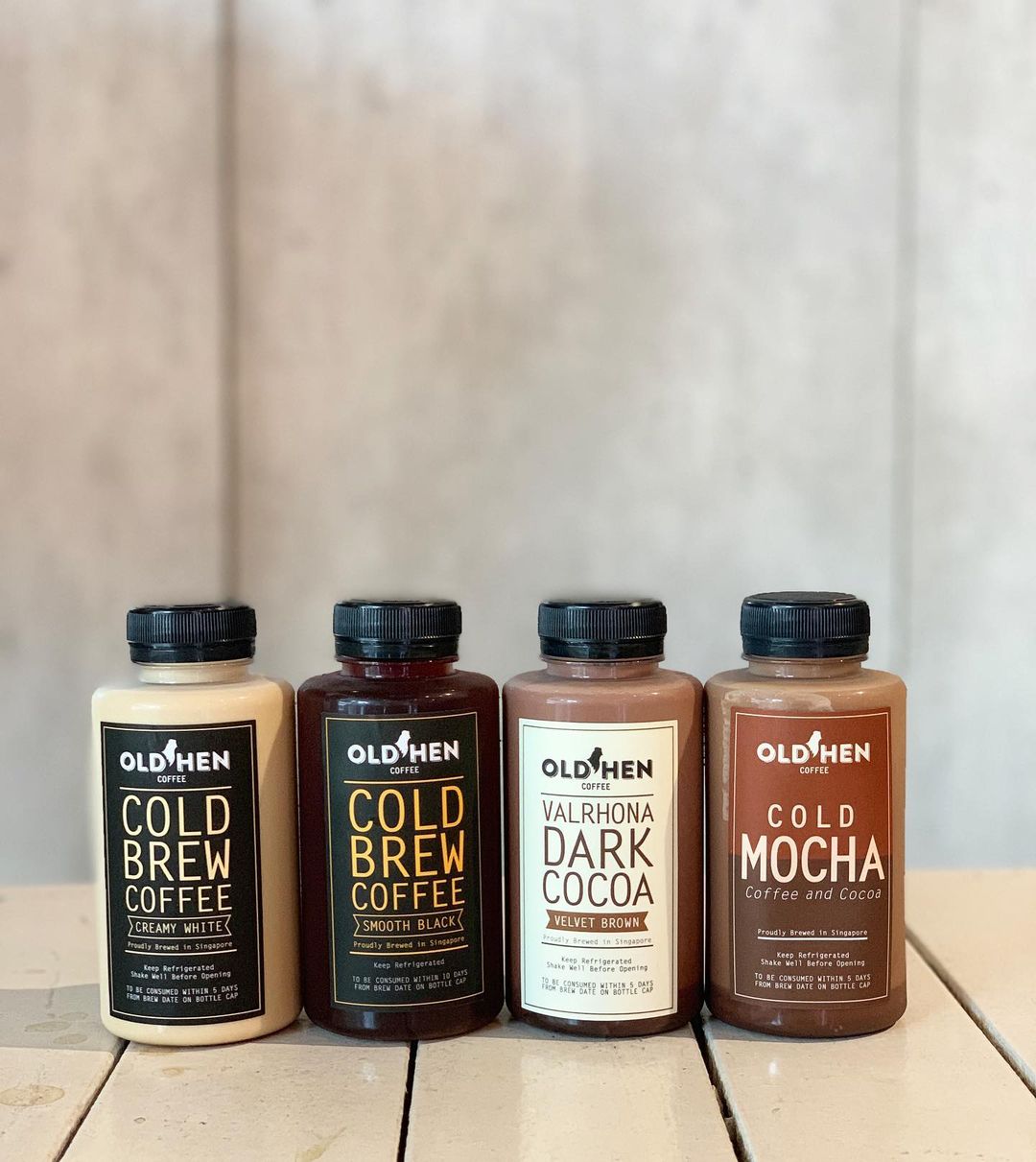 Image credit: @kennethloy
Another popular name in the coffee industry is Old Hen Coffee Bar, known for their extensive range of cold brews. The White Cold Brew Coffee ($6.90) is creamy and aromatic, ideal for basic coffee drinkers. Meanwhile, if you love chocolate and coffee, get the best of both worlds with the Cold Mocha ($7.90). 
Their menu also includes brunch fare, mains, and desserts that make for good bites alongside your preferred beverage. If that's not enough, they have a second outlet within Farrer Park at Owen Road, with a larger selection of food.
Address: 88 Rangoon Road, #01-03, Singapore 218374
Opening hours: Daily 9:30am to 6:30pm
Tel: 6341 5458
Website
---
11. Glyph Supply Co
---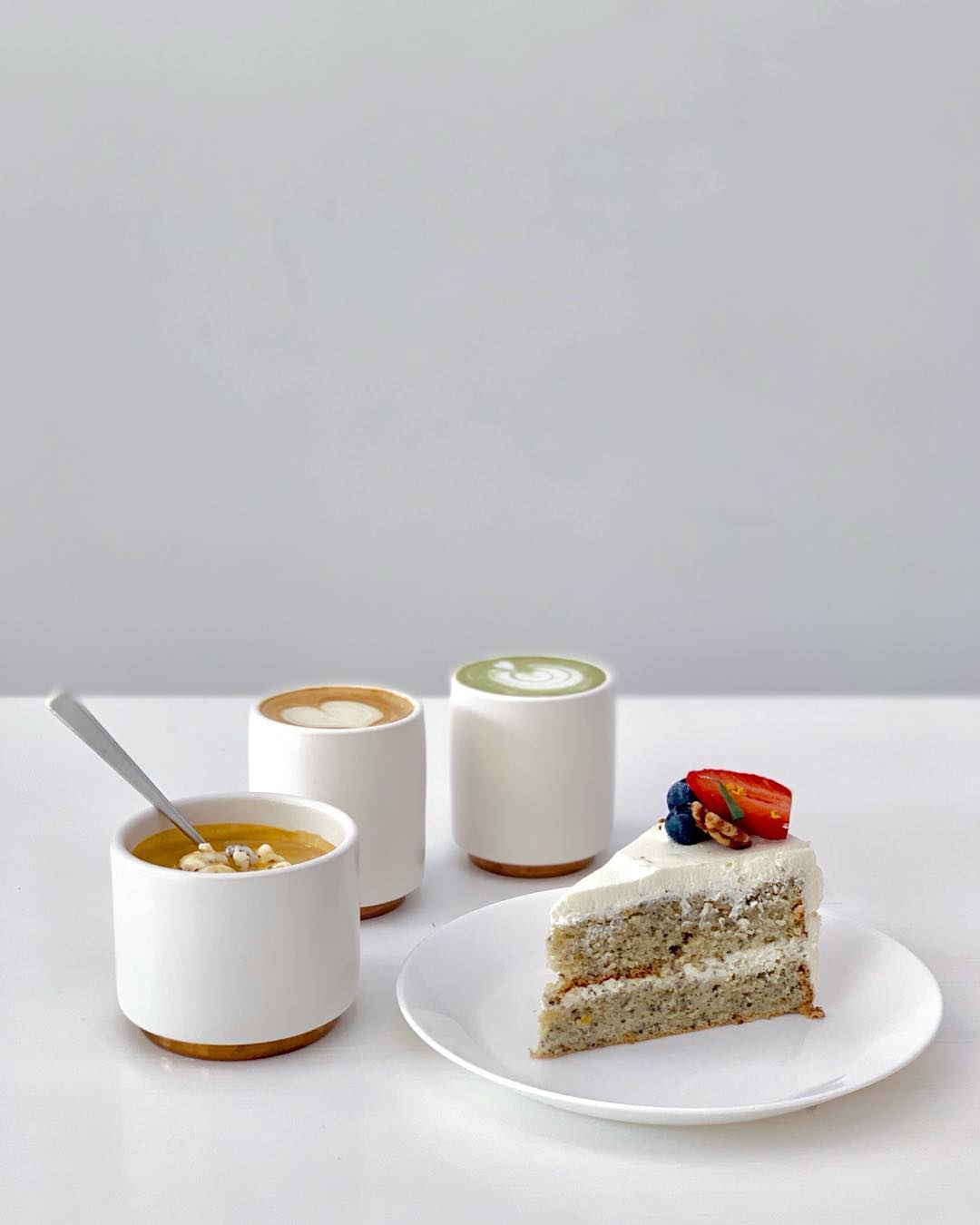 Image credit: @xp11
Located within the 111 Somerset mall, Glyph Supply Co is another IG-worthy cafe to add to the list. They do seasonal filter coffees, but their Black ($4.50), White ($5.50), and Cold Brew ($6) are standard fixings on the menu.
The cafe also roasts their own beans. Sourced from Ethiopia, these sport fruity notes akin to stewed apricots and blueberries. 
Address: 111 Somerset Road, #01-06, TripleOne Somerset, Singapore 238164
Opening hours: Daily 8:30am to 5:15pm
Website
---
12. Maxi Coffee Bar
---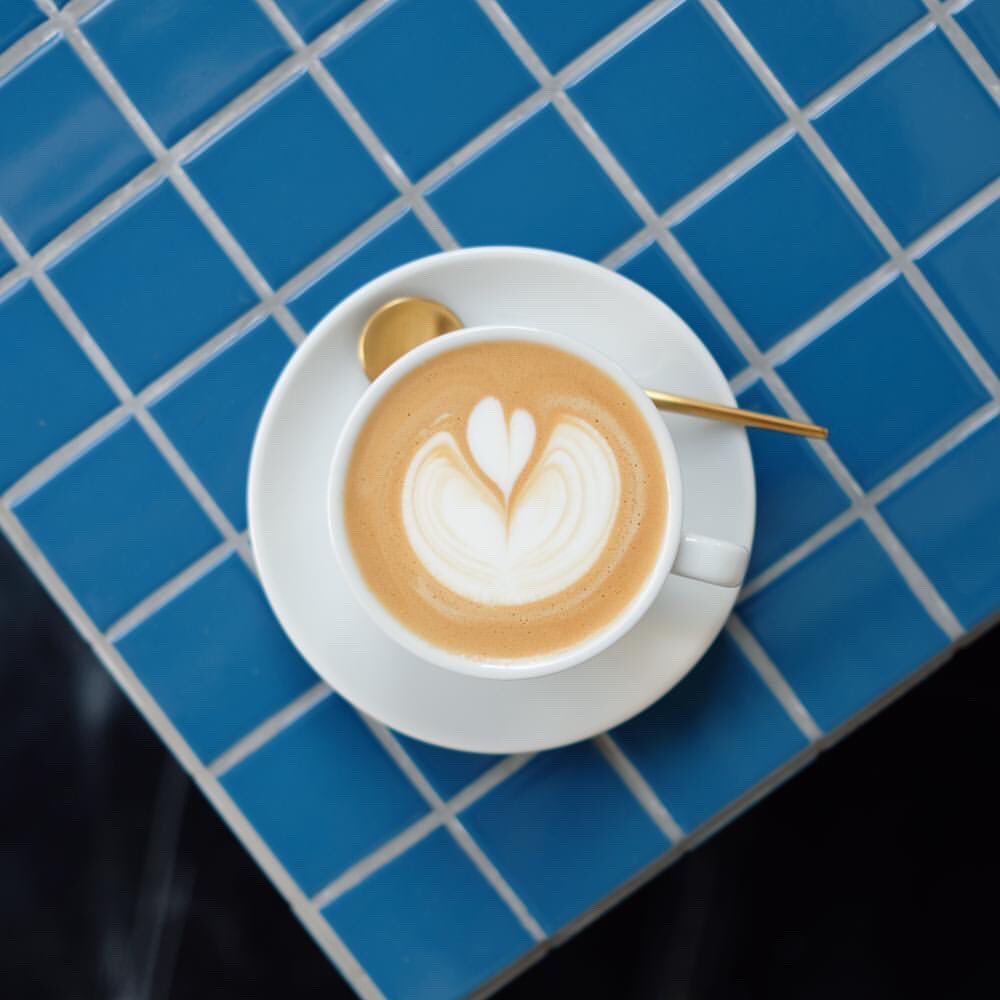 Image credit: @oritakemura
These quaint blue checkered tables might have graced your IG feed at some point. They belong to Maxi Coffee Bar, one of the newest additions to Ann Siang Hill. The cafe rotates their menu on a seasonal basis, but crowd favourites still remain, which include the Iced Cereal Milk Latte ($7.50). Imagine the bowl of leftover milk after you've finished your cereal—this tastes like that, except perfumed with coffee. Another is The "Dirty" ($7.50), inspired by dirty chai, and made with oat milk and spices.
Address: 6 Ann Siang Hill, Singapore 069787
Opening hours: Tue-Fri 8am to 5pm, Sat-Sun 9am to 5pm
Tel: 9776 7400
Website
---
13. Glass Roasters
---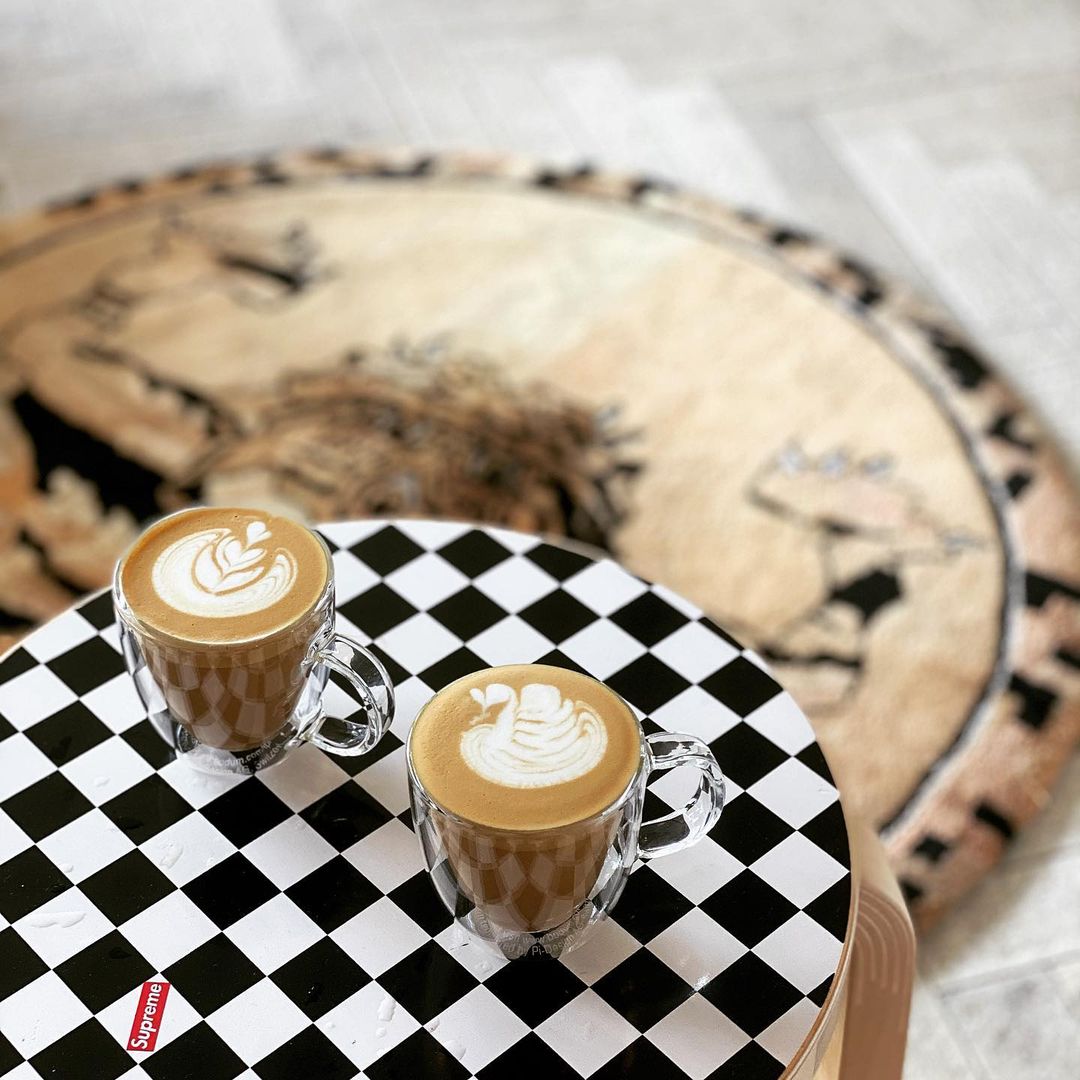 Image credit: @shanmaine
If you want to enjoy your coffee with ice cream and waffles, check out Glass Roasters, a cafe in Faber Drive that shares space with Gelatolabo. Their menu is simple, serving only Black ($4.50) and White ($5.50) coffee. These are robust, with fruity undertones, and a slightly acidic finish. You can also top up $1 to swap out your milk for oat or soy alternatives.
Address: 108 Faber Drive, Singapore 129418
Opening hours: Wed-Mon 9am to 6pm
Website
Glass Roasters is not a halal-certified eatery.
---
14. Juparo Coffee
---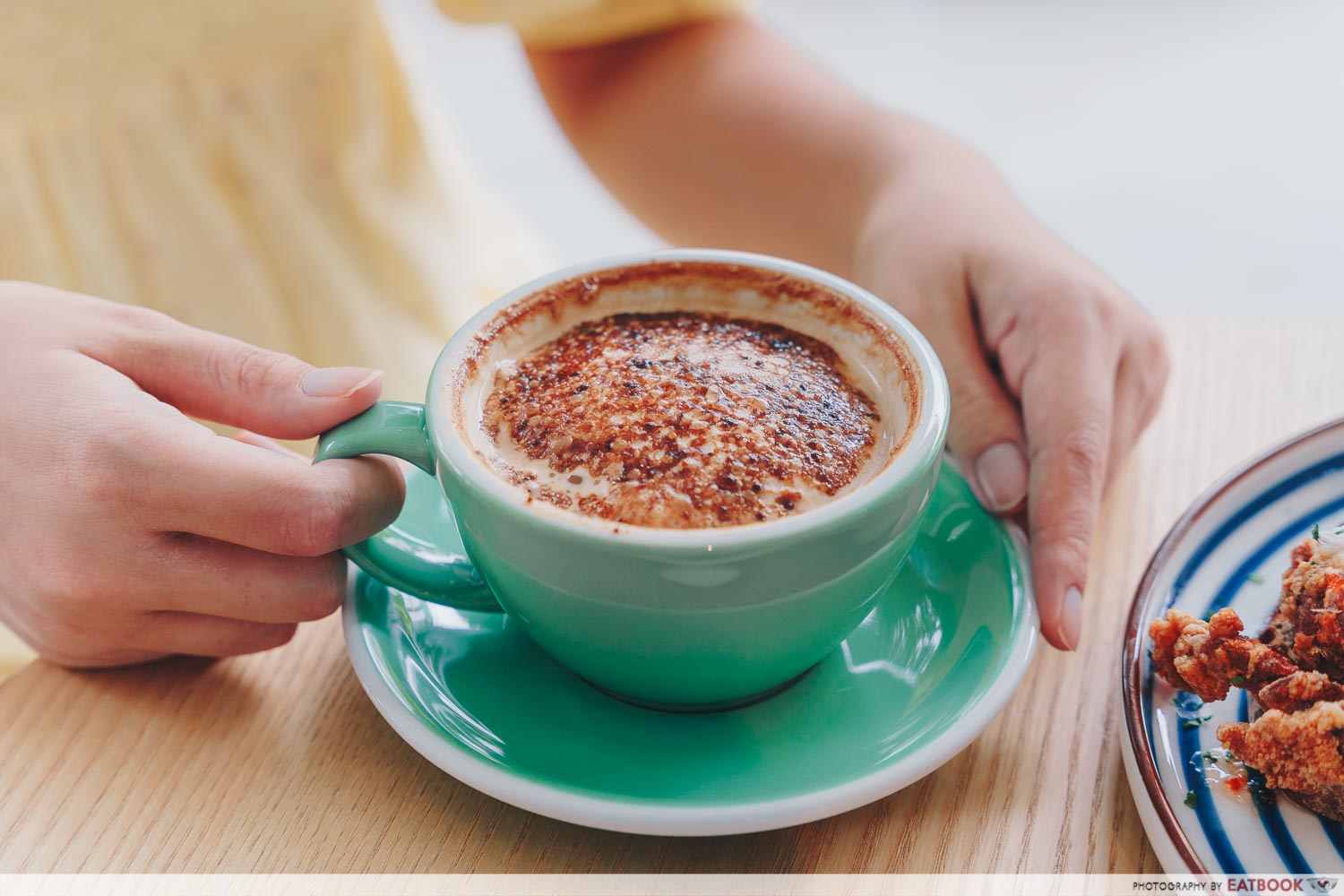 We recently visited Juparo Coffee, the new kid on the block at Potong Pasir. The owner used to work in the financial line while manning coffee carts on the side. Today, he has transitioned into a barista full-time, with a mission to create a cup of coffee that's loved by everyone.
For those with a sweet tooth, get the Kogeta Cappuccino ($6). This drink is sweetened by Japanese molasses, with a distinct note of coffee that hits you at the end. If you're feeling like something stronger, choose from their selection of pour-overs. They include Cheri Nyekundu ($8) from Ethiopia, which has floral notes, and Micro Carmo ($6) from Brazil, with hints of caramel and almond butter.
Check out our Juparo Coffee review!
Address: 51 Upper Serangoon Rd, #01-59, Poiz Centre, Singapore 347697
Opening hours: Tues-Sat 10am to 10pm, Sun 10am to 8pm
Tel: 6241 4041
Website
Juparo Coffee is not a halal-certified eatery.
---
15. Baristart Coffee
---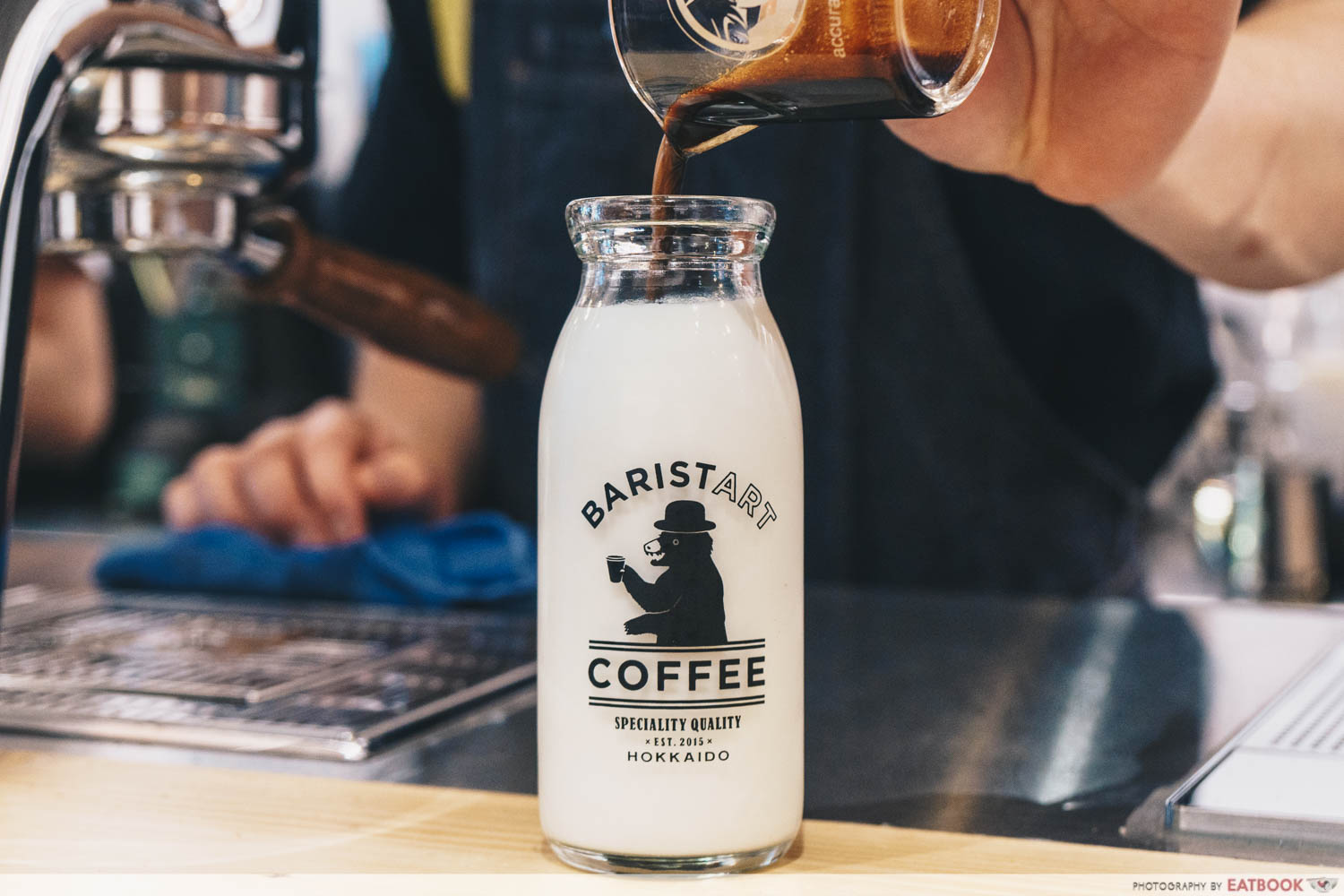 Hailing from Hokkaido is Baristart Coffee, with an emphasis on white coffees using freshly imported Hokkaido BIEI Jersey Milk. Known for being extra creamy, this milk comes from Brown Jersey Cows that make up only 1% of Japan's cow population. You can enjoy this with their Biei Jersey Milk Coffee ($8.50++), which sees a ristretto shot added to the pour.
Otherwise, get the Latte ($6.70++), which has a fragrance akin to freshly-made caramel. The cafe is also known for its cream puff, with Biei custard encased in choux pastry, so be sure to order that to go with your coffee! 
Check out our Baristart Coffee review!
Address: 65 Tras Street, Singapore 079004
Opening hours: Mon-Thurs 9am to 6pm Fri-Sun 9am to 9pm
Tel: 6904 3169
Website
Baristart Coffee is not a halal-certified eatery.
---
16. Common Man Coffee Roasters 
---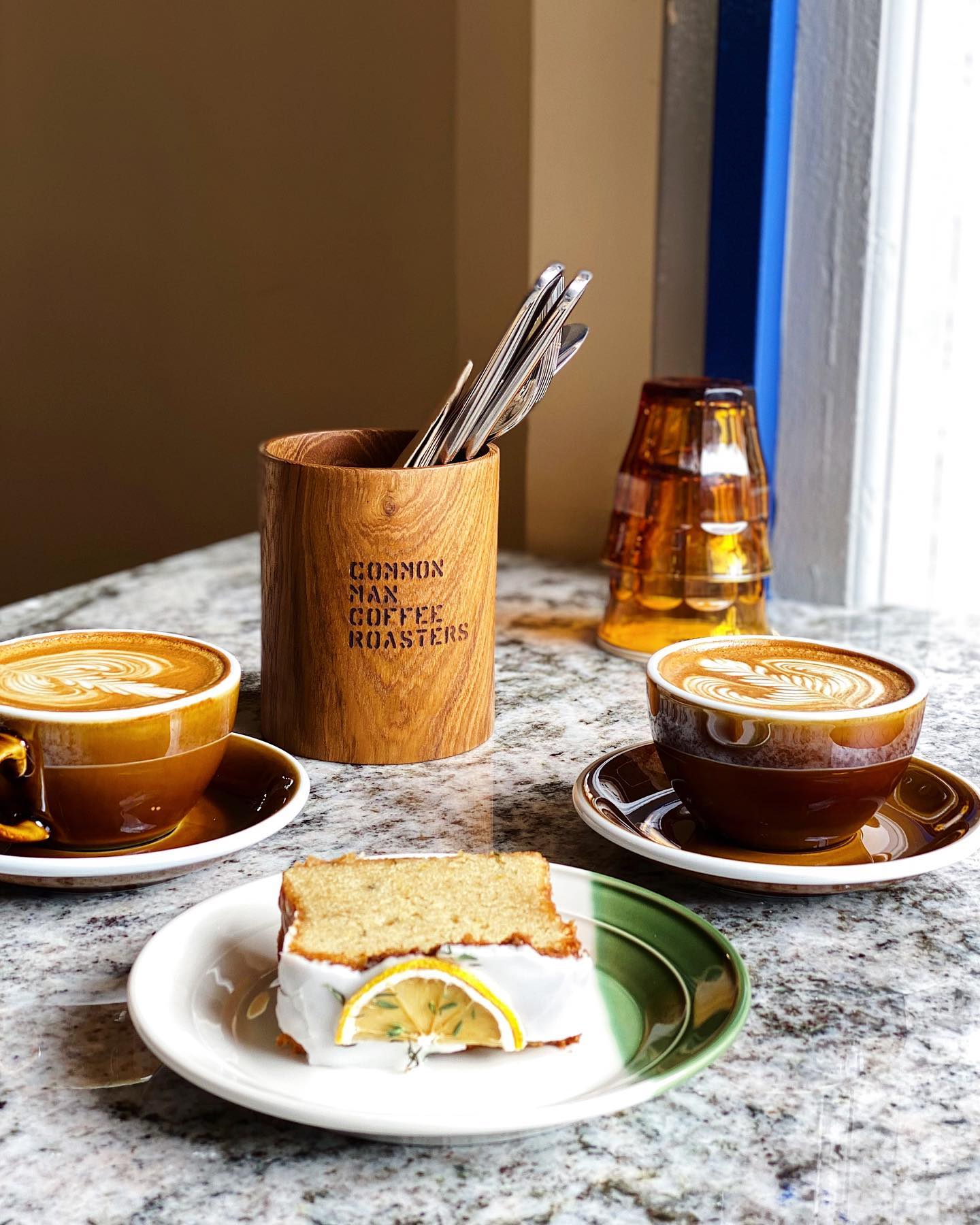 Image credit: Common Man Coffee Roasters
Common Man Coffee Roasters is arguably one of the OG names in our local coffee scene. They're a specialty roaster with a focus on sustainably sourced coffee, as well as a cafe and barista training academy. They first established as a cafe in 2013, and have since grown rapidly, with three own-brand cafes in Singapore, and their beans supplying many, many others. Head down to their flagship cafe along Martin Road, and grab yourself a cuppa from their extensive menu. An espresso starts at $5.50, but we highly recommend the Slow Brew ($7), a filter-brewed coffee prepared with single-origin beans. The selection varies regularly too.
Website
Full list of locations
---
17. SYIP 
---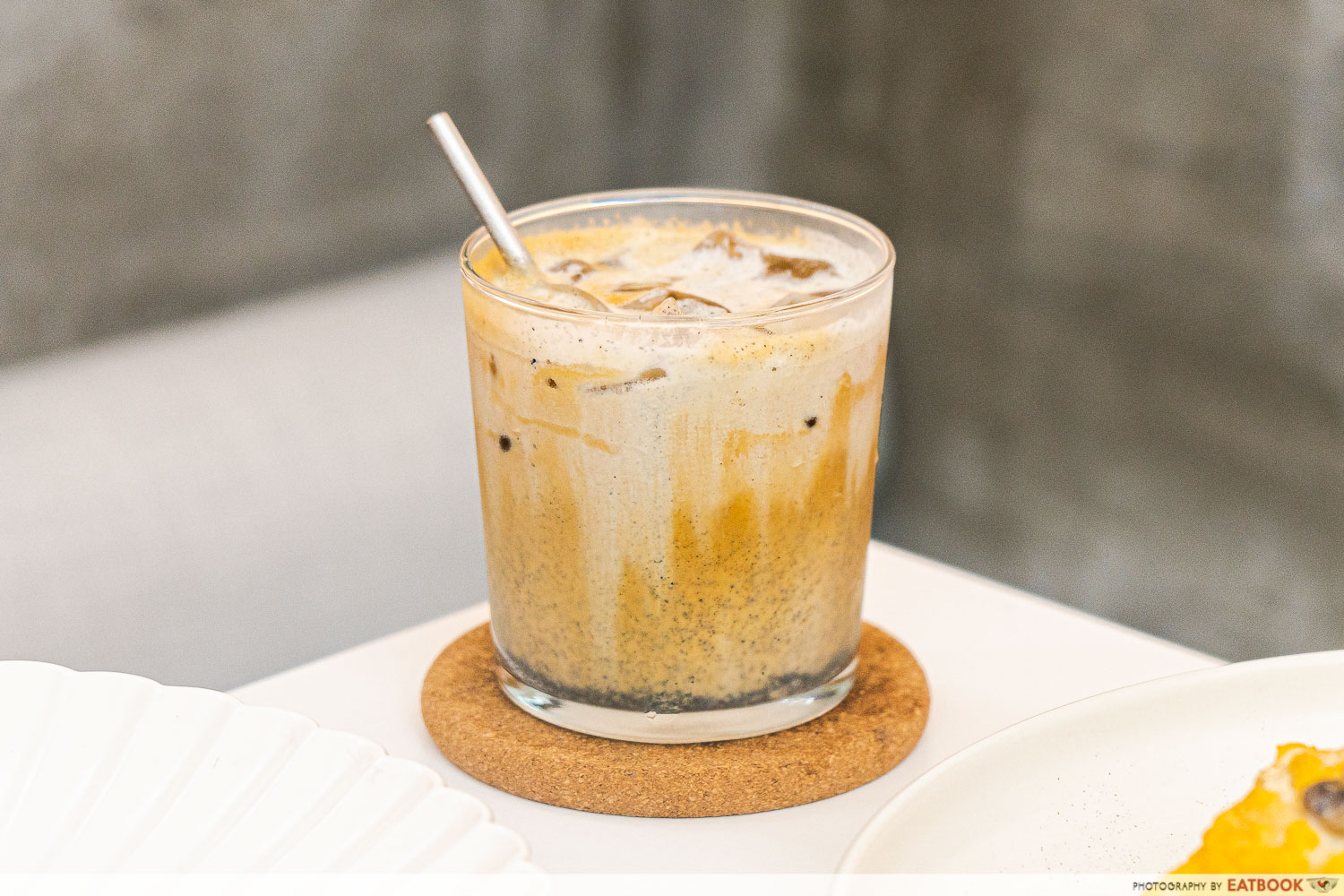 Newly opened SYIP has become a hotspot for brunch in the Farrer Park area. While the likes of their Creamy Chicken Scrambled Egg Croissant ($16++) and other prettily plated dishes have been making waves online, the coffee here is equally deserving of attention. Iced coffee fans should try their Black Sesame Latte ($6.50++), a fusion beverage with roasted black sesame in the mix, for an added nuttiness. 
Read our SYIP review.
Address: 79 Owen Road, Singapore 218895
Opening hours: Tue-Sun 9am to 6pm
Tel: 8770 9079
Website
SYIP Review: Aesthetic Cafe At Farrer Park With Kombu Pasta, Burrata Toast And More
---
18. Round Boy Roasters 
---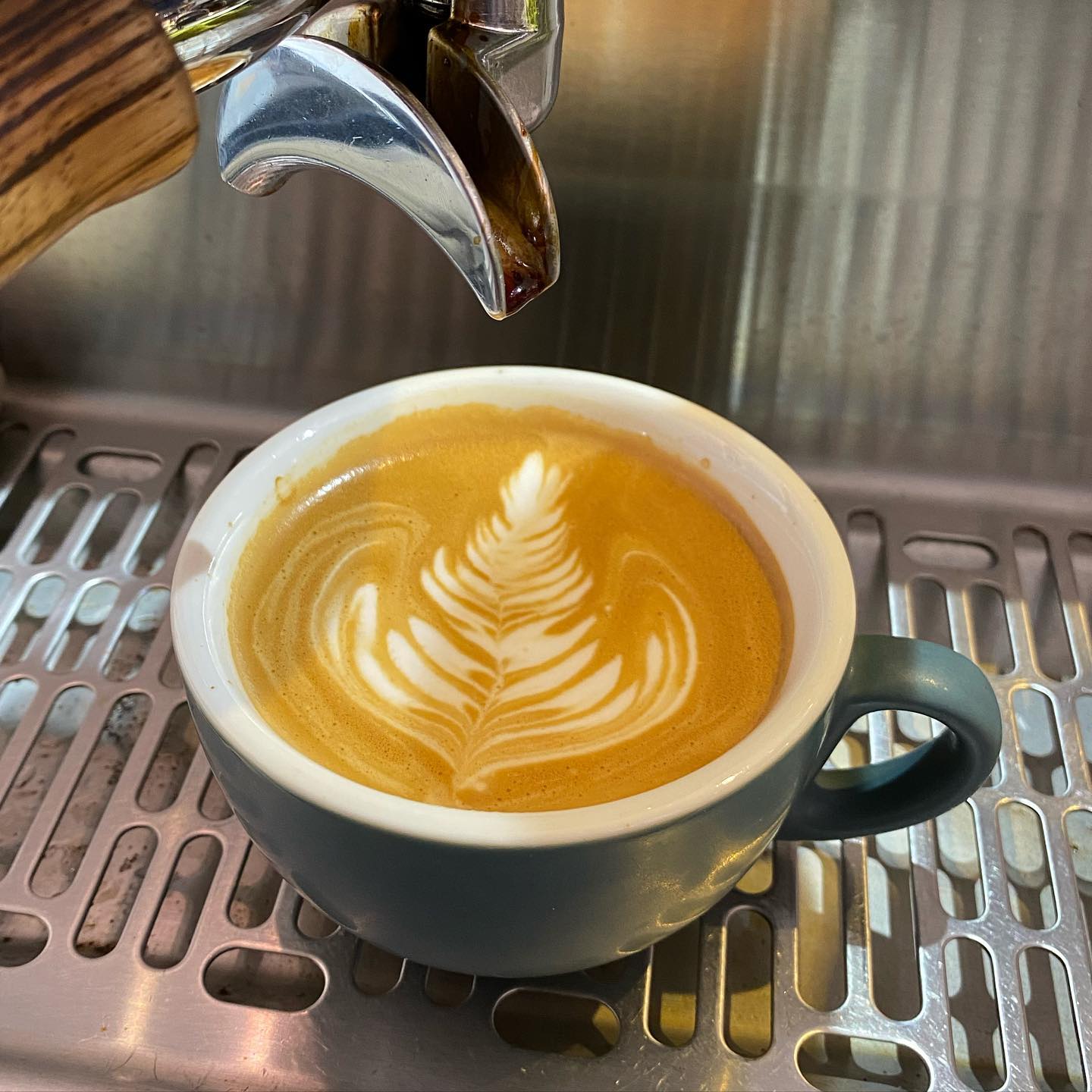 Image credit: Roundboyroasters
Local roastery Round Boy Roasters is a great Bukit Merah cafe to pop into if you're ever in the area. They first opened in 2018, before transitioning into the full-fledged cafe-roastery concept they have running today. The cafe is small and intimate, with bar counter seats offering a variety of hot or cold coffees, each prepared from house-roasted beans. An espresso starts at $3.50 here, while milk coffees go upwards of $5. You can buy a bag of beans to go, whether single origin or blends, sourced from producers worldwide. 
Address: 146 Jalan Bukit Merah, #01-1092, Singapore 160146
Opening hours: Tue-Fri 8am to 3pm, Sat-Sun 8:30am to 4:30pm
Website
---
19. Kurasu
---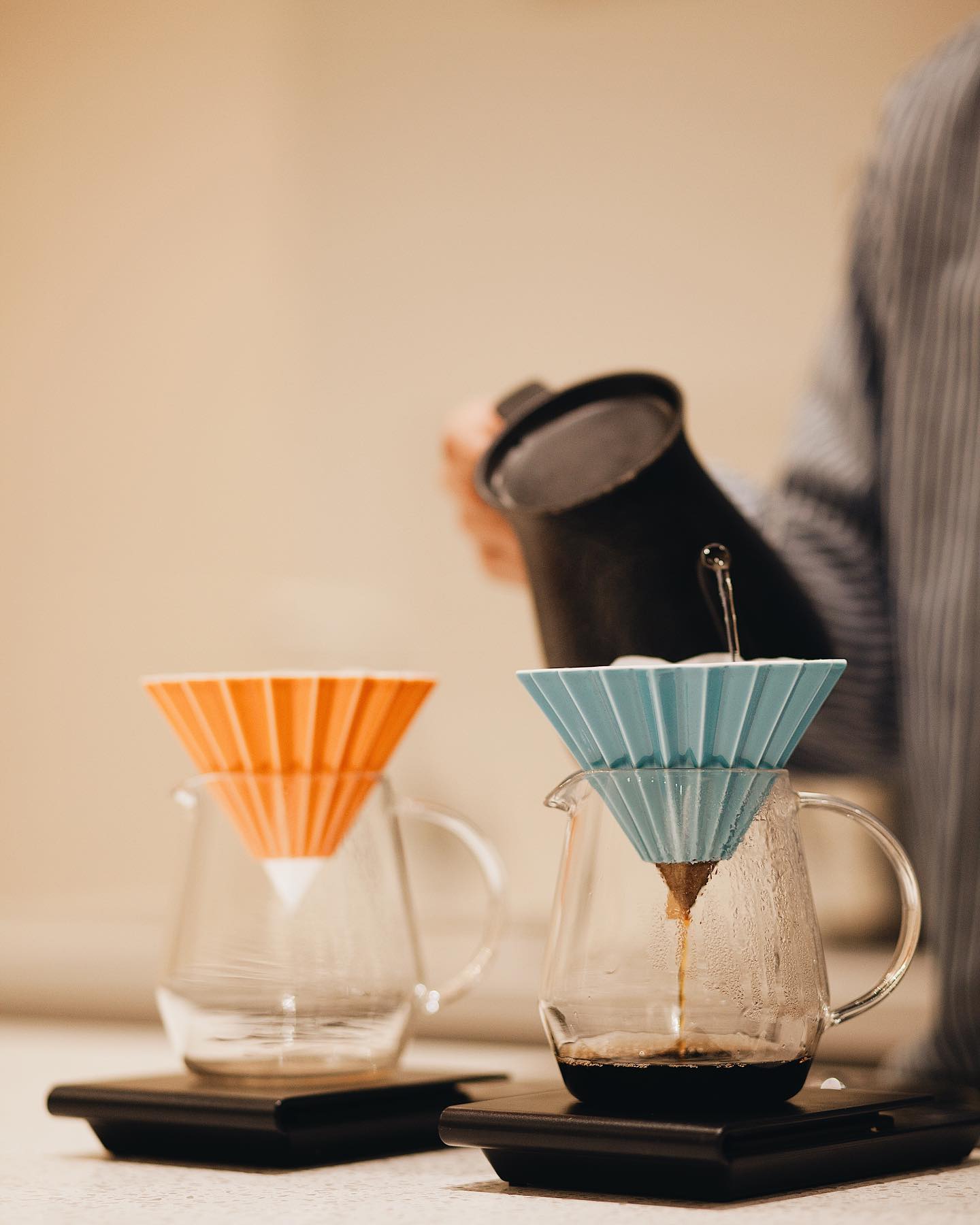 Image credit: Kurasu
Japanese cafes are in a league of their own, so experience that for yourself at Kurasu. The cafe's flagship is based in Kyoto, and they opened their Singapore outlet along Waterloo Street just a few years ago. The menu here is the same as the one in Kyoto, and the beans available are all sourced from specialty roasters around Japan. Apart from your usual selection of beverages, they also have light bites such as cakes, pancakes, and toast. Drinks here are priced around $7.50.
Address: 261 Waterloo Street, #01-24, Singapore 180261
Opening hours: Mom-Fri 10am to 6pm, Sat-Sun 8:30am to 6pm
Website
---
20. Bearded Bella
---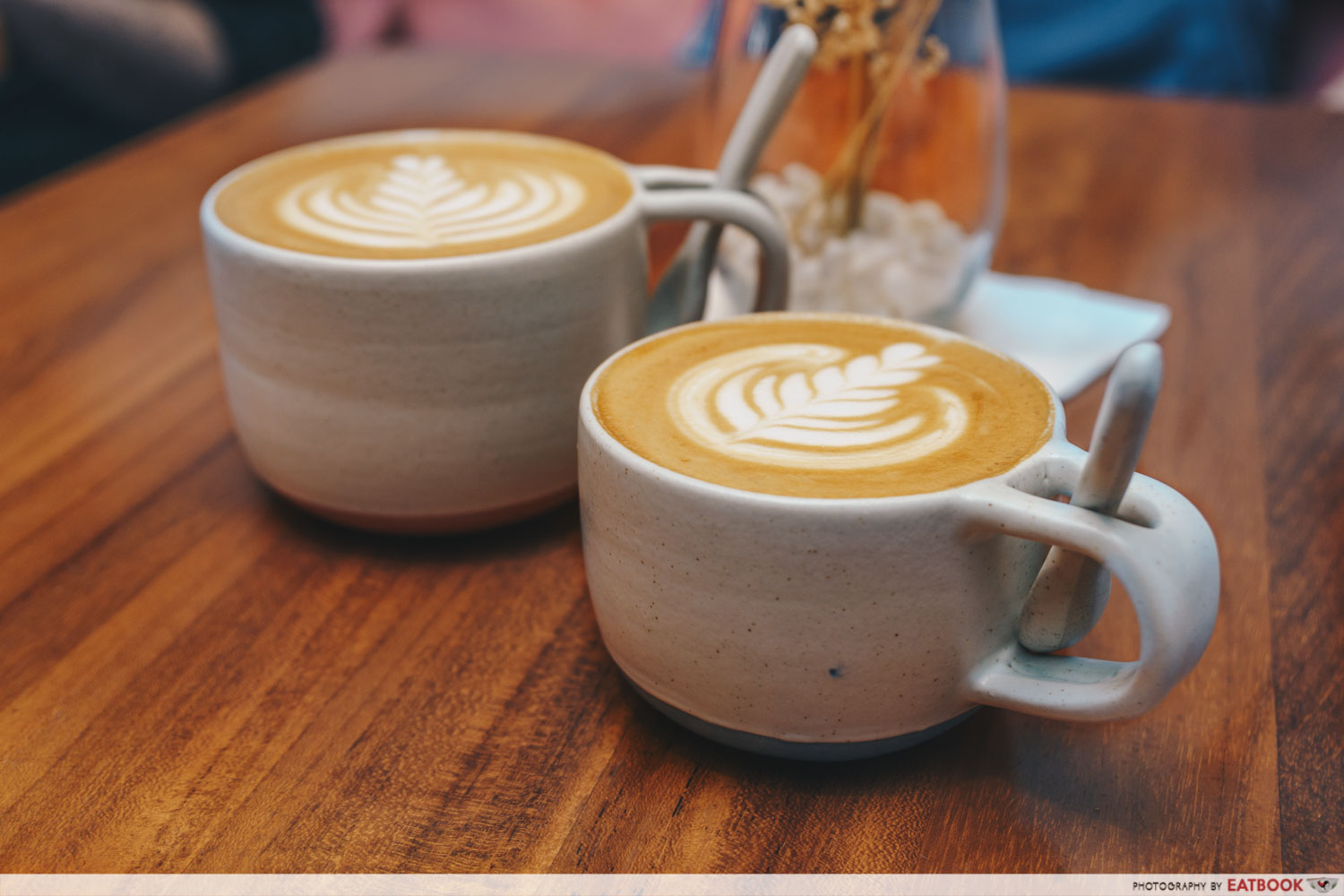 Bearded Bella first opened in Outram Park to much fanfare, thanks to their delicious bakes and big breakfast sets. Their coffees are also top-notch, brewed from single-origin house roasts. You can get espresso drinks here, as well as filter coffee brewed with a V60, depending on your preference. Prices start at $4.50. Their new opening in Bukit Timah also means Westsiders won't have to travel to town to get their Bearded Bella fix. 
Read our Bearded Bella review. 
Website | Full list of locations
Bearded Bella Review: Beautiful Cafe Serving Melbourne-Inspired Food At Tanjong Pagar
---
21. Tiong Hoe Specialty Coffee
---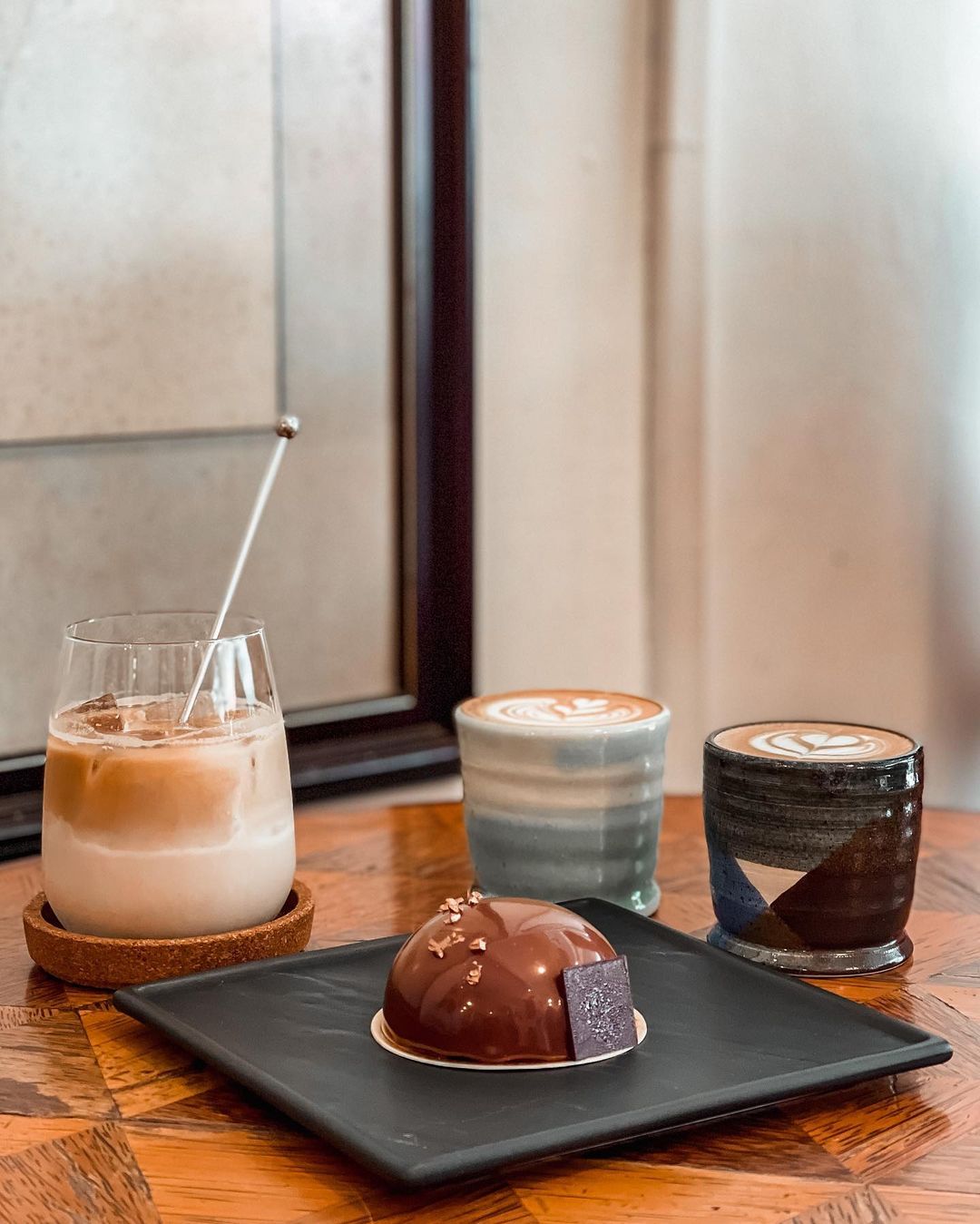 Image credit: @suelynang
And we end with my personal favourite, Tiong Hoe Specialty Coffee. They started as a wholesaler for coffee beans and equipment, before expanding into a full-fledged cafe, with two other outlets within Fusionopolis and Vivo City's Fairprice Xtra. Do note that prices differ across outlets.
The Iced Latte ($5.70) is my go-to—creamy and robust, without being acidic. If you're feeling for something different, try their range of specialty cold brews. The Pollen White ($7.50) is sweetened with raw honey, while their Mocha ($8) is topped with artisanal chocolate.
Address: 170 Stirling Road, #01-1133, Singapore 140170
Opening hours: Mon-Fri 8:30am to 5:30pm, Sat-Sun 9am to 4pm
Tel: 6474 5442
Website
---
Best coffee in Singapore
---
From creamy lattes to exotic pour-overs, I genuinely believe that there's a cup of coffee for everyone. Fuel your caffeine addiction with these 20 places for the best coffee in Singapore, where you can throw some beautiful IG shots and good food in the mix.
For more cafe options, check out our For The People review for churro waffles and cinnamon croissants, or our Kream & Kensho review for IG-worthy grape matcha toast.
Kream & Kensho Review: Ikura Pasta And Grape Matcha Toast In Outram Park
For other spots to get your hands on the best coffee in Singapore along with bites, check out our guide to the top cafes in our city.
10 Best Cafes In Singapore Serving French Crepes, Grilled Cheese And More – Eatbook Top 50 Awards 2020
Photo taken by Chew Yi En.
This post was brought to you by Gloria Jean's Coffees.
This post was originally written on 9 February 2021.
Featured images adapted from @homeground.coffee, @arabica.sg, and @joandjuseats.