---
Best cafes in Singapore for brunch and desserts
---
It's the start of a new year, and if you're like me, who has never bought into the hype of cafes, now is a good time to put these Instagram-worthy cafes in Singapore on your bucket list for the year!
Here are 20 best cafes in Singapore that are guaranteed to beautify your Instagram feed and leave your stomach happy.
---
1. Abseil
---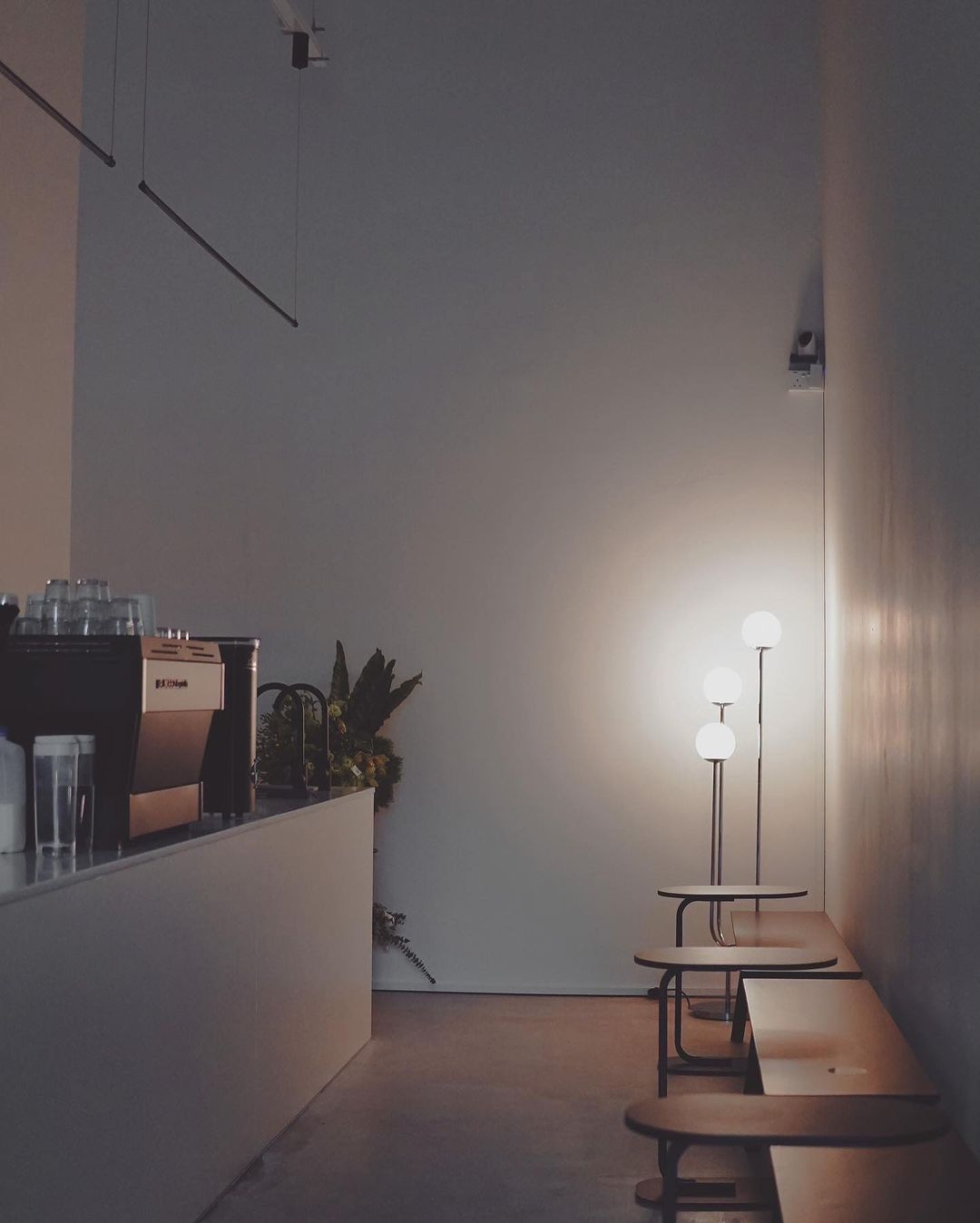 Image credit: @xo.burrito
One of the newest kids on the block in Shenton Way, Abseil is known for its stylistic monochrome interiors, with high ceilings and modern furniture. Those fortunate enough to get a table can enjoy the Abseil ($8.50), which is the cafe's interpretation of an Einspanner—an espresso-based drink topped with sweet cream.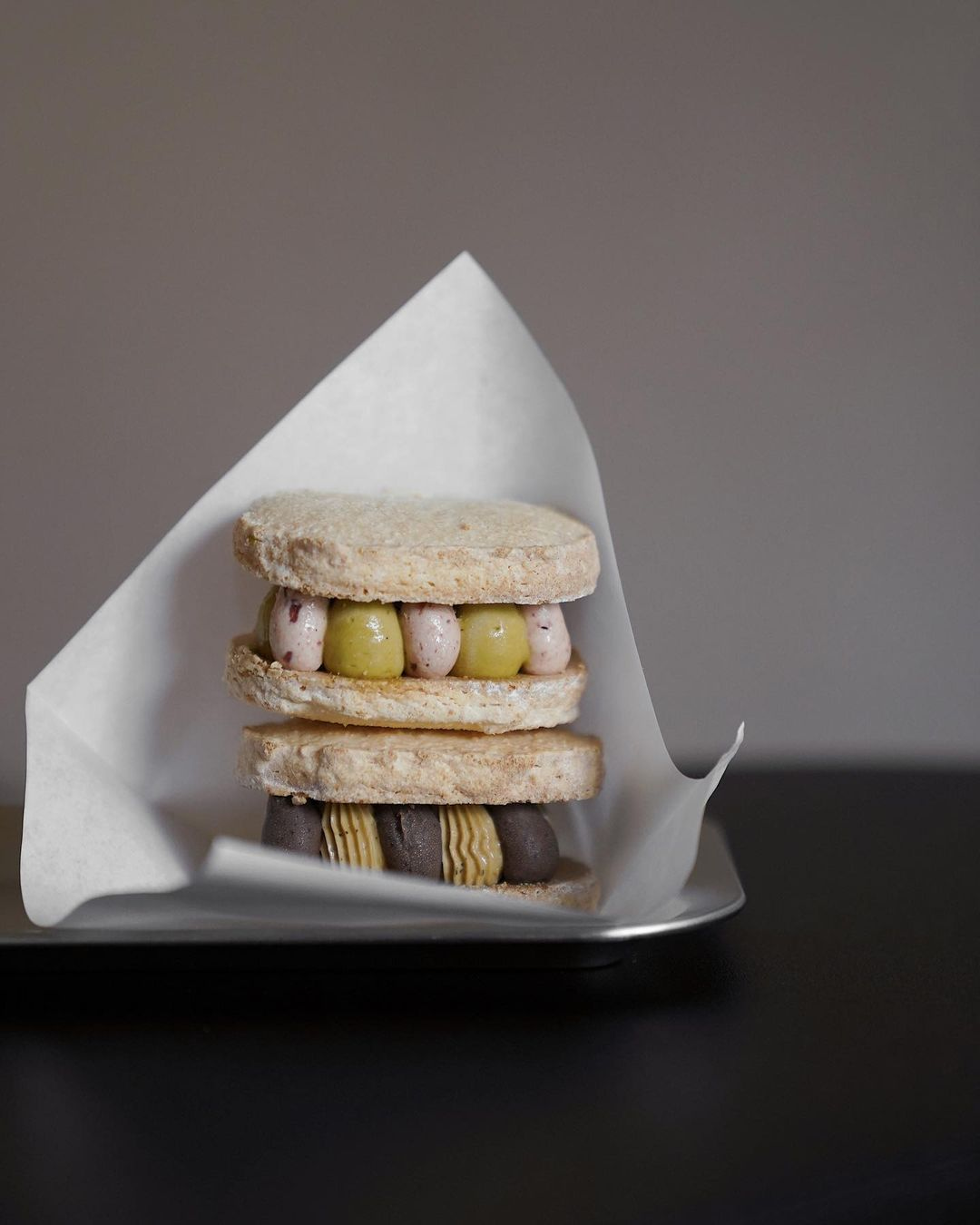 Image credit: @iris.nihao
Although their Dacquoise ($7) is currently unavailable on the menu, this French meringue dessert with flavours including Earl Grey, Passionfruit, and Pistachio pairs well with their coffee. Head on down to savour this uncommon delicacy, rumoured to make a reappearance in January!
Address: 70 Shenton Way, #01-14, Eon Shenton, Singapore 079118
Opening hours: Wed-Mon 10am to 6pm
Website
Abseil is not a halal-certified eatery but uses no pork or lard.
---
2. Pancake Place
---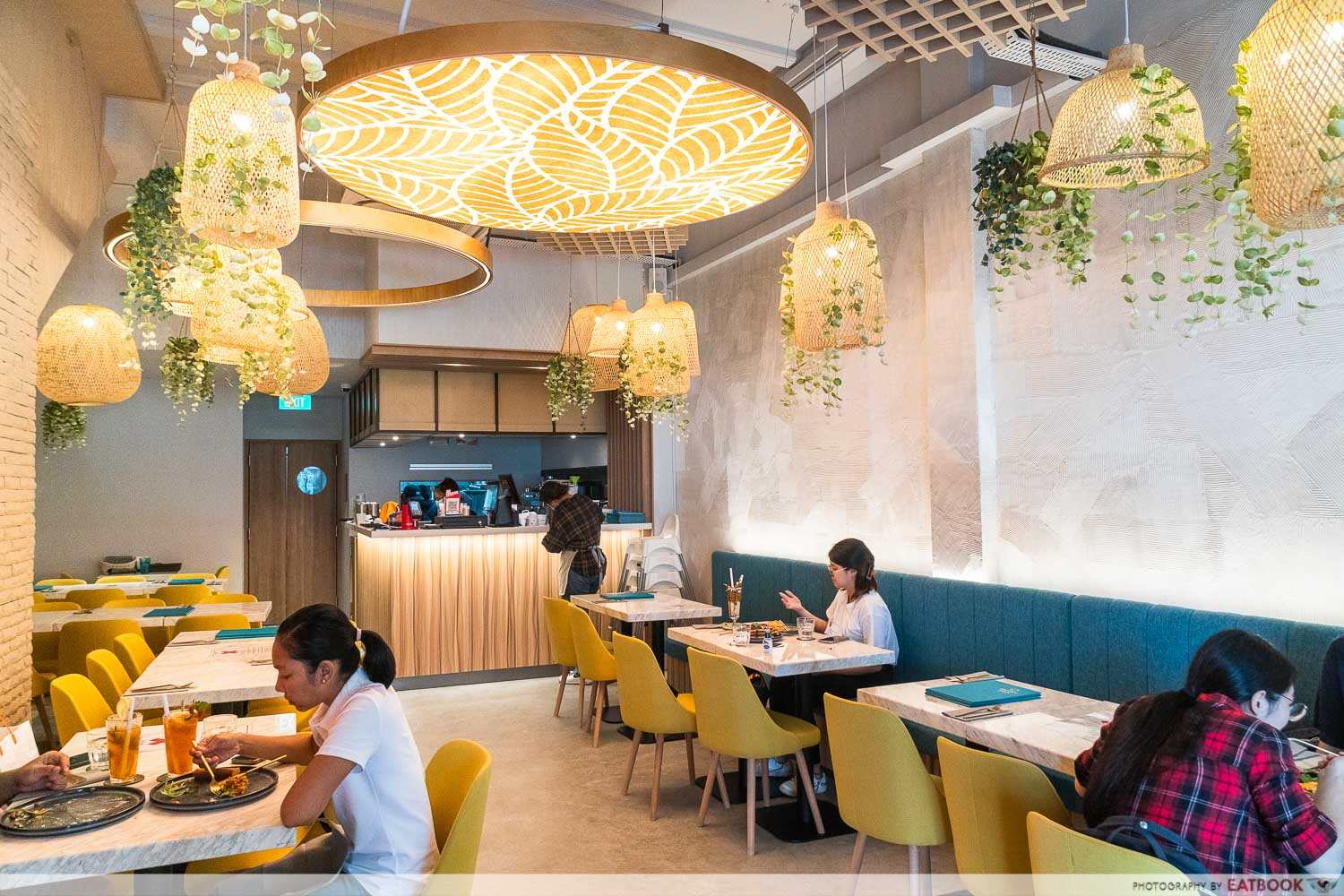 The wider Bugis neighbourhood is home to many cafes in Singapore, with Pancake Place being one of the latest entrants. If you cannot already tell from its name, this cafe only has pancakes on its food menu. With savoury options such as the Lemak Duck ($17.90++) and Grilled Tiger Prawn ($19.90++) as well as dessert pancakes including Cempedak Creme Brulee ($16.90++) and Blackforest ($18.90++), Pancake Place is sure to be satisfying, whether you have a sweet or savoury tooth.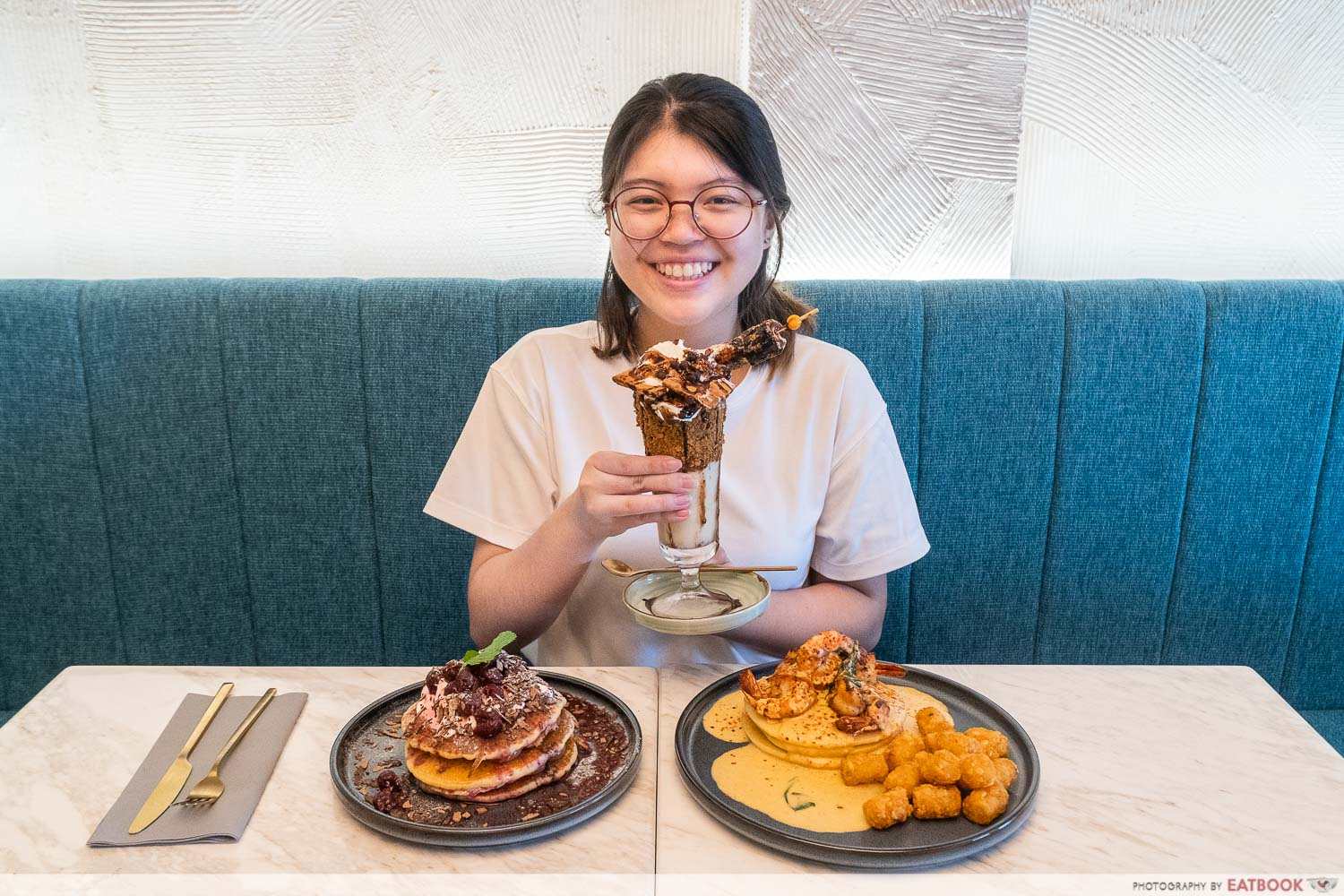 The big portion sizes here are sure to leave you feeling full, but if you're somehow still hungry at the end of the meal, you can also try the Gimme S'mores ($13.90++) milkshake to round it all off. Fair warning though, it might get really messy!
Check out our full review of Pancake Place.
Address: 56 Kandahar Street, Singapore 198904
Opening hours: Daily 12pm to 3:15pm, 5pm to 9:15pm
Tel: 6518 9368
Website
Pancake Place is a halal-certified eatery.
Pancake Place Review: Muslim-Owned Pancake Cafe With Sweet And Savoury Pancakes, IG-Worthy Milkshakes
---
3. Mr Holmes Bakehouse
---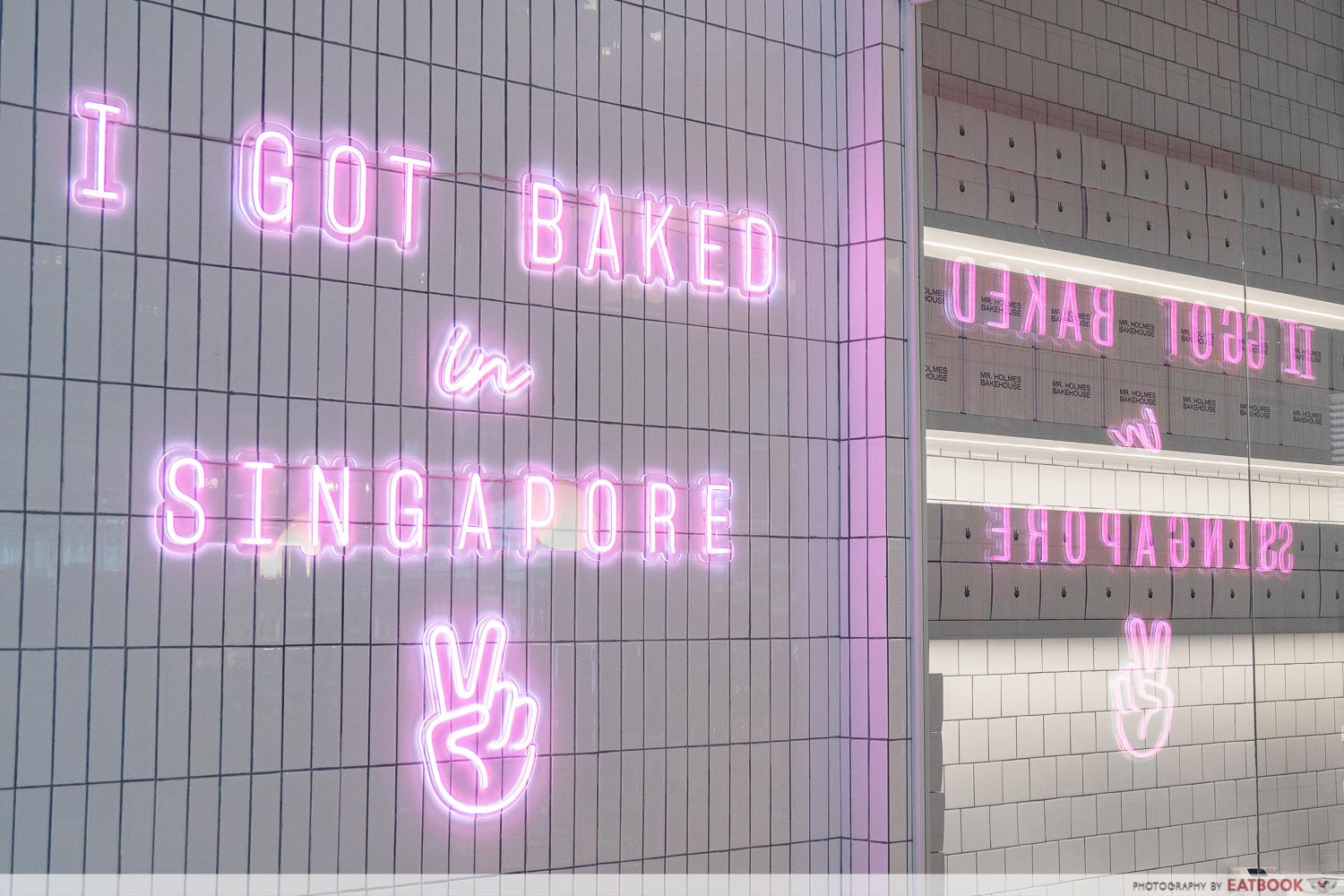 Mr Holmes Bakehouse is famously known as the inventor of the cruffin, as is the first of its kind to reach the shores of Southeast Asia. The cafe is great for your next OOTD shot, with its signature white-tiled walls and neon pink signs.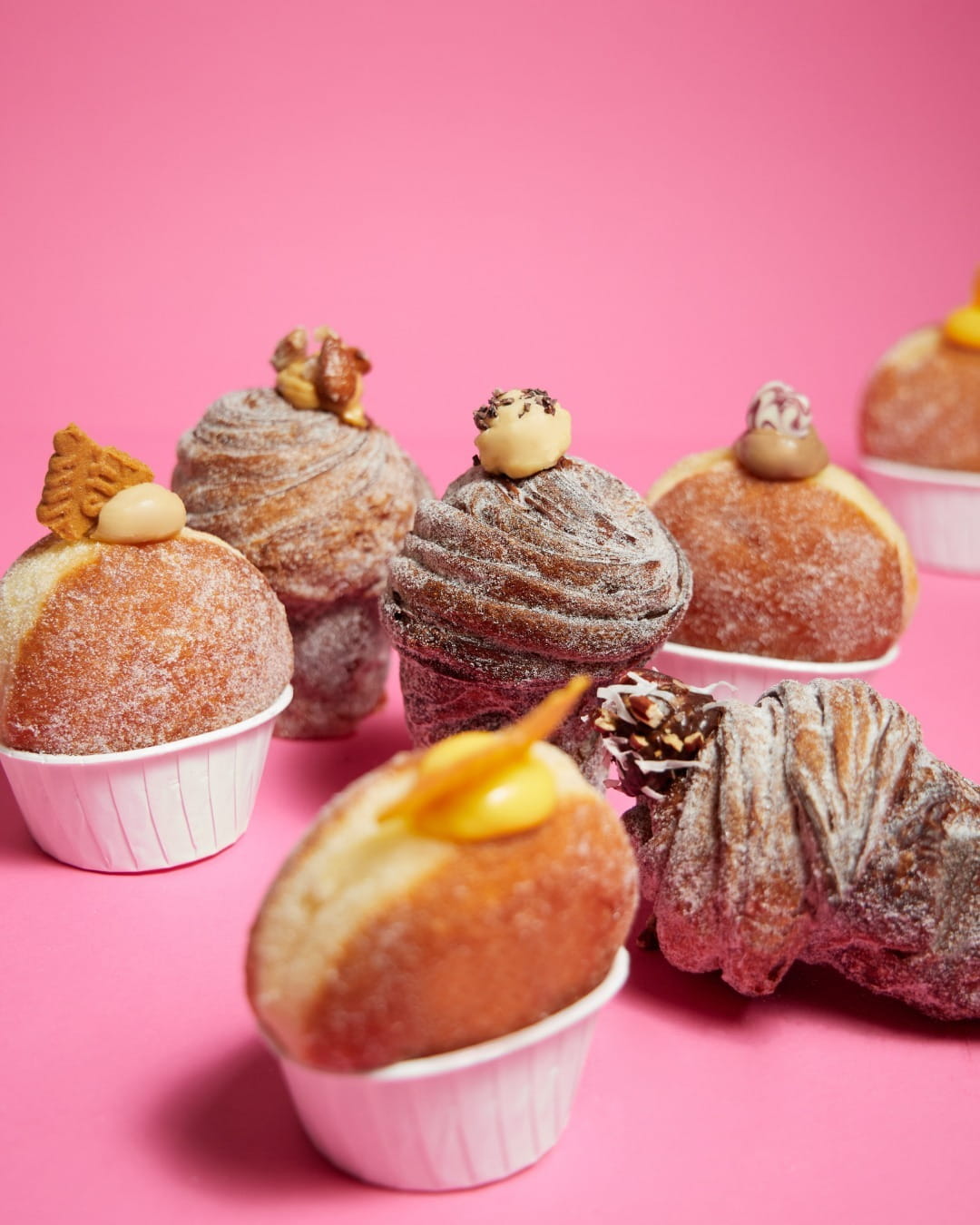 Image credit: @mrholmesbakehousesg
While the menu is updated regularly, you would be remiss not to have the Plum Yuzu Jam Doughnut ($6.50++) if it becomes available again. The doughnut is delightfully aerated and achieves a perfect equilibrium between sourness and sweetness. You can also try the Peach Earl Grey Danish ($7++) from their new menu, which features an earl grey cream centre, and is garnished with caramelised peaches.
Check out our full review of Mr Holmes Bakehouse.
Address: 9 Scotts Road, #01-01/02/03, Pacific Plaza, Singapore 228210
Opening hours: Daily 8am to 8pm
Tel: 6334 0308
Website
Mr Holmes is not a halal-certified eatery.
Mr Holmes Bakehouse Review: Peanut Butter Milkshake Cruffin, Lemon Meringue Pie Croissant And More In Orchard
---
4. La Vie
---
Yet another popular online bakery that has moved to a physical shop space is La Vie, now housed in a Jalan Besar shophouse with a turquoise facade. The cafe is helmed by a pastry chef that supposedly trained at the famed Le Cordon Bleu, and has many desserts that are almost too intricate to devour.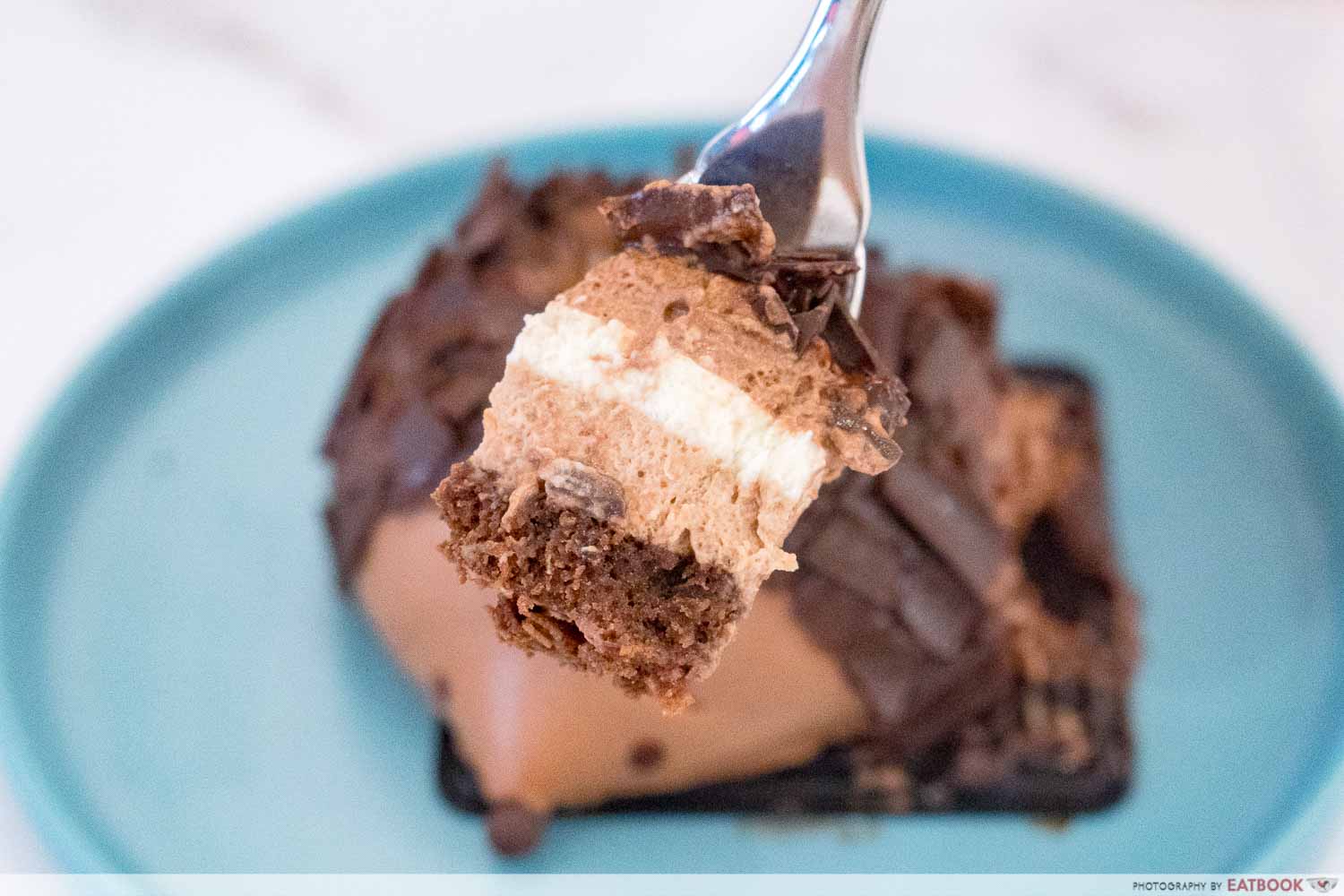 The Epic ($11) is perfect for animal lovers with a weakness for chocolate. Shaped to resemble a porcupine, the chocolate mousse cake comes with five distinct layers which create a balanced contrast in mouthfeel. If you prefer fruity flavours, the Watermelon Strawberry ($9.50), layered with rose-infused Chantilly cream, and topped with grapes, strawberries, and blueberries will certainly charm you. 
Check out our full review of La Vie.
Address: 204 Jalan Besar, Singapore 208890
Opening hours: Tue-Sun 12pm to 6pm
Website
La Vie is not a halal-certified eatery.
La Vie Review: Minimalist Dessert Cafe At Jalan Besar with IG-Worthy Lychee Boba Cake, Baileys Tiramisu And More
---
5. For The People
---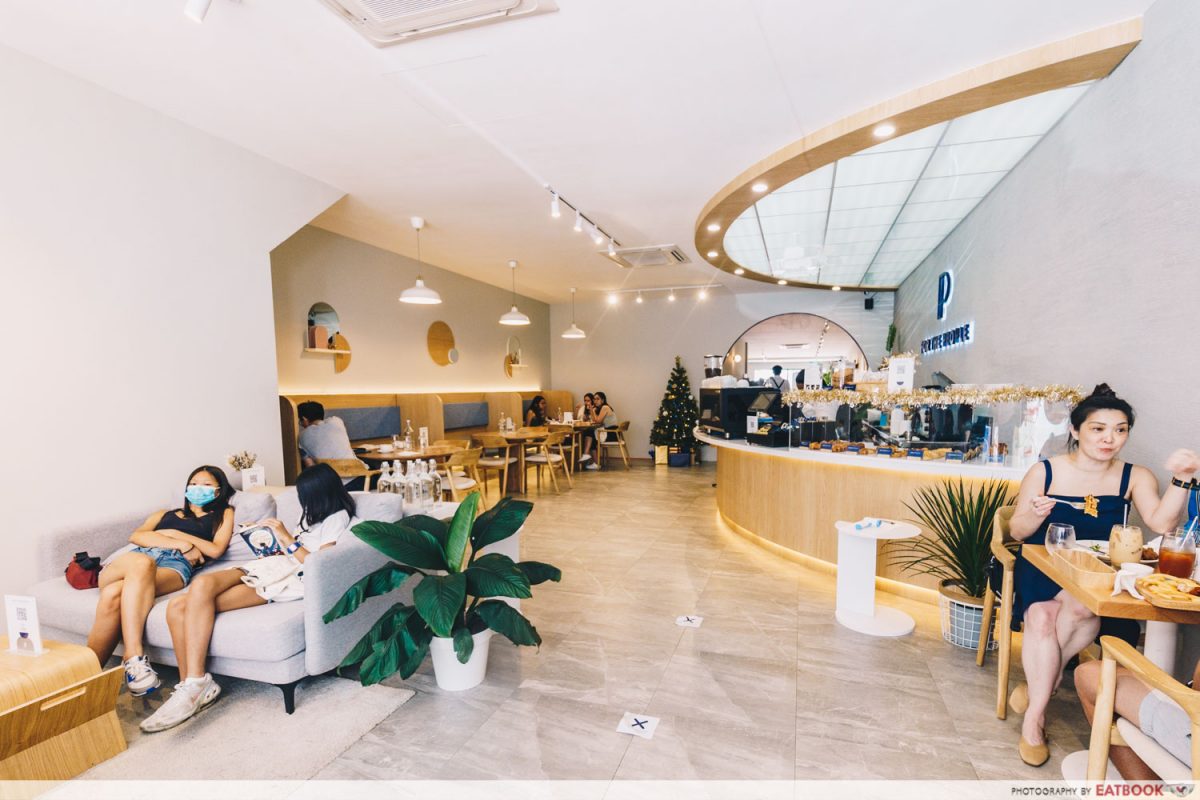 For The People is one of the cafes in Singapore that has made waves for its minimalistic design and spaciousness. Various seating configurations also make this place ideal for both solo diners wishing for an intimate dining experience at the counter, and bigger groups.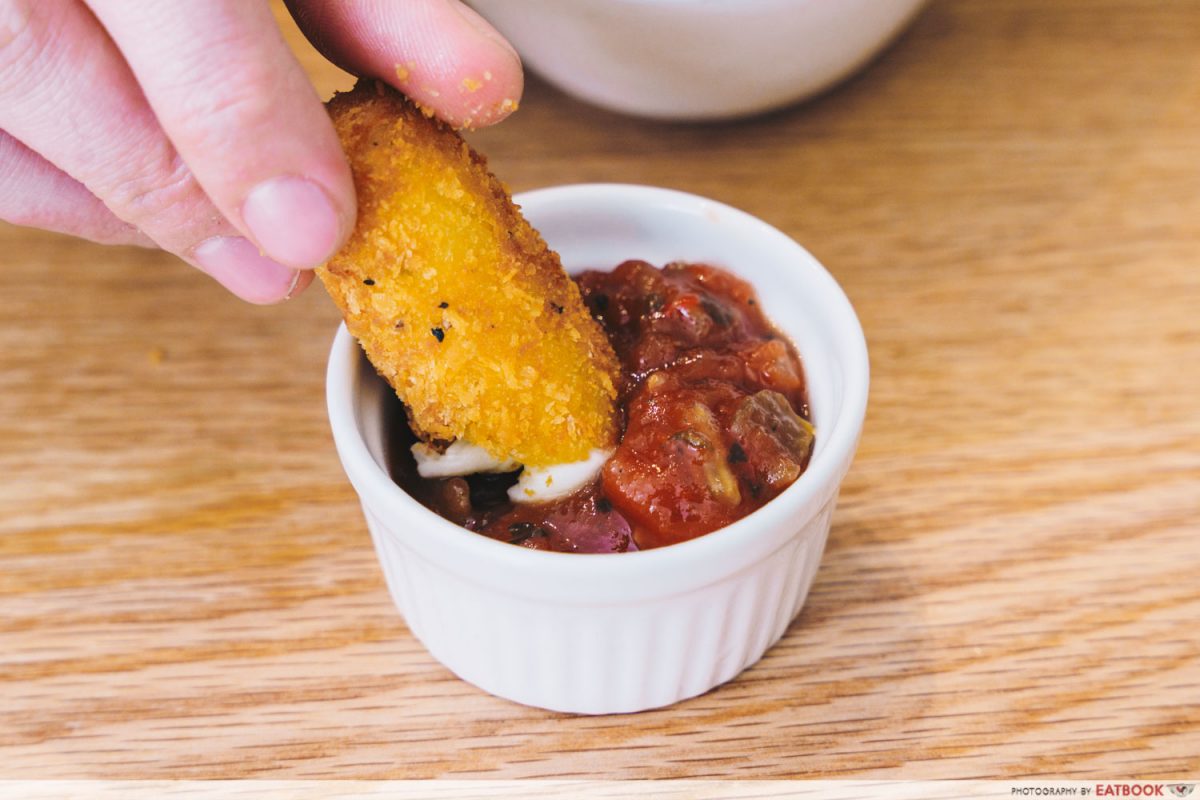 Whether you're intending to have a meal or just here for a quick snack, For The People has got you covered. The Carbonara ($16+) is done in the classic way without cream, whereas the Mozzarella Sticks With Sriracha Salsa ($8+) is an ideal appetiser.
Check out our full review of For The People.
Address: 11 Hamilton Road, #01-00, Singapore 209182
Opening hours: Mon-Sun 10am to 6pm, closed every last Tuesday of the month
Tel: 8133 4819
Website
For The People is not a halal-certified eatery.
For The People Review: Gorgeous Cafe With Churro Waffles And Cinnamon Croissants In Bendemeer
---
6. Kream & Kensho
---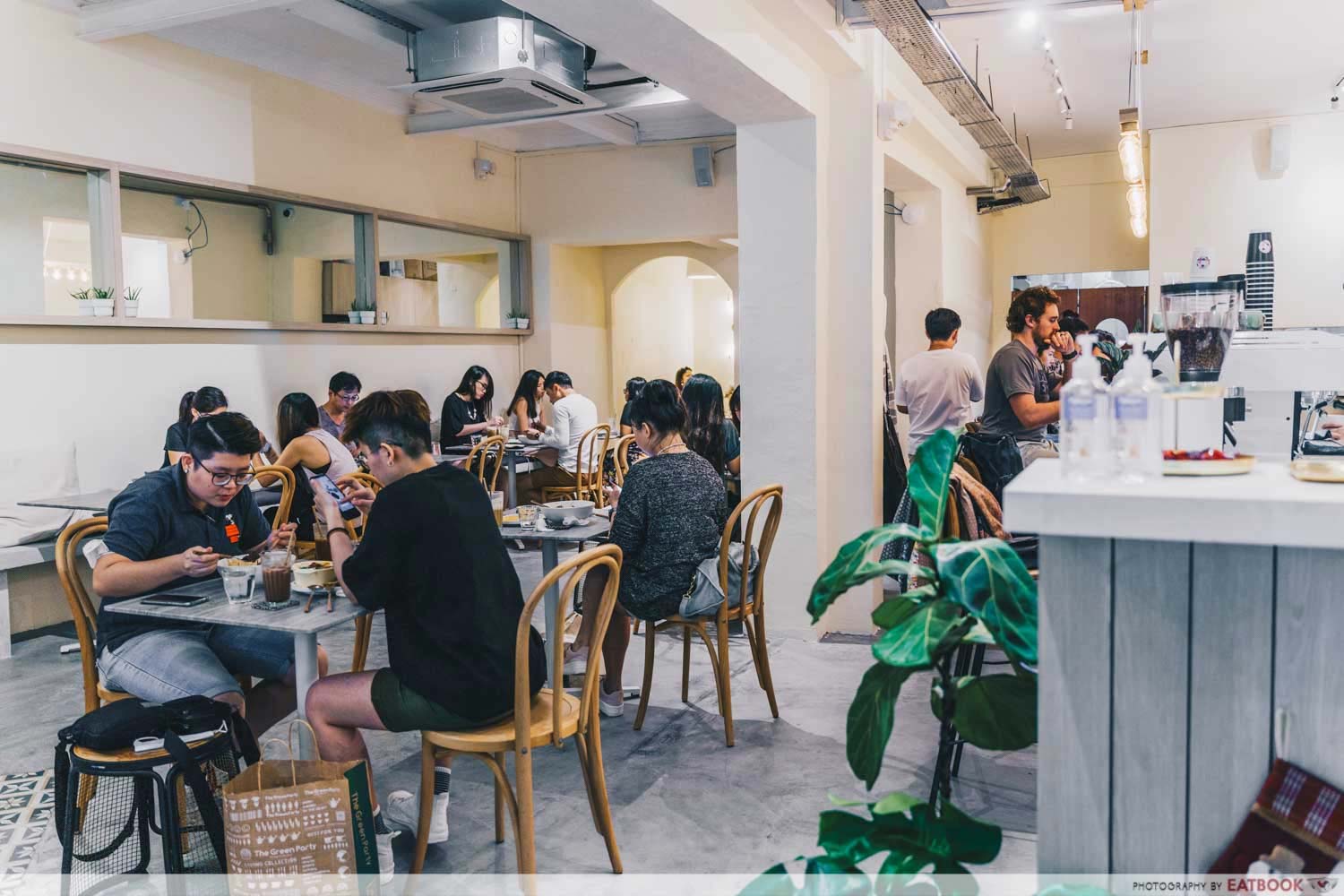 Situated opposite Singapore General Hospital in Kampong Bahru, Kream & Kensho stars a Japanese-inspired design and tasty grub that's IG-worthy as well.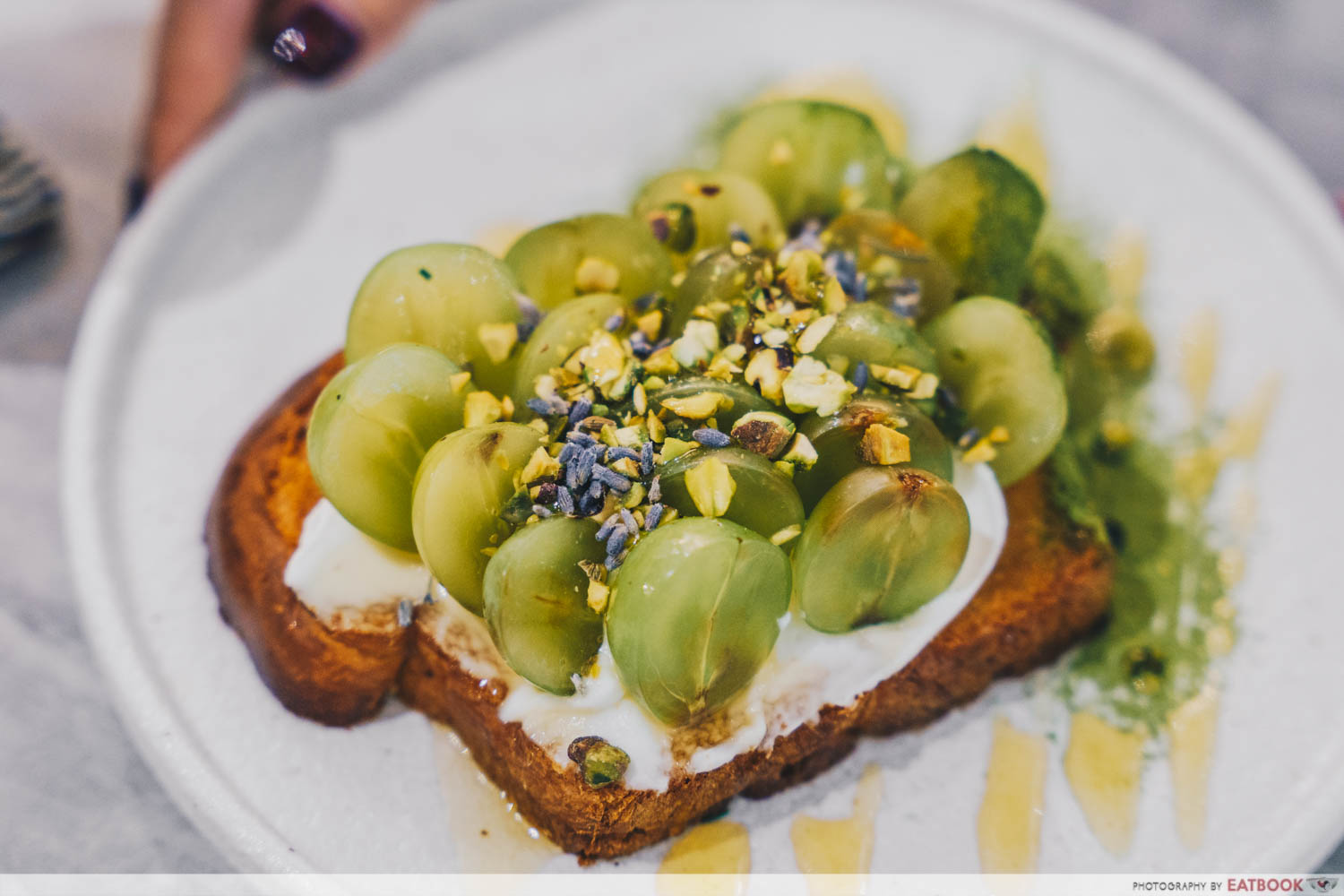 While the cafe recently revamped the menu to include new items such as the California Crabbie Sando ($18), classics such as the Hotate Sakura Ebi Capellini ($24) and Grape Ricotta Brioche ($14) can still be found. Expect a burst of umami with each mouthful of pasta, whereas the ricotta remains creamy without being cloying.
Check out our full review of Kream And Kensho.
Address: 35 Kampong Bahru Road, Singapore 169355
Opening hours: Mon-Thurs, Sat 9am to 6pm, Fri 9am to 10:30pm, Sun 9am to 4pm
Website
Kream & Kensho is not a halal-certified eatery.
Kream & Kensho Review: Ikura Pasta And Grape Matcha Toast In Outram Park
---
7. Maison Sucree
---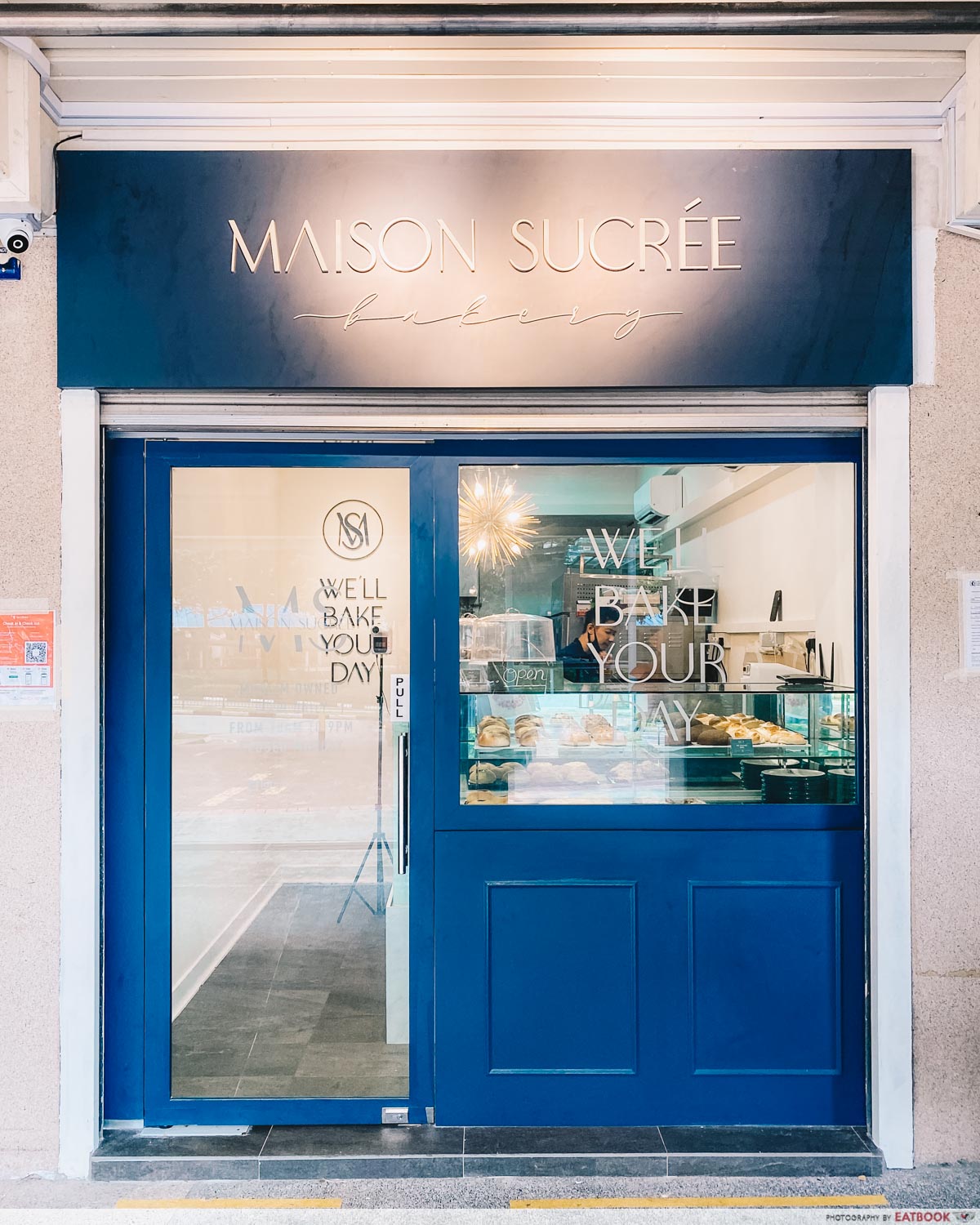 Muslim-owned Maison Sucree now has two outlets: the original outlet in Redhill, and another in Balestier. The newer outlet is located just three minutes away from Whampoa Food Centre, while the first outlet is merely two minutes from Redhill MRT Station.
The Lemon Meringue ($7) leans tart, and is encased in a thin, buttery shell. With croissants being all the rage these days, you will not be disappointed by the Butter Croissant ($3.50) here. The croissants are beautifully laminated, and are available as sandwiches too, with options such as Truffle Egg Mayo ($8) and Salmon and Eggs ($12).
Check out our full review of Maison Sucree.
Lengkok Bahru
Address: 63B Lengkok Bahru, #01-362, Singapore 152063
Opening hours: Daily 11am to 7pm
Balestier
Address: 298 Balestier Road, Singapore 329736
Opening hours: Daily 10am to 6pm
Tel: 8894 4705
Website
Maison Sucree is not a halal-certified eatery, but it is Muslim-owned.
Maison Sucree Review: New Bakery-Cafe With Almond Croissants, Salted Caramel Chocolate Tart And More In Redhill
---
8. Dough
---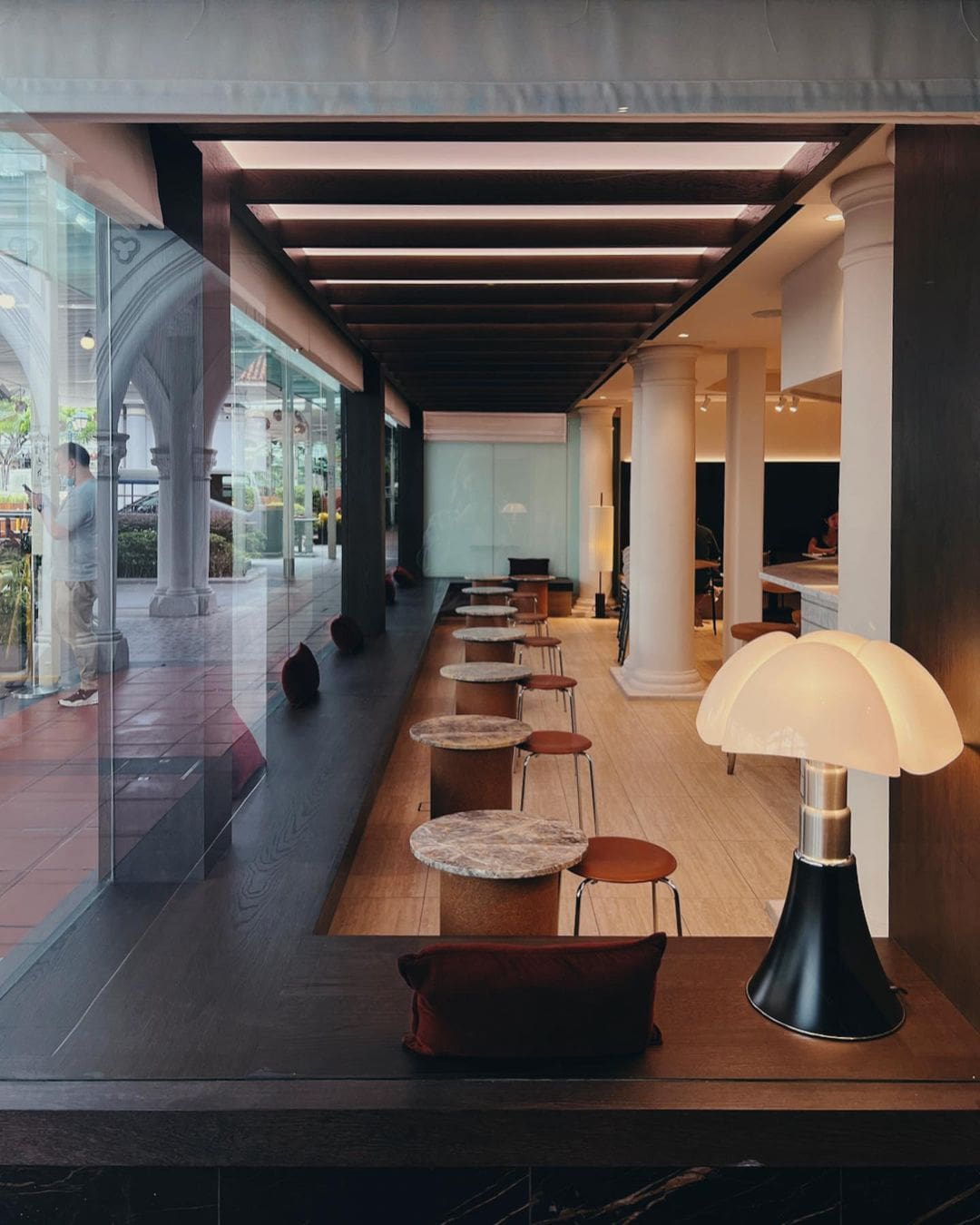 Image credit: @ilifirzanah
Operated by the team behind Glyph Supply Co, Dough is a feast for both the belly and the eyes. Lone diners can bask in natural sunlight at the marble tables near the windows while larger groups can relax in the al fresco dining area, replete with cushions and deck chairs.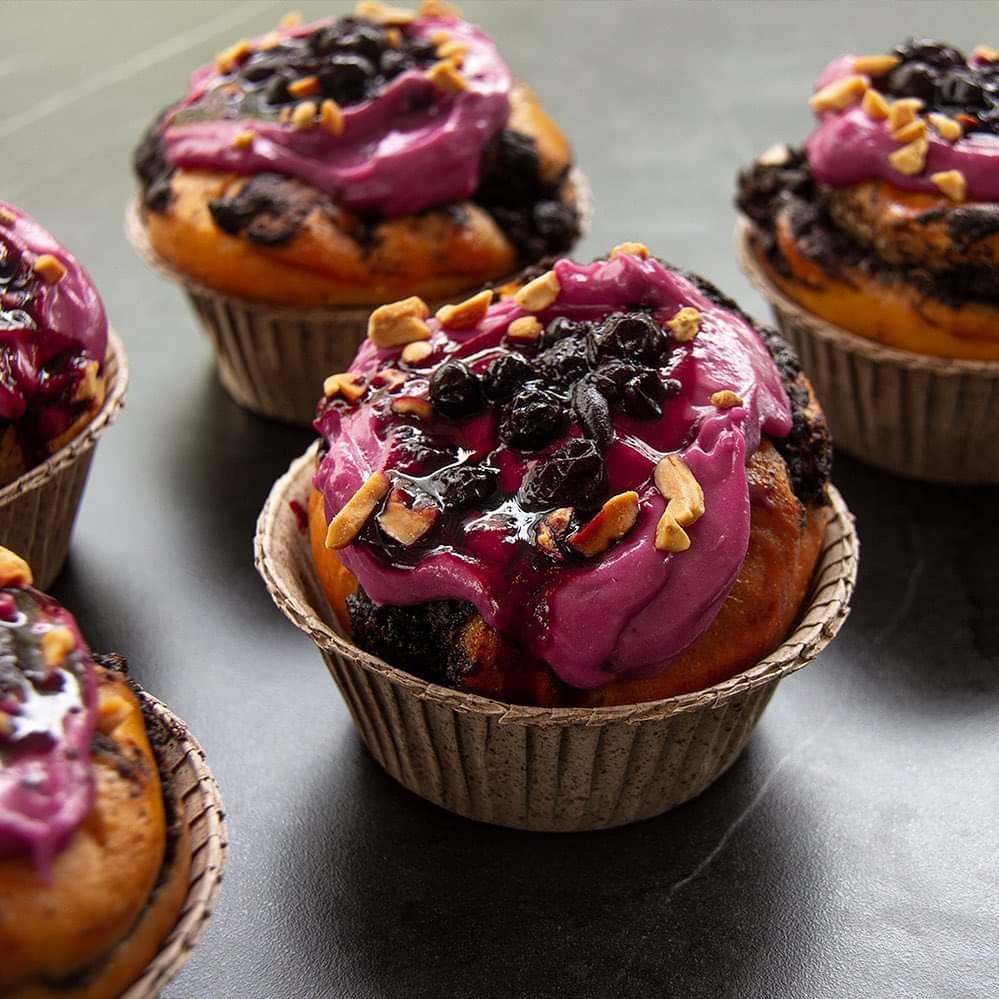 Image credit: Dough's Facebook page
Dough does not shy away from onlookers, as customers can peer into the kitchen through glass windows. Available only for a limited time, the seasonal Signature Iced Latte (Price TBA) is made with oat milk and spiced cream. The Blackcurrant Chocolate Peanut Roll (Price TBA) is another menu item that is highly raved about. Biting into the bread roll reveals a mochi centre, while the blackcurrant jam is a tangy contrast to the decadent blackcurrant cream cheese.
Address: 30 Victoria Street, #01-30, Singapore 187996
Opening hours: Tue-Sun 10am to 6pm
Website
Dough is not a halal-certified eatery.
---
9. Simple Cafe
---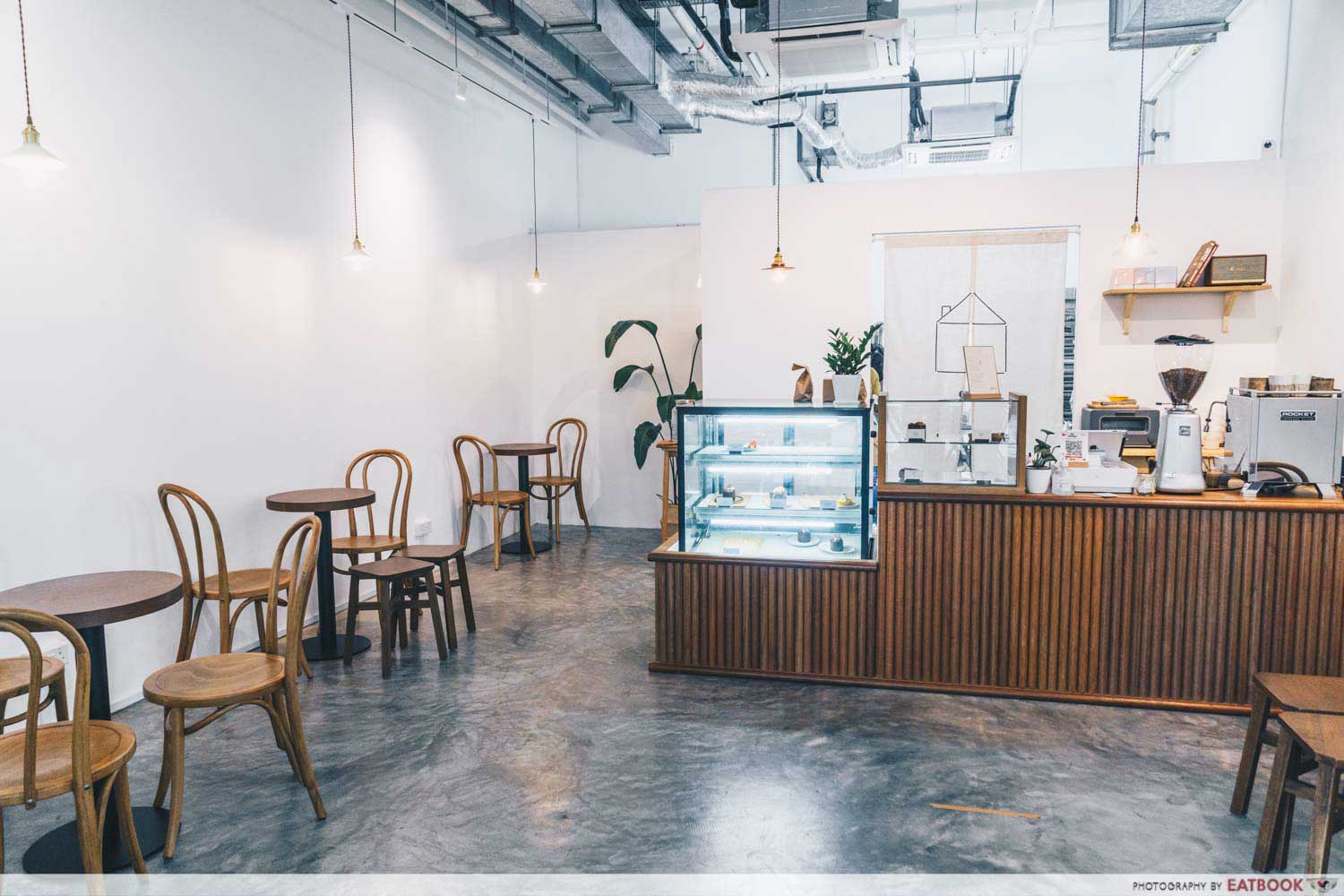 If you're not paying close attention, you might walk past the nondescript Simple Cafe, marked only by a plain sign and chalkboard by the wall. However, once you enter the cafe, you'd be transported to Taiwan with their unpretentious furniture and Mandopop playlist. Be sure to head down by 11:30am to secure their famous doughnuts ($4.50), which tend to sell out by 1pm.
Come for their Mont Blanc ($9), a chestnut tart with intricate spirals of chestnut cream that's not overly sweet. The Hazel ($8.50) is also a great choice for dessert, as it comes with a shimmering glaze of chocolate ganache that hides a sinful chocolate mousse.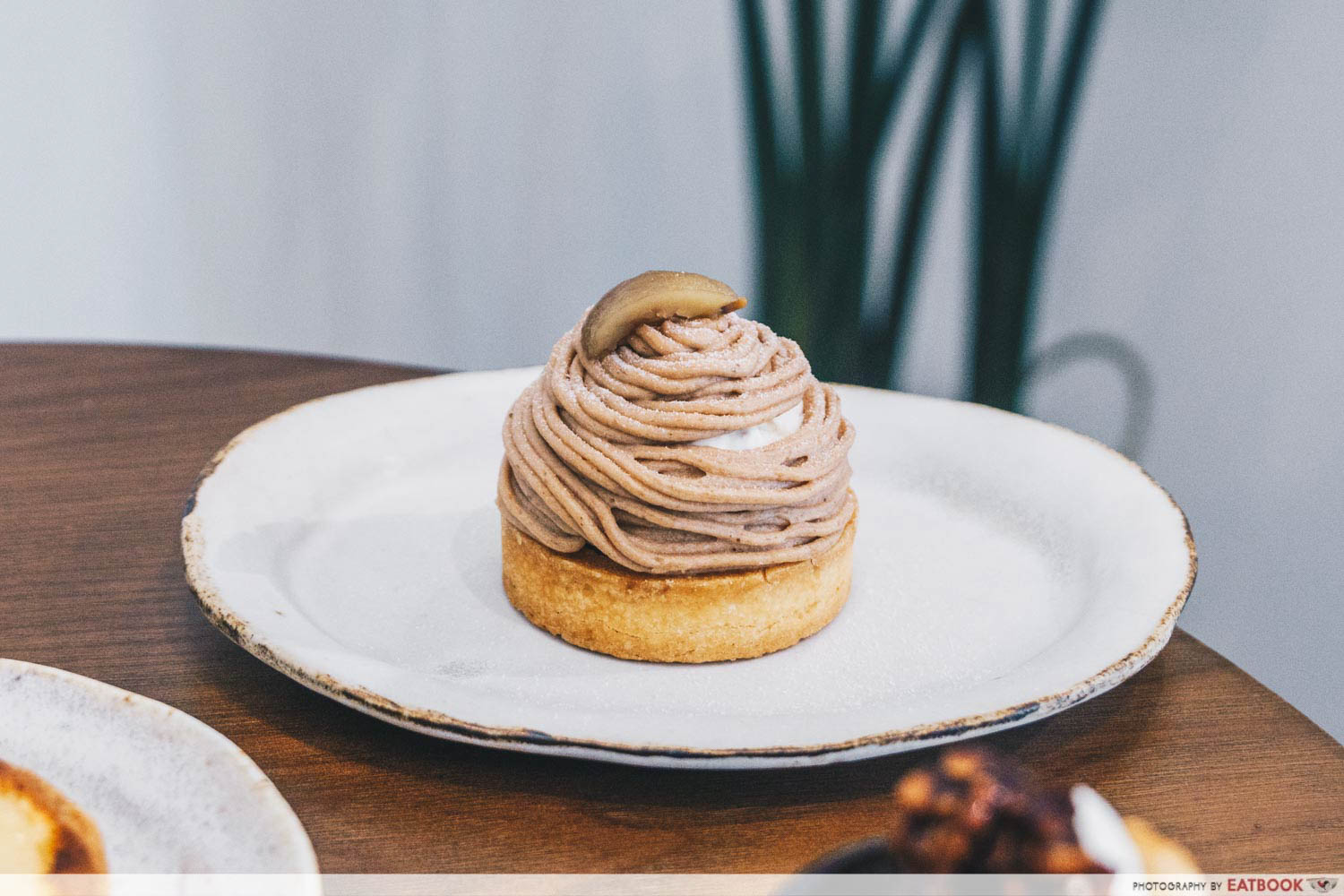 Check out our full review of Simple Cafe.
Address: 1 West Coast Drive, #01-87, NEWest, Singapore 128020
Opening hours: Tue-Sun 9:30am to 6pm
Tel: 9618 1572
Website
Simple Cafe is not a halal-certified eatery.
Simple Cafe Review: New Minimalist Cafe Hidden At West Coast With IG-Worthy Cakes
---
10. Bees Knees
---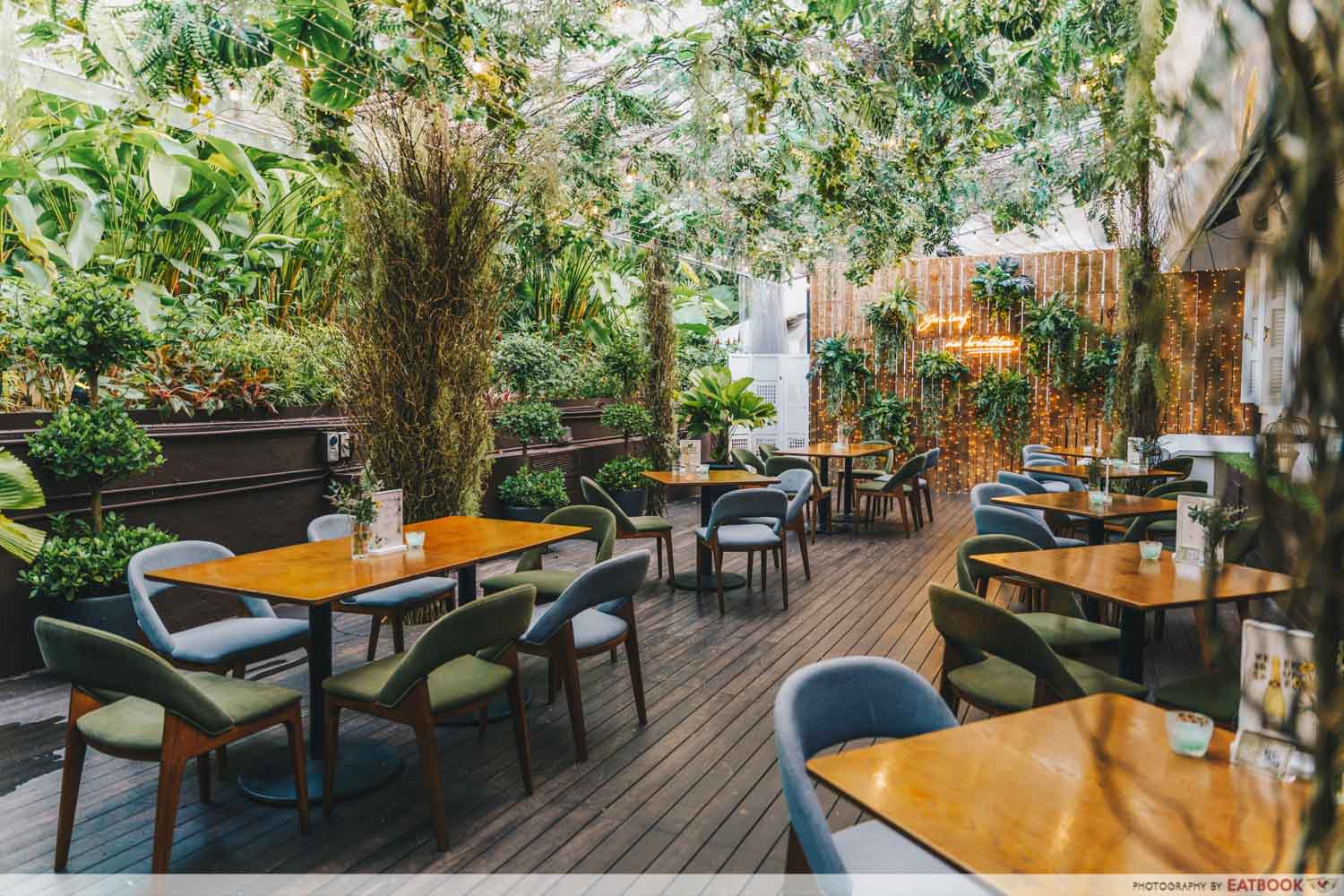 Despite being one of many dining options available within Botanic Gardens, Bees Knees stands out from the other restaurants with its Asian-fusion menus. The pet-friendly cafe has day and night menus and is self-service in the day.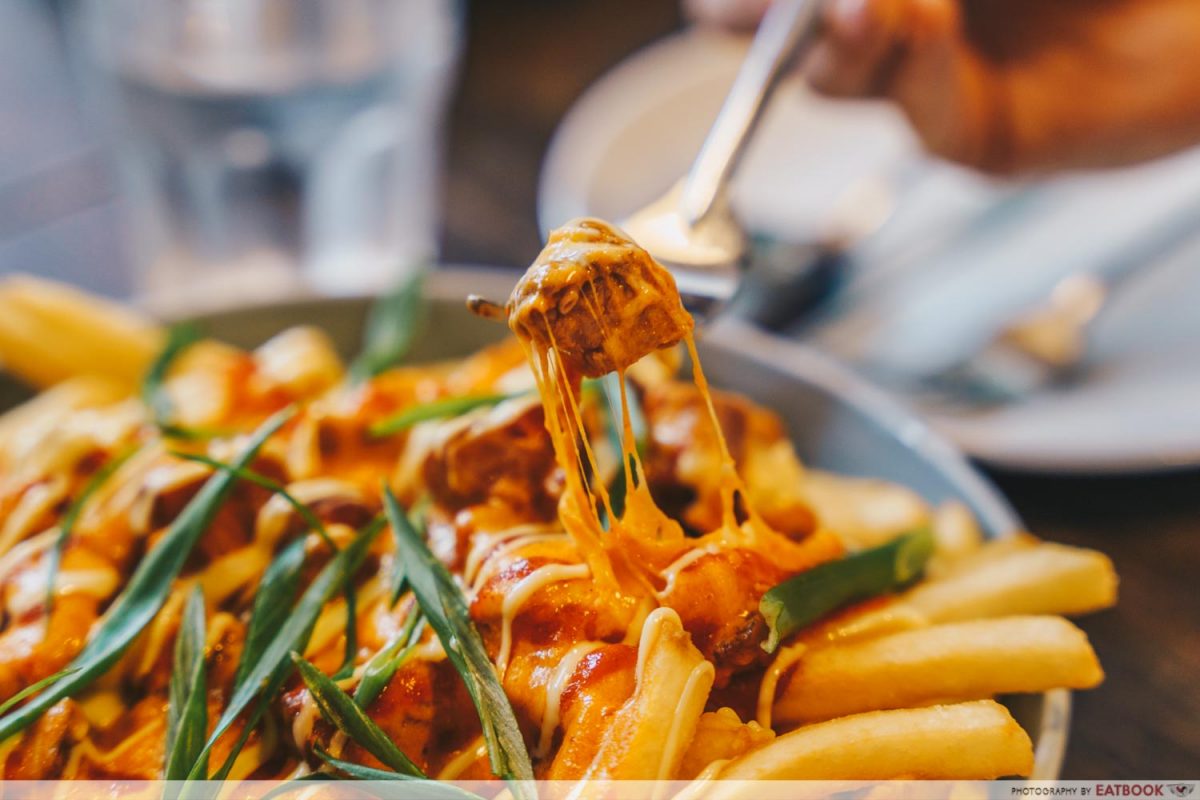 The Spicy Duck Loaded Fries ($18) are a must-try if you're dining in a group, and come topped with a moreish mix of duck fat mayonnaise with Sriracha and mozzarella. The Seafood Stew ($30), laden with tiger prawns, squid, and snapper, is also perfect for sharing. The broth is naturally sweet, and comes paired with creamy mash━best of all, it doesn't get jelak.
Check out our full review of Bees Knees.
Address: 50 Cluny Park Road, Level 1, Botanic Gardens, Singapore 257488
Opening hours: Daily 8am to 10pm
Tel: 9815 3213
Website
Bee's Knees is not a halal-certified eatery.
Bee's Knees Review: Scenic Garden Cafe Has Spicy Duck Loaded Fries And Squid Ink Pizza
---
11. Apartment
---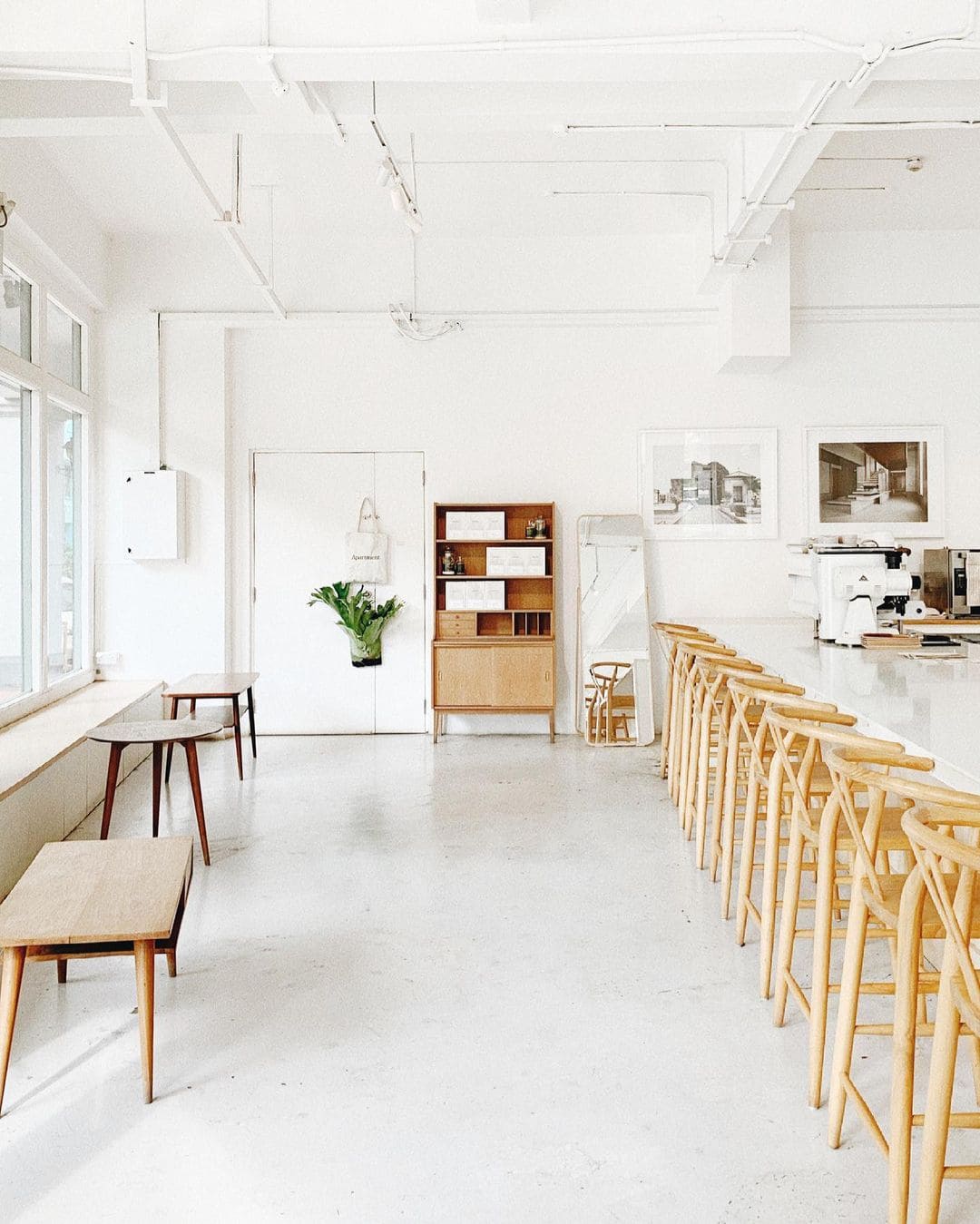 Image credit: @apartmentcoffee
Located in Lavender, Apartment has steadily built up a loyal customer base since its inception in 2018. Wooden furniture and potted plants add a splash of colour to this otherwise all-white cafe that is largely illuminated by sunlight.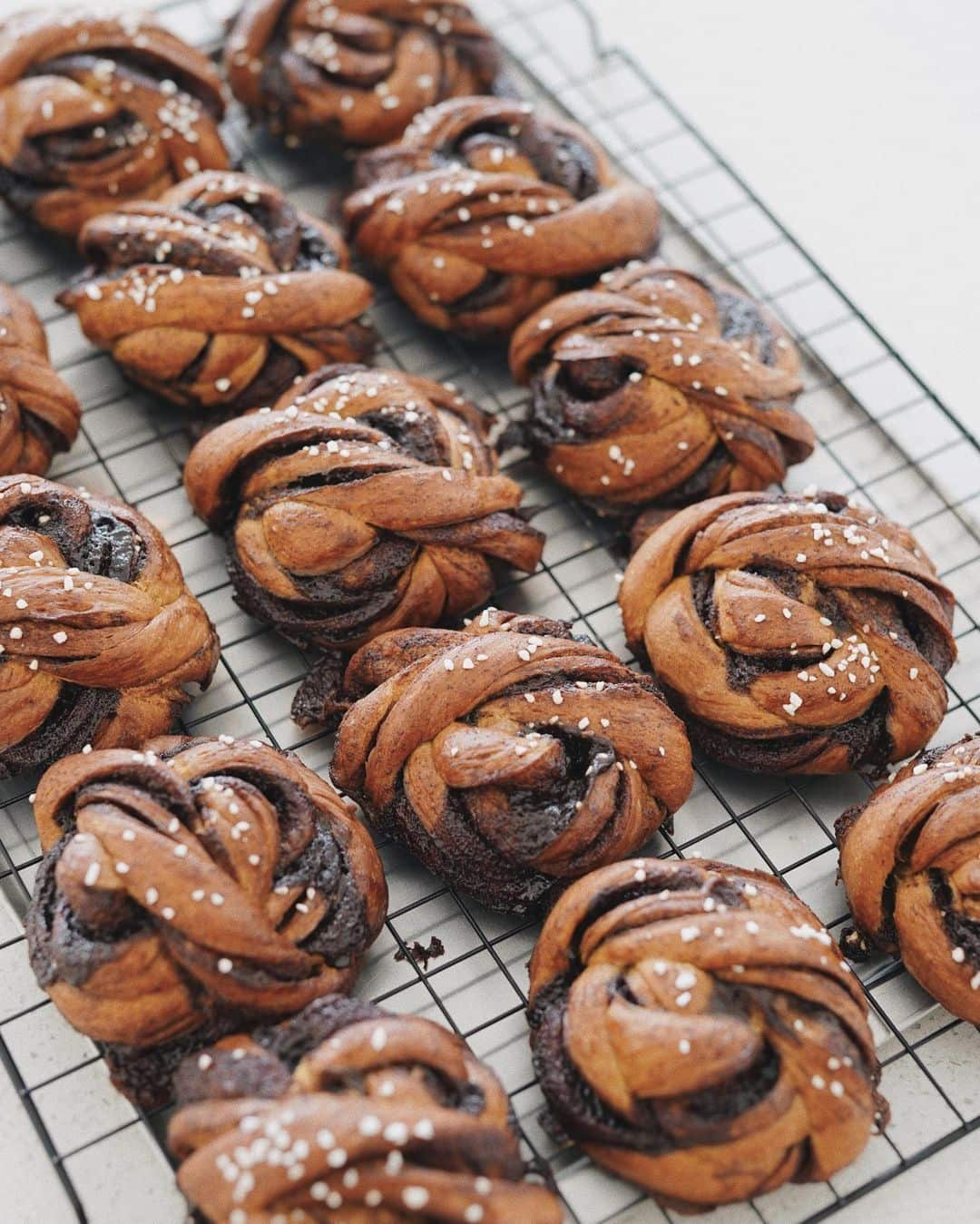 Image credit: @apartmentcoffee
The menu is mostly limited to drinks, and changes from time to time. Latte drinkers can opt for the Colombia El Mirador ($4.50) and enjoy it with a Kanelbullar (Price TBA)—a Swedish cinnamon bun. Apartment also offers a monthly subscription service that delivers Filter Roast ($25) or Espresso Roast ($25) coffee beans to you, so that you may enjoy their brew in the comfort of your home.
Address: 161 Lavender Street, #01-12, Singapore 338750
Opening hours: Daily 10am to 6pm
Website
---
12. Lucid
---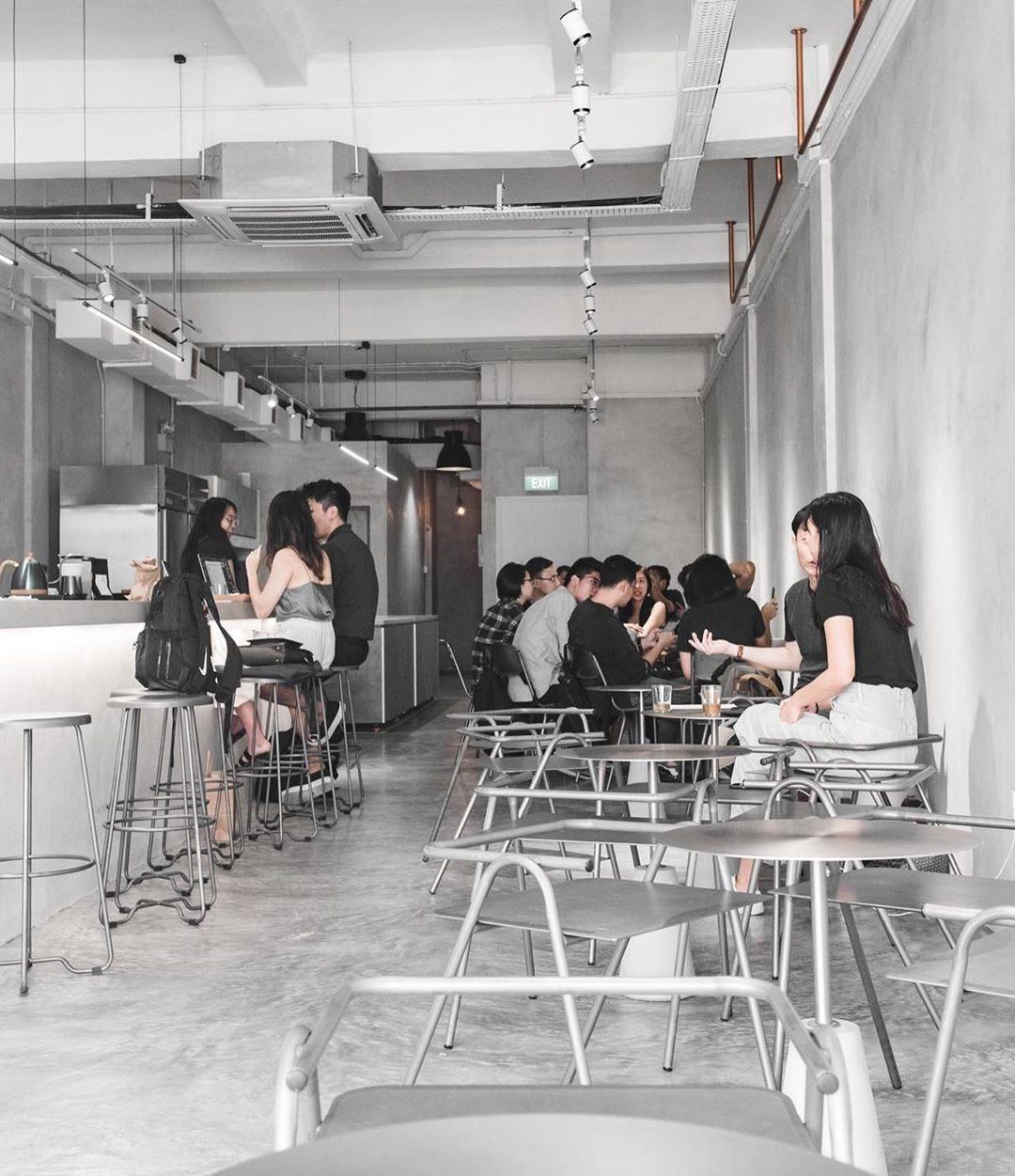 Image credit: @zoberryzo
Just a little over two years old, Lucid has established itself as a no-nonsense artisanal coffeehouse in the Jalan Besar area. It is so popular that it has resorted to limiting dining times to an hour during peak periods, so that more customers can enjoy their food and drinks.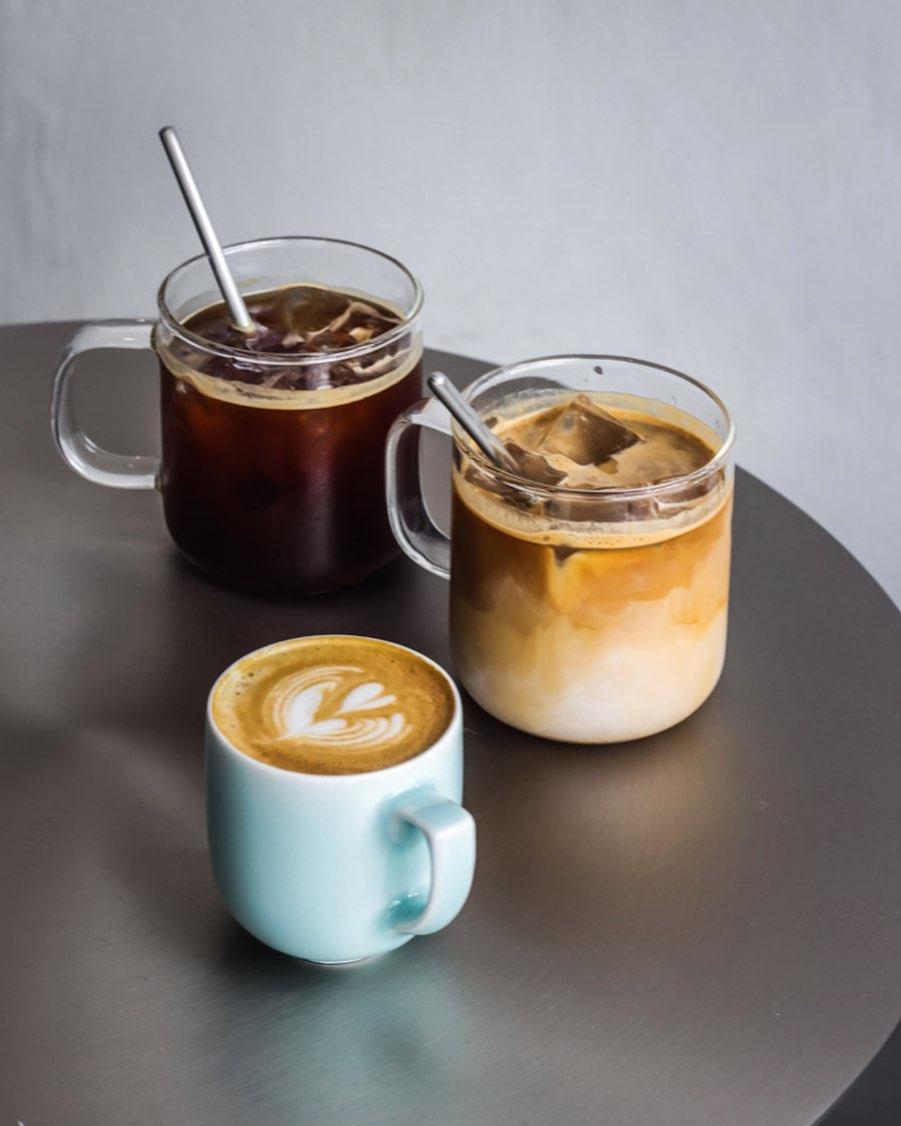 Image credit: @chocolatetbasil
Lucid's menu is comprehensive, ranging from caffeinated drinks to chocolate drinks, and even cocktails. But if you're just looking to get your regular coffee fix, you can check out their Strong Black ($4.70) and Iced White ($6). The house brew features beans from Taster's Coffee Taiwan, which have a light fruitiness; but customers can also opt for the chocolate blend, which comes with intense notes of dark chocolate and mixed nuts.
Address: 38 Hamilton Road, Singapore 209208
Opening hours: Thurs-Fri, Sat 11am to 6pm, Sat-Sun 10am to 6pm
Website
Lucid is not a halal-certified eatery.
---
13. Kafe Utu
---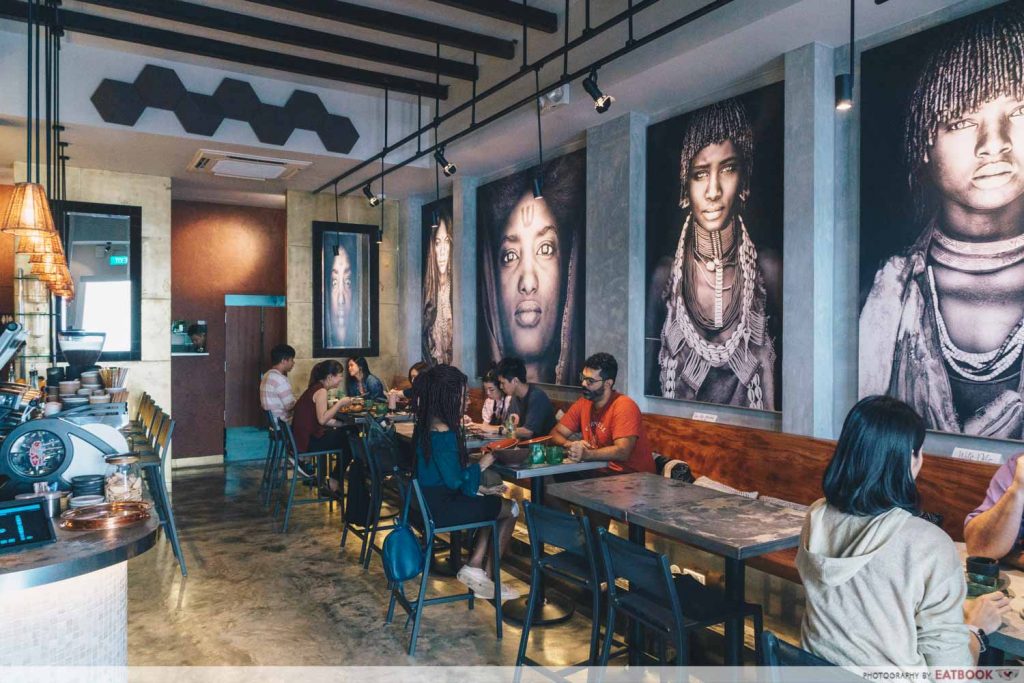 Kafe Utu is the first of its kind amongst the cafes in Singapore, offering a delicious foray into the less-explored world of African food. The three-storey cafe is decked in African-inspired artworks and photographs, with areas suitable for dining and lounging.
Try the Pulled Pork Breakfast ($25), assembled with tater tots, corn salsa and curried avocado. On the drinks front, enjoy the Iced Latte ($6.50) that is served with a coffee ice cube that keeps the drink cool without compromising on the strength of the coffee. 
Check out our full review of Kafe Utu.
Address: 12 Jiak Chuan Road, Singapore 089265
Opening hours: Wed-Fri 10am to 5pm, 6pm to 10:30pm, Sat-Sun 9am to 5pm, 6pm to 10:30pm
Tel: 6996 3937
Website
Kafe Utu is not a halal-certified eatery.
Kafe UTU Review: African Cafe With Interesting Brunch Dishes Like Curry Avocado At Nett Prices
---
14. Starter Lab
---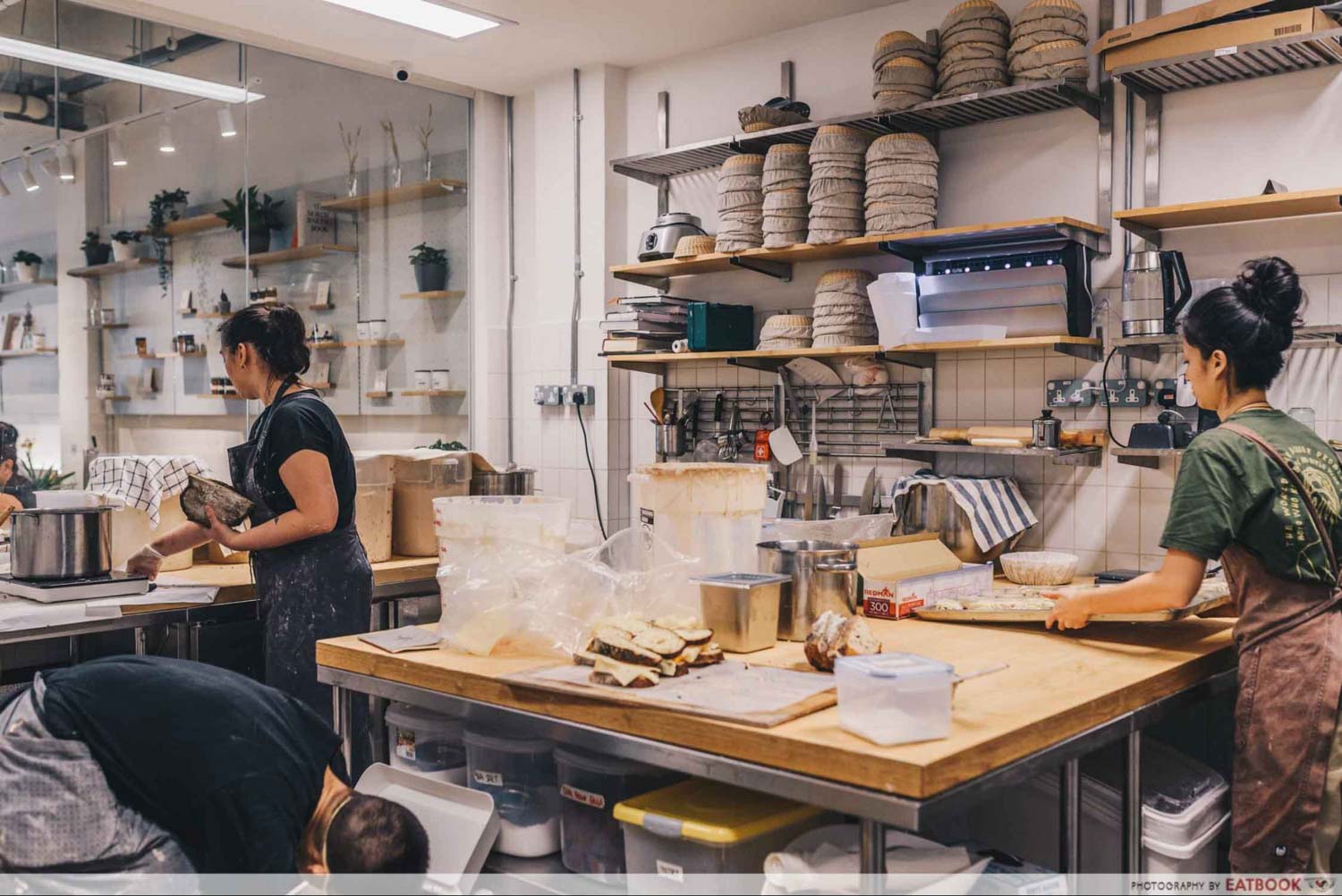 Hailing from the sunny shores of Bali, Starter Lab has now cemented itself as one of the best sourdough bakeries in Bali and Singapore. The bakers here are trained by founder Emerson Manibo, who has worked at three Michelin-starred Per Se, and can be admired through the open-kitchen concept that the cafe is based around.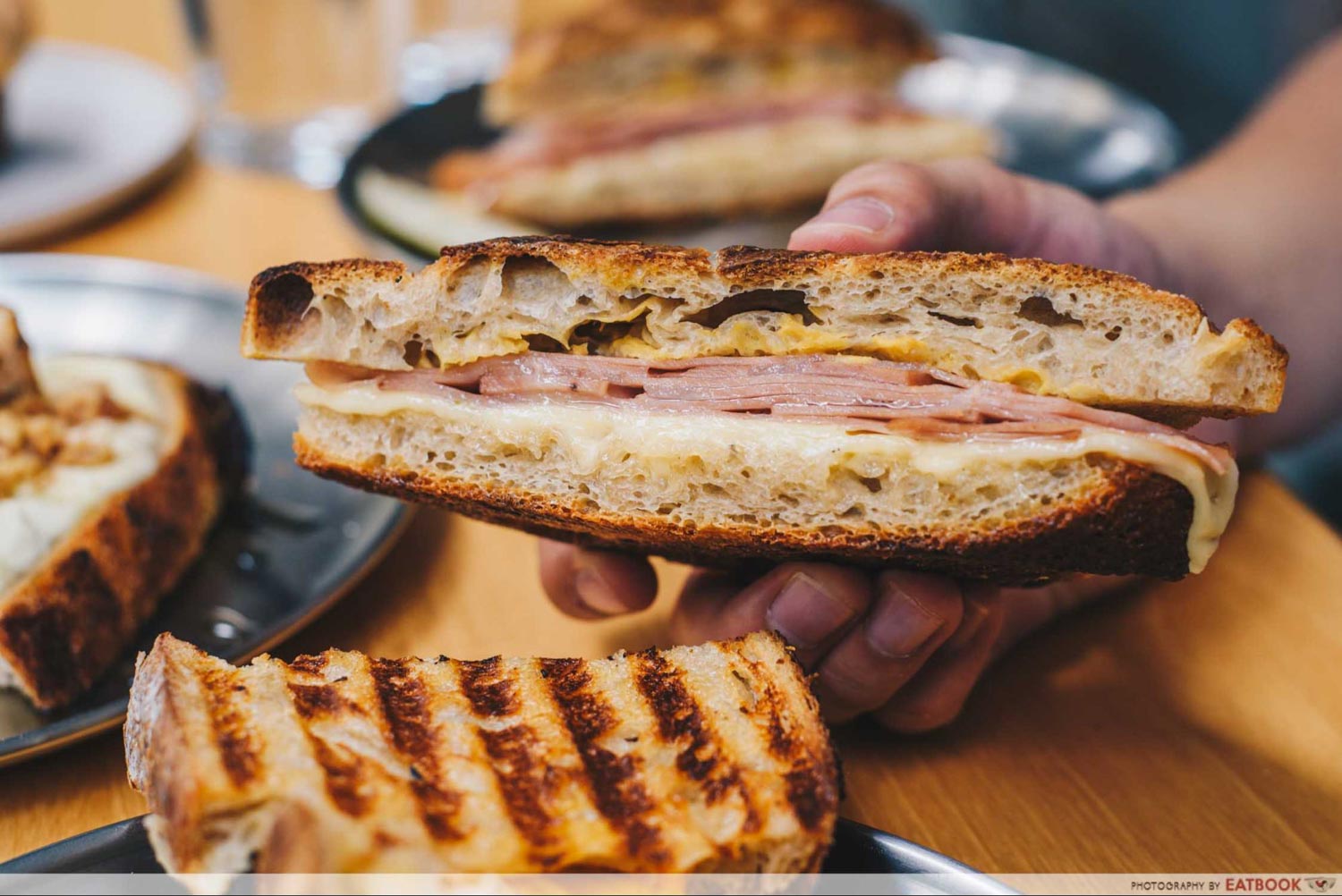 Despite its steep price point, the Starter Lab 3 Cheese ($19) is worth every cent. Not only do you get a winning cheese pull shot, you'll also get Starter Lab's fluffy, chewy sourdough with a medley of cheeses, accompanied by a slice of pickled carrot. Meat lovers will be sure to enjoy the Mortadella ($18), which has a generous portion of the cured meat sandwiched between two slices of focaccia.
Check out our full review of Starter Lab.
Address: 721 Havelock Road, Singapore 169645
Opening hours: Daily 8:30am to 5pm
Tel: 9839 0408
Website
Starter Lab is not a halal-certified eatery.
Starter Lab Review: Muji-Style Cafe At Tiong Bahru Serving One Of Singapore's Best Sourdough
---
15. Dewgather Coffee House
---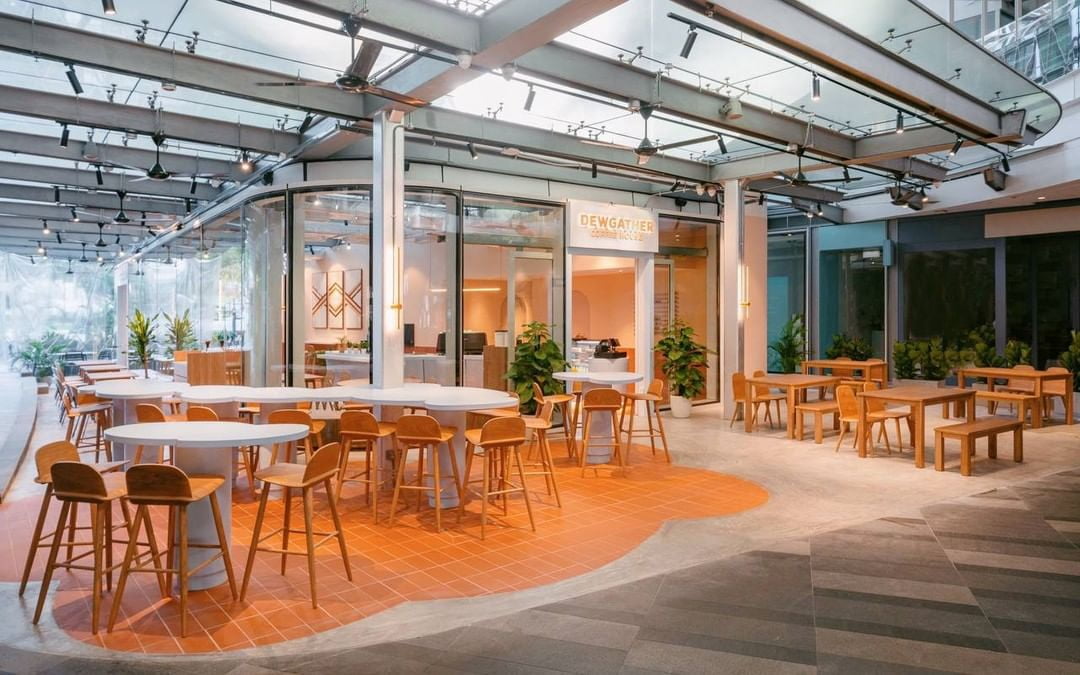 Image credit: @dewgather
Pink cafes in Singapore have been quite the trend lately, so Westies will be happy to know they now have one in the 'hood. Dewgather Coffee House can be found on the first floor of The Star Vista, standing out with its glass ceilings, full-length windows, and blush-themed decor. The cafe seats up to 40 people outdoors and 20 people inside.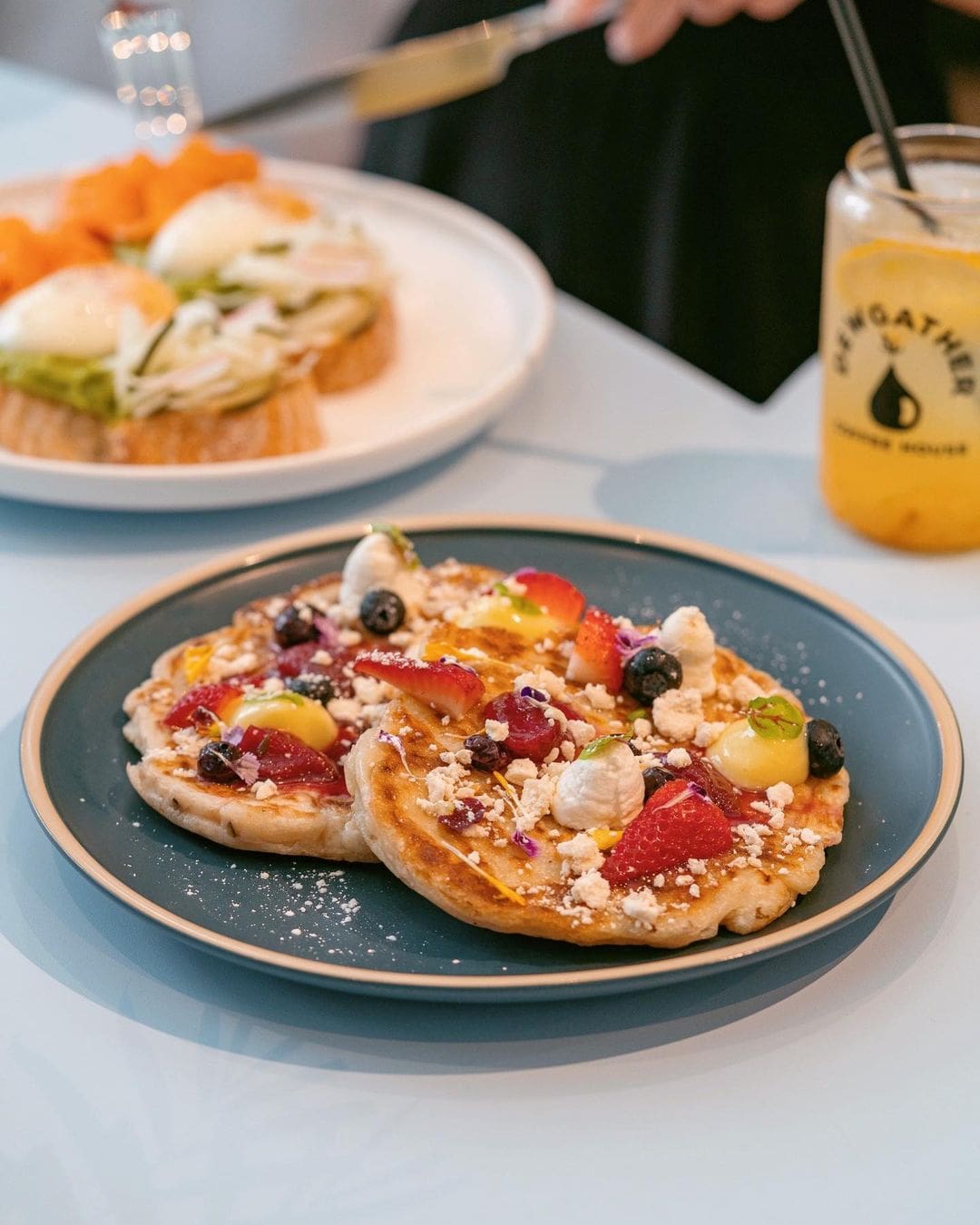 Image credit: @dewgather
Start your morning with The Aussie Crumpet ($15++) which comes with tangy lemon curd, ricotta cheese and a berry compote. Otherwise, you can get a beer-battered Barramundi Fish Burger ($25++) adorned with a traditional tarragon emulsion. While the cafe is open from 8am daily, do note that mains are only available from 11am on weekdays and 9am on weekends.
Address: 1 Vista Exchange Green, #01-46, The Star Vista, Singapore 138617
Opening hours: Daily 8am to 10pm
Website
Dewgather Coffee House is not a halal-certified eatery.
10 Hidden Gem Eateries You Never Knew Were In The Heartlands, Including UFO Floss Buns And Traditional Korean Snacks
---
16. Botany
---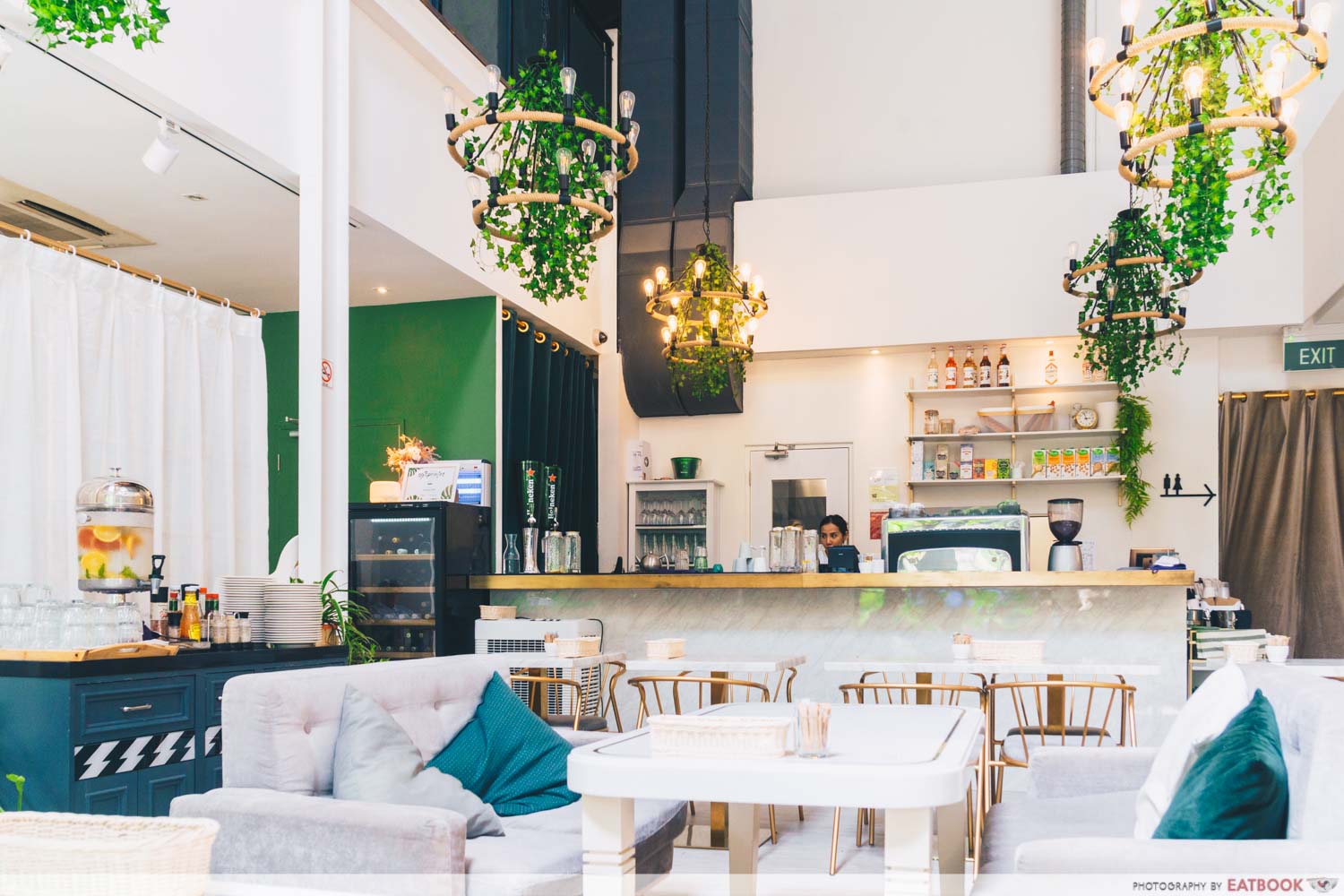 Longtime viewers of MediaCorp will be familiar with Julie Tan, who aside from being an actress is also the part-owner of Botany at Robertson Quay. Even though the outdoor dining area makes for a very romantic dinner date spot, it is the interior of the Instagram-worthy cafe that is unquestionably stunning with high ceilings, marble tables and teal highlights.
Botany does not skimp on its uni and ikura for its Uni Truffle Capellini ($28+)━a cold pasta dish that's aromatic with truffle salsa. If you happen to be someone that likes to eat breakfast for dinner, you can get the Signature Avocado Toast ($18+) all day long here! It's garnished with kale, pomegranate seeds and edible flowers, making for a vibrant and aesthetically-pleasing dish.
Check out our full review of Botany Cafe.
Address: 86 Robertson Quay, #01-03, Singapore 238245
Opening hours: Mon-Fri 9am to 10pm, Sat-Sun 8:30am to 10pm
Website
Botany is not a halal-certified eatery.
Botany Review: Aesthetic Cafe With Uni Pasta & Impossible Mapo Tofu By Julie Tan At Robertson Quay
---
17. Juparo Coffee
---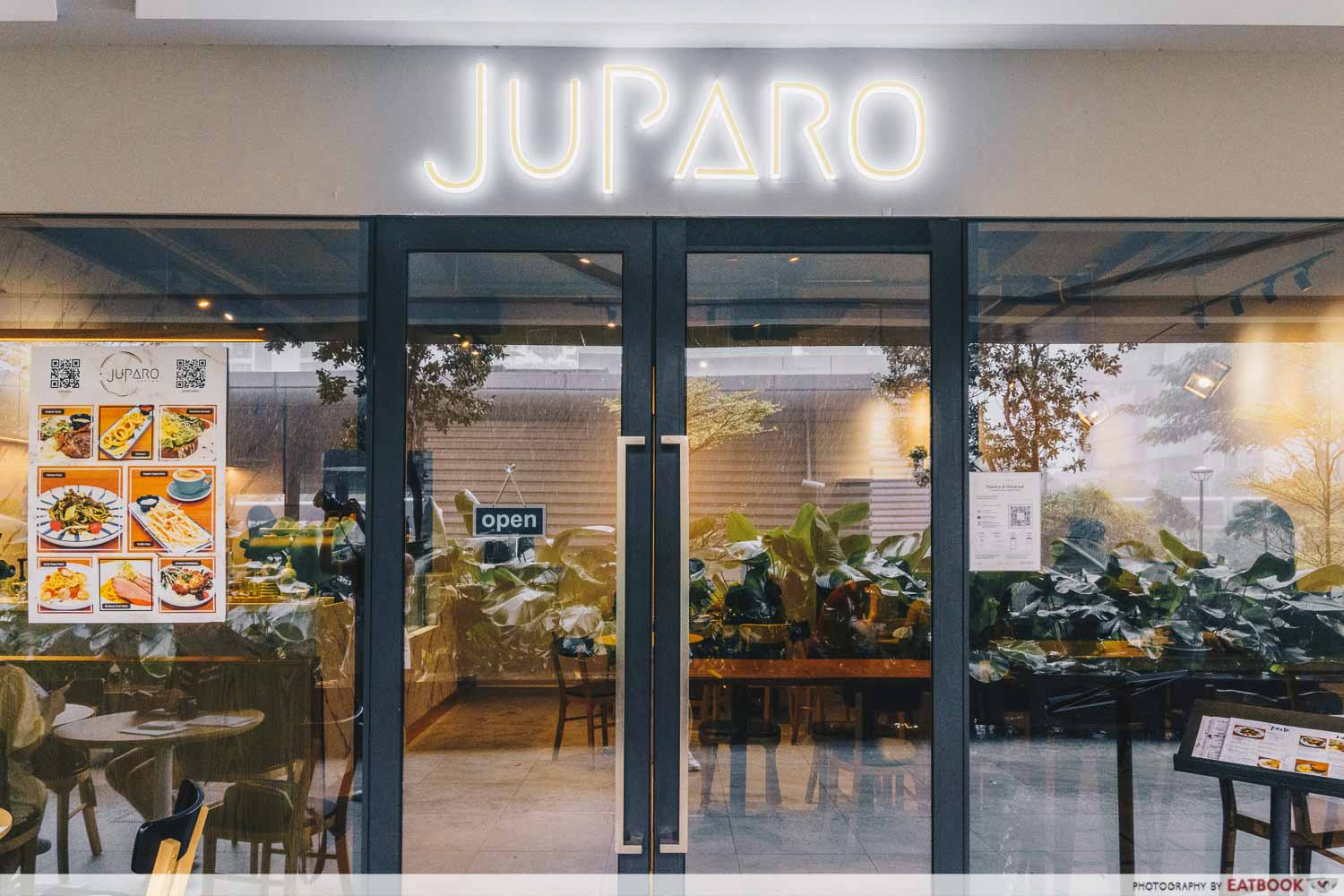 Juparo Coffee is found at Poiz Centre, a residential and retail building that's located just outside Potong Pasir MRT Station. Founded by a coffee enthusiast who previously worked in the financial industry, the coffee here is a house blend!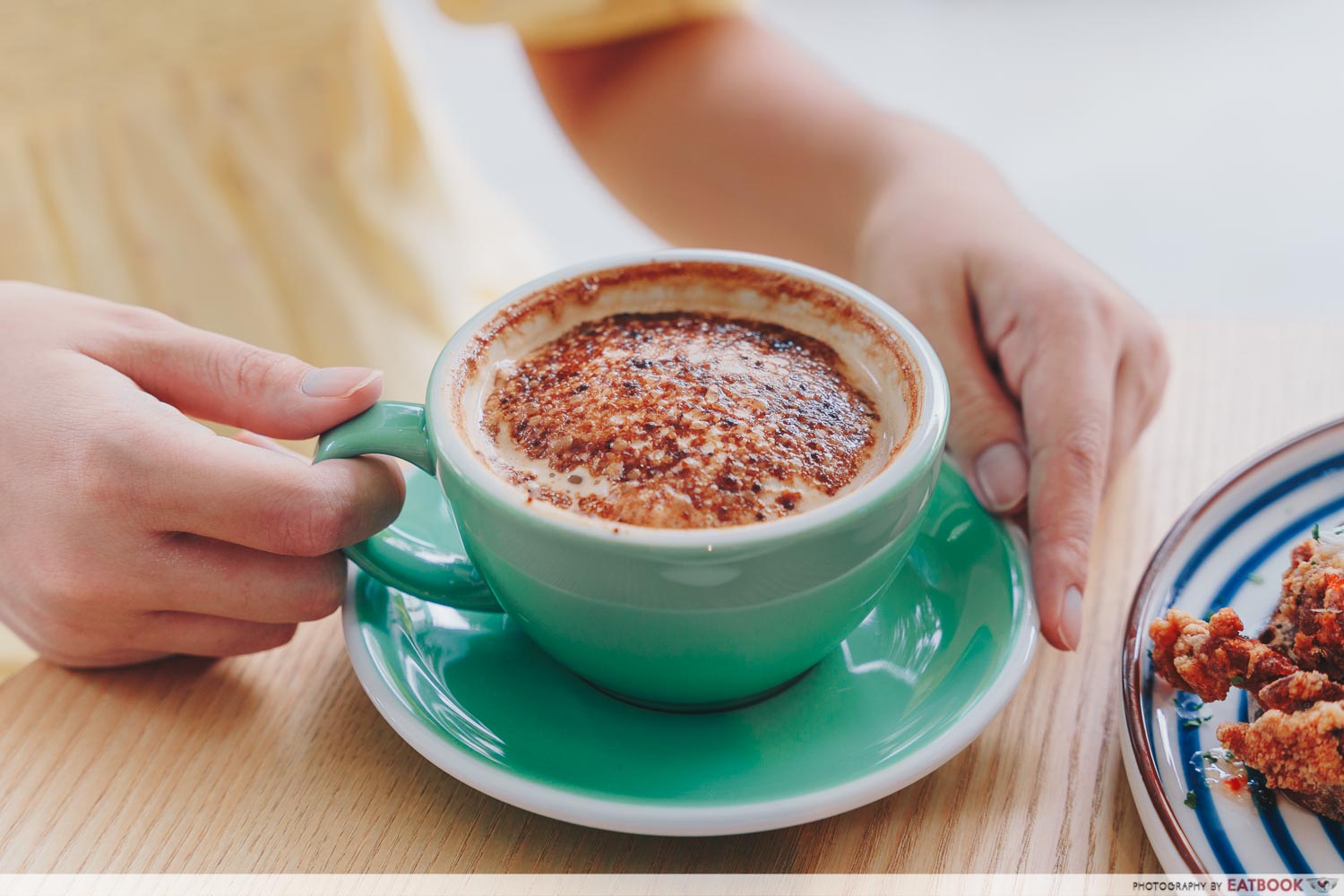 The Crab ($13.90), which is a deep-fried soft shell crab on toast, puts a cafe spin on our local favourite, chilli crab. A sweet-savoury chilli sauce and tomato relish replace the traditional chilli crab gravy, and a slice of sourdough takes the place of mantou. Those with a sweet tooth would enjoy the Kogeta Cappuccino ($6). Kogeta is Japanese for burnt, so you'll be getting notes of caramel in this drink. 
Check out our full review of Juparo Coffee.
Address: 51 Upper Serangoon Rd, #01-59, Poiz Centre, Singapore 347697
Opening hours: Tues-Sat 10am to 10pm, Sun 10am to 8pm
Tel: 6241 4041
Website
Juparo Coffee is not a halal-certified eatery.
Juparo Coffee Review: Crab Toast, Chicken Parmigiana And Blue Iced Tea At Potong Pasir
---
18. Ambling Turtle
---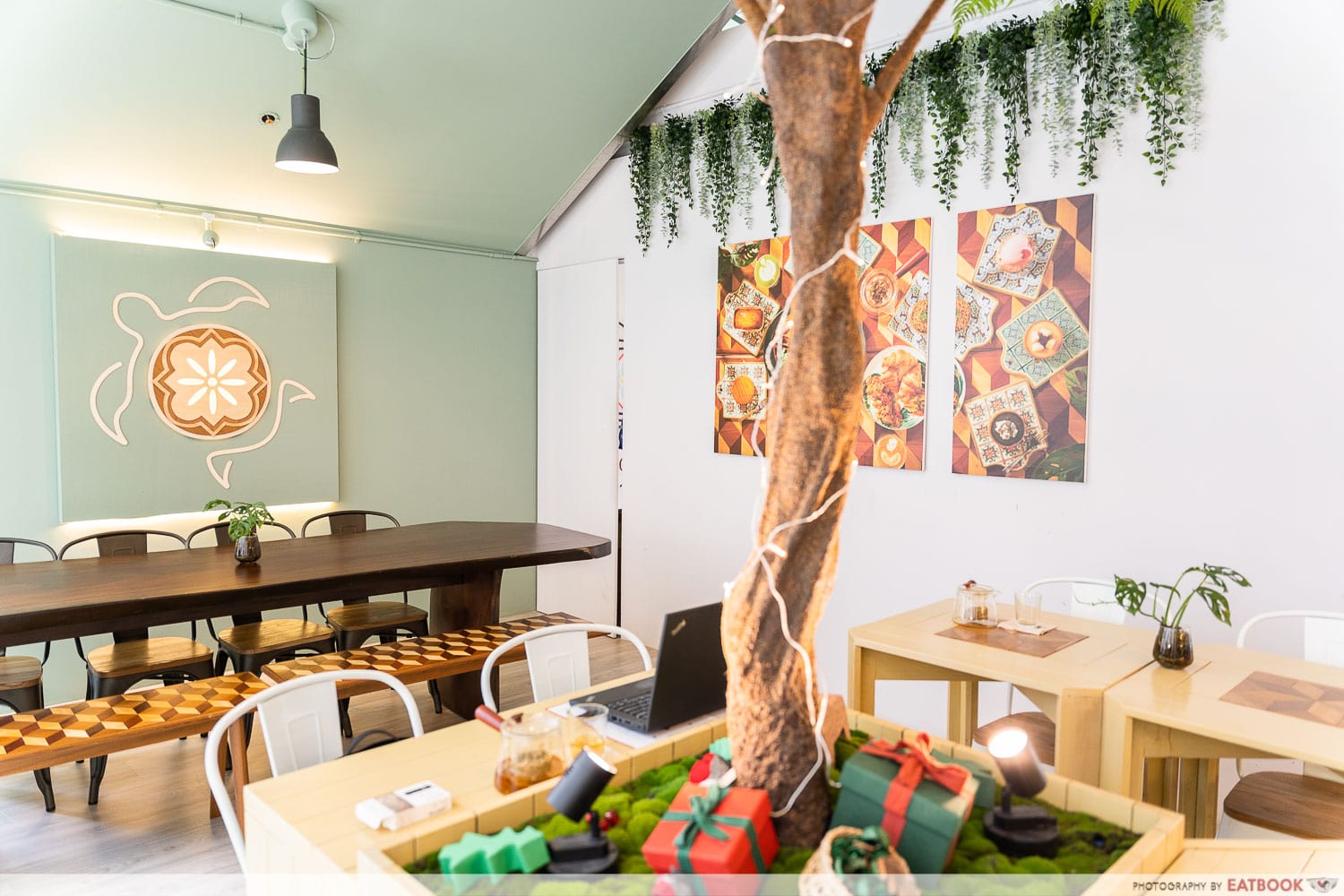 Katong is a hub for cafes in Singapore, and one new player worth visiting is Ambling Turtle, which brands itself as a modern Peranakan cafe. The fusion Peranakan menu is sure to resonate with mature diners, as well as a younger generation that is used to dining at cafes.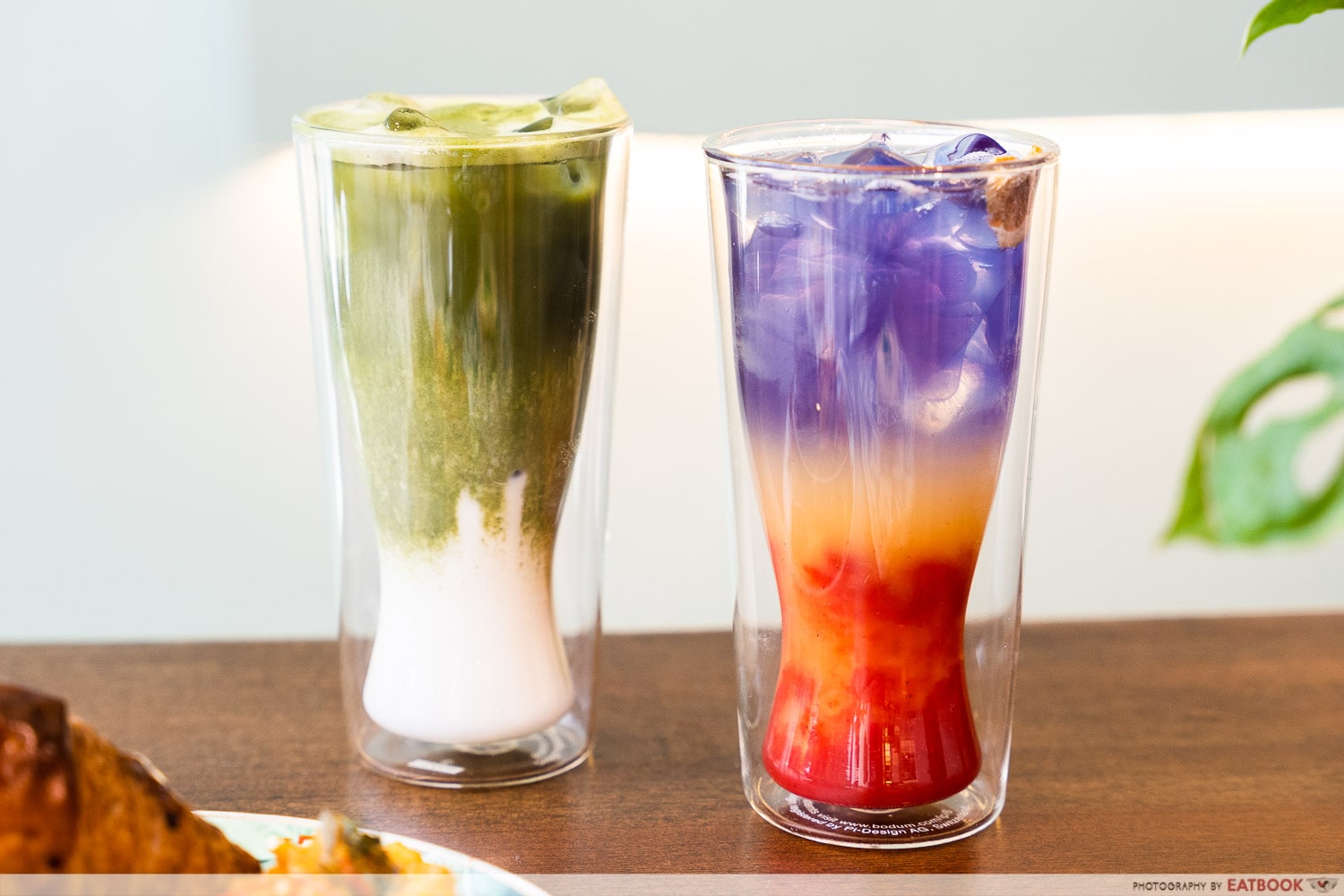 The Yuzu Cheese Tart ($7) is served on a beautiful mosaic-tiled plate that complements the yellow tart. Bright citrus notes are present throughout the dessert, from the yuzu-infused syrup to the cream cheese custard. Another  showstopper to order would be the Crack of Dawn ($7.50), which is a fizzy, rosemary-infused butterfly pea tea, layered with strawberry coulis and orange juice. Alternatively, you can order the Misty Kyoto Matcha Latte ($6.50) for a strong glass of matcha that is not too bitter. 
Check out our full review of Ambling Turtle.
Address: 66 East Coast Road, #01-01, The Flow, Singapore 428778
Opening hours: Sun-Thurs 9am to 6pm, Fri-Sat 9am to 10pm
Website
Ambling Turtle is not a halal-certified eatery.
Ambling Turtle Review: New Cafe With Nyonya Curry Chicken Croissant, Chendol Waffles, And Tarts In Katong
---
19. Baker's Bench Bakery
---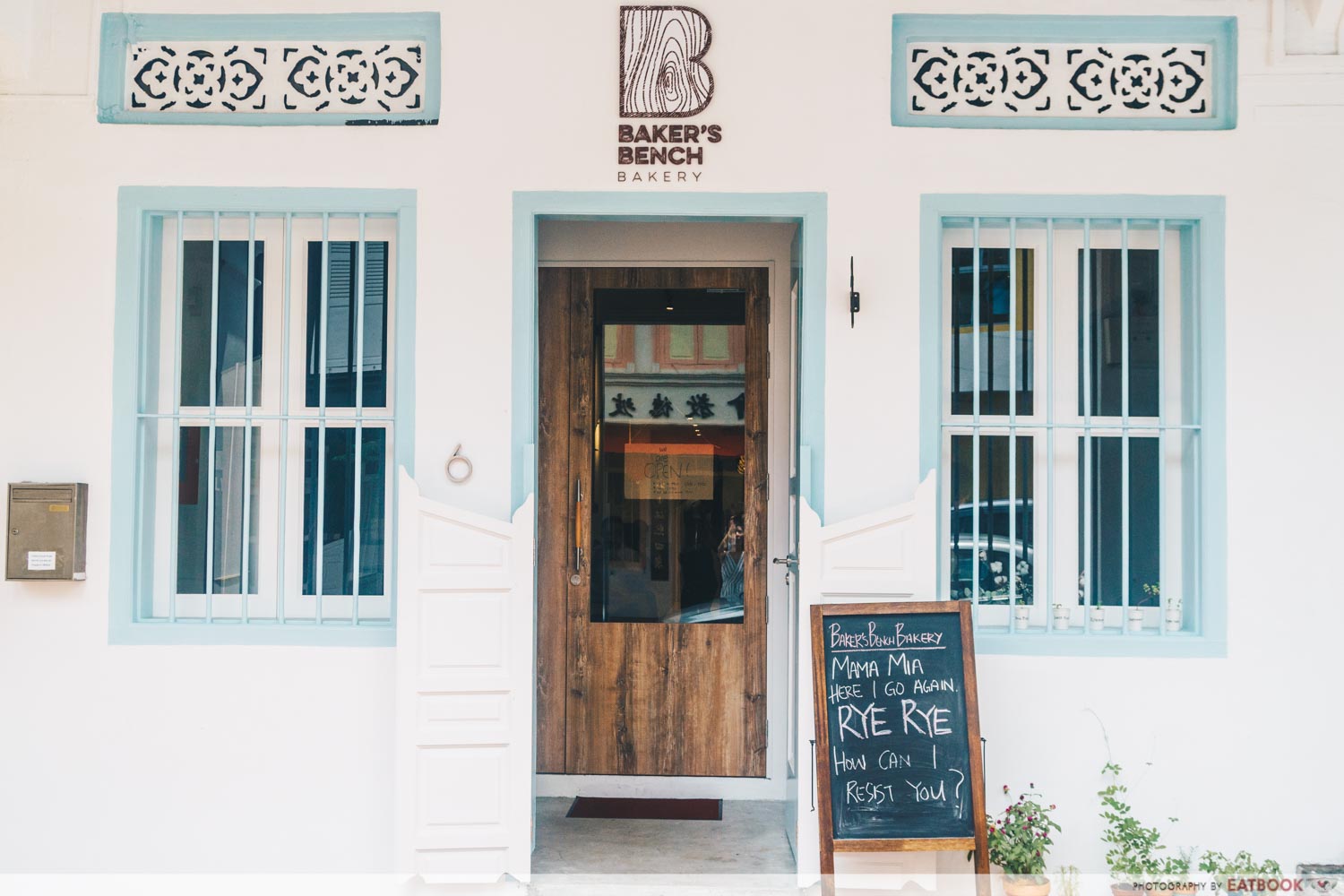 Baker's Bench Bakery is a mouthful to say aloud multiple times, but the bread and other pastries here are definitely worth your while. Situated opposite Pinnacle at Duxton, the cafe is renowned for its homely and welcoming atmosphere.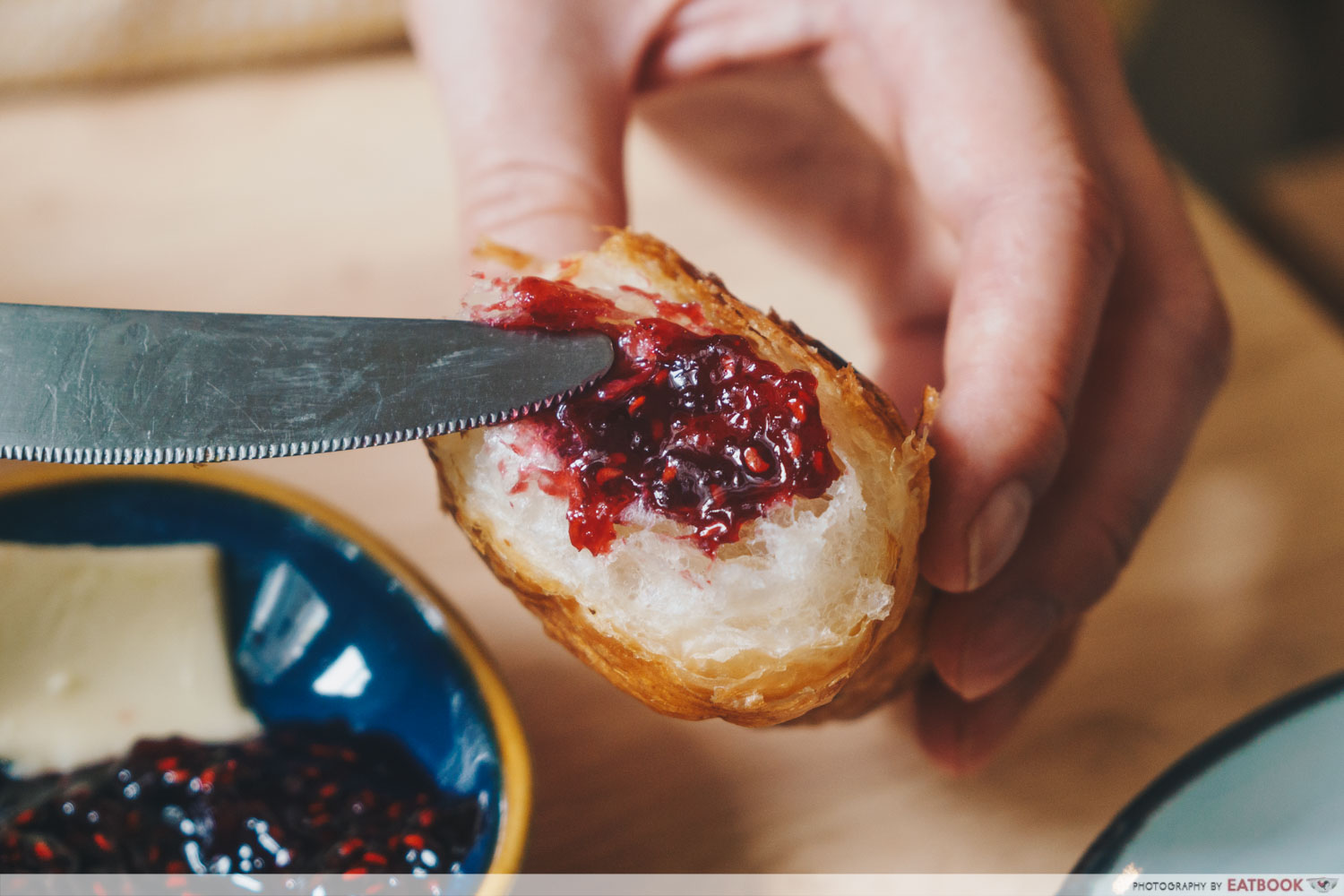 Popular menu items here include the Sticky Bun ($5) and Plain Croissant ($4). The sticky buns are sold individually, but you probably wouldn't be able to stop at one. Slathered with sticky toffee and walnuts, the buns are best eaten warm. You can also take their House Jam ($5) home or have it with their plain croissant, pairing the tartness of the jam with the butteriness of the flaky pastry.
Check out our full review of Baker's Bench Bakery. 
Address: 6 Bukit Pasoh Road, Singapore, 089820
Opening hours: Wed-Sat 8:30am to 5pm, Sun 8:30am to 4pm
Website
Baker's Bench Bakery is not a halal-certified eatery.
Baker's Bench Bakery Review: New Minimalist Cafe With Build-Your-Own Brunch Platters And Pork Belly Sourdough
---
20. Burnt Cones
---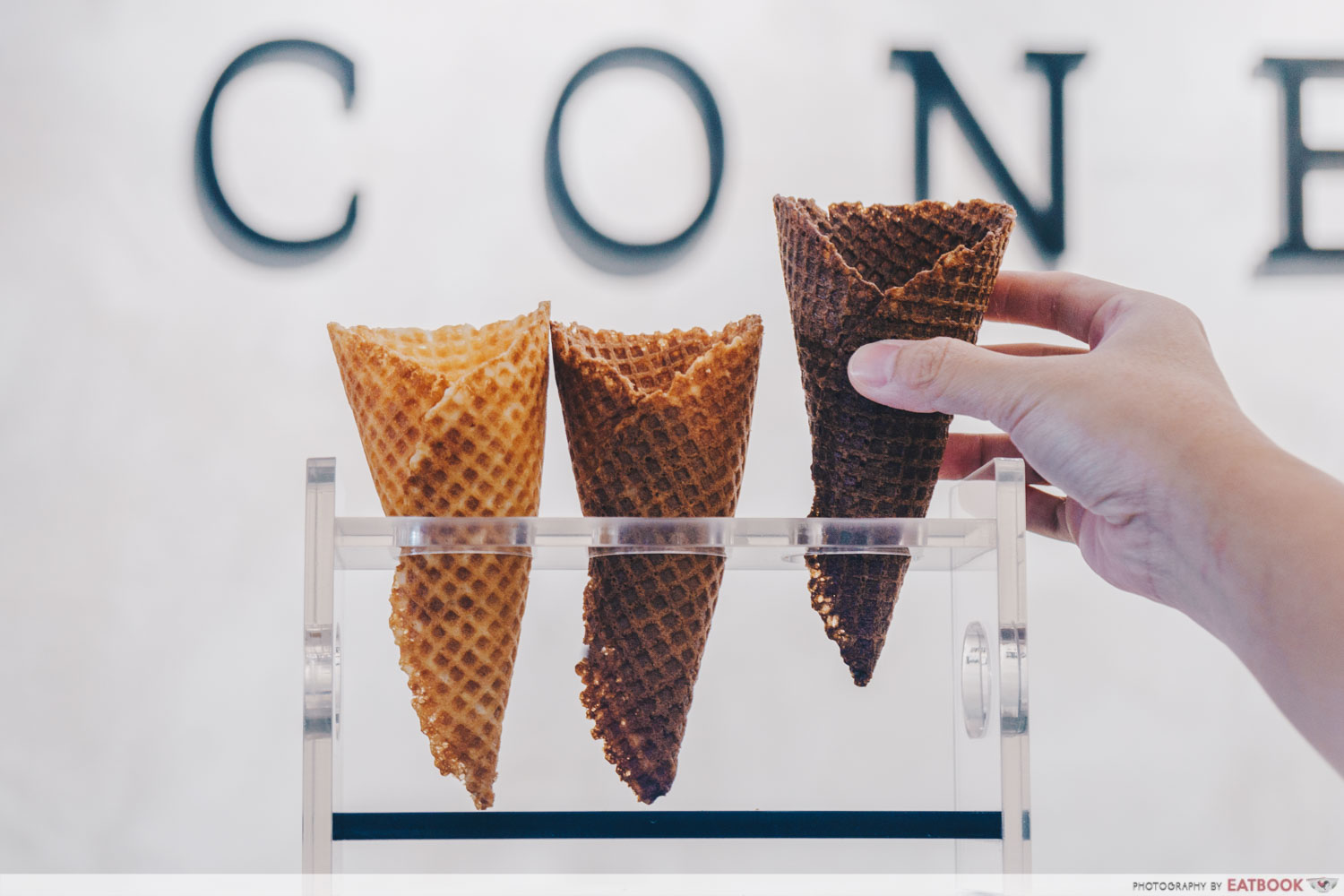 With two locations that open till 12am daily, Burnt Cones is definitely one of the ice cream cafes in Singapore worth checking out if you're looking to satisfy your late-night dessert cravings. As it's difficult to get a table here at mealtimes, you can also consider taking away if you're having your gelato in a cup or cone.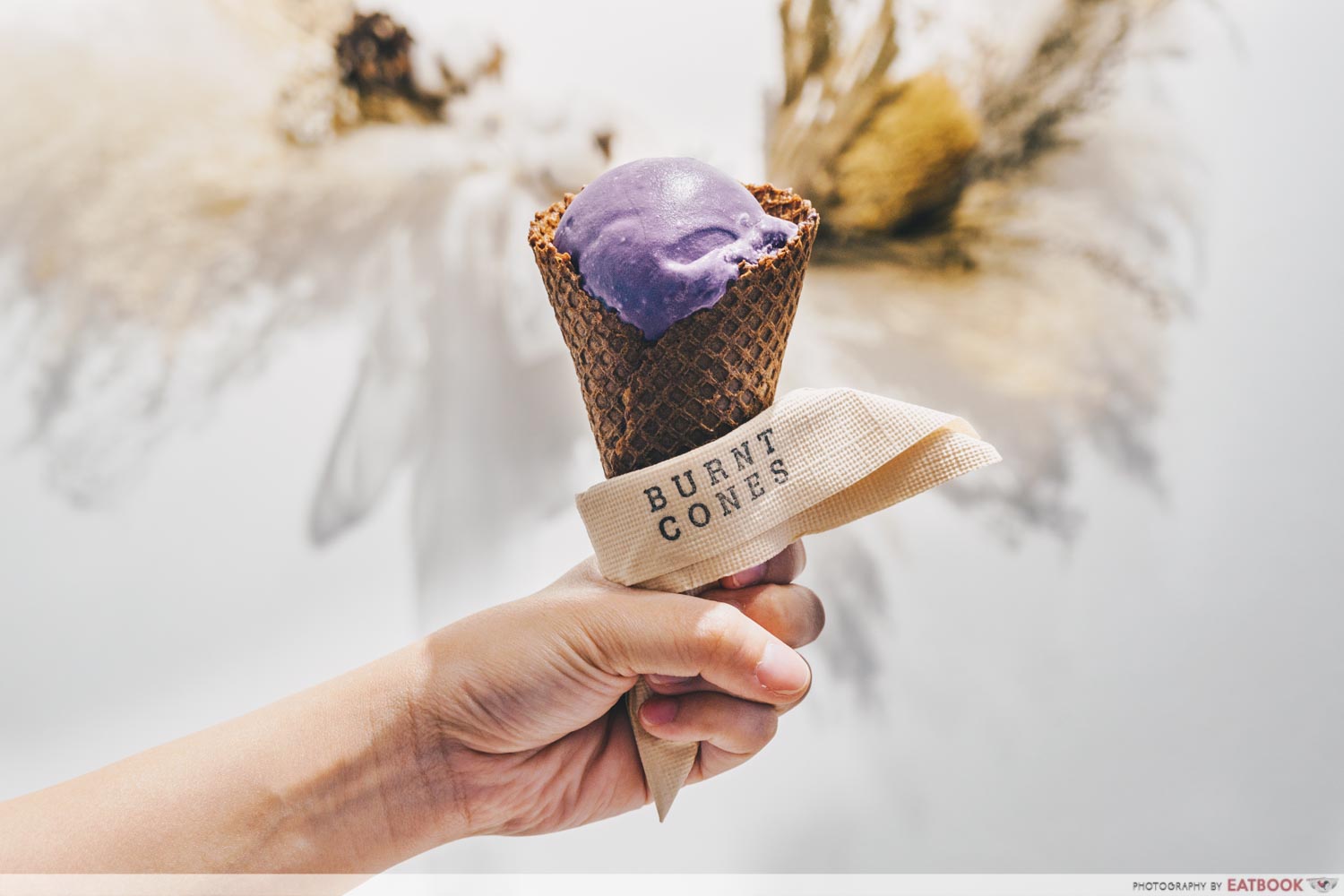 The cafe draws its name from its namesake dark cones ($1), which come in three levels of burnt-ness. A Premium Single Scoop costs $5, while a Signature Scoop costs an additional $1 per scoop. The gelato flavours rotate frequently, but keep an eye out for the Ube ($5), which reminds us of orh nee in gelato form. 
Check out our full review of Burnt Cones.
Sunset Way
Address: 105 Clementi Street 12, #01-02, Singapore 120105
Opening hours: Mon-Fri 11am to 12am, Sat-Sun 9am to 12am
The Sail
Address: 4 Marina Boulevard, #01-31A, The Sail at Marina Bay, Singapore 018986
Opening hours: Mon-Fri 11am to 12am, Sat-Sun 10am to 12am
Tel: 9711 1097
Website
Burnt Cones is not a halal-certified eatery, but uses no pork, lard or alcohol.
Burnt Cones Review: New Clementi Cafe Open Till 12am For Waffles And Gelato Such As Yam And Pistachio
---
Best cafes in Singapore
---
The next time your besties want to go to a self-shoot photo studio, you can suggest having your modelling session at these cafes in Singapore instead. Not only do you get to relish superior coffee and enjoy delectable food, but you also get to take photos too!
If some of these cafes in Singapore are too out of the way for you, check out our guide to hidden gems in the heartlands. Otherwise, check out these late-night dessert haunts that close after 11pm!
12 Late-Night Dessert Places That Close After 11pm For Muah Chee Gelato, Thai Milk Tea Bingsu And More