Flavoured burnt cheesecakes at Keong Saik Bakery
Update: Keong Saik Bakery has a seasonal rotation of desserts, so do note that some of the menu items listed here may no longer be available. Check out their current menu.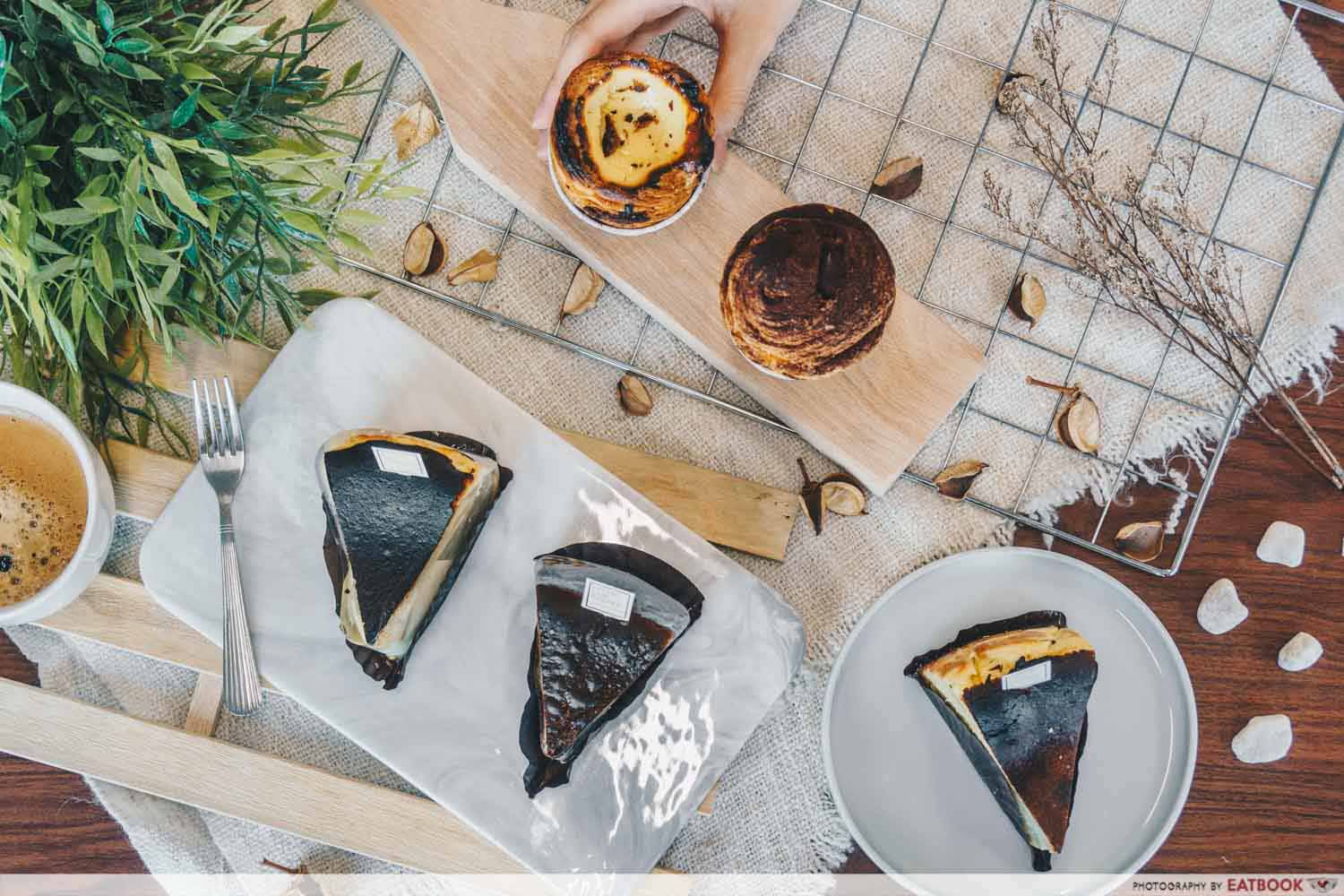 Burnt cheesecakes have been growing rapidly in popularity. If you have any foodie friends, these mouthwatering desserts would have definitely graced your IG feed at some point. Hopping on the trend is Keong Saik Bakery, home to a huge variety of burnt cheesecakes and other pastries.
We arrived to find that the bakery was no longer accepting dine-ins, and only allowed two customers in the shop at one time. To our surprise, the friendly staff member shared that business had improved after the Circuit Breaker. Clearly, this arrangement hasn't affected their sales as we weren't the only ones excited to explore the burnt cheesecake trend!
Food at Keong Saik Bakery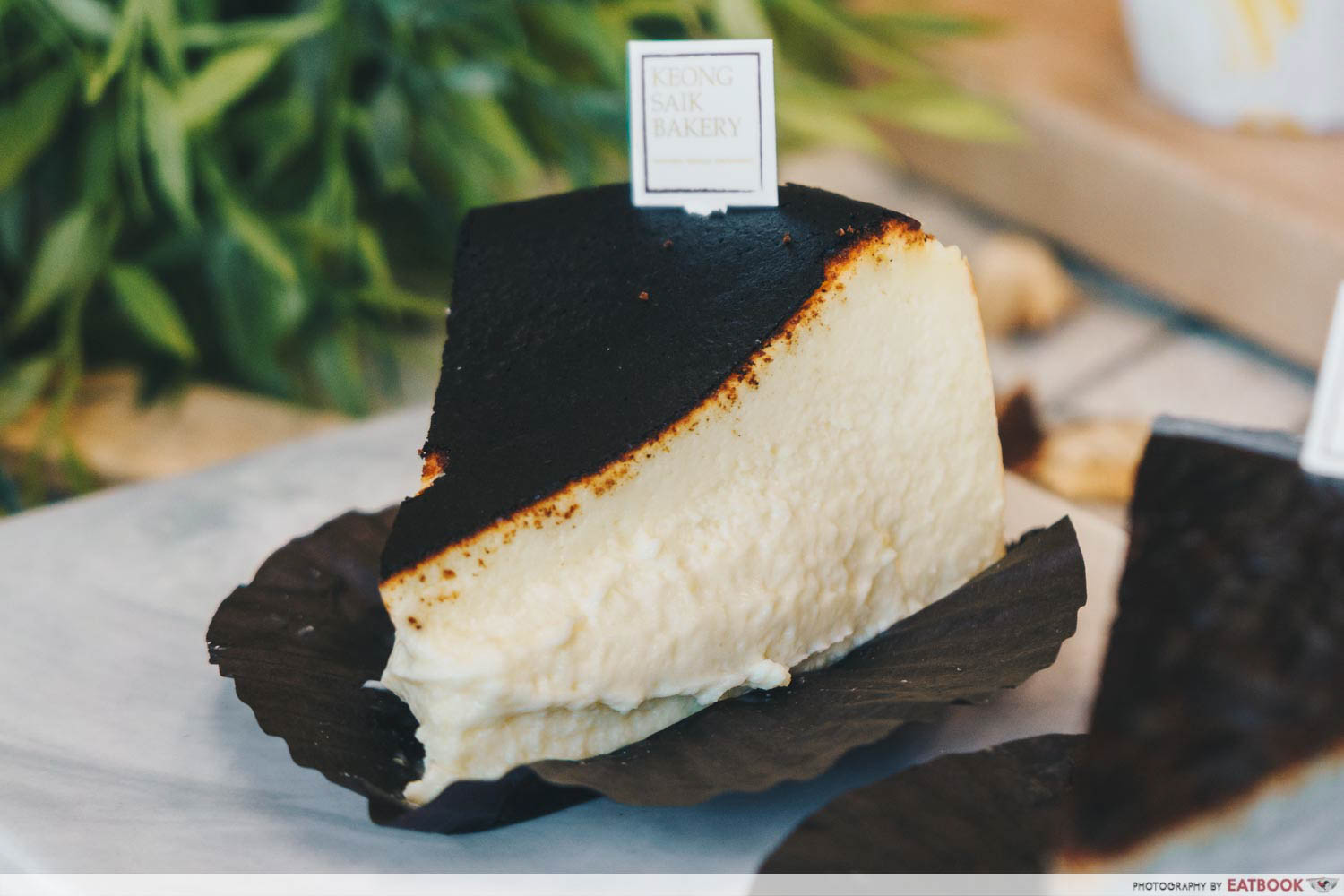 The first item we dug into was the popular Burnt Cheesecake ($7.50), which is made from a blend of four different cheeses. It looked amazing with its melty, gooey centre—something I always look for in my Basque cheesecakes.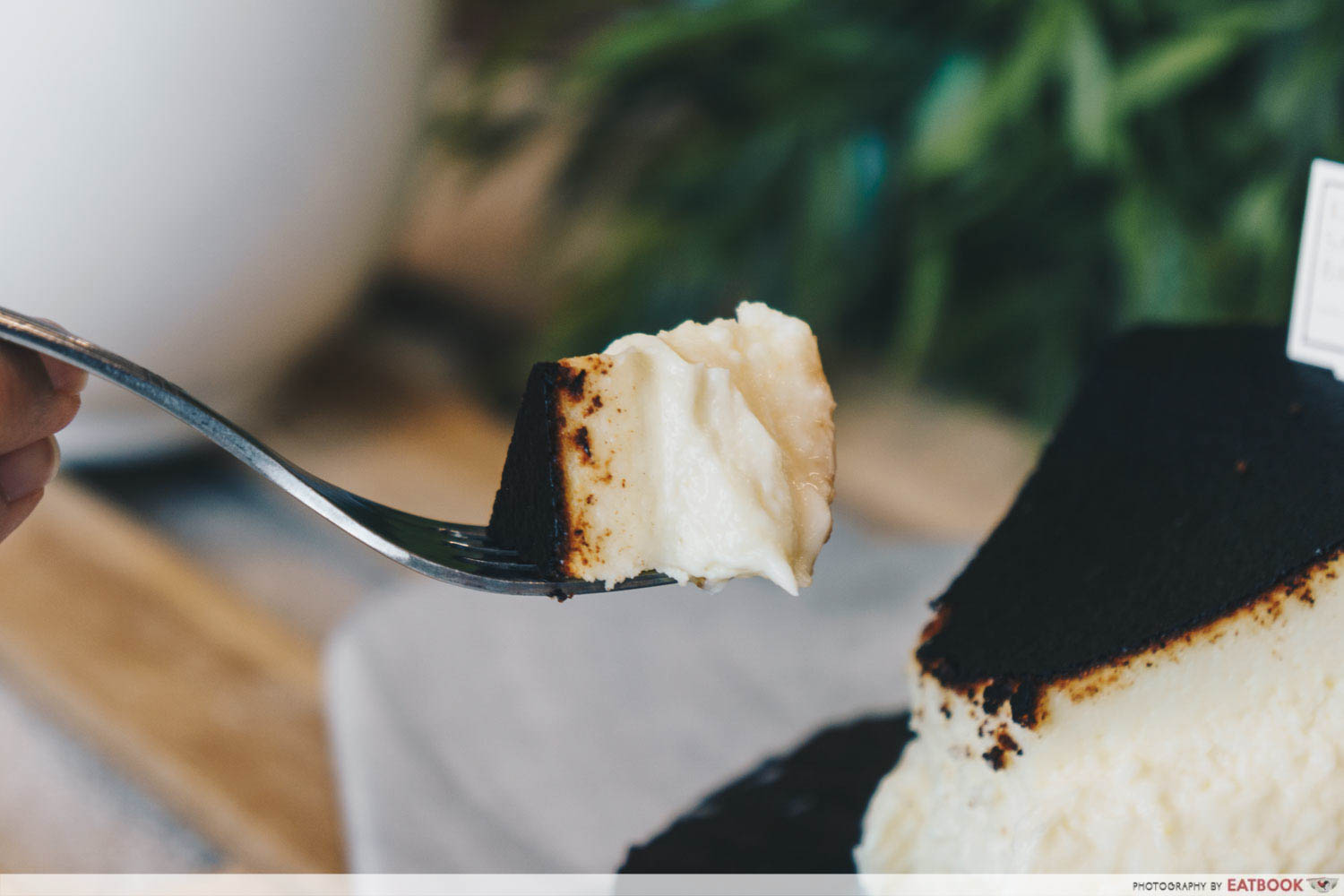 The cake had a dominant lemon flavour, which took the attention away from the taste of cheese. The cheesecake was velvety smooth and creamy, while the burnt surface had more of a candied texture, which stuck to my teeth.
Truthfully, I am not a fan of lemony and overly sweet cheesecakes, so this burnt cheesecake isn't my favourite. If you appreciate some tanginess in your cheesecake, this would be great for you!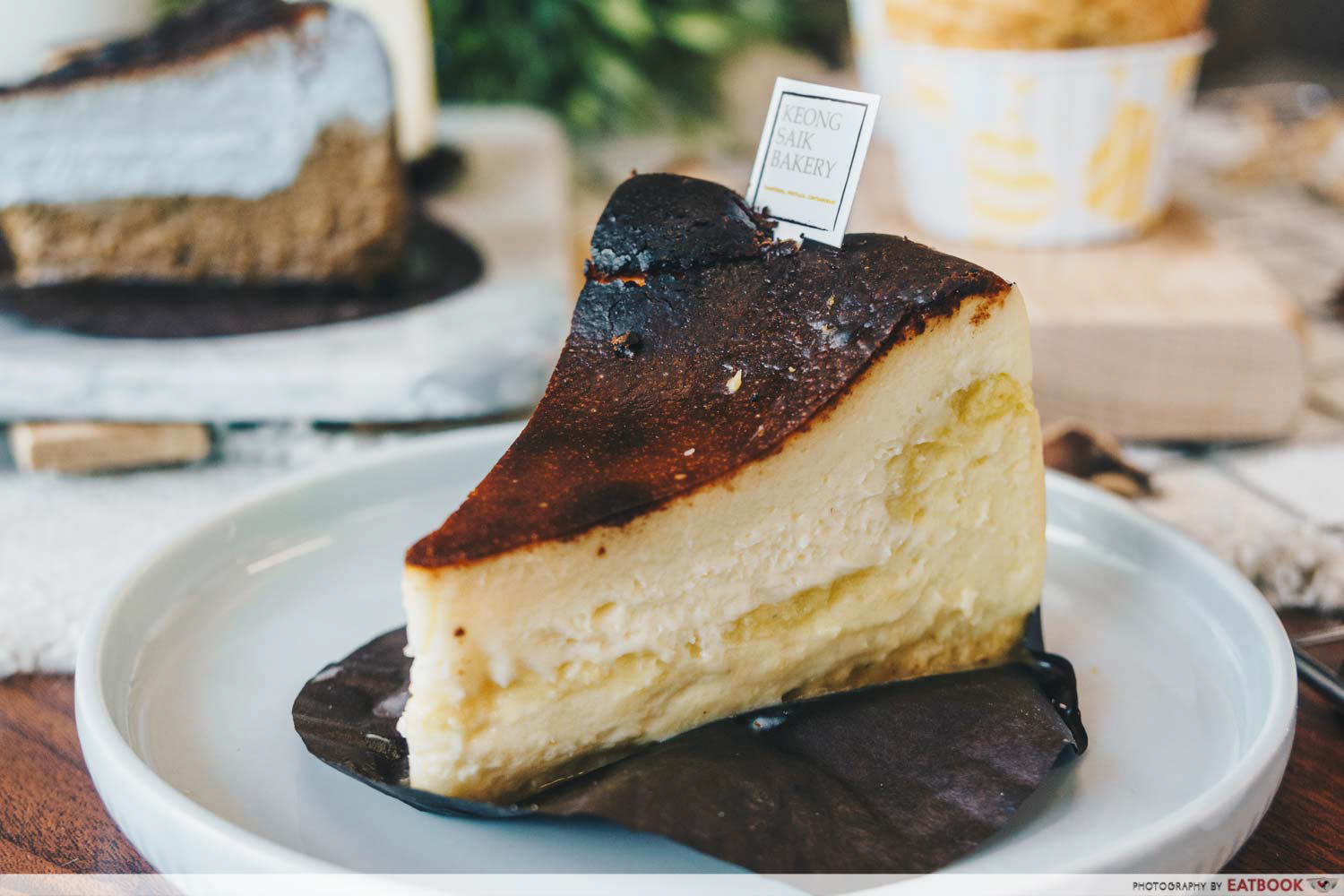 For durian lovers, the Mao Shan Wang Burnt Cheesecake ($10.50) is definitely a must-order. Unfortunately, we learnt that this will only be available until 8 Aug 2020, so make sure you make a mad dash for it, I assure you it's going to be worth it.
Made with freshly blended Mao Shan Wang durian puree from Ah Seng Durian Store, the cheesecake had an observable layer of the rich yellow pulp, which looked absolutely appetising.
6 Durian Stores To Satisfy Your Durian Cravings Before The Durian Season Ends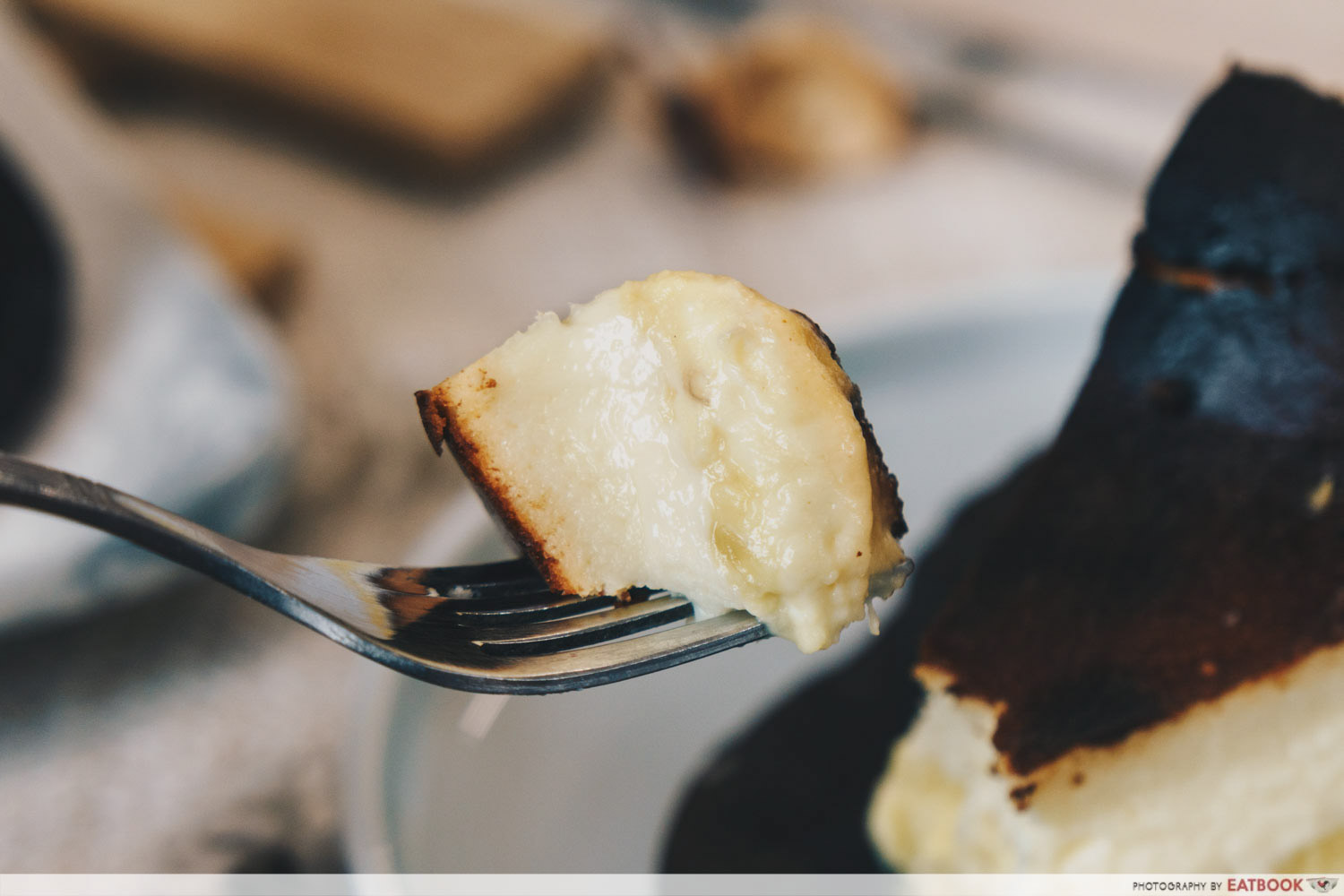 The Mao Shan Wang burnt cheesecake appeared firmer, yet remained just as silky as its original counterpart. Despite the strong taste of durian, the usual pungent smell was brought down a notch thanks to the addition of rich cheeses. Even though I am not a huge fan of durian, this cake was quickly my favourite out of the three, as it was indulgent yet pleasantly flavourful.
However, because of how delicious the Mao Shan Wang cheesecake was from the first bite, I dug in way too excitedly and it quickly got jelak because of how sweet and decadent the cake was. I would recommend sharing this cake, or at least take the time to savour it patiently.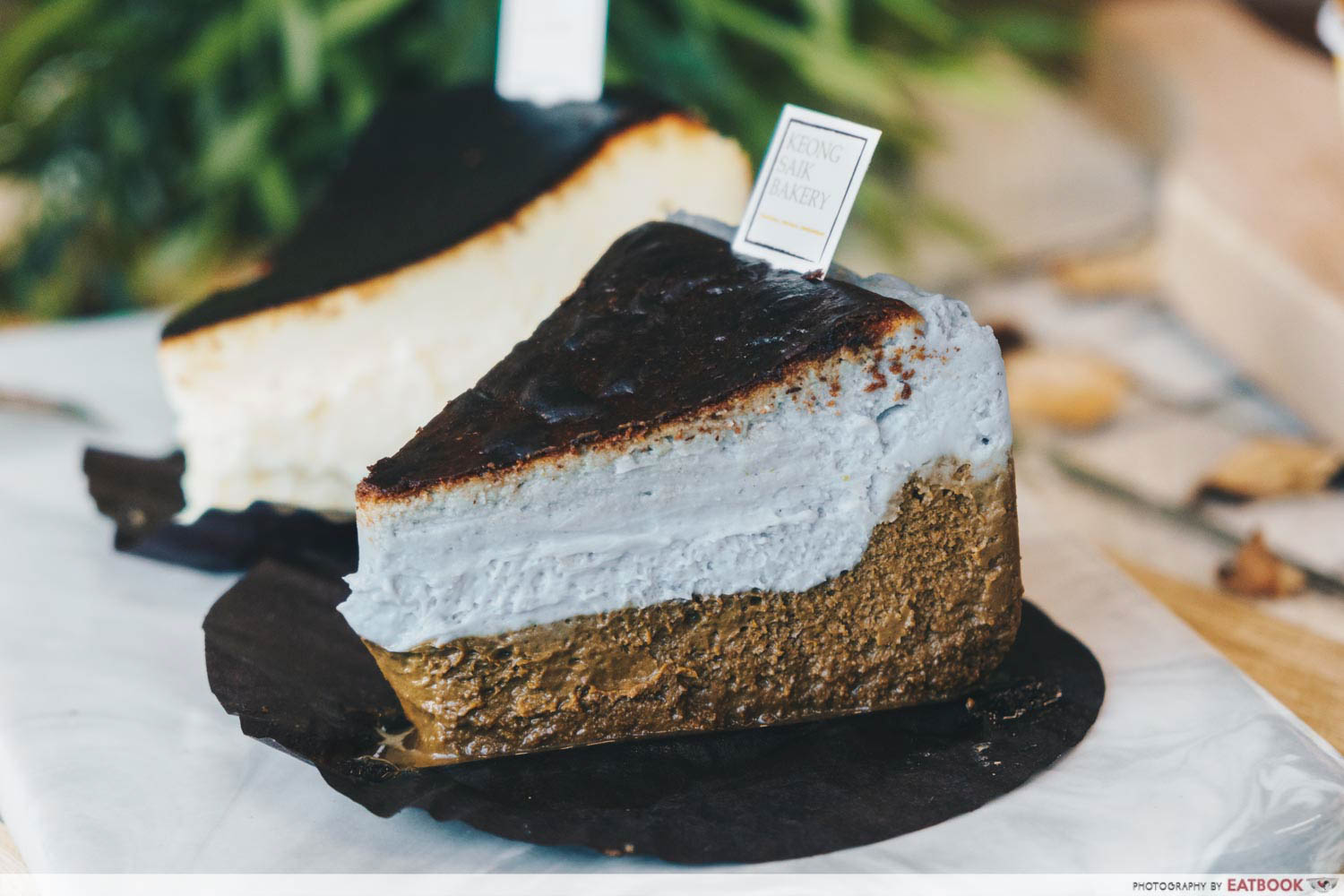 We tried the Seashore ($8.50) next. It is a half-butterfly-blue-pea-half-Earl-Grey-flavoured burnt cheesecake. It does have a unique colour combination for a cheesecake, so if you're looking for an Instagram-worthy cake with popping colours, this could be your choice.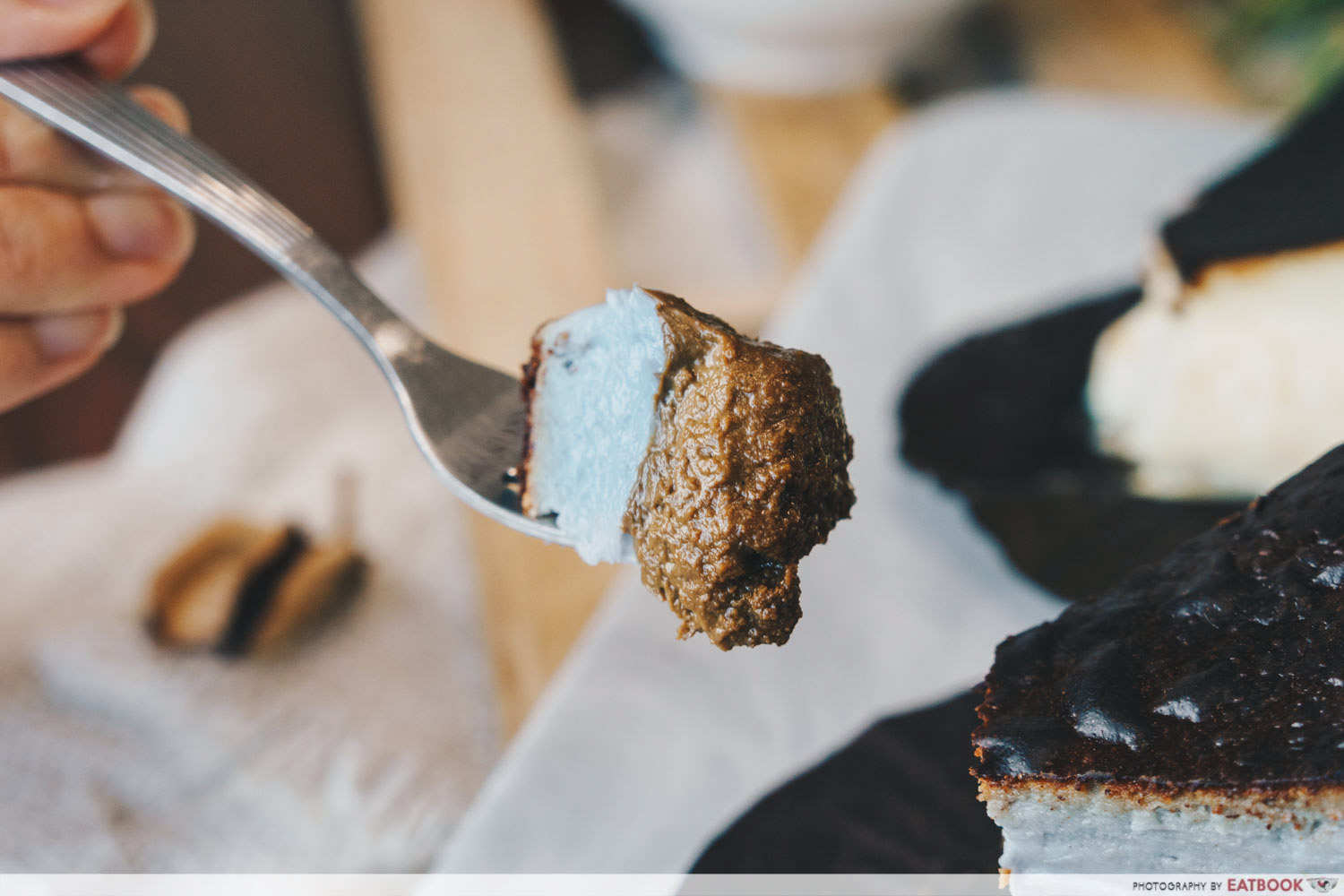 Taking a bite, the overpowering taste of Earl Grey tea filled my taste buds instantly. Coupled with the bland butterfly blue pea half, the Earl Grey flavour remained strong and very aromatic. I tried a bite of the Earl Grey portion alone, and the scent of tea left a bitter taste, as would a cup of extremely concentrated tea.
If you enjoy Earl Grey tea, this is absolutely a must. However, do make sure to enjoy both flavours of the cake together for a more balanced bite.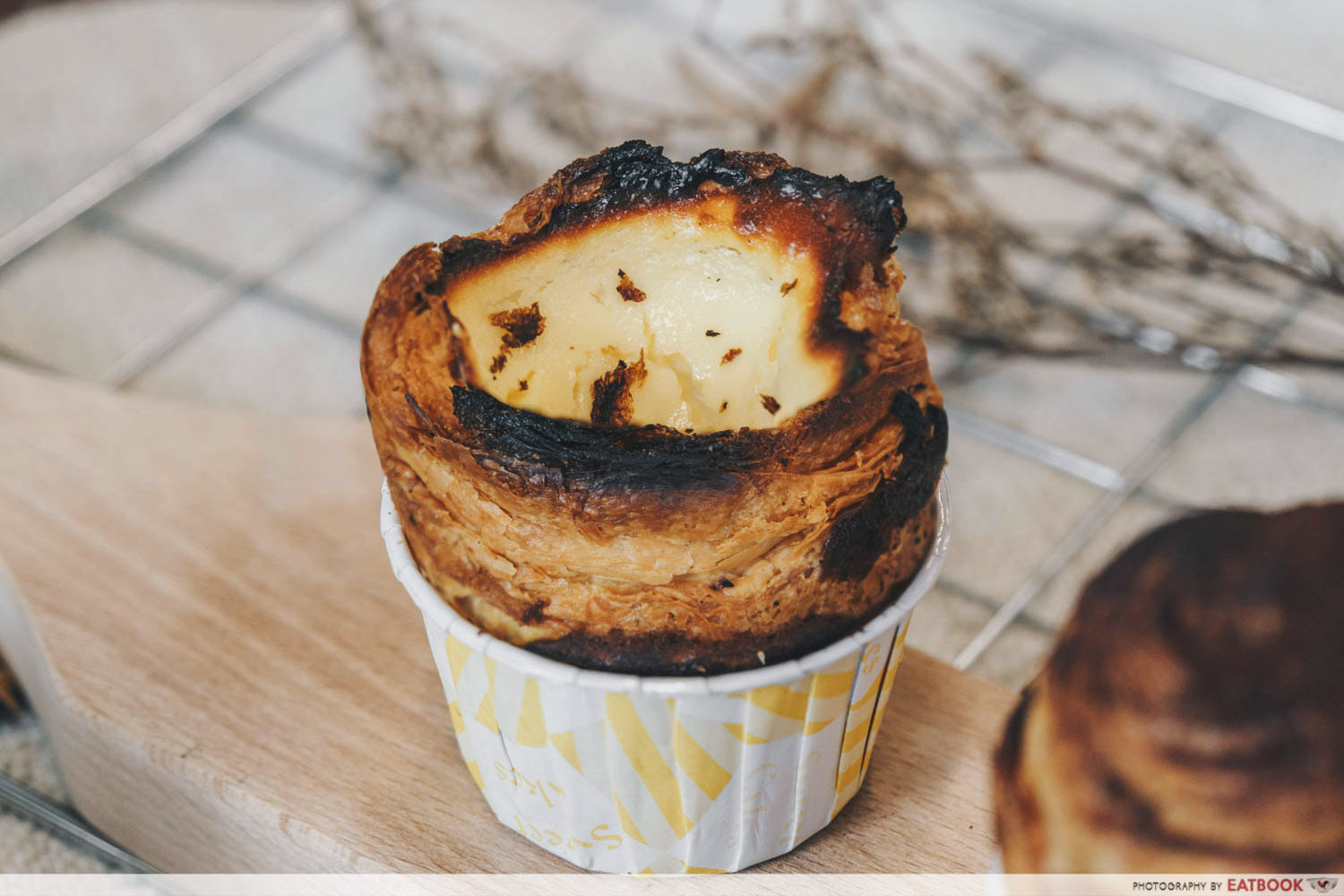 We took a break from cakes and decided to try some cruffins which were also available at Keong Siak Bakery. As we had initially set out to seek burnt cheesecakes here, we decided to try the Burnt Cheese Cruffin ($5.50).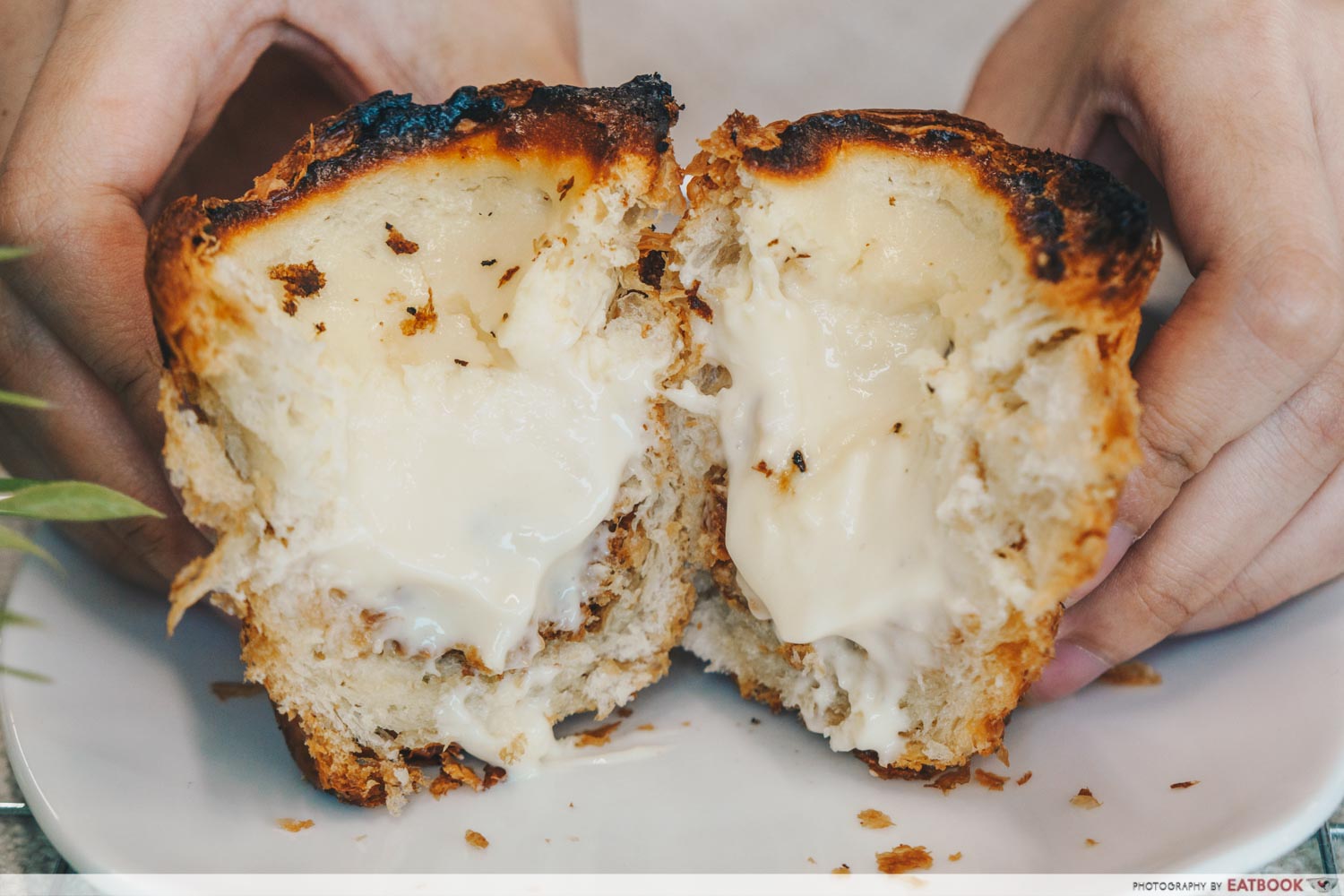 Molten cheese flowed out of the cruffin as we slowly split it apart. The flaky pastry was the highlight of the cruffin, being both crispy and chewy. Paired with the smooth cream cheese, the cheese cruffin offered a party of textures.
Unlike the durian burnt cheesecake, I finished the cheese cruffin quickly, immediately craving more. Personally, this cheese cruffin was the star of our visit and I'd definitely be dropping by to get them again!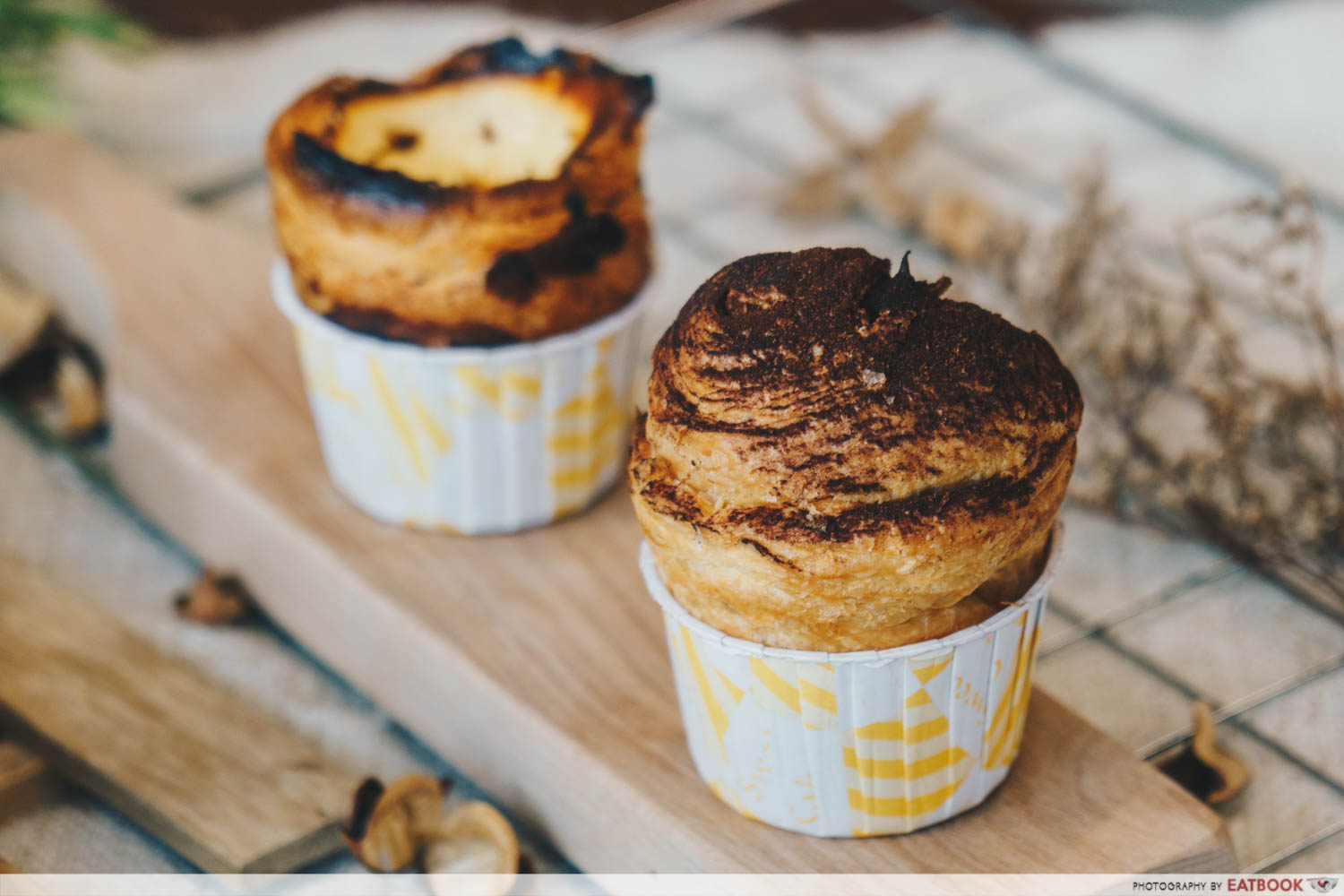 Having been pleasantly impressed by the delicious molten cheese from the cheese cruffin, I had high expectations for the Milo Cruffin ($4.50). Among the large array of cruffin flavours, we decided to choose the Milo rendition since most of us have grown up loving this chocolatey drink for many years.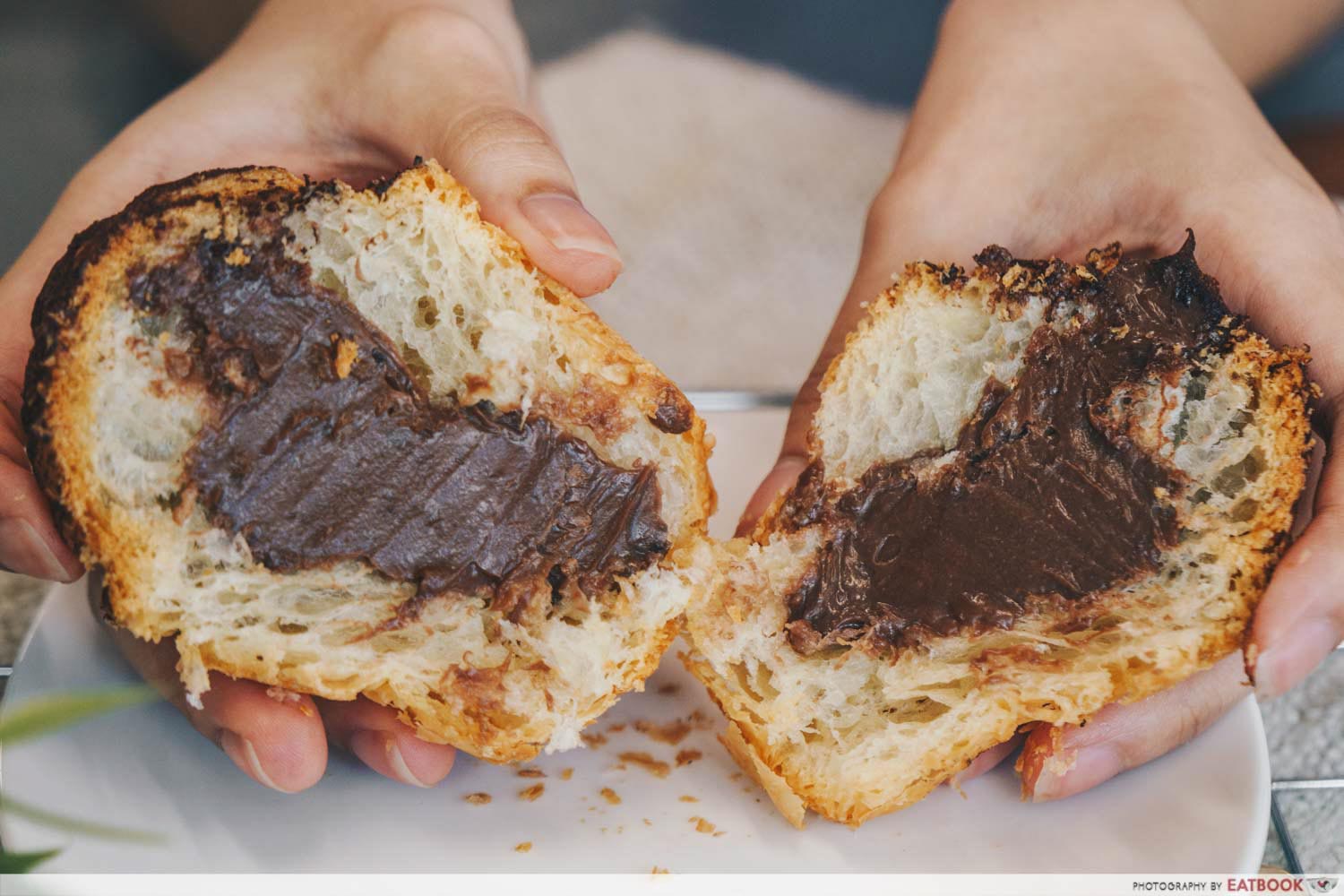 As we sliced into the Milo cruffin, we were slightly disappointed to find that the filling did not flow. While I expected a silky and glossy ganache, the chocolate filling was observably thick and stiff, reminding me of Nutella spread.
The cruffin's filling was explained by the staff to be a ganache made from Milo Gao Kosong—a version of Milo with no added sugar. There were underlying hints of Milo but honestly, the taste of the filling resembled the sweet chocolate cream from packaged chocolate buns. Personally, this Milo cruffin was way too sweet and I wished I tasted more Milo.
Ambience at Keong Saik Bakery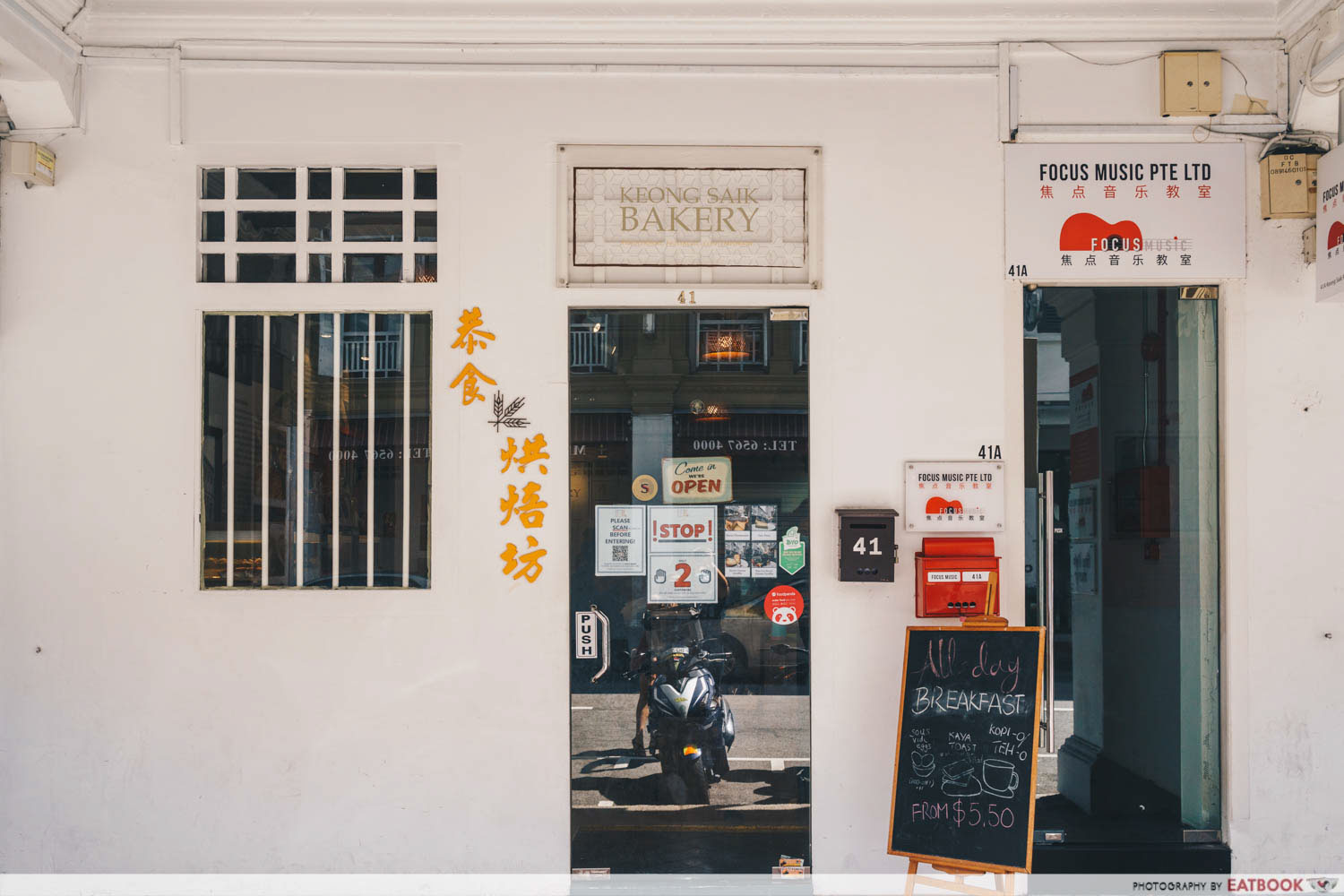 Located near other popular bakeries such as Bread and Hearth, Keong Saik Bakery is a 10-minute walk from Outram Park MRT Station. For those who aren't keen on making the trip down, they have delivery options available on their website.
We found the interior of the bakery slightly cramped. However, considering social distancing regulations allowing only two customers inside at once, the bakery offers a cosy atmosphere to customers. I would love to experience their cakes there when their dine-in operations resume.
The verdict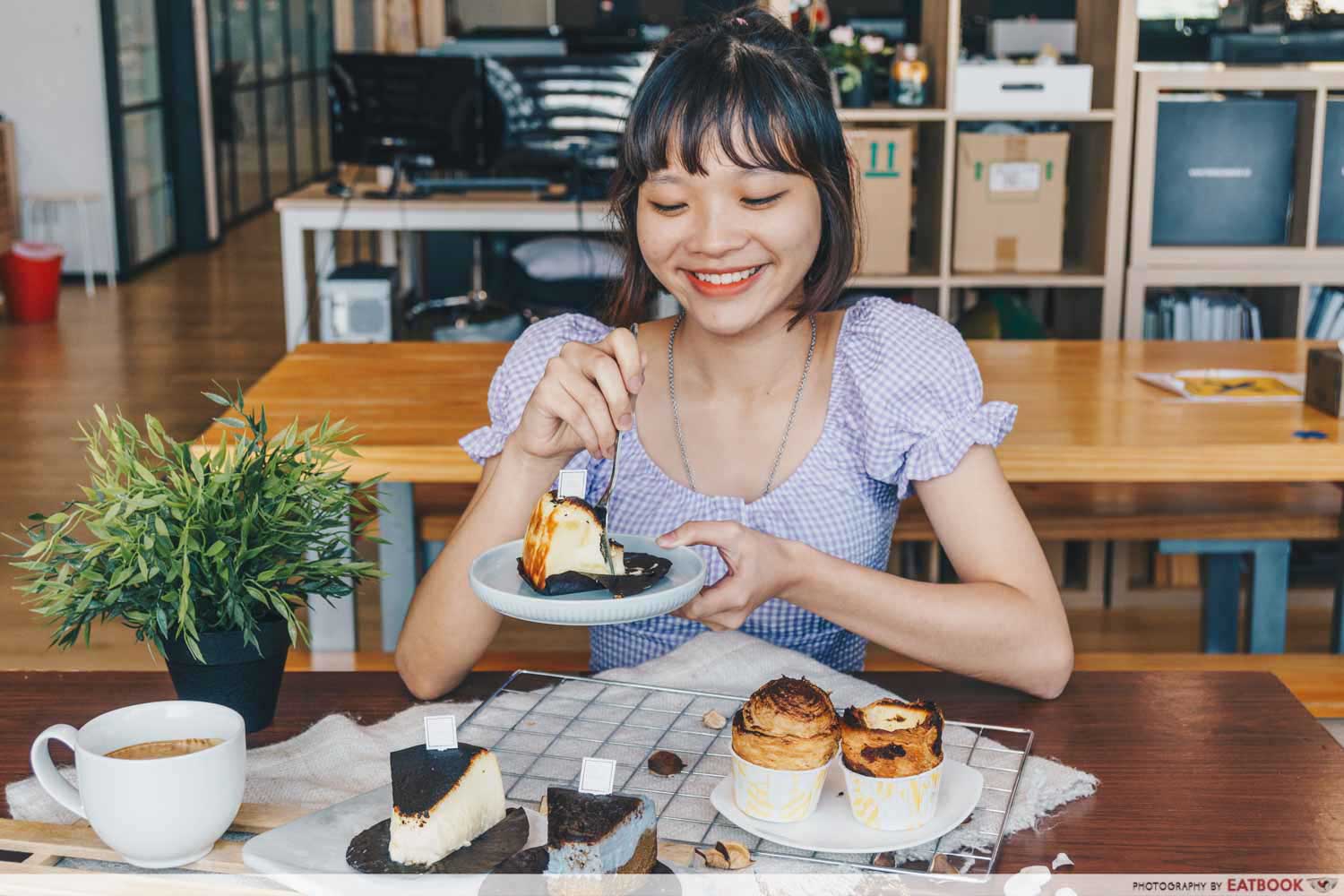 Keong Saik Bakery has a huge variety of pastries, and I was bummed having to pick only a few to try. Matcha lovers planning to visit would appreciate Two Face ($8.50), a half cheese and half matcha burnt cheesecake, as well as its cruffin counterpart, the Matcha Cruffin ($5). If you're looking for another cake to feature on the gram, the Rose Tea Cake ($7) looks beautiful as well, with rose petals dotting its surface.
Overall, the variety of flavours for both the burnt cheesecakes and cruffins meant differing experiences. I enjoyed the burnt cheese cruffin and Mao Shan Wang cheesecake the most, while the Milo cruffin was a disappointment. Likewise, items such as the Seashore burnt cheesecake are strong-tasting, and would appeal primarily to those who appreciate the fragrance of tea.
Their pastries definitely possess excellent textures but their flavours tend to lean towards being sweeter and stronger. Prices of some cakes, such as the Mao Shan Wang burnt cheesecake, may also run a little high.
If you are looking to make some durian desserts yourself, check out our list of durian dessert recipes!
Address: 41 Keong Saik Road, Singapore 089146
Opening hours: Mon 8am to 5pm, Tue-Sun 8am to 7:30pm
Tel: 6909 3199
Website
Keong Saik Bakery is not a halal-certified eatery.
Photos taken by Hay Thi.
This is an independent review by Eatbook.sg.
10 Durian Dessert Recipes To Try Including Durian Cheese Tarts And Durian Ice Cream
Summary
Pros
– Creamy cakes
– Flaky, crisp, and tasty cruffins
– Fresh durian puree used
Cons
– Slightly pricey
– Some items were too sweet
Recommended dishes: Burnt Cheese Cruffin ($5.50), Mao Shan Wang Burnt Cheesecake ($10.50), Seashore ($8.50)
Opening hours: Mon 8am to 5pm, Tue-Sun 8am to 7:30pm
Address: 41 Keong Saik Road, Singapore 089146