Hello Arigato is now open at Everton Park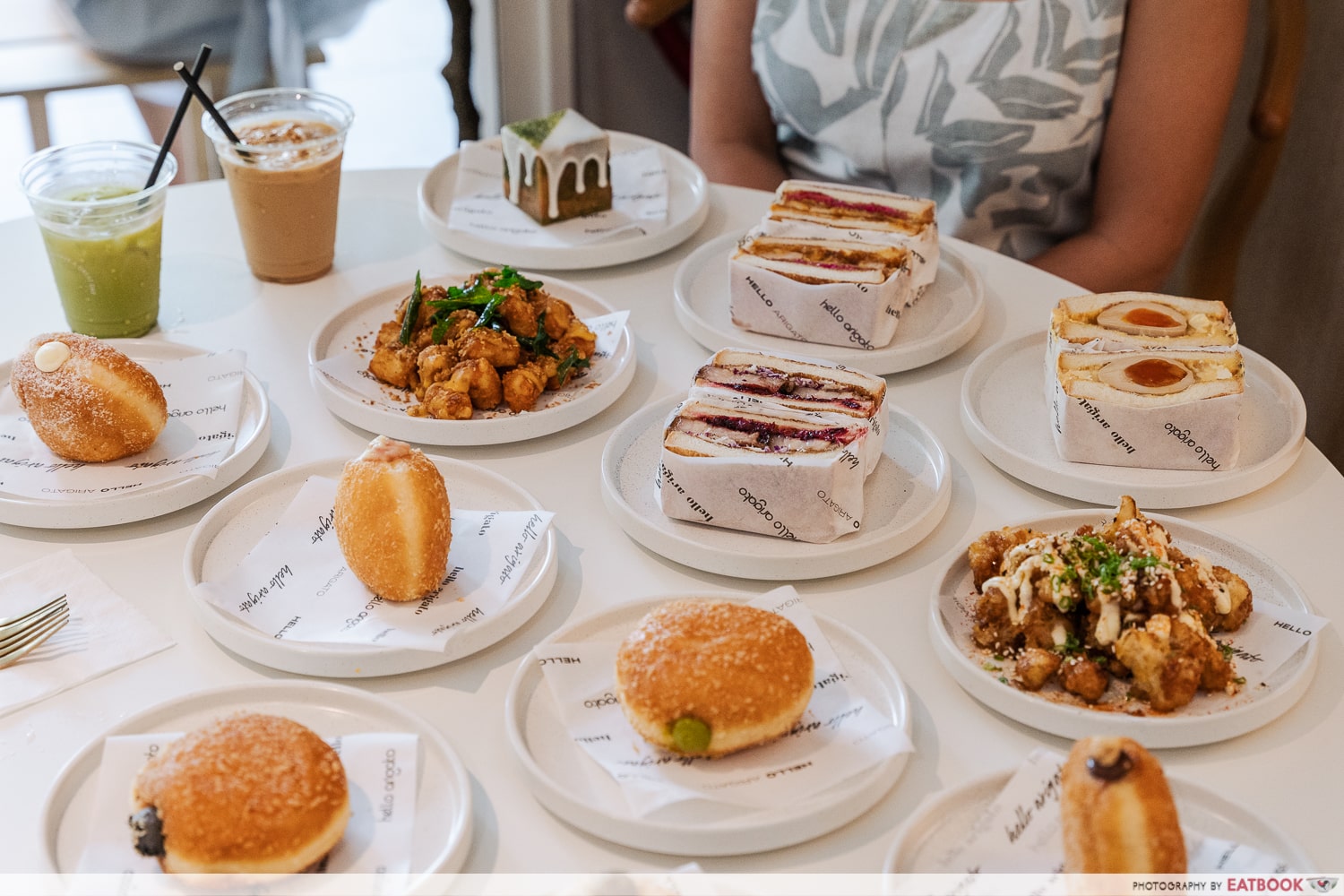 Since we reviewed Hello Arigato when they first opened in Upper Thomson, joining the slew of cafes in the 'hood, the popular cafe popped up in Joo Chiat, and now they've also soft-launched in Everton Park with an exclusive bakery section, and new menu items!
Food at Hello Arigato Everton Park
New to the menu at this latest Hello Arigato is an extensive menu of fresh bakes that are available from 8:30am each morning: think freshly made milk doughnuts with Uji Matcha ($5.50+), Kinako Soy ($5+), Donutella ($6+), Black Goma ($5.50+) and even Ondeh Ondeh ($6+), made with coconut milk, fresh-pressed pandan juice, gula melaka, and desiccated coconut.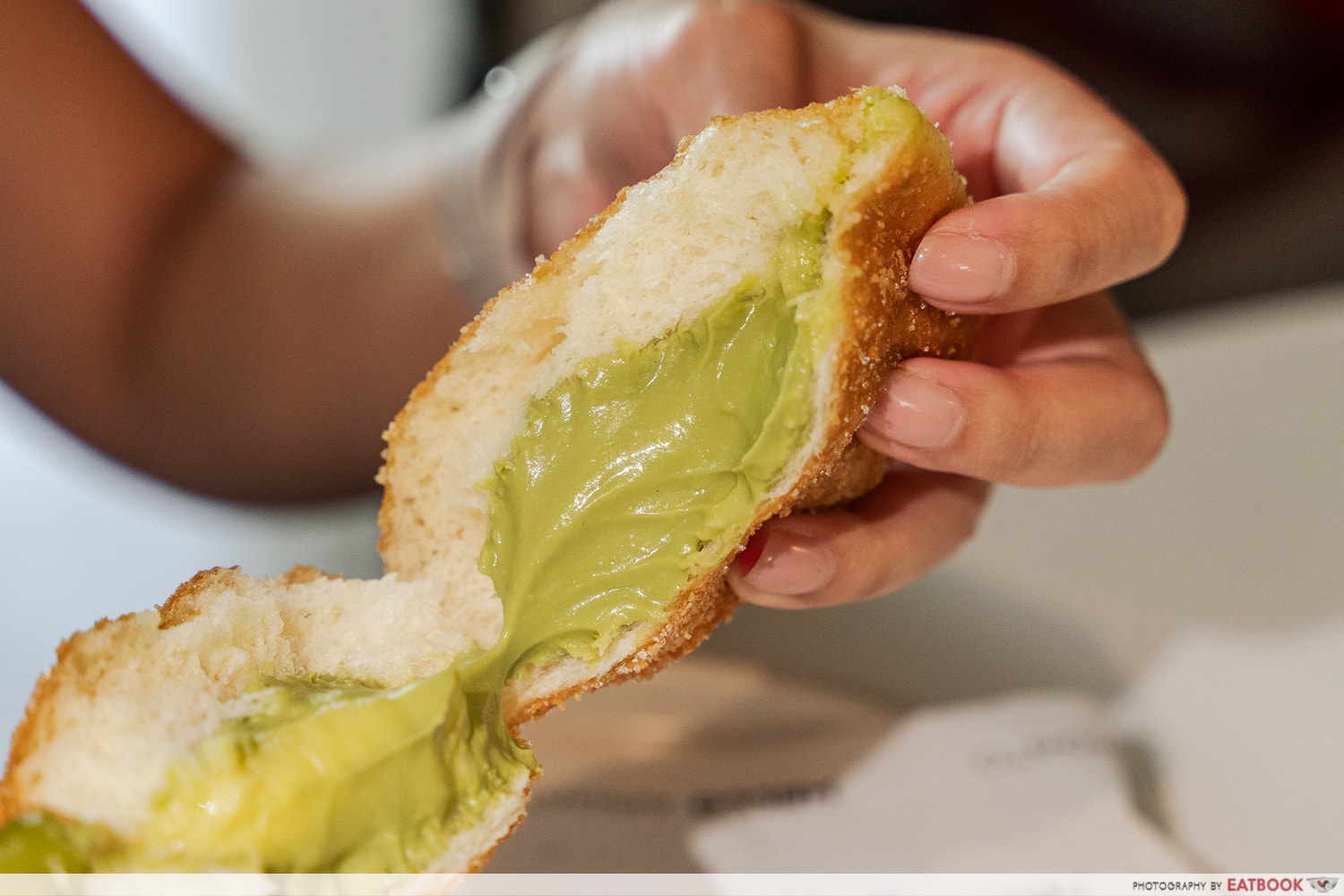 All of these doughnuts are fried each morning in limited quantities, and not every flavour is always on the menu. Like the shokupan that's also baked in-house, these are made with Japanese flour, which is said to make all the difference.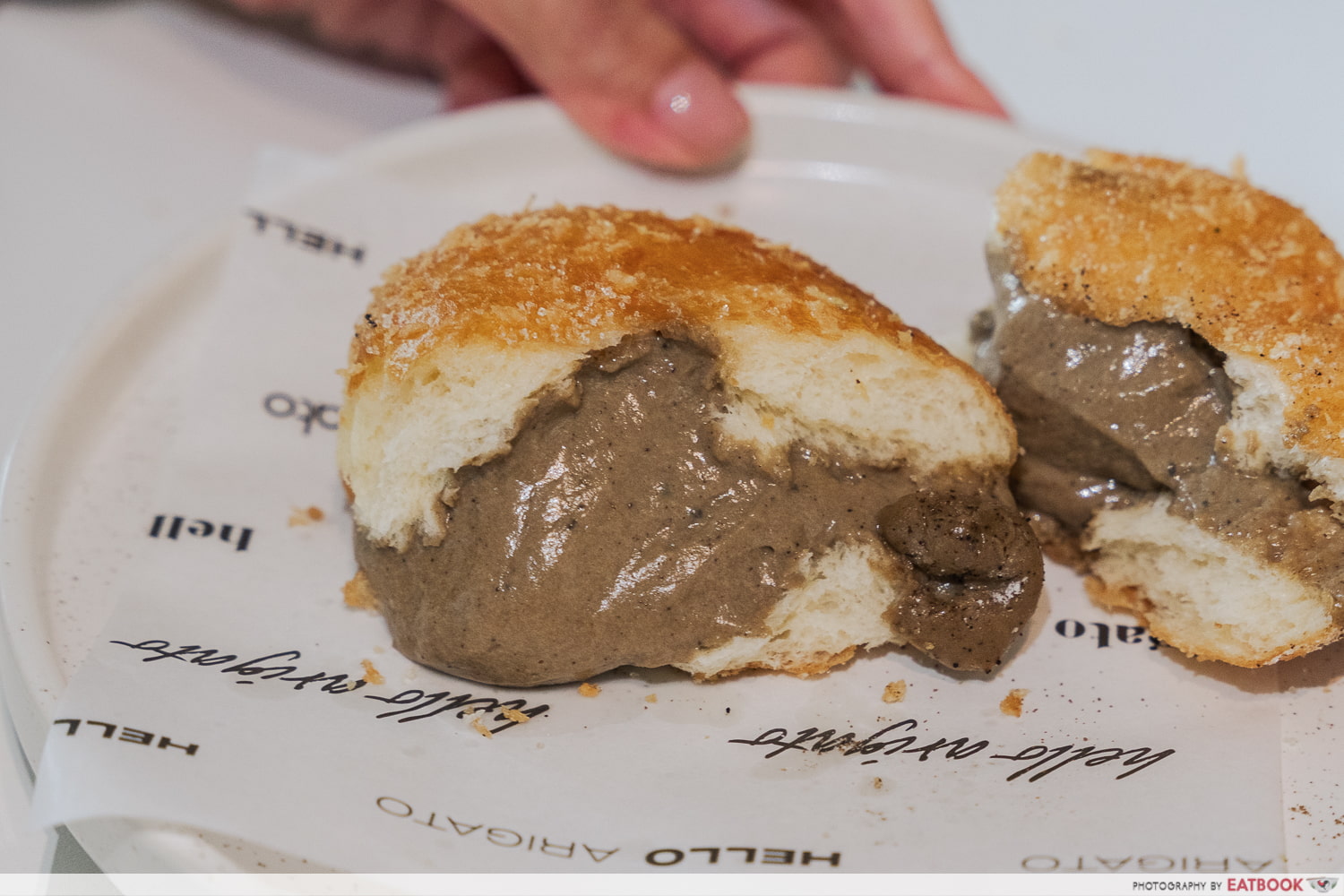 They're light and fluffy, with the littlest bit of chew in a bun that holds almost too much molten house-made filling—a good thing, rather than bad.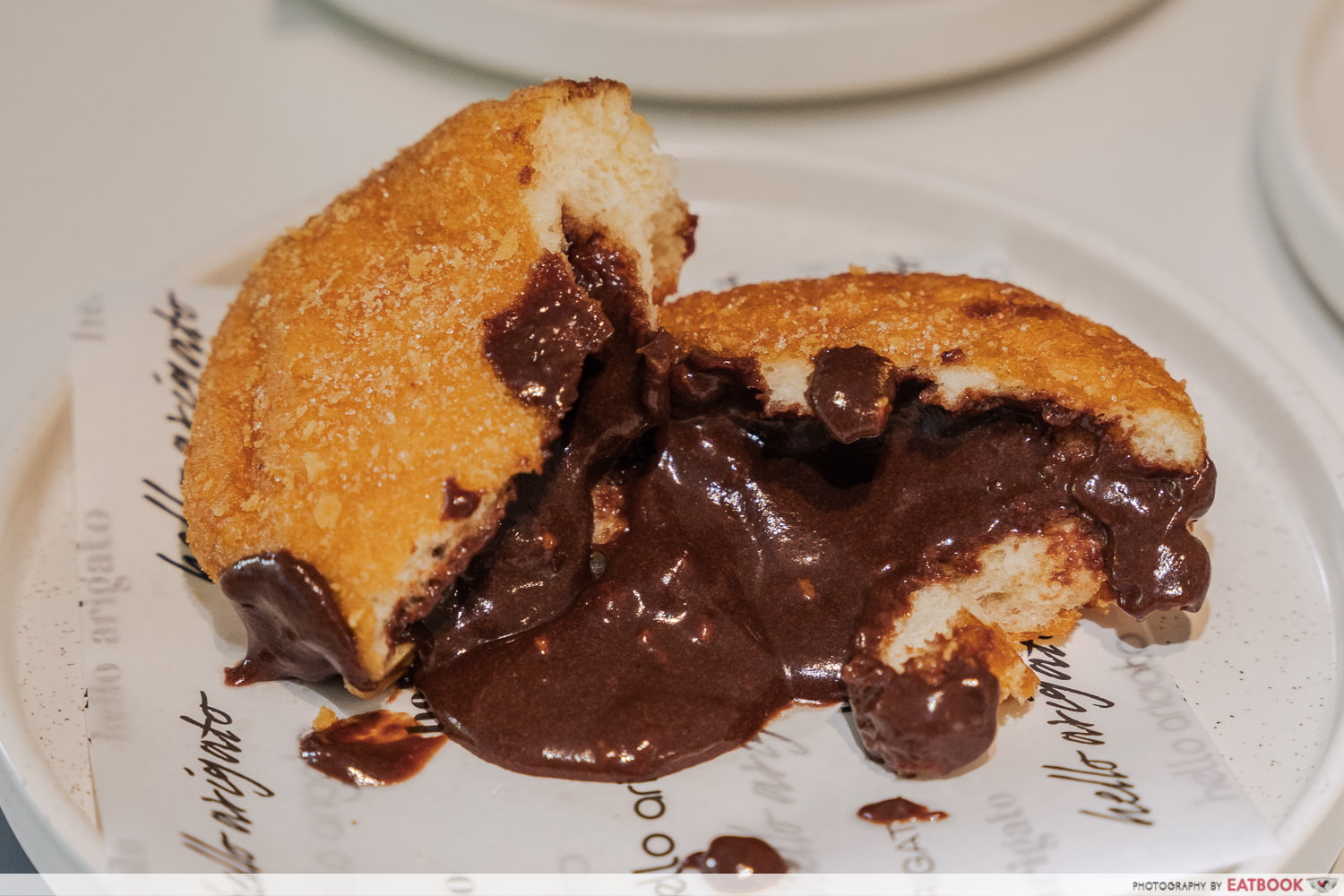 Each doughnut is also breaded in panko before it's fried, adding an extra crisp edge that makes the soft interior stand out further.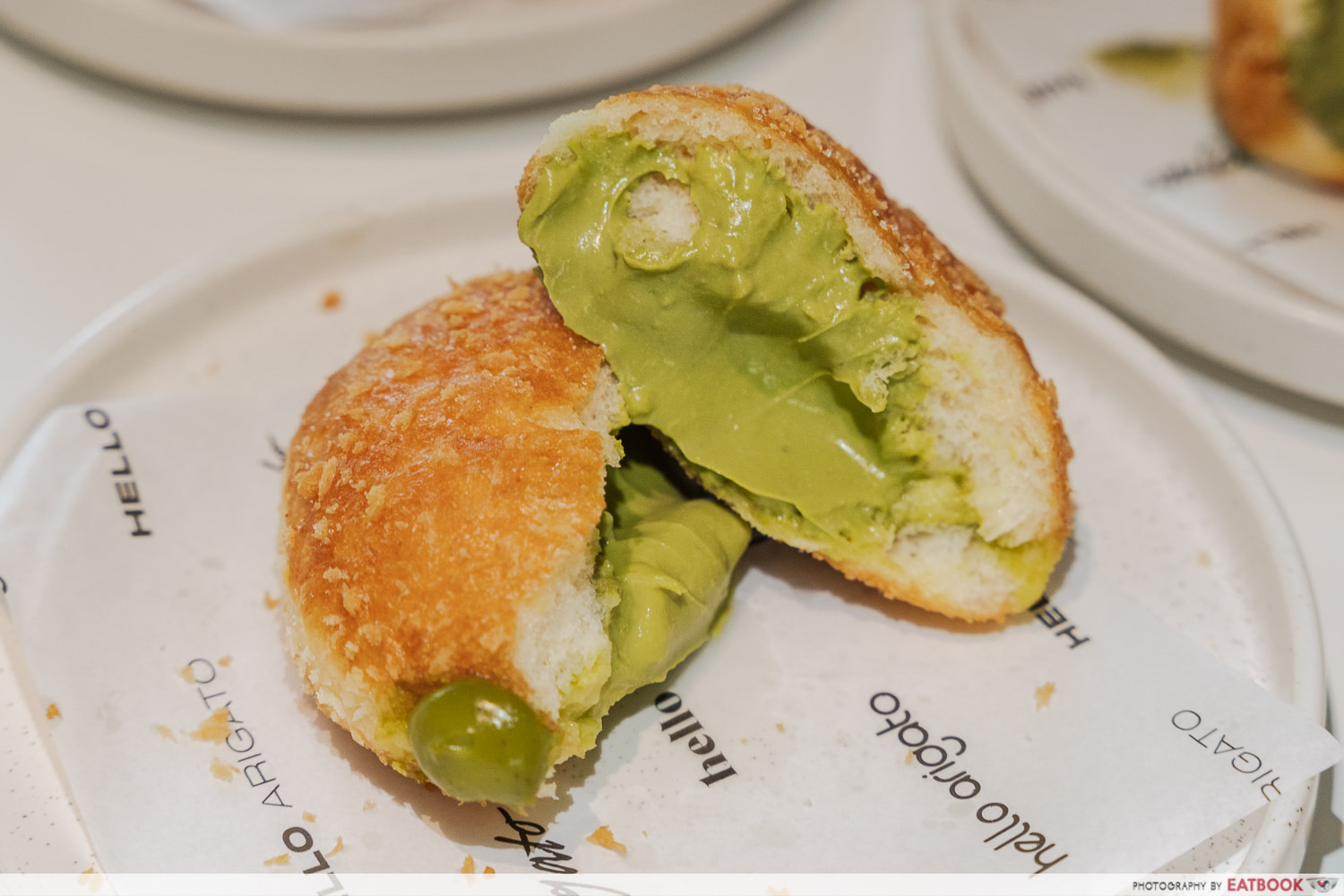 It's really hard to choose a favourite doughnut of the seven sweet ones we tried, but the one that most impressed me was Kaya Butter ($5.50+). The filling here is made with fresh coconut milk and hand-squeezed pandan juice, and to complete the whole kaya toast-inspired experience, there's also a blob of whipped butter that adds a surprising savouriness when you bite into it.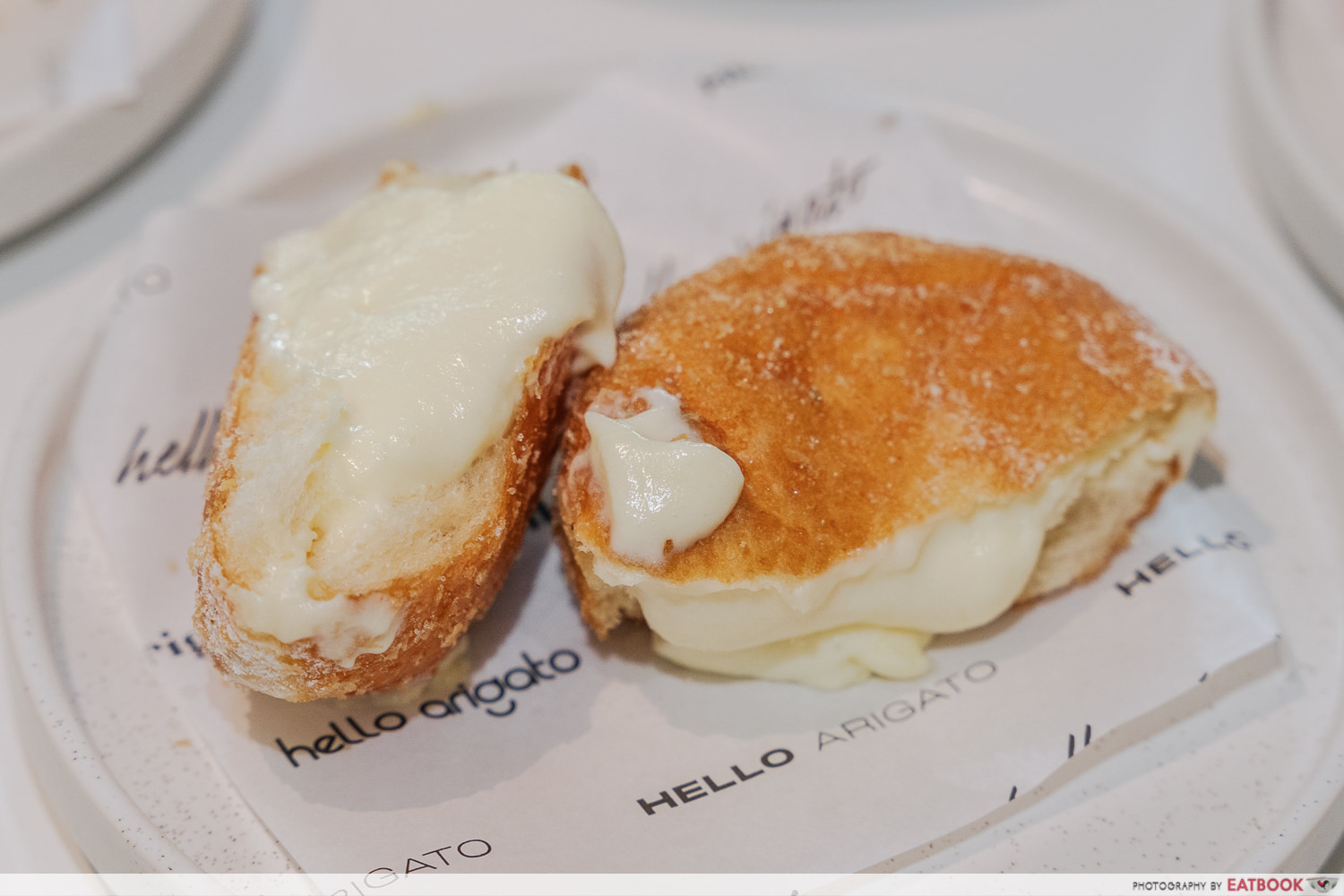 My colleague, on the other hand, had her loyalties torn between the Classic Milk ($4.50+), filled with Japanese cream and Belgian white chocolate, and Goma.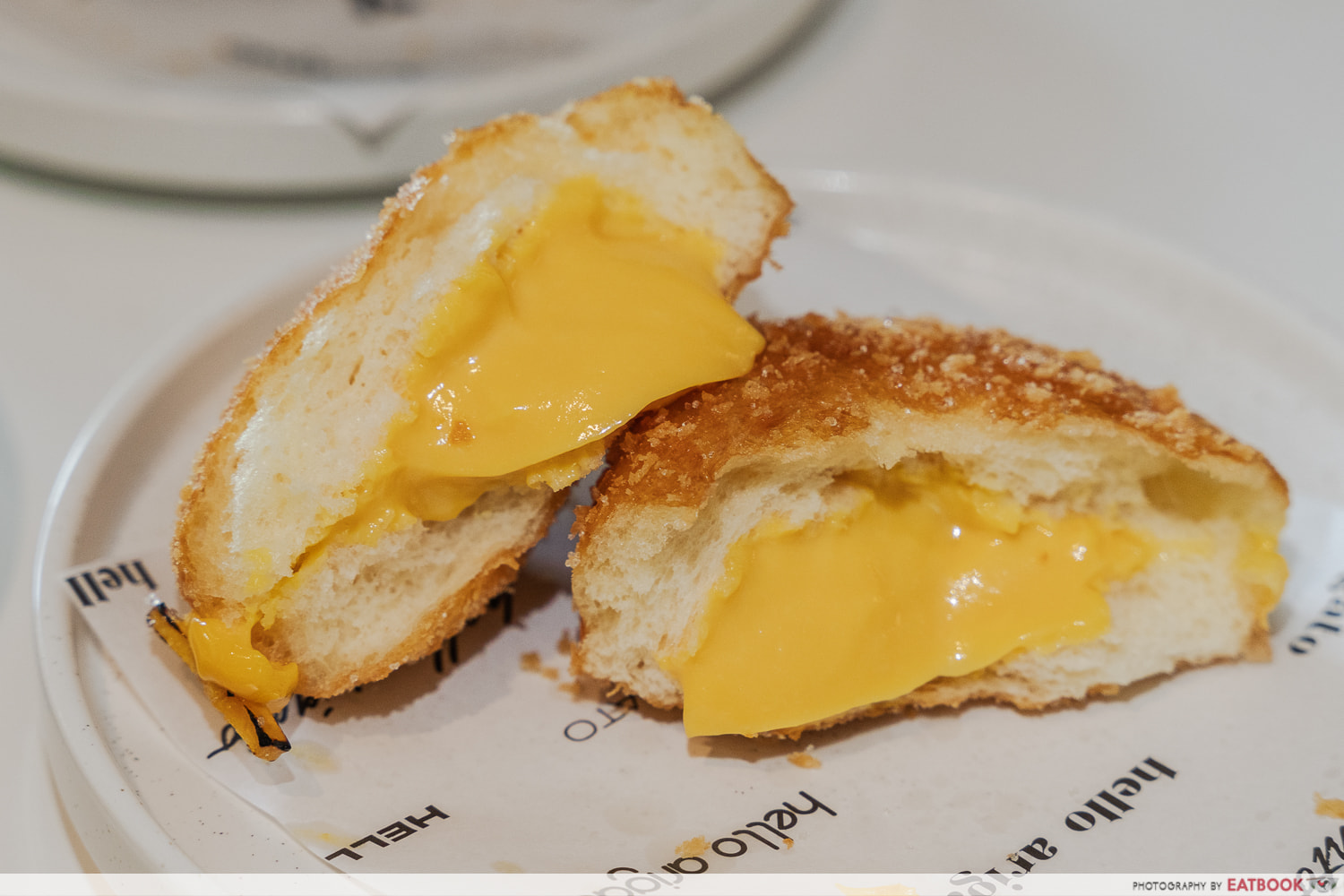 You'd think that after so many doughnuts, we'd be quite sick of them, but we weren't, moving on to Mango Passionfruit ($5+). This was neither too tart, nor too sweet, with a balanced profile of Alphonso mangoes and French passionfruit.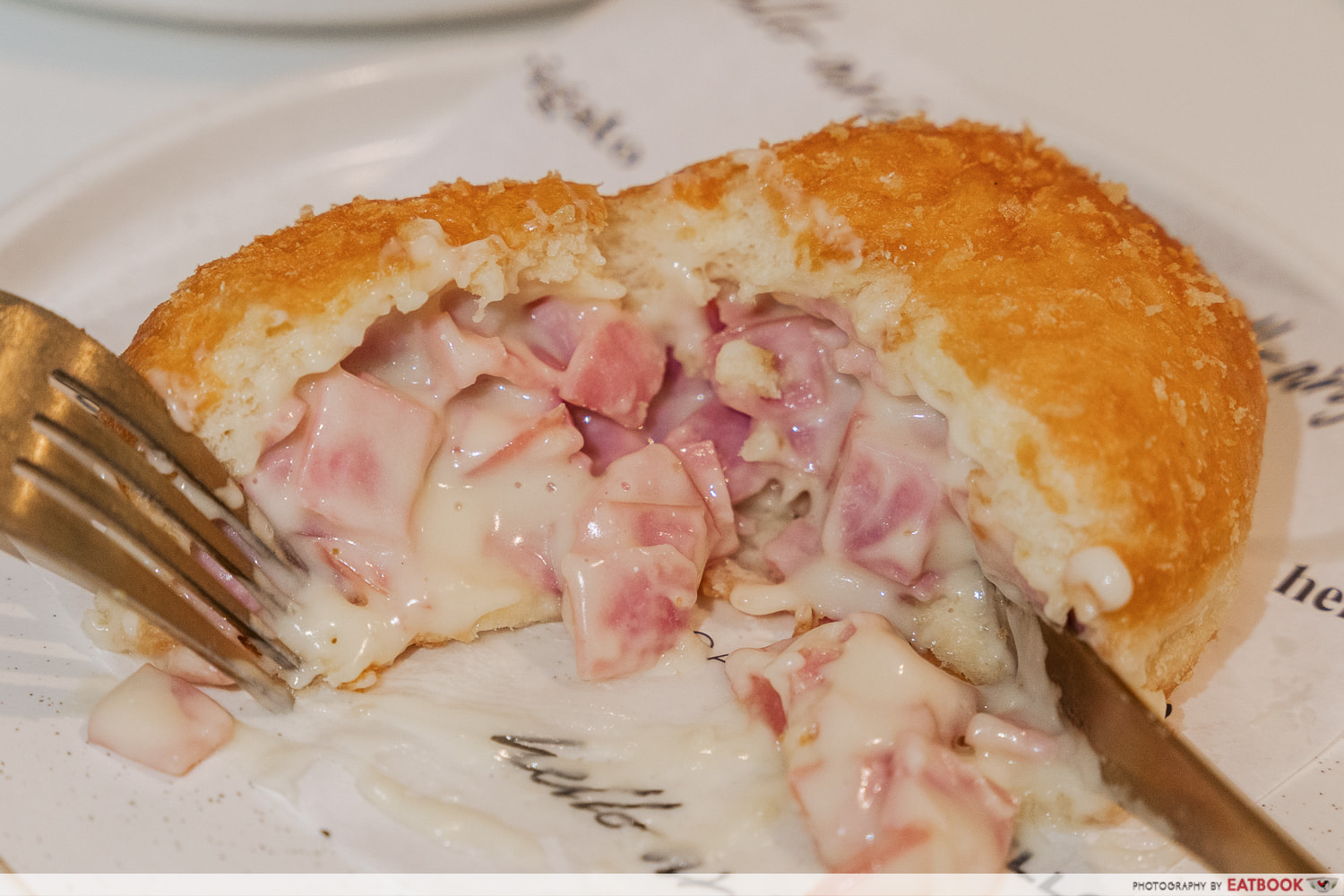 Then, there are savoury versions too, said to be coated with a house-special batter. There are three of these—Ham & Cheese Bomb ($6.50+), J Curry ($6.50+), and Kani Cream ($6.50+), where J Curry holds a house-made Japanese curry with chicken and Russet potatoes, and Kani Cream is full of blue swimmer crab, crabsticks, and sweet corn in a cream bechamel sauce.
We were too late to the store, and could only get our hands on Ham & Cheese Bomb, which is a donut reimagination of the classic ham and cheese bun you'd remember eating as a kid. This doughnut comes absolutely stuffed with little squares of honey-baked ham in a house-made bechemel sauce, enriched with both Swiss and cheddar cheese.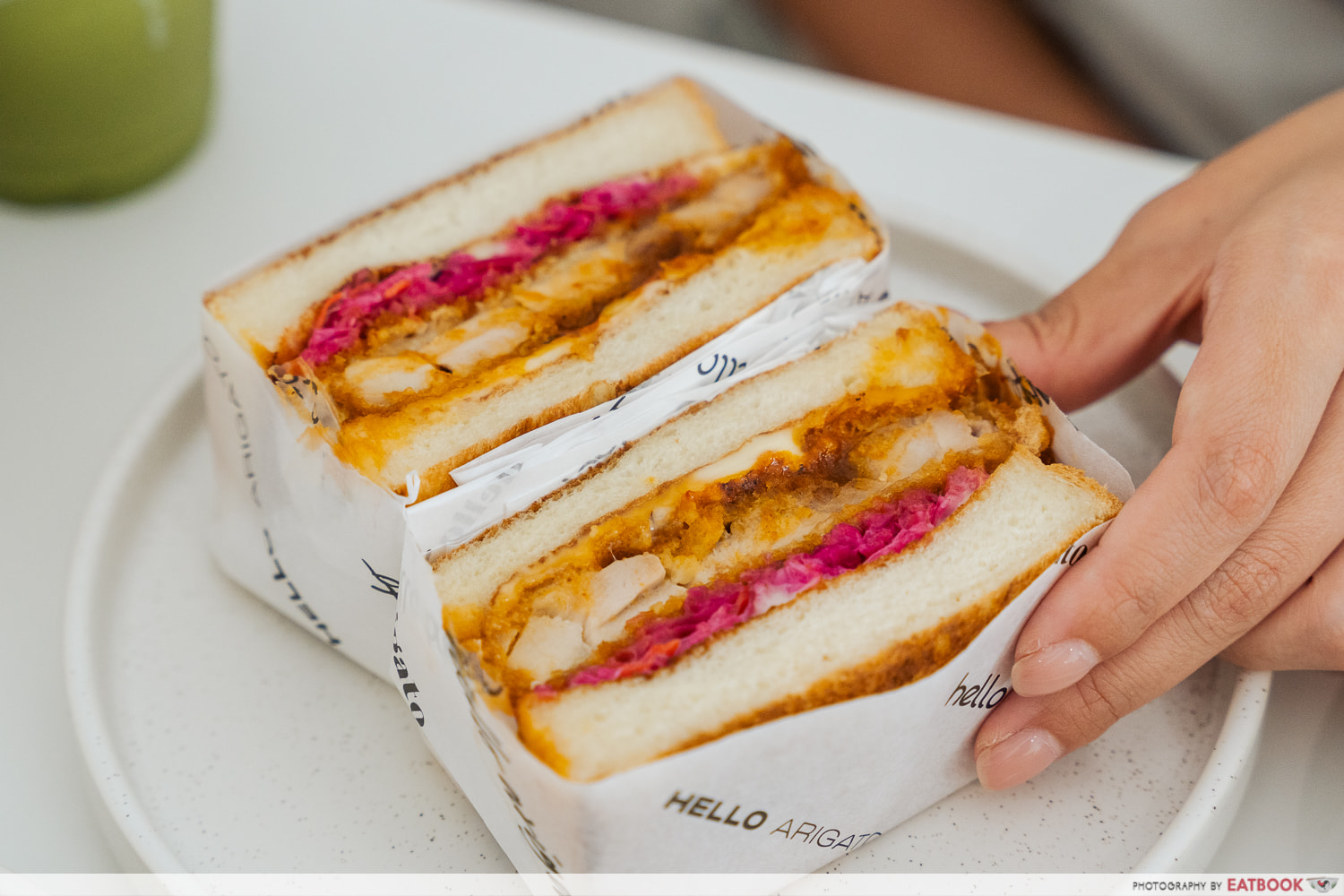 If sandos are your jam, the menu at Everton Park stars two new outlet-exclusive additions to the line-up: Whisky BBQ Katsu Sando ($18+) and Kong Bah Sando ($18+). The former comes with a thick slab of fried-to-order chicken, slathered in a smoky Suntory whisky BBQ sauce, paired with an apple slaw. You have got to dig in while it's fresh and hot, to enjoy the house-baked shokupan at its toasted finest.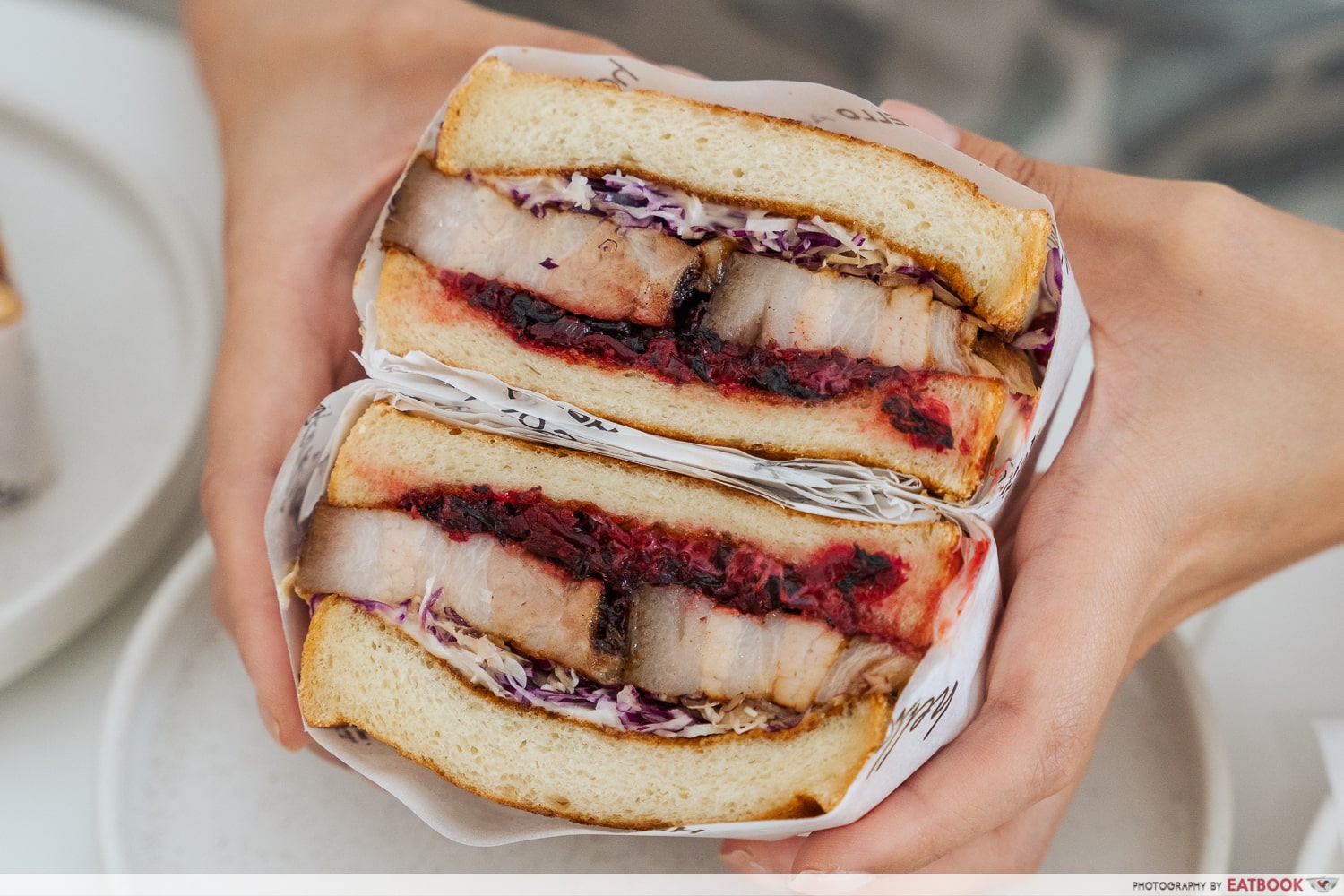 For a pork-based option, go for the Kong Bah Sando, which sandwiches uber thick pork belly slices that have been sous-vide for 24 hours, and come with melt-in-your-mouth buttery layers of fat.
To combat the jelakness of this fat, the sando comes with pickled Japanese mustard greens that's got a touch of spiciness, and slaw. In fact, my colleague commented that this felt less jelak than the Whisky BBQ Katsu Sando: try it for yourself and decide.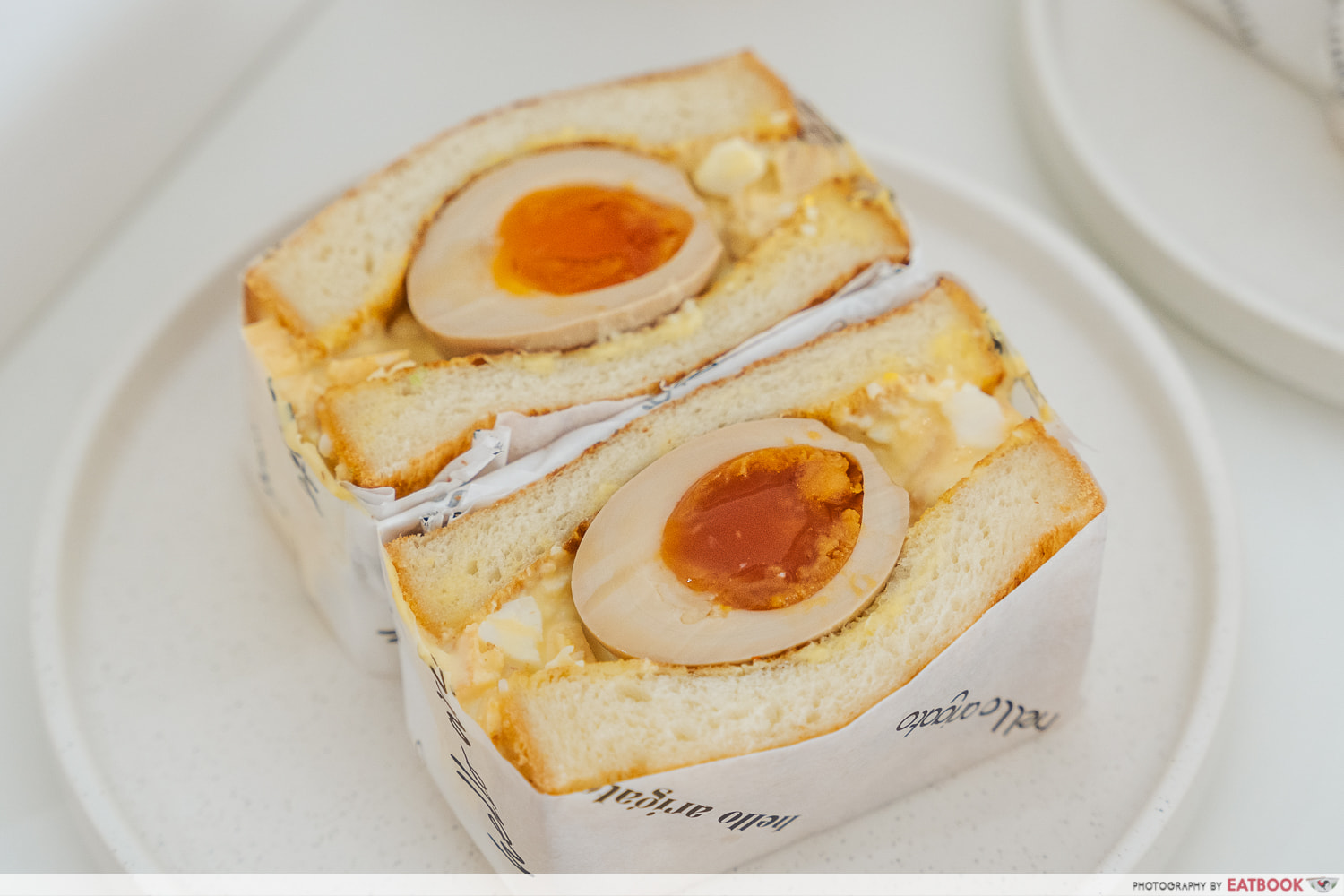 We completed our sando trio with a Tamago Sando ($14+), a super IG-worthy sandwich that's a notch above your usual kombini order. This creation is said to have been inspired by the three-egg spinach dish that you'd get at zi char or Chinese restaurants, and so features eggs done three ways.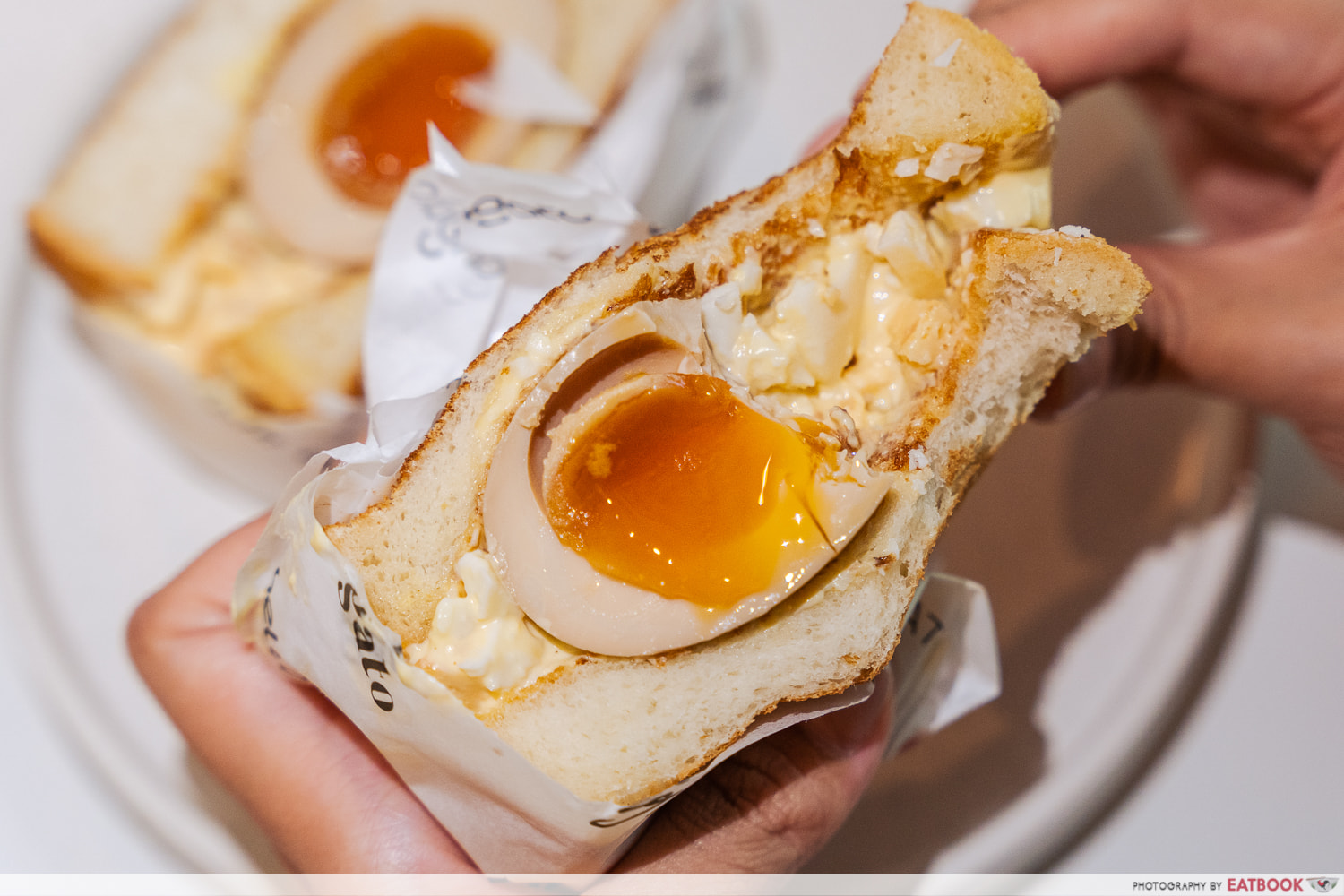 First, you have an Ajitama egg, marinated and with a molten orange yolk. This is sat on a bed of egg mayonnaise that you'll find is extra flavourful, thanks to the addition of diced tamagoyaki.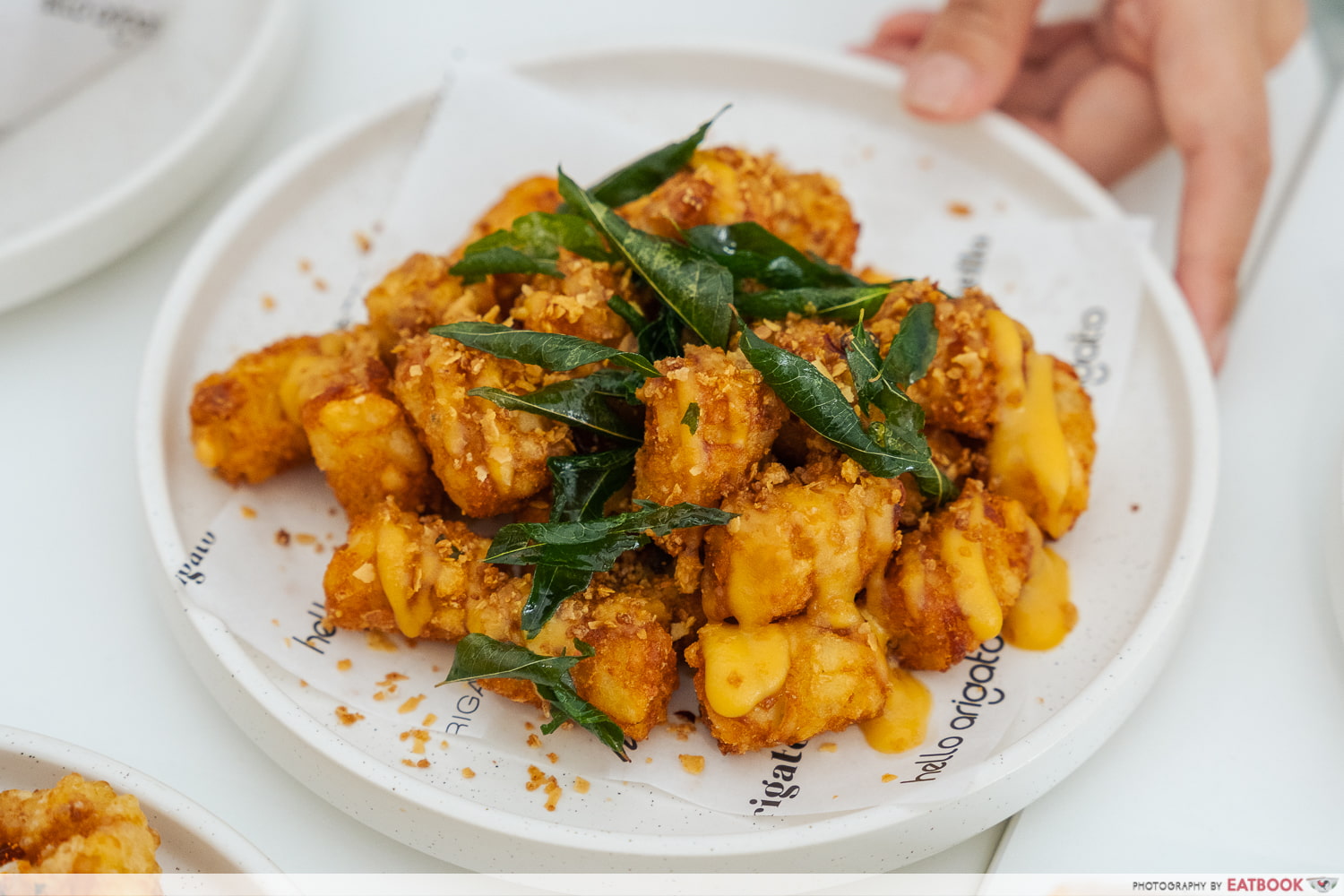 Fans of the Hello Kombu Tots ($12++) tater tots at Hello Arigato will be psyched to know that there's a new addition to the repertoire of sides here: Salted Egg Tater Tots ($12+), which is also only available at this outlet. This comes with house-made salted egg yolk sauce and a cereal topping!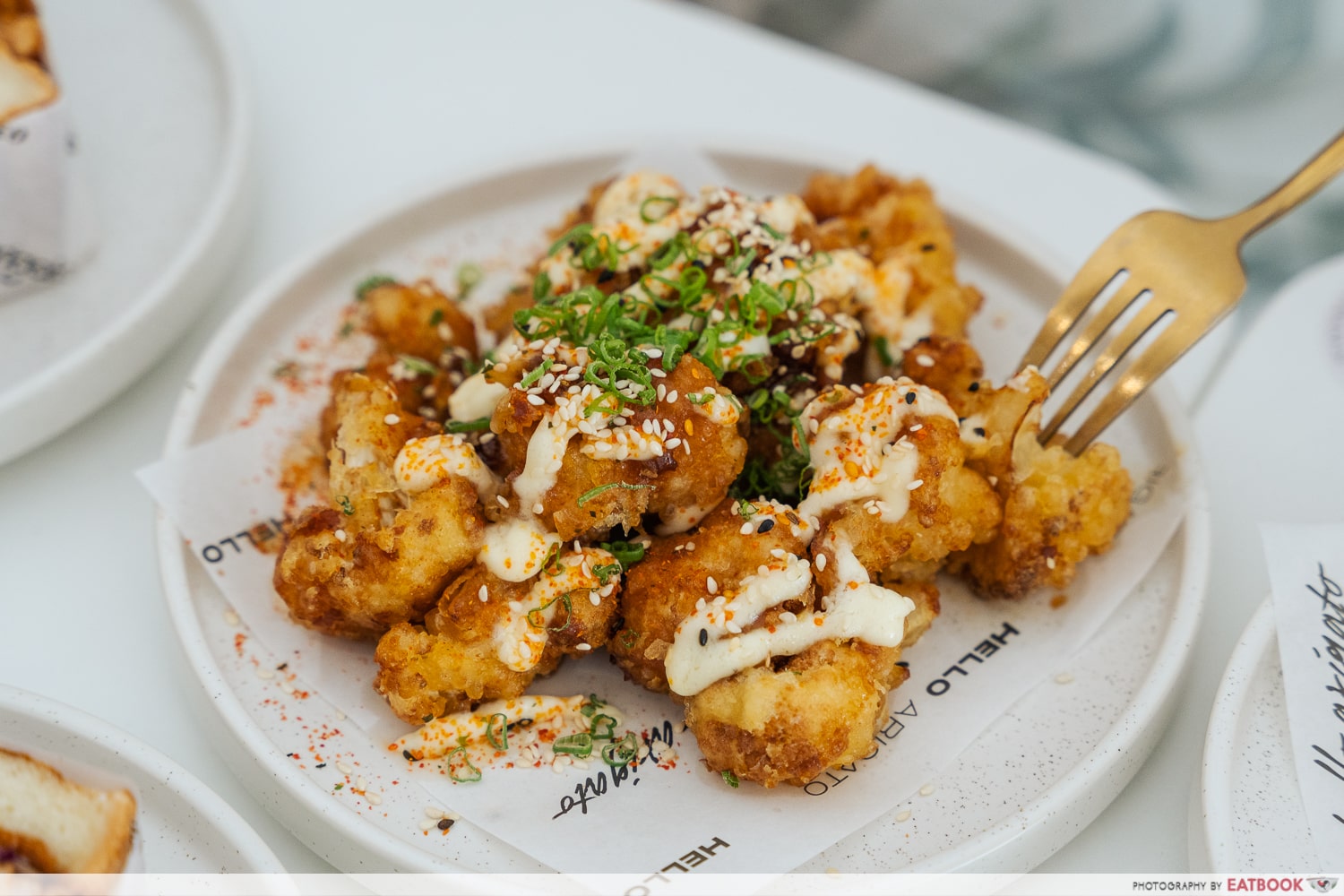 Otherwise, another outlet exclusive is Cauliflower Fritters ($10+), if you're into veg tempura with a Japanese garlic-soy glaze and sour cream, with toasted sesame seeds and togarashi for a kick of spice.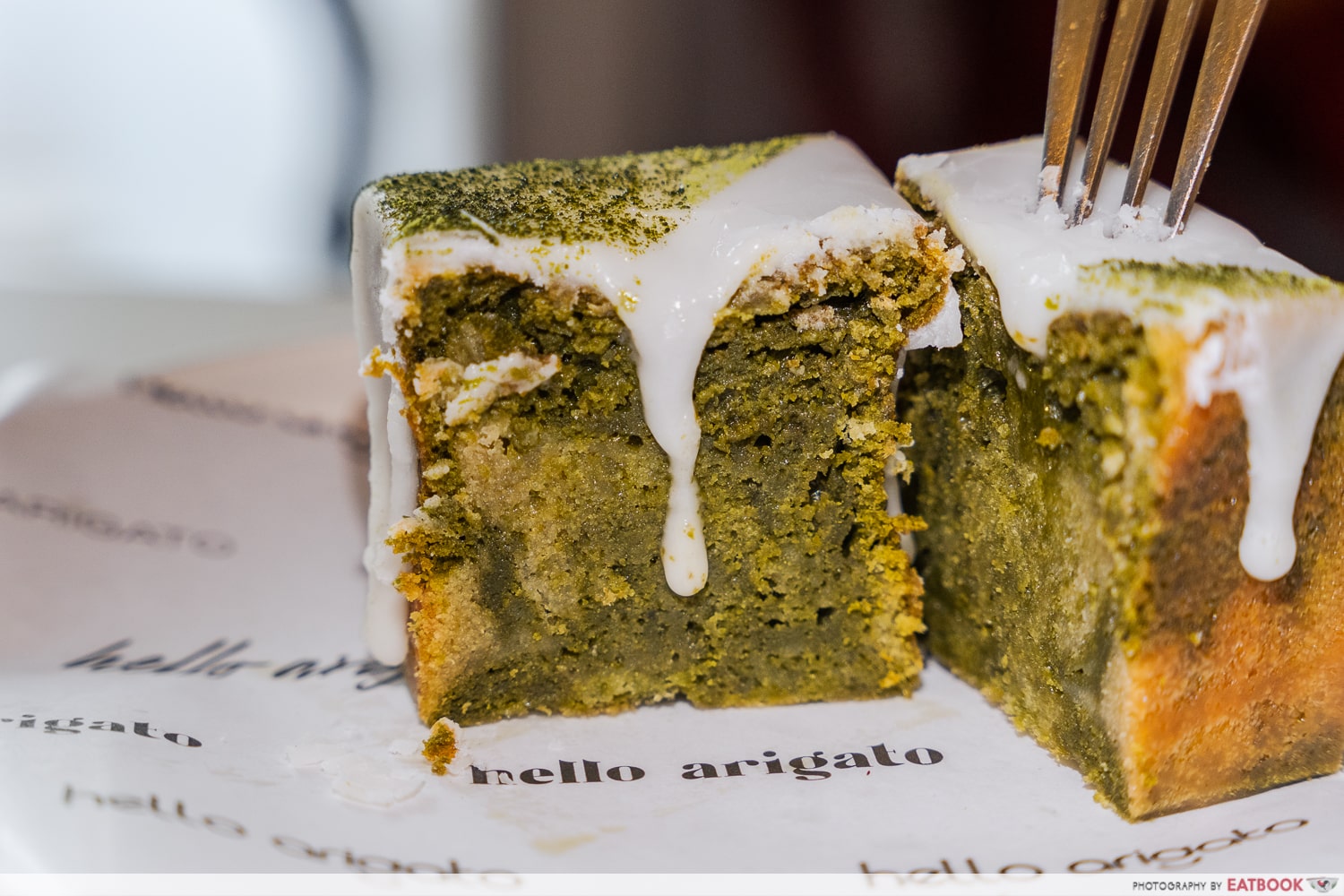 Being a bakery-centric cafe, Hello Arigato at Everton Park also has a small selection of cakes and cookies. We tried the Matcha Yuzu ($7+) cube cake, which is a miniature, cake version of their shokupan, and is baked in custom-ordered Japanese tins.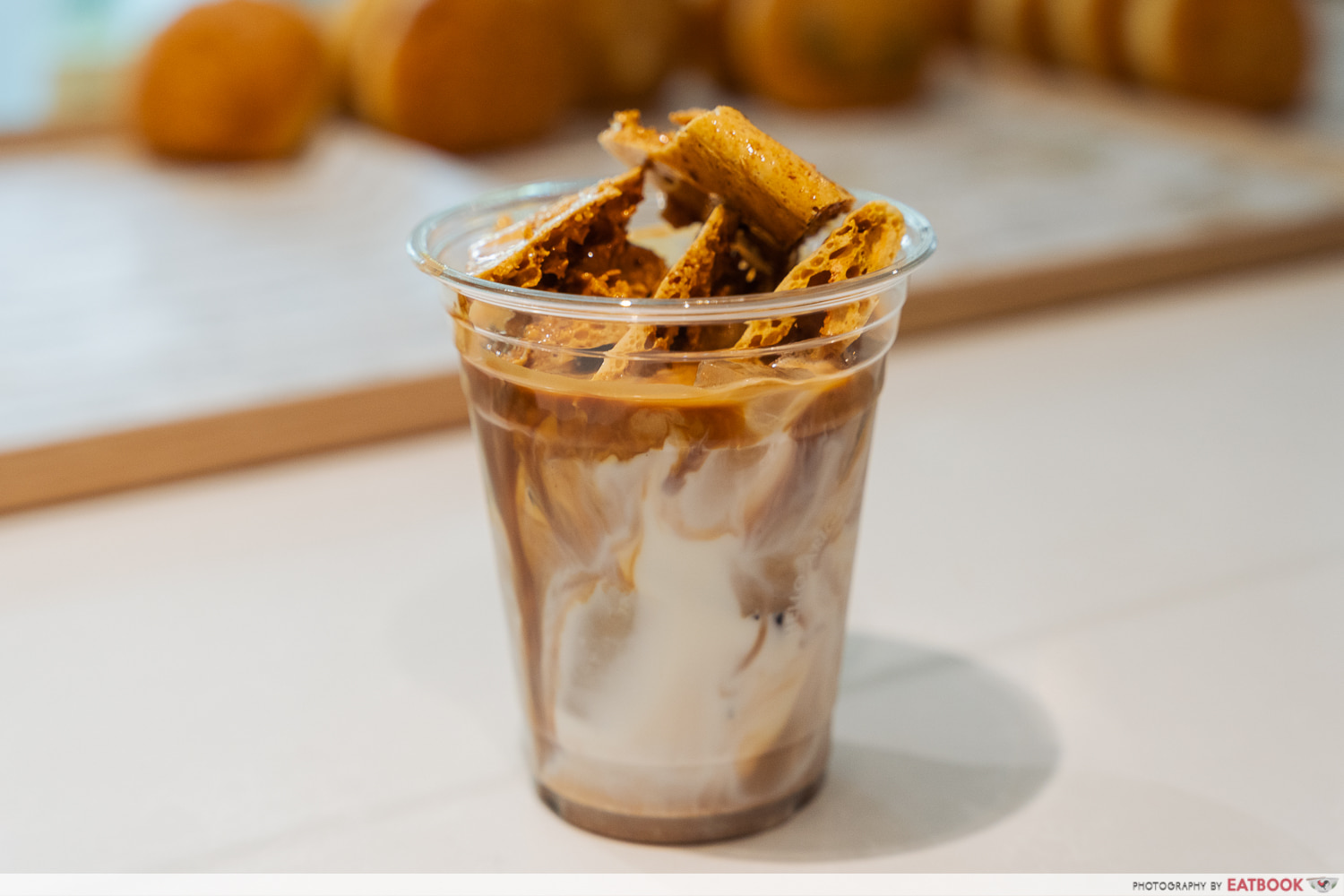 On the drinks front, don't miss the Honeycomb Latte ($6.50+/$7.50+), topped with house-made honeycomb, and their range of matcha and houjicha drinks.
13 Everton Park Food Places To Explore—Hidden Cafes, Handmade Ang Ku Kueh And More
Ambience at Hello Arigato Everton Park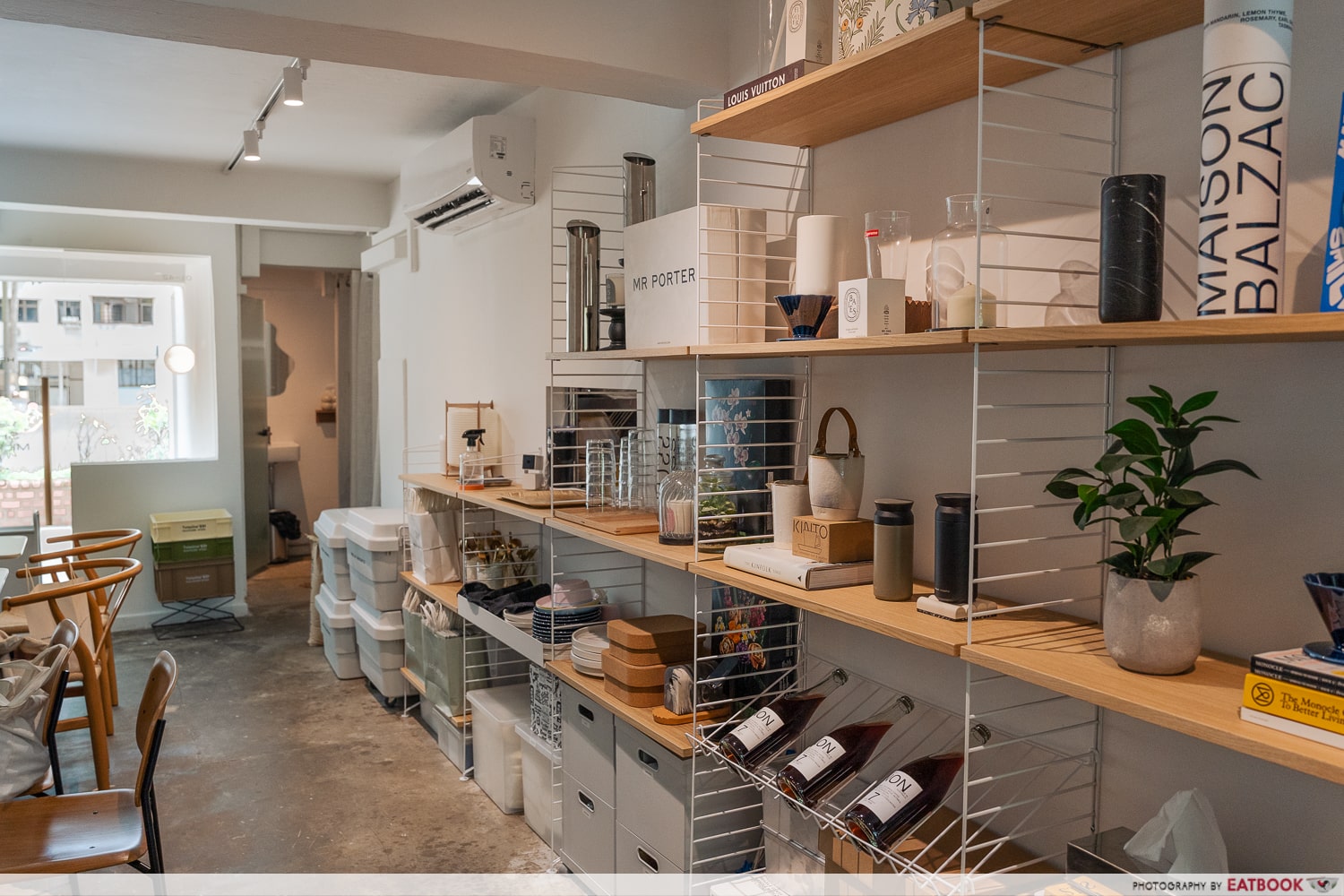 Hello Arigato at Everton Park has a limited dine-in space, and a small number of low seats by the entrance. Done up in warm lights and wooden finishings, it's like walking into someone's home. The bakery-cafe is an 11-minute walk from Exit H of Outram Park MRT Station—it's a much further walk if you use any of the other exits.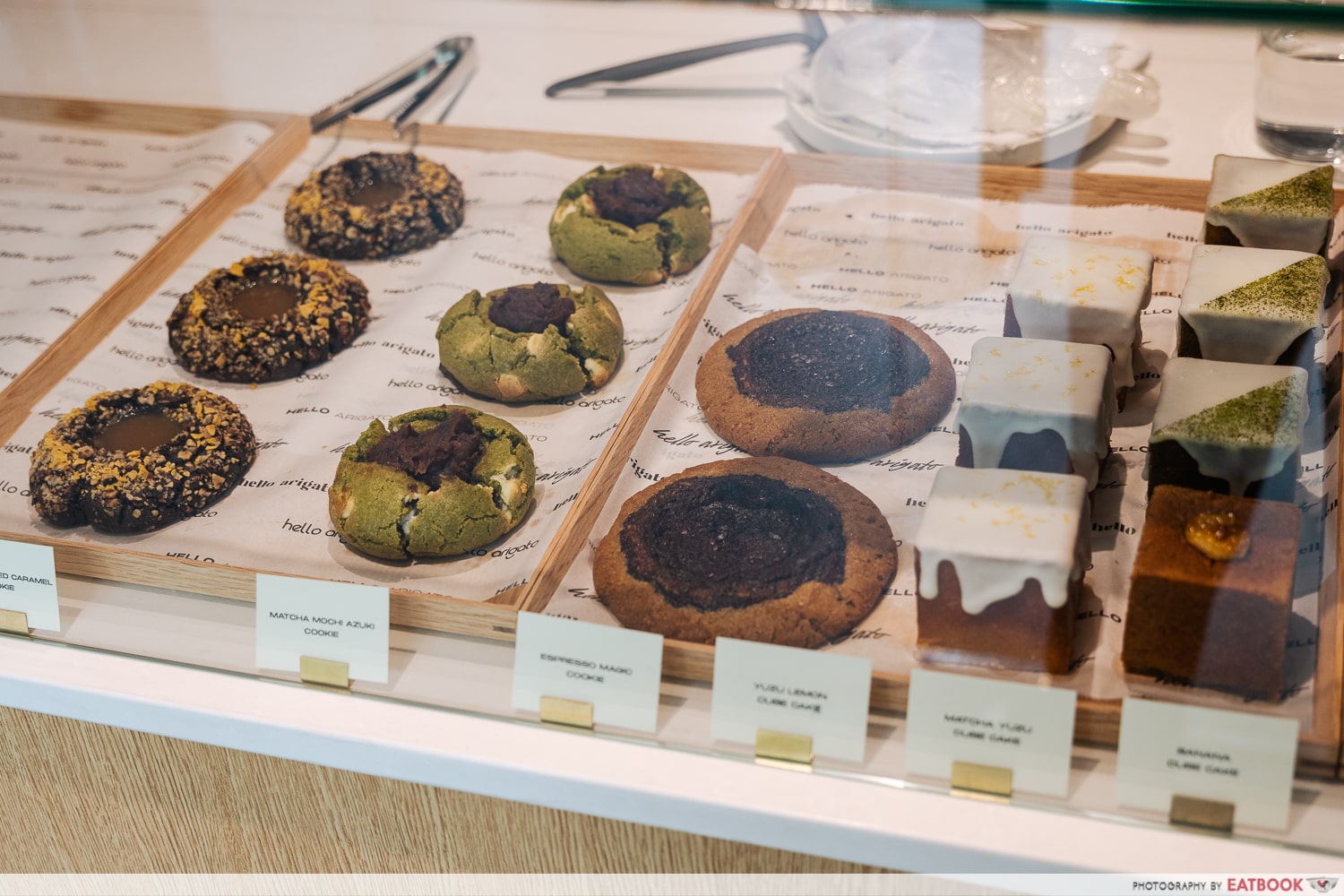 They're currently still in their soft launch phase, so the team is still tweaking production quantities and the menu; the doughnuts tend to be the first to sell out, even before the hot food starts getting served at 11am, so if that's what you're looking to buy, head down early!
The verdict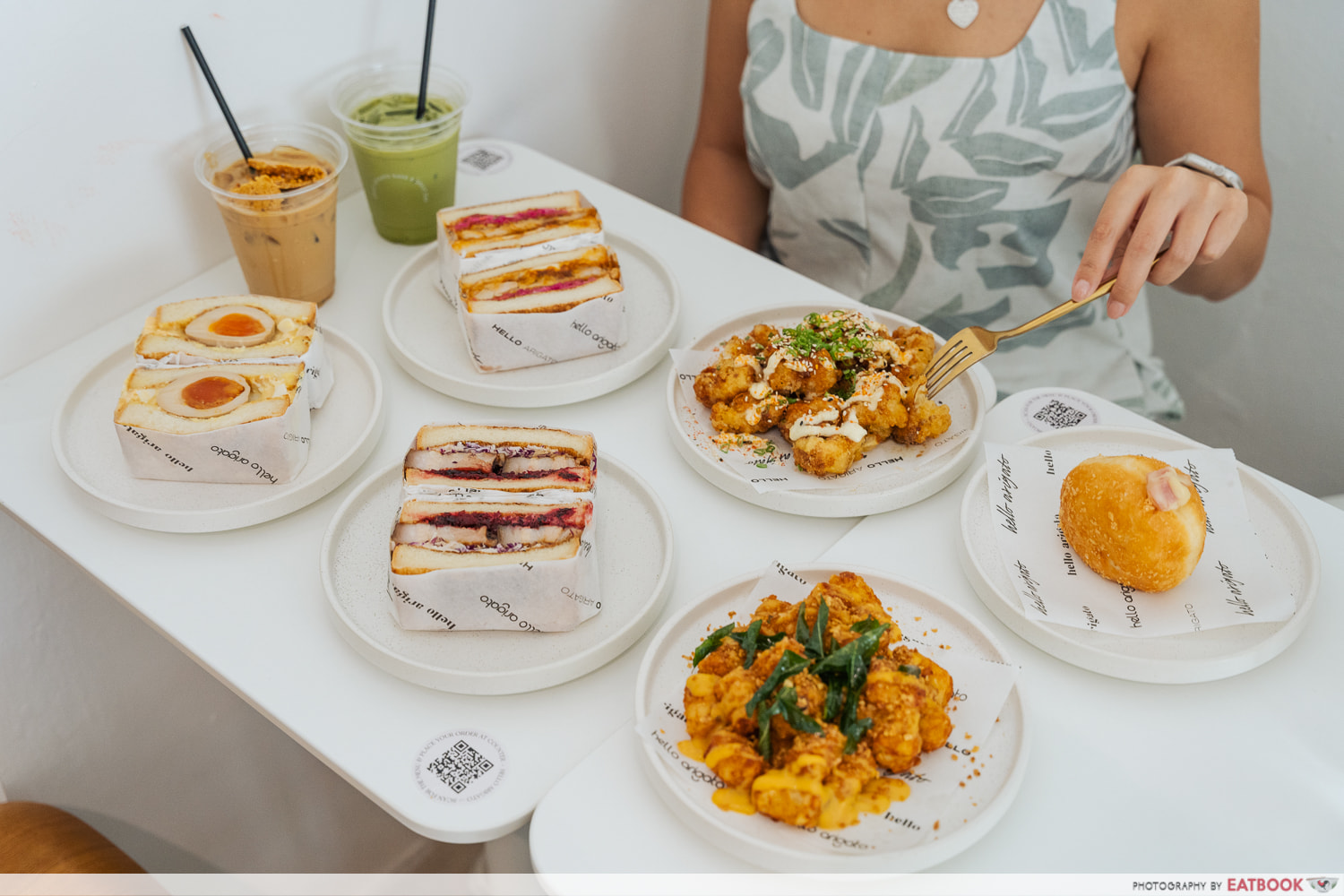 My colleague and I were thoroughly impressed with the bakes at Hello Arigato Everton Park. Even stuffed, we found ourselves continuing to go at the food, and discussed what we would have on our next visits. Then, I bought myself two loaves of shokupan in Rainbow Surprise ($5.50) and the Truffle Special ($9.50), fresh out of the oven: breakfast tomorrow promises to be exciting.
For more eats in the area, check out our guide to dining at Everton Park; otherwise, there's also 46Mittsu, which also has loaded sandos!
Address: 4 Everton Park, #01-02, Singapore 080004
Opening hours: Tue-Sun 8:30am to 9pm
Tel: 8308 0103
Website
Hello Arigato is not a halal-certified eatery
46 Mittsu Moves To Everton Park With New Gochujang Chicken Sando And More
Photos taken by Chew Yi En and edited by Ke-ian J Leong.
This was a media tasting at Hello Arigato Everton Park.
Hello Arigato Everton Park Review: Outlet-Exclusive Whisky BBQ Katsu Sando, Kaya Butter Milk Donut And More
Hello Arigato Everton Park Review: Outlet-Exclusive Whisky BBQ Katsu Sando, Kaya Butter Milk Donut And More -

8.5/10
Summary
Pros
– Donuts were soft, fluffy, and generously filled
– Sandos and sides were tasty
Cons
– Slightly far from the MRT station
– Limited dine-in seats
Recommended dishes: Kong Bah Sando ($18+), Whisky BBQ Katsu Sando ($18+), Kaya Butter Doughnut ($5.50+)
Opening hours: Tue-Sun 8:30am to 9pm
Address: 4 Everton Park, #01-02, Singapore 080004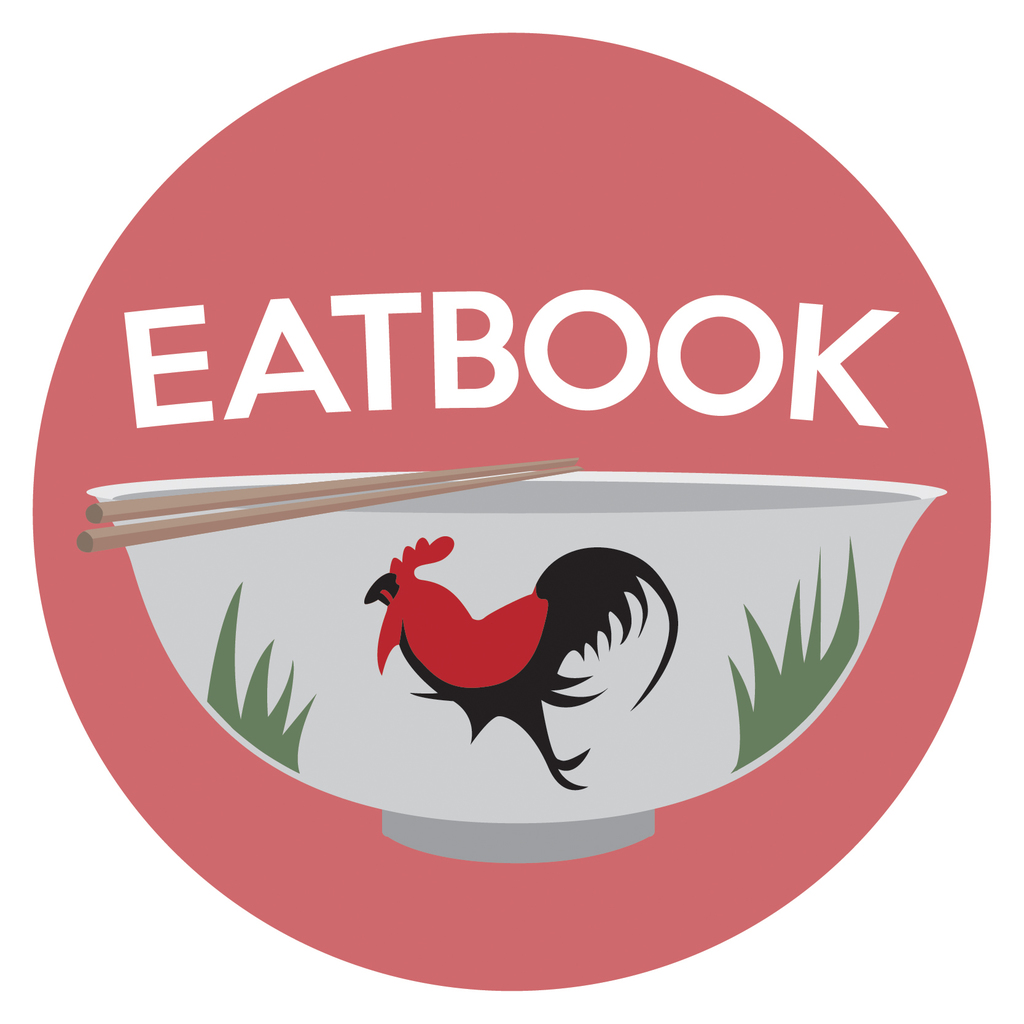 Drop us your email so you won't miss the latest news.