Covent Garden Kway Chap has cheap kway chap on Havelock Road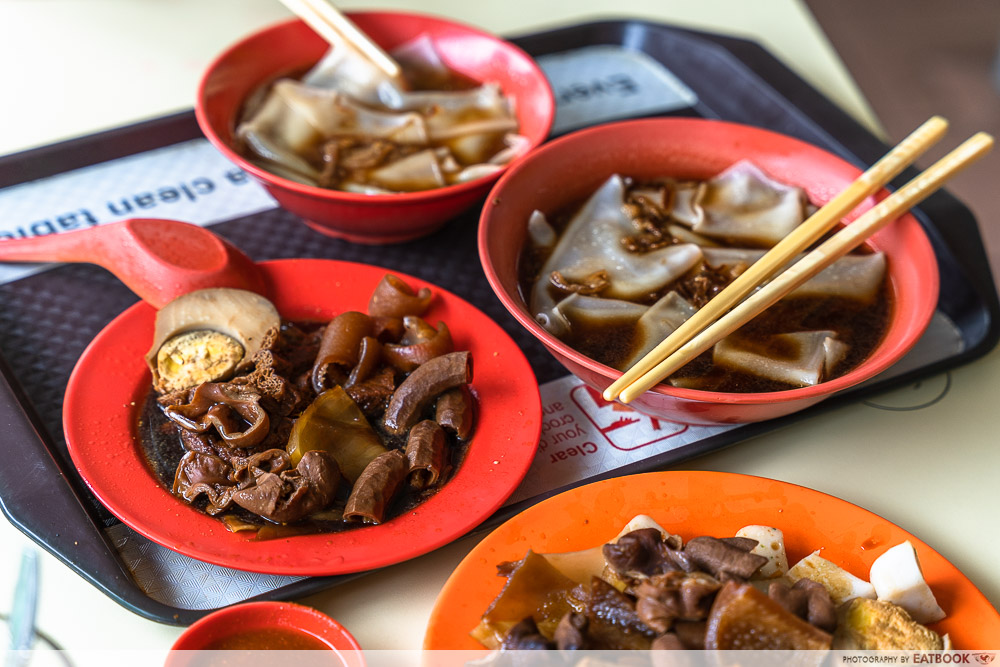 Kway chap ranks top on my list when it comes to comfort food. I don't crave it often, but when I do, it's great to know that there still are affordable options in Singapore, such as Feng Ji Kway Chap in Jalan Batu. Another stall that recently caught my eye was Covent Garden Kway Chap, which has been around for close to 60 years.
Food at Covent Garden Kway Chap
Founder Mdm Chua, a 90-odd-year-old hawker, started selling her Teochew kway chap in the early 1960s. Till today, she's said to run Covent Garden with her two sons, though she wasn't at the stall during our shoot. The family-run business specialises in kway chap with all the fixings: intestines, pig skin, braised egg, tau pok and more.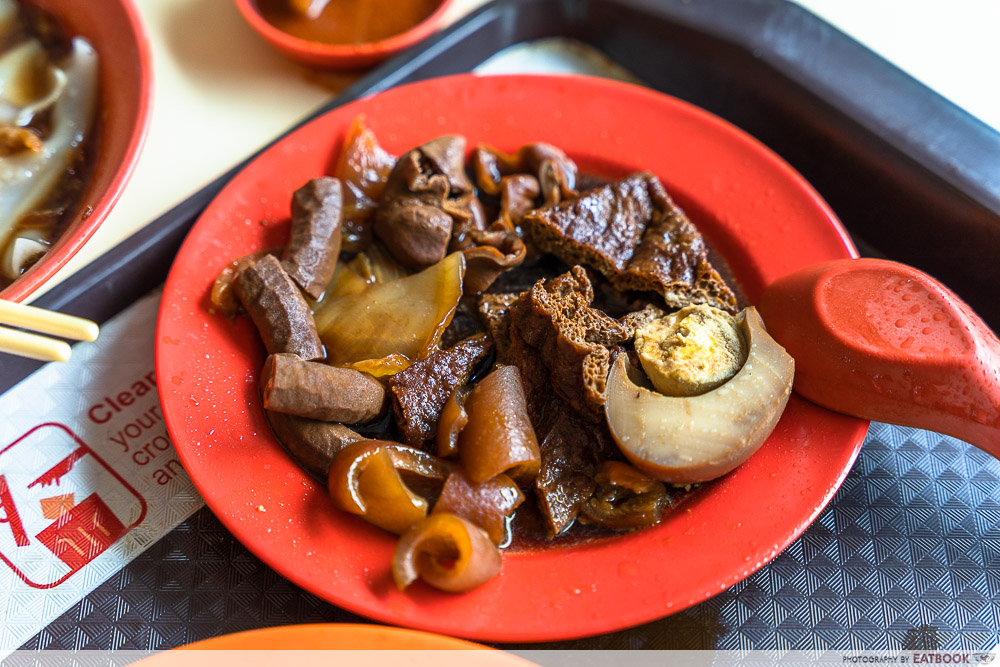 The affordable prices are the highlight here; a one-person portion starts from just $3. You get a standard platter of pig intestines, pig skin, tau pok, and half an egg, plus a decent serving of kway. The other way to order is to specify the items you want and indicate the number of diners.
The beauty of kway chap lies in its customisable options. If you want more of a particular item, simply request extra liao and pay a small top-up.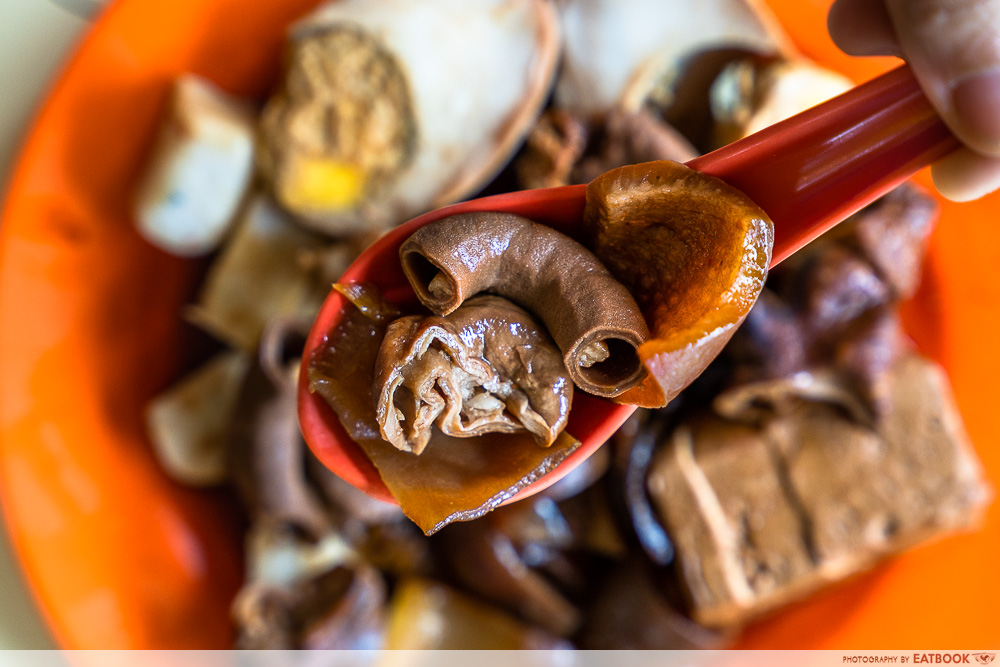 I'm not one to gravitate towards innards due to the funkiness, so I was surprised that the small intestine and stomach pieces were clean-tasting. The pig's skin was also pleasantly soft and melt-in-the-mouth.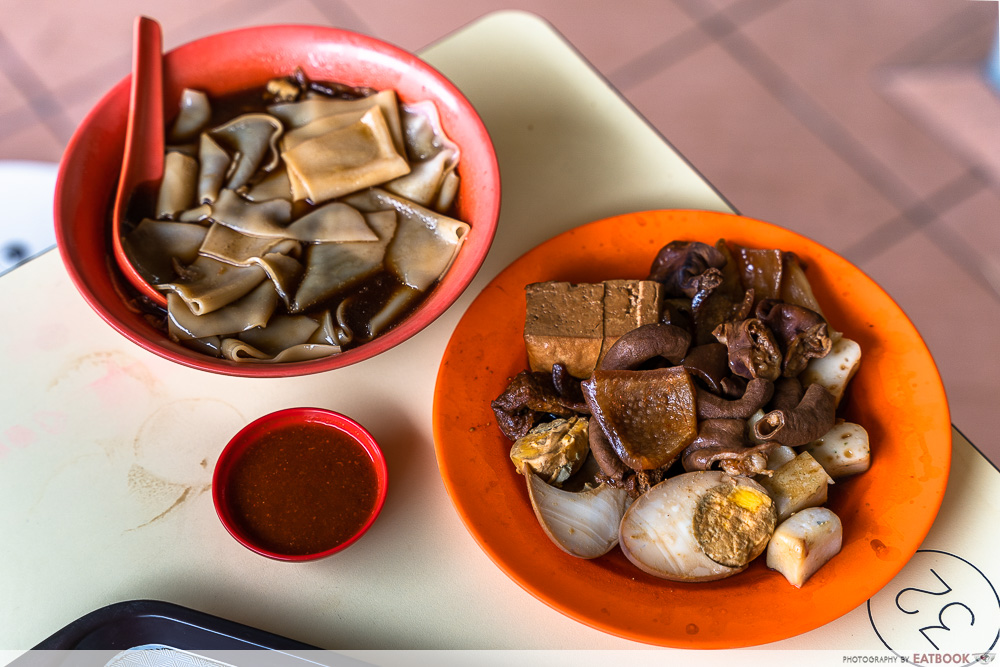 We also ordered a platter for two, priced at $6 with two bowls of kway, or $5.70 for one big bowl. This came with the same spread of innards, topped with a full egg, tau pok, tau kwa, and fishcake.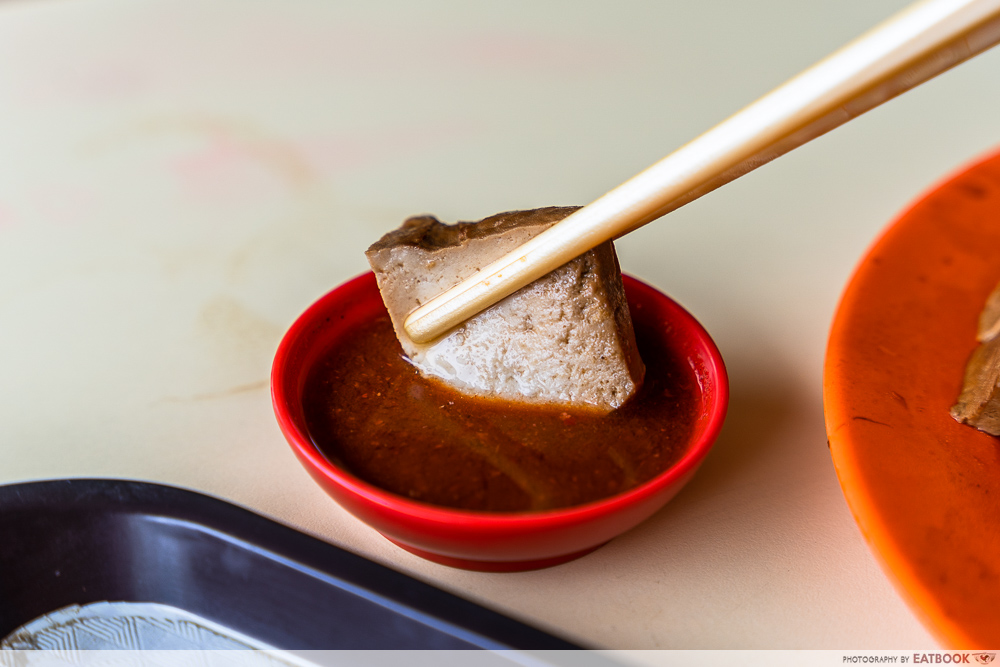 The tau pok soaked up the braise well, so biting into each piece guaranteed a burst of savoury flavours. I was also impressed with the tau kwa as it was perfectly cooked—tender but not overly soft.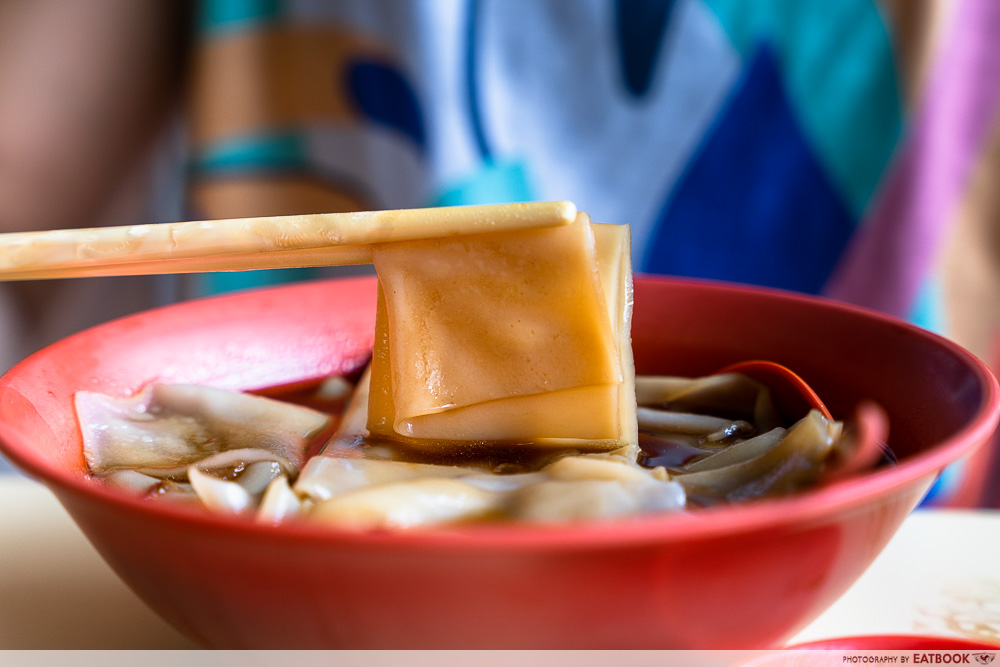 Then there's the star of the show: the kway. These rice noodle sheets were smooth and slippery, with just the right amount of thickness to them. Surprisingly, they held their shape and texture despite our prolonged shoot, indicating a master level of skill and experience in preparation.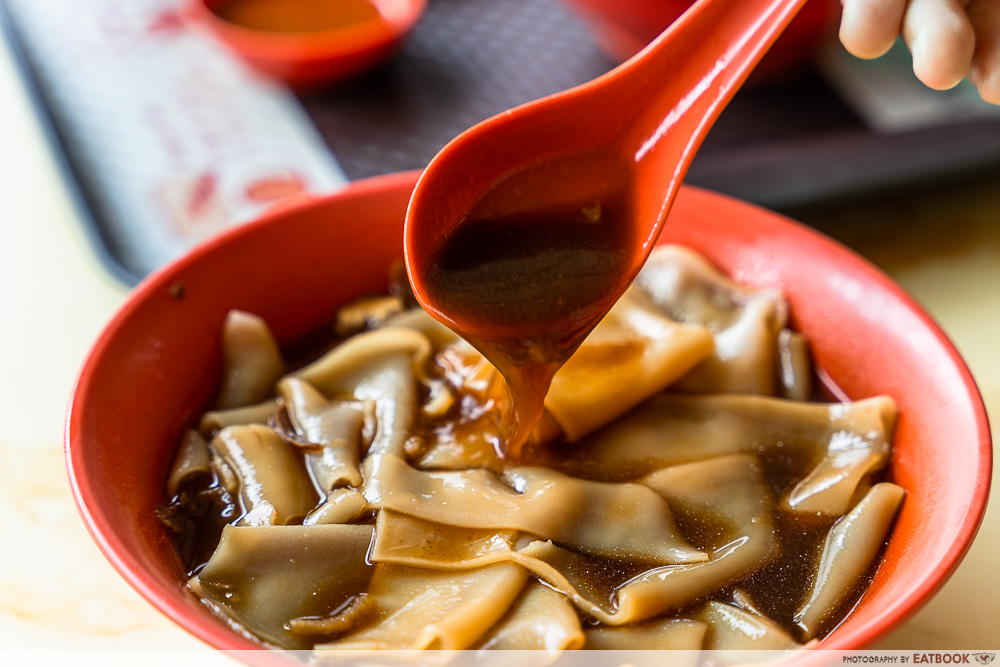 The taste of the broth here was somewhat in the middle: it wasn't too light, nor was it jelak. I quite enjoyed how well-balanced the soup was, with a tinge of herbal notes at the very end. Fried shallots were also scattered on top before serving, adding another layer of flavour and sweetness to the overall dish.
Unfortunately, I found the chilli dip rather diluted. It was slightly tangy, which helped cut through the richness of the liao, but could be spicier. Nonetheless, that was the only letdown in an otherwise delicious meal.
The ambience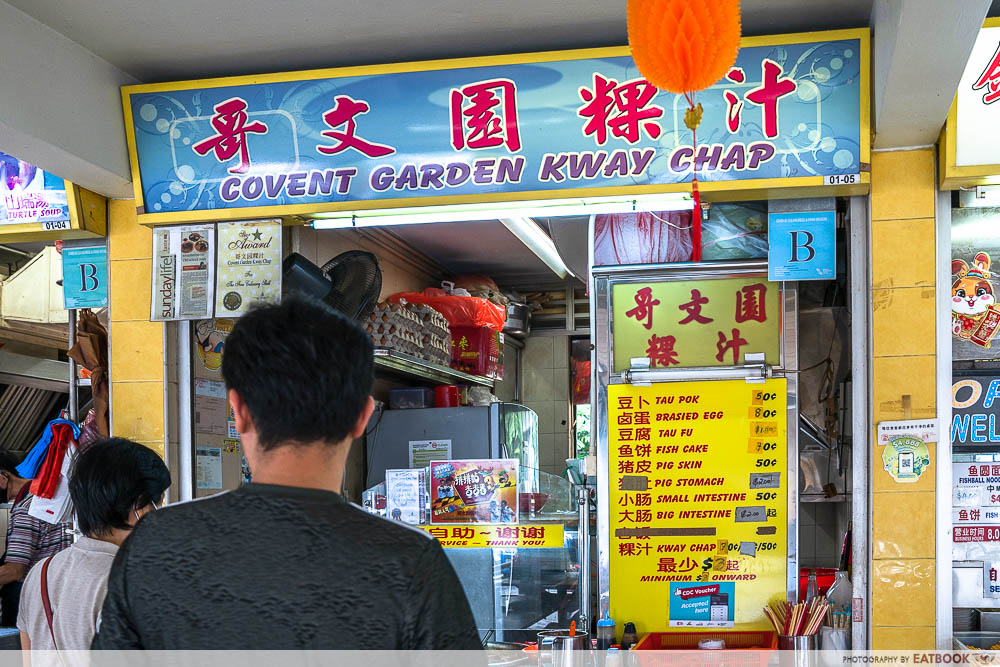 Covent Garden Kway Chap sits in Havelock Road Cooked Food Centre, which is an eight-minute walk from Tiong Bahru or Havelock MRT Station.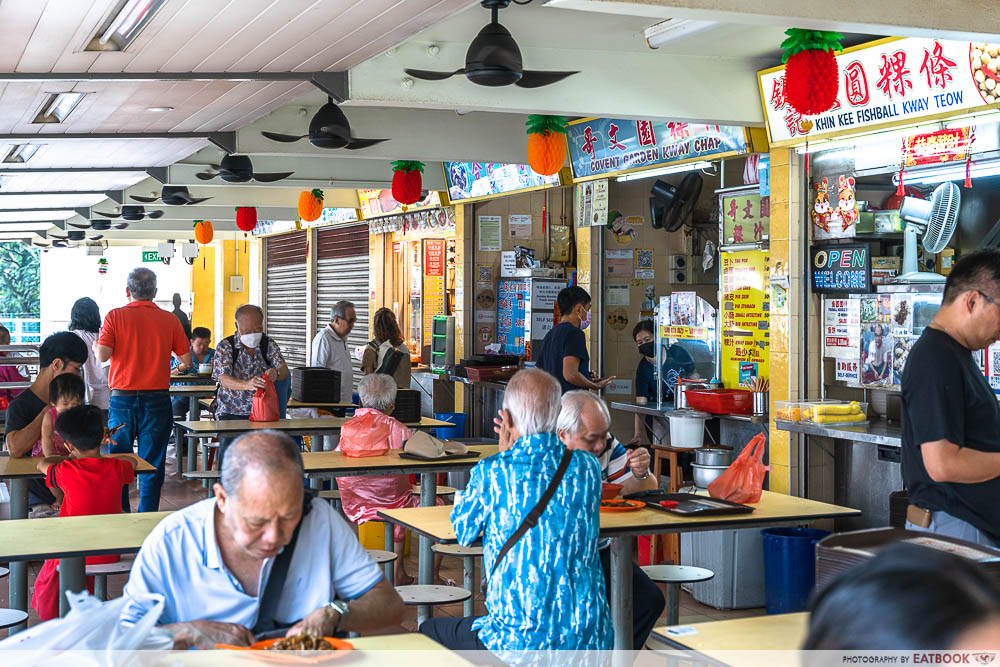 The hawker centre is long and narrow with one row of stalls facing two rows of tables. It's not the most spacious, but there are plenty of seats to choose from. Should you sit at the end that's next to the carpark, make sure you keep a lookout for pesky birds in the area.
The verdict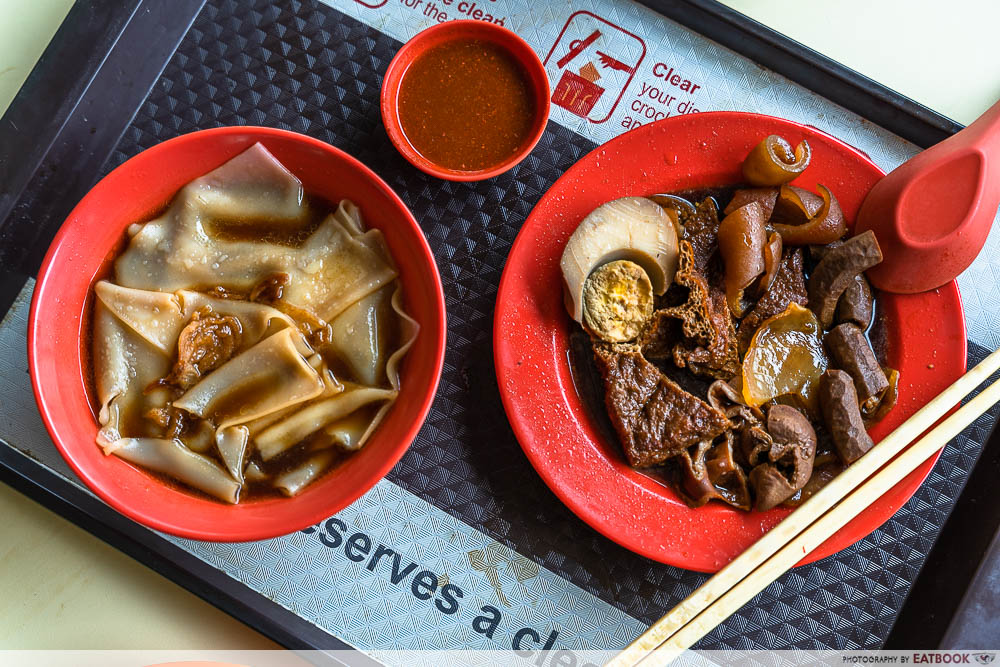 A good bowl of kway chap can be rather subjective—some like theirs light and herbal, while others might prefer a broth that's rich and heavy. Whichever camp you're on, I'm sure you'll be impressed by Covent Garden Kway Chap's old-school flavour and well-priced servings.
Another must-try place in Tiong Bahru is Happy Oven, an old-school bakery selling cheap cakes and puffs. Otherwise, check out our guide to the best food along the Thomson-East Coast line, including Korean bagels, affordable waffles and more!
Address: 22B Havelock Road, #01-05, Havelock Road Cooked Food Centre, Singapore 162022
Opening hours: Tue-Sat 6am to 1pm
Covent Garden Kway Chap is not a halal-certified eatery.
Happy Oven Review: Old-School Bakery With $1 Pandan Kaya Cakes And More In Tiong Bahru
This was an independent visit by Eatbook.sg
Photos taken by Chew Yi En.
Covent Garden Kway Chap Review: $3 Kway Chap With Over 50 Years Of History
Covent Garden Kway Chap Review: $3 Kway Chap With Over 50 Years Of History -

8/10
Summary
Pros
– Cheap and delicious kway chap
– Innards were not overly funky
– Kway had a great texture
Cons
– A little out of the way
– Chillli was a bit diluted
Opening hours: Tue-Sat 6am to 1pm
Address: 22B Havelock Road, #01-05, Havelock Road Cooked Food Centre, Singapore 162022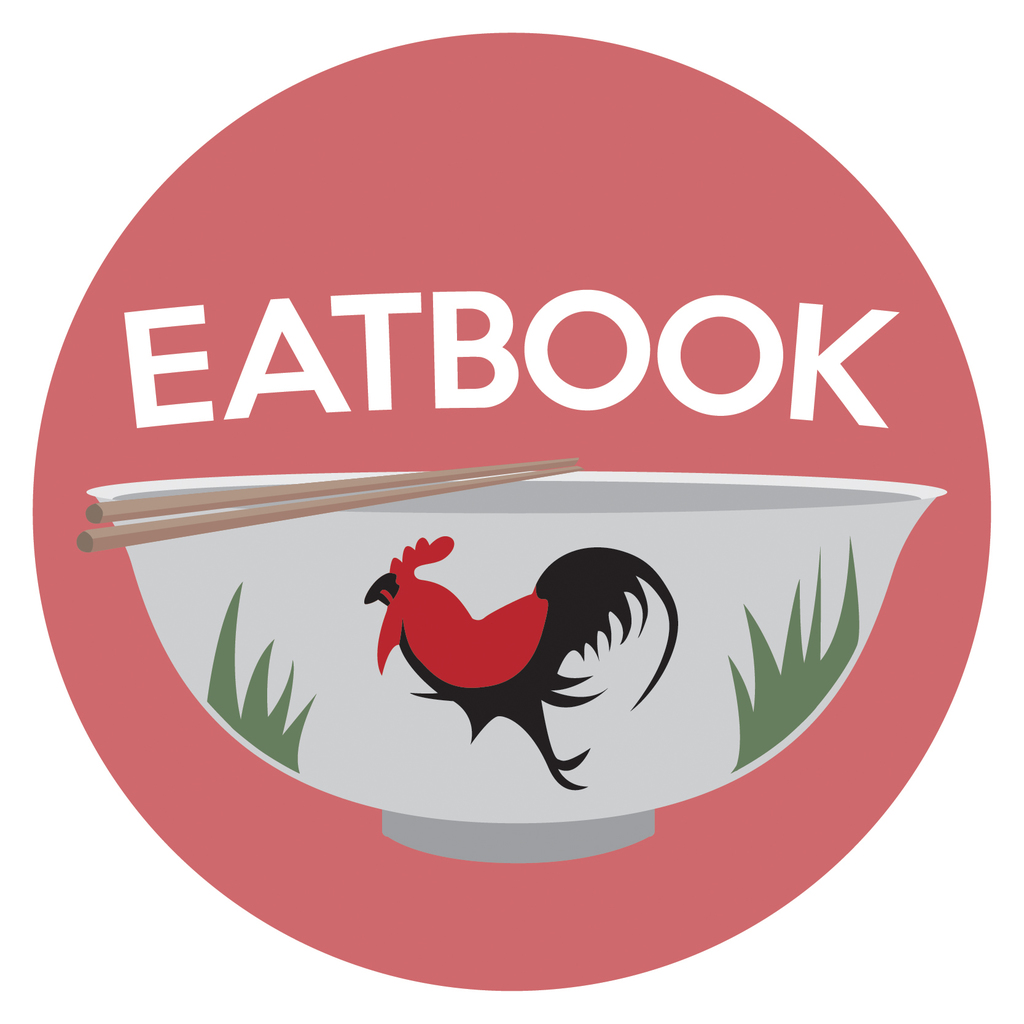 Drop us your email so you won't miss the latest news.