---
Best egg tarts
---
My mum used to let me choose my own breakfast whenever we went to a neighbourhood bakery. A sweeping glance always stopped me at egg tarts, with glassy yellow custard cocooned in shortcrust pastry. Many Singaporeans share the same love for egg tarts, though some stand on Team Pastry Crust, while others are on Team Cookie Crust.  But whichever side you're on, this list of 10 places selling old-school egg tarts in Singapore at under $2 per piece won't disappoint.
---
1. Leung Sang Hong Kong Pastries

---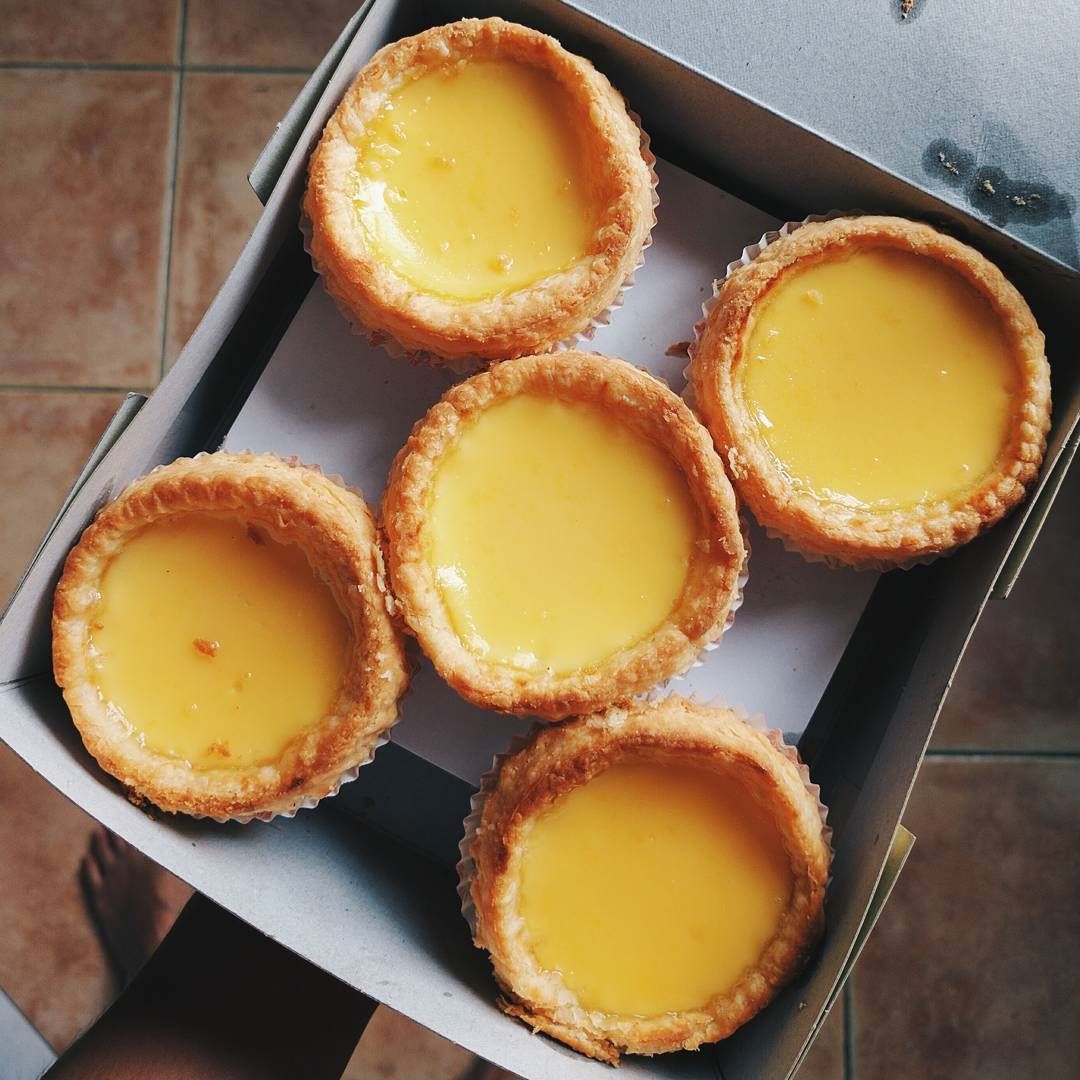 Image credit: @brianhe
At Tiong Bahru MRT Station, I like to turn away from Tiong Bahru Plaza to the less gentrified side, because there nestles Leung Sang Hong Kong Pastries. Their Leung Sang Egg Tarts ($2), which I much prefer, has a puffier and flakier crust that turns into creaminess as I chew. This is in comparison to their Western Egg Tarts ($2), which sit on a firm base. I like devouring the whole thing right outside the shop to add to the nostalgic vibes.
Address: 18 Jalan Membina, #01-06, Singapore 164018
Opening hours: Daily 7:30am to 7:30pm
Tel: 6271 6056
Website
---
2. Tiong Bahru Galicier Bakery
---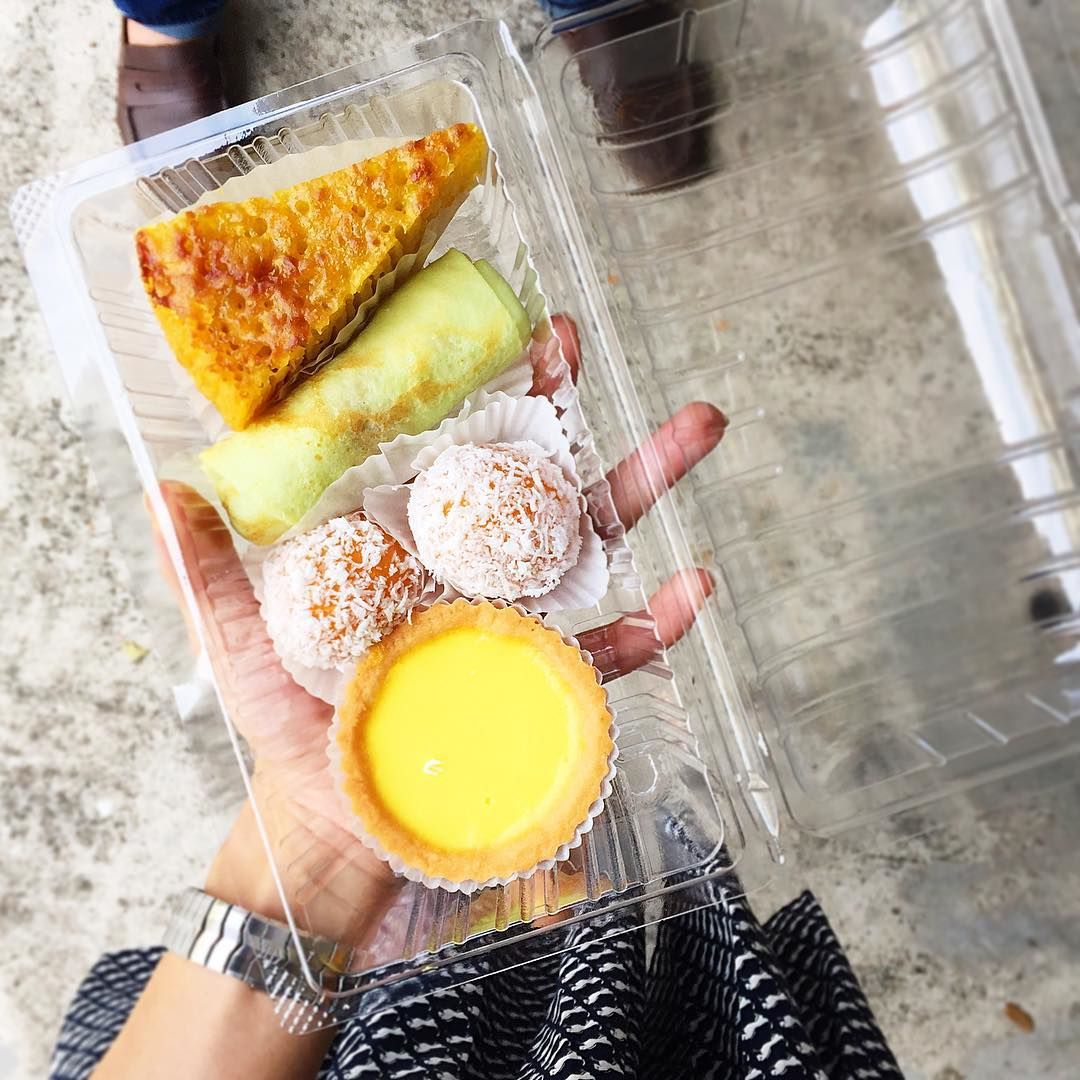 Image credit: @cheehuey
Exercise restraint at Tiong Bahru Galicier Bakery, as there's a huge selection of raved-about nyonya kueh to shake up cake time. I love their ondeh ondeh ($0.60); eating it is like biting into a mochi that explodes with sweet gula melaka. Not to be cast aside are their egg tarts ($0.90). With a light and delicate custard, and crumbly but moist crust, it's delectable and the cheapest find on this list.
Address: Blk 55 Tiong Bahru Road, #01-39, Singapore 160055
Opening hours: Tue 10am to 7:30pm, Wed-Sun 10am to 8:30pm
Tel: 6324 1686

---
3. Tai Chong Kok
---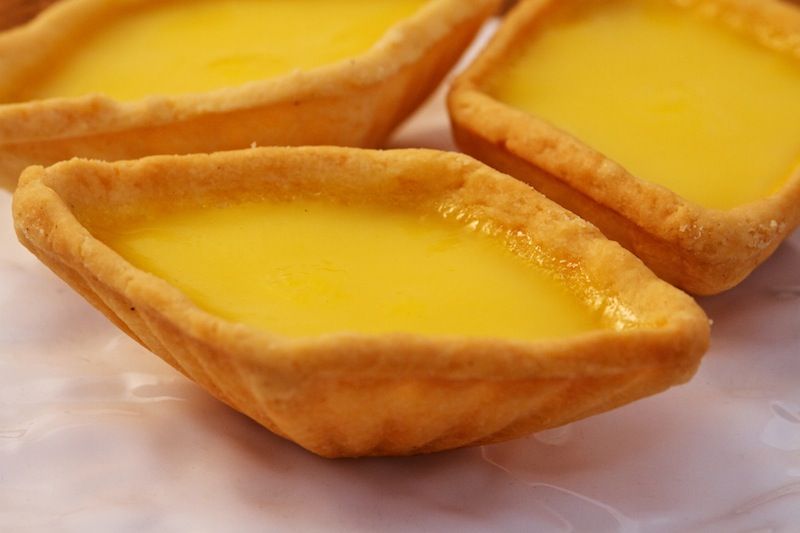 Image credit: Tai Chong Kok
83-year-old Tai Chong Kok started out selling traditional lotus mooncakes, before they decided to venture into egg tarts. Easy to hold and box thanks to its diamond shape, the egg tarts ($1.50) have a biscuit-like texture with a buttery base, which complements its slightly runny custard. They also sell round coconut tarts ($1.60), each decorated with a large cross, that are baked till firm.
Address: 34 Sago Street, Singapore 059026
Opening hours: Daily 9:30am to 8pm
Tel: 6227 5701
Website
Full list of outlets
---
4. Dona Manis Cake Shop
---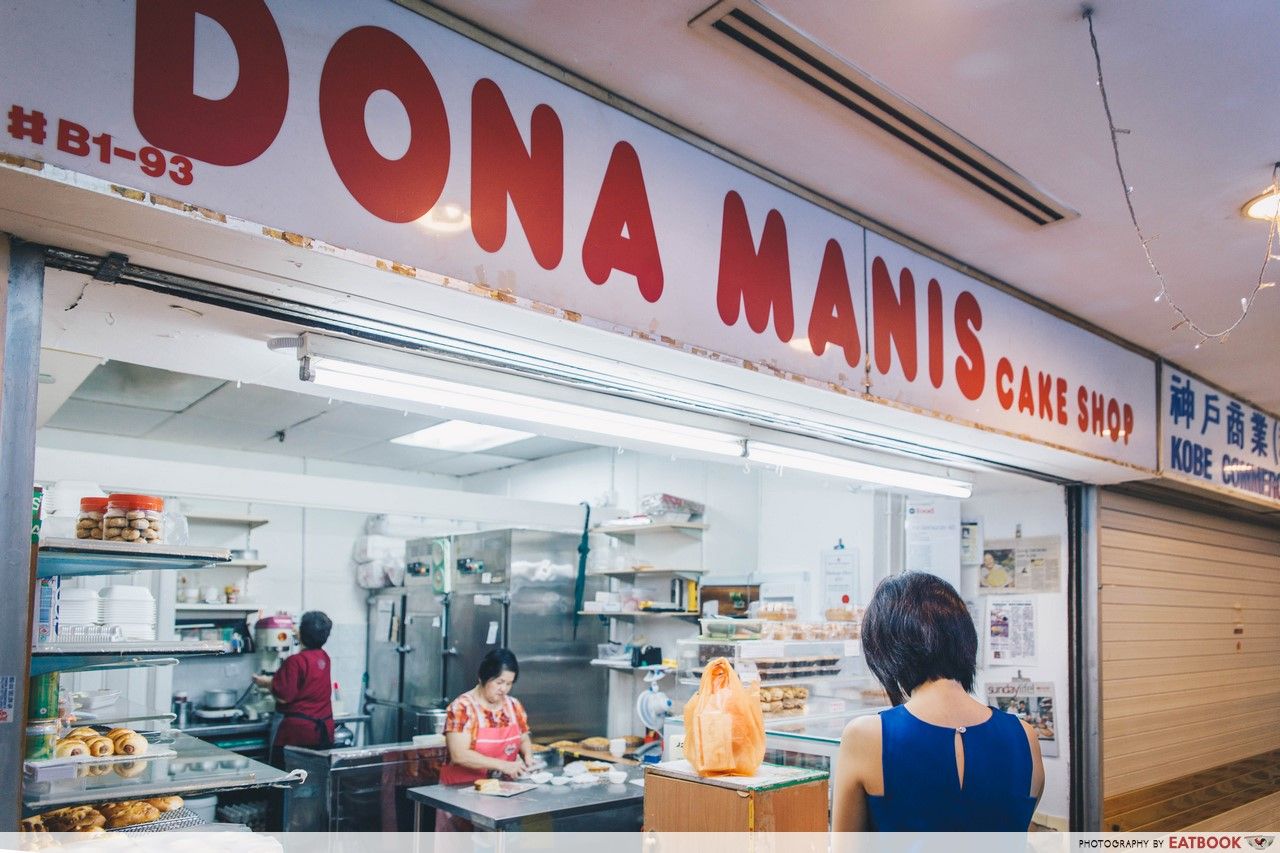 Located in Katong Shopping Centre, Dona Manis Cake Shop is almost like a relic of '90s bakeries. A buttery aroma rushes to you from the inconspicuous shop, which sells pa famously scrumptious banana pie ($2.50 per slice, $25 for a whole pie). Be gentle with each egg tart ($2.50 for two pieces), as you sink your teeth into its silky soft filling, held together by a delicate buttery crust that crumbles with each bite.
Check out our full review of Dona Manis Cake Shop!
Address: 865 Mountbatten Road, #B1-93, Katong Shopping Centre, Singapore 437844
Opening hours: Tue-Sat 10:30am to 5pm
Tel: 6440 7688
Website
---
5. Tai Cheong Bakery
---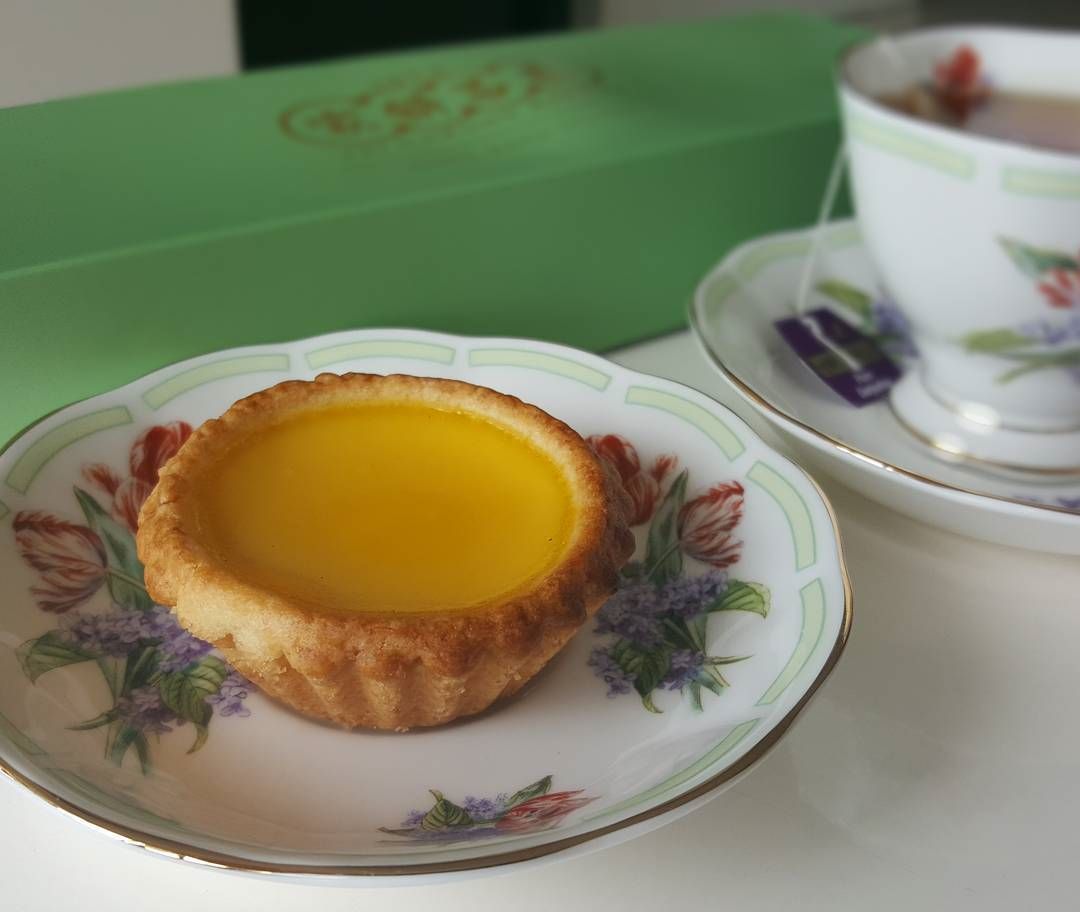 Image credit: @ds.stelzchen
The first time I tried to get an egg tart ($2) from Tai Cheong Bakery at Takashimaya, I joined the queue at its halfway point, not realising that the second half continued outside the food hall. The endless line screams volumes about this powerhouse that's known as one of Hong Kong's bests. A strong buttery scent exudes from its crust, with a hint of saltiness that balance its sweet and firm pudding centre. What makes this gold is its wonderfully fresh taste. When they arrived, they also launched a Singapore-exclusive pandan egg tart ($2). They have also since expanded to numerous heartland malls islandwide.
Website | Full list of outlets

---
6. Ng Kim Lee
---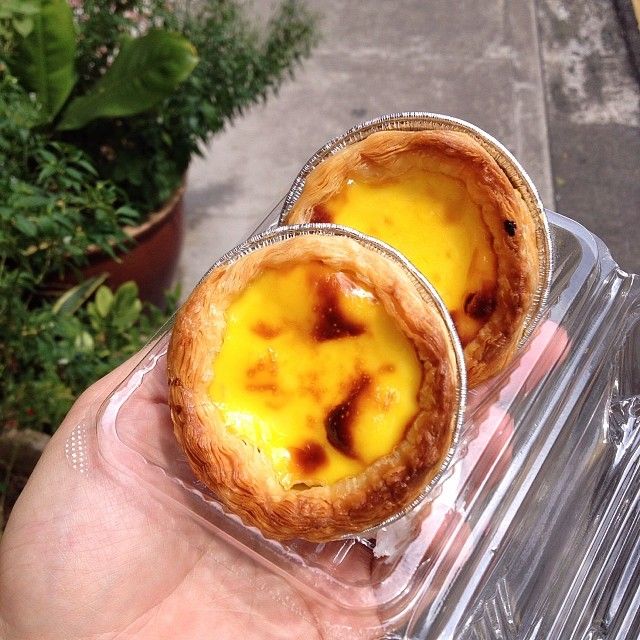 Image credit: @dietingglutton
A zebra crossing away from Beauty World MRT Station is a traditional Chinese-style blackboard with a golden inscription of Ng Kim Lee. There are assorted flavours of starry-shaped muffins at $0.60 a pop, but I can't stray from adding on their egg tarts.
Placed right beside the cashier, the rows of old-school egg tarts ($1) and Portuguese egg tarts ($1.20) have a crust that's a pale shade of brown. A fragrant eggy scent envelops you as you take in the first bite.
Address: 4 Chun Tin Road, Singapore 599591
Opening hours: Daily 9:30am to 9:30pm
Tel: 6466 3515
---
7. Balmoral Bakery
---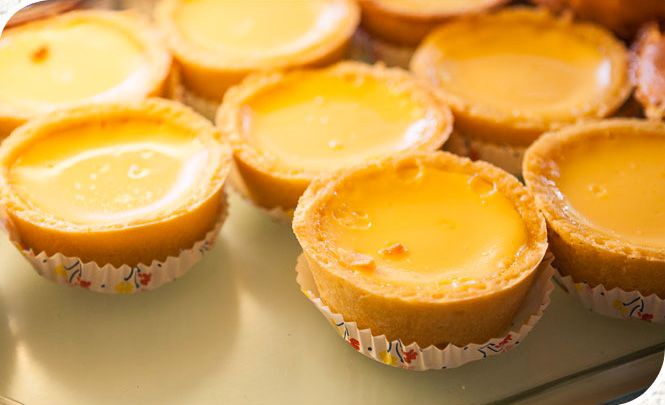 Image credit: Balmoral Bakery
Balmoral Bakery offers a throwback to 1965, with baked goods piped with buttercream sold in paper boxes featuring a vintage red print. They only sell egg tarts ($1.40) on weekends, but if you're itching for some before then, you can call in two days prior to place advanced orders for at least a box of nine. Their custard is slightly more runny but the crust is relatively firm. Add on a cream horn ($1.40) which is now a rare gem to find, as well as their much raved-about Beef Pies ($2 each).
Address: 105 Clementi Road Street 12, #01-06, Sunset Way, Singapore 120105
Opening hours: Daily 9am to 7pm
Tel: 6779 2064
Website
---
8. Chin Mee Chin Confectionery
---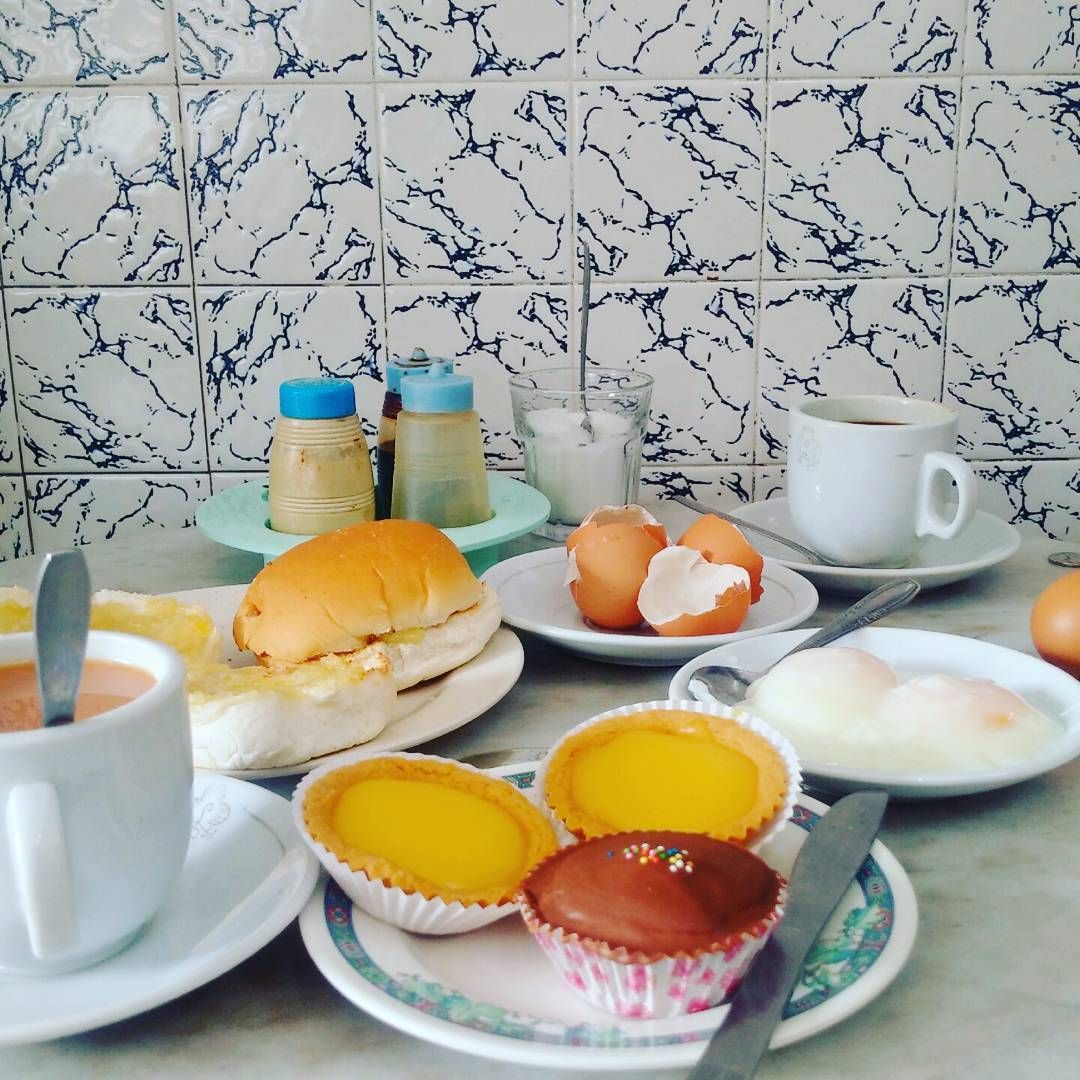 Image credit: @massrafiei
Chin Mee Chin Confectionery whisks us back to the '70s. Their marble tables, wooden chairs, and mosaic tiles elicit a sense of nostalgia, as you tuck into their traditional breakfast set ($4) that consists of a hot cuppa, half-boiled eggs, and their famous kaya toast. I can't dismiss their old-school egg tart ($1) when I see one, but I'd push you to get the tastier Portuguese egg tart ($1.20) over the regular. Do note, though, that they are currently closed, but are slated to reopen in May 2021.
Address: 204 East Coast Road, Singapore 428903
Opening hours: Tue-Sun 8:30am to 4pm
Tel: 6345 0419
---
9. Joy Luck Teahouse
---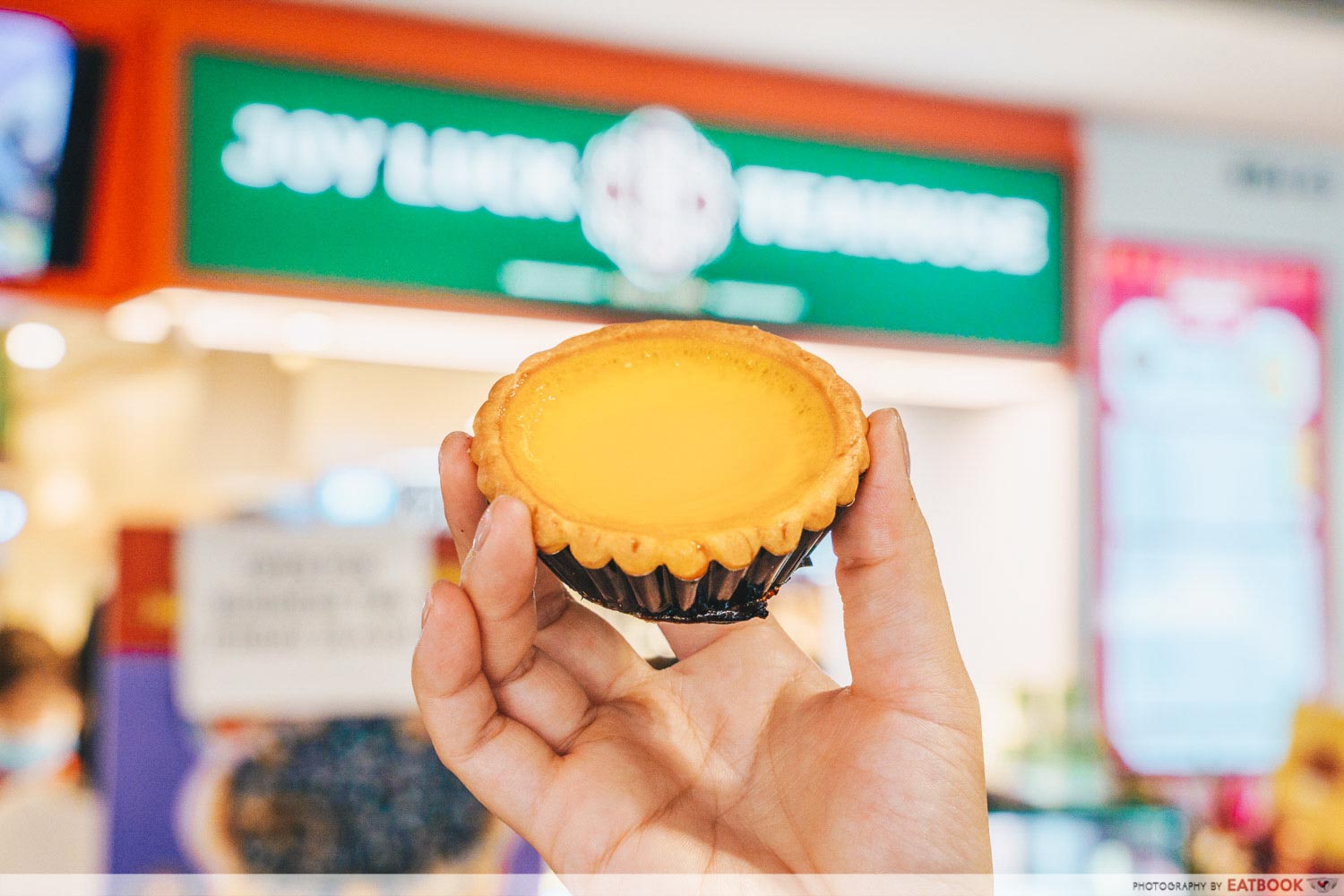 Joy Luck Teahouse continues to draw lengthy queues after its opening last year, in part thanks to their famous egg tarts. These tarts, priced at $2.30, comes in two versions, cookie crust, as well as pastry crust, so you can get whichever you prefer, or both. Apart from these Hong Kong-style egg tarts, you can also get HK polo buns ($2), milk tea ($3.80), and more.
Website | Full list of outlets
---
10. Tong Heng
---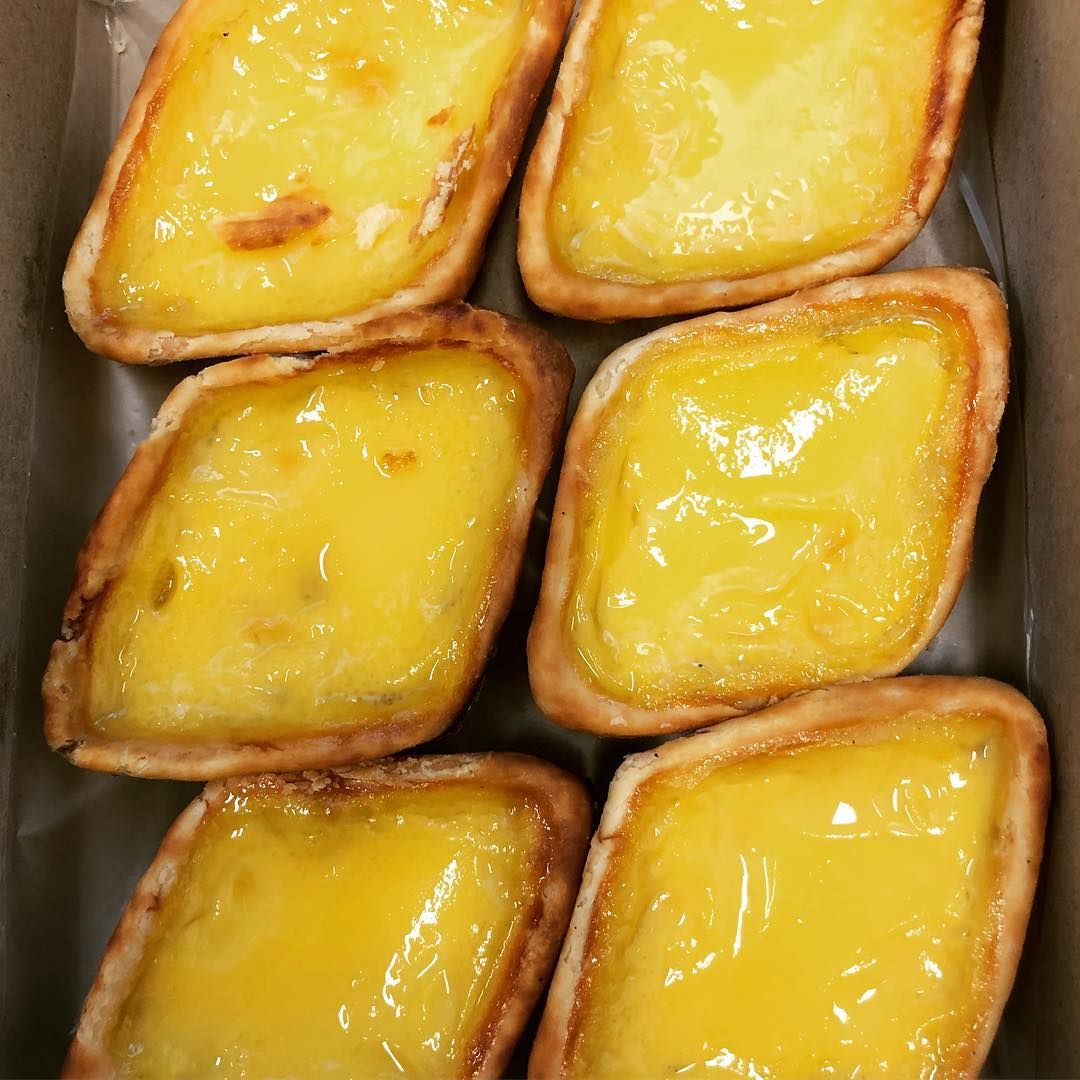 Image credit: @the_real_greenfairy
Tong Heng is my most familiar remedy to treat a bad bout of blues; cracking into its flaky and crusty shell brings me waves of comfort. Their diamond-shaped egg tart ($2) has a velvety-soft pudding that's contrasted by the hard but thin pastry. The wobbly custard is also sweeter than most egg tarts.
Maybe it's the design of their pastry, but it feels like Tong Heng doesn't skimp on their filling. My default there though is their coconut egg tart ($2.10), which is a few notches sweeter, simply because I love the fibrous texture the crunchy coconut shreds add to the egg custard.
Address: 285 South Bridge Road, Singapore 058833
Opening hours: Sun-Thurs 9am to 7pm, Fri-Sat 9am to 8pm
Tel: 6223 3649
Website
---
11. So Good Bakery
---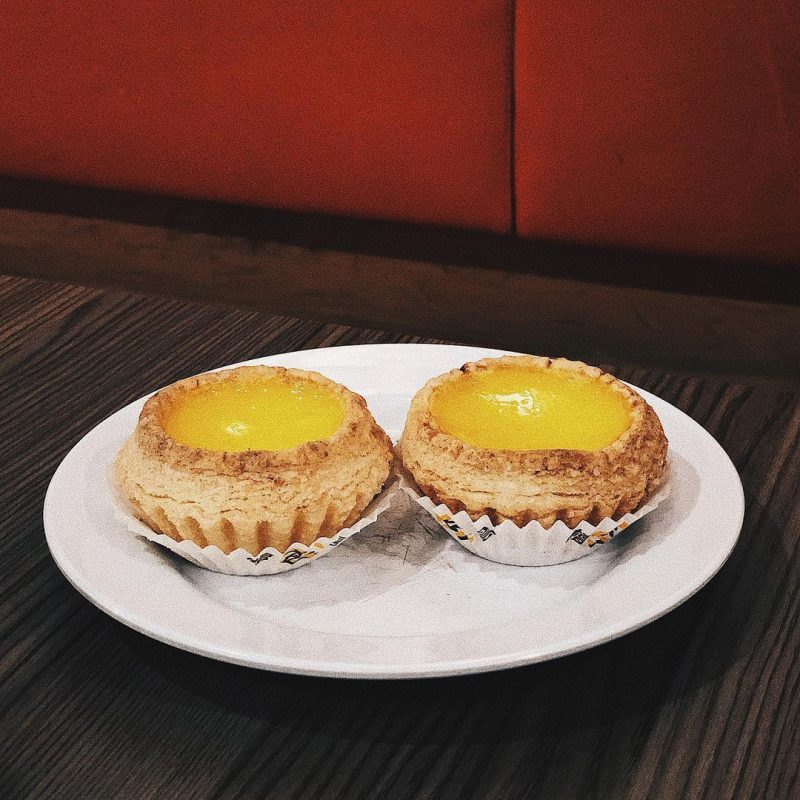 Image credit: @xnaps__
So Good Bakery is a familiar sight to many who work out of the CBD. Though the seem like your average takeaway bread stall, they actually have a selection of egg tarts to go. Their egg tarts ($1.70) are made fresh daily, and are really quite substantial for the price. Just $1.70 gets you a tart larger than your palm. If you prefer the flakier, Hong Kong-style tarts, they also have those for the same price, with a custard that is slightly sweeter than the original.
Website | Full list of locations
---
12. Legendary Hong Kong
---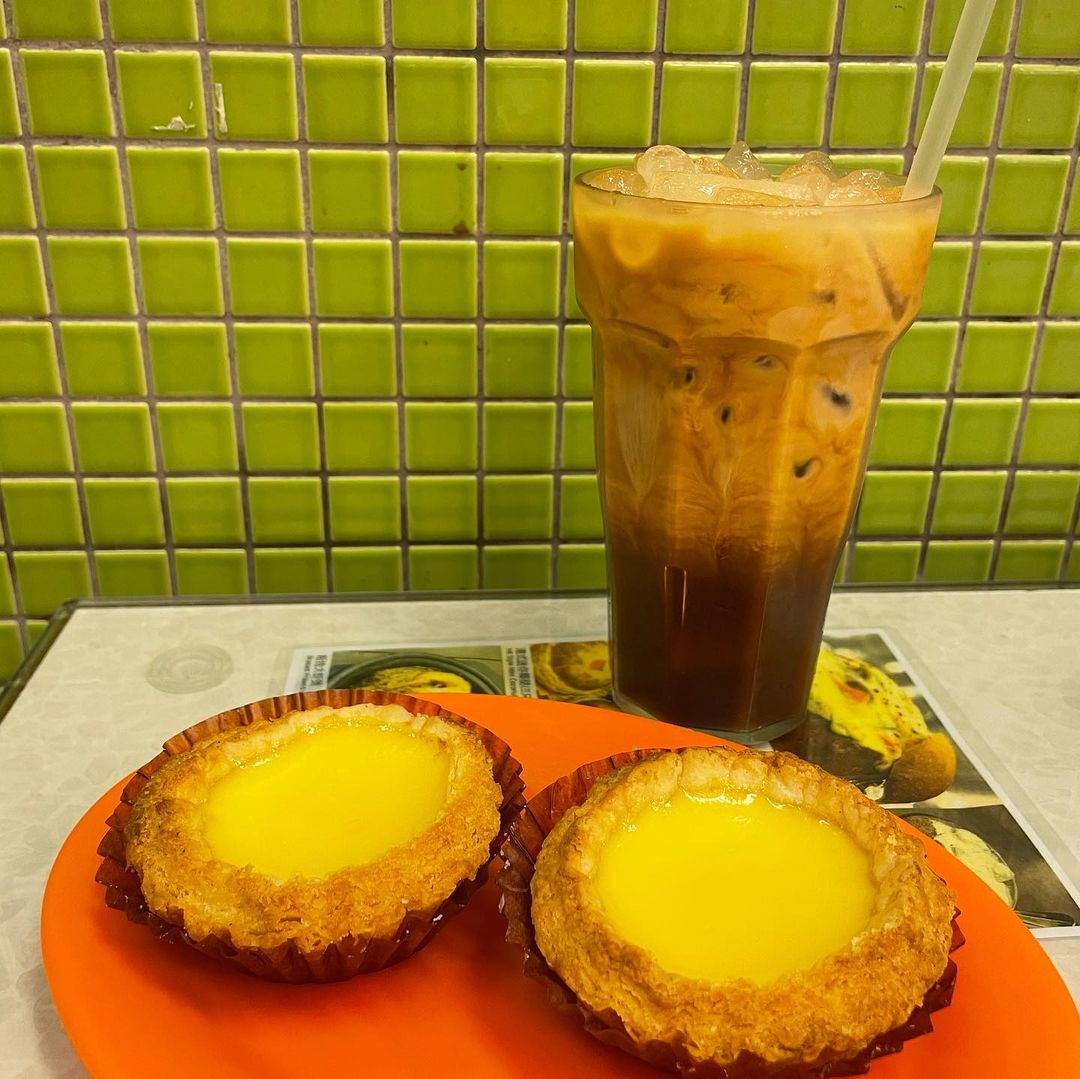 Image credit: @foodiephotome
Legendary Hong Kong is a hidden Westside gem for Hong Kong cha chaan teng fare. Stepping into the eatery in Jurong Point transports you to Mongkok, and they also have a takeaway counter to take home their housemade puffs, as well as egg tarts ($1.80). These are done in standard HK fashion, with a messy, flaky crust that's delightful to dig into with their HK milk tea ($3.40++).
Address: 63 Jurong West Central 3, #03-80 Jurong Point Shopping Centre, Singapore 648331
Opening hours: Mon-Fri 11am to 10pm, Sat-Sun 10am to 10pm
Website
---
13. Honolulu Cafe
---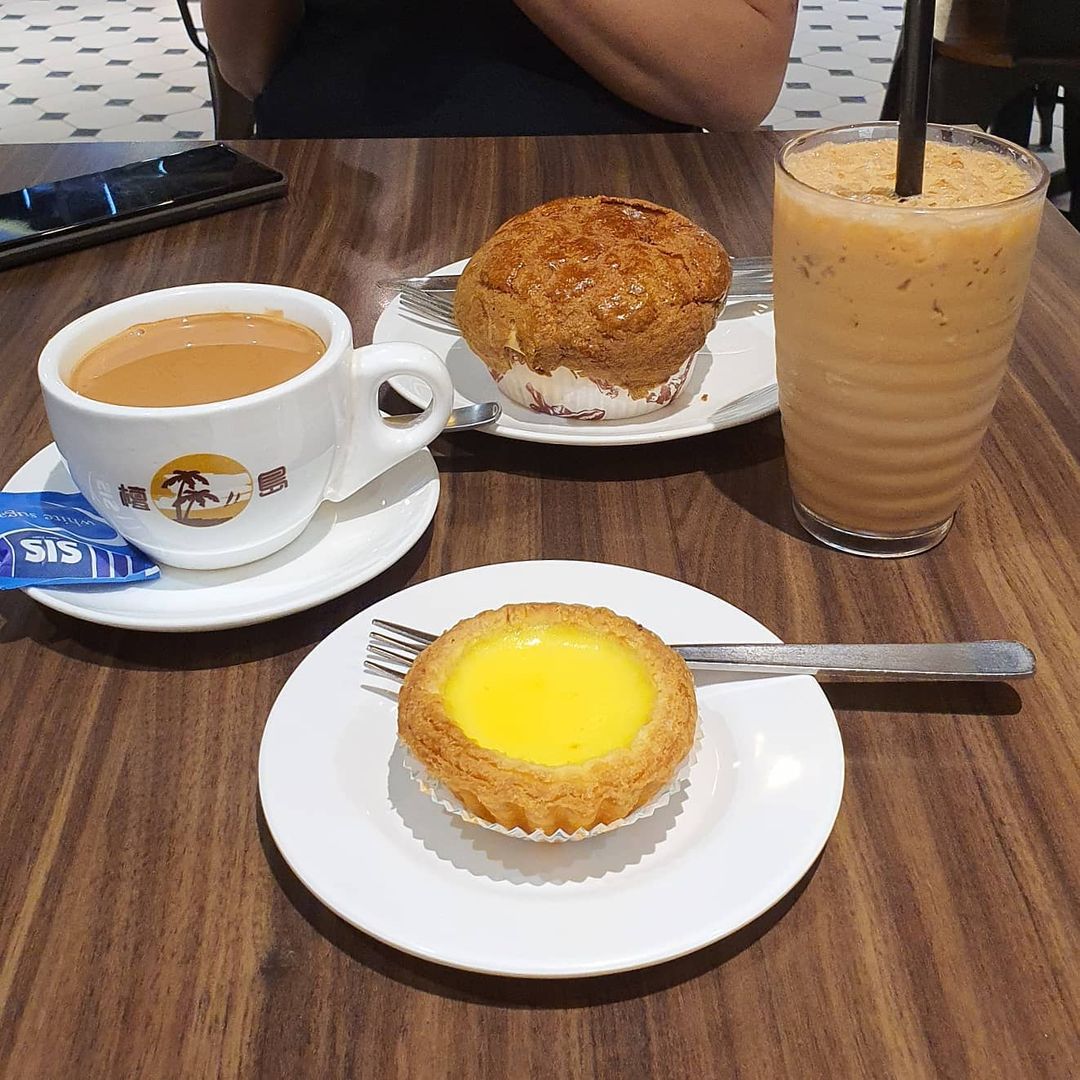 Image credit: @karenkohh
Honolulu Cafe hails from Wan Chai in Hong Kong, and their outpost in Singapore sells a whole host of authentic cha chaan teng bites, from polo buns to macaroni soup. Diners there also have to get their egg tarts ($2.15), which reportedly come with 192 layers of flaky pastry. We've never kept count, but what we do know is that the egg custard here is definitely sweeter and full of vanilla notes. For something unique, they also sell Polo Egg Tarts ($3.40), which see egg tarts spruced up with the cookie crust of a polo bao.
Website | Full list of locations
---
14. Hong Kong Flaky Lotus
---

Image credit: @be.buibui
Old-school pastry shop Hong Kong Flaky Lotus has egg tarts that go for $1.50 each, making them one of the most affordable on the list. The flaky crust has a fair bit of a bite, accompanied by a light-tasting custard for those who don't enjoy their tarts too eggy.
Address: 12 Gopeng Street, #01-89/90, Singapore 078877
Opening hours: Mon-Fri 7am to 7pm, Sar 8am to 5pm
Website
---
Old-school egg tarts in Singapore
---
The gold standard for egg tarts demands prominent egg fragrance from a silky custard, and a pastry that lets its sweetness and texture shine. But the real secret to making them the bomb lies in the temperature. Pop them into the oven to toast to the limit, just before they get burnt, so the crust becomes crisp and crumbly, with an egg custard that warms your belly. For more sweet treats,  visit these famous Chinese dessert stores or takeaway some modern Peranakan kueh for cake time!
7 Modern Peranakan Kueh Shops That Make Traditional Nyonya Kueh Cool Again